Beauty and Bodywork Insurance
260 S 2000 W, Ste 303, Pleasant Grove (UT), 84062, United States
Get Directions
(877) 536-7290
www.insurebodywork.com

Categories

Insurance Company

Now
CLOSED
Work hours

MO
07:00 – 17:00
SA
closed
TU
07:00 – 17:00
SU
closed
WE
07:00 – 17:00
TH
07:00 – 17:00
FR
07:00 – 17:00

About
Insurance for Massage Therapists, Estheticians, Cosmetologists, and more, starting at $99. All available online at www.insurebodywork.com.

Mission
We provide the beauty & health industry with a solid insurance program that already includes everything professionals need to insure every aspect of their business. From liability to property to identity theft, our coverage provides 360 degrees of protection to assure your peace of mind.
Description
100% Online insurance coverage for the beauty & health industry. No more waiting for an insurance quote for your cosmetology, massage, or esthetics business - visit us online today to get your insurance coverage for a great price! Starting at $69 annually for students and non-licensed professionals, and $99 annually for licensed professionals, our program provides General & Professional Liability, Property coverage for your supplies and equipment, Identity Theft coverage, and much more! Visit www.insurebodywork.com today for more information.
Founded
September 2012
Products
Liability insurance for massage therapists, beauticians, estheticians, nail technicians, reiki, hair stylists, esthetics and cosmetology students, etc.

Customer Support Hours:
Mon-Fri: 7:00-5:00 MST
Similar places nearby
0.02 km

Food Liability Insurance Program

260 S 2500 W, Ste 303, Pleasant Grove (UT), 84062, United States

Insurance Company, Business Service

1.25 km

InspectorPro Insurance

826 East State Road, Suite 100, American Fork (UT), 84003, United States

Insurance Company, Professional Service, Home Inspector

4.78 km

Dream Protectors 636

South Jordan (UT), 84095, United States

Insurance Company

7.13 km

Select Title Insurance Agency, Inc.

Lehi (UT), United States

Insurance Company, Bank/Financial Service

7.75 km

KnockStar Fundraising

182 N 850 E, Ste 100, Lehi (UT), 84043, United States

Marketing Consultant, Insurance Company

8.85 km

Miller & Associates Insurance Advisors

566 West 800 North, Suite 203, Orem, Utah

Insurance Company

9.77 km

Truck Insurance Pros

11142 Highland Blvd

Insurance Company

10.39 km

PayLogics

36 S 400 W, Orem (UT), 84058, United States

Accountant, Business Service, Insurance Company

14.29 km

Northwestern Mutual Life Insurance

5255 Edgewood Dr, Provo (UT), 84604, United States

Insurance Company

15.48 km

American Liberty Insurance Company

3601 N University Ave Suite #100, Provo (UT), 84604-6600, United States

Insurance Company, Business Service

15.6 km

Ethan Clinger-Farm Bureau Financial Services

1883 N 1120 W, Provo (UT), 84604, United States

Finance Company, Insurance Company

17.37 km

Benefit Controls Utah

223 W Bulldog Blvd, Provo (UT), 84606, United States

Medical & Health, Local Service, Insurance Company

21.68 km

Engagex Corp

585 E 1860 S, Provo (UT), 84601, United States

Telemarketing Service, Insurance Company, Consulting Agency

23.2 km

Tad Teeples - State Farm Insurance Agent

684 E 11400 S, #E

Insurance Company

24.02 km

Liberty Title West DBA Elevated Title

11781 S. Lone Peak Parkway, Suite 100, Draper (UT), 84020, United States

Real Estate Title & Development, Escrow Service, Insurance Company

26.49 km

Jordan Mehl, District 638 - American Family Insurance

10542 S Jordan Gtwy, Ste 350, South Jordan (UT), 84095, United States

Finance Company, Insurance Company

26.61 km

Utah Business Insurance Company

10421 S Jordan Gtwy, Ste 400, South Jordan (UT), 84095, United States

Insurance Company, Finance Company

26.62 km

Landmark Home Warranty

10701 S River Front Pkwy, Ste 200, South Jordan (UT), 84095, United States

Insurance Company, Real Estate Company, Home Goods Store

26.78 km

1st Liberty Title, LC

9488 S Union Sq, Sandy (UT), 84070, United States

Real Estate Title & Development, Estate Lawyer, Insurance Company

26.86 km

Farmers John R Metcalf Agency

9429 south Union Square, Sandy (UT), 84070, United States

Insurance Company
Sours: https://yellow.place/en/beauty-and-bodywork-insurance-pleasant-grove-usa
Beauty & Bodywork Insurance | $96 Massage Insurance | BBI
Beauty & Bodywork Insurance offers liability insurance to professionals ($96/yr) and students ($67/yr) in over 250 modalities, inc...
Keywords:
liability insurance, massage insurance, Affordable Price, esthetician insurance, bodywork insurance, Beauty and Bodywork Professionals, Beauty and Bodywork Insurance
https://www.insurebodywork.com
Server location

United States

Domain Created

9 years ago

Latest check

1 day ago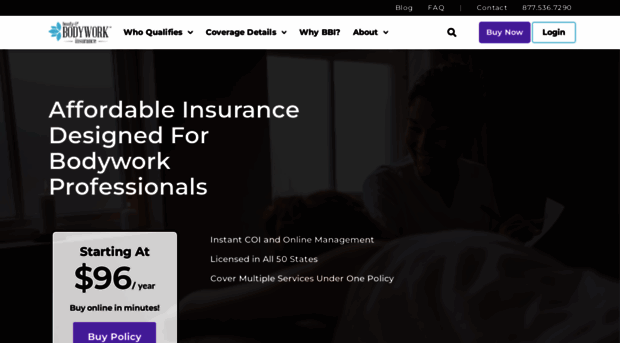 MYWOT
Insurebodywork.com most likely does not offer any malicious content.
Safety status

Safe

Safety status

Safe

Safety status

N/A
Secure connection support
Insurebodywork.com provides SSL-encrypted connection.
Insurebodywork.com most likely does not offer any adult content.
Popular pages
Beauty & Bodywork Insurance | $96 Massage Insurance | BBI

Beauty & Bodywork Insurance offers liability insurance to professionals ($96/yr) and students ($67/yr) in over 250 modalities, including massage insurance. There is no quote process.
Open neighbouring websites list
Sours: https://sur.ly/i/insurebodywork.com/
What does the policy include?
This is an admitted policy that includes general and professional liability, products and completed operations, personal and advertising injury, and damage to premises rented to you.
How much is the premium?
The professional policy starts at $118.
Is there a deductible?
There is no general liability deductible, but there is a $100 inland marine deductible.
Eligible classes of business
This policy is designed for insureds who are students or professionals within the industry. Here's who qualifies:
Bodyworkers
Aromatherapy
Reflexology
Acupuncture
Cosmetologists
Airbrush makeup artists
Eyelash extensions
Makeup artists
Teeth whitening
Energy workers
Acupressure
Healing touch
Reiki
Estheticians
Facials
Hair removal
Microdermabrasion
Massage therapists
Animal massage
Chair massage
Deep tissue massage
Hot stone massage
Sport massage
Swedish massage
Thai massage
Nail techs
Salon and spa owners
Excluded operations
The excluded operations for the policy are the following:
Acupuncture (Optional Endorsement)
Aerial yoga
Any operation that requires a medical license
Any procedure that punctures the skin (Optional Endorsement)
Aqua therapy
Body branding
Cryotherapy
Cupping (Optional Endorsement)
Diagnosing or failure to diagnose any disease or medical condition
Dietary or nutritional related work for hospitals, assisted living facilities, nursing homes, home health care providers, health clinics, schools, or professional sport teams
Ear candling/coning
Electrolysis
Endermologie
Flower essence or herbal therapy
Gua sha
Hypnosis
Laser treatments
Manipulations or adjustments of the human skeletal structure
Microblading
Pole dancing, pole fitness, or exotic exercise
Prescription, sales, distribution, or administration of any narcotic, controlled substance, or prescription medicine
Psychological or related treatment therapy
Recommendation, sales, distribution, or administration of any vitamins, supplements, or nutraceuticals
Removal or any attempt to remove warts, moles, or skin growths
Sale, service or application of wigs or toupees
Skin needling
Suntan beds or suntan booths
Surgical hair removal, hair implanting or hair transplanting
The use of any appliance, apparatus or device employing x-ray, electrical rays, radio waves or electronic waves
The use of any product developed with or containing human stem cells or stem cell media
The use of electrical or mechanical apparatus or device for massage therapy, including electric massage chair or vibration machines
The use of inversion tables
Training or application of micro-pigmentation, Black Henna, body piercing or permanent body art
Ultrasonic cavitation machines
Coverage Details
General & Professional Liability Aggregate
$3,000,000
Products & Completed Operations Aggregate
$3,000,000
Personal & Advertising Injury
Included
Each Occurrence
$2,000,000
Damage to Premises Rented to you
$300,000
Inland Marine / Business Personal Property
$2,000
Deductible
$100
Sours: https://www.veracityvue.com/beauty-and-bodywork-liability
Malpractice Insurance for Beauty and Bodywork Professionals
Beauty and Bodywork Insurance
Looking for affordable professional and general liability? Whether you are a currently a student or a recent massage or beauty school graduate, a seasoned veteran or anywhere in between; you've come to the right place. Our beauty and bodywork insurance program is perfect for student and professional cosmetologists, massage therapists, and makeup artists. Annual policies are priced as low as $88 and coverage can be purchased online in minutes.
Beauty and Bodywork Insurance Coverage Details
As a beauty or bodywork professional, you have been trained in the best practices and techniques to improve the well-being of your clients. However, just as important, is to look after yourself and your business! Safeguard Insurance offers an insurance program that is perfect for most students and professionals involved in massage therapy, hairdressing, cosmetology, energy and healing touch as well as aestheticians, nail technicians, manicurists, makeup artists, and face/body painters. We provide highly affordable coverage by using a Risk Purchasing Group to negotiate a group rate with our insurance carrier.
The coverage offered under this program includes:
General liability and professional liability of $2M per occurrence and $3M aggregate.
Business personal property of $2,000.
Identity theft coverage of $15,000
Obtaining a quote for beauty and bodywork insurance takes less than 60 seconds and coverage can be purchased instantly. Once enrolled you will have 24/7 access your account and can print a certificate of insurance on-demand. Additional insureds are included automatically.
Beauty and Bodywork Insurance Quote
Click the button at the top of this page to obtain an instant quote and bind coverage.
Have additional questions or concerns? Contact our product specialist, Cheston Williams at 702.529.0324 for assistance.
Safeguard Insurance is located in Las Vegas, NV. We are licensed to quote beauty and bodywork insurance in many States such as Nevada, Utah, Arizona, California, Idaho, Oregon, Washington, New Mexico, Texas, Florida, and South Dakota.
Sours: https://safeguardme.com/business-insurance/beauty-bodywork-insurance/
Insurance beauty and bodywork
Beauty and Bodywork Insurance (InsureBodywork) Review
Working as a beauty therapist, massage therapist, being a spa business owner, having a tanning salon, or being a cosmetologist, nail technician, makeup artist, esthetician, etc. can be a rewarding business, but it can also be one that puts you at risk of a lawsuit. If you'd like to avoid being put in an unfavorable financial position because of something out of your control, then insurance may be the best bet for you.

In this guide, we're going to examine the services of beauty and bodywork insurance, also known as InsuredBodywork or BBI insurance. We'll take a short look at the company itself, what they offer, and the benefits of having a membership with them. We'll also explore the average cost of insurance from InsureBodywork, and we'll break down their packages.
About Beauty Bodywork Insurance
Beauty and Bodywork (AKA Insure Bodywork) insurance was started in 2012 by Veracity Insurance Solutions. It began as a risk purchasing group that partnered with Great American Insurance Company to tend to the needs of professionals in the beauty field, who were widely underrepresented.
Within a year of being launched, Beauty and Bodywork Insurance grew by about 200%, and the program went forward with renewed vigor. Veracity got a full-time staff on the payroll to handle Beauty and Bodywork, and they launched a new project to renew the online presence of the brand.
This marked the point at which BWI rebranded to BBI (Beauty and Bodywork Insurance), and the company started increasingly relying on technology and the web to connect with its clients. Since then, the company has focused its efforts on providing its customers with better service and convenience.
Beauty and Body Works Insurance Policy Details
Beauty and Bodyworks specializes in insuring a wide range of professionals in the beauty industry, including massage therapists, estheticians, cosmetologists, face painters, teeth whitening services, and much more. This policy is fulfilled through the Great American Insurance Group, who BBI is partnered with.
The base BBI policy comes at a flat rate along with their membership, and it comes with a wide range of benefits for policyholders. When insured with BBI, you can opt for a range of endorsements that might also increase the cost of your insurance policy depending on their level of risk.
The aggregate limit for general and professional coverage is $3 million and $3 million in coverage for professional and completed operations coverage. Personal and ad injury is also included with a $300,000 limit in coverage when it comes to damage to premises rented by you.
Their policy features other optional add-ons including a cyber coverage option with a $100,000 limit and a $50,000 limit for E-theft coverage. For beauty professionals that work with a fitness trainer, there's also an add-on that can cover a yoga instructor, dance instructor, or personal trainer.
Beauty & Bodywork Insurance Program Benefits
There are also many additional benefits that come with a Beauty and Bodywork Insurance policy. For example, you have access to policy documents at all times and you can rely on just a single policy for all potential claims to ensure that paperwork is as simple as possible.
BBI also features a no quote process to make things further streamlined and they provide you with instant coverage, allowing you to get your beauty business kick-started. As a bonus, everything can be done online, with no need for face-to-face meetings and wasted time.
Whenever you make a liability claim through the BBI policy, you won't have to worry about paying a deductible. If you're insured through BBI, you'll also be covered in all 50 states, so you won't have to worry about opting for an alternative company because of where you're located.
Beauty and Bodywork Insurance Reviews
In this part of our guide, we're going to take a look at two separate InsureBodywork product reviews, broken down by the policy offered. First off, we're going to take a look at the more common professional liability policy that BBI offers and then we'll go over the equivalent student policy.
Professional Liability Policy Review
The professional liability policy is the most popular policy available from BBI because it applies to the vast majority of professionals in beauty-related fields. This features standard coverage with the same range of add-ons that apply to more specialized niches in the beauty field, like acupuncture.
The best thing about the professional liability policy is that it applies to all modalities. This means that if you offer nail tech services, cosmetology, or anything else, you'll still be covered by this policy and you won't have to pay a premium for each of the additional jobs that you perform.
Pros:
Covers all beauty professions

No quote process

Available in all 50 states
Cons:
Average cost: $96 per year
Rating: A+
Student Liability Policy Review
The student liability policy is available to students enrolled in professional schools for beauty. Compared to the professional liability policy, the student policy is similar in every way except for who can apply for it and the cost, being a bit more affordable than the professional policy.
This policy features all of the same advantages that the professional policy features, including an A+-rated carrier in the form of Great American Insurance Group. Limits remain the same with $3 million aggregate for general and professional liability as well as products and completed operations.
Pros:
Affordable

Good limits

Liability claims have no deductible
Cons:
Only available to students
Average cost: $67 per year
Rating: A+
Beauty and Bodywork Insurance Coupon
Now that we're done with our Insure Bodywork reviews, you may have decided that you want to become a member and do the beauty and bodywork insurance login process. Before going out and applying for their services, it may be a good idea to look around for an InsureBodywork coupon.
It is hard to find a BBI insurance coupon, by if you get your hands on a valid one, this may allow you to get as much as 50% off of your first year of coverage, allowing you to keep your beauty business safe without breaking the bank. Considering the affordability of BBI coverage, this will get your premium more than 90% lower than what you'd be paying with other insurance carriers.
Another great idea which is much easier to do, will be to compare quotes from many leading beauty business insurance companies online by clicking the 'Get Quotes' button below, completing the process and have more options on your table.
Recent Reviews
Embroker sells a product that it doesn't honor. We purchased a combination D&O and EPLI policy. However, when it came to renewal, it told us that we only had D&O coverage even through our ACCORD certificate clearly mentions we have both. Basically they refused to honor the EPLI coverage and will leave you hanging with the bag. At time of renewal, they more than doubled our quote to get similar coverage. Basically BAIT & SWITCH. Unacceptable tactics. Easy to buy and pay but you may not be getting much for what you pay.
Insuranker
Policy Type: Business Insurance
Company name: Next Insurance
5 / 5
Excellent experience so far! Amazing service, fair rates and very fast and convenient online sign up process!
Mark Adams Insuranker
Policy Type: Business Insurance
Company name: Next Insurance
5 / 5
Had a fast, cheap and smooth business insurance experience with Next. Superb product and customer service. Would definitely recommend them to anyone!
Erin Davis Insuranker
Policy Type: Business Insurance
Company name: Next Insurance
4.6 / 5
Very responsive and professional customer support, fast and easy online sign up and competitive rates for our LLC! Thank you!
Laurie Stewart Insuranker
Policy Type: Business Insurance
Company name: Next Insurance
4.6 / 5
Cheapest rates I've found for my home cooking business, the fastest online application and excellent customer service!
Sours: https://www.insuranks.com/beauty-and-bodywork-insurance-insuredbodywork-reviews
How to Add an Additional Insured - Beauty and Bodywork Insurance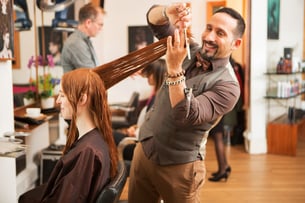 Professional hairdressers, beauticians, and barbers help people every day. In any line of work, accidents happen, and the risks double for people who are self-employed or own a small business. Hairdresser, beautician, or barber insurance protects you and your livelihood. Defending a liability claim can easily cost thousands to hundreds of thousands of dollars. By not having professional hairdresser insurance, you risk losing your hard-earned business, future earnings, and even your reputation. Not to mention your credit score could suffer, making it harder to get back on your feet.
Take a look at some real-life claim examples
In one case, the customer alleged that color was left in her hair too long; the color had dried to her scalp. She realized the next day that her scalp was burned, and it became infected. She had to take prescription medication and missed a week of work. Her claim was settled for $2,500.
In a similar case, the stylist exceeded the recommended time for the color to be on the customer's head, and placed it under a hair dryer when the manufacturer's instructions stated heat should not be used. The scalp burn led to an infection that caused permanent hair loss. Medical bills to treat the infection and for hair replacement amounted to almost $10,000. The claim was settled for about $20,000. Legal fees amounted to $8,000.
Trip and fall incidents often happen right inside the door, especially if it's been raining or snowing. One case involved the first customer of the day, whose shoes were wet. The customer slipped and fractured her kneecap, resulting in medical bills over $25,000. The initial settlement demand was $150,000. The claim was settled for $40,000 after almost $15,000 in defense costs were incurred.
What coverage do you need?
Professional liability insurance - Hairdresser liability insurance will cover any potential risk that comes with your profession. If, for example, a client who is cut or burned during styling seeks damages from you for a bodily injury or emotional distress claim, professional liability insurance will protect you.
General liability insurance - All small businesses should have general liability insurance. This insurance will protect you if anyone is injured because they tripped over your chair or one of your cords. It will also cover property damage if, for example, you spill hair dye on a client's expensive suit or designer handbag.
Business personal property insurance - Even though you rent, you have equipment, tools, and supplies to cover if there's a fire or other covered loss.
Do booth renters and chair renters need insurance?
Definitely! In fact, many owners of rented space at salons or booths require it for hairdressers who rent a chair. Even if they don't, you should still have insurance because renting a chair or booth puts you at risk for the same common incidents that affect hairdressers who own a salon.
Contact an independent agent to discuss your beauty insurance needs. Find one today using our agency locator.
Sours: https://www.thesilverlining.com/businessblog/blog/protect-yourself-with-beauty-and-bodywork-insurance
You will also like:
This is my first time. Don't do it well anymore. It should be only for my husband, and after the wedding night you can do whatever you want with your body, okay.
1020
1021
1022
1023
1024