RV Bedroom Makeover
Our RV bedroom remodel is complete with a wood accent wall and open shelving. See how we turned our RV bedroom into a cozy oasis with lots of storage! Check out the RV bedroom ideas in this post!
It's reveal day!! I hope you've been enjoying all of our RV remodel projects so far. Today we're showing off our tiny, yet oh so cozy, RV bedroom remodel!
Note: all sources are listed at the bottom of the post!
Before and After The RV Remodel
To give you some perspective of how far this bedroom has come, here's what it looked like the day we purchased it:
(Affiliate links are provided below for convenience. For more information see my disclosure, here.)
Pssstttt.. Thinking of doing an RV renovation yourself? Download this handy checklist to make sure you avoid missing these common RV mistakes!
RV Bedroom Wood Accent Wall
Alright, let's talk about my favorite part of this bedroom first. Ever since we installed our first DIY wood plank accent wall in our old house, I've been addicted. So it only made sense to add one to the back wall in our RV bedroom remodel!
RELATED: RV Remodel Ideas & Tips – 9 Projects That Will Transform Your RV
Instead of the classic horizontal planks, this time we went with a fun geometric design. To see the step by step tutorial for this modern wood wall, checkout this post!
I love how the wood instantly makes the entire space feel cozy and warm.
RELATED: How to Build A DIY Wood Plank Accent Wall
We replaced the original wall sconces with vintage style brass sconces. The modern light fixtures add a pop of interest against the rustic wood wall.
DIY RV Bed Frame
Unlike most RVs, ours didn't come with a built-in bed frame. Since our RV-Queen size mattress takes up the majority of the room, we built a DIY version of the classic RV bed frame that lifts up for easy access to storage space under the bed. (I plan to write a post detailing all of the storage solutions in the RV, so I won't go into much more detail here.)
To keep the space feeling light and airy, Mike designed the bed frame to have an overhang which ended up being the perfect space for some extra baskets and bins. These are great for things like shoes, extra sweatshirts, and linens. When you're living tiny, any cleaver space storage ideas make a huge difference!
RELATED: How to Paint RV Interior Walls
RV Bedding
Speaking of linens, I'm so excited about our RV bedding. Since our mattress touches all 3 walls of the pop-out, making the bed was nearly impossible. Until I discovered Beddy's bedding.
It's a 2-piece set: the bottom piece wraps around the bottom of the mattress like a fitted-sheet and zips to the top comforter/top sheet piece. Making the bed is as easy as zipping up the sides!
And I love that the zipper is hidden with a small fabric flap.
No more wrestling with the mattress corners trying to tuck the sheets in while sitting on top of the bed!
I picked the Oh-So-Boho style that is a light tan oatmeal color. I love that it's still soft and neutral, but doesn't get dirty as quickly as our old white linen duvet.
To dress up the bedding and add some extra coziness, I added a few throw pillows.
These are the 20″ down feather IKEA inserts and my pillow covers are by the brand Woven Nook that I purchased on Amazon. The pillow covers came in a 4 pack for only $40 and the quality is so good!
After I purchased this set of 4, I went back and ordered this set too! I love all of the fun patterns and colors. All of the styles go well together so swapping new ones in for a fresh look is easy!
RV Bedroom Decor & Accessories
On the opposite side of the pop-out is where we mounted our TV.
Because of the location of the wall stud, the TV had to be off-center. At first I didn't love that idea, but ultimately this was the only space for a TV.
I decided to dress up the rest of the wall with my "p.s. i love you" letters, a wall clock and some twinkle lights. This really helped frame in the off-center TV. And now movie nights are extra cozy!
The closet is to the right of our TV wall.
This is the only closet in the RV so I had to get creative when it came to fitting all of mine and Mike's clothing in there. (More on that in a future post.)
Just below the closet doors are 2 drawers that we also use for clothing. We were able to utilize the space in between the bed frame and the closet for a laundry bin.
After taking precise measurements and searching on Amazon for the better part of a day, I was SO excited when I found this cute laundry tote. Not only did it fit perfectly in our space, but it has handles which makes it easy to carry across the lawn to our neighbors' laundry room where we do all of our laundry.
It's like this laundry bin was made for this RV bedroom remodel! 🙂
Related:The Best Hack for A Small Living Room
On the other side of the room, we added 2 small open shelves.
These are actually the same shelves that used to be above the coffee bar in our old house. I'm so glad I hung onto them!
They were a great spot for me to incorporate some cute decor and a little greenery.
Next to the shelves I used command strips to hang up my wide-brimmed hats.
I came up with this decorative way to store my hats in our old master bedroom and love how this wall decor idea has dual function!
There you have it! Our completed RV bedroom remodel!
There wasn't a lot of room for extras in this space, but I'm happy with how we were able to make it our own with a fun accent wall and open shelving.
I've linked all of the sources below, but first let's look at a side by side before and after!
Below is a full source list for our RV bedroom remodel:
I hope you enjoyed the tour in our cozy RV bedroom!
UP NEXT: RV Remodel Ideas & Tips – 9 Projects That Will Transform Your RV
Have any questions about our RV bedroom remodel? I'd love to answer them in the comments below!
Pin this post for later!
RV Bedroom Remodel Before & After
Sours: https://joyfullygrowingblog.com/rv-bedroom-remodel-reveal/
This post may contain affiliate links. See our affiliate disclaimer here.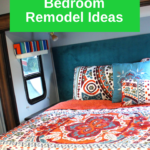 After spending years viewing all of the beautiful RV master bedroom remodels on Instagram, I was ready to update our ugly, brown bedroom. I held off for years because I have never been particularly handy or crafty. However, once I dove into the RV renovation process I was able to find easy and affordable ways to update our space. Below are five RV bedroom remodel ideas that anyone can execute in a few days.
Paint the Walls
Painting the walls is the most impactful change in an RV master bedroom remodel. Your room will look instantly better once the hideous RV wallpaper is covered. I was really nervous about painting the RV walls after hearing others describe it as a painful process. However, I was pleasantly surprised that with a little prep work, I was able to cleanly paint our bedroom in just two days.
Materials:
Process:
Start your RV master bedroom remodel by removing the mattress, window coverings and any other large items you do not want to paint around. Next, clean the walls thoroughly with TSP or a water and vinegar solution. Tape edges, corners and switches and use drop cloths to cover the floors and furniture.
Putty any holes from window treatments or pictures that you do not plan to re-hang. Then, lightly sand the walls which will help the primer stick and use a damp cloth to remove any residue from sanding. Once the walls are dry, you are ready to start painting. Always use two coats of the bonding primer and two coats of paint for the best result.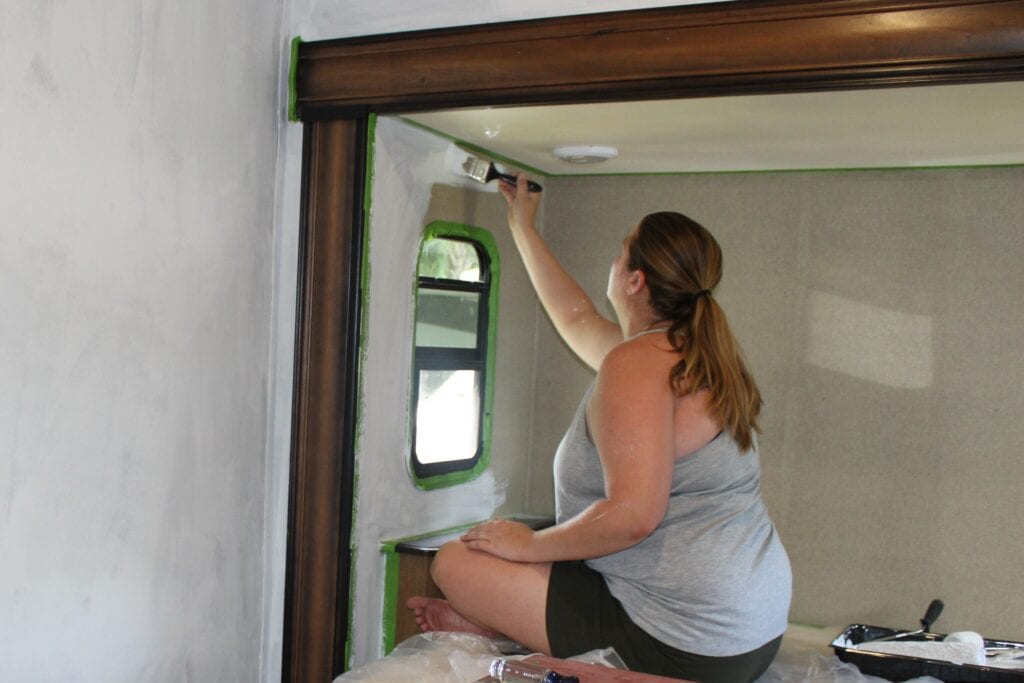 If painting walls and cabinets sounds like too much work, consider purchasing one of these RVs that come from the factory with white interiors.
Recover the Headboard
Since most rigs come with a headboard covered in typically ugly RV fabric, recovering the headboard is a must for any RV master bedroom remodel. I had originally planned to purchase a new headboard, but decided to give recovering a chance to save money. The headboard turned out to be one of the easiest projects of our bedroom remodel.
Materials:
Fabric of your choice
Clamps
Staple gun
Process:
Remove the headboard from the wall, and save any screws you will need to re-install. Leave the original fabric on the headboard so it holds its shape. Place fabric under headboard and cut so you have 6 or more inches extra on each side. Pull the fabric taught on one side of the headboard and clamp into place. Then, use the staple gun to attach the fabric to the headboard. Continue clamping and stapling in small sections around the head board until it is completely covered.
Our headboard had buttons covering the screws used to attach it to the wall. We were not able to successfully recover the buttons, so we ordered new snap on buttons from Etsy to replace the originals.
Alternate Idea: If your RV didn't have a headboard, considering installing peel and stick wallpaper behind the bed to create a feature wall.
Recover Window Valances
Like the headboards, RV window treatments typically are not covered in fashionable fabrics. Removing or recovering these outdated window boxes are a great way to make your RV master bedroom more fashionable.
Materials:
Fabric of your choice
Clamps
Staple gun
Process:
If your valances are made of two boxes, use a staple remover to separate the two pieces. Assess if the fabric needs to be removed or if it is thin enough to recover. Place fabric underneath the valance and cut fabric to fit leaving a few extra inches on each side. Start by holding the valance straight up and stapling fabric over one of the short ends. Continue stapling fabric in small sections, using clamps as needed. Fold fabric as if wrapping a gift box to create smooth corners.
If you need extra help with this project, watch this YouTube video with step by step instructions.
Replace Light Fixtures
New light fixtures are a great way to add a little more pizzazz to your RV master bedroom remodel. We replaced the reading lights over our bed and the new lights are my absolute favorite part of our new bedroom.
Materials:
Process:
When purchasing a light fixture make sure the bulb matches the voltage of your original fixture (either 12v or 120v). Also make sure the new light fixture turns on the same way as the old one (wall switch or switch on the fixture). See our list of 17 modern 12v light fixtures to select the best lamp for your renovation.
Installing a light in an RV is similar to installing any house fixture. If you are not familiar with electricity and wiring, hire an electrician to complete this job. If you install the lights yourself, turn off the power before removing the original fixture and leave it off while installing the new one. Use new wire connectors, do not try to reuse the old ones. Also, make sure to take a picture of the original wiring so you can compare when installing the new light.
Unfortunately, our new light fixtures had a smaller profile than the holes from the old lights. We remedied this buying cover plates, drilling a hole in them for the wires and installing under the fixture. You can see the plate in the picture below, but it is not visible when standing up in our bedroom.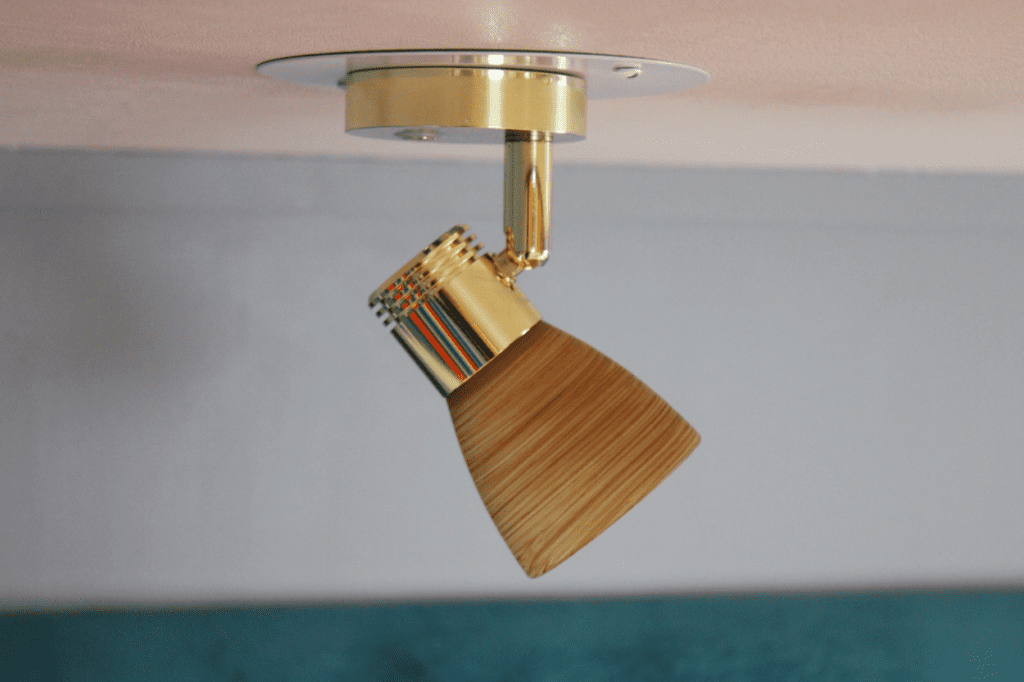 Buy New Bedding
Finally, if you want to make a big change without doing any work, just buy a new bed set. Bungalow Rose makes great quilt sets that are colorful, affordable and the perfect weight for warm weather RV camping.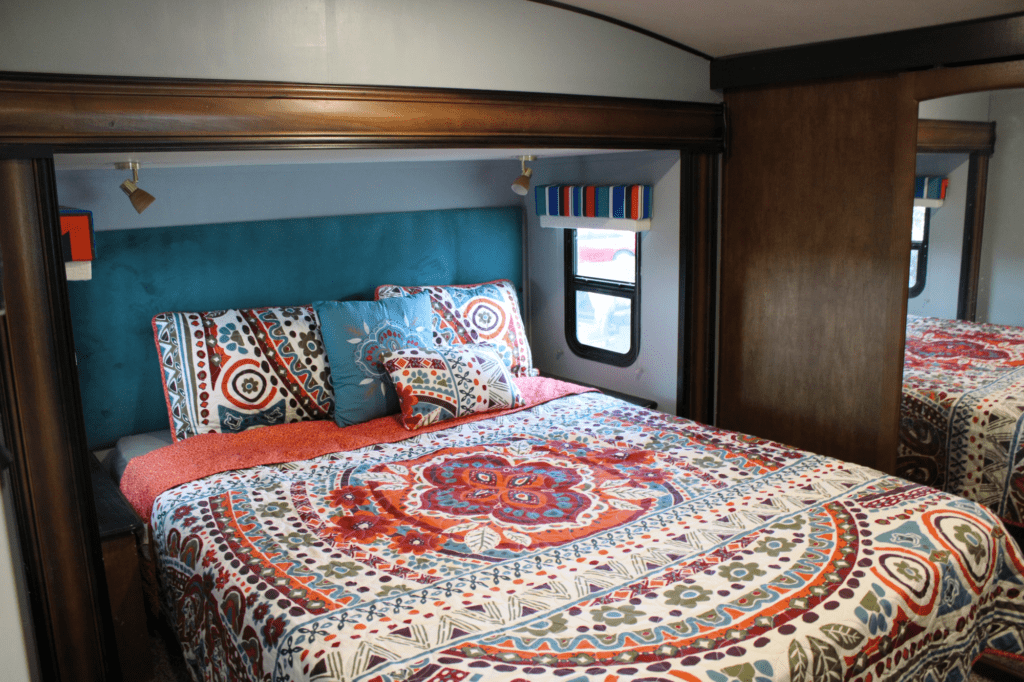 Do you have more RV master bedroom remodel ideas? Share your favorite ideas with us in the comments section below.
For more information on RV living and travel, check out our blog or follow us on Instagram.
Categories RV Living, RV Decorating IdeasSours: https://www.travelswithted.com/rv-master-bedroom-remodel/
MY $500 CAMPER REMODEL THAT I DID ALL BY MYSELF
Well this post has been a long time coming.  And I have been putting it off for a couple of reasons.  1.)  Most of the RV was completed last summer, but we still have a couple projects to do, like the flooring, before I wanted to post pics;)  and 2.)  I wanted to do this blog post justice so you can read it and see my step by step guide with links so you can recreate this look for a great price too! Also, I wanted to note that the only reason I wrote that I did it by myself is for us women to realize we can do hard things!  And we don't always have to wait on our husbands to get projects done.  Ryan was busy completely gutting and renovating the cabin and doing the steps I couldn't help with, so I decided to tackle this project on my own.  I was able to complete everything but the flooring by myself.
PS. This post gets a bit long because it was quite the process, but at the end if my complete breakdown of money spent and all the links to the products I used, so if you want to cut to the meat and potatoes of it all, scroll to the end;)
So lets start with a few fun before pictures shall we?  First, off, I documented this whole journey over on my Instagram page and you can find me under @prvbsthirtyonegirl.  I  saved all of the videos to my highlight reel under RV RENO and RV RENO PART II.  So if you are really interested in doing this, I highly suggest you hop over there and check it out since videos are so much easier to explain in.  So this is the the RV we purchased a year ago.
It's a Dutchmen Lite le and I believe 2006 model?  We purchased it for $4600 knowing it was clean and in good condition.  Since we had bought our cabin the year before we really didn't want to sink a lot of money into the RV (lets be honest, Ryan didn't want to sink a dime into it;) But I had a few ideas I wanted to execute and knew that I would have to do it myself, and do it on the cheap, in order for him to approve.  To start with, the whole inside was khaki and burgundy.
and If you've been following along here for awhile, you know those two colors just aren't in my color pallet.  So the first thing I did was grab a gallon of primer and go to town on the cabinets.
and if you know RV's, you know they have a lot of cabinets for the size, since storage is such a real need.  And if you know white paint, it takes a lot of coats to get it solid, EVEN WITH primer!  So one coat of primer and then I started to attack it with my favorite Simply White Benjamin moore color that I always get mixed at Menards in their Pittsburgh Paramount line.  I always have a 5 gallon bucket of this stuff at home because I use it for everything.  My whole house and cabin are painted in this color, so I did not include this as a part of my budget since I already had it.
So to be upfront and realistic with you all, your gonna probably need 3 if not 4 coats of paint, and this doesn't include the primer.  I don't know why, but white is just frustrating. And in an RV and tight spaces, it can get a little clastrophic.  Let's just say I was happy when the painting was done.  But honestly, only $25 in and it's already looking so much better!  Also, because I get this question so much.  I did not sand these cabinets at all before I started painting, I just used the primer and then the paint.  These cabinets were more of the fake wood and super smooth, so I was nervous how the paint would adhere, but over a year in and its still staying on great!
So, next up, a fun decorative detail;)  As you will see soon I use a lot of 1/4″ plywood.  I used it to do the faux shiplap in the whole RV, as well as my house:)  And I also use it to trim out corners.  Since it's very inexpensive (around $13/4×8′ board) the budget goes a long ways.  I always have scraps laying around and I love to use them to add interest.  My idea here was to add an "X" to the end of the cabinet to make them look a little bit more custom:)
I use liquid nails to glue everything on and then 3/4″ nails with our finish nailer to secure it.  This project was practically free.  Gotta love that!
And because we can't wait forever for an after…here's how it looks all painted and done.
okay, so painting is done.  Up next.  Kitchen remodel.  First off I used the existing knobs that came in satin nickel and used this gold spray paint to give them a fresh look.  Then I purchased a 10 pack of pulls for the cabinets in the rest of the RV for a steal.  You can find them here. I love the updated modern flair it gave it.  Next up was dealing with the taupe counters.
Here's a better picture of the counters.  So I primed and painted the edges so they were all white and would blend in.  Then my friend actually blogged about this product for the counters.  It comes in wide widths and is more durable than plain contact paper (which I used in other areas of the reno).  I actually had a piece of this left over as well for a home project, but only enough to do the counters and not the table top.  I was happy that the counter tops were done in something more durable though, since they would see a lot more water than the other areas.  Once I applied it, I used an exacto knife to cut around the edge of the sink and edges of the counter, and a plastic putty knife to smooth out any air bubbles it may have had.  It worked amazingly slick, and once I was done I caulked around the sink to ensure that no water would get under it.  Sorry, I wish I had more pictures to show you, but I do have videos of the whole process over on my Instagram so if your confused check it out!  Next up, the backsplash!  I found these peel and stick subway tiles that actually look quite amazing.
This was by far one of my biggest splurges for the camper.  At $3.50 a square foot it ate up some of the budget, but it was well worth it.  It gave a huge statement.  I ended up ordering 3 packs of tiles, for 30 square feet total, and I was able to do the backsplash and a bathroom wall with it.
Once the backsplash and counters were done, I addressed the old faucet.  Knowing Ryan would never want to plumb in a new faucet for me (or spend money on it) I decided to just spray it gold.  When I spray paint fixtures that I can't remove, I use painters tape and press and seal to tape off the surrounds so no overspray gets on anything .
So now the once dated faucet now looks like this…for practically pennies.
I also used a paint brush and put little black dots on the top of the handles for an extra detail;)
And this is my other favorite weapon for RV remodels that is a HUGE budget saver!
I'm not sure about you, but our sinks and shower were sooo yellow.  It's almost as though the plastic yellowed over the years.  I knew we could never replace the whole unit, and someone suggested appliance epoxy to fix it!  I ended up using this stuff for the sinks, the shower, and the hood range…and it worked amazing!  The smell is super potent so I suggest a mask while you are doing it, and also taking frequent breaks, but the results are worth it!
My handy dandy method;)  If I were to do it all over again, I would have appliance sprayed everything first.  Then done the faucets gold and lastly the countertops.  That way you really wouldn't have to worry about overspray.  I didn't think through everything amazing, one thing just led to the next and I went with it.  So you  now can learn from my mistakes:)
The bathrooms transformation from just spraying the shower and sink were pretty amazing though!
This is a terrible picture but you can literally see the difference from where I have sprayed white and where it was so grungy yellow! I also added a wall of peel and stick subway tile in here, and after painting all the cabinetry, getting this shower curtain, and adding super fun "peel and stick" vinyl floor tiles, this bathrooms a wrap!
Oh, and also, how cute are these towels.  And you'll never guess where they are from:)
You can find them here.
I DIY'd these hooks from some old cedar wood and used these hooks to screw them into.
Here's the rest of the bathroom pictures…
I should have mentioned that before I even started priming the cabinets….pretty much once ryan had the truck in park I started tearing out as much of the upholstered parts that I could.  This included a beautiful mauve headboard;) , All of the window cornices, and he padding around the eat in benches.
You can see the maroon upholstery on the top of the benches and over the windows.  I just pulled the window ones down, along with the blinds, and have no plans of putting them back up.  The bench ones I replaced with pine 1×4 that I stained in special walnut.
It was about a $5 fix and instantly updated the look and brought some warmth in as well.  I then planked the back of the bench with the same 1/4″ plywood cut down into 6″ strips, and covered the existing benches with drop cloth.  The after is well worth all of the work.
I have a full video tutorial on how I made these bench covers with painters drop cloth and string.  The total cost to re-cover them was around $10.  This is the drop cloth I love to use.
It's from  Menards and I used this for both the couch and the bench covers.  I had to use some extra drop cloth I had left over from a different project, but if you buy the biggest one at Menards for around $30, you should have enough to do both projects. This $6 contact paper has been a game changer as well.  You can find it here. I had to have a seam for this table, but it isn't super noticeable, and for the price if it only lasts a couple of years, I can easily replace it.
The last few things I did to the eat in area were to add this peel and stick wallpaper, sprayed the pipes holding up the table in a flat black spray paint, and sprayed the little light above the table gold.
The base and back of the benches are painted in Toasted Poppyseed by Kilz brand paint.  And this floor runner was the perfect size and price for this rv.  You can find it here.
Behind the eat in area is two bunks.
I decided to paint this little area in the same Toasted Poppyseed.  I loved the idea of it turning into a little cave, sleeping area.  I also bought a queen size 3″ foam topper.  I was able to cut it in half and had enough to add to both bunks.  If you've slept on a bunk bed rv mattress, your behind hits the ground in about 2 minutes.  Extra padding is a must.  This is the pad I bought, and it's proven to be a lifesaver.
I finished the beds off with this cute ticking stripe duvets from Linens and hutch, and if you use code prvbsthirtyonegirl you get an extra 30% off.  These throw pillows were the perfect size to add just a touch of cozy without being too hard to store.  And the price is amazing for feather pillows.  You can find them here.
So we now are done with half of the camper.  Yay!  A few things to note.  I sprayed all the door handles gold before I painted them white for an instant update.  Also, I get asked all the time where I get my rattan shades.  I have gotten them on crazy clearances over the years at big box stores and haven't been able to consistently find them anywhere.  I had this one in the shed for a year that I hadn't been using, and although it was a couple inches small over the sink window, it was free for me, so it was good enough;)
We also plan to hang a tv on this back wall eventually.  The kids do like to veg out to a movie after swimming all day, and we actually have a tv already, we just need to buy a wall bracket so we can hang it on the wall.
Alright, moving onto the back of the RV, which includes the couch and the bedroom.  The couch was my biggest nemis, so I waited the longest to finish it.  I knew we needed to keep the jackknife sofa, because we do use it for the kids to sleep on.  So now the problem was how to make it look good!
I mean, the maroon floral is speaking to me…but it's telling me it's gotta go!!!
I knew I was going to use the rest of the drop cloth I had used for the bench covers, and I have made slip covers before, but its one of my least favorite jobs.  I have learned all I know from watching all of Miss Mustard Seeds slipcovering tutorials.  I am not a seamstress. And my mom actually could not watch me because of my method, lol!  But honestly, when you need to get the look you want you cross your fingers and hope it works.  That's basically what I did;)  I started by making a skirt for the bottom of the couch.
Next up, the slipcover for the couch.  I couldn't figure out a good way to make a custom looking cover for the couch that allowed it to still pull out into a bed, so this slipcover is just that.  A slipcover.  And when we want to use the couch as a bed we will have to take it off lay a sheet down on the couch, but I'm okay with that.  I had a lot of suggestions to just use a flat sheet and tuck it in, but I was more interested in making the couch look custom than figuring out the bed part of it:)
So after some piping work and a heck of a lot of please let this work, this slipcover was born:)
And for about the $10 I have into it, I'm super happy with the results!
The big long cushion was a find from Sierra Trading Post, but sadly is no longer available.  I love that it gives texture but is also just one pillow so it keeps things simple.  The throw was also from there and no longer available.
You can see from this angle that I just ran the skirt to the wall and I it's not perfect.  But its better than what it was and that's what I'm going for:) Also, to see more of the step-by-step instructions, check out my Instagram stories and you can see how I made the piping and my steps for the whole slipcover;)
Alright, onto the bedroom. This may be one of my favorite areas, because lets be real, there is faux shiplap all around.  And you know I love me some faux shiplap.  I used 4×8 sheets of 1/4″ underlayment ripped down to 6″ strips for my shiplap look.  It's way cheaper than actual shiplap, its much lighter for the rv, and it's bendable for the walls that aren't quite square:)  The sheets I purchased from Menards were about $12 a sheet and I ended up using 5 sheets, making this a $60 splurge for my budget, but well worth it;)
This is the good ole before of the bedroom with two stinking cute kids.  Just saying;)

And here's the after.  I ended up doing my faux shiplap vertical on 3 of the 4 walls to draw your eye up and make it feel bigger.  And I actually *gasp* left the back wall wood!  And I actually *gasp* love it!  I stained it with the same special walnut that I used on the wood on the benches, so it blends nicely.  And the rest of the shiplap I painted in the same cabinet color simply white.  It keeps things nice and simple;) When putting up these strips, I used a liquid nails to glue them to the wall and then 3/4″ nails to secure them.  An important note is to paint your walls at least one coat of paint the same color you are doing  your shiplap, because you will see little peeks of it.  Also, I use a nickel for spacing the planks because you do not want them tight together, and when you paint them with a roller I have a butter knife on hand to glide between the cracks to get out any globs or drips of paint.
I hung this sign I made that mimics hunt and gathered goods sign that you can buy here.  I thought it was a perfect addition to this little nook.
Because everyone is sleeping tight in the RV:)
I also love how although there is no big division between the bedroom and the rest of the RV, the vertical shiplap defines the space.
For the bedding, I wanted to keep it light and airy with just a little pop.  These sheets were so fun to add some vision interest and the price was right! And this white duvet was so pretty with the big ties on the top and on the shams and the price was amazing.  The rest of the bedding I had stored away (I'm a bedding hoarder;).  And sadly the rest is discontinued.  This throw will give you the similar feel to the one I have up there though.
I also love how the white pops on the wood wall.
And I don't mind seeing my bed from my kitchen table when it looks like this:)
So I think that wraps up our RV reno.  I'm going to break down the exact things that I did, and I'm actually going to put them in the order I SHOULD have done them had I to do it all over again:)  Also, because I forgot to address this, Ryan did lay the luxury vinyl flooring in here.  It was a little tricky with all of the angles and cuts and I'm super grateful he did that part for me.  Also, our luxury vinyl was found at a builders outlet store and didn't even have a brand name on them, so I'm not sure what they are or called.  We used this flooring in our cabin and had enough of it left over to do the RV with amazingly only one piece left over.
Keep scrolling because I'll have my comprehensive list of links for everything I used and break my budget down so you can see where the $500 went!  Hey, happy glamping you all!
Steps to re-doing the camper:
1.)  Take out all extra upholstery (window treatments/headboards/bench tops.
2.)  Prime all the woodwork white.
3.)  Spray tubs/sinks with appliance spray paint.
4.)  Spray knobs/handles/faucets gold or color of your choice, spray table pipes black.
5.) Paint all of the primed surfaces.
6.)  Put on countertop adhesive.
7.)  Put on peel and stick subway tiles.
8.)  Give all walls that you are going to shiplap one coat of white paint.
9.)  Paint walls not getting treatment color of choice.
10.)  Rip down plywood for shiplap and hang.
11.)  Make new bench tops with 1×4 pine stained in special walnut.
12.)  Recover seat benches
13.)  Slipcover futon.
14.)  Lay flooring.
If only it went as quickly as you can read it;)  Seems pretty simple right?!?
And here is a list of all the links for things I used:
Countertops:  here.
Table top and all other surfaces:  here.
Peel and stick subway tile:  here.
Cabinet knobs:  here.
Wallpaper:  here.
Runner rug:  here.
Shower curtain:  here.
Towels:  here.
Toilet sign:  here.
Bathroom flooring:  here.
Master bedroom sheets:  here.
Master bedroom duvet and shams:  here.
Bunk bed mattress topper:  here.
Bunk bed duvet covers:  here. Use code prvbsthirtyonegirl for an extra 30% off.
Bunk pillows:  here.
Bed throw blanket:  here.
Hooks:  here.
Wooden hook rack for kitchen:  here.
BUDGET BREAKDOWN
1/4″ plywood = $50
7eel and stick subway tile = $70
Faux marble contact paper = $12
Counter top adhesive = already had but would be $50
Spray paint (Appliance/black/gold) = $17
Knobs = $13
Bathroom Flooring = $10 ( I got a 10 square foot package off of amazon but since went out of stock.)
Rug = $23
Toilet Sign = $12
Duvet Covers = $54
Pillows for bunks = $24
Queen master duvet = $32
Master sheets = $35
Hooks = $13
Primer = $25
Drop Cloth = $30
Wallpaper = $50
Paint = Already had
Flooring = Already had
Total = $470
BEFORE AND AFTERS
Kitchen
Dinette
Master Bedroom
Bathroom
Bunk Room
.
Sours: https://proverbs31girl.com/my-500-camper-remodel-that-i-did-all-by-myself/
RV Bedroom Makeover DIY Reno
Remodel Your RV with These 23 Makeover Ideas
Thinking about renovating your RV? Whether you want to update an outdated kitchen, upgrade the bathroom, install bunk beds, or replace the floors, these 23 RV remodel ideas can help you give your recreational vehicle the ultimate makeover!
Repaint the Interior
Make your RV feel more like home by painting the interior! Get rid of dark, dingy colors and opt for lighter colors like white, gray, beige, sage green, or pale blue to brighten up your living space. Painting with lighter colors helps reflect light better, which can also make your camper van feel larger!
Make Over the Walls
Are you tired of plain walls in your van? Remove old wall coverings and replace them with new materials to spruce up your space! You can use white shiplap wall planks to give your RV remodel a polished farmhouse look. Or hang decorative wallpaper with a fun pattern throughout your camper's interior. If you don't want to make a huge commitment, go with peel-and-stick wallpaper as an accent wall!
Overhaul Your Space with Custom Furniture
Want to create cozy space where you can relax or entertain guests in your RV? Renovate your space with customized furniture! Install a loveseat with a console or bench seats around a fold-down table. Build an entertainment center where you can keep your TV and add storage cubbies. And make sure you secure furniture in place with straps or anchors to keep them from moving while you're driving!
Install Shelves for More Storage
Photo via @choosing.less
When van space is limited, it's a good idea to take advantage of vertical storage! Install shelves in your living area to display plants, photos, knick-knacks, and books. For an open, airy look in your RV kitchen, opt for floating shelves in place of cabinets. You can also hang small cubes or bins on walls in a bedroom or bathroom to store linens up and out of the way.
Incorporate Reclaimed Wood Accents
Bring new life to your RV furniture with reclaimed wood! Depending on the size of your RV, you can utilize old wood to make kitchen tables, countertops, ceiling beams, or flooring. Designing your camper with reclaimed wood also gives the interior of your RV a more natural feel, mimicking the outdoors!
Go with New Windows
Windows are a key feature of any camper vehicle. If you're looking to improve the look of old windows, replace them with all-weather windows! Make sure the windows you install are durable, protective against harsh weather conditions, and tinted to block out sunlight, too. Windows should be sealed well with caulk to keep any rain, sleet, hail, or snow outside of the RV. To complete the project, hang up stylish window treatments to prevent sunlight from overheating your interior during the day!
Transform Your RV with New Flooring
Is your RV flooring showing signs of wear and tear? Your RV remodel should include installing new flooring! Choose from easy-to-install options like hardwood, laminate, vinyl, or tile to make your floor more durable when taking road trips around the country.
Update Interior Lighting
If your RV interior is too dark, it might be time to swap out lighting! Update old box lights with new fixtures and LED bulbs to give your van a more modern look. In your dining area, hang a flush mount dinette light that you won't bump your head on. You can also put up wall sconces in a bathroom or living room to brighten up your space!
Add a Skylight
Make your camper feel bigger by adding a skylight to the roof! Skylights come in various shapes and sizes and are the perfect way to incorporate more natural light into your RV interior. Add pleated shades to your RV skylight to help block out direct sunlight during peak hours and close up the interior better for sleeping at night.
Get Refreshed with a Built-in Shower
If you're living on the road, having a shower in your RV bathroom is key! For this custom van idea, build a shower with a high-pressure shower head and attachable hose. To keep water from spilling out, use a non-skid shower pan with high sides on your shower floor. Complete your RV shower makeover by adding a patterned tile to the interior for a fun, decorative touch.
Upgrade Your Bathroom Vanity
Looking to upgrade an old bathroom vanity? Invest in an RV sink that's built specifically to work with your plumbing system. Plastic, acrylic, or stainless steel sinks are popular options for an RV bathroom renovation. Nearly any type of faucet can be fitted for your bathroom vanity, as long as it's lightweight! Go with a pebbled copper faucet or a sleek stainless steel one. And with finishing touches like a round mirror and towel rack, your bathroom will look brand new!
Replace Your Old Toilet
Change out the toilet in your RV for a new one to make life on the road a bit easier! When choosing a camper van toilet, it's good to go with an option that works well with your camping needs. The best toilets to install for your RV remodel are a gravity flush toilet or a portable camping toilet. If you're looking for an eco-friendly option, consider a composting toilet to help reduce water usage!
Dine & Lounge in a Cozy Banquette
If you're searching for an RV space-saving solution for eating and working, opt for a custom banquette in your kitchen! Banquette seating maximizes kitchen space in an RV, and it can double as a hidden spot for more storage. All you need are some comfortable cushions and a small table in the center of your banquette where you can enjoy meals, set up a makeshift office, or play games with the family!
Install New Kitchen Appliances
Your RV kitchen is perfect for cooking meals and saving money on dining while on the road. Upgrade kitchen appliances like the stovetop, dishwasher, microwave, and refrigerator to get your area ready for cooking, cleaning, and storing food. Consider choosing more energy-efficient appliances, too!
Opt for New Kitchen Countertops
If you're searching for an affordable way to upgrade your RV kitchen, change out the countertops! Add a butcher block countertop style by repurposing old wood from other RV makeover projects. Go with concrete countertops by putting thin layers of cement over existing counters. Or install granite or marble countertops to elevate your camper van design with a more contemporary look!
Update Kitchen Cabinets
For a budget-friendly kitchen upgrade, paint old worn-down cabinets to give them a fresh look! If your RV has an eclectic vibe, you could even paint your kitchen cabinets a fun color like a bold green or slate blue. If a simple paint job won't suffice, tear out old cabinets and install custom cabinets. Not only will this give your RV interior a cleaner look, but it will also add more hidden storage space in your kitchen!
Add a Kitchen Island
Free up counter space in your RV kitchen by installing an island! Move the sink over to the kitchen island to make more room for food prep on other counters. You might also consider including more cabinet space in the island for storing dishes, silverware, utensils, and other kitchen items!
Design a Decorative Backsplash
Installing a backsplash is a smart choice! It protects your interior walls from damage, and it also adds some flair to your RV kitchen. You can go with farmhouse-style shiplap, classic mosaics, or patterned tiles. Don't want to commit to a certain design with your kitchen? Install simple peel-and-stick subway tiles to complement almost any kitchen interior design!
Elevate Your Space with a Loft Bed
Need to maximize space in your RV? Install a loft bed! Lofting the bed is a space-saving solution used in many small campers that don't have a designated bedroom. Just be sure to add a ladder or some built-in stairs so that you're able to get in and out of your loft space without trouble!
Give the Kids Classic Bunk Beds
Bunk beds are a great option if you're living on the road or traveling with kids! You can custom-build bunks to fit your RV, camper, or van. Transform an existing closet into small space bunks. Create a conversion bed to bunk. And don't forget to take advantage of the space you'll gain underneath bunks—it's an ideal spot for stashing storage containers or adding built-in hidden storage drawers!
Build a Bunk for Pets
If you're bringing a furry friend on your RV road trip, consider building a small pet bunk into your RV where your pet can sleep, play with toys, and enjoy their meals! By giving your dog or cat a place to call their own, they'll be more likely to stay relaxed throughout your drive
Add Solar Panels
Living on the road requires you to become more sustainable. Adding solar panels to the roof of your RV can cut down on energy needed from a generator. Solar panels are also a great way to extend the battery life of your RV, and they can even save you money on the propane used for heating your vehicle!
Revamp the Exterior
Don't forget about the exterior of your recreational vehicle. Paint the van exterior with crisp colors like white or gray—or go for a brighter choice like blue or green! Reside it with aluminum or fiberglass and include better insulation. And swap out an old camper door with a DIY upgraded RV door!
***
Need a place to store your RV, camper, or van when it's not in use? Extra Space Storage has convenient and secure vehicle storage solutions available throughout the U.S. Learn more about RV storage!
Sours: https://www.extraspace.com/blog/home-organization/diy-projects/rv-makeover-ideas/
Remodel ideas bedroom rv
Camping in an RV can be a blast, but, if you're spending a lot of time in a small space that you don't really "Love", it can detract from the enjoyment of the trip. Here's how to transform the camper bedroom on a minimal budget with this easy RV bedroom makeover!
RV Bedroom Makeover
This budget-friendly RV Bedroom makeover was graciously shared with us by Laura and Dennis Duncan.
While the rest of the camper was absolutely stunning inside, the drab color scheme in the bedroom really didn't offer much pizzazz. In fact, to Laura, the headboard was a complete eyesore. With a little creativity, a love for all things BEARS, and some help from her husband Dennis, the hibernation station was born.
RV mattresses are notoriously thin, offering little padding. This is often remedied by replacing the mattress entirely, or by adding an inexpensive foam topper. Of course, if you add too much weight to the bed, you'll want to reinforce the bed lifts and install universal lift gas struts.
These lift supports allow the lifted bed to remain in place until you choose to close it. This handy feature gives you unhindered access to the storage area beneath the bed.
Creating the Hibernation Station
Having a love for bear decor, Laura created a cozy hibernation station. The original camper walls were a drab tan sand tone, severely lacking color.
Remove the existing headboard by unscrewing it from the wall. Reupholster it with whatever fabric suits your fancy. Use a heavy-duty staple gun or upholstery tacks to secure the fabric in place.
Regular wallpaper is messy and hard to change if you get tired of it. Rather than use wallpaper that requires glue, Laura opts for a pretty peel and stick wallpaper. This particular wallpaper is called blue distressed wood. It's repositionable, washable and doesn't leave a nasty residue behind when it's removed.
Prepare the Walls
Next, prepare the walls prior to installing the peel and stick wallpaper. RV walls are often treated with a waterproof coating to help keep the surface clean and easy to wash. If you don't wash the walls down and then lightly sand them, the paper won't adhere properly.
Start applying the sticky wallpaper, smoothing each section as you go. A clean plastic putty scraper works great to remove any small air bubbles that may form.
Continue adding the sticky paper, ensuring that the design lines match up. Use a utility knife to carefully cut out outlets or around shelving as needed.
This is the unfortunate result if you fail to follow the directions on the wallpaper packaging. Laura didn't prep the wall first, lightly sanding it, so the paper initially peeled off.
It's coming together nicely, Laura can't help but add the headboard in to see how gorgeous the finished hibernation station will be. The blue in the wallpaper really looks nice with the headboard fabric, don't you think?!
Once the back wall has been papered, center the headboard and screw it back into place to secure it against the wall.
Here's a shot of the bedroom, just before applying the finishing touches. This sweet supervisor is P!nk, she's been overseeing all of the work to make sure it's done properly!
Finally, it was time to add some finishing touches, a few bear-themed wall decorations acquired at Hobby Lobby (for 40% off). Laura's mom used the leftover material from the headboard to make a few accent pillows for the bed.
As you can see, do it yourself RV makeover and remodel projects don't have to cost an arm and a leg. Here's how to repair and seal your RV roof to help save you thousands.
We'd like to give a special thank you to Laura and Dennis for giving us permission to share your idea and photographs!
Categories DIY Decorating, Do It Yourself, Frugal LivingTags camper bedroom makeover, camper remodel, rv bedroom remodel, rv remodelSours: https://www.budget101.com/do-it-yourself/581672-rv-bedroom-makeover/
36 Popular RV Bedroom Design Ideas
The. Zipper is unbuttoned. he pulls the T-shirt out of his jeans, pulls the elastic of his panties down, under the already standing dick. here it is, in front of her eyes.
You will also like:
I take "him" in my mouth, playing with the tongue with the head, and let go. And again I take it and squeeze it with my teeth. You make wild sounds and still try to push it through.
105
106
107
108
109