Final Fantasy 7 Remake Wiki Guide
is the iconic main protagonist of Final Fantasy VII. His trademark is the huge Buster Sword that he carries with him as his weapon. Originally a mercenary hired by AVALANCHE, Cloud discovers that Sephiroth is alive after he sees Sephiroth's sword was used to murder the Shinra president and sets out on a journey to kill his old foe. 
Please note that this information is currently carried over from the original Final Fantasy VII Wiki. Specific information will be updated upon Final Fantasy VII Remake's release.
Cloud's Weapons
Weapon
Stats
Materia Slots
Weapon Location
Buster Sword
18 Atk, 2 Mag
1 Linked
Begins with it
Mythril Saber
23 Atk, 4 Mag
1 Linked, 1 Single
Purchased in Kalm Shops for 1,000 gil
Hardedge
32 Atk, 6 Mag
1 Linked, 2 Single
Steal from SOLIDER: 3rd

Purchased in Upper Junon Shops for 1,500 gil

Butterfly Edge
39 Atk, 8 Mag
2 Linked
Purchased in Cosmo Cayon Shop for 2,800 gil
Enhance Sword
43 Atk, 16 Mag
4 Linked
Found at Gaea's Cliff

Purchased at Upper Junon Shop for 12,000 gil

Organics
62 Atk, 15 Mag
2 Linked, 2 Single
Purchased at Icicle Inn Shop for 12,000 gil
Crystal Sword
76 Atk, 19 Mag
3 Linked
Purchased at Mideel Shop for 18,000 gil
Force Stealer
36 Atk, 7 Mag
3 Single
Received for Junon Military Send-Off High Score

Purchased at North Corel Shop for 2,200 gil

Rune Blade
40 Atk, 9 Mag
4 Single
Found at Mt. Nibel

Purchased at Upper Junon Shop for 3,800 gil

Murasame
51 Atk, 12 Mag
2 Linked, 1 Single
Purchased at Wutai Shop for 6,500 gil
Nail Bat
70 Atk, 0 Mag
None
Found in the Temple of the Ancients

Buy at Junon for 2,800 gil

Yoshiyuki
56 Atk, 9 Mag
2 Single
Found in Rocket Town
Apocalypse
88 Atk, 43 Mag
3 Single
Found in Ancient Forest
Heaven's Cloud
93 Atk, 31 Mag
6 Single
Found in Gelnika
Ragnarok
97 Atk, 43 Mag
3 Linked
Found in Midgar Sector 8, which the Proud Clod is defeated
Ultima Weapon
100 Atk, 51 Mag
4 Linked
Drop by Ultimate Weapon
Cloud's Limit Breaks
Level 4 Limit Breaks require you getting a specific item, and for the character to learn all of their previous Limit Breaks before being able to use the item.
| Limit Break | Effect | How to Unlock |
| --- | --- | --- |
| Level 1: Braver | Attacks one opponent (3x normal attack damage) | Begins with it |
| Level 1: Cross-Slash | Attacks and paralyzes one opponent | Use Braver 8 times |
| Level 2: Blade Beam | Diffuses after hitting one opponent (splash damage) | Defeat 120 enemies |
| Level 2: Climhazzard | Attacks one opponent (slightly over 4x normal attack damage) | Use Blade Beam 7 times |
| Level 3: Meteorain | Attacks all opponents (6 meteors at random targets) | Defeat 200 enemies after obtaining Blade Beam (total 320 enemies) |
| Level 3: Finishing Touch | Blows away all opponents | Use Meteorain 6 times |
| Level 4: Omnislash | Slices up all opponents | Award for completing the Gold Saucer Battle Square |
Sours: https://www.ign.com/wikis/final-fantasy-7-remake/Cloud_Strife
'Final Fantasy VII Remake' part two will have Cloud explore the world
Final Fantasy VII Remake part two will reportedly feature gameplay that "leverages the vastness of the world".
In a new interview with IGN, while talking about the launch of Intergrade and Episode Intermission, co-director Naoki Hamaguchi spoke about what Final Fantasy VII fans can expect from part two.
Talking about how he's happy with how the first game made players feel, Hamaguchi also mentioned what changes will be implemented moving forward with part two.
"…Because the next installment will involve Cloud and company to leave Midgar and explore the world map," Hamaguchi said, "our next challenge will be to create gameplay that leverages the vastness of the world, unlike what we did in this current title."
After the release of the Final Fantasy VII Remake Episode Intermission DLC, the end credits revealed a brand new ending to the base game and teased what players can expect from the upcoming part of the saga.
Director Tetsuya Nomura has previously stated that FF7R part two will take place directly after the events of Intermission and will find Cloud running around in the wild, with a different atmosphere.
In February, Nomura confirmed that he will not be directing the next installment in the Remake saga due to him working on an "unprecedented number of projects".
The Final Fantasy Pixel Remaster games have also received a release date of July 28. Fans will be able to but the whole collection for £70, or individually for prices ranging between prices ranging from £8.99 to £12.99.
In other news, Final Fantasy 7 Remake and Alan Wake Remastered were recently leaked on the Epic Games Store.
Sours: https://www.nme.com/news/gaming-news/final-fantasy-vii-remake-part-two-will-have-cloud-explore-the-world-2985694
Square Enix just announced Final Fantasy VII Remake Intergrade, a PS5-enhanced version of FF7 Remake that includes graphical improvements like "improved textures, lighting, and background environments." But some users on ResetEra noticed one other potentially huge graphical upgrade: Cloud's famously skinny arms may have gotten a bit beefier.
Did Cloud get more swole for next-gen, like the PS5 itself?
Clearly, this warranted a full investigation.
Check out this image, from user Tyaren:
And this GIF, from user Rickenslacker:
Convincing, right? These two images make a strong argument. But my Verge colleagues and I weren't totally sure. Like our brothers in arms at Reddit suggested, it could be a trick of the improved lighting or slightly different angles in the images.
We needed sturdier evidence, and because we're professional journalists here at The Verge, we knew we had to dig in deep to try to solve this question — like we did when comparing the tall lady in Resident Evil Village to other tall things. So we've spent the better part of an hour arguing about the issue in Slack, zooming in super closely on photos of Cloud's arms, and poring over trailers frame-by-frame to find a noticeable difference in a video game character's nonexistent muscle mass.
Unfortunately, a few side-by-side images from Square Enix itself made it harder to settle the argument. See for yourself in these screenshots captured from this official Final Fantasy VII Remake Intergrade video.
We needed proof, darn it. Thankfully, my colleague Mitchell Clark had the powerful idea to colorize images from the PS5 and PS4 versions of the game and overlay them on top of each other. Check out the result in the video below (the PS5 version is red, while the PS4 version is blue). To me, this is the strongest evaluation yet.
Disappointingly, it also makes it appear as if Cloud's arms haven't changed in size at all from PS4 to PS5. Womp womp.
I'll leave it up to you to decide if Cloud actually beefed up or not for his PS5 debut. But I think we can all agree on one thing: Cloud's a lot more swole in both versions of Remake than he was in the original game.
Sours: https://www.theverge.com/tldr/2021/2/25/22302175/cloud-strife-arms-muscles-ps5-final-fantasy-vii-7-remake-intergrade
Final Fantasy 7 Remake - Cloud Fenrir Cutscene (FF7 Remake) 2020
The PlayStation 5 update forFinal Fantasy 7 Remake comes out June 10. And while Intergrade adds plenty in the way of graphical updates and the option to play the new Yuffie DLC, fans are rejoicing because of a relatively small fix: Cloud Strife's door has been fixed. Good for him!
In case you were wondering what was wrong with the door, well, it wasn't that much. It worked fine; Cloud could open it and it didn't break the game at all. So what's the problem? It looked a little shiny. Oh, and the textures were blurry as hell.
Fans complained about how the door looked when Remake originally launched in April 2020, and they made memes to joke about it. Now, a year later, there's a fix — at least, there is for the PlayStation 5 version.
Square Enix acknowledged the change with a playful tweet. A post from the game's official account posted a screenshot of Cloud standing outside the door with his arms crossed, saying, "And here we are. Good ol' Stargazer Heights."
Here are the comparison shots. Now we know, from the new textures, that the door is wooden and not metal.
Unfortunately, it looks like this change didn't unroll on the PlayStation 4. So you will have to pay up and hunt down a PlayStation 5 if you want those sweet next-gen door graphics.
Sours: https://www.polygon.com/22525946/cloud-strife-square-enix-door-final-fantasy-7-remake-intergrade
7 fantasy cloud final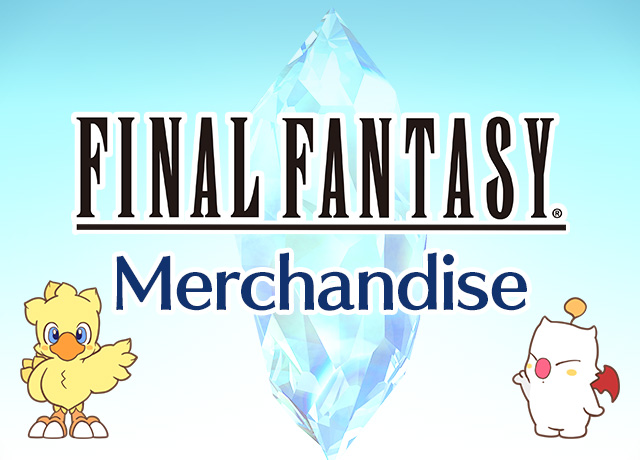 Did you know that August 11th is the birthday of FINAL FANTASY VII's very own Cloud Strife? It is!
To celebrate this very special occasion, let's take a closer look at several FINAL FANTASY VII items featuring Cloud that are currently available from the SQUARE ENIX STORE.
FINAL FANTASY VII REMAKE T-Shirt Cloud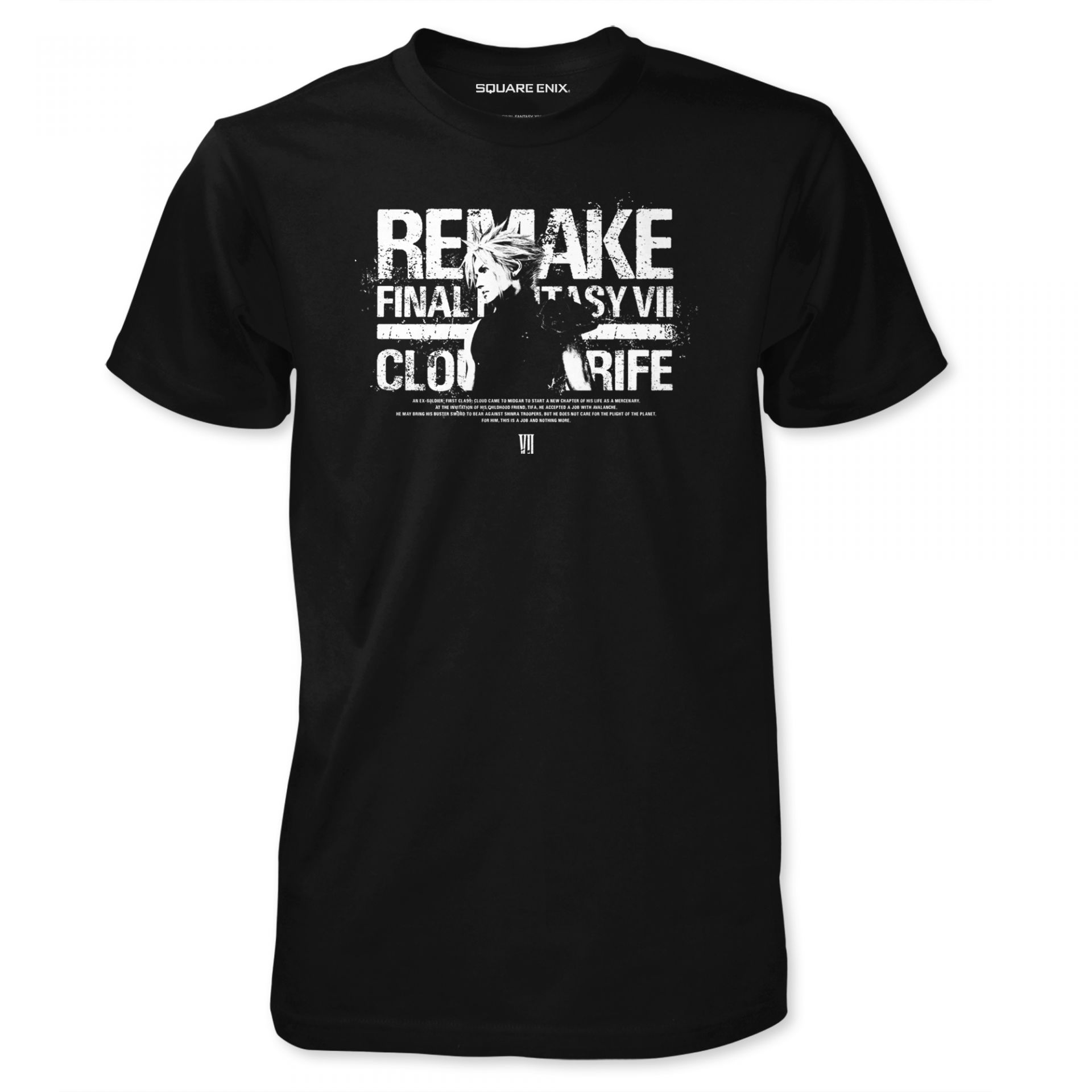 Presenting a brand-new T-shirt featuring Cloud from FINAL FANTASY VII REMAKE!
Made from 100% cotton
High quality print
Unisex design
Details
SRP: from $24.99
FINAL FANTASY VII REMAKE Character Sticker - Cloud Strife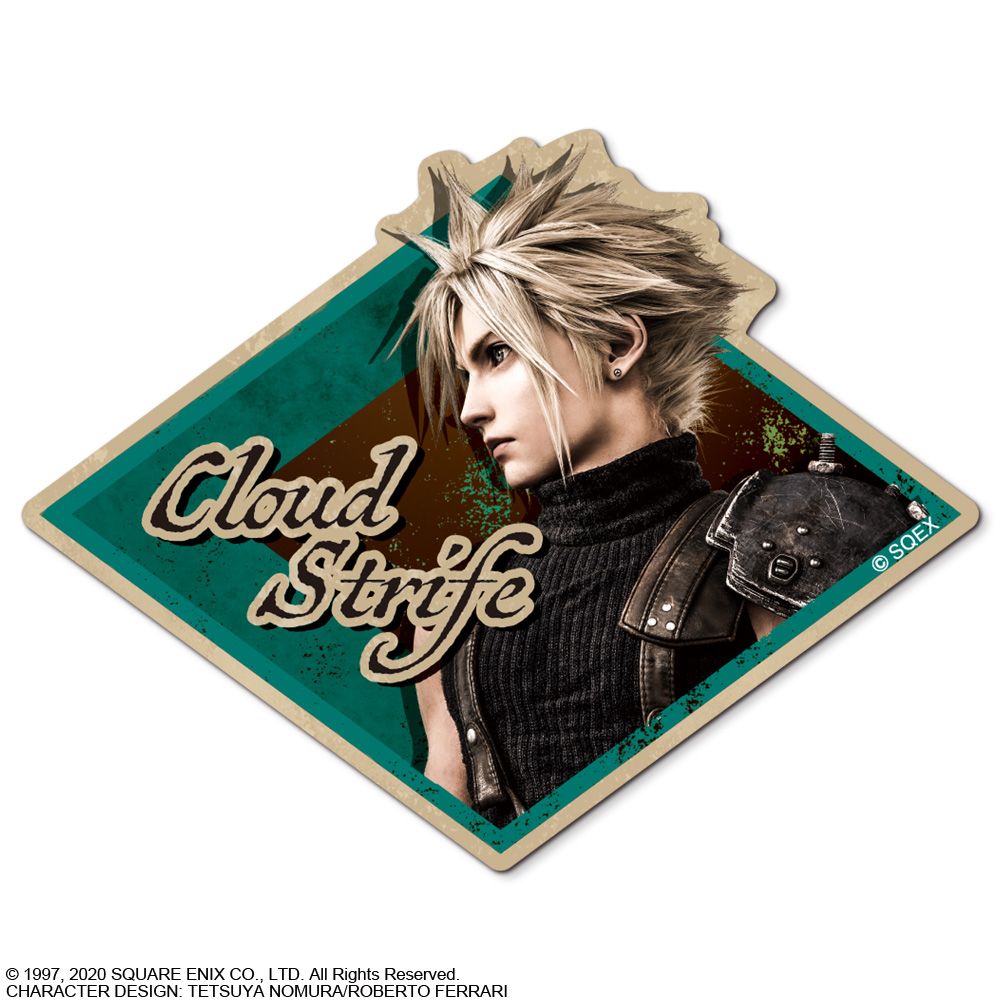 These Character Stickers are available with colourful profiles of Cloud, Barret, Aerith and Tifa. Don't hesitate to use these on your Laptop or favourite notebook!
Each Sticker brings you a little closer to your favorite FINAL FANTASY VII REMAKE characters!
Details
SRP: $2.99
FINAL FANTASY VII Makie Metallic Decoration Stickers: Cloud Strife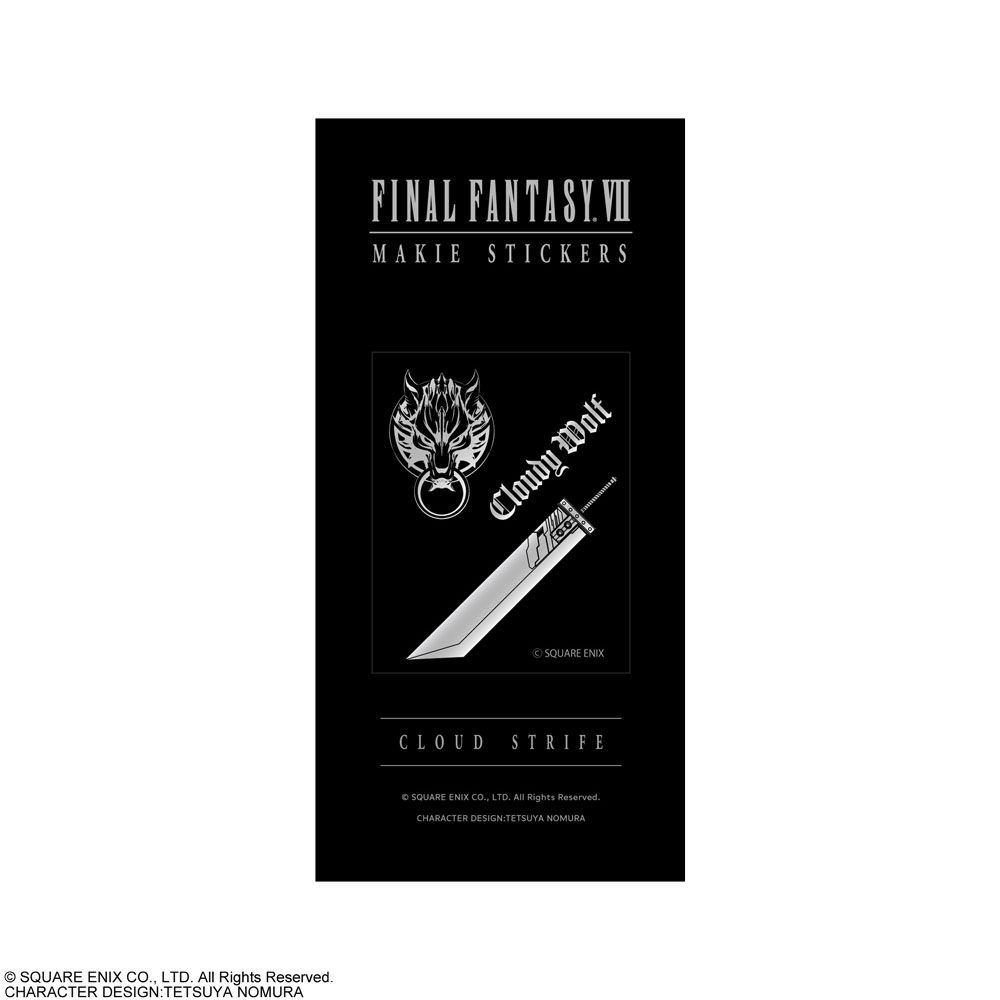 Makie is a traditional Japanese technique made by using metallic leaf, these FINAL FANTASY VII Stickers feature an amazing silver sheen from the Aluminum used.
The available classic emblems from Cloud can be used to add that little extra to everything from plastic, metal, glass and ceramic items.
They're great on phones, consoles and laptops. It's easy to show your fandom with these strong and unique Makie Stickers!
This exquisite piece brings you a little closer to your favorite FINAL FANTASY VII REMAKE characters!
Details
SRP: $8.99
FINAL FANTASY VII REMAKE Metallic File Vol. 1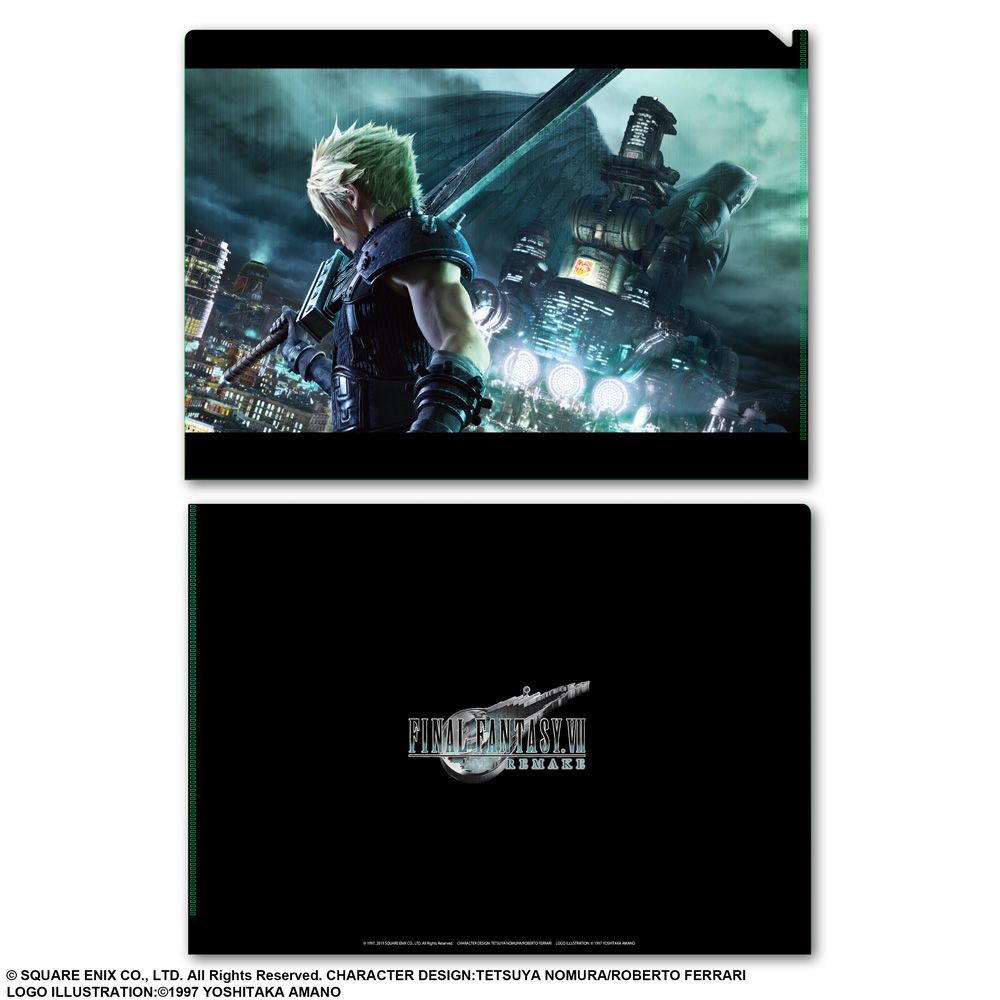 This gorgeous Metallic File featuring Cloud and Sephiroth as they appear in FINAL FANTASY VII REMAKE.
With Cloud holding his signature Buster sword and Sephiroth's ominous profile overshadowing Midgard, this File will be a great addition for any FINAL FANTASY VII fan!
Details
SRP: $5.99
FINAL FANTASY VII REMAKE Metallic File: Cloud Strife & Hardy-Daytona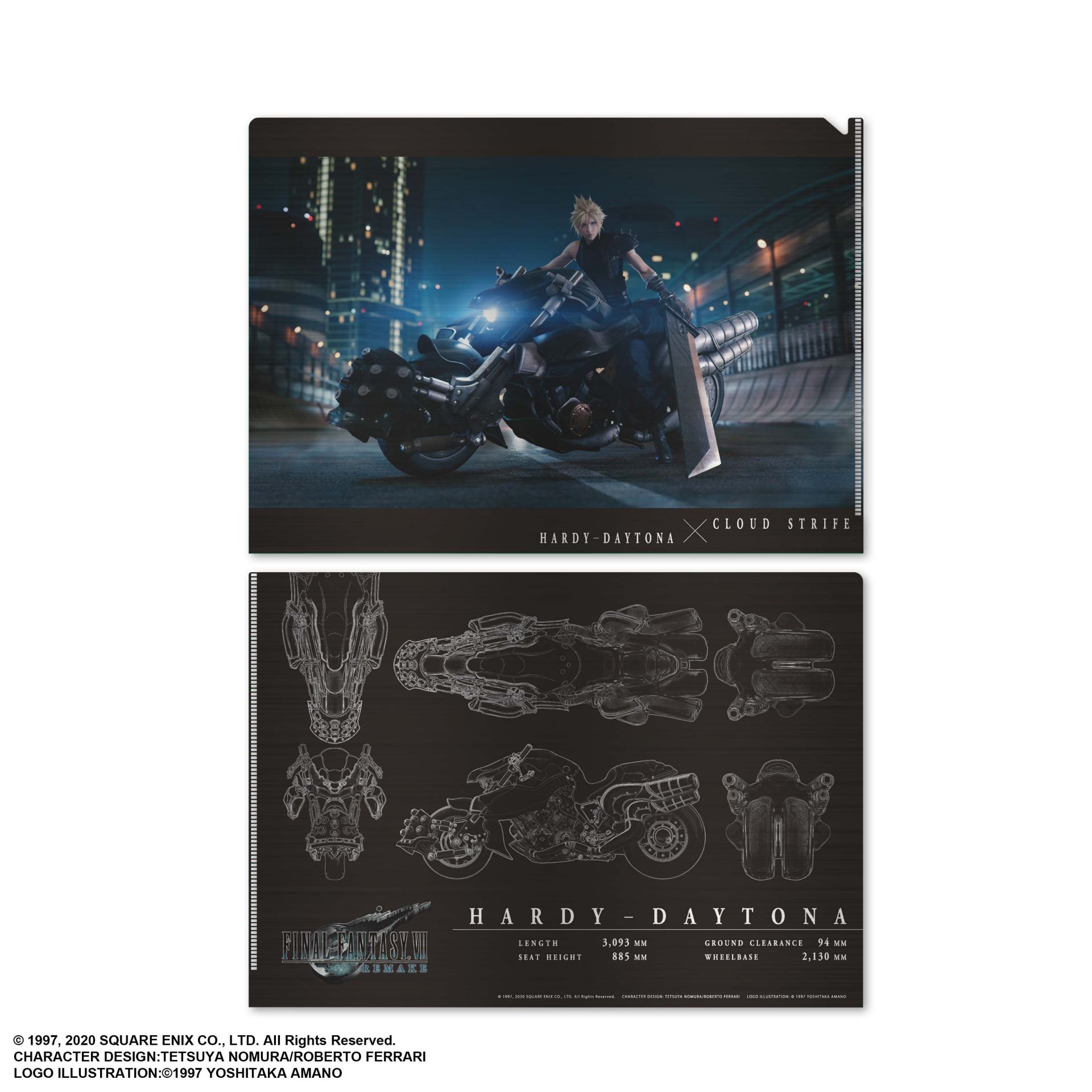 This gorgeous Metallic File featuring Cloud and Hardy-Daytona as they appear in FINAL FANTASY VII REMAKE. With Cloud holding his signature Buster sword and parked on a road in Midgard on one side, while the other has a schematic view of Hardy-Daytona and its dimensions!
This File will be a great addition for any FINAL FANTASY VII fan!
Details
SRP: $5.99
FINAL FANTASY VII REMAKE Pin Badge Collection (Blind Box Display)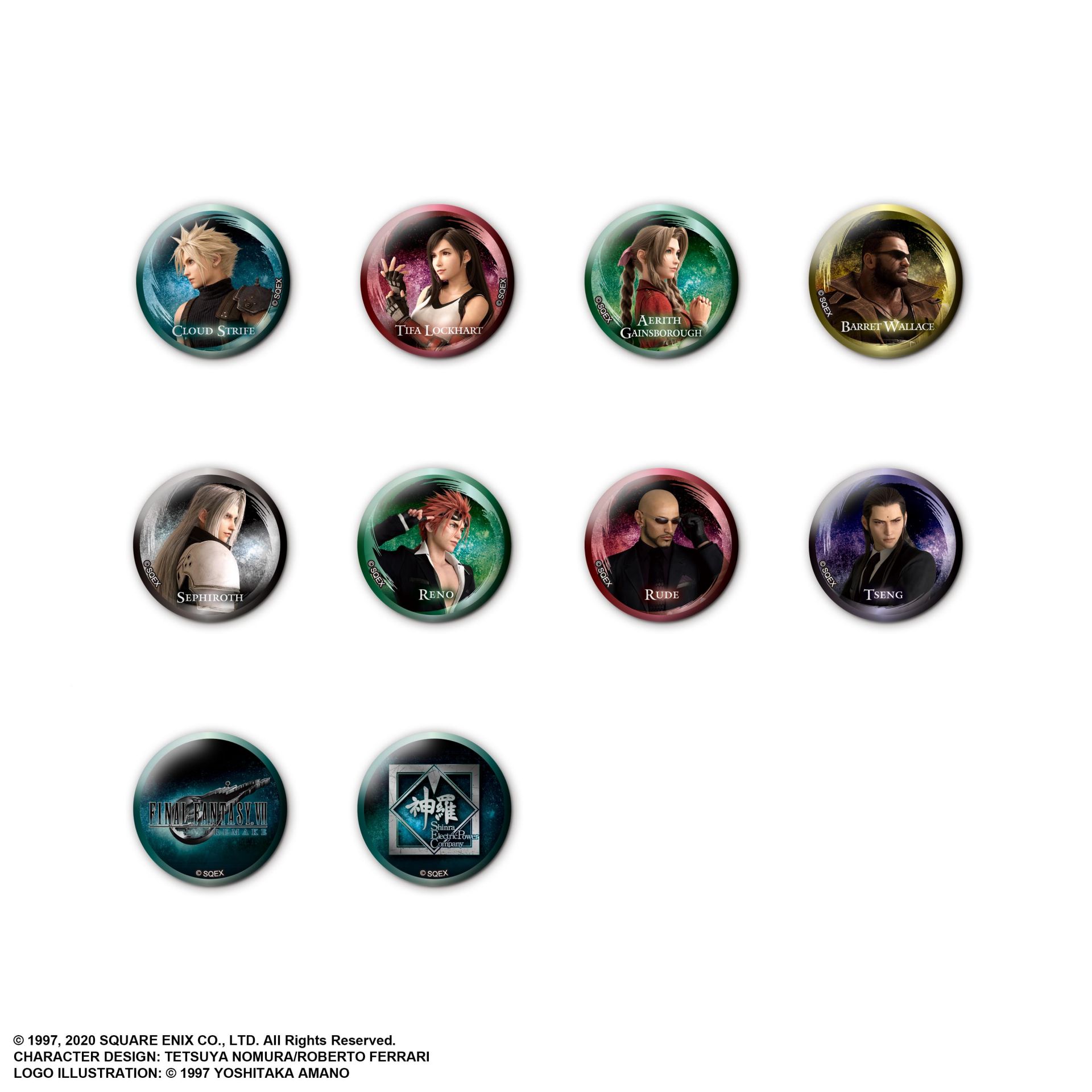 Cloud and the cast from FINAL FANTASY VII REMAKE make their official debut as pin badges!
These easy to collect, and even easier to wear, badges allow you to enjoy the larger-than-life world of FINAL FANTASY VII REMAKE with one of the most beloved cast of characters.
*Purchase of one display, does not guarantee all styles.
*Square Enix cannot guarantee with utmost certainty that every display will contain a full set as each item comes in a blind box.
Details
SRP: $50.00
FINAL FANTASY VII REMAKE Metallic Art Tumbler: Vol. 1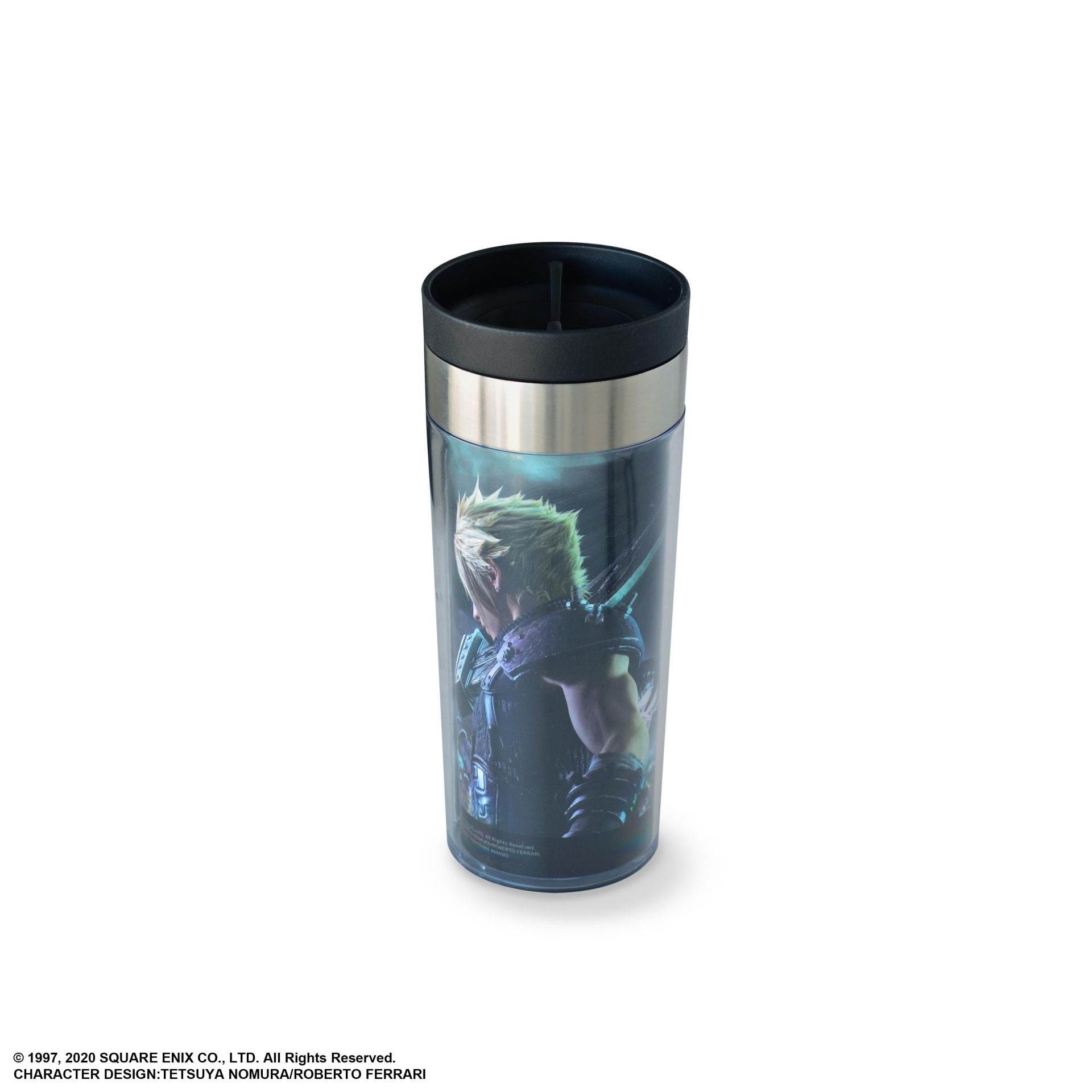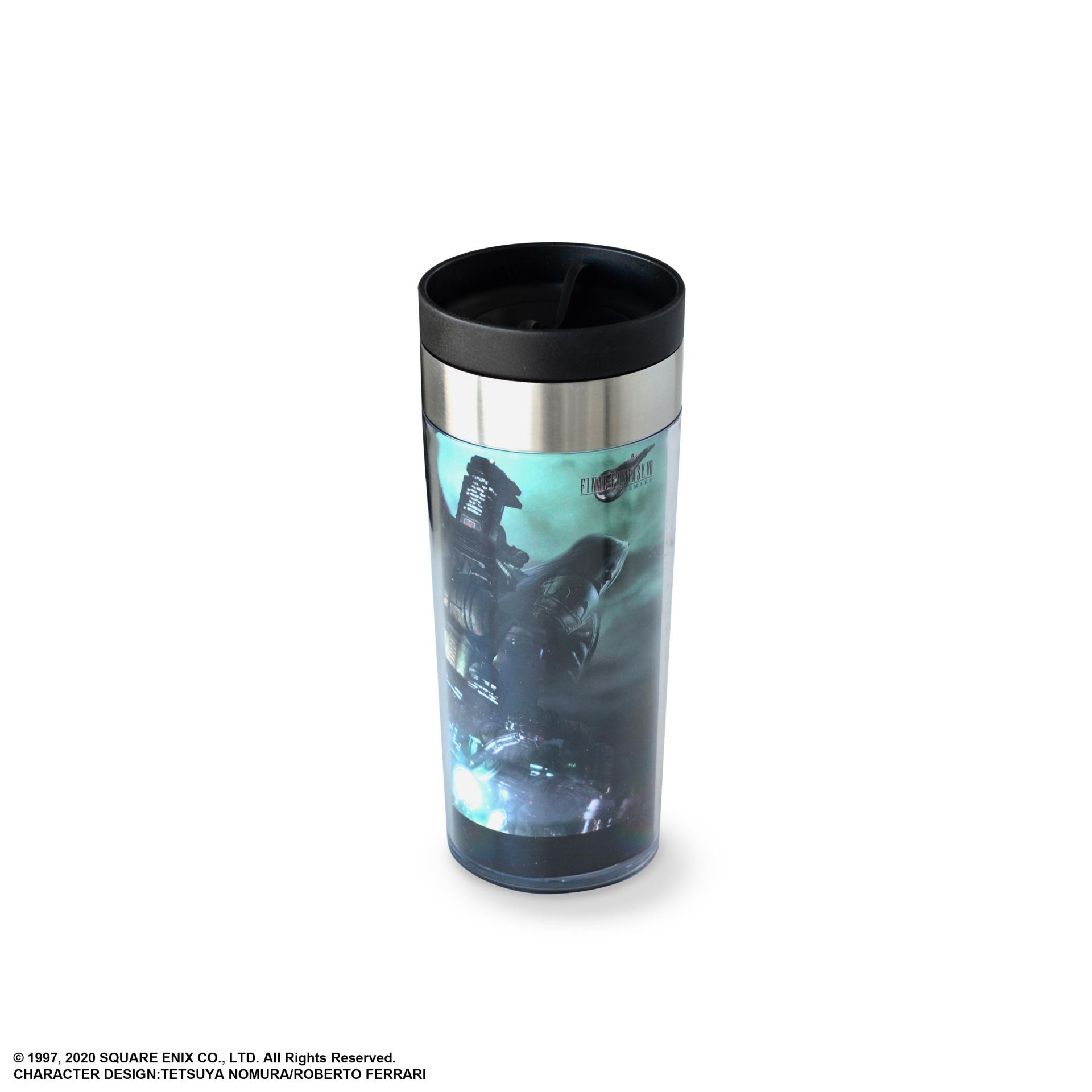 Presenting Metallic Art Tumblers, celebrating FINAL FANTASY VII REMAKE.
With aluminum and acrylic construction, featuring Cloud backed by the Shinra facility found in Midgar.
These will make amazing presents for fans to show off their love for FINAL FANTASY!
Details
SRP: $28.99
Release Date: August 2020
FINAL FANTASY VII REMAKE Square Smartphone Case For iPhone 11 : Emblem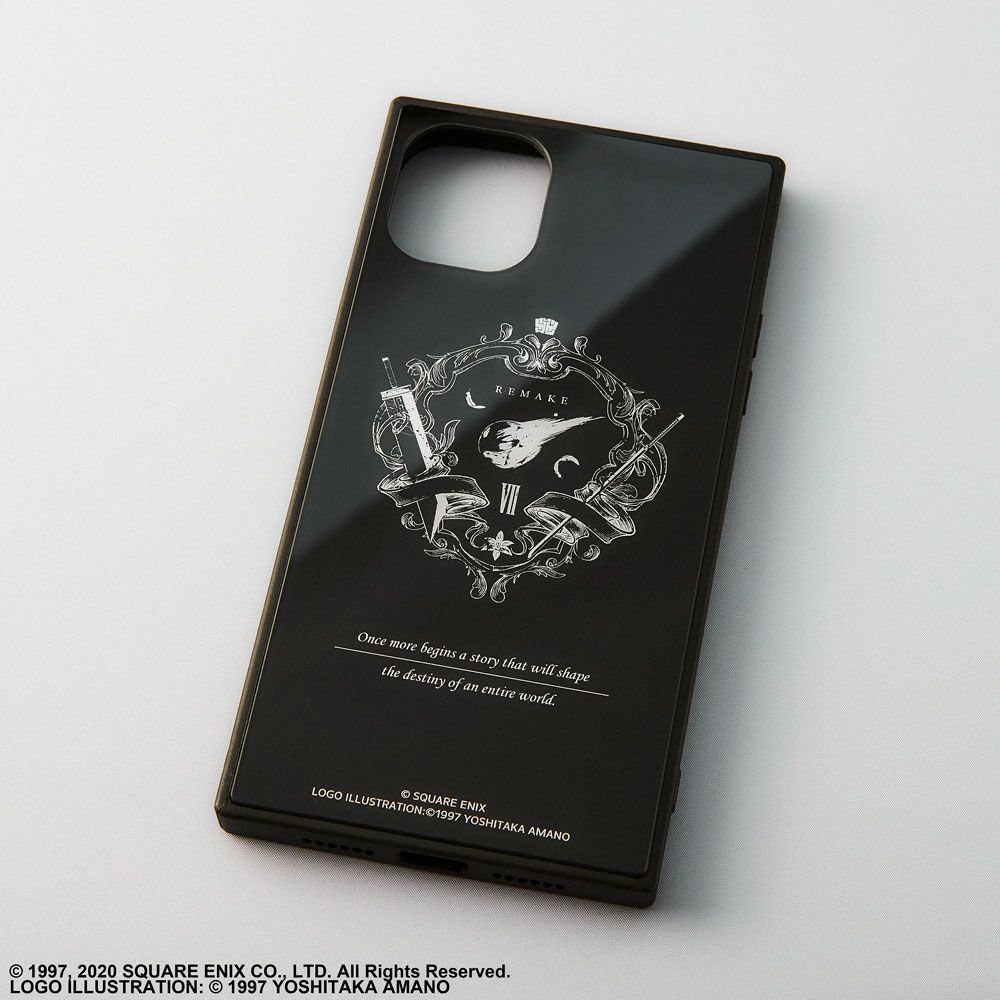 With designs from the universe of FINAL FANTASY VII, these stylish cases, suitable for iPhone 11, are a must have for any fan!
Each style emblazoned with iconic emblems, accented with metallic colors. Designed with a squared edge minimalist design, made from black poly-carbonate & TPU construction, these cases will be sure to impress.
Details
SRP: $31.99
Release Date: October 2020
FINAL FANTASY VII Advent Children Shawl: Cloud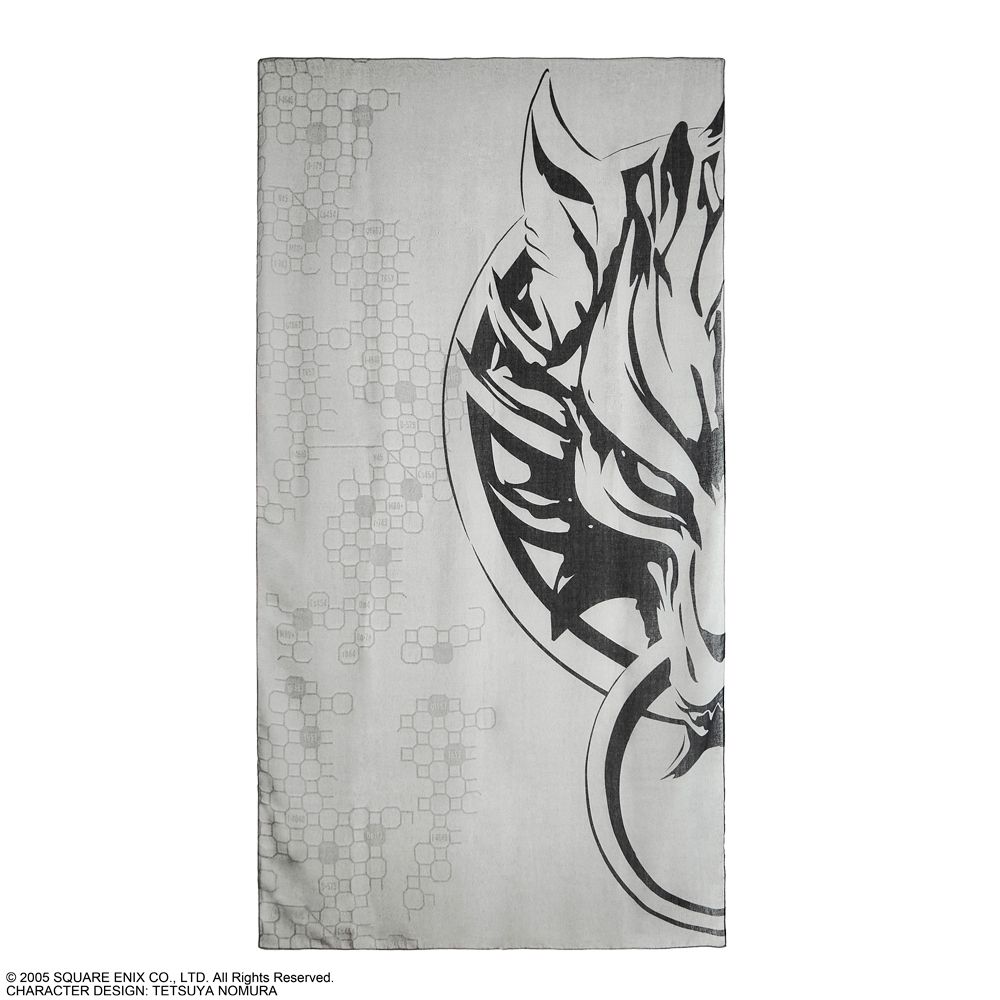 Bring FINAL FANTASY VII Advent Children into your life with a fashionable shawl.
Designed to prominently show the Cloudy Wolf and woven with varying gray fabrics make it easy to match any fashion statement or an everyday occasion!
Presented in a large size, you can hang it on your shoulder, folded up, or used around your neck. This a great accessory to add a subtle flare from the Final Fantasy universe to any outfit that fans will love!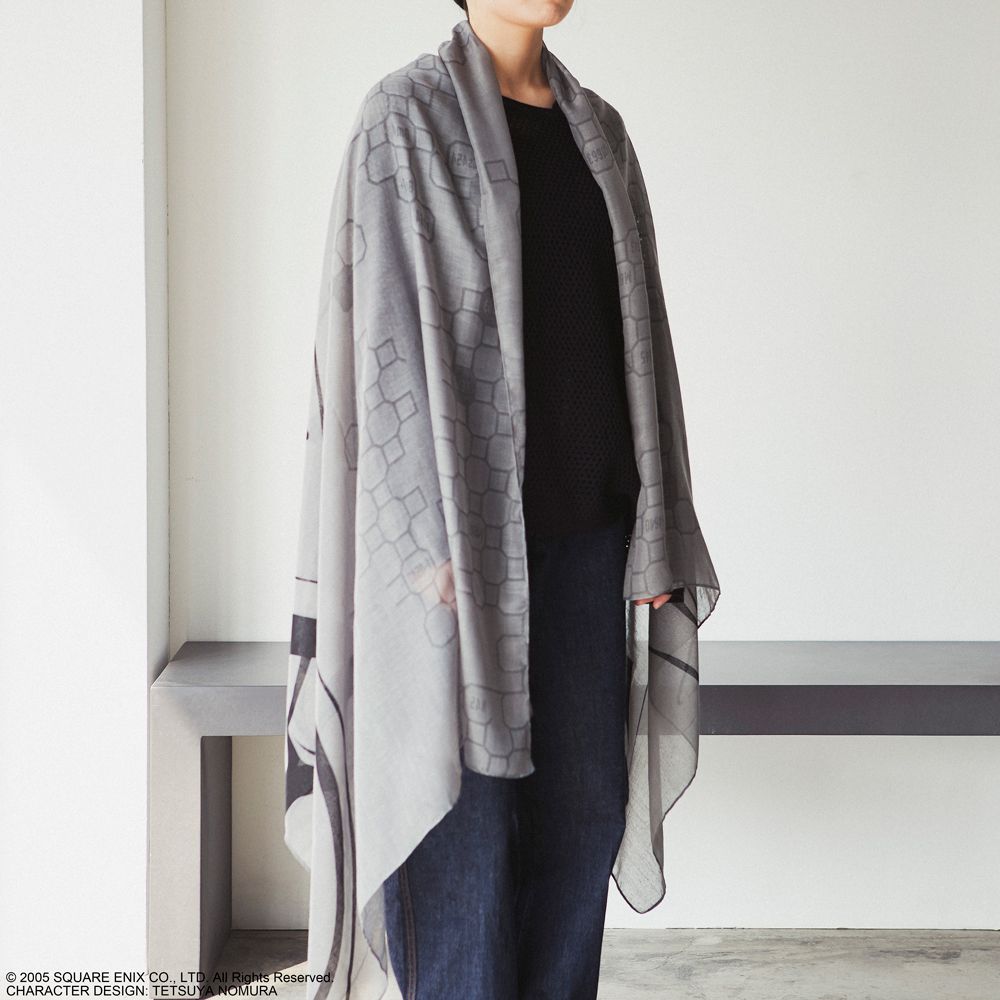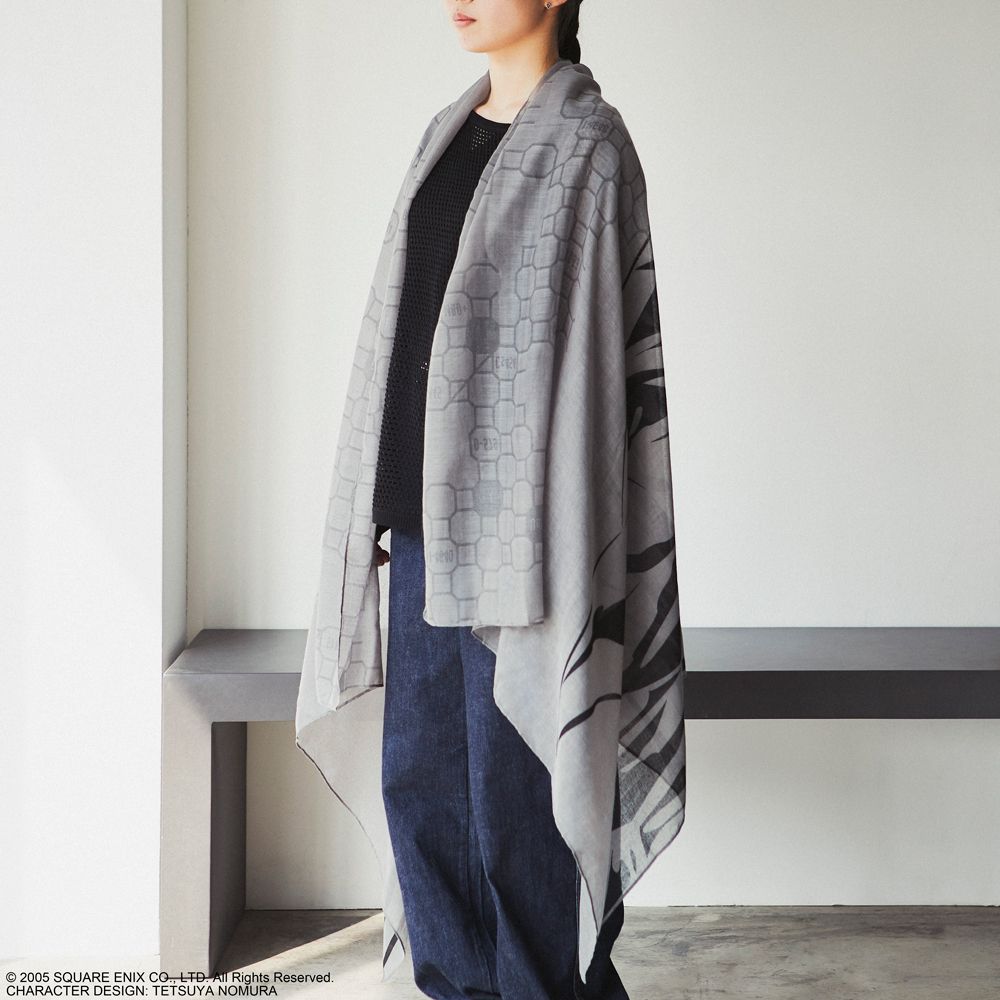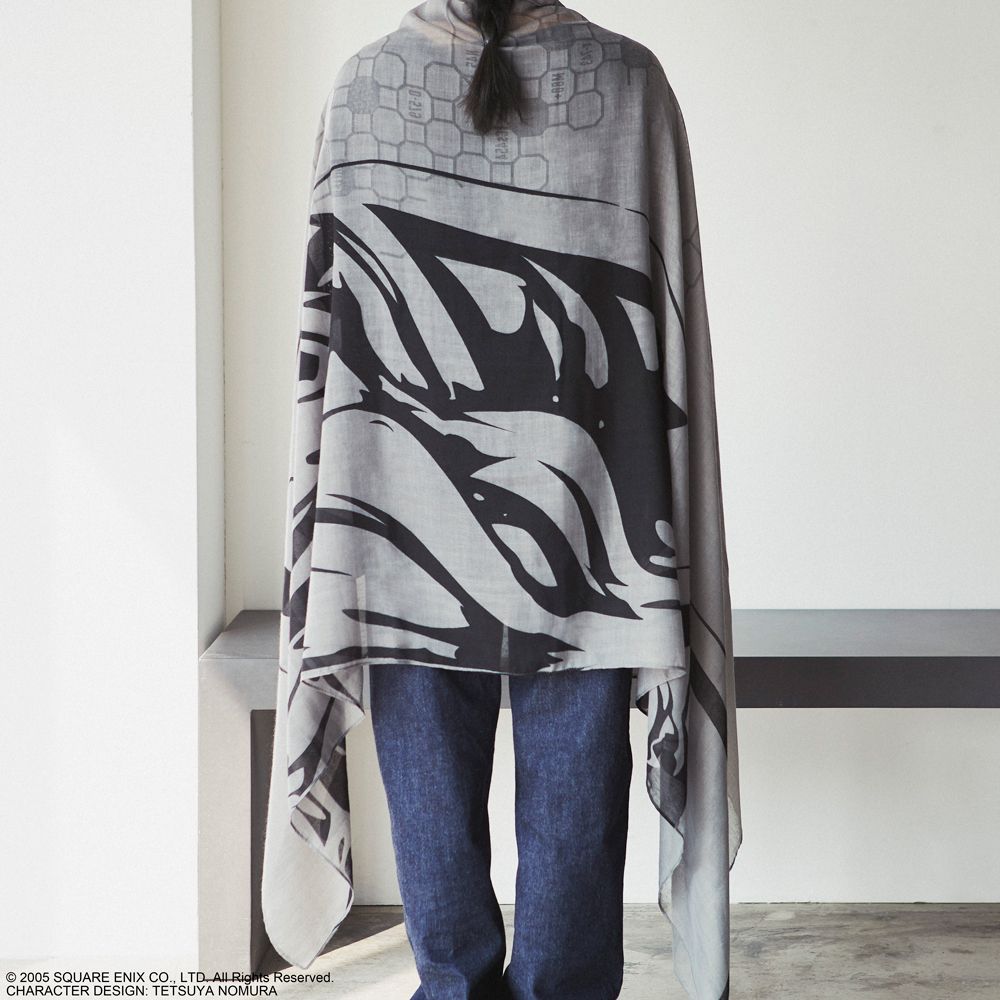 Details
SRP: $47.99
Release Date: October 2020
---
Special Interview: Digging Deep into the World of FFVII REMAKE! Part 1
Special Interview: Digging Deep into the World of FFVII REMAKE! Part 2
Sours: https://na.finalfantasy.com/topics/203
FINAL FANTASY 7 REMAKE All Tifa and Cloud Flirting Scenes
Final Fantasy 7: 10 Things You Didn't Know About Cloud Strife
Final Fantasy is considered by many to be one of the greatest video game franchises of all time, and it's easy to see why this is the case. After all, this storied JRPG series has been making history ever since the release of the first game in the franchise all the way back in 1987. However, there's one game that definitely played a huge role in bringing this series to the limelight, and anyone even remotely familiar with the history of video games will be well aware of which title is being talked about here.
RELATED: Final Fantasy 7: Defeat Emerald & Ruby Weapon the Easy Way
Final Fantasy VII is easily one of the greatest JRPGs ever made, and perhaps the most important game in the franchise, as well, due to the role it played in catapulting the series' popularity—and the prominence of JRPGs, in general—into the mainstream in definitive fashion. There are many reasons as to why Final Fantasy VII was such a landmark title, with its cast of characters being one of its many lovable aspects. The protagonist of this tale, Cloud Strife, is one such character who has etched his name in the annals of gaming history.
10 He Was Supposed To Wound Tifa Severely Before The Story's Events
In early drafts of the game's story, Tifa's character was originally meant to have a huge scar on her back after an attack by a brainwashed Cloud. This would've also led to her losing her memory, as well, just like Cloud.
Thankfully, none of these aspects were integrated with her character, since it's a given that having two people with amnesia in the main party could've dampened the effect of this plot twist.
9 His Romance With Tifa Was Meant To Be More Risque
Before heading to the Northern Crater, Tifa and Cloud end up sharing a rather intimate moment under the Highwind. While there's nothing overtly physical that happens in this scene, initial drafts were meant to be more obvious in that regard.
In an alternate scene, the player would see Cloud come out of the airship's Chocobo stable in the morning, closely followed by a wary Tifa. This would've implied that both characters spend the night together, something that Yoshinori Kitase was very much against depicting.
8 He Was The First Character Designed For The Game
With Cloud being the main protagonist of the title, it should be no surprise that he was the first character who was properly designed for the game.
RELATED: 10 Small Details You Only Notice Replaying The Original Final Fantasy 7
So, it's only fitting that the character designed right after him was none other than Aerith herself. However, what might be more surprising is the identity of the third character that was officially designed for Final Fantasy VII — Barret Wallace!
7 He Was Originally Supposed To Have Slicked-Back Black Hair
After it was decided that Sephiroth would have long and silver hair, the designers thought of giving Cloud slicked-back black hair to serve as a contrast to his rival.
However, due to Cloud's position as the protagonist, the character designers decided to give him blonde spiky hair in order to make him more notable as a main character.
6 Elements Of His Early Design Concepts Were Used For Angeal Hewley Instead
That being said, one good thing that can be said about Cloud's early design concepts is the fact that none of it really went to waste. After all, elements of this early design were used to create the character of Angeal Hewley instead in Final Fantasy VII: Crisis Core, which ended up being a rather smart move from the designers.
5 His Fusion Blades In Advent Children Initially Started As A Joke
During the development of Final Fantasy VII: Advent Children, the creators joked about how Cloud's Buster Sword was so massive that he would ideally have to carry the sword around in parts to wield it efficiently. Surprisingly enough, this joke actually sparked an idea in the minds of the designers, who ended up creating the iconic Fusion Blades from the movie that have remained a mainstay to this day.
4 Sephiroth Had More Control Over Cloud In Early Drafts Of The Story
While Cloud already has Sephiroth manipulating him over the course of the game's story, the latter's influence over the protagonist was going to be way stronger as per early drafts of the game's story. However, over time, Sephiroth's role in Cloud's mind ended up being somewhat muted in order to maintain an aura of mystery when it came to this character, something that definitely paid off in the long run.
3 His Personalities In Advent Children And The Remake Are Very Different
Cloud's character in Advent Children wasn't really appreciated by many due to his regression as a character from an awkward dork to a brooding loner.
RELATED: 10 Small Details In The Story Of Final Fantasy 7 Remake You Missed
Thankfully, in the Remake, Cloud's persona as the dork was focused on way more, and one need only look at the manner in which he struggles with basic social actions to understand how much of an improvement this character of Cloud was over his Advent Children counterpart.
2 His Name Is An Allegory For His Damaged Mind
Any Final Fantasy fan worth his salt should be well aware of the fact that most of the names present in the classic Final Fantasy titles served as rather obvious allegories for the minds and personalities of these characters.
This makes it obvious that the name "Cloud Strife" is meant to serve as a glimpse into the broken mind of Cloud and how the experiments by Shinra and Sephiroth's mad actions ended up damaging his psyche.
1 Zack's Surname Was Meant To Serve As A Contrast To Cloud's
Before Crisis Core, Zack never even had a last name. So, during the game's development, Hajime Tabata thought of giving Zack a surname that would serve as a stark contrast to the person who ended up taking his memories instead.
Thus, the protagonist of Crisis Core earned the name "Zack Fair," which was meant to depict a sense of calmness and stillness that was very much absent from Cloud's mind for the majority of Final Fantasy VII.
NEXT: Rumor: Final Fantasy 7 Remake PS5 Version Will Be Announced Soon
ShareTweetEmail
Next10 Strongest Grass-Type Pokémon, Ranked
Sours: https://screenrant.com/final-fantasy-7-cloud-strife-facts-trivia/
You will also be interested:
Why not. After all of today's events, this would be a nice end to the day. I sat down in a chair, she came up to me and opened her robe, under which there was nothing but a gorgeous black cock with a purple-red head. I licked the head, then took it into my mouth.
115
116
117
118
119