The Official Blog of The Fence Authority
If you're considering building your own fence, you've probably done research to determine what type of fence you want, how to prepare your yard, and what tools you will need. There is one seemingly minor, yet important question that you may still need to research, though – whether to use individual fence pickets or purchase pre-made fence panels.
Many people picture building a fence piece-by-piece when visualizing fence construction.
Someone with expert-level carpentry skills (and perhaps a heavily-wooded lot with access to high-quality trees) may even be able to saw, cut, plane, and sand their own fence pickets. More commonly, you can purchase individual wooden fence pickets wholesale or from a fence manufacturer to build your own fence.
While buying individual fence pickets may seem like a great idea when it comes to saving money and better customizing your fence, building your own fence panels out of pickets takes a lot of time and effort. You will need to build the fence rails, fit them to your fence posts, and nail each individual board to the rails, while ensuring they are straight and consistent in color, shape, and character. Fence panels come pre-assembled, but you will need to make sure they are installed level, and possibly cut some panels for length.
Wood fence pickets are the most common type of fence product that is sold individually, although some vinyl fence pickets may be found. Vinyl pickets can be trickier for the home DIYer to install, though, and are usually much easier to install when sold and shipped in panels..
You can work with a reputable fence company to custom-design a fence if you are looking for a very unique design. If you choose this option, your fence will typically come in panel-form, not as individual pickets.
Pre-manufactured fence panels come in multiple widths, heights, and styles. The most common width is eight feet, and common heights for security and privacy fences include six feet and eight feet, although smaller, decorative fences and more open, semi-private fences exist in three or four foot heights.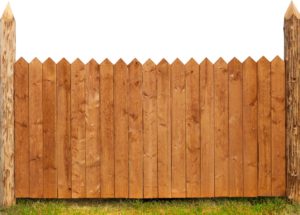 One major advantage of using pre-made fence panels is time. Rather than laboriously constructing each fence panel yourself, you have the benefit of skipping that time-consuming step and moving right on to setting and installing the panels themselves. This means your DIY fence installation can take only one weekend to complete, including fence preparation, rather than multiple weeks. Have your yard ready for spring and summer more quickly!
A second advantage of using pre-manufactured panels is quality. While you can choose a fence manufacturer that finishes and inspects each fence panel by hand, an industrial sawmill and woodshop will be able to more quickly manufacture pickets and form them into panels with no question of quality or conformity. The quality control process in fence manufacturing, even local, hand-finished manufacturing, will ensure a uniform product throughout not just each panel, but the entire fence.
When preparing to install a fence, many steps remain the same, whether you are choosing to use individual pickets or pre-made panels.
First, you need to measure for your fence. Be sure to check your survey for property line information when placing your fence. Mark where you will be placing fence posts. Using a string, run a plumb line around the perimeter
Next, you need to dig holes for your fence posts. These will be filled with concrete to level and support your posts, and therefore your fence. They should be larger than the posts that will be inserted for that reason. Make sure they are between 24 and 36 inches deep.
Third, level and fill your posts and post holes. Using your plumb line, make sure each fence post is the same height and that they all line up appropriately. Then, fill your post holes with concrete to hold them.
Now you're ready to install your fence panels! If you are installing individual pickets, you will first have to attach fence rails to your posts. Wood panel fences can be nailed directly to your fence posts. Wood, vinyl, or aluminum rail fences have special notches in the posts to attach rails, and are then screwed in for security and longevity. Vinyl panel fences come with special locking tabs that will securely click to the post.
The Fence Authority sources all wood from Canadian white or red cedar. We make our own fence pickets and panels at our three wood fabrication shops in West Chester, PA, Montgomeryville, PA, and Smyrna, DE. We finish each piece by hand, ensuring quality of materials. We also have a state-of-the-art vinyl fabrication shop in West Chester and are the exclusive dealer of ActiveYards quality vinyl and aluminum fences in southeastern Pennsylvania and Delaware.
We can work with you directly to determine the perfect fence for you. Just contact our Outdoor Living Experts! We offer a five-year workmanship warranty on all of our fence installations. If you prefer to install your own fence, that's great! We can provide you with the fence materials you need in wood, vinyl, or aluminum to create your perfect fence DIY project. You can pick up your fence parts at one of our locations or have them delivered to your door.
To order fence parts or schedule professional installation,
call 800-431-4303 or contact us online!
Sours: https://www.fenceauthority.com/blog/should-i-buy-individual-fence-pickets-or-pre-made-fence-panels/
5 Privacy Fences You Can Get At An Affordable Price
For many households, privacy is of utmost importance. Done right, a privacy fence will not only improve your privacy but also enhance your security and curb appeal. There is also a potential for the fence to increase the value of your property.
Crucially, you can get all these benefits without having to break the bank. While privacy panels on the pricey end of the cost spectrum such as aluminum, will necessitate a huge capital spend, there are cheaper alternatives available on the market. The cost for privacy fence panels can be as cheap as under $30 per panel (and in some cases free). However, you need to factor in quality considerations and balance the cost of the fence panels and the esthetics, durability, and suitability when choosing the panels.
At BigEasyFences, we specialize in helping New Orleans property owners attain and maintain the level of privacy they yearn for while following all the recommendations and guidelines pertaining to residential property fencing.
From aesthetic considerations to safety, we can help you choose the right fencing material, the most suitable fence style to match the exterior decor of your home, and the best quality fence that yields the highest bang for your buck. Some of the cheapest fencings that you install in New Orleans include:
Privacy Fence Ideas: The 5 Cheap Privacy Fence To Consider
1. Pallet Wood Fence Panels (Free To Low Cost)
Pallet fences can work well in any environment, whether in urban areas or in the countryside. The material and design of the panels are flexible enough to compliment your backyard décor whilst offering a low-cost solution to your privacy fence needs. The fence will keep nosy neighbors away from your business while letting in sunlight.
Pallet fences are perfect for DIY fencing. Depending on where you source the pallet, the entire fencing material might be free. However, if you want a professional look to complement your expertly designed backyard, call in the experts from BigEasyFences to help you out.
2. Metal Fence Panels ($24 To $32 Per Linear Foot)
Metal fences come in a wide variety of styles and materials. From aluminum fences to wrought iron fences and iron sheet fences you can never run out choices. The flexibility of metals allows users to choose the best fence design and style that suits their needs. For instance, for the ultimate in privacy, irons sheet panel fences are superb. Irons sheet fences are low maintenance, cheap, and offer high levels of privacy. On the other hand, wrought fence iron panels offer high levels of privacy while being aesthetically pleasing.
In a nutshell, there are metal fence panels to suit every homeowner and every budget.
3. Vinyl Fence Panels ($20-$30 Per Linear Foot)
A polyvinyl chloride (PVC) is a great alternative to wood fencing panels. Unlike wood, vinyl fencing is more resistant to the elements – UV light and solar heat. As such, vinyl panels do not suffer from splinters and cracks occasioned by the year-round exposure to the sun. Moreover, the materials are not affected by insects and it does not rot. This makes vinyl fences a low-maintenance option.
While in some cases, the initial investment can be considerable, the longevity and low-maintenance nature of vinyl fences make this type of fencing cheap. Additionally, the increased competition among manufacturers and vendors in this market segment has lowered the overall cost while availing cheap vinyl fence panels that are aesthetically pleasing, durable, and offer great privacy.
4. Living Privacy Fences (About $2 – $6 Per Linear Foot)
While this variety of fences are not necessarily 'panel fences', they are, nonetheless, cheap and effective in shoring up your privacy. If you think out-of-the-box, you can create an aesthetically pleasing privacy screen that also adds some greenery to your property. The best shrubs to grow as part of your living fence are the privets and yews.
Some privet species can grow from anywhere between 4 to 10 feet tall, the perfect height for hedge. Crucially, the semi-shrubs are very green, ensuring your fence always looks good. And after the privet grows tall, you can sculpt the hedge to your liking.
As for the yews, the shrub can grow to as high as 20 feet. It does well particularly in sunny climates typical of New Orleans. The only downside to planting yew is that it takes a long time before you get a mature hedge.
5. Lattice Top Privacy Panels
The lattice privacy panels are a twist to the traditional privacy panels. It adds a lattice top made of crisscrossed slates of wood or metal on top of a metallic, solid wood, or even vinyl panel. Lattice tops offer the blend of enhancing privacy while still allowing sunlight to pass into your compound. Moreover, property owners can still access the view outside.
What Is The Best Fence For Privacy?
There are no one-size-suits-all privacy fences for New Orleans homeowners. Every household will have different requirements, aspirations, and Ideas for privacy fences. Furthermore, while this read covers the range of cheap privacy fences on the market, some fences are cheaper than others. Additionally, the performance of the different fences differ; some offer better privacy while others are more durable.
As such, the answer to this particular question is individual to every homeowner. Our experienced technicians are always at hand ready to help you choose the best Privacy fence styles that offer the best privacy while balancing all your other needs. We believe every home is unique and warrants individual treatment when deciding on the privacy fence screen to use.
What Is The Best Privacy Fence Materials?
Due to the climatic condition in this part of the United States – warm summers and mild winters – the fence materials should be UV resistant and be capable of withstanding humidity as the minimum threshold. This consideration pegs with the durability of the fence; the fence ought to be durable.
The materials should also be easy to maintain. The fence should serve more than a privacy screen. It should be an extension of your home décor. It, therefore, goes without saying that you should be able to apply touch-ups to the materials to spruce up its esthetics when needed. Treated wood panels, metallic panels, and vinyl panels excel in all these aspects.
How Much Are Privacy Fence Panels?
The price of the privacy fence panels will depend on a myriad of things. Such factors include:
 The quality and robustness of the panels,
The design of the panels, etc.
In the case of salvaged and recycled pallets, the cost of the panels can be free. If you opt for metal or vinyl fence panels, you can expect up to $30 per linear foot for the cheap offerings.
What Is The Best Way To Maintain Your Privacy Fence?
For safety purposes, aesthetics, and a legal requirement, your fence should be well maintained. Moreover, to function as a privacy fence, it should be in tip-top condition all the time. To this end, you should take deliberate steps to maintain your privacy fence in the best condition possible.
For aesthetics, ensure the finish of the fence is in stunning condition – close to as good as new. Schedule regular professional pressure washing to rid the fence of any dirt, grime, and algae stinking. Additionally, every so often you could repaint the fence to give it a new shine.
On the structural front, ensure all the posts and structural support are structurally sound. One of the leading causes of fence deterioration is linked to the structural failure of support posts. Always ensure the structural components are in good condition.
Sours: https://www.bigeasyfences.com/5-privacy-fences-you-can-get-at-an-affordable-price/
Don't get stuck with Cheap Fence Panels - What to look for.
Don't get stuck with Cheap Fence Panels from a discount privacy fence company! Here's what to look for:
1. The stringers.
The back stringers are are a key component to your panels staying strong and not sagging over time. Many people choose to install cheap pressure treated panels but these inexpensive privacy fence panels are made with 2x3's instead of 2x4's.
We are getting to the point of not installing cheap privacy fence. We use Redwood 2x4's for our back rails.
Redwood is known for it's longevity in the elements and resistance to insect damage and rot. Remember when they used to make all the park picnic tables out of redwood before the rubber coated metal tables or composite plastics came out?
Well, redwood is also known for its strength. You won't find these as stringers in the cheap fence panels from the home improvement centers!
Here below are side by side comparisons of manufactured cheap fence panels vs. our redwood lumber we use.
The cheap stringers only measure 2.5" inches. Where as the redwood stringers we use are 3.5" inches.
Good lumber is usually smooth on four sides (S4S). Where as cheap lumber is usually milled with the sharp sides left as is. The lumber we use is S4S.
It's good to know what kind of materials are going into your wooden fencing.

The second thing to look for in avoiding cheap panels is:
2. The picket material.
Cheap pressure treated pine pickets usually are the lower end of discount privacy fence panels. The lower grades of lumber are usually used. This makes it more difficult for installers to work with because of the many large knots in the wood when ripping is needed.
Whitewood is also used for inexpensive fence panels but needs to be treated with a preservative, stain, or paint to get better longevity like pressure treated lumber.
A second consideration to beware of is that a cheap pressure treated panel will often come moldy from the factory. Since the manufacturer soaks the panel in chemicals, the panel is often not completely dried and stacked still moist.
In the below picture you can see the mold on the front of the panels where the stringers are behind.
You want to use cedar wood because of its many wonderful qualities.
It resists insect damage and rot well.
It holds its shape well as it dries and weathers in the elements.
It is very attractive when used as a fencing.
And, it is a wonderfully aromatic wood.
We can easily and do install the pressure treated panels however, we prefer you to use cedar pickets and strong, sag resistant, redwood stringers.
---
For over 10+ years we've been a proven Oklahoma City fence company protecting your loved ones and livelihoods. 
We are a U.S. Air Force veteran owned and 2nd generation family business.  We are Oklahoma City's premier fence company. 
Our Oklahoma City fence company has been winning loyal, A+ customers every year in Edmond, Oklahoma City, Moore, Norman, Yukon, Del City, Midwest City, Mustang, Newcastle, Bethany, Choctaw, Warr Acres, Nichols Hills, The Village, Piedmont, and others throughout Oklahoma. 
Become part of our family!
Contact Us
Call us at202-8580
or contact us below:

 R E Q U I R E D :

COUNTY:We need the county for the callokie utility locate requests
E-MAIL:Verify your E-mail is correct or you will not receive an estimate
E-MAIL:Your email is not used other than to send estimates, invoices, or communicating concerning your job.
Home
›
Wooden Privacy Fence
›
Cheap Fence Panels
Sours: https://www.a-better-fence-construction.com/cheap-fence-panels.html
DIY Menards premade fence panels ON a BUDGET
7 Best Privacy Fence Panels for Creating Intimity in Your Yard
Privacy fence panels are becoming an increasingly popular option for outdoor areas and it's not hard to see why.
During the summer especially, it's normal to want to spend a good amount of time in your backyard relaxing and soaking up the rays. Even if you've got a gorgeous outdoor setting and a perfectly manicured lawn however, nothing beats a private area for you to enjoy in.
When it comes to privacy fence panels, there are a plethora of options out there and it can be overwhelming to pick the fence panel that's best for you. To start, we've curated a list of 7 of the best privacy fence panels. Before we delve into each of these items, we've also put together a comprehensive guide that'll talk about the benefits of getting privacy fence panels, and what you should look for when purchasing them.
Benefits of Privacy Fence Panels
One of the most obvious benefits is that you'll have privacy. Since backyards are used for a wide variety of purposes from family get-togethers to BBQs, you'll want to have a little space of solace. There's no point in having an outdoor space if you're just going to be gawked at by passer-bys or deal with noisy neighbors.
The next benefit is its aesthetic appeal. That's right, privacy fence panels can actually help in improving the overall aesthetics of your garden and a strategically placed screen can even be a standout piece in your backyard. Since privacy fence panels come in such a wide variety of designs, you won't have to limit yourself to starting at a poorly constructed fence or concrete wall, instead you'll have the opportunity to find the perfect privacy fence panel that'll complement your decor.
Privacy fence panels can also help with an increased circulation of fresh air in your outdoor space. Most of them are well-ventilated so you'll still be able to maintain a great flow of fresh air that most of us love about the outdoors. These panels are also usually great at reducing the amount of UV light and heat – making it a great addition during the summer.
Another great benefit of these privacy fence panels is that they're easy to maintain and are generally cost-effective. Investing in a privacy fence panel is much more affordable than installing a full wall or fence, and if you opt for a high-quality material, they're also long-lasting and sturdy.
Pros and Cons
Pros:
Wide variety. Since there are such a plethora of privacy fence panel designs, you're sure to be able to find one that suits your needs best.
Privacy. With these fence panels, you'll be able to get the privacy you deserve and be able to relax and enjoy your time outside.
Easy to maintain and long-lasting. Privacy fence panels are quite sturdy (depending on the material you select) and are not difficult to maintain.
Cost-effective. Privacy fence panels are much more affordable than having to install an entire wall or fence.
Cons:
Overwhelming. With so many privacy fence panels and materials available on the market, you may not know where to start or what you need.
Can be flimsy. Depending on the material you choose, some of the privacy fence panels can be flimsy.
What to Look for?
There are a few things you'd need to consider when it comes to privacy fence panels. First up, you'd want to think about the number of panels and posts required. If you'd want a fence that's about 48 feet long for example, you'll need to get at least eight panels.
Then, you'll have to think about the type of post. Do you want a strong and durable concrete post or a gorgeous looking wooden post? Your fence is usually as good as your post, so that's something you'd have to take into consideration.
When it comes to the best fence to choose, you should try not to opt for those that are overly inexpensive as they're not going to be sturdy enough to last. In terms of aesthetic however, it really depends on your taste and the current style of your garden. If privacy is a reason why you're getting a fence panel however, you shouldn't be purchasing one that has too many holes.
In terms of materials, there are quite a few to consider. Concrete usually lasts the longest, and while it's not the most aesthetically appealing, you can always paint over it. Wood such as softwood timber would need to be pressure treated but can last between 10 to 20 years. A great material for privacy fence panels is aluminum as it's low-maintenance, durable and resistant to corrosion PVC privacy fence panels have also recently grown in popularity as there's no rusting, it reduces noise, and it's both easy to maintain and longer-lasting.
How Much Does It Cost to Put in a Privacy Fence?
A gorgeous fence can transform your property into the perfect oasis. Also, if you're planning to sell soon, it can boost your property's curb appeal. Wood and metal are the most used materials for fences. Then there's the option of a living fence, which is also cheap and green.
The cost of constructing a fence varies greatly. A fence can be built for security, to keep animals in, or for aesthetic purposes. It's also worth noting that certain fences cost more than others.
For example, a security fence can cost up to $5,000. A privacy fence, on the other hand, is substantially less expensive, especially if you don't want a gate. Material also affects price. Vinyl fences are substantially less expensive than wrought iron or wood.
The average cost to put up a fence is $2,401. The cost ranges from $60 to $5,139.
What Is the Cheapest Way to Build a Privacy Fence?
A light and durable material like vinyl or PVC is the cheapest way to make a privacy fence. It won't provide the same level of security as an iron or massive timber fence, but it will keep children and dogs secure. A less secure option is an aluminum fence. Saving money on a wrought iron security fence with electric gates may be difficult.
DIY fencing is a possibility, but it comes with many risks. It takes time, skill, and knowledge, and you risk hitting a utility line while drilling holes for the posts. When hiring a pro, you can use cheap privacy fence ideas as a guide.
Why Are Privacy Fences Not Allowed?
Contrary to popular belief, the laws governing the construction and regulation of fences are extremely complex. Urban and suburban fence rules can be astonishingly vigorous, intricate, and austere. Also, because most fence rules are local, part of what we're about to say may not apply to where you reside.
In terms of fence legislation, this means that if your fencing construction is substantially compliant with local laws, you can get away with a slightly different height.
In some cases, as if your backyard borders a busy road, you can get a one-time permit from your local authorities to install a taller fence to block out the noise and vision of passing vehicles. Of course, if the road is curvy and your fence would obscure the vision of traffic turning a corner, you'll be denied.
In this scenario, your front fences should be around 3 or 4 feet tall. The main reason front fences must be shorter is because roadways often border them, and larger walls can obscure drivers' visibility.
For example, a driver may not spot children playing in the road around a bend. A tall fence around a house on a corner lot might turn an intersection into a series of hazardous blind corners.
Strangely, the law can't regulate the style of your fence, according to FindLaw: In most circumstances, except in a few localities, a fence's appearance is governed by municipal legislation.
Why Are Fences Limited to 6 Feet?
Fences occur in a variety of heights for good reason: each size serves a different purpose. The height of your perfect fence depends on its location, such as your front yard or backyard. Regulators in your area may dictate your height and possibilities. That's a common fear for homeowners, but it's not the only one.
Local laws or homeowner's associations usually regulate fences. In certain towns, a backyard fence can be six feet tall, whereas a front fence can be four feet tall. Taller fences can impede sightlines of motorists, creating blind corners at crossroads and placing children and pets in risk. Depending on your region, an open fence can be built higher for visibility.
Best Plants to Grow for Privacy
Natural privacy fences are all the hype right now because who doesn't love looking at plants instead of PVC fences? That being said, check out this list of plant ideas which you can grow to make a natural privacy fence.
Chocolate Vine
Known as five-leaf akebia, the tough chocolate vine grows rapidly on trellises and fences, creating a dense screen of green leaves flowers in early summer. The flowers are purple and smell really nice. It is a good choice for container gardening. Due to its rapid growth and spread, it is important to keep it under control with regular trimming.
Red Twig Dogwood
Even though the red twig dogwood is a deciduous tree, when it loses its leaves in the fall, it forms a joyful and seasonal tangle of vivid red branches. It can withstand extremely harsh temperatures and even damp soils, and it provides a haven for wildlife throughout the year and in all seasons. This fast-growing shrub can grow up to eight feet tall and 10 feet wide in a matter of years, producing an eye-catching show in the yard.
Hicks Yew
While the hicks yew is not very showy, it is a practical choice for those of you looking for a natural privacy fence. Despite its modest maintenance requirements, this evergreen choice provides a lovely backdrop for your yard and grows with soft needles and adorable winter berries quickly make it a favorite among backyard wildlife.
Boxwood
In formal gardens, boxwood has long been employed as a decorative hedge that is pruned regularly, but it is equally beautiful when it is not kept in such a precise manner. When given the opportunity to grow unhindered, some types can exceed 20 feet in height.
Holly
There are several different types of holly that can be used to give good seclusion in your yard. Holly is available in a variety of sizes and shapes, as well as a variety of colors ranging from green to variegated.
It is a versatile plant that may be used in a variety of landscape applications. Residents with small children may want to consider a soft-leafed form of the plant, which does not have the plant's characteristic pointy, spiky leaves.
Privet
Privet is a fast-growing plant that may provide privacy in a short amount of time; with proper care, it can grow between two and three feet in height every year. Pruning privet is necessary when it is planted as a hedge, but the effort is well worth it when the plant produces a dense cover of sweet-smelling blooms every spring.
Skip Laurel
Skip laurel's dense evergreen leaves can be trained to form a stunning 10-foot-tall privacy screen by shaping and trimming it on an annual basis. An established laurel hedge in a sunny area with well-drained soil will reward you with fragrant white blossoms in the spring.
Bamboo
Bamboo is a fast-growing plant which means it can be transformed into an exotic and lush privacy screen in a short amount of time. To keep the spread of some species of bamboo under control, consider selecting a variety that doesn't spread fast or planting them in large, elevated planters to keep them under control.
Arborvitae
A variety of factors contribute to arborvitae's popularity as a living privacy fence plant. When the trees are correctly spaced, its dense evergreen leaves make a dense hedge.
It tolerates a wide range of soil conditions, it is cold-hardy, and it requires little maintenance. There are various types of arborvitaes that range in size from dwarf to enormous, so when selecting arborvitae for your space, take into consideration the plant's mature size.
Pros and Cons to Installing a Privacy Fence
Privacy fences are an excellent way to define your property, enhance the aesthetics of your landscaping, and complement the materials and colors used to paint your home. When placed properly, a privacy fence may be an excellent addition to your property. Let's take a look at the main advantages and drawbacks of privacy fences.
The benefits of privacy fences include:
Protect your privacy – It's right there in the name, isn't it? If you dislike nosy neighbors or simply prefer to maintain your privacy, a tall privacy fence is an excellent option.
Enhances house security – Clearly, a basic wooden fence will not deter a determined robber. However, it can deter vandals and others from committing "crimes of opportunity," resulting in a more secure home overall.
Keep children and pets contained — If you have children or pets, a privacy fence is an excellent way to allow them to play outdoors without fear of them wandering away or leaving the perimeter of your backyard.
Can increase the appeal of yourproperty — With proper upkeep, a privacy fence can perfectly complement your existing landscaping, creating a more beautiful, inviting setting.
Reduces noise pollution — If you live near a busy road or thoroughfare, a privacy fence can help mitigate noise pollution and make your property more serene.
Some of the drawbacks are:
Maintaining your landscaping will be more difficult – Compared to landscape upkeep without a privacy fence, it's going to be more difficult and time-consuming to take care of your yard around the fence.
Can be offensive to neighbors – Chances are you'll have to deal with offended neighbors if you decide to put up a privacy fence, especially if you are the only one doing so.
Might get you in trouble with homeowner associations – Some people believe privacy fences are unsightly and impair the overall community environment. You can also get in trouble with the local homeowners' associations, as they frequently restrict the size of privacy fences.
Top 7 Best Privacy Fence Panels
Evolver Fence Panel
This Evolver Fence Panel Kit comes with everything you need to set up a horizontal composite fence panel in your home. It comes with a matte black powder coat finish and is both lightweight and durable. Upon your purchase, you'll get four composite boards, a rail kit, a mounted baseline post and an octagonal line post kit.
The composite board comes in both a gray or a brown finish, while the rail kit comes with top and bottom rails for the fence panel that's made with powder-coated aluminum alloy. The baseline post is made with metal material, with mounting fence posts for decks or concrete. The line post kit also has built-in channels that will help with easy sliding board assembly. This is a kit that you should purchase if you're looking for a complete set to install some sturdy privacy fence panels in your home.
Hamden Vinyl Fence Panel
This privacy fence panel will help transform your backyard into a personal peaceful sanctuary. Made with vinyl, the panel is both weather and UV-resistant. While installation is required, the fence has a special interlocking technology that helps ensure that all boards lock tightly without any gaps.
It comes with limited warranty – so you know that you're covered if anything happens to your fence panel, and it's sure to give you the privacy that you require. Upon your purchase, you'll get one piece of the fence panel along with complimentary shipping. Its minimalist white design will also fit seamlessly with any outdoor decor.
Artificial Hedge Plant Polyethylene Fence Panel
This privacy fence panel is perfect if you're looking to add a touch of greenery to your outdoor space. This fence panel is realistic looking and is both UV-proof and weatherproof – great for withstanding the elements. Your purchase also comes with seven boxes of artificial plant panels – with each box containing 12 pieces of the panel.
The plant panels are lightweight and made of strong and durable high-density polyethylene that's soft to the touch, eco-friendly, recyclable, and doesn't release any toxic chemicals. These panels are also easy to install, and you can attach to any wood frame or chain link fence with ease. Great for privacy, it'll enhance your outdoor aesthetic and transform any backyard, patio, yard and more.
Framed Decorative Composite Fencing
To add a touch of an island feel to your backyard, you'd want to purchase these privacy fence panels. They're great for adding design and will also provide you with privacy or hiding items or certain views. It comes with a gorgeous and sturdy frame that's made with sustainable wood poly composite for a natural timber look and feel.
It's ready to use, and there's no sealing, painting or maintenance required – so installation is a breeze. You can use it to conceal pool or air conditioning equipment, and with minimal expansion and contraction it's suitable for all climates. This fence panel is also versatile, and you can mount it on gates, walls, and free-standing frames.
Metal Fence Panel
For something incredibly sturdy you can opt for this gabion wall that's great for both residential and commercial design. You can fill it with either rocks or gravel depending on the aesthetic that you prefer. It's rustproof and made of weather-resistant galvanized steel so it'll effectively help to keep out the wind, rain and more.
The mesh grid is constructed by welding wires at every single intersection for fantastic durability. If you'd like, you can also buy more models and place them next to each other to build walls. Best of all, this gabion wall is easy to assemble and it's a great purchase if you're looking for something that's long-lasting and durable.
Zippity Outdoor Products Premium Vinyl Privacy Screen
This vinyl privacy screen is a great addition to any backyard or patio. It's maintenance-free, sturdy, and is easy to install – all you need to do is snap and lock the panels together with minimal screws required. Ground stakes are provided upon your purchase for installation, and you don't have to dig deep holes, pour concrete or tear up your yard.
Those that have purchased it mentioned that the panel only took about 5 minutes to put together, and it looks great. Just a note however, that it doesn't reduce noise as it isn't a noise barrier. It's also of a great height and is crafted with premium PVC vinyl that's both rust and weather-resistant.
MORCOE Retractable Double Folding Awning Privacy Screen
Last on the list is this incredible privacy screen wall post that's made with high-quality fabric along with a PU coating, galvanized steel frame and aluminum roller. By installing this fence panel, you'll be protected from harmful UV sunlight, and it can be used in light rain with no problems.
This panel is designed to be wall-mounted, and you can even use it as a temporary projection screen. It comes with a child-proof handle, and you can easily roll it up and stow it away for future use. Those that have purchased it love how they can bring it around with them and use it whenever they require a bit of privacy. They also mentioned that it's easy to install, can handle wind, and comes at a perfect height.
The Bottom Line
Privacy fence panels can definitely give you a sense of comfort and privacy that a regular fence just can't. If you live in a populated neighborhood and wish to shield your yard from neighbors, then consider investing in panels like these. We've included something for everyone on this list, we hope you find what you're looking for!
Sours: https://www.homedit.com/7-best-privacy-fence-panels-for-creating-intimity-in-your-yard/
Panels cheap privacy fence
Cheap Fence Panels
All prices include VAT. *Free delivery area varies by product range, see individual product pages for details. Restrictions apply, see product lead-time and post code checker for availability. All sizes quoted are approximate. Products where shown painted have been decorated for photography purposes only.
Credit subject to status and affordability. Terms & Conditions Apply. Taylored Investments Limited trading as www.bmgardenbuildings.co.uk is a credit broker and is Authorised and Regulated by the Financial Conduct Authority.
Credit is provided by PayPal Credit, a trading name of PayPal (Europe) Sarl et Cie SCA, 22 - 24 Boulevard Royal L-2449, Luxembourg, authorised and regulated by the Finance Conduct Authority. Finance Services Register no.808214.
Sours: https://www.bmgardenbuildings.co.uk/garden-fencing/fence-panels
DIY affordable, durable, steel privacy fence
Okay. - Nastya brought out of pleasure the voice from the booth, next to which the young man stood. The guy blinked back to reality, blushed. Again and looked into the booth.
You will also like:
I was taken to one of the halls, where there were already a man and a woman. They briefly talked about something with my companions, and they left, leaving me alone with the first clients. The man asked what to call me, I replied that Olga. What are their names, I was ashamed to ask.
1222
1223
1224
1225
1226