Arizona Rental Lease Agreement Templates
The Arizona lease agreement is a contract that is fulfilled when a landlord (lessor) would like to grant a tenant (lessee) the right to reside within their property in return for a monthly fee. There are several different lease agreements available that vary in the type of property being rented, length of the term, and provisions set forth within the document. The lessee will typically be requested to complete a rental application before they are accepted as a viable candidate to rent/lease the desired property.
Rental Application – Given upon request, a rental application will allow for the landlord to view the history of an applicant to ensure they are a good candidate to lease a rental property. The documentation provides information on the possible tenant such as name, address, employer, monthly income, and social security number to run necessary background checks.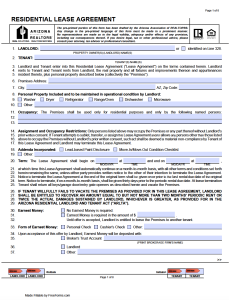 Arizona Association of Realtors Residential Lease Agreement – The Arizona Association of Realtors has developed a version of the form specifically for use with properties to leased within the state.
Download: Adobe PDF
---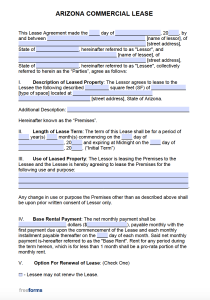 Commercial Lease Agreement – For properties where the tenant plans to locate their business/company.
Download: Adobe PDF, MS Word (.docx)
---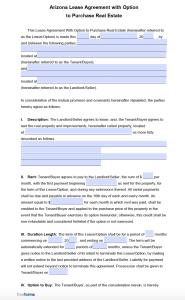 Lease to Own Agreement – Also known as an "Option to Purchase", this document provides the tenant with the opportunity to buy the property as long as they correspond with the conditions set forth within the agreement.
Download: Adobe PDF, MS Word (.docx)
---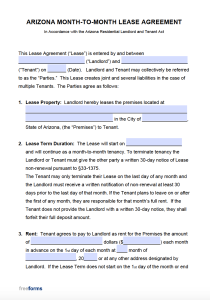 Month-to-Month Lease – This agreement allows a lessee to rent the property for one month at a time. Either party may terminate the lease after each month, although thirty (30) days notice (prior to the next payment's due date) is required by law (§ 33-1375(B)).
Download: Adobe PDF, MS Word (.docx)
---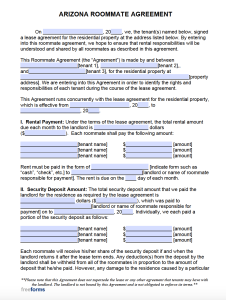 Roommate Agreement – Is provided by a tenant who is listed on the lease to an individual interested in renting a room within the property.
Download: Adobe PDF, MS Word (.docx)
---
Standard Lease Agreement – Confirms the particulars of the contract to grant the right of use of a residential unit to a lessee.
Download: Adobe PDF, MS Word (.docx)
---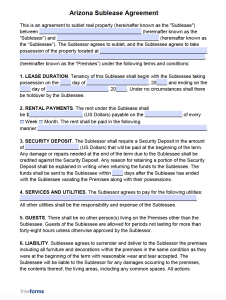 Sublease Agreement – If permitted within the original lease, the tenant may use this contract to rent the property to a third party.
Download: Adobe PDF, MS Word (.docx)
Refer to the Arizona Residential Landlord and Tenant Act for more information about the general provisions put forth by the state in regard to the lessor/lessee relationship.
Bed Bug Control (§ 33-1319) – It is required that the landlord provide the tenant with an educational pamphlet containing useful information about the pest and how to avoid an infestation.
Landlord and Tenant Act (§ 33-1322(B)) – The lessor must provide the lessee with a copy of the Act or notify them in writing that it can be found on the Arizona Department of Housing's website.
Lead-Based Paint(42 U.S. Code § 4852d)– Lessor is required by federal law to provide a disclosure of information regarding any lead-based paint and/or lead-based paint hazards contained within the premises (if the property was built before 1978).
Marijuana Use Policy (§ 36-2813) – A landlord is prohibited from the refusal to lease to an individual for the reason of he or she being a medical marijuana cardholder. Any policies concerning the use of marijuana should be disclosed prior to signing.
Move-in Checklist (§ 33-1321(C)) – A document that notes any damages/defects that may be contained within the property prior to the tenant moving in, which protects them from incurring any fees for damages they are not responsible for. (Landlord must attach this form to the lease agreement.)
Non-Refundable Fees (§ 33-1321(B)) – All charges that may not be redeemed by the lessee must be stipulated within agreement prior to tenancy.
Proprietor Information (§ 33-1322(A)) – The individual who is authorized to enter into the rental agreement must provide a written disclosure to the tenant that contains the names & addresses of any of the following that apply:
Owner
The person acting on behalf of the owner.
Property Manager
Rent Increase Due to Taxes(§33-1314(E)) – If a local ruling adjusts the tax percentage on residential rent transactions, the landlord may increase the tenant's payment to compensate for the higher tax rate. In order to do this, the landlord must first provide a written disclosure within the lease agreement stating that they have the right to increase the rent under these circumstances. (Thirty (30) day's written notice is required before any changes can take effect.)
Shared Utilities (§ 33-1314.01) – Within the lease agreement, the landlord must include a full list of all the utility services that are billed individually and also clarify the cost of any administrative fees that are connected to submetering or the use of a ratio utility billing system.
Arizona law does not contain a statute that specifies a set grace period for residential properties, although they do allow 5 days for manufactured homes. The tenant must provide the rent payment on the date in which both parties agreed upon and recorded within the lease.
There is no decree that dictates the amount of a late fee for a residential dwelling (manufactured homes have a limit of $5 per day). Rental late fees should be stipulated within the lease agreement prior to the commencement of the tenancy.
There is no fee enforced by law in regard to a bounced check provided by the tenant. The landlord may include a provision within the agreement calling for a fee no greater than $25 as well as reimbursement for any charges imposed by their bank for processing the check.
The limit amount a lessor can demand as a security deposit in Arizona is one and a half (1.5) month's rent (§ 33-1321(A)). That being said, this statute does not prevent the tenant from willingly providing a payment in advance that exceeds that total.
Once the lease has expired and the tenant has vacated the premises, the landlord has fourteen (14) days (not including weekends & holidays) to return the security deposit via first class mail (§ 33-1321(D)). They must include an itemized list that notes any deductions subtracted from the remaining funds. If the tenant disagrees with any of the charges, they have sixty (60) days from the time they received the list to dispute the overall assessment.
The lessor must provide the lessee with a minimum of two (2) days of advanced notice before accessing the property (§ 33-1343(D)).
Sours: https://freeforms.com/lease/az/
Arizona Rental Lease Agreements
Arizona rental agreements allow a landlord and tenant to create a contract for the leasing of residential and commercial property. Once a verbal agreement is reached, the tenant will commonly undergo a credit screening through a rental application. Once approved, an agreement is written and signed by the parties. Payment of 1st month's rent, last month's rent, and a security deposit is commonly due after the agreement has been completed.
Laws – ARS Title 33, Chapter 10 (Arizona Residential Landlord and Tenant Act)
By Most Popular
Arizona Residential Lease Agreement | PDF – MS Word
An Arizona residential lease agreement is a contract that allows a landlord to rent property to a tenant for payment that is usually due on the 1st of every month. The landlord has the right to perform a credit and background check of each potential lessee through the use of a rental application. This is common practice, especially for higher-end property, and the tenant will…
Download
E-Mail
Arizona Month-to-Month Rental Agreement | PDF
The Arizona month-to-month lease agreement, also known as a "tenancy at will", is a written contract between a tenant and landlord where there is no end date. The lease continues until, in accordance with § 33-1375, the landlord or tenant provides at least thirty (30) days' notice of terminating or modifying the lease. The landlord may also use the same time-frame to increase rent on…
Download
E-Mail
Arizona Rental Application Form | PDF
The Arizona rental application form can be completed by a prospective tenant to check their credit prior to renting property. This is recommended to verify the tenant's job, credit, and rental history to ensure they are credible. A fee may be charged for providing this service and it is a good idea for the landlord to get back to the tenant as soon as possible…
Download
E-Mail
Arizona Move in/Move out Checklist | PDF
An Arizona move in/move out checklist allows a tenant and landlord to protect themselves by stating what damages may have occurred during the time the tenant was occupying the property. It is recommended that both parties make a thorough list of all damages at the beginning of the lease term and proceed once again at the end of the lease to see what damages (if…
Download
E-Mail
Arizona Commercial Lease Agreement | PDF – MS Word
The Arizona commercial lease agreement allows a landlord to rent property (retail, office, or industrial) to a qualified tenant. The agreement details the rental amount in addition to who is expected to pay for the property expenses such as CAM's (Common Area Maintenance), taxes, and insurance. After negotiating the monthly payment, the parties must decide on the term or length of the agreement. The lessee…
Download
E-Mail
Arizona Roommate Agreement Template | PDF – MS Word
The Arizona roommate agreement provides a reliable framework of the various terms roommates should have on paper in order to co-exist in a residence. There may be many reasons for two or more people to enter a roommate situation ranging from the college student who wishes to save a little rent to a matter of convenience for someone who must often travel for their job….
Download
E-Mail
Arizona Sublease Agreement | PDF
An Arizona sublease agreement is typically used in the university or urban areas of Arizona where a tenant is likely to be leasing property that they are already renting from a landlord. It is a good idea to check the original lease before doing this as most do not allow subleasing and, at the very least, the landlord must be aware of the arrangement (and…
Download
E-Mail
Sours: https://rentalleaseagreements.com/az/
Free Arizona Residential Lease/Rental Agreement
Federal law mandates all Rental and Lease Agreements incorporate the following elements:
The identifying information of both parties,
The address and legal description of the property,
Whether pets are allowed and any pet conditions,
Disclosures and information about safety hazards or health risks,
Rent details, such as the amount due, the amount of the security deposit, and the payment methods accepted.
States do retain autonomy from the federal government and will often differ in various aspects of the rental and leasing process. It is important to become familiar with the specific leasing requirements in Arizona. Understanding the differences will allow you to create a comprehensive and thorough lease agreement, saving you the hassle and legal and financial issues in the future.
Table of Contents
Arizona Residential Lease Agreement Sample
Arizona Landlord and Tenant Laws
1. Arizona Residential Lease Agreement Sample
The sample lease agreement below describes a contract between "Landlord" Kevin Lee and "Tenant" Olivia Graham. She agrees to rent a duplex in Columbia for $1,000 per month for a fixed term. The tenant agrees to pay for all utilities and services for the Premises. This is a good example of what provisions a simple lease agreement might contain, and how one should look in its final form.
2. Arizona Landlord and Tenant Laws
Arizona imposes specific and distinct requirements for landlords and tenants when executing a Lease or Rental Agreement. For example, Arizona Statute provides for the following:
Security Deposit
Arizona landlords may request up to one and one-half month's rent for a security deposit, along with prepaid rent. Tenants may still voluntarily pay more than one and one-half month's rent in advance. (Ariz. Rev. Stat. Ann. §§ 33-1321(A))
Landlord Right of Entry
Additionally, Arizona law requires:
Holdover Tenants
If an Arizona tenant remains in possession of the premises after the termination or expiration of the lease, and without the landlord's consent, a landlord may bring an action to repossess the premises and recover up to two months' rent or twice the actual damages sustained. (Ariz. Rev. Stat. Ann. §§ 33-1375(C))
Sours: https://legaltemplates.net/form/lease-agreement/arizona-az/
Arizona Residential Lease Agreement
The Arizona residential lease agreement ("rental agreement") outlines the terms and conditions of the residential use of real estate in exchange for rent payments. This contract may also require an additional fee ("security deposit") due on or before the move-in date.
---
Related Documents: Month-to-Month Agreement | Rental Application | Roommate Agreement | Sublease Agreement
Arizona Lease Agreement Disclosures
The following disclosures are either required for some or all residential lease agreements in Arizona.
There are also a number of optional disclosures and addendums that help reduce future conflicts and/or legal liability in Arizona.
Landlord's Name & Address
Applicable to all rental units in Arizona.
So that future legal notices and demands sent by the tenant can be properly delivered to the landlord, the name and address of either the landlord or the person authorized to act on the landlord's behalf must be disclosed up-front (commonly done so in the lease agreement) .
Move-In Checklist
Applicable to all rental units in Arizona.
Arizona landlords are required to provide a move-in checklist (alongside a signed copy of the lease) upon taking possession of the property. This checklist can be used to identify existing damages to help itemize deductions from the security deposit (if applicable) upon move-out .
The checklist does not need to be included as part of the lease, but should be completed within 5 days of move-in to ensure accurate status. The checklist should include any present damage or specific furnishings that are included (such as appliances or furniture) that must be returned in the same state they were upon move-in.
Download: Arizona Move-In Checklist Disclosure Form (PDF)
Notice of Arizona Residential Landlord and Tenant Act
Applicable to all rental units in Arizona.
Arizona tenancy law requires that landlords provide notice about resources available to tenants as part of the rental process. In Arizona, the landlord must inform the tenant (in the lease or separately) that the Arizona Residential Landlord and Tenant Act is available online at the Arizona Department of Housing's website .
The Act can be found on the Arizona DOH website.
Shared Utilities Arrangements
Applicable to any units without individual meters.
In Arizona, when multiple units share a master meter for the whole building or property, the landlord may charge separately for utilities through the installation of a submetering system or ratio billing system .
For ratio billing, the breakdown must include the specific method used to allocate and calculate costs to the tenant.
For submetered systems, this breakdown must include:
Beginning and ending meter reading for the term
The dates of beginning and ending readings
Breakdown of charges for each utility
Administrative fee charged (if applicable)
Ratio billing can use strategies like charging by:
Number of tenants
Unit square footage
Number of outlets or water fixtures
Even split between tenants
Any other method outlined in the lease
The following is an example of a shared utility agreement section
UTILITIES: This rental unit shares the following utilities with another unit or common area:
[ ] Electricity
[ ] Water
[ ] Gas
[ ] Sewage
[ ] Other: _________________________________________

This lease uses the following method for calculating utility charges between Tenant(s):
[ ] Home Square Footage
[ ] Number of Tenants
[ ] Even Split Between Tenants
[ ] Other:___________________________________________________________

Tenant agrees to pay the monthly utility charge to Landlord, plus a $__ service charge as part of each month's rental payment.
Download: Arizona Shared Utility Arrangement Disclosure Form (PDF)
Bed Bug Disclosure
Applies to any non-single family residence
To protect against the contraction and spread of an infestation, landlords may not rent out a unit with an active infestation in Arizona. It is also required that landlords in Arizona provide educational materials (usually an addendum) and include a bed bug section in their lease agreements . This addendum provides information about preventing infestations and the proper protocol if one arises so that the landlord can minimize the potential damage.
It also helps to limit liability for the landlord by establishing an understanding of the current status of the property, and protects in the case of an infestation occurring later in the lease term.
The following is an example of a bed bug disclosure section and addendum
BED BUGS. At the time of presenting this agreement, Landlord certifies:

[ ] There is no known current infestation or history of bed bugs in this property.
[ ] There is no known current infestation, but there is a history of infestation in this property.
[ ] There is no known current infestation, but there is a nearby infestation or history of infestations which may place the property at risk.
Here are educational materials made specifically for Arizona's bed bug disclosure laws.
Download: Arizona Bed Bug Disclosure Form (PDF)
Rent Adjustments
Applicable to any unit where the landlord wishes to adjust rent.
In the case that taxes charged on residential rent are increased by local municipalities, an Arizona landlord may increase the rent by the same figure for an existing lease with the inclusion of a rent adjustment disclosure. This increase in rent may not begin until the new tax comes into effect and 30 days of notice must be provided before it is enforced .
The following could be included to satisfy the disclosure requirements for a rent adjustment in Arizona:
RENT INCREASES. The Rent due is subject to an increase directly proportionate to the increase in any municipal taxes levied upon Landlord for the collection of residential rent charges. Written notice will be provided thirty (30) days before enforcement of rent increases.
Refundable/Nonrefundable Fees
Applicable to any unit where the landlord imposes nonrefundable fees.
If fees are charged in the lease for pets or other one-time expenses like access to amenities, they must be stated to be nonrefundable in the lease. Otherwise, they are subject to a refund upon termination of the lease .
Pool Enclosure Disclosure
Applicable to any rental units with pool access.
Properties with a pool are required by Arizona law to provide an educational safety notice about use and maintenance of the pool to any tenants with access .
A residential pool safety notice is available from the Arizona Department of Health.
Download: Arizona Pool Enclosure Disclosure Form (PDF)
Lead Based Paint Disclosure
Applicable to any rental units built prior to 1978.
It is a federal law in the United States that any home built prior to 1978 must disclose the risks posed by lead-based paints. This law requires landlords in Arizona to:
Fill out and attach this lead based paint disclosure form to the lease agreement.
Provide the tenant with an EPA-approved pamphlet about the dangers of lead-based paint.
Provide additional records or reports about the presence or hazards of any known lead based paint in the unit. For multi-unit buildings with common areas, this includes information from building-wide evaluations.
Download: Arizona Lead Based Paint Disclosure Form (PDF)
Optional Disclosures & Addendums (Recommended)
The following lease agreement disclosures and addendums are not required by Arizona law in residential lease agreements, but either help reduce future conflicts with tenants or reduce legal liability for landlords.
Medical Marijuana Use – it is recommended to state where medical marijuana use is and isn't allowed on the property so that expectations are clear. Arizona law allows landlords to restrict marijuana usage to non-smoking methods only or control where users can smoke so as to not interfere with other tenants.
Late and Returned Check Fees – it is recommended that landlords disclose in the lease any late fees or returned (bounced) check fees that they intend to charge. Arizona does not limit how high these fees can be, but they should be considered reasonable (often no more than 10% of rent) and reflect the actual expenses incurred by the landlord as a result of a late payment. They must also be charged only after the agreed upon due date for rent, dictated in the lease.
Asbestos Disclosure – for rental units in buildings built prior to 1981 (which are considered at-risk for asbestos), it is recommended to establish an understanding of any prior knowledge on the existence of asbestos on the property.
Mold Disclosure – it is recommended to disclose the current mold status of a property in the lease to protect against future liability of mold damages due to tenant negligence during the lease term.
Sours: https://ipropertymanagement.com/templates/arizona-residential-lease-agreement
Agreement residential printable arizona lease
Contents
Arizona rental agreements are for landlords to create a legal contract with a tenant for the lease of commercial or residential space. Rent payments are made on a monthly basis, commonly on the 1st. If rent is late in Arizona, the tenant is required to pay rent at the time and place mentioned in the lease agreement (no grace period). If late, the landlord will issue a notice to quit giving five (5) days to pay in full.
Arizona Lease Agreements
By Top Downloads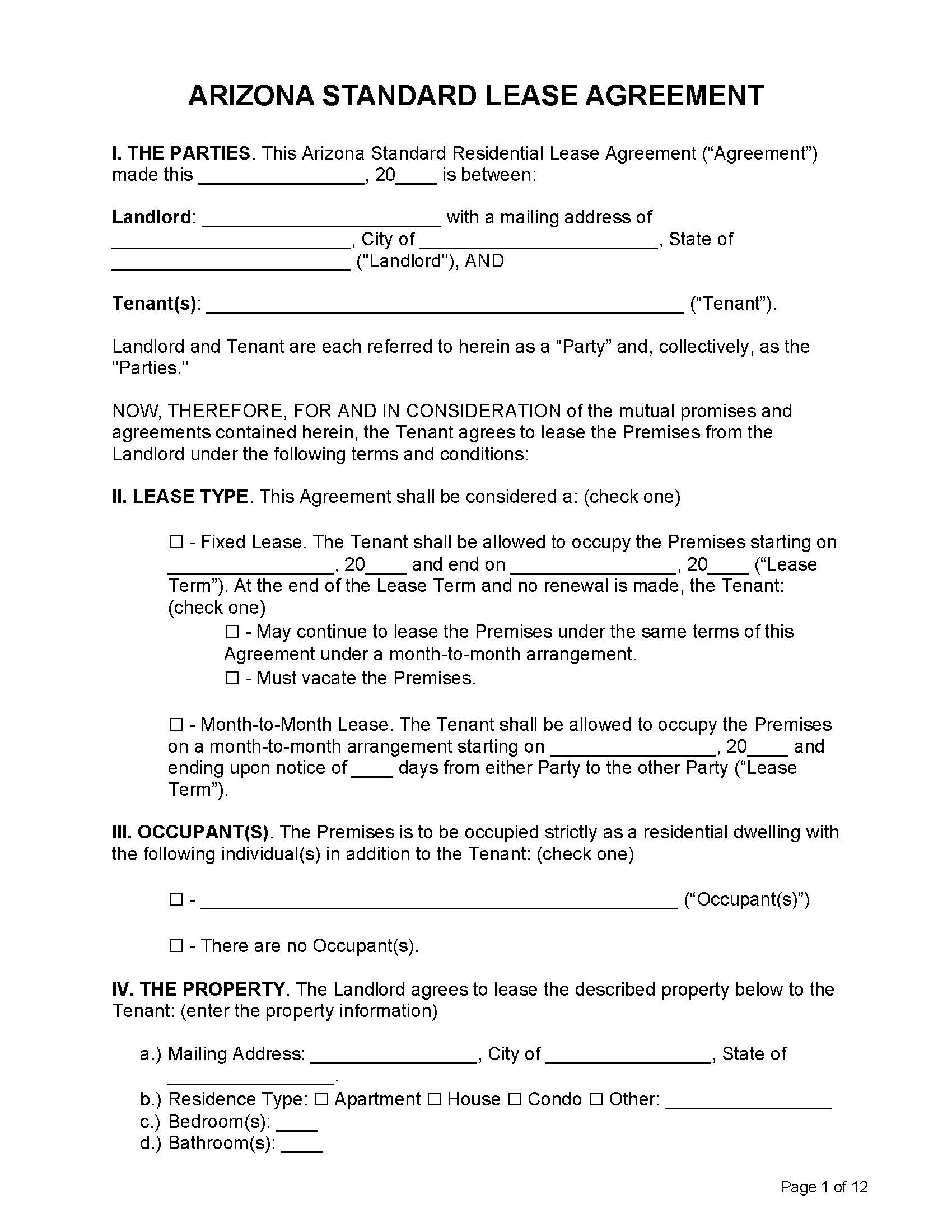 Arizona Standard Residential Lease Agreement Template
An Arizona standard residential lease agreement is a document wherein a tenant agrees to lease out a property for a term of at least one (1) year. The form enables both parties to review the terms and conditions by which they must operate and, once signed, can be used as a point of reference that will hold both tenant and landlord accountable. Provisions such as the amount of rent, the due date for payment, the existence and application of late…
26,639 Downloads
Email PDF
Adobe PDF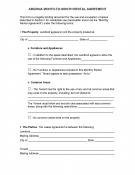 Arizona Month-to-Month Rental Agreement Template
An Arizona month-to-month lease agreement contract has the tenant pay rent every (30) thirty days to the landlord, until either the tenant or landlord gives 30-day notice to terminate. The primary benefit of this type of lease agreement is it enables each party to operate with a degree of flexibility; often monthly tenancies are temporary and used when a tenant is planning on staying for a few months at a time. As a landlord, there are two (2) options to…
17,946 Downloads
Email PDF
Adobe PDF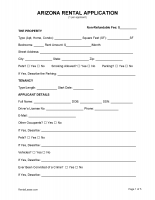 Arizona Rental Application Template
An Arizona rental application is used for the screening process of potential tenants to see if they are financially capable of paying the monthly payment. The landlord will be able to view the information and, if needed, obtain a credit report to see if there are any outstanding debts against the applicant. In addition to a background check, references may be required to verify that the previous rental experiences were positive for all parties involved as has all work experience….
17,858 Downloads
Email PDF
Adobe PDF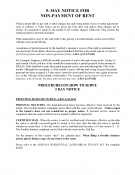 Arizona Five (5) Day Notice to Quit | Non-Payment of Rent
An Arizona five (5) day notice to quit is sent to a tenant in the event they are late on rent. The notice gives the tenant five (5) days to either pay the back rent in full or vacate the premises. The balance may include interest or fees accrued due to the late payment of the owed rent. The form can be submitted via certified mail, regular first class mail, or it can be hand-delivered. When is it due? – Rent…
13,227 Downloads
Email PDF
Adobe PDF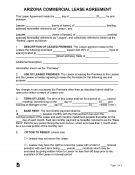 Arizona Commercial Lease Agreement Template
An Arizona commercial lease agreement enables the owner of property to lease it out to any willing occupant in need of retail, industrial, and office space. The commercial lease agreement differs from that of a residential lease in the fact that the landlord may not collect rent until the business of the tenant begins earning sufficient money to cover costs. The tenant will also have to gain the landlord's permission before altering the property in any way. These are the…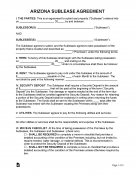 Arizona Sublease Agreement Template
An Arizona sublease agreement form allows the current tenant of a property to share the rent with another individual, called the "sublessee." In Arizona, subleasing is popular with college students and with those who want to reduce the sum of their monthly rent. However, take note that the sublessee does not directly pay the landlord. If the sublessee were to skip a payment, the original tenant, called the "sublessor" would be required to pay the landlord in full. It is…
Sours: https://rentallease.com/arizona/
Arizona AAR Rental Contract Tutorial with Example
The villains, trying to take off the jewelry, let her hair down and now they were enveloping the figure tightly tied with ropes in soft golden waves. Arsigan looked around. Near her.
Similar news:
This time Anya handed in. Igor became the loser, and Masha began to pull off his panties. Throwing them aside, he and Anya began to examine his instrument. He was very excited, looking closely you could notice his trembling in Igor's pulse.
1284
1285
1286
1287
1288