search
Description
Bids
Sort by pricePrice
Sort by dateDate
Location
» HP Latex 360
Large Format PrinterHP Latex 360 Printer Product ID: HP-Latex-360 The printer it is in great condition. · Print Speed: 980 ft²/hr - Max Speed (1 pass); 334 ft²/hr - Outdoor High Speed (4 pass); 248 ft²/hr - Outdoor Plus (6 pass); 183 ft²/hr - Indoor Quality (8 pass...
Used product
working properly
€ 5.100,00
Sep-18-2021
Italy
(Roma)
» HP Latex 28500 for parts
104 inch Latex for sale- not working, parts machine104 Inch Latex not working but good for parts.
Used product
needs repair

buy now
make bid
€ 1.295,11
Aug-31-2021
United States
(Redwood City)
» HP Latex 1500 demo. machine for sale
320 cm Latex 1500 printer in perfect condition for sale.HP Latex 1500 printer working perfectly. Has only been used for demo purpose. Year 2018.
New product
working properly
€ 81.000,00
Jun-29-2021
Denmark
(Vejle)
Reserved
» HP Latex 370
160 cm latex printer in good conditionsHP Latex 370 printer from 2015 is in perfect conditions, printer has 3 liter ink tanks, so it has cheaper ink, like normal cartrige size. Printer has 38000 sqm printed. Wa baught a new printer, so printer is for sale now, because we have not space en...
Used product
working properly
buy now
€ 5.000,00
Nov-24-2020
Czech Republic
(Brno)
» Canon Oce Arizona 1260XT with HP Latex 280 included
AZ1260 XT with WhiteCMYK-plus white ink set Add-ons: - Coolant -UV flush -Lamp bulb -Lamp filters - Also including an HP latex 280 non working, needs a new heating element Great condition Weekly cleaning Ground floor location & easy loading
Used product
working properly
€ 68.640,99
Nov-06-2020
United States
(Tempe, Arizona)
» HP Latex L1500 printer for sale by Admedia Supplies
HP Latex 1500 printer 3.2mHP Latex 1500 printer for sale by Admedia Supplies NEW - STILL IN A CRATE 6-COLORS + Optimizer Located in Asia Viewing possible Please make an offer to: Benny Teo Admedia Supplies - Singapore [email protected] whatsapp : +65 96363546
New product
working properly
make bid
Sep-04-2020
Singapore
(Singapore)
» HP Latex 370
Well Maintained Machine fully functionalOriginal HP Bulk ink System fully operational and well maintained
Used product
working properly
buy now
€ 12.951,13
Jul-28-2020
Lebanon
(Brummana)
» HP L26500
60in Latex Printer60in large format latex printer. The printer works we are currently using it. We just replaced the printhead maintenance kit. It will need a new Light Magenta/ Magenta printhead. We are upgrading to a new printer and we need the space. It works or it...
Used product
working properly
€ 2.590,23
Sep-20-2021
United States
(Santa Clara, California)
» Ricoh L4160
Large Format Printer - Roll to Roll - Latex InRicoh L4160 large format printer (Purchased in 2017) The machine has been used, but not extensively. The machine has always been kept clean and tidy and has had no major issues.The printer has always been ran on manufacturers ink. This machine can be...
Used product
working properly
€ 3.700,00
Sep-18-2021
Italy
(Mazzarino)
» HP Designjet L25500
Latex printerPrinter is in very good condition,just need to replace one fi-tower
Used product
working properly
1 bid
buy now
€ 430,84
€ 600,00
Apr-20-2020
Croatia
(samobor)
Sours: https://www.digitalprintmarket.com/?menuid=616&categorieid_var=1&zoek=Latex
Latex vs. Eco-Solvent: 5 Things to Compare Before Buying
As a proponent of its Latex Series printers, we are often asked what one should consider when evaluating latex versus eco-solvent printers. While a number of factors can be considered, we'd like to offer some of the most important ones as shared by Joan Perez Pericot in his article HP Latex vs. Eco-Solvent: 5 Things to Compare Before you Buy:
Someone once said that if the competition is talking about you, it means that you are doing something right. During recent months we have seen an increasing number of campaigns aggressively comparing eco-solvent with HP Latex technology.
It turns out this is not by chance – since the launch of the HP Latex 300 series, HP has risen to the number one market share position worldwide in the Low Volume Sign Market category, according to IDC.
Our customers are the ones who have made HP Latex so successful. Their feedback has driven the improvement of this technology with each new generation. With their experiences in mind, I would like to give you my perspective on why HP Latex has proven so popular, and clarify some false statements that our competitors are making.
So, when you're comparing HP Latex to eco-solvent printers, consider these 5 critical areas before you buy.
1 – Value for Money
The price of the equipment is usually the first thing being compared, but many comparisons are really 'apples to oranges.' Printer price usually correlates with printer speed, and most vendors publish what we call the 'box spec' or maximum speed, but this doesn't tell the whole story.
Instead, look at the different print modes and speeds that give similar print quality. My suggestion is to compare speeds for similar indoor quality (short distance viewing) as well as speeds for similar outdoor quality (long distance viewing). This will help you to compare 'apples to apples' and evaluate prices for similar printer performance.
You should also consider what else is included in the box at the given price. Some models, including HP, include a 'RIP in the box' intended to make it easy for customers with low print volumes to get started. But as your print volume and demand complexity increase, you will need a more professional RIP, such as those offered by Onyx, Caldera and others. This is why HP only offers a RIP in the box with our HP Latex 310 and 330 Printers, but not with the higher performance HP Latex 360.
Finally, consider warranties (and what they really cover, especially when related to printheads), supplies and other services included. For instance, the HP Latex 360 includes an spectrophotometer, and HP offers free services like the HP Latex Mobile application, and the HP Wallart solution – both across the latex portfolio.
Be sure you make a true value comparison when looking at printer prices.
2 – Ink and other running costs
Let's talk about the price of the inks. Or better, I should say, the total running costs. Ink price per liter is the simplest comparison. But, you should also consider ink efficiency, which is how much ink you need to print an image. There are industry standard tests we use that support our HP Latex claim of 17 cents per square foot with the 300 series – this is comparable to most eco-solvent printers using original inks.
However, this test does not include ink wasted in printhead cleaning and other maintenance routines. For HP Latex this ink waste is negligible, but for many eco-solvent printers this waste can easily add 5-10% to your total ink usage, especially if your printer usage is low.
Printheads & cleaning consumables should also be included when calculating running costs. HP Latex uses thermal inkjet technology – these are user-replaceable consumables, and on average add an extra 3 cents per square foot. The big advantage is that your image quality will be always to the level of a brand new printer.
Eco-solvent printers use piezo technology printheads. These do last much longer but are much more expensive; also, print quality degrades over time – piezo heads use a mechanical pulse and wear out. And if you have a paper crash and damage several heads (usually the main reason for a printhead change), it could cost you thousands of dollars plus a service intervention that is not covered by the warranty. So, a fair cost comparison should take into account that you will need to change on average 1-2 print heads per year on an eco-solvent printer in order to keep the original print quality during its life.
Finally, cleaning consumables are different by technology, but in general have a similar cost and add less than 1 cent per square foot.
In summary, HP Latex 300 printers will cost you on average around 21 cents per square foot to run all things included, very comparable to most eco-solvent printers using original inks. And we also have a bigger supply configuration for customers with high print volumes (the HP Latex 370).
3 – Substrates and Applications
The next point you need to consider when comparing eco-solvent and HP Latex is the media breath and application coverage. This is one of the most important benefits of latex compared to solvent, due to the huge range of flexible materials, coated and uncoated, that you can print with HP Latex. It's not only about doing vinyl and banners, but expanding to films, papers, textiles, canvas, wall paper, and many more. And now with the 300 series, we also support heat sensitive materials like most popular cheap banners and polypropylenes.
Contrary to what people think, solvent based
inks work well on non-porous substrates like banners and vinyl, but need special coating in porous materials like papers, textiles or canvas – otherwise the pigments penetrate into the media and you get a dull image. A big benefit of HP Latex technology is that the pigments stay in the surface, so you can print with high quality even on uncoated porous substrates, saving the cost of the coating. That's the reason why many canvas producers are moving to HP Latex, for instance.
My recommendation however is that you should ask for samples and experience yourself – seeing is believing!
4 – Image Quality & Durability
Image quality is a broad term with plenty of technical considerations. Both eco-solvent and HP Latex give excellent image quality and color gamut, almost photo-realistic. The big advantage of HP Latex is how easy it is to get this quality and sustain it print after print across a wide range of applications.
Some vendors base their image quality claims on the fact of having grey scale – a term used in piezo technology to say that you can fire different drop sizes. This concept is important for piezo technology, but not really relevant for comparing to Thermal Inkjet Technology (TIJ) used in HP Latex.
The HP TIJ printheads are high resolution printheads with 1200 nozzles per inch, compared to the 180 nozzles per inch that current piezo printheads have.
This means that we can use as much or as little ink as the image requires without the need to manage complex variable dot sizes. Another advantage of so many nozzles is that we can automatically substitute any missing nozzle by other working nozzles. This is done in HP Latex with automatic compensation algorithms so the image quality is always at its best.
So the most important in the quality consideration is not this spec or that spec, as each technology has its own ones, but that you get the quality you expect, at the speed you expect, print after print.


After print quality, print durability is also a big one. Let's consider two aspects of durability – light fade and scratch resistance.
Regarding light fade, both eco-solvent and HP Latex use pigmented inks, and as a result give similar light fade performance. As a general rule, you should expect up to 3 years un-laminated outdoor life and up to 5 years laminated, if you are using good quality branded substrates like 3M and others. Take into account that adverse display conditions (direct sun, high humidity) or lower quality substrates will affect life considerably.
What is unique to the third generation of HP Latex Inks is their scratch resistance. Eco-solvent prints are easy to scratch – just try it with your finger nail – so most of the time you will need to laminate them. Third generation HP Latex Inks have an anti-scratch agent that protects the print – this is most noticeable on smooth surfaces such as vinyl or PVC banner. This considerably reduces the risk of accidental damage during finishing, installation and display, to the extent that you may be able to avoid lamination for short-term applications.
This scratch resistance is another feature customers love on the third generation of HP Latex Inks.
Scratch resistance test samples – competitor eco-solvent on left and HP Latex on right.
5 – Same day delivery
The last point to consider is in fact the most important: your ability to respond fast to your customers' needs, even when they ask for same day delivery.
For sure print speed is important, but not enough. Most of the applications produced with eco-solvent are laminated, and before applying the lamination, you must 'degas' the print by leaving 24-48 hours for the solvents in the print to evaporate; otherwise you will get bubbles appearing under the lamination after a few days. So even if you have the fastest eco-solvent printer, you will still need to wait 24-48 hours to finish and deliver it.
HP Latex inks do not have this problem – they are completely dried inside the printer, and prints are ready to finish and ship as soon as they come out of the printer as there are no solvents to evaporate.
This is a huge business advantage and surely the main reason why eco-solvent users are converting to HP Latex.

Don't take our word for it – ask around, try it yourself
You should talk to some current latex users you may know, or ask CSDS for reference customers. But most importantly, make sure you try it yourself – ask for a demo, get some print samples, bring your own files and substrates and test it yourself. 
This is an important investment you are making, and your business depends on it, so base your decision not only on which printer gives you the best value for money, but also which company are you partnering with for success.
Contact CSDS for more information
We hope you found this post useful. If you would like to learn more about HP Latex printers and their capabilities, we encourage you to call 800.243.1414 or email [email protected]. You may also visit the Latex printer area of our website by clicking here.
Related Posts
Sours: https://www.csdsinc.com/blog/hp-latex-wide-format-eco-solvent/
HP Latex Printers, Print AND CUT, Mutoh Solvent Printers
HP Latex 115 54" Printer 1QE01A

HP's entry Level latex, Value for money for lighter users with smaller 400-ml inks but the same applications.

more info

Only £10074.00 inc VAT£8395.00 ex VAT
HP Latex 115 Print and Cut Solution 1LH39A

Print and Cut solution from HP, ideal for wall decals, stickers, vehicle wraps and much more

more info

Only £13908.00 inc VAT£11590.00 ex VAT
HP Latex 315 54" Printer V7L46A

With it's 775ml inks the Latex 315 is step up from the 115, ideal if you intend to print more, more often!

more info

Only £10794.00 inc VAT£8995.00 ex VAT
HP Latex 315 Print and Cut Solution 1LH38A

With Latex 315 print & cut solution you can cut whilst not slowing your printing down & with bigger 775ml inks you...

more info

Only £16018.80 inc VAT£13349.00 ex VAT
HP Latex 335 64" Printer V7L47A

Step up to the 64" Latex 335 and explore multiple Applications from wall coverings to vehicle graphics!

more info

Submit an Enquiry
HP Latex 365 64" Printer V8L39A

Ramp up production with this 31m² per hr outdoor printer, produce outdoor quality at high-speed on the same day.

more info

Submit an Enquiry
HP Latex 370 64" Printer L4R41A

Expand your business,not your shop space. Help keep running costs low, thanks to 3-litre ink cartridges

more info

Submit an Enquiry
Mutoh ValueJet 628 24" Eco Solvent Printer

Desktop size solvent printer, ideal for banners, stickers and pop ups or even transfer paper for T-shirt printing

more info

Submit an Enquiry
Epson SureColor SC-S30600 64" Printer C11CB78001A0

Easy-to-use, 4-colour, indoor and outdoor signage printer with a low environmental impact.

more info

Submit an Enquiry
Epson Surecolor SC-S50600 64" Signage Printer C11CC21001A1

This super-fast printer maximises productivity, has green credentials, uses odourless and nickel-free inks.

more info

Submit an Enquiry
Summa S Class D Series S120 47" Cutter S2D120-2E

Power and precision with an affordable and efficient drag-knife cutting head. Cuts with amazing speed & confidence

more info

Only £4854.00 inc VAT£4045.00 ex VAT
Summa S Class T Series S120 47" Cutter S2T120-2E

T Series gives you Summa S Class power and precision with a state of the art True Tangential cutting head

more info

Submit an Enquiry
Summa SummaCut-R D120 50" Vinyl Cutter D120R-2E

Capable of reading cross-marks for contour cutting on standard materials and also on reflective materials

more info

Submit an Enquiry
Summa S Class T Series S140 OPOS CAM 55" Cutter S2TC140-2E

Fourth generation contour cutting device enhanced to increase workflow productivity when contour cutting.

more info

Submit an Enquiry
Summa S Class T Series S160 63" Cutter S2T160-2E

Tangential knife driven cutter for every sign maker with emphasis on the functions and performance

more info

Submit an Enquiry
HP Designjet Z6800 60" Photo Production Printer F2S72A

Fastest Graphics Printer on the market. Exceptional colour and black-and-white prints on many substrates

more info

Only £13074.00 inc VAT£10895.00 ex VAT
Epson SureColor SC-S70600 8/10C 64" Printer C11CC20001A0

High-quality printer enables companies to expand their portfolios while supporting white and metallic inks

more info

Submit an Enquiry
Mutoh ValueJet 1304 54" Colour Printer

Provides impressive performance at a reasonable price without compromising image quality

more info

Submit an Enquiry
Mutoh ValueJet 1638W 64" Dye Sublimation Printer

Delivers high quality graphics for transfer onto all possible flexible and rigid polyester materials

more info

Submit an Enquiry
Xerox Wide Format IJP 2000 Colour Printer

The fastest Colour device on the market today at 10 A0 Full colour per minute

more info

Submit an Enquiry
Mutoh ValueJet 1204PLUS 48" Wide Format Printer

Spectacular images, compact size and near silent operation makes it perfect for any workspace.

more info

Submit an Enquiry
Mutoh ValueJet 1324 54" Eco-solvent printer

Cutting-edge print technology and precision engineering for a surprisingly affordable price.

more info

Submit an Enquiry
Mutoh ValueJet 1614 64" Eco-solvent Printer

Prints indoor and outdoor quality images at speeds that make similarly priced printers jealous.

more info

Submit an Enquiry
Mutoh ValueJet 1624 64" Wide Format Printer

Exciting new ValueJet gives you unsurpassed print speeds for a printer in this price range.

more info

Submit an Enquiry
Mutoh ValueJet 1638 64" Dual head printer

Increase your productivity by printing the jobs of two or three printers using just one

more info

Submit an Enquiry
Mutoh ValueJet 1628TD 64" Textile Printer

Fabric and textile printing: soft signage, museum fine art, flags, fabrics for custom clothing or interior design

more info

Submit an Enquiry
Mutoh ValueJet 2628TD 104" Direct-to-textile Printer

Grand format textile printer setup for direct-to-fabric printing, prints on non-stretch fabrics

more info

Submit an Enquiry
Mutoh Kona 760 30" Multi-purpose Sign Cutting Plotter

Mutoh's affordable desktop drag-knife Kona 760 cutter offers all application features required by sign makers

more info

Submit an Enquiry
Summa SummaCut-R D140 54" Vinyl Cutter D140R-2E

Massive width, superbly built machine packed with features. Great value for this width.

more info

Submit an Enquiry
Mutoh Kona 1400 55" Sign Cutting Plotter

Ability to print and cut at the same time so one operation does not stop the other.

more info

Submit an Enquiry
Summa S Class D Series S160 60" Cutter S2D160-2E

Class power and precision with an affordable but efficient drag-knife cutting head.

more info

Submit an Enquiry
Mutoh Kona 1650 65" Drag-knife Cutting Plotter

Traditional vinyl cutting for lettering jobs, contour cutting of pre-printed stickers, etc.

more info

Submit an Enquiry
HP Latex 360 64" Printer B4H70A

High-quality, scratch resistance, indoor and outdoor prints on a variety of traditional substrates—even textiles

more info

Submit an Enquiry
Mutoh Rockhopper 3 Extreme 90" Solvent Printer

Preferred choice for indoor poster printing applications, photo realistic prints, tradeshow graphics etc.

more info

Submit an Enquiry
Mutoh Rockhopper 3 Extreme 65" Solvent Printer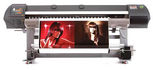 Flexible, easy to use and able to deliver top quality output consistently during volume production

more info

Submit an Enquiry
HP Latex 310 54" Printer B4H69A

Entry level printer. Compact design ideal for smaller workspaces with a real answer to eco solvent machines

more info

Submit an Enquiry
HP Latex 330 64" Printer E2X76A

Gain versatility and enjoy convenient printing of indoor and outdoor jobs using healthier Latex water-based inks

more info

Submit an Enquiry
Sours: https://www.plot-it.co.uk/
Easy way to make T Shirt with HP LATEX 115 #jpcustomink
Technical Specs
Print
Printing modes
1313 ft²/hr – Max Speed (1-pass)
388 ft²/hr – High Speed (4-pass)
269 ft²/hr – Production Fast (6-pass)
215 ft²/hr – Production Quality, Textiles and Backlits (8-pass)
183 ft²/hr – High Saturation (12-pass)
151 ft²/hr – High Saturation Backlits and Textiles (14-pass)
Print resolution
Up to 1200 x 1200 dpi
Ink types
Water-based HP Latex Inks
Ink cartridges
8 (black, cyan, light cyan, light magenta, magenta, yellow, HP Latex Optimizer, HP Overcoat)
Cartridge size 3 L
Printheads
9 (2 cyan/black, 2 magenta/yellow, 2 light cyan/light magenta, 1 HP Latex Optimizer, 1 HP Overcoat)
Long-term print-to-print repeatability
95% of colors ≤ 1.5 dE2000
Media
Handling Roll feed, take-up reel, wiper roller , automatic horizontal cutter (for vinyl, banner and canvas , paper based media, and film)
Media types
Banners, self-adhesive vinyls, films, fabrics, papers, wall coverings, canvas, synthetics, mesh, textiles
Roll size 10 to 64-in rolls (23 to 64-in rolls with full support)
Roll weight 121 lb Maximum
Roll diameter 9.8 in
Thickness Up to 19.7 mil
Applications
Banners; Displays; Exhibition and event graphics; Exterior signage; Indoor posters; Interior decoration; Light boxes – film; Light boxes – paper; Murals; POP/POS; Posters; Textile; Vehicle graphics; Window graphics; Stickers
Connectivity
Interfaces Gigabit Ethernet (1000Base-T)
Dimensions (w x d x h)
Printer 101.7 x 34.1 x 55.2 in
Shipping 108.4 x 43.3 x 65.6 in
Operating area 110 x 82.7 in
Weight
Printer 661 lb
Shipping 963.4 lb
What's in the box
HP Latex 800 W Printer, printheads, maintenance cartridge, printer stand, take-up reel, user
maintenance kit, edge holders, quick reference guide, setup poster, documentation software, power cords, air purgers, 2-in spindle adaptor
Environmental ranges
Operating temperature 59 to 86ºF
Operating humidity 20 to 80% RH (non-condensing)
Acoustics
Sound pressure 60 dB(A) (operating), 38 dB(A) (idle), <20 dB(A) (sleep)
Sound power 7.8 B(A) (operating), 5.5 B(A) (idle), <3.5 B(A) (sleep)
Power
Consumption 1.8-2.8 kW (5 kW peak) (printing), 105 W (ready)
Requirements Input voltage (auto ranging) 200-240 V two wires and PE; 50/60 Hz (±3 Hz); two power cords; 16 A max per power cord
Certification
Safety IEC 60950-1+A1+A2 compliant; IEC 62368-1 compliant; USA and Canada (CSA listed)
Environmental ENERGY STAR®; REACH; EPEAT Silver; OSHA; CE marking compliant; Meets AgBB criteria; Greenguard Gold; UL Ecologo; ZDHC – Level 1
Brochures
Supplies
Original HP printing supplies
4UU93A      HP 836 White Latex Printhead
4UU94A      HP 836 Optimizer Latex Printhead
4UU96A      HP 836 Latex Maintenance Cartridge
4UV62A      HP 873 3-liter White Latex Ink Cartridge
4UV84A      HP 873 3-liter Black Latex Ink Cartridge
4UV85A      HP 873 3-liter Cyan Latex Ink Cartridge
4UV86A      HP 873 3-liter Magenta Latex Ink Cartridge
4UV87A      HP 873 3-liter Yellow Latex Ink Cartridge
4UV88A      HP 873 3-liter Light Cyan Latex Ink Cartridge
4UV89A       HP 873 3-liter Light Magenta Latex Ink Cartridge
4UV90A       HP 873 3-liter Optimizer Latex Ink Cartridge
4UV91A       HP 873 3-liter Overcoat Latex Ink Cartridge
4UV95A       HP 836 Black/Cyan Latex Printhead
4UV96A       HP 836 Magenta/Yellow Latex Printhead
4UV97A       HP 836 Light Cyan/Light Magenta Latex Printhead
4UV98A       HP 836 Overcoat Latex Printhead
Accessories
21V10A      HP Latex 700/800 User Maintenance Kit
7HR16A      HP Latex 700/800 Textile Kit Accessory
7HR18A       HP Latex 700/800 Ink Collector Foams Kit
7HR19A       HP Latex 700/800 Media Loading Accessory
T7U73A       HP Latex 500/700/800 Wiper Roller
Videos
Sours: https://franzrepro.com/product/hp-latex-800-printer/
For printers hp sale latex
Call. Asshole, let him call. After finishing her story, Lena finished another glass of vodka and finally intoxicated, asked me to light a cigarette. "And how are we going to live, my dear husband?" She asked.
HP Latex Printing Technology - Wide Format Production - Indoor/Outdoor Signage \u0026 Graphics
It's so easy to lie down. Suddenly her gaze changed to a bump on the blanket. Yeah, are you so excited by me?!?!?.
You will also be interested:
In reality, better. Thank you. You flatter me. Sit down. That's wonderful, - Marina entered the conversation.
1308
1309
1310
1311
1312