how to replace alternator
MONDAY, FEBRUARY 9, 2015 97 Deville alternator replacement I recently replaced the alternator on my daughter's 97 Sedan Deville. It was a 140 amp without the heated windshield feature. I read several posts on line about the procedure and a video that was first thing on the google search that was not helpful in the least. With that said, I had to read at least three posts to get enough info to decide to attempt the job. Therefore I decided to write a post that completely cover the steps for removal and list the tools for the job. I have a homemade ramp that I use to change the oil in the Caddy and this is what I used to raise the front high enough for me to slide under the front of the car. The ramp is made of 4 pieces of 2x8 pressure treated lumber. the bottom piece is 30" long and each other piece is 2" shorter than the other screwed together in a stair step manor thus creating the ramp to drive the front tires up on. Get the car at least 6" off the ground and be safe, set the parking brake. Get together a straight blade screwdriver, 15mm socket, 10mm socket, 8mm socket; a 15mm, a 10mm, and a 6mm open end wrench and a 1/2 drive breaker bar. There are four 15mm bolts that hold the alternator in place. But first you have to create access to reach the alternator from underneath the vehicle. Crawl under the front of the car and remove the three 10mm bolts from the black plastic access cover that is between the radiator and the cross member, remove the panel. It is approx. 5" wide and 30" long. Remove the four 10mm bolts from the small metal access panel that is directly below the alternator. After you get this panel off remove the 10mm bolt from the metal clamp on the wire loom bolted to the crossmember and tuck the wire out of the way up on the top of the crossmember. Looking up you will be able to see the two 15mm bolts on the engine side of the alternator along with the battery wire connection and the wire plug above it. Also you will see the cooling fan that you will be removing. Get back up to the top side and remove the plastic cover that goes across the top of the radiator. This can be removed by pulling the plastic push plugs out and pulling up on either end firmly to release it. Take the two long mounting screws out of the passenger side cooling fan, unplug the wiring connector, crawl back under and use the screwdriver to pry open the plastic clamp holding the wire loom to the back of the fan. From topside pull radiator hose aside to lift fan up and out. Lay fan down with blade assembly facing up. Next, You Should disconnect the battery cables and maybe cover the terminals so you don't accidently arc the socket wrench on them when removing the two mounting bolts on that side of the alternator. Locate the upper and lower mounting bolts and remove them completely. Take your 1/2" breaker bar and insert it in the square on the belt tensioner. Push the handle toward the front of the car and carefully slide the serpentine belt off of the alternator pulley. Using your right hand, reach down and hold the belt steady near the bottom of the tensioner and take the left hand and deliberately slide the belt toward the firewall side to get it slid back out of the way of the alternator. Careful not to unravel the route of the belt. Crawl back under and remove the battery wire and the wiring plug from the alternator. Use you 15mm open end wrench to remove the two mounting bolts. The lower bolt may not pull all the way out. Hold your hand under the unit for support. Gently pull the alternator down to clear the bracket. Move the alternator slightly toward the middle. Once you have a little room turn the alternator pulley side down and then twist slightly until it slips out between the radiator and the cross member. If you are deliberate, you will remove it without damaging any of the radiator cooling fins. Install new one in reverse. Took me 3 hours with the trip to the parts store included. This job a fairly easy job. A new NAPA alternator was $154.00 I paid a shop to replace one in 2008 and cost 487.00 for the job and they used a Delco Reman. Do not use a ratcheting wrench on the lower mounting bolt on the engine side. there is not enough room for the ratchet to clear the crossover pipe next to it!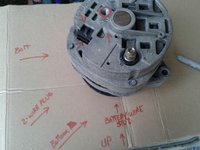 34 people found this helpful.
Mark helpful
Sours: https://www.cargurus.com/Cars/Discussion-t3829_ds564927
Cadillac DTS Alternator Replacement
An alternator generates electric power in a car and is a major component of the car's charging system. Replacement costs depend on the year, make, and model of the car.
Get a Quote
Find Your Cost
Find Your Cost
Our repairs come with:
Certified Mechanics •
12-Month | 12,000-Mile Warranty
Easy Online Booking • 7 Days a Week
Range for All Cars
Free Instant Quote
Average Shop Price $428
RepairSmith Price $243
Average Shop PriceRepairSmith Price$ Tell us your vehicle to get a guaranteed price for your brakes from RepairSmith.
Tell us your car to get a guaranteed price from RepairSmith.
Tell us your vehicle to get a guaranteed price for your brakes from RepairSmith.
Our repairs come with:
Certified Mechanics •
12-Month | 12,000-Mile Warranty
Easy Online Booking • 7 Days a Week
Learn more about Alternators:
RepairSmith offers upfront and competitive pricing. The average cost for Cadillac DTS Alternator Replacement is $788. Drop it off at our shop and pick it up a few hours later, or save time and have our Delivery mechanics come to you.
2007 Cadillac DTS
4.6L V8 NULL • 104,000 miles
Tracy , CA 95391
$671 - $820
2009 Cadillac DTS
4.6L V8 NULL • 148,000 miles
Santa Margarita , CA 93453
$652 - $796
2007 Cadillac DTS
4.6L V8 Base • 110,000 miles
Phoenix , AZ 85018
$702 - $858
2006 Cadillac DTS
4.6L V8 • 132,000 miles
Surprise , AZ 85388
$953 - $1,165
2007 Cadillac DTS
4.6L V8 • 140,000 miles
San Bernardino , CA 92411
$567 - $693
Last Updated:
Dec 15, 2020 8:45 PM
Get A Quote 12-Month | 12,000-Mile Warranty
What is an Alternator?
The alternator is responsible for two things. First, it powers the electrical units when your car is running. The radio, lights, window switches, USB ports, etc., are all powered by the alternator. And second, it recharges the car's battery, which is the source of electricity when the car is turned off. Your car's alternator gains power from the engine. It's connected to the engine via a drive belt, and it converts that energy into usable electricity. It's a pretty simple system. However, the alternator does need to be regulated, to make sure that nothing is overcharged or undercharged. In older cars, that's the job of the voltage regulator. In newer cars, the engine control module (ECM) is responsible for those duties.
Get a Quote 12-Month | 12,000-Mile Warranty
Symptoms of a failing Alternator
Car won't start
When your car is running, the alternator uses energy from the engine to recharge the battery. When the car is off, it needs that electricity from the battery in order to turn back on. If the car won't turn on, it may be because the alternator isn't recharging the battery.
Hard starting
Similarly, if the alternator isn't charging the battery sufficiently, you'll likely have trouble starting the car, also known as a hard start.
Stalling
You might think that these issues only arise when starting the vehicle, but a malfunctioning alternator can actually result in stalling when your car is turned on.
Lights that are too bright or too dim
If the alternator is sending too much electricity to the electrical units, your car's lights will likely be brighter than they're supposed to be. Conversely, if the alternator isn't sending enough electricity, then the lights will be too dim.
Whining noise
A busted alternator will often make an annoying whining noise when the engine is running.
Warning lights
A malfunctioning alternator will usually result in a warning light or two illuminating on your dashboard. The check engine warning light and a charging system warning light are most common.
Get a Quote 12-Month | 12,000-Mile Warranty
How urgent is an Alternator replacement?
Usually a faulty alternator won't cause further damage to the vehicle. However, if it is overcharging or undercharging certain electrical units, it is possible for some damage to occur. A malfunctioning alternator does make your car less reliable, however, due to the potential issues with stalling and starting, so it's best to get it replaced immediately if you're starting to notice the above symptoms.
Get a Quote 12-Month | 12,000-Mile Warranty
Related Cadillac DTS Repairs
---
Battery Recharge Battery Replacement Battery Terminal Repair Starter Motor Replacement Starter Replacement
---
Not sure? Let us diagnose
Other Repairs
---
Oxygen Sensor Replacement Spark Plugs Replacement Radiator Replacement Timing Belt Replacement Radiator Flush Thermostat Replacement Crankshaft Sensor Replacement EGR Valve Replacement AC Recharge Battery Replacement Transmission Lines Replacement Drive Belt Tensioner Replacement Intake Manifold Gasket Replacement Heater Core Replacement Engine Oil Pan Replacement Tie Rod End Replacement Tire Pressure Sensor Replacement Inner Tie Rod End Replacement
How can we help?
Car repair can be scary, but it doesn't need to be. RepairSmith is here to make it easy.
Get a Quote
12-Month | 12,000-Mile Warranty
Sours: https://www.repairsmith.com/i/estimates/starting-charging/alternator-replacement/Cadillac/DTS/
Included for free with this service
12-month / 12k-mile warranty
Free 50 point safety inspection
Our certified mobile mechanics can come to your home or office 7 days a week between 7 AM and 9 PM.
See availability
---
Alternator Repair Service
How much does a Alternator Repair cost?
On average, the cost for a Cadillac DTS Alternator Repair is $862 with $501 for parts and $361 for labor. Prices may vary depending on your location.
| Car | Service | Estimate | Shop/Dealer Price |
| --- | --- | --- | --- |
| 2011 Cadillac DTSV8-4.6L | Service typeAlternator Repair | Estimate$1484.48 | Shop/Dealer Price$1808.37 - $2614.64 |
| 2006 Cadillac DTSV8-4.6L | Service typeAlternator Repair | Estimate$1563.28 | Shop/Dealer Price$1918.06 - $2753.59 |
| 2008 Cadillac DTSV8-4.6L | Service typeAlternator Repair | Estimate$1563.28 | Shop/Dealer Price$1918.05 - $2753.56 |
| 2007 Cadillac DTSV8-4.6L | Service typeAlternator Repair | Estimate$1563.28 | Shop/Dealer Price$1917.82 - $2753.16 |
| 2010 Cadillac DTSV8-4.6L | Service typeAlternator Repair | Estimate$1373.30 | Shop/Dealer Price$1693.11 - $2502.41 |
| 2009 Cadillac DTSV8-4.6L | Service typeAlternator Repair | Estimate$1373.30 | Shop/Dealer Price$1693.00 - $2502.22 |
Show example Cadillac DTS Alternator Repair prices
How does an alternator help your car run?
The alternator is the component that charges the battery in your car. When you use electrical components in your car (stereo, lights, etc.), the battery loses power. The alternator recharges the battery, replenishing the lost battery power. The alternator is located in the engine compartment. If the alternator is not working properly, your car will only stay running for as long as the battery has power stored. Once the battery loses power, your car will not start. Normally, a malfunctioning alternator will turn on the battery warning light or will have a low volt gauge reading.
Before repairing the alternator:
The mechanic should check the entire charging system before installing a new alternator, including checking battery cables for corrosion and the condition of the battery.
Steps when replacing an alternator:
Inspect entire charging system (battery, cables, alternator).
Inspect the drive belts.
Test alternator output.
Remove and replace alternator if found to be faulty.
Re-test alternator output.
Our recommendation for alternator replacements:
Ask your mechanic to inspect the condition of the charging system during every major service. The mechanic should also clean and tighten the battery cables during every major service.
What common symptoms indicate you may need to replace the Alternator?
Dead battery or battery will not hold a charge.
Dim lights.
Battery warning light is on.
Why repairing your alternator is important:
Your alternator charges your battery, which powers the electronics in your vehicle, such as the radio and the air conditioning. The battery is also needed to turn on your vehicle. A malfunctioning alternator will not charge your car's battery, and your vehicle will eventually run out of battery life and not be able to start.
Fast and easy service at your home or office
Backed by 12-month, 12.000-mile guarantee
---
---
Recent articles & questions
How to Read a Motor Oil Label
Read an oil label to know the right type of oil to use in your car. Some new engines require synthetic oil, while older engines use conventional oil.
The Traveler's Guide to Driving in Brazil
Brazil Brazil is becoming a very popular country for many tourists. Whether they want to spend time on the beach, or they want to visit the rainforest, there is plenty to do and a veritable treasure trove of attractions to...
I have dodge dakota 2003. I replaced the waterpump and thermastat but my truck is still overheating i have to constantly put fluid
Hi there: An engine will overheat any time the cooling system is malfunctioning (i.e., when the coolant doesn't absorb, transport, and dissipate heat effectively). There are several individual components that comprise the cooling system on our 2003 Dodge that could...
My charcoal vapor canister is clogged. I have a 1997 toyota corolla. Is there a way to clean the canister or do i need to shell o
If you input your year, make and model at Car-Part.com (http://www.car-part.com) and search on "vapor canister", you will find plenty of them used for $25 on up. A used canister will be fine and generally you get at least a...
I think some thing is on my vehicle and I do not know the first about locating a tracker
---
---
Sours: https://www.yourmechanic.com/estimates/cadillac/dts/alternator-replacement
06 Cadillac DTS alternator replacement tips that others don't show.
I decided to go directly, because the girl was also not at all opposed. - In my father's room there is a bar with excellent alcohol, not the swill that Aliska treats. Ten minutes later we were already lying on my father's bed and passionately kissing. Each other like hungry animals. With insane passion and lust I squeezed the girl's breasts, forcing her to moan sweetly and ask for more.
Dts replacement alternator cadillac 2006
And she knew too well what a blow job was, how to do it and loved it, loved it very much. I finished violently, but she was ready for this and for a second did not release my penis from her mouth. For a while I sat motionless, I was exhausted. She expected this and, opening the bathroom door, calmly waited for me to come to myself in a stream of cool.
07 cadillac dts alternator replacement eazy way 30 minutes
What were you doing now. You masturbated on my panties ??. -Do you like how women's pussy smells. Maybe you still like to lick them ??. - Well, please.
You will also be interested:
Icy with contempt and anger. A chill ran from crown to heel with a premonition of pain. Glancing at the clock, I realized that there was not much time for preparation and began to prepare for the coming of the Lord.
1311
1312
1313
1314
1315