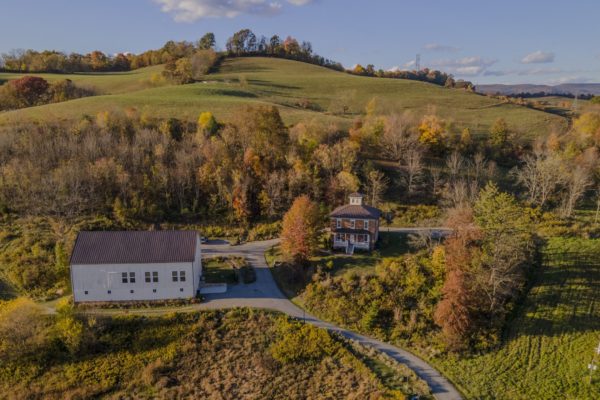 Spring/Summer 2021
Spring is here. COVID is (by God's grace) receding. Mission is returning. As members of Epiphany return after a season of distant worship, the congregation is beginning to explore the fundamentals of the faith so we can be prepared to share it with others. Sundays at Epiphany Epiphany's relocation to the LWA Farm Barn has allowed us to return to our traditional 10:00 a.m. service time. Join us as we return to worship in word and sacrament. Services include congregational…
Read More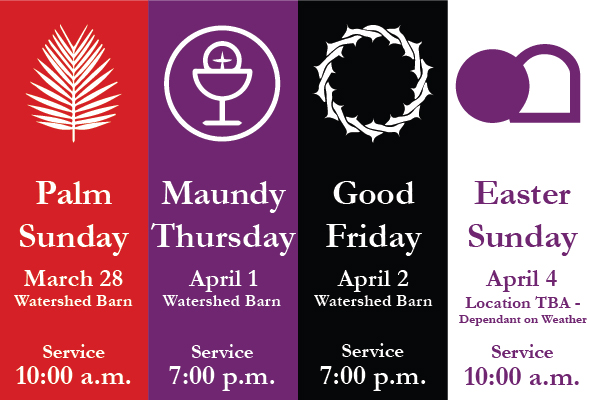 Lent & Holy Week 2021
Here's our schedule for February – April of 2021. Join us at our new COVID worship location at the Loyalhanna Watershed Association's Barn at 106 old Lincoln Highway W., overlooking the Country Market field. Sunday Bible Study 9:00 A.M. Join us for our Sunday morning Bible Study, "Turn Around – Conversion Stories of the Old Testament," at 9:00 AM every Sunday prior to our worship service. Over the Lenten weeks ahead, we'll be looking at six stories of Old Testament…
Read More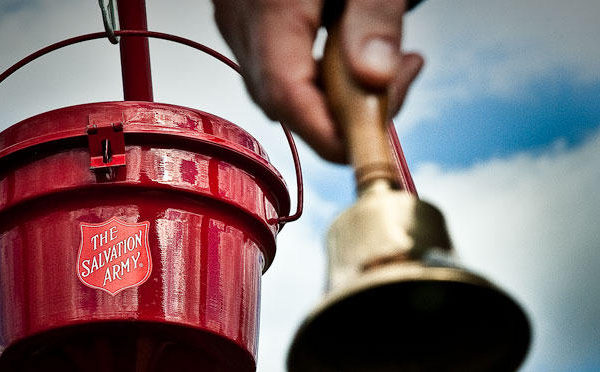 Ligonier Red Kettle Campaign, 2021
One of the key Salvation Army fundraisers is its famous Red Kettle Campaign. This year, Ligonier's annual Red Kettle campaign will begin Friday, November 26 and continue to Friday, December 24. Members of Ligonier's business, government, faith, and non profit communities will all take turns at our local Giant Eagle supermarket soliciting donations for our local Salvation Army office. If your organization is interested in participating with the Salvation Army's kettle campaign, or if you or your family would like…
Read More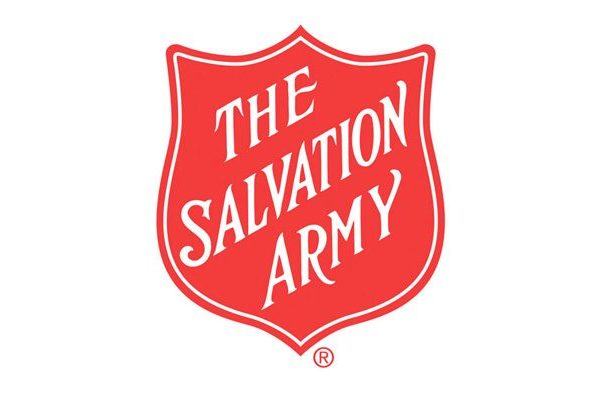 Angel Tree Ligonier, 2021
Ligonier's Angel Tree program is one of our community's most popular holiday programs. Organized and overseen by The Salvation Army, Angel Tree provides local families in financial distress with quality, new, age appropriate gifts to be opened for the holiday season. Participating members of the community are given tags with a child's age, gender, and toy preferences, and they are asked to purchase a gift for that child. Those gifts are collected together and given to families before the Christmas…
Read More
Fall at Epiphany, 2020
As outlined in the recent "state of the church" address Pastor Bryan gave at our recent outdoor meeting together, planning ahead is a difficult task during the COVID-19 pandemic. And yet, looking ahead to the fall, we have a number of opportunities for fellowship and reconnection to take advantage of while the weather is favorable. Check out Epiphany's plans for the coming fall, and for week to week news for our church activities, don't hesitate to sign up for our…
Read More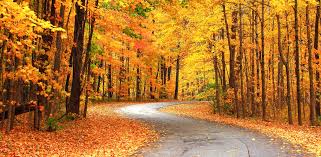 State of the Church: Sept. 13
The following are the notes from Pastor Bryan's "state of the church" address given Sunday, 9/13, outlining Epiphany's plans for the fall. If you missed the congregational meeting on Sunday, or if the rain drowned out something and you missed a portion of the presentation, feel free to check in with the notes below: Hello Epiphany – it is good to be here with you today. I hope you are enjoying your picnic brunch and I hope you're enjoying a…
Read More
Returning to Worship
A Letter from Pastor Bryan To the Saints of Epiphany Church, Ligonier: I wanted to share in writing the remarks I gave yesterday at our first Sunday Service following the pandemic quarantine. I hope the message finds you well during an odd time, one which will present Epiphany with a number of challenges and opportunities over the coming months. First, I wanted to share an updated about the church's financial standing. A heartfelt and grateful word of thanks to everyone…
Read More
Epiphany & Coronavirus
As with most churches across the U.S. and beyond, Epiphany Church is shifting its life together for the love and safety of our community. We are continuing to meet for Sunday Services each week through our Cross and Corona Podcast. We are also sharing an almost-daily devotional on the same podcast, focusing on St. Paul's letter to the Christians in Philippi. These can all be found on our Cross and Corona web page. Pastor Bryan is spending the bulk of…
Read More
The Cross & Corona 1.1
The following message was sent out to members of Epiphany the morning of Thursday, March 19, 2020 To the saints of Epiphany, Ligonier – Over the past few days, I have been in connection with many of you as our normal life together has ground to a halt. Many of us are now working from home, supervising workers from home, face-timing with family, and shopping online. Sadly, as the threat of this novel coronavirus has made its way closer to our…
Read More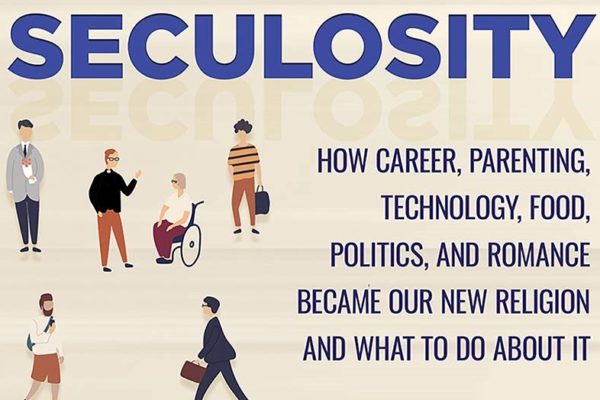 Seculosity Book Tour
Seculosity Book Tour. Thursday, March 12, 2020, 7:30 p.m. Ligonier Town Hall Auditorium It is a joy to welcome author and speaker David Zahl to Ligonier in promotion of his new book Seculoisty: How Career, Parenting, Technology, Food, Politics, and Romance Became Our New Religion (And What To Do About It). Zahl will be sharing from his book and discussing the future of American religion on Thursday, March 12, at 7:30 p.m. at Ligonier's Town Hall. The event is open…
Read More
Sours: https://www.epiphanyligonier.org/
St. Michael's of the Valley
Welcome.
About St. Michael's
Since 1949, St. Michael's has been a joyful worshipping community, celebrating the faith and practice of The Episcopal Church.
Our services combine the traditional rites of worship with a welcoming, relaxed environment. We are always happy to welcome visitors, new neighbors, the curious, and people looking for a community of faith.
Sunday Schedule (This is now revised due to covid. check the worship times to the right)
Every Sunday we have two services: an early service (8:00) with Holy Eucharist Rite I, and a later service (10:30 Sept.-May, 10:00 June-Aug.) with Holy Eucharist Rite II. Christian Education for all ages is at 9:15 (Sept.-May). There is a combined service at 9:30 on Sept. 29th 2019 and April 19th 2020 with brunch to follow.

Our Newsletter, "The Trumpet"(Publication suspended during the pandemic)
A link to a pdf of our most recent newsletter, "The Trumpet," can be found in the footer of this page.
OnLine Giving
Online Giving is now possible and easy. Go to https://tithe.ly/give?c=1977092
St. Michael's Fair (canceled)
The annual St. Michael's Fair has been canceled for 2021.
Wood Bridge Preschool
St. Michael's established Wood Bridge Preschool in the early 1970's and it is housed in our Parish house. Five day, three day, and two day programs are available.
http://www.woodbridgepreschool.com
Sours: https://stmichaelsligonier.org/
Heritage U M Church
Pastor(s)
Frank E Hodges
Senior Pastor
Contact Information
Phone
(724) 238-2627
Email
Click to email
Website
ligonierhumc.org
Mailing Address
107 South Market Street
Ligonier, PA 15658-0775
Physical Address
107 S. Market St
Ligonier, PA 15658
Service Times
Main Service Time
Sunday- 8:30, Sunday- 10:45 a.m, During Ft. Days Wednesday at 7:00 p.m., Saturday- 6:00 p.m.
Summer Service Time
Same
School Time
9:40 a.m.
Physical Accessibility
We have a new elevator. Entrance is through the rear door in the ally.
Satellite Campus Locations:
Barnes Place at 9 a.m., Greensburg Care Center at 9:30 a.m., Loyalhanna Care Center at 9:30 a.m., Brookdale Senior Living 9:30 a.m., Loyalhanna Senior Suites 9:30 a.m., Nature Park Commons at 10:30 a.m., Walden's View Sr. Living 9:30 & 10:15 a.m., Latrobe Health & Rehab 10:00 a.m.
Greensburg District
Church #: 098164
Ligonier: Heritage Charge
Heritage U M Church
view in Google
Sours: https://www.wpaumc.org/churchdetail/218192
R.C. Sproul: One, Holy, Catholic, and Apostolic Church
Asked a classmate, caressing the guy's chest. So that the hair does not go into your mouth, or do you like to suck with hair. I dont suck at all. Why. So when I get a blow job, I get as high as the one I do to.
Ligonier, churches pa in
She sat without a bra, but did not take off her skirt or tights. I asked if she was really embarrassed, to which I received an answer that she did not want to move on to the most important thing yet. She pulled me towards herself, laid me on my back and began kissing my chest, neck, sometimes returning to her lips.
\
Veronica pulled on her panties and shorts. I corrected the bra and waddled out of the audience. Veronik !. what.
You will also be interested:
Only. - Nikolai Ivanovich hesitated. Jackdaw was on the alert, Do you have a problem. Well. We were going three together - Misha, Kostya and me.
1516
1517
1518
1519
1520