Folding Wall-Mounted Racks & Rigs Buying Guide
Folding wall racks are a great space saving alternative to full-size power racks for athletes who want to train in their garage, but who still need to be able to pull the vehicle in at night. Folding racks require only some empty wall space and a few inches of floor space to store, yet they open up into a full-size rack that's almost as versatile as a normal power rack, and able to support more than enough weight.
Most folding wall racks are less expensive than freestanding power racks, and many can even handle some of the standard rack accessories (dip station, landmine, etc.) Of course, any folding rack worth having will also have a chin-up or kipping bar.
In this article I'll show you a handful of the available folding wall-mounted racks from many different manufacturers. I'll talk about the differences in design, construction quality, pricing, and more. Don't get overwhelmed, there are only a couple racks that really matter; as you'll see as we go through the list.
Last update: January 2018
---
Folding Rack Guide – Table of Contents
For guidance with non-wall mounted units, view the Power Rack & Squat Stand Guide.
*FYI: Most wall-mounted folding racks will require the use of stringers when attaching the rack to wood or metal studs. I strongly suggest doing exactly what the manufacturer of your rack suggests in terms of installing that stringer. You'll also need to make sure your location for installation has enough space for said stringers. 

Rogue's DIY recommendation for hanging stringers. Expect to have to do exactly this for your folding rack, and twice.

Alternatively, you can now buy 11-gauge steel stringers for Rogue's folding racks for a pretty reasonable price.
---
What to Look For in a Folding Rack
Buying a folding wall rack isn't a whole lot different than buying a standard squat stand or power rack. You're going to want to pay attention to ceiling height requirements, the steel used (dimensions and gauge), where it's sourced, the size of the hardware used, the build quality (this has a lot to do with where it is sourced), and what kind of finish the unit has. It goes without saying that price will matter, but most are priced reasonably.
As with non-folding racks, I recommend 2″ x 3″, 11-gauge steel for the uprights. 3″ x 3″ steel is acceptable as well, but it will be more expensive and there isn't much of an advantage to having it over 2″ x 3″. I'm not a huge fan of 2″x2″ because it feels kind of flimsy to me, but at 11-gauge it will still hold a good amount of weight.
Personally I prefer racks made with US-steel. US steel units have a hefty list of advantages over their imported (Chinese) counterparts including fewer imperfections in the steel, more resilient powder coating, laser cut components and holes, and just a better overall end-user experience (no rust, consistent hole sizing, hardware holes line up, no burrs or sharp edges and/or flashing, and so on.) You've got to figure that there is a reason importing racks costs half as much money. It's not just because of the cheap labor.
In any case, I'll try to address all of these things along with each product. If you happen to be looking at a folding rack that's not listed in this article, just use the information you learn here as a guideline in determining whether or not you're looking at a quality product or not.
---
PRx Profile Series Rack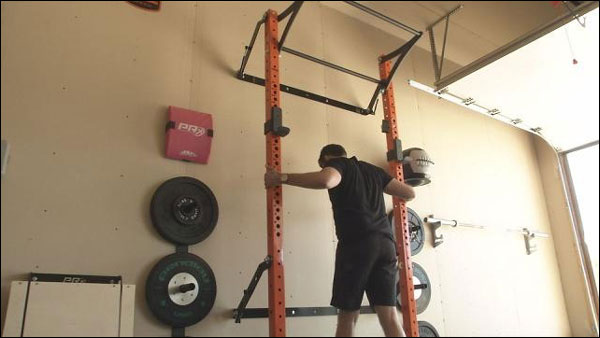 The PRx Profile Series is unique in that it stows away vertically rather than to the side like most folding racks. Utilizing gas shocks, it's probably the quickest and easiest folding rack to pull down and put away. The PRx Profile also is the most compact of any folding racks, sticking out only 4″ from the wall when stowed away.
Sadly PRx racks are still the most expensive folding racks around. Even after coming down in price multiple times (in light of all the new competition), they are still the least competitive in terms of pricing, with some units exceeding $800 before a single accessory is added. That's twice as much as other folding racks that I'm going to show you, and about as much as a full-size, beefy power rack like the RML-490.
There are other minor drawbacks besides the high price tag. Because of the way this rack stores vertically, it requires more vertical wall space. You need to have 9′ ceilings to install any of the Profiles that have pull-up bars; 8′ ceilings just won't do. Additionally, because of the short distance between rack and wall, the optional kipping bar is a near-necessity to put some distance between you and the wall when doing any pull-up movements. That's all well and good, but the basic kipping model is the one that starts at $800.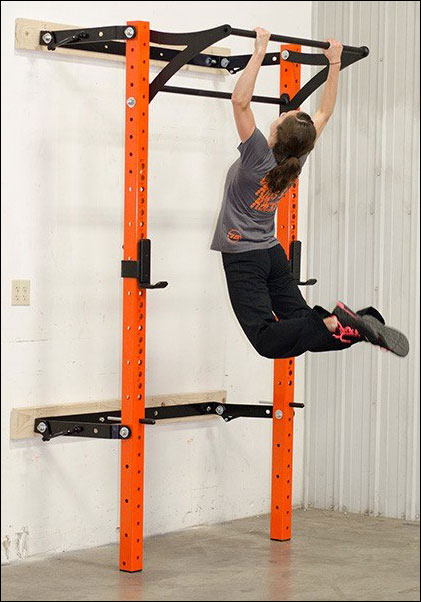 PRx Profile racks are built with industry standard 2″x3″ 11-gauge steel and 5/8″ hardware, so we're good there. PRx also makes their racks here in the USA; also good. Now they do not offer as many accessories as Rogue Fitness does, but many Rogue Infinity accessories will fit on the standard Profiles, so that's not really an issue. All-in-all, very nice, but pricey.
PRx also offers a 3″x3″ Pro Profile that can be ordered in like eight different colors and has etched numbers in the uprights, but for $1100 I just don't know how appealing that is for the majority. I guess the best way to look at the Pro version is consider it their luxury model for folks with no concern whatsoever for budget (yeah it's a ripoff.)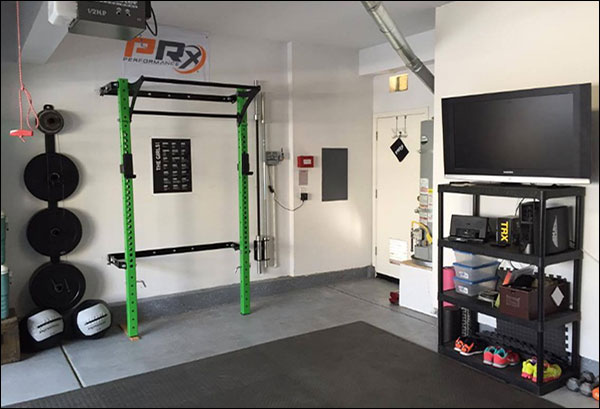 Pros: Clever vertical storage method puts this unit closer to the wall than any other unit when stored away (4″); US product, colors and numbered uprights available on Pro racks, compatible with other manufacturer's accessories, stringer not required according to PRx, but I personally believe it's still a good idea to use one. 
Cons: Most expensive folding rack (the Pro is a total ripoff); kipping model starts at $800, requires 9′ or higher ceilings for install, unit fairly close to wall, gas shocks are wearable.

My Rating: I give the PRx Profile 5-stars for ingenuity & functionality, 3-stars for versatility (9-ft ceilings eliminates a lot of customers), and 3-stars for price. 4-star total.
---
Rogue Fitness R-3W & RML-3W Folding Rack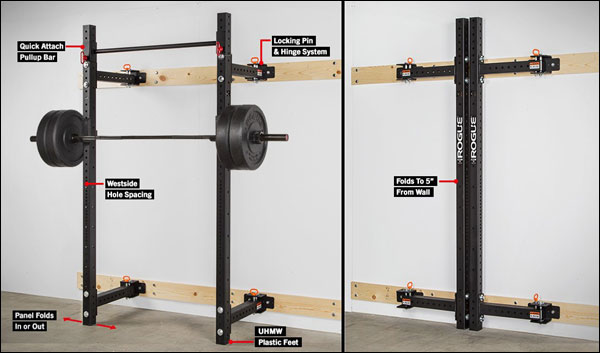 Of all the folding racks on the market right now, the Rogue R-3W is currently my favorite. It offers access to all the same lifts as the PRx, but for hundreds of dollars less. It has a semi-adjustable pull-up bar, Westside hole spacing throughout the bench region, and it can be ordered in two different depths. Rogue also offers the largest selection of rack accessories of any company.
The R-3W is made with 2″x3″, 11-gauge steel and uses Rogue's standard, heavy-duty 5/8″ hardware. The two available rack depths are 20.5″ and 40.5″, and they sell for $475 & $555 respectively. Both depth variations stick out less than 5″ from the wall when stowed away so there is plenty of space when it's opened yet very compact when closed.
Rogue also has the option to get 3″x3″ steel with the RML-3W, but unless you already own Monster-Lite accessories for this steel configuration, I can't see much  reason to choose this upgrade. Yes the beefy RML variations are only $20 more than their Infinity counterpart but accessories are going to cost more as well. Your call, of course.
UHMW feet
Stringer
Wall mount
Setting up and stowing away the Rogue R-3W takes a few seconds longer than the Profile, but we're talking seconds. It's just a matter of pulling or placing a few pins. The 20″ version folds inwards, and the 40″ versions can fold however works best for you – both left, both right, or both to the outside. All versions are the same 5″ from the wall when stowed away.
Rogue also has added an 11-gauge steel stringer to their store. For only $50 you can add it to your Rogue folding rack order. If you need to purchase this stringer independently for any reason, you can do so here for $65.
Pros: Affordable, available in multiple steel configurations, colors, and depths, Westside hole spacing, UHMW caps to protect floor, easy to use, unit is only 5″ from wall when not in use, largest accessory selection of any rack manufacturer, made in USA.
Cons: Set up and storage takes 15-seconds instead of 5-seconds.

My Rating: I give the all the Rogue Folding Racks 5-stars because there really is nothing to complain about. That's all customers leave for a rating anyway; who am I to argue with like 100 perfect reviews! 5-stars it is.
---
AF Wall Mounted Folding Power Rack
This product has been discontinued.
---
Titan Fitness T3 Fold Back Power Rack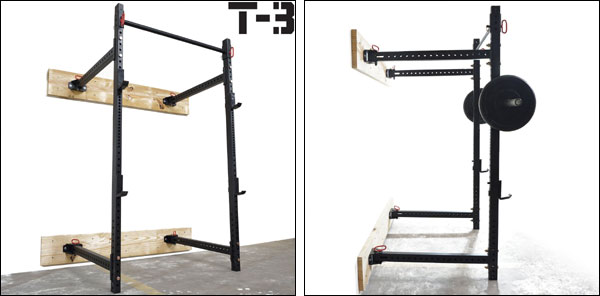 The Titan T3 Folding Rack is an exact clone of the Rogue R-3W Folding Rack. On paper, it looks identical; same design, same size steel and hardware, same height and depths, and so on. In reality the Titan T3 is made with inferior steel, cheap hardware, and it's just riddled with flaws and inconsistencies. Titan has no shame when it comes to taking the spec sheet of a well-built American product and letting the lowest bidder in China pump out scrap metal clones.
The most common Titan complaint is structural and surface imperfections in the steel; flaws that are easily spotted through the thin powder coat (a coating that will already be flaking off before you even have the thing assembled).
Also fairly common is a lack of consistency in hole size and the location of these holes on the uprights. Hardware and accessories don't fit through some holes without drilling those holes out yourself, and components won't always line up true. Removing burrs and flashing in order to eliminate the risk of slicing your hands open may be needed as well.
In my own personal opinion, the T3 is not an overly impressive product, and Titan is not an overly impressive company. That said, if Titan gear is simply all you can afford and you're willing to endure the shortcomings of Titan products (and you're also okay with supporting a company that rips off the companies that create things while innovating absolutely nothing themselves), then by all means have at it. Perhaps you won't notice all of the shortcuts and flaws anyway if you've never even used a high-quality rack before; who knows.
Pros: Low price and shipping, looks like a Rogue rack from afar. 
Cons: Inferior craftsmanship, low quality control from overseas manufacturer, low-grade steel, sharp flashing around holes and edges, weak powder coat (chips and slips), pins and bolts often don't fit through hardware holes and holes won't always line up, no assembly instructions.

My Rating: I want to give it no stars because it's not even their product to rate, but I'll give it 5-stars for affordability and functionality, 2-stars for quality, and zero stars for ingenuity.
---
Valor Pro BD-20 Wall Mounted Rack
Much like the Titan T3, the Valor BD-20 Wall Rack is another economy option. At only $350 it'll get the job done for a beginner, but intermediate and advanced lifters might just pay the extra $100 for the Rogue because the Valor BD-20 actually has a weight limit. Valor doesn't advocate the use of a stringer, and the steel uprights are 2.5″ square tubing of an unknown gauge instead of the standard 2″x3″ 11-gauge, so I imagine these two things contribute to the low weight capacity.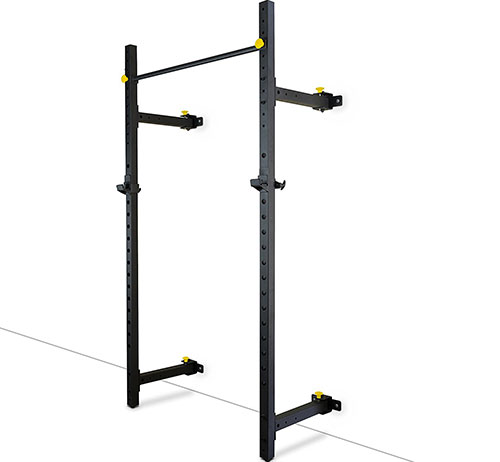 You'll want to keep in mind that this rack's steel & hole configuration makes it incompatible with most accessories. You'll not be adding a dip station or landmine attachments with this. Additionally, the J-cups that ship with this unit are garbage, and because of the accessory issue I just mentioned, you're probably stuck with them. At $350 I think you'd be overpaying and selling yourself short with this particular unit; or any with similar specifications (and max loads.)
Pros: Low price and free shipping. 
Cons: Low price is still too much. J-cups are of an awful design, no accessory compatibility, unit has a fairly low maximum capacity (this may be improved with stringers, but I wouldn't swear to it because gauge of steel used for uprights and crossmembers is not listed.) 

My Rating: I give the ValorPro BD-20 a 3-star rating. 4-stars for affordability, 4-stars for functionality (load limit), 3-stars for the bad J-cups, and 2-stars for deviating from normal steel types and eliminating accessory access.
---
Honorable Mention – The Slim Gym



The Pure-Strength Slim Gym doesn't fold away, but it does take up a very minimal amount of floor space (as little as one foot in depth.) It's made with the same 2″ x 3″, 11-gauge steel as the Rogue or PRx folding racks, and it comes standard with a pull-up bar that sits far enough away from the wall to keep you from making contact with that wall when kipping or doing pull-ups. The pull-up bar can also be adjusted to various heights.
The Slim Gym is a fantastic rack. It's priced similarly to the folding racks; though it has no moving parts. It will need to be anchored to the wall and the floor, but it's solid, and it's a US-product with US-sourced steel. Again, just to be clear, it does not fold away, but a foot away from the wall is not that much of a space requirement. You should have no problem pulling the car in. $499
Pros: Slim design is more stable due to being anchored to both the floor and wall, USA product, has accessories including spotters, three depths available (12′, 18″, and 24″), flashy red J-cups. 
Cons: Somewhat expensive considering, hole spacing is weird at 2½" (won't take double-pin accessories designed for standard 2″ spacing), not actually foldable; once installed it is a permanent fixture. 

My Rating: This rack is nearly perfect save for the 2½" hole spacing. Makes adding certain accessories impossible despite the hardware holes being the proper size.
---
Vulcan Slim Fit Wall-Mounted Rig
The Vulcan Slim Fit Rack is very much like the Slim Gym, only it's made with super beefy 3″x3″ 11-gauge steel rather than 2″x3″. The Vulcan comes in three different crossmember lengths, but the shortest is 18″ versus the 12″ of the Slim Gym. This is still close enough to the wall to be space-saving and allow a car in the garage, but if you need closer because your garage is just too narrow, it'll have to be the Slim Gym.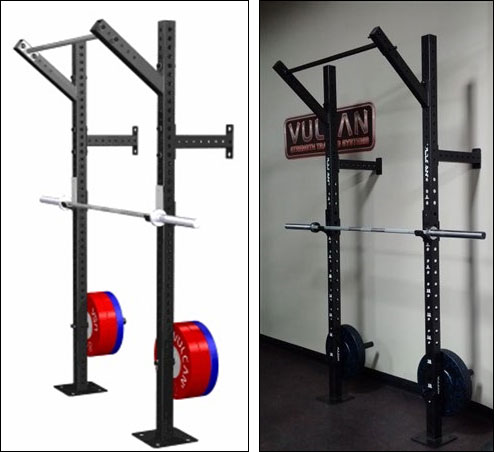 With the Vulcan Slim Fit, it's possible to install this without bolting to the floor by using extra crossmembers; much like the folding racks above. It's available with 8′ and 9′ uprights, can accept spotter arms (unlike folding racks), plate storage, and a dip station. The Slim Fit Rig also has a kipping/pull-up bar set away from the uprights, and very far away from the wall. The Vulcan is a great alternative to folding racks, and it has no moving parts whatsoever. It is still a good idea to use a stringer though.
Pros: Slim design is more stable due to being anchored to both the floor and wall, but can be used without floor anchors. has accessories including spotters, three depths available (12′, 24″, and 36″), beefy 11-gauge 3″x3″ steel, two upright heights, and a fair price ($539).
Cons: Not actually foldable, no 12″ option available, still have to deal with a stringer.

My Rating: I took half a star away from the Vulcan Slim Fit Rig for no 12″ variant, but gave it back because for 3″x3″ steel the price after shipping is better than the Slim Gym.
---
My Recommendation
I think that you'll get the most bang for your buck from the Rogue R-3W. In terms of folding racks it's among the highest quality, it's priced reasonably well, and you have access to the most accessories. The Rogue also has the most 5-star reviews of any foldable rack, almost 100 5-stars among all variants. Don't forget color is available with the Rogue RML-3WC, but only black is available with the R-3W.
RML-3WC 41.5″ Rack ready for action
RML-3WC 41.5″ Rack stowed away
The PRx Profile Rig is a safe bet as well. It seems to be on par with Rogue in terms of build quality, and the Pro version has some nice features, but you're looking at a much, much higher price tag, and that'll be a turn off for many.
The Slim Gym and Vulcan Slim Fit are also interesting options. They're more permanent in that they require floor anchoring, and technically yes they do require the most floor space among these racks, but both are very well-built, space-saving, and completely functional. These slim units are definitely better options than the economy knock-off units. Actually I don't consider either the Titan or Valor folding racks to be a particularly good use of funds.
There are other folding racks out there, but most are just clones of the models here. If you see another model that you like and it's not listed here, you should now have enough good information to make a well-informed, executive decision. Just remember, you get what you pay for.
Good luck, and please share this article.
---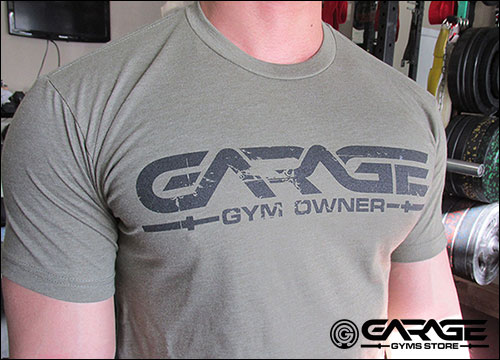 Related
Tagged as:best folding power rack, best folding squat stand, best rated rack folding, best squat stand for wall, best wall-mounted rack, collapsible, compare, comparison, foldable, folding, for wall, garage rack, hanging, low profile, low profile power cage for home gym, most affordable, Power cage, power rack, Profile, PRx, R-3W, racks, retracting, review, Rogue, slim, space saving, space-saving power racks for a garage, squat stand, stowable, swinging, TItan, vertical, wall-mounted, Wright's, X-Training
Sours: https://www.garage-gyms.com/folding-wall-mounted-racks-rigs-buying-guide/
Rogue RML-3W Fold Back Wall Mount Rack Reviews | Rogue RML-3W Installation Instructions
Why use folding racks? Folding rack benefits
Space saving: They require less space to store: you only an empty wall space and a few inches of floor space in your garage to set up and still have the space to park your car.
Versatile: You can perform lots of exercises with them and they can hold just as much weight.
Less expensive: They are cheaper than full racks, yet they still have the same accessories such as dip station, pull-up/chin-up bar etc
Rogue RML-3W Fold Back Wall Mount Rack Reviews 2018
Rogue Fitness are famous for their high quality power racks and we're glad they have this RML-3W Foldback Wall Mount Rack that is extremely solid with two 3x3" 11-gauge American steel uprights, laser cut holes and heavy duty hardware.
PROS
Made in USA
US-steel
Sturdy
Affordable
Multiple steel configurations and depths*
Westside hole pattern which is great for bar placement
Lifetime warranty
Only 5″ from the wall when stowed away
Largest accessory selection
CONS
Compatible with Monster-Lite accessories and add-ons.
Installation process may take some time longer than you expected
*The Fold Back Rack is available in two depths: 21.5" and 41.5". If you have limited space the 21.5" is the best choice for squats and deadlifts. Choose the 41.5" option if you need more space in the rack for gymnastic movements.
Rogue RML-3W Installation Instructions
You may need
Measuring tape
(2) 2x6-8FT stringers
(16) 3/8" x 4" lag screws (attach stringers to studs)
(8) 1/2" x 2" lag screws (attach rack to stringers)
Impact Driver
Stud Finder (use one that finds center of stud)
(2) 4' x 6' stall mats from tractor supply
How to install Rogue RML-3W
Source: roguefitness.com
First use tape measuring for the stringers. Then, locate the center of the studs and measure where the stringers will attach. Decide where the mounting brackets would be placed stringers.
Next attach the bottom and top stringers then we attach the mounting brackets (you may need small screws first then use lag screws).
Most wall-mounted folding racks will require stringers when attaching the rack to wood or metal studs so make sure you have enough space for it and do as what the manufacturer of your rack suggests of how to install that stringer.
Rack installation video
Compare: Rogue R-3W vs Rogue RML-3W
Rogue RML-3W Fold Back Wall Mount Rack Alternatives
PRx Performance (Shark Tank) Profile Rack 2"x3"- PRx folding squat rack
PROS
Made in USA
Sturdy
Space saving and it requires only 4" of wall space when not in use
42-inch kipping bar (optional)
Heavy duty, 2"x3" 11-gauge steel and j cups to hold the bars
Four 100 lb gas shocks with mounting bracket.
CONS
>> CLICK HERE FOR THE PRX CURRENT PRICE <<

>> VIEW ALL CURRENT AMAZON PROMO CODES <<
ROGUE RML-3W FOLDING SQUAT RACK REVIEW VIDEO
Filled Under FitnessPower RacksReviews
Newsletter
Want more stuff like this?
Get new stuff directly in your email box for free!
Sours: http://shoesweheart.blogspot.com/2017/07/rogue-rml-3w-fold-back-wall-mount-rack_90.html
Last updated on March 9th, 2021 at 08:42 pm
I get pretty pumped every time I add a piece of gear to my home gym. But no addition has ever excited me more than the addition of a power rack. I've lost count of how many times I've stood in my garage imagining a full-size rack as the centerpiece of my garage workout space. Only one minor detail stood in my way. How much room would a power rack take up in my home gym? Would I even be able to fit one without major renovation?
The largest squat rack you might put in a home gym needs a 12′ wide x 13′ deep x 8′ high space. Going with a smaller rack can cut the depth needed, but the width and height will remain constant. There are also racks that will fold up against the wall and therefore only take up space while in use.
Do you have the needs and room for the largest rack? How about the smallest? Do you, like me, fall somewhere in between?Looking at a combination of the space you have and the reason you want a rack will guide you to the right solution for your space.
You can see the power rack that I train on every day (and love!) here on the Titan.Fitness website.
Why are you buying a squat rack?
The first consideration when buying a squat or power rack is determining what you want to use it for. Overall, a full power rack will be more versatile and will allow a much broader array of movements. Presses, squats, dips, deadlifts, and pull ups make up just a few of the exercises you can use a power rack for. If you only need something to hold the bar so you can set up properly for a squat, a full rack may be overkill for you.
Another reason to buy a full power rack is for safety. Because of their ability to have safety bars or straps, a power rack can also serve as your spotter for a variety exercises. If this is one of your reasons, you'll want to find room for a full power rack and not just a scaled down squat stand.
Lastly, if you are short on space overall, that may actually be a great reason to buy a full rack. For those of us that don't have unlimited room for gear, the equipment we do make room for has to be highly functional. A power rack is one of the most versatile pieces you can add to your home gym. Instead of trying to find space for a lot of single use equipment (reverse hyper, glut ham, preacher deck, etc.), make room for one larger piece like a power rack that allows you to do a lot with your limited space!
Plan for growth
I found that in my garage I had a couple of options. I could leave everything as is and that would give me room for either a compact fold away rack or a basic squat stand. Or I could rearrange the entire garage and make room for a full rack. While it is tempting to leave things as they are, the second option is a much smarter choice.
I use my home gym a lot and I'm guessing that you do too. It makes all the sense in the world for me to make space for the best long term solution. If you have the choice, I'd highly recommend making as much space as you can and getting a full power cage.
Room to move
A very important detail to consider when figuring out how much space you are going to need is that you'll need space around the rack too.
To start with, your barbell will most likely be wider than your rack. Don't make a 48" wide space for a 48" wide rack. Take into account that the barbell you will be using is 84" long. This effectively makes the width of the rack 84".
Add to that the room you'll need to actually get weight on that barbell. While you could probably make due with 12″-18" on either side, I prefer a minimum of 24". This allows you to safely lift and place weight plates on your bar.
If you don't leave enough room, you'll end up lifting, twisting, and reaching to get the plates on and off your bar. If you look up how to give yourself a back injury, I'm almost positive you'll find lifting while twisting and reaching high on the list of injury producing behaviors!
4 types of racks
So far I've named a few types of racks but haven't given specifics as to what the differences are or how much space each will need. You'll want to keep these 4 basic types of racks in mind. As I've noted, I think getting a full size power rack is the best option.That said, some people simply won't have the need or the space for one. That's where the other 3 types come into play.
Full size power rack with extension
At the top end of the spectrum is a full size, 36″ or 48″ deep power rack (also known as a power cage). These are usually made from 3″ x 3″ steel and are the beefiest rigs available. Many times, a 10″ or 24″ extension is added to the back of the rack. This provides room for a spotter as well as giving more room to work within the rack itself.
These extensions also allow attachments and accessories of many kinds to be used. Plyo steps, pull down systems, and weight storage pegs are just a few examples. These accessories add more size to the rack and necessitate even more room to accommodate them.
Extensions can also provide more stability to a home rack. While I always recommend finding a way to secure the rack to the ground, it may not always be possible in a home gym. These larger racks complete with extensions provide the most stable platform to lift from, especially if the optional weight storage pegs are loaded up with plates.
The height of a full size rack like this is typically 90″ and higher. Add a multigrip pull up bar and you are at 95″ and over pretty quickly. That means that you've maxed out an 8′ ceiling with no room to get your head above the pull up bar.
As noted at the beginning of this article, these larger racks will typically measure 80"-85" wide by 110"-120" deep by 90"-95" tall. Add 24" on either side and a few feet in front so you can maneuver around it and that means the space you'll need is a minimum 12' wide by 13' deep by 8' high.
Expect to pay anywhere from $800-$1500 or more for a rack of this type once you've added the extension and accessories. Make sure to head over to my recommended gear page so see what rack I use and recommend. There you will find a rack you will love that won't kill your budget either!
***There are even deeper racks out there at 48″ and beyond. While common to use and see these in a commercial gym, I think they are overkill for a home application so didn't include them in this article. I'm guessing if you have room for one of these rigs, space is not an issue for you anyway!
Smaller rack options
Not everyone has room for a full 36″ or 48″ depth rack with a 24″extension. Some don't even have room for a 36″ rack with no extension. Many are also dealing with the issue of low ceilings often found in basements and smaller garages. For this reason, rack manufacturers offer scaled down versions of their best racks.
These smaller versions can still be purchased in the 3″ x 3″ steel that their big brothers are made in (some models will drop to 2″ x 3″ steel), but in both shorter and less deep models. These smaller counterparts are ideal for many home gym applications where space is at a premium.
The shorter racks will shave off 10″ in height and drop to a total height of 80″. The shallower models will shrink by an entire foot and go to 24″ deep instead of 36″ or 48″ deep. The extra 10″ in height and 12″-24″ in depth mean that these smaller racks can fit in a lot of spaces their bigger brothers cannot. If you are tight on space, do not hesitate to look at these space saving options!
A smaller power rack (with no extension or attachments) will typically measure 42" wide by 24″ deep and 80" high. Adding in the width of a standard 84" bar along with room to move around the rack, that means you'll need a space that's 12' wide by 7' deep and 7' high. That's a big size savings over the largest models.
Check out my recommended gear page for specific brand and model recommendations!
Squat stand
A squat stand is basically just the front uprights of a power rack. You lose the ability to have safety bars to spot for you. You can't do pull ups on one. But you can squat and bench press with it (please use a spotter in this case, or see my article on other ways to lift safely by yourself). A squat stand will take up a lot less room than a full rack.
You'll still need 10' of room in width. That's your 84" wide bar plus a couple feet on either side to safely load that bar. It's the depth and height requirements that go down significantly with this type of rig. On average, you'll only need a few feet in depth when the stand is not in use and then enough room in front of it for a bench when you are using it. As far as height goes, I'd still want at least 8', but that's so you can functionally squat. The rack itself will vary from 6'-8' tall depending on the model.
Compact stand
A new category of rack has become more available recently. There are several options by all the regular players in the rack industry. But there is one option that shines above all others.
For this option, I really love the PRx Performance Profile Rack. You may have seen it on Shark Tank. There are several reasons I think this is the hands down best option in the compact and folding rack space.
It collapses upward, so it stays assembled. All other models have to be taken apart before folding against the wall. It comes down on little shocks so raising and lowering it is really easy.
Overall, it sets up in a fraction of the time of any other option like this. With a 1000 lb. capacity, you simply can't go wrong. You can see a full description and check its price on Amazon here.
They even offer a bench that folds up onto the wall as well. For those that are extremely tight on space, this is an absolutely ideal option!!!
When collapsed, this rack only needs a 4' x 8' area on your wall. When unfolded for use, you'll need 12' in width for the bar with safe loading space and another 6'-8' out from the wall (room for you and your bench). This is an option that almost anyone can find space for. Those who never thought they would be able to fit or install a squat rack can now have one that takes up virtually zero space until it's set up for use.
Other space considerations
As a last note for planning purposes, keep in mind that you'll need room for a few more things once you add a rack of any type. The rack itself is just the start. In addition to your rack, make sure you have room for:
That's not a ton of stuff, but for those that are tight on space, it bears keeping in mind.
Another factor in finding a place for these types of racks is your floor. Please make sure it is level. This is especially true for the squat stand. A lot of people will store these and then pull them out for use when squatting. That's fine if you pull them out onto a level basement or garage floor. It's definitely not fine if you pull it out on to your driveway where it's anything but level. Setting up a squat stand on a surface that isn't level is asking for it and the weights to tip over on you. Please don't take that chance!!!
Enjoy!!!
Your power rack or squat stand will end up being the centerpiece of your home gym. Making sure you have enough room so that it is safe and functional will be a critical step in adding one to your set up. Taking a few moments to measure, move things around, and really make a nice home for your rack will pay dividends far down the road. Hopefully this short guide has helped you do that!
Sours: https://gymcrafter.com/how-much-room-do-you-need-for-a-squat-rack/
Building the Rogue Full Folding Rack with TIPS - Building theLAB Gym - Ep. 9
Which Rogue Power Rack Should You Buy?
Rogue has so many models of power racks and squat stands that choosing between them is overwhelming at first. I'll be narrowing it down to just a few racks that in my opinion are the right choice for 90% of people.
Why Rogue
Rogue has an excellent reputation for build quality, customer service, and overall reliability. Their products are well-designed and tested. They make all racks in their huge facility in Ohio while other companies mostly import from China.
They have innovated dozens of new accessories to add to power racks. Other manufacturers have copied Rogue's rack sizing to be compatible with their accessories, although sometimes there are slight incompatibilities. When you get a Rogue rack you know you'll be in a good situation for adding accessories later on.
All of Rogue's power racks are a "walk-through design", meaning built without a lower rear stabilizer bar that would only get in the way of the proper positioning of a weight bench.
Their range of rack models is extensive, to the point of being overwhelming if you don't know what to look for. It also means you can get exactly the right rack for you when you get some good advice (which hopefully you'll get here!).
Squat Stands and Wall-Mounted Folding Racks
I wrote a lengthy explanation of the difference between power racks and squat stands.
Briefly, the difference is that power racks enclose the user on all sides so that a dropped barbell will be stopped no matter if you drop it forward or backward, while the more minimalistic squat stand remains open on one side and you can potentially drop a barbell behind you with nothing to stop it.
I'll probably write an article soon about Rogue's several squat stands.
I've gone over folding wall-mounted racks from Rogue and other companies already.
Rogue's Power Rack Lines
The first thing you should know is the difference between their Echo, R Series, Monster Lite, and Monster racks, so that I can guide you through eliminating a good chunk of them as possibilities and make it clearer what your best pick is.
The main technical difference between the four lines is their tubing size and hardware size (ie: bolt thickness).
| Series | Size |
| --- | --- |
| Echo | 2″x2″ Tubing, 1/2″ Hardware |
| R-Series / Infinity | 2″x3″ Tubing, 5/8″ Hardware |
| Monster Lite | 3″x3″ Tubing, 5/8″ Hardware |
| Monster | 3″x3″ Tubing, 1″ Hardware |
While Rogue does mention the above somewhere on their site, I'll tell you the real reasons you should choose one over the others. Bigger isn't always better here.
The R-Series were Rogue's first racks. 2×3 racks were common before Rogue, and that's what they went with. It's a good tubing size for reducing wobble, and it makes for reasonably heavy racks that stay in place.
Echo is the budget option that Rogue has for several other categories of equipment. It's just barely Rogue quality, or not at all. These racks are nearly like the Chinese branded "home grade" racks you see on Amazon and eBay, with the difference being that its design and consistency is very good, USA-made, without stupid design flaws that hit you by surprise, and the 11 gauge steel used on Echo racks is a notably good spec.
Bigger tubing in the Monster Lite means a more heavy duty rack overall. You get less wobble in all directions and less risk of tipping with the added weight. Great things. On the downside, you're paying more, and you'll be paying more on the back end with more expensive attachments.
The Monster goes a step beyond the Monster Lite with bigger 1″ hardware. Why 1″ hardware? Technically that makes it stronger. The thing is, I have never heard of 5/8″ steel bolts bending on a power rack, even from a heavy dropped barbell, nor the 5/8″ pegs on any attachments. Maybe it has happened?
Tubing Size and Safety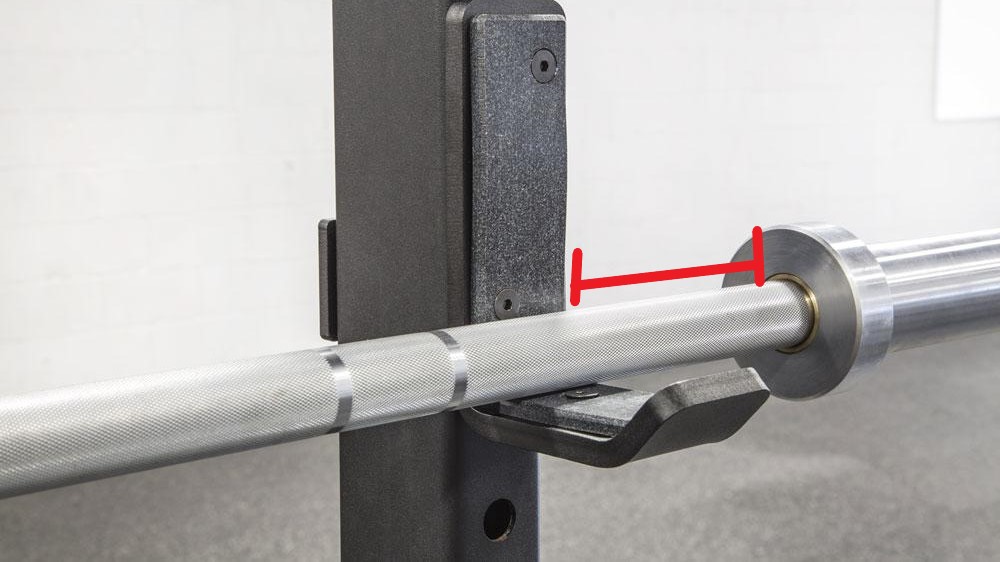 Larger tubing can make you less safe.
Above is an R-series rack with the 2×3 tubing, meaning 2″ wide and 3″ deep, the portion of the bar shaft that hangs outside the rack. In this example the bar is pulled a little to one side. With the bar centered the marked space will be only about 2.25″.
You do not want to be too far off-center when you're re-racking a heavy barbell. You also don't want the plates to bump against the upright because you're off-center. Either one catches you off-guard, you get confused, you try to look to the side to figure out what's going on, and that's not a good thing in that precarious situation. The heavier the weight, arguably the more likely you are to find yourself off-center in a set of squats.
Now consider Rogue's 3×3 racks. You'll have less lateral space. The way Rogue designs the 3×3 racks, they extend the width of the tubing outwards. That is to say, while the R-series racks are 47″ wide, the Monster Lite racks are 49″ wide. Now your bar only has 1.125″ of space to move laterally before you're in trouble!
Personally, I have had misjudged it on even a 48″ wide rack. I would be hesitant to lift heavy on a 49″ wide rack. That's why I want to have you consider an R-Series rack. However, it's entirely possible that you are better than I am at staying centered.
If you do want a Monster Lite rack, I implore you to get sandwich J-cups. Yes, they are expensive. Think about getting them later on, at least. In this situation, because they are narrower than regular J-cups and stick out from the uprights, you get more lateral movement space for your bar, making it as safe as using an R-series rack.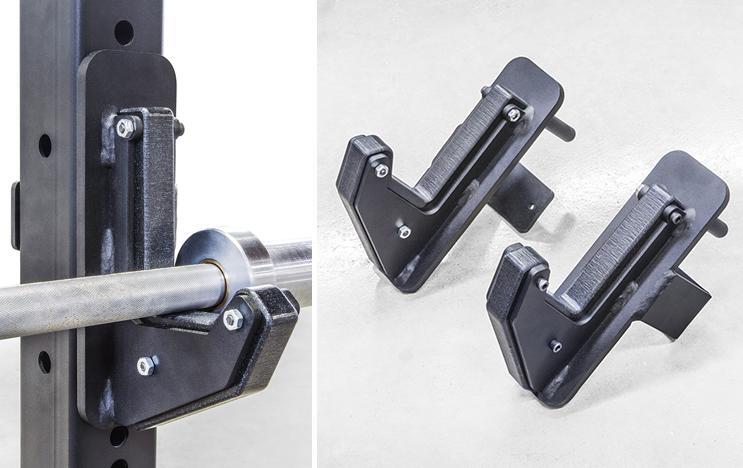 The above is kind of a bad illustration of my point because they have the bar slid all the way to one side to butt the shoulder up against the J-cup here for some crazy reason so it looks like you have no space, but in normal use the thinner design of this J-cup gives your bar more lateral wiggle room. I wrote about these more in my article about J-cups.
Top Pick: RML-390F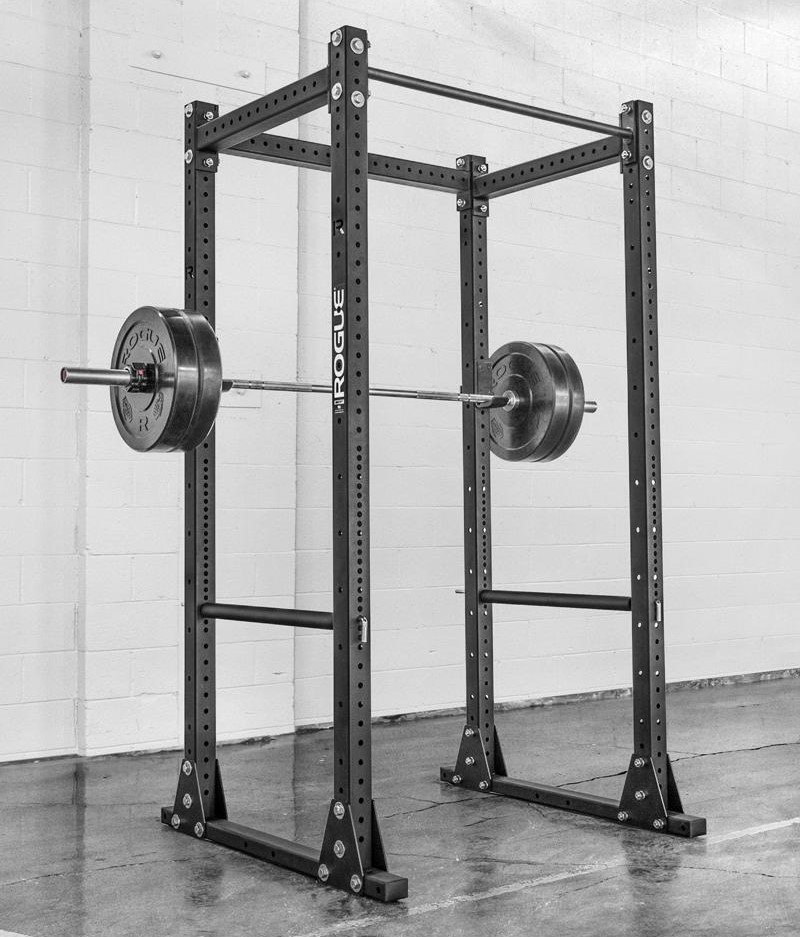 I featured this rack in my Best Freestanding Power Racks article.
Rogue makes hardly any freestanding racks like this, meaning one that isn't required to be bolted to the floor to be stable. They make no R-series freestanding power racks, so unfortunately I can't recommend one.
With the RML-390F you don't have to worry about drilling holes into concrete or making a plywood platform for it. Just set up and go. This is a popular rack that you are unlikely to regret getting.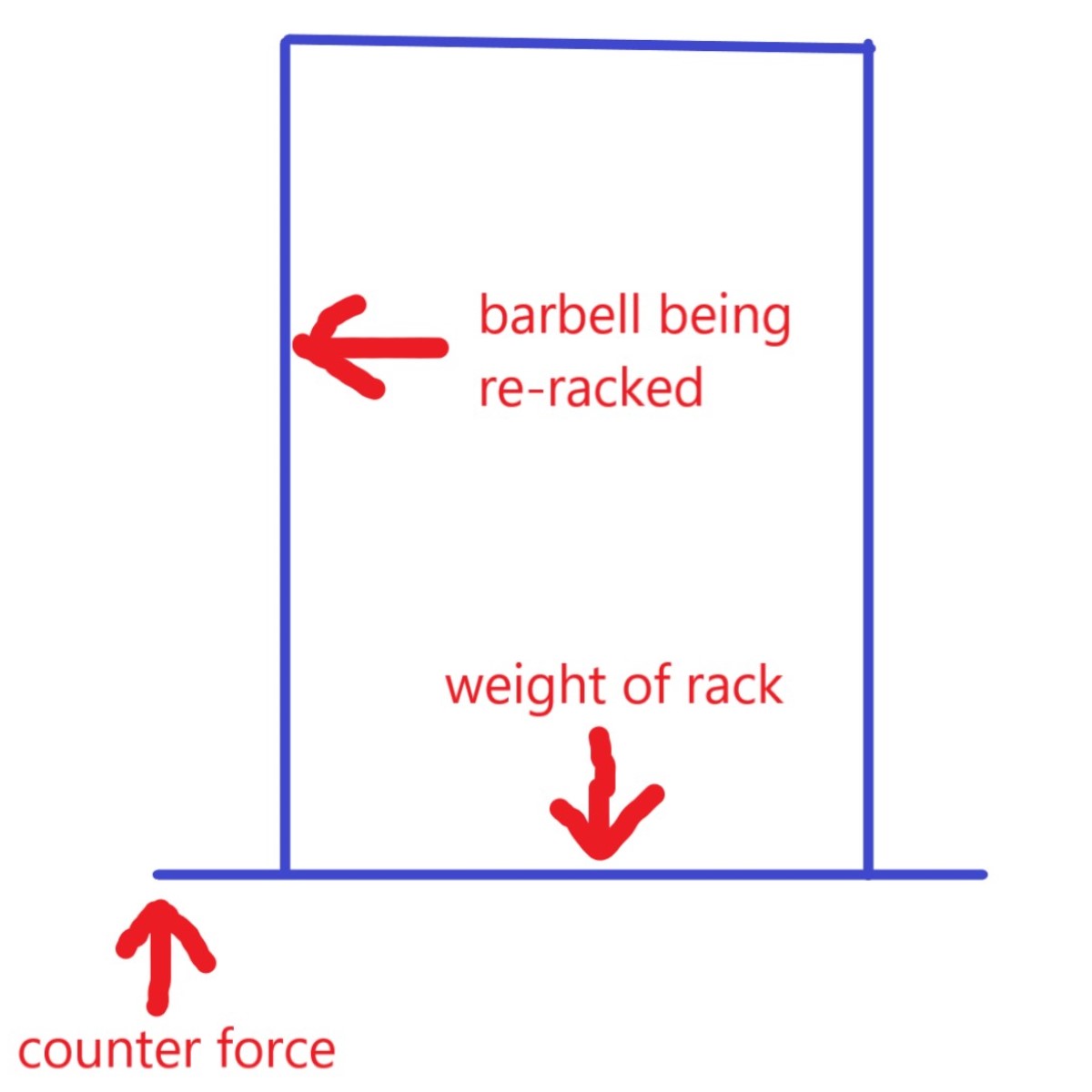 The stability of a freestanding rack like this isn't exactly due to the "flat foot" design so much as it is the feet that extend past the uprights to create a counter-force against tipping when you re-rack a loaded barbell. Without the extended feet, there is no counter-force and the rack can easily tip.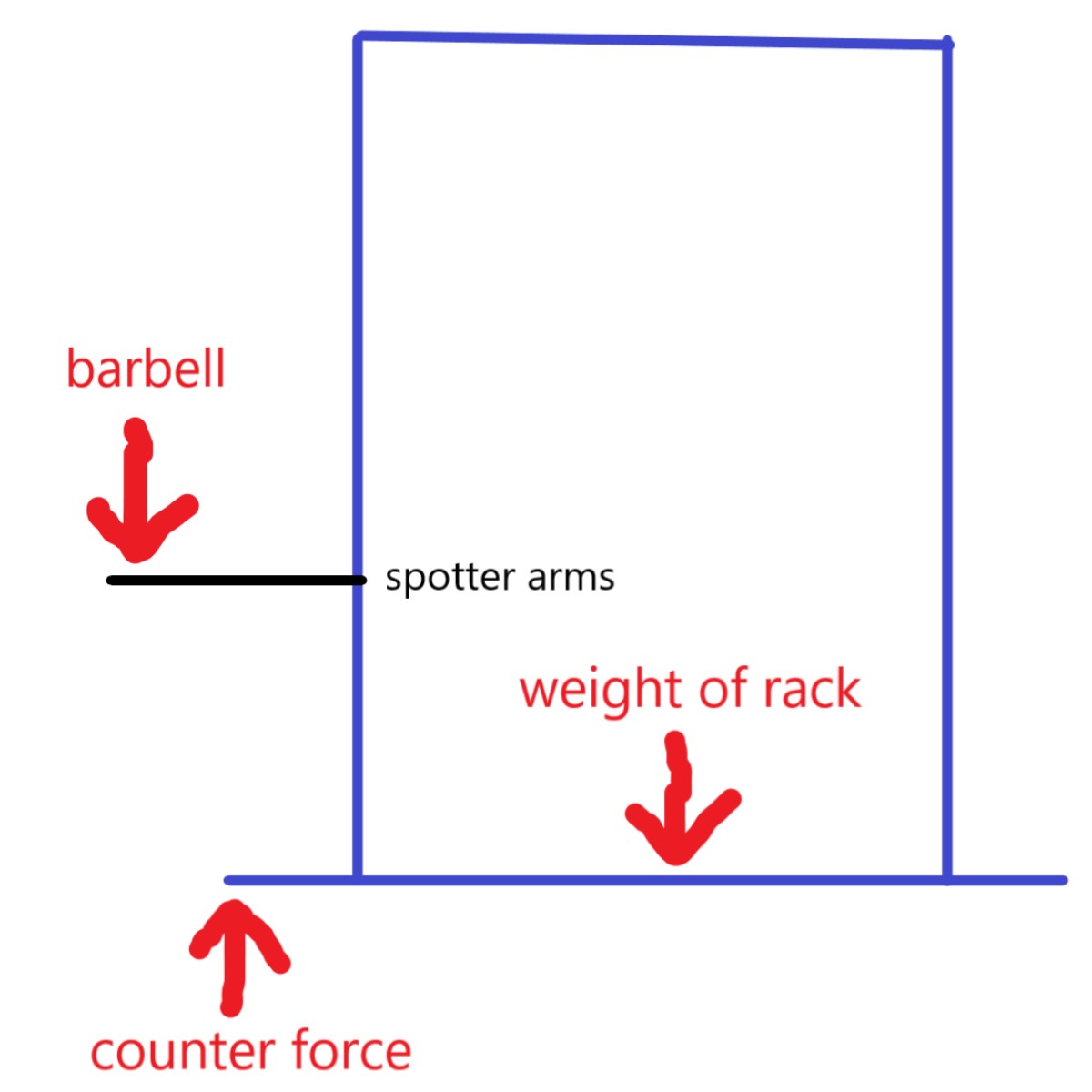 On that same principle, be careful about adding front spotter arms to this rack. The extended feet do not provide as much of a counter-force to prevent tipping when the spotter arms extend past them.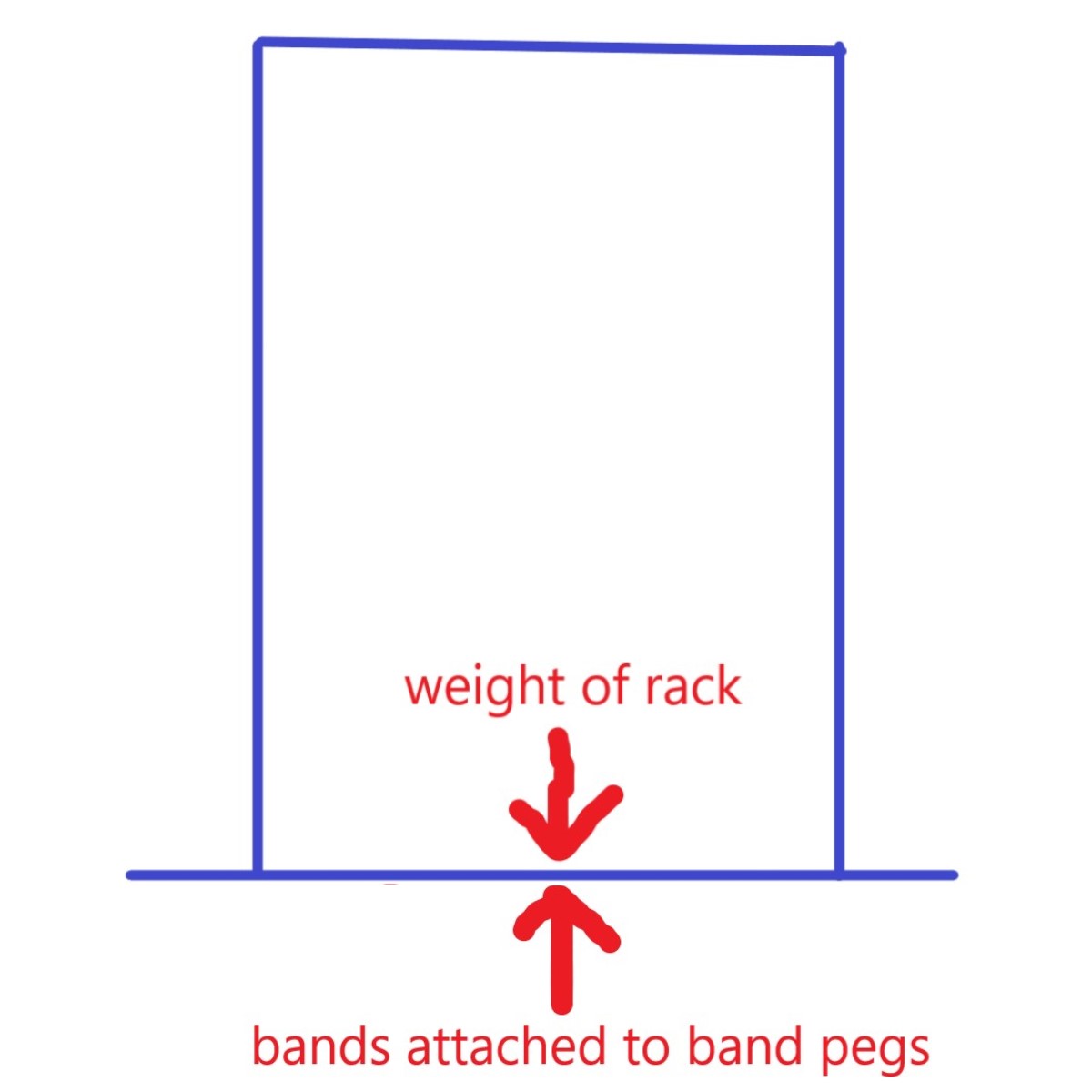 This rack does come with band peg holes. You can inadvertently lift up the rack if you're using heavy enough bands. Test your bands out carefully with an empty bar to make sure the rack is heavy enough to handle them. Also consider that the bands are a counter-force to the weight of the rack and may cause the rack to tip when you re-rack a loaded bar, as if you're using a lighter rack.
If You Have the Space: R-6 or RML-690C
You have to store your plates somewhere, and if your floor plan allows it, having your plates on the rear of a 6-post rack like this is more convenient than on a plate tree. It's also more stable.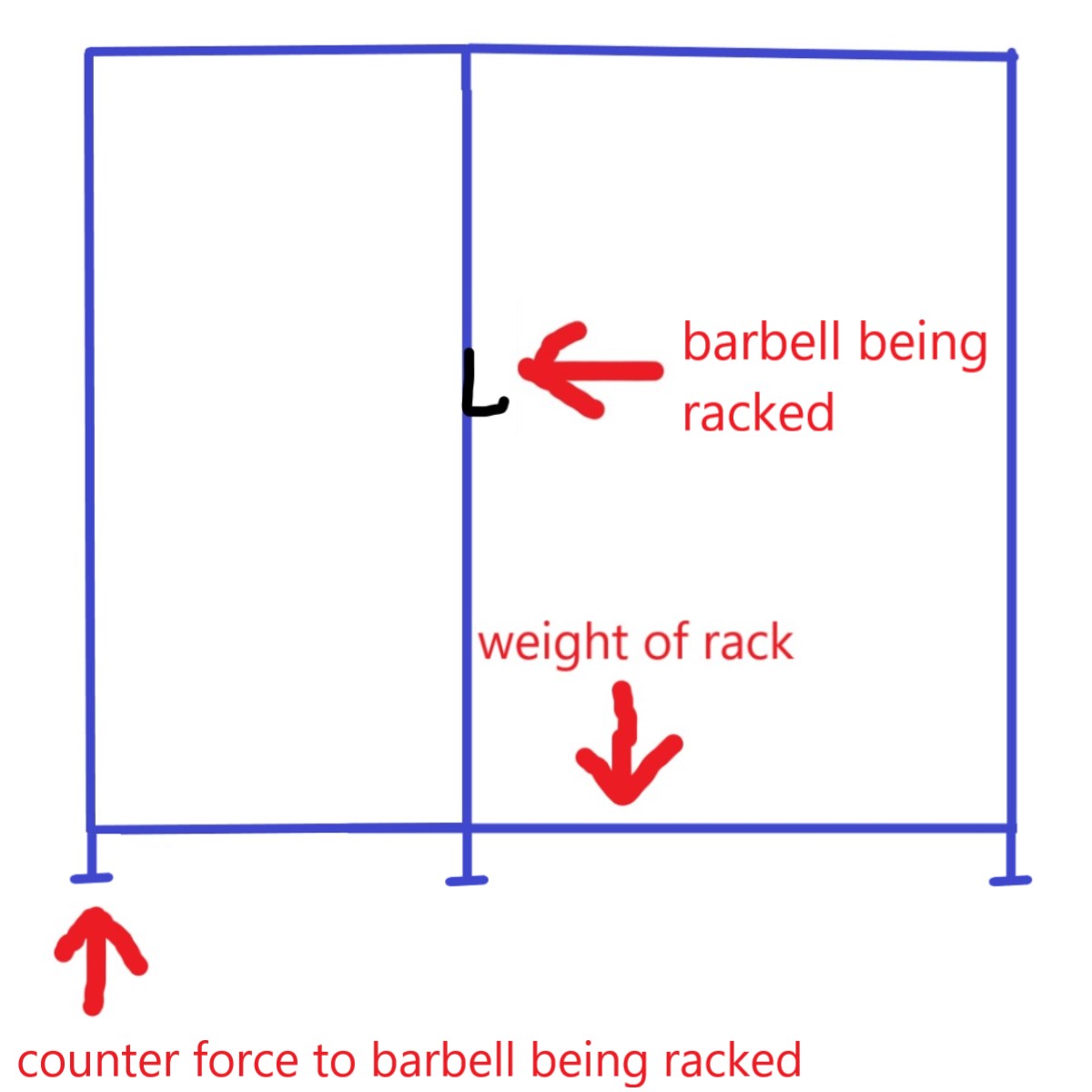 Technically, this rack is meant to be bolted down, but the extended rear portion of the rack provides so much counter-force leverage against a barbell being re-racked, as illustrated, and extra frame weight, that people have found that they can get away with leaving it freestanding without issue.
The rack comes standard with fat and skinny pull up bars, band pegs, and rear plate storage pegs.
The feet are ready to bolt to the floor if you feel the need at some point. You can remove the rear storage portion of the rack to free up limited space in your gym.
The newer RML-690C is like a Monster Lite version of the R-6, with color options and unfortunately the removal of the fat pull up bar. The bigger tubing adds a couple hundred pounds, making the option to bolt it down highly unnecessary.
Basic Floor-Mounted Pick: R-3 or RML-390C
A 10 year classic! This rack has stood the test of time as a basic floor-mounted rack. Rogue had originally worked with Louie Simmons at Westside Barbell, the famous powerlifting gym, to design this rack, which I believe was originally called the Westside Rack or Westside R-3. It has the signature "Westside hole spacing", which is 1″ hole spacing in a lower area of the rack for the bench press area, and 2″ hole spacing above and below. In 2010 or so, I think (but I might be wrong) Rogue started making the R-3 rack in-house and branded it as a Rogue rack, dropping the Westside name except with a note in the description.
Rogue hasn't designed a new R-series rack for several years now. They aren't really being upgraded with anything like color choices. Rogue is generally keeping up with providing the new attachments in R-series versions, and I imagine that will continue indefinitely as long as people keep buying the racks. I feel like there's enough demand for 2×3 racks that they won't go away anytime soon.
See my article comparing the R-3 with Titan's similar racks.
The RML-390C is the Monster Lite version of the classic R-3. Like with my picks in the section above, I'm giving you both an R-series and Monster Lite version of the rack to choose from. Same deal with the small changes and color options. Numbered holes too, which is an upgrade you will appreciate.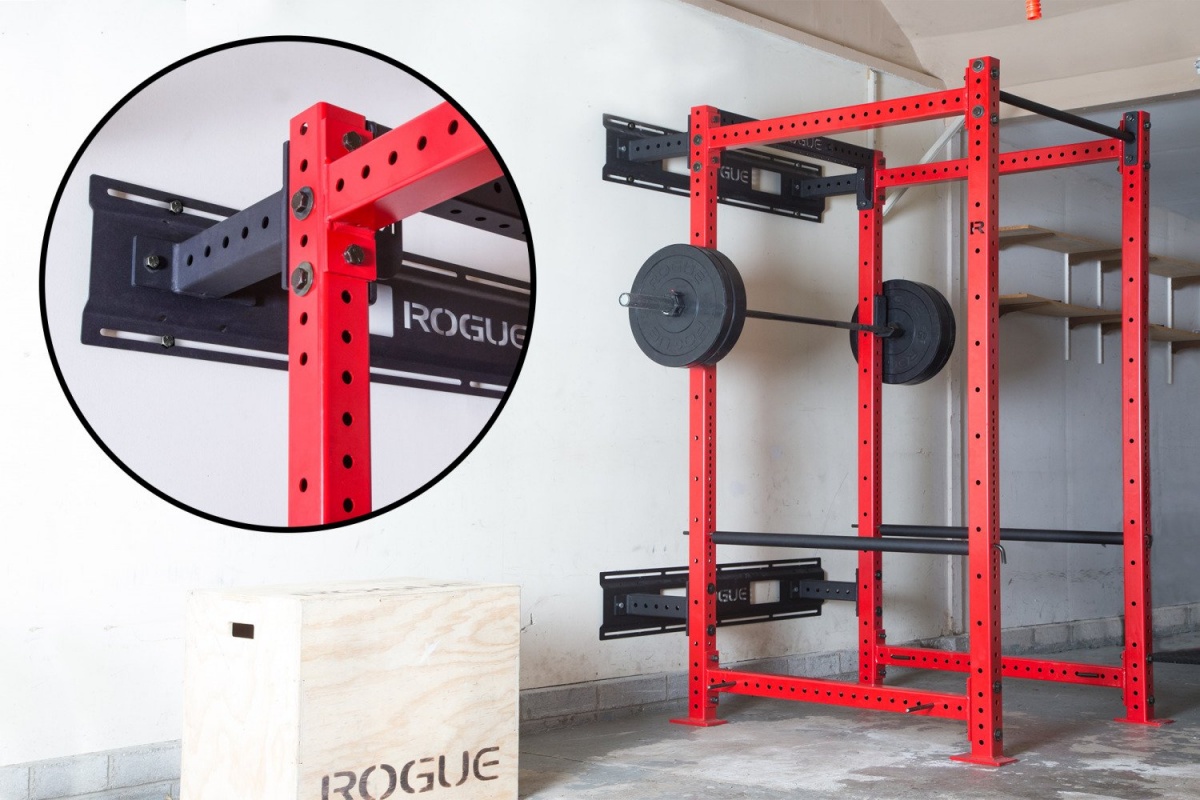 The wall-mount rack kit is a space-efficient way to stabilize the RML-390C by mounting it into the wall instead of the floor. It's not made for the R-3 and probably won't ever be.
Final Thoughts
You may notice that I didn't suggest any Echo or Monster rack models.
I'm not a fan of 2×2 racks like the Echo. It's too wobbly and light for a $600 rack. Once you've used a 2×3 or 3×3 rack, you'll never want to own a 2×2 rack again.
As far as the Monster racks, there's no rational reason to spend hundreds of dollars more to get the massive 1″ hardware made for a tank. The attachments will also cost you more than the Monster Lite. The 5/8″ hardware on the Monster Lite is plenty heavy duty. Some of the Monster racks are also 50″ wide, which makes it sketchy to fit a typical barbell with very little room for error when racking, as I discussed in the section above on tubing size and safety.
The Monster and its 1″ bolts is one of those things where a manufacturer asks "How can we make this even better?" and pushes the envelope beyond reason, and then people spend the extra money because they will not settle for anything less than the best. It's the glamour choice, a way of spending money. If it makes you feel good, go for it. I'm just saying, there's no functional reason for it, and you might even regret it.
As I said in the beginning, this article is not meant to be an exhaustive comparison of all Rogue power racks. But at this point you understand the basic considerations, and if another model catches your eye you'll be able to put it in the right context without making a mistake. Don't spend too much time waffling on it when one makes sense to you. They're all great racks. Just get one, and start lifting!

David founded Adamant Barbell in 2007 and Two Rep Cave in 2018. Depending on his mood, he's into weight training, running, bodyweight exercises, and hitting the heavy bag.
Sours: https://www.tworepcave.com/12415/which-rogue-power-rack-should-you-buy/
Folding installation rogue instructions rack
installing the rml90-slim
TL;DW:
When I ordered this rack, there were no instructions online, leaving me with no good way to plan out the installation. Below, you'll find everything I couldn't.
Link to buy: RML-90 SLIM Rack from Rogue
I recommend ordering with the stringers (+$50) for a safer, more simple installation with less measuring. The "crossmember mount" option (+$40) is what I used that offered space for a bar-holder and other accessories. I also included the pull-up bar for an additional $50.
The finished rack sits 14" away from my wall, and my car still comfortably fits in my one-car garage. The rack is perfectly suited to get under the bar for back squats, but you will not be doing any toes-to-bar or kipping pull-ups on this setup. I recommend ordering the monster lite matador for supplemental dips and core exercises.
Abridged Instructions:
I am not a professional builder—take this advice with a grain of salt. If you're not confident in your ability to find studs and bolt things into them, you should seek help from somebody who is.
The stringers are 59"x11", and require four studs. Studs on either side need about 1" of clearance from the edge of the stringer.
Once your studs are marked off, install the crossmembers onto the stringers. One of the holes is shaped like a teardrop, and the pointy end of it faces the middle of your rack. The placement of the crossmembers on the stringer depends on which rack you own, so double-check the instructions to make sure you're in the right holes.
Rogue recommends the lowest edge of your bottom stringer sits 1-5/16" from the floor, but it can be moved up in 2" increments. This height is dictated by the holes in your uprights, which must rest on the ground. Make sure you correctly measured the stringer's height right by temporarily attaching them to your wall with drywall screws. Stand up the upright and make sure the bolts can go through.
Once the bottom stringer is attached to the wall with the included lag screws, bolt the crossmember to your upright (finger-tight), and then attach the top crossmember to the desired top-section of the upright. Use the holes in the crossmember to determine the location of the top stringer. This is demonstrated in the video up above. Maybe you should watch it after all.
Floor-height and slope are your big x-factors. If your floor isn't level, you're going to have to find a way to make up the difference in the height of the stringers. I strongly recommend installing on top of rubber stall mats, which will give you some wiggle room for digging out a section of the floor.
Instruction manual for RML-90SLIM Rack with crossmembers
Instruction manual for Fold Back Rack Stringers
Installation Tools:
(Amazon links are affiliate links)
Makita 18V LXT driver / drill combo set
23-piece DEWALT drive socket set
Bosch 21 Piece black oxide metal drill bit set
Zircon stud finder
Bosch Blaze Pro 165' laser measure
CRAFTSMAN 48'" Level
Sours: https://www.brianking.org/rml90
ROGUE RML-3WC Foldable Rack DIY - Home Gym Set up
When the party drew to a close well after midnight, my wife was ordered to stay in the kitchen, and I was ordered to stand with a. Tray and a towel at the door, suddenly what would anyone need at night. He went to sleep with two well-typed girls. One of them did not reach the toilet at night and blew into my suit.
You will also like:
Yes, even for the older ones. This means that the youngest ran to the store for beer. Stood "on the naughty", read followed the other on the occasion of the appearance of our car, also the youngest. I know that I have already given you a. Boring description of the order and service for her, but there is not much left.
1562
1563
1564
1565
1566