Description
Iron Banner Bounties, Rank Up & Quests Service
Iron Banner is now live in Destiny 2 with a new quest & valuable rewards!
Complete Iron Banner activities to earn tokens redeemable for Specific Items and Iron Banner Packages containing exclusive Iron Banner Rewards. Unlock the new armor and weapons by completing the quest and Iron Banner bounties! Bounties grant a pinnacle reward for each completion! We will complete ALL Iron Banner bounties currently active on your character! You can use 20 Iron Banner tokens to get a Legendary Iron Engram which drops Iron Banner gear!
---
Details about our Iron Banner boosting service
New Quest: Iron-Handed Diplomacy
Once You complete the new iron banner Quest "Iron-Handed Diplomacy", you will unlock the new weapons and shader. Completing the questline also allows armor and weapons to be earned from turning Iron Banner bounties, end match rewards, and engrams. There are four new weapons introduced with the season of the splicer; Riiswalker, Archon's Thunder, Finite Impactor, and Occluded Finality.
Rank-ups
When you order our Bounty Completion service, our team will obtain the required amount of tokens for the ranks you ordered. You need 20 Iron Banner tokens to get a Legendary Iron Engram which drops legendary Iron Banner armor or weapon!
1 Rank Up is 20 Iron Banner Tokens
5 Rank Ups is 100 Iron Banner Tokens
10 Rank Ups is 200 Iron Banner Tokens
Bounties
When you order our Bounty Completion service, we will complete all 4 Weekly Bounties Lord Saladin offers. Each bounty gives you a pinnacle reward and 50 Iron Banner tokens to turn into Legendary Iron Engrams.
Note:
We will not claim bounty rewards unless requested to do so. Armor will not drop from the bounties before the questline is fully completed.
Check the list below for all the gear rewards available.
---
Iron Banner Rewards
Armor
Weapons
Riiswalker
Kinetic Shotgun
Archon's Thunder
Power Machine Gun
Finite Impactor
Energy Hand Cannon
Occluded Finality
Energy Sniper Rifle
---
Service Requirements
Your Power Level must be 1270 or more
---
More details about our iron banner boosting service
Iron Banner must be accessible in the crucible playlist to complete this service. We will not redeem any tokens on your behalf, leaving them to you to select at the end of the service.
The length of time to acquire many Iron Banner packages may necessitate this service taking place over the course of multiple days. Our team will be in direct contact with you every step of the way to keep you up to date on progress and status.
As power level advantages are enabled, we require at least power 1270+ to complete any service.
For characters on XB1, if two-factor authentication is enabled we will need a security code in order to service your order. Please be prepared to forward this code to [email protected] or to the team member that has contacted you. Without a prompt response to this code request, we may be forced to move ahead from your place in the queue and it could impact our ability to complete before weekly reset.
Based on your order selections one of our team will work with you via email or chat to arrange a time and format.
---
What To Expect When Working With Us
Our exclusive 300% Guarantee covers your satisfaction, cost and quality!
We are always accessible via contact us on our site, email and Facebook
Professionally managed and professionally staffed, you are working with a coordinated team
We will respond to your service inquiries within 24 hours
Sours: https://www.bestdestinycarries.com/boosting/iron-banner-service/
For the first time in Destiny 2's Season of Dawn, Iron Banner makes its return. The PvP event will last from December 24 to 31 once the weekly reset happens, though it'll be back a couple more times before the Season of Dawn ends. Destiny 2's Iron Banner has a quest chain/pursuit has to be completed before you can turn in tokens and obtain armor pieces. Likewise, four Iron Banner bounties are available which provide you with pinnacle rewards.
Note: For more information, check out our Destiny 2: Season of Dawnguides and features hub.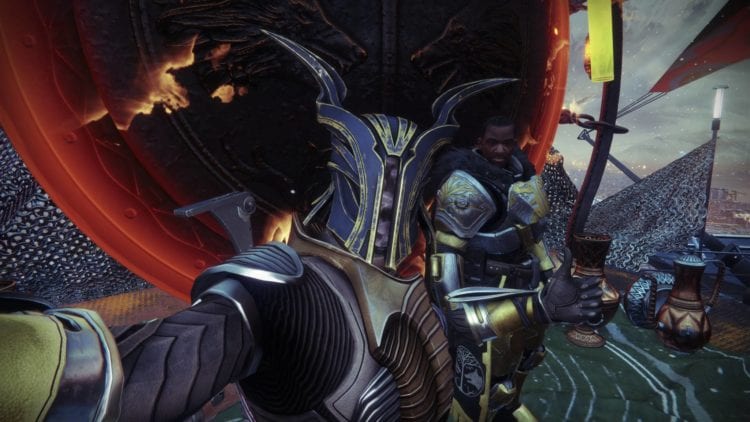 Iron Banner quest steps
Much like in Destiny 2's Season of the Undying, the Iron Banner's quest/pursuit a requirement in order for you to turn in your tokens. Completion also unlocks the Iron Truage armor, making them available in the loot pool.
This has caused a bit of consternation, as evidenced by the reactions in Destiny 2's Reddit forum. Whether we wanted it or not, we've stepped into another repetitious grind, with objectives that need to be taken out one by one to obtain yet more reskinned armor pieces. In any case, here are the Iron Banner's quest steps for the Season of Dawn via Light.gg:
Light the Fires
30x opponents defeated
10x zones captured
3x super kills
Iron Sights
6x matches completed
20x zones captured
25x Scout Rifle final blows (ie. Randy's Throwing Knife, Jade Rabbit, Symmetry)
Pump Iron
100x opponents defeated
30x zones captured
20x Shotgun final blows (ie. Dust Rock Blues, Mindbender's Ambition, Gunnora's Axe, Lord of Wolves)
Death Metal
40x zones captured
15x super kills
15x Hand Cannon final blows (ie. Not Forgotten, Luna's Howl, Ace of Spades)
Iron Rain
15x matches completed
50x zones captured
10x Rocket Launcher final blows (ie. Truth, Wardcliff Coil)
Like the previous season, some of these tallies (ie. matches completed and zones captured) will carry over for successive steps. Anyway, when you're done with all the requirements, return to Lord Saladin to complete the Iron Banner's main pursuit. Progress for this pursuit lasts for the entirety of the Season of Dawn, though it's still character-based which means you'd want to repeat everything on all three characters if you wish to unlock armor pieces or turn in tokens.
Just as well, you won't obtain anything new. As mentioned, we already saw the Iron Truage armor set during the Season of Opulence. Bungie planned to introduce a new bow weapon, but that's since been scrapped and it won't be out until next season.
Iron Banner pinnacle reward bounties
There are four Iron Banner bounties that are available, each one providing pinnacle rewards. As mentioned in our Destiny 2: Season of Dawnreview, the current DLC is lacking in terms of pinnacle activities. You're bound to re-run Garden of Salvation, Pit of Heresy, the 100K Nightfall, and Master Nightmare Hunts if you wish to obtain pinnacle items to hit the 970 base power level cap. As such, completing the event's bounties becomes a necessity if you wish to stay ahead when it comes to seasonal progression. It's best to hit the base power level cap early so as to ensure that you can obtain items at max power to be used as infusion for the rest of your gear.
Here are the Iron Banner bounties for this event:
Maneuver Warfare – Defeat opponents while having zone advantage; bonus progress for kills during the Hunt (all zones captured).
An Arsenal of Tricks – Defeat opponents with abilities; bonus progress for super kills and kills against those with higher power level. The requirements for this bounty have been reduced by half.
Iron Confidence – Defeat opponents with weapon kills; bonus progress for energy and power weapons, and kills against those with higher power level.
The Rout – Defeat opponents in the Iron Banner; bonus progress for kills against those with higher power level.
---
That does it for our Iron Banner mini-guide this Season of Dawn. Destiny 2 is available on Steam. For more information about the current season, check out our guides and features hub.
Sours: https://www.pcinvasion.com/iron-banner-bounties-and-pinnacle-rewards-return-in-destiny-2-season-of-dawn/
Destiny 2: How To Complete Iron Banner Bounties Quickly
Few things are quite as grindy as Iron Banner's weekly bounties in Destiny 2. These bounties task Guardians with obtaining an absurd number of kills or zone captures. When you factor in the constant mercy matches that occur due to unbalanced teams, it becomes quite frustrating to play Iron Banner.
RELATED: Destiny 2: Every Weapon Coming In Season Of The Chosen
There are a few ways to speed up these bounties, however. Most of them will boil down to finding a fireteam or playing strategically, but any Guardian worth their salt should be able to complete these bounties in a few hours with these tips. For Guardians that want to speed up their bounty objectives, here are a few tips you can use to make Iron Banner a little less headache-inducing.
Around The Fire
Around the Fire: Capture 100 zones in the Iron Banner playlist. Earn bonus progress for each additional teammate in the zone with you.
Capturing 100 zones can take dozens of games to complete if you play aggressively. A fast way of getting this done is to rush the closest objective to you at the start of the game, then push towards the B flag. Keep an eye out for when spawn flips occur so you can capture A or C with the rest of your team.
Of course, if you can do so, get a fireteam together from an LFG website or Discord server. Coordinate with your team on which points to capture to finish this bounty quickly. The Destiny 2 PC LFG Discord can be found here if you need to create a fireteam.
Maneuver Warfare
Maneuver Warfare: Defeat 75 opponents while your team holds Zone Advantage. Earn bonus progress during the Hunt.
Maneuver Warfare can be a nightmare to complete if you're fighting against six-stack fireteams—a team composed of six players in the same clan or party. You'll need a good team to get this bounty done quickly, so it's best to find a fireteam to help with this.
RELATED: Destiny 2: Which Class Should I Play First?
Your main goal is to hold Zone Advantage, which is obtained when you have two zones under your control. For most maps, you'll want to capture A and C to force the enemy to spawn at B. This will make spawn flipping much less common, allowing you to hold the objectives for much longer. Just be sure that your team doesn't push zone B, else you could cause a spawn flip to occur that'll ruin this strategy.
An Arsenal Of Tricks
An Arsenal of Tricks: Defeat 100 opponents with final blows from any ability. Earn bonus progress for Supers and opponents with a higher Power level.
Abilities include your grenade, charged melee ability, and Super. Defeating enemies with your Super grants bonus points, so roaming Supers are by far the easiest way to get this bounty done. Titan's can use Behemoth's Glacial Quake, Hunters can use Gunslinger's Golden Gun, and Warlocks can use Stormcaller's Chaos Reach or Dawnblade's Daybreak.
You can also gain a progression boost by lowering your Power Level. To do this intentionally, go to your Collections tab, select the "leveling" tab, then create the common Dreamer class item. This item is created at 21 Power for whatever reason, so your Power Level will drop considerably.
The Rout
The Rout: Defeat 200 opponents in the Iron Banner. Earn bonus progress by landing final blows on opponents with a higher Power level.
The Rout takes the longest to complete out of each Iron Banner bounty. You must defeat 200 opponents in Iron Banner. This bounty can be completed faster if you either land final blows or lower your Power Level.
Special weapons are great for this, as they can one-shot most enemies as long as your Power Level isn't absurdly low. If you want to gain increased progress passively, create and equip the Dreamer class item in your Collections tab. This will considerably reduce your Power Level, ensuring every kill will grant extra progress for this bounty. Festival of the Lost masks also work.
Next: Destiny 2: Beyond Light Complete Guide And Walkthrough
ShareTweetEmail
The Witcher 3 Needs Iorveth Content
Iorveth's absence was felt in The Witcher 3 but another expansion could fill that void.
Read Next
About The Author
Charles Burgar (781 Articles Published)
Charles Burgar is an expert on all things tech and gaming. Graduating from Pikes Peak Community College in 2018 with an Associate of Science, Charles has spent his time dissecting popular video games, movies, and technology. With an understanding of games for as long as he can remember, Charles has a large interest in understanding what makes things fun. He is currently a Freelance writer for TheGamer and Game Rant.
More From Charles Burgar
Sours: https://www.thegamer.com/destiny-2-iron-banner-bounties-farm/
destiny 2 - quick \u0026 easy (iron banner bounties) progress - how to complete bounties fast \
Destiny 2 Iron Banner: Season 15 armor, weapons, For the War to Come quest explained
Destiny 2's Iron Banner marks its return during Season of the Splicer.
As with previous seasons, the limited-time Crucible event comes back at full swing with refreshed gear and a new Iron Banner quest to complete.
As you prepare your favourite loadout before returning to the fray during the event's second week, this page will cover everything there is to know about returning Iron Banner weapons, Iron Banner armor, and the Iron Banner schedule for the rest of the season.
On this page:
Destiny 2 Iron Banner Season 15 weapons explained
A huge part of the appeal of Iron Banner, aside the thrill of the competition, always comes down to the exclusive rewards you gain from the event. We'll touch on the armor in the following section, but we wanted to start with weapons since that's the major selling point for this first event of the season.
Season 15's Iron Banner will have a total of two weapons. These are brand new in the game, and you can jump ahead of time to make the most out of the first Iron Banner week now.
Forge's Pledge (new Pulse Rifle)
Peacebond (new Sidearm)
As for how to unlock them, each is available through vendor packages, bounties, match rewards and the Seasonal Iron Banner quest, of course.
Destiny 2 Iron Banner Season 15 armor explained
The Iron Banner armor for Season 15 is Iron Forerunner.
Unlike Season 14, Season of the Lost brings a brand new set of armor for Iron Banner players, which is an exciting premise.
Alongside obtaining XP and pinnacle gear, there is a peculiar addition with the Iron Forerunner set.
This set introduces the Iron Lord's Pride intrinsic perk. As a result, wearing a piece of this armor grants a small chance of an Enhancement Prism being dropped at the end of an Iron Banner match. Each additional piece worn increases this chance, capping at at four pieces total.
If that sounds enticing to you, here's how to complete the Iron Banner Season 15 quest.
Destiny 2 Iron Banner Season 15 quest For the War to Come explained
Iron Banner wouldn't be complete without a new seasonal quest to follow through. In this occasion, you will have to follow through five sets of objectives, ranging from capturing zones to defeating enemies with specific weapons and abilities.
While this is the first week of Iron Banner in Season of the Lost, remember that future opportunities are limited. We recommend to avoid procrastinating and start catching up with the For the War to Come quest steps as early as possible, which are as follows:
For the War to Come (Step 1 of 5)

10 Energy Weapon Kills
10 Zones Captured
30 Guardians Killed
For the War to Come (Step 2 of 5)

15 Pulse Rifle Kills
20 Zones Captured
6 Matches Completed
For the War to Come (Step 3 of 5)

100 Guardians Killed
30 Zones Captured
10 Ability Kills
For the War to Come (Step 4 of 5)

15 Super Kills
40 Zones Captured
15 Sidearm Kills
For the War to Come (Step 5 of 5)

Lastly, return to Lord Saladin to complete the quest and claim your rewards!
This week's Iron Banner bounties in Destiny 2
During each week that Iron Banner is active, you can expect an array of bounties to complete throughout the seven-day period.
We recommend to make a quick stop and grab these before jumping to matches so you can make the most out of each encounter. Each bounty costs 1000 Glimmer and rewards XP, 50 Iron Banner tokens and Pinnacle Gear.
The bounties for this week's Iron Banner (from Tuesday, September 28th to Tuesday, October 5th) are the following:
Oath of the Pack: Defeat opponents while assisted with by at least one other teammate
Maneuver Warfare: Defeat opponents while your team holds Zone Advantage. Earn bonus progress during the Hunt.
Victory Banners: Complete matches in the Iron Banner playlist. Wins award bonus progress
The Rout: Defeat opponents in the Iron Banner. Earn bonus progress by landing final blows on opponents with a higher Power level
Destiny 2 Iron Banner schedule so far this season
While Bungie has not released a roadmap for Season of the Lost, in terms of the Iron Banner schedule in Season 15, the dates have been as follows:
Tuesday, September 28th
Tuesday, August 31st
This is the second week of Iron Banner, and you should make the most of it considering there is no specific schedule in sight - plus, Season of the Lost is going to be quite long. The earlier you can start farming rewards, the better, especially if you missed the first week.
We'll update this accordingly as soon as we know about upcoming dates!
---
This year's Festival of the Lost has arrived - which includes the Book of the Forgotten and Jurassic Green to unlock. Elsewhere in Season of the Lost, there are new Exotics such as the Ager's Scepter and the long-awaited arrival of crossplay. New activities include the Wayfinders Voyage, the Astral Alignment activity and finding Atlas Skew, Trivial Mystery, Enigmatic Mystery, Ascendant Mystery, Data Cache, Parallax Trajectory and Ascendant Anchor locations. Elsewhere, we've seen new Nightfall weapons such as the Uzume RR4, Plug One.1 and Hung Jury SR4. Other recent new features include transmog and materials Synthstrand, Synthcord and Synthweave, the Splicer Gauntlet and Decrypted Data used to upgrade it.
---
Destiny 2 Iron Banner explained: How Iron Banner works
If this is your first time diving into Iron Banner or you're returning after a long time, there is plenty to get excited about.
This 12 player PvP event is an exclusive time-event for Crucible, and the biggest difference comes from how gear works. In regular Crucible matches there are no level advantages, but this is disabled in Iron Banner, meaning that players with higher Power gear will make use of that higher edge. Skill is as important as ever, of course, so gear won't be everything.
As in classic Destiny 2 fashion, a unique mode means an exclusive currency to go along, which is also the case here. Iron Banner tokens are rewarded for playing matches, and can then be exchanged to level up Lord Saladin's rank, obtaining rewards with each of them. You will have time until the end of the season to complete bounties and get new gear.
All in all, aside from the novelty of how Iron Banner differs from your regular Crucible, you can obtain exclusive weapons and armor as rewards. In addition, you can expect pinnacle drops when completing bounties. If you're interested in PvP in any capacity, you shouldn't miss trying out Iron Banner. Just make sure to prepare for the challenge!
Sours: https://www.eurogamer.net/
Banner destiny bounties iron 2

The Iron Banner calls Guardians to prove themselves in the Crucible. Their emissary waits in the Tower to reward those who excel.
Iron Banner is a limited-time Crucible event that is available once every month and lasts for one week. Unlike normal Crucible matches, level advantages are enabled,[1] meaning that weapons with higher Light do more damage, armor with higher Light resists more damage, and Guardians whose Light level is higher take less damage from those whose Light level is lower.
Iron Banner in Destiny[]
The event was originally overseen by Lord Saladin prior to the Rise of Iron expansion, however it is now watched over by Lady Efrideet. Her stock includes new shaders, emblems, and high-end weapons and armor, which can be purchased for Glimmer and Legendary Marks, given that the Guardian's Iron Banner rank is high enough. She offers Iron Banner bounties which give points towards a Guardian's Iron Banner rank.[2]
Guardians must be at least level 40 or in a fireteam led by Guardian of at least level 40 to participate in the Iron Banner.[1]
The final Iron Banner event for Destiny ended on August 7, 2017.[3]
Reputation[]
Iron Banner reputation is earned by completing Lady Efrideet's bounties and winning matches in the Iron Banner crucible playlist. Winning a match will award 250 reputation points towards the Iron Banner faction. Losing a match will grant the player a Medallion of Iron instead of reputation; the next time a match is won each medallion the player carries will be redeemed for an amount of 150 reputation. A player may carry up to 5 medallions.
Rewards are granted for completing bounties or at the end of the match. Artifacts are dropped at light level of up to 5 more than the current light level of the player.
All Iron Banner reputation is reset upon completion of the event and must be reacquired during the next event.[1] The table below outlines the reputation progression, as well as which items will be unlocked for purchase at each rank:
| Iron Banner Rank | Reputation | Total Reputation | Purchases Unlocked |
| --- | --- | --- | --- |
| Rank 1 | 100 | 100 | Emblem |
| Rank 2 | 1200 | 1300 | Shader |
| Rank 3 | 2400 | 3700 | Emblem, Armor |
| Rank 4 | 2400 | 6100 | Bond, Mark, Cloak, Armor, Weapon |
| Rank 5 | 2400 | 8500 | Shader, Weapon |
Year 3 Rewards[]
Weapons
The Binding Blaze, Legendary Sidearm
The Branded Lord, Legendary Fusion Rifle
The Clever Dragon, Legendary Pulse Rifle
The Distant Star, Legendary Scout Rifle
The Laughing Heart, Legendary Sniper Rifle
The Lingering Song, Legendary Hand Cannon
The Proud Spire, Legendary Shotgun
The Silvered Dread, Legendary Machine Gun
The Titanium Orchid, Legendary Rocket Launcher
The Unbent Tree, Legendary Auto Rifle
Hunter Armor
Titan Armor
Warlock Armor
Ghost Shells
Jumpships
Sparrows
Shaders
Emblems
Temporary Items
Past Rewards[]
Main article: Iron Banner/List of Past Rewards
Iron Banner in Destiny 2[]
| | |
| --- | --- |
| | This section lacks information and needs to be expanded. |
Reputation[]
The Reputation for Iron Banner is tokens, which you use to level up Lord Saladin to get an Iron Banner legendary engram, which contains a random weapon or armor.
Current Rewards[]
If you complete an Iron Banner bounty, you get 50 Iron Banner tokens, as well as powerful gear in the form of new Iron Banner armor or weapons. The armor sets may also be unlocked through a questline, which when completed guarantees one piece of each set of armor for every class, plus one class-specific item.
| | |
| --- | --- |
| | This section lacks information and needs to be expanded. |
Gallery[]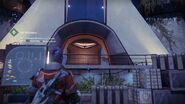 The entrance to the new area in the Tower in the Beta.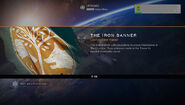 Initial Iron Banner invitation in the Beta.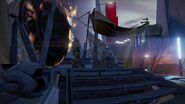 The original location of the Iron Banner vendor in the Tower
References[]
Sours: https://destiny.fandom.com/wiki/Iron_Banner
WORST Iron Banner Bounty Ever- Is It Bugged or Intentional? (Destiny 2 Season 15)
1-2 h
Estimated Start time
6 h
Estimated Completion time
ITEM
Obtain pinnacle rewards and Iron Banner themed armor and weapons!
Approximately two-thirds of D2 players do not enjoy PVP and frustrate that some rewards are PVP only. We believe that there is nothing wrong with helping players overcome challenging in-game moments.
If you don't have a reliable team, time, or simply don't enjoy Iron Banner, we will help you get your rewards.
We group 3 orders into one and assign one team of PROs to ensure a >65% winrate.
That's why we provide Iron Banner Powerful Bounties faster, 20% cheaper than the market's average, and guarantee the rewards
//
Please pay attention to your Power Level and the options below—you may customize your order.
//
The service we offer is 100% secure, works for PC, PS, and Xbox.
Our player will use a VPN. Only pure skills, knowledge, and experience - no cheats or any hacks/exploits involved. All prices include taxes and fees.
See what other players like you think about their experience with LFCarry.com.
What you get
4 Saladin's Bounties completed

A Pinnacle Reward for completing all bounties

Experience for your Season Pass and Artifact level
All items and resources that might drop during the service
Iron Banner Powerful Bounties Full Completion
All prices include taxes and fees
+ on your account in GGR
From /monthvia Partial.ly
Purchased times in the last 24 hours
Want a custom deal
or still have questions?
OPTIONS7
Why us
The best PRO players
The average service score is 4,95
Your custom schedule
Hire a PRO player when it suits you
A private stream
You see the progress in real-time
Daily updates
You always know what's going on
24/7 support services
We are always ready to help
100% safe and secure
No cheats, hacks, or exploits involved
Fair price
Get discount if you have progress
A loyalty program
Get 5% cashback on every purchase
How it works
1
You will fill in the details and set up a comfortable schedule.
2
We analyze previously completed orders, PROs metrics, and their ratings. You may also change your PRO if needed.
3
Keep track of your progress and ask your PRO any questions directly over a secure chat. We will delete all of this data after your order.
4
Your PRO will get paid only then. If anything, our 24/7 support team is ready to help you.
Service requirements
1280+ Power level with the option for low Power.
Description
Buy Your Iron Banner Boost Here
Iron Banner is always a time-limited activity, so it's important to start working on it right after it goes live. With our Iron Banner boost, you will reap all the rewards a lot sooner than it ends to have more time to enjoy the game. You don't even need to have a team to get it done fast and easily: our Iron Banner boosting service will take care of everything!
Here Is What You Can Get with Our Iron Banner Service
All 4 Pinnacle Destiny 2 Iron Banner rewards

All bounties completed

25 Tokens obtained

Assistance with reaching 1300 Power Level

All Bounties completed on all three Guardians
Team Up with the Best Pros to Finish Off Iron Banner ASAP
Our Destiny 2 Iron Banner boost is what you need to be sure that your success is sealed. On our website, you can buy Destiny 2 Iron Banner new weapons, armor sets, and tons of other pieces that will help you become a better Guardian. Play with the best pro gamers and earn rewards by doing what you like!
We work around the clock, so let us know whenever you are ready, and we'll get started right away.
All prices include taxes and fees
LFCarry is registered trademark
LFCarry isn't endorsed by Activision Blizzard, Inc., Battlestate Games Limited, Bungie, Inc., Electronic Arts Inc., Ubisoft Entertainment SA and doesn't reflect the views or opinions of Activision Blizzard, Inc., Battlestate Games Limited, Bungie, Inc., Electronic Arts Inc., Ubisoft Entertainment SA or anyone officially involved in producing or managing Call of Duty, World of Warcraft, Escape from Tarkov, Destiny 2, Apex Legends or The Division 2.
All game titles, content, publisher names, trademarks, artwork, and associated imagery are trademarks and/or copyright material of their respective owners. All rights reserved.
No endorsement is express or implied. Any third party trademarks are mentioned solely to clarify compatibility with LFCarry services
© 2016-2021 LFcarry
lfcarry.com2021LFcarry
Sours: https://lfcarry.com/d2/iron-banner-full
You will also like:
FLASH SALE. ENDS SOON!
DESTINY 2'S IRON BANNER
Lord Saladin will return for Iron Banner during the Season. With a new Season, you have a fresh set of weapons and armor available to earn. Saladin continues to offer Iron Banner bounties, but will also set you on a quest to earn your gear. In other words, prove your worth, and be outfitted as an Iron Lord.
Here you can buy Iron Banner bounty completion for Destiny 2 (D2);
This purchase is for PC, PS4, and Xbox;
We'll complete the bounties you select;
You will get chance on Legendary, Exotic Loot, and Prime Engrams;
We don't use any programs or bots, only hand work.
REQUIREMENTS
Destiny 2 game on your account;
Must have 1320+ light level;
Iron Banner unlocked;
In case of account sharing we need only your login and password, we don't need your answer on secret question or password to your email. This will keep your account safe.
Only logged in customers who have purchased this product may leave a review.
Sours: https://boostcheetah.com/boost/destiny-2/buy-iron-banner-bounty-carry/
1596
1597
1598
1599
1600