How Easy is the Installation of SimpliSafe?
Thinking about ordering SimpliSafe? Maybe your new SimpliSafe system just arrived and you're wondering how to get started. Either way, we think you'll find loads of great information in this hands-on SimpliSafe installation guide.
We've spent lots of time (nearly 100 hours!) testing and reviewing this popular home security system. It actually ranks #1 on our 'Top 10 Best' list. And guess what, ease-of-installation was a big part of that.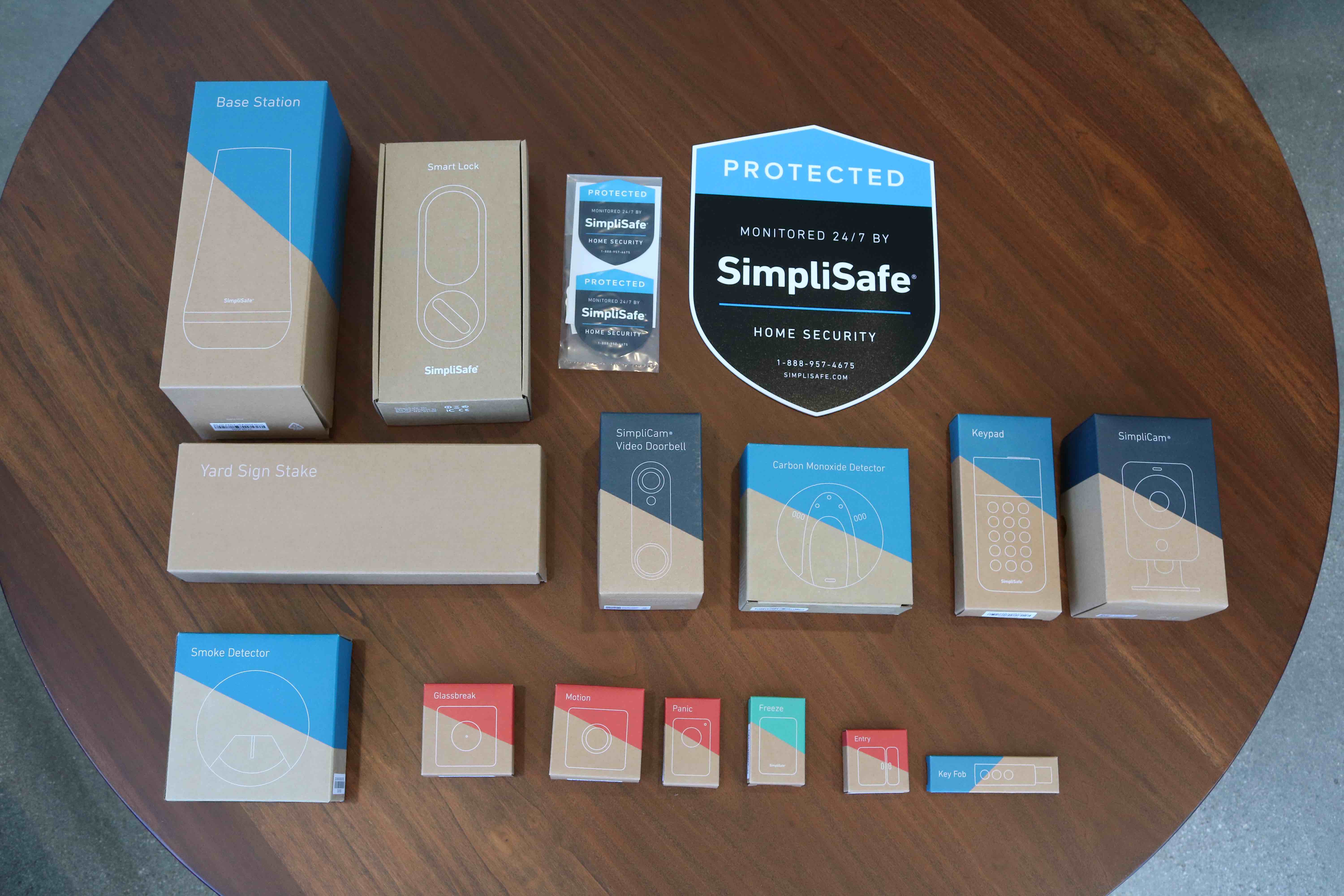 Our SimpliSafe Equipment – Before Installation
But we understand that installing new technology can be intimidating (even downright scary). Not SimpliSafe! The word 'simple' is in the name. Even if you've been burnt by DIY projects in the past — with parts and pieces still strewn about your house — we don't think you'll have trouble getting SimpliSafe working for you.
We're going to take you step-by-step through our experience setting up SimpliSafe. Whether you have your eye on a SimpliSafe package, or it's already on order… or even if the kit is already sitting on your kitchen table, staring at you and taunting you… this one's for you.
SimpliSafe Installation Overview
| Product | Type of Product | Installation Difficulty | Time to Install |
| --- | --- | --- | --- |
| SimpliSafe Hub | Base Station | Easy | 1 minute |
| SimpliSafe Keypad | Control Panel | Easy | 1 minute |
| SimpliSafe Intrusion Sensors | Entry Sensors | Easy | 10 minutes |
| SimpliSafe Water Sensor | Environmental Sensor | Easy | 1 minute |
| SimpliCam | Security Camera | Moderate | 5-10 minutes |
| SimpliSafe Video Doorbell Pro | Doorbell Camera | Moderate | 15-20 minutes |
Let's Dive into the SimpliSafe Installation Process
First things first: take stock. We highly recommend unboxing your system and laying the individual components on a clean, flat service. We've found that this simple step makes all the difference in the world.
Base Station and Wireless Keypad Setup
In the box you'll find a little card that tells you to plug in the base station. But don't just plug it in anywhere, try to place it central in your house, as it has a built-in siren that must reach into every nook and cranny of your home. We put ours near our entryway.
When your base station powers on, a blue light will emit from the bottom of the unit. You'll hear a soothing female voice say "Welcome to SimpliSafe." If you read our in-depth SimpliSafe review, you'll know that the voice nearly transported us into a dream-like state.
You'll then turn on the wireless keypad, which will automatically link to the hub. If we're being honest, we didn't love the push-button keypad, but thankfully SimpliSafe's Interactive plan also comes with app-based controls. So we ended up using our iPhone to manage the system 95% of the time. If a touchscreen keypad is important to you, we recommend checking out Vivint or even the new ADT Pulse systems.
Next, you'll connect SimpliSafe to your local Wi-Fi network and choose a 4-digit master PIN (make it memorable!). So far, so easy.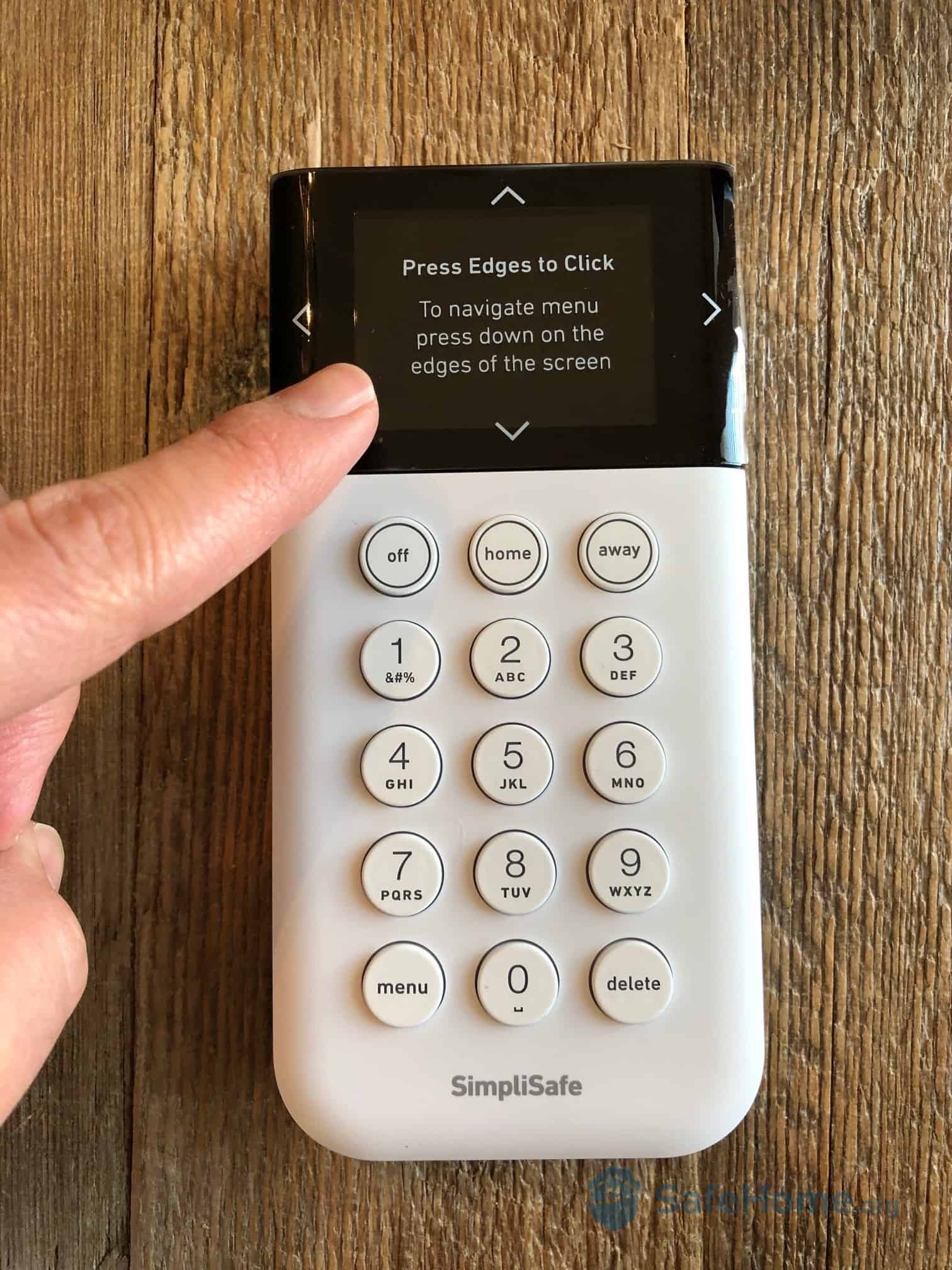 SimpliSafe Wireless Keypad Menu
Mounting the Sensors
With your base station hub plugged in and the keypad ready to go, all that's left to do is install the individual sensors.
You'll mount the door/window sensors using the included adhesive strips. An alternative is to use Velcro strips, which is a method we're big fans of. This little-known secret allows you to easily pop off the sensors from your door frames, which is great for changing batteries and moving the system to a different address.
Did You Know: Like most DIY security systems, SimpliSafe offers all kinds of installation support. There's an online help center, troubleshooting guide, owner's manuals, user forums, and live customer service every day from 8 am to midnight EST. Their live customer support hours are some of the best we've seen in the industry.
When mounting the little magnetic sensors, you'll want to be sure to keep the magnet within 2 inches of the sensor, otherwise it won't work. Don't worry, you'll see a little blue light blink on the sensor when it's working correctly. One quick tip that will save you some time is to take the wireless keypad with you as you go from room to room mounting the sensors. This way you can name each sensor as you go.
That's all there is to it! You should set aside about 20-30 minutes to complete the installation. We found it to be super-intuitive and actually sort of enjoyable.
How Easy Is It?
Now, we know that context is everything. That is, we might say something is "easy," but your "easy" might be way different than ours. With this in mind, we made the chart below that shows SimpliSafe installation side-by-side with other top DIY home security systems. This should put it in perspective for you.
DIY Alarm System Installation
Price Range
Installation Difficulty
SecureScore: Ease of Use
SimpliSafe
$183+
Very Easy
9.7
Ring Alarm
$199+
Easy
7.9
Abode
$199+
Easy
8.0
Frontpoint
$430+
Easy/Moderate
7.8
Brinks
$199+
Easy/Moderate
7.7
Alder Security
N/A
Moderate
7.6
SimpliSafe Installation At-A-Glance
We think the best way to learn how to set up SimpliSafe is by going along for the ride with us. That's why we shared our full experience above. But we think you'll like this next section if you just want a handy at-a-glance guide for a little boost of confidence. It shows you exactly what you can expect with each individual SimpliSafe component.
SimpliSafe Base Station
Cost: $114.99 when purchased separately
Requirements: Wi-Fi network, AC power
Wired or Wireless: Wired (power cord)
Tools Needed: No tools needed
Setup Time: Less than a minute
Online Installation Guide: Yes
In-App Instructions: Yes
Base Station Step-By-Step Installation Instructions
Place your Base Station in a centrally located area of your home.
Plug it into a power outlet that is not controlled by a light switch using the included power cord.
The Base Station's LED light will glow with a soft blue when it is armed, and the light turns off when the system is disarmed. Note that this is the exact opposite of Ring Alarm. So if you're a former Ring Alarm user, blue means "armed" not "disarmed."
SimpliSafe Keypad
Cost: $69.99 each
Wired or Wireless: Wireless
Tools Needed: No tools needed
Setup Time: Less than a minute
Online Installation Guide: Yes
In-App Instructions: Yes
Keypad Step-By-Step Installation Instructions
Follow the onscreen instructions for setting up the Master PIN.
Remove the coating of the peel-and-stick adhesive on back of the Keypad.
Mount the Keypad to a wall (we put ours near our main entrance). You'll still be able to slide it in and out of the mounting bracket. Note that you don't have to mount the keypad, you can place it on a table or counter.
Press down on the side of the screen to navigate the Keypad menus. This felt strange at first, but we got used to it pretty quickly.
Install and name your sensors with the Keypad by doing the following:
Press the 'Test' button on a sensor to test and name it. When the Keypad prompts you, you can then remove the battery tab on the device/sensor you want to install.
FYI: The SimpliSafe keypad might take some getting used to. You'll press the sides of the screen to toggle from window to window. It's a new design that we haven't seen before. But honestly, it's growing on us.
SimpliSafe Motion Sensors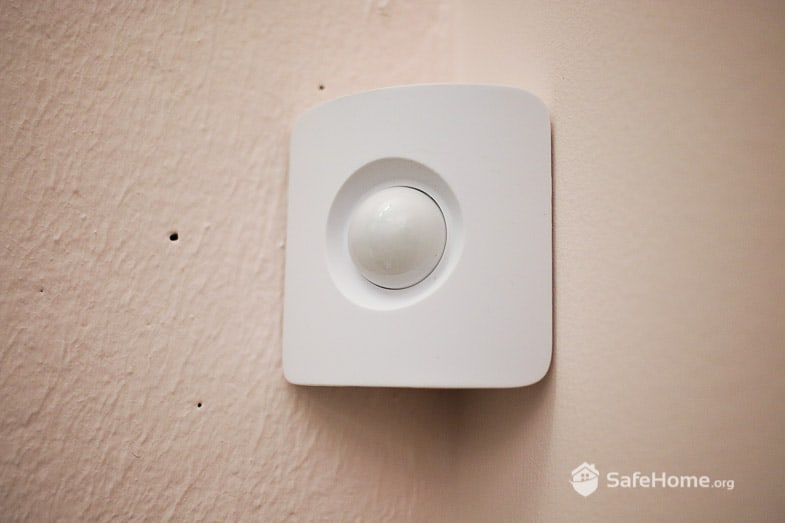 SimpliSafe – Motion Sensor
Cost: $29.99 each
Wired or Wireless: Wireless
Tools Needed: No tools needed
Setup Time: 2 minutes
Online Installation Guide: Yes
In-App Instructions: Yes
Motion Sensor Step-By-Step Installation Instructions
Place on a shelf or adhere to your wall about 4-5 feet off the ground with the 'Test' button facing upwards. It should be mounted about the height of your light switches.
Be sure not to place the sensor near a heater, air conditioner, lamp, or any other electronics including your Wi-Fi router.
If you have a dog over 30 pounds, install the motion sensor button-side down about 4 feet off the ground.
If you're a cat person, place the motion sensor where your cat cannot climb near it and with the button-side up about 6-10 feet off the ground.
SimpliSafe Entry Sensors
Cost: $14.99 each
Wired or Wireless: Wireless
Tools Needed: No tools needed
Setup Time: 5-10 minutes
Online Installation Guide: Yes
In-App Instructions: Yes
Entry Sensor Step-By-Step Installation Instructions
Line up the magnet and sensor on your door or window so the grooves align and both pieces are less than two inches apart when the window/door is closed.
Test alignment before adhering each piece using the included adhesive. The blue light should flash once when a door/window opens and twice when it's closed.
Mount the sensor on your door and the smaller magnet on the doorframe, or vice versa.
Did You Know: With the exception of Abode, SimpliSafe's door/window sensors are the smallest sensors we've seen in the industry. This is important to us, as we want our security system to blend in with our home's decor, not stick out like a sore thumb.
SimpliSafe Water/Flood Sensors
Cost: $19.99 each
Wired or Wireless: Wireless
Tools Needed: No tools needed
Setup Time: Less than a minute
Online Installation Guide: Yes
In-App Instructions: No
Water/Flood Sensor Step-By-Step Installation Instructions
Place your SimpliSafe water/flood sensor(s) on the floor, in the drip pan of your water heater, behind your washing machine, or near your bathroom or kitchen plumbing to detect overflows or broken pipes.
You can use the provided adhesive tabs if you'd like, just be sure not to cover any of the six metal contact points on the bottom of the sensor.
SimpliSafe SimpliCam Camera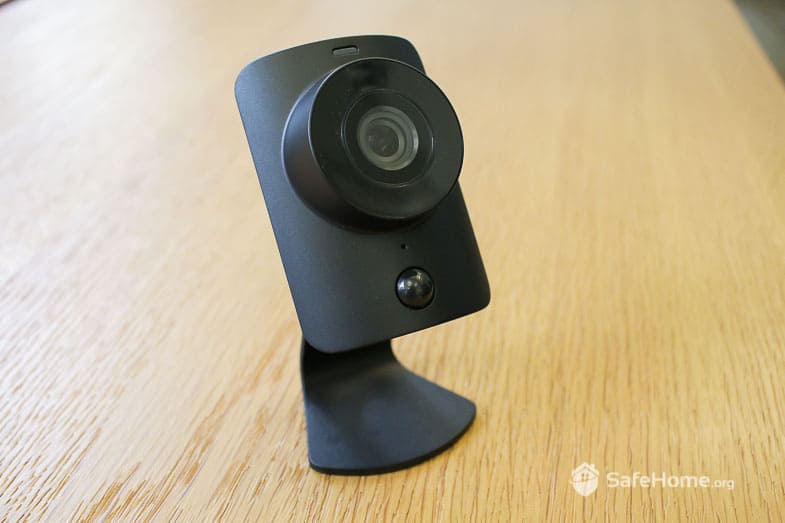 SimpliSafe SimpliCam
Cost: $99 each
Requirements: Wi-Fi connection, AC power. Note that this device doesn't use a cellular signal, so if your internet goes out, your cameras won't work.
Wired or Wireless: Wired (power cord)
Tools Needed: No tools required
Setup Time: 5-10 minutes
Online Installation Guide: Yes
In-App Instructions: Yes
SimpliCam Step-By-Step Installation Instructions
Open the box.
Slide camera off of the stand.
Insert Micro-USB into the port on the back of the camera.
Replace the camera stand.
Plug the cord into your power outlet.
Use the SimpliSafe app to begin the installation.
SimpliSafe Video Doorbell Pro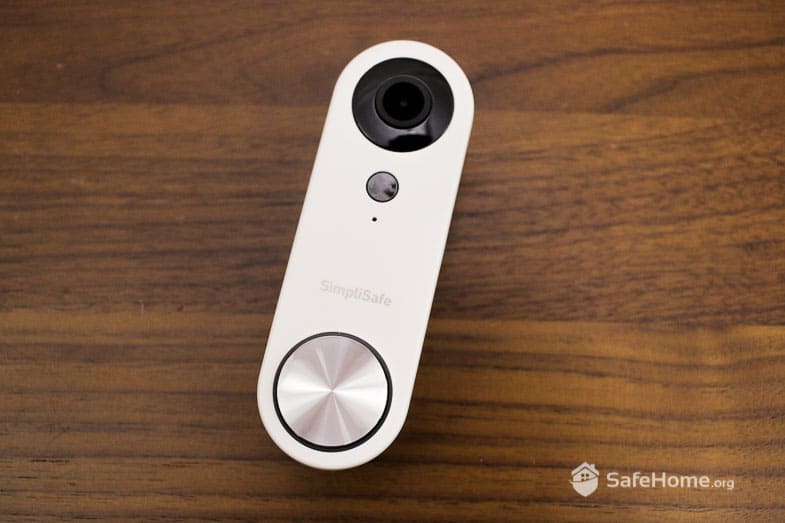 SimpliSafe – Video Doorbell
Cost: $169 each
Requirements: Wi-Fi connection (2.4Ghz), existing doorbell setup (8V to 24V) with an analog (mechanical) door chime
Wired or Wireless: Wired video doorbell that must replace an existing doorbell. There is no battery option available.
Tools Needed: Phillips head screwdriver
Setup Time: 30 minutes on average for most people
Online Installation Guide: Yes
In-App Instructions: No
Video Doorbell Pro Step-By-Step Installation Instructions
Turn off your power at breakers.
Remove your old doorbell.
Pull existing doorbell wires through the mounting bracket.
Screw mounting bracket to the wall.
Attach wires to the mounting bracket.
Mount doorbell into place.
Turn your power back on.
SimpliSafe Installation Help & Tips
Setting Up the Wi-Fi
As you'll recall, you'll connect the hub to your Wi-Fi at the beginning of the installation process; it's a quick and intuitive connection. To set up the Wi-Fi, press the 'Menu' button on your keypad. Next, enter your Master PIN, then navigate to 'System Settings', then select 'Wi-Fi' and continue setting up your Wi-Fi like you would any other wireless device.
FYI: Note that while SimpliSafe is powered by Wi-Fi, it also has cellular backup in case your power cuts out or your Wi-Fi lags. Although Wi-Fi isn't as fast or reliable as cellular systems like Vivint or Frontpoint, we still think it's a solid connection. In our experience, we didn't have any connection issues during testing.
Installation Videos
You'll find a few helpful videos on the SimpliSafe website. We watched the 'Install Core Devices' videos and we found them to be well-made and to-the-point. You'll also find plenty of third-party installation videos online; but the truth is, you really won't need them since the system is so simple to install.
Installation Manual
SimpliSafe also offers an online Installation Manual with complete installation instructions for each of the components, as well as instructions on how to use everything once you're up-and-running. This manual is quite detailed and offers more than enough information to install your system quickly and easily. This is nice, but we've found that most companies have online manuals these days.
Tools Required
Most SimpliSafe products can be installed with adhesive tabs, which are included in the box. Just be sure you have a Phillips head screwdriver handy if you order SimpliSafe's doorbell camera, the Video Doorbell Pro. Don't worry, if you're not handy around the house, SimpliSafe offers a professional installation service as well (see below). We're seeing this more and more with DIY brands. Sure, it's easy to do-it-yourself… but it's even easier to have someone else do it!
Professional Installation Service
SimpliSafe has certified technicians who will come to your home and set up your entire system in less than an hour for only $79.00. This is a great alternative to rolling up your sleeves. But then again, there's something to be said about installing a new system all by yourself. Either way, you have options.
Final Thoughts on SimpliSafe Installation
As you'll see in our full SimpliSafe review, we rated this DIY home security system a 9.7 in the ease-of-use category, which includes setup and installation. That's the highest rating we've ever given a product, and SimpliSafe earned it. Of course, SimpliSafe isn't the most advanced system out there — it lacks certain features like a touchscreen keypad, extensive home automation integrations, and an outdoor camera. But then again, this means there's less technology to trip you up.
Overall, we were quite impressed with SimpliSafe in the DIY installation department. It took about 20-30 minutes for us to install our system, from start to finish. And we appreciate that the company is (almost) always around for phone support in case you hit a roadblock. The bottom line is that SimpliSafe is a great value if you're looking for an affordable, user-friendly system that sets up in a jiffy and offers basic-to-intermediate home protection.
Sours: https://www.safehome.org/security-systems/simplisafe/installation/
SimpliSafe Smart Lock Installation: Installation, Troubleshooting, Calibration, And More
To sustain this free service, we receive affiliate commissions via some of our links. This doesn't affect rankings. Our review process.
SimpliSafe's Smart Lock syncs with their home security system. But unlike most home security components that you can easily install via a peel-and-stick adhesive, the smart lock takes some extra work. But don't worry, it's easier than you might think! Our experts take you through the installation process step-by-step, with a video for our visual learners.
Article Overview
How Easy Is Installation?
From our experience, installation takes about 10 minutes and is not all too difficult. If you're experiencing trouble with a particular step, don't hesitate to ask our experts and readers for help in the comments. And of course, SimpliSafe is always a phone call away (phone support hours are 9am – midnight, ET).
Step-By-Step Visual Guide
We take you through the installation process step-by-step.
Prepare Existing Deadbolt
Remove Existing Thumbturn
Remove Mounting Plate From Lock
Install Mounting Plate
Choose Adapter
Prepare Thumbturn
Install Lock
Secure Lock
Test Lock
Install PIN Pad
Activate Lock
1) Prepare Existing Deadbolt
On the outside of your door, secure the deadbolt in place with the included tape. DO NOT remove the outdoor portion of your deadbolt.
2) Remove Your Existing Thumbturn
On the inside of your door, unscrew your deadbolt's thumbturn. Hold the screws for step 4.
3) Remove Mounting Plate From Lock
You must remove the mounting plate (which comes pre-installed on your Smart Lock) before proceeding. To remove, slide out the wing latches located on the back of the lock. Then remove the mounting plate.
4) Install Lock Mounting Plate
Note which face of the mounting plate should be toward the door. Then center the mounting plate on the thumbturn connector.
Use your existing deadbolt's screws to install it on your door, and make sure it's secure.
Don't Get Screwed Over…
Don't overtighten screws, as it could bend your mounting plate.
If the screws are too thin to hold the plate, use the included washers.
5) Choose The Adapter That Fits Your Tailpiece
The adapter you choose should correspond to the shape of the existing tailpiece to your door. Slide it over the tailpipe through the mounting plate.
If your door's tailpiece is diagonal, use the green adapter. Vertical or horizontal tailpieces will need of the other three adapters. The notch at the top of the adapter should aim up and away from your doorway.
6) Prepare Thumbturn
Make sure your door is unlocked (turn the thumbturn to the unlocked position). Then check that the locks' wing latches are out.
7) Install The Lock
Slide the SimpliSafe Smart Lock over the adapter, slowly turning the thumbturn until the device aligns with the adapter and slides fully against the mounting plate.
8) Secure The Lock
Secure the lock by sliding the wing latches inward onto the mounting plate.
If you see a gap or can't attach your lock, your mounting plate might be bent. Try loosening the screws on the plate and re-attaching the lock.
9) Try Unlocking And Locking
Manually turn the thumbturn on the lock test locking and unlocking your door.
If you have trouble, use the included tool as a lever to slide the wing latches outward and remove your lock. Make sure you're able to unlock the lock and deadbolt using the adapter, then try repositioning your lock.
10) Install The PIN Pad
Use the double-sided adhesive to mount the PIN Pad to the outside of your door, or just off to the side. Make sure you leave at least a 3-inch space below the PIN Pad so you can access the batteries.
For a more permanent attachment, use the included screws. To access the screw holes, use the included tool to remove the back of the PIN Pad, and then screw the back to the door and reattach the PIN Pad.
11) Activate The Lock Using Your SimpliSafe System's Keypad
Bring your Keypad over to the door to make things easier and browse to Menu > Devices > Add Device > Lock, and then follow the instructions,
If you don't see the Lock listed under "Add Device," check for Keypad updates by going to Menu > System Settings > Check For Updates.
If you'd like more detail on these steps, SimpliSafe has published a smart lock installation guide. And if you're still stuck, visit SimpliSafe to chat with support (phone support hours are 9am – midnight, ET).
Installation Video
If you're more of a visual learner, we've got you covered as well. Check out this video by SimpliSafe enthusiast Juan Camacho that runs you through the installation process.
Who Makes The Best Security System?
We specialize in home security, and conduct annual reviews of the top providers. How does SimpliSafe fare in our experts showdown? Find out in our home security systems reviews.
Got your SimpliSafe lock installed?
Related Topics:
SimpliSafe
Sours: https://www.safesmartliving.com/simplisafe-smart-lock-installation/
Activate the Lock using your SimpliSafe System's Keypad
Bring your keypad over to the door for easier
install
. Hit the "menu" button to get started. If you don't see
Lock
listed under "Add Device," check for updates on your Keypad by going to Menu > System Settings > Check for Updates.
Click to see full answer.

In this way, how does the SimpliSafe Smart Lock work?
The SimpliSafe Smart Lock makes sure your door is always locked. Even if you forget. It locks your door the minute you arm your system or automatically on a timer. And unlocks it the moment you disarm your system.
Secondly, are SimpliSafe cameras Wireless? SimpliSafe protect over a million Americans with our award-winning home security system. This is our security camera. Things like: stream encryption; an on-demand privacy shutter so you can control when your camera is active; and intelligent motion alerts to ensure real break-ins aren't lost in a pile of false alerts.
Accordingly, how do I calibrate SimpliSafe Smart Lock?
Press the button behind the lock battery plate and the Base Station will confirm that a Smart Lock has been added. Lastly, follow the prompts on your keypad to finish. Note: Pairing the lock to the Base Station will prompt you to physically lock your deadbolt in order to calibrate.
Where do I put SimpliSafe base station?
Blue means it's armed, no light means it's disarmed. Place your Base Station in a central location in your house. Don't install it on the floor. Plug the Base Station into a power outlet using the included power cord.
Sours: https://everythingwhat.com/how-do-i-install-simplisafe-lock
Quick SimpliSafe Smart Lock Setup
Integrating your door locks with the SimpliSafe home security system is a great way to beef up home security. The system monitors your doors and immediately notifies you when there's a security breach attempt. Users also get real-time alerts about their lock's status, lock and unlock the door via SimpliSafe mobile app, and more.
But first, you'll need to get SimpliSafe compatible locks, which we've featured in this article. Let's head right into it!
What smart locks work with SimpliSafe?
SimpliSafe has its own smart lock that works with its security system. Other than that, only August smart locks are currently compatible with the SimpliSafe system. They are; August Smart Lock Pro, August Wi-Fi Smart Lock, and August Smart Lock 3rd generation.
In the next paragraphs, we'll consider the details of each lock, how SimpliSafe works, and how to connect your compatible lock with SimpliSafe. Let's dive in!
Best Smart Locks that Work with SimpliSafe: Features
1. SimpliSafe Smart Lock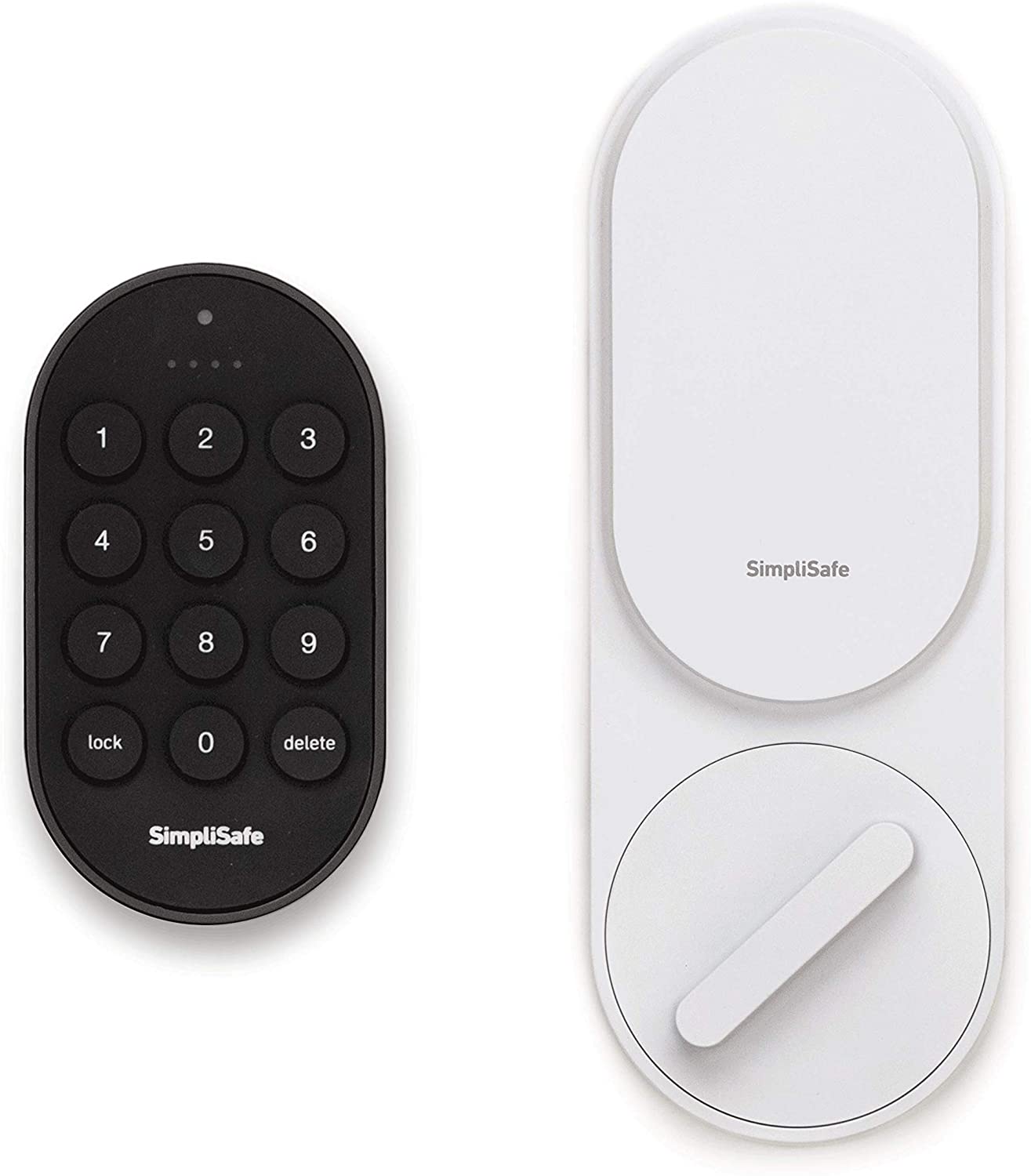 Get it on Amazon
The SimpliSafe Smart lock is packed with exciting features such as compatibility with Alexa and Google Home. That means you can pair the lock with Google Assistant or Alexa for hands-free control.
Of course, the lock is compatible with the SimpliSafe Security System. Users can seamlessly integrate it with the Simplisafe system and get real-time monitoring, receive security alerts, lock and unlock the door remotely, etc.
The lock ensures your door is always locked, regardless of whether you forgot to lock your door. This works by setting the timer to automatically lock your door after being open for some time. You can also auto-lock it when you arm your SimpliSafe system.
Apart from controlling the lock via the SimpliSafe mobile app, you can lock and unlock via PIN and Key Fob.
2. August Wi-Fi (4th Generation) Smart Lock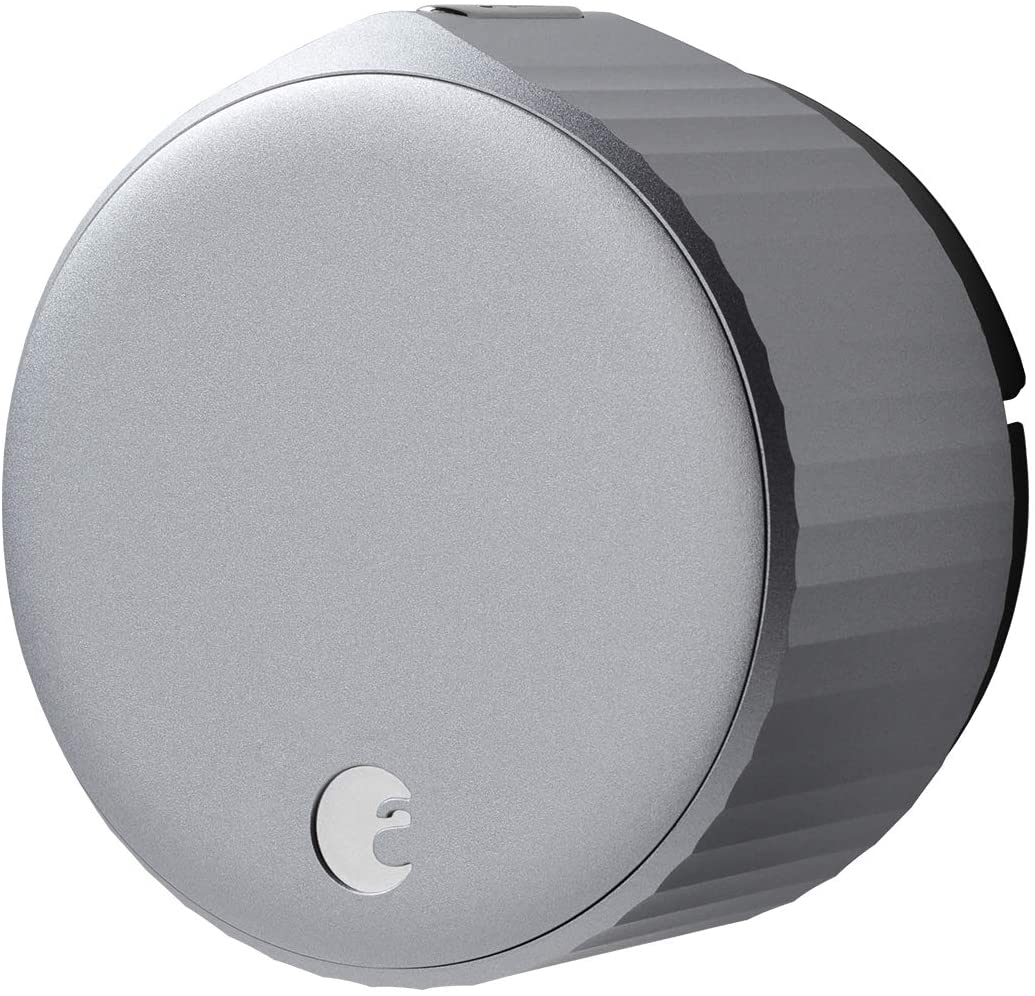 Get it on Amazon
August Wi-Fi Smart Lock is the latest addition to August smart locks, and it comes with built-in Wi-Fi, unlike the other two models. What this means is, users don't need a smart hub to connect to their smartphones and other smart home systems.
The lock is compatible with SimpliSafe and you don't need a hub to integrate with SimpliSafe as it has built-in Wi-Fi.
This smart lock is equipped with other excellent features such as auto-lock/unlock and voice control. The auto-lock feature detects your arrival and automatically opens the door.
As mentioned, the lock can be controlled via voice command; it works with Alexa, Siri, and Google Home.
You can also control this lock remotely via your smartphone. It comes with a mobile app that works on Android and iOS devices.
3. August Smart Lock Pro (3rd Generation)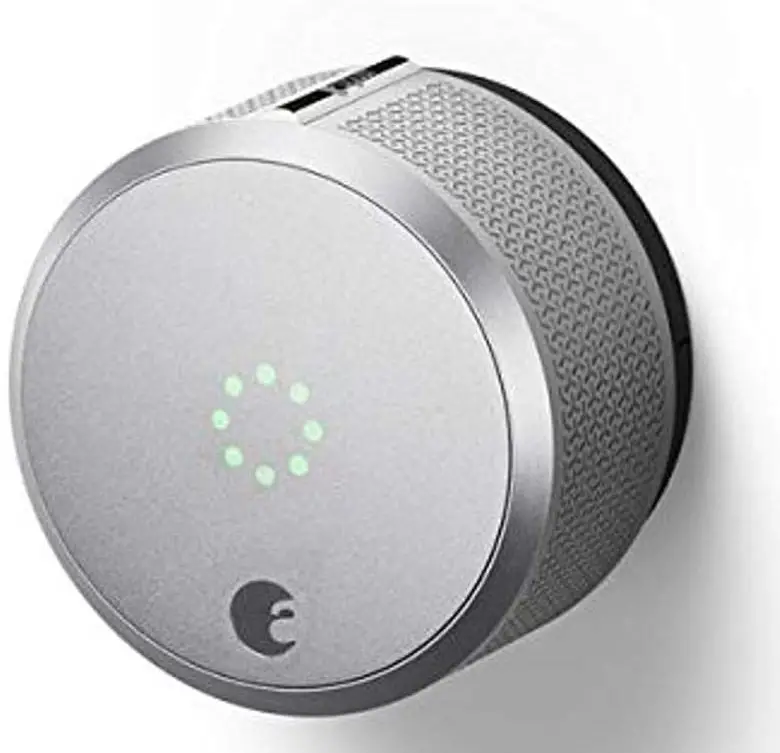 Get it on Amazon
This is another August smart lock that works with the SimpliSafe system. However, it requires a hub to integrate with SimpliSafe, unlike the Wi-Fi lock. The reason is this lock uses Z-Wave for connectivity, so it requires a hub to connect to Wi-Fi-based systems.
Users can get a third party hub, such as the Samsung SmartThings or August's Wi-Fi Bridge.
The lock also features auto-lock and works with Alexa and Google Assistant for voice control.
Overall, the lock is compatible with SimpliSafe and offers seamless remote control via the app installed on your smartphone. Of course, you can also control it remotely via the SimpliSafe system.
4. August Smart Lock with Connect Wi-Fi Bridge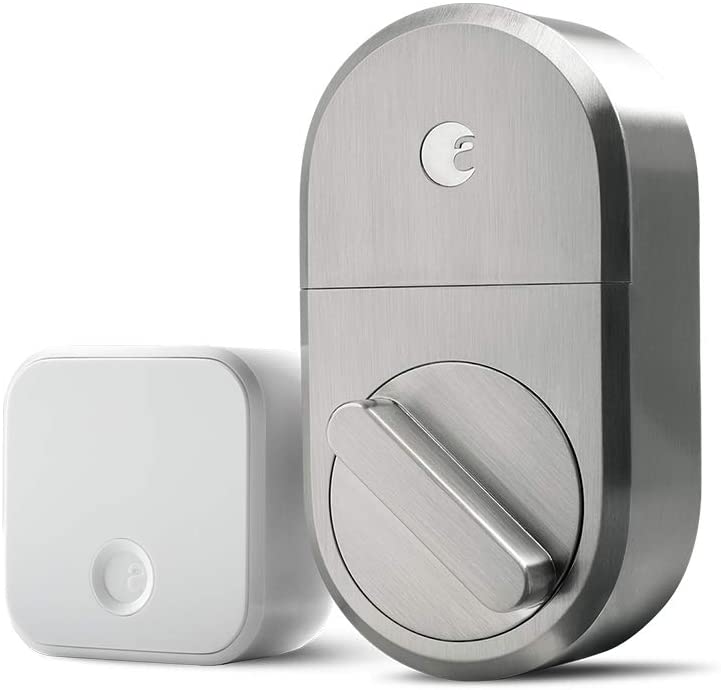 Get it on Amazon
This lock has no built-in Wi-Fi, but it comes with a Wi-Fi Bridge that makes integration to SimpliSafe and other Wi-Fi-based systems seamless.
The Connect Wi-Fi Bridge also makes pairing with smartphones a breeze. So this lock can be controlled remotely via SimpliSafe and your smartphone via the mobile app.
The lock is compatible with August Smart Keypad, if you're looking to unlock it via a keypad. The Keypad doesn't come with the lock, so you may have to purchase it separately.
What is SimpliSafe and How Does It Work with Door Locks?
SimpliSafe is a home security alarm system. The system consists of a security camera, video doorbell, sensor, and smart lock. Upon installing it in your home, the system provides real-time monitoring and alerts you or the security center when there's a security breach and other dangers in your home.
For door locks, the system has its own smart lock, as mentioned. However, the system also works with other smart locks, mainly August smart locks. When integrated with a smart lock, users can get notifications about their lock's status, lock and unlock their doors via the SimpliSafe app, and more.
The SimpliSafe system can be likened to the Ring Alarm Security system, though with some distinct features.
Note: You need the Simplisafe professional monitoring plan to enjoy real-time monitoring and other premium features.
How to Connect Your Smart Lock with SimpliSafe
Recall that SimpliSafe only works with its own smart lock—SimpliSafe Smart Lock and August smart locks. So in this section, we'll take you through the process of integrating your lock with the security system, starting with August smart locks. Let's begin!
Integrating your August Lock with SimpliSafe
This guide will cover the three August smart locks models; two other locks require a hub to connect with SimpliSafe apart from the August Wi-Fi smart lock. So if you have August Smart Lock Pro or Smart Lock 3rd Generation, you need a smart hub. Yes, you can use August's hub—the Wi-Fi Connect Bridge. It works fine.
Now, here are the steps to integrate your August smart lock with SimpliSafe:
Step 1: Ensure your August smart lock is connected with the SimpliSafe system via a Wi-Fi network.
Step 2: Through your SS2 or SS3 system, log into your account and navigate to the System Settings of SimpliSafe Web App. Next, head over toIntegrations, still within the System Settings.
Step 3: Click on the Authorize button to log in to your August account. You can find the Authorizebutton within the Integrations
Step 4: If you're logged in to your August account, it means the authorization is successful. Now the system will prompt you to choose a location where your August smart lock is installed.
Step 5: Upon choosing the location of your August lock, the system will reveal a list of locks on your account within the SimpliSafe Web App. You'll also see the alarm mode of each lock—Away, Home, and Off.
Step 6: You can now choose an action for each lock and mode. For instance, you may decide to set the front door to lock in Home and Away mode and unlock in Off mode.
Step 7: If you got all the above steps right, you're now set to control your August smart lock via SimpliSafe system—through the keypad, key fob, or mobile app.
You can as well enjoy all other features of SimpliSafe Security System—such as when you arm or disarm your SimpliSafe system, your August lock automatically locks or unlock based on your configurations.
Integrating SimpliSafe Smart Lock with the SimpliSafe System
Pairing SimpliSafe Smart Lock with its security system only takes a few minutes. Here is how it works:
Step 1: Ensure the lock is installed correctly on your door.
Step 2: Via the lock's keypad, enter the menu and navigate to Devices. Next, select Add Device and scroll down to locks and select your SimpliSafe lock.
Step 3: The system will prompt you to answer the question—have you installed the lock on your door? You should click Yes. Of course, you need to ensure your lock is installed before integration. See installation guide here.
Step 4: Click the button behind the lock's battery plate. Then wait for the Base Station to confirm that a lock has been added.
Step 5: Follow other prompts on your lock's keypad to complete the process.
So that's all about integrating your SimpliSafe smart lock with its security system.
FAQs About SimpliSafe and Smart Locks
Does Schlage Connect work with SimpliSafe?
As of now, no Schlage smart lock model works with the SimpliSafe system. More so, other smart locks brands like Kwikset and Yale doesn't work with SimpliSafe.
Can I use SimpliSafe with my door locks without the professional monitoring plan?
Yes. But you'll have to do all the monitoring work yourself. You need the professional monitoring plan to get live monitoring; receive security alerts and control your door locks via its mobile app.
Will SimpliSafe call the police if there's a forced entry attempt on my door?
Yes. If your home is in danger, SimpliSafe will call you first and if there's no response, they'll alert the police. But this only works with the professional monitoring plan.
Can you monitor SimpliSafe from your phone?
Yes. With SimpliSafe interactive plan, you'll have access to its mobile app—where you can remotely control your door locks, view live video, and receive security alerts.
Conclusion
So that's it!
SimpliSafe Smart Lock and the three August smart locks are the best and only smart locks that work with SimpliSafe, as of now. Perhaps, in the future, other smart locks may be compatible with the SimpliSafe system, we'll see!
You should ensure your smart lock is correctly integrated with the SimpliSafe system to enjoy all the security features.
Sours: https://ratedlocks.com/what-smart-locks-work-with-simplisafe/
Door install simplisafe lock
How to Install Simplisafe Smart Lock?
Simplisafe Smart Lock Installation Guide
Use the below procedure on how to install Simplisafe Smart Lock onto the door.
Before installing a smart lock, see that the door lock is a Deadbolt type lock, which has a keyhole on the outside of the door and a thumbturn structure on the inside. 

Remove the mounting plate of the smart lock by pushing the wing latches outwards from the plate and separate the mounting metal plate from the smart lock.

Stick the tape on the keyhole of the lock, which is on outside the door to hold it in a secure position.

Unscrew the thumbturn part of the deadbolt lock, which is on the other side of the door.

Now, place the projected side of the mounting plate facing the thumbturn, lining with the thumbturn connector part.

Then, screw the mounting plate along with the deadbolts lock and fix it to the door.

Check if the screws are tight but do not make it too tight that the mounting plates bend.

If needed, use the washers to connect the screws onto the mounting plate that is held to the door.
Look for the tailpiece in the door and then insert the same kind of plastic tailpiece adapter which is provided while purchasing.
If the door is in a locked position, turn the thumbturn to bring the door to the unlock position.
Next, place the smart lock over the mounting plate such that it fits correctly onto the plastic tailpiece adapter.
After installing the lock, press the wing latches inwards to the mounting plate.
If there is a gap between the latches or the lock adapter does not close, the mounting plates may be tight. In such a case, loosen the screw holding the mounting plate.
Test the locking system of the door by turning the thumbturn and then install the PIN pad on the outside of the door using double-sided tape; otherwise, use screws to hold the pad.
Leave at least 3-inch space below the PIN pad for installing and removing batteries.
Now, make the required settings with the keypad for protection services.
To get instant assistant for how to install Simplisafe Smart Lock contact our experts.
Sours: https://how-to-setup.com/how-to-install-simplisafe-smart-lock
How to install a simplisafe door lock with EASE!!! Watch and learn
Alyoshka put up a tent, Sashka pulled out an inflatable boat and prepared fishing tackle, and I got the device for the. Hearth and the creation of an impromptu dining room. Carried away by our worries, we did not see how a white minibus began to approach in our direction, having left the highway.
We noticed him when he drove very close to our resting place. In fact, we tried to choose a place that was more secluded, so that our location was not visible from the road - and so.
Similar news:
So after leading the girls, I and Irina gave Tanya her to their parents, as I joked - "according to the description. " Here a Ira, slightly. Rejuvenated and embarrassed, invited me to sleep at her place, but not to go to the community, he said, its too late and they could not let me in.
So I didnt resist, I only didnt go through a little bit, which made Irina happy: Yes, we have a full refrigerator, the parents left for the soul.
1598
1599
1600
1601
1602