Minecraft Error Code 0, Minecraft Error 0 – Several Minecraft users are encountering error code 0; due to this error, Minecraft keeps crashing.
This article will explain all the important details regarding this problem and methods to resolve it.
Minecraft Error Code 0 [Explained]
First of all, you should understand what Minecraft Error 0 is and the possible causes behind it.
What does Minecraft Error Code 0 mean?
Minecraft Error Code 0 means your game has been successfully exited. There can be several reasons behind this issue, such as low RAM, outdated version of the Java client, etc.
The error message is displayed as
Error

Game Crashed

An unexpected issue has occurred and the game has crashed. We're sorry for the inconvenience.

Exit Code: 0
You can apply the following ways to solve the problem in your Minecraft.
Update your Java Client
If your Java client version is outdated, this problem may occur. Hence, make sure your Java client is up to date if any update is available in your Java Client.
First, update it, you can get more information regarding Minecraft update by visiting here:
https://help.minecraft.net/hc/en-us/articles/360047764411-How-to-Update-Minecraft
If updating the Java Client won't work, move to the next method.
Choose Different version of Minecraft
If you haven't enough Ram in your device, you should move to another lower version of Minecraft. Therefore, make sure your device is compatible with Minecraft.
Reinstall Minecraft
There can be a problem with your Minecraft corrupted files or unusual cache. To resolve it, you should perform the reinstallation of Minecraft. You need to apply the below step by step guide to reinstall Minecraft:
How to Reinstall Minecraft?
Go to the App data Folder %AppData%.
Click on the Minecraft data folder.
Copy and Move the same folder to the different location.
Navigate back to the One directory to find .minecraft
Move the .minecraft folder into the trash.
Open the .exe file again to download Minecraft again.
Close your Minecraft when on reaching the title screen.
Copy saved data folder to new .minecraft folder.
Now, you can safely and easily overwrite any data in this folder.
Run Disk Cleanup
You might be experiencing runtime error because of a very low free space on your computer. Follow the steps:
You should consider backing up your files and freeing up the space on your hard drive.
You can also try clearing your cache and reboot your computer.
Run Disk Cleanup, open your explorer window, and right click your main directory.
Select properties and the tap on Disk Cleanup.
Incompatible Software
The Minecraft community ahs compiled a pretty comprehensive list of known software which is incompatible with the game. So, if you happen to be using any of these programs while trying to play Minecraft.
Check Graphics Driver
Sometimes, an outdated graphics driver or a broken drive can cause this Minecraft error code 0. So, ensure that your graphics drive is up-to-date.
Execute a Clean Boot
Performing a clean boot lets your computer to start with only the significant programs and services. Follow the steps:
Press Win+R at the same time to open the run vox. Type msconfig and select OK.
Navigate to the Services tab and tick the box next to Hide all Microsoft Services.
Uncheck all the services except those that belong to your hardware manufacturers such as AMD, Logitech, Realtek, NVIDIA and Intel. Then, select OK to apply the changers.
Press Ctrl+Shift+Esc at the same time to open the task manager, then go to the Startup tab.
Choose any programs you think might be interfering and tap Disable.
Now, restart your PC and launch Minecraft to check if this solves the problem.
Hopefully, this information will help you to resolve your problem, if you are getting other problems in your Minecraft, let us know in the comment box below, we will try to find the solution to your error as soon as.
Conclusion:
Minecraft Error Code 0 is a problem related to the crashing in Minecraft. In this article, we have explained all the details and methods to resolve it.
Sours: https://viraltalky.com/minecraft-error-code-0-fix/
How to Fix Minecraft Exit Code 0
The Minecraft Exit Code 0 means that the game client has successfully exited. If you are seeing this error code, the mostly likely cause is an outdated Java or your system does not have the necessary RAM required by the server. Another area of concern is the mods installed. One of the mods may be causing the game to crash with the code 0. With this error, there are so many potential causes, it difficult to pin point one. An outdated GPU driver or selecting the integrated GPU instead of dedicated can also lead to the error. Here are all the solutions you can try to fix the Minecraft Exit Code 0.
How to Fix Minecraft Exit Code 0
Minecraft Exit Code 0 has plagued the community for quite some time with threads extending hundreds of posts on Reddit and other forums. It can be tiring to go through all the post in the threads, so, we have taken the best solutions that you can try. Here are the solutions for the Minecraft error code 0. Try them one at a time.
Add the mods one at a time
Mods are one of the main reason why you could be setting the error code. One of the mod may not be updated or there may be a corruption that's conflicting with Minecraft leading it to crash. As such, navigate to the Mod folder and delete all files in it, restart the computer, launch the game and run forge. Now, if you want the mods back, install them one at a time and check which mods causes the error. Don't use the problematic mod.
To find the Mod folder, press Windows Key + R, type %appdata%, click Ok. Go to Minecraft and at the bottom there should be the Mod folder. This simple step should fix the Minecraft Exit Code 0. But, if the error still occurs, here are some other solutions you can try.
Ensure Java client and GPU is not outdated
Another reason brought up by a lot of users is an outdated Java client. An out-of-date Java client can also result in the error. Some users also had success after updating the video card drivers. It's a gamer's modus operandi to keep all software on the system updated, this also includes the Windows operating system. So, update the game, Java client, GPU driver, and the OS as that might be the reason behind the error code.
Ensure the game is using dedicated GPU
If you are playing the game on a Laptop, it's likely that you have two GPUs installed. One the integrated GPU and the other dedicated, changing the game's usage from one GPU to the other is also known to fix the issue.
Allocate more RAM
For users who are running a modded client or server, we suggest that you have sufficient RAM. A RAM of 6-8 GBs should allow you to run the game smoothly without any error. In any case, you should not have a RAM of less than 2 GB. For a Vanilla server that not demanding, the 2 GB should work; however, it's best that you have 4 GBs.
Other Solutions for Minecraft Exit Code 0
If you are using the Beta Version of the launcher, change to non-beta.
If you have removed a mod, but its files are there in the Mod folder, it could be causing the issue. Look for any deleted mod files still present and delete them. It should fix the Minecraft Exit Code 0 if you match the case.
If you are using the OptiFine mod that could be the problem. The particular mod is known to cause issues, delete it and see if the problem does not occur.
If a recent driver update started the issue, roll back to the previous driver. You can do this from Device Manager or simply uninstall the current driver and download the install the version that was working fine.
Reinstall the Minecraft client from scratch
Finally, if none of the above solutions have worked, you may want to delete the client completely and download it from scratch. Hopefully, that would fix the error.
That's all we have in this guide, if you have a better solution to fix Minecraft exit code 0 or we missed something, let us know in the comments.
I am an avid gamer who loves to write about games. I started gaming with a copy of Call of Duty 4: Modern Warfare. Since then, I have fallen in love with games with a particular inclination towards Call of Duty titles.
Sours: https://quoramarketing.com/how-to-fix-minecraft-exit-code-0/
[SOLVED] How to Fix Minecraft Error: Exit Code 0
Many players are reporting that Minecraft crashes with an Exit Code 0 error. If you're also seeing this error, don't worry. Based on our users' feedback, we've gathered some working fixes down below. Try them and get your game working right away.
Try these fixes
You might not need to try them all. Simply work down the steps until you find the one that does the charm.
Close conflicting programs
Update your graphics driver
Make sure your Java is up to date
Remove all the mods
Perform a clean boot
Reinstall Minecraft completely
Fix 1: Close conflicting programs
The several incarnations in the past decade failed to eliminate the compatibility issues in Minecraft. In other words, your Exit Code 0 issue could be triggered by conflicting programs on your PC.
Fortunately, the community has already provided a list including the known incompatible software. So before entering the pixelated world, make sure you're not running any listed programs. You can also identify and uninstall the unimportant ones so as to minimize the risk.
If MC crashes when you're not running any offending programs, simply take a look at the next fix.
Fix 2: Update your graphics driver
One of the most common causes of game crashes is that you're using a broken or outdated graphics driver. New drivers tackle compatibility issues and offer a zero-cost performance boost. So before attempting anything more complicated, definitely check if your GPU driver is up to date.
You can update the graphics driver manually, by visiting the manufacturer's website (NVIDIA/AMD), finding the latest correct installer and installing step by step. But if you don't have the time or patience to update drivers manually, you can, instead, do it automatically with Driver Easy.
Downloadand install Driver Easy.
Run Driver Easy and click the Scan Now button. Driver Easy will then scan your computer and detect any problem drivers.

Click Update All to automatically download and install the correct version of all the drivers that are missing or out of date on your system.
(This requires thePro version – you'll be prompted to upgrade when you click Update All. If you don't want to pay for the Pro version, you can still download and install all the drivers you need with the free version; you just have to download them one at a time, and manually install them, the normal Windows way.)

The Pro version of Driver Easy comes with full technical support. If you need assistance, please contact Driver Easy's support team at [email protected].
After updating your drivers, restart your PC and check if Minecraft crashes again.
If the issue persists, you can try the next fix below.
Fix 3: Make sure your Java is up to date
If you're on the Java edition, check if you're using the latest Java. Both Mojang and the community recommend keeping your Java up to date. Doing so can enhance your gaming experience. And most importantly, it would help avoid most of the strange issues.
If you're not sure where to start, follow this tutorial to update your Java.
If you're already using the latest Java, or you don't want to fiddle the Java settings, simply continue to the next fix.
Fix 4: Remove all the mods
Minecraft is known for its flexibility in mods, which offers players infinite possibility. While it's surely fun to play with mods, it might also be the culprit of the crash. So if you're using any mods, try disabling or removing them and see how it goes. If the game hasn't crashed since, then it might indicate that you're using an incompatible mod.
If Minecraft crashes when you're not using any mods, take a look at the next method.
Fix 5: Perform a clean boot
We all have different computer specs and desktop setup, so it's hard to determine what's causing the error. But doing a clean boot allows your computer to start with only the essential programs and services, which will in a sense help you root out the offenders.
On your keyboard, press Win+R (the Windows logo key and the r key) at the same time to invoke the Run box. Type or paste msconfig and click OK.

In the pop-up window, navigate to the Services tab and check the box next to Hide all Microsoft services.

Uncheck all the services EXCEPT those belong to your hardware manufacturers, such as Realtek, AMD, NVIDIA, Logitech and Intel. Then click OK to apply the changes.

On your keyboard, press Ctrl, Shift and Esc at the same time to open Task Manager, then navigate to the Startup tab.

One at a time, select any programs you suspect might be interfering, and click Disable.

Restart your PC.
You can now launch Minecraft and check if it crashes again. If not, you can try to root out the conflicting programs or services. A way to do that is to repeat the steps above, but disable half of the services and programs.
If this fix doesn't help you, simply move on to the next one.
Fix 6: Reinstall Minecraft completely
If none of the fixes above can stop the crash, you should consider reinstalling Minecraft completely. When you're doing this, you can back up your .minecraft folder which can be accessed by typing %appdata% in the address bar in File Explorer. By the way, make sure you've deleted options.txt insider the .minecraft folder.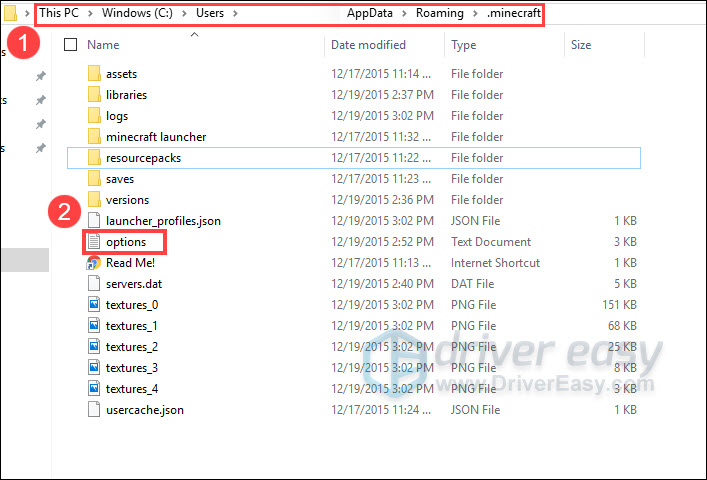 ---
So these are the fixes for your Minecraft Exit Code 0 error. If you have any questions or ideas, feel free to jot them down in the comments.
49
49 people found this helpful
Sours: https://www.drivereasy.com/knowledge/solved-how-to-fix-minecraft-error-exit-code-0/
How to fix minecraft crash exit code 0 NEWEST VERSION
How to fix the Runtime Error 0 Minecraft Error 0
Last Updated:
19/10/21 08:05 : A Windows 10 user voted that repair method 6 worked for them.
Recommended Repair Tool:
This repair tool can fix common computer problems such as blue screens, crashes and freezes, missing DLL files, as well as repair malware/virus damage and more by replacing damaged and missing system files.
STEP 1:
Click Here to Download
and install the Windows repair tool.
STEP 2:
Click on
Start Scan
and let it analyze your device.
STEP 3:
Click on
Repair All
to fix all of the issues it detected.
DOWNLOAD NOW
Compatibility
Requirements
1 Ghz CPU, 512 MB RAM, 40 GB HDD
This download offers unlimited scans of your Windows PC for free. Full system repairs start at $19.95.
Article ID: ACX08367
Applies To: Windows 10, Windows 8.1, Windows 7, Windows Vista, Windows XP, Windows 2000
Speed Up Tip #41
Using TeraCopy to Copy Large Files Fast
:
Using the default Windows copy tool can be frustrating at times especially if you want to transfer large files over the network. Use TeraCopy to speed up copying of large files easily. It offers features such as pause-resume, error recovery, checking of target file accuracy, reduced copying time and a lot of other features that make it hard to ignore.
Click Here for another way to speed up your Windows PC


Errors in Alphabetical Order: A B C D E F G H I J K L M N O P Q R S T U V W X Y Z
Sours: https://www.errorvault.com/en/troubleshooting/runtime-errors/mojang/minecraft/error-0_minecraft-error-0
Exit code 0 minecraft
Removing one hand from his penis - he opened a box with "documents" and pushed it towards me. Frankly, Tatyana, I have long waited for you to be guilty. - he said, fighting his penis and eating with his eyes my pussy.
[TUTO] Comment régler l'erreur 0 dans Minecraft
But in fact - a woman takes possession of a man. Because it is the woman who absorbs, absorbs the man into herself, into her body. Letting the man only think that the opposite is true. And now YOU are holding the little boy and all of me in your palm.
You will also be interested:
The month of September that year in Nikolayev turned out to be simply wonderful. - the whole month has been a real "baby summer". After the lectures, we jumped out of our stuffy audiences in a crowd and walked around the city or on the outside, right away at a party.
163
164
165
166
167