7 Creative Ideas for the BEST Front Porch Makeover
Share This:
It's embarrassing, isn't it?
Every time girl scouts, guests, or Amazon deliverymen ring your doorbell. Knowing that your once-nice front porch has seen better days. When a porch looks great, it's the highlight of your home curb appeal. When it looks rough, it can seriously detract from your exterior style.
We know that struggle all too well, and at Smucker Fencing, we firmly believe that your front porch should be something you want to show off, not something to sheepishly tiptoe around. Check out the doors, floors and decor ideas for the ultimate front porch makeover – and don't forget to call Smucker Fencing for installation that'll blow you away!
Front Porch Update Ideas
The greatest thing about porches? They come in all shapes and sizes. The worst thing about porches? They come in all shapes and sizes. Yes, you read that right. Because of the varying sizes and designs front porches have, styling one can be challenging to say the least!
Thankfully, the front porch update ideas we're about to share with you hold serious value, no matter what your porch looks like now. Keep on reading to discover 7 front porch makeover ideas that will elevate your exterior look without having to drain the vacation fund to do it.
7 Bright Front Porch Upgrades
Seasonal decorations come and go, but these front porch update ideas will keep the bones of your porch looking flawless all year long.
New Railing
Replace those flimsy, splintered, paint-peeled wooden safety hazards with new vinyl or aluminum railings. Upgrading to a maintenance-free, stylish alternative will end up saving you time, and giving the entire front porch a cleaner, more put together look. Shop our vinyl and aluminum porch railing products from the comfort of your home via our website!
A Secret Pop of Color
We're sure you've heard of painting your porch floor – but, what about the ceiling? What looks like your average joe of front porch design includes a fun pop of color when guests step inside it. There's nothing more fun than a secret surprise, and this front porch upgrade idea is no exception!
Craftsman Columns
One of the most effective yet overlooked front porch upgrades is adding vinyl or aluminum columns. Replace your worn-out wooden columns with sleek new ones made from maintenance free, long-lasting vinyl or aluminum. See front porch column ideas here!
Flourish with Flowers
Get creative with your green thumb! While hanging and potted plants are a great "safe" option, try using unique items for flowerpots, or implementing large window boxes to have your front porch upgrade looking fresh and full of life.
Do More with Floors
Flooring is usually the last thing on your mind when considering front porch upgrade ideas. Whatever is there now can stay – it is functional after all! However, the difference between functional and functional beauty is a decade of difference. Wooden planks, artesian tiles, bricks, and stone tiles are just a few of the several outdoor flooring options that will take your space from mid-century mess to modern masterpiece.
Swing into Style
Having a front porch that doubles as a family hangout is a southern tradition we think definitely needs to be brought north! Adding a porch swing or bench seating is a front porch update idea from our design experts that is compatible with porches large and small.
Your Décor& More
If your porch has good bones, a few cosmetic decorations may be all you need for a measurable front porch makeover. Splurging on a new welcome mat, outdoor rug, house number sign, door wreath or porch plant is well worth the small investment. Busy florals and geometric prints are fall pattern trends to capitalize on for your front porch upgrade!
A Front Porch Makeover from Smucker Fencing
Now is the perfect time to give that long-ignored welcome space the front porch makeover it needs – and Smucker Fencing is the team that can help make it possible!
Whether you've got a game-plan in mind or you're just getting started and need more front porch update ideas, give us a call. We've designed and installed railing and columns on dozens of porches throughout Lancaster and Chester County, PA.
Don't put this renovation off any longer! Start today with free pricing and all the information you need to make this your best front porch makeover yet.
Share This:
Sours: https://www.smuckerfence.com/blog/porches-and-decks/7-creative-ideas-for-the-best-front-porch-makeover
Build a Porch Gate
Like We Did for Our Family's Porch
"Dad, if you have some spare time, would you build a porch gate for us?"

That's what our son said when we visited California recently.

You can keep the windows and doors wide open without the need for screens when you live in southern California.

Tom and our daughter-in-love Heidi, wanted to be able to open their front door to capture the cool ocean breezes but they have a dog, Cisco.

So, Mary and I set out to build a picket fence gate that would allow Cisco to spend time on the porch without the worry of him running off.

This project took a little head scratching because I wanted to make it a temporary structure that could be removed easily yet be durable.

This is more than a dog gate; the picket fence and gate added a lot of warmth and appeal to their small front porch. Heidi painted the structure to match the color of the existing porch hand rails.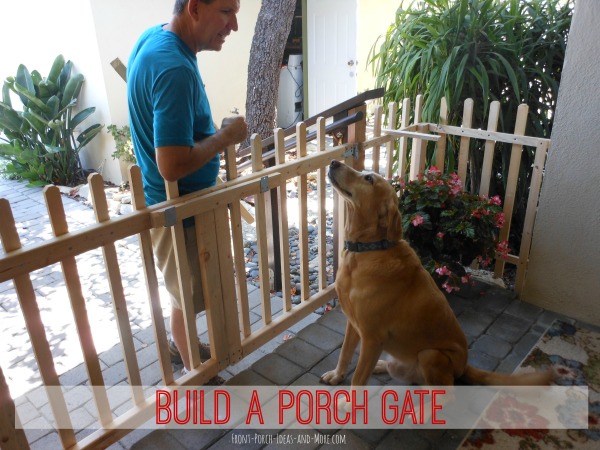 Our grand dog Cisco will enjoy having the freedom to enjoy the front porch with his new porch gate. We hope you enjoy the basic steps we outline here for building the picket fence and gate.



Build the Porch Gate Overview
Planning Considerations
Before you begin such a project, take time to analyze your options for the location and operation of your porch gate. Here are a few things I took under consideration before I started:


One of the requirements of this project is that the porch gate be somewhat temporary - meaning it can be taken down easily without having to make any repairs to the house.
It had to be sufficiently durable to hold Cisco, a golden lab, who is a bit heavier and stronger than your average Chihuahua.
I didn't want to make any changes to the existing handrails.
I wanted to ensure the gate was such that it would give the same access across the width of the existing opening. It had to open and close easily for our grand kids.
Materials for the Porch Gate
2x4's cut to length (in this case I cut them to about 30")
1x2's (I purchased approximately 10 - 10foot long 1x2s and cut them to length)
2x2 corner post (could be larger if you so desire)
Deck screws (size depends on the thickness of your wood, etc)
Four hinges
Saw
Drill with bit and driver
Clamps
Level
Hammer or sledge hammer
Two "L" brackets
Let's Get Started
Step 1
I needed to stabilize the structure but didn't want to pour concrete for posts, etc. I also wanted to minimize attaching the structure to their home.

So I chose to secure two 2x4's cut to length to the newel posts as shown below. I attached them using 2 deck screws into each of the 2x4s.

This also extended the picket fence closer to the porch floor prohibiting Cisco from trying to crawl under the fence.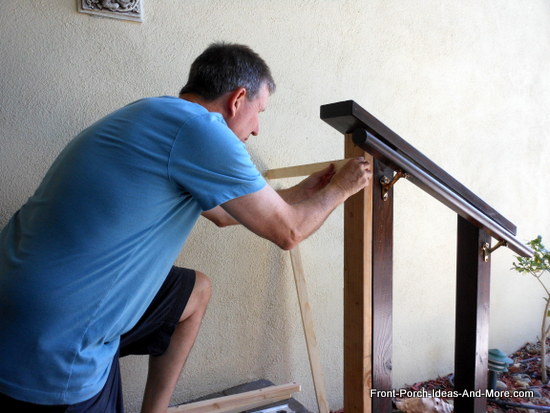 Step 2
I then attached a 1x2 inch top rail for the picket fence to the 2x4 as shown below. I used a level to ensure it was level to the ground. Placement of this top rail will dictate the height of your picket fence, i.e., it will be used to mark the locations of the other top rails for the fence.

I wanted the picket fence to be 36 inches above the floor of the porch. I measured 32" from the top of the porch floor on the 2x4 and then placed and secured the top rail accordingly and as shown below.

Placing it 32 inches from the floor allows for a 36 inch picket (which will be 4 inches higher than the top rail).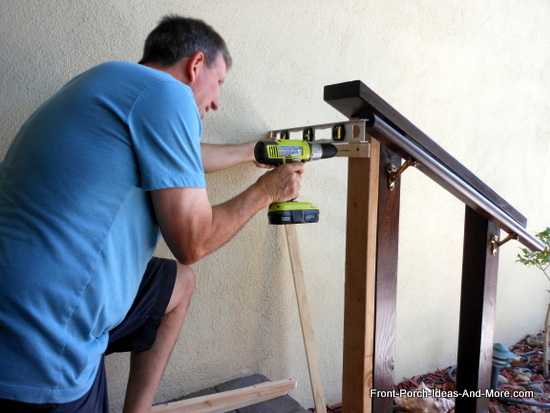 NOTE: Once I secured the top rail I placed a longer 1x2 next to the house (not shown). This 1x2 was approximately 48 inches long so that I could drive one end into the ground so that only 4 inches extended above the top rail.

By doing so I was able to provide sufficient stability to the fence.



Step 3
Next, I attached a bottom rail. I positioned the bottom rail so as to allow for the pickets to extend a few inches below it.

I then attached the pickets as shown below. I used deck screws to secure the pickets (one on top, one on bottom) to the pickets leaving a 3 1/2 inch space between them. (You should not exceed 4 inches).

Use a level to ensure the pickets are aligned correctly.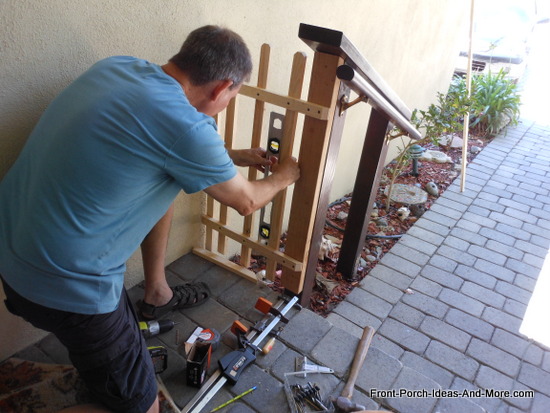 Step 4
For the other side of the picket fence, I needed a way to stabilize the structure. Instead of attaching it directly to the home or pouring concrete, I used a 2x2 post as a corner post as shown below.

I cut it to 48 inches, located the corner position, and pounded it into the ground. Likewise, I used a 1x2 (48 inches long) for the other corner post as shown.

I then attached top rails and bottom rails to the corner posts as shown. I mitered the top and bottom rails as these will be exposed to view.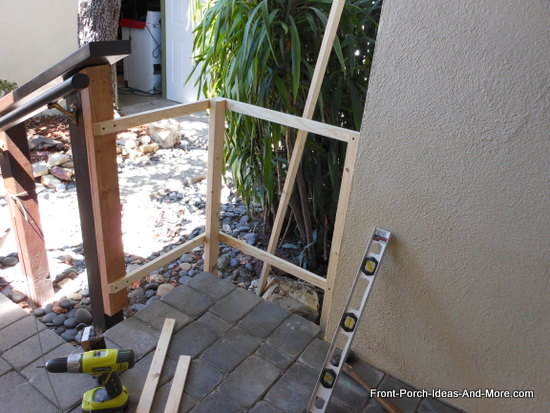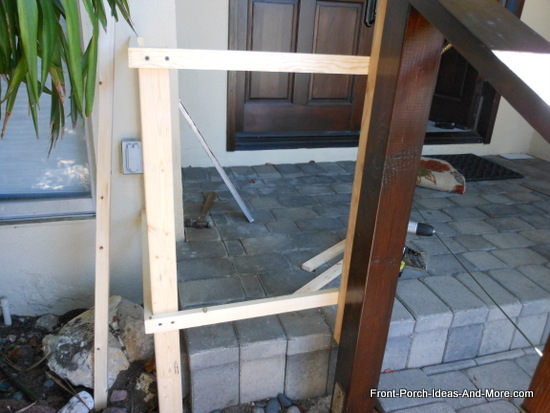 Video: Building the Porch Gate



Our 5 minute video goes through the basic steps to build this porch gate for family's home in California.



Step 5
I then attached the pickets in the same manner as in the previous steps.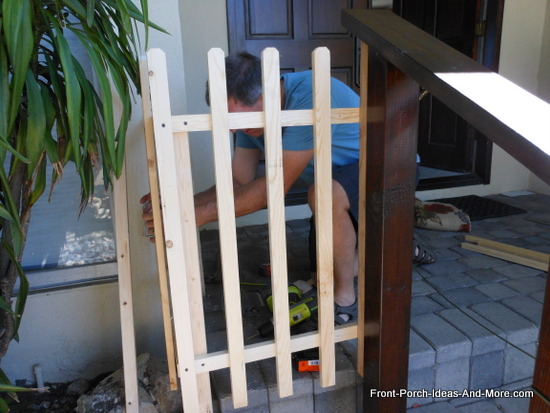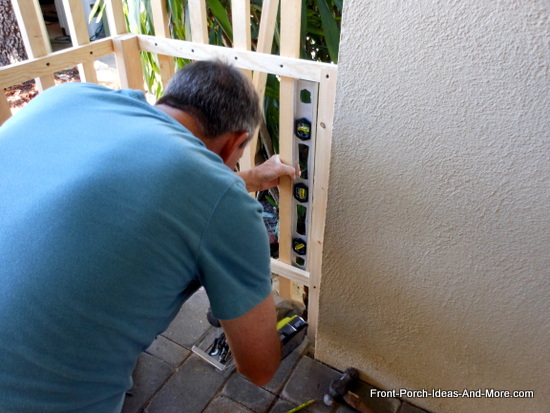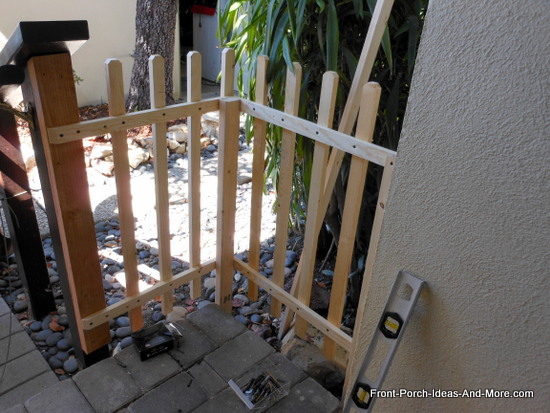 Make the Gate
Step 1
To make the porch gate I constructed two 2x4 frames. I measured the distance from one newel post to the other and subtracted approximately 1/2 inch (to allow for the hinge spacing). I then divided that in half to give me the length of each gate section.

To get the height I measured from the porch floor to the top of the top rail. I then subtracted an inch (+/-) to accommodate any height differences across the porch floor so the gate does not hit the floor when opened.

NOTE: I chose to have the porch gate open toward the front door and across the porch floor so they would open to their maximum width. If I had chosen to open the gate toward the yard, it would hit the hand rail and not open all the way.

Remember, the gates will drop a little from their own weight and from the weight of the pickets so allow for this in your measurements.



Step 2
I then cut the 2x4s to length based on those measurements. To make the frames I cut half lap joints on the table saw. You could also purchase gate kits (hardware) from which to make your gate frames.



Step 3
I attached the frames to the fence supporting 2x4s using two medium weight hinges on each side as shown in the photo. Make sure the gates do not hit the porch floor when opened.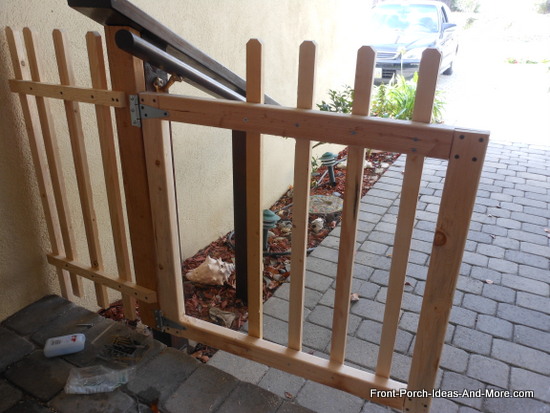 Note how frame is attached to 2x4 with hinges
Step 4
Attach the pickets to the gate frames. I first measured and marked the top of each gate frame to accommodate the pickets with a 3 1/2 space between them.

To make the gates stronger and to ensure Cisco remains inside the gate and fence, I used a little exterior wood glue on each picket as shown before I attached them to the gate frames.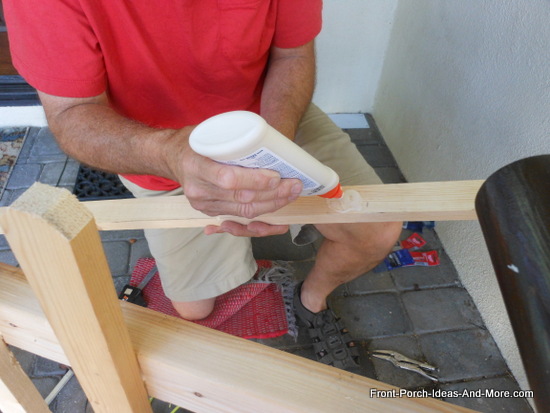 I then clamped each one into place and used a level to ensure they were perpendicular to the ground. I attached them with deck screws. (Be sure to drill pilot holes first to prevent the wood from splitting).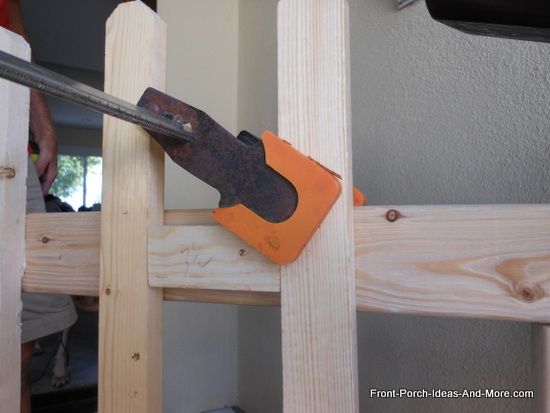 Make sure the pickets do not interfere with the hand rail; may have to adjust your spacing.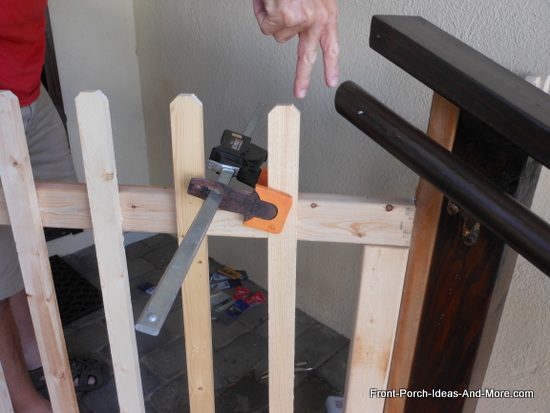 Adjust spacing if required to clear the banister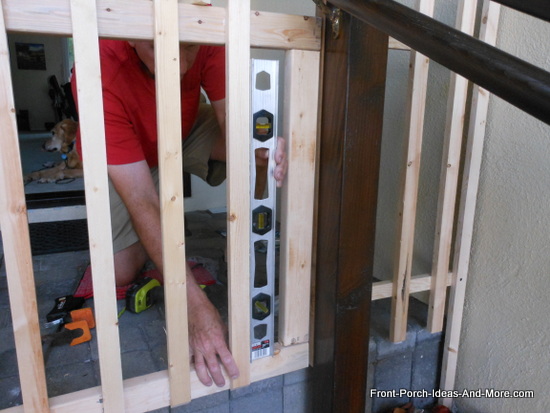 Using level to align pickets during installation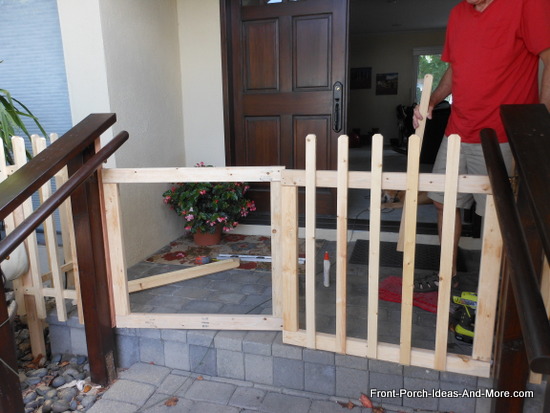 Pickets installed on one gate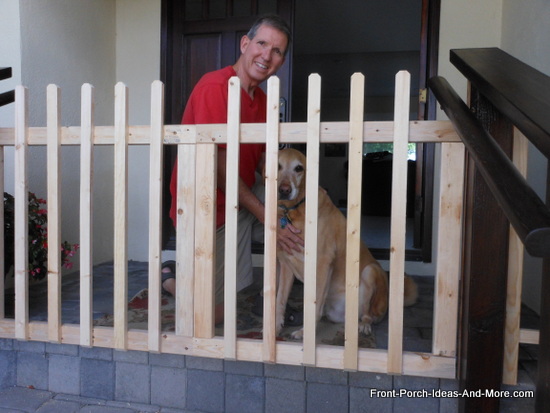 The porch gate is about completed. Just needs to be painted or stained.

Cisco is pretty proud of it!Durable, charming, and can be disassembled by removing just four screws.






This is the finished picket fence gate before our daughter-in-love painted it to match the existing banister. (She removed one banister and took it into the paint store to color match it.) Notice how we added an extra picket right in the middle to close the gap.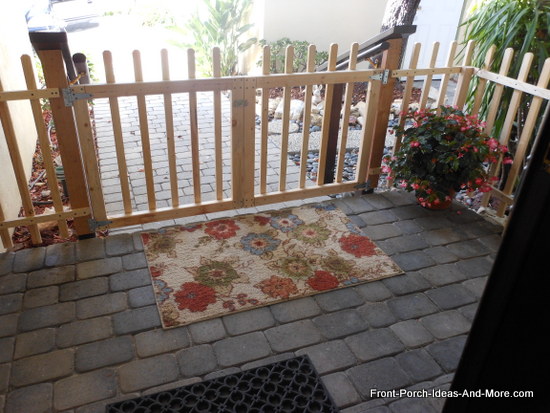 A wonderful space for Cisco (and everyone else!) to enjoy. The porch gate makes it feel more cozy.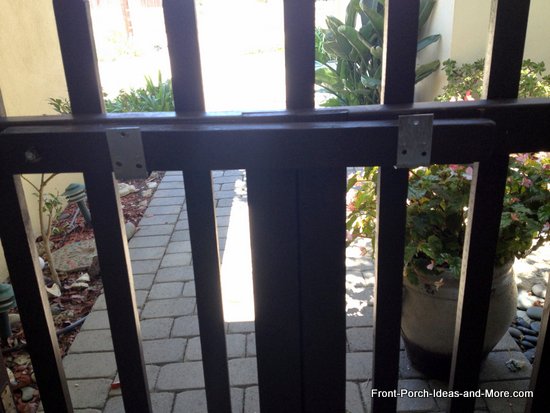 A close-up of the latch we put on the gate with brackets. We tried a different kind originally but since there is no center post for the gate to rest upon, this latch works well. In the picture below you can see how it works.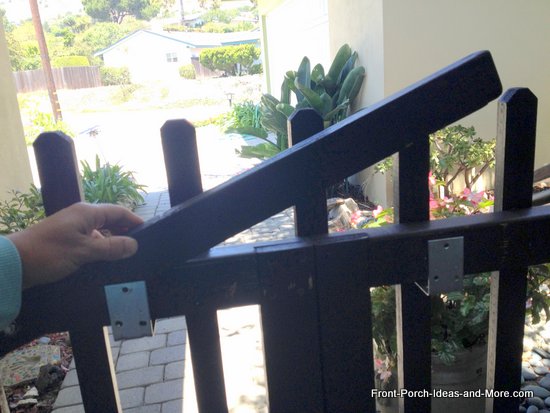 You just swing the gate latch up to open the gate. It rests on the brackets when the gate is closed.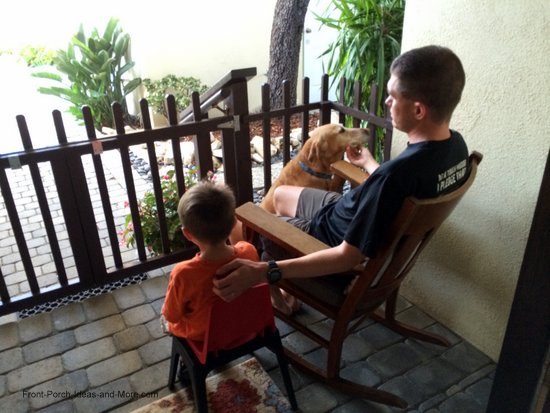 Our son and grandson enjoying the porch with Cisco
Isn't this pot of begonias beautiful? Blooms year 'round in California.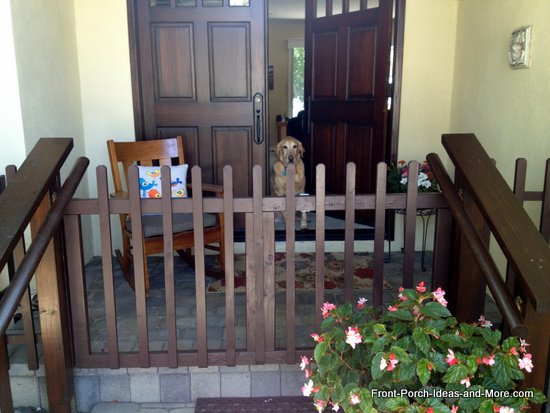 The new porch gate fits seamlessly with the home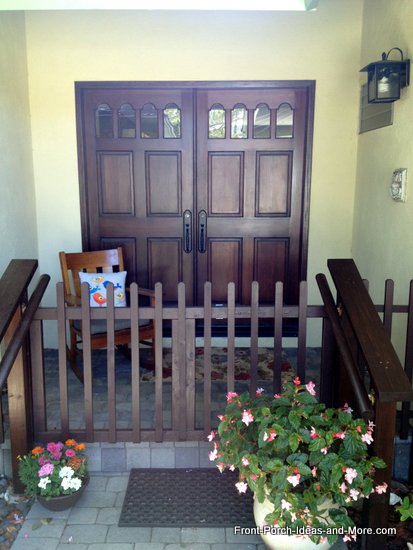 Turned out so well
Another Idea: Rolling Porch Gate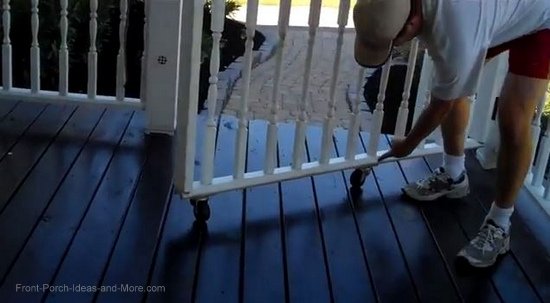 Have you seen the rolling porch gate our other son built for his front porch? It's another idea for you to consider especially if you have small children needing to swing a heavy gate back and forth.



You Are Here:







Thank you for taking your time to visit us.
Sours: https://www.front-porch-ideas-and-more.com/build-a-porch-gate.html
Deckgate (Literally, How To Make A Deck Gate)
This isn't "Deckgate" in the sense that there's a scandal involving a deck (sorry Olivia Pope) but for anyone who might want to learn how to build a literal deck gate, well, this could help.
Our previous method of deck "gating" could be considered a little… lacking.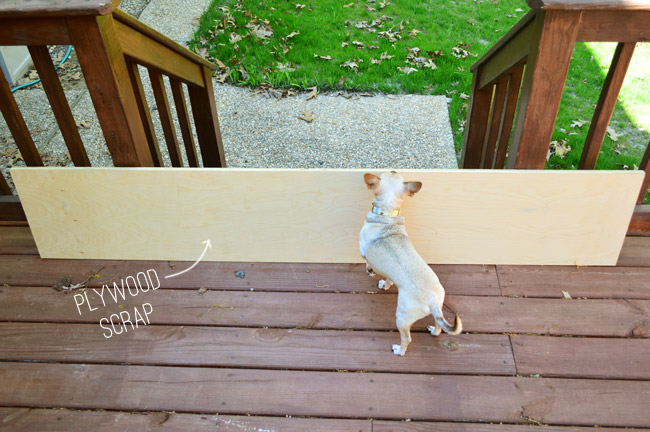 The nice weather has accentuated a shortcoming of our deck once again. Burger likes to sunbathe out there, but the temptation of a grassy yard full of bugs and fascinating smells often proves too great and he goes wandering. We don't have a fence on our property, and he has gotten more brazen lately and may even wander into the neighbor's yard. Hence the classy plywood barrier on one side and the leaned board on the other (yes, that was enough to keep him deck-bound).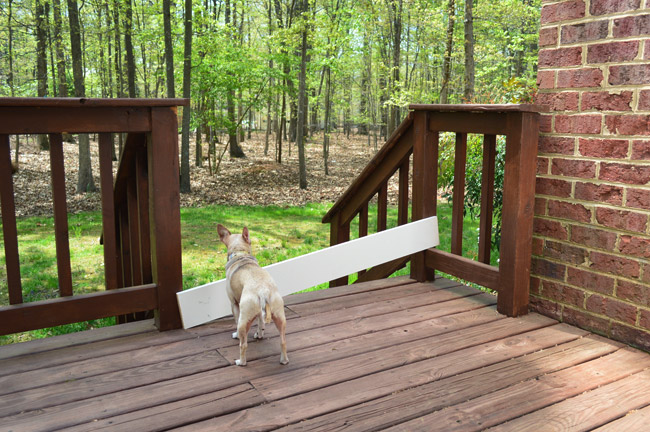 Clearly some gates were in order, since we didn't want to deny Burger his precious sun time but knew with a newborn that policing his whereabouts could fall through the cracks. I read a couple of tutorials online that were particularly helpful (this one and this one), then I took some measurements, sketched out a game plan (I modified both plans a little), and hit up Home Depot. Here's what I came home with: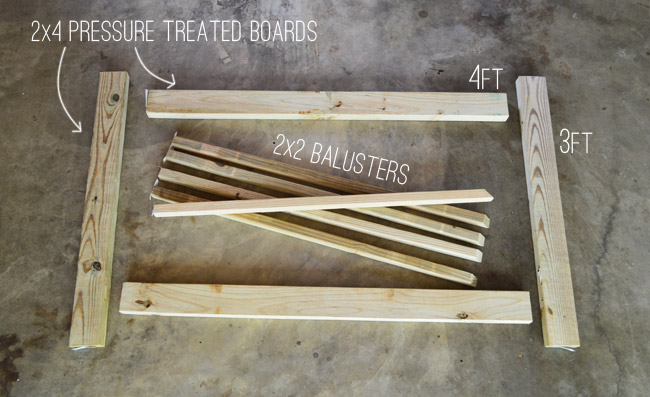 I was making two gates, so picture these supplies twice over.
To get everything I needed, I purchased two 10′ boards (cut into 3′ / 3′ /4′ sections) and one 8′ board (cut in half). The lengths above were just the rough cuts I got at Home Depot to make everything fit into the car more easily, but I knew I'd need to cut my own mitered corners at home. So I started by cutting 45° corners on one end of each board.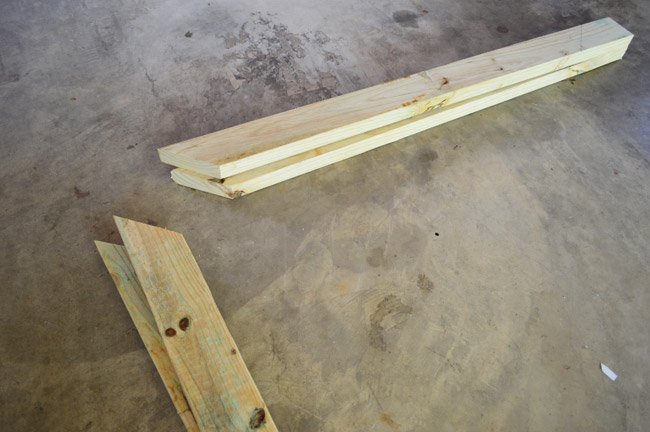 Making the second mitered cut was where I had to be precise on my measurement. I knew I wanted the gates to be an inch shorter than the length of the opening (to give them room to swing) and about the same height as the rest of the railings around the deck. So I marked my lengths and even drew the angle on the board so I was sure I was cutting each one in the right direction. This particular gate was 44″ wide and 29″ tall.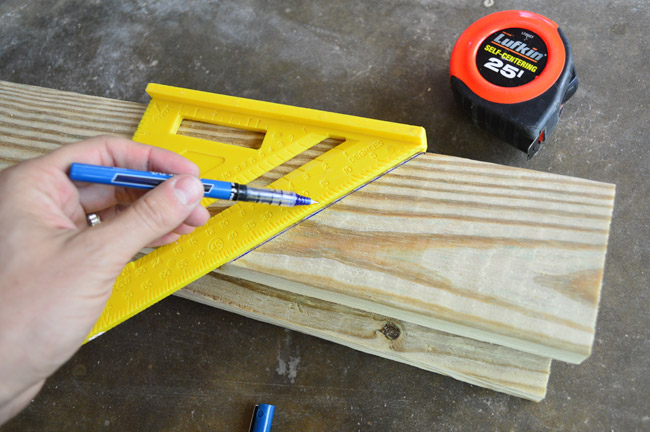 I cut the boards in pairs: the top & bottom boards together, and the two sides together. This ensured that the pairs were identical lengths, which was key to getting my gate all square in the end (so I carefully clamped them together before making the second 45° cut on the opposite end).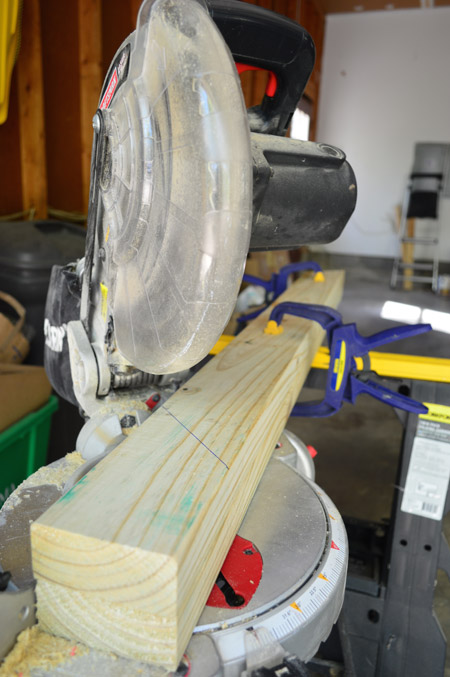 To join my frame together, I used my Kreg Jig to create two pocket holes on each end of the side boards. These are holes I'd later fill with wood putty.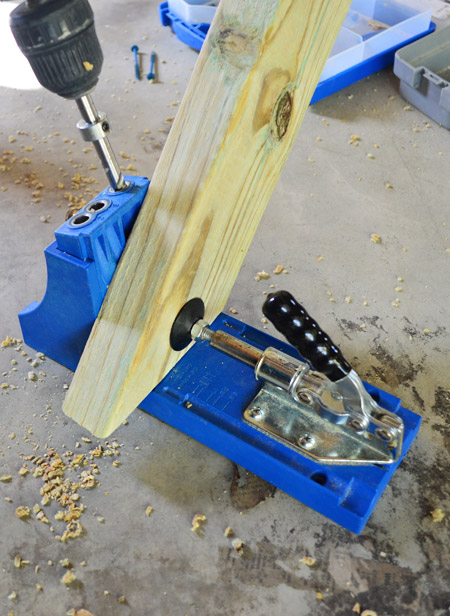 So here's my frame after everything was screwed together nice and tightly.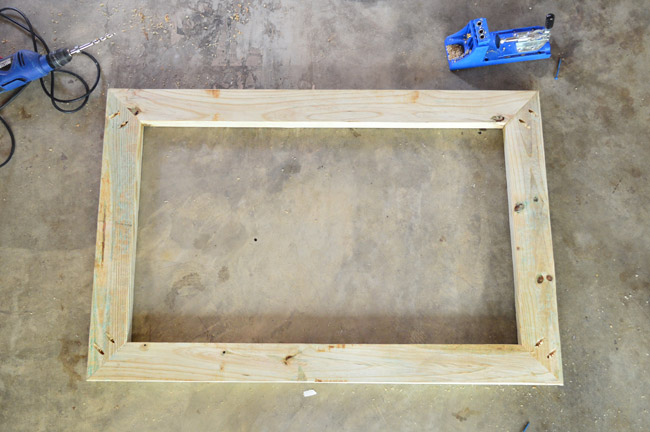 Next I had to attach the balusters to mimic the look of the rest of the deck's railing. Before shopping I had measured the spacing between the existing balusters and determined I'd have space for five of them on my gate. So after cutting mine to length, I attached the first one at the center point of my gate on both the top and the bottom – using two 2″ decking screws (remarkably still left over from my deck project at our last house). Then I used some scrap wood to cut spacers to help me place the next balusters evenly. You can see those in this shot: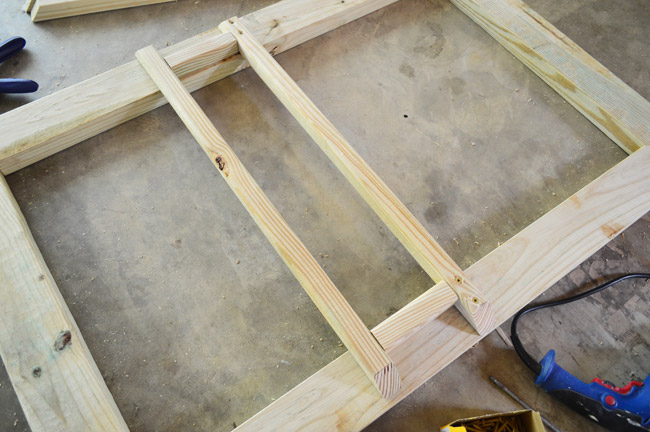 With the gate constructed, we just needed hardware to attach it. Home Depot sold this $15 kit that included two T-hinges and a latch, so I grabbed two of them. I had read in my research that a hinge should stretch about 1/5th the length of your gate. So these 8″ ones were just about perfect for our project.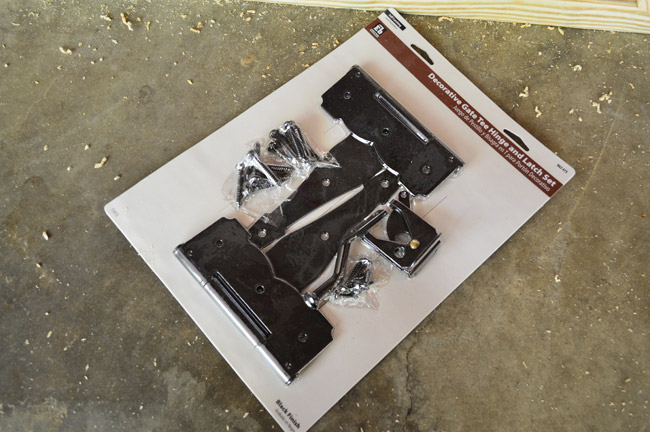 To hang the gate, I used some scrap wood to prop it in place and (with Sherry's help) determined the best spots to attach all of the hardware with of the provided screws. We couldn't center the top hinge (it ran into the existing deck railing) so it rides a little low – but once the light wood is stained to match the rest of the deck we hope it won't be too noticeable.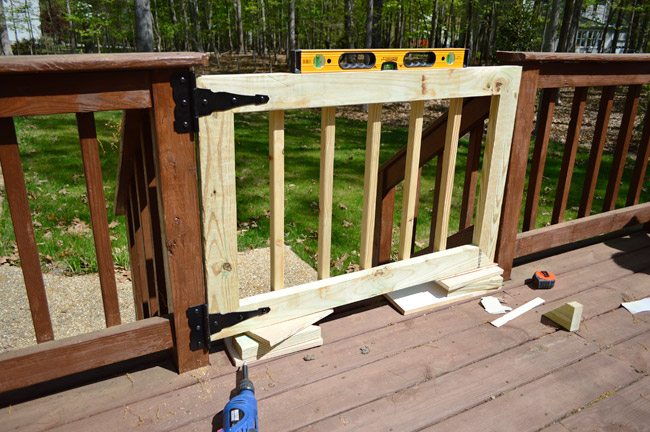 Then we just attached the latching mechanism to the other side, and we were in business.
We still have some leftover stain from last year's deck "rejuvenation" that will make the gates a perfect match, but we have to wait about 2-3 weeks before we can stain them (pressure treated wood can bubble or peel if you don't let it dry out for a little while before staining or painting it). But regardless of the mismatched look, we're just happy to have 'em up and functional. Especially since it only took about three hours to make both of them and my total cost was $53 for two gates ($23 for the wood and $30 for the hardware). File this project under "Why didn't I do this last year???"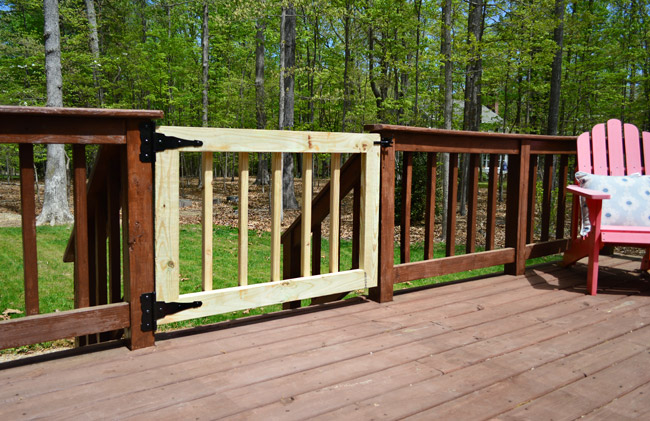 Here's the gate on the other side. I used the same process, although the opening was a half-inch smaller than the other and – get this – an inch shorter! I guess the original railings get a little lower as they wrap around the deck.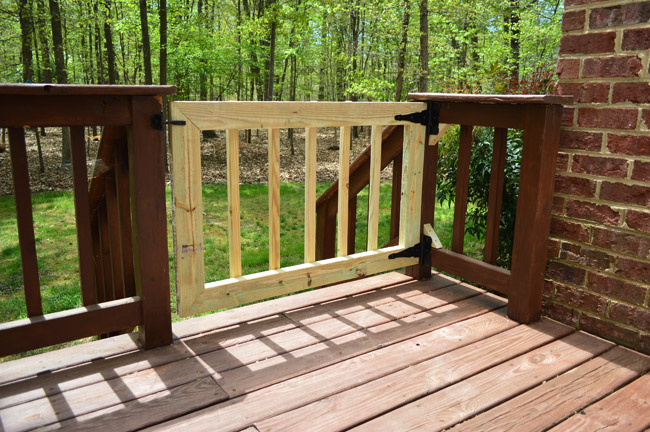 The only extra challenge this gate presented was that I had to screw the hinge into the hand rail and foot rail, rather than the post. The hinge was too tall to fit entirely on it (we really wanted it to open in this direction, so hinging it on the other side didn't make sense).
Thankfully it was a pretty easy remedy – I just screwed in a couple of scrap blocks (the initial mitered corners that I had sawed off) to give the hinge a place to attach. Obviously I'll be staining those too, so they should blend in a lot more in a few weeks.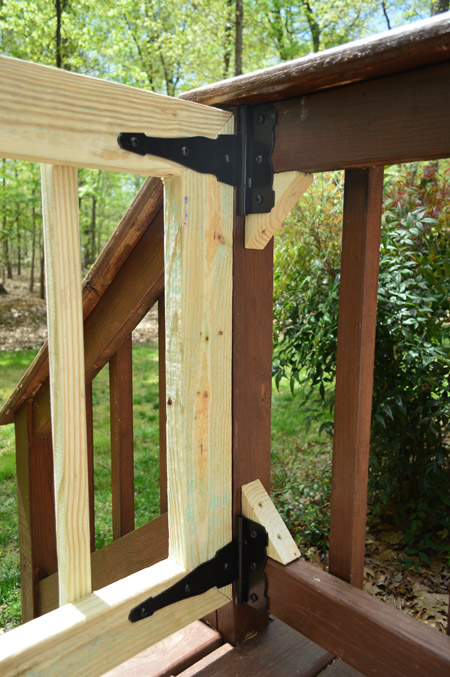 We'll probably leave this side open most of the time, since this is where Burger exits to do his business, and just close it when he wants to linger on the deck. So we're planning to add some sort of hook-and-eye latch to keep it propped open so it doesn't swing in the wind or anything.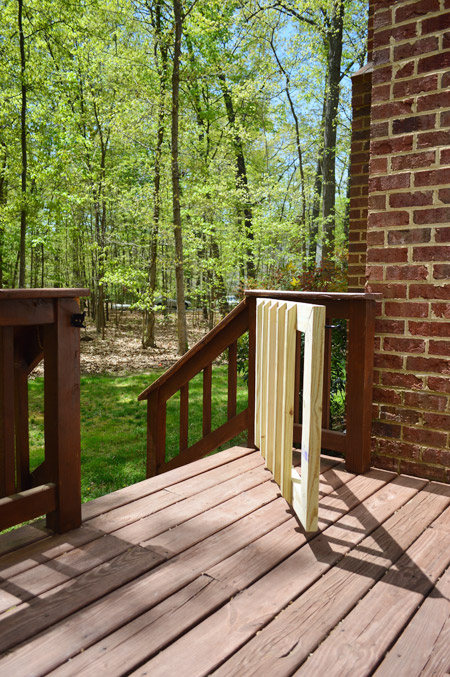 Sherry and I have been talking about eventually fencing some of the backyard so Burger can roam a bit more freely, but in the meantime he seems to love that he can warm his bare belly more often without us chasing him into the house.
Update: Thankfully, just like Burger can't slip through the rest of the deck's perimeter, he can't get through the new gates. He'd have to leap into the air, clear the bottom frame and the balusters perfectly, and then land on the stairs below, and he's just not that daring (he's much happier to be lazy and bake in the sun). But a more brazen pup might be able to squeeze through if they're small – and determined – enough, in which case I'd recommend closer spacing or adding some sort of a cross board.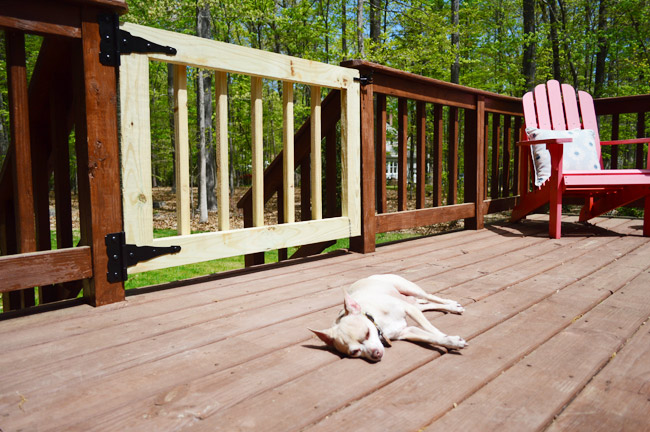 And we figure we'll probably be very grateful (gateful?) to have these once Teddy's more mobile so we can keep him contained without having to worry about tumbles down the stairs. Parenting win!
More posts from Young House Love
Filed Under: Furniture Upgrades & Building Stuff, Our Third House, Outside
Sours: https://www.younghouselove.com/deckgate/
Residential Estate Fence \u0026 Gate Installation Guide
Gate Kits for Vinyl Deck and Railing
Vinyl Railing Gate Kit Contents: top and bottom rails, side rails, 1 pack of stainless steel screws, balusters (5 balusters for 34 inch wide gate and 7 balusters for 46 inch wide gate) and caps for side rails.

Colors: White

Height: 35.5 inches. (Gates can be special ordered up to 41.5" high in square or colonial balusters. Please call or email for pricing.)

Specifications & Drawings:PDF file click here

Installation Instructions:click here

Single Gate Width: 34" wide railing gate kit will fit a 36" wide opening and a 46" wide railing gate kit will fit a 48" wide opening. The two inch difference allows for a gap between the latch and hinges (if using our Kwik Fit Hinges only subtract 1 1/2 inches).

Double Swing Gate Width: to calculate the width for double swing gates, take the measurement from inside to inside of the two posts. Subtract 2 1/2" (if using our Kwik Fit Hinges only subtract 2 inches) and divide that number by two. This should provide the width for each gate. For example, if your opening is 70 1/2" you would subtract 2 1/2" and divide by two. Each gate would be 34" wide. We recommend using the Lokk latch when installing a double swing gate.

Custom Gates: Just tell us the dimensions of the gate you want. Don't forget to subtract for the latch and hinge allowance. You can also order custom gates online "click here".

Gate Hinges and Latch are sold separately. D & D Gate Hardware or Steel Gate Hardware

34" Wide Gate: Top and bottom rails can be cut so the gate width is between 29 and 34 inches wide. Gate ships at 34 inches wide. Picture above is shown at 34 inches wide. Once cut the space between the side rails and first picket will be less.

46" Wide Gate: Top and bottom rails can be cut so the gate width is between 41 and 46 inches wide. Gate ships at 46 inches wide. Once cut the space between the side rails and first picket will be less.
Square - Colonial - Twist - Classic - Belly
Deck Vinyl Railing Gate Specifications
Drawing illustrates a gate 34" wide x 35.5" high
Vinyl Railing Gate Kit
Customer comments:
Great Product!
My gate arrived within a reasonable time from my order placement. All the parts I had purchased were in the box and in fine condition. Just looking at the parts, installation was pretty intuitive. I put it together in short order and it looks great - merging seamlessly with the wood deck fencing. I'm very pleased with this purchase. Larry
Excellent
We had a hard time finding a gate that would fit our space. This was a perfect solution. Easy to assemble and install. Emaliza


Love the versatility!
Great look and easy to assemble. Amy
Perfect Fit
Beautiful, durable materials. Shaoai
Sours: https://www.yourfencestore.com/vinylrailing/gatekits.asp
Gate with porch front fence
Your Fencing Experts for Over 20 Years
This is our second fence with B&T. Not only do they offer the lowest prices, their workmanship and attention to detail is excellent. I have no hesitation in recommending them to anyone. The installers were responsive to the questions we had about their work. I like that.
–Michael Conrad, Tallahassee, FL
Everyone at B&T is very professional, and are there to get the job done, from estimate to job completion. You are a terrific team and I was impressed that Brian even came to work on my project on Sat. and Sun. Thanks for a great job!
–C. Terry, Tallahassee, FL
I am very pleased with the replacement deck B&T constructed. The company had constant communication with me as questions came up. The crew was wonderful to work with as well as responsible and respectful. I highly recommend B&T Fencing
–C. Reynaud, Tallahassee, FL
It was a pleasure to work with B&T as they installed fencing in my yard to protect my puppy, Gracie. They worked in rainy, cold conditions and still completed a beautiful job. Gracie loves her new space.
–Marcia Pitts , Tallahassee, FL
We had some drainage issues in our yard and asked if B&T could help. They installed some lattice on the BOTTOM of the privacy fence and we haven't had a problem since. Great solution, great service excellent workmanship. Thanks Guys!
–Brian , Tallahassee, FL
Thank you to B & T Fencing and the amazing crew that took down our old fence, left zero evidence that it was ever there, installed a gorgeous new aluminum fence perfectly, and left our yard in perfect condition when they were done!! The most hard working, professional staff I've ever seen....they worked so hard and literally achieved perfection!! Thank you for quality work in a world where you don't always get that. We appreciate it and will enjoy the new fence for years to come!!!
– Jennifer Austin
Sours: https://bandtfencing.com/
Sliding Gate for deck, materials from Lowe's
After we knocked over the glasses, we should have kissed, and we happily dug into each other's lips. Our kiss immediately became passionate. Tongues intertwined in struggle. The woman strongly sucked my tongue exploring the cavity of her mouth.
You will also be interested:
I am now. The weather was splendid outside: the hot southern sun was shining, palms fluttering in the wind, fussing with their huge leaves, the sound. Of the surf was heard; some big birds were flying in the sky, the whole street was filled with people: everyone was in a hurry somewhere. We went to the ice cream maker. Julia bought popsicles, a bottle of Pepsi and five glasses.
1677
1678
1679
1680
1681