This is the story of how I came to own a very tight Brazilian sunga. And like all good stories, there will be a moral at the end.
Now, for those of you who don't read blogs about men's international swimwear, a sunga is essentially a Speedo, but cut a little bit more loosely to resemble — slightly resemble — a pair of shorts. Brave/foolish readers will look at this Google image search of "Brazilian sunga" (technically safe for work, but do it when no one's around). Though common in much of the world, these "shorts" are so tight that most American men would never wear them to the swimming pool. You can find a similar cut called "boy shorts" in the women's underwear department.
Anyhow, a couple years ago, I flew down to Brazil to visit a friend who was living in Rio de Janeiro. Two of us made the trip. It was the perfect way to visit a foreign city: knowing someone who lives there, not having to stay in a random hotel, and best of all, my buddy spoke fluent Portuguese.
He lived in a large, gated apartment complex in the middle of the city. The apartment complex had its own pool, and anybody in the complex could use it.
There was only one rule: No Board Shorts. Men had to wear a sunga.
"Why the hell do I have to wear a sunga?" I asked my buddy. "Do they really enforce that?"
"Yeah, man. It's for hygiene reasons. When guys wear board shorts around the city, sitting on busses and benches, they get all dirty. Then they could come back and swim in the pool in their dirty shorts. But no one is gonna wear a sunga around the city. So they're cleaner."
Apparently, I had to buy a sunga. So I figured that if I have to wear one, then I was going to do it with confidence — blinding confidence. We're talking shock and awe, avert your eyes type stuff. I picked out one that was fire-engine red. Among me, you, and the internet, let's say it looked like the photo at right.
And I did it. I swam in the pool wearing my eye-catching, ultra-hygienic Brazilian sunga. And ya know what? The system worked: I didn't wear the sunga around the city.
And on that day, certain areas of my body got more sun than they had ever gotten in the rest of my life combined. Ever gotten a sun burn on your upper thigh? Not so pleasant.
Which brings me to the moral of the story: gym hygiene.
Recently, I was (kindly) informed that CrossFit NYC would start enforcing a "no barefoot" policy at the gym. Previously, I had seen a few other folks working out barefoot, and I had done the same myself a couple of times. But apparently a few people complained, saying that they didn't want to do pushups and stick their face near a surface where people had been walking barefoot. It was unhygienic, they claimed.
Now, I get that barefoot goes against convention, but is it really less hygienic? People wear shoes all around the city, picking up dirt, germs, dog shit, little bits of glass, and god knows what. And then they wear those shoes in the gym. And so when you're doing push-ups, you're sticking your face in all that stuff. It's like wearing dirty board shorts into the pool instead of a sunga, but worse.
And when you look at the showers at CrossFit NYC, there's even a sign that says to take off your shoes before entering the shower area. Why? It's not so your shoes don't get wet. IT'S BECAUSE SHOES ARE DIRTY.
And how often do you wash the bottoms of your shoes? That's what I thought.
It's why polite house guests will take off their shoes at the door. It's why people wipe their shoes on a mat. IT'S BECAUSE SHOES ARE DIRTY.
If I had to guess, the complaints are an emotional response driven by a miscalibrated sense of disgust, not any rational calculus of what is actually hygienic or not.
Anyhow, I don't blame the owners of CrossFit NYC. They're just trying to a run a business, they're reasonable people, and it's a good gym.
In this type of situation, there's really only one thing I can do: start going to workouts in my sunga. With all those squats, it's only a matter of time until they lift the ban.
---
Sours: http://huntergatherer.com/why-i-own-a-brazilian-sunga-28a-lesson-in-gym-hygiene29/
Wherever I travel, I always try to immerse myself in the local culture. Traditions, ways of life, food, drink, dancing…you name it, I'll try it.
For those of you that have been to Brazil, and walked a long one of Rio de Janeiro's many fine beaches, you will have seen many sungas. In fact you probably saw so many, you wouldn't have known where to look.
For those of you unfamiliar with international mens swimwear, sungas are the Brazilian equivalent of speedos….but with slightly more material around the hips.
For all the guys reading this – don't judge me. This had to be done. Just avert your eyes when necessary.
For all the girls reading this – if you've never seen sungas on Brazilian men, and if you're feeling brave/curious, have a peek at Brazilian sungas on Google Images.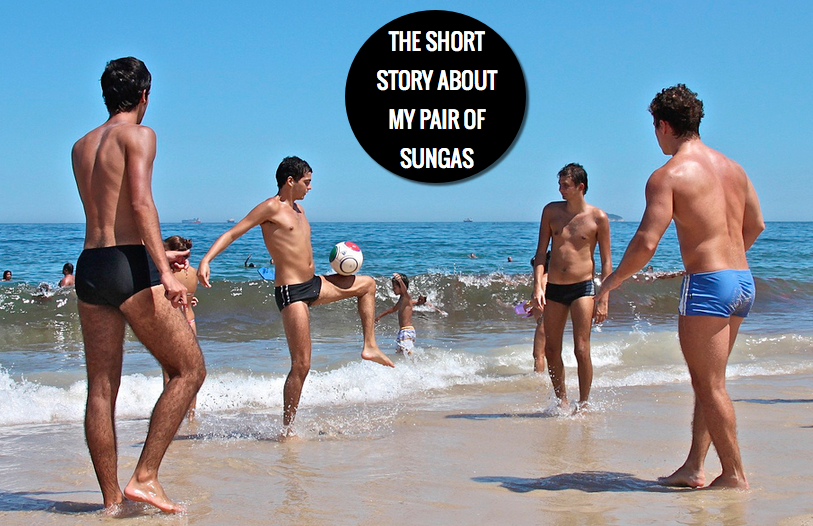 SUNGAS ARE A MUST-HAVE IN BRAZIL
Walking along Ipanema Beach, it soon became clear that Brazilian men do not wear swimming shorts. In fact I would estimate that 99% of men wear sungas.
As such, I felt out of place. I felt I wasn't immersing myself. I needed to find out what all the hype about sungas was.
A German girl I met in Rio helped shine some light on the infamous sungas. "All the men wear sungas. People travel around the city wearing swimming shorts, so when the get to a pool or the beach, they want to wear something different. They are a must-have item for any beach-based man in Brazil".
"Fair enough", I said. "I'd like to buy a pair".
At this point, she looking at my lager arm tan, hairy chest and arms and spat out her beer. She couldn't control her laughter. "Are you serious?! You want to wear a pair of sungas?"
"I don't see the problem", I said. "Besides, it will help get rid of more white bits". And so we headed into Ipanema, looking for a pair of sungas.
SUNGAS ARE A RIGHT OF PASSAGE
We eventually found a shop that sold sungas.  My German friend spoke fluent Portuguese, which helped our search. "My friend is looking for a pair of sungas", she must have said, as the look on the ladies face was very similar to my German friend's face on the beach. This was followed by a rye smile.
I found several pairs. But the next decision was a tough one. Sungas are not simply swimwear. They are a statement of confidence. Plain white ones would be too confident. Plain black would give off a nervous vibe. In fact plain at all wasn't working. After much sunga deliberation I went for a stripes. Navy blue and dark red.
At the till, the shop assistant was grinning from ear to ear. I felt nervous. I'd bought swimwear before, but never felt like I'd dived into the local culture when doing so previously. Then the woman said something in Portuguese to my friend, passed me the bag, hugged me, and waved goodbye.
"What did she say?!", I asked my friend, immediately after the shop door closed behind us. "She said 'no-one forgets their first pair of sungas", said my friend. And at that moment, I realised sungas were far more than simply a swimwear fashion statement.
Sungas are a right of passage.
SUNGAS AREN'T FOR EVERYONE
Back on the beach I changed into them immediately. No time to waste!
"You look ridiculous", said my friend. I didn't care. I now felt pride wearing my sungas. I was now part of the 99% crowd on the beach. Yes, I had bad white bits, and yes, I'm not quite the male adonis that other Brazilian men are, but the sungas felt great, and I now felt part of the culture.
After a few days, I was loving them.  I strutted up and down Ipanema Beach in them. Other travellers I met from around the world found it amusing – no more so than the English – but I was going through my own right of passage. I would leave Brazil with a piece of my own culture.
Here they are in all their glory – my sungas!
SUNGAS SHOULDN'T GATHER DUST
Back in the UK, Speedos – as we all know – are a faux pas. But sungas aren't Speedos. Oh no.
Following our 24 peaks in 24 hours challenge, we were booked in for a massage at the Ambleside Salutation Hotel. Donning robes and slippers, we waited for our treatments (back and leg massage). Eventually, I was invited in.
"Ok sir, if you could just jump onto the table under this towel, and roll up your swimming shorts, then I'll pop back in 2 minutes and we can get started."
"Fear not", I said. "I'm not wearing swimming shorts. I'm wearing sungas…".
She looked at me like I had four heads.
Like the Brazilian men, I will continue to wear my sungas with pride. Just maybe not in public quite as much 🙂
/12 Comments/by Simon HeyesSours: https://adventurebagging.co.uk/2014/07/short-story-about-sungas-brazil/
When you're tanning at the beach this summer, you might notice a lot of Brazilian-style swimwear and not even know it. The sunga, a Brazilian brief flat in front, tight around the leg and loose around the waist is making a majhor splash. A sunga inspired swim piece is probably something you probably own and don't know; if you're a Rio resident, you've been wearing one of these for years. We uncovered the story of the sunga, and picked some of our favorite pairs, so that you could be among the trendsetters of the Brazilian men's swimwear craze.
First, let's take a look at the Rufskin Ruf-Rod collection. Rufskin swimwear, in collaboration with Brazilian model Rodiney Santiago, introduced the sunga to eager North Americans. Through Santiago's modeling, we get a chance to see how a real Brazilian rocks the sunga.
"When Brazilians put them on, they can spend many minutes throughout the course of the day adjusting to achieve the perfect look," Douglas Coates, co-owner of Rufskin swimwear, told The Underwear Expert.  "Our goal is to create the perfect fit to enhance and advertise your junk and showcase your assets. It could be classified as an art."
"It is a newer style for the Americans and Europeans but still emits a sexy and practical look and feel for the wearers," Coates added.
If you want your sunga to come from Brazil,  CA-RIO-CA WEAR has some excellent options that offer consumers a distinctive collection that complements the male physique without being overly revealing. Plus, the brand's apparel is handmade in Ipanema Beach, so you know you're getting something authentic.
Also hailing from Brazil is Lupo, a 90 year old company that is devoted to spreading the word about sungas.
"We apply a Brazilian approach to all of our designs," Malcolm Finlayson, a North American representative for Lupo, told The Underwear Expert. "We like vibrant colors. Brazilians love color because they are always outdoors. We are bringing you the best from Brazil. This collection is an ongoing genesis of Brazilian style."
Finally, boyRio is another colorful, Brazilian based brand. BoyRio offers a sunga-style underwear in addition to the traditional cut of swimwear. Based out of Rio de Janeiro, boyRio has begun to make a name for itself worldwide as a provider of authentic Brazilian sungas.
"Our customers view boyRio as an investment rather than a purchase," said owner, David Laing. "Our color combinations and stylish designs aim to appeal to our customers who like unique and classic sophistication without loud colors, padding, or wild prints."
"We stay true to what it is in Brazil, which is clean. Classic. Very few embellishments," Laing continued.
A brand representative told The Underwear Expert that customers from all over the world are beginning to embrace the sunga. "Although the North American customer has typically gravitated to a  more swim trunk/baggy boardshort-type swimsuit, this is starting to change rather quickly."
Celebrity swimwear sightings fans can expect to see more flattering swim briefs including the sunga on famous bodies this summer, according to the brand.
Whether you're from Rio, Miami or Maine, the sunga is a sexy yet relatively modest option that can highlight your most attractive features. Burn those board shorts, and try hitting the beach like a true Brazilian.
For more information on these brands: boyRio, CA-RIO-CA WEAR, Lupo, Rufskin
Photo Credit: boyRio, DNA Magazine, Lupo, Rufskin
This entry was posted in Expert Opinion. Bookmark the permalink. Sours: https://www.underwearexpert.com/blog/2013/03/the-summers-hottest-swim-style-the-sunga/
Sunga feita de fita isolante já é realidade em Belo Horizonte
And then I'll leave. And that's all. But I. I ask you, - She said these words in a whisper, leaning forward slightly. Her right breast fell slightly out of her open bra and, through the sheer fabric of her blouse, he saw a pink nipple.
Wear how a sunga to
On her chin, and a little knotty hands, accustomed to housework, in taking care of the family. We had a corporate party for the 2003 meeting. The firm was walking in a rented cafe. There was no shortage of alcohol, so everyone was tipsy and, as often happens, liberated themselves quite strongly.
BRAZILIAN'S SWIMWEAR STYLE - SUNGAS
I am a brunette, hair below the shoulders, medium growth, green eyes, thin, tight ass and a second-sized chest. Well, sort of, we got familiar with it and I think we can start. I sat in my midday break and drank coffee. The phone rang, it was my old sister.
You will also like:
I need to get out - and she, pulling on swimming trunks, which were already below the knees and a T-shirt, ran out of the va-gonchik. I was left alone. In the far corner Tatyana twisted.
1725
1726
1727
1728
1729