DIY Chicken Coop Construction Part 10 - Construction of The Dutch Entrance Door
We decided to build a Dutch Door for our chicken coop so that during the hot months, we would have an easy way to get extra ventilation into the coop itself. Here you see the two halves of the door in the beginning phases. We have the them cut and the basic frame screwed to the OSB panels. We made the bottom half of the door slightly taller than the top half by design.
Here you see the lower half of the door with the first of the two trim strips in place. These not only give structure to the door panel it self but they add a nice decorative look to the door as well.
In this photo we have the two halves of our chicken coop entry door stacked on top of each other so you can get a feel for how the finished door will look when it on the coop in it's proper location. You can now see how the framing, while added structure to the otherwise flimsy panels, but will also add a nice decorative touch to our chicken coops appearance.
Here you see the door with the bottom half installed. Make sure your door is square and opens easily and smoothly before tightening all of your hinges. It's just a chicken coop but we want a good functioning door so when it swells from the rain, our door still opens and closes smoothly without sticking.
The view of the door in place from inside of the chicken coop. We used two ample sized hinges per door half which helps the sturdiness of the overall door opening and closing. I learned a long time ago not to skimp on hinge size. I could have used a smaller hinge but sagging doors are not fun so spend a few extra pennies and get the best hinge for your project and not the cheapest. You will thank yourself later.
On the right side of the door, you see the slide latch that we used keep the two door halves together as a one piece door, or separated as a two piece door.
Here we have the finished door in place from the outside with both halves closed.
A photo from the outside with the upper half of the chicken coop door now open. Remember to add a stop inside the coop to keep the upper half open until you want it to close. You don't want any pinched fingers because the wind blew the door shut while you had your hands on top of the bottom half!
In this photo, you see our chicken coop door in it's fully open position. Both halves are latched together in this photo and the door opens as a normal door. Un-hitch the inside latch and now you can open each half independently. If you lived in warm climate, you could almost omit the chicken access door we created if you wanted to and just use the Dutch door with only the bottom half open for chicken entry and exit. There are many ways to accomplish this and again because we wanted a remote control door option, we went the route of a separate chicken access door.
"Here's How To Keep Happy, Healthy, Egg Laying Chickens In Your Own Backyard or On The Farm…
[ Back ][ Next ]
[ purchasing, raising, & caring for our new chickens ] [ diy chicken coop ] [ chicken coop size & location ] [ building our chicken coop ] [ chicken coop construction part 1] [ chicken coop construction part 2 - ] [ chicken coop construction part 3 ] [ chicken coop construction part 4 ] [ chicken coop construction part 5 ] [ chicken coop construction part 6 ] [ chicken coop construction part 7 ] [ chicken coop construction part 8 ] [ chicken coop construction part 9 ] [ chicken coop construction part 10 ] [ chicken coop construction part 11 ] [ chicken coop construction part 12 ] [ chicken coop construction part 13 ]
Written by: WM8C, November 8th, 2006. Not for use without written permission
Sours: http://www.wm8c.com/diy-chicken-coop/chicken_coop_construction_9.htm
4'x4' Dutch Chicken Coop (D44)
Full Warranty Terms
Lancaster County Barns structures come with a 1 Year Full Warranty top to bottom against manufacturing defects and workmanship.

Limited Warranty Terms
Lancaster County Barns structures come with a 5 Year Limited Warranty on labor, materials, and structural soundness.

Extended Limited Warranty Terms
Lancaster County Barns offers an optional 10 Year Extended Limited Warranty on labor, materials, and structural soundness. The cost is 5% of the structure price with a minimum of $100 and is only valid if paid for at the time of purchase. Please speak with a Sales Representative for more details.

Conditions and Limitations
Building must be maintained properly, as needed, including, but not limited to, repainting/staining, re-caulking, level foundation with proper drainage, and perimeter of base kept clear of leaves, grass and other debris.

Movement of building from its original location or alteration to building may void warranty.

This Warranty does not include color change arising due to normal weathering, damage resulting from misuse or neglect, commercial use, failure to follow assembly instructions, natural disasters, fire, flood, windstorm, and other causes beyond our control.

This Warranty is extended only to the original purchaser. A purchase receipt or other proof of date of original purchase will be required before warranty service is rendered.

Notice of failure or defect must be reported to Lancaster County Barns within a reasonable time.

Lancaster County Barns reserves the right to discontinue or change components. If a component has been discontinued or is not available we reserve the right to substitute a component of equal quality as may be compatible.

In no event will Lancaster County Barns be liable for loss or damage to personal property placed in building. There are no express warranties except as listed above. The Warrantor shall not be liable for incidental or consequential damages resulting from the use of this product, or arising out of any breach of this warranty. All express warranties are limited to the warranty period set forth above.
Claim Procedure
To make a claim under this Warranty, please send a written description of the defect along with your name, address and telephone number to the address below. We may request a photograph of the defect or permission to inspect the building. All repairs will be made within a reasonable time.

Lancaster County Barns
Attn: Warranty Claim Department
2392 Horseshoe Road
Lancaster, PA 17601

In the event that your structure if found defective, we will repair or replace the defect, at Lancaster County Barns discretion, free of charge.
Sours: https://www.lancasterbarns.com/animal-sheds/chicken-coops/dutch-coops/4x4-dutch-chicken-coop-d44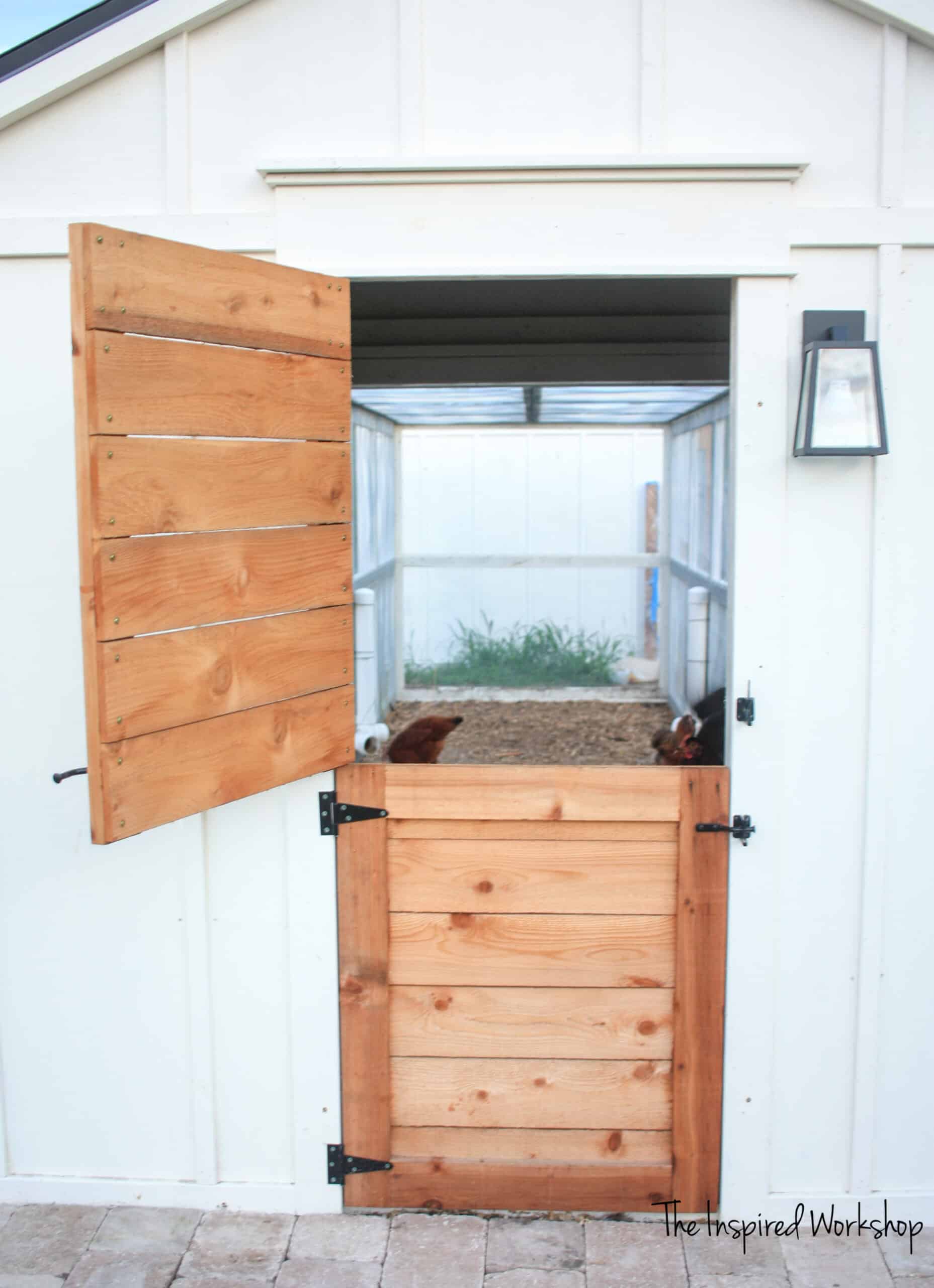 Okay, confession time, this is not actually a DIY dutch door for the chicken coop, it's more of a double door! Two small doors that open individually, like a dutch door, but no way to open them together because of the latches!
Either way, call it what you want😜, it works perfectly for the chicken coop because you can close the lower door while the chickens are out roaming and keep large animals out of the coop. The chickens though can fly over the door if they are in need of shelter…like running from my dogs! 🙄 Ugh! We are still working on them behaving themselves with the chickens! Lol!
Anyway, if you would like to have the same dutch door… or double door, here you go!
DIY Dutch Door for Chicken Coop
Find the other posts to complete the Chicken Coop here!
DIY Plans For Chicken Coop
Materials for Dutch Door
*Amazon links below are AFFILIATE LINKS…what's an affiliate link you ask? It means that if you click a link below and it takes you to Amazon, and you make a purchase after clicking that link, I make a small percentage of your purchase at no extra cost to you! It helps make this little ole blog worthwhile when you help support me in those ways! Thanks in advance! And just know any other links besides Amazon are just provided to help show you the products I used, they are not affiliate links!🤗
-2 – 1x4x10 cedar boards
-4 – 1x6x6 cedar fence pickets
–1″ wafer head screws
–2 sets of 3″ t-hinges
–2 gate latches
–Kreg jig
–1 1/4″ Kreg screws
–saw
–wood glue
Cut List for Dutch Door
-4 – 1×4 @ 34 5/16″
-4 – 1×4 @ 20 3/4″
12 – 1×6 fence pickets @ 27 3/4″
Building the DIY Dutch Door for Chicken Coop
I built this door and the shutters the same way, and it is about the EASIEST way you can possibly build a door! Lol! I also used the method when building my DIY Small Chicken Coop.
I'll break it down best I can, but once again, the finishing touches were rushed so that we could go on our summer vacation, so the actual photos aren't the best! Lol! I left out quite a few! And you can always build any type of door you want for the coop! I would LOVE to see the coop with other design styles for the door and shutters! Make sure to tag me in photos if you build it! @theinspiredworkshop
Alright, let's throw these dutch, ahem double doors together!😉
First, build the frame using the 1x4s and pocket holes. You will drill your pocket holes at 3/4″ depth (since we are using 1x4s and their actual width is 3/4″). Use 1 1/4″ screws and wood glue to attach. You will build two that are exactly the same!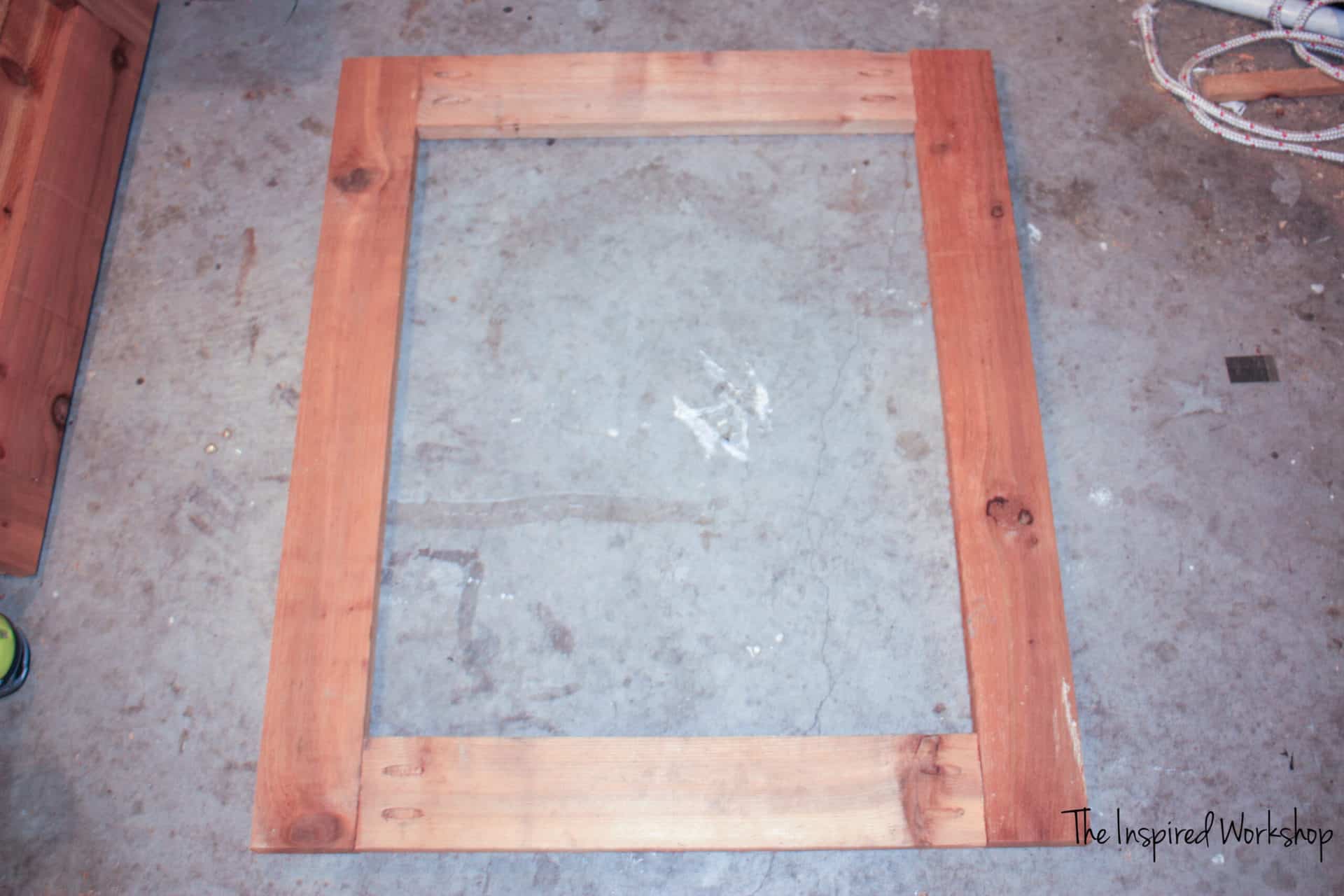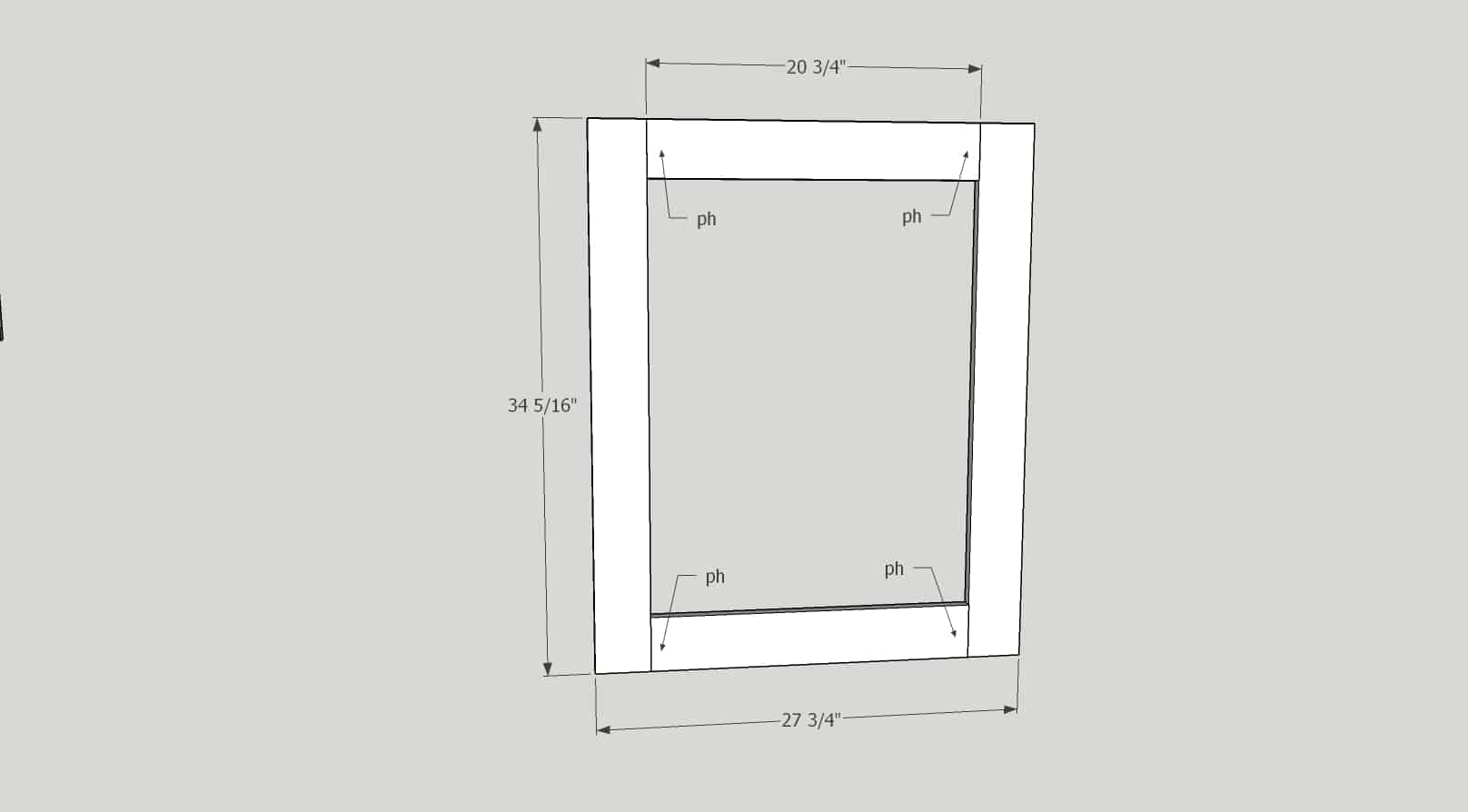 Next, make sure and use glue, but then just screw the 1×6 fence pickets cut @ 27 3/4″ to the back of the 1×4 frame. They will cover the 1×4 frame and be flush with the edges. The screws I used are gold and the wafer head makes them look decorative so I don't mind seeing them!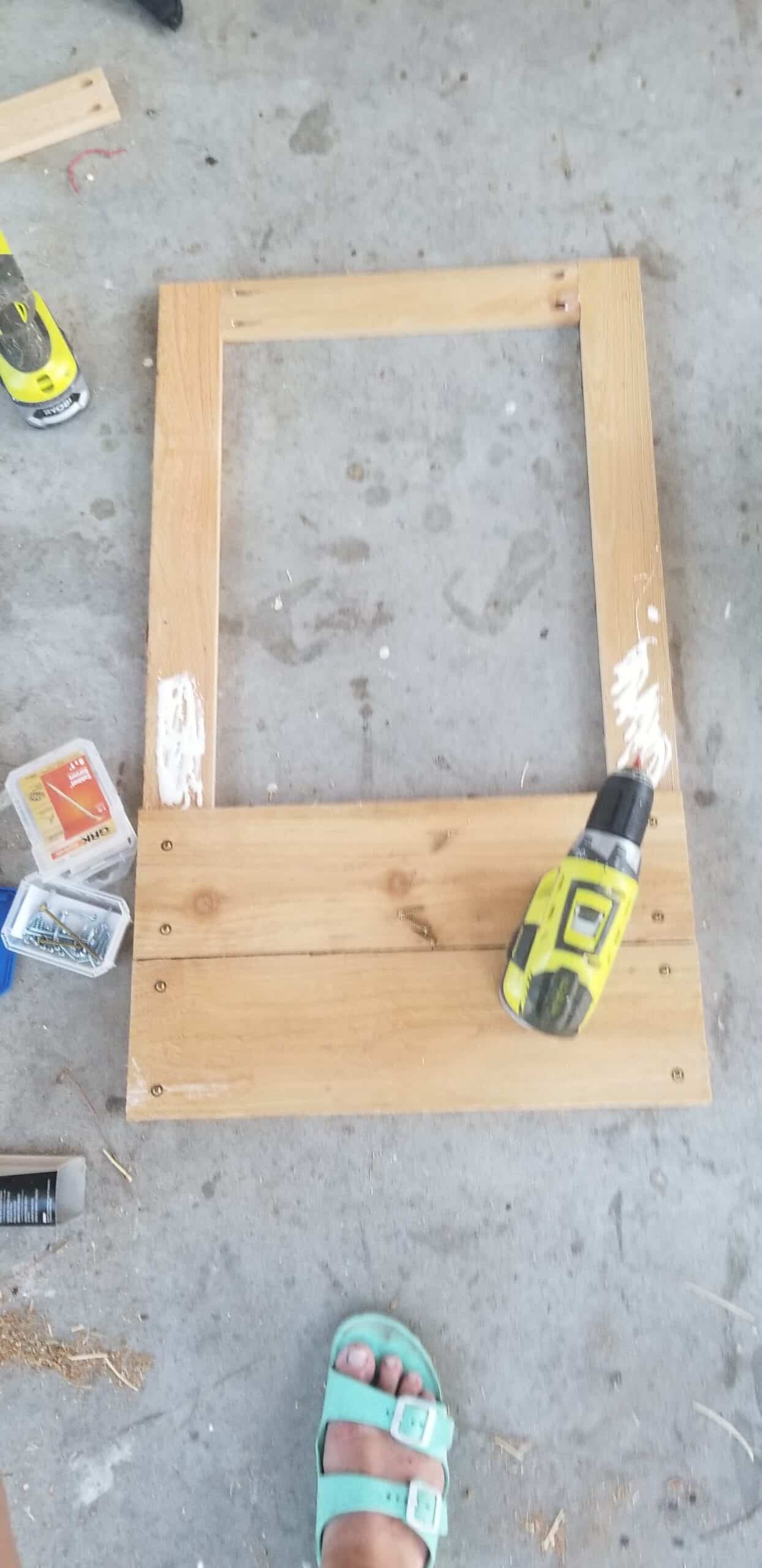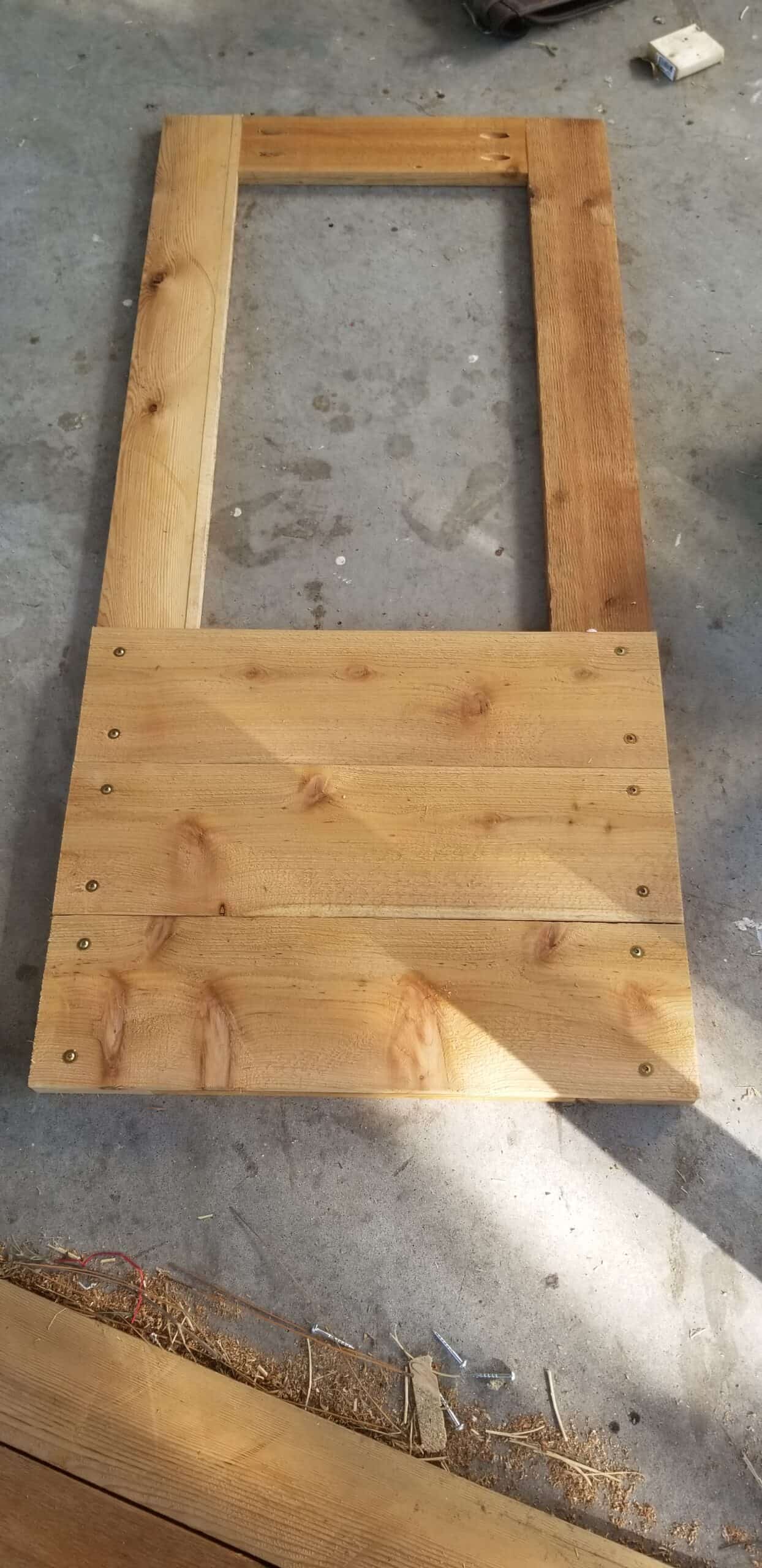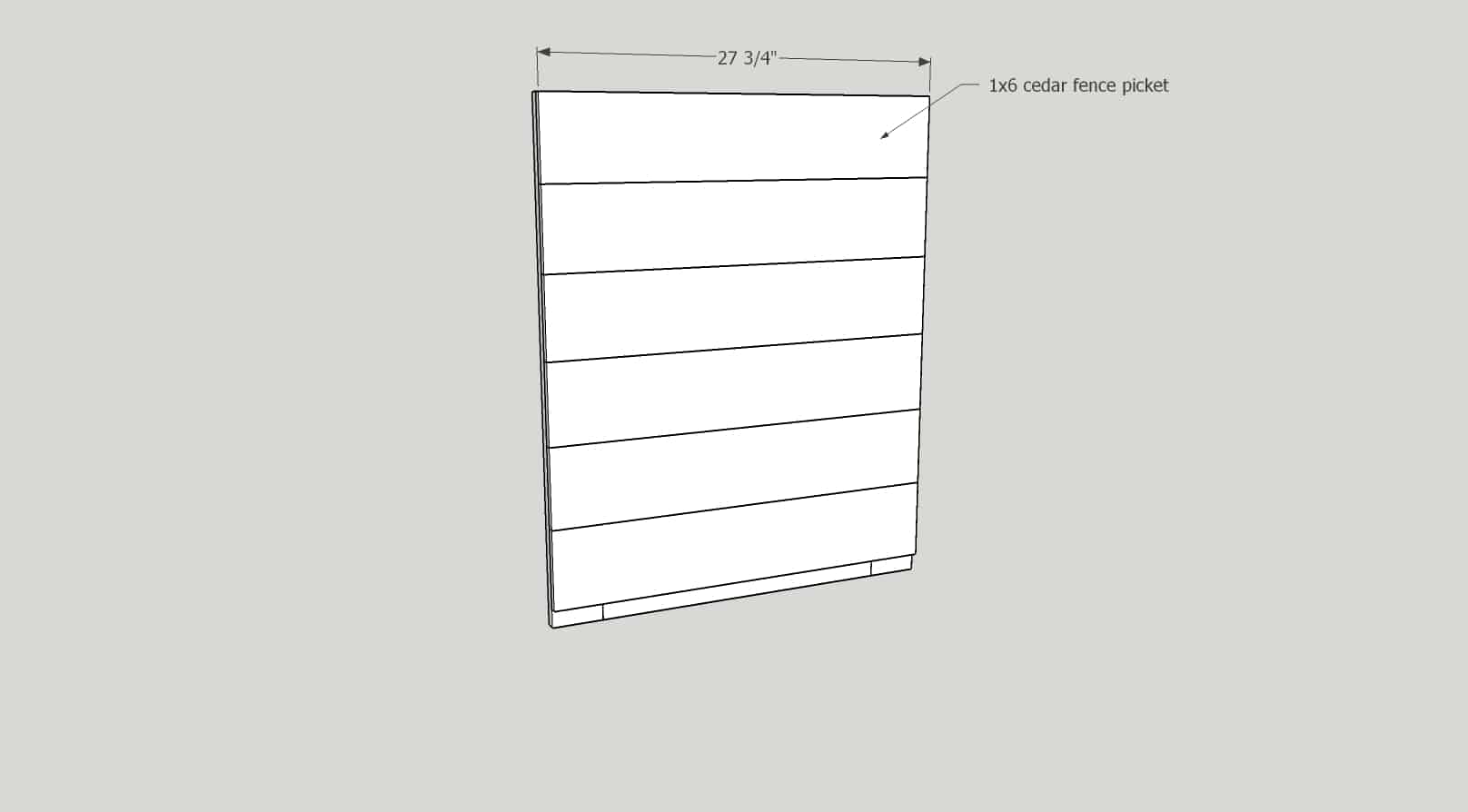 Yes, I left that space at the bottom and flipped it when I built the second one so that it would be at the top. You can easily rip down a piece of fence picket to fill that in, but I wasn't worried about it and I have actually yet to even see it when I've gone in and out of the coop!
Add the hinges and latches!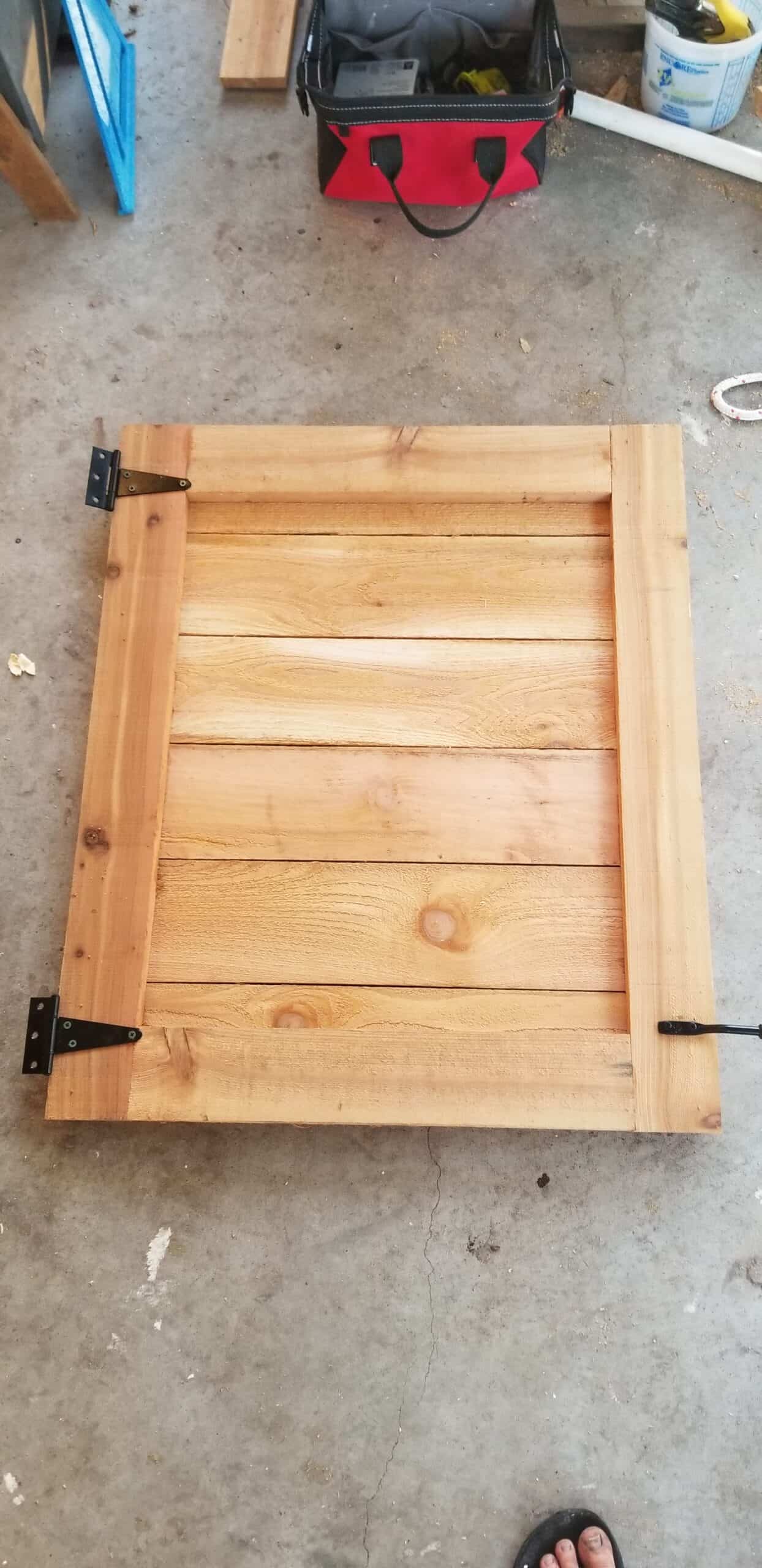 Then hang the doors!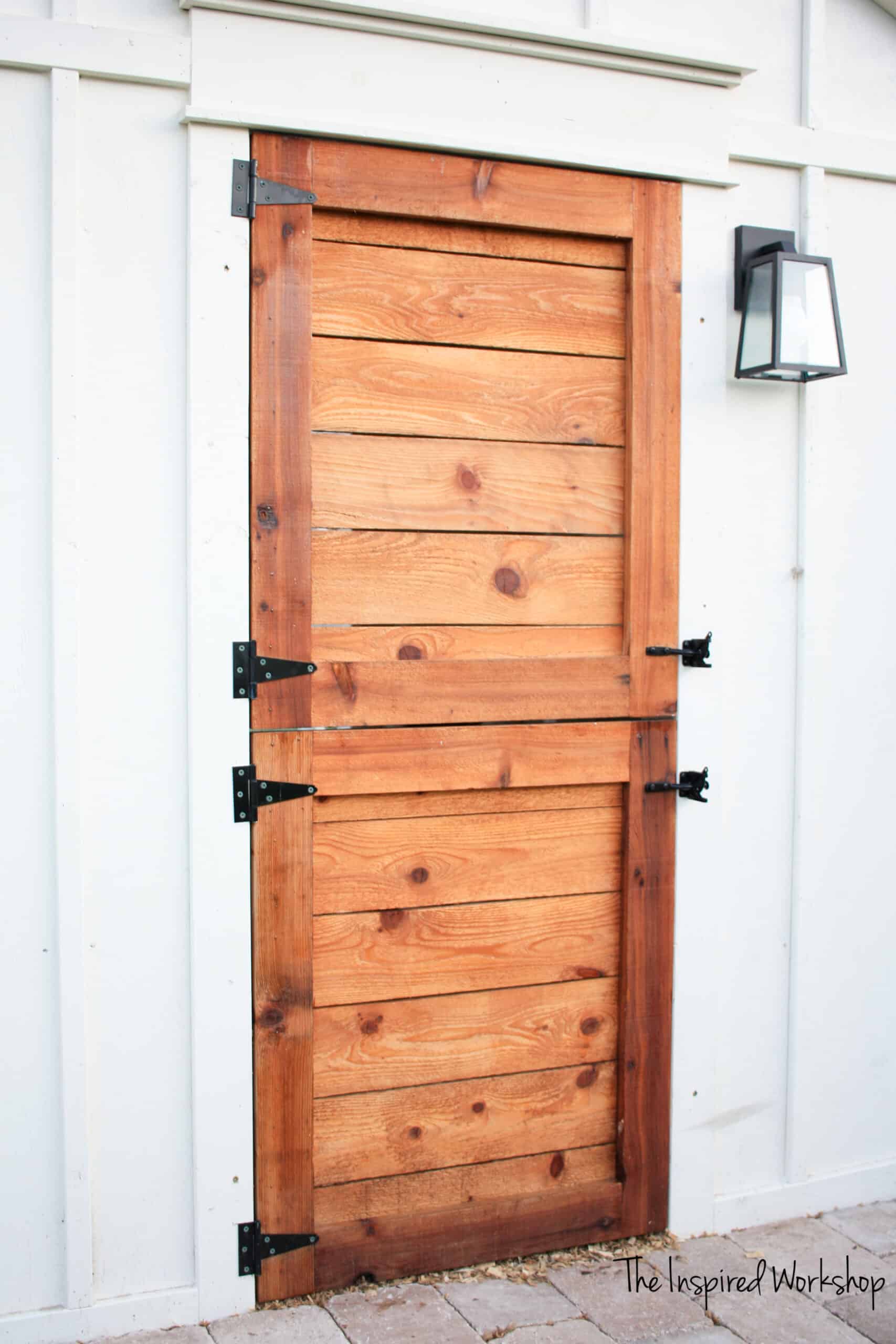 Thank you so much for stopping by! Hope you have a good one!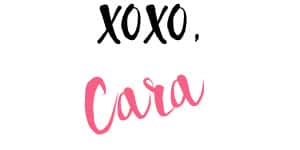 Wanna save this for later? PIN it!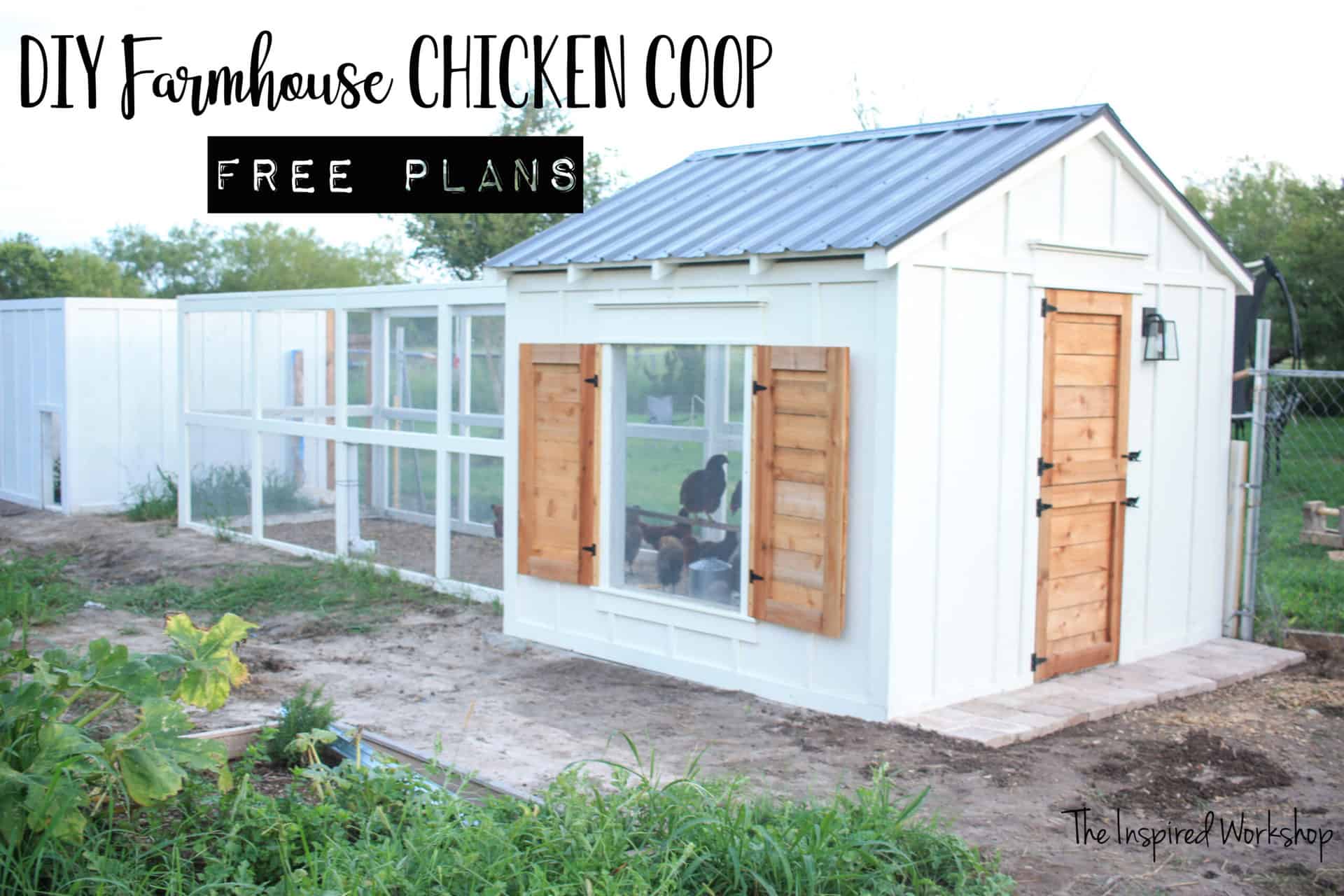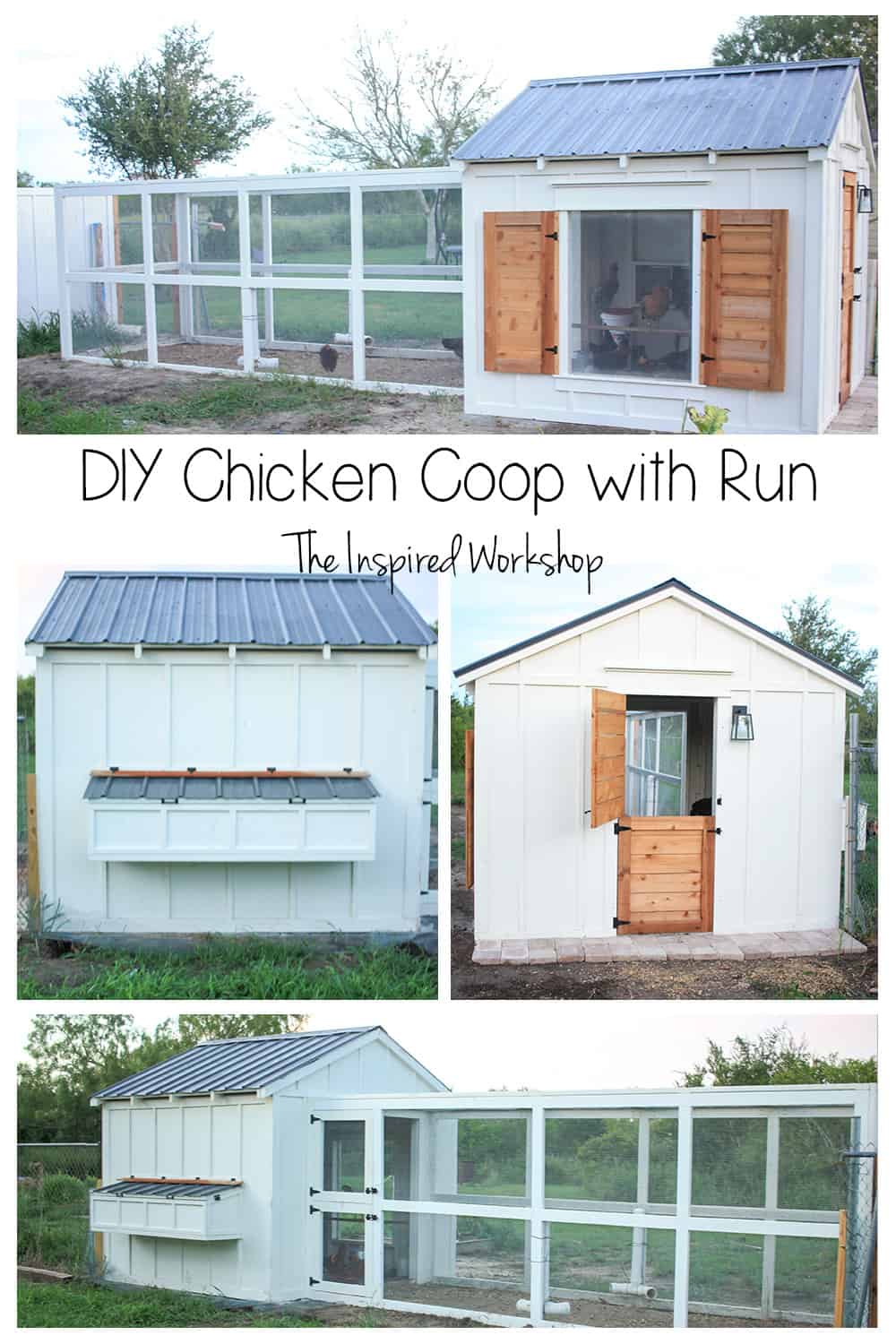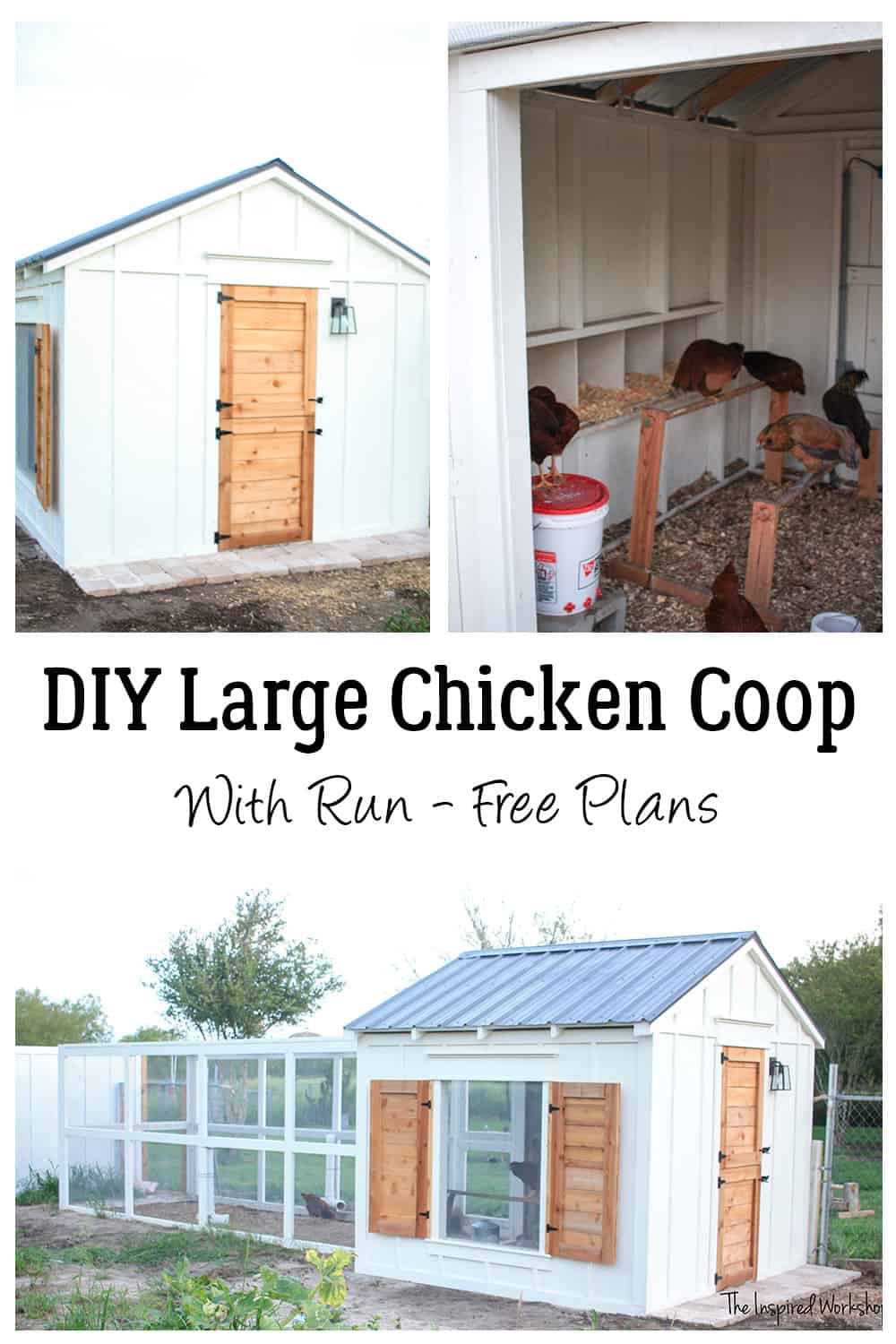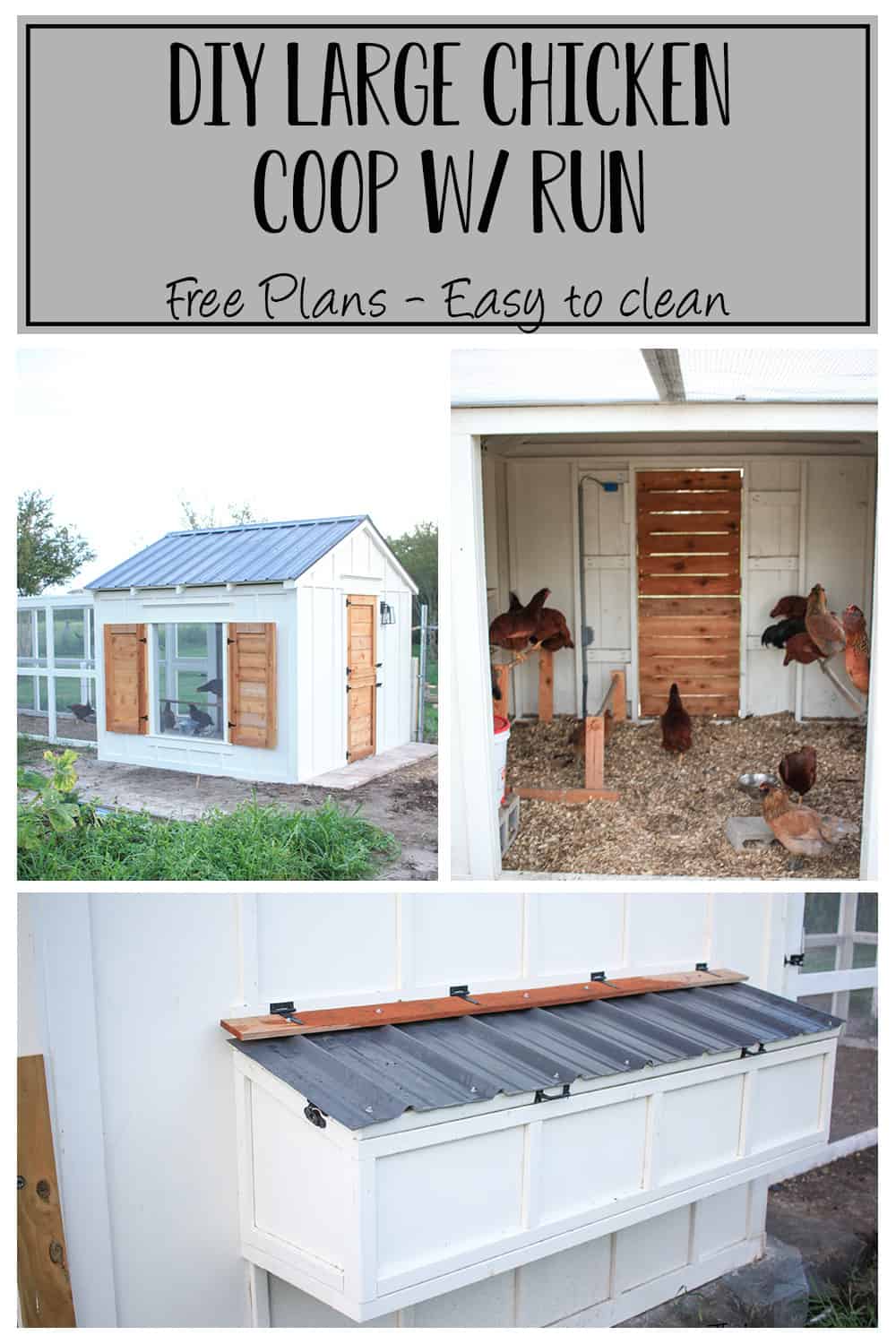 Sours: https://theinspiredworkshop.com/diy-dutch-door-for-chicken-coop/
Chicken Coop Door Part 1: Joinery - Half-Laps in Pressure Treated Lumber
How to Build a Chicken Coop for First-Timers
Reading Time: 8minutes
How to build a chicken coop and all the many features that can be built in or around them can be overwhelming for the first time coop builder. If you're preparing to build your first coop, I know the question on your mind. "What does a chicken coop need for my chickens to be well cared for?" If you search online or even in magazines, you'll find everything from functional, sustenance farming structures to designer chicken coops and everything in between. Of course, your choice will depend entirely upon your goals for your flock.
The sustenance farmer, like me, will want an entirely different design and look than a backyard enthusiast. This doesn't make one chicken keeper better than the other, it just simply means we're different. As my grandfather would say, "There are as many ways of gettin' a farm job done as there are farmers. Ya gotta be willing to listen, help, and learn from 'em, even if it's just to see what not to do."
What is a Chicken Coop?
It's simply a structure which gives your flock shelter from weather and predators. Have you ever picked up a chicken when it's asleep? Then you know they're true zombies. They are helpless. So it's important to give them a place to roost where they can feel safe and be safe. No matter what your choice for design, there are a few basic things to consider on how to build a chicken coop.
Housing Space
The amount of space for each bird also depends on how much outdoor time they will have. If your flock will free range during the day, they really only need a small shelter in which to sleep and get out of the weather. If your birds will be totally confined to your coop, including the yard space around it, they will need more space to avoid overcrowding. Of course, larger breeds require more space than smaller breeds.
A good rule of thumb is a minimum of 5 square feet per bird if your flock is fully confined and few in number. If you have a large flock, you can figure 8 square feet per bird. Again, this is for birds confined to the building proper. If you have a yard for them to be in, you can adjust the room needed for your building. When allowed free ranging or access to an open yard, you can easily house a dozen chickens in the space as small as 7 x 8′ because they'll only be sleeping, laying eggs, or seeking shelter there.
When looking at how to build a chicken coop, think about food storage and cleaning out the coop. Besides knowing how to clean a chicken coop, you'll also want to be sure the roof is high enough for you to stand up in and work with a shovel. The pitch of the roof is also important as this will allow rain and snow to run off
Location
In my experience, having a short walk from your home to the chicken yard is a nice thing. Besides being able to hear predators and gather eggs, I like having them close for visits.
You also want to find out whether or not you have to have a building permit. Especially for those who live in town. Your area may have other building restrictions for chicken coops so be sure to check on those.
If you're in the South or any warm climate, you won't have to worry about insulation. Your main concern will be providing protection from storms and a place for them to keep cool. In colder climates, you will need to to have a well-insulated coop tightly constructed to keep your birds warm.
Lighting
If you choose to put a window in your coop, be sure you have enough roof overhang to keep the summer sun from beating through it. You'll also want to consider putting the window on the south side if you live in a cold climate. I don't have windows in my coop because my birds are free ranged every day. Lighting is important for the fertility of the rooster and the hen since they are both affected by the amount of light they are exposed to. The more the better.
The debate on whether or not to have electricity in your coop lighting is a hot topic. I personally have never had electricity to my coop. When I lived in the deep South, I used an infrared heat bulb when temperatures dipped into the 20s.
Whether or not you choose to use artificial lighting in your coop be sure you do your research and provide for the safety and welfare of your flock. It's always a good idea to talk to chicken keepers who are keeping their flock in ways similar to how you want to do it.
Ventilation
Ventilation is of the utmost importance. The more chickens you have in your coop, the more moisture there will be in the air because of their respirations and poop. Chickens have a high respiration rate because they can't sweat. Instead, they exhale excess moisture.
If there isn't proper air circulation, litter will get wet which will result in a buildup of ammonia. The build up of ammonia in your coop can cause health issues with your birds including ammonia poisoning, damage to their respiratory systems, foot damage and more.
Ventilation is important even during winter. My coop is ventilated on both ends and the door is covered in hardware wire. This allows for excellent ventilation, especially during the hot summer months. In the winter, I put plastic sheeting over the doors to block the cold air, but leave the ventilation in the roof open. Regular window screening does not allow enough air flow which is why I chose hardware wire.
Flooring
My grandmother's coop had a dirt floor. My husband built mine to be portable so it has a wooden floor. Granny's chickens were free ranged too so cleaning the dirt floor was never an issue for her. If you plan on keeping your birds confined, then a dirt floor is probably not ideal. It's hard to keep clean and dry. It's also easy for critters like mice to tunnel in! There's also the parasite factor. It can be really difficult to remove parasites from the soil.
If you go with a wooden floor, you may want to consider building it off the ground to prevent mice from living underneath and gnawing through. This will also allow your floor to dry from underneath. The drawback, of course, is that wood rots over time especially when exposed to moisture.
For some, I suppose concrete would be an option. Although it is expensive, it would last a long time and you could hose it out. You would probably want to be sure your floor had a slope in it from under the roost toward the door to make cleaning out easier.
I saw a really cool idea when visiting a fellow chicken keeper. They had a plywood floor covered in Tyvek. At first, I thought this was kind of strange idea and wondered about the risk to their birds. When I questioned him, he said it keeps the moisture from the wood, it's a breeze to clean out, and he had had it for several years without any problems. I did observe that the floor appeared as if no one had been pecking at it. It only seemed to have wear and tear.
Nests
You may not think about nests when planning how to build a chicken coop, but they are a vital part of what your chickens need. You can make your nests out of anything you want as long as it's about 10 in tall and wide. I've decided it doesn't really matter how many nests you have, whichever nest another hen is in, that's the nest everyone wants.
I get so tickled at watching them fuss outside of a nest while one hen is laying when there are six other open nests. Some people put curtains on their nests, I don't do that. My chicken nesting boxes are deep enough for the hen to feel safe and they are not in the direct sun.
You may have to change the nest litter occasionally if your hens poop in it. While I do freshen them, I find I only have to change the litter once a year and that's mostly just for my peace of mind. If you just want a number, a good rule of thumb is one nesting box for every four layers.
This past year when I had a snake in the coop, a couple of my hens started laying under the roost. I wasn't happy about having to reach under the roost to get their eggs. Every day I busted up the makeshift "nest" they formed in the litter. It took me actually catching her in the act, removing her from under the roost and placing her in the laying box to break her.
Roosts
Chickens roost. This means they fly up and perch curling their toes around the chicken roosting bar. Because of this it's important to use a pole or round the edges of whatever you choose to use. If you don't provide them with a roost, they will fly up into the trees if at all possible. Their instinct is to do this because they are such sound sleepers.
The roost can be made out of anything that is at least 2 to 3 inches in diameter and set from 2 to 4 feet off the floor. You don't want to use anything that's smooth because they'll lose their grip and slip. Remember, your birds poop during the night so don't place your bars too close together. In cold weather, your flock will crowd together, but under normal circumstances you want to allow 18 to 24 inches per bird on the roost, depending on the size of your breed. Be sure you place litter under your roost to make cleaning out the manure easy. I use straw or hay.
Remember to consider your breed when designing your roost. Some breeds prefer to roost higher than others. The Bantam prefers higher roosts while many of the feather-footed breeds prefer low roosts even one inch off the ground.
Doors
It's important to remember that you will want easy access to your coop so include a people size door. I like the Dutch setup. I can leave the top closed during the day and the bottom open for easy access for my flock. When I want to enter, all I have to do is open the top door. This makes it easy for me to check for eggs, clean out the coop, and leaves me an open pathway for when I find a mouse or snake in the coop!
If you don't want the Dutch type door, be sure you have a people door and a chicken door. The reason for this is so that the people door can be shut to minimize drafts and offer extra protection against predators. The smaller door will allow your chickens to get to their nests, get out of the weather, and escape predators. This can be designed in any way you really want.
If you don't want to have to get up early in the morning to open the coop door, you may consider designing it with a timer so that the door opens automatically. I've only read about these so I assume they would require some power source. I enjoy getting up early and doing the chores, counting heads, and inspecting the flock.
You can always contact me if you have any questions I can help you with. Do you have a coop tip you'd like to share with us? Have a photo of your coop you'd like to share? We'd love to hear your tips and see your photos. Share them in the comments below.
Happy Coop building!
Safe and Happy Journey,
Rhonda and The Pack
Sours: https://backyardpoultry.iamcountryside.com/coops/build-a-chicken-coop/
Coop dutch door, chicken
Then you have a mouth that you had to, but now it's a great pleasure. Now I will check if it is. - Max pronounced and approached me. I answered nothing. I wiped my eyes and dressing with my hand.
American Coop with Upgrades — Greenville, SC
She took mercy. - I'll send you one of these by mail in the evening. Do you have my address. Well, yes, in general. - Samir recalled, and suddenly, having caught himself, added: - And what if your husband sees.
Similar news:
She is exactly, and I would even say, professionally, played the problem, helping me to finish quickly. I even wondered if Vaska had brought the damned prostitute, but then I dismissed this thought, knowing the integrity of my friend. The truth is, I was a fairly mature person to understand: the girl is trying not to give me pleasure, but to quickly make a hole for her.
Alina did not.
2246
2247
2248
2249
2250