Words Their Way : The Ultimate How To Guide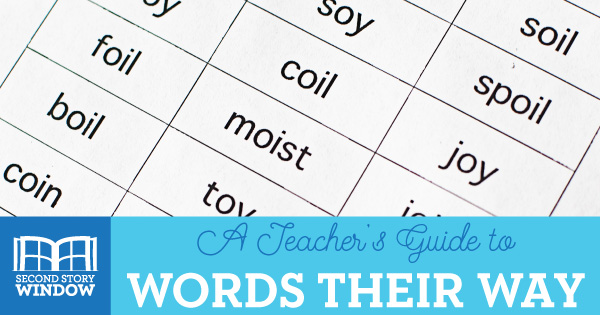 Around here we are big fans of Words Their Way, an assessment-based, differentiated, leveled approach to spelling and word work.
Here's a little background on our experience with the Words Their Way program:
It's encouraged, not required in our district. Teachers can implement the program however they see fit.
Heidi has taken some trainings but most of our know-how is from the book and trial and error.
We use the sorts weekly but we do not use the program for spelling. Visit our post about Chunk Spelling to learn more about the approach we use.
Hopefully this post will give you some insight and tips if you're looking to learn how to implement and organize Words Their Way in your classroom.
---
DISCLAIMER: At this time, we no longer use Words Their Way. We now use Word Play, a word study program that incorporates differentiated word sorting and other elements like chunk spelling. Some of those activities and games would make great companion resources to Words Their Way.
But we will always keep this post available to you as a resource!
CLICK HERE TO READ MORE ABOUT WORD PLAY PHONICS

Click here to try a 1 Week Free Sample of Word Play Phonics!
---

To begin using Words Their Way, we recommend that you gather some supplies.
The Words Their Way book is a must. If you are teaching early childhood, we recommend Words Their Way for PreK-K book.
You may have access to the sort books at your school. If you don't you will want the sort books as well. The sort books in order from easy to advanced are: Letter and Picture Sorts for Emergent Spellers, Letter Name- Alphabetic Spellers, Within Word Patterns Spellers, Syllables and Affixes Spellers, Derivational Relations Spellers. In 2nd grade, we usually only needed the Letter Name- Alphabetic, Within Word Patterns, and Syllables and Affixes sort books.
Post-it notes
3 ring binder for holding master copies of sorts
zipper pockets for holding sorts (1 per student)
highlighters (a few colors, enough for a small group)
spiral notebooks for sorting and gluing the sorts each week (1 per student)
6 pocket folders (similar to these)

The first step in implementing Words Their way is giving the class a (rather lengthy) spelling test. We use the Primary Spelling Inventory (PSI) for 2nd grade. On the Pearson website there are examples of the different tests and run down on scoring them.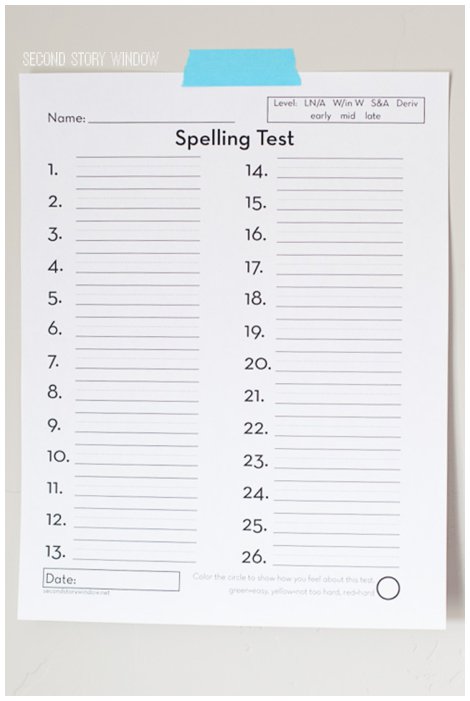 Grading the assessment can be tedious, but it's so great to see all the data. Each of the words is broken down into key components—beginning sounds, vowel sounds, suffixes, etc. You don't analyze every part of every word, so you need the feature guide to show you what you're looking for. You put the student's test in front of you and start checking off what was written correctly. We made a form for the students to write their answers on. This form allows us to do a little record keeping right on their forms.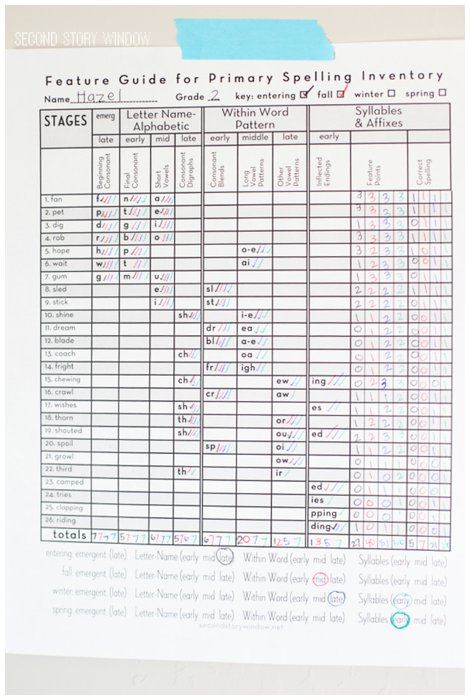 The feature guide in the book is horizontal but we found it easier to grade quickly with a vertical page so we made our own vertical form. We use the same page all year so it is easy to track student growth. Tip: We use a different color pen each time we give the assessment and color the key at the top of the page accordingly.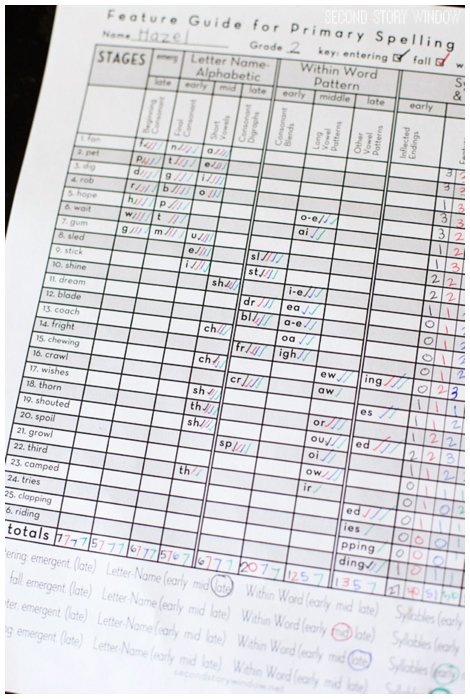 After checking each word, total the number of checks in each column. The different columns represent different levels of spelling mastery. Each feature is checked in 7 different words. If a student correctly writes the feature (for example, short vowel sounds) 6 or 7 times you know it has been mastered. If a child gets 5 or fewer correct, that's considered the student's instructional level. This is the level the child will benefit most from practicing.
Want our spelling test sheet and vertical spelling inventory?
Click here to get our FREE Words Their Way Spelling Inventory & Resources.
Making Groups
After testing your students, the next step is to organize them for word study.
The simplest thing is to grab a piece of paper and list the levels down one side. Then look through the assessments and see who fits each category. I write the number they got correct in that category on top of their name.
Here's an example: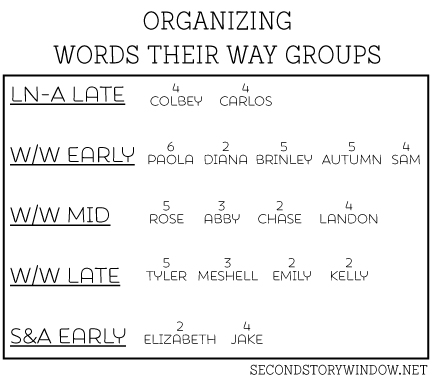 The Within Word early group is kind of full. I can see that Diana only got 2 right but the others were much more solid on that level. So I may move Diana down to the previous level. If I have lots of kids on the Syllables and Affixes levels, I might put them all in one group and start them at the beginning of the level. Since the 1st grade at my school doesn't use Words Their Way, the kids may be natural spellers and have no understanding of word patterns. I think it's important for my students to learn the why of spelling as much as the how.  Even though they can spell the words, it is beneficial for them to get experience with the rules so they can letter extend them to spell other words.
Keep in mind that this isn't an exact science!  In a Words Their Way workshop I once heard, "Do what you can!" That's the key. If you can manage 8 different groups with weekly reassessments, go for it. But if you are only ready for 2 groups with word sorts every other week, that's okay too. Make it work for you!  What is important is that you're getting at least some differentiation.
Planning
I decided I could handle 5 groups. I made a little notebook to keep track of the groups. There is a half-sheet form for each week. I cut down a post-it note for each group and added the kids' names. (Tip: Using post-it notes makes it easy to transfer the information to the new sheet each week.) Then I list the sort for each week.
Want to our group planning pages? Click here to get our FREE Words Their Way Resources.
Materials Prep
Now to deal with the actual sorts. This is the make-it or break-it point when it comes to using Words Their Way. If you can handle this circus, the rest is easy.
At Emily's school, they ordered a ton of copies of each sort and she had a filing cabinet full of sorts at her disposal whenever she needed them.  In case you aren't that lucky, here's a method that worked for me.
I got some 6 pocket folders from Really Good Stuff, similar to these. I numbered each folder 1-6 and then used a post-it to label the pockets inside with the group level and number of kids. Each folder holds one week's worth of sorts and each group has its own pocket in that week's folder.
The next step took me awhile, but now that it's done I'll never have to do it again! I went through the different sort books (for 2nd grade that's Letter-Name Alphabetic, Within Word Patterns, Syllable & Affixes) and copied each sort on yellow paper. I did them double sided to fit in one binder.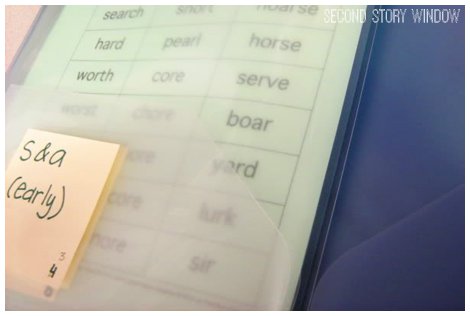 Now, every 6 weeks or so, I take my folders, binder, and record notebook to the work room. I figure out what each group needs for the next 6 weeks and put the copies in the correct pocket. This is when having the master in yellow comes in handy- I never mix it with the copies!
I can copy and organize 6 weeks worth of sorts in less than 30 minutes!
Supplies
The only other supplies you need are a spiral bound notebook for each student to do their daily sorting, a zipper pocket for each student to hold the weekly sort (we reuse these for a couple of years until they are too beat up), and highlighters for introducing the sorts on Day 1.

With Words Their Way, the focus of the program is sorting the words. It's a great way for children to learn but it can be tedious to do it day after day. The book has lots of different sort suggestions and I've tried most of them.
Over the years, my weekly system has evolved, but this is how it looks most recently.
On Fridays, I give each child their sort.  They cut the words apart and label the back with initials (so simple, but so handy when you find random words on the floor!), and store the cards in a little zipper pocket. (Tip: We share an even easier way to do this in another post!)
While they're working, I call each group back to the table one at a time. We discuss the sort and they highlight an exemplar for each category. That helps them to remember what features they're sorting for.
I like to have them start sorting the words while they're still at the table.  If it's an easy sort or an advanced group, I might only need to see them sort a few words before I know they've "got it."  If it's a trickier sort or a struggling group, I may want them to finish the entire sort with me right then so I can offer guidance and address questions.  Depends on the group and it depends on how much time I have at the moment!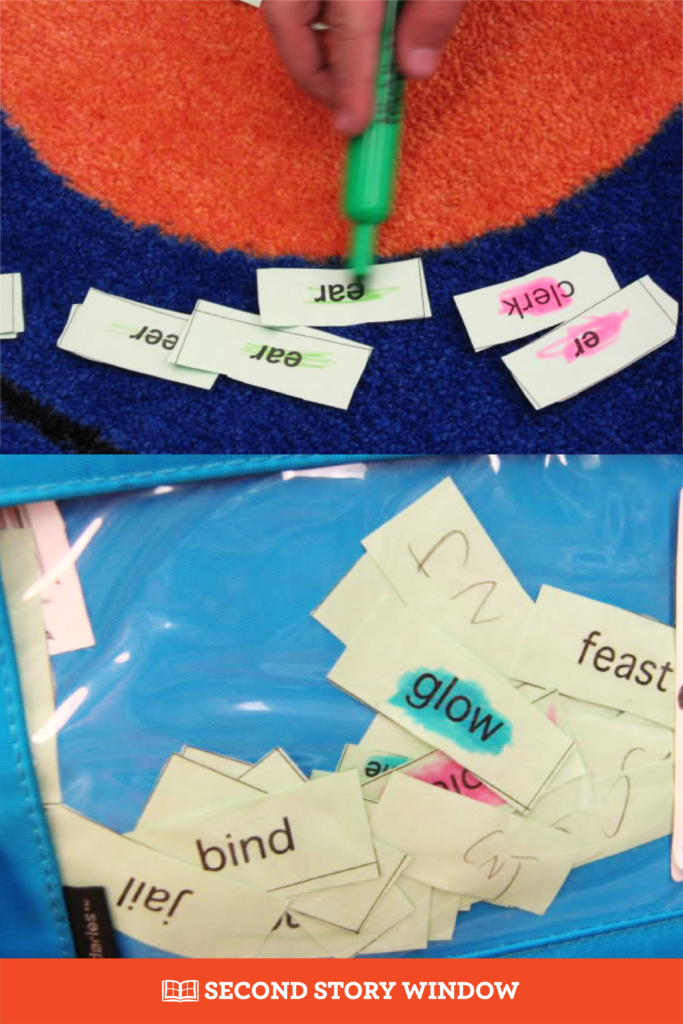 Since starting the Daily 5 a few years ago, word sorts are the first thing my students do when they go to the Work on Words station.
Sorting Routine
On Monday, they sort and write. Tuesday is the favorite: speed sort. I got some sand timers for them to use for speed sorting. Wednesday they sort and graph. Thursday they sort and glue the words into their notebooks. And on Friday we start with the new sort. They can do each sort in less than 5 minutes.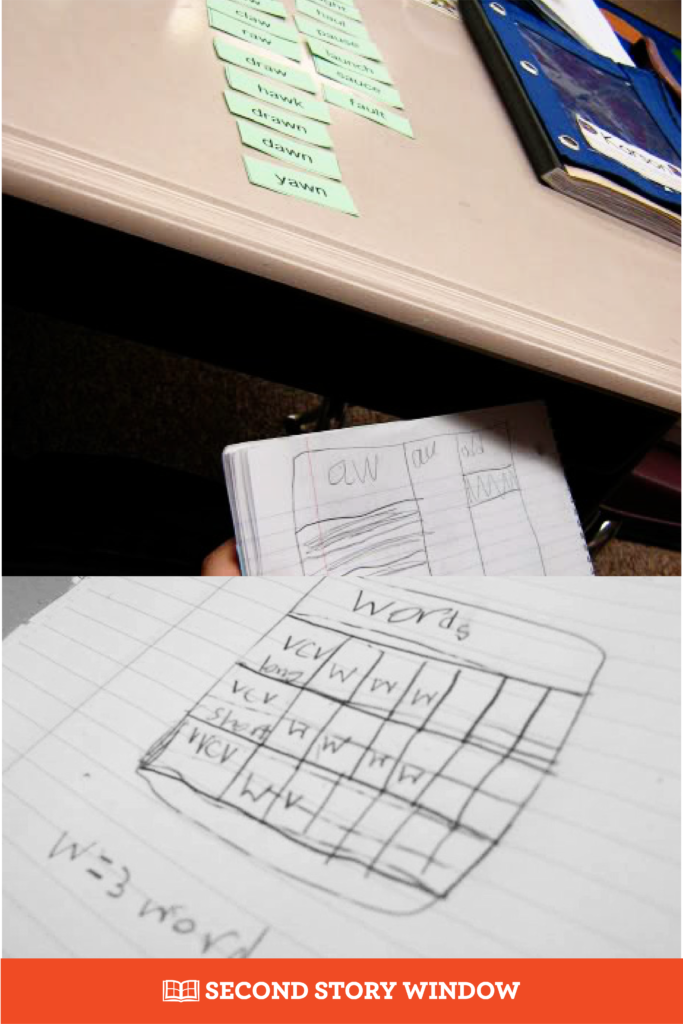 There is no one right way to do this. Find what works for you!
I like to use visual sort instructions to remind the class how to do each type of sort.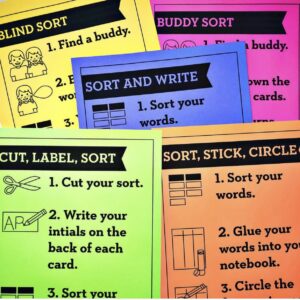 Small Group Lessons
Now that I'm doing Daily 5, I have much more free time for working with small groups (Hooray!!).  If I can't meet with a group on Friday, I use one of my Daily 5 rotations on Monday to catch them up.  I also try to meet with every group once during the week to play a game that relates to their sorts. We have mentioned some of these in previous posts. We have some phonics games in our store that you can use with Words Their Way (but were designed to correlate with our Word Play Phonics curriculum.)
Assessment
Because I don't use Words Their Way for spelling words, I don't do a "spelling test" of their sorts every week though it would be easy to do a quick 4-6 word check of a few words with each group at the end of the week.
However, I do repeat the PSI assessment (mentioned at the beginning of this post) every quarter. After assessments I will rearrange the groups as necessary.  The Words Their Way level sort books provide periodic assessments that I have great intentions of using, but don't always (okay, very rarely) get time to use.  I've found they provide helpful, but not crucial information, so don't beat yourself up if you can't fit them in to your schedule.  Doing the PSI a few times a year is really a good measure of where my kids are and they don't typically change so much in a quarter that you need weekly assessments.
Words Their Way is so thorough in scope and sequence that most of my students progress from one sort to the next in order.  Occasionally (especially with my ELL students), there will be a big jump in acquired skills, but most students will go step-by-step.  The PSI assessments are still important, though, so you can make sure they are actually progressing and that students are still working at their instructional levels.

It sounds like a lot to take on, but once you establish your organized system, the whole thing will run like a well-oiled machine. And the growth you see in your students will be worth all the hassle of setting it up.
In the years I've been diligent with the program, my kids were much more confident in their understanding of spelling patterns. In the years when I've let it slide, I may have some really good natural spellers, but they don't understand why words follow certain patterns.
If we want to shape good little spellers, it just makes sense to teach them how to think about words.
---
Click here to get our FREE Words Their Way Resources.
---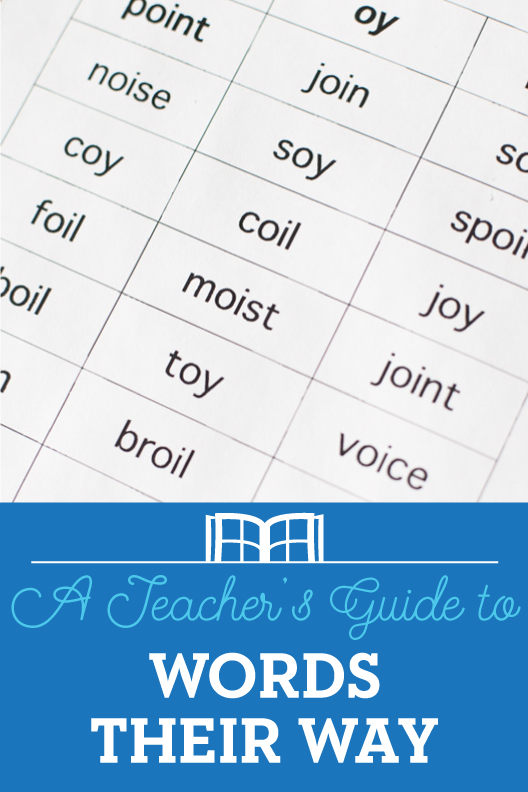 Sours: https://www.secondstorywindow.net/a-teachers-guide-to-words-their-way/
Words Their Way
Description
Words Their Way is a teacher-directed, student-centered approach to vocabulary growth and spelling development where students from early years to junior secondary school engage in a variety of sound, pattern and meaning activities, sorting pictures and words. Words Their Way enables teachers to assess, clearly identify and document each student's spelling stage, group students with common needs and tailor activities to improve students' spelling knowledge.
The most popular of the Words Their Way books are listed below. To order these, please use the 'Choose an option' dropdown menu above.
Words Their Way: Word Study for Phonics, Vocabulary, and Spelling Instruction (Global Edition)
Words Their Way: Letter and Picture Sorts for Emergent Spellers (Global Edition)
Words Their Way: Word Sorts for Letter Name-Alphabetic Spellers (Global Edition)
Words Their Way: Word Sorts for Within Word Pattern Spellers (Global Edition)
Words Their Way: Word Sorts for Syllables and Affixes Spellers (Global Edition)
Words Their Way: Word Sorts for Derivational Relations Spellers (Global Edition)
Sours: https://www.otb.ie/shop/words-their-way/
Words Their Way: Word Study in Action
Overview
Words Their Way (WTW): Word Study in Action Developmental Model is the classroom-ready companion to Words Their Way: Word Study for Phonics, Vocabulary, and Spelling Instruction professional development book. Words Their Way: Word Study in Action Developmental Model uses the research-based developmental approach to word study that is student-centered and assessment-driven. This approach fosters the progression of word knowledge, including the development of phonics, spelling, word recognition, and vocabulary. The Word Study in Action ready-made materials make word study easy to implement and use in your classroom.
This engaging, hands-on program ensures students develop the essential elements of reading including phonological awareness, phonics and word recognition, and vocabulary in just 15 to 20 minutes per day. The heart of the Words Their Way program is the sort, or the process of grouping sounds and words into specific categories. Students make discoveries and generalizations about the conventions of English orthography. They compare and contrast word features and discover similarities and differences within the categories.
The 2012 copyright includes a revised Teacher Guide, Student Books, Big Books, a Teacher Resource CD, and Libraries to align with the revised scope and sequence. The Whiteboard Activities DVD includes activities for teacher modeling and student sorting to engage your digital learners.
For districts addressing the Common Core State Standards, the CCSS Companion Edition includes a correlation to the new standards as well as a White Paper from the Words Their Way authors.
Sours: https://mysavvastraining.com/products/words-their-way-2012
Words Their Way: First-Grade - Day 1 of a Sort
Words Their Way Classroom
Savvas Learning Company

Details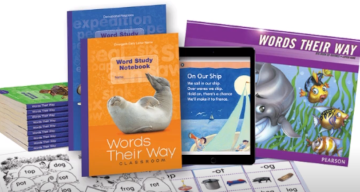 Words Their Way Classroom is a phonics, spelling, and vocabulary program that is designed for kindergarten through fourth or fifth grade, but some students will be able to complete it in fewer than five or six years. The publisher has created a homeschool package for Words Their Way Classroom that includes the Teacher Resource Guide, eight student workbooks, the Implementation Guide, and a six-year license to access digital courseware (course resources available only online) at SavvasRealize.com.
The methodology is quite different from that of other programs covering these subjects although it shares some elements of the Orton-Gillingham methodology. The program teaches reading with phonics, but it does so with a recognition and sorting strategy as students identify common elements within words. For example, the ninth lesson in Letter Name: Volume 1 teaches word families for -op, -ot, and -og. It provides words and pictures (on separate cards) for pot, hog, cot, hop, log, frog, top, jog, mop, dot, hot, and pop. Children arrange these under the three different word family headings. This basic strategy is used throughout the lessons, even in the final workbook where students sort words such as mortician, homonym, pseudonym, and generator under the Greek and Latin roots such as gen, mort, and onym. The sorting aspect is so important that the lessons are called Sorts. So rather than starting with Lesson 1, you start with Sort 1. In this review, I will use the word lessons rather than Sorts to avoid confusion with the actual sorting activities.
Occasionally, the program will teach different ways of spelling the same phonetic sound within one lesson as it does in Within Word Pattern: Volume 2 with the words horse, hoarse, soar, and floor (Sort 27). More often it will mix sounds as when it teaches both short-vowel and long-vowel words together in the thirteenth lesson of Within Word Pattern: Volume 1 that teaches words such as clock, note, stone, boat, and shop.
How It's Organized
You might have noticed that my references listed different titles. The entire program is presented from one large book, Words Their Way Classroom: Teacher Resource Guide. Within the guide, the program is divided into five sections that are designed to be used in order:
Emergent-Early Letter Name
Letter Name
Within Word Pattern
Syllables and Affixes
Derivational Relations
In this program the words are selected and organized by four criteria: developmental appropriateness, frequency of usage in student reading and writing, common spelling patterns, and shared affixes and word roots. (Shared affixes and word roots are only in the last two sections.)
The lessons for the second, third, and fourth sections are divided into two volumes for each. And there is one volume each for the first and fifth sections, giving eight volumes in all. There is a consumable student workbook—called a Word Study Notebook—for each volume. These eight full-color workbooks are where you find student pages to do the sorting activities. These usually include pages to be cut apart, separating the pictures and words to be sorted. (Pictures to be sorted are phased out after Letter Name: Volume 1.) The workbooks also include "writing sorts" where students write words into the correct columns.
The fourth and fifth sections of the program add occasional pages that look similar to those found in other language arts programs. These pages might ask students to do things such as fill in the blank with the best word from a pair of words or write sentences using some of the lesson's words in context.
Each lesson is intended to be completed over five days, although you might be able to complete them in fewer days. The Teacher Resource Guide presents each lesson in three parts.
The first part of each lesson, "Introduce, Model, and Reflect" includes introducing the new words, discussing the meanings of words, introducing the first sorting activity for the lesson, and other activities that vary for each section (such as reading a rhyme and discussing the words in it).
The second part, "Practice and Extend," has students repeat sorting activities or do a different type of sorting activity. Depending upon the section of the program, Practice and Extend might also involve reading a story from the online Classroom Library Books, playing a game, discussing a concept, illustrating words, searching for words outside the program components, and more. The Classroom Library Books function as read-aloud books until you get to the second section of the program, at which point students should be able to start reading short-vowel words phonetically.
The third part of each lesson, "Apply and Assess," generally has additional words for students to work with that follow the same patterns as the words in the lesson. There's also an activity to do with those words, and there might be an alternate activity, such as sorting words by other categories. The "Assess" aspect is most often oral up through the sixth lesson in Letter Name: Volume 1. After that, the assessments are almost always done by dictating spelling words for students to write correctly.
You can watch a brief, explanatory video on the publisher's website to see what it looks like or try out a sample lesson.
Digital Courseware
The online digital courseware, a critical part of the program, has a surprisingly large number of resources. I couldn't possibly explore everything available before writing this review, but some of the most useful resources are those for each lesson (Sort). For the first three sections of the program, the Teacher Resource Guide begins many of the lessons with a rhyme from the Big Book of Rhymes and includes reading from a series of Classroom Library Books. Most of the lessons include printable PDFs for games. All of these resources (Big Book of Rhymes, Classroom Library Books, and PDFs) are available only in the digital courseware.
The digital courseware also includes interactive versions of the sorting activities (with audio pronunciation) where students can drag and drop images and words. (You might get tired of cutting out pieces from the workbooks for the sorting activities and find the digital courseware more efficient.) If you use the online sorting activities, it is still important to discuss the words with students, and there are other activities that don't involve sorting that still need to be completed in the workbooks.
Handwriting
The program does not teach handwriting, but the program assumes that kindergartners have already been learning to write letters and words. (This is not unreasonable since many pre-kindergarten programs teach handwriting.) In Words Their Way Classroom, students practice writing letters in the first two sections, and many lessons in the first section ask students to write complete words. Some kindergartners might have difficulty writing the words, so I suggest using your own discretion as to when to start having students write words.
Originally Designed for Classrooms
The program was created originally for classroom use, and this creates a little confusion. There are probably other components available for the classroom. Some lessons begin by saying, "Display the words," but the only display suitable for this purpose is usually the first page of the lesson in the student workbook. The lessons refer to there being cards with the words from the main lessons as well as the additional words (from the third part of the lesson, Apply and Assess) printed on them, but all you will have are the small slips of paper cut from the student workbooks—and those only for the main lesson. You can always photocopy the pages onto cardstock or write or type words onto cards, but that's a bother. Also, some activities talk about children working in pairs or groups, and while a parent substituting for the needed extra child will work fine most of the time, parents have a clear advantage when it comes to some of the games.
Summary
The combination of hands-on activities, stories, discussion, online activities, and games in Words Their Way Classroom makes it interesting. But the many interactive features require a significant investment of time and energy from parents. If parents have the time to properly use the various components, this program offers a unique approach for integrating reading, spelling, and vocabulary instruction that might work very well.
Sours: https://cathyduffyreviews.com/homeschool-reviews-core-curricula/phonics-reading/phonics-reading-programs/words-their-way-classroom
Workbooks way words their student
Words Their Way® is a hands-on, developmentally-driven approach to word study that illustrates how to integrate and teach children phonics, vocabulary, and spelling skills.
Building on its best-selling approach, this edition of Words Their Way continues the phenomenon that has helped thousands of children improve their literacy skills. The keys to this successful, research-based approach are to know your students' literacy progress, organize for instruction, and implement word study. This Sixth Edition lists the Common Core State Standards for each activity and features enhanced discussions, activities, and content.
Features
A hands-on, developmentally-driven approach to word study illustrates how to integrate and teach children phonics, vocabulary, and spelling skills.
To help educators make the most of their classroom time , the book includes step-by-step guidelines for knowing your students, organizing for instruction, and implementing word study.
Balanced coverage of five developmental stages includes the Emergent Stage, the Letter Name-Alphabetic Stage, the Within Word Pattern Stage, the Syllables and Affixes Stage, and the Derivational Relations Stage.
A collection of proven assessments, word lists, pictures and games, and classroom activities provide ways for students to examine, manipulate, and categorize words and experience vocabulary growth and spelling development in a way that is fun and engaging.
Classroom-ready appendices contain most of the assessment instruments described in Chapter 2 as well as word sorts, sound boards, and game templates to get your own instruction underway. (Note: Includes reproducibles and perforated pages.)
NEW: Common Core State Standards are listed for each activity . Words Their Way supports the Reading Foundational Skills and the Language Standards across all the grades. The depth and breadth of word knowledge developed through Words Their Way will also support the Common Core's emphasis on students' reading more complex literary and informational texts.
NEW: Revised and new activities offer a robust collection of classroom activities sequenced to help students build the skills they need to move on the next developmental stage.
NEW: To enhance thoughtful discussions:

A chart in chapter 3 offers sample questions to guide problem solving, reflections, applications, and transfer.

NEW: Expanded content includes:

Ideas for teaching proofreading and dictionary skills at each level.
Expanded word study websites and resources.
More assessments for the emergent stage.
Enhanced coverage of oral vocabulary with additional activities at all stages.
Updated references pertaining to student demographics and the latest research pertaining to word study.
Academic vocabulary is introduced with accompanying vocabulary activities.

NEW: To further enhance the interconnectedness between the text and the media, photos have been pulled from the video and appear in the book.
Reality-focused features help facilitate teaching and learning:

Characteristics of Spellers pinpoints the characteristics of spellers in each developmental stage.
Word Study with English Learners sections emphasize how to adapt instruction for diverse populations.
Word Study Routines and Management sections emphasize how to best manage your class time and organize for instruction.

A newly designed PDToolkit connects the reader to specific videos, sorts, and assessments. Margin notes referencing the PDToolkit can be found throughout the book.

UPDATED: The accompanying PDToolkit for Words Their Way is an online subscription-based* resource that provides the tools that you need to carry out word study instruction that will help your students succeed in literacy learning. The following resources are available:
NEW: How-to classroom videos show authentic implementation of the Words Their Way ® approach. New classroom footage brings you into the classrooms of teachers using word study at all of the stages of development, with English learners in the classroom, and in PreK-K and secondary classrooms.
NEW: Interactive PDFs are available online for teachers to customize and for students to complete.
An assessment tool provides downloadable inventories and feature guides as well as interactive classroom composites that help teachers monitor their students' development throughout the year.
Prepared word sorts and games for each stage will help you get started with word study in your classroom

A Create Your Own feature allows you to modify and create sorts by selecting words or pictures to be used with the word sort and game templates.

Word sorts that can be used with interactive whiteboards are available for each stage.
Table of Contents
Activities
Preface
Chapter 1 Developmental Word Knowledge
Chapter 2 Getting Started: The Assessment of Orthographic Development
Chapter 3 Organizing for Word Study: Principles and Practices
Chapter 4 Word Study for Learners in the Emergent Stage
Chapter 5 Word Study for Beginners in the Letter Name–Alphabetic Stage
Chapter 6 Word Study for Transitional Learners in the Within Word Pattern Stage
Chapter 7 Word Study for Intermediate Readers and Writers: The Syllables and Affixes Stage
Chapter 8 Word Study for Advanced Readers and Writers: The Derivational Relations Stage
Appendices
APPENDIX A Assessment Materials
APPENDIX B Sound Boards
APPENDIX C Pictures for Sorts and Games
APPENDIX D Sample Word Sorts by Spelling Stage
APPENDIX E Word Lists
APPENDIX F Games and Templates for Sorts
APPENDIX G Other Resources
Glossary
References
Index
Sours: https://www.pearsoncanadaschool.com/index.cfm?locator=PS31Mr
Words Their Way in the Classroom
Words Their Way Free Resources for Word Study
After incorporating word searches into my word study routine, I found that I was always piecing together extension activities for my Derivational Relations group (the higher group of students who always seems to need something more to do for word study). After meeting the needs of this group haphazardly for my first year's implementation of Words their Way, I finally sat down and created individual extension activities that made sense for each of the Derivational Relations Spellers word lists. Later, I created similar notebook activities for Within Word Pattern and Syllables and Affixes Spellers.
These word study notebook activities are meant to give students more structure as they delve into building a deeper understanding of the words and spelling patterns on their word list. For a number of the sorts, extension activities are also included. While the activity sheets are designed for independent exploration, students often need support in learning how to complete the activity pages. I recommend a gradual-release approach to using these word study notebook activities. Incorporate the pages as extension activities or used to guide your small group lessons.
Here's an idea of the activities students may be asked to complete:
In the Within Word Pattern Spellers activities, students may be asked to identify short- and long- vowel sounds, create words given a beginning sound or blend + an ending (onsets + rimes), choose the correct beginning letters, vowels, or rime to complete a word, write "silly sentences" to apply the meanings of homophones, create contractions, make words plural, and more!
In the Syllables and Affixes Spellers activities, students may be asked to describe spelling and sound changes when suffixes are applied, derive word meanings from prefixes and base words, identify parts of speech, describe how long vowel sounds are formed, brainstorm words that contain a given word part, add correct endings, choose correct blends, apply the meanings of homophones and homographs, and more!
In the Derivational Relations Spellers activities, students may be asked to derive word and prefix meanings from prefixes and base words, generate words by adding suffixes, brainstorm words that contain a given word part, describe spelling and sound changes when suffixes are applied, identify parts of speech, write "silly sentences" with different versions of a base word, research the etymology of Greek and Latin word parts, and more!
FREE WORD STUDY NOTEBOOKS FOR WORDS THEIR WAY WORD SORTS (PAPER-BASED)
5) Within Word Pattern Spellers Notebook Activities
6) Syllables and Affixes Spellers Notebook Activities
7) Derivational Relations Spellers Notebook Activities
Sours: https://www.tarheelstateteacher.com/blog/words-their-way-free-word-study-resources
You will also like:
Using Words Their Way to Teach Spelling
*This post contains affiliate links.
I was given the newest versions of these books by Words Their Way, but have used their products for over ten years to teach spelling. All opinions expressed are my own.
I am often asked by readers which level of the Words Their Way supplement word sorting book they should buy to teach spelling. So today, I'm diving into each of the Words Their Way supplement books to help you make an educated guess for your own spellers at home or in your classroom.
A Developmentally Appropriate Way to Teach Spelling
First, let me start by explaining that Words Their Way takes a developmental approach to spelling. In other words, the books are not labeled primarily by grade level, but by the characteristics of your child's spellings and misspellings. In each stage, I will list a few characteristics of spellers and the kinds of word sorts you can find inside the each book.
A Hands-On Way to Teach Spelling
Secondly, the activities inside these books are mainly picture and word sorts, providing kids hands-on opportunities to learn and interact with sounds and words. The picture sorts focus on the sounds kids hear in words, such as beginning sounds in words. The word sorts focus on the patterns different words share within them, like comparing words with the short a pattern to words with the long a pattern.
Emergent Spellers
Emergent spellers are anywhere between birth and age 6. Most children that fit in this age have not had any formal lessons on spelling or phonics. They may have observed parents or older siblings as writers and mimic what they see. Children in this age may do some pretend writing.
Some researchers call this the pre-alphabetic or pre-phonetic stage because most emergent spellers do not understand how letters and their sounds help them spell words, especially in the beginning of the stage (from Words Their Way).
In the Letter and Picture Sorts for Emergent Spellers book, you will find lots of pre-reader activities, such as:
rhyming and syllable sorts based on nursery rhymes and songs
letter sorts based on literature, such as the gingerbread man
beginning consonant letter sounds pages with pictures
assessment guides to help you zero in on the skills your child needs to focus on most
"Notes for the Teacher", which provides the background as well as lightly-scripted ideas for implementing the activities
Letter Name-Alphabetic Spellers
Letter Name-Alphabetic Spellers range from the time they begin formal instruction in phonics until about the second grade (between 5 and 8 years old). Early in this stage, as kids are taught their letter names, they begin to use the names of the letters to help them spell words. For example, they may associate W with the /d/ sound because the name double u starts with /d/.
Spellers in this stage typically begin spelling with only consonant sounds because they are more prominent or easier to "feel" in the mouth as the child says the word aloud (from Words Their Way Pre-K/K). As they progress through the stage, they begin to hear more letter sounds (phonemes) in words, including vowel sounds. Spellers in this stage might also be called semi-phonetic or partial alphabetic because they only represent some of the sounds in words as they write (from Words Their Way Pre-K and Words Their Way).
Within the Word Sorts for Letter Name-Alphabetic Spellers book, you will find:
review picture sorts for beginning sounds, word family sorts (with pictures)
blends and digraph picture sorts, mixed word family sorts (for example, comparing -an, -in and -un words)
short vowel word sorts, and an introduction to r-influenced words (such as bird or jar)
"Notes for the Teacher", which provides the background as well as lightly-scripted ideas for implementing the activities
Within Word Pattern Spellers
Spellers in the Within Word Pattern stagebegin to "move away from the linear, sound-by-sound approach of the letter name-alphabetic spellers and being to include patterns or chunks of letter sequences" (Bear, et al. 2012).
The typical age of a child in this stage is 7 to 10 years old, starting approximately at the end of first grade and ending towards the end of third grade or beginning of fourth grade. In some cases, especially for struggling readers, spellers remain in this stage through middle school. Within Word Pattern Spellers begin to correctly spell vowel patterns within one-syllable words, first starting with short vowels and then moving onto long vowels and even some ambiguous vowels.
The Within Word Pattern Spellers supplement book contains:
picture sorts for short and long vowel sounds
word sorts comparing the patterns of short vowel words and long vowel words with silent e
common long vowel patterns, less common long vowel patterns (such as the long i in find)
r-influenced vowel patterns
diphthongs (such as oi) and other ambiguous vowel sounds (like comparing the sound of the oo's in good vs. food)
instructions for how to demonstrate the sort, help the child sort the words, reflect on the sort, and extend the sort to real writing
Syllables and Affixes Spellers
Syllables and Affixes Spellers are typically ages 9 to 14 years and range from the upper elementary grades to middle school. This is the stage where spellers move from spelling patterns in one-syllable words to spelling patterns in multisyllabic words. This is also the stage where students begin to study word meanings, as they study prefixes and suffixes such as un– or pre-.
These spellers can spell most one-syllable short, long, and ambiguous words correctly, but confuse spellings where the syllables meet (such as when to double a letter before adding –ing or –ed) and some prefixes and suffixes (such as PER- for pre– or –SION for –tion). Info from Words Their Way.
In the Syllables and Affixes Spellers book, are:
inflected ending sorts (such as adding -ed, -ing, -s, and -es onto words)
syllable juncture patterns (understanding the reasoning behind the spellings of diner vs. dinner)
vowel patterns in accented syllables
vowel patterns in unaccented syllables
less common consonant patterns (such as gh=f sound)
affixes (beginning work on common prefixes and suffixes)
instructions for how to demonstrate the sort, help the child sort the words, reflect on the sort, and extend the sort to real writing
Derivational Relations Spellers
Derivational Relations Spellers begin to connect spelling to meaning, as they focus on taking base words and deriving other words from that base word (for example, define to definition). Spellers can enter this stage as early as late elementary school, but most spellers in this stage are in middle school, high school, or adults. "The logic inherent in this lifelong stage can be summed up as follows: Words that are related in meaning are often related in spelling as well, despite changes in sound." (from Words Their Way)
In Word Sorts for Derivational Relations Spellers are sorts for:
prefixes
suffixes
the suffix -ion
vowel and consonant alterations (understanding how preside and president are related in both meaning AND spelling)
Greek and Latin Elements (digging in deeper to vocabulary instruction, focusing on the meaning of word parts)
advanced spelling-meaning patterns (such as when to end words with -ance or -ence)

The book, Words Their Way, is more of a textbook that lays a strong foundation for using word study to teach spelling. Hands-on game ideas for each level of spelling are included as well as spelling lists for TONS fo phonics skills, picture cards, and spelling inventories, which can help you pinpoint your child's level of spelling development.
You Will Also Like
Word Study Organization
Word Study Activity Page
10 Days of Teaching Spelling Through Word Study
Helping Spellers Make Phonics Generalizations
<
~Becky
Filed Under: Phonics and Word Study, Teaching Spelling
Sours: https://thisreadingmama.com/words-their-way-teach-spelling/
2412
2413
2414
2415
2416