How to Pair a Roku Remote or Reset It
A Roku player lets you stream thousands of movies and TV episodes on your TV. But you won't be able to stream any content if there's something wrong with your remote control. If you're having problems with your Roku remote, here's how to pair it or reset it, no matter what type of remote you have.
Two Types of Roku Remote
There are two types of Roku remote controls: the standard infrared (IR) remote, which requires a direct "line of sight" with the Roku player" and the enhanced "point anywhere" remote. You'll know you have an IR remote if you don't see a pairing button in the battery compartment.
On the other hand, the enhanced remotes usually have a headphone jack, a microphone button, or other features.
How to Pair Your Roku IR Remote
To pair your Roku IR remote, connect your Roku player to your TV and a power source. Then insert new batteries in the remote and push any button. If your remote is close to the player, the pairing process will start automatically.
Plug your Roku device into your TV and a power outlet.
Then change your TV to the HDMI input of your Roku device. You can do this by pressing the Input or Source button on your TV or TV remote.
Insert batteries in your Roku remote.
Push any button on the remote. Doing so will automatically pair your remote to the Roku device. Since you are using an IR, make sure you are in the line of sight of the Roku device.
How to Pair Your Roku Enhanced Remote
To connect your Roku device to an enhanced remote, insert new batteries in the remote. Then turn your Roku device on and place the remote near your device. This will start the pairing process. You will also see on-screen prompts, after which your remote will be ready to use.
Then turn on your TV and change it to the HDMI input of your Roku device. You can do this by pressing the Input or Source button on your TV or TV remote.
Remove the battery compartment and replace them. If you don't have replacement batteries, you can simply remove the batteries and put them back in.
Place the remote near the Roku device. Doing so will automatically pair your remote to the Roku device.
Wait for the pairing process to be completed. On your TV screen, you will see a message which says, "Pairing remote…" After a few moments, the remote will be paired, and you can start to use it.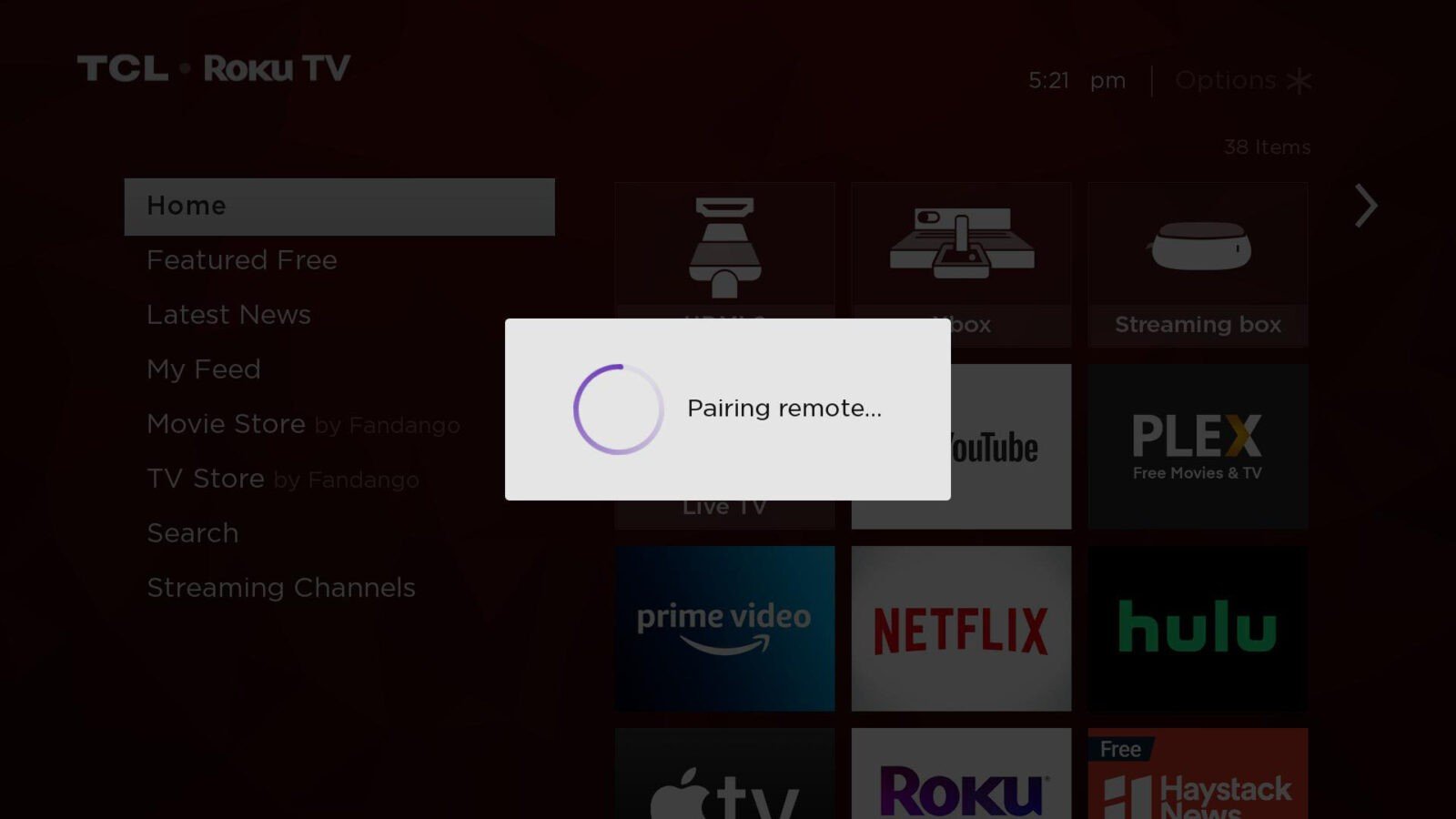 If you tried to pair your Roku remote with either of the methods above, and neither of them worked, you might have to reset your remote. Here's how:
How to Reset an Enhanced Roku Remote
To reset an enhanced Roku remote, disconnect your Roku player. Then remove your batteries and connect your Roku player again. Next, put the batteries back in when you see the Roku logo on your screen. Push the pairing button for and wait until the pairing process is complete.
Unplug your Roku player from the power outlet.
Remove the batteries from your Roku remote.
Plug your Roku player back in after 5 seconds.
Once you see the Roku logo on your screen, replace the batteries in your remote.
Then press and hold the pairing button in your battery compartment. Do this for about 5 seconds, or until the pairing light starts flashing on the remote.
Wait for the Roku to complete the pairing process. This will take 30 seconds, sometimes less. You will see a prompt on your TV when the remote has been successfully paired.
Where Is the Pairing Button on My Roku Remote?
For the enhanced "point anywhere" remotes, the pairing button on your Roku remote is located in the battery compartment. You can find this by opening up the battery compartment. Follow the simple steps below to find the pairing button on your Roku remote.
Open the battery compartment of your Roku remote.
Locate the pairing button near the bottom of the battery compartment. Depending on the model if your Roku remote, the indicator light might be on the front side of the remote or right beside the pairing button inside the battery compartment.
How to Sync an IR Roku Remote Without a Pairing Button
To sync an IR Roku remote that doesn't have a pairing button, make sure that nothing is blocking the signal from the remote to the device. Then try resetting the batteries or adding new batteries.
Remove obstructions. Your standard IR Roku remote will only only if it's pointed directly at your player. To sync it properly, remove objects that may be blocking the signal from the remote to the streaming device.
Reset the remote's batteries. Often, syncing will not work if the batteries aren't positioned properly in their compartment. Simply remove them and place them back again. Point the remote at the streaming device and check if this solves the problem.
Replace the batteries. If removing obstructions or resetting the batteries didn't work, it may be time to replace the batteries. Get new ones, place them in the battery compartment, point the remote to the player, and check if it starts syncing.
If you still can't get your remote to work, check out our guide on how to use Roku without a remote.
This article has been updated with more accurate information.
HelloTech editors choose the products and services we write about. When you buy through our links, we may earn a commission.
Updated on August 31, 2021
Was this article helpful?
Related Articles
Sours: https://www.hellotech.com/guide/for/how-to-pair-roku-remote
How to Pair a Roku Remote Control
What to Know
To pair a Roku Point Anywhere remote automatically, insert batteries, turn on the device, and hold the remote near the box.
To re-pair a remote: Remove batteries > Reboot device > Replace batteries > Press and hold pairing button in battery compartment.
To pair a new remote, go to Settings > Remote > Pair Remote > Right Arrow and follow on-screen instructions.
This article explains how to pair a Roku IR or Point Anywhere remote automatically, reset or re-pair a remote, add a new remote, and unpair a remote.
How to Pair a Roku Remote Control
All Roku TVs, streaming sticks, and boxes come with wireless remote controls.
Some Roku remotes use IR (Infrared Light) and require line-of-sight to work with a Roku, but don't require pairing. Standard and Enhanced point anywhere remotes use RF (radio frequency), Bluetooth, orWi-Fi Direct and don't need line-of-sight.
However, they must be paired with a Roku device before they can be used. Press some of the remote control buttons to see if your Roku TV or player responds. If it doesn't, it needs to be paired.
Pairing a Roku IR Remote
If your Roku device comes with an IR remote, insert the batteries (either AA or AAA), then point and push the buttons you need to use. No additional pairing is required.
IR remotes come, or are compatible, with the following Roku models:
Roku LT
Roku HD, XD, and XDS
Roku N1
Roku 1, 2, and 3
2 HD, XD, and XS
Roku Express and Express+
Premiere
Select Roku TVs
Pairing a Roku Point Anywhere or Enhanced Remote
Point Anywhere Standard and Enhanced Remotes are compatible with the Roku Streaming Stick and Streaming Stick+, as well as the Roku 2 (4210), 3, 4, Premiere+, and Ultra. For Roku TVs, the remote varies by brand and/or model.
To identify an Enhanced remote, look for one or more of the following features:
Voice control.
Power and on/off button for a TV.
Two gaming control buttons (A and B).
Headphone jack.
Remote finder alert.
If you're setting up a Roku box, stick, or TV that comes with a point anywhere/enhanced remote for the first time, follow the instructions below.
The 9 Best Devices for Streaming TV in 2021
Insert the batteries.

Make sure the Roku TV or player is on.

Hold or place the remote close to your device. The Roku TV or player will detect the remote and execute pairing automatically.
Re-Pairing/Resetting Your Remote
If you need to re-pair or reset a Roku remote, the process is simple.
Disconnect your Roku device from power and reconnect it after about 5 seconds.

When thehome menu appears on your TV screen, insert the batteries into your remote, but leave the battery compartment open.

Locate the pairing button in the battery compartment of the remote.

If there is no pairing button present, you have a standard IR Remote.

After locating the pairing button for your remote, press and hold the pairing button for 3 seconds or until you see the pairing light on the remote begin to flash.

If the indicator light does not flash, try again. If the light still doesn't flash, try a different set of batteries.

Wait 30 seconds while the Roku device executes the remote pairing process. You should see a message on your TV stating the pairing has been completed.
Adding a New Remote
You can add a new remote or add a second remote to control the same Roku TV or player. This is convenient if you have gaming remotes as it will accommodate two-person gameplay on compatible games.
In the Home Menu,scroll down to Settings on the category menu on the left side of the screen.

Select Remote.

Select Pair Remote.

The next screen will show you the remote that's currently paired.

Select the Right Arrow.

The next page will provide you with the instructions you need to pair your new remote.

If the pairing doesn't take on the first attempt, repeat the steps.
How to Unpair a Roku Remote
Sometimes unpairing a Roku remote can fix issues you're having with it. The unpairing process is about as easy as pairing.
Simultaneously press and hold the Home, Back, and Pairing buttons on the remote for 3-5 seconds.

The indicator light should blink 3 times.

You can confirm unpairing by pressing some of the remote control buttons to see if your Roku TV or player responds. If it doesn't, it has been unpaired.
Thanks for letting us know!
Sours: https://www.lifewire.com/how-to-pair-roku-remote-4175130
As people are still stuck at home and streaming more TV than ever, looking for ways to improve things around the house has become part of the routine. If you own a basic Roku player or Roku TV, one way you can do that quickly and easily is by upgrading to Roku's $20 voice remote or new rechargeable $30 Voice Remote Pro. Either also make for good replacements if you lost or broke your main remote.
With either clicker, your Roku can start to take advantage of features such as voice control -- without having to point directly at the Roku TV, box or streaming stick. Those who get the Voice Remote Pro also gain a rechargeable battery and the ability to find lost controllers by simply saying, "Hey Roku, find my remote," to have it start beeping. There's even a headphone jack for private listening.
Here's how you can make the upgrade. 
Knowku the remoteku: Comparing the Roku remotes
First, let's break down the five different remotes Roku has. 
Simple remote
This controller is included with older Rokus, cheaper streaming sticks like the Express and Premiere and cheaper or older Roku TVs. It uses basic infrared, aka IR, to send commands to the Roku, so it won't work if you don't point it directly at your Roku or if something gets in the way. This remote also lacks a microphone, so if your Roku remote lacks a mic button then it's a Simple version. 
Voice remote 
This remote, available for $20 (see below for retailers), has three upgrades:
Doesn't rely on IR, so you can "point anywhere" to control your Roku
A built-in mic so you can search and issue commands with your voice
Power, volume and mute keys for controlling your TV, so you don't have to use your TVs original remote
Note that the last item only applies to streaming players; all Roku TV remotes (Simple and otherwise) have volume and power control.
Enhanced voice remote 
This remote, available on Roku's site for $30, has all the features of the voice remote above as well as three more extras:
A headphone jack that lets you listen privately, using your own headphones without disturbing others
Two shortcut keys that can be customized to open apps and perform other functions
A tiny speaker that allows it to emit sound, so it can be used with the remote finder feature in the Roku app
Voice Remote Pro 
This remote, also available at Roku's site for $30, has all the features of the Enhanced remote but adds the following upgrades.
A rechargeable battery
Midfield microphone for "Hey Roku" voice commands without needing to press down on the remote. 
Gaming remote
Roku also sells a "gaming remote" on its site, but it's basically identical to the enhanced voice remote (without the customizable shortcuts), also costs $30 and is largely useless since Roku devices don't support many games. We'll ignore it but if Roku's enhanced voice remote and Voice Remote Pro are somehow sold out and you don't want to wait, this can take its place by offering most of the same functionality including private listening and voice search. 
Read more:Which Roku player should I buy?
Which upgraded Roku remote should I get? 
If you've been frustrated about having to constantly point your remote directly at the TV -- and don't care much about the private listening, chargeability or hands-free voice control -- the $20 regular voice remote is a quick, simple and relatively cheap upgrade. 
If you constantly lose the remote or don't want to deal with swapping in AA batteries, the $30 Voice Remote Pro is perfect for you (even if the Roku voice assistant still leaves plenty to be desired). It also has customizable buttons and a headphone jack for private listening, making it a nice choice over the regular Enhanced remote for the same price.
Yes, any Roku device can use Roku's app to allow private listening by connecting your phone to a pair of headphones, but having the jack on the remote itself is more convenient for frequent users. CNET's David Katzmaier has been using an older Streaming Stick on a bedroom TV, paired with an enhanced voice remote from a Roku Ultra, for the last couple of years. "I don't want to say 'marriage saver,' but it's definitely a worthwhile upgrade for us," he says. 
Roku's site currently has the $20 voice remote on "backorder" but the company also sells the accessory at a host of retailers Walmart, B&H Photo and Video, Rakuten and Amazon for roughly the same price.
Best Buy and Kohl's will also sell you the voice remote, but for some reason both are still charging $30.
The Voice Remote Pro can be found for $30 at a number of outlets including Roku's site, Best Buy, Walmart and Amazon.
While you might not be as stoked as Katz with your Roku remote upgrade, hopefully the new remote can help make your streaming experience a bit better.
How to pair a new Roku remote with an old Roku or Roku TV
One of the best aspects of Roku is its cross-device compatibility -- you'll get pretty much the same simple experience whether your Roku is a couple of years old or brand new. This compatibility also extends the remotes. The new remotes listed above will likely work on your old Roku too, even if it's no longer listed as a compatible device on Roku's own site. 
It should be noted that Roku says the fancy Voice Remote Pro works with "all Roku TV models, Roku audio products, and most recent Roku players." 
There are two ways to pair a Roku remote with a TV or streaming device. The simplest way is to power on your Roku and hold the pairing button for a few seconds until you see a prompt on your screen saying the remote is pairing. This button can be found next to the batteries on most remotes or on the bottom of the back of the Voice Remote Pro. Using this method is how I easily connected the Voice Remote Pro to a Streaming Stick Plus and a 2019 TCL Roku TV without needing to fiddle around with Settings. 
Read more:How to set up a new Roku
The other option is to head into Settings. In earlier tests, I used a few different remotes and a few Rokus. To represent older Rokus I dusted off a Roku 2 that was originally announced in 2015 and shipped with a Simple remote. I was able to pair it with a new enhanced voice remote and the process was as simple as it is on newer devices. 
Here's how:
1. Power on the Roku and TV.
2. Using your old IR remote, or the Roku app on your phone, head to Settings.
3. Scroll to Remotes.
4. Click Add a new remote.
5. On your new enhanced remote, insert batteries and hold down the button toward the bottom of the battery compartment for five seconds.
The TV and remote will then pair.
Even though the Roku 2 is now almost seven years old, the remote was still able to use all of the newer features including voice search, shortcuts and listening through headphones. It also was able to power on and control the volume on the Samsung TV it was connected to. I previously did a similar test pairing a 2018 Roku Ultra enhanced remote to my 2017 TCL P605 Roku TV and had similar success. 
I have not yet been able to test the Voice Remote Pro with the Roku 2.
CNET TVs, Streaming and Audio
Get CNET's comprehensive coverage of home entertainment tech delivered to your inbox.
How to add a new remote to a new, cheaper Roku or Roku TV
Most new Rokus ship with a voice remote but the company's cheapest options, the original Express and Walmart-exclusive Express 4K, still rely on the weaker remote. Some newer Rokus, like our current Editors' Choice pick the Streaming Stick Plus and new Express 4K Plus, ship with the voice remote but not the enhanced voice remote that has the headphone private listening feature. 
Luckily, upgrading to either remote is simple and the same as with older Rokus. Simply follow the steps above and you'll be able to add either new clicker to your existing Roku. 
Sours: https://www.cnet.com/tech/home-entertainment/improve-your-roku-a-20-remote-upgrade-gets-you-voice-control-a-headphone-jack-and-more/
Roku Streaming Stick Remote Controller Not Working Correctly? Try this First! Fixed!
Rokie - Remote for Roku
Rokie is the best free remote control unit for Roku Streaming Player and Roku TV. Magnificent design, intuitive interface, no pileup of buttons or complex settings. Thanks to this application, access to movies, music and games will become simpler and easier, and you will love your Roku even more. All you need is connect your Android device and Roku to the same Wi-Fi network.

Do you need a free Roku remote? Rokie app will help you easily control your media player. You will be able to control the playback of your content, run applications on Roku and enter text. A large touchpad will make navigation through the menu and content incredibly handy.

Rokie is also a remote for Roku TV. You will be able to adjust the volume of your Roku TV and switch channels. The app supports automatic connection to your media player. Now your Roku remote is ready to work right after launching.

Why you should choose Rokie:
- Compatible with all Roku TVs including TCL, Sharp, Insignia, Hitachi;
- Roku remote controls; 
- Automatic connection to Roku; 
- Handy list of apps with large icons; 
- Adjusting the volume and switching TV channels on Roku TV; 
- Use the keypad to quickly enter text; 
- Navigation using the buttons or touchpad; 
- Content playback control;
- Simple and user-friendly interface;

Compatibility:
- Rokie is compatible with all Roku models including Streaming Stick, Express, Express+, Premiere, Premiere+, Ultra, Roku TV (TCL, Sharp, Insignia, Hisense, RCA, Hitachi);
- Some applications like YouTube and Hulu+ have their own screen keyboards and do not take input from the Android keyboard;

Disclaimer:
Kraftwerk 9, Inc is not an affiliated entity of Roku, Inc, and Rokie application is not an official product of Roku, Inc.
Sours: https://play.google.com/
Remote roku streaming stick
How to reset and re-pair a Roku remote if it's not working
You can reset your Roku enhanced remote if it's not working by accessing the remote's reset button.
If your Roku remote is the standard infrared version, there's no reset option — just replace the batteries.
If you want to pair your remote to a new device, you must first reset it.
Visit Insider's Tech Reference library for more stories.
All Roku media players come with a simple but effective remote control. Though the remote isn't essential — you can also control your Roku via a smartphone app on your iPhone or Android device — it's pretty convenient.
But if your Roku remote isn't working, you might need to reset it. You can also reset the remote if you want to use it on a different Roku player.
Here's how to do it.
What to know before you reset your Roku remote
There are two kinds of Roku remotes:
Enhanced remotes: This is a "point anywhere" remote that controls the screen no matter which way the remote is pointed — Roku's "enhanced voice remote" and "gaming remote," as advertised on the Roku website, both fall into this category.
Standard infrared remotes: This simpler remote requires a direct line of sight to operate — Roku's "voice remote" and "simple remote" both fall into this category.
You can only reset an enhanced remote — the infrared remote can't (and doesn't need to) be reset, as it will work with any compatible Roku player just by being pointed directly at it. If an infrared remote isn't working, try replacing the batteries.
Most Roku models come with the enhanced remote. These models include the Roku Streaming Stick, Roku 2, Roku 4, Roku Premiere, and Roku Ultra.
How to reset the Roku enhanced remote
To reset your Roku remote, you need to take out the batteries, unplug your Roku device and plug it back in, replace the batteries, and hold down the reset button until the remote re-pairs.
Here's a step-by-step breakdown:


Remove the batteries from your Roku remote.
Unplug the power cable from your Roku player, wait for 5 to 10 seconds, and plug it back in again.
When you see the Roku home screen on your TV, insert the batteries back in the remote.
Press and hold the reset button, which is located in the battery compartment, for about 5 seconds.



Dave Johnson/Insider

The pairing light on the remote should start flashing. The re-pairing process may take up to 30 seconds to finish — a notification will appear on the screen when it's complete.



Dave Johnson/Business Insider




Quick Tip: If your Roku remote isn't automatically pairing, try manually pairing it or using your phone as a remote. If the above steps don't work, and you've already tried replacing the batteries, you may need to buy a new Roku remote.
Dave Johnson
Freelance Writer
Insider Inc. receives a commission when you buy through our links.
More:Tech How ToRokuRoku remoteStreaming boxes
Sours: https://www.businessinsider.com/how-to-reset-roku-remote
How to Install \u0026 Setup Roku Streaming Stick Plus for Beginners
Screenshots
Description
No subscription, no ads, no in-app purchases, no watermarks.

Control your Roku straight from your iPhone, iPad or iPod touch.

* Supported Roku TVs: Hisense, Sharp, TCL, Insignia, Hitachi, Philips, Element, JVC, Hisense, RCA.

* Supported Roku Streaming Players: Roku Stick, Roku Express, Roku Premiere, Roku Ultra, Roku Soundbar, Roku Streambar, Roku 1-4 and legacy models.

* No hidden subscriptions or costs

* Supports dark and light mode for iOS 13+ devices.

* 24/7 Support Chat

* Your iPhone, iPad or iPod and your Roku must be connected to the same wifi to enable Roku Remote Control. Please do not use VPN, Proxy, VLANS and Subnets.

If you like the app and our constant work on it, please give the app a positive rating on the App Store. Many thanks in advance from the development & support team

This app is brought to you by the developers of Video & TV Cast, the #1 video casting app in the world with more than 100.000.000 downloads across all platforms and devices.

Disclaimer: This app is not affiliated with Roku or any other trademark mentioned here.
Ratings and Reviews
Good alternative when you lose that tiny real one
Easy to use, interacts well with streaming Roku stick. Only one thing would it better, bigger contrast between background color and symbols.
Thank you for taking time to review our app. We are glad that you like our app.

Just wanted to let you know we improved the app with the latest release. Please give it a try and let us know what you think.

We'd love to hear from you.

best roku ever remote I have found
This worked right when I opened the app. No hassles no problems, this is the best app I found and I have tried all the high rated ones and most downloaded ones. This surpasses all of them
Thank you for taking time to review our app. We are glad that you like our app.


This app is so awesome
I lost my remote now I can use this amazing 🤩 app now I don't have to be going back and forth for batteries now, all I have to do is
Put on this app and sit back and watch whatever I'm gonna watch.
The developer, Kraus und Karnath GbR 2Kit Consulting, indicated that the app's privacy practices may include handling of data as described below. For more information, see the developer's privacy policy.
Data Not Linked to You
The following data may be collected but it is not linked to your identity:
Privacy practices may vary, for example, based on the features you use or your age. Learn More
Information
Seller

Kraus und Karnath GbR 2Kit Consulting

Size

24.5 MB

Category

Utilities

Compatibility

iPhone

Requires iOS 9.0 or later.

iPad

Requires iPadOS 9.0 or later.

iPod touch

Requires iOS 9.0 or later.

Mac

Requires macOS 11.0 or later and a Mac with Apple M1 chip.

Age Rating

4+

Copyright

© 2kit consulting

Price

Free

In-App Purchases

Premium Edition$0.99
Supports
Family Sharing

With Family Sharing set up, up to six family members can use this app.
More By This Developer
You Might Also Like
Sours: https://apps.apple.com/us/app/remote-for-roku-tv-stick/id878640213
Similar news:
Roku Streaming Stick+ | HD/4K/HDR Streaming Media Player with Long-Range Wireless and Voice Remote with TV Controls
Wireless that goes the distance: Basement rec room? Backyard movie night? Bring 'em on. The long-range wireless receiver gives you 4x the range and a stronger signal for smooth streaming even in rooms farther from your router
Brilliant picture quality: Experience your favorite shows with stunning detail and clarity—whether you're streaming in HD, 4K, or HDR you'll enjoy picture quality that's optimized for your TV with sharp resolution and vivid color
Tons of power, tons of fun: Snappy and responsive, you'll stream your favorites with ease—from movies and series on Apple TV+, Netflix, Disney+, Prime Video,The Roku Channel, HBO, and Showtime, to cable alternatives like Sling and Hulu with Live TV, enjoy the most talked-about TV across thousands of channels
No more juggling remotes: Power up your TV, adjust the volume, mute, and control your streaming all with one remote; Use your voice to quickly search across channels, turn captions on, and more in a touch
Setup is a cinch: Plug it in, connect to the internet, and start streaming—it's that simple
Private listening on mobile: Use the free Roku mobile app to pump up the volume on your shows without disturbing the house
Endless entertainment: Stream what you love, including free TV, live news, sports, and more; Never miss the most talked-about events, award-winning shows, latest blockbuster hits, and more—it's easy to stream what you love and cut back on cable bills with access to 500,000+ movies and TV episodes across thousands of free and paid channels
Enjoy free TV channels: Stream live TV, 24/7 news, sports, movies, shows, and more on The Roku Channel, plus other free channels like PBS, The CW, and CBS News—Plus, with Featured Free on your home screen, you're one click away from a huge selection of free movies, in-season TV episodes, and more entertainment from top channels that won't cost you a dime
Sours: https://www.target.com/p/roku-streaming-stick-hd-4k-hdr-streaming-media-player-with-long-range-wireless-and-voice-remote-with-tv-controls/-/A-52709600
2512
2513
2514
2515
2516