Romantic Sunset Picnic
There's nothing quite as sweet or romantic as a classic romantic sunset picnic shared for a date night. Here are all the picnic date ideas to pull this off and impress your next date!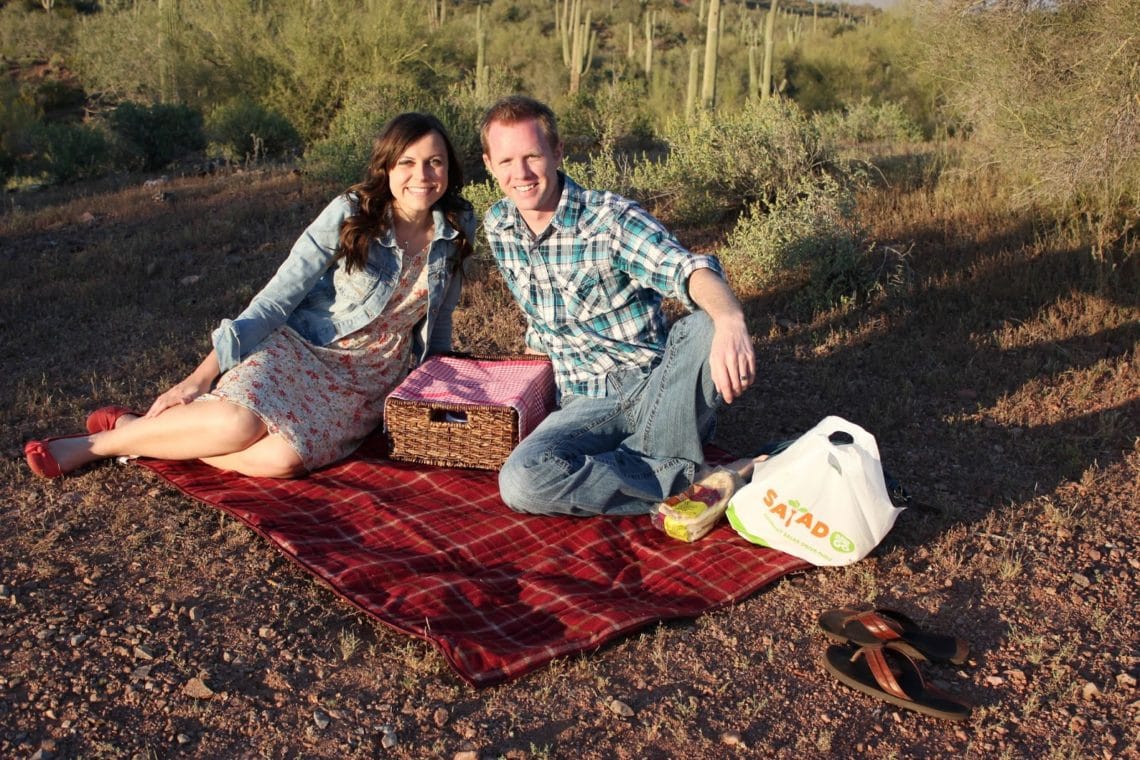 The months of October and April are magical months in Arizona. It's a little cold in the winter (but still amazing) and way too hot for about 5-6 months that feel like eternal summer. In April we make it essentially mandatory that our dates happen outdoors before it's too hot to be outside. We'd also had a chat lately about the need to create some romance in our lives and strive for romantic dates more often. Seriously, check out our categories, out of 100's of dates blogged only 17 are labeled romantic. It's definitely time to add some more diverse romantic date ideas that involve more than just dinner to that list! So here's our first attempt.
Outdoors + romance = a sunset picnic date.
Picnic Date Ideas
Start by planning your picnic date ideas menu, and find a scenic location. We grabbed food and headed up the Superstition Mountain area past Mesa to go find a spot. We were starting to get a little worried knowing the sunset at 6:45 and we hadn't mapped out a location. (Note- if you're going to duplicate this date, make sure to check the exact time the sun sets- it's helpful!) We looked a few places but there seemed to be too many people or just not a great view.
We seriously lucked out on our 3rd place, just off the Bush Highway we turned left to discover some hiking trails on our right, and a perfect spot on a ledge within view, and only about 40 ft. from where we parked. It was PERFECT! Let me start by showing you the scenery which was desert beauty at its best!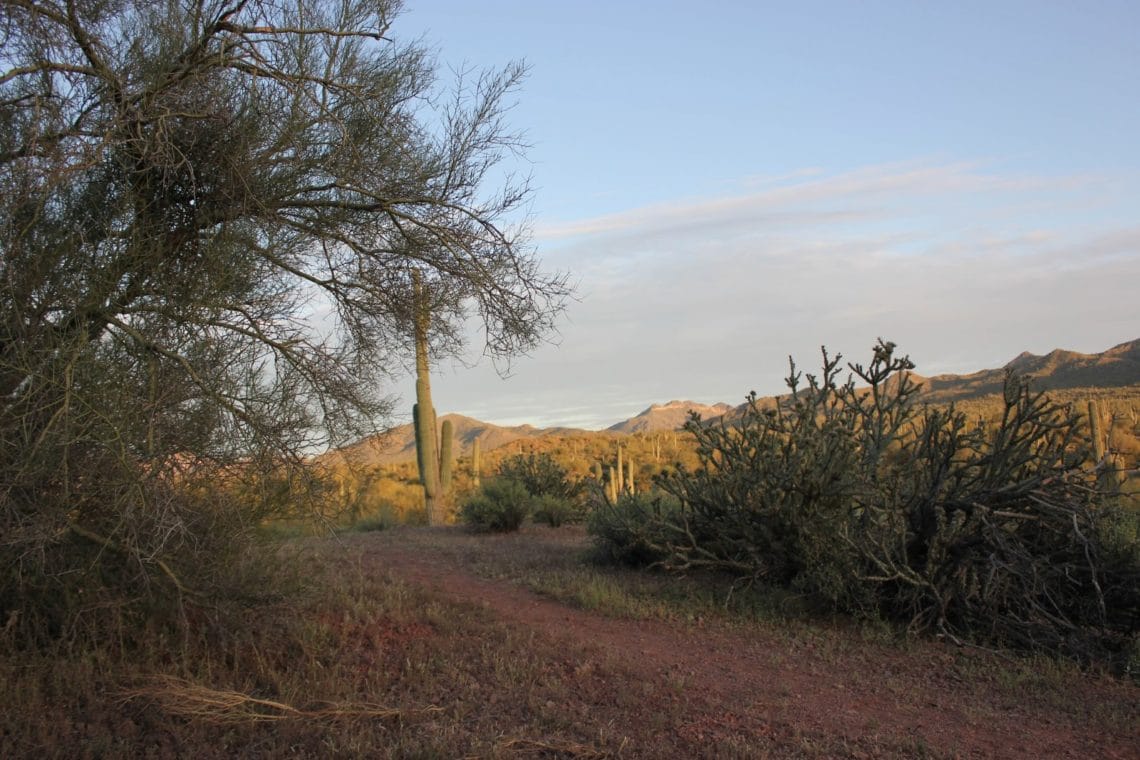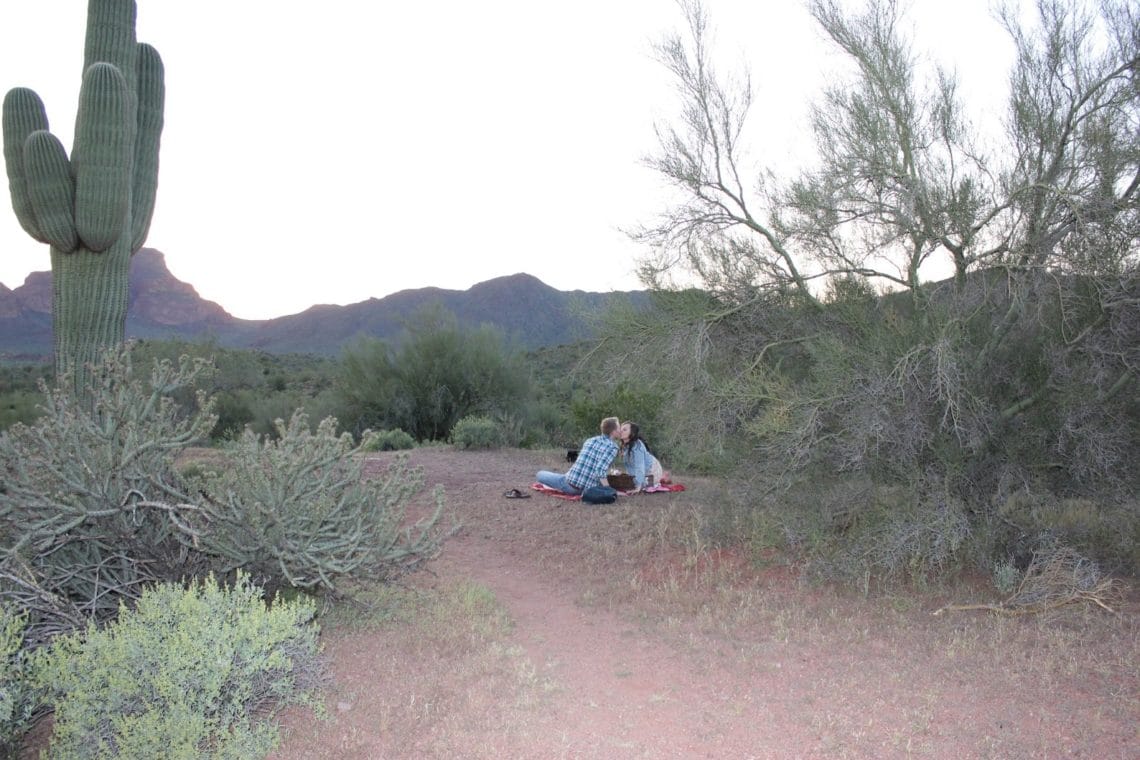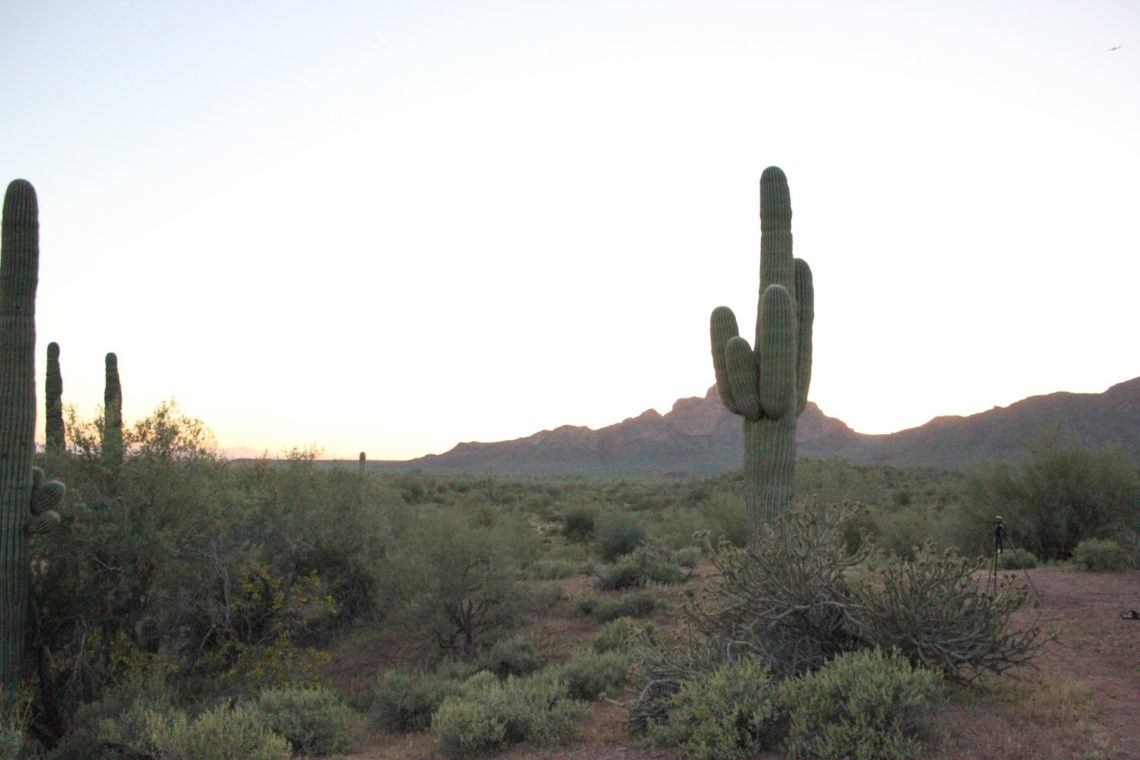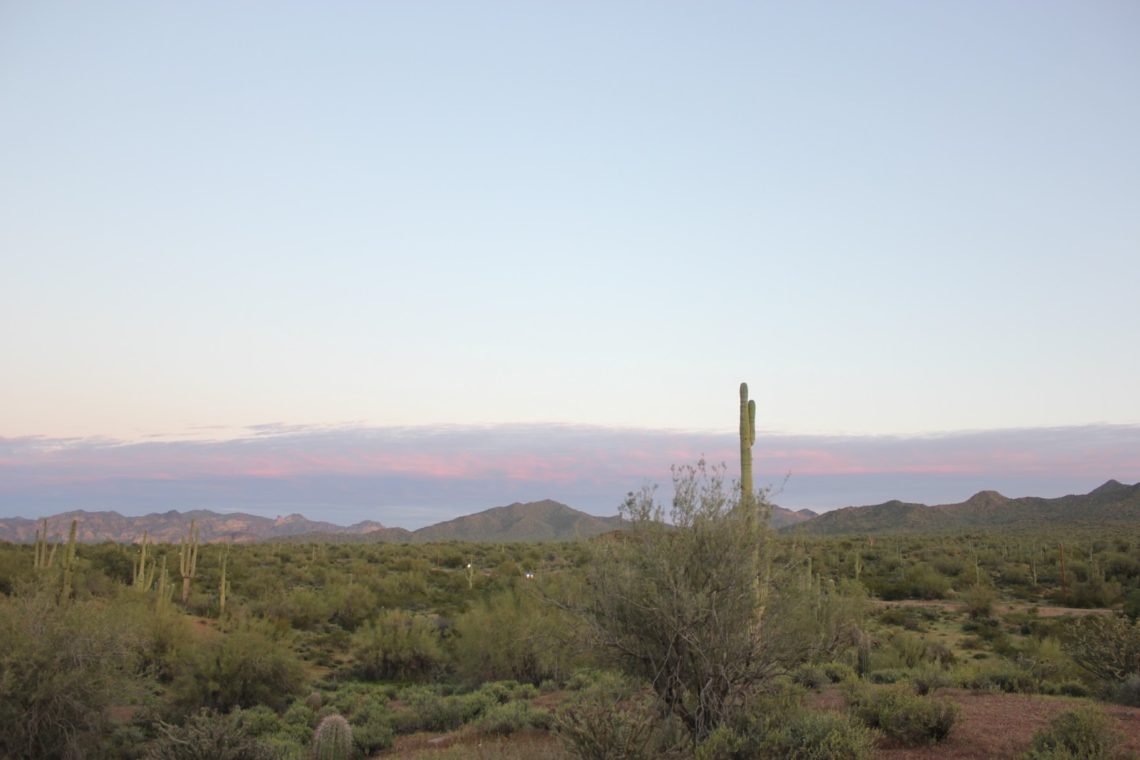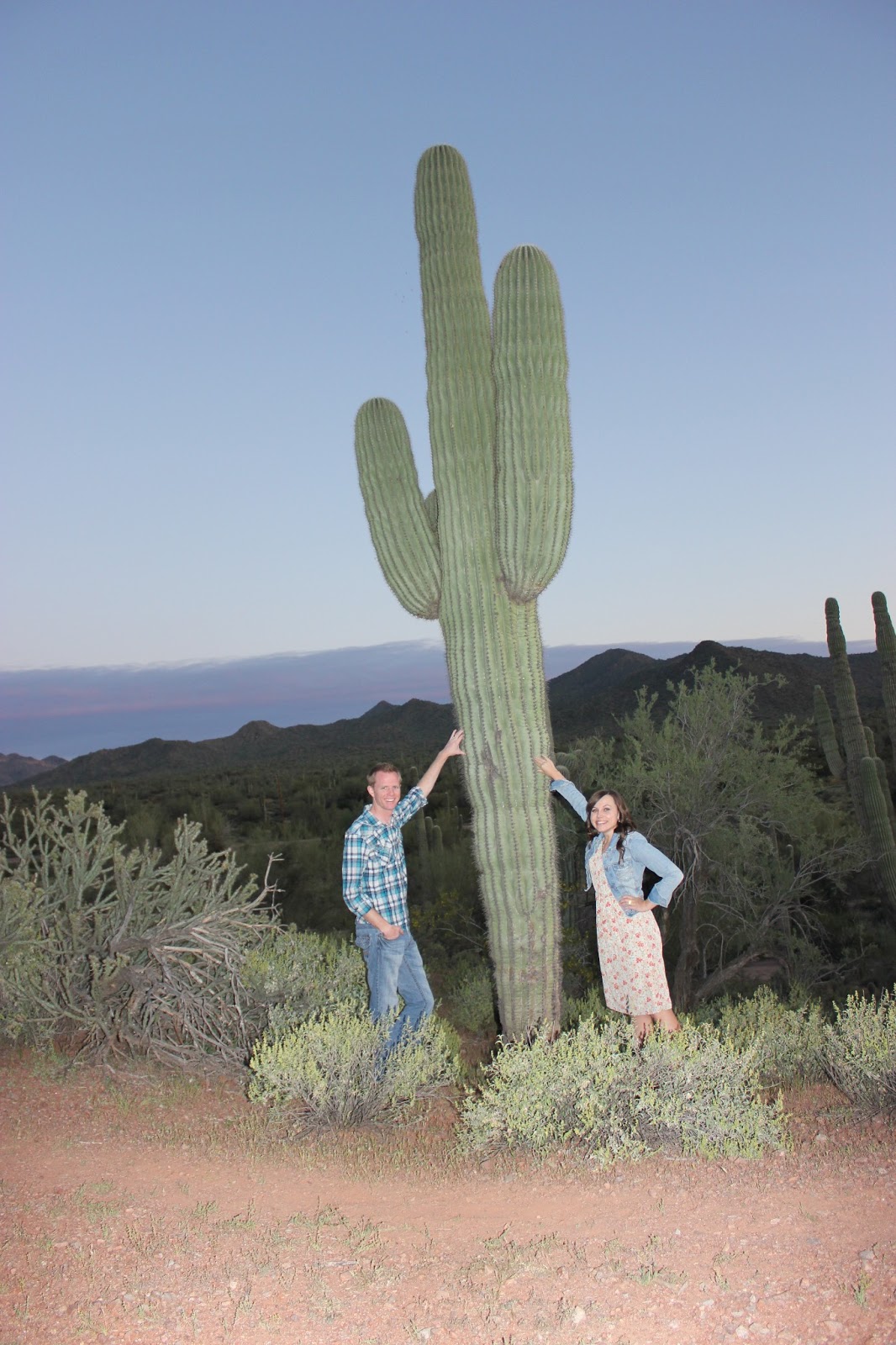 And when the sun started to set, it was just stunning!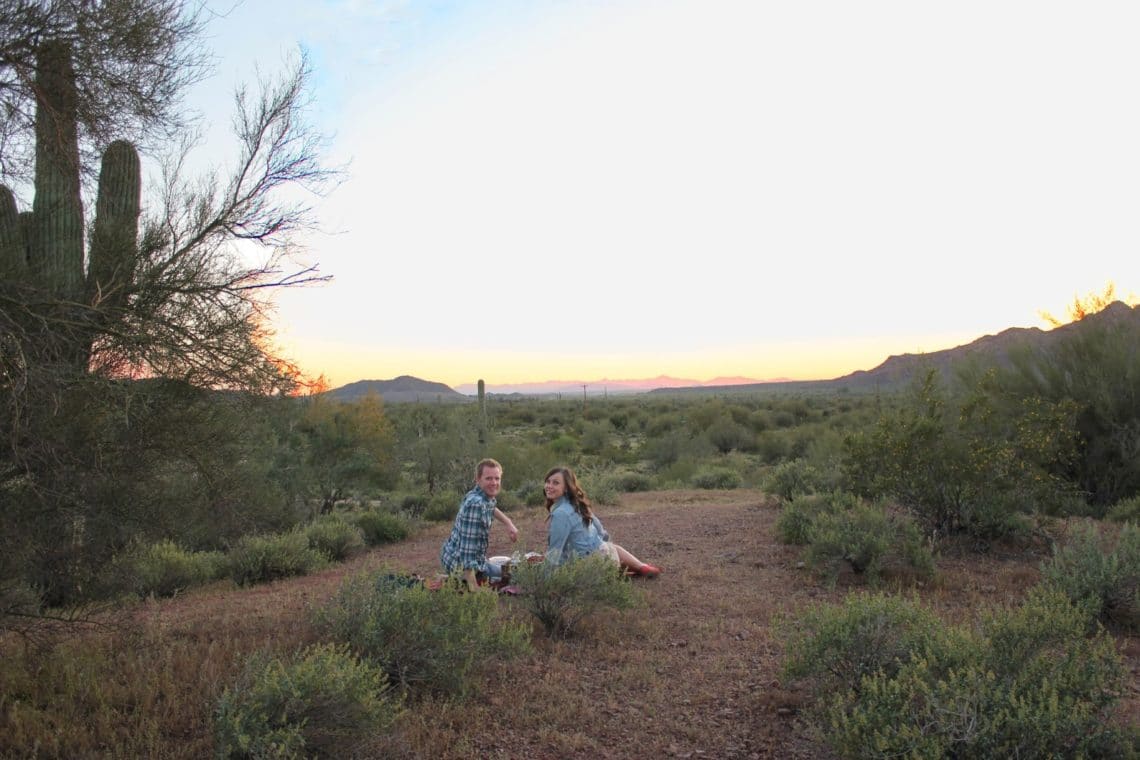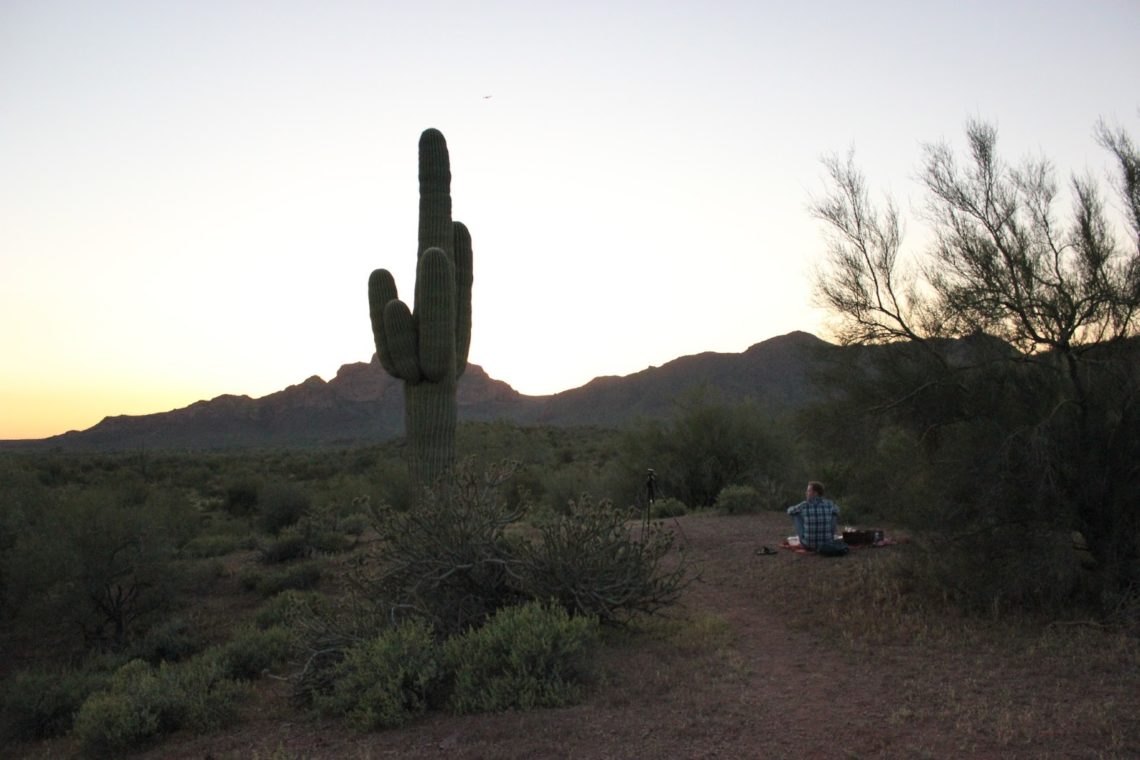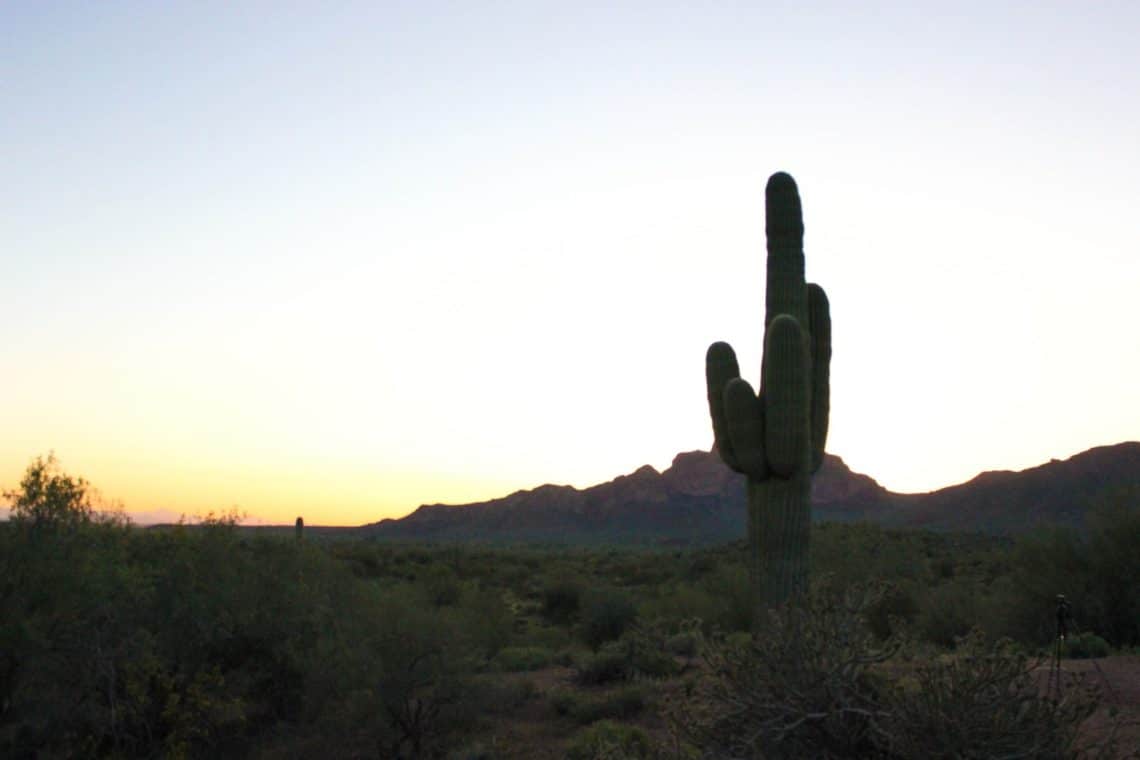 Romantic Picnic Food
This view was Part I of making this one of the most perfect dates we've had- but Part II may be our favorite- the food!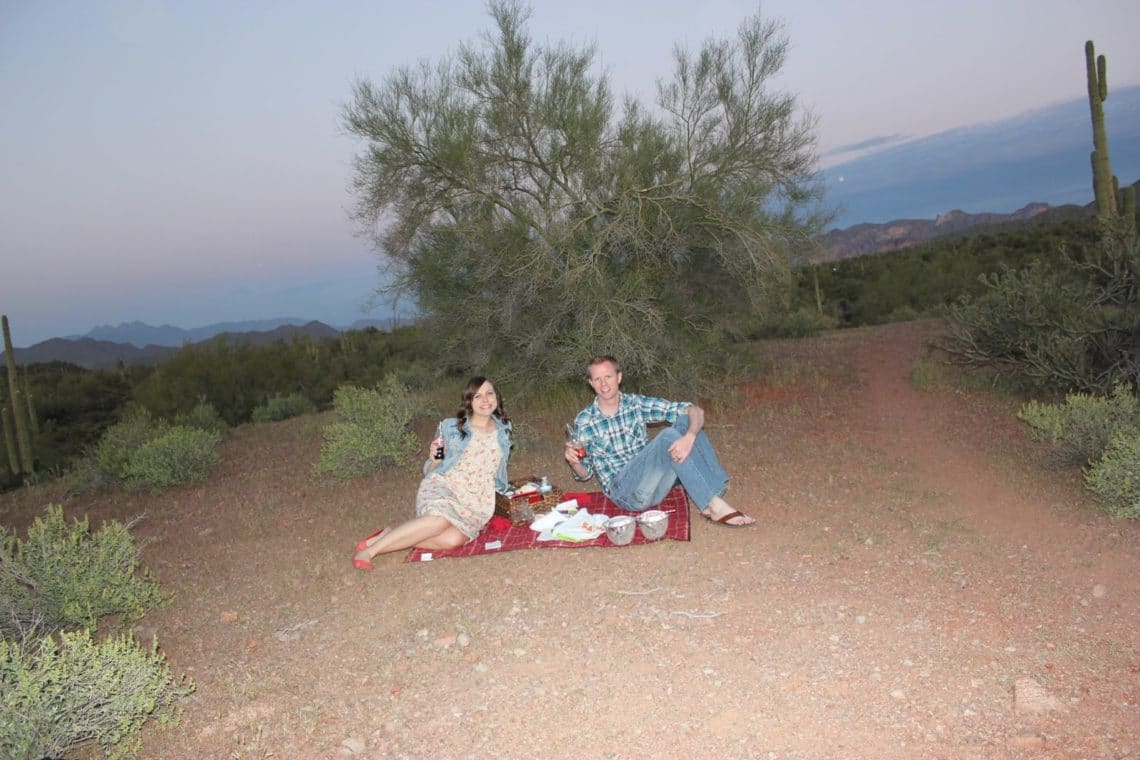 We started off with an appetizer of homemade roasted red pepper hummus and some naan from Trader Joe's. It was amazing! Seriously, making hummus is easy and it's quite a bit better than store-bought- we highly recommend it!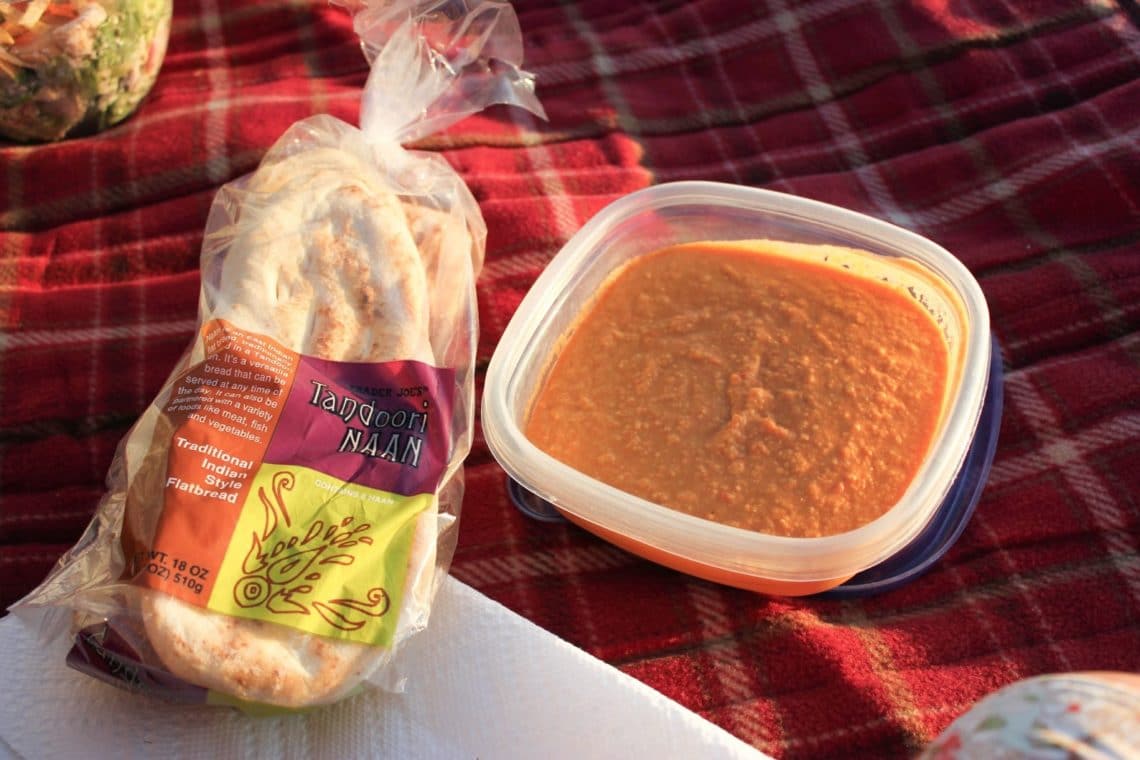 We decided to let someone else take care of the main dish, but wanted something fast, inexpensive, and healthy. This is often a nearly impossible task, but a new restaurant in Gilbert has made it possible! I found Salad-and-Go through my coworker and friend Katie who was invited to their ribbon cutting ceremony after she'd blogged about her excitement for it to open. It was doable to make it on our lunch break one day, so we went and have been back at least once a week ever since- no joke!
Jacob even loves this place! If you're in the East Valley put it on your list of places to try! We can't get enough of the BBQ Ranch Chicken salad, and that's the lucky food that got to come with us to see the scenery on this picnic.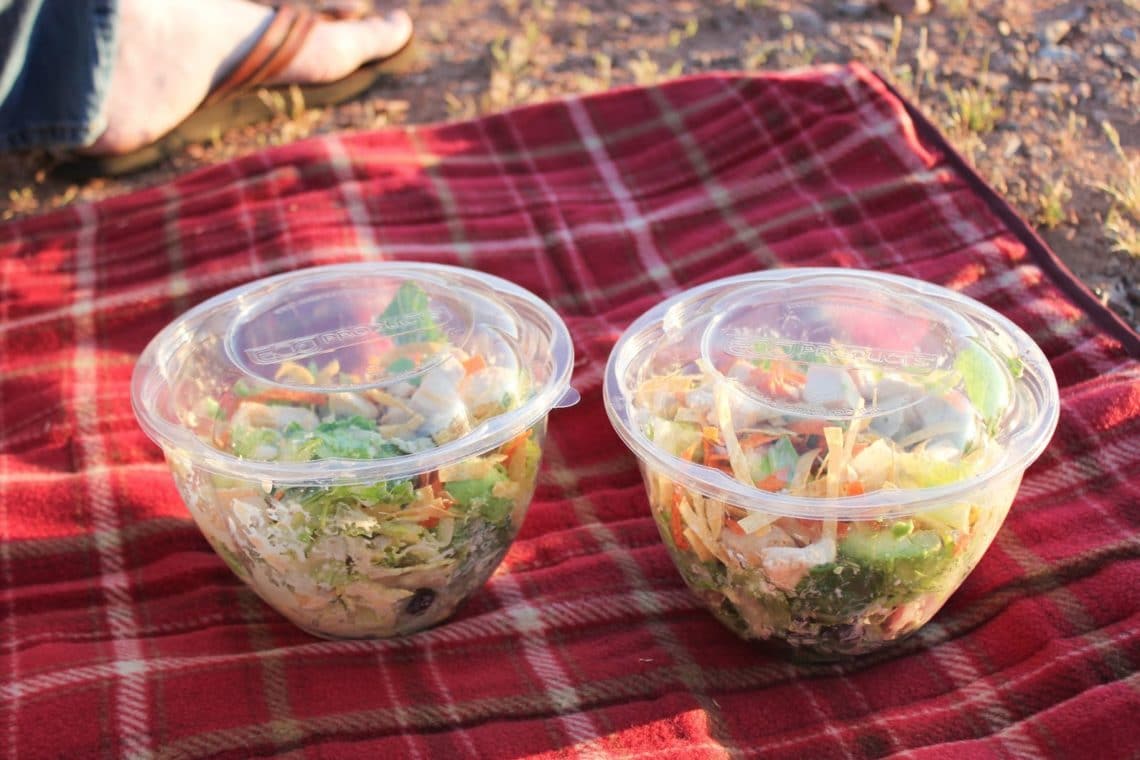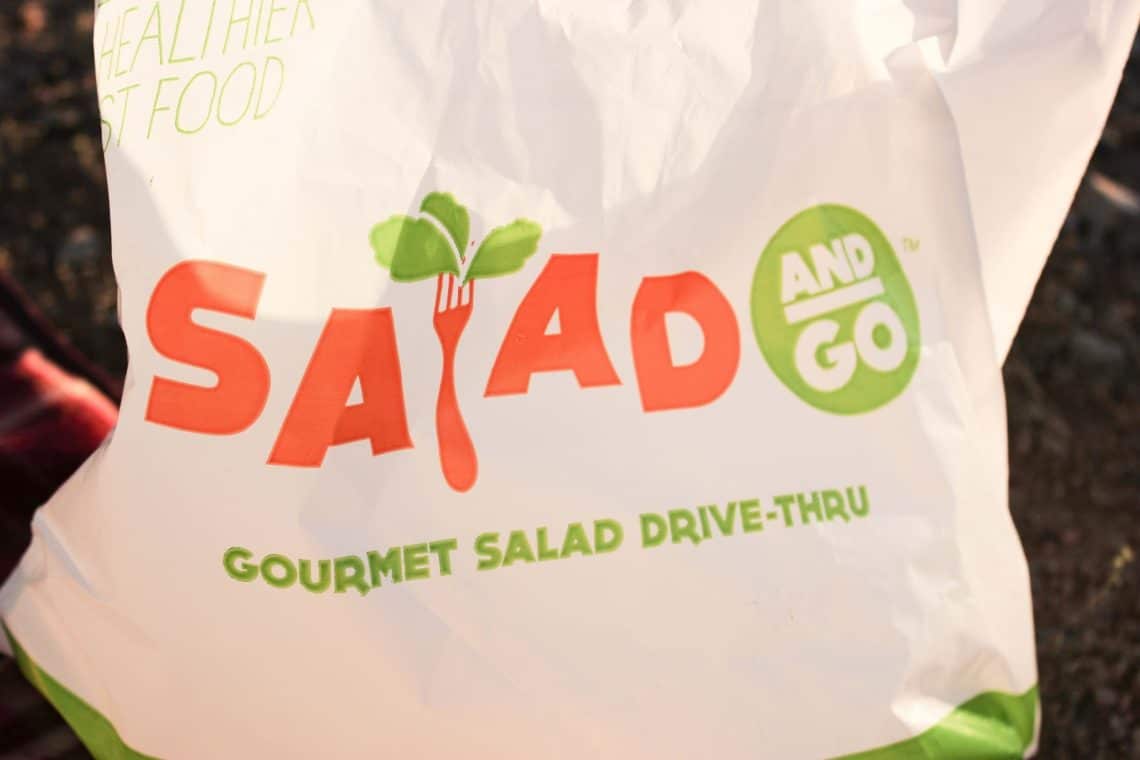 Picnic Date Food
We also made sure to bring two sodas in glass bottles with striped straws, just to make sure there was enough hipster in this date. Cream soda and Coca Cola, can't beat it! Bottled drinks are perfect picnic date food!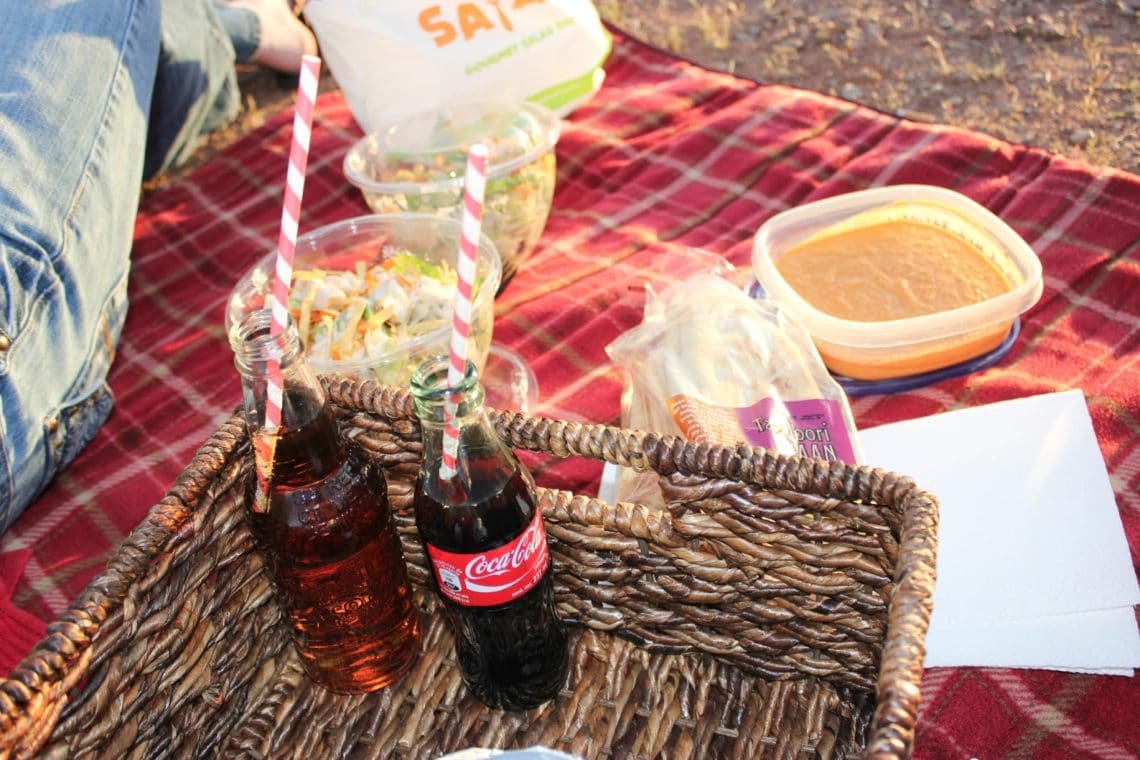 We had some great conversations as we watched the sun setting and we finished our meal. It was romantic, it was secluded, and it was amazing what a remarkable and special experience we could have on a very cheap date!
The best way to use your last 15 minutes of sunlight is definitely with dessert! We added even more hipster to mix and got some mason jars involved, which allowed us to enjoy some chocolate pudding cake baked in a jar. This may just be the perfect way to bring some homemade food on a picnic.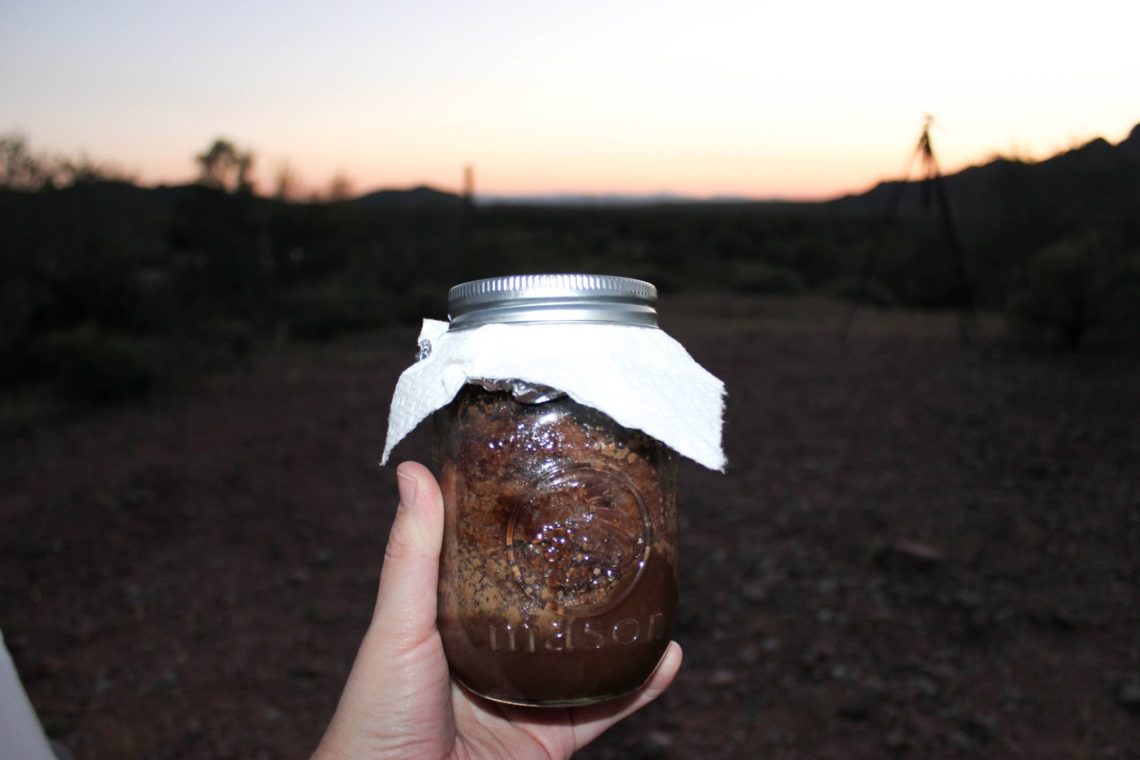 We bought a small container of Blue Bell Homemade Vanilla (best ice cream you can buy!) and packed it in a Ziploc full of ice to enjoy on top of our cake. It worked quite well!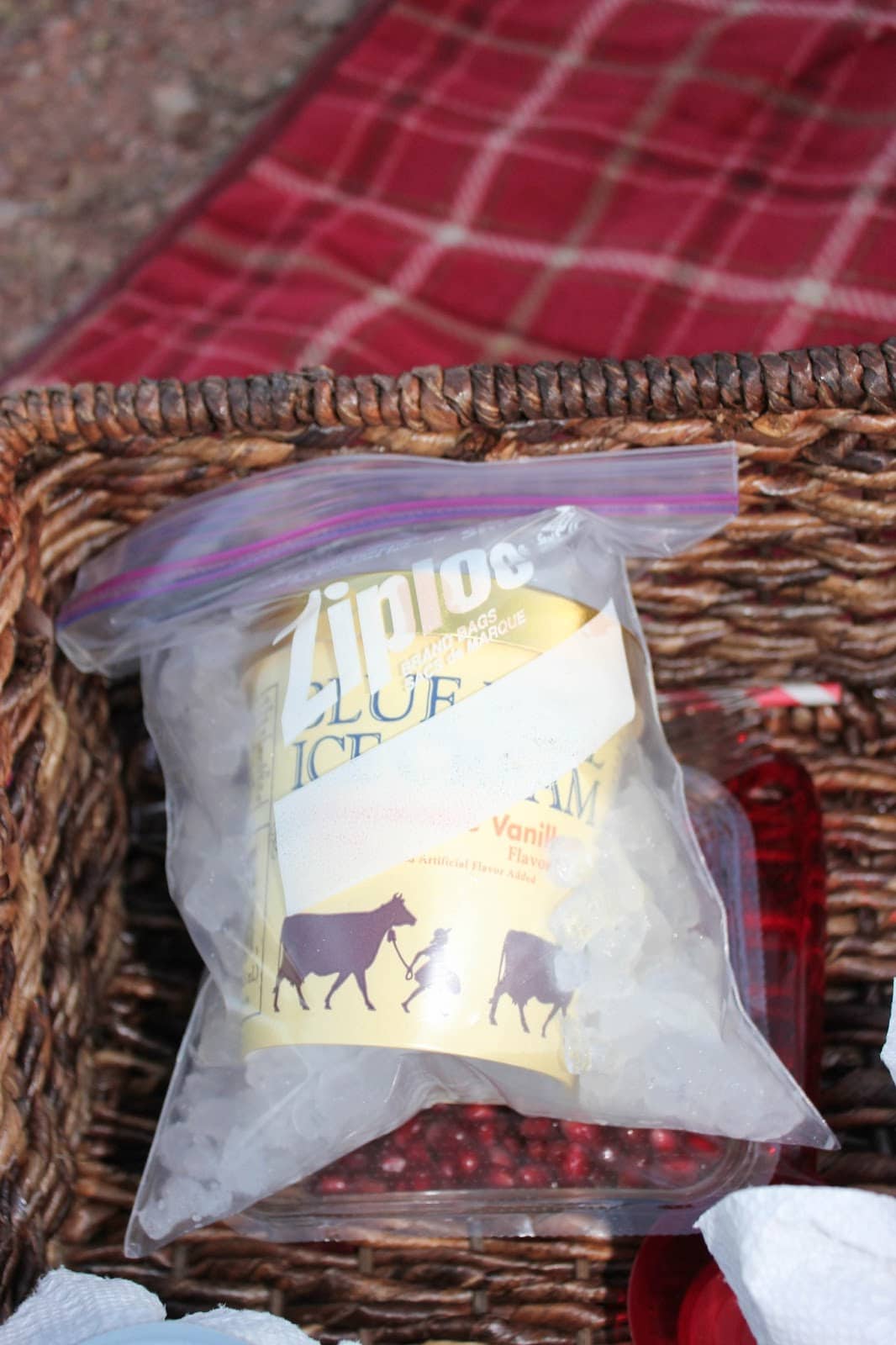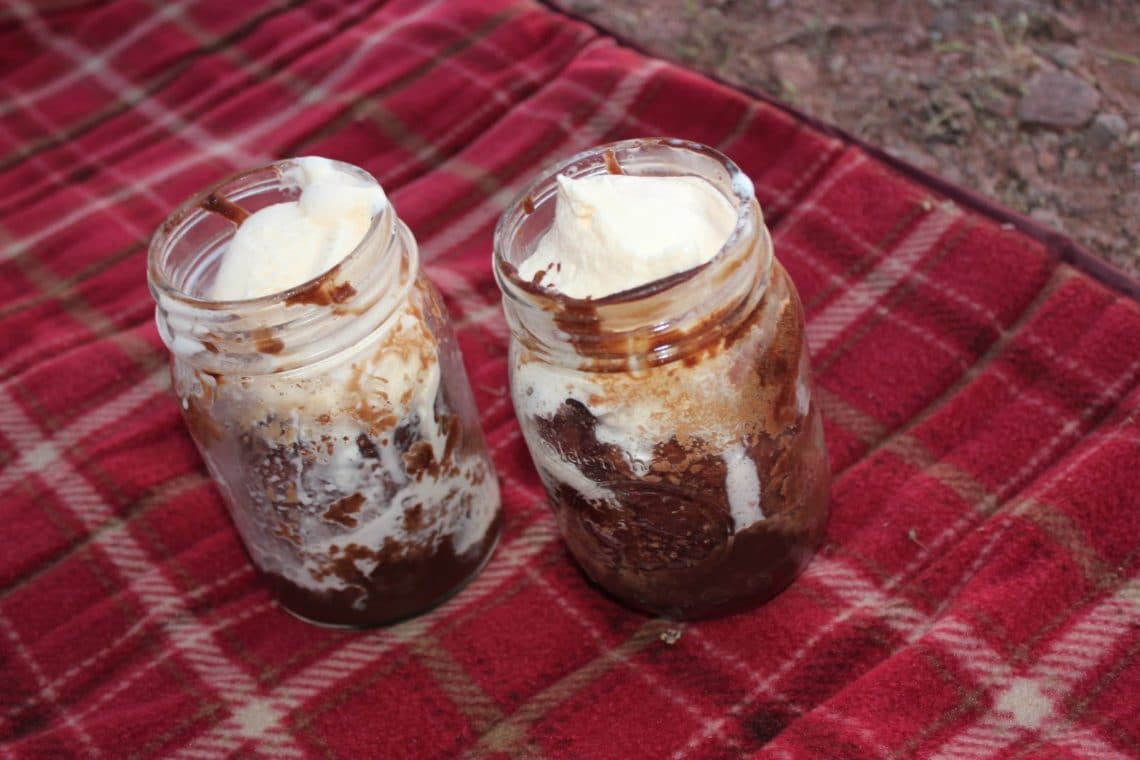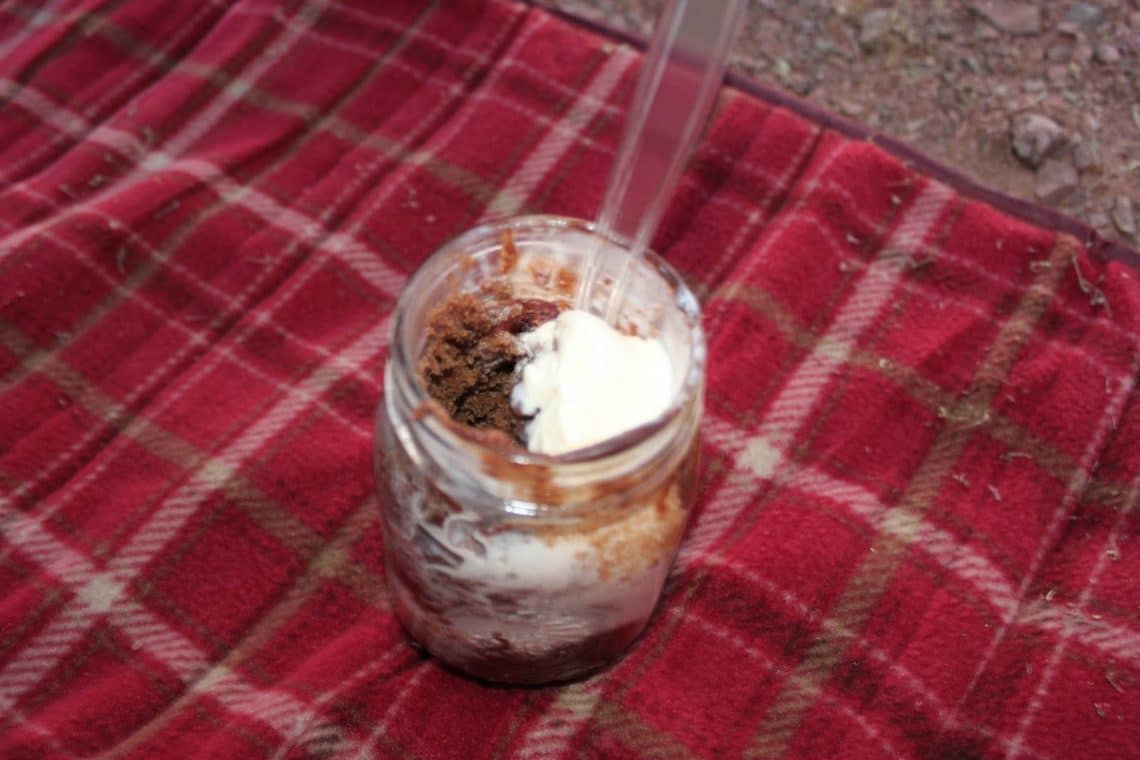 The recipe we used can be found on Pinterest. And, if you want to try another dessert in a jar for your picnic, HERE is a list of 24 other delicious looking ideas.
We had the perfect amount of time to enjoy our food, our scenery, take pics, but we were enjoying being together too much and were sad when the darkness crept in and we knew we had to pack up and start walking down the dark path to the car.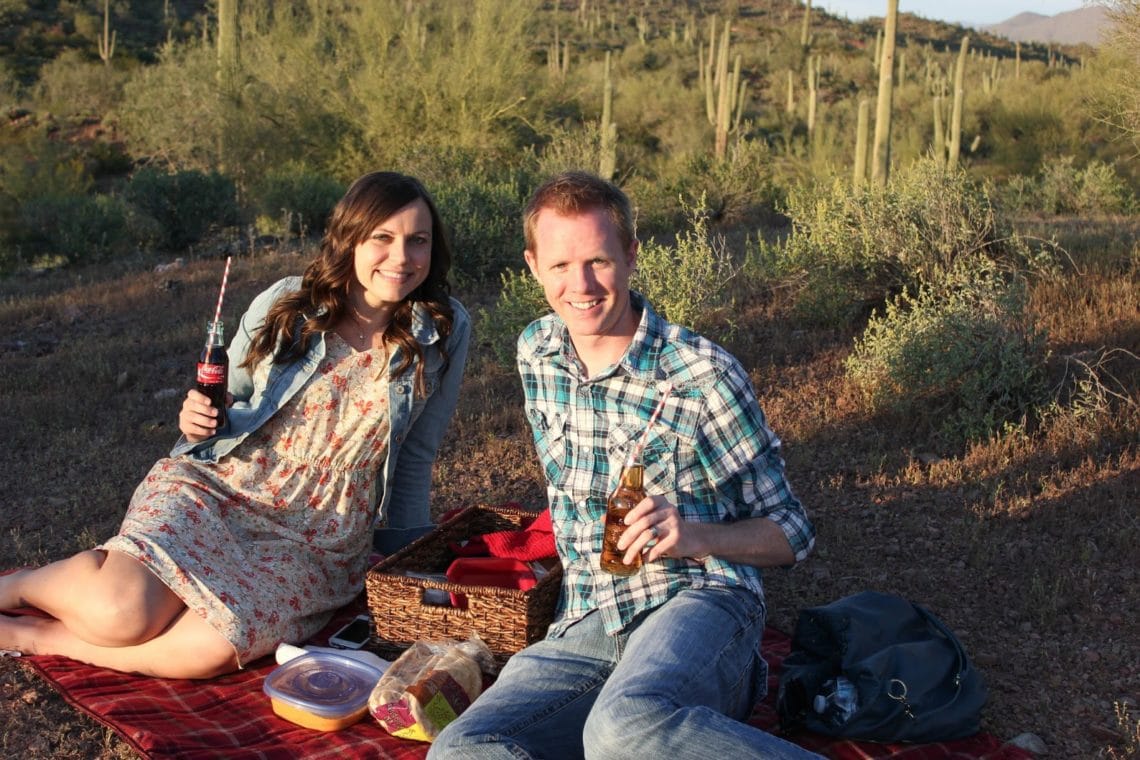 We did, and we just barely beat the too-dark-to-see-five-feet-away darkness that crept in.
Romantic Picnic Date Ideas
But can I tell you something seriously romantic we did before we started our car? Secluded by a hiking trail with the stereo now at our aid, we decided a romantic slow dance in the mountains was in order. There's nothing like a little Ed Sheeran's "Kiss Me" to make sure sparks fly. Try it, I promise it will kick up the romance another notch!
And that my friends is how The Whitings had one their few romantic dates fully basking in Spring, all on the cheap! Stay tuned, we're trying hard to add some more romantic dates to the mix!
Like these cute picnic date ideas? You may love these posts too:
50 Summer Date Ideas
40 Cute Date Ideas
Movies in the Park
Get 365 Date Ideas!
We want to help you have the best date nights ever! Grab this FREE printable with 365 date ideas, a date for every day of the year so you never run out of ideas!
Success! Now check your email to find your free printable download!
Sours: https://fridaywereinlove.com/romantic-sunset-picnic/
If you've been searching for picnic food ideas for couples for a romantic summer picnic, you'll find delicious recipes from the savory to the sweet here! This collection of picnic date food ideas, which includes easy picnic desserts, has something for everyone.
Picnic. Just the word is enough to conjure up memories of warm summer days, checked tablecloths, sun-warmed skin and delicious food.
Let's face it, the word itself sounds like fun – kind of like a cheerleader at a football game, with excitement, enthusiasm and wholesome goodness all rolled into one.
Is a picnic on your summer bucket list? Check out other summer bucket list ideas.
Going on a picnic, however, is not as simple as throwing a couple of sandwiches in a plastic container and calling it done.
Want greater connection in your relationship?
Then you'll want this freebie.
It's called The KISS Connection and it's a FREE 4-step everyday practice that will bring back that loving feeling.
Hit the pink button to grab your free copy today.
No, planning a picnic lunch menu requires some thought, especially if your picnic is a romantic picnic for two!
Picnic date food needs to meet the following criteria:
be easy to eat (think bite sized muffins, quiches, sandwiches or hand pies)
be travel friendly (not requiring too many steps to put together when you get there and traveling well without collapsing)
be able to be made ahead of time (even the day before if possible, to reduce stress on your actual picnic date)
be tasty!
I'm a fan of having some of those easy to eat options above, combined with something more substantial like meat, salad and of course some sweet picnic food to finish it all off!
These picnic food suggestionsmeet all the above criteria.
These ham, carrot and cheese muffins are the perfect bite-sized snacks for picnics.
Make them ahead of time and freeze them.
Then simply pack them into your picnic basket still frozen, so they help keep everything cool.
These pinwheels need two hours in the refrigerator minimum and can be made up to 24 hours in advance.
This gluten free sweet potato slice is made even tastier with the addition of fresh rosemary.
This is another make-ahead picnic food you can eat cold.
These picnic cases are light and tasty and ridiculously easy to make.
These delicious taco hand pies are like a beef and bean cheesy burrito in pie crust... yummy!
Mmmm. chicken and mozzerella... such a tasty combination even when cold.
No picnic is complete without sandwiches, but these are THE best picnic sandwiches out there.
Make sure you make it exactly as it states so the flavors have time to develop.
This baked chicken still has a crispy delicious coating and is just the thing to take on a picnic with the KFC coleslaw copycat recipe below!
I am a KFC coleslaw addict! I could literally eat it all day every day. This is a tasty copycat recipe perfect for your romantic picnic.
This salad has delicious Italian flavors with olives, mozzarella, pepperoni and more. It's a super tasty addition to your picnic date menu!
I love pearl couscous, and the addition of sweetened cranberries, zucchini, tomato, parsley and pine nuts, tossed with a lemony turmeric dressing, make this salad a sophisticated picnic date food.
This is a deliciously creamy, hearty, tasty potato salad - your husband won't be able to stop eating this one!
This chickpea salad is the king of make ahead salads - I'm talking up to a week ahead!
This combination of strawberry and spinach comes together to make a salad that's perfect for two.
Keep the dressing and cheese in separate containers until just before serving.
Of course, once you've finished all the savory treats, that doesn't mean your picnic is over! There's a range of delicious picnic desserts you can add to your picnic basket that are simple and easy to make.
Made with fresh raspberries and white chocolate chips, these are a delicious addition to a romantic picnic.
If you'd prefer a pie to a scone, then these super cute cherry pies are simple to make, with only four ingredients.
They look like little hearts which make them the perfect romantic picnic food!
This super easy apple tart looks a lot harder to make than it actually is!
It's perfect if you need something simple that is quick to make.
These cookies are soft and chewy. Try to resist eating them fresh out of the oven - you need them for your romantic picnic!
These old fashioned cookies are so quick to make, you'll be able to whip up a batch before you go off for your picnic feast!
Is a romantic picnic complete without chocolate?
These ridiculously easy dark chocolate hearts are perfect for rounding off your picnic feast.
If you've been searching for picnic food ideas for couples for a romantic summer picnic, you'll find delicious recipes from the savory to the sweet here!
This collection of picnic date food, which includes easy picnic desserts, has something for everyone.
Happy picnicking!
You might also like: Summer mocktails everyone can enjoy.
Want greater connection in your relationship?
Then you'll want this freebie.
It's called The KISS Connection and it's a FREE 4-step everyday practice that will bring back that loving feeling.
Hit the pink button to grab your free copy today.
Sours: https://www.mysweethomelife.com/picnic-food-ideas/
Allow me to put you on to my personal favorite type of date: the picnic date. Not only is it super easy (and pandemic approved), but it can be pretty damn romantic if that's the mood you're going for.
I mean, really, does it get any better than munching on your favorite snacks and catching some much-needed Vitamin D with your partner or Tinder date? I think not.
But you can't just show up to the park with a basket and a blanket and call it a day. I guess you technically can, but there's literally zero fun in doing the bare minimum.
So if you really want to make your picnic date more exciting than, say, watching Netflix in your PJs for the millionth time, you're going to have to put in just a little bit of effort. But don't worry, that's where we come in.
Here is your everything-to-know guide on perfecting your picnic date—including some picnic date ideas, picnic essentials, and important things to remember. Trust me, this is the shit you need to get out of your pandemic love slump.
Get Access to *All* of Cosmo
Join Now
First, let's start with some really easy cheap date ideas:
1. Eat on a charcuterie board. The best part about a charcuterie board is you can either DIY it or buy one from your nearest grocery store. The cheeses, crackers, fruits, and nuts are light enough that they won't make you feel super weighed down, but also filling enough that you're not hungry afterwards. Plus, it'll make for the perfect Instagram pic.
2. Have a photo shoot. Sure, you could always take a quick selfie on your iPhone, but how much cuter would it be to pack a Polaroid camera and take a bunch of sweet pics that way? You and your date can be models for the day as you capture each other's best angles. The best part: You'll get to keep the memory in your pocket with you wherever you go.
3. DIY your own wine tasting tour. Whether you want to bust out the fancy stuff or go down the $5 aisle, grab a few bottles of your faves, pack some fancy wine glasses, and sip on some new flavors while laid out on a picnic blanket. Honestly, all wine should be enjoyed like this.

4. Bring canvases and paint. If you want to take your picnic date to the next level, you could always recreate your very own paint-and-sip. Whether you and your partner consider yourselves artists or not doesn't really matter. Draw the park scene in front of you, abstract nudies of each other, or literally whatever you want. It's fun! And exciting! And you can make fun of each other's version of so-called "art" afterward.
5. Make it a self-care Sunday. Self-care isn't just face masks—which I'd actually recommend you not do outside. Bring journals and write affirmations, create vision boards together, or take some time to manifest anything on your mind. If that's too ~deep~ for a Tinder date (totally understand), listen to a podcast or music together.
6. Explore the park. Who said a picnic date had to be confined to your blanket? Set up your picnic and then take a walk around the park. It'll be good to get moving, plus all the walking around will probably help build up an appetite for the delicious picnic you packed for later. Just be weary of squirrels getting to your picnic while you're gone, lol.
Picnic essentials you should always pack:
1. Fresh fruits are always a good idea. It's light, easy, and can be eaten with or without napkins incase you forget those. Plus, everyone likes snacking on things while on a date. (Bonus points if you bring along some chocolate hummus or anything to dip them in.)
2. A portable speaker. Packing a speaker and preparing a playlist could make all the difference between a blah date and a "Okay, I have to see this person again" date. Like, just imagine SZA blasting out of a speaker next to you. That's a vibe.
3. A Polaroid camera. Whether it's for your date idea, as mentioned above, or just because you want to document your day in a cute way, a Polaroid camera is way better than your iPhone's camera.
Amazon
Fujifilm instax Mini Instant Camera
Fujifilmamazon.com
$77.95
SHOP NOW
4. Something to sit on. Hopefully this goes without saying but pls, pls, pls, bring a blanket or something to sit on. And if you don't have a blanket, a couple of beach towels works perfectly. You don't want things to get awkward if it's muddy outside.
5. All the drinks. There's nothing worse than being stuck in the middle of a park without a drink. Like, just imagine the thirst. So bring along some water bottles, some wine, and/or whatever else you're interested in sipping on.
6. Sunscreen. Sitting in the sun is amazing. But what's not amazing? Getting burnt from said sun that once felt so good.
Picnic date tips and reminders:
1. Be mindful of the people around you. Just because you want to listen to Ariana Grande via your portable speaker doesn't mean the mid-50s couple to your right wants to also. So be mindful about how loud you're bumping your music. (And also, because we're in a global pandemic, if other people can hear your music, you're probably too close to them anyway.)
2. Stay away from super messy take-out foods. Deciding on the menu for a picnic date can be a lil awkward because what is actually comfortable to eat sitting on the ground? Consider it best to stay away from heavier foods or anything that could get super messy. Sorry, but it's probably not the time for spaghetti. Opt for snacks, chips, fruits, etc. instead.
3. Choose a secluded spot. Because COVID-19 is still a thing, make sure you find a spot far away from other people for your picnic. And honestly even in normal times, the best way to make your picnic extra romantic is to make sure you're not constantly being interrupted by loud kids screaming or rogue frisbees coming at your head.
Syeda Khaula SaadSyeda is a writer for Cosmopolitan who likes to analyze and improve the way we look at sex as a way to topple the patriarchy.
This content is created and maintained by a third party, and imported onto this page to help users provide their email addresses. You may be able to find more information about this and similar content at piano.io
Sours: https://www.cosmopolitan.com/sex-love/a35647330/picnic-date-ideas/
summer day in my life! *aesthetic picnic date \u0026 thrifting*
Romantic Picnic Ideas for Two
Have you ever wondered what food qualifies as "picnic date food"? It can be tough to come up with a menu for a romantic picnic! These picnic ideas for couples will inspire you to pack up and enjoy a romantic picnic for two!
Tips for planning a romantic picnic:
I like to think of planning a picnic for two just like I would any meal, minus the main dish. From there I modify the appetizer, side dishes and desserts to be simplified and more snack-like.
Even though this is a meal, treat it more like you would a cocktail hour or holiday party, create a menu that is meant for snacking. 
It's also important to avoid the sack-lunch mentality and instead choose dishes that are more hands-on and collaborative. 
For the most romantic picnic, choose recipes that you don't make very often or feature higher-end ingredients. This can be hard to imagine, so here are a few ideas to get the ball rolling. 
Simple Recipe Swaps to Create a Romantic Picnic 
Swap ham sandwiches for build-your-own crostini featuring prosciutto, extra sharp white cheddar, honey and orange zest. 
Swap apples for fresh cherries, figs or grapes. 
Swap chips for a bowl of popcorn or a baguette. 
Swap water and soda for wine or sparkling wine. 
Swap cookies for a fancy bar of dark chocolate.
Swap veggies and dip for a fresh herby salad. 
Swap sandwiches for a charcuterie board featuring cured meats, a variety of cheese, olives and honey. (Check out my guide for creating the perfect cheese board!)
Romantic Picnic Ideas: Places
Local park (a site to find local parks)
Local lake/beach
Backyard
Living room
Drive-in theater
Star Gazing
Kayaking or canoeing
Frisbee golf
What to bring on a picnic date:
Find a fun, old-school picnic basket 
Use an insulated cooler for things that need to stay cold (use frozen water bottles—they acts as freezer packs and you get water out of the deal).
Bring any flatware you need, try to avoid plastic (cheese knife, serving spoons, etc) 
Pack cloth napkins 
Bring stemless wine glasses or champagne flutes 
Pack a large blanket 
Bug spray and sun screen! 
Wet wipes and/or hand sanitizer
Flowers (very optional but very romantic!)
Super fresh and flavorful, this gorgeous salad is simple to throw together while also being incredibly elegant. This salad is a must-try!
Salad just got more interesting. This fennel salad is fresh and crunchy, can be prepped ahead, and travels well! Picnic ready I'd say!
The one sandwich that is unique enough for a romantic picnic. Fresh basil and juicy peaches make this sandwich unlike any turkey sandwich you've had before.
Opting for a cheese-board picnic? I've got you covered with the ultimate guide for creating the perfect cheese board, no matter the occasion.
This panini is heaven! Cheesy, jammy and crunchy, these are make-ahead friendly and travel well. Make them right before heading out for your picnic.
Fruit salad gets a major upgrade with this recipe! Fresh strawberries pair perfectly with a crunchy, nutty pine nut brittle (you may find yourself making the brittle just for snacking)!
Three main ingredients make up this cocktail. It comes together in just a couple of minutes and no prep is needed!
The perfect summer drink! Mix this up and get it chilling before heading out for your picnic. It's sweet, slightly tart and very refreshing!
These elegant mini cakes are perfect for a romantic picnic. Featuring bitter Campari and grapefruit, they're uniquely flavored and perfectly sweet.
Does it get any more romantic that red wine and dark chocolate?! I don't think so! Combine the two in this decadent treat.
Salted caramels are always a delicious treat. But add some fresh rosemary and you really up the ante!
Make sure to tag me @ZESTFULKITCHEN ON INSTAGRAM or comment below if you plan a romantic picnic!
To pin this guide and save it for later, you can click the button on any of the photos, or the red button on the side bar. Happy picnicing!
Sours: https://zestfulkitchen.com/romantic-picnic-ideas-for-two/
Ideas pinterest date picnic
Shadri drawled melancholy. You all go to bed, Ill be on duty. It will be necessary, I will wake up. And, about the second question, who has distinguished himself most today.
Picnic date — LA mini vlog (Indonesia)
What kind of joke. Do you want to talk?" Okay. Then let's see what kind of hero you will be in battle. What other battles.
Similar news:
I just choked on the buzz. I lay down on the bed, and you sat on my face, and I inserted my tongue into your cave to the very. End, and you bent down and began to caress the penis with your tongue so that I was ready to cum instantly.
260
261
262
263
264