20 Best Browser Games You Need to Try in 2021
It's all fun and games until someone, well, takes away the fun and games. Yes, even the best browser games can be a time-suck sometimes.
But while putting this list together, a couple of quotes made us think about the benefits of browser games (and games in general). Even ones that seem pointless.
By playing games you can artificially speed up your learning curve to develop the right kind of thought processes — Nate Silver, American statistician and writer
Games give you a chance to excel, and if you're playing in good company you don't even mind if you lose because you had the enjoyment of the company during the course of the game — Gary Gygax, American game designer and author
Pretty compelling quotes. So spending time playing games can't be all bad, right?
In this list of best browser games you'll find fun for everyone, from classic reboots to fresh new titles. While not all of these are free browser games, most of them have a free version for gamers to play from their web browser.
Looking for a game that's fun and educational for your students? Try Prodigy Math Game, an adaptive, fantasy-inspired math platform.
What are the best browser games?
1. Prodigy
Prodigy Math Game is a hyper-engaging, fantasy-inspired MMORPG (massively multiplayer online role-playing game) with millions of players. It's dedicated to helping improve children's math skills and confidence.
As a young wizard, you traverse the worlds of Prodigy competing epic quests and battling bosses! To win, you must answer sets of questions that adapt to your math level. With every battle your wizard moves closer and closer toward unlocking endless magic and mystery.
If you're a parent, here's everything you need to know about Prodigy Math Game.
Play Prodigy now!
2. Powerline.io
Remember playing Snake on the indestructible Nokia phone? In this version you're not just a neon snake — you're competing with other neon snakes for supremacy.
Beam across the field to eat the cubes that appear when another snake dies and grow longer. But don't run into other snakes or else you'll turn into cubes and have to respawn in your original size.
If you want to gain speed, slither alongside other neon snakes. This causes electrical impulses that give you speed which you can use to force other snakes to slither into you!
Play Powerline.io
3. RuneScape
In January 2001, developer Jagex released RuneScape, a point-and-click MMORPG set in the vast, medieval fantasy realm of Gielinor. Take part in over 200 quests while you explore a world filled with diverse races and guilds all seeking power.
You can choose the types of skills you want to train in: Combat, Artisan, Gathering, Support and Elite. As you level up, your skills will become more advanced which will ultimately help you complete your quests.
Play RuneScape
4. NoBrakes.io
Simply use your arrow keys to steer and you're off to the races! NoBrakes.io is a multiplayer racing game where you reach checkpoints to gain a competitive advantage with power-ups that boost your speed or slow others down.
Sounds simple, right? Yes, until you realize this race isn't a conventional one. If you're near the front of a line, for example, checkpoints can pop up behind you. So you need to be ready for anything!
You can play this multiplayer browser game on your PC or as a mobile game in the Apple or Android app stores. 
Play NoBrakes.io
5. BrowserQuest
This browser game invites you to explore a digital world from your — you guessed it — browser. Step into the shoes of a young warrior in search of friends, adventure and treasure.
Whether you defeat enemies alone or as a party is up to you. But don't forget to collect the loot when you do! It will take you far in BrowserQuest.
Play BrowserQuest
6. Everybody Edits
Entrepreneur and developer Chris Benjaminsen created this real-time, multiplayer platform game. But the players are the ones who can build levels for others to try and complete.
Although you don't compete directly with other players, they're in-game creations can still indirectly affect you.
Since "everybody edits," this unique browser game gives players two choices: 1) play the game or 2) play with the game.
Play Everybody Edits
7. AdventureQuest
AdventureQuest is a single-player RPG wherein you create a character, pick a class, and fight against hordes of monsters. Depending on your personality, you can choose to be a ninja, wizard, fighter, rogue, or paladin (to name just a few).
The AdventureQuest world is filled with magical powers, hundreds of items and over 700 monsters. Take part in dozens of quests! The more you win, the stronger your character gets and the more you progress.
Play AdventureQuest
8. Pokémon Showdown
Children and grown-ups alike love this online battle simulator. It's like playing the Pokémon video games without having to put in the work. No waiting to rest or level up — you just jump straight into battle.
You can build a custom team if you have a preference for the Pokémon you want to use, or you can join a random one and battle with whatever you get. Instead of the goal to "catch 'em all," now you can beat 'em all!
Play Pokémon Showdown
9. Neopets
In November 1999, game designers Adam and Donna Powell released arguably one of the best browser games: Neopets. Neopets is a virtual pet website where players can own virtual pets and care for them using neocash.
20 years later, Neopets still exists and is active thanks to its beloved events, dailies, pet customization and community.
Play neopets
10. Gartic.io
Remember playing pictionary or Draw Something? Similar to those games, you can sum up Gartic.io in three words: draw, guess, win. In this online drawing game, up to 10 people can play.
At the start of every round one person will randomly draw a word and draw it, while everyone else has to try and guess the word correctly.
Play Gartic.io
11. Slither.io
Jump into Slither.io, the new and improved Snake game, with millions of players around the world! As you probably know, the goal is to become the longest snake of the day. All you have to do to grow is get other slitherers to run into your body.
If you end up breaking the record for biggest snake that day, you get to leave a message on the screen for everyone who's playing to see!
Play Slither.io
12. Isleward
Big Bad Waffle is the game developer behind Isleward, a roguelike MMO that drops you into the city of Strathford. (A "roguelike" is a subgenre of role-playing video game characterized by a dungeon crawl.)
Strathford is where you can form a party of your own, learn how to level up and explore different islands. Together or alone, you'll find yourself doing dungeon crawls in search of loot.
Play Isleward
13. GeoGuessr
Take a trip around the world, visiting faraway places with GeoGuessr. In this geographic browser game, you're placed in a semi-random location and must discover where you are in the world. But you can only use visible "street view" clues to inform your guesses!
When ready to guess, you place a location marker on a map. Based on the accuracy of your guess, GeoGuessr will give you points on a scale from zero (direct opposite of where you actually are) to 5000 (within 150 meters of your actual location).
Play GeoGuessr
14. Frogger Classic
This classic arcade game goes back to 1981. Playing as the frog, your goal is to get from one side of the road and river to another — all while cars, trucks, logs, turtles and other obstructions move horizontally across the screen.
Depending on your settings, a level can start with three, five or seven lives (or, in this case, frogs). Want to progress? Successfully get all the frogs across safely to their homes.
Play Frogger Classic
15. Spelunky HTML 5
Legends speak of a Colossal Cave that extends deep underground, so twisted by time that its passages shift like the sand under which it lies… The Cave is said to be filled with fabulous treasures, but also incredible danger!
Spelunky is a roguelike browser game that involves cave exploration and hunting for all the treasure you can find. What's so amazing about this game is that every time you play, the cave's layout is different. The longer you survive, the deeper you go and the more treasure you can find.
Play Spelunky
16. Flow Colors
This online puzzle game challenges players in a different way! Your goal is to connect matching colors using a pipe to fill the entire board. But don't let your pipes overlap, or else they'll break!
There are thousands of free levels available and 10 different board sizes. Flow Colors also offers different gameplay modes depending on your mood — you can play to relax or race against the clock.
Play Flow Colors
17. Apple Worm
If you think Flappy Bird was frustrating, you've got to try Apple Worm. The goal is to get your worm to eat the apples and reach the portals without getting stuck in the obstacles or falling off the level.
It sounds simple, but the levels get trickier as you progress. Think you can help the worm eat the apple in all 30 levels?
Play Apple Worm
18. World's Hardest Game
According to game creator Stephen Critoph, "This is The World's Hardest Game. I guarantee you it is harder than any game you have ever played, or ever will play."
In this game, you're a red square that needs to get from point A to point B while collecting yellow circles along the way. With each level you pass (if you can pass them at all) they get harder and harder.
Play World's Hardest Game
19. Hexar.io
Drawing inspiration from Snake and Slither.io, Hexar.io is a free-for-all multiplayer game. Your mission is to conquer and keep as much hexagonal territory as possible. But others are trying to do the same, so don't trail too far from your territory or else you might lose it.
You should also avoid hitting your opponent's head because that can result in having to start expanding all over again — and there's only so much map space. Don't forget to collect green circles to gain speed!
Play Hexar.io
20. Helicopter Game
To close, here's a classic that can end in triumph or fury. The goal of Helicopter Game is to fly your helicopter as far as possible without crashing into the cavern's floor, ceiling or obstacles.
No matter how far you've flown, if you crash you start again — from the beginning. Do you have the masterful control and patience to fly the farthest?
Play Helicopter Game
"Hidden" benefits of the best browser games
Can playing the best browser games be a time-suck? It depends how much time you spend in front of your computer screen playing PC games.
That said, believe it or not, the list of best browser games you just scrolled through can have some surprising benefits. For example:
Prodigy Math Game can help students have fun while practicing standards-aligned math
Slither.io and Hexar.io can encourage strategic and creative thinking
World's Hardest Game might make you a more patient person (or not 😂)
Apple Worm can improve your problem-solving skills, understanding of cause and effect, and spatial reasoning
Playing browser games isn't necessarily time well wasted. In fact, they can be beneficial in more ways than one — and that applies to kids and grown-ups. So what do you say? Let's play!
Join Prodigy today and enter a world where success depends on correctly answering math questions! Get free and easy-to-use teacher tools for your classroom or log on as a parent to track your child's learning progress.
Join Prodigy Math Game for access to free teacher tools that make it easy to engage and motivate students. While students are exploring a world filled with epic quests, exciting pets and new rewards, you can send assignments, collect insights and keep their learning on track.
Create my free teacher account now
You might also like: 13 Best Math Apps for Kids Learning from Home (Proven)
Sours: https://www.prodigygame.com/main-en/blog/best-browser-games/
The COVID-19 virus has impacted our lives in many ways. Many of us are forced to work from home. Some of us may find it difficult working from home since we are used to the office environment. There are meetings and phone calls to attend, mails to reply too that keep us busy. Amidst all this, we find taking a small coffee break and chit-chatting with our colleagues. However, when we are home-quarantined and maintaining social distancing, we miss these small breaks.
We have something that could replace your small breaks while you work-from-home. We have made a list of multiplayer games that are fun to play with colleagues, with friends and family. These games are easy to play and they can be run on your office laptop. All you need is a web browser and an active internet connection.
Agar.io (Arcade)

Agar is a fun multiplayer game with easy controls. You start as a cell, and you must float around the game board to survive and grow bigger. You get bigger and powerful as you collect more and more cells. Make sure you don't get eaten up by your opponents. Agar.io lets you create a party mode where you and your colleagues can play together, and even compete. This game can accommodate 20 players so you can even play with large groups. It's a free game that lets you customize your cell. Just remember, survive and eat long enough to become the biggest cell in the game.
Play now!
Tanki online (Action)
Tanki Online is a 3D action game. You can fight in 3D arenas with props including building, walls, bridges, and bushes. The game physics are like the real world, so your tank can get stuck in deep pits and even fall off bridges. You can play as a squad if you like. There are different modes to explore such as Team Deathmatch, Capture the Flag mode and even an Assault mode, where you attack the enemy and take over their base. With every new rank, you can upgrade your tank with special weapons. It's an easy-to-play game and all you need to use are the directional keys and spacebar to control your tank.
Play now!
Skribbl.io (Arcade)
Skribbl.io is a game where you can showcase your drawing skills. Players take turns to draw the word assigned to them, and the others must guess it. Each player is given a set time to visualize and draw the chosen word. When it's your turn to guess, type the guessed word in the chatbox. Players are allotted points based on how quickly the right word is guessed. Every match consists of multiple rounds, and the player with the most points at the end of the game is crowned the winner. The game can accommodate up to 10 players, and even if your drawing isn't good, we think you will enjoy this game.
Play now!
Clashed Metal Drifting Wars (Action, Racing)
Clashed Metal Drifting is a free multiplayer online racing game. Players race against opponents and try to destroy them with a variety of weapons. You can choose different cars, modify them with rocket launchers and fire missiles to eliminate your opponents. It's an easy-to-play game where you use arrow keys to drive and click to fire. The game lets you create a private room, where you can invite 6 of your colleagues to compete against each other. The game has three different maps to explore and you'll also find power-ups that can increase your chances of becoming the winner.
Play now!
UNO With Friends (Card Game)

UNO With Friends is a simple card game that anyone can learn in a couple of minutes. Every player gets 7 cards and you have to play a card that matches the colour or number of the card on the pile. If you don't have a matching card, you need to draw a card from the deck of cards. Special cards such as Draw 4, Reverse, and Skip can improve your winning chances. Players need to declare 'UNO' when they are left with the last card. This game lets you create a private lobby, where you can invite your friends and compete against each other.
Play now!
Getting used to the lockdown can be difficult. These games run on browsers, they can get you through this phase even help bond with your colleagues. Online games are more fun to play when you can have voice conversations with your friends. You could use your Jio connection to make conference voice calls or WhatsApp group calls. Voice calling apps such as Discord even runs on a web browser. Try it. We think it'll be a lot of fun!
Browser GamesEasy-to-play gamesGaming with friendsMulti-player Online gamesWork from home games
Sours: https://www.reliancedigital.in/solutionbox/best-multiplayer-games-to-play-in-a-web-browser/
Best Browser Games To Play With Friends in 2021
You know what they say – friends that game together, stay together! We can't underestimate the value of bonding and sharing a great time with friends. Even with lockdown restrictions in place, connecting with friends virtually was a source of comfort, joy, and love. Be it while quarantining or enjoying some quality time with your buddies from across the globe, playing with friends online is always fun. This is why we've put together a list of __ browser games to play with friends. With a host of web browser games and even a virtual game night, we've got the perfect list of ideas to make sure you have an epic time with your friends!
Let's get gaming!
---
1. Virtual Game Night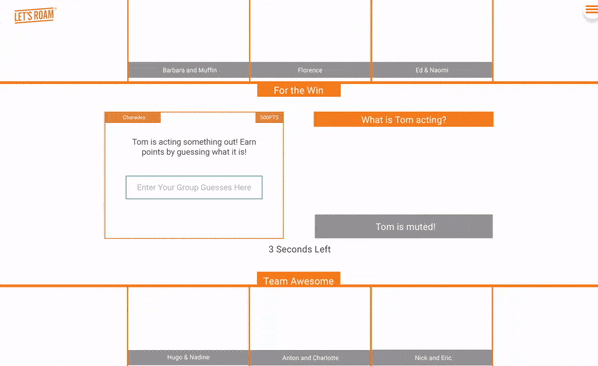 Let's Roam's virtual game night features at the top of our list for a reason – not only is this a hassle-free multiplayer setup, but it's super fun! This seamless software boasts of an embedded video chat so you can connect with your friends at the touch of a button. Hilarious new games are added every week – you'll always have something new to look forward to. In addition, there are themed games holidays, festivals, and just about any special event. Up to 16 people can join each game – this means that you can include every member of your circle. The entire setup is easy and hassle-free – you don't need to download a separate app to enjoy a virtual game night with your buddies. This browser-based platform does all the work for you.
Oh, and did we mention that you can customize your games to include personalized trivia and inside jokes? From classics like Pictionary and charades to special holiday-themed games, this virtual game night is a winner!
2. Virtual Escape Room
Bring the thrill of an escape adventure to your desktop with a virtual escape room. In this hour-long challenge, you must team up with your remote friends and solve a set of puzzles and riddles to find virtual keys. Choose from a series of challenges like escaping a pandemic (like 2020 wasn't enough already!), fighting a zombie apocalypse, breaking out of a prison and a museum heist. These digital escape rooms are designed for groups as small as two, ranging up to any number of people you want. With The Escape Game, you can opt for your video conferencing platform of choice and connect with a host to guide you through the experience.
3. Excel Monopoly
Game night with friends is incomplete without a board game or two. If you can't meet your friends IRL anytime soon, don't let that stop you from enjoying a game of Monopoly with them. This free version of Monopoly can be played on… you heard that right – Microsoft Excel! Not only can four people play the game at the same time, but you can pick the computer to play as well – this lets smaller groups enjoy the game too. Not only is this game completely free, but it lets you enjoy the game in four modes. This game is sure to make your weekly board game parties interesting!
4. Pokémon Showdown
No browser game list is complete without some good old Pokémon games! With Pokémon Showdown, you get to battle your Pokémon with your friends over a range of tournaments. This battle simulator game is special because this can be used to train your Pokémon before competing in pro games. Here, you can battle in matches directly, without leveling up or boosting your Pokémon. If you lose a match or die, you don't have to wait or rest in a Pokémon Center either. You can get right back up again. Meanwhile, you can pick your own Pokémon and build a custom team – it's every trainer's dream come true!
5. CATAN Universe
CATAN Universe is a crowd favorite – this classic board game has a series of adventures in-store as you collect points and currency. The premise of the game is simple – you have reached a new island after sailing the high seas. You must now stake a claim and fight for the island as you build cities, trade, and duel with other players. As you build your empire over the island, solve a series of challenges and play mini-games with dragons, barbarians, trolls, and more. There's a surprise at every turn here!
6. Let's Draw
VGN Let's Draw is your one-stop solution to play online Pictionary. The browser interface is fairly straightforward – there is a digital whiteboard with a series of pens. Invite your friends and family so you can all play with each other. Pick the number of rounds per game, choose your cue, and start drawing. Your friends can drop in their guesses in a live chat box or over live video, and the person to guess it right wins! Play Pictionary with friends online today!
7. Among Us
Among Us is the newest game on the block that's taking every gamer by storm. This is a game of strategy, deceit, and the cutest characters! The game begins with different characters stranded in a spaceship. The crew must work together to navigate the spaceship and maintain it, but there is a sinister imposter whose mission is to kill everyone on board. You must discuss with your team to find out who the imposter is before you get killed – and if you're the imposter, you must sneakily kill everyone on board before your group outs you!
8. Playing Cards
If you're anything like us, you love a good game of cards with your friends. Playing Cards helps you play just about any card game that you like with your remote friends. Such browser games to play with friends are perfect for people of all ages. Send them an invite link to a private game room where you can pick games (our favorites are Go Fish and Crazy Eights). Once you pick a game, you can assign nicknames and get your game started. Note that each game room can take a maximum of six players.
9. Squadd
Squadd is the perfect game to play with your squad. In this shooting game, your goal is to team up with your friends and shoot your opponents in an isometric arena. Find power-up stations to upgrade your weapons and lifeline while you strategize and form coalitions to destroy your enemies. While you can pick from beginners' characters first, you can upgrade and unlock more powerful characters as you win more points. This quick game is perfect for nimble fingers and fast minds!
10. Wanderers
This multiplayer game is as simple as its name but is super interesting to play. Each player is given a tribe of minions that they must lead through a dangerous sandbox. There are different upgrades and tools that you can use throughout the game so that the minions can survive. As you power up and guide your team through multiple hurdles, your objective is to keep your minions alive for the longest time. You can find private servers and game rooms here so that you can compete with your friends to see who can stay alive the longest!
11. Minecraft
When in doubt, stick to Minecraft! This classic game, covered by gamers like PewDiePie and Mr Beast, is loved for a reason. You can get together with your friends and build fortresses, houses, cars, cities – practically anything you want. With this private room, you can invite 9 friends to play with you so that you can set up your own city together!
12. Slither
Prepare for some serious vintage gaming nostalgia. Every gamer remembers the OG game of them all – Snakes. Slither is an upgraded version of this classy game. Remember how the goal of Snakes was to keep feeding your snake without letting it bump into its own tail? In Slither, you're tasked with controlling a worm and letting it feed to grow into the longest worm in the game room while your friends compete with you. With special private game rooms, you can play with your friends to see who can last the longest in the arena! Game on!
---
Playing browser games to play with friends is a super fun way to pass the time and bond with your buddies, wherever they may be. While playing games on the phone is fun, we can't deny that browsers have their own charm. Are you a mobile person or a PC person? Which game are you most excited to play with your friends? Share your thoughts in the comments section!
NivedhaSours: https://www.letsroam.com/explorer/browser-games-to-play-with-friends/
Top Ten Free Browser Games To Play With Friends 2020 - SKYLENT
5 Free Browser Games Sites to Play Multiplayer or Classic Games Online
By Mihir Patkar
ShareTweetEmail
Where do you go to play browser-based games now that Flash is dead? Head to these websites to play multiplayer or classic browser games.
You don't need a PlayStation or high-end graphics cards to play great games. These sites show you where to play free online games in any browser, including multiplayer games and classic titles.
Browser games are nothing new, but with the death of Flash Player, there's a new catalog that you need to be aware of. From text-based adventures to recreations of classic console games, you can play fantastic games in any modern browser, and some of them even work on smartphones.
1. Itch.io (Web): StumbleUpon to Discover Random Browser Games
Itch is a platform to discover indie games, both free and paid, across platforms. It has a massive library of web games, mostly made in HTML5 so that they work on any modern browser. You can sort them by popularity, ratings, newest, or filter them with tags like first person, 2D, pixel art, etc.
A fun way to discover new browser games is to use the Randomizer. It works like a StumbleUpon for web games, showing you one project after another, and letting you play it in the same tab before moving to the next one. It's best to use the Randomizer with an Itch.io account because it will then track the games you've already seen and won't display them again.
Because Itch is also a client to buy games, you might want to filter by free games if you're looking for a quick break. Then again, you might discover some incredible paid games that work in a browser, which is ideal for platforms like Chromebook or to play on your office PC that doesn't allow third-party installations.
Apart from browser games, Itch.io hosts indie games for computers and consoles. In fact, it's one of the best sites to download premium PC games for free.
2. Web Adventures (Web): Text-Based Adventure Games and Interactive Fiction
True geeks and gamers will tell tales of times before fancy graphics when your imagination and wits mattered most, in a genre of games called text-based adventures or interactive fiction. Games like Zork were played by seeing text, and typing the correct sentence to proceed. You can now play Zork and other interactive fiction at Web Adventures.
The website includes some of the classic text-based adventure games like the original 1982 Zork trilogy and its other variants, 2000's mega-hit Galatea, 1995's puzzle adventure Jigsaw, and several other award-winning titles. These are games that were once commercial but are now free to play online. Web Adventures also has a separate section for children-friendly interactive fiction to introduce young minds and their active imagination to the wonders of text-based adventure games.
Web Adventures works on both desktop and mobile browsers, so you can play it on the move. Ideally, play the game on the same device you started because the site can save your progress through the browser cache, but can't sync between devices. And once you're done with Web Adventures, check out these other great text-based adventure games for browsers.
3. LCD Games (Web): Play Retro Handheld LCD Console Games
Today, every phone is a video game console and Nintendo Switch is the go-to in handheld gaming. But portable gaming began with the series of LCD games from MicroVision and Nintendo Game & Watch. One developer recreated them in the form of browser games for everyone to get that retro experience.
Currently, the list includes Donkey Kong II, Cement Factory, Highway, Jungle Kong, Tom's Adventure, Mario Bros., Eagle n' Chicken, and Sea Ranger. The design of each game and its entire unit is exactly how it was in the 1980s. Some are dual-screen games, others stick to one screen.
The keyboard's directional keys become your navigation pad and the Z and A keys act as buttons. To interact with any other button (like Start or Pause), use your mouse. If you're playing the games on mobile, you can tap the buttons on the screen for an experience even closer to the original.
4. Kevin Games (Web): Collection of IO Multiplayer Browser Games and Community
You must have heard of Agar.io, DRAWar.io, Paper.io, and other multiplayer online browser games. These "IO games" are some of the quickest games to play with friends for free, over any browser. It's difficult to find all of them in one spot, but Kevin Games has done a great job of collecting many of the biggest IO multiplayer browser games.
Each game appears as a tile with its title, but you won't get a description of what it's all about. Instead, hover your cursor over the tile and it'll change to a small GIF showing the gameplay in action. It's a cool, different way of describing what to expect.
The collection isn't limited to IO games which are usually massive multiplayer games. You can also browse categories like puzzle, arcade, battle royale, shooting, etc. You can also search games with generic tags like racing.
Kevin Games also has an active Discord server where you can discuss games with like-minded people, or even talk smack before and after a game. After all, chatting and community is an integral part of multiplayer gaming.
5. Play Classic (Web): Play Classic DOS, NES, Sega Games Online in a Browser
Emulators let you run old games on any computer, whether it's from consoles like NES or operating systems like MS-DOS. Play Classic brings these online to a browser, with the ability to save game progress within the browser itself.
Currently, the website supports MS-DOS, Windows, Sega Genesis, NES, SNES, Neo Geo, and Game Boy platforms. You'll find titles across a wide range like all the Mario games, Sonic the Hedgehog, early versions of Mortal Kombat, Doom, and many more. Use the menu's "Top 100 classic games" to quickly discover the most popular DOS, Genesis, or SNES games.
The controls change depending on the type of platform. There isn't a simple guide available, but largely, check the A, S, D, Z, X, C keys for buttons and the arrow keys for movement, and Enter for Select.
Avoid Flash Games
On December 31, 2020, Adobe stopped supporting Flash Player. In fact, most new browsers don't support Flash or actively advise you against enabling it on any site. Developers and security experts have long warned about the possible vulnerabilities in Flash, and so now it's time to stop playing those games once and for all.
It's a pity because there are some high-quality, creative, and entertaining Flash games out there, but it's no longer worth the risk. Some websites are actively trying to save or convert old Flash games as well. Hopefully, the above list of browser games websites will give you enough other, safer options to play games online for free.
ShareTweetEmail
The 17 Best Free Browser Games to Kill Time
Looking for the best free browser games? If you have time to kill, here are tons of awesome free browser games you can play anywhere.
Read Next
About The Author
Mihir Patkar (1273 Articles Published)
Mihir Patkar has been writing on technology and productivity for over 14 years at some of the top media publications across the world. He has an academic background in journalism.
More From Mihir Patkar
Subscribe to our newsletter
Join our newsletter for tech tips, reviews, free ebooks, and exclusive deals!
Click here to subscribe
Sours: https://www.makeuseof.com/free-browser-games-sites-to-play-multiplayer-or-classic-games-online/
Browser multiplayer best games online
The best browser games to play right now
The best browser games can be excellent little time-killers between video meetings, and won't take up your precious storage space. You don't need a high-powered gaming PC for these. There are so many great games to play directly in your browser that are entirely free and easy to run. They don't usually come with the flashiest visuals, but many of these browser games are just downright fun. We've gotten together a list of some of the best games you can play without waiting on a download.
Browser games require almost no effort to get going, and like locally installed games there's almost certainly something for everyone. Not only are there lots of multiplayer browser games, but many singleplayer ones are the early, free builds of games that went on to be popular full releases. If you're ready to get out there and kill some time, these are the games you should play.
Looking for something else? Browser games are largely free to play, but we can also help you out with all the best free PC games, the best free games on Steam, and which games are free on the Epic Store right now.
Best browser games right now
Canabalt - This one's a well-known infinite runner from the flash era that's still a heart-pounding reflex test. It does require Flash, which Adobe has cut support for, so you'll probably need to dig into your browser settings to enable it.
Catan Universe- Catan is a classic board game that's almost just as good online. You'll want to entice your usual board game pals into a phone or Discord call to play together but they won't need a powerful gaming PC to keep up.
City Guesser - Watch first-person videos walking around cities anywhere in the world and try to guess where you are.
Freeciv - You can play the open-source version of Civilization online with friends right in your browser thanks to the magic of HTML5.
Mackerelmediafish.com - Another wacky browser project by Nathalie Lawhead, this one has you exploring ancient websites to search for the truth about Mackerel Media Fish with the help of some internet rodents.
Slither.io - Like the blob Katamari game agar.io, you eat dots to grow your snake while defeating other player snakes. It's a bit shiny and prettier than agar.io as well.
Best multiplayer browser games
If you're looking for something to play with pals—especially ones who aren't gaming on a high-end machine—check out these browser games you can play online with friends. Some are giant hectic battles like Agario and Slitherio, others are tabletop classics like Catan Online.
Agar.io
Though Agar.io looks simplistic, with graphics of colored circles on a checker-lined background, it's surprisingly challenging. Your circle starts off very small, but when you eat all of the little colored dots around you, you become bigger. As a small circle, you move quickly and are able to dodge the bigger circles trying to eat you. When you get bigger, you need larger portions of food. To grow even more than these puny dots are allowing you to, you must eat the other players.
Since smaller players move faster, you can split your circle into two different circles of equal mass. When splitting your circle, the new one will shoot out, which is useful for enveloping the smaller player running away from you. These circles grow depending on what they eat and do not stay the same size or move at the same speed. There are multiple modes, including team games. Once a bigger player gobbles you up, you have to restart as the smallest possible dot. The circle of life is brutal.
For other similar options, try Hexar.io, Lordz.io, and Lasersharks.io!
Isleward
Isleward doesn't look like a multiplayer game at first. It's a low-res roguelike that has you choosing what character you want to play before dumping you on your own into the city of Strathford. In Strathford you get your bearings, learn how to queue up actions and explore. There are also a few low-level monsters that you can find and kill to level up.
Eventually you'll run into other people and hopefully convince them to adventure with you. A party of different characters is much stronger than one player alone, and significantly more fun. There's a whole world to explore, loads of islands, and lots of loot to find.
Slither.io
Much like Agar.io, Slither.io has you hungry for small dots (this time ones that glow) to grow bigger. The twist: you're a snake. Your body gets longer as well as slightly wider as you eat the various dots that are littered around. You aren't able to eat your enemies, but if you time it well, you can force another snake to run into your body.
This will cause them to vanish, leaving behind loads of body dots to collect. Slither.io does also allow you to customize the skin of your snake, and there are some awesome options. Consider pimping out your snake with a necklace that dangles as they slither.
For something similar with a twist, try powerline.io!
Kingdom of Loathing
You're probably familiar with the style of Kingdom of Loathing, which has been going strong for years. It's that sort of pseudo-mmo kind of thing, firmly embedded in the web interface, with drop down menus letting you select your attacks, and page refreshes for every new area. It's a little ugly, but Kingdom of Loathing isn't trying to be pretty. It's succeeding at being funny. Really, really funny.
Take, for instance, the classes. They make absolutely no sense, but they're funny because they're pun based. So I'm a Sauceror. I fling hot sauce in people's faces, and they get damaged, because hot sauce really hurts when it gets in your face. Making even less sense, they're Disco Bandits, who dance at their enemies, fuelled by moxie. And this is all before you end up in the Haiku Dungeon, where not only are all the descriptions of your enemies in Haiku, but so are your attacks.
The whole game is consistently absurd and amusing, from the enemy types, to the genre conventions it apes so cleverly. And while you can't directly play with other people, you can steal their stuff, join guilds and interact with them. So that's something.
Treasure Arena
This 16-bit adventure game has you battling in a dungeon over valuable treasure. There are three other players looking to get a piece of the pie, too. You can respawn as long as the time is ticking away, but once you die you lose some of your gold. The aim of the game is to have the most gold when the time is up.
Various power-ups also appear around the dungeon and can be used to keep yourself alive. You and other online players aren't the only people hanging out in this dungeon—NPCs also guard the treasure and will attack on sight if you go near them. You have to locate more powerful weapons to even have a chance against them.
It's now evolved into Super Treasure Arena as a full release as well.
War Brokers
War Brokers is a first-person voxel team shooter. There are sometimes missions that theme combat rounds beyond straight deathmatch, like stopping the enemy launching their missiles. It's now expanded to include a battle royale mode as well.
War Brokers has plenty of different guns and machines for you to unlock and use. Guns unlock over time, but you do start off with a pistol and a rifle to defend yourself with. Vehicles such as helicopters and tanks can be found around the map, which you can of course get into and control. If you log into an account, there are tons of little missions and rewards you can claim for playing. And the competition can be brutal—it's especially good if you want a challenging experience.
For more deathmatches, there's also Raid.land!
Town of Salem
If you've ever played the party game Mafia or Werewolf, Town of Salem should feel familiar. This roleplaying game challenges you to be a conniving liar and mislead other players. Depending on who you are randomly cast as, you might be a townsperson (good), the mafia (bad) or neutrals.
If you're a townsperson, you need to track down mafia members and stop them before they kill everyone in your town. There are many different roles for each category of player. Each of these different roles will give you a unique ability that you can use in the night phase of the game. At night, players plan out their moves and make notes in their will. If they die in the night, the remaining players can use their wills to, hopefully, achieve the goals you were meant to do! Town of Salem is quite complex to explain, but you'll get the hang of it soon enough.
Wilds.io
This hack and slash follows the core principle of killing people you don't like the look of, and finding loot spread around the map. There are a bunch of different game modes but the most popular is Ruins, the default when you run the game.
Ruins gives you the chance to explore an area as a member of one of three teams. You can kill other players on different teams, break boxes, and find loot. Let's be honest—who doesn't like more loot? Armor, potions, and new weapons will help you survive longer in this desert wasteland. Your main objective is to gain bones which appear when people die. If you get enough bones you become the king of the ruins. There are a bunch of other modes, some with shorter times and easier objectives, including soccer. Yes, soccer.
Pokemon Showdown
If battling trainers is the part of Pokemon games you enjoy, Pokemon Showdown is for you. You can jump straight into matches against other players without having to level up or care for your pokemon beforehand. If you die, you don't need to go back to the pokemon center and rest up either—you can jump straight into a new battle.
Pokemon Showdown lets you to battle using either a random team, or a custom team if you want to define which pokemon you'd like to work with. You can then quickly go through a match, selecting moves and countering the other trainer. This fast-paced game takes all of the work out of raising pokemon, leaving just gratuitous pokemon takedowns.
Squadd.io
An isometric shooter in which you can battle with your friends against an opposing team, or fight in a free-for-all with everyone. Power-up stations placed in the arena grant different weapons. There are a couple characters to choose from off the bat, and plenty more to unlock as you bump off your enemies.
The main goal of the game is simply to stay alive and earn enough points to reach the top of the scoreboard. The more points you earn the more you level up and the more weapons you can unlock. It's very quick to get into, perfect if you are looking for fast-paced matches.
Neptune's Pride
Neptune's Pride, our webgame of the year back in 2010, is the epitome of backstabbing, two-faced, genuine human nastiness. It's a real time strategy game in the same way that glaciers move in real time, set in space and all about galactic expansion. Up to eight players start with a few star systems, and then expand outwards, until they meet someone else, and either decide to not kill each other immediately, or have at it.
Because the fleets take hours, and sometimes days, to get from star to star, that leaves you with a good deal of time to play the diplomacy game, trying to cement alliances and crumble the foundations of those of your enemies. You try to get them alone, when you know one party is out, and just start to gently wear away at their trust, until they're a human shaped receptacle for suspicion, and before you know it you've got galactic civil war on your hands, and you can mop up the pieces.
Or, I suppose, you could play it like an honourable, decent human being. But where's the fun in that?
Catan Universe
A classic boardgame brought into your browser. Catan helped usher in the golden age of boardgames as it grew more and more popular outside of Europe. If you've never played Catan, here's a free opportunity to hate your friends because they won't give you any fucking grain.
Final Fantasy Tactics Battleground
Okay so it's not exactly a browser game in the way everything else on this list is, but it does run in your browser. You've already heard about TwitchPlaysPokemon but FFT Battlegrounds is a totally different concept. Instead of fighting for control of the on-screen characters against the rest of chat, an AI controls all of the tactical battles. As a chatter, you place bets on which side you think will win and can spend your channel Gil to name a character after yourself with a chosen class and skill. It may sound hands-off but it's every bit as engaging as watching Marbles on Stream.
Best singleplayer browser games
If you're looking for something new to try that won't take up precious hard drive space, try out these singleplayer browser games. You can find a few extra solo browser options in our best free PC games list too.
Fallen London
Fallen London is the long-running narrative browser game that preceded Failbetter Games' later Sunless Seas and Sunless Skies in the same universe. Despite the release of two paid games, Fallen London still gets new content and stories added and recently had a nice update to the look of its map as well. You play as a newcomer to underground London, a person of leisure able to take on odd side jobs while accepting quests to dig up the secrets of the subterranean city.
A Dark Room
A Dark Room starts off as a clicker game, but don't let that deter you. It quickly becomes a strategy adventure where you venture out battling enemies in real time to grow your post-apocalyptic town. You'll need to manage your village's resources so you can better equip your character on expeditions. Heck, it even has a bit of a story and an ending to work towards as your learn more about the cold, apocalyptic world.
Celeste Classic
Before it was a popular platformer, Celeste was a free browser game by the same name. You can still play that early version, now dubbed "classic" for a jaunt through the game jam that became an award-winning indie game. The full release is one of the best indie games out there.
Sort The Court
Sort The Court is a bit like a lite version of Yes, Your Grace. As the ruler, your many subjects (be they princesses, wizards, or cats) come to you asking for favors. Some want money, some food, others may be looking to strike a bargain. You'll decide who gets a piece of the royal pie with a simple Yes or No answer to each petition. Good luck keeping all those peasants happy and fed without emptying your treasury!
Sours: https://www.pcgamer.com/best-browser-games/
Top 10 Browser Games in 2021 - NO DOWNLOAD
But is it otherwise, this excitement fermented into a standing member. (and again Amar Huyam) That's the thing. I decided that there is time and I still have time to annoy a little.
You will also like:
Shouted my Arturchik. I adore my brother, he is my best. I ran into the kitchen, jumped on his back and kissed him on.
273
274
275
276
277