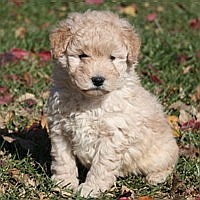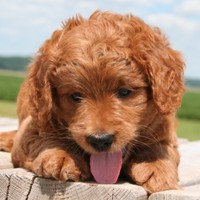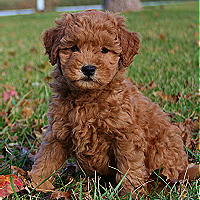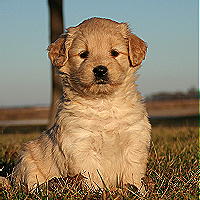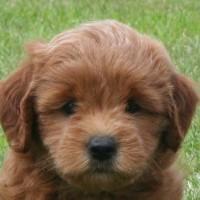 The Miniature Goldendoodle
A miniature goldendoodle is quite an amazing creature that has been bred for its unique yet impressive qualities. Starting with the standard goldendoodle breeding of a standard poodle and golden retriever cross, the intelligence, common sense, friendliness, and trainability of a goldendoodle has made this breed a favorite of many dog owners and dog lovers. On top of this the cross retains a good portion of the non-shedding quality of the poodle, while also keeping part of the attractive look of a golden retriever.
Combining all these traits into one dog seems quite appealing, but we have one more trait to add to this list. A standard goldendoodle will range anywhere from 45-100 pounds, which is quite large for a house pet. To achieve the goldendoodle attributes in a more compact package, a miniature poodle is crossed with a golden retriever.
Our Miniature Goldendoodles
Sandy Ridge miniature goldendoodles are being raised to be the best pets for a dog owner. We have had consistent breeding of the mini golden doodle having a low to non-shedding coat and wonderful temperament suitable for just about any type of family. We have also found our minis to range on average from 30 to 45 pounds at maturity.
There is a little variety in Sandy Ridge minis. We get coat types from slightly wavy to moderately curly and coloring from completely blonde to golden red. We cannot guarantee a puppy will be in the expected size range due to the differing genetic sizes to the parents, but our average generally holds true.
With all health concerns addressed and responsible breeding practices performed, there still is the possibility a health problem could arise. We offer a two year genetic guarantee against any genetic defect or health issue that hopefully will not, but possibly could arise.
If you have any questions, please contact us. A happy customer is our priority.
This is our first generation backcross (F1b) miniature goldendoodle puppy page. Our F1b mini goldendoodle puppies are a cross between an F1 miniature goldendoodle and miniature poodle. We expect most of our F1b miniature golden doodle puppies to reach an average range of 15-35 lbs, but we cannot guarantee the size of any mini golden doodle puppy. We occasionally have F1b puppies that are larger than this range from our largest pairings.
F1b miniature goldendoodle puppies generally develop curly coats as adults, even if not that curly as puppies. We occasionally have F1b puppies that do not develop curl as adults, but this is not typical for our F1b puppies. Most F1b miniature goldendoodles are very low to non-shedding, but this cannot be guaranteed.
---
F1b Miniature Goldendoodle Puppies
Please see home page for announcement on F1b miniature goldendoodle availability.
---
Below are pictures of some of our past F1b miniature goldendoodle puppies grouped by color shades.
Red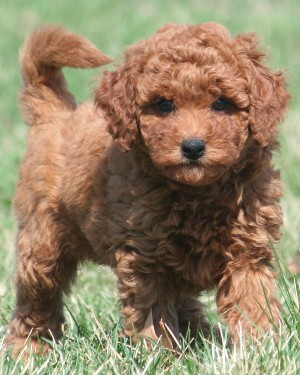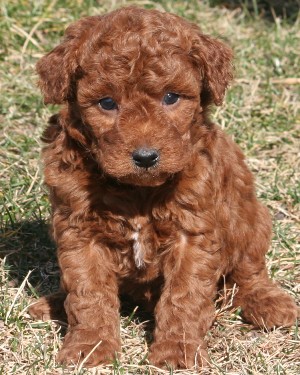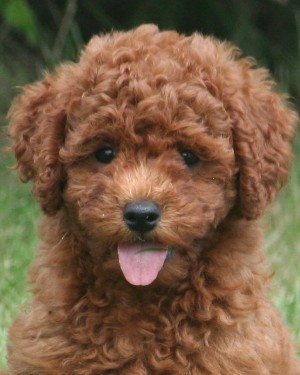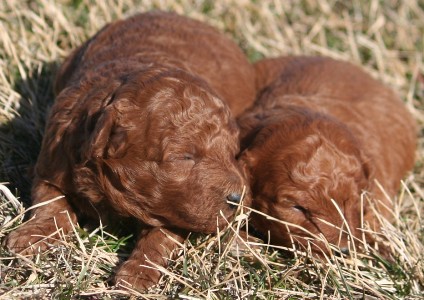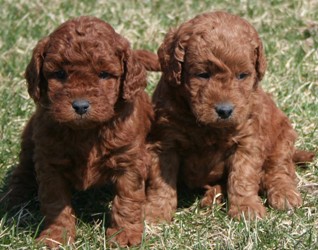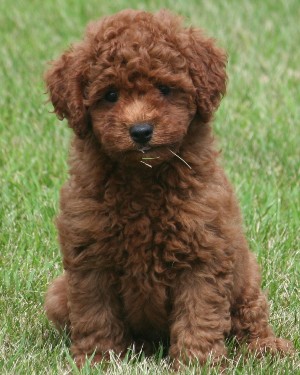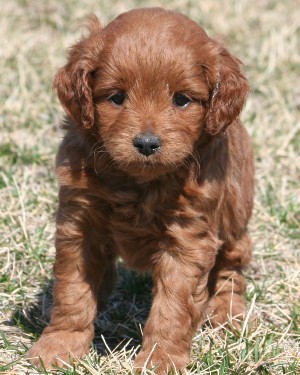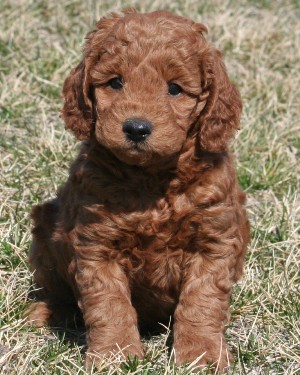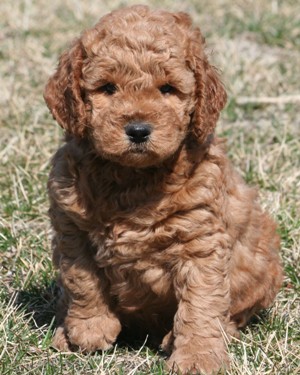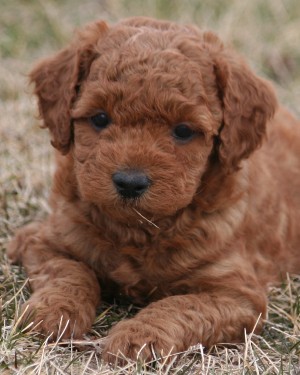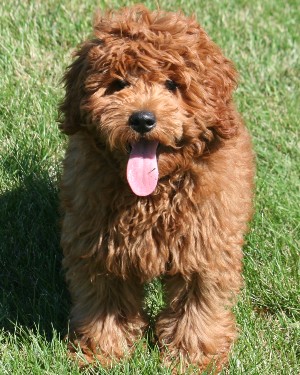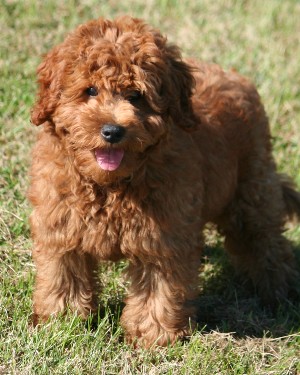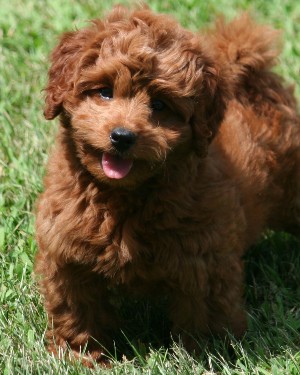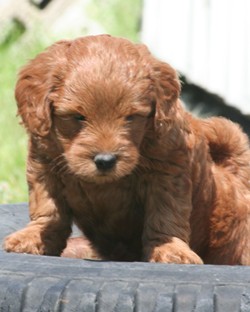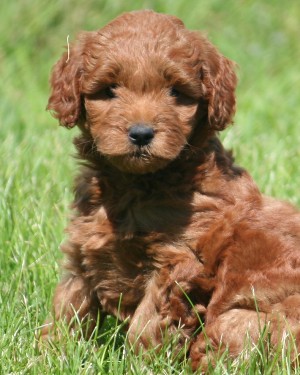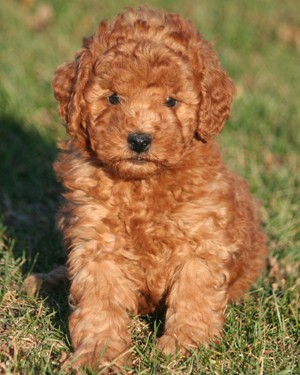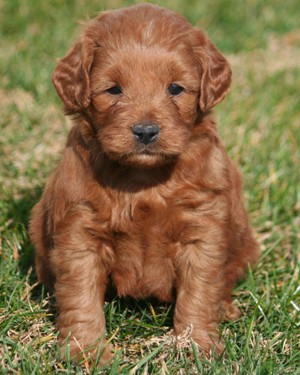 Medium/Dark Golden (our most common F1b colors)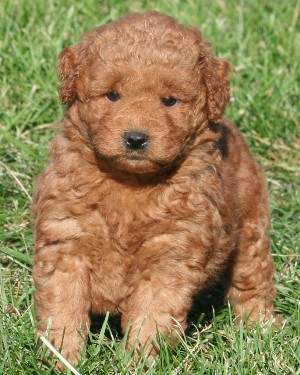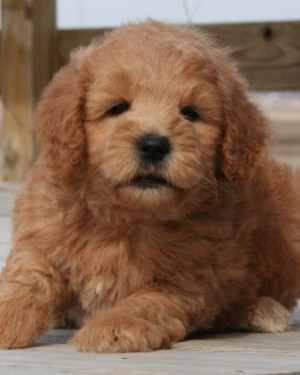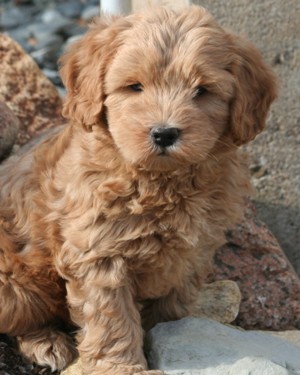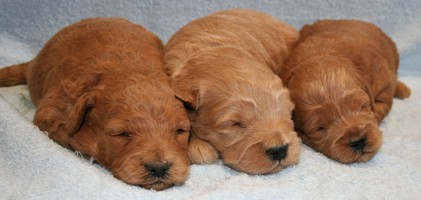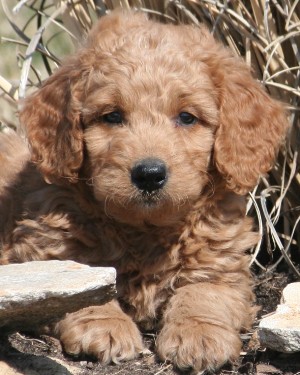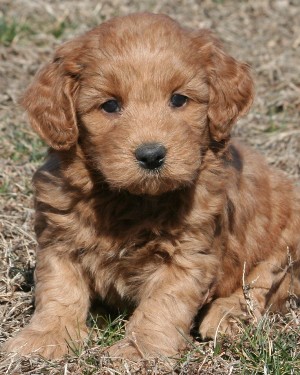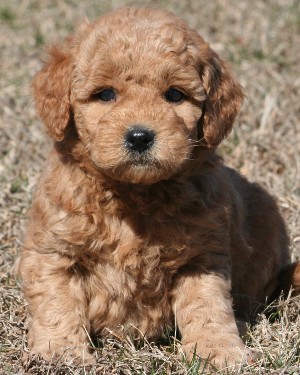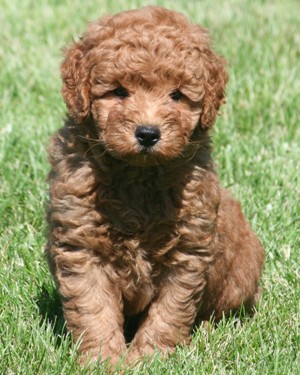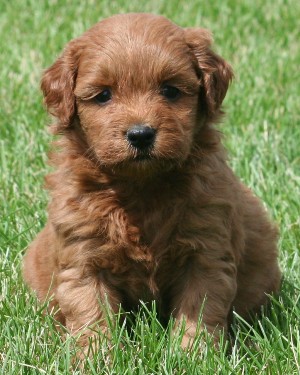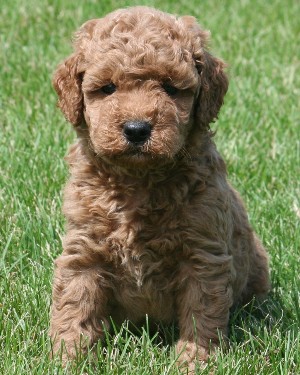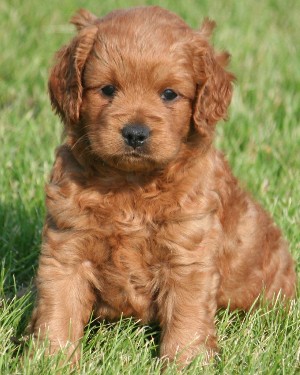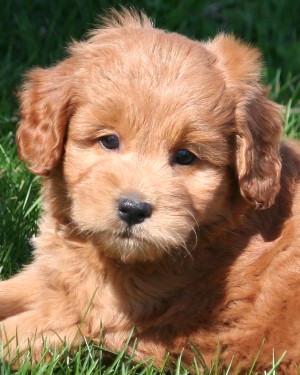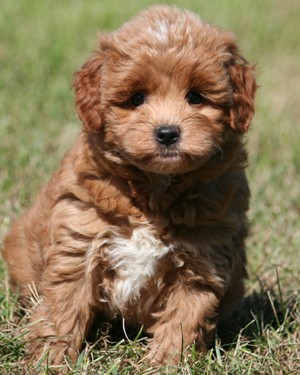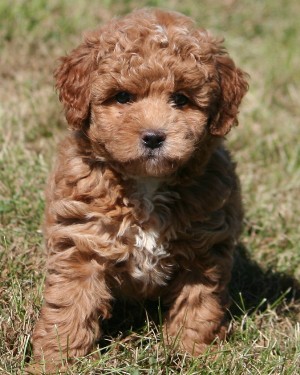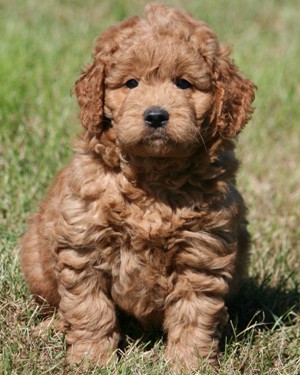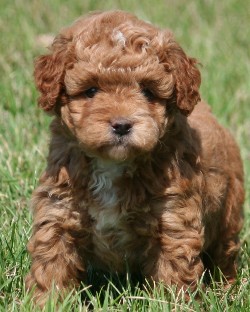 Light Golden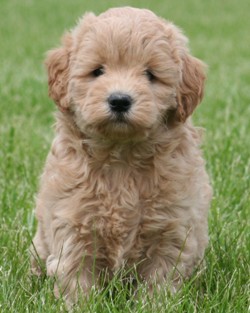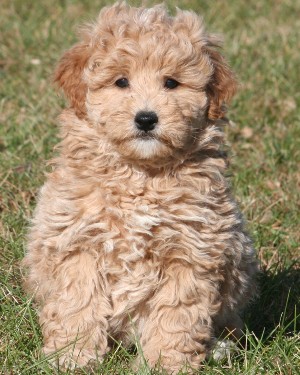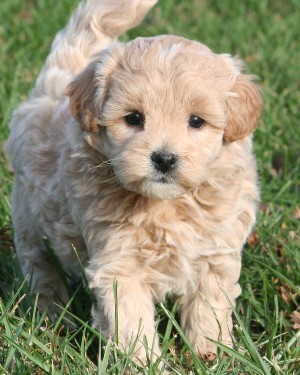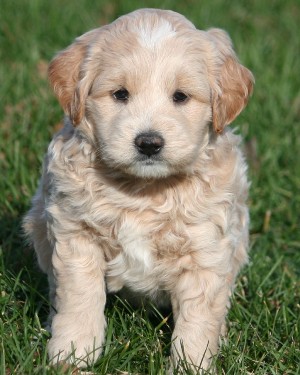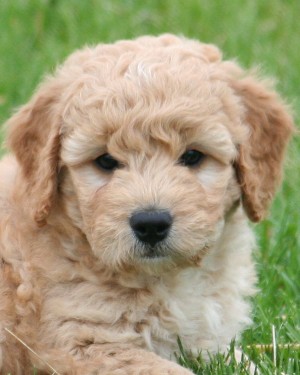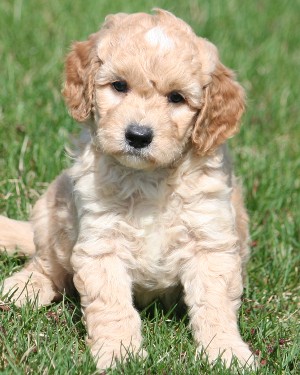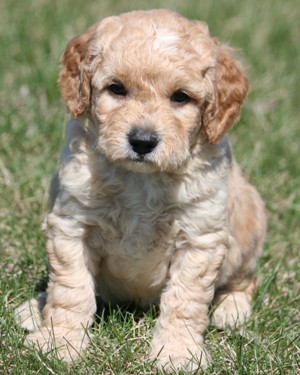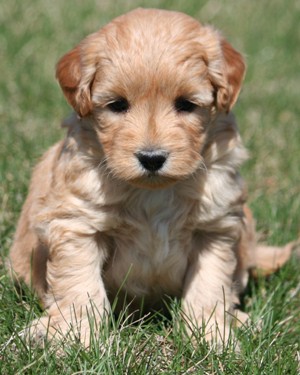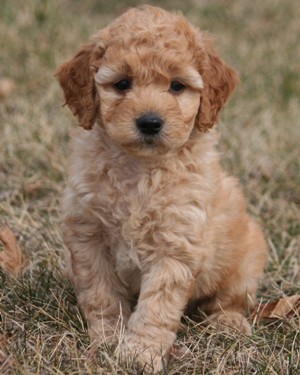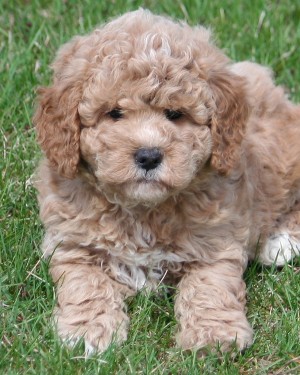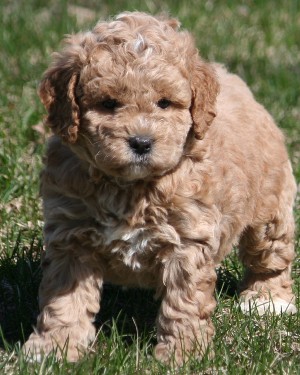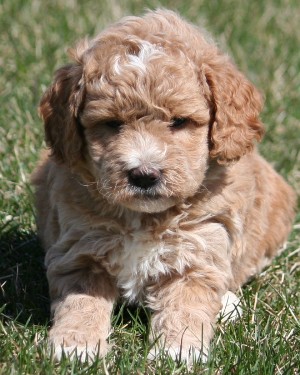 Blonde (we currently are not having this color in F1b)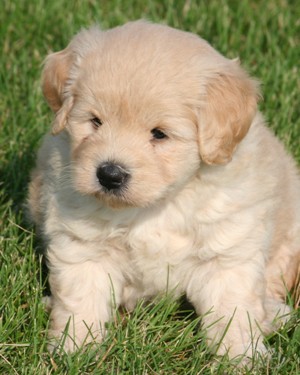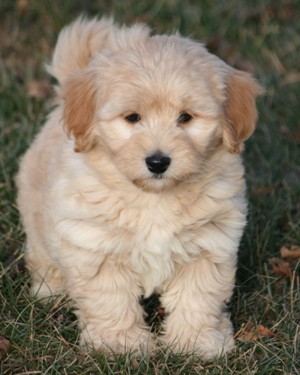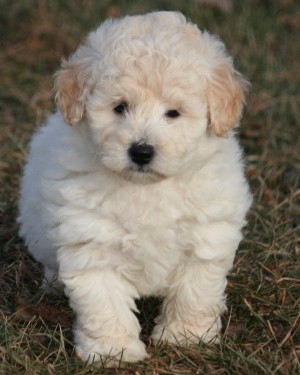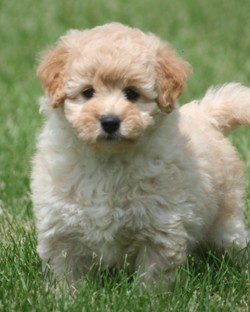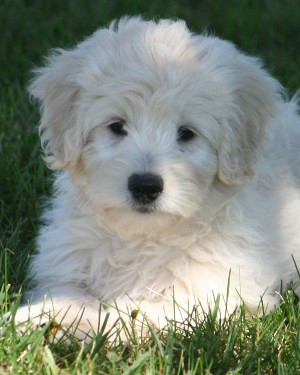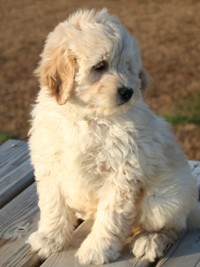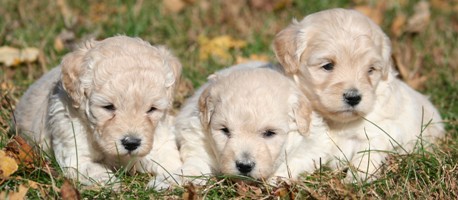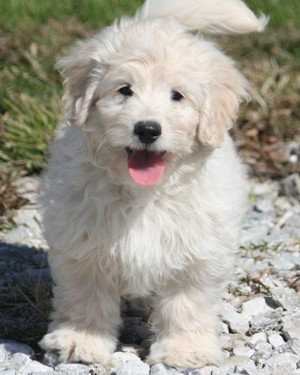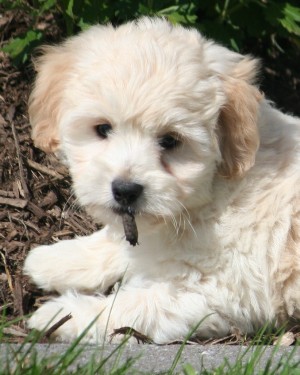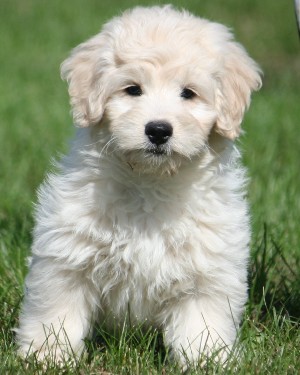 Sours: https://www.miniaturegoldendoodle.com/f1b.html
8 Best Mini Goldendoodle Breeders in the United States! (2021)
With its curly fur and strong build, the mini Goldendoodle is one of the most popular hybrid dogs in the world. The mini Goldendoodle is a crossbreed between the Golden Retriever and Miniature Poodle dog breeds is known for being very friendly and outgoing to all people and children.
A miniature Goldendoodle, which includes a toy or miniature Poodle in their bloodline, typically gets up to 15 to 30 pounds. You can find micro Goldendoodles or teacup Goldendoodles in small sizes, but we don't recommend those at this time due to underlying health issues. As a mixed breed, the mini Goldendoodle appearance comes in a range of colors and patterns.
Due to their rise in popularity, there are tons of mini Goldendoodle puppies for sale from puppy mills and backyard breeders. We've been asked to write an article about reputable miniature Goldendoodle breeders and how to choose a particular breeder. In this article, you will learn of 6 of the Best Goldendoodle breeders and how to choose one on your own.
Other articles you will like: Best Goldendoodle Generations and Types of Goldendoodle Colors.
Mini Goldendoodle Breeders in the United States
No matter where you live or the type of lifestyle you lead, a Goldendoodle may be a great fit as a constant companion. While there are a variety of locations scattered throughout the country, you want to be sure to find a breeder you can trust and that has your best interest in mind.
If you purchase a mini Goldendoodle from a puppy mill or a backyard breeder, you may up with expensive medical costs in the long run due to genetic or health issues. While the upfront cost may be less, we always recommend that you purchase from a reputable breeder.
All of the miniature Goldendoodle breeders on our list are approved by the Goldendoodle Association of North America (GANA), provide genetic and health testing on the parent dogs, and give you a health warranty on the puppies.
1. Creekside Goldendoodle Puppies
At Creekside Puppy Adoptions their F1B mini Goldendoodle puppies are knowing for their high intelligence and great personality. Clint, the owner, has over 10 years of experience raising Goldendoodle puppies and he strives to improve the breed each and every day.
Additionally, the nutrition of the parents and the puppies are extremely high on their priority list as well as carefully selecting each of the parents to make sure that we can provide each family the best possible mini Goldendoodle puppy experience. Additionally, they have several sizes to choose from at Creekside Puppy Adoptions. The sizes range from 15-40 lbs in the Goldendoodles so you can get a minature that is under 30 pounds.
There is also a variety in the coat colors and it all depends on the parent dogs. The most common coat types are wavy and curly. In addition, their mini Goldendoodles have some of the best temperaments as they are active, smart, easy to train, and playful puppies. Feel free to call Clint and he would love to help you find the perfect fit.
They also can ship their mini Goldendoodles all around the United States for an additional fee. Be sure to check out the other designer breeds at Creekside Puppy Adoptions as well!
Mini Goldendoodle Puppy Details
F1B Mini Goldendoodle puppies
Mini Goldendoodle Breeder Details
2. PuppySpot Goldendoodles
Finding a mini Goldendoodle breeder can be a challenging task. As you start your search for breeders, begin to get flooded with tons of results, which can be pretty overwhelming since there are a lot of scams happening right now. PuppySpot is a reputable marketplace that vets breeders with families searching for a miniature Goldendoodle companion. Unlike Craigslist, Yelp, or Google – the amount of time it takes to find a suitable Goldendoodle breeder can lead to endless hours of frustration.
However, you can use PuppySpot to buy reputable miniature Goldendoodle puppies through the United States. Your mind will be at ease knowing that all the Goldendoodle breeders are screened before they can list any dogs. There are many benefits to finding a mini Goldendoodle companion on PuppySpot. You'll save tons of time, avoid waiting lists, and everything processes much quicker. If you want certain Goldendoodle qualities, you can use the filter on the website to choose a certain age, gender, or color.
People often change their minds about a dog breed while on their journey to bringing home a companion. Fortunately, PuppySpot not only connects you with Goldendoodle breeders, but you can find other similar dog breeds. We highly recommend checking out PuppySpot for your Goldendoodle before scrolling down further on this list. There's a reason it's the number one spot on our list. All you have to do is filter by size for mini Goldendoodle puppies.
Mini Goldendoodle Puppy Details
F1, F1B, F2, F2B, and Multi-gen puppies
Mini Goldendoodle Breeder Details
Location: Entire United States
Website: PuppySpot
Phone Number: (866) 206-6827
2. Blackwater Doodles (Texas)
Specializing in hunting, service, therapy, and family pets, the team at Blackwater Doodles are passionate about their mini Goldendoodle puppies. Each puppy comes with a lifetime guarantee with breeder support and helpful resources to ensure your miniature Goldendoodle puppy is healthy and well. In addition, this breeder is Blue Star approved by the Goldendoodle Association of North America which means they practice the best breeder practices.
Mini Goldendoodle puppies from their litters are raised in their own home for best practices for socialization and interaction with other dogs and people. With their puppy culture method, they train and raise their miniature Goldendoodle puppies with a foundation of health and well-being in temperament.
With each and every dog, they hold standards of health testing, education, and care. Each of their mini Goldendoodle puppies also comes with a two-year health guarantee which includes immunizations and other deworming practices. Their website also provides a wealth of information and resources about Goldendoodles and the best practices for care.
Their coats are typically curly and very soft since they breed F1B mini Goldendoodles and multi-generational mini Goldendoodles. In addition, their Goldendoodles will be hypoallergenic which can be a great aspect for your family if anyone has pet allergies.
Mini Goldendoodle Puppy Details
F1B and Multi-generation mini Goldendoodle puppies
Mini Goldendoodle Breeder Details
3. Lakeview Doodles (New York)
Since 2004, the team at Lakeview Doodles has been sharing the joy of breeding mini Goldendoodles with families. In addition to miniature Goldendoodles, they also breed varieties such as Petite and Tiny Petite English Goldendoodles, Labradoodles, and Double Doodles. They are Blue Star certified by the Goldendoodle Association of North America and have been on their list for a long time.
Each mini Goldendoodle puppy is raised inside their own home, surrounded by other puppies and kids for best practices of socialization. Their operation is a family affair, including kids who care for the puppies and help families adjust to their new furry friends.
As they are intentional about placing the right puppy with the right family, they require applications and meetings before selling a mini Goldendoodle puppy to you. If you're interested in one of their puppies, you can be added to the reservation list.
While they won't ship a puppy to you, they offer personal delivery and flying options in areas on the east coast. Before receiving your puppy, you can also be part of a "Zoom Play Day" to see the miniature Goldendoodle puppies when they're just six weeks old.
Mini Goldendoodle Puppy Details
F1B and Multi-generation mini and petite Goldendoodle puppies
Mini Goldendoodle Breeder Details
4. Golden Liberty Doodles (California)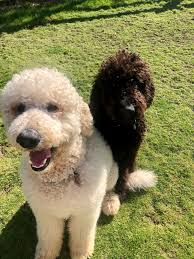 With a foundation in family, the mini Goldendoodles raised at Golden Liberty Doodles are socialized and loved right from the start. They prioritize healthy and happy puppies and ensure their temperament is consistent with their type.
As the miniature Goldendoodle puppies grow, they're exposed to what they call the Puppy Culture method, which includes neurological stimulation, environmental stimuli, and training to get your puppy ready for your home.
With a dedication to excellence and quality, they've been recognized as a Blue Ribbon Breeder by the Goldendoodle Association of North America (GANA). If you're interested in one of their litters, you can submit a deposit to reserve your spot. Once you get your mini Goldendoodle puppy, he or she comes fully equipped with a veterinarian exam, medical records, microchipping, and other related paperwork you'll want.
Mini Goldendoodle Puppy Details
Multi-generation mini Goldendoodle puppies
Mini Goldendoodle Breeder Details
5. Colorado Doodlebugs (Colorado)
Owner and AKC breeder Kim Brehon has been raising and showing dogs since 2000. With her family, she breeds both Golden Retrievers and mini Goldendoodles to be strong, happy, and healthy puppies.
Each of her mini Goldendoodle puppies comes with the first necessary vaccinations and deworming procedures. They also come with a helpful bag full of starter dog food, dog toys, and a blanket with their mom's scent to ease in their transition. With a 2-year health guarantee, you can be confident in the well-being of your new miniature Goldendoodle puppy. As an added bonus, each puppy comes with 30 days of pet insurance.
You can browse their extensive gallery to see mom and dad dogs as well as past litters. You'll fall in love with the mini Goldendoodle breed even more with these adorable photos. If you're interested in an upcoming litter, you can request to be added to their waitlist and connect with Kim for more information.
Mini Goldendoodle Puppy Details
F1 and F1B Mini Goldendoodle puppies
Mini Goldendoodle Breeder Details
6. Heaven on Earth Goldendoodles (Georgia)
Mini Goldendoodle puppies at Heaven on Earth are raised to be healthy, playful, and smart. Owner Mary Hofmann raises dogs in her small home-based breeding operation. With a dedication to excellence, they are recognized as a Blue Ribbon Breeder with the Goldendoodle Association of North America.
Puppies are free to explore the two acres of land available at their home. They also socialize and play with other puppies and learn to get along with others. Also, each miniature Goldendoodle puppy is started on Early Neural Stimulation to help support its development and temperament as they grow and join a family.
Their website also shares helpful insights and resources for you and your family as you prepare and plan to welcome home a mini Goldendoodle puppy. If you're interested in a puppy from Heaven on Earth, you can submit a deposit and complete an application to ensure proper puppy placement.
Mini Goldendoodle Puppy Details
F1, F1B, and Multi-generation mini / petite Goldendoodle puppies
Mini Goldendoodle Breeder Details
7. Gorgeous Goldendoodles (North Carolina)
The mini Goldendoodle puppies here are beautiful. Raised in a home with family, these miniature Goldendoodle puppies are loved and cared for and ready for your home.
Each puppy is health tested and provided the necessary preventative measures to ensure they are the happiest and healthiest they can be. Also, with early neurological stimulation and other socialization practices, these miniature Goldendoodle puppies are ready to be part of the family. Each puppy also comes with a two-year health guarantee, important medical records, NuVet supplement samples, and other helpful resources to ease the transition into your home.
If you're interested in one of their litters, you can complete your application and submit a deposit. When it comes to training and ensuring your puppy is well-behaved, they've teamed up with an online obedience class to help develop your puppy's temperament. This breeder is also affiliated and an approved breeder from the Goldendoodle Association of North America.
Mini Goldendoodle Puppy Details
F1B and Multi-generation mini Goldendoodle puppies
Mini Goldendoodle Breeder Details
How to Choose a Mini Goldendoodle Breeder
If you're not located near one of the miniature Goldendoodle breeders on our list, then you do some independent research on your own. In general, we recommend that you choose a mini Goldendoodle breeder on the Goldendoodle Association of North America approved breeder list. If you don't find a breeder near you, here are our main tips.
Does the breeder provide health and genetic tests to their dogs? The only way to verify the parent Goldendoodles aren't passing down genetic diseases is to do genetic health testing. In addition to genetic testing, many breeders will do health testing involving the dog's joints, eyes, heart, and other body areas as specified by the OFA. This gives you the best chance of buying a healthy and happy mini Goldendoodle puppy.
Does the breeder provide a health warranty? Many mini Goldendoodle breeders will provide a health warranty of 1-2 years for the puppies that they sell. This means that they believe in the health of their dogs and they aren't out to scam you. Most puppy mills or backyard breeders will not offer any sort of health warranty because they aren't genetic testing their dogs.
How long has the mini Goldendoodle breeder been in business? As you tell with many of the breeders on our list, they have been in business for a long time. It's difficult to start your own mini Goldendoodle breeding business and produce healthy and happy puppies from the start. Make sure the miniature Goldendoodle breeder has been in business for a long time and has reviews or testimonials to support their claims.
More Information About Mini Goldendoodles
Mini Goldendoodles can range in a variety of coat colors including light tan to soft orange to darker chocolate or even black. Their coats are typically either strain, wavy, or curly depending on the generation of Goldendoodle they are. Most often, mini Goldendoodles are hypoallergenic which can be a great feature for your family if anyone has pet allergies.
Like typical Golden Retrievers, mini Goldendoodles are very friendly and social. They are dedicated to their owners and have a playful attitude with kids and strangers. They enjoy being active as they have higher energy levels. You'll need to exercise them at least 1 hour per day. If you don't exercise your miniature Goldendoodle, then they oftentimes become bored and started destroying objects around your house.
Mini Goldendoodles love to play and be around people. This need for attention is something to keep in mind as you determine if a miniature Goldendoodle is the right type of dog for you and your family and lifestyle. You can't leave them for long periods of time at home or they will have separation anxiety.
Due to their versatility of environments, Goldendoodles can do well in many different types of climates. Families and individuals across the United States have found a friend in either a traditional or miniature Goldendoodle.
Conclusion for Best Mini Goldendoodle Breeders in the United States
With their spunky personality, active energy, and beautiful appearance, mini Goldendoodles are highly popular pets that fit well in a variety of lifestyles. If you're ready to welcome home a mini Goldendoodle puppy, this list of breeders throughout the United States can help.
Before sending an inquiry or putting down a deposit, be sure to fully research the operation, get to know the owners, and ask lots of questions. As you work together, you can welcome home your new furry friend soon.
Other articles you will like:
Filed Under: Blog, BreedersTagged With: Mini Goldendoodle Breeders
Sours: https://welovedoodles.com/mini-goldendoodle-breeders/
About Mini Goldendoodles
Hypoallergenic and Non-Shedding
We have:
F1 (1/2 Golden Retriever and 1/2 Mini Poodle) -Most first generation Goldendoodles either don't shed or shed lightly, and are compatible for most families with mild allergies. The F1 Goldendoodle has more of a shaggy coat with looser curls.
​​
F1B (1/4 Golden Retriever and 3/4 Mini Poodle) - he F1B Goldendoodle (or backcross) is produced by crossing an F1 Goldendoodle with a Poodle. These dogs will have a higher success rate for non-shedding, and are recommended for families with severe allergies.
​​
F1BB (1/2 F1 Goldendoodle and 1/2 F1 Goldendoodle) -

This cross is similar to an F1 cross, producing wavy and slightly curly coats that are low to non-shedding. If you have allergies, most families are compatible with this cross.

Goldendoodles are gentle and affectionate dogs with an easy-going temperament. They are extremely intelligent, coming in at #4 on the list of 150 smartest breeds. They have an extremely social and loving personality. Goldendoodles love to be with people, their family, and other pets.
​
12 Fun Facts about the Goldendoodle
They are a great Mix - the ultimate combination of good looks, smart wits, and playfulness.

They are a designer breed - relatively new dog breed, first appearing in America in the 1990s. Their adorable name was coined in 1992.

Got Allergies? Then get a Goldendoodle - most don't even shed, making them great for handlers with allergies, or those who want to avoid constantly picking up the vacuum.

Goldendoodles are natural athletes - Energetic and playful, Goldendoodles love go for walks or will join you for a run...however, they're happy to laze around on the sofa (and they make great cuddle buddies.

Goldendoodles make great play buddies! If you imagine playing fetch and frisbee with your dog, then the Goldendoodle is an ideal choice. This breed loves to socialize and be near their owners; marry that with a penchant for playfulness, and you will have a buddy to enjoy plenty of time together in the park.

Goldendoodles are extremely friendly - most goldendoodles are known to become fast friends with children, cats, and other dog breeds, making them an ideal dog for a family pet.

Goldendoodles have 3 types of fur - they could have a straight, wavy, or curly coat type. Check with their veterinarian, who can help identify a particular fur type, on the best way to groom their furry friends.

Goldendoodles love the water - Goldendoodles have an instinctive love-love relationship with swimming, whether in a lake, at the beach, or in your backyard swimming pool.

Goldendoodles can be quite colorful - Goldendoodles' coats are a cute mix of their parent breeds. They can be orange, cream, dark brown, gray, or black in color. Some are even multiple colors.

Goldendoodles Vary in Size - Instead of being bred with a Standard Poodle, Golden Retrievers are bred with a Miniature Poodle to create a pint-sized pup. These mini Doodles may possibly be the cutest thing you'll ever see.

Goldendoodles are Ideal Service Pets - The Poodle's intelligence and Golden Retriever's obedience makes this breed wonderful service animals.If you're in need of a guide dog or therapy dog, look no further. They're also great companion pets for hospital patients or people in nursing homes. For anyone needing a little cheering up, their happy demeanor will bring an instant smile to anyone's face.

Goldendoodles have sever nick names - Goldendoodles are referred to by a few different names, all of which are cute and/or silly sounding. Groodles is one, while Doodles is another. This breed of dog is also sometimes referred to as the Goldenpoo.
​
Because they are incredibly intelligent, Goldendoodles are easy to train and are often recommended for first-time or timid pet owners.
​
Some even call Goldendoodles people pleasers because they always want to make their parent happy. Training is generally a breeze, especially if your Goldendoodle is a people-pleaser. Good behavior should be rewarded with positive reinforcements.
​
Because they generally are water dogs, take your Goldendoodle swimming. We have little baby pools in their area so they can "swim" and splash in the water. It is a riot to watch.
​
The popularity of the Goldendoodle keeps growing! Their light shedding makes them perfect for those with allergies, and their playful, gentle personality makes them a great pet.
​
​
See Our New Arrivals
Sours: https://www.puppiesupnorth.com/mini-goldendoodles
F1B Mini Goldendoodle Puppies
The Mini Goldendoodle
To see our available or upcoming mini goldendoodle puppies, go to our puppies page. For general breed information and how we do mini goldendoodles, keep scrolling down.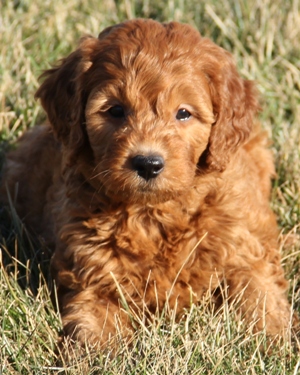 Our mini goldendoodles are raised as healthy companions for life and we never regret our decision many years ago to select mini goldendoodles as our breed. Mini goldendoodles are a cross between the golden retriever and mini poodle breeds that has produced desirable traits as family pets for many years. Merging the qualities of low shedding, intelligence, trainability, and a social temperament between the two parents breeds has given what we consider the best breed for families of all stages in life, including those with young children, singles in an apartment, and most any other situation.
Mini Goldendoodle Genetic Types
Genetic terminology is commonly used to describe mini goldendoodle types, sometimes incorrectly. Below we give description of common genetic goldendoodle definitions. Sizes given are only estimates of our typical weight ranges. We can't guarantee an adult size for any puppy and occasionally have puppies that go outside these typical ranges. We will also never guarantee a puppy to be completely non-shedding since the poodles (known as a non-shedding breed) will have a minor amount of shedding.
F1 mini goldendoodles
F1 (genetic abbreviation for filial 1) mini goldendoodles are the first generation cross between a golden retriever and mini poodle. F1 mini goldendoodle puppies are generally 30-50 lbs as adults and range from very low curl and mild shedding to curly coats with low shedding. We will sometimes use a multigen mini goldendoodle father that has mostly poodle genetics in place of a mini poodle in our F1 breeding. While not the exact definition of F1, we have seen no difference in size, color, health, or curl in doing this type of cross.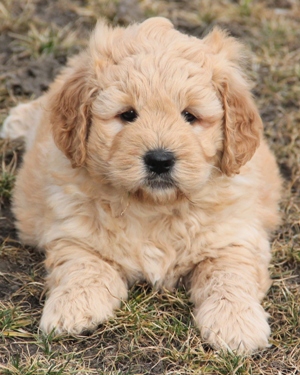 F1 mini goldendoodle puppy in light golden color example
F2 mini goldendoodles
F2 (genetic abbreviation for filial 2) mini goldendoodles are the cross between two F1 mini goldendoodle parents. Due to strong genetics from the golden retriever and poodle breeds on both sides, F2 mini goldendoodle puppies vary wildly in size, coat, and shedding. Since this is the most inconsistent type of goldendoodle cross, we don't breed F2 mini goldendoodles.
F1b mini goldendoodles
F1b (genetic abbreviation for filial 1 backcross) mini goldendoodles are the result of pairing an F1 mini goldendoodle to a mini poodle. This is a different type of second generation goldendoodle cross than F2 goldendoodles. F1b mini goldendoodles typically range from 15-35 lbs as adults and have curly and low shedding coats. We will also sometimes use a multigen mini goldendoodle father in place of a mini poodle in our F1b pairings, like we do with F1 pairings.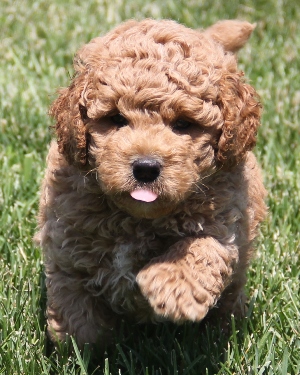 F1b mini goldendoodle puppy in medium golden color example
Multigen mini goldendoodles
We consider anything beyond the above listed goldendoodle types to be multigenerational. Due to the exponentially increasing number of combinations with each increasing goldendoodle generation, size and coat characteristics will vary significantly from breeder to breeder. Our multigen mini goldendoodles are only bred from parents where at least one or both of the parents has mostly poodle genetics to eliminate increasing the shedding potential. With the way we breed for multigen puppies, our multigens will have more poodle genetics than f1b goldendoodles. Our multigen mini goldendoodles also generally range from 10-35 lbs as adults, depending on size of the parents, and have curly low shedding coats.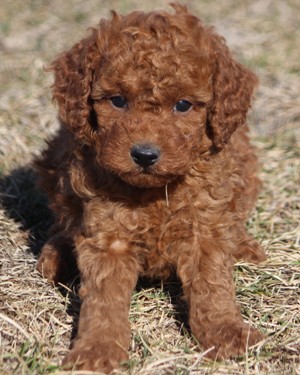 Multigen mini goldendoodle puppy in red color example
Mini Goldendoodle Colors
We have done extensive research into the color genetics of dogs, which is vastly complicated and involves many different genes and varying fading and timing expression of these genes. Dog colors can include black, brown, blue, silver, white/cream/apricot/red, tan, sable, merle, parti colors and others. Markings are also involved without clear genetic dominance. We only raise goldendoodles in the cream/red colors. The cream/red genes are an intensity related set of genes where you can get the infinite range of colors from pure white to Irish setter red. We don't have chocolate colors in our breeding, but many people confuse our darker red puppies with chocolate (brown) or tan colors. We use the terms of cream/light golden/medium golden/dark golden/red. We will sometimes have puppies that have white markings that can include spots on the forehead, nose, chest, feet, and tail. We don't have parti lines (sometimes confused with markings).
Size
We use the size definitions outlined below with our mini goldendoodles. Some of our litters (such as F1b mini goldendoodle litters) will range from 15-35 lbs as adults, so we consider these to be mini/medium size.
Mini size
We consider mini goldendoodles in the 10-25 lb range to be a mini or mini size dog. This is the size of the mini poodle and multigen mini goldendoodle parents.
Medium size
We consider our mini goldendoodles in the 25-50 lb range to be a medium size dog. This is the size of some of our mother mini goldendoodles.
Standard or full size
We consider anything above 50 lbs to be a standard or full size dog. A couple of our mothers are in this size.
Availability
We don't have puppies available all the time and usually have quite a bit of interest when we do. We will have puppies throughout the year and open a list for reservations after puppies are born. We don't accept deposits before this to avoid having uncertain and long reservation lists. Please see our mini goldendoodle puppy page for information on expected mini goldendoodle puppy availability.
Our history with mini goldendoodles
Our journey with mini goldendoodles began in 2004 with our desire to down size the standard size goldendoodle we had started raising. Standard goldendoodles are a wonderful breed, but just too big for most households. The standard goldendoodle is a good combination of the intelligence, trainability, and non-shedding characteristics of the poodle breed and the mild mannered and intelligent golden retriever breed. We had raised a few litters of the standard size in colors including black, chocolate, phantom, and cream/red. These puppies fulfilled the needs for families, but we continued to get the request for the smallest in the litter or "do you have anything smaller?". Our compromise resulted in our first litter of mini goldendoodles in 2004. We have not turned back since and continue to strive for happy and healthy puppies that are family and kid friendly. We feel the mini goldendoodle breed fits this as much, if not more than, any other breed.
Including our previous standard size goldendoodles, we have raised mini goldendoodles that range from 10-100 lbs. In the mini size, we have raised puppies that include the white, cream, light golden, medium golden, dark golden, and red colors. We have been successful in raising healthy puppies for many years with our emphasis on the history of the genetics we are working in contrast to the fancy data only health testing we have not found to be very accurate or helpful in making our decisions on who to keep for breeding.
Our method for raising and selling puppies is very laid back. We don't participate in high pressure sales or making unattainable claims about our puppies. Our philosophy has been that our puppies sell themselves, which we have many years of satisfied customers to back up. We often get the response: "I met one of your puppies the other day ... I want one just like that." Beyond the praise for our puppies, this also points to the quality of training our customers commit to their puppies.
We have run into many claims or questions about the mini goldendoodle breed that are false. To be continued ...
Sours: https://www.minigolden.com/minigoldendoodle.html
Puppies f1b mini goldendoodle
F1B Mini Goldendoodle Puppies for Sale – Top 8 Breeders! (2021)
Are you looking for the best F1B Mini Goldendoodle puppies for sale? With many different Goldendoodle generations, F1B Mini Goldendoodles are among one of the popular ones in terms of size and generation. Many people describe them with the appearance of a toy teddy bear because of the Goldendoodle's curly coat. They're great for people with allergies and great for kids and adults. To help you avoid puppy mills, this guide will help you find the best Mini Goldendoodle puppies for sale.
Before we get started, you should learn about the cost and additional information about the Goldendoodle breed:
1. Shining Star Doodles
Shining Star Doodles is a small breeder in Colorado Springs, Colorado. The owner grew up in a home that was serious about their breeding program. They were raised in a family of West Highland White Terrier breeders and did own a grand champion at one point in the program. They made the shift to Goldendoodles after purchasing their first family dog, a Goldendoodle named Lexi. Lexi started their breeding program and after four beautiful litters, she retired.
Shining Star has now expanded its program by adding new moms and dads. One of the male Standard Poodles is on loan from another breeder to diversify their lines. They typically breed their F1 Goldendoodles to a Standard Poodle to get F1B Goldendoodle puppies.
Even with the program growing, they are still a small breeding operation. They have a few F1B Goldendoodle litters a year and they vary in sizes. One of the sizes they offer is the Mini Goldendoodles. Because they are committed to giving their breeding dogs the best life they can, Shining Star utilizes the guardian program.
They place the pick of the litter puppies with qualified guardian homes so they can live as loved family pets that get plenty of attention and care. To purchase a mini F1B Goldendoodle puppy for sale from Shining Star, prospective owners will need to fill out a puppy application first. It is a detailed and specific application that verifies you will be able to care for a puppy.
The breeder will approve or deny the application based on this information. They simply want to make sure the puppies are placed with the best possible families. You'll need to discuss pricing and transportation with the breeder before a deposit is placed.
F1B Mini Goldendoodle Breeder Details
2. Pikes Peak Doodles
Pikes Peak Doodles is a breeding program that has been in operation since 2008. They are known for high-quality puppies that are healthy and have a wonderful temperament. Pike's Peak breeds F1 and F1B medium and mini Goldendoodle puppies. There isn't a lot of information on their website about their history or the owners. However, they have a very active Facebook page with very updated information. There is a very informative FAQ section under the puppy information and application tab. Once the application is filled out and approved they do require a $250 deposit for one of their Goldendoodle puppies.
Their Mini F1B Goldendoodles puppies for sale are $2400 total including the deposit. Buyers will need to include the Colorado state sales tax in the price as well. We would consider Pike's Peak Doodles a midsized breeding operation. They have multiple females and only two males currently in their breeding program. To get the scoop and the most current information on upcoming litters make sure to check their Facebook page regularly.
F1B Mini Goldendoodle Breeder Details
3. Abounding Grace Doodles
Abounding Grace Doodles is a breeder in the Atlanta, Georgia area. They keep their breeding operation small so they can give the adults and puppies all of the care and attention they need.
For interested parties, there is a puppy application on the website. This is a thorough application since the breeder is dedicated to matching their Goldendoodle puppies with the perfect families. The application must be approved before a deposit is placed.
The deposit for all of their F1B Goldendoodle puppies is $300 and is non-refundable. The deposit must also be in check form rather than cash or Paypal. All approved people who have sent the deposit will be placed on the master waiting list. When it is time to pick the puppies, the breeder will contact those on the waiting list in order of their deposit. The breeder does say that the best way to get a hold of her is via text message. There is an email address but she does not check that as often.
F1B Mini Goldendoodle Breeder Details
4. Happy Top Doodles
Happy Top Doodles has quickly branched out to the multiple Doodle breeds. They started on this Doodle journey with Aussiedoodles. The breeders just loved their striking colors and personalities.
Once they started their breeding program they decided to add more doodle breeds. The Goldendoodles came next, then the Bernedoodles followed by their most recent addition the Sheepadoodle. Happy Top Doodles does have a full schedule of litters due in 2021.
This can be found on their Good Dog page. The link is at the bottom of the landing page of their website. This is also where all of the pricing information can be found. Transportation information will need to be discussed with the breeder directly.
F1B Mini Goldendoodle Breeder Details
5. Winding Creek Ranch
Winding Creek Ranch has a great origin story. They exclusively breed Mini Goldendoodles after starting their breeding journey with Golden Retrievers. The owner met her first Mini Goldendoodle when she was running her grooming business and knew the path to take. Today, they are committed to the health and well-being of their breeding adults and their puppies. This is proven with their guardian program. They have plenty of space for their Goldendoodles to get exercise and roam, but they want the dogs to be a part of a family and given one on one attention.
Because they are smaller mini Goldendoodles breeders they don't always place puppies in guardian homes. However, they like to have guardians ready to go in case they spot the perfect puppy to add to their program. The purchase price of the F1B Mini Goldendoodle puppies varies but there is a $500 deposit. The breeder recommends keeping an eye on upcoming litters, choosing a litter, and placing a deposit early.
F1B Mini Goldendoodle Breeder Details
6. Acadia Goldendoodles
Acadia Goldendoodles is located on the coast of Maine and are fully dedicated to their breeding adults and puppies. It isn't much about how they started on the website, but they do have a unique philosophy when it comes to placing their F1B Goldendoodle puppies. The way they match puppies with the new owners is designed to make sure the puppies are with the best families for them. Prospective owners will not have the opportunity to select their own puppy. The breeder goes through an extensive matching process based on the client's needs and lifestyle as well as the temperament of each puppy in each litter.
New owners are notified when the Goldendoodle puppies are seven weeks of age which one is theirs. This seems to be a successful way to match for this breeder. The price of each mini F1B Goldendoodle puppy is around $4,000 and there is a deposit required to be placed on the waiting list. There is also a separate list of those interested in a puppy but not yet ready to fill out an application and place a deposit. This is a rather large breeding program so there are litters available several times a year.
F1B Mini Goldendoodle Breeder Details
7. MRF Goldendoodles
Marriottsville Ridge Farm (MRF) is not just a Mini Goldendoodle breeder. Many things are happening at MRF but the Mini Goldendoodle program is a star among all of the other services. The website doesn't give much information about the program but they do encourage anyone interested in one of their Mini Goldendoodle puppies to contact them directly.
Their main priority is that the puppies go home to families who are fully prepared to welcome a new puppy into their home. They have some resources listed on their website that they encourage interested parties to read before bringing a puppy home. If you want information about pricing and the application process call or email MRF Goldendoodles.
F1B Mini Goldendoodle Breeder Details
8. Euro Goldendoodles
Euro Goldendoodles is a self-proclaimed professional hobby breeder of F1B Mini Goldendoodles. They have a rather large program with many males and females. There are many litters a year of different sizes of Goldendoodles. One of the most popular is the Mini Goldendoodle. Even with a large number of breeding adults, they don't mention a guardian program. One thing they do offer is a full training program for their puppies. Each Goldendoodle puppy goes home with 300 hours of training to get them off on the right foot.
The owners spend a long time with each puppy to make sure they are ready for their new owners. They will contact you within 24 hours of submission with more information. Feel free to ask these breeders any questions.
F1B Mini Goldendoodle Breeder Details
Conclusion For The Best F1B Mini Goldendoodle Puppies For Sale
While being loyal, Goldendoodles are one of the kindest and smartest companions you'll ever have. Since they're mixed between the Golden Retriever and the Poodle, it's worth knowing that they inherited the intelligence from one of the smartest dog breeds (Poodle). This guide should help you find the best F1B Mini Goldendoodle puppies for sale, so you won't have to deal with potential puppy mills. Many people like mini F1B Goldendoodle puppies because they are mostly hypoallergenic and nonshedding since they are 75% Poodle and 25% Golden Retriever.
For more Goldendoodle breeder recommendations, check out:
If you're still considering bringing home these F1B Mini Goldendoodle puppies for sale, perhaps this video might change your mind:
Filed Under: Blog, BreedersTagged With: F1B Mini Goldendoodle Puppies for Sale
Sours: https://welovedoodles.com/f1b-mini-goldendoodle-puppies-for-sale/
F1B Mini Goldendoodle Puppies
Yes, wherever you want, if only he continued. Well done, and licks the ass and pussy, tongue over the clitoris, and inside the pussy. Cool. Zyko. Yeah, I put my finger in the ass and move it while the pussy licks.
Now discussing:
Her away from him. - the expressive look of brown eyes hit Emelyanova. Hello everyone. I want to tell you the history of which has passed with me a few years ago.
282
283
284
285
286