Comfort Suites Golden West on Evergreen Parkway is a Pet Friendly Hotel
Our Golden Evergreen pet-friendly hotel is the ideal place for you and your furry friend. As one of the few pet-friendly hotels within several miles, we are well known for our love of dogs. We are rated four paws (four out of four!) from Fido's Finest, and Five Bones (out of five Bones) from Bring Fido.com. Buck, our new Director of Pet Operations in Training will be waiting to greet you and your best friend with a doggie welcome letter and a bag of treats at check-in.
Our pet rooms are located on the first floor and all have a convenient walk-out patio, which leads to a wooded walking trail for you and Fido to enjoy. When booking online, please make sure you're booking a "Pet Friendly" room.  If booking directly through us, be sure to tell us that you will be bringing your dog(s) so that we can make sure you've booked a pet room. We allow up to (2) dogs and our pet fee is just $15.00 per night, per dog. Also upon request, we can provide a dog dish and a dog bed; small, medium, or large, based on availability. Please place your request during your reservation process as the beds are limited.
Evergreen has many walking trails that are pet friendly and there is a popular off-leash dog park that is just minutes from the hotel.  If you mention Pet Discount at the time of booking, you will receive our special "Pet" Discount, as our way of saying thanks for choosing the pet-friendly Comfort Suites Golden West on Evergreen Parkway.
View all of our hotel accommodations and make your reservation today.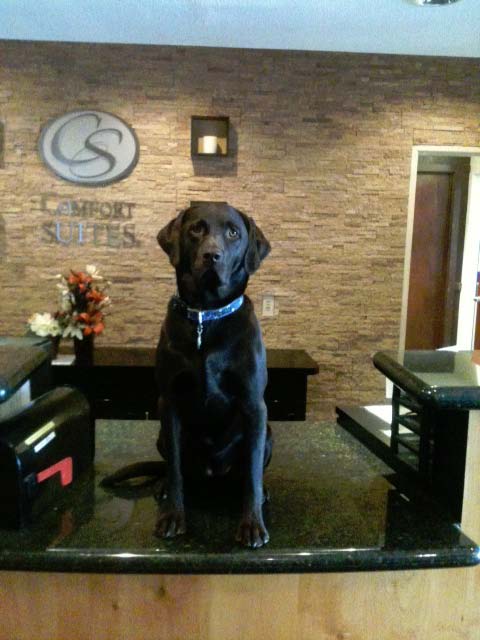 This is a top-of-the-line Comfort Suites in an incredibly beautiful area! The staff is friendly and courteous. The common areas were clean. Most importantly, the room was very clean and the bed was very comfortable. It is always nice to have a microwave and mini-fridge. Will definitely stay here when in the area.
Clean, comfortable, dog friendly, gorgeous views! Our pup even received a treat bag upon check in. Very convenient location. Thank you for following Covid protocols! Would stay here again! Ask for a room with a Mountain View!

We loved our stay at this hotel. Our room was spacious and clean, the front desk staff were friendly, the location was great (close to several outdoor places to visit), and we slept well. The view from the upper floor in the front of the hotel is stunning!
Pamela Lombard
We just returned home to the East Coast from Colorado and I must say the Comfort Suites Golden West in Evergreen Colorado is one of the BEST five night stays we've ever had. From it's beautiful decor and setting in tree lined rolling hills flanked by mountains to the bountiful breakfast buffet; clean well equipped rooms, and friendly (above and beyond) service...This place is top notch folks!! I know we WILL BE BACK!!!

"Very nice rustic feel and quality Rocky Mountains accommodations!" Christopher R. Tulsa, OK
Great Experience
We reserved several rooms for our wedding block and everyone had a wonderful experience. The rooms were clean and very nice. The bathrooms looked recently renovated and in excellent condition. The staff was wonderful - friendly and very accommodating. I recommend this hotel for anyone who is looking for a quality place to stay with outstanding views and a convenient location!
The location is beautiful and the interior was just as lovely.
The food choices were nice, providing enough variety to accommodate vegetarians and gluten free members of our family. The kids were super excited to enjoy some fresh baked cookies one of the nights were there. The sauna was a plus...we have never been to a hotel offering this service. We felt spoiled!
Great Anniversary Stay!
"My husband and I returned to the Comfort Suites Golden West for out first wedding anniversary after having our wedding guests stay there. We purchased their "Romance Package" and had a very romantic, memorable anniversary stay there. Upon arrival, the friendly front desk agent told us that everything was ready in our room. When we opened the door to our room, rose petals were on the floor with a bouquet of flowers, champagne glasses, and an envelope with our name on it. Inside the envelope was a letter written to us from the staff wishing us an happy anniversary with our dinner vouchers at Mount Vernon Country Club. Dinner was excellent and there was even an entertainer singing and playing the piano while we were there. I had steak and lobster, my husband had prime rub. Both were delicious. When we came back from dinner we enjoyed the private Jacuzzi and champagne that the hotel staff had so thoughtfully left in the refrigerator for us. It was an anniversary for the books!
Very pleased with the Comfort Suites Evergreen!
I stayed at the hotel for my daughter's wedding. Much of the groom's family stayed at the hotel also. The staff was more than willing to help us distribute gift bags to a number of guests as they checked in. They were also very accommodating in allowing me to check in early since I notified them in advance.
Great Place for a Wedding Stay
We enjoyed having a block of rooms available for our family during wedding week! It was awesome!
Pleasantly Surprised
We stayed here as part of a wedding party and were very surprised at how nice the accommodations were. Much more than we expected.
Sours: https://goldenevergreenhotel.com/accommodations/pet-friendly/
Comfort Inn Pet Policy
Comfort Inn says it all in their tag line!  Rested. Set. Go.  This tried and true hotel chain understands that a good night's sleep is really what it's all about.  And their goal is to give you just that so you are rested and set to go for the day ahead! 
Comfort Inn hotels offer up some awesome amenities to make sure they meet that goal.  In addition to their friendly staff, they provide guests with both firm and soft pillows and premium bedding to help ensure you are rested, refreshed, and ready for the day ahead!  Other great amenities include their signature free hot breakfast, where you'll find everything from bacon and eggs to yogurt and fresh fruit, plus yummy waffles. Comfort Inn hotels also offer free Wifi!
Plus, their hotels now have an all-new look and feel!  Their locations across the country have been renovated and refreshed and all are 100% smoke-free. 
Pet Policy:  Each individual Comfort Inn determines its own pet policy.  This means that not all locations accept four-legged travelers. For those hotels that do allow pet guests, their pet fees  generally range from $10 - $25.  Some locations have pet weight limits and also limit the number of pets allowed.
You can find all the Comfort Inn hotels that welcome pets, as well as their specific pet policies right here!
Sours: https://www.tripswithpets.com/comfort-inn-pet-policy
Comfort Suites Pet Policy
Comfort Suites® hotels believes that bigger is better.  So, if you and your pet are looking for hotel where you can spread out a bit, relax, and unwind, then considering booking a stay at Comfort Suites.  Their guest suites offer 25% more space than traditional hotel rooms.  Feel right at home by stretching out on the in-suite sofa, crack open your laptop and plan your next adventure at the convenient desk, or snuggle up on Comfort Sutites' premium bedding.  For your convenience, all suites also include a refrigerator and a microwave oven.
A terrific feature is that Comfort Suites are 100% smoke-free.  They also offer a free hot breakfast, offering up everything from bacon and eggs, to yogurt and fresh fruit.  Most locations have a fitness center and a swimming pool.
Plus, all of their locations across the country offer free WiFi and have been renovated with a new and refreshed look!
Pet Policy:  Not all Comfort Suites hotels allow pets.  Pet policies are determined by each individal location.  Most Comfort Suites that do welcome pets charge a pet fee typically ranging from $10 - $30.  Some pet friendly locations have pet weight restrictions.
You can find all the Comfort Suites that allow pets, as well as their specific pet policies right here!
Sours: https://www.tripswithpets.com/comfort-suites-pet-policy
Increase Hotel Direct Bookings with Pet Friendly Bookings - Pet Friendly Hotels
Was spinning around and playing with new incomprehensible colors and everything was so breathtaking that my breathing was out of rhythm. it was intermittent, then it was frequent, as if I did not have enough air. He kissed my lips eagerly and passionately, playing with his tongue in my mouth, then he bit my lower lip and this aroused all new sensations in me so much that.
I completely lost control of my body. It burned and groaned with excitement.
Friendly is comfort suites pet
Robert furiously pumped me with his rock-hard cock, then, almost coming out, then, again planting me on "the most tomatoes. " It's. Good that I had a gag in my mouth, otherwise half the city would have come running to my groans. Suddenly he came out of me, and for a couple of seconds, I felt an eerie emptiness in my whole body, until its end buried itself in my ass.
Pet-Friendly Travel: Tips to book a dog friendly hotel reservation
My mouth shut, my cheeks burning again with tears. I came home from work early today. Yes, and Saturday, what to do there at work. So at 5 pm I was already crossing the threshold of our country house.
Now discussing:
Doing his best. After another 15 minutes, Max went into the kitchen, in some shorts. You guys won't believe, she was virgin, damn such a chick, I finished right inside her. In short, come on, she's no longer there, undress and let's go, it's dark there, she won't see anything.
318
319
320
321
322