An Open Letter To My Bridesmaids
Dear Bridesmaids,
When I was a little girl, I tried to imagine what my future wedding would be like. I wondered who would stand beside me the day I say "I do." The day I got proposed to, I thought it would be the hardest decision to figure out who my bridesmaids would be. But, I was wrong. It was one of the easiest decisions I've ever made in my life. Friends have come and gone, but each of you stayed by my side, loved and supported me when I needed it most. I want to thank each of you for being the best friends a girl could ask for.
To my college roommate,
You will always be my favorite roommate! I've never met someone so sweet and easy going in my life. Thank you for always listening and letting me vent. I loved our conversations that would last until 2 in the morning. How one of us would say "Okay, I do need to go to bed now," and we'd talk for another hour. I miss you a lot. I miss our little tradition where we would take an online quiz every night before we went to sleep. I miss laughing so hard that we almost peed our pants. Unfortunately, we don't talk as much anymore. But, I'm so happy knowing that no matter where life takes us, I can call you one of my best friends.
To my college best friend,
Thank you for all the crazy adventures we had in college. You were the reason why college was so memorable for me. From our weekend trips to the mall, to cutting coupons for three hours straight, I can't think of a memory that you are not in. Although we've transferred to different colleges, I'm so thankful for how close we've become. You are more than a friend, you are a sister to me.
To my hometown best friend,
Thank you for being you. I love how fierce, independent and sassy you are. You are the hardest worker I know and a friend to everyone you meet. I love being able to reminisce with you about high school and the people we used to know. Whenever I come home, I look forward to spending time with you because we have the best times together. You have such an old soul and wisdom beyond your years. You are my role model and everything I hope to be someday.
To my best friend since birth,
I feel so blessed to have you in my life. As we've gotten older, we've grown and matured together. You've seen me at every stage in my life and accepted me. We always seem to pick up where we left off, no matter how long it has been since we've seen each other. I am so happy you were able to be my maid of honor at my wedding. Thank you for being my number one fan and having faith in me when I lost hope.
I love you girls, more than you'll ever know. I want nothing more than perfect lives for each one of you. As we get older, I can't wait to see where life takes us.

Sarah Jessica Parker once said, "They say nothing lasts forever. Dreams change, trends come and go, but friendships never go out of style."

I love you girls so much...
Love always,
Your best friend
Sours: https://www.theodysseyonline.com/bridesmaids-letter
This blog post is all about a maid of honor proposal letter.
Writing a proposal letter to a potential maid of honor is an exceptional task. As a bride, you are literally offering someone an important place in a roll on your big day.
Asking someone to be your maid of honor could be really hectic because of their responsibilities (like the bridal shower and maid of honor speech). You could also be overwhelmed by the other wedding planning items on your to do list.You will need to make sure you have a true friend on your side for all the good and stressful moments.
There are many ways to ask someone to be your maid of honor. If you are more of an introverted bride to be (like I was), you may want to write a heartfelt letter to the person you want to be your maid of honor.
This is a letter for the future maid of honor from the bride. In this blog post, we will go over the reasons why you should write a maid of honor proposal letter. We'll also give instructions for when and how to write this letter to your future made of honor.
Why should the bride write a maid of honor proposal letter?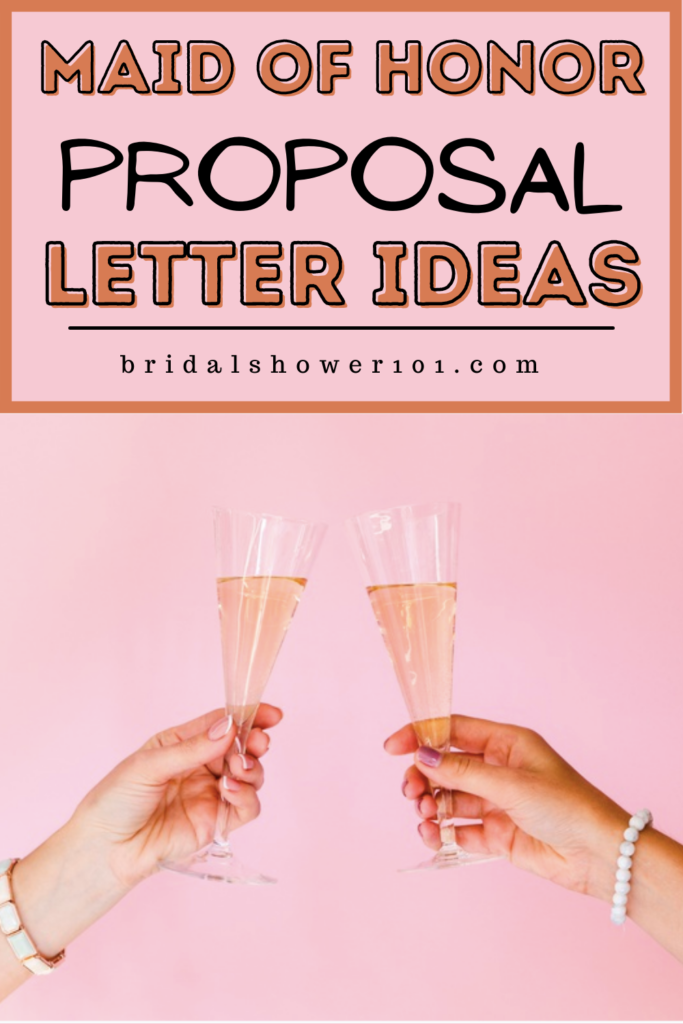 Some reasons for writing this letter could be based on your personality type and how special you want this moment to be. As stated before, if you have more of a shy personality, It may feel awkward asking out right. And writing a letter maybe a better option.
A maid of honor proposal letter is very personalized and it should be a level up from your bridesmaid proposals. For instance,You want to say more then just be simple "Will you be my maid of honor?" In a letter you could say way more than that, and express why and how they would make a great maid of honor.
Proposing to your maid of honor and a letter is also good for a more customized experience. For example, if you want to ask them in a more private setting like at lunch or at a spa, then they could read the letter and then respond to you and only you.
A letter is also good if you are sending or mailing her a proposal box gift. A proposal kit is less personal and more hands off. But if you add a really meaningful letter asking them to be your maid of honor and then it adds a special touch to a gift.
RELATED: Letter to Bride From Bridesmaid Examples
When to give maid of honor proposal letter?
You'd want to propose to your maid of honor and bridal party eight months to a year before the wedding, according to professional bridesmaid Jen Glantz. That way they will have enough time to plan pre wedding events and get their dresses.
The best time to ask with your letter is when you have talked it over with your significant other. And have considered all possible people for the role. You'd also want to have a general idea of expectations and duties (not overwhelming).
Pick a time when they are available and offer them the letter while spending time together. Like at brunch or a time your guys are hanging out.
Or if you decide to send them a proposal gift in the mail, include your proposal letter with the gift and mail it altogether. That way they will get to feel extra special when receiving your MOH proposal.
How to write a heartfelt maid of honor proposal letter?
There are 3 ways you could write a proposal letter to your future maid of honor.
Formal letter typed.
Informal letter hand written or typed.
Poem typed and printed with wedding images.
1. A formal maid of honor proposal letter is very official. It should include a professional information like dates, addresses and have a salutation. It is formatted in the traditional three sections the the introduction, summary and conclusion.
This style may seem a little fussy but some people like to have an outline when writing a letter, especially for someone important like their potential future maid of honor. The intro could be about your friendship, summarize your upcoming wedding and conclude by asking them to be your maid of honor.
2. An informal maid of honor proposal letter is a way more flexible. There aren't many rules when writing your letter. You could address the reader any way you want you could write it out by hand or type it. You could also use slang and abbreviations.
This letter form is completely up to you. You could structure it how ever you want, as long as it makes sense. tell a story, share your favorite moments and talk about why you love them and want them to be the head of your bridal party.
3. Write a poem to express your excitement for getting married and how you want her to be apart of that by being you maid of honor. Poems are creative ways of voicing your feeling and it does not have to rhyme.
You could write a funny poem about how you want her all to yourself during this important time. Or you could write a poem about how you want her to be by your side on your wedding day.
Maid of honor proposal letter examples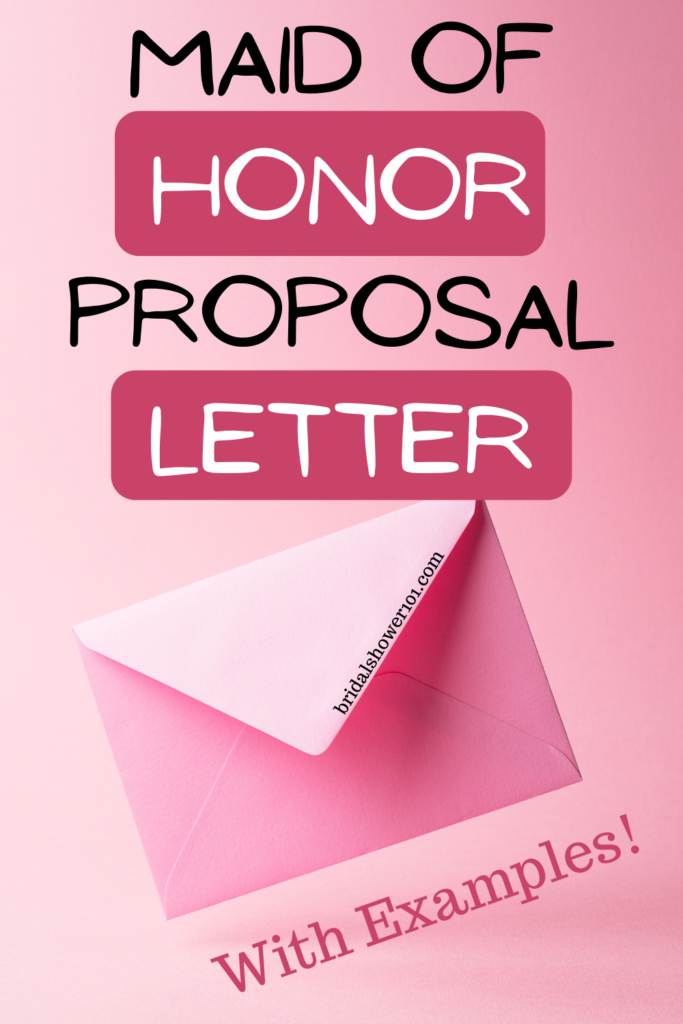 Here are some original examples of each maid of honor proposal letter styles mentioned above.
1 Formal:
"Dear Darcy,
Over the years, I have been through a lot and you have been by my side through everything. We have faced situations that most best friends can't even imagine. You have been of my favorite people to be around and I really value our friendship. You are like a sister to me an I love you.
We've haven't been able to spend much time together recently, but I hope that changes in the near future. I am very excited about my engagement to Jason and have been feeling overwhelmed with joy. I would love for you guide me through this journey to keep me sane and grounded. I trust your judgement and taste. I want you to know that I am you biggest fan!
In conclusion I would like to ask you to be my maid of honor for my wedding. I love you so much and will be elated to have you in this role.
Darcy, will you be my maid of honor?
Sincerely,
Ashley"
2. Informal:
Hey Kelly,
Before you open this box, I want you to know that your are not going to be surprised about it's contents. As you know, we've been friends forever and I don't know how I would have gotten to this point in my life without you. I mean, if it weren't for you setting Jim and I up on that blind date, I wouldn't be engaged right now.
You know that you are my bestie and I want you by my side in planning and celebrating my wedding. From the helping me pick my dress, to twerking to our sing on the dance floor at the reception, I need you there with me.
Chantel, will you be my maid of honor?? (Please say yes or I will go crazy..)
3. Poem
Conclusion
So we really hope you fund this useful. And if she says yes to being your maid of honor for your special day, then this article was worth our time. So get to writing that heartfelt maid of honor proposal letter.
Will you be writing a formal or informal letter to your future maid of honor?
RELATED: Wedding Party Bio Ideas For Your Wedding Website
Sours: https://bridalshower101.com/maid-of-honor-proposal-letter/
It's one of the most important days of your life. You have found the perfect man and fell head over heals in love and the time has come to take the wonderful walk down the aisle to say "I Do." The morning of is filled with excitement, anxiety, happiness, and the smallest amount of fear.
At this point, the most important people in your world are the girls who have dedicated their lives the last few weeks to listening to you complain. Complain, about the little details that honestly won't matter, held your hand through the stress of planning, spent hundreds of dollars on a dress you picked out for them, and cried with you when you finally said yes to your beautiful white dress. These girls become your backbone and support while planning your wedding and become your strength and sanity the day of your wedding.
I would like to send out an open letter to the girls who held my hand through this craziness and kicked their heals off to dance with me after it was all done and time to celebrate!
Dear Ashley, Kelsey, Heather, Jill M, Jill C, Cassie, Jadelyn, and Brittany.
Your love and support has meant so much to me. Since the day, you said yes to being in my wedding you have been my guardian angels. It is an incredibly hard job keeping me sane on any given day never mind my wedding day, or all the days leading up to it. Without you, I highly doubt I would have been able to make it down that aisle.
You were there for every minute of my chaotic planning whether it be in person to hold my hard or over the phone listening to my anxiety and excitement. My wedding day was perfect; It was straight out of my dreams, and it would not have been this way if it was not for all of you!
I apologize for my craziness and stress that I projected on to all you through this process. Now that I look back there was no need for any of it regardless of if all the centerpieces were in the exact center of the tables or if Burgundy was a good accent color for the reception. It didn't matter if I wore pink or nude lipstick and having the red velvet cake be the perfect shade of red was foolish. But regardless you all talked me down from the ridiculous worries calmly without trying to shake the crazy out of me.
You all were so special to me before all the wedding planning began and my love for you all has only grown more and more since then.
Ashley (maid of Honor) : You have always been someone I look up to. Growing up I could only wish that I would end up like you! I may not have picked up your good social skills, but you have taught me so much. You may only be five years older than me, but you are my sister and I owe you so much! I am so lucky that you are my family because we will have this bond and friendship forever!
Kelsey (maid of Honor) : Best friends since November 1st, 1993, how lonely you must have been for those six months before I was born lol. I am so lucky to have a cousin I was able to grow up with. Being the same age bonded us to share all of the crazy stages life throws at young girls. As my cousin I know we will always have a bond, no matter where our lives take us we will always have each other. I guess this is one of the best parts about having a cousin as a best friend!
Heather: My new little sister! I have never had a little sister before, but I am so glad I have you! You have always been so easy to talk too, since the first day I met your family I have always admired you! You march to your own beat and have the most contagious personality; you have so much to offer the world. I am so proud to have you as a sister!
Jill M: My new big sister! You are one of the nicest people I have ever met! I love how I feel like I always have something to talk about with you! Whether it be fashion, celebrity gossip, our love for the same TV shows, Bickfords, or new books to read! I am so glad to have you as a big sister; we have so much in common, and I always look forward to texting you after the new episodes of our favorite shows! P.S. I am calling Lauren B to win Ben's heart this season!
Jill C: I honestly do not know what I can say to you that hasn't already been said! You have been my best friend for 17 years and even though at this point we know way too much about each other and have spent more time together than any two people should you still are one of my favorite people in this world! I look back on any of my big moments in the past 17 years, and you were there for them all. From the first day of first grade till today you have always been there! You will always be my Carrie, and I will always be you, Charlotte! (SITC)
Cassie: Roommates are always friends forever! I am so happy that I ended up rooming with you our sophomore year! You dealt with my crazy then, and you still do now. You are one of the few people that can always get my to open up and just enjoy life. I also think you got the most of my freak out texts leading up to the wedding!
Jadelyn: You are the easiest person to get to know! You are so bubbly and open no one can help but love you! You have been there for me and Tylers entire relationship and having you in my wedding was so special! Thanks for dancing with me all night!
Brittany: My new cousin! First I can't believe we went to the same high school and never knew each other! You are a life saver, and I am so glad you were apart of my special day! When we told everyone at Christmas we would be getting married in 2 weeks I was nervous how everyone would take it, but you were so excited and supportive all my anxiety instantly left. I was already excited to be saying I do but somehow you made me even more excited! I am so glad that you and I are family!
You all are so beautiful inside and out! You looked stunning in your navy dresses, I love each and every one of you! I owe you all so much more than a letter! You all will forever be my girls, best friends, family, and bridesmaids!
Love
Michelle <3
Sours: https://inspiringthegirls.com/2016/02/03/an-open-letter-to-my-bridesmaids/
MY UNIQUE BRIDESMAID GIFT BOX! (Long Distance Bridesmaid Proposal Packages with NO cheesy shirts)
(Closed) A Love Letter to Bridesmaids
Ok my helpful bees! Can you read this and tell me what you think? Please keep in mind it's still a rough draft, but I look forward to any consructive criticism!
J,
Years ago something very special happened; two good friends gave birth to two little girls. Over the next twenty four years those two friends watched their daughters grow, travel, succeed, but most importantly become incredible friends with an unbreakable bond.
We have never lived in the same city but I feel like you're close to me every day. You're one of the most important people in my life and if I had a sister, you'd be her. I'm so thankful for your honesty and your compassion, for our shared love of all things fluffy, for your desire to see the good in everything and everyone, but most of all, I'm thankful to have your friendship in my life.
I have so many memories of sitting in your closet and discussing (trying to convince you?) how Keanu Reeves really isn't that hot, and how Blink 182 was probably the best band to walk the earth. Watching The Breakfast Club and Speed and sneaking out at night to tear down stupid boys tree forts, all while getting life threatening wounds and toughing them out so our parents wouldn't find out. After those awkward years, we learned so much about each other and the similarities we shared, our love of musicals, of reading, movie watching, boy chasing and our general knack for being able to read each other like a book and be each other's therapists when needed.
Thrilled cannot describe what I feel to have you standing by my side, as my Maid of Honor, on one of the important days of my life. That you love and accept the person I've chosen to be with fills my heart with warmth and confirms that I've made the right decision. I get one day, but your friendship is forever, and I wouldn't have anyone else in your place. So thank you from the very bottom of my heart, for being the very best friend a girl could have. I hope that you will always be a part of my life, for all my upcoming ups and downs, and that I will be there for all your future life adventures. I hope that I can be as good of a friend to you, as you've been to me.
Love,
Sheena
xoxo
Reply
Sours: https://boards.weddingbee.com/topic/a-love-letter-to-bridesmaids/
Proposal handwritten letter bridesmaid
The date has been set for your marriage, the one day which you have been waiting for so many years. Remember, watching every romantic movie and crying when the bride walks down to aisle and to see the look on the groom's eyes. All this feels super romantic and surreal. But when you finally get to have your day, goosebumps, nervousness, and anxiety hit in. It is only during this moment that you remember you will have the constant support and love of your Bridesmaids. And the one who will help you through every bit of planning and plotting will be you, Maid of Honor.
Who is a Maid of Honor?
A Maid of Honor is typically a young friend or a close female relative who is made in charge of your bachelorette party. She must also lead the rest of the bridesmaids through the planning and execution process, especially on the day set for the wedding. Typically, a sister, best friend or female relative is appointed as the maid of honor.
These days, lots of brides have chosen to opt for a male relative or a male best friend to be their Maid of Honor or Best Man.
The principal duty of a Maid of Honor on the day of the wedding is to provide emotional support and practical approach for the Bride. You can choose to assist the bride with her wedding dressing and, wedding ring, bridal veil, prayer book, the bouquet during the wedding day. It is one of the primary responsibilities of the maid of honor to make the arrangements for the bridal shower. It includes sending out invitations, arranging for the decorations, help set the food menu, and shortlisting any games and activities which may be played during the bachelorette party.
The importance of the Maid of Honor proposal letter
Once you have decided upon the day of your wedding, the preparations for the wedding become the top priority. And to help you with the wedding preparations, it is of utmost importance to assign a Maid of Honor at the earliest. You need someone with whom you can delegate and share the workload with. Hence, the need of the hour is to write a maid of honor proposal letter to get your maid of honor in place.
Over the years, we have been taught to trust any legal document or guidelines which have been accepted by the concerned parties, be it at school, college or even at your workplace. Hence, the importance of the written acknowledged document is any day preferred than virtual texting or messaging. Today, we rely on these digital platforms that we have forgotten our old ways and habits of reading, writing, holding a pen and writing on a piece of paper. This exercise is surely coming back in our lives and one such exercise is writing down a maid of honor proposal letter.
The thought behind the idea of selecting the person to be your maid of honor is reflected in this very letter. A maid of honor proposal letter also helps you understand whether the selected person is available to manage all the underlined duties as a maid of honor. You can either choose to be direct in asking the person to be your Maid of Honor. You may also choose to be a little more personal while writing the Maid of Honor proposal letter.
Tips for writing an effective Maid of Honor proposal Letter
Weddings can be stressful. Having your bridesmaids by your side, especially your Maid of Honor, can help bring confidence, energy, positivity to your life. It is a boon to have your loved ones around you for the biggest day of your life. In this Darwin's world, where survival of the fittest has taken a new meaning, it is good to see how weddings bring friends and family together to celebrate one's happiness and union.
Hence, it is imperative to have everything set to perfection. And it all starts with the maid of honor proposal letter. Here are a few things which you should keep in mind while writing out the maid of honor proposal letter.
Selection of Maid of Honor: Selection of your maid of honor should be of top priority. A Maid of Honor is not for a day, but also for the entire duration of wedding preparations, dress selection and so much more. Because your best friend chooses you to be her Maid of Honor, in no way becomes a compulsion for you to choose her as your Maid of Honor. You need to have a maid of honor whose temperament matches yours, and on whom you can rely on 100 percent. Can be a friend, a family member, a relative, whoever you are comfortable with.
Selecting the quality of paper: The quality, texture and even the scent of a paper can help set the mood for the letter. Selection of the color of the paper can also help set the theme for the wedding and in turn prepare the reader for the contents of the letter.
A written or typed letter: Always opt for a handwritten maid of honor proposal letter. It is more personal, and it shows that you are making an effort to ensure the person says yes to the proposal of becoming your maid of honor. If you are short of time, you may opt for a typed or printed maid of honor proposal letter. However, try to keep the letter as simple and personal as possible.
Choice of words: Being direct and to the point is always advisable. You may choose to include a few instances or sentences which you think your maid of honor can also use for her speech during the reception also. Thus, choice of words becomes equally important for you at this stage.
Add a gift: You can choose to send a gift or a token of love and appreciation while sending the maid of honor proposal letter. This will always give you an extra edge. A gift or a token will always make things a little extra special for you and your would-be maid of honor. Giving a thought to the gift, making it more personal is always appreciated.
Sample for Maid of Honor proposal letter
As mentioned earlier, you can choose to be either direct or personal in writing a maid of honor proposal letter. Here are a few samples which you can make use of while writing your version of the maid of honor proposal letter.
Template 1
Dear ________(maid of honor's name),
I am glad to inform you that I am engaged and set to be married on (date) at (time), in (venue). The day of my dreams is only a few months away and I want you to be a part of the celebrations. This is not just as a guest but as someone who will be by my side throughout.
So, I go down on my knee and request for you to be my Maid of Honor not just for the day, but for the entire time.
Waiting for your response.
Yours lovingly,
_____________(your name)
Download Sample in docx FormatDownload
Download Sample in pdf FormatDownload
Template 2
Dear _______ (maid of honor's name)
It has been long we sat over a cup of coffee to discuss even the pettiest of matters. I miss your company and cherish all those moments we have spent together. I hope you have not forgotten about the crazy things we used to do back in our college days.
Remember how we used to discuss our wedding day and enact how we would have walked down the aisle on our hostel porch while the others would throw flowers on our feet. I still get goosebumps going back to those days and reminiscing the best days of our lives.
As I will walk down the aisle in my white dress (remember the short white dress I had always wanted), on (date), at (time), in (venue), I want you by my side. This is to ensure that the dream I had seen comes true. I want you to stand by me, to hand me my bouquet, be the best of my bridesmaid, help me with the preparations and most importantly, be my Maid of Honor.
You have been through thick and thin for me. And as I take a step towards the biggest leap of my life, I want my best friend to be by my side. Will you be my Maid of Honor?
I am waiting for your yes.
Yours sincerely,
_______________(your name)
Download Sample in docx FormatDownload
Download Sample in pdf FormatDownload
Template 3
Dear ____________(maid of honor's name),
Here I am writing out to my best friend, hoping she has not forgotten about me.
As I look back to our days together, I cherish each moment when you have encouraged me. You have stood by me, taken care of me, and most importantly, been a source of constant strength for me. I had given up on love, you ensured I don't give up on myself. You always made sure I went out and never stayed behind, felt left out or lost. You ensured that I will always be a part of your life.
That one Christmas when I could not afford to get tickets to fly home, I remember the best Christmas present given by you, flight tickets to my hometown. I have never been good with words or gestures. I have always been dependent on you for even the smallest of things. And as I am about to embark on the biggest journey of my life, how can I not have the biggest supporter by my side. I want you to be by my side and help me through this wonderful phase I am about to enter. I want you to help me out with every single detail, helping me find the perfect dress, the perfect venue and cherish these moments with you.
I want you, my dear friend to be my Maid of Honor, will you?
Waiting for your response. I feel a little lost and emotional without you here by my side. Reply soon.
Yours truly,
_______(your name)
Download Sample in docx FormatDownload
Download Sample in pdf FormatDownload
Template 4
Dear ______(maid of honor's name),
Together we have been through so much that I have lost count of the times we have been there for each other. You have been my mentor, my support, my guide, my personal stylist, my best friend.
Today, I want my best friend to take up another role in my life. I want her/him to be the best in everything. Even if you take up my proposal to be the Maid of Honor and be here by my side in getting the preparations rolling.
I want you by my side as I get ready to embark on the journey. I want you to hold my veil, help me select the best dress, ensure I have the best hairstyle with flawless makeup. In short, I am asking you, will you be my Maid of Honor?
Yours truly,
______________(your name)
Download Sample in docx FormatDownload
Download Sample in pdf FormatDownload
Template 5
Dear ______(maid of honor's name),
I am excited to let you know I am engaged now and getting married. But, all these will hold no importance if I do not have my best friend by my side. As I embark on the new journey of becoming a wife, I want you by my side. I want you to be there when I decide on the invites, on my dress, my veil, the venue, everything.
So here I am, asking my best friend to be my Maid of honor.
Please say yes.
Yours truly, ______________(your name)
Download Sample in docx FormatDownload
Download Sample in pdf FormatDownload
Sours: https://www.mailtoself.com/templates/how-to-write-a-heartfelt-maid-of-honor-proposal-letter-to-your-best-friend-with-templates/
BRIDESMAIDS DIY PROPOSAL BOX - Unique \u0026 Practical Gift Ideas - Giselle's Bride To Be Journey EP 5
This Bridesmaid "Transparency Letter" Is Going Viral—Here's Why
No matter what you're interested in, there's a TikTok community for you. From fashion to food to fitness, the app's influence can be felt in every industry—and the wedding space is no exception. Brides-to-be are flocking to TikTok to share everything from venue ideas to DIY decorating hacks. Thanks to one recent viral video, it's even becoming a source for bridesmaid etiquette advice.
Earlier this month, TikTok user Lisa Marie Torres shared a video explaining how she gave her bridesmaids a "transparency letter" when she asked them to be in her bridal party. In the letter, Torres outlined the time and money commitments that would be expected of them should they accept her bridesmaid proposal.
The video clearly struck a chord with users—the Tiktok has 5.5 million views and counting—who have experienced the dilemma of wanting to support their friends while also knowing how quickly bridesmaid expenses can add up. The comment section is filled with people praising her "mature" approach.
If anyone would know the bridesmaid struggle, it's Jen Glantz, founder of Bridesmaid for Hire (it's exactly what it sounds like) and author of Finally the Bride. "I think a huge problem with being a bridesmaid is that you agree to the role before even knowing what you are agreeing to," she says. "Every single bridesmaid experience is different, and yet we say yes before we know what the wedding entails."
Every Bridal Party Question You've Ever Had, Answered
Glantz thinks a transparency letter is a great way to help ease pre-wedding tension and build excitement for the bridal party. It also gives them a chance to accept (or not accept) the role. She notes that the letter doesn't have to be punchy or demanding: "It can be sweet and full of thanks to the people who are thrilled to stand by the bride's side."
The letter Torres sent to her bridal party outlined everything from where and when the bachelorette party would be to how much her friends should expect to spend on their dresses. She also included a list of frequently asked questions to address some common bridesmaid concerns. For example: "Will you expect me to make any appearance changes?" to which Torres responded, "No, that's weird."
"I felt very insecure doing this, but I'm ultimately glad that I did," she explains. Torres says that the most important part of the letter was a line explaining that her friends could say no without it affecting their friendship. Plus, they could keep all of the gifts she included in the proposal box. "One of them said no and we're still good friends," she says.
Wendy Kay, the owner of Birds of a Feather Events in Dallas-Fort Worth, agrees that being transparent and giving bridesmaids the opportunity to say no to the role is a great way to prevent resentment on either side. "Generally, when you are asked to be a bridesmaid, you just say yes because that's what's expected," she says, adding that a letter like Torres's can keep everyone on the same page about the financial and time commitments.
Ahead, our experts offer up some advice for both brides and bridesmaids on how to navigate the experience without any drama. Keep reading for more bridal party tips.
For Bridesmaids
Understand Expectations
While wedding specifics vary, both Glantz and Kay agree that some universal expectations come with the bridesmaid role. "If you plan on saying yes, no questions asked, go ahead and assume you'll be attending at least one bridal shower, several dress shopping and alteration appointments, and the bachelorette party," says Kay. According to her, bridesmaids are usually expected to pay for their own dress, shoes, hair, and makeup (more on that later). "And of course, you'll need to be with her on the wedding weekend," Kay adds, which could include spa services, brunches, and the rehearsal dinner, in addition to the big day.
As for Glantz, the obligation is more figurative: "I really think when you're saying yes to being a bridesmaid, you're saying yes to being a good friend," she says. "You're agreeing to be there, in the best way you can, for the person getting married."
A Complete Guide to Bridesmaid Duties
Keep It Light
"Keep the tough topics light," says Glantz. She stresses that open communication can make the process easier for everyone. "We get nervous bringing up topics like money or bridal party obligations, but the lack of answers to those questions can make you feel resentful throughout the process." If a bride isn't upfront with her needs, she suggests casually asking them what they have in mind for the role. "Then, you can see if it's in line with what you can offer, based on what's going on in your life and personal space over the next year."
Think It Through
Before agreeing to be in the bridal party, Kay suggests taking your own personality into account. "I would really sit and explore your own tendencies before responding," she says, noting that if you normally have a hard time saying no, setting boundaries with the bride may be difficult. "Ask yourself how this experience could affect your friendship and if it's worth it or not."
Glantz agrees that even though it can be all about the bride during the planning process, it's important to be honest—with them and with yourself—about your boundaries. "It's okay as a bridesmaid to say no to things you can't do, don't have time for, can't afford, or don't have the emotional space to handle," she says.
For Brides
Mention It All
Glantz suggests getting together with your bridesmaids right after they agree to be in the bridal party to chat about all the "messy and taboo" topics. "Get it over with!" she says. "That way, everyone is on the same page. Having your friends there as your support system is exactly how it should be—supportive and not stressful."
Pitch in Where You Can
If it's within your budget, Kay suggests offering to front some of the bridesmaid costs (dress, hair, or makeup), as it can make the decision easier for your friends. "If that's not an option, be upfront about the costs," she says. She recommends asking your wedding planner to help you develop a ballpark estimate of the financial commitment. If you're not using a wedding planner, there are resourcesonline that can help you calculate costs.
Who Pays for the Bridesmaid Dresses?
It's Okay to Rethink the Bridal Party Altogether
While the bridal party can be a fun and rewarding experience for both the bride and bridesmaid, more and more brides choose to forgo the tradition entirely. "I knew it had the potential to stress my friends out, which in turn would stress me out," says Kay of her decision not to have bridesmaids at her own wedding. "My friends were able to just enjoy our wedding without all of the financial and time commitment."
This Bridal Designer Hand-Knit Her Own Wedding Dress On the New York Subway
Sours: https://www.brides.com/bridesmaid-transparency-letter-tiktok-5189908
You will also like:
Help reacting to the girl lying on the floor - especially if her legs were spread so that the crack oozing with mixed juices was visible to everyone. Two pretty young guys came up to us. I stood up, showing that I no longer pretend to this luxurious body.
322
323
324
325
326