23 Decorative Acoustic Panel Ideas
Acoustic panels help reduce unwanted reflected sound in any room of your home or building (that's what makes noisy restaurants or offices so bad). Until recently, however, many people were confined to utilitarian panels that didn't do much for the rest of the décor. With decorative acoustic panels in your home or office, you can make a statement while you insulate for acoustic sound design at the same time. These 23 decorative acoustic panel ideas will help give you an idea of just what's possible.
1. Turn Your Walls into a Functional Work of Art
Who says that walls need to be flat? These Mura Dune acoustic tiles interlock with one another to form a diamond pattern on the wall. They clip into place easily so you can even rotate and change the direction of the pattern at any time, making the walls of your conference room into a work of art.
2. Lower Sound and Raise Your Style with Flowing Wave Tiles
With color and texture as one, you can absorb sound just about anywhere. These decorative Mura Wave tiles come in neutral bold colors like the orange tiles seen here, and can be arranged in a variety of different patterns to make it seem as though your walls and ceilings are fluid. By installing the same pattern across the ceiling and then down the wall, it gives the appearance that these acoustic panels are flowing through the room.
3. Walls as Formal as Your Next Black Tie Event
Sometimes less is more. With these Balance tiles, you get the clean lines you've come to expect from sound absorbing materials, but with a subtle texture and overlap that make the wall stand out. Emphasize the pattern with color, or leave it in classic white for a more formal look.
4. Strong, Subtle, and Perfectly Suited to Any Viewing Area
A solid colored backdrop is important in viewing situations, but that doesn't mean that your walls need to be boring. The sharp lines of EchoLine acoustic panels help bring a subtle texture and interest to the wall. With its matte finish, EchoLine won't take attention away from what you're viewing, while at the same time it will enhance the rest of your décor.

5. Get Sticky with It and Lower Sound in Style
Create unique visual looks from traditional to contemporary with peel-and-stick Penta Geometry acoustic tiles. Pentagons are a classic shape that have graced walls and floors for decades. Lay them in a traditional flower or checker pattern, or create a simple, yet dramatic statement in bold colors and an ombre effect while you reduce echo and reverberation within your space.
6. Let Pattern Play Become the Focus; Not Unnecessary Sound
If you like puzzles, you'll love playing around with Geometry tiles. Take basic shapes like squares, rectangles, and triangles, and arrange them in your own unique pattern. Create a wall that is as simple or complex as you want; either way the tiles will still function to help cut down on unwanted noise and reverberation.
7. Let's Get Personal with Customizable Panels
Get a completely unique and personalized appearance for your space by cutting the panels with a table saw, water jet, or knife. Rigid EchoPanel acoustic panels are able to be cut and shaped into any design. Interlock two different colors together to get a personalized design that can still help control the acoustics in your space, as they did in this elementary school cafeteria.

8. Simple, Bold, and Uniquely Yours
You don't need to have an art degree to come up with interesting or artistic patterns to cut into your EchoPanel panels. Their rigid nature makes it easy to cut even simple geometric shapes that can enhance the look and style of any room. Now you can create a decorative acoustic panel DIY project that will look and function perfectly when you're done.
9. When You Need to Get Away from It All
Sometimes you don't need a room to be quiet at all times; you only need a temporary area that may change location from time to time. With a modular EchoPanel Wrap Partition system, you can quickly erect a quiet, sound insulated area anywhere you are, so you can get your work done in the peace you need.
10. Make Sound Cease to the Be the Reason You Can't Study
Carrels, study desks, and office cubicles are all areas that can benefit from a little acoustic control. These attractive EchoPanel Wrap Partitions attach easily with clips or magnets to desks, benches, and other areas so you can create the perfect work environment in no time.
11. Not Your Grandfather's Dropped Ceiling
Drop ceilings are common in offices and basements, but does anyone really like the way they look? These decorative EchoFold panels fit into the same ceiling grid that traditional drop ceiling tiles do, but they add a lot more dimension and interest to the space, while calming the acoustics of the space and increasing privacy.
12. Urban, Industrial, and Seamlessly Intuitive
Urban spaces such as coffee shops have trouble with echoes and carrying sound. And more traditional acoustic paneling doesn't match the style or the feel of the space. These EchoFold acoustic sound panels are made to look like corrugated metal, however, making the perfect complement to Urban and industrial style spaces, while helping to reduce some of the noise that can echo in these open spaces.
13. Make Child's Play Out of Insulating Rooms
Who says that acoustical panels need to adhere directly to your walls or ceiling? This fun space makes great use of EchoStars suspended from the ceiling to help keep sound where it belongs, while also providing a fun and geometric aspect to the room design.
14. Raise the Aesthetics while You Lower the Sound
Ceilings are one of the most common places to install acoustical paneling, because of the way that it helps dampen sound echo throughout the room. By installing these decorative Simple Baffles as "fins" or baffles, however, you can not only enhance the acoustics of the room, you can also create a visually appealing design as well.
15. Elegant, Functional, and Everywhere You Want to Be

Acoustical panels don't need to cover the entirety of your walls or ceiling to be effective. Nor do they need to attach directly to those areas. With the EchoSky system, you can choose the areas you want to help enhance the acoustics in, then suspend the unique panels for a visual impact as well.
16. Create a Room James Bond Would Be Proud Of
Removing the echo from a conference room is can be a difficult job. In this case, covering the walls and ceiling with acoustic panels can not only create a clean, streamlined look for the space, it can also enhance the sound quality during your overseas video conference calls as well.
17. Have Your Patterned Cake and Eat It in Silence, Too
Never have to choose between visual and sound design again with patterned acoustical panels or Mura Fabric. Now you can enhance the looks and style of any room, while you help enhance the sound patterns of your space with screenprinted panels that can complement any space – from a traditional living room to a modern night club.
18. Create an Office that Makes You Want to Come to Work Each Day
Working in an office cubical will never be boring again when you use patterned EchoPanel acoustical panels as an insulator around the desk. Patterned panels come in a variety of different colors and styles so you can enhance cubical and desk areas both visually and acoustically at the same time.
19. Think Outside the (Light) Box
If traditional acoustical paneling won't fit into the space, why not add it in unconventional ways? In this case, the panels surround the hanging light fixture to help absorb sounds in the room and improve its use both acoustically and visually.
20. Form and Function Finally Become One
No walls? No problem. Decorative sound absorbing panels in a variety of bold prints and colors can be used to create functional shelving that can help to delineate a space, while helping to quiet sound. The EchoPanel panels can also be easily changed out and replaced to update the look of the shelving as time goes by.
21. Make the Color of Your Walls the Loudest Thing in the Space
Traditional hard surfaces that are typically used in conference rooms often provide a lot of echo. Specially curved, decorative, textured acoustic panels not only help enhance the looks of the room, they also provide a lot of sound absorption to make the space more functional audibly as well.
22. Greet Clients in High Style
Make a visual impact instead of an audible one. These Mura Wave wall tiles are definitely not what you're used to seeing. Bold-colored Wave tiles will make your lobby stand out from the crowd, while ensuring that there is perfect sound absorption so you can greet clients with ease.
23. Welcome to the Future of Sound
When it comes to acoustics, sound absorption is key. So if you don't want to add acoustical paneling to your walls, ceiling, or even light fixtures, consider adding it to your seating. This chair is made up entirely of EchoPanel acoustical paneling, which has a rigid base, but soft feel to the hands. Held together with simple elegant hardware, this chair will help improve your posture and your acoustics at once.
Acoustics are crucial to good business and a comfortable home life. Don't settle for plain panels ever again; now you can get the looks, style, and sound absorption you want all at the same time with decorative acoustic panels.
Interested in receiving samples of any of the above products for your own project?
Contact your Kirei rep for help in deciding which acoustic panels are best for your project!
Connect with a rep
Sours: https://www.kireiusa.com/blog/decorative-acoustic-panels/
Acoustic Foam Panel Placement & Positioning (Do's & Dont's)
Disclosure: We may receive commissions when you click our links and make purchases. However, our opinions are not for sale.

Learn why you need acoustic treatment?
What problems do most people run into when using acoustic treatment?
Learn one simple trick to improve your room acoustics without spending more money.
---
Proper acoustic treatment is essential for any environment where critical listening is desired. Home theaters, recording studios, music rooms, and even general living spaces can benefit from acoustic treatment albeit to different extents.
Unfortunately, treatment is commonly misunderstood and therefore, misused due to its complexity and a lack of clear guidelines.
For example, I have seen plenty of beginner audio engineers cover every wall of their creative space with foam mattress toppers to emulate what is seen in professional recording spaces.
Treating a room in this way is fortunately unnecessary and can result in worse sound quality. This begs the question− does acoustic foam actually work?
In order to properly answer this question, we must first understand the physical properties of sound.
First Off, A Recap Of What Sound Is…
Sound is simply our perception of vibrations in the air.
When a guitarist plucks a string, the back-and-forth movement of the string creates micro-vibrations in air that spread out just like ripples in a pond.  We are graced with the sound of music when those back-and-forth ripples reach our ears.
Sound becomes very complex in rooms because it bounces and reflects off walls, floors, ceilings, and any other surface (including you). 
There are also strong resonances that form in all rooms based on their length, width, and height. These reflections and resonances create the sound of your room.
As an example, consider how your voice sounds in a washroom versus your bedroom.
It is important to understand that these room colorations can be beneficial or very detrimental to our work as audio engineers. In the case of home studios, a single bedroom often functions as both a mixing and a recording environment. Therefore, less than stellar room colorations will likely negatively affect the following:
Instrument choice, tuning, and preparation
Microphone choice
Microphone placement
Balance levels
Digital signal processing within a digital audio workstation
Absorption And Acoustic Foam
So, what can we do about bad room colorations? Cue acoustic treatment. Acoustic treatment, such as foam, is a great way to fight undesirable room colorations and restore accuracy to our listening space. Here are some examples of acoustic treatments and methods of effecting a rooms' sound.
Absorption
Diffusion
Reconstruction of room size or walls
Placement of equipment within the room
Placement of listeners within the room
Computer programs
Acoustic foam, i.e. absorption, is a very popular method of acoustic treatment because it is both readily available and relatively inexpensive.  This is great news!
Acoustic foam works by reducing the amount of sound energy within a room.  The sound energy does not disappear, rather, it is converted into other forms of energy. Recall that sound is micro-vibrations within air.  As those vibrations pass through foam, the material membranes vibrate as well. The result of these vibrations is friction and heat. Viola… sound energy is dissipated as heat.
With this understanding of acoustic foam, it should be clear that any porous or cloth-like material absorbs sound.  This means that blankets, couches, pillows, window curtains, laundry, and the clothes you are wearing right now function as sound absorbers. So to finally answer the question, yes acoustic foam does work.
Consider The Type Of Acoustic Foam
Professional acoustics companies, such as Auralex and GIK Acoustics, use specific materials for their absorptive properties.  This means that there is a difference between the membrane cell structure of mattress foam and that used for acoustic treatment. Further, many professional companies will only use materials that stand the test of time and hold-up to building fire codes. It is important to consider whether your treatment is acoustic foam or just foam.
Another key factor with absorption is the thickness of each panel.  As a rule of thumb, thin pieces of acoustic treatment target higher frequencies. Much thicker material is needed to efficiently absorb lower frequencies. Therefore, using only thin acoustic foam will disproportionately absorb high frequencies without providing benefit in lower frequency regions. The result is an unnatural sounding room that is no longer musical.  This leads us to our one simple trick to improve your acoustic treatment without spending more money.
Prepare Your Mounting
Let's assume you already have some acoustic foam on hand. Most people tend to mount their foam directly on the wall. This significantly limits its efficiency as thinner absorbers mainly address higher frequencies (this is a result of particle velocity and sound boundary interactions with surfaces).
Thicker foam, however, is more efficient at absorbing a broader range of frequencies. Therefore, mounting your thin acoustic foam even a few inches off the wall can drastically improve its benefits. The effect is twofold in that:
You will improve the lower frequency ranges affected by your treatment
You will further improve how well it absorbs high frequencies.
Acoustic Foam Placement & Positioning Tips
Treat The First Reflection Points
Start by treating the first reflection points on the horizontal axis. If you are not sure where this is, sit in your listening position and imagine where sound from your speakers hits your side walls and bounces back to you. It is very important to place acoustic treatment here as it will improve your stereo width and clarify your imaging.
Pay Attention To The Weak Areas
You should consider placing some acoustic treatment between the speakers and your front wall. Applying acoustic treatment here helps reduce reflections emanating from the back of your speaker. This is a tricky area as boundary interactions can cause a significant dip in your low-mid frequencies; however, for most home studios it is likely best to place your speakers as close to the wall as recommended by the manufacturer. If there is any space left between the wall and your speakers, place acoustic foam there.
Don't Forget The Corners
If possible, mount some of your acoustic foam across corners of your room. This can be done between two horizontal walls or even the ceiling and side-wall. This will inherently create a large air gap behind the foam. This can be your start to absorbing those low-frequency resonances mentioned above. As your studio grows, you will need to add larger and thicker absorbers in your corners to further treat bass resonances.
Build An Acoustic Cloud
This next recommendation is easiest if you have a drop-down hanging ceiling. Your goal is to create an acoustic "cloud" that hangs a few inches from your ceiling over your listening position or musical instruments. This is like the first recommendation in that you are applying acoustic treatment to the first reflection point above you.
Use Furniture
Acoustic treatment can also be placed directly behind you on the back wall of your room. It can also be extremely helpful to place a couch at this location−recall that any soft porous material will absorb sound.
Making these small adjustments to your acoustic treatment can help reduce the pitfalls discussed above. Furthermore, you may not need as much acoustic foam as you have improved the efficiency of what you already have. This is really a win-win situation.
Don't Overdo It
Acoustic foam can be a fantastic first step in improving a rooms' acoustics; however, if used in excess it can make a room sound lifeless, unbalanced, and unnatural.  There is a very common trap that I myself fell prey to when first starting out. Firstly, people acquire cheap packing or bedding foam and arbitrarily apply it to their walls. 
Right away there is an audible difference, and it is assumed that an improvement has been made. It is then taken to the extreme, whereby nearly all surfaces are covered with foam. Unfortunately, this is all too common and it does not result in the best sounding room for music recording or production.  
Warning signs that you may have "too much" acoustic treatment:
Your room has an uncomfortable feel.
The musical quality seems lifeless and unnatural.
Your recordings always sound boomy and or muddy.
Acoustic Foam Recommendations
While it may be tempting to purchase off-brand items due to cost, you are not doing yourself any favors. Many of these products are not tested and therefore have poor performance. Furthermore, I have personally seen some of these cheaper alternatives begin deteriorating over time.
There are numerous large and start-up acoustic treatment companies. Therefore, I highly recommend you do your own research and see what fits your needs. Many of these groups, fortunately, offer acoustic consultations at no cost. Here is a shortlist of some excellent manufacturers.
Final Thoughts
It can easily cost thousands of dollars to properly treat a room. This is largely due to lower frequency resonances which tend to require more advanced and tuned forms of treatment. However, that is not to say that a room's sound cannot be drastically improved with even minimal treatment applied properly. Hopefully, these tips will get you in the right frame of mind that you do not need to spend ridiculous amounts of money to get the job done.
Keep in mind that acoustically treating a room tends to be a fluid process. Room acoustics is complicated so give yourself credit for starting that journey.
Remember — there are plenty of musicians and producers releasing professional work in very modest home studios – Billie Eilish comes to mind. Don't be dissuaded by the glimmer of commercial setups.
Begin experimenting with what sounds best in your space and always remember to stay positive, push your musical boundaries, and have fun!
Sours: https://producerhive.com/ask-the-hive/acoustic-foam-panel-placement-positioning/
Designing your home recording studio to get the sound you like so you can enjoy rich sound recordings doesn't have to be complicated. With the best acoustic foam panels, you can reduce echo and reverb while significantly improving sound quality during your recording sessions.
But buyer beware — not all acoustic foam tiles are created equal. And finding the best sound treatment panels when there are thousands of options to choose from can be overwhelming.
In this post, I've reviewed and ranked the best sound treatment materials you can use to make your home studio a wonderful audio recording environment. I've also included tons of details about what to look for when choosing acoustic foam panels and studio wall foam, how to use them properly, and other valuable tips to help you get your studio set up just the way you want.
Disclosure: Some of the links in this article are affiliate links, meaning at no additional cost for you, we might get a commission if you click the link and purchase.
What are the Best Acoustic Foam Panels?
Here are my picks for the 7 best acoustic foam tiles for your studio:
Pro Studio Acoustics Wedge Foam →
Foamily Egg Crate Acoustic Panels →
SoundAssured Acoustic Studio Foam →
IZO Acoustic Egg-Crate Tiles →
JBER Pyramid Acoustic Foam Panels →
Mybecca Hexagon Acoustic Panels →
TroyStudio Acoustic Studio Absorption Panels →
1. Pro Studio Acoustics Wedge Foam →
The Pro Studios Acoustics Wedge Foam is My Top Pick because it comes in a 12-pack with six panels in blue and six panels in black that you can mix and match in your studio.
At two-inches thick, these acoustic foam tiles provide the strong soundproofing that most studios need. Thanks to the low price, you can easily get as many as you need.
The recommended design of these sound absorption tiles is to use them in an alternating pattern of color and alignment. This creates an attractive checkerboard pattern with strong sound absorption.
Characteristics
Two colors: blue and charcoal
The tiles are 12 inches square and two inches thick.
They come in a 12-pack with six of each color.
What's special about these acoustic foam tiles?
These soundproof panels reduce standing sound waves and flutter echoes in home studios.
This product is "Made in the USA." It comes uncompressed in a box, so there is no warping or waiting days for expansion from compressed vacuum packaging.
Thanks to the thick design, the foam distorts all types of noises.
Best for: covering a full wall or they can be useful for spot treatments in the audio environment.
Click here to shop this product on Amazon.
2. Foamily Egg Crate Acoustic Panels →
Almost as great as my top choice is the Foamily Egg Crate Acoustic Panels that are 2.5-inches thick.
Not only can you choose packs that come with two or four panels, but you can select from three different colors to match the vibe and atmosphere of your studio.
Choose from both the colors and sizes that you need to make these panels fit your studio.
But these acoustic foam panels don't just look stylish, they perform exceptionally as well by offering fantastic sound absorption.
Characteristics
These large acoustic panels measure 24 inches by 48 inches and are two and one-half inches thick for excellent noise absorption.
They come in the colors of charcoal, burgundy, and red.
There is a two-pack or a four-pack available.
What's special about these foam panels?
Some sound recording engineers prefer the look of the egg-crate design and its softer, rounded edges when compared to a pyramid style.
Does a good job of absorbing sounds and noises to help you hear and record clearly.
I am not able to notice much difference between style design of the Foamily products; however, these panels are one-half inch thicker than the two-inch acoustic panels. The thickness makes a difference in capturing sound. Using thicker panels, with denser foam, is usually better.
Best for: reducing sound reflections in a studio room to get rid of unwanted reverb and echo. This product does not do much soundproofing. The volume of the sound will not change significantly. However, the quality of the sound will improve. This is the same for all acoustic tiles in this category.
Click here to shop this product on Amazon.
3. SoundAssured Acoustic Studio Foam →
These acoustic foam panels have a wedge style to create more surface area for sound absorption. The result is less echo and reverberations in your studio for improved recording and playback quality.
Characteristics
They come in a four-pack, with over a dozen attractive colors to choose from.
The dimensions are 12 inches by 12 inches square by two inches thick.
Fire-retardant with a rating of ASTM E 84.
What's special about this studio wall foam?
It is easy to calculate how many packages you need to cover your home recording studio walls. Just measure the square footage of the wall space and then divide by four, since each package covers four square feet.
This studio wall foam is very easy to install. You can trim them as needed with regular scissors. Installation can be permanent by using adhesive tape or spray (sold separately) or you can use push pins or Velcro to hang them temporarily.
This product absorbs mid to high frequencies.
Best for: moderating sound deadening and it is useful to control or remove echoes.
In this video, Josh the MusicTechHelpGuy discusses the installation of these acoustic foam tiles in his home studio. They also come in one-inch, two-inch, three-inch, and four-inch-thick versions for different applications. The thinner tiles absorb high frequencies better. The thicker tiles absorb low-end frequencies better.
The takeaway from this video is how to use these tiles to get rid of room echo and reverb. A good tip is to make sure to cover the corners in the room because those wall angles are a source of undesirable flutter echo.
Click here to shop this product on Amazon.
4. IZO Acoustic Egg-Crate Tiles →
These sound treatment tiles have an egg crate design that absorbs sounds to prevent noises from leaving the studio. Use them on your studio walls or ceilings to improve sound clarity.
Characteristics
Two inches thick, when measured from the peak of the tip of the foam to the base.
Variety of sizes of 12 inches to 36 inches.
One color of charcoal gray.
What's special about them?
The egg-crate design is very efficient for sound absorption.
You can easily attach the foam tiles to your walls or ceiling
The two-inch thickness reduces reverb and reflections, especially in the mid- to high-frequency range.
Best for: covering the ceiling, especially if it is not parallel to the floor because of the angular reflection of sound that will be bouncing back from the ceiling to walls. The lightweight nature of foam makes it easy to apply acoustic tiles to the ceiling or any other surface.
This video is by Caleb from DSLR Video Shooter focuses on improving a home recording studio to improve the sound quality for video recording. There is an explanation of the difference between soundproofing and sound treatment, how sound travels, and how sound is picked up by a microphone.
The takeaway from this video is that for the typical home studio, 100% soundproofing is not usually feasible due to the complexities and the cost. However, sound treatment is easy to accomplish and not very expensive, especially with quality, affordable acoustic foam panels like these. Sound treatment does not result in much soundproofing; however, it can significantly improve the quality of the recorded sound.
Click here to shop this product on Amazon.
5. JBER Pyramid Acoustic Foam Panels →
You can hear the difference when using this foam properly as a sound treatment. You will be amazed by how much sound improvement is possible with just a few of these acoustic sound panels strategically placed in your studio.
Characteristics
These foam panels are two-inches thick and have a pyramid-cone shape.
They come in a 24-pack in three colors of charcoal, blue, and red.
They are 12 inches square.
They add modest soundproofing to reduce outside noises.
They ship compressed.
What's special about this studio wall foam?
You can choose between six-pack and 24-pack options based on the size of your studio.
They reduce both echos and background noises.
You can cut and shape the panels without affecting their noise reduction.
Best for: home studios to help reduce reverb, flutter echo, and unwanted reflections.  Use them to cover a wall or for spot sound treatment of special areas.
This video by EXOcontrato shows how to use acoustic sound panels with the technique of spot treatment. Spot treatment is using the acoustic panel to block reflection and modify the sound patterns in a room. To use this technique he uses a mirror to determine where the wall will reflect sound toward where the listener will be sitting.
The takeaway from this video is, you can use acoustic sound panels to fine-tune a recording studio or home entertainment room without fully covering all the walls.
Click here to shop this product on Amazon.
6. Mybecca Hexagon Acoustic Panels →
Mybecca 6 Pack Hexagon Acoustic Foam Panels
Top Features:
Unique hexagonal design - 12" x 12" x 2"
Affordable choice for soundproofing rooms of all sizes
Great for studios, vocal booths, and control rooms
Reduces noise, reverbn and flutter echoes
Buy Now
We earn a commission if you make a purchase, at no additional cost to you.
These acoustic panels are a hexagon-style that can be used to dampen sound and improve clarity in your studio environment.
Characteristics
They are 12″ x 12″ x 2″.
They are very affordable and cost-efficient.
Unique hexagonal design makes them stylish as well as effective.
What's special about them?
Like all quality acoustic panels, they eliminate standing waves, reduce undesired sound reflection, and help reduce outside noise.
Examine all the hard surfaces in a room. Those will reflect sound. The echoes will cause recordings, especially of voice-overs, to sound strange and somewhat hollow. Covering reflective surfaces with these panels will reduce or eliminate these problems.
The panels reduce between 80 and 90% of typical background noises and sounds.
They are compliant with all flammability standards.
You can use the panels in small and large spaces.
Best for control rooms, recording studios, and vocal booths.
The product manufacturer, Mybecca, produced this video to show how easy it is to install their acoustic tiles using spray glue. While this video is for their wedge panels, the same applies to their hexagon studio wall foam panels. Be aware that if you do not own the home, you may have to return the place to its original condition when moving out. For a rented home, consider mounting these acoustic tiles on cardboard and then hang the cardboard on the wall, in such a way that it does not cause any damage.
The takeaway from this video. Gluing panels on a wall is a more permanent solution. Be sure you place them properly, where you want them. Depending on the type of adhesive used, it can damage a wall or leave some residue of glue or bits of foam on the wall, when you pull the tiles off.
Click here to shop this product on Amazon.

7. TroyStudio Acoustic Studio Absorption Panels →
Enjoy the soundproofing and elimination of background noises that you need with these innovative acoustic foam panels featuring a groove structure for improved absorption.
Characteristics
They measure 12 inches by 12 inches by two inches thick.
They come in a six-pack with the choice of black, blue, and purple colors.
Special 18-pack also available for those needing more coverage.
Excellent sound absorption qualities.
What's special about them?
The panels meet flammability standards and are environmentally friendly.
They are very easy to cut and get set up in your space.
These panels have a high NRC rating, which makes them a superb choice to cover a portion of a wall that causes unwanted sound reflections.
The NRC rating is the noise reduction coefficient. It is a single number that ranges from zero to 10. At zero NRC, there is no noise reduction and the surface is very reflective. At an NRC of 10, all sound is absorbed. At an NRC of eight, the material absorbs about 80% of the mid-frequency sound. Any NRC around eight is excellent.
Best for: spot treating areas where you need a little more soundproofing.
Click here to shop this product on Amazon.
Guide to Choosing & Using Acoustic Foam Panels
Here is a guide about important topics to understand and consider for the sound treatment of your home recording studio with studio wall foam.
Sound Treatment is Not Soundproofing
Sound treatment is different from soundproofing.
The goal of soundproofing is to block sound transmission from one place to another one.
I giggle at the silliness when I read complaints that people try to block the sound of a neighbor's dog barking by putting these acoustic panels to hang in front of their windows. That will not work at all. Soundproofing is a reconstruction project because soundproof foam does not exist.
Soundproofing is a completely different endeavor. It is much more expensive and requires substantial changes in the room design including renovation and major construction. You need very thick, heavily insulated, concrete walls to achieve 100% soundproofing. There is no comparison with hanging a few foam acoustic panels on the walls. If your goal is soundproofing, this guide is not going to help you.
You need to learn more about blocking sound compared to absorbing sound. Soundproofing is blocking sound and that means completely stopping vibrations, not changing the quality of the sound by absorbing a part of it.
Acoustic panels are for the sound treatment of a room to stop sound from bouncing around the room in ways that reduce the quality (not the volume) of the sound.
Think of these as fine-tuning the room to keep reflected sound from bouncing off hard surfaces and coming to your ears more than once in distorted ways that make it sound bad. Sound treatment is the fine-tuning of your home studio to make the room sound more clean and clear.
How to Choose Acoustic Foam Panels
The considerations for the acoustic foam tiles include a choice of sound absorption, thickness, size, and design.
To get better quality acoustic panels, look for a high number (in the range of one to 10) for the noise reduction coefficient (NRC) for better sound absorption. The recommended NRC for a home studio is around eight.
Be aware that the NRC is only a measurement of the absorption of the mid-range sound. If you are having trouble with the bass sound in your home recording studio this NRC number is meaningless for bass frequencies because it does not measure them.
The recommended thickness is two inches. Denser foam weighs more. You can tell if the product is better quality, with denser foam, by comparing the product's weight (not including the shipping packaging weight) with another product that covers the same amount of square feet.
The design style of the foam is a matter of personal choice. If they are the same quality, there is not much of a difference between panels that are wedge style, pyramid style, or egg crate style. The only difference in style that makes a significant difference is a panel designed for capturing low frequencies. Accomplish this by using another product designed specifically to absorb bass frequencies. These specialized "bass traps" install in the corners of the room and the ceiling corners, where bass sound tends to collect. They are thicker, have more angles, and fit in a corner well.
How many acoustic panels do you need?
Use this handy acoustic panel room calculator to enter the length, width, and height (in feet) of your home recording studio to get the number of recommended panels.
Please note that in most home recording studios you do not want 100% coverage. You will get better sounding results with a sound treatment that provides 60 to 80% coverage.
The results given by the calculator include a light treatment recommendation for living rooms, conference rooms, or workout rooms. It gives a recommended treatment for most sound rooms, which is good for home studios. It also gives a recommendation for heavy sound treatment for professional recording studios. This calculator tells you the number of panels needed for three sizes of panels that are two-feet square, two by three feet, and two by four feet.
How to Choose Correct Panels Positioning
There are two ways to choose the positioning of acoustic panels for a home studio. The basic way is to use a mirror to imagine the direction of the sound reflections. Doing this mirror technique with the help of a friend makes it easier. The other way is to use a professional audio testing system that shoots sharp sounds out of a handheld transmitting device while recording the sound as it bounces from the room surfaces. Then, the software makes some calculations and presents a wave pattern of the sound, used by a professional audio technician to make room adjustments.
You can see this audio testing equipment used in the tutorial video above –
How to Set Up, Test and Improve Your Home Music Production Studio Room
. In this video, the instructor converts a regular bedroom in a house into a home recording studio from scratch.
For the vast majority of home recording studios, the mirror technique is the most appropriate. Invite a friend to help you. Sit in your desk chair in front of your sound mixing table. Make sure to center the table and check if it is equidistant from both walls. Make sure your monitor speakers are at the proper height, which is at eye-level from the center point between the tweeters (high-end speakers) and the bigger mid-range speakers below them. Both speakers are together in the speaker monitor cabinets placed on your desk or stands.
Once you have the correct position for yourself, ask your friend to carry a mirror around the room to hold up to the walls. Have your friend stop frequently for you to look for the reflection of the monitor speakers in the mirror. When you see the reflection of your monitors, have your friend mark those spots on the walls. That is where sound will reflect from the sound coming out of your monitors.
If you use acoustic panels to cover a large portion of these reflective areas, you will deaden the reflections and improve the sound in the room. These are the "first reflections" of the sound. You do not have to cover the walls from floor to ceiling. Just cover a wide area of the wall about two feet up from the floor to about two feet above the height of your head when you are sitting down at your mixing desk.
Here is a video showing how to use the mirror technique for the placement of acoustic panels.
Sound Treatment of Corners and Ceilings
If you want the best sound, any corners in the room are going to need sound treatment. Sound causes flutter echoes when it bouncing back from each side of a corner. Also, consider using bass traps in the corners because bass collects in that part of the room and causes distortions in what you hear in the low-frequency range.
Sit at your sound mixing desk and look up.
If you see a reflective surface, then, that part of the ceiling needs covering with acoustic tiles. Cover from where the ceiling meets the wall in front of you to about six feet behind you. This will keep all the sound that heads upward from being reflecting down to your ears.
It sounds bad when reflected sound is out of sync with the sound you hear from the monitors.
How to Cut Acoustic Foam Panels
Cutting acoustic panels is easy and fun. It is like an art and crafts project.
For acoustic panels that are two-inches thick, you can cut them with a nice pair of scissors. The kind of scissors used to cut fabric.
If you want to cut thicker panels and make clean lines, consider using an electric carving knife like the kind you use to carve a turkey.
Mark the cut to make on the back of a panel and use the electric knife like you might use an electric circular saw. This is easier and makes neater cuts than trying to cut the foam panel with a utility knife.
How to Hang Acoustic Foam Panels
Here are some options to use for ways to hang the acoustic foam panels:
3M General Purpose 45 Spray Adhesive →
This is a popular spray adhesive that can either be sprayed on the tile, the wall, or the ceiling, and then place the tile in position. It gives a secure bond in 30 seconds and dries completely within 15 minutes. It can also be sprayed on cardboard to attach tiles to a cardboard backing, and then attach the cardboard to the surface in an easily removable way.
Loctite 2235316 General Performance 100 →
This is a translucent spray that creates a strong enough adhesive hold that tiles will permanently stay in place. The tiles will still be removable, without causing damage, even if the installation is temporary or if the acoustic tiles need to be re-positioned.
Command Large Strips →
These strips are 0.75 inches wide by 3.65 inches long. They are strong enough to hold acoustic tiles in place and easily remove without causing any damage. They work on most surfaces.
Tips for Getting the Most from Studio Wall Foam
Here are some tips that will help you with the sound treatment of your home recording studio.
Thickness
Thicker panels are better; however, two-inch-thick panels are is the best choice for a home recording studio. This is the most popular standard.
Size
Large panels are harder to mount and to replace with new ones. Smaller tiles are easier to mount, especially if you are working alone. The most flexible choice is to buy the 12-inch square or 24-inch square sizes of acoustic tiles.
Wall Surfaces
Here are the best things to use for different wall surfaces and textures:
Drywall and Smooth Surfaces: Use spray adhesive, double-sided tape, adhesive squares, Gorilla® mounting tape, 3M Command Strips®, or two-inch T-shaped pushpins.
Concrete, Brick, and Rough Surfaces: Use a construction adhesive like Liquid Nails®
Wallpaper or Textured Surfaces: It is not recommended to install acoustic tiles on these delicate surfaces using spray adhesive. They will not adhere well and you will cause significant damage when removing the tiles.
Uneven surfaces: Mount the acoustic foam tiles on cardboard to give them a sturdy flat surface to adhere to and then hang the cardboard on the uneven wall using any of the materials described above, depending on the type of wall surface.
This video tutorial shows the easy installation of acoustic panels using 3M Command Strips®. The panels are easy to place and to remove without damaging the walls.
The Sandwich Acoustic Panel
Making a "sandwich" of materials may help with the installation of acoustic panels, depending on the surface you are working with. The technique also makes the acoustic panels more portable if you need to remove them frequently, take them to another location, or have to be careful not to damage walls of rented spaces.
The basic sandwich is an acoustic panel mounted on cardboard using permanent spray adhesive. The advanced sandwich technique has more layers, which are, in order, these options:
Acoustic Tile
Permanent Spray Adhesive or Glue
Cardboard, Corrugated Plastic Board, or Plywood
Wall Surface
Make the acoustic tile sandwich, let it completely dry, and then attach the sandwich to the wall using push pins, small nails, tacks, or a non-permanent, easy-to-remove adhesive, such as 3M Command Strips®. If you prefer, use adhesive squares. Use at least three adhesive squares (two in corners at the top and one in the center at the bottom) for a one-square-foot acoustic panel or four adhesive squares (one in each corner), if the acoustic-panel thickness is more than two inches.
Here is a video tutorial about this technique:

FAQ
Q: What is the difference between soundproofing vs. sound treatment?
A: Soundproofing is much more difficult. It blocks sound by stopping vibrations from one place to another. Sound treatment changes the sound, using acoustic panels to improve quality, but does not lower the volume.
Q: What are the common shapes (types) of acoustic foam panels?
A: Acoustic panels come in three popular styles, which are wedges, pyramids, and egg crate. There are subtle differences between them; however, they all work in the same way to absorb sound and re-direct the sound waves.
Q: What is Noise Reduction Coefficient (NRC) rating?
A: The Noise Reduction Coefficient (NRC) tells how good the acoustic foam material is at absorbing mid-range frequencies. An NRC of 10 is the maximum with 100% absorption of certain mid-range frequencies. An NRC of zero is a reflective surface that absorbs no sound. A decent NRC rating for a home recording studio is around eight. A higher NRC is better. An NRC rating is only a measurement of the mid-range frequencies. It will not help problems with bass sound frequencies.
Q: What about ceiling sound treatment?
A: The sound that hits the ceiling will bounce back down to the walls and the floor. The floor's sound absorption improves with thick carpet. Cover the ceiling area directly above the mixing station to get a better sound.
Q: What are other ways to improve sound treatment?
A: Bass traps go along well with acoustic tiles. Lower frequencies come out of the woofers and subwoofers and move in an omnidirectional (spherical pattern) way. The bass sound collects in the corners of a room and builds up until it causes a distortion problem. This means you will not be able to hear the low-end of your sound mix correctly. The solution is a bass trap like the Acoustic Foam Bass Trap Corner Wall or the Mybecca acoustic foam bass trap. For the best results, place these bass traps in all corners of the room where the walls meet and in the spots where the wall corners meet the ceiling.
Conclusion
You will be amazed at the richness of the sound that is achievable for a modest investment in time and money to use acoustic tiles for the sound treatment of your home recording studio. Combine this effort with the recommendations for voice-over equipment, microphones, and the best home studio monitors. This will make your home studio a magnificent space for voice-over recordings.
Have any questions about using acoustic foam panels in your studio or rehearsal space? Comment below and we'll help.
Scott Winstead
Hi, I'm Scott Winstead, an e-Learning technology geek with 20 years of experience. Follow this blog for opinions on blended learning and flipped classroom techniques, reviews of home studio equipment, and tips for voice-over actors and digital audio content makers, technology how-tos, and more!
Latest posts by Scott Winstead (see all)
Related Posts
Sours: https://myelearningworld.com/best-acoustic-foam-panels/
Improve Your Audio Without Any Acoustic Foam Panels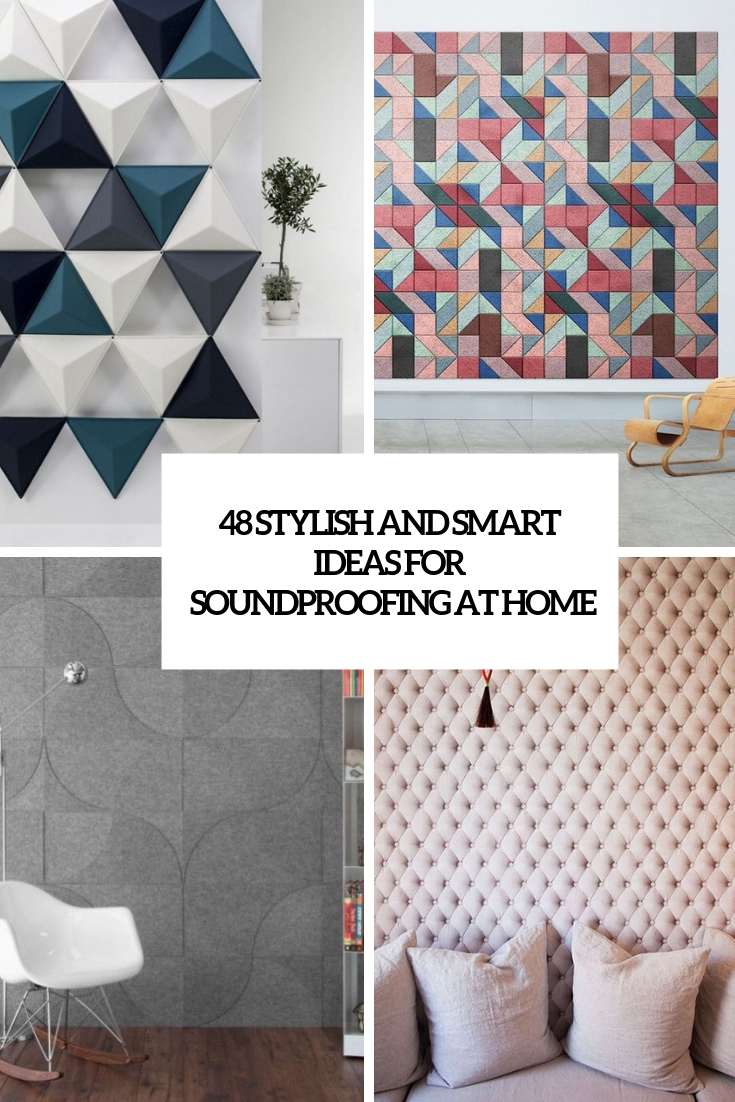 If you want to be able to afford a little more sound inside your house than a mosquito's buzz but can't sound proof your house there are some decorative ways to increase sound insulation. This is especially useful for those who live in a rented house or rather apartment where the walls are thin as paper and the noise policy is strict as law, or for those who are going to organize a home cinema or a music studio. There are several ways to sound proof your home: acoustic panels, curtains, drywalls, upholstered walls or cork ones – and more. Acoustic panels are perhaps the most modern idea because many designers create awesome bright acoustic panels with various patterns, which can complement any space. Look at them and other ideas below!
Drywalls
Sounds are vibrations. Deadening those vibrations is best done with heavy, dense materials that stop noise in its tracks. When it comes to heavy, brick and stone are great but impractical for retrofitting your interior walls. The easiest strategy is to add a second layer of drywall to build up a thick, sound-deadening barrier. You don't have to add drywall everywhere — you can isolate the noisy room or the quiet room. You'll have to refinish and repaint your new drywall, and probably extend electrical outlets and switch boxes, but those are relatively easy and inexpensive DIY projects.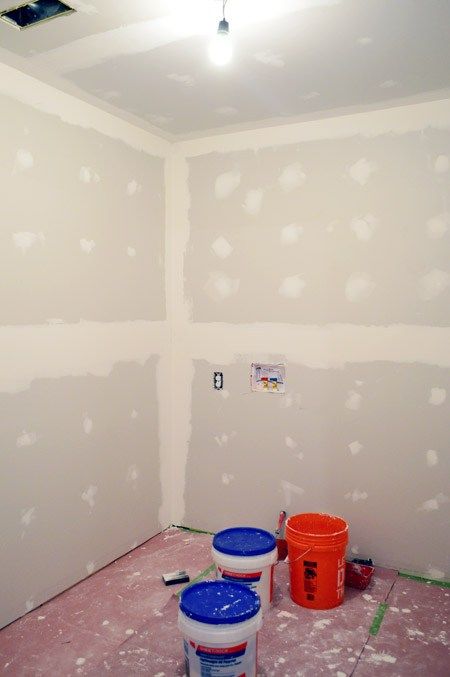 make a drywall to soundproof your home in the best way possible, it's an easy DIY idea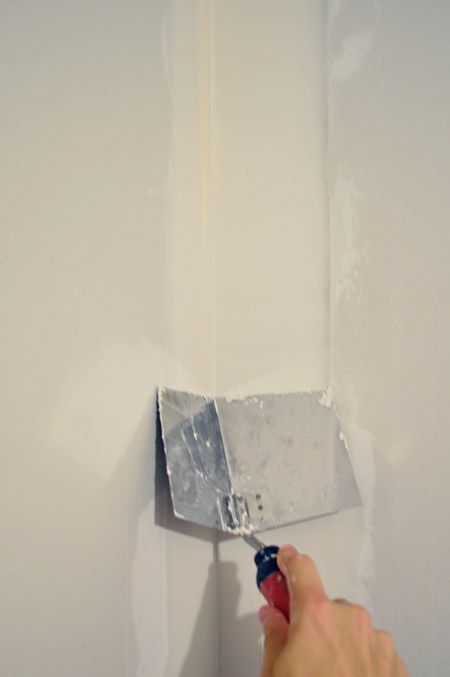 tape, sand, mud a drywall to make it perfect - there are DIY instructions on the web
Mass-Loaded Vinyl
Made especially for noise control, mass-loaded vinyl (MLV) is a flexible material that comes in 4-foot-wide rolls. It's made to hang on walls or install on floors to help deaden sounds. Sandwich it between layers of drywall to greatly reduce sound transmission through walls.
sandwich MLV between layers of drywall to greatly reduce sound transmission through walls
Acoustic Panels
Acoustic panels absorb sounds before they can bounce off walls and ceilings. They're made to improve the sound inside a room, such as a home theater, but they're also helpful in reducing sound transmission through walls. Made of porous expanded polypropylene (PEPP), panels come in a variety of sizes and thicknesses. Most types for home use are covered in fabrics with dozens of colors to choose from. Some manufacturers offer custom-printed fabrics that turn your sound blocking panel into a piece of wall art. Panels attach with clips or Velcro, and installation is an easy DIY job.
stylish grey and yellow acoustic wall panels make the space more modern and bold while soundproofing it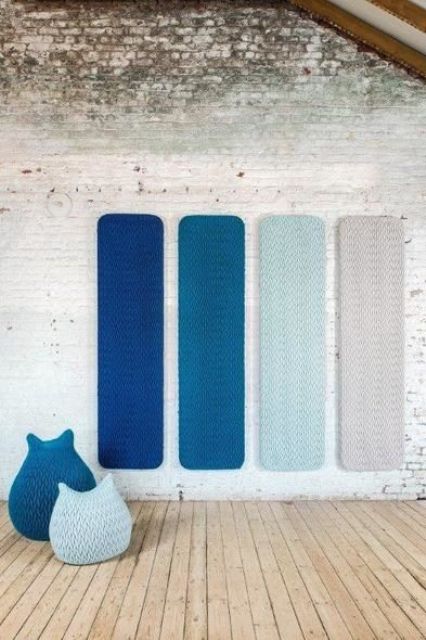 decorative and bold acoustic wall panels and matching little bean bag chairs for a modern space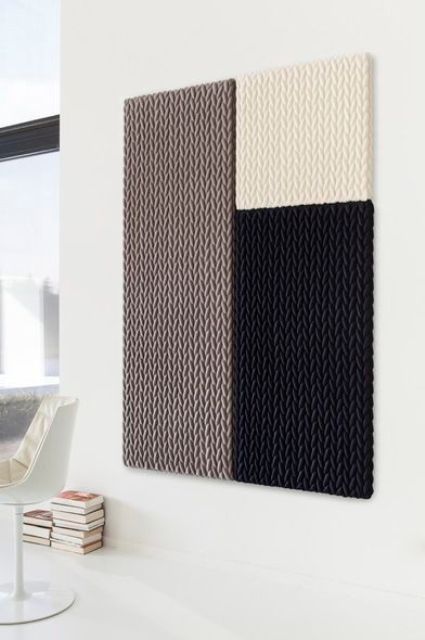 creative patterned acoustic panels in various colors for insulating your home walls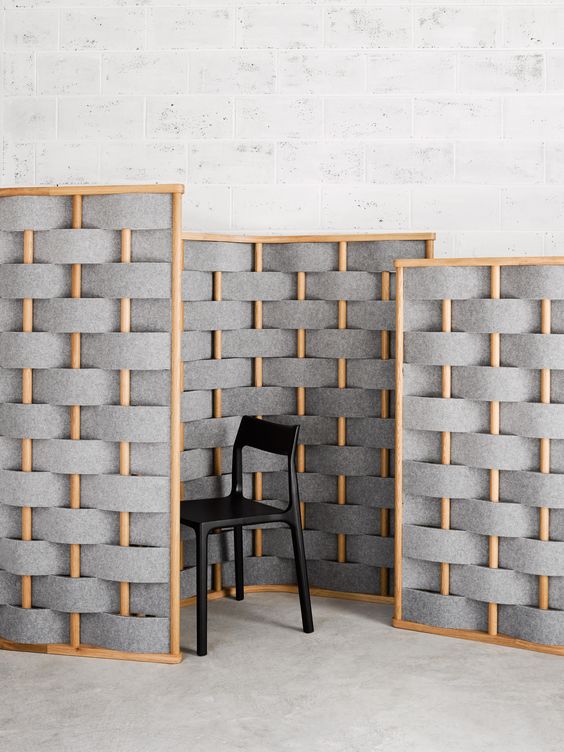 contemporary grey and orange interwoven soundproofing panels - just attach several screens on the wall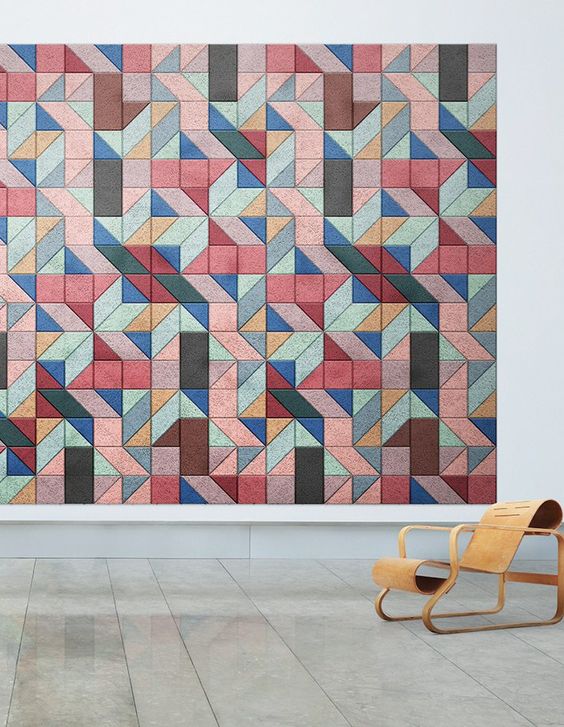 colorful geometric acoustic panels will be not only a sound-proofing option but also an artwork
catchy bamboo-inspired acoustic panels done with an ombre effect will keep the sounds away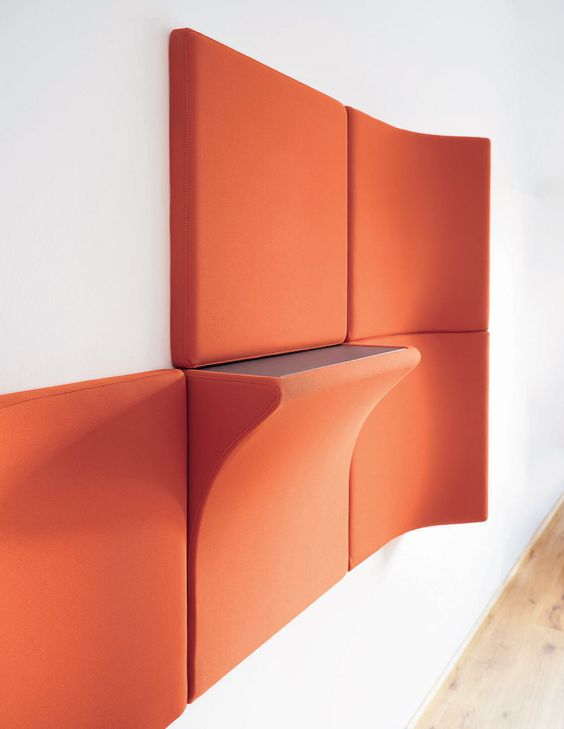 bold orange acousitc panels and a panel with an additional shelf is a very functional idea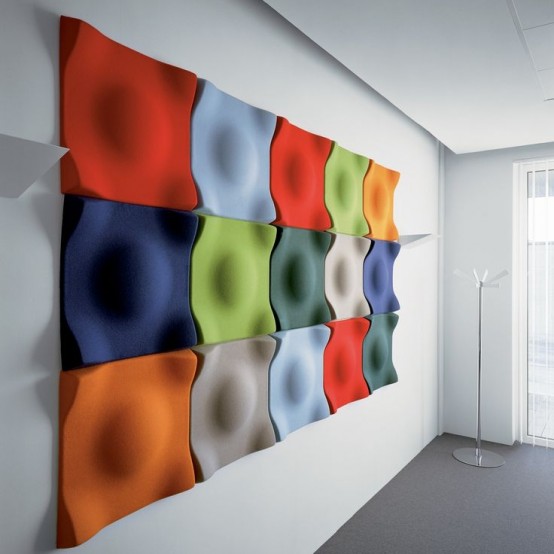 colorful and sculptural acoustic wall panels will make your space very eye-catchy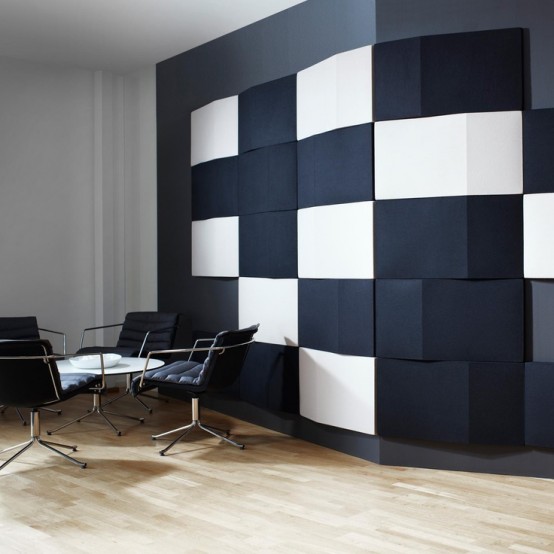 bold black and white rectangular tiles create a contrasting artwork on the wall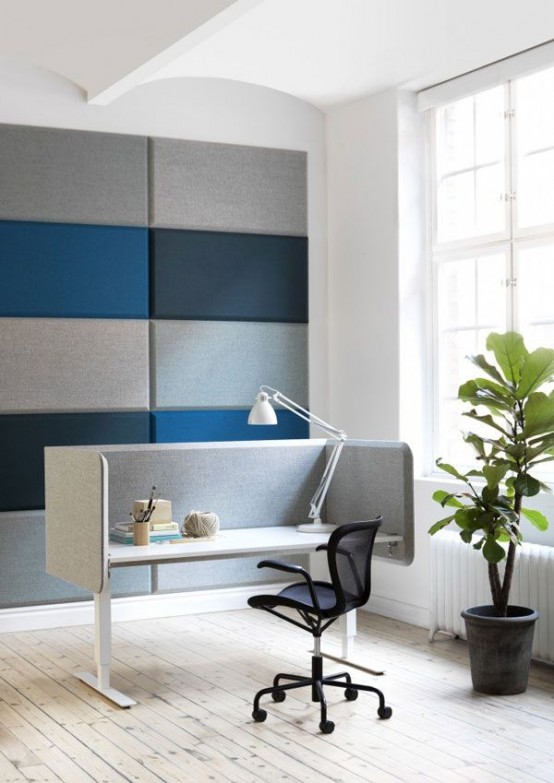 stylish teal and grey wall acoustic tiles will make your room sound-proofed and contemporary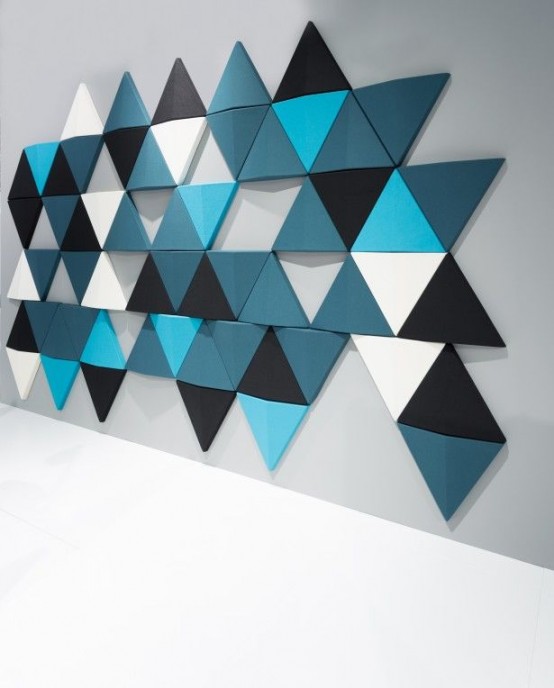 colorful triangle acoustic panels will soundproof the space and add eye-catchiness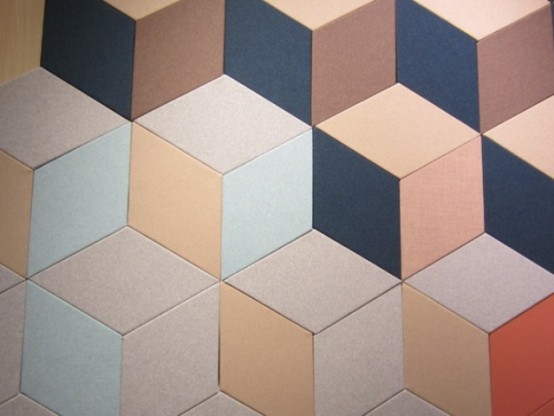 colorful geometric sound proofing panels will add a mid-century modern feel and color to the room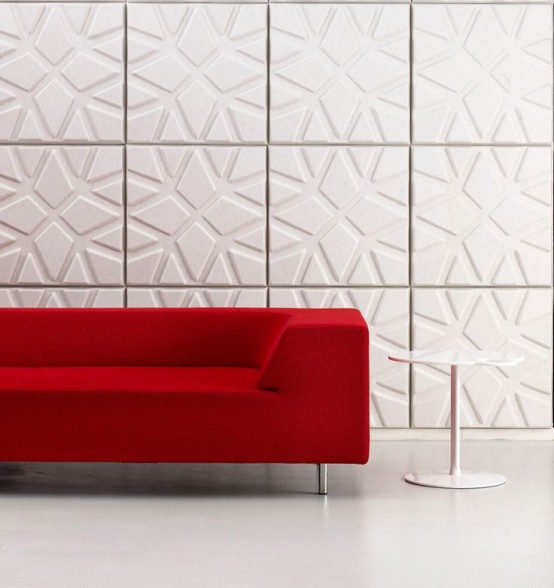 white acoustic panels add a pattern to the space while soundproofing it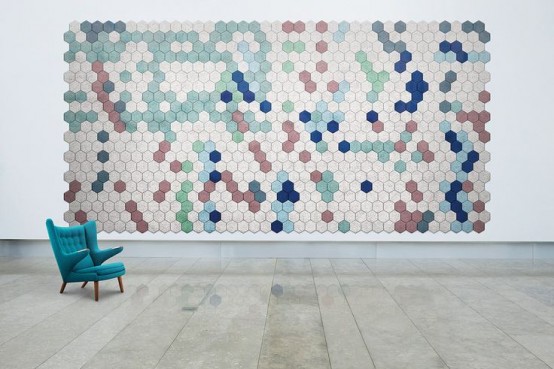 colorful hex acoustic panels arranged in a large artwork look very bold and chic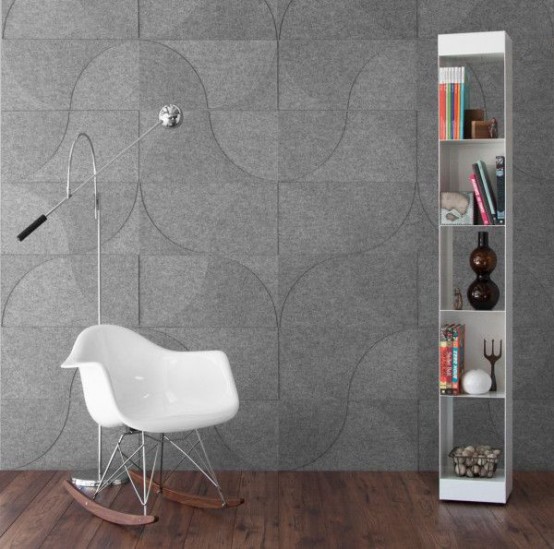 grey soundproofing panels with a pattern make the space more contemporary and eye-catching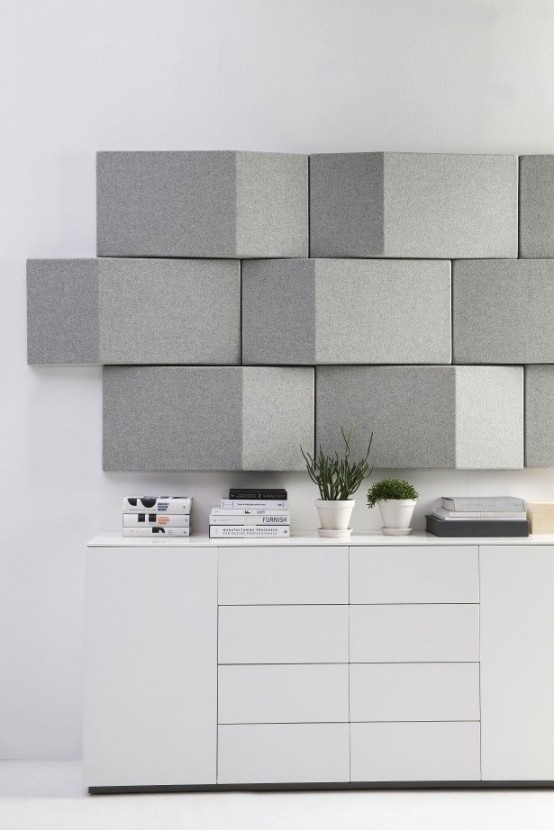 modern grey geometric acoustic panels add a chic touch to the space and make it soundproof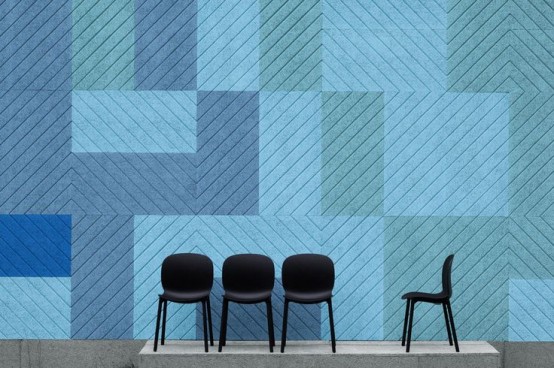 pastel-colored geometric acoustic panels are a bold and chic ideda to decorate and sounnd proof the space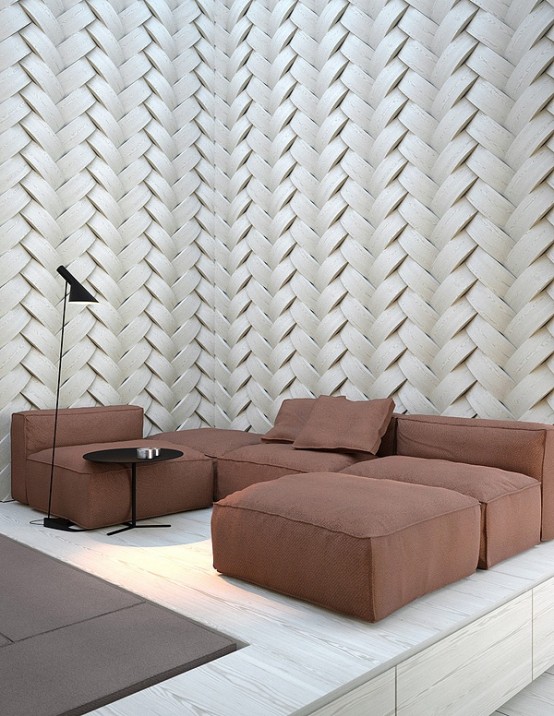 catchy patterned wall panels like these ones will be a very bold idea to cover all the walls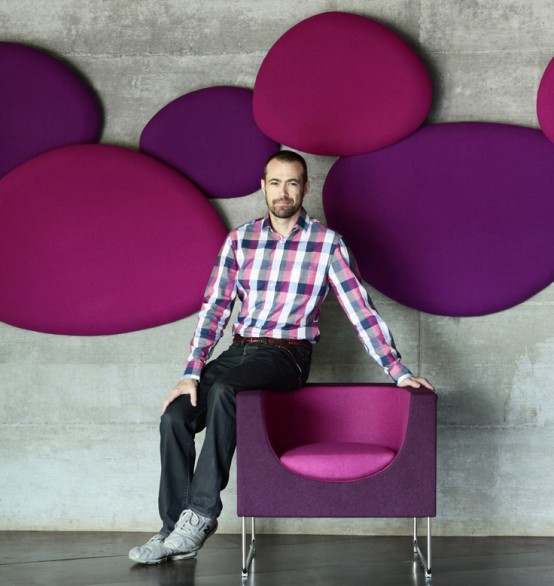 bold purple and fuchsia oval acoustic panels will add color to the space and make it bolder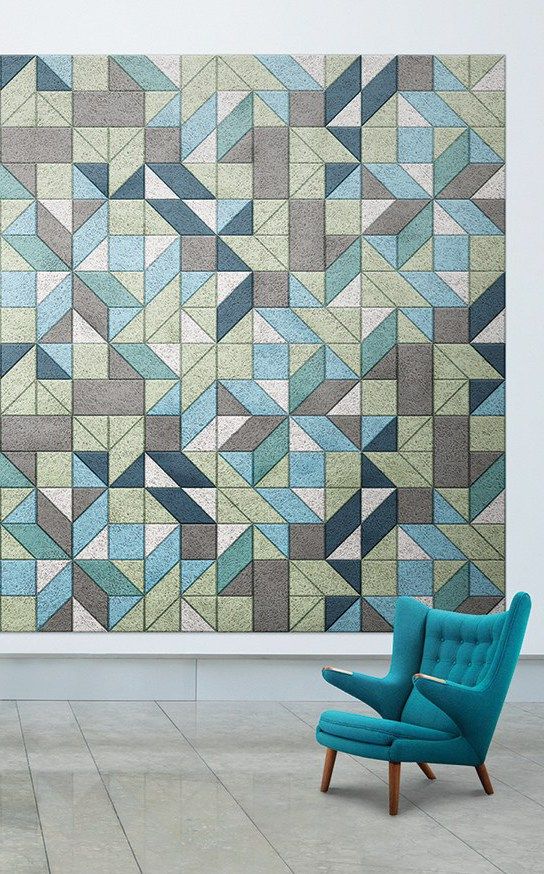 catchy geometric soudproof tiles on the wall sound proof it and create a bold wall art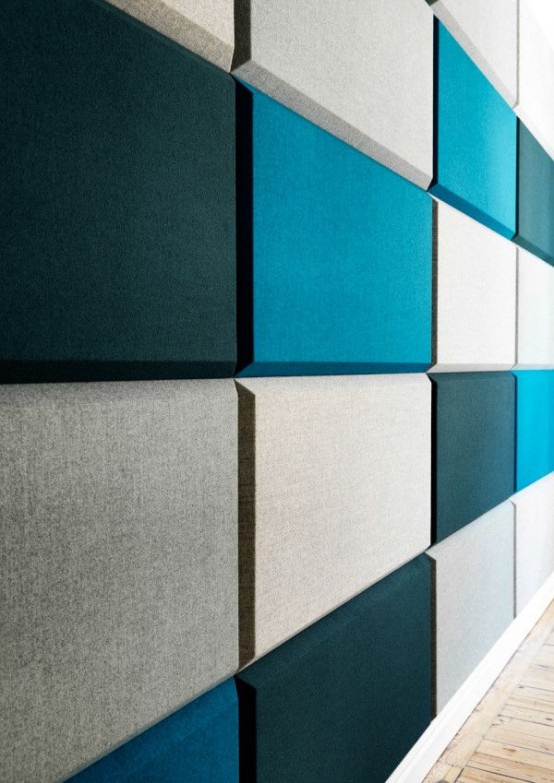 rectangular contemporary tiles in grey, black and turquoise will make your space more up-to-date and bold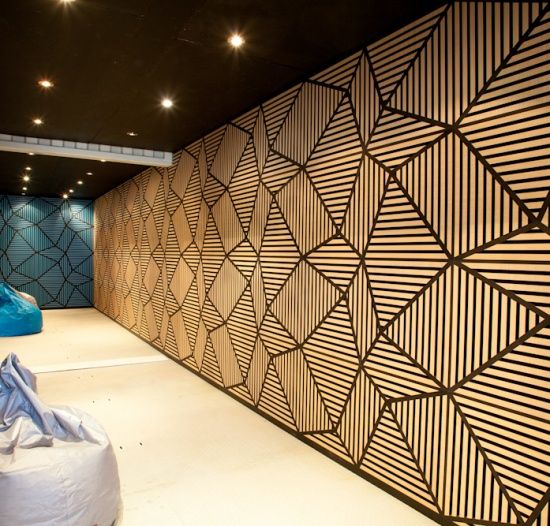 catchy soundproofing panels cover the whole space and make it totally soundproofed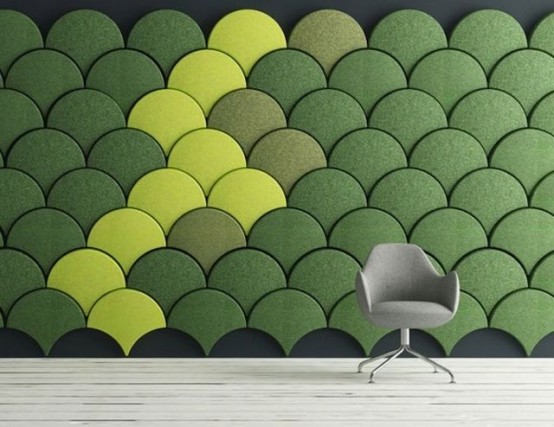 green and neon yellow acoustic fish scale panels make up a bold decor statemennt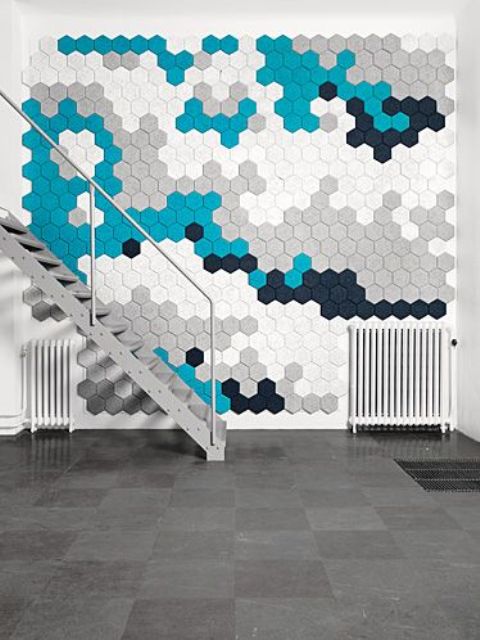 colorful hex acoustic tiles can be arranged in cool patterns that will highlight your decor style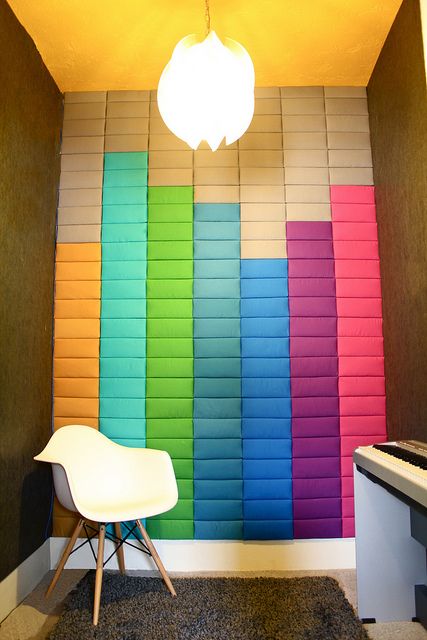 super colorful soundproofing panels on the wall imitate the sound - ideal for a musical room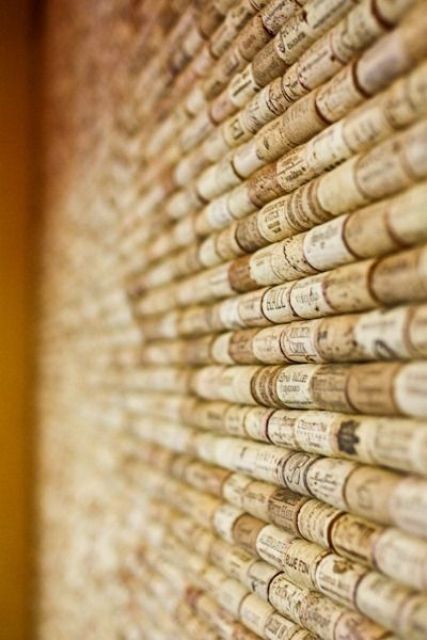 a wine cork soundproofing wall is a simple DIY project that also keeps the space warmer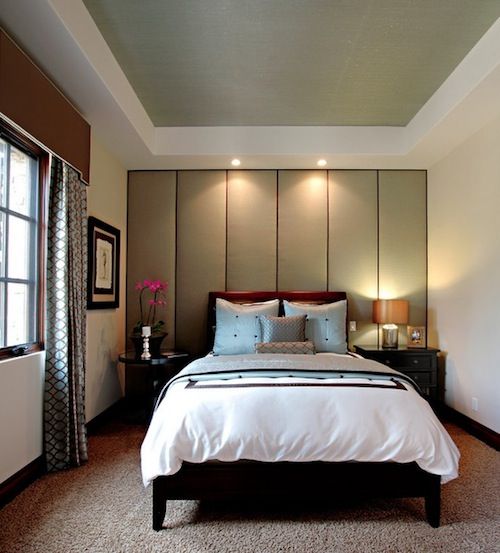 a soundproofing headboard wall done with large neutral-color panels that also form a statement wall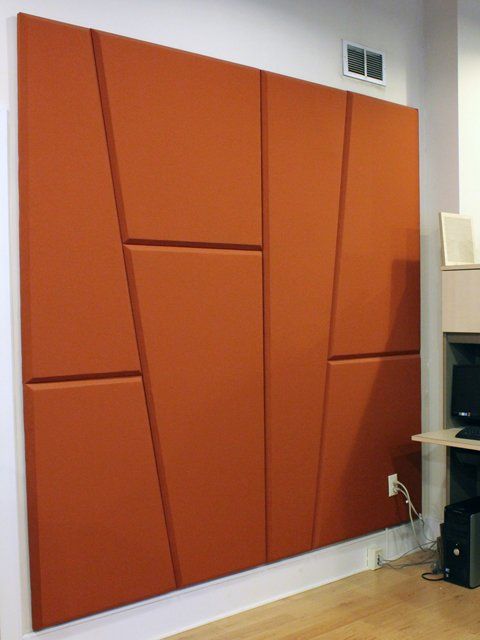 a soundproofing wall done with asummetrical rust-colored wall panels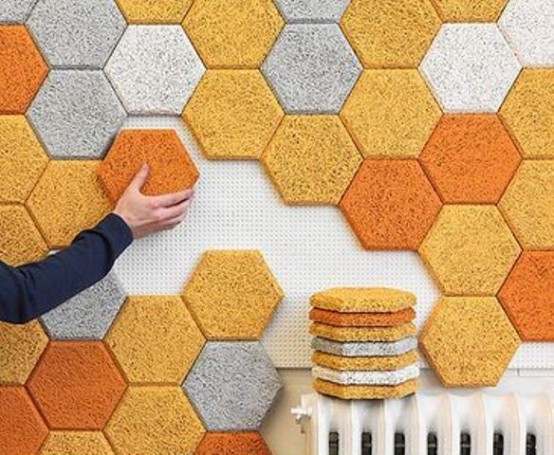 colorful hex acoustic tiles are great to sound proof the wall and make it bold and catchy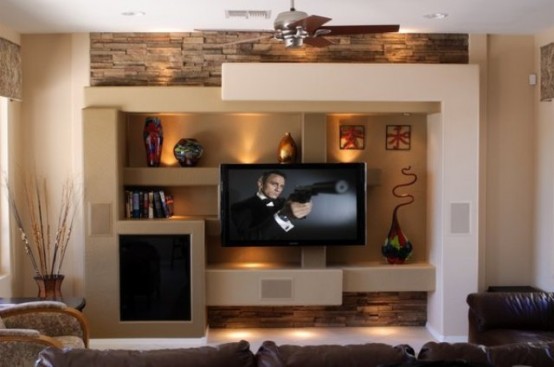 a sound proofing wall done with large shelves is a cool idea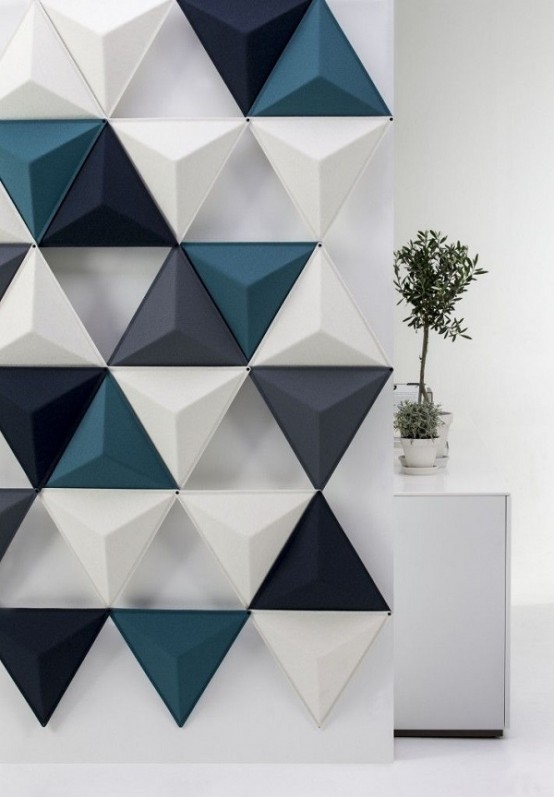 bold contemporary aircone acoustic panels will help you create a real art piece on the wall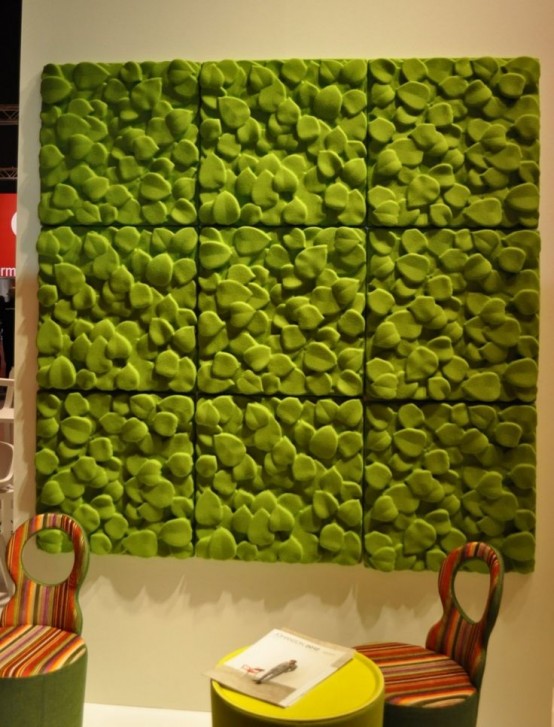 cool nature-inspired green leaf acoustic panels are a chic idea to bring outdoors indoors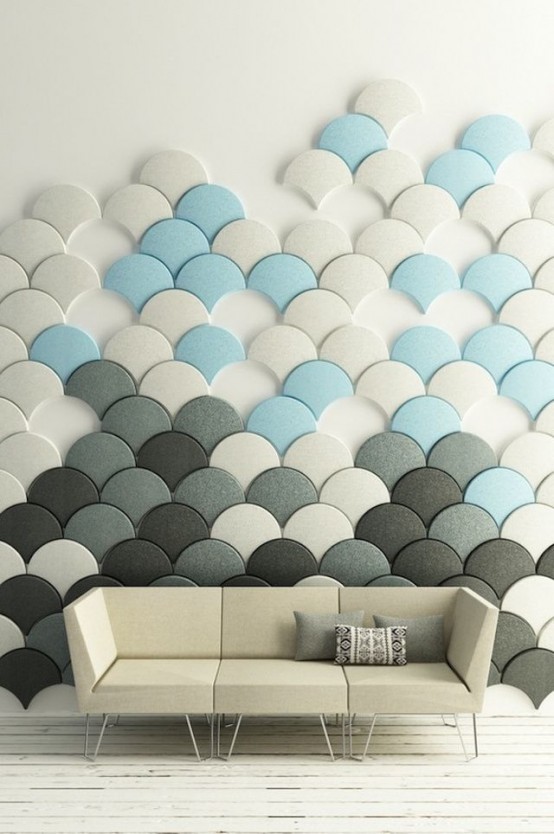 catchy neutral, grey and blue acoustic fish scale panels that makes up a whole wall art
Other Ideas
Adding soft items to rooms — rugs, carpets, drapes, potted plants — helps reduce vibrations and ambient noise. A solid core interior door absorbs sound better than a hollow-core door. Add a sweep to cut airborne sound. A wooden wall or a cork one can also absorb excessive sounds, so adding a statement wall of such materials is a great idea.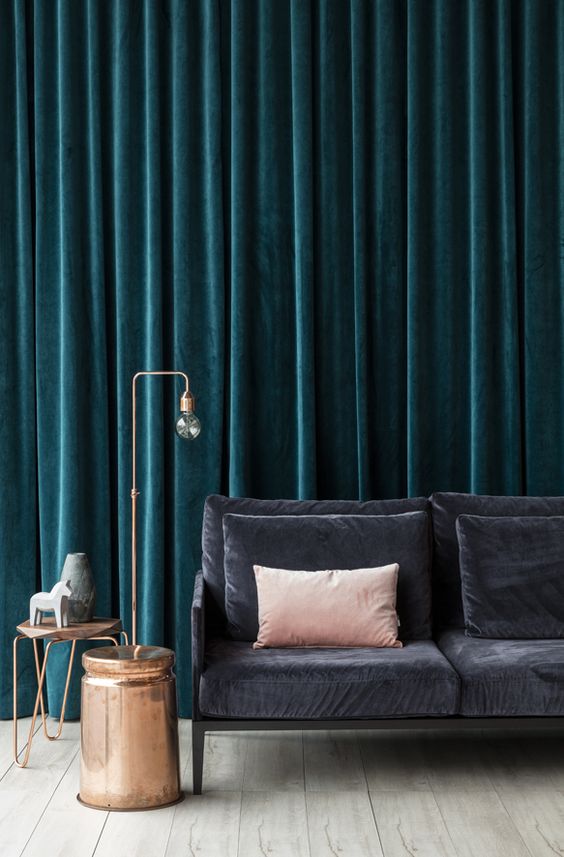 thick velvet drapes will not only keep the sound but also cold away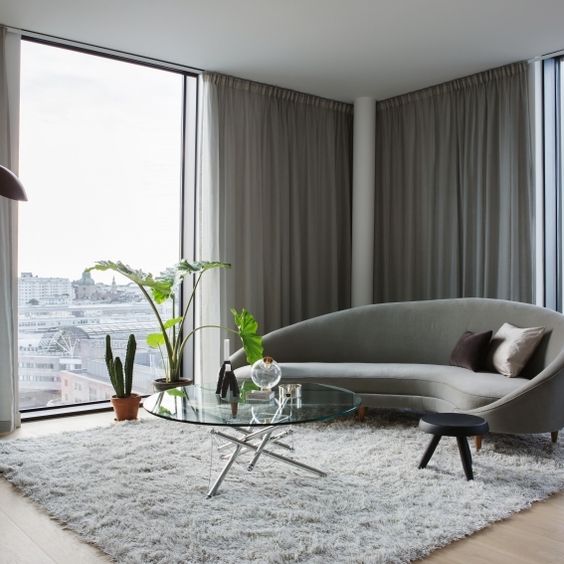 placing a comfy and fluffy rug on the floor will help you soundproof the floor a bit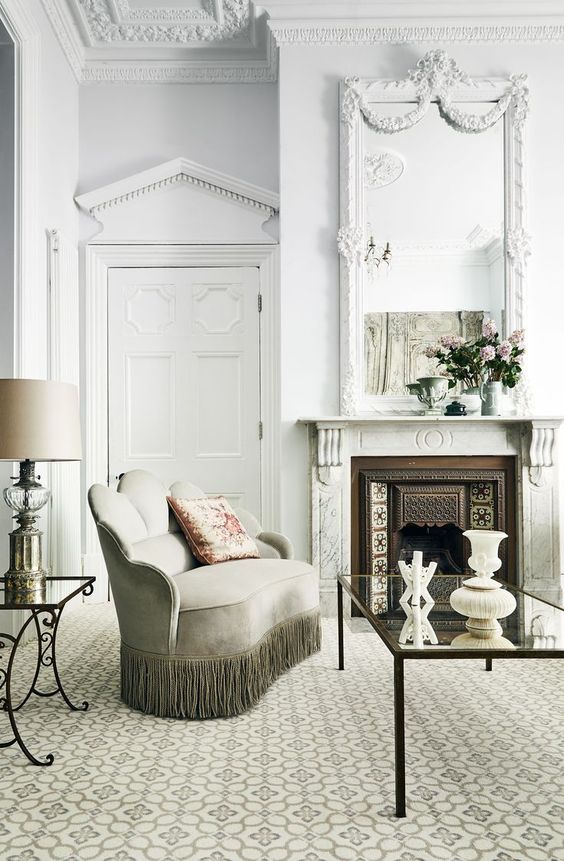 carpet as a type of flooring has a great advantage - it's very cozy and sound-proofing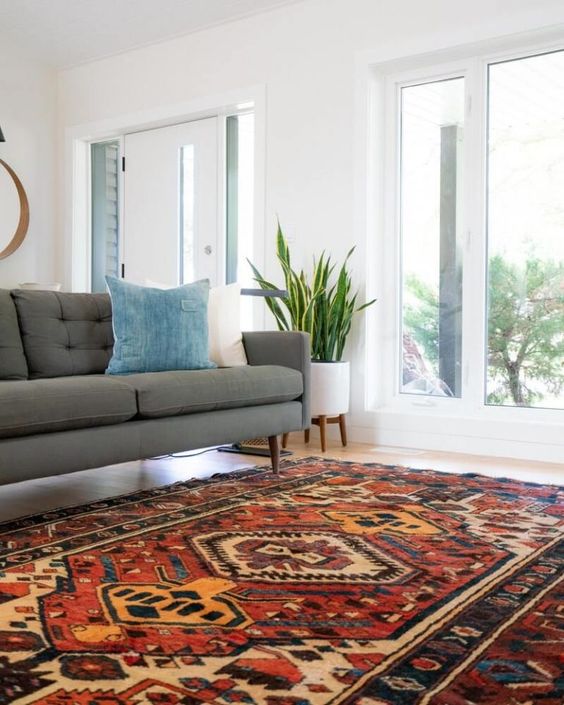 a colorful boho rug isn't only a hot decor trend but also a way to sound proof your home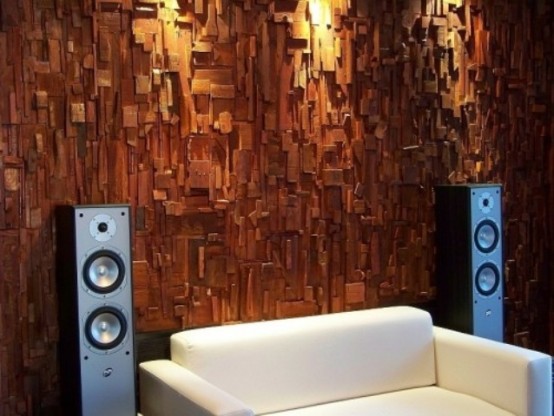 a wood covered wall is a bold statement and a chic idea for decor and soundproofing
upholstered grey walls with colorful decorative nails make the space ultra-modern and playful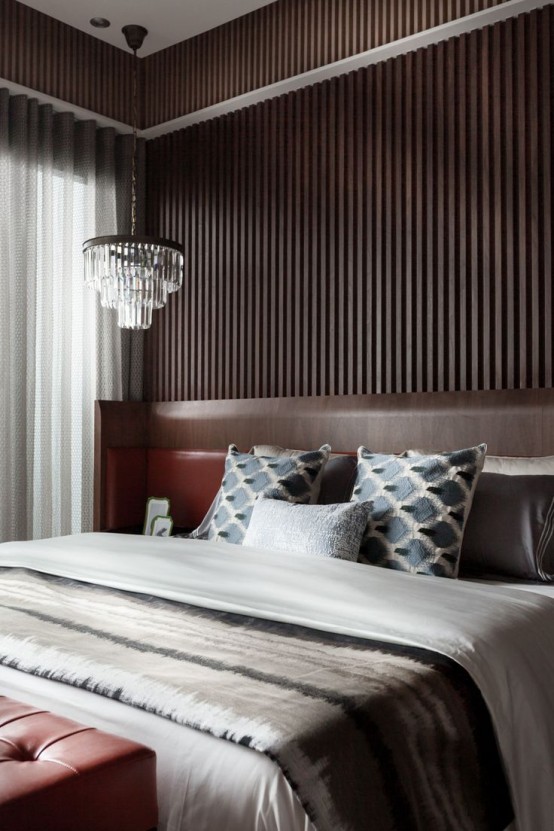 a drywall can be covered with dark stained wooden planks like here, which will form a statement wall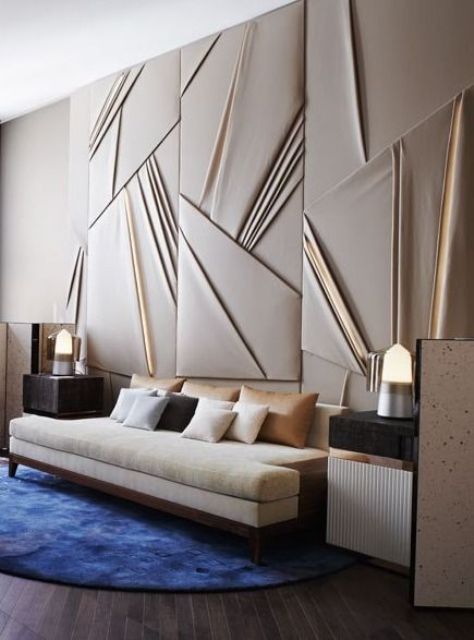 upholstered draped soundprooofing panels are a chic decor feature for such an elegant space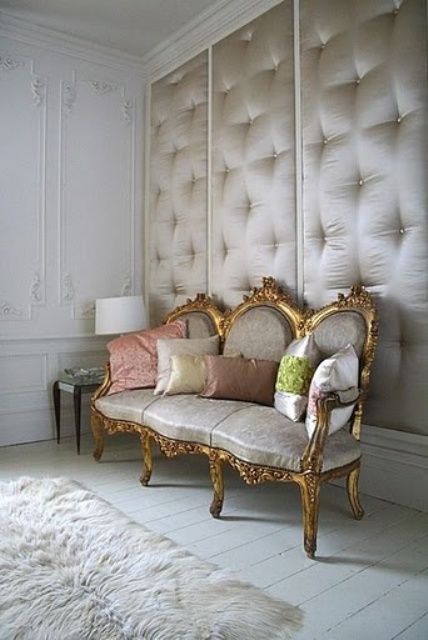 silk upholstered and tufted walls are a very interesting decor idea that features sound proofing at the same time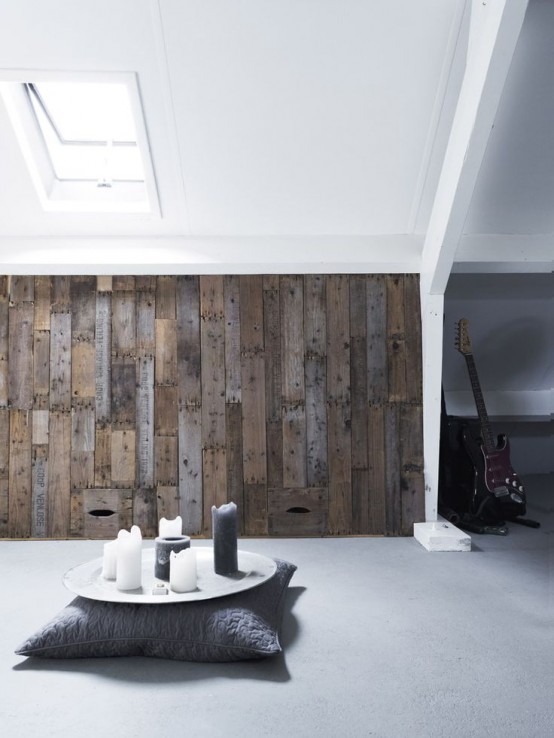 a weathered wood wall is a great way to soundproof the space a bit and adds texture and color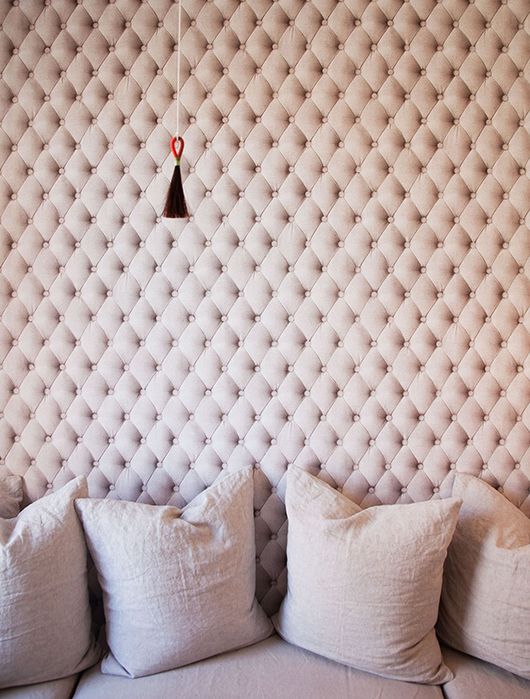 an upholstered tufted wall in blush isn't only a catchy decor feature but also a cool soundproofing idea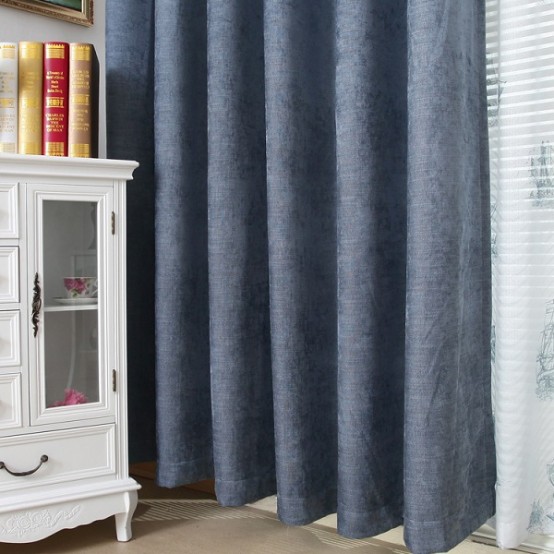 thick curtains are a great sound-proofing idea for windows if the noise comes from there
Source: interiorholic, pinterest


Sours: https://www.digsdigs.com/34-stylish-and-smart-ideas-for-soundproofing-at-home/
Design acoustic ideas foam
The first days after this story I still wanted to see her, but I was restrained by the unwillingness to listen to the next nonsense about her. Some unknown acquaintances. And then I suddenly formed a new "serious" relationship, this time finally with a predominance of sex over problems. My new passion was not as stunningly beautiful as Alla, but she was much more interesting and pleasant in all other respects, so I never remembered Alla.
How to make acoustic wall panels
In order not to tire the girl, I straightened up and stood between her legs, introduced a member of her hot cave, at the same time leaning against her mouth. With my lips, merging with her in passionate kisses. My piston went deeper and deeper into her hot pussy. Screams were already escaping from the woman's chest.
You will also be interested:
Very interesting videos, only I want to look again, before what answers to write. Well, then you look, and I quickly finish the yoga. - the teacher, as if it were once again at his disposal. Yes, yes, of course. - Samir picked up with heat.
335
336
337
338
339