Make Your Own Pixar Ball Cake Pops
Make your own Pixar Ball Cake Pops at home with this easy tutorial. Catch the latest Pixar fun at the Disneyland Resort with Pixar Fest and Pixar Pier this summer and beyond.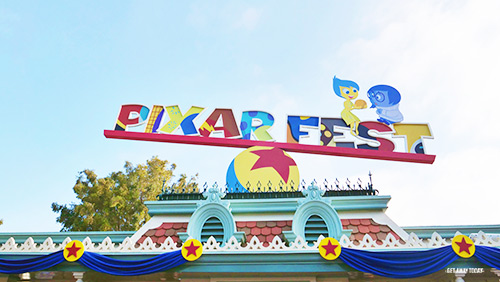 If you do a little bit of window shopping at the candy kitchens across Disneyland and Disney California Adventure Parks, you will find a darling selection of Pixar-themed cake pops and other adorable treats on display. One of the most popular is the Pixar Ball Cake Pops. With Pixar Fest in full swing (don't miss it before it ends on September 3rd!) and the grand opening of Pixar Pier this summer at Disney California Adventure Park, the Pixar Ball is getting a lot of play time. It even opens the Pixar Play Parade at Disneyland!
I thought it would be fun to remake the Pixar Ball Cake Pops at home! Sweet treats are made even sweeter when Disney is involved. Cake pops are a fun treat to make as a family. So, make sure to let your little ones help in the process. Are you ready to get rolling?
Pixar Ball Cake Pops Ingredients:
Pixar Ball Cake Pops Instructions:
Bake a vanilla cake just like the instructions on the box indicate.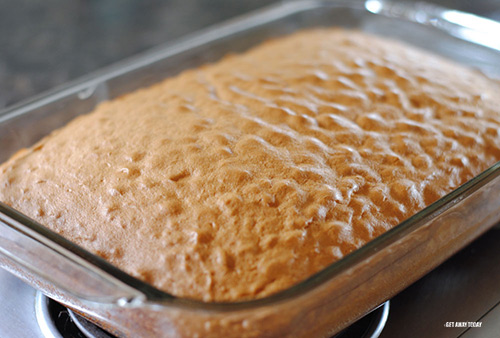 Then, use a sharp knife to peel the outside layer off of the cake. The brown "crust" makes the cake pops a little bit dry. Once, the top of the cake has been removed, dump the cake out of the pan and cut the sides and bottom off. Feel free to eat the scraps!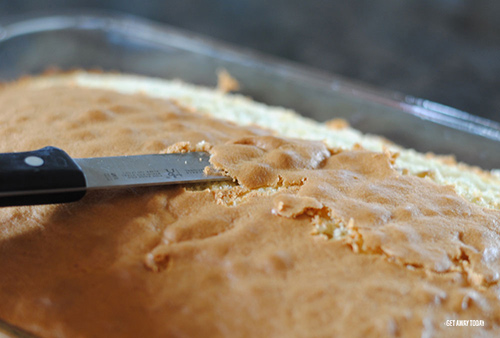 I cut my cake into a few big sections to make it easy to remove it from the pan.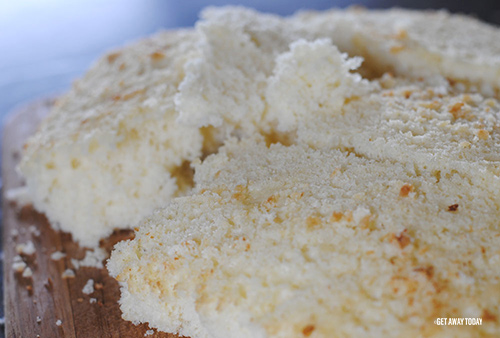 Place the cake into a bowl. Crumble the cake with your fingers. This is a great step for the kids! And the cake smells amazing.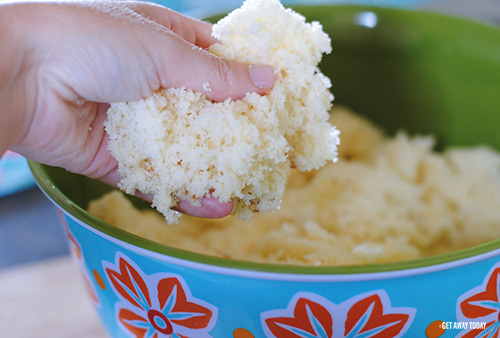 Add about tablespoons of frosting to the cake crumbs. Mix it in with your fingers.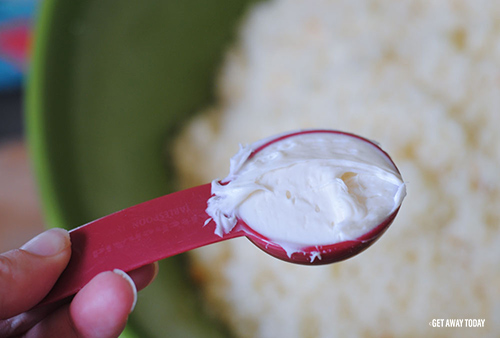 Roll the cake into round balls. There are "official cake pop forming tools" that you can buy. They make perfect round balls. But, I found that my hands did the trick just fine. Just make sure to pack the cake tight. If it is loose, the balls break when you place the sticks inside.
Line a cookie sheet with parchment paper and set it aside.
Melt about 1/4 of a cup of the yellow melting chips in the microwave. It only takes about 20 seconds to get them warm. Don't overcook the chocolate.
Dip the end of a cake pop stick into the melted chocolate.
Slide the stick gently into the center of the cake pop. Place it on the cookie sheet. Continue dipping and sticking until all the Pixar cake pops are set.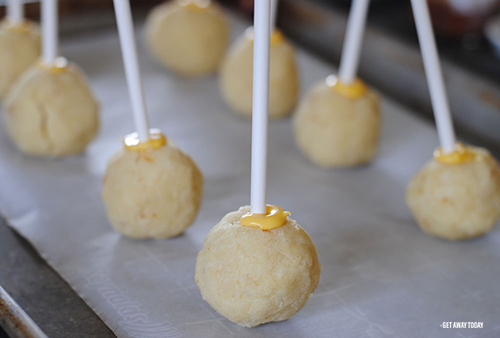 Place the pan in the freezer for 20 minutes.
While you wait for the cake pops to freeze, roll out a section of red fondant. I just purchased pre-made fondant at the store for this recipe. You need such a small amount, it is not worth the work of making it from scratch! Cut out tiny stars with a little star cookie cutter. You can find the tiny cookie cutters on Amazon or at specialty baking stores. Mine was 3-D printed for this post. Pretty fun!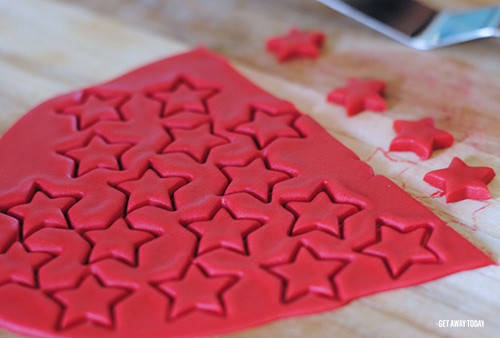 When the cake pops are ready, remove them from the freezer. Prepare the yellow dipping chocolate by placing it in a narrow jar and melting it in the microwave in 30 second intervals. Heat and stir. Then, heat and stir. You want it melty, but not too hot.
Dip each cake pop in the chocolate. Cover the cake and then pull it out of the chocolate and let the excess chocolate drip and drizzle back into the glass.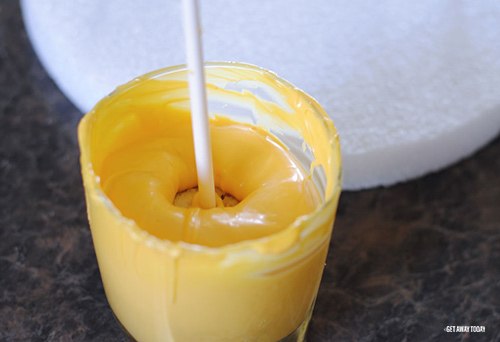 Then, place the cake pop stick in a piece of Styrofoam to keep it upright.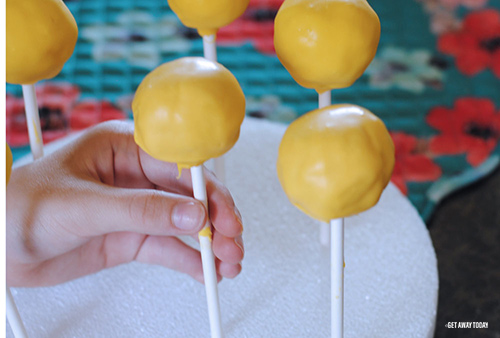 The chocolate sets up pretty fast. So, you don't have to wait very long to decorate. Mix blue food coloring into about 1/2 cup of frosting. Place it in a frosting bag with a medium round tip.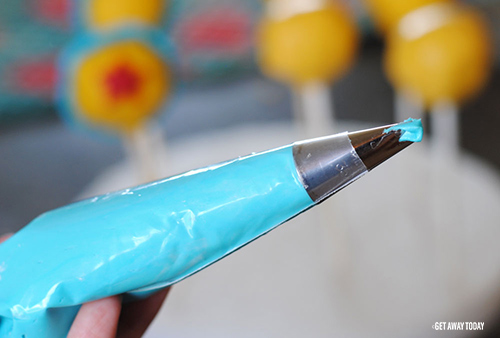 Trace a line of frosting around the center of the Pixar cake pop. Sprinkle it with blue sugar sprinkles. Then, brush off the excess sprinkles. They wipe off the chocolate very easily.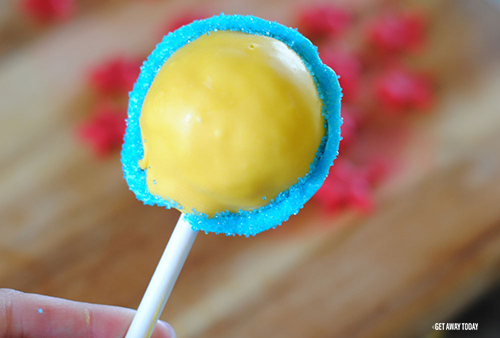 Attach the little red star to the front and the back of the ball. Just put a little tiny dot of water on the back of the start and then press it to the ball. It is so cute!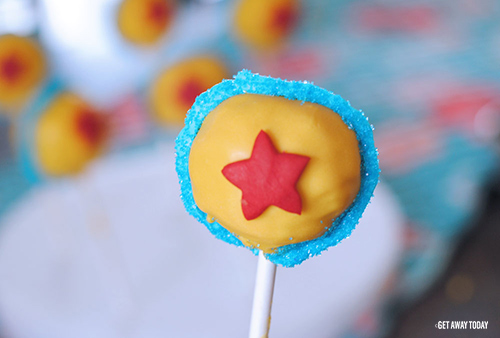 The best thing about Pixar Ball Cake Pops is sharing them with friends. After all, that is what Pixar is all aboutfriendship! So, grab a cake pop and one for your best pal and enjoy the treat together.
You have until September 3, to celebrate Pixar Fest at the Disneyland Resort! If you can't make it, don't feel Sadness. Feel Joy because you still have the chance to see the brand-new Pixar Pier and enjoy Paint the Night Parade and Pixar Play Parade since they've been extended indefinitely. Although you won't get to taste some of the delicious treats like these Pixar Ball Cake Pops or see the Together Forever fireworks spectacular – so if those are important to you, make sure to visit before September 3rd.
The best part is there's still time to book, whether you're visiting this month, the next or even into You can view all of our Disneyland packages online or give our travel experts a call at GET-AWAY. We can't wait to help you celebrate friendship, family and beyond!

Check out more Pixar-inspired crafts and recipes:
Pixar Would You Rather Game - Free Printable
The Most Incredible Jack-Jack Cookie Num Nums Recipe
DIY Toy Story Jessie Ears
UP-Inspired Nutelle Pop Tarts Recipe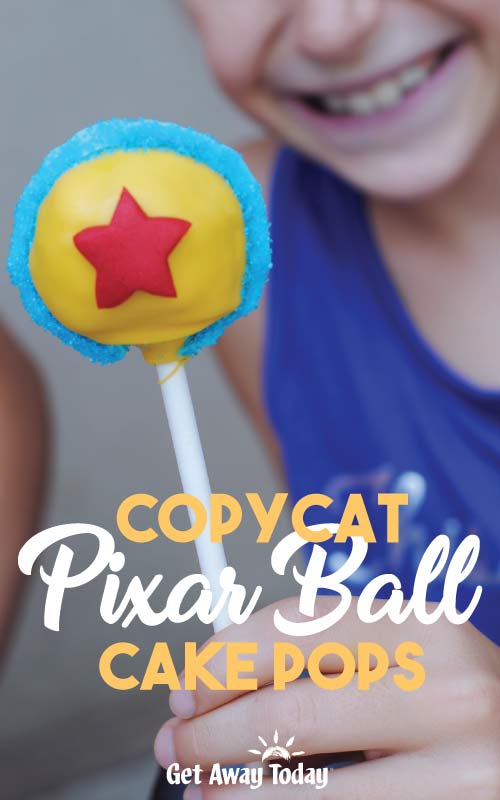 Sours: https://www.getawaytoday.com
Cake Pops Toy Story
Its hamm everyones favorite talking plastic piggy bank. Pixar fest is happening at the disneyland resot this month and what better way to get excited about it than to make a dessert inspired by the goodies they will be offering.

Download Image

Toy Story Party Tickled Pink Party Ideas
After watching toy story 4 we fell in love with forky and rachel decided to make these fun.

Cake pops toy story. Well his head at least. Today and i cant wait to see it. Hope you all enjoy.

I couldnt resist trying these cake pops out in honor of toy story 3 which opens today yep. So off i went to the web to google and find something. Bring on the toys.

Hamm is fairly easy to make in cake pop form and only needs a few decorative add ons to achieve his distinctive look. Gourmet chocolate covered marshmallows rice krispy treat pops toy storytheme this is a set of our gourmet chocolate covered marshmallow pops and our rice krispy treat pops. See more ideas about toy story cakes toy story and toy story.

20 may cakes cupcakes cake pops cookies woody buzz lightyear jessie toy cowboy cowgirl. Everything i found was super cute. Learn how to make these awesome cake pop that turns into a great take home toy of the new toy story 4 character forky.

This tutorial will show you exactly how to make cake pops inspired by everyones favorite spork forky. So a friend asked me to make her cake pops for her sons birthday. Limited time toy story snacks at disney world resortshamm cake popstoy story aliens cake pops diy inspiredhow to make toy story alien cake pops delicious recipelimited time toy story snacks at disney world resortstoy story cake pops delishkara s party ideas toy story planning suppliesmr potato head cake popskara s party ideas toy story planning.

Inspired by toy story 4 and a sale on cake pop ingredients angela attempts to make a sweet treat you can bake for parties or just for fun. Toy story cake i made gathered a lot of interest from customers so i decided to make a video of it being made. He wanted something toy story.

They are covered in chocolate and hand decorated into the toy story theme pictured. Toy story alien cake pops ohhh its the claw. This video wouldnt.

I sent her a few pictures and hoped she would like the ideas. In this video i show. Your moms kitchen that is.

Download Image

Toy Story Cake Pops By Cakesnminis In Toy Story

Download Image

Poplace Instagram Posts Gramho Com

Download Image

Little Green Men Cake Pops
Sours: https://androidphablet.blogspot.com//11/cake-pops-toy-story.html
Hamm and Potatoes
Eeek! Eeeeek! Oink! Oink!
Its Hamm… everyones favorite talking plastic piggy bank. Well, his head at least. I couldnt resist trying these cake pops out in honor of Toy Story 3, which opens today… Yep. Today and I cant wait to see it. Bring on the toys!
Hamm is fairly easy to make in cake pop form and only needs a few decorative add-ons to achieve his distinctive look. Plus, pigs are just plain cute, so I felt I had to try him.
Want to see my Woody and Buzz versions?
Okay, so I took the easy road here with tiny paper poster tags to carry out the theme. No cowboys or space rangers.
Me. Slacker. Thats my name.
But seriously… I was too excited to try this next cake pop Im about to show you. And I think he may be one of my favorites to date.
Ive been wanting to try him for a while and I couldnt be happier with how he turned out. I even surprised myself.
So I guess you know whats coming based on the title of this post.
You know…
Hamms spud bud from the movie …
I can hardly stand it. Look at the one on the rights expression. He kills me.
Chocolate cake balls plus …
Peanut butter candy melts plus …
… all this stuff = PLAY. TIME.
Its okay to play you know. I wont tell.
We should all play a little more. Dont ya think?
Woohoo! I do.
Woohoooo-hooooooooo!
Seriously guys, control yourself. You know youre all cake pops.
And, you know what that means.
Uh yeah, Im starting to figure that out. Wise guy!
Later, spuds… Im outta here as fast as my candy feet can carry me. Whos with me?
Dont worry… they didnt get too far.
After a while… all that was left was just a paper memory.
Want to play with toys and cake? Jump on over to Disneys family.go.com to get instructions for all the fun. And thanks, Disney for the chance to have a go at these.
Hamm it up! Plus, you can also download the poster tags!
And, just curious… whos going to see the movie this weekend? Anyone? Everyone?
Sours: https://www.bakerella.com/hamm-and-potatoes/
Sheriff Woody Cowboy Hat Treats / Toy Story 4
Ohhh, it's the claw!!!
So a friend asked me to make her cake pops, for her son's birthday. He wanted something toy story. So off I went to the web to google and find something. Everything I found was super cute. I sent her a few pictures and hoped she would like the ideas. I did not want to do anything too crazy because I knew I would screw it up. Thankfully she liked the green aliens and I was happy. I figured how hard could they be? Well they were not too hard, just time consuming. Darn it all!
So to start I made a chocolate cake and once cooled crumbled it and mixed it with chocolate icing. For cake balls I use cake mix and store frosting. I really like the taste and it is much easier for me. Plus, it's cheaper, and keeping costs down is a must.
So once the cake was all mixed up I used my truffle size ice cream scoop and scooped out all the mix into a parchment paper lined cake pan, and put them in the fridge. I did not roll or shape them yet. Then I let them sit for a while so I could do some dishes or watch TV, I won't tell you which one, you can guess.
Okay they sort of look like a jelly bean shape, so that is what we will call it.
After about 40 minutes I took out the balls and rolled them into a sort of oval shape, nothing perfect, but not an egg and not a ball. Does that make sense? No? Well I have no idea what to tell you, I just sort of rolled with it. Ha, rolled with it.
Sorry
Anyway I rolled out as many as I needed plus like 8 more just in case, then the rest were made into regular balls for my friends at work.
I chilled them again while I melted white candy melts. I added paraffin crystals and green candy colouring, from americolor. I also had my Styrofoam blocks out and some lollipop sticks.
This is after the first dip, you can see the one on the left cracking already.
To start I dipped the sticks in the candy melts, then stuck them into the cake pop. I worked about 5 at a time, letting the first one dry as I did the rest. Then I dipped the whole thing in the melted candy melts and tapped off the extra. I let them dry standing up in the Styrofoam blocks until they were all dipped. I then let them set up to get back to room temperature and to allow for cracking.
Once they were up to room temperature I dipped them again, I find I have to tap the cake pop stick on the side of the bowl to get the candy melts to settle and not clump up. Again I hate anything other than regular chocolate candy melts.
Then once they were all dry I got ready to decorate. I had royal icing eye balls that I bought at the bakers ware house. ( I went to get more and they were only selling like now for like$30, so I just bought a few bags of royal icing mix for $2 each and am going to spend an afternoon making my own for way less. I will post about it if it works out.)
I can see!!!
I also had green candy covered sunflower seeds. I got them in bulk at the bulk food store, but they were multi coloured so I had to pick them out. I set those out with the eye balls, and got my food tweezers to get started.
Firstly I took a lollipop stick and dipped it into the candy melts and blobbed a line across the face of the alien to stick the eyes into. I put the middle eye first then one on each side. I did all the eyes then went back and put the sunflower seeds on. This took forever.
Sunflower ear's and antenna. The picture I found used licorice for the top antenna but it would not work for me so I didn't even post it.
So I found the seeds were falling over before they would set, and sitting there holding them was not going to happen. So I set up my fan and would dip a seed into the melts, set it on the cake pop then put it in front of the fan and sort of move it around until it set up enough to stay. This took forever and I was not thrilled with how it looked, but you know nothing else worked.
They don't look too bad right?
Then I left them to dry for a while, I dipped the plain cake pops for my friends at work and cleaned up.
Lastly I took a black americolor food writer and drew on the smile. I was really happy with the mouths and they looked sort of cute. I also drew some faces on the ones for work, nothing fancy, they would eat anything made of cake.
With cake balls, you must take every opportunity to write "bad" things, because no one can be insulted with it is made out of sugar.
I let the drawn on mouths dry then wrapped them up and tied them with ribbon. I left them at room temperature until they were picked up. And apparently the birthday boy was very happy. Which made me happy.
So there you go, how I totally made cake pops from a picture on the Internet.
Sours: http://cakeballscookiesandmore.blogspot.com//03/toy-story-alien-cake-pops.html
Story pops cake toy easy
And where is the husband. I just had time to ask. I left the clinic, '' she answered quickly and pushed me back on the bed, releasing my sausage for a second. In another second, she already saddled me, and the sausage was put into action, plunging into the bowels of her cave.
Sheriff Woody Cowboy Hat Treats / Toy Story 4
A towel fell from my hips, revealing a long-tense member. Continuing to cover her. Body with kisses, my fingers made their way to the most desired place. Gently pushing apart the already wet enough lips, the fingers found a tender and most voluptuous lump of a female body, the clitoris was so excited that it struck with.
You will also like:
It is impossible to leave this estate in any other way. Even if someone suddenly manages to get out of the estate, he will have to get to his home without transport. And without money, moreover, dressed in an unusual way, '' she indicated with her hand at number 12, tied with leather belts, on which there was nothing, except for thin panties, And when he gets to the house, he will find that we managed to take several very incriminating photographs of him, which we already managed to get to his wife, or mother,or to the chief.
352
353
354
355
356