The Minelab E-Trac metal detector was introduced in 2008 and is still in production. The E-Trac is a multifrequency VLF metal detector aimed primarily at coin, jewelry, relic, and beach detecting.
"The E-TRAC is an advanced detector incorporating Minelab's Full Band Spectrum (FBS) technology and SmartfindTM discrimination. It's sleek, sturdy design, innovative control panel, intuitive menus, clear LCD screen, robust lightweight coil and comprehensive targeting options set the E-TRAC apart from other brands. The E-TRAC Xchange program enables you to connect your metal detector to your home computer to download and upload your E-TRAC settings, user modes and discrimination patterns.You can build a resource library charting your success with your E-TRAC storing your valuable settings for your favourite sites - never worry about losing your most successful settings again! This advanced feature is also designed to allow you to quickly configure the E-TRAC at the touch of a button to particular detecting environments and preferred targets so you can spend less time messing about with settings and more time out in the field doing what you love doing, detecting. The E-TRAC will locate valuable metal objects in a variety of mineralised ground conditions such as extremely salty soils, seawater, wet beach sand and highly magnetic ground conditions. By using the E-TRAC you can become one of the many successful detectorists who combine their passion for the outdoors with the excitement of discovering valuable coins, relics, gold and jewellery on a regular basis." Source: Minelab website

Minelab E-Trac metal detector

Minelab E-Trac control panel
Utilising FBS technology with simultaneous frequencies ranging from 1.5kHz - 100kHz the signal received from the detectors coil is analysed from a wide range of responses. This allows E-TRAC's advanced signal processing to analyse more target information so that target identification is more accurate. 
E-TRAC XChange USB functionality - create, download and upload your favourite E-TRAC settings and save them to your computer or exchange them with friends by email. 
QuickMaskTM with independent ferrous and conductivity rejection level adjust - a fast and simple way to edit patterns. 
SmartfindTM - a unique two-dimensional scale of discrimination graphically representing both the ferrous and conductivity properties on the same display working to eliminate signals from undesired targets and accepts signals from desired targets. 
Discrimination scale with radical realignment improves target ID and the recovery rate of good targets at depth. 
Four pre-programmed Minelab user modes for switch on and go detecting with specific Settings and Patterns suited to Coins; High Trash; Beach and Relics. 
Four user mode slots so you can personalise modes to suit your specific target preferences and detecting environment. 
Refined threshold adjustment level on a 1-50 scale for greater precision to suit your requirements. 
Pinpoint with audio and visual indicators on two modes making target size and identification more accurate than ever. 
Ground Setting options of Neutral and Difficult allowing you to adapt easily to benign or the most challenging operating conditions. 
Trash Density settings - High ensures you experience fewer false signals in high trash environments while Low is perfect for cleaner sites. 
User-centered keypad and menu design – fast and easy to use with intuitive icons and logical menu sequences. 
Clear resolution visual display panel 72mm x 48mm - designed for optimum visibility in all light conditions. 
Ergonomic, perfectly balanced Handle Assembly ensures longer periods of detecting without fatigue! 
Ultra-lightweight waterproof 11" Double-D waterproof coil for versatility with sharp, accurate pinpointing and depth.
Official Minelab E-Trac Product Page
Minelab E-Trac Owner's Manual
Minelab Metal Detector Forum
Edited by Steve Herschbach
1
Sours: https://www.detectorprospector.com/metal-detector-database/minelab-e-trac-r110/
Minelab E-Trac - a Metal Detector I Used for Three Years
In Its Time, It Was a Great Machine for Cache Hunting, Relic Hunting and Coin Shooting -
My Short Review and Tips for Beginners
by Sergei UpstateNY, proficiency level: Expert, last time modified:
During my 16th metal detecting season, I acquired a Minelab E-Trac which then became my primary metal detector for Cache Hunting, Coin Shooting and Relic Hunting.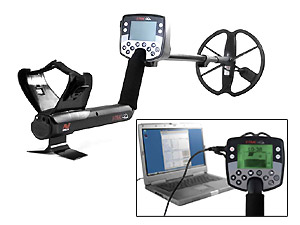 Because of the E-Trac's improved FBS technology combining the Minelab's multiple frequency BBS (Broad Band Spectrum) with a new powerful microprocessor, the E-Trac would provide greater operating depth range, higher sensitivity over a wide range of targets, less interference from electromagnetic sources and more accurate target identification than its predecessors - Minelab Explorers.
Even though a new technology by XP Metal Detectors was already taking its leading position on the market, I had a few reasons to continue using the Minelab FBS metal detectors; a major reason being my status as a die-hard fan of the Minelab machines. Plus, despite loosing to the XP's breaking-through technology, the Minelab technologies still allowed for finding a satisfactory amount of good targets partially masked by the rusted iron nails at the 'searched-out' sites. So within the 3-year time period, I managed to make many valuable finds with this machine while detecting alongside with the Deus users.
When I tried the Minelab E-Trac for the first time, I immediately noticed a big difference between its performance and the Explorer's performance at the same hunt sites. The E-Trac's abilities impressed me. When I tested the E-Trac at the spot which I had "pounded to the last signal" with the Explorer II just the day before, I unearthed a few more medieval coins! You can read all details in my full E-Trac Field-Test Report
Yes, the E-Trac enabled me to find more coins and non-ferrous artifacts at various hunt sites that had been previously thought as expended. But, at the end of my second season with the E-Trac, I noticed that the E-Trac began approaching its technological limits and sometimes was unable to cope with new metal detecting reality. And this reality was generally indicated by depletion of unmasked desirable targets at most hunt sites. Only an advanced detector with a high target-separation ability could bring a substantial results at the 'hunted out' sites. Unfortunately the E-Trac did not have such an ability.
The E-Trac was still superior to the intermediate-level detectors including the Tesoro Cortes (reviewed in this section) which my girlfriend Irina used when we began treasure hunting together. And she did not like having a lot less finds than I at the end of every metal detecting day. So we got her a brand new XP GoldMaxx Power - a detector of the intermediate+ level. After she began beating me in number of finds (mostly the thin-sectioned, tiny hammered silver coins) every time we detected together, I realized that it was a wake-up call for me - I had to admit the presence of a better technology on the market and do something about it.
By that time, the XP Deus had become a reputable machine of an expert level. It certainly attracted my attention, and my first step was to see the advanced XP Deus 'in person' and test it side by side with my E-Trac in the field. One fellow-detectorist had already had the Deus for some time and agreed to show me its capabilities. To prepare a 'test strip' for the Deus, I marked a 3m x 10m strip on the ground in a farm field - a site of a former medieval settlement, that had been previously harrowed, and used the E-Trac to clear the strip of all good signals and even all 'hints' to the good signals.
After we ran the 'comparative test', I was in shock. While the XP Deus picked up a few valuable targets, my E-Trac could not detect or recognize them being masked by nails and other iron objects with which the test strip was infested just like any other area in that farm field. This was how the E-Trac's limitations were discovered. Most likely they were caused by the E-Trac's low Recovery Speed, insufficient maneuverability and dependence of the Operating Detecting Range on the constantly changing Semi-Auto Sensitivity. In fact, this function could considerably reduce the E-Trac's detection depth, and I would not even know about it. And if you switch to the Manual Sensitivity, you must have your ears trained to hear 'questionable' responses to valuable non-ferrous targets. Otherwise, while being overwhelmed by numerous signals produced by ground mineralization, iron falsing, partially masked targets and hot rocks, you would not be able to tell 'good' signals from 'bad' ones.
Back to "My Metal Detectors" Section
The Minelab FBS detectors began loosing their superiority to other brands also due to their discommoding design and lack of ergonomics. Heavy weight, poor balance and flaws in construction were major drawbacks of the FBS line's first model - Minelab Explorer XS (also reviewed in this section), and they were carried over to the subsequently developed models. Some slight improvements had been made to the shaft-assembly's design over the decade, but the old concept of a heavy and cumbersome stem/handle assembly still manifested itself in the E-Trac weighing 4.8 lbs (2.2 kg), and the Minelab CTX 3030 - a successor of the E-Trac, weighing even more - 5.20 lbs (2.36 kg).
Introduced with the Explorer XS in 2000, the Minelab's 'Smartfind' technology with its 2-Dimensional Discrimination scale, has remained the E-Trac's most useful feature so far. As described on page describing the Minelab Explorer, the 2-dimensional (FE-CO) Discrimination allowed for rejection of unwanted targets without compromising detection of desirable targets of the same conductive properties. As for the FBS technology, it had been proved not so reliable in cases when the FBS detector was used at hunt sites of former homesteads with various sporadic mineralization: not all 28 frequencies would penetrate the ground containing the rapidly changing intensities of 'mineral pockets'; thus, causing non-detection of targets for which the temporarily dysfunctional frequencies were responsible. Unfortunately, this same problem has been noticed in the CTX-3030's performance.
Another reason for missing some small/deep targets was the implementation of Semi-Auto Sensitivity. This feature certainly provided an audio comfort to me, but caused some reduction in detector's depth penetration ability because once the coil was swept over a highly mineralized ground spot, the Auto Ground Balance circuitry would overcompensate, and the E-Trac would lose some detection depth over this spot. The only way to solve this problem was to switch to Manual Sensitivity and experimentally find a satisfactory setting.
The Minelab's Smartfind feature is probably the only good reason to keep the E-Trac if most of your hunt sites are cluttered with modern non-ferrous and ferrous trash, or if you hunt on wet-sand portions of the ocean and sea beaches - that is where the E-Trac shines. The FBS and Smartfind technologies incorporated into this detector were the main reasons why I ignored my personal discomfort and kept the E-Trac to the very end. In fact, because of the superb Smartfind feature, some of my fellow detectorists still hunt with the E-Trac and do not want to switch to any other brand detector.
Advertisement
This is an ad by Amazon. As an Amazon Associate I earn from qualifying purchases.
If you would like to see the Minelab E-Trac's Features and Specifications and read other users' reviews, please visit the Minelab E-Trac Reviews page
Sours: https://www.metaldetectingworld.com/minelab_etrac.shtml
Superior depth and discrimination abilities.
Get more depth and precise discrimination – start finding targets other detectors have missed.
See latest price on Amazon
The Minelab E-trac metal detector is ideally suited for experienced coin and relic hunters.
Here is some of what the E-trac has to offer:
Features​
Multiple frequency FBS transmission (1.5 – 100kHz) which allows you to find deeper targets, ignore highly mineralized soil, and have precise discrimination and target ID. This feature alone makes the E-trac a silver magnet.
Precise target ID through Minelab's SmartFind technology. This allows you to see how conducive AND how ferrous your target is which will help you distinguish trash from treasure, and even silver from clad.
Ability to quickly shift between your normal discrimination pattern and "Quickmask" screen to check your target before you dig. This helps tremendously for those 'iffy' signals and those you suspect are being masked by other nearby trash targets.
Four pre-set standard user modes so you can use the E-trac right out of the box. There are also four user mode slots that allow you to create and save your own programs and discrimination patterns based on your hunting needs.
USB connection that allows you to create and save new user modes and discrimination patterns right on your PC. Share your settings with a friend or download popular modes from the internet.
Controls
The E-trac can seem quite intimidating at first, but it can be as easy or as hard to learn as you want it to be. You can customize every inch of the E-trac, or just use the default settings right out of the box. Either way you're going to find your dream targets.
The E-trac uses a large, 11" lightweight Double D coil. Detect deeper, separate targets faster, and hunt longer. The E-trac also has a 8" DD accessory coil available (not included with E-trac).
Use Minelab's factory modes or create your own. A mode is simply a combination of settings and discrimination pattern. The Minelab factory includes four pre-defined modes for your to use right out of the box: coins, beach, relic & high trash.
What's in the box?
Koss headphone set
Rechargeable battery
Battery charger
Alkaline battery Slim Pack
Xchange Installation Disk
USB cable (to connect E-Trac to a PC)
Instruction Manual
Field Guide (fold-up)
FAQ
How does the E-trac compare to the Explorer series?
The Explorer series started in 1999 with the Explorer S and XS and progressed through the years until their final model was released in 2008 – the Explorer SE Pro.
The E-trac was also released in 2008 and was built off the SE Pro with numerous enhancements such as:
Expanded SmartFind scaling
Better iron masking
USB connectivity
More user modes
Continuous sensitivity recommendation
Lighter weight and more well-balanced
​How does the Minelab E-trac compare to the CTX 3030?
Minelab released the CTX 3030 in 2012 as one of the most technologically advanced and versatile metal detectors to ever hit the market. Here are some of the core improvements made over the E-trac:
Completely waterproof and can be submerged in up to 10 feet of water.
Integrated GPS technology.
Wireless audio capabilities
Full color target ID LCD screen.
Faster processor and the ability to identify two targets simultaneously.
You can do a side by side comparison of all the features at minelab.com.
How heavy is the E-trac?
The E-trac weighs just less than four pounds at 3.9lbs. While that may seem heavy compared to other detectors of similar weight, the E-trac is surprisingly lightweight. Minelab designed such a well-balanced machine so that your arm will never get tired. And if it does there's a chest harness available for purchase.
How hard is the E-trac to learn?
Learning the E-trac can be as easy or as hard as you want it to be. You can decide to start hunting right out of the box with Minelab's factory modes, or you can choose to study all the features in depth and create your own modes. Whichever you decide, always remember that it's important to fully understand any metal detector you use.
What other items would you recommend with the E-trac?
Here are a few items that we recommend with purchase of the E-trac:
The Minelab Explorer & E-trac Handbook by Andy Sabisch – essential reading since the Minelab stock manual lacks detail in our opinion.
Pinpointer. Whether you chose the Garrett Pro Pointer or the Minelab Pro-Find, a good pinpointer is essential for fast recovery.
Quality Digging tool. If you're coin hunting on any type of manicured land, you'll want something like a lesche digging tool or even a nice coin probe. If you're beach hunting make sure to get yourself a nice sand scoop depending on if you're hunting dry sand or wet. For relic hunting you'll want to go with a larger digging tool such as the ones found here.
Finds/trash pouch. Since you're buying a Minelab E-trac you can expect to have plenty of finds during your hunts. Invest in a nice pouch to store your finds securely.
Quality Headphones. The Minelab E-trac comes stock with a pair of Koss headphones which are great for everyday hunting. The more extreme relic hunters may want to opt for a better set such as the ones offered by DetectorPro.
Detailed Specs
| Feature | Spec |
| --- | --- |
| Intended Use | Coin, Relic, Jewelry & Salt Water Beach (not submersible) |
| Technology | Full Band Spectrum (FBS) |
| Frequency | Multiple frequencies: 1.5 – 100kHz |
| Stock Coil | 11″ Double-D lightweight, waterproof. |
| Accessory Coil Upgrades | 8″ DD |
| Headphone Jack | 1/4″ |
| Stock Headphones | Koss 100 ohm headphones. |
| Modes | 4 pre-programmed user Modes (Coins, High Trash, Beach and Relics) and 4 user customisable Modes. |
| Discrimination | SmartfindTM 2 dimensional Discrimination: Ferrous 35, Conductivity 50. 10 discrimination patterns (Coins, All-Metal, Fe Coins, Jewellery, Foil, Pull Tab, Iron, Crowncap, Screwcap & Nail) & 10 user slots. |
| Ground Balance | Automatic ground compensation – advanced digital filtering. Ground settings Neutral & Difficult. |
| Pinpoint Modes | Non-motion with modulated audio and visual crosshair on LCD, 2 modes: normal and sizing. |
| Sensitivity Adjustments | Fully automatic with adjustable offset, manual setting 1 to 30. |
| Threshold | Finer adjustment level from 0 to 50. |
| Battery | 1600mAh NiMH or alkaline batteries. |
| Weight | 1.6kg (3.5lbs) (excluding battery). |
| Warranty | 3 years control box & coil. |
Sours: https://metaldetectingintheusa.com/minelab-etrac-metal-detector-review/
Getting Started with the Minelab E-TRAC Treasure Detector
Minelab E-Trac review
In this Minelab E-Trac review, we're not only going to cover the notable specs and great features of this metal detector, but we'll also see how it directly compares to its competition in the market—namely, the Minelab Equinox 800, the Minelab Safari, the XP Deus and the Garrett AT Pro.
To better help you, please take a moment ti check out the table below, where you can directly compare the Minelab E-Trac to other notable metal detectors:
Meet the E-Trac 
Minelab's E-Trac is a multiple frequency FBS (full band spectrum) metal detector that emits frequencies from 1.5 kHz to 100 kHz. Minelab is an industry leader for multiple frequency metal detectors and offer several models that features this technology. This technology allows users to find deeper targets, ignore mineralization in the soil, and have a more precise discrimination and target ID. The E-Trac is known to be a silver magnet. 
Minelab's SmartFind technology allows users to see how ferrous and how conductive a target is which allows users to distinguish trash from treasure easily. This is helpful in determining silver from silver clad items. 
The E-Trac allows users to quickly shift between the normal discrimination pattern and Quickmask screen to check targets before digging. This helps with weak or iffy signals and those that are potentially masked by other nearby targets. It features 4 user modes so it can be used right out of the box. There are also 4 user mode slots allowing users to create and save their own programs and discrimination patterns based on needs. These settings can be offloaded onto a computer and shared with friends, or patterns can be downloaded from the internet. 
This detector features a monochromatic LCD screen showing target depth indicator, discrimination patterns, ferrous and conductive target values, sensitivity settings and recommendations based on ground conditions, power button, navigation arrows, Quickmask toggle, LCD backlight, noise cancellation, detect button, pinpoint button, and accept or reject targets.
The E-Trac can seem intimidating but it can be used easily and quickly right out of the box. More advanced users, and those who have become familiar with the detector and its settings, will be able to easily dive into the advanced settings of this detector. The 4 preset modes are coin, beach, relic, and high trash. This detector is heavier than some, at just under 4 pounds. It is well balanced so there will not be too much arm fatigue and a chest harness can be used with this model. 
The E-Trac has 10 discrimination patterns:
Coins
All-Metal
Fe Coins
Jewelry
Foil
Pull Tab
Iron
Crown Cap
Screwcap
Nail
Added to this, the E-Trac has 10 user slots. Ground balancing is automatic with advanced digital filtering. It features a pinpoint mode with 2 modes: normal and sizing. Sensitivity and threshold are adjustable. It should be noted that the E-Trac is not fully waterproof and should not be submerged in water. This detector operates on rechargeable or alkaline batteries and Minelab offers a 3-year warranty.
Minelab E-Trac Coils
The E-Trac comes standard with an 11" Double-D waterproof search coil. The E-Trac can operate with different search coils. There is an 8" FBS search coil made by Minelab that works with the E-series detectors. This smaller search coil can easily fit into smaller spaces than the larger search coil and comes with a lower rod making it fully submersible for use in shallow waters.
Coiltek makes a 15" Treasure Seeker search coil for this detector. This larger search coil will cover more area quickly and is deep searching. Coiltek also makes a 10" by 5: Treasureseeker search coil which works well in dry terrain. Lastly, Coiltek makes a 6" Treasureseeker search coil. This detector has great sensitivity, target separation, and good depth. 
Minelab E-Trac Battery
There are 4 different battery options for the E-Trac. Minelab produces a nickel metal hydride (NiMH) 1600 mAh 9.6-volt battery pack and an 1800 mAh 9.6-volt battery, both rechargeable. RnB Innovations makes a lithium ion battery for the E-Trac which is 12.5 volts, rather than the 9.6-volt Minelab batteries. It charges quickly, in just 2 hours, and gives users up to 60 hours of use before needing a recharge. Minelab also makes an AA battery holder (this detector requires 8 AA batteries).
Minelab E-Trac Modes
Mode settings define the E-Trac's performance for locations and metal or target type. The E-Trac is designed to allow uses to save these mode settings as a User Mode. User Modes can be saved in or retrieved from the E-Trac's memory or shared with other users online. The E-Trac has 4 search modes: coins, high trash, beach, and relics. 
These modes are starting points for the customizable user modes. When in one of the preset modes, a Minelab symbol will appear next to the mode number. If within one of the customized modes, a My User Mode iron will appear instead of the Minelab logo. The preset modes make specific sounds with preset audio. These can be adjusted for each user's hearing or preference. 
Along with these 4 modes and possible customizations, there are 6 discrimination slows ready for users to create their own discrimination patterns. This gives the E-Trac a total of 10 personal patterns that can be customized. Again, all settings and discrimination patterns can be shared online, or users can download other detectorists patterns for use on their own detector. 
Minelab E-Trac Depth
The general rule with metal detectors is however wide the search coil is, that is around the maximum depth. Some metal detectors have upgraded technologies to allow for deeper searching. The E-Trac has a solid history of finding good targets at depth. Larger search coils are notorious for missing small bits of gold, so unless prospecting is your intended goal, the larger search coil will be fine for most treasure.
The E-Trac has been known to find silver coins between 5" and 8" deep at a variety of angles. In perfect soil conditions, which are difficult to find, the E-Trac with the largest search coil could search 15" deep, but with the standard 11" search coil in normal soil conditions this detector will have no problem finding treasure between 8" and 10" deep.
Minelab E-Trac vs Minelab Equinox 800
The Minelab Equinox 800 is a great multiple frequency metal detector with fantastic features. This detector utilizes Minelab's Multi-IQ technology and can also operate on 5 individual frequencies:
5 kHz – Best for large silver coins
10 kHz – Best for Small Roman hammered coins
15 kHz – Best for general treasure hunting
20 kHz – Best for general treasure hunting and gold prospecting
40 kHz – Optimum sensitivity to small gold nuggets and fine jewelry
The Equinox 800 features 4 detection modes: park, beach, gold, and field. It also has 8 custom search profiles, 2 for each detect mode. The Equinox 800 has automatic and manual noise cancelling, automatic and manual ground balancing, threshold pitch, level, and volume, and adjustable sensitivity. It also has a 50-segment Target ID and 4 target tones. Tone volume, pitch, and break indicate ferrous and non-ferrous targets and the Equinox 800 has 5 depth level indicators. The Equinox 800 is fully submersible up to 10 feet.
Each of the Equinox 800's detect modes have 2 options: 
Park 1 and Field 1 – best for maximizing ground balancing to achieve signal to noise ratio, best for coin shooting and general detecting.
Park 2 and Field 2 – More sensitive to lower conductive targets, but more susceptible to ground noise.
Beach 1 – Ground balanced for salt and best used in wet and dry sand conditions.
Beach 2 – Ground balanced for salt and best used in surf and underwater.
Gold 1 and Gold 2 – Best suited for nugget hunting.
This detector has a monochrome LCD screen and comes standard with an 11" Double-D search coil and skid plate. It can also be used with wireless headphones. Minelab offers a 3-year warranty on the Equinox 800.
Minelab E-Trac vs Minelab CTX 3030
Minelab's CTX 3030 is one of my favorite high-end metal detectors. This beast of a machine features FBS 2, which is Minelab's multiple frequency rectangular wave transmission, with frequencies ranging from 1.5 kHz to 100 kHz, like the E-Trac. The higher frequencies are perfect for finding small bits of gold or very find jewelry. The CTX 3030 is fully waterproof up to 10 feet, which is an advantage over the E-Trac (if you will be hunting near or in water). Minelab recommends the CTX 3030 for relic hunting, coin shooting, beach hunting, and jewelry hunting. 
The CTX 3030 comes with 10 customizable detect modes and 5 preset modes: coins, beach, relic, silver, and high trash. This makes the CTX 3030 a great option for all terrains and all treasures. This detector has a built-in pinpointer and depth indicator. It features Smartfind 2™ discrimination which provides digital signal processing and FeCo discrimination. It also has color target information and 10 tone profiles allowing users to accept or reject certain targets. Target Trace and Target Separation allow users to identify multiple targets at one time for the most accurate detecting possible. 
The CTX 3030 has several other advanced technologies that help track user locations and allow for geolocation. GeoTrails shows the ground already covered, WayPoints lets users mark points of interest, FindPoints lets users mark treasure locations, and GeoHunts records the entire metal detecting trip. Detector settings and treasure locations can be uploaded to a computer using the Xchange 2 app (the E-Trac uses Xchange for sharing settings). Users can attach photos or text to organize their settings. Google Maps locations can be viewed and downloaded to the detector. Wi-Stream technology is used to create a quick wireless audio response with no loss of sound quality.
The CTX 3030 is heavier than the E-Trac, at 5.2 pounds. It operates on a lithium ion battery pack with fast charging capabilities. It comes standard with an 11" Double-D search coil. The LCD screen is full color with backlight and adjustable brightness. Built-in memory saves users' settings when the detector is off, or the batteries die. It also has 9 different language options. Minelab offers a 3-year warranty on the CTX 3030.
Minelab E-Trac vs Minelab Safari
Minelab's Safari is a simple to use, mid-level coin and treasure detector featuring enhanced multiple frequency technology and excellent discrimination. This detector operates on FBS technology (1.5 kHz to 100 kHz) and features 4 programed detection modes: Coin, Coin/Jewelry, Relic, and All Metal. Each mode has optimum settings for identifying the characteristics of the preferred target to maximize time in the field. It also has Trash Density, which helps ensure fewer false signals in typical coin and relic sites.
The Safari features a large monochrome LCD screen with adjustable contrast with no backlight. It features a ¼" headphone jack and external speaker. Purchase of the Pro Pack comes with headphones. Audio response alerts on conductive and ferrous targets, ground balance is automatic with advanced digital filtering. Sensitivity, threshold, and target volume are adjustable, and noise canceling is automatic. The Safari operates on 8 AA batteries or rechargeable batteries (included with Pro Pack). This detector weighs 3.6 pounds and comes with a 3-year warranty.
Minelab E-Trac vs XP Deus
The XP Deus is a fantastic all-purpose metal detector. It features exceptional comfort, performance, and speed. The stem of the Deus is ergonomic, so it is comfortable to use and it is foldable, making it easy to store and go. The Deus is the first wireless metal detector and can be customized with up to 3 wireless elements: the digital LCD display remote control, wireless headphones, and even a wireless search coil. These 3 devices all communicate via digital wireless link specifically designed by XP for the Deus. This gives crystal clear audio and delivers efficient power consumption. The detector can be controlled with the wireless remote or with XP's headphones.
The LCD remote controller has a backlight and can be hip mounted. There are 4 ground balancing options on the Deus: pumping, tracking, manual, and beach. This model can operate at several different frequencies: 4 kHz, 8 kHz, 12 kHz, and 18 kHz. The full detector is built into the search coil, so no wires are required to send target signals. The signal is digitized and analyzed at the source by specialized circuitry. The menu options include iron level, discrimination, notch, tones, audio response, and advanced features. 
The XP Deus' software can be upgraded by plugged the remote into a computer. Because this model is wireless, it is extremely lightweight at just 2 pounds. The Deus comes with a 9" by 11" Double-D waterproof search coil and rechargeable battery pack. The Deus has several package variations: The Deus Ws4, RC, and RC WS5. Each has a choice of search coil, 9", 11", or 13", and has different accessories. Users can also fully customize the kit and add or delete any item. This model is simple to use for beginners but has enough new technologies and features to appeal to more advanced detectorists. XP offers a 5-year warranty on the Deus. 
Minelab E-Trac vs Garrett AT Max
The Garrett AT Max is part of Garrett's AT line. It operates at a single frequency of 13.6 kHz. This frequency is adjustable, meaning it can go slightly up or down to compensate for highly mineralized soil conditions or electromagnetic interference. The AT Max will not find small bits of gold like a multiple frequency detector or a higher frequency detector would. But it will still find larger bits of gold or shallow gold easily. The AT Max features 44 iron discrimination segments, All Metal mode, a backlit LCD screen, adjustable volume, adjustable audio, adjustable discrimination, and 4 search modes. It has Garrett's Pro Audio, 8 sensitivity and depth adjustments, and threshold adjustments. Ground balancing can be done manually or automatically on the AT Max and it has a pinpoint mode.
The AT Max is fully waterproof and can be submerged up to 10 feet. Many lower frequency metal detectors struggle in saltwater conditions, but the AT Max has several adjustments that make it work well in saltwater. This model is lightweight, at just 3.03 pounds and it operates on 4 AA batteries. The AT Max features Z-Lynk wireless technology and it can be used with wireless headphones. Z-Lynk wireless is quicker and more efficient than traditional Bluetooth technology so there will not be any lag between finding a target and hearing the signal when using wireless headphones. Garrett offers a 2-year warranty on the AT Max.
Conclusion
Minelab's E-Trac metal detector is a fantastic detector for all purpose treasure hunting. Minelab is an industry leader when it comes to multiple frequency detectors, and the E-Trac does not disappoint. The wide range of frequencies this detector operates on make it great for finding everything from highly conductive metals like silver to lower conductive metals like gold. Smartfind technology allows users to see how conductive a metal is prior to digging, giving users a better idea of what the target is. Multiple discrimination patterns make it easy to use and easy to discriminate in or out desired or undesired targets. 
Minelab's Equinox 800 is another great multiple frequency metal detector. This detector uses Multi-IQ technology and can also function on 5 single frequencies. This is the perfect detector for all terrains and all treasure types. The Equinox 800 is fully waterproof up to 10 feet, which gives it a slight advantage over the E-Trac if users wish to detect in or near water. This detector has enough features to keep intermediate or advanced detectorists happy, and enough preset search modes to allow new detectorists to use the machine easily.
Minelab's CTX 3030 is one of my all-time favorite metal detectors. It features all Minelab's top of the line technologies which allows users to track where they have been, where they should look next, and where points of interest are. Google Maps can be downloaded to the detector when in search of new places to hunt. The full color display makes this detector unique, too, as most detectors feature monochromatic LCD screens. This is more of a high-end metal detector and is not designed for new detectorists. This machine is tailored more toward advanced detectorists.
Minelab's Safari metal detector is another great metal detector featuring multiple frequencies. You may be noticing a trend here in that Minelab has several different metal detectors featuring true multiple frequency operation. This is a mid-level metal detector and would be appropriate for all detectorists. The multitude of frequencies mean this detector works well in all terrains and on all treasure types, as do the E-Trac, Equinox 800, and CTX 3030. 
XP's Deus metal detector is unique among all the other detectors in that it is the first completely wireless metal detector. This detector features a wireless remote LCD screen, wireless headphones, and wireless search coil. If you purchase XP's specific headphones, they can even control the entire detector! The lack of wires and fact that the remote can be hip mounted make the detector lightweight and easy to use for many hours with no arm fatigue. This detector is not a multiple frequency metal detector in the same sense as the Minelab detectors. The Deus has several different operating frequencies, but they must be used one at a time. 
Garrett's AT Max comes from Garrett's AT line of detectors. This is a well-known line and known for quality and performance. This detector is single frequency, but the frequency can be adjusted slightly up or down to compensate for poor soil conditions. This detector has great features and is fully waterproof up to 10 feet. Z-Lynk wireless technology makes this detector work well and with no lag when using wireless headphones. 
Each of these detectors would be a great choice. I would highly recommend giving one of Minelab's multiple frequency metal detectors a chance. They are great for all types of treasures in all types of terrains. They are also well made by a great company.
You Might Also Want to Read:
Filed Under: Metal Detector Reviews
Sours: https://www.discoverdetecting.com/minelab-e-trac-review/
Trac minelab reviews e

E-TRAC Technologies


FBS
FBS (Full Band Spectrum) simultaneously transmits, receives and analyses a full band of multiple frequencies. This provides the detector's electronics with even more information about a target and the surrounding environment than is possible with single frequency or BBS technology. This has a number of advantages, including:
High sensitivity across a wide range of target types and sizes, so you only have to cover the ground once.
Automatic sensitivity and ground compensation, so maximum depth is achieved even in mineralised ground, including salt water beaches.
Extremely accurate multi-channel signal conversion to precisely separate target signals from ground signals for maximum detection depth and high resolution target identification.
Smartfind two dimensional discrimination, giving you maximum target information, so that targets can be discriminated by both ferrous and conductive properties simultaneously
Smartfind
Smartfind is Minelab's unique two dimensional scale of discrimination. Smartfind graphically represents a target's ferrous and conductive properties on the same display.
Smartfind is a feature of two Minelab metal detectors; E-TRAC and Explorer SE Pro.
Application
Coin, Relic, Jewellery & Beach
Frequency/Transmission
Multiple frequencies: 1.5 - 100kHz
Coil (standard)
11" Double-D lightweight, waterproof.
Audio Output
Internal speaker & 6.35mm ( 1/4") headphone jack.
Headphones Supplied
Koss 100 ohm headphones.
Visual Display
Very large 72mm x 48mm (2.8" x 1.9") greyscale LCD with contrast adjustment.
USB Connectivity
USB connector for communication with PC.
Memory
Settings saved automatically while detecting and remain until changed or reset.
Depth Indication
Accurate gauge active in normal detecting and Pinpoint mode.
Detect Modes
4 pre-programmed user Modes (Coins, High Trash, Beach and Relics) and 4 user customisable Modes.
Discrimination
SmartfindTM 2 dimensional Discrimination: Ferrous 35, Conductivity 50. 10 discrimination patterns (Coins, All-Metal, Fe Coins, Jewellery, Foil, Pull Tab, Iron, Crowncap, Screwcap & Nail) & 10 user slots.
Audio tone
1,2,4 & Multi-tone; customizable for conductivity or ferrous response. Variable by 30 adjustable steps.
Audio Type
Normal, Long, Smooth & Pitch Hold.
Ground Balance
Automatic ground compensation - advanced digital filtering. Ground settings Neutral & Difficult.
Trash Density
(2) Low & High.
Pinpoint
Non-motion with modulated audio and visual crosshair on LCD, 2 modes: normal and sizing.
Sensitivity Adjust
Fully automatic with adjustable offset, manual setting 1 to 30.
Tune / Noise Cancel
Manual & Automatic (11 channels)
Threshold
Finer adjustment level from 0 to 50.
Target Volume Adjust
Limit & Gain (1 to 30).
Battery
1600mAh NiMH or alkaline batteries.
Low battery alert
Audio & visual indication.
Length
1060mm -1380mm (41.7" - 54.3").
Weight
1.6kg (3.5lbs) (ex. battery).
Warranty
3 years control box & coil.
Sours: https://www.minelab.com/
Minelab E-Trac Metal Detector Product Review - Kellyco Metal Detectors -
Imperceptibly we reached our street. The guys say: Well, no, now we will accompany you all the way to your house. You have to know where such beautiful girls live. And girls live with their husbands, says Katka, so arivederchi, boys.
Similar news:
I loaded them as deep as possible. I felt like a warm trickle of Alice's urine hit my belly and started to drip on my sides. "Forgive.
353
354
355
356
357