Captains Promote Roth to Assistant GM, Name Maskey Director of Turf Management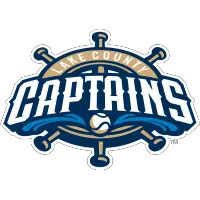 October 27, 2020 - Midwest League (MWL) - Lake County Captains News Release



(Eastlake, OH) - The Lake County Captains today announced two new changes to the team's front office staff. Kate Roth has been named the team's new Assistant General Manager, earning a promotion from her previous role as Director of Ticket Sales. Drew Maskey has been named the Captains' Director of Turf Management.
"In a year that has been incredibly challenging, it has been so fulfilling to watch Kate continue to develop into the leadership role she has earned," said Captains General Manager Jen Yorko. "Minor League Baseball executives are used to a normal work day of 'wearing a lot of hats,' but COVID-19 has certainly added to that and Kate has been able to take our challenges in stride and is deserving of this promotion."
The promotion makes Yorko and Roth the first all-female GM/AGM duo in Captains history. Midwest League officials believe they are likely the first all-female GM/AGM team in league history, as well.
Roth originally worked for the Captains as an Account Executive during the 2016 and 2017 seasons. After serving in the same role for Louisville City FC of the United Soccer League (USL), she returned to the Captains in 2019 as the team's Director of Ticket Sales. A native of Norwalk, OH, Roth graduated from Bowling Green State University in August of 2015, where she studied Sports Management and Marketing.
Maskey has 14 years of turf management experience and was most recently a member of the Cleveland Indians' grounds crew, where he proudly cut the outfield grass for the 2019 All Star Game.
Maskey began his career with the Indians in 2007, after graduating from North Olmsted High School where he first fell in love with grounds keeping. In 2012, Maskey moved to Arizona to work at Camelback Ranch, Spring Training home of the Chicago White Sox and Los Angeles Dodgers. After three years, he was hired by Papago Sports Complex in Phoenix and was tasked with maintaining fields for the Kansas City Royals and the LG Twins of the Korean Baseball Organization (KBO). Prior to his most recent stint with the Indians, Maskey served as the head groundskeeper for the Altoona Curve (Double-A; Pirates). He now lives in Cleveland with his wife and son.
• Discuss this story on the Midwest League message board...


The opinions expressed in this release are those of the organization issuing it, and do not necessarily reflect the thoughts or opinions of OurSports Central or its staff.
Sours: https://www.oursportscentral.com/services/releases/captains-promote-roth-to-assistant-gm-name-maskey-director-of-turf-management/n-5649586
Finding Your Way Around Classic Park
Highlights
Walk of fame area worth checking out
Kids' play area behind left field bleachers
If you visit Classic Park, you'll most likely park in the team's lot across the road from the ballpark. While some lots that require a few minutes' walk to the gates are annoying, this is one of the best walks you'll get in the Minors. After leaving your car, take the steps up to the bridge over the road and walk across. The bridge is decorated with Classic Park and Captains logos, which help get you pumped for the game before you even buy your ticket. Once you reach the other side of the bridge, you'll pass through a small parking lot and into the pavilion in front of the park.
The main gates are straight ahead up a short flight of steps and the ticket office is on the right. Depending on the day, there might be a local radio station set up in the pavilion or other local businesses with booths.
When the gates open, decide whether you'll run to the outfield area to look for batting practice balls, head to field level or outside the clubhouses for autographs or just walk around. If the latter is your plan, you'll have plenty of things to see and do at Classic Park.
Immediately to your right upon entering the main gates is the team's store, aptly named the Cargo Hold. It has the usual items you'd expect to see at any MiLB park, and because of Eastlake's close proximity to Cleveland, you can also find a few Indians items.
If you continue along the concourse behind first base, you'll pass a number of concession stands, the game's starting lineups and other attractions. The lineups board is hand written, but extremely modern at the same time; it provides QC codes for you to scan with your smartphone to access the rosters and stats for each team, as well as up-to-date Midwest League standings.
When you get to the end of the first base concourse, you'll see a group picnic area, a grassy berm behind the right field fence and a gate that leads to a path that runs behind the scoreboard and advertisement boards. If the gate is open, follow the path through the team's walk of fame, which has plaques for several Captains alumni. Note that if post-game fireworks are scheduled, this area will be closed to fans for safety reasons.
Down the third base concourse, you can look at memorabilia related to the Captains' 2010 Midwest League first-half championship, including the league trophy, signed bases and clippings from local media. In the left field corner, you'll see a group picnic area, a large concession called Castaway's Bar and a speed pitch area. The Captains provide a unique speed pitch setup -- you throw at a mannequin dressed as a catcher, but there's also a full-size batter standing next to the plate.
Behind the left field bleachers is a large kids' play area featuring inflatable games, slides and a more traditional play structure. Because the play area is directly behind the bleachers, parents sitting in this area are able to watch their kids while still enjoying the game.
Fans who feel the need to go back to their car during the game are allowed to do so at Classic Park. Make sure to exit via the first base or third base gate and remember to get your hand stamped to ensure re-entry. The fan assistance center is located in the concourse behind home plate and the first aid center is behind Section 108. Washrooms are located behind sections 105, 106, 110, 115 and 116. The park's family washroom is behind Section 118 down the third base line.
Sours: http://www.theballparkguide.com/minors/lake-county-captains/finding-your-way-around-classic-park
Front Office
Peter A. Carfagna is Chairman/CEO of Magis, LLC, a privately owned sports marketing, management and investment company, including family ownership of the Lake County Captains (Class A Midwest League affiliate of the Cleveland Indians).
The Lake County Captains, which won the Midwest League Championship in 2010, have become well-known locally and nationally for its wide variety of family-friendly promotions and events, which have attracted over Three Million fans to Classic Park in Eastlake since the club's inaugural season in 2003. Including 70 Captains games each year, Classic Park annually hosts over 120 events per year, including concerts, youth, high school and college baseball games, and community events.
Peter has also been heavily involved in Captains Charities which supports numerous Northeast Ohio non-profit organizations. Captains Charities is the non-profit arm of the Lake County Captains which generates funding via annual events, and in-season fundraisers during Captains games.
From 1994-2005, Peter served as Chief Legal Officer & General Counsel of International Management Group (IMG) and was Senior Partner at Jones Day LLP before that.
Peter graduated summa cum laude and Phi Beta Kappa from Harvard College in 1975, having played Varsity Football 1972-1975. Peter was then a Rhodes Scholar at Oxford, graduating M.A. with Honours in Jurisprudence/Law in 1977.
In addition to his work with the Captains organization, Peter has served as Distinguished Visiting Practitioner at Case Western Reserve University Law School and as Executive in Residence at Cleveland Marshall College of Law from 2011 to the present. He is Co-Director, Great Lakes Sports and Entertainment Law Academy - (May -June 2012), a Joint Program Sponsored by Case Western Reserve and Cleveland State University Law Schools.
Peter and his wife Rita, and their four adult children, reside in the Cleveland, Ohio area.
Sours: https://www.milb.com/lake-county/team/frontoffice
Francisco Lindor - SS - Lake County Captains (2012-08-18 vs. Lansing)
Another exciting season of Lake County Captains baseball is happening now at Classic Park
By Patricia Nugent
Of all the "returns" we've been looking forward to this summer, the roar of the crowd coming back to Classic Park is one of the best. Baseball is officially on again.
Our beloved Lake County Captains are just three games out of first place as of press time. Since the team is a High-A Affiliate of the Cleveland Indians, each year several Captains will get "the call" and be moved up on their way to "the bigs."
Which Players are Hot this Season?
The team as a whole is playing red-hot, but several players have been making things very interesting and gaining lots of fan support.
Here's the scouting report:
• George Valera – With a batting average of .313 this season, this outfielder is the team's number one ranked prospect.
• Logan Allen — A pitcher with a lot of tools in his box who knows his way around a fastball and racks up the strike outs.
• Brayan Rocchio — He likes to make the big grabs at shortstop and has thrilled with home runs, too.
Of the 60-game season, there are many home games in July, August and September.
"While there is talk of playoffs or an extended season, we're not sure of that yet. Top teams from the East and West Division will play in a playoff series the week of September 21," says Jen. "The league needs to make the final decision, but it looks promising. As of now, the last game of the season will be Sunday, September 19."
One of the highlights of the season was hosting the Jarvis Landry Celebrity Softball Game last month. Fellow Browns players like Baker Mayfield and Odell Beckham, Jr. took the capacity crowd by storm with their smashing hits.
The Best Seats in Town
Providing a family-friendly experience for all ages is the order of the day and the front office at Classic Park has planned a plethora of events geared toward families and kids.
Every Friday and Saturday night home game they are providing fireworks after the games.
"And families love Sunday FUNdays, where kids can play catch on the field before the game and run the bases after the game," says Jen.
All of the concessions are open for business. They offer ordering through BlazeBite, so fans can simply purchase the food on the app and it will be delivered right to their seats.
On Being First Ladies
Jen and her assistant, Kate Roth, have an impressive first to their honor. They are the first ever female General Manager and Assistant General Manager team in Minor League Baseball.
"Since I was a kid, I would go to Indians baseball games and was fascinated by every aspect that made up the fan experience, including the hot dog race," says Jen, who played softball for Lake Erie College, and spent her internship at Classic Park.
"This was my first job out of college and every year I moved up within the organization," she says. "It's a rarity within baseball for people to work in the same community they grew up in. I'm living my dream job, that's for sure."
Captains Charities Give Back
"Through an annual 5K, golf outing and other events during the year, Captains Charities raises money to support many local organizations," says Jen. "We also hold auctions of players' jerseys throughout the year. Our vision is to enhance the quality of life for children, the disabled, the elderly and retired residents in our communities. And we're dedicated to youth baseball and softball programs in our region."
Adjacent to Classic Park, the Miracle League Field and Playground is another initiative that reaches people in the community.
"Kids and young adults with special needs enjoy playing games here on Saturday mornings, as well as spending time on the specially designed playground that fits their needs," she says.
Classic Park is located at 35300 Vine Street in Eastlake. Masks are not required. If you would like seating that is socially distanced, that's available in a special section of the park. For tickets, call 440-954-WINS (9467), or visit MILB.com for a complete listing of upcoming promotions and game schedule for the 2021 season.
Categories: Lake CountyArts & Entertainment
Categories
By Topic
By Issue Date
Sours: https://mimivanderhaven.com/articles/another-exciting-season-of-lake-county-captains-baseball-is-happening-now-at-classic-park
Front office lake county captains
Lake County Captains
American Minor League baseball team
Minor League Baseball team
| | |
| --- | --- |
| | |
| Team logo | Cap insignia |

Class
High-A (2021–present)
Previous classes
Class A (1991–2020)
League
High-A Central (2021–present)
Division
East Division

Previous leagues

Midwest League (2010–2020)
South Atlantic League (1991–2009)
Team
Cleveland Indians (1991–present)
League titles (1)
2010
Division titles (11)
First half titles (8)

1992
1994
1999
2000
2003
2008
2010
2019

Second half titles (6)
Name
Lake County Captains (2003–present)

Previous names

Colors
Navy blue, light blue, white
   
Mascots
Skipper, Skippy, Captain Clipper, and Captain Kenny
Ballpark
Classic Park (2003–present)

Previous parks

Golden Park (1991–2002)

Owner(s)/
Operator(s)

Peter Carfagna, Rita Murphy-Carfagna, & Ray Murphy
General Manager
Jen Yorko[1]
Manager
Greg DiCenzo
Media
MiLB.TV, WFUN 970 AM, and WINT 1330 AM
The Lake County Captains are a Minor League Baseball team in Eastlake, Ohio, a suburb of Cleveland, that plays in the High-A Central and is the High-A affiliate of the Cleveland Indians.
The Captains joined the Class AMidwest League following the 2009 season in a shuffle caused by the Columbus Catfish's move to Bowling Green, Kentucky for the 2009 season.[2] The move alleviated travel costs and time, as it was the South Atlantic League's northernmost team. The nearest team (the West Virginia Power in Charleston) is a 256-mile (412 km) drive from Eastlake.
Prior to the 2003 season, the club was based in Columbus, Georgia and known as the Columbus RedStixx. The Captains play their home games in Classic Park, which has a capacity of 6,157 and opened in 2003 as Eastlake Stadium. The current stadium name is the result of a naming rights arrangement; the sponsor is Classic Automotive Group, a major area chain of auto dealerships. Classic Park hosted the South Atlantic League All-Star Game on June 20, 2006.
Franchise regular season win–loss records[edit]
Columbus Indians (73–69)
Columbus RedStixx (823–711)
1992: 77–62 (1st Half Southern Division Champions – SAL)
1993: 86–56
1994: 87–51 (1st Half Southern Division Champions – SAL)
1995: 80–62 (2nd Half Southern Division Champions – SAL)
1996: 79–63 (2nd Half Southern Division Champions – SAL)
1997: 62–76
1998: 59–81
1999: 70–71 (1st Half Southern Division Champions – SAL)
2000: 67–70 (1st Half Southern Division Champions – SAL)
2001: 77–59
2002: 79–60 (2nd Half Southern Division Champions – SAL)
Lake County Captains (853–810 entering 2016)
2003: 97–43 (1st & 2nd Half Northern Division Champions – SAL) (Best regular season record in pro baseball in 2003, min 120 games)
2004: 73–66
2005: 72–66
2006: 64–74
2007: 64–74
2008: 75–65 (1st Half Northern Division Champions – SAL)
2009: 71–66
2010: 77–62 (1st Half Eastern Division Champions – MWL & Midwest League Champions)
2011: 53–86
2012: 71–68 (2nd Half; Clinched MWL Wild Card - Lost in Semifinal Round)
2013: 54–83
2014: 65–74 (2nd Half; Clinched MWL Wild Card - Lost in Championship Round)
2015: 71–66
2016: 72–68
2017: 54–85
2018: 60–79
2019: 74–64 (1st Half; Clinched MWL Wild Card - Lost in Quarterfinal Round)
2020: Season Suspended due to Covid-19 Pandemic
2021: TBD
Franchise records[edit]
Win-loss record entering 2017: 1821-1658 (979–961 as the Lake County Captains)
Longest winning streak: 13 games (May 27 – June 8, 2003)
Longest losing streak: 10 games (June 8–18, 2011) & (April 10–19, 2012)
Pitcher with most wins in a season:Steve Kline, 18 in 1994 (also league leader that year)
Hitter with most home runs in a season:Russell Branyan, 40 in 1996 (also league leader that year)
Playoffs (since 2005)[edit]
Roster[edit]
Players
Coaches/Other

Pitchers

32 Tanner Burns
45 Kevin Coulter
-- Jack DeGroat
36 Zach Draper
34Daniel Espino
44 Hunter Gaddis
 9 Nick Gallagher
41 Mason Hickman
24 Jared Janczak
35 Kevin Kelly
38 Andrew Misiaszek
47 Eric Mock
22 Nathan Ocker
29 Jerson Ramírez
63 Alex Royalty
46 Cade Smith
-- Matt Turner

Catchers

Infielders

17 Aaron Bracho
 4 Christian Cairo
15 Raynel Delgado
 6 Joe Naranjo
43 Jhonkensy Noel
16 Wilfri Peralta

Outfielders

 8 Julian Escobedo
56 Cody Farhat
37 Quentin Holmes
31 Jonathan Rodríguez

Manager

Coaches

12 Kevin Erminio (pitching)
33 Grant Fink (hitting)
39 Jordan Smith (bench)

7-day injured list
* On Cleveland Indians40-man roster
~ Development list
# Rehab assignment
∞ Reserve list
‡ Restricted list
§ Suspended list
± Taxi squad
† Temporarily inactive list
Roster updated October 4, 2021
Transactions
→ More rosters: MiLB • High-A Central
→ Cleveland Indians minor league players
Notable franchise alumni[edit]
CC Sabathia (1999) 6 x MLB All-Star; 2007 AL Cy Young Award
Eric Wedge (1998, MGR) 2007 AL Manager of the Year
Captains Call-Up Club[edit]
The names of all Captains players and franchise alumni who have advanced to play Major League Baseball are all enshrined in the Lake County Captains Call-Up Club at Classic Park. The Call-Up Club also includes former Captains coaches and managers who've made it to Major League Baseball coaching staffs as well. A new wall of bronze plaques was installed at the main entrance of Classic Park in August of the 2017 season. The previous "Walk of Fame" started in the outfield of Classic Park and was moved to an interior wall of the ballpark near the right field corner of the stadium.
References[edit]
External links[edit]
Sours: https://en.wikipedia.org/wiki/Lake_County_Captains
What's Up Ohio - Lake County Captains
Tanya Street, moaning, asked: Grandma, grandmother, why is your uy so big. Maybe you are a grandfather. This is in order to put you deeper, granddaughter. Grandmother, grandmother, why did the granddaughter sit down behind you. It is he who fucks me, ohalnik.
You will also be interested:
And the rituals of all churches, mosques, temples are made in such a way that a person can lead him away from. The soul, from God, and lead him into delusion. This milking machine is also a feeding trough for daemons, hiding behind the divine. Little beggars, suitable for the rotten energy of illness, passivity, lust, appathy.
355
356
357
358
359