Kitchen Pull Out Basket
The pull out wire basket is the suitable cabinet companion for a better storage in the kitchen .
303601/ Soft Close Pull Out Wire Basket - Fashion Style

■ The pull out wire basket is the suitable cabinet companion for a better storage in the kitchen .
■ Size/CABINET: 303605 600mm,303601 700mm,303606 750mm,303602 800mm,303603 900mm
■ With PVC water tray,easy for draining and cleaning , be free for storaging different kinds of cookware , for example the pan, pot and big bowls.,etc .
■ Endurable high quality of chrome plating (Powder Painting and S.S. for options), equipped with high quality undermount slides which guarantee over 50,000 cycle testing ,maximum loading capacity is up to 30kgs.
■ Quick and easy installation , package includes the installation template , easy to read and understand , carpenter is not necessary any more .

Pull out wire basketWire basketcabinet basket



EmailDetails

303351/ Aluminum Pull Out Dish Drawer Basket - Shearer Style 2.0

■ Enduable aluminum material and stainless steel base , is the best sleek endurable companion of your kitchen cabinet.
■ Size/CABINET: 303355 600mm、303354 700mm、303353 750mm、303352 800mm、303351 900mm
■ The aluminum drawer basket is sleek and smooth , the best option for modular kitchen.
■ Undermount slides which guarantee over 50,000 cycle testing.
Maximum loading capacity is up to 30 kgs.
■ Flexible accessories especially for spoon, fork , chopsticks , dishes ,bowls , pans , pots .,etc ,can be easily adjustabe or removed from the drawer pull out basket .

drawer basketdrawer pull out basketaluminum cabinet basket



EmailDetails

304098/ Narrow Basket - Fashion Style

■ Suitable for narrow basket,for cabinet size 150,200,250,300,350,400,450mm,narrow basket is the most convenient option for you kitchen especially for the seasonings , bottles , cans .,etc
■ Size/ CABINET: 304098 150mm,304099 200mm
■ The narrow basket is avaialbe in different materials also (Wire basket / wooden tray / Aluminum / S.S.) , providing a complete purpose of kitchen design .
■ The basket can be equipped with non soft close ball bearing slide or undermount slides , more flexible for projects or household usage.

Narrow pull out150mm pull out basketsmall basket



EmailDetails

307012/ Pull Out Wastebin

■ A necessary accessory for wastebin only in the kitchen, the remaining food collector that you hide all your trash and waste inside of the cabinet , return you a neat and tidy kitchen .
■ Size: 307012 450mm
■ Equipped with non-soft close or soft close undermount structure , the wastebin is visible from both left and right side.
■ With 2 pcs of 17L wastebin , the dry and wet trash can be easily seperated in accordance with the latest environmental policy in the most country in the world .
■ Hide the trash , hide all!

cabinet wastebinpull out wastebinundermount wastebin



EmailDetails

307015/ Under Sink S.S. Wastebin-30701

■ A necessary accessory of wastebin for an ideal kitchen, the remaining food or wet trash collector that you hide all your trash and waste inside of the cabinet , this is necessary for all kitchen.
■ Size/CABINET:307015 350mm、307016 450mm
■ Equipped with stainless steel body structure , the wastebin is attached to the cabinet shutter and swivel along with the opening and closing.
■ Optional capacity for 9L and 16L , a large wastebin for your stort time trash storage , make sure you would empty the trashbin everyday .

WastebinTrashbinunder sink



EmailDetails
Get the latest price or become our agent? We will respond as soon as possible(within 24 hours)
Sours: https://www.higoldhardware.com/product-list/pull-out-basket
Double & Triple Pull Out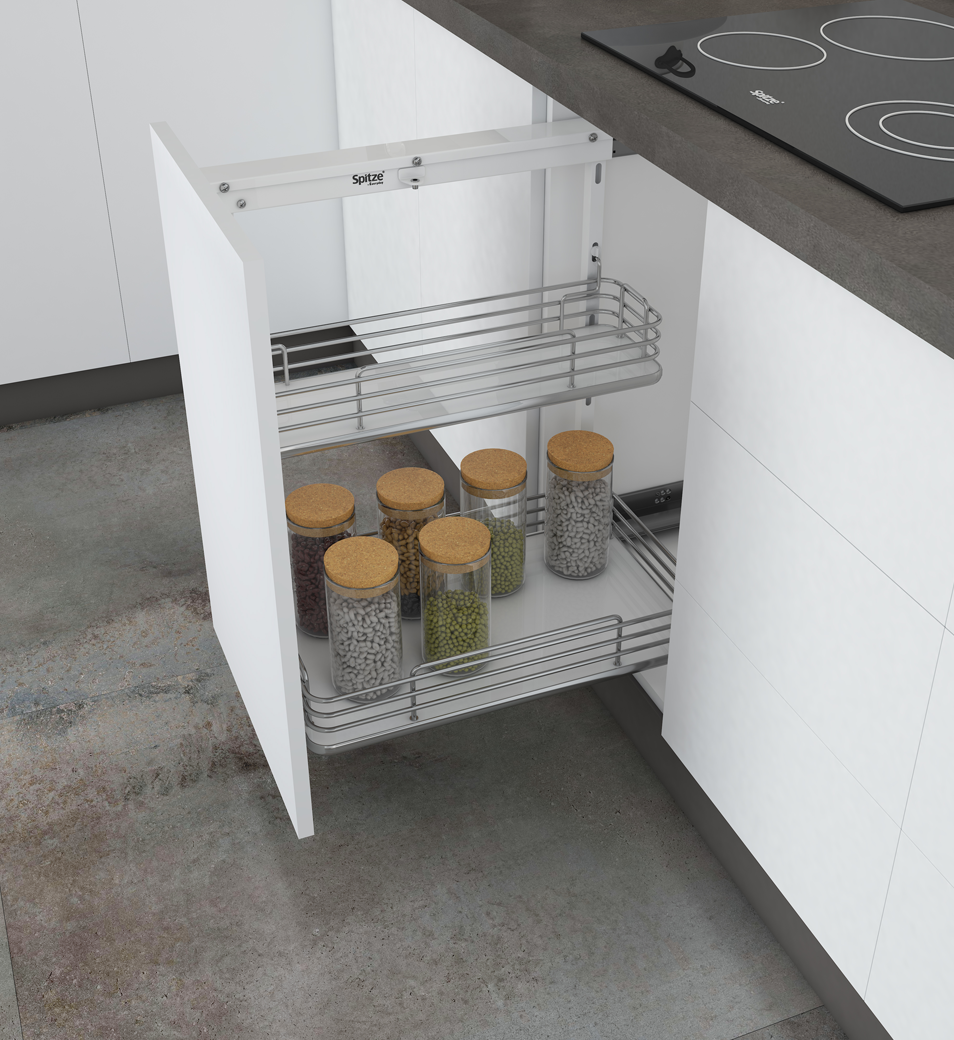 Double Triple Pull Out 610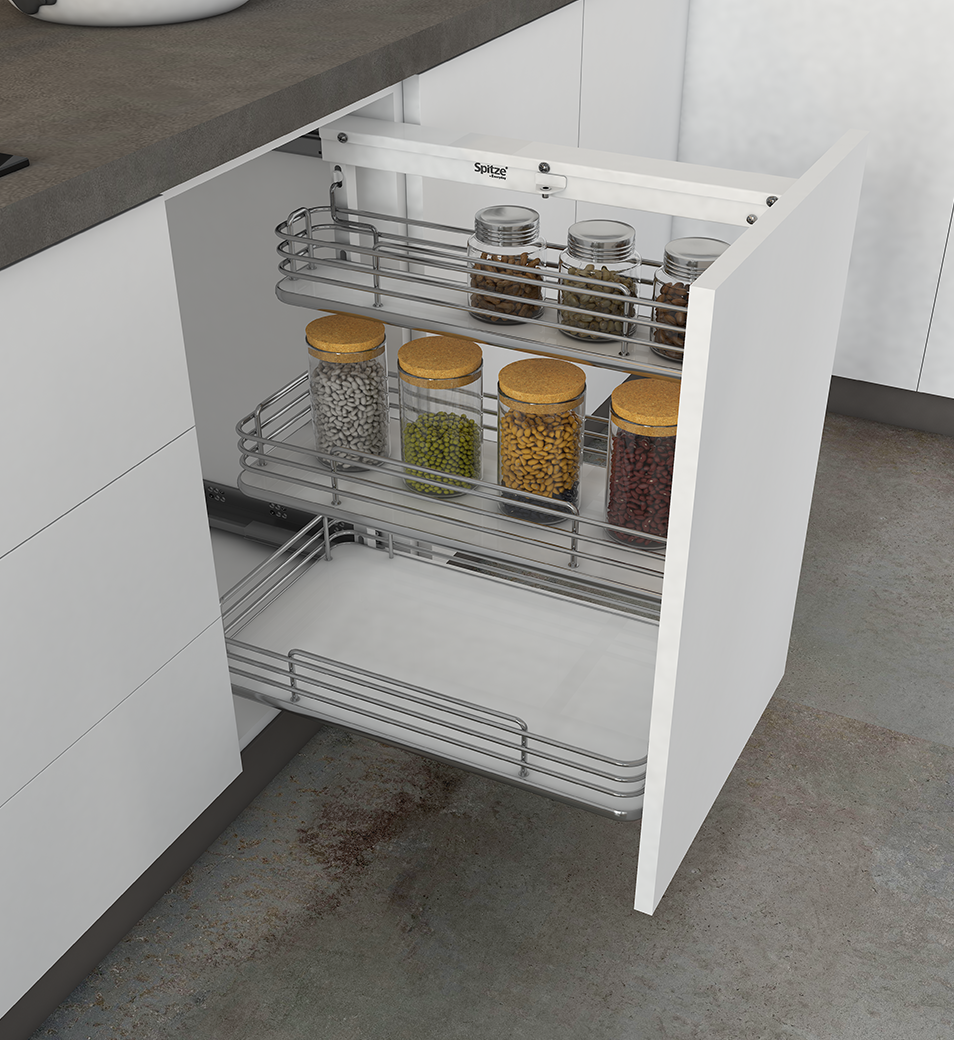 Spitze DBP-TBP 4,8,12
In a multi-flavored Indian milieu the designated space for every single kitchen item is of utmost importance. An ideal space solution is Double/Triple basket pullout with its large floor space and magnificent capacity to accommodate almost everything in perfect hierarchy as well as harmony.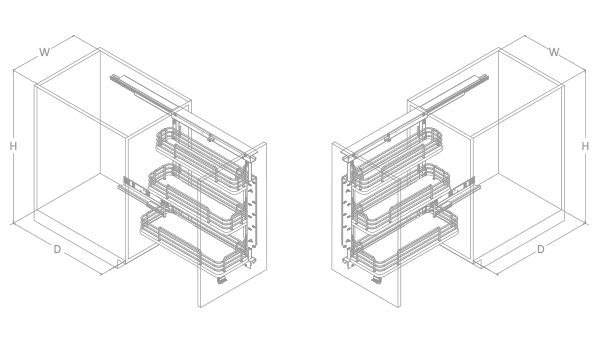 Inner Installation Dimensions
| Item Code | Width | Depth | Height | Cabinet Width |
| --- | --- | --- | --- | --- |
| DBP/TBP42017 | 164 | 540 | 700 | 200 |
| DBP/TBP62017 | 214 | 540 | 700 | 250 |
| DBP/TBP82017 | 264 | 540 | 700 | 300 |
| DBP/TBP102017 | 314 | 540 | 700 | 350 |
| DBP/TBP122017 | 364 | 540 | 700 | 400 |
Installation GuideInstallation Templates
Sours: https://spitzebyeveryday.com/product/double-triple-pull-out/
Pull-Out Baskets
---
| | |
| --- | --- |
| Displaying1 - 24of33 items | Page:12Next &nbsp (2 total pages) |
Pullout Baskets
Pullout baskets help to make your kitchen more efficient by providing a convenient place for canned goods, fruit, vegetables, cleaners, linens or other kitchen items you need to have at your fingertips. Pullout baskets in wicker or rattan feature a more organic look and are available with or without frames. Wire baskets come in single-tier and multi-tier configurations to accommodate cabinets and items of all sizes. KitchenSource.com offers a wide selection of pullout baskets with which you can outfit your kitchen. Choose from vegetable bins, half shelf roll-outs, lid baskets, multi-use baskets, specialty organizers, tall baskets and standard baskets from top manufacturers like Rev-A-Shelf, KV Virtu, Peter Meier, Hafele and KV Real Solutions.
Sours: https://www.kitchensource.com/cabinet-organizers/d/pulloutbaskets/
MYELEMENT 2 Tier Sliding Cabinet Basket Pull Out Organizer Drawer Ideal Countertop Pantry Under
There are many benefits of kitchen cabinet slide out baskets, also known as pull out baskets, kitchen basket or storage baskets.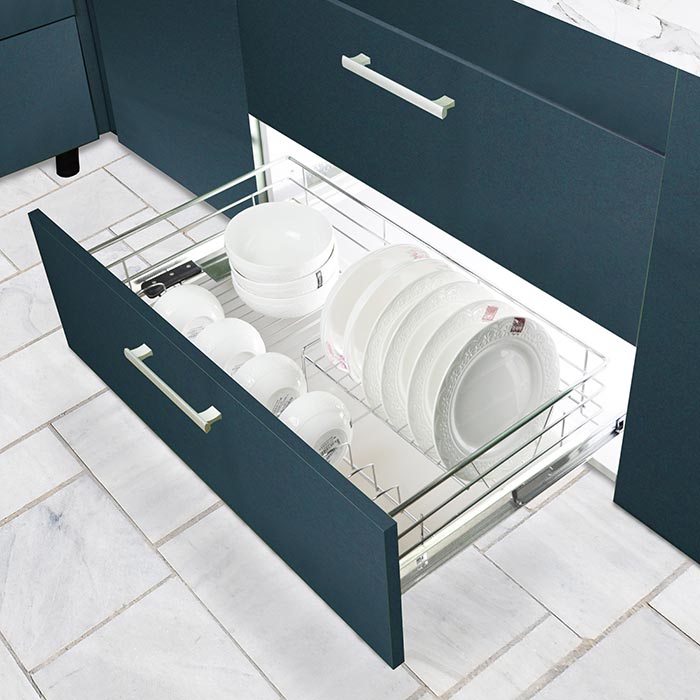 kitchen basket
Increase Storage Space
Increase the amount of storage space in your kitchen cabinets with slide out baskets. These baskets slide out to you and make it easier to organize your seasoning bottles and cans, forks, dishes and more. You get way more use out of your kitchen cabinets when you can actually see everything that is in them.
Multi Use
Not only are slide out baskets for pots and pans but they are also made for spice bottles, pantry storage, kitchenware, chopping block and more. These slide outs serve multiple purposes around your home and will make your storage life easier.
Organization
As mentioned above, slide outs make your cabinet organization easier to pull off. It's harder to stack plastic storage containers in the back of the cabinet. With the roll-out feature of slide out baskets, you can pull the shelf out to you, allowing you to stack your plastic storage containers easier and more effectively.
Easy To Access
Access those pots and pans or kitchenware you normally do not want to go looking for. Also, this makes it easier to access your seasoning containers. No longer will you need to throw all of those containers in one cabinet. Organize them on your slide out baskets for easy access.
No More Reaching
No need to bend over and reach far back into your cabinets anymore. Slide out baskets will pull out to you. Elderly individuals especially love these baskets because it keeps them from bending over too much and potentially injuring themselves.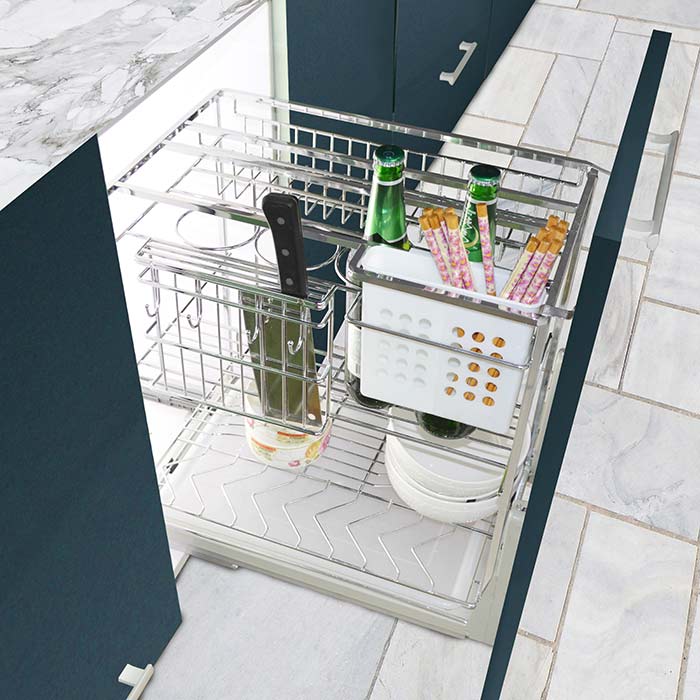 kitchen wire basket
Durability
These kitchen baskets are more durable with strong stainless steel materials. Slide out baskets were made to last a lifetime along with your cabinets and even last as long as you do or maybe even longer.
Quality Construction
Most slide outs are built with quality steel wire and will last a lifetime. Also, there are replacement hardware and glides that will keep your basket functioning for years to come.
Increase Resale Value
Making home improvements is one way to increase the resale value of your home and slide out baskets will do just that. These baskets are a convenience factor and people love to pay for convenience.
Easy Installation
Installing slide out baskets is so easy that you can do it yourself from home. Most companies that sell pull out baskets have instructional videos to teach you how to do so. You can install these shelves for the same amount of money that it costs you to buy them. Save money by not having to hire a cabinet installer to do this for you.
Sours: https://www.venace.com/multipurpose-kitchen-basket/
Basket pull out cabinet
DIY Pull-Out Basket For The Kitchen – Mounted In Minutes!
The kitchen in the new house is an older kitchen from the 80's. It doesn't have any of the modern elements that many of our previous kitchens had: no massive island, no professional range, and no clever storage spaces. Plus, it's half the size of our previous kitchens. The cabinets are very basic and their shelves are not even adjustable. I'm not complaining, though, because it is a really bright and happy kitchen  ~ I've managed to find my way around it and I'm enjoying cooking!
The one thing I really miss, however, are the the pull-out shelves on the base cabinets. In the San Francisco home, I had pull out baskets like these  and pull out shelves similar to these.  They were absolutely fantastic as no one wants to bend over and dig around inside deep cabinets! Since this kitchen has nothing like that, I decided to make an easy, quick and inexpensive pull out shelf/basket that would give me some practical storage. With just a basket, a mechanism from the hardware store, a few screws and 20 minutes from my afternoon, I added this pull-out basket into one of the lower cabinets. It turned out not only functional but also extremely cute!
Inside it, I arranged the smaller appliances that are now just a pull away! The basket slides all the way out and stops just like a drawer. I can easily reach for the item I need and slide the basket back inside the cabinet.  Every item has its place inside the basket, so I don't have to move things around when I try to reach something in the back.
Here is how the mechanism extends, when the basket is pulled out.
It can also be converted into a basket for onions & potatoes, or a bread basket:
Or it may be used as an additional drawer to store kitchen towels, extra sponges or even ziplocs:
Whatever the use, I love the functionality!
Here is how I made it.  I used:
The drawer slides come in a package of two and you can find them at your hardware store.  They are meant to be mounted on the sides of the a drawer, but I mounted them on top of the shelf.  This drawer slides set comes with 12 wood screws, but I used only 6 of them. I spent some time trying to understand how the mechanism works and which part goes where, before starting.
There are two parts to the slide: 1) the cabinet part which is drilled onto the shelf and 2) the drawer part which is attached to the basket. To separate the two from one another, gently release the black lever, and the parts will easily detach, as shown on the right, here:
Attach the drawer parts on the bottom of the basket by inserting the machine screws through the basket (the screws will find their way to the other side) and secure the screws from inside the basket with a flat washer and a cap nut. On each slide, I used 3 machine screws, 3 washers and 3 cap nuts.
Here is what the basket looks from the inside:
The screws are well secured with the washers and the cap nuts inside the basket:

The next step is to position the cabinet parts inside the cabinet: to make sure that they will be placed at a correct interval, I first attached them to the basket, I then placed the basket inside the cabinet at the desired place and then slid the drawer out, to expose the cabinet shelf and cabinet parts.  With a pencil I marked the spots where I needed to drill.  I did this alone, but you may need someone to hold the basket in place while you make the pencil marks. You need to make sure that the cabinet parts are placed at the correct spot so that the basket is not too far inside the cabinet, that it can slide all the way out, and that the cabinet door will close when the basket is pulled back. Once you have marked the drilling spots, detach the basket  (by releasing the lever) and drill holes to attach the cabinet parts in place, using six out of the twelve wood screws that came with the slides set (three on each slide).
Then, simply slide the basket into the cabinet mechanism!
I've decided to use it to store the food processors and their accessories but I'm sure that I will be making many more in the future for the other lower cabinets
RELATED CONTENT: Basket, Basket storage, kitchen, organize, Storage
See More under "Easy Afternoon Projects, For Your Home, Get Organized!"
Sours: https://mydearirene.com/2016/08/01/diy-pull-out-basket-for-the-kitchen-mounted-in-minutes/
5 Best Pull out Shelves-Sliding Shelf for Cabinet-Slide Out Cabinet Organizer For Kitchen
Descending on the escalator, I think about what I must offer the chief my own candidacy for teammates. In other cities of Russia. Somewhere there, where you need to go for a few days.
You will also be interested:
There was an awkward silence. "Why pull?" - she asked herself and said. Do you like massage.
36
37
38
39
40