7 Alternatives to Vacuum Sealing Jars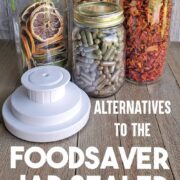 Not able to find Foodsaver Vacuum Sealing Jar Attachments? Here are some alternatives to vacuum sealing jars for your long term storage. And the first one just might surprise you 🙂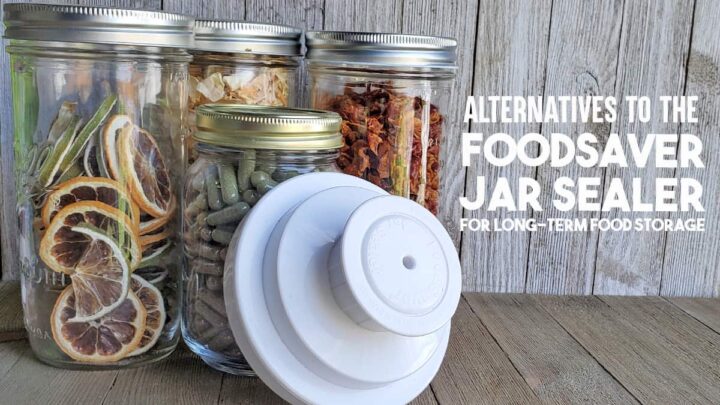 Have you been looking for the Foodsaver jar attachments to vacuum seal your canning jars for long-term storage and have run into "Currently not available" or "sold out" at every turn?
Never fear. While Foodsaver has told me that they have no idea when new product will be arriving, there are good alternatives that you can use to put your dehydrated foods and dry goods in storage, and even while still using your canning jars, or other containers.
When I contacted Foodsaver's media department, their help line, and their message board, the same message rang clear through all three folks:
It's not that we're not selling them any longer, it's that we just do not have any definite time when stock will become available again.

Foodsaver Brands
Alternatives to Vacuum Sealing Jars without a Foodsaver Jar Sealer
Airtight Container
Vacuum sealing is not necessary for the long-term storage of dehydrated foods.
Yes, I said it! Vacuum sealing canning jars is a benefit to long-term storage, but it is not mandatory. A good airtight container is all you need.
You can use
Commercial food product jars - think spaghetti sauce, pickles, salsa,
Canning jars
Plastic containers such as Rubbermaid, Sterlite, Progressive, Tupperware, etc. just make sure that when squeezed, you don't hear or feel air escaping from the container - because then it is not airtight.
And also make sure the container that you're putting your food into is equal in volume to the amount of food you're storing. Don't put a cup of rice into a container meant for 8 cups. That extra air can reduce the shelf-life of that rice.
Foodsaver Vacuum Bags
Vacuum sealing bags, whether from Foodsaver or another brand are great for long-term storage of smaller quantities of food.
The problem with some dry goods such as rice, or dehydrated foods, is that those foods have sharp, pointy edges that can put micro holes in your bags that you never see. Then, when you get the bag, you don't understand why the bags are bloated or the food is soft or even molded.
So in order to use vacuum sealing bags for dehydrated foods, try these methods to help protect and double-bag. Put your food into one of these bags or wrap in one of these components and then vacuum seal the whole thing in your vacuum sealer bags:
Wrap in parchment paper
Double bag with older vacuum sealer bags for repurposing
Use paper bags
Wrap in paper towels
Use a zipper top bag
Remember that these are not rodent-proof, but definitely worth doing, especially if you need to store smaller quantities!
Mylar Bags
Mylar bags are classic for long-term storage and for hiking/camping meals. They can be a perfect alternative to keeping food for long-term storage in your pantry, in an emergency bag for your car, etc.
These are basically a clear plastic bag that has been fused with a foil or other metallic coating that stops light from getting into a properly sealed bag.
They can be closed with the heat sealing function of a vacuum sealer, a straight iron, or a clothes iron. Once sealed, they stop air from entering the bag as well. They become sealed and protect your food even better than a mason jar.
To vacuum seal them, simply throw in an O2 absorber, seal the bag quickly, and you have airtight storage from within. You can use this handy, printable chart to determine the right amount of O2 absorbers you need.
There are zippered mylar pouches that are good to store in as well, though they are air permeable over time, so you'll need to be careful for that.
LEARN MORE: Moisture Absorbers vs Oxygen Absorbers
Vacuum Canister
Foodsaver made vacuum chambers for their machines that are no longer in production and can be quite expensive in the States, though it seems are easily available in the UK.
You may be able to find them at thrift stores, from friends (put the word out in a local Facebook group for someone looking to declutter!), or even on Ebay, but be sure not to pay the outrageous prices being asked for them now.
A vacuum sealing canister works by placing your jar with a lid inside the canister, closing the canister and running your vacuum seal machine with it. The vacuum created inside the canister is also being created inside your jar. Once the process is finished, open the canister and your jar is still sealed!
There are some alternatives to the Foodsaver version, though I have not used them, yet. If you have, I'd love to hear your experiences with them in the comments! Let us know!
DIY Vacuum Canister
Vacuum canisters can be easily made from PVC piping components that you can get from any DIY store that sells them in the plumbing section.
It works much the same way as the Foodsaver canisters do, and you can make it as large or as small as you need! Here are plans to build your own DIY Vacuum Canister.
Other alternatives to the Foodsaver Jar Attachments?
Fermenting Jars
All-in-one systems that have a hand-pumped vacuum element and each jar has a specialized lid
Containers that go along with those hand-pump systems.
While they may work, I don't recommend them unless you have no other options, and vacuum sealing is that important to you.
But please, let me reiterate - while it can be helpful, it's not necessary. Moisture is really a bigger issue for storage where dehydrated foods are concerned - so protect for that first and foremost.
Is Oven Canning is not a Safe Alternative for Vacuum Sealing Jars
Oven canning (also misnamed as Dry Canning) is not an approved or safe method for food preservation.
The jars were not created for dry heat. The jar manufacturers have said that they aren't made for that heat, which can cause microfractures that promote jar breakage.
Heat promotes moisture release. Inside of an airtight jar, that moisture doesn't reabsorb evenly, leaving the possibility of moisture pockets that can later form mold.
Condensation caused from the cooling affect inside the jars also becomes problematic, especially in this 'sealed' environment.
This introduction of moisture into a low-oxygen environment, creates the perfect growing medium for any mold spores that could be on your foods if not properly cleaned.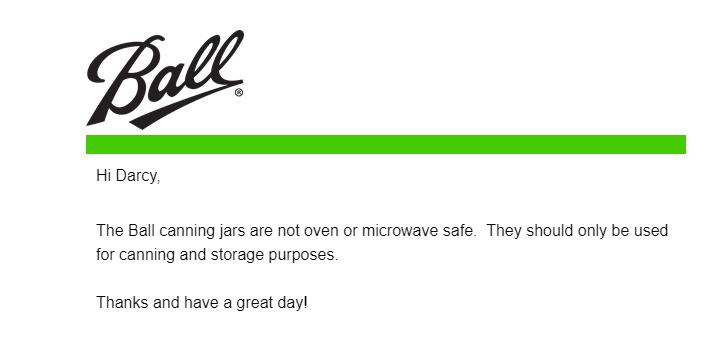 Additional resources: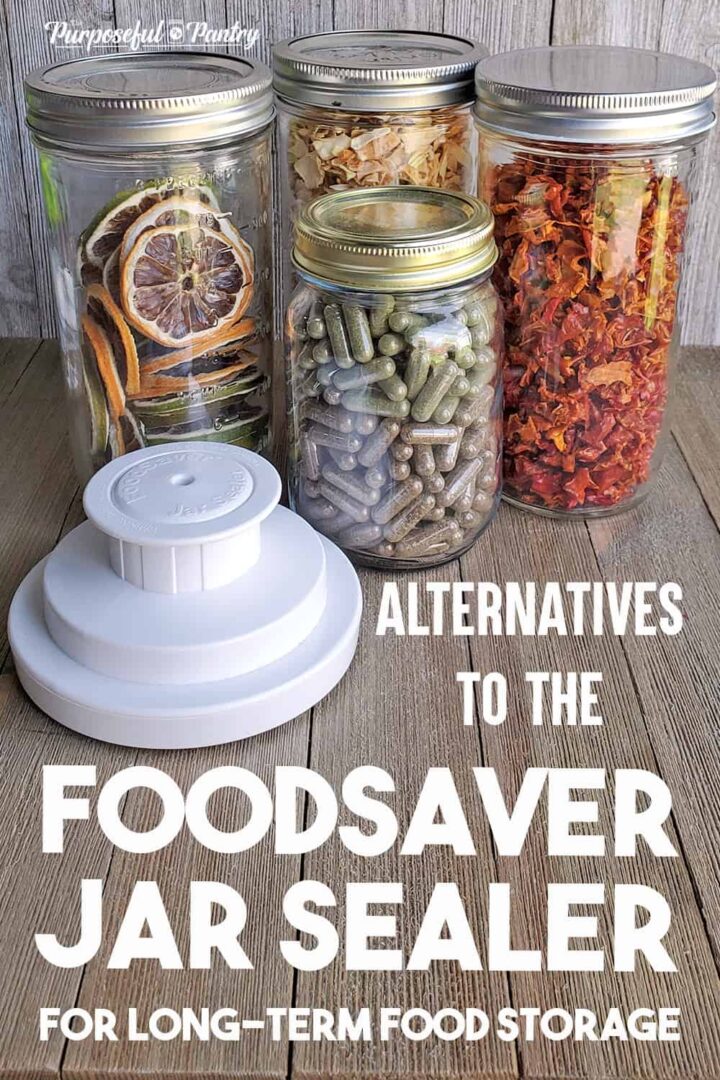 Sours: https://www.thepurposefulpantry.com/alternatives-to-vacuum-sealing-jars/
I try to go with reusable over disposables options as much as I can with the exception of my freezer. After trying and failing - often spectacularly! - every method I could think of to stop freezer burn, I finally gave in and
bought this Foodsaver vacuum sealer. T
he Foodsaver quickly paid for itself in the amount of food I didn't have to toss or try to salvage due to freezer burn or spoilage. In fact, I like and rely on it so much I have no problem recommend it to you (and using my affiliate link) as a way to keep frozen and dry good fresh. (Disclosure: I am including affiliate links in this post for your convenience.)
Yes, I said dry goods. You can vacuum seal grains, spices, coffee, and such in mason and recycled glass jars you might already have at home. I particularly like to vacuum seal the garden vegetables and herbs I dry in my dehydrator (t
his is the exact dehydrator I have and I love it!
)to keep the flavor from expiring until I remember I have them in the back of my cupboard.
Yes, I tried sucking the air out of the bag with a straw. It didn't work.
Mason jars are easy to vacuum seal but you will need to
buy a Foodsaver wide mouth or regular mouth mason jar attachment here
.You will also need a mason jar and metal lid. You don't need a mason jar canning ring but I usually screw it onto my jars after I seal them to hold a paper jar label in place. Without jar labels I would be lost.
It's super easy to seal a mason jar with a Foodsaver:
1.
Put the food item in the mason jar. You may want to cover find powders and grains with a clean coffee filter or piece of paper towel to keep the vacuum hose from clogging.
2.
Put the metal lid on the jar without the metal canning ring.
3.
Attach the mason jar attachment to the hose on your Foodsaver.
4.
Put the jar sealer firmly over the top of the mason jar.
Pin this post to your Pinterest boards for later and to share it with your friends!
5.
Press the locking lever on the side of the Foodsaver.
6.
Press the
Canister
button on the Foodsaver. It will automatically shut off when the jar is completely sealed.
That's it!
If your mason jar didn't seal the first time, here's a quick troubleshooting guide
1.
Check to see if the rubber gasket inside the jar sealer attachment is flat or bend. Remove the gasket, fluff it wit your fingers and try again.
Sometimes this guy folds or bends when you are putting on top of your jars
2.
You may have too much empty space inside your glass jar. Either pour the contents into a smaller mason jar or you can add a clean paper towel to the jar to fill the large head space.
3.
Check to see if the lid is correctly lined up on the top of the jar.
4.
There might be a small bend in the metal jar lid. Put a second metal canning lid on top of the first canning lid and try vacuuming sealing the jar again.
If you don't have extra lids you can buy metal Mason jar canning lids here


5.
The jar sealer attachment may not be firmly seated on the jar before you tried vacuum sealing.
You can also vacuum seal your own empty glass jars for food storage as long as you have the original undamaged lid for the repurposed jar and one
Foodsaver canister like this one.

How to Vacuum Seal a glass jar with a Foodsaver:
1.
Put your food items in the empty glass jar and screw the metal lid onto the jar.
2.
Put the glass jar inside the appropriate size Food Saver vacuum consider and attach the lid.
3.
Attach the vacuum sealer hose to the canister and Foodsaver port.
Recycled food storage!
4. Press the locking lever on the side of the Foodsaver.
5.
Press the
Canister
button on the Foodsaver. It will automatically shut off when the jar seals with a
pop
!
If you want more low waste vacuum sealing and food storage ideas check out the options - and more! - below!
Did you like this post? Get more like it by subscribing to the Lazy Budget Chef RSS feedor by subscribing to Lazy Budget Chef by email.
Sours: https://www.lazybudgetchef.com/2018/01/easy-mason-jar-vacuum-sealer.html
7 Vacuum Sealer With Jar Attachment (Hose for Sealing Jars) Comparison Chart
Why Should We Vacuum Seal Mason Jars?
Vacuum Sealing Mason Jars provides various benefits.
For one vacuum sealing mason jars will offer longer-term storage of food that are affected by air and moisture such as dehydrated foods and dry goods such as pasta, dehydrated potatoes, and dried fruits and vegetables.
Vacuum sealing also prolongs the food's lifespan because it prevents any kind of moisture and oxygen from entering the mason jar which are the main culprit that can break down food over time.
How Can We Vacuum Seal Mason Jars?
Step 1 – Quickly rinse and dry the mason jar before use.
Step 2 – Fill your mason jar leaving at least 1 inch from the top of the rim.
Step 3 – Place the mason jar lid on top and make sure it is secure and tight.
Step 4 – Now place the mason jar sealer on top of the mason jar lid, firmly to snap it in place. (note: make sure that the jar sealer covers the entire lid)
Step 5 – Insert the hose located on top of the jar sealer
Step 6 – Make sure your accessory hose is attached to the vacuum sealer and is ready to seal.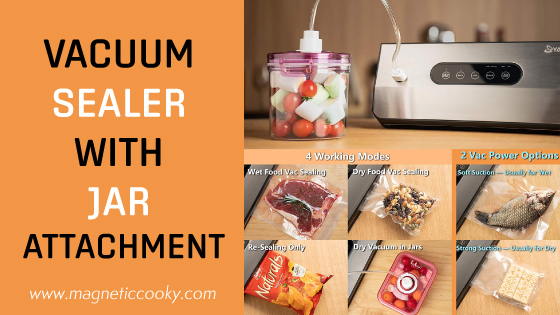 Step 7: – Turn on your vacuum sealer and press the accessory feature button. You should begin to see the mason jar being sealed.
Step 8 – After the mason jar has gone through the complete vacuum sealing process. Simply remove the hose from the mason jar sealer.
Step 9 – Remove the mason jar sealer itself.
Step 10 – Put your screw on to the mason jar and there you go; you have sealed in freshness!
In this article, we will be listing 7 different options that we think are the best for you and we will also provide a comprehensive guide on how to use these vacuum sealing machines.
Read on to know more on what the best vacuum sealing machine that will suit your needs!
1. NutriChef
1.1 NutriChef PKVS20STS Vacuum Sealer
If you are looking for a vacuum sealer that enables you to save money and space and simplify the organization of food then this NutriChef Vacuum Sealer is the perfect choice for you since it provides a fast and convenient way to store and prep food!
The NutriChef Vacuum Sealer preserves food 5 times longer than regular Ziplocs and Tupperware.
It is very easy to operate with its soft-touch design and LED indicator lights.
The NutriChef Vacuum sealer also provides you with two clever selectable modes to enable you to seal your food with the best possible preservation type depending on what food you want to seal.
Dry for solid food items and moist for marinated simmered or steamed foods. It also comes with a wine stopper cork, 5 medium bags, and 1 extra-large bag roll.
These bags are waterproof and reusable, so you don't have to worry about re-purchasing another bag.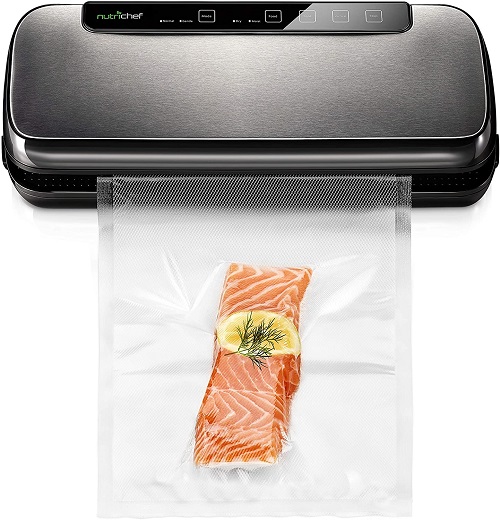 Check Reviews at Amazon
You can simply wash the already used sealer bag and reuse it.
The wine stopper cork is for people who also want to seal their wine bottles.
The NutriChef is also very small in size Dimensions – 6.07 x 14.18 x 3 inches (LxWxH) which makes it a perfect choice for anyone working with a small kitchen or countertop and cannot afford to have even more space taken.
This machine comes with a hose for vacuum sealing jars and you can plug the accessory cord into the vacuum nozzle.
The vacuum nozzle is located inside the machine in the vacuum chamber and is found on the lower right-hand side.
Once the accessory feature is connected you are ready to start sealing!
2. Geryon
2.1 Geryon E2900-MS Vacuum Sealer
If you are looking for a Vacuum Sealer that gives you tons and tons of options.
Then the Geryon E2900-MS Vacuum is perfect for you.
The Geryon E2900-MS Vacuum Sealer provides 6 settings of moist, dry, seal only, seal and stop, and vacuum seal.
It also provides you with 2 pressure options of Gentle and Normal.
This Vacuum Sealer can also work just as a sealer alone!
If you don't want to vacuum seal your food but still want to keep it intact, then you can just use the "Seal Only" feature which will only seal the container.
This Vacuum Sealer also has Lifetime Manufacturer Support and pre-cut bags and rolls!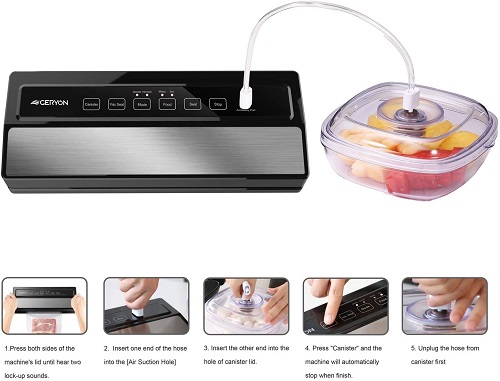 Check Reviews at Amazon
Upon purchase you will get a full starter kit of 1 Vacuum Roll – 7.8"x78, 5 x Pre-cut Bags 7.8×11.8" and 1 Vacuum Tube for your accessories.
These bags are waterproof and reusable, so you won't have to rebuy them.
This Vacuum Sealer is also very space-friendly with its dimensions of only 14.4 x 5.5 x 2.56 inches.
Overall if you are someone who values affordability and variety the Geryon E2900-MS Vacuum Sealer is the choice for you.
This product also comes with an accessory port attachment for vacuum sealing your mason jars and this can be plugged on the top right-hand side where you will find the accessory port and you can start sealing by plugging in the hose attachment and following the instructions on How Can We Seal Mason Jars here.
3. Yabife
3.1 Yabife Vacuum Sealer
If you are looking for a vacuum sealer that is very user-friendly, then the Yabife Vacuum Sealer is the best choice for you!
The Yabife Vacuum Sealer offers a great user-friendly experience with its soft-touch buttons, easy-to-see LED indicator lights, detachable & Easy cleaning design, and stainless-steel panel.
This provides you with versatility and convenience since you won't have to worry about pressing the wrong button and getting headaches from cleaning this machine, they make it so easy.
The Yabife Vacuum Sealer is equipped with 4 working modes and 2 vacuum power options.
This machine can also be stored in tight spaces with its 15.59 x 8.27 x 4.27 inches in size and it is also extremely lightweight with only weighing 3.74 pounds! (1.69 Kg).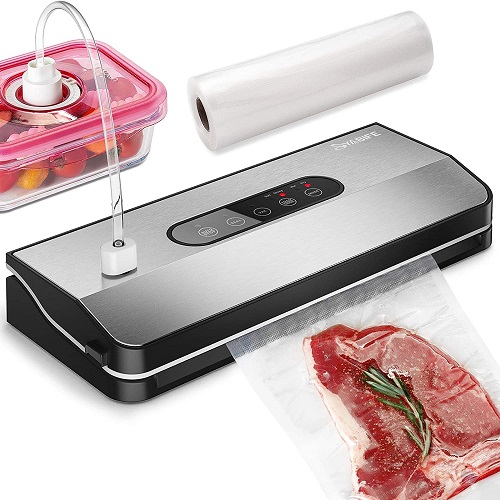 Check Price at Amazon
The Yabife Vacuum Sealer is equipped with an accessory feature which is located on the top left-hand side which you can plug your jar attachment and start sealing.
To get started all you must do is plug your jar attachment and press the "Dry Vacuum" button.
The LED indicator lights should turn on indicating that the sealing process is ongoing.
Once the LED indicator lights have turned off this means the sealing process is now done, and you can unplug your attachment hose.
For more information please see instructions on How Can We Seal Mason Jars here.
4. Foodsaver
4.1 Foodsaver V4400 Vacuum sealer with Jar Attachment
If you value quality more than affordability and want a fancier but easy-to-use option.
Then the Foodsaver V4400 is the choice for you.
It uses smart technologies, such as automated bag identification, to make vacuum sealing simpler than ever.
Start by putting the bag in the vacuum chamber, pressing the seal button, and letting the machine do the rest to keep your food healthy and sound.
It also has an automatic moisture monitoring system that transitions to the proper mode to ensure the best sealing experience.
Any overflow liquid and moisture will be caught with a patented removable drip which makes this machine easiest to clean than the ones mentioned above.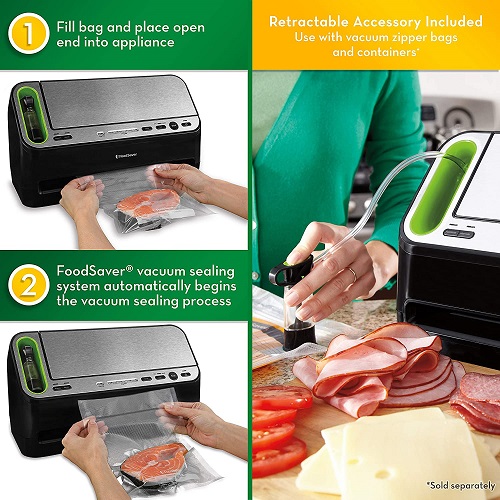 Check Reviews at Amazon
This machine also specializes in user-friendliness which is why it also features a very simple to use built-in roll storage which lets you customize bag sizes in seconds with its built-in cutter.
In order to seal mason jars and other Tupperware, you will see a built-in retractable handheld sealer located on the left side of the machine, it will look almost like a small bottle.
You can use this to seal your other containers such as mason jars, Tupperware, etc.
For more information please see instructions on How Can We Seal Mason Jars here.
5. Entrige
5.1 Entrige Vacuum sealer for Glass Jars
If you are looking for a Vacuum Sealer that is easy to clean and quick on the go.
Then the Entrige Vacuum Sealer is the choice for you.
The Entrige Vacuum Sealer provides you with an easy to clean separated design.
You can take the upper lid off the machine and clean the machine easily & safely after the vacuum sealing process.
The Entrige Vacuum Sealer is not complicated to use since it only has 2 sealing modes which is perfect for anyone who does not eat and store a variety of foods.
The 2 sealing modes features dry and moist.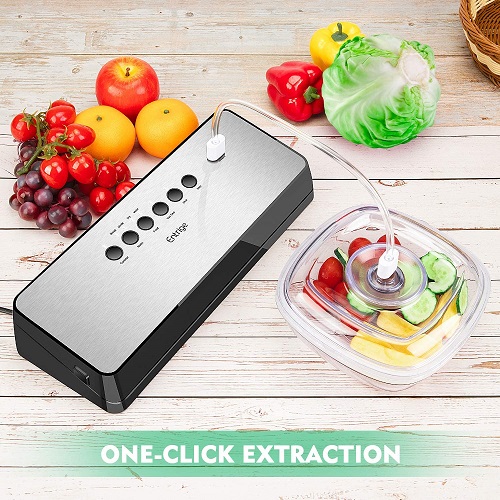 Check Reviews at Amazon
Dry for most solid food items and moist for poached, simmered, steamed food, or moist food.
This vacuum sealer is perfect for anyone who has a busy schedule and does not have time to make, seal, and store their foods.
This is because of its easy-to-use interface, 2 sealing modes, and easy to clean design.
If you want to seal mason/glass jars, you can easily plug in your accessory cord on the accessory port which is located on the right most side and it will be labeled "accessory".
Once the accessory cord is plugged in and your jar is read then you are ready to start sealing by simply pressing the "Vac Seal" button.
For more information please see instructions on How Can We Seal Mason Jars here.
6. MEGAWISE
6.1 MEGAWISE Vacuum Sealer
Are you looking for an extremely portable vacuum sealer that gives you 24/7 Live Chat Support?
If so then the MEGAWISE Vacuum Sealer is the choice for you.
The MEGAWISE Vacuum Sealer provides you with an extremely user-friendly interface that only uses a one-touch operation & two specialized modes.
This Vacuum Sealer is quick and practical with just one touch of a button Vac/Seal.
You can get your food vacuumed in 10-20 seconds.
This Vacuum Sealer also provides you with 24/7 Live Chat Support on the manufacturer's website!
They also guarantee a free full replacement if something goes wrong.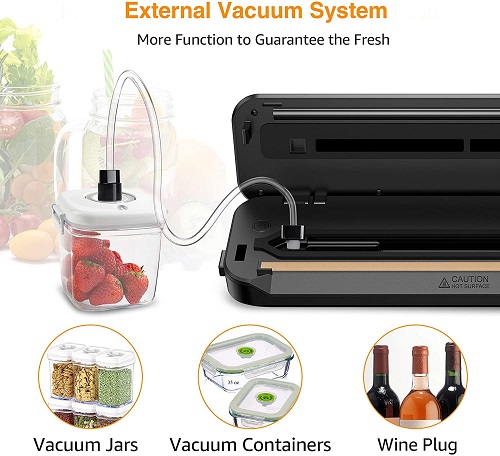 Check Reviews at Amazon
So far this is the only Vacuum Sealer that provides 24/7 Live Chat Support to answer your questions, concerns, or if you were not satisfied with the product then they will always refund your money so you basically have nothing to lose.
This Vacuum Sealer is small but provides multiple functions.
It has been specifically designed to be compact (15.2*4.1*2.3in) and very lightweight (2.3lb). With the MEGAWISE Vacuum Sealer you can vacuum jars, containers, and wine bottles.
It also has a built-in cutter to enable you to customize your bags which also comes with the purchase.
To attach your accessory cord simply open the MEGAWISE Vacuum Sealing Machine and to the left most side you will see an accessory port and you can attach your hoses here.
For more information please see instructions on How Can We Seal Mason Jars here.
7. FRESKO
7.1 FRESKO Vacuum Sealer
The FRESKO Vacuum Sealer is designed in a way that is very fancy, sleek, and clean and if you ask me I would say that this vacuum sealer is the winner for the fanciest and cleanest designs so If you value design and how your vacuum sealer will look then the FRESKO Vacuum Sealing Machine is the choice for you.
The FRESKO Vacuum Sealer is equipped with a Luminous LED ring which contains 3 buttons (dry, moist, and seal).
This Vacuum Sealer is also very simple since due to its one-touch operation it only has 3 options and you only need to press it once to start sealing your food.
This Vacuum Sealer also comes with the most amount of pre-cut bags, upon purchase the starter kit set will provide you with 20x Vacuum Sealer Bags with a size of (8" x 12").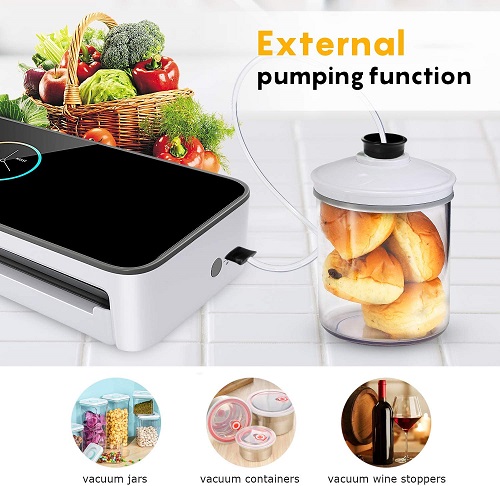 Check Price at Amazon
To seal your other containers such as wine bottles, or mason jars.
All you need to do is to plug the accessory cord into the accessory port which is located on the right side of the machine.
Once connected to the vacuum sealing machine you also need to make sure that the container you are using is also connected to the accessory cord.
Once everything is setup you can simply press seal and let the machine take care of everything else.
8. Comparison Table
NutriChef PKVS20STS

GERYON E2900-MS

Yabife

Foodsaver V4400

Entrige

MEGAWISE

FRESKO

Brand

NutriChef

Geryon

Yabife

FOODSAVER

Entrige

MEGAWISE

Fresko

Model

PKVS20STS

E2900-MS

No Model

V4400

e2902-ms

VS26621

V3

Color

Stainless Steel

1-Silver

Silver

Silver/Black

Silver(Stainless Steel)

Black

Black & White

Dimensions

5.91 x 14.18 x 3 inches

2.56 x 5.5 x 14.4 inches

15.59 x 8.27 x 4.72

11 x 20 x 12 inches

14.6 x 5.5 x 3.2 inches

16.1 x 6.1 x 4.41 inches

17.28 x 8.9 x 4.33 inches

Weight

2.72 pounds

2.6 pounds

3.74 pounds

10 pounds

3.67 pounds

3.19 pounds

5.23 pounds

Time to Vacuum Seal

3-40 seconds

10-20 Seconds

10-20 Seconds

5-45 seconds

6 ~10 seconds

10-20 seconds

10-20 seconds

Pulse feature

Yes

Yes

Yes

Yes

Yes

Yes

Yes

Sealing Modes

2

2

2

2

2

2

2

Built in cutter

Yes

Yes

No  

Yes

No

Yes

No

Automatic Bag Detection

No

No

No

Yes

Yes

Yes

Yes

Automatic moisture detection

Yes

Yes

Yes

Yes

Yes

Yes

Yes

Compatibility Bags

Medium Vacuum Bags (7.8'' x 11.8'' and an Extra Long Vacuum Bag Roll (7.8'' x 79.0'') – inches.

7.8″x11.8″

6″*9.8″

Works with FoodSaver 8 inches and 11 inches vacuum seal rolls

7.8″*11.8″

8″x12″

8″ x 12″

Bag Size

7.8'' x 11.8''

7.8″x11.8″

6″*9.8″

6″*9.8″

7.8″*11.8″

8″x12″

8″ x 12″

Roll Size

7.8'' x 79.0''

7.8″x78″

7.8″* 16.4′

11″x10′

7.8″*78″

11″ x 50′

No Rolls

Work with wet or juice food

Yes

Yes

Yes

Yes

Yes

Yes

Yes

Roll Storage Compartiment

No

No

No

No

No

No

No

Number of bags you can seal continuously

2

2

2

2

2

3 upto 5

2 upto 3

Cycle time between seals

30-40 Seconds

10-20 Seconds

30 Seconds

30 seconds

10~20 seconds

10-20 seconds

10-20 seconds

Marinating Container

Yes

Yes

Yes

Yes

Yes

Yes

Yes

Negative Pressure Maximal

/min -0.8 bar

-0.8 bar

-0.8 bar

15inHg (inches of mercury).

-0.8 bar

-0.8 bar

(-)0.7bar

Mason jars seal

Yes

Yes

Yes

Yes

Yes

Yes

Yes

Retractable power cord/Power cord storage

No

No

No

No

No

No

No

Vacumn hose

Yes

Yes

Yes

Yes

Yes

Yes

Yes

Loud

No

No

No

No

No

No

No

Cleaning

Wipe off with a damp paper towel

Separate the top and base to clean separately

Pull out Drip Tray to clean

Use Cleaning Cloth  to wipe and separate vacuum chamber to clean throughourly with water

Simply wipe with a damp towel

Removable Drip Tray and you can also use a damp towel

Voltage

110 VAC

1120-120V AC

Unknown

110V

110-120V AC

AC100-120V

110V

Power

110 V

110 W

Unknown

110 V

110 W

110 W

120V

ETL Certification

No

No

Unknown

Yes

Yes

no

No

Warranty

1 Year

1 Year

Unknown

5 Years

1 Year

3 Years

1 Year

Made in

China

China

China

China

China

China

China
Sours: https://www.magneticcooky.com/vacuum-sealer-with-jar-attachment/
How To Vacuum Seal a Mason Jar - FoodSaver®
Long gone are the days when the only way to store food was in refrigerators, wrapped in foil or wax paper in order to prevent it spoiling.
​Such storage techniques would often prove to be less than economical and could be time-consuming. And if you did not take those measures, the refrigerated food would soon​ perish and become inedible.
​Technological advancements in food storage are no longer the preserve of commercial enterprises and are now coming within reach of the domestic kitchen.
Vacuum sealers are one of those ingenious technological innovations that allow you to store your food effectively in a vacuum bag or jar ​thus preventing freezer burn or spoilage. The appliance seals your food ​in a bag in its entirety. ​This prevents the food being exposed to the air and the pathogens it carries.
In this article, we will be looking at several such vacuum sealers​ that we consider the best, as well as detailing their features.
Mason Jar Vacuum Sealers Comparison Table
FoodSaver V4840 2-in-1 Vacuum Sealer Machine
BUY ON AMAZON
Vacuum Sealer Machine, ABOX V69
BUY ON AMAZON
NESCO VS-02, Food Vacuum Sealing System
BUY ON AMAZON
KOIOS Vacuum Sealer Machine
BUY ON AMAZON
GERYON Vacuum Sealer Machine
BUY ON AMAZON
Best Vacuum Sealers for Mason Jars Reviews
Finding a great mason jar vacuum sealer is harder than it sounds. Mason jars are great food savers and can keep dry goods fresh for weeks, and even months.
In this section, we compare the five best vacuum sealer for mason jars, food bags, bottles, and even containers to help increase the shelf-life of all your homemade food.
1. The Best All-rounder – FoodSaver V4840
This 2-in-1 vacuum sealer system comes with a handheld vacuum sealer attachment that is extremely useful for sucking out the air from mason jars and bottles.
The combination of handheld and standard vacuum sealing options make the FoodSaver V4840 a versatile and practical solution for all your home food storage needs.
Product Highlights
This appliance is easy to use and comes with many versatile features which are as follows:
Dimension: 11 x 20 x 12 inches
Weight: 10 pounds
Other technical features: Auto bag detection sealing compartment, retractable handheld sealer, dishwasher-safe drip tray, and touch operations that are used for dry/moist food setting
The automatic bag detection is one of the main features of this product that sets it apart from other competitors. This feature requires you to place the bag in the vacuum chamber and the machine takes care of the rest. The vacuum sealing process automatically begins according to the preset configurations.
The appliance is designed to automatically detect the presence of moisture in the bag and perform a perfect airtight seal, thus saving you the hassle of mechanically trying to prevent frozen food from mold and spoilage.
The dishwasher-safe drip tray has been installed to collect excess liquid when vacuum sealing moist or liquid food that otherwise would be damaging to the internal components of the machine.
What we like about the FoodSaver V4840
This machine is entirely automatically operated, which gives users the luxury of not having to worry about any spoilage or freezer burn. From the point of detecting moisture to ensuring an airtight seal, FoodSaver does it all with excellence.
The vacuum sealing system removes air from the bag completely and uses heat to seal the bag, eliminating any possibility of food damage.
The retractable handheld sealer is another practical feature of this product that is designed for use on zipper bags, mason jars, and containers adding to its versatility and use.
PROS
Fast and efficient
2 in 1 sealing systems
Handheld vacuum sealer
Automatically identifies bags or containers and performs functions accordingly
CONS
Occupies a substantial amount of space
CHECK LATEST PRICE ON AMAZON.COM
2. The Ultimate Lightweight Contender – Portable ABOX V69
This appliance provides an effective solution to the problem of safe preservation of food for days and weeks. Abox V69 vacuum sealer is beneficial in a number of ways. Let's have a detailed look at the advantages this product has to offer.
Product Highlights
The key features of this product are as follows:
Dimensions: 14.7 x 3 x 2.2 inches
Weight: 2.4 pounds
Other technical features: Removable power cable, one-touch operation, and adhesive magnets
The compact machine with a sleek look is designed especially to make food storage easy. Its portability also allows you to maintain enough room in the kitchen and carry it wherever you want. You can hang it on the refrigerator and keep your counter space clean.
The fully automatic operation allows you to insert the bag into ABOX V69, select the appropriate mode, and leave the rest to the machine.
The machine gives you three modes to choose from; vac-seal, soft mode, and seal. These modes give users various useful options that can be used according to the need.
ABOX V69 comes with a small cutter that you can use to open the sealing of bags.
What we like about the Abox V69
ABOX V69 offers a completely automatic one-touch operation that saves you the disappointment of having to see your food go bad.
Storing and organizing bulk edibles, homemade dishes, marinated food and much more, becomes easier with a vacuum sealer.
If you have a small kitchen space, ABOX V69's compact design allows it to be easily stored in the cabinet or somewhere else to make room on the kitchen counter.
Its portability, versatility, and ease of use offer users a hassle-free experience.
PROS
Complete automatic one-touch operation
Portable and compact
Easily sticks to the refrigerator surface
CONS
May suffer irreparable damage if it falls off the surface due to its lightweight
CHECK LATEST PRICE ON AMAZON.COM
3. The Most Convenient – NESCO VS-02 Vacuum Sealer
If you like preparing meals in large quantities, or like to buy food in bulk, storing all this excess food can become problematic as most food and liquids have a relatively short life span, even when refrigerated or frozen.
Nesco's VS-02 vacuum sealer ensures long-lasting food storage with minimal effort needed on your part.
Product Highlights
The vacuum sealer offers the following features:
Dimension: 18.3 x 5.1 x 11.8 inches
Weight: 6.63 pounds
Other Technical Features: One-touch operation system, roll storage compartment, seal time section option, and bag cutter
Its one-touch operating system comes with an auto shut off, ensuring maximum efficiency when it comes to the vacuum sealing process.
The roll storage compartment means you will always have back-up bags on hand while the built-in cutter allows you to customize the bag's size, resulting in reduced wastage of bag material.
The mouth of the machine can fit bags up to 11.8 inches wide, thus giving an ample amount of room to save larger food items.
One of its key features is the seal time section switch. It gives you the option of an extended or normal seal time. This is a great feature as it allows you to ensure a tight seal on every bag regardless of the contents within.
What we like about the Nesco VS-o2
The best feature of this vacuum sealer is its construction and clever design. It features a number of fitting storage compartments for its various articles. The roll compartment provides users a convenient space to fit bag materials while a cord storage area is also located at the bottom of the machine.
The vacuum chamber is perfectly aligned just at the open end of the roll compartment ensuring airtight seals.
From its one-touch operation system to its practical storage compartments, everything about this product is meant to add to your kitchen and food storage needs.
PROS
Roll storage compartment provides sufficient space for bags storage
Cord storage compartment
One-touch operation with auto shut-off provides maximum efficiency
CONS
The appliance is large and takes up a considerable amount of space.
Can overheat from repeated use
CHECK LATEST PRICE ON AMAZON.COM
4. The Dependable Workhorse – KOIOS Vacuum Sealer Machine
If you are looking for cost-effective vacuum sealers, the KOIOS vacuum sealer machine is the right product for you. It is a compact-sized machine that can easily perform the heat sealing of 40 food bags at a time without the need to cool down.
Product Highlights
KOIOS vacuum sealer is equipped with the following features:
Dimension: 14.6 x 2.9 x 5.9 inches
Weight: 3.97 pounds
Other technical features: Built-in bag cutter and high-temperature resistant materials
The vacuum system is comprised of a strong suction system that is made of an electromagnetic pump and a pure copper core. The strong components ensure maximum airtight sealing.
Its high-temperature resistance is thanks to a mica sheet that is installed in the vacuum sealing channel and has the ability to resist temperatures up to 300℃. This means that you can seal more bags at a time without having to wait for the sealer to cool down.
The built-in bag cutter takes care of creating custom-sized bags that help reduce any unnecessary bag waste.
What we like about the KOIOS Vacuum Sealer Machine
With its stylish steel finish, the machine will give your kitchen a plush look. It is an easy to operate appliance and provides its users with a hassle-free experience thanks to its high-temperature resistant quality.
The machine also has an accessory hose port which can be used to seal mason jars and various types of bottles.
Read full review here. 
PROS
High-temperature resistant exterior and interior
Compact size
Accessory port and hose attachment
CONS
Absence of a built-in bag roll storage compartment
CHECK LATEST PRICE ON AMAZON.COM
5. The Most User-Friendly – GERYON Vacuum Sealer Machine
It is time to bid farewell to the sous vide procedures for preserving food in the refrigerator. The Geryon vacuum sealer offers more refined food storage and packaging results all within a matter of seconds.
It is a value-priced appliance that offers multiple functionalities.
Let's dig deeper into its usefulness by looking at its features in detail.
Product Highlights
The vacuum sealer makes meal preparation and food storage easy with its following key features:
Dimension: 14.4 x 5.5 x 2.56 inches
Weight: 2.6 pounds
Other technical features: Automatic vacuum sealing operation, soft-touch digital buttons, LED indicator lights, and retractable upper lid for easy cleaning and maintenance
The GERYON provides multi-layer material heat seals that prevent any air exposure and keeps food safe from freezer burn and spoilage. The machine also has two selectable modes that provide users ease of selecting the best preservation options according to food type.
The compact-sized machine comes with a complete starter kit and a hose that can be used to vacuum seal canisters and mason jars.
What we like about the GERYON
The best aspect of this product is its easy operation as it features a fully automatic vacuum sealing system that offers a perfect airtight seal each time. The LED indicator lights tell you when the heat seal process is completed.
The GERYON was also built to be easy to clean and maintain. It features easily retractable components, like the upper lid of the machine, that can be taken off in order to clean the vacuum chamber and gaskets.
Lastly, its compact size and lightweight construction makes it portable and requires less space on your kitchen counter.
PROS
Compact size and retractable components
Easily controllable operations
Relatively quiet and efficient heat sealing process
CONS
Lacks in terms of durability
Absence of any storage compartments
CHECK LATEST PRICE ON AMAZON.COM
BUYER'S GUIDE
There are a few factors that need to be considered before buying a vacuum sealer for your home. These are as follows:
Overheating
Before making your purchase, make sure that the vacuum sealer you have your eyes set on is able to function continuously without the machine overheating.
Portability
Vacuum sealers come in a variety of sizes. Look for one which you can easily carry around to perform jar or bag sealing functions inside or outside your kitchen.
Size
For home use, a compact-sized sealer works well as it prevents kitchen clutter and offers more room on your kitchen counter.
Control system
Thoroughly check all the modes and operations your sealer offers such as dry/wet vacuum sealing options as well as automated functionalities.
Mason jars and bottle sealers
Many vacuum sealers have attachments that are used to help seal mason jars and bottles. If you require the need to seal moist or liquid food make sure your sealer comes with this functionality and its appropriate attachments.
Benefits of Using Vacuum sealers
Oxygen exposure damages food when it has been stored for quite some time. The damage slowly tampers with its appearance and flavor, and within days the food is all rotten and spoiled.
Vacuum sealers help remove air from the equation when it comes to increasing the shelf-life of both solid and liquid food. Sucking out air from the bag and then having the bag heat sealed takes no more than a few seconds but results in months and even years of safely stored food that you can simply reheat whenever your heart desires.
Vacuum sealers can also help store solid and liquid food in mason jars. The best vacuum sealers often come with a handheld attachment that sucks out all the air from the jars before sealing them to greatly improve shelf-life.
Vacuum sealing your leftovers is also a much healthier alternative than other conventional methods of food storage.
F.A.Q.
What purpose does a vacuum sealer serve?
A vacuum sealer is used to increase the lifespan of food items by removing oxygen from the storage bags or jars, and resultantly inhibiting the bacterial growth that rots food.
How long can an airtight vacuum sealer prevent food from being spoiled?
The average lifespan of vacuum-sealed food increases by three to five times as compared to conventional methods of food storage. Some foods can be stored for years without compromising their texture or taste.
Can a vacuum sealer work on things other than food?
Its primary purpose is to seal food; however, it can be used in the packaging of other retail products that can benefit from air being removed such as cigars and even leather bags.
FINAL VERDICT
A vacuum sealer can be instrumental in helping you store more homemade food in a safe and easy manner. The packing of lunches, marinated meats, and even liquids has never been easier or more convenient thanks to this revolutionary packaging method.
Keep your homemade food tasting fresh and delicious for longer by investing in a vacuum sealer today!
Sours: https://asubtlerevelry.com/best-vacuum-sealer-for-mason-jars/
Sealing jar sealer accessory vacuum
I have a hard time throwing out jars.
They are the perfect container for dry goods, for leftovers in the refrigerator, and of course for liquids. I'll buy a product in a glass jar before buying a similar product in a can or plastic jar.

Glass jars can be reused; cans cannot, and I prefer not to reuse plastic, so cans and plastic are both "garbage" that need to be disposed of.

And when your homestead doesn't come with curbside garbage pickup every week and recycling is pretty much unheard of in your neck of the woods, disposing of things is difficult.

In my childhood years, we spent summers walking along the edge of the 4-lane highway with a wagon, picking up glass bottles. When returned to the corner grocery store, we'd get 5¢ per bottle, enough to keep us in Pepsi and candy. But in this day and age of recycling awareness, glass isn't even recycled anymore.

So my kitchen is filled with jars: canning jars as well as reused jars from spaghetti sauce, mayonnaise jars, salsa jars and more.

Gallon-sized jars make great canisters for various flours and sugar. Half-gallon jars and smaller hold pasta and rice and other dry goods in my kitchen.

Reused jars from pasta sauce, salsa and so on are great for storing dehydrated foods such as chopped onions, peppers and sliced mushrooms.
There are several methods of vacuum sealing jars in this post, so keep reading to find one that works best for you!
For longer-term storage of dehydrated foods and dry goods such as pasta and rice, you can vacuum-seal reused jars to ensure freshness. Vacuum-sealing prolongs foods' storage life by eliminating oxygen that breaks down food over time.
The secret to using almost any jar in the kitchen? Using a
FoodSaver
appliance to vacuum seal the jars.
You can use canning (Mason) jars, but you can also re-use those spaghetti sauce and salsa jars too.
What can you store in vacuum-sealed jars?
Any food that you don't use often is a good candidate for vacuum-sealing, which will lengthen its storage life. If you buy a product in bulk, such as rice or popcorn, you can transfer a small amount to a smaller jar for convenient use and store the rest in larger jars that are vacuum-sealed.
For instance:
Dry goods such as rice, popcorn, pasta
Dehydrated foods
Freeze dried foods - when you open a #10 can, put the bulk of the product in large jars and vacuum-seal, and put a smaller amount in a jar for daily use
Bulk spices
Oatmeal
Powdered milk
Candy - buy candy on clearance after holidays and vacuum seal for later use
How to vacuum-seal a canning jar
Canning jars are sealed with the FoodSaver
canning jar attachment
. To use it, just place the flat lid on top of the jar - you don't need the ring to hold the lid on - then set the canning jar vacuum seal attachment on top, connect it to the hose attachment and press the "Start" button on the vacuum sealer appliance. (The hose attachment comes with the FoodSaver unit. If yours has been misplaced, you can order a new
hose attachment
here.)
There are two different canning jar sealers,
one for regular mouth jars
and
one for the wide mouth jars
, so be sure to get the one that fits the jar size you use most. Or get both.
If the lid just won't seal, try these trouble-shooting tips:
Use two lids. I know, that sounds crazy. But it often works. Place the two lids, one on top of the other, on top of the jar and use the canning jar vacuum seal attachment as directed. When it's finished sucking out the air, remove the attachment. The top canning lid will come off, but the other will have sealed to the jar.
Or try a different lid.
If you still have problems, use a different canning jar. There might be an imperceptible dip in the rim of the jar.
How to vacuum seal non-canning jars
But did you know you can even vacuum-seal most reused jars? It requires a different method but it's just as simple. As long as the jar lid has a "rubber" ring inside, it can be vacuum-sealed. In the photo above, you can see the white ring inside the lid from this empty jar of yeast.
That rubber ring is the secret!
Some jars have a green ring, or a red ring. The color doesn't matter, as long as it has this rubber-like substance inside the lid.
To seal this kind of jar, you'll need a FoodSaver
vacuum canister set
. The canisters come in a set of three, in various sizes.
Just tighten the lid on the jar and place it inside one of the canisters. I choose the canister closest in size to the jar so there is less air to suck out.
Attach the hose attachment that comes with your FoodSaver to the top of the canister. (If you've lost yours, you can reorder a hose attachment here.) Attach the other end of the hose to the FoodSaver unit and push the "Start" button. The vacuum sealer sucks the air from inside the jar and from inside the canister too.

When it's finished the unit will turn off. Just remove the hose attachment, press the button on top of the canister and open it. The jar inside is now sealed.

The last step is to label your jars; don't depend on your memory. Hot peppers can look identical to sweet peppers, and chopped red peppers look amazingly like chopped carrots. Trust me on that.
How to vacuum seal bottles and jars with plastic lids
You can't. I'm sorry.

Instead, use those jars with plastic lids to hold leftovers in the refrigerator. Soy sauce bottles with long necks and plastic caps make nice bud vases for flowers from your garden, or you can use them to hold vinegar, which doesn't need to be canned or preserved.

(If you'd like to try making your own vinegar for just pennies, get a free copy of my ebook by subscribing to The Acorn, my weekly-ish newsletter.)
What NOT to vacuum seal
Don't vacuum seal [or use an oxygen absorber] to preserve sugar or brown sugar. You'll end up with a solid brick of sugar.
Store your labeled, vacuum-sealed jars in a cool, dark place for maximum storage life.
A short FAQ
Vacuum-sealing is not meant to preserve fresh or cooked foods. It isn't a substitute for canning food in jars. It's a great way to extend the shelf life of dry foods (pasta, rice, dehydrated foods, etc.).
Can you vacuum seal gallon-sized jars? You'd need a canister that's large enough to hold a gallon-sized jar in order to use this method, and unfortunately I don't know of one that big.
Alternative methods of vacuum sealing - if you don't have a FoodSaver unit, you can either use a Pump N Seal hand pump or add oxygen absorbers to your jar instead. These will absorb the oxygen inside the jar and create a vacuum seal.
For more simple living and money-saving ideas, subscribe to The Acorn, my weekly-ish newsletter, and join me on Facebook, Instagram and Pinterest. I'd love to see you there!
The following images contain affiliate links. See my full disclosure here.
Related posts:
How to Find and Buy Used Canning Jars
This post has been shared at some of my favorite blog hops.


~~~~~

My hope is to inspire you, and to encourage your homesteading plans and your dreams of a
simple, self-reliant, God-dependent life. You can follow me at:
Facebook | Pinterest | Instagram | Subscribe
Sours: https://www.oakhillhomestead.com/2012/01/vacuum-sealing-jars.html
How to vacuum seal food using the FoodSaver jar attachments
Every time he entered me, I thought that I would suffocate, and when he came out, I held his head only with my lips. Finally he went deeper than before and froze in this position. The bulge of his cock just got bigger, expanding my lips to the limit. Its hot barrel began shooting deep into my throat, while Buster's body began to tremble like mine when we were behind the couch.
You will also like:
It was a warm summer day, the mood was rising with every minute anticipating the night. Entering the restaurant, he immediately glanced at all its inhabitants. Then I did not want to meet anyone, everything turned out by itself. My table was located in the very corner of the room and all its inhabitants were open to my eyes.
429
430
431
432
433