Where to find and hunt Bison in Red Dead Redemption 2
There are few animals more synonymous with the Wild West than the American Bison, so it's no surprise to see many players are keen to see (and hunt) Red Dead Redemption 2's recreation of the mighty creatures that once dominated the plains of North America. Red Dead Redemption 2 is set at the end of the 19th century, during which bison in America were sadly hunted to the brink of extinction. That means you can't expect to see them here there and everywhere in game, but there are a few areas in which the virtual buffalo still roam and we've found them for you. Read on to learn where to find and hunt Bison in Red Dead Redemption 2.
Where to find and hunt Bison in RDR2
Massive creatures, bison are a great source of crafting materials, and also provide a healthy supply of food for your camp. The majority of Red Dead Redemption 2's bison roam regions in the Heartlands of New Hanover, but you'll also find some groups further south in West Elizabeth's Great Plains. Check the map above, or read the list below for more detailed instructions as to their locations.
New Hanover - Buffalo bison can be seen roving the Heartlands, most commonly close to the water supply of Heartland Overflow in the northeast. You'll also spot them in the west, between Citadel Rock and Caliban's Seat, as well as central southern Heartlands, just north of the railway.
West Elizabeth - Find yourself further south and you'll also encounter Bison in the Great Plains of West Elizabeth. Explore the central region, southwest of Blackwater and you'll be sure to run into some before long.
Bison are classed as Massive creatures, and that means if you want a Perfect Pelt you'll need to use a Long Shot rifle (or bow with improved arrows) to target weak points and bring them down cleanly. Don't forget to study your targets from afar to assess the quality of their pelts. Once you're experienced with regular bison, you may want to consider tracking the Legendary White Bison or Legendary Tatanka Bison for the chance to craft a rare Talisman or Trinket.
Looking for the locations of some other animals? Take a look at our animal locations hub to find the best spots for badgers, moose, cougars and more in Red Dead Redemption 2. If you're after other tasks to fill your time, here's where to find all Artists, Writers, and Poets Cigarette Cards in Red Dead Redemption 2.
Henry Stenhouse serves an eternal punishment as the Associate Editor of AllGamers. He spent his younger life studying the laws of physics, even going so far as to complete a PhD in the subject before video game journalism stole his soul. Confess your love of Super Smash Bros. via email at [email protected], or catch him on Twitter.
Load Comments
Sours: https://ag.hyperxgaming.com/article/6685/where-to-find-and-hunt-bison-in-red-dead-redemption-2
Red Dead Online Bison Locations
Hunting bison might not have been the first thing that came to mind when you became a virtual cowboy, but it isn't a bad pastime to have in Red Dead Online. It's a safe way to earn some cash, XP, and meat without taking part in any criminal activity. It might also pop up as adaily challenge from time to time, so it's crucial that you know where to hunt bison.
Despite travelling in large packs, it's very hard to find Bison amidst the sprawling fields of Red Dead Online. This guide will cover everywhere that you can expect to commonly find bison, so that you can tick off those daily challenges and get on with robbing trains and hunting bounties.
Related: Red Dead Online: Best Badger Farming Locations
Updated on September 24, 2021, by Renan Fontes: Hunting is a core part of Red Dead Online's gameplay loop, but some animals can be a pain to track down – one of the most frustrating being the elusive bison. Bison are hard to hunt on a good day and it helps to know where to search to begin with. Even then, you might need to loop between a few different locations before RDO decides to award your patience with some bison. It's worth it in the long run, if only to use their parts for crafting.
How To Hunt Bison In Red Dead Online
When hunting bison, approach slowly. They will quickly run away when startled, making them very difficult to chase. Use a sniper rifle to headshot one and then focus on gathering material from that dead bison.
Let the others run away and settle in a new area before tracking the herd again, as this will give the remaining bison chance to calm down. This will make it easier to get headshots, ensuring that you don't need to waste time chasing an injured bison.
Where To Hunt Bison In Red Dead Online
Bison spawn locations are quite rare in Red Dead Online, so you might have to travel far to find them. The following areas are all known for their bison spawns:
Twin Stack Pass
If you've got a camp in the Heartlands, then this will be the easiest spot. South-West of Valentine, you will find the Twin Stack Pass area, named after the path that goes between two large rocks.
If you get on top of these rocks and use them as a vantage point, it's likely that you will spot some bison roaming around in the fields below.
Related: Red Dead Online: Best Moonshine Farming Location
Heartland Overflow
Between the Heartland Overflow and the Oil Fields, there is a large patch of countryside in which you will often find bison.
Don't go too close to either of these areas, as the bison tend to spawn in herds directly between the two named locations.
Emerald Ranch
One of the best places to hunt bison, Emerald Ranch situated in the Heartlands has a herd of them roaming around between the "H" and "A" in New Hanover on your map. When all else fails, check Emerald Ranch.
Flatneck Station
Another area known for its bison spawns is Flatneck Station, found in the South of the Heartlands near Bard's Crossing.
When you arrive at the Station, go to the Elimination Series marker to the East. You will often find bison wandering around in this area.
Great Plains
If you prefer to spend your time in the map from the original Red Dead Redemption, then you should head over to Blackwater in West Elizabeth.
South of Blackwater, you will find the Great Plains. Bison often spawn across the Eastern edge of the Great Plains, just outside of town.
Bison Drops
Bison drops three typs of loot: Bison Fur, Bison Horns, and Prime Beef. The Fur and Horns can be sold for a decent profit, whereas you'll want to hold onto the Prime Beef so you can cook it later.
Bison Recipes
Red Dead Redemption 2 has a unique cooking system that lets you cook together just about any meat you find in the wild. Prime Beef from a bison can be used to cook the Prime Beef Joint meal. You can also spice your meal with different herbs to influence what its effect will be.
Oregano influences Stamina, Thyme influences Dead Eye, and Wild Mint influences Health.
Next: Red Dead Online: Best Places To Find And Farm Sheep
ShareTweetEmail
Nintendo Fans Hit Back Against $50 Switch Online Membership Plan
Even Nintendo fans aren't too happy with the big Switch Online price hike.
Read Next
About The Author
Hayden William Hefford (206 Articles Published)
Hayden loves zombies and games, so zombie survivals are a sure thing. He's a guides writer for TheGamer, so he spends his spare time hunting down secrets and scrambling to make notes on achievements.
More From Hayden William Hefford
Sours: https://www.thegamer.com/red-dead-online-bison-location-guide/
Red Dead Redemption 2 Wiki Guide
Looking for the Legendary Bison? Check out these pages instead:
How Kill the American Bison in Red Dead 2 for a Perfect Bison Pelt
To get a perfect pelt you'll have to find a Perfect American Bison and use the right weapons to kill it.
Like all animals, the bison can be skittish, but less so than other large animals. It's advised that you use your binoculars to study the bison before approaching. The in-game animal progress tracker suggests using a Carcano Rifle or a sniper rifle with High Velocity Ammo or Express Ammo for hunting bison, but if you don't have one, craft an improved arrow instead. These are a lot easier to come by.
You can craft an improved arrow with a regular arrow and one Flight Feather. Kill pretty much any bird that takes flight to get a Flight Feather.
You can also use Slug Ammo with a Shotgun to get a critical head shot.
Once you have your weapon and ammo of choice ready to go, pick out the bison you want to kill. Make sure you have a good headshot lined up then make your move. The bison are rather still beasts unless they're startled by something passing by.
Upon killing a pristine bison perfectly, you'll earn a perfect bison pelt, a bison horn, and at least 5x Prime Beef Joint depending on your carrying capacity.
Best Weapons and Ammo for a Perfect Bison Pelt
Sniper Rifle with High Velocity Ammo
Shotgun with Slug Ammo
Bow with Improved Arrow
Sours: https://www.ign.com/wikis/red-dead-redemption-2/American_Bison_Location_and_Perfect_Pelt_Hunting_Guide
Legendary White Bison Hunting! Red Dead Redemption 2 Gameplay Part 8 [RDR2]
Location:
Item Name:
Cost:
Required Materials:
Trapper 
Legendary White Bison Hat
$45.00
Legendary White Bison Pelt
Legendary Boar & Bison Fowlers
$37.00
Legendary Boar Pelt, Legendary Tatanka Bison Pelt
Legendary Bison Batwing Chaps
$32.00
Legendary Tatanka Bison Pelt
Legendary Bison Vest
$30.00
Legendary Tatanka Bison Pelt
Legendary White Bison Coat
$29.00
Legendary White Bison Pelt
Legendary Bear Coat
$28.00
Legendary Bear Pelt, Perfect Bison Pelt
Bison Gambler's Hat
$18.00
Perfect Bison Pelt, Robin Feather x4, Oriole Feather x4
Plantation Slouch Hat
$15.00
Perfect Bison Pelt
Fence
Bison Horn Talisman
$38.50
Abalone Shell Fragment, Silver Earring, Legendary Bison Horn
Tatanka Bison Horn Trinket
$16.75
Legendary Tatanka Bison Horn
Camp (Pearson)
Fur Horse Blankets
Free
Perfect Coyote Pelt x2, Perfect Bison Pelt
Provisions Satchel
Upgrade Provision Ledger to Level 3
Perfect Deer Pelt, Perfect Bison Pelt, Perfect Raccoon Pelt
Sours: https://primewikis.com/guides/rdr2-american-bison-buffalo-hunting-guide/
Buffalo where rdr2 hunt to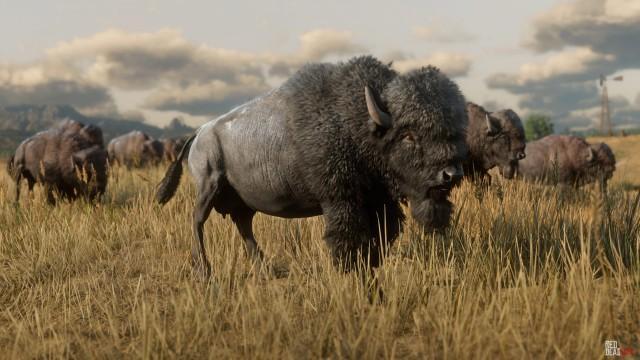 The American Bison is an animal of the Bison / Buffalo species, featured in Red Dead Redemption 2 and Red Dead Online.
This animal can be hunted and skinned. Studying and skinning the American Bison is required for the "Zoologist" and "Skin Deep" Achievements.
American Bison Details & Location:
The American Bison is native to the plains of New Hanover and West Elizabeth. As a herbivore, it grazes on grains, hay, and corn. Due to the size of an average bison, high powered weapons like a Carcano Rifle, or a Bow with Improved Arrows, should also be considered when hunting. Bison meat can be used for cooking.
American Bison Hunting Tips:
The American Bison yields a pelt, a horn and bison meat. Used in crafting and cooking or can be sold. Use a rifle for a clean kill.
Map Location - American Bison
Where to find the American Bison in Red Dead Redemption 2 - Map Location / Habitat:
The American Bison is Uncommonly found on the plains of New Hanover and West Elizabeth..
American Bison Info
Scientific Name Bison bison
American Bison Appearances
Game EditionRed Dead OnlineRDR 2 Story Mode
Screenshots
Artworks
Coming soon.
Sours: https://www.gtabase.com/red-dead-redemption-2/animals/american-bison-buffalo
Bison Locations rdr2 Online - Red Dead Online Bison Location Guide
Red Dead Redemption 2: Where to Find Bison
By Dalton Cooper
ShareTweetEmail
Here is where to find American Bison in Red Dead Redemption 2, as well as the elusive White Bison and Tatanka Bison, two of the game's legendary animals.
In Red Dead Redemption 2, players have to hunt specific animals to craft things like satchel upgrades and get certain items in the game. One animal that players will want to hunt is the bison, which includes the standard American Bison as well as two legendary animals: the Legendary White Bison and the Legendary Tatanka Bison.
Finding American Bison in Red Dead Redemption 2 isn't too difficult, and there is even a companion activity all about Arthur hunting one down. Unlike the first Red Dead Redemption game where bison were going extinct, they are fairly plentiful in the massive open world of Red Dead Redemption 2, and so players should encounter herds of them while out exploring.
American Bison tend to spawn in some specific areas, which we have marked here on the map. Note that the American Bison can appear in other places as well, including West Elizabeth:
While hunting American Bison is important to one's success in Red Dead Redemption 2, players will also want to hunt the legendary White Bison. The legendary White Bison can be found in the northern part of the map, near Lake Isabella.
Finally, there's the legendary Tatanka Bison for players to hunt in Red Dead Redemption 2, and it can be found in New Austin, an area of the map that won't be reachable until the late stages of the game. Once players manage to reach New Austin, they will want to hunt for the Tatanka Bison near Hennigan's Stead.
Knowing where to find American Bison, the White Bison, and the Tatanka Bison is just half the battle. Players will also need to know the best way to hunt these animals to ensure that they get the highest quality pelts possible. For all the different types of bison, it's best that players use a bow with improved arrows or heavy weapons like sniper rifles. Remember to study the animals beforehand and aim for weak points to increase one's odds of getting a perfect pelt.
Red Dead Redemption 2 is out now for PS4 and Xbox One.
Source: RankedBoost
ShareTweetEmail
Elden Ring Closed Network Test Registration is Open Now
FromSoftware and Bandai Namco announce that the Closed Network Test for their upcoming game, Elden Ring, is open for signups.
Read Next
About The Author
Dalton Cooper (7611 Articles Published)
Dalton Cooper is an editor for Game Rant who has been writing about video games professionally since 2011. Having written thousands of game reviews and articles over the course of his career, Dalton considers himself a video game historian and strives to play as many games as possible. Dalton covers the latest breaking news for Game Rant, as well as writes reviews, guide content, and more.
More From Dalton Cooper
Sours: https://gamerant.com/red-dead-redemption-2-where-to-find-bison/
Now discussing:
Looking for, discussing. While the girl was signing all the documents, resolving the issue, getting to know and getting used to the evening. Already an hour before the live broadcast. All the participants were raised to their feet.
458
459
460
461
462