Not all of us are blessed with a basement in our homes but if you have one, can you tell us how your basement looks like? Sometimes, it is really hard to decorate a basement especially if you think you already have everything you want in your home. That is why, most of the time, the basement ends up to be a storage space. But that shouldn't be the case. You can actually make good use of your basement.
These days, man caves are popular. This is what we call finished basements or basements that are transformed into a gaming area, entertainment area and other spaces both for fun and entertainment. I'm pretty sure you have heard of this term and so, we are going to show you man cave designs that will inspire you to work on your own basements.
1. 177 White Pine – New Build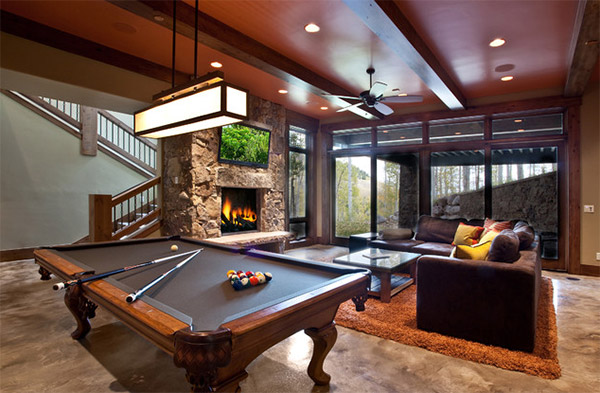 Jaffa Group Design Build
Aside from the TV and billiard table, the view outdoors is a plus for this basement as well as the natural stones in the fireplace.
2. Ashburn Contemporary Basement Pool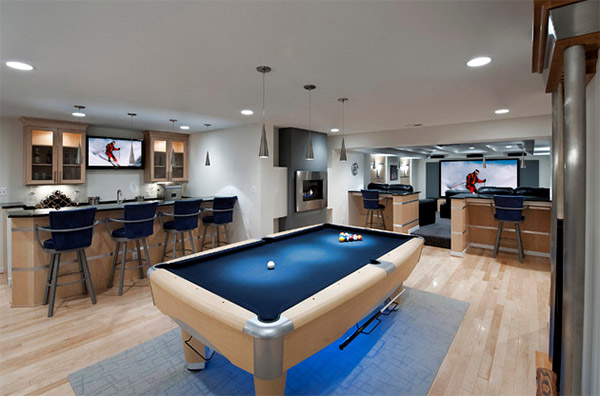 Synergy Design & Construction
Who wouldn't love the blue colors in this basement paired with the wooden elements? And yes, the layout is nice too!
3. Strand Home Basement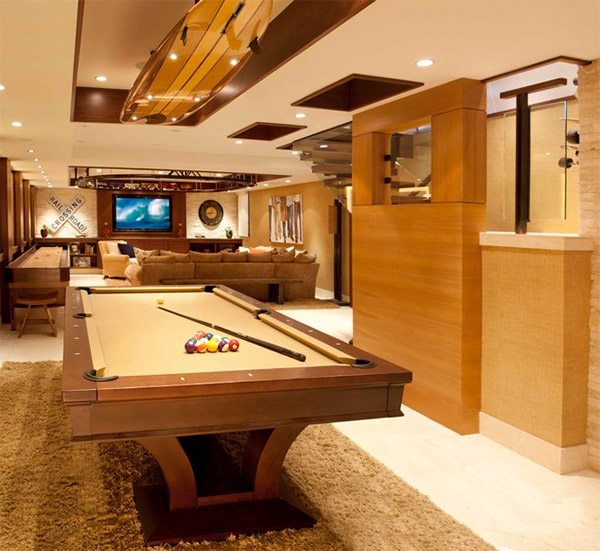 About:Space, LLC
Such a beautiful man cave! What made this pretty are the wooden features everywhere, the colors, the lightings and the overall design.
4. Residential Basement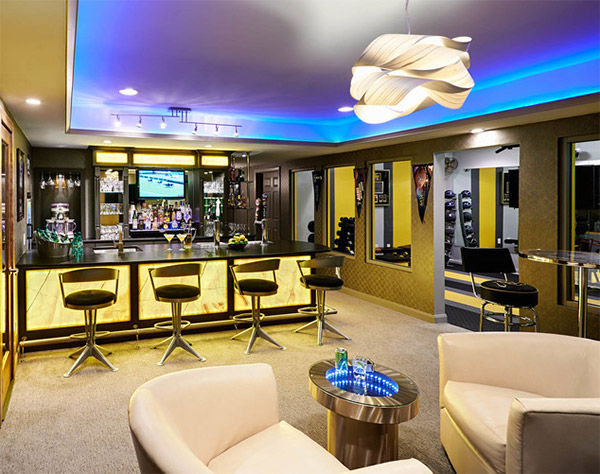 EVonn Studio Designs
That blue ceiling added so much drama in this man cave. The home bar is well designed too and this one has its own home gym.
5. California Home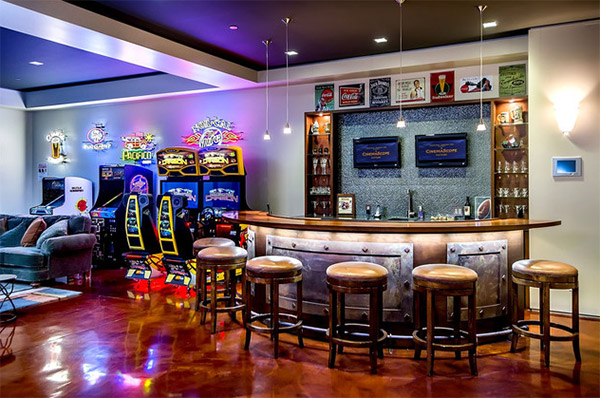 Mark Pinkerton
You've got all you need in this basement from arcade games to a home bar!
6. Basement Lounge and Bar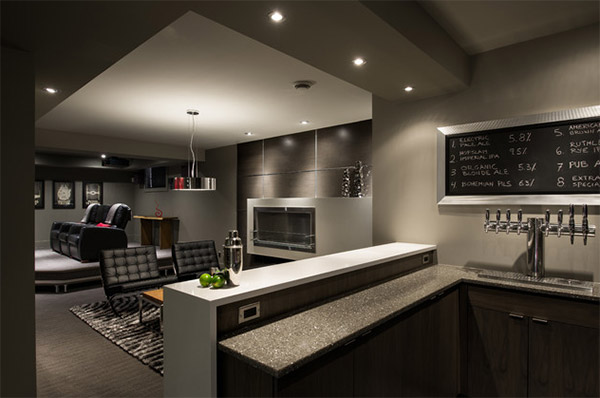 Just Basement
Yes, this basement has a lounge area, bar, and a viewing area. Aside from that, this has a very modern and sleek design that anyone would certainly love.
7. Stonewood Private Residence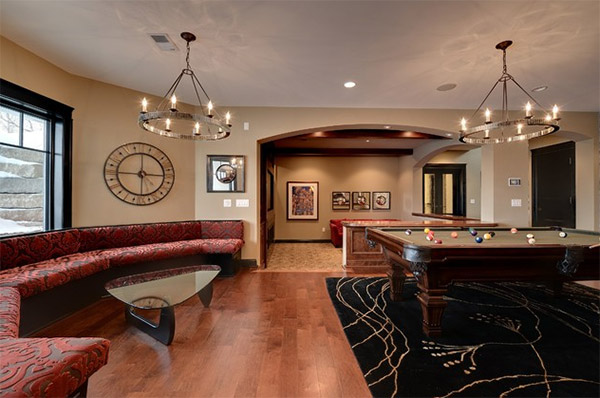 Spacecrafting / Architectural Photography
You can save more space in the basement if you add a long bench on the wall. It would look different too especially if you play with patterns like this one.
8. Period Colonial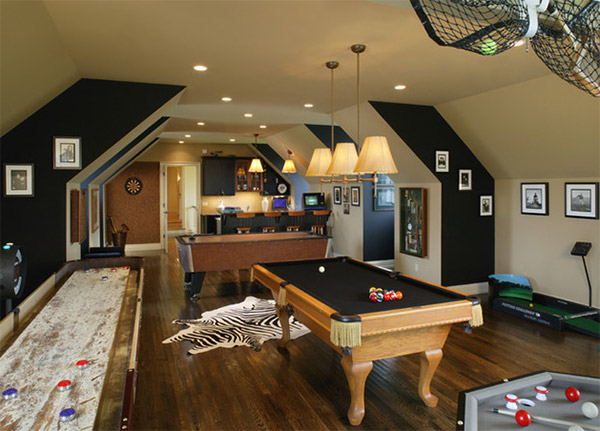 Dewson Construction Company
I'd say this one is a great space to spend time in when you are already all drained from a day's work!
9. Galatea Mancave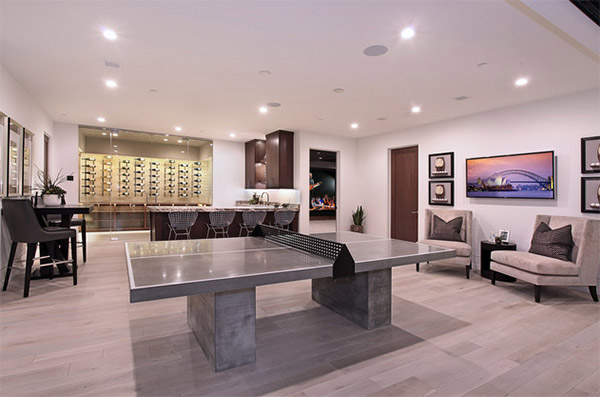 pinnaker Development
If you look at it, the architecture of this basement is simple but the furniture and lightings changed it all! This elegant man cave has a wine cellar, bar and an area for table tennis.
10. Monte Carlo Tufted Bed in Pink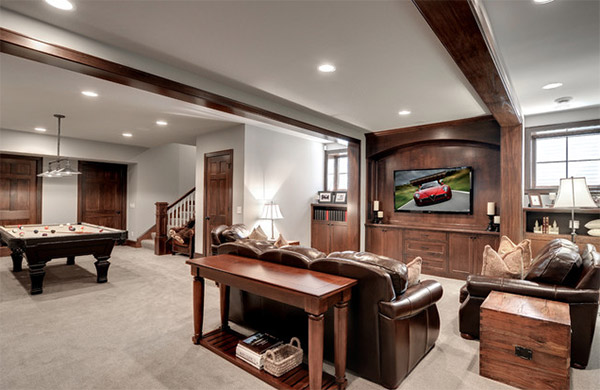 Great Neighborhood Homes
If you think a traditional basement doesn't look great, it sure does just like this one.
11. Brownstone Townhouse Renovation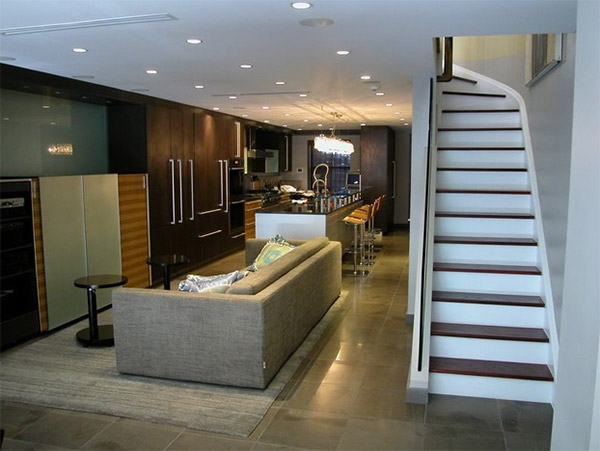 Chelsea Atelier Architect, PC
This basement seems to have everything. That glass top for the bar looks amazing.
12. Classical Shingle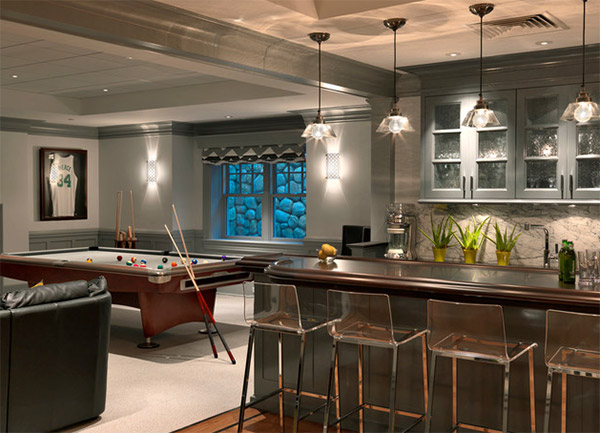 Jan Gleysteen Architects, Inc.
Another beautiful man cave with gray colors. The transparent high counter stools look really great.
13. Comfortable Cottage Style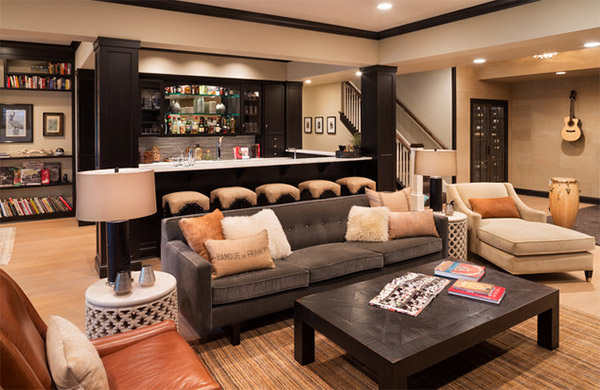 Kyle Hunt & Partners, Incorporated
This looks like a simple living room but if you look around, it is more than just that.
14. The Glass House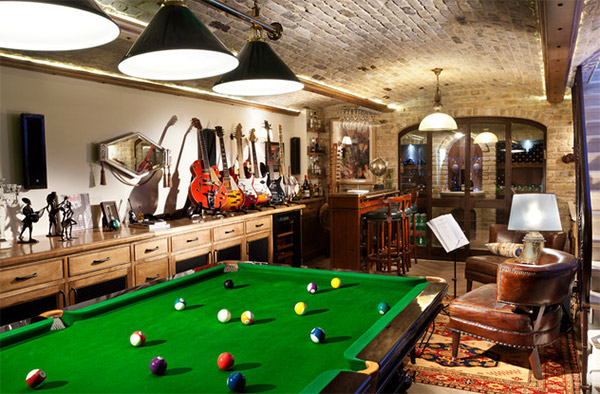 Arteferro Ltd
Aside from playing games, you can also display collections in the man cave. For this one, we can tell the owner is a music lover.
15. Painted Brick Roswell, GA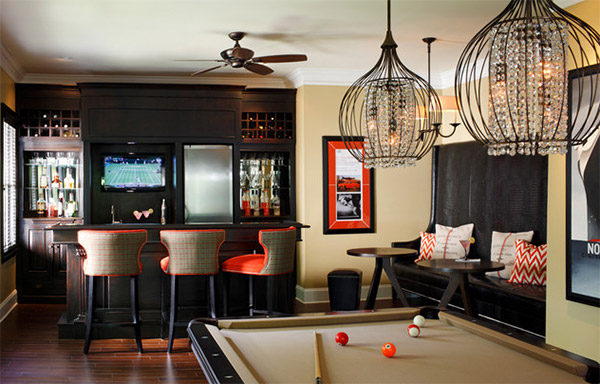 Kristin Drohan Collection and Interior Design
Pops of orange add more life and fun to this basement. The lights are lovely too and we sure love that bar!
16. Lower Level Living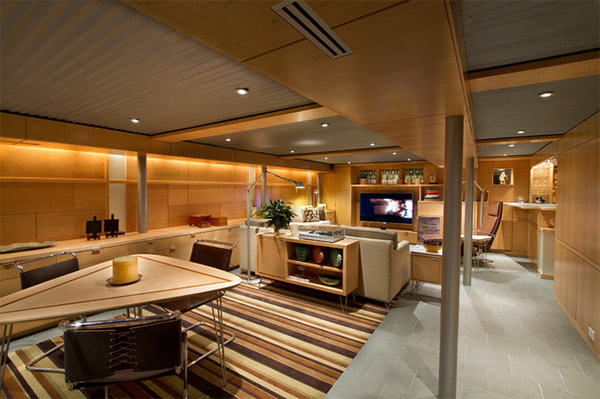 Princeton Design Collaborative
Who wouldn't love the look of this basement? Well, we all do especially that triangular table.
17. Minnetonka Modern
Turnquist Design
A sophisticated basement graced with tulip chairs and beautiful lightings and decors.
18. Osterville Residence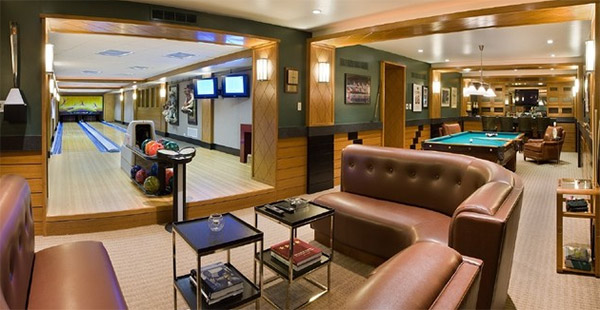 Catalano Architects
If you love bowling, then you will love to have this 60 feet long bowling alley in the basement!
19. Basement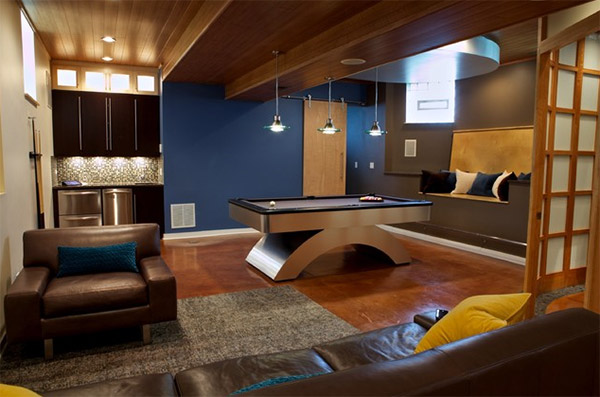 Gina Bon, Airoom Architects & Builders LLC
This modern basement is really neat and sleek! Even the design of the pool table is very gorgeous.
20. Art Deco Spectacular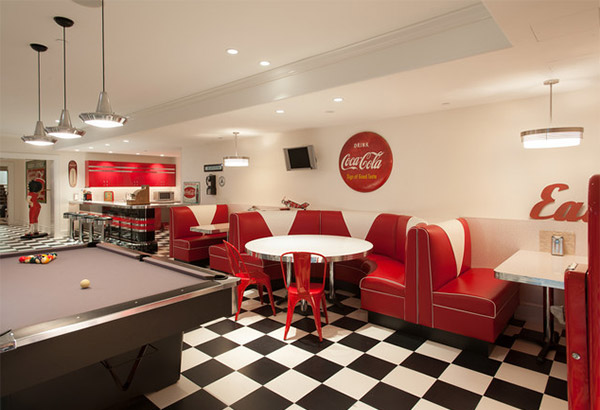 Jay Greene Photography
This looks like a resto but this is just a basement with a retro design in red, white and black.
Isn't it nice to have a man cave? It is like you have all the freedom to enjoy and even make noise I guess when you are here. You have your own world to enjoy and no one's going to ask you to stop because this space is intended for that purpose. You can even have a drink or just cuddle up with your partner for a nice movie. Oh, I'd love to have a man cave! Do you want one too?
Sours: https://homedesignlover.com/interior-design/man-cave-finished-basement/
Man Cave
How great would it be to have a place to retreat to where you wouldn't have to fight for the remote, have to hear about the home improvements you ought to get to (sooner rather than later, of course!), and where you could hang out and watch the game with a cold beer with the guys?
Pretty great, right?
There's a reason that the basement man cave is becoming more and more popular, and at Matrix Basement Systems, we know that in addition to being a great place to hang out in, your man cave has to deliver on value. That's why we use quality materials and products that come with a limited lifetime warranty, and it's why we use professional designers and installers to bring your vision to life. When you work with us, we'll help you create the perfect oasis.
Finding Your Perfect Basement Man Cave Designs
When you're dreaming up basement man cave designs, what do you have in mind? A basement bar that you can stock with your favorite craft brews, perhaps, or something that's roomy and comfortable enough for your favorite chair?
No matter what you have in mind (or if you need a bit of help designing the perfect man cave), our professionals are ready for the challenge.
Beyond finding the perfect design, it's essential to make sure that the company you work with knows what they're doing. You don't want to have to deal with deterioration or mold damage, and when you choose Matrix Basement Systems, you won't.
Our products are moisture- and mold-resistant, so you can rest assured your man cave will look great and function well for years to come.
Calculating Your Home's Man Cave Cost
Many basement finishing companies charge high costs due to outsourcing the work to third parties. When you choose us, however, you'll enjoy a more affordable man cave cost—we're your one stop shop for basement finishing projects, which not only means a streamlined process, but a more manageable price tag.
When you want to work with an award-winning basement remodeling company that uses innovative materials, expert crews, and has the experience and know-how to create the perfect man cave, contact Matrix Basement Systems today.
Give us a call or fill out our quick online form to receive a free, no-obligation estimate!
Explore Options
Basement BarBasement BathroomBasement Home TheaterBasement KitchenExtra Bedroom in the BasementBasement Family RoomKids Play Area for the BasementMan Cave
Sours: https://www.mymatrixbasement.com/basement-finishing/man-cave/
Photo gallery of 80 magnificent man cave ideas - garage, basement, sports, billiards, cards, bars, small, large - every design imaginable.
Welcome to our epic man cave design gallery where you can check out 100's of different man cave ideas and features including sports themes, bars, game rooms, amazing TV areas, billiards tables and more.
Browse all designs below or filter your search with the checkboxes to the right. We add new man caves all the time so be sure to come back for more inspiration.
Related:Basement Colors Compared | Online Man Cave Stores | Man Cave Layouts | Man Cave Wall Art Ideas | Man Cave Essentials | Man Cave Furniture Ideas
Man Cave Ideas (Photos)
Modern man cave with bright red walls, neon art work, u-shaped bar with dark brown leather upholstered bar stools. The main feature is a large blue-surface billiards table. In the corner you'll find a tufted sofa facing two elegant accent chairs. The ceiling is interesting with the tray effect bordered with recessed lighting.
Large sports themed man cave with sports jerseys on the wall and displayed throughout the space. Huge u-shaped black sectional takes up most of the space but is flanced by elegant contemporary gray wingback chairs. The beige walls work well with the brown area rug that sits on dark wood flooring. This is a fun man cave dedicated to the owner's favorite football team.
The quintessential man cave design with small bar, large wall-mounted flat screen TV, bar stools, neon bar sign and lounge area all darkly lit.
Large modern man cave where the neon base lit bar is the highlight. The long black-top neon base lit bar faces toward a curved beige sectional sofa and comfortable chaise lounge in the lounge ear.
Large glamorous man cave with coffered ceiling design with built-in neon lighting. There's a sitting area, billiards table and glamorous bar decked out in silver and gold metallic color scheme. In fact, much of this man cave showcases metallic colors including chrome but tempered with polished hardwood flooring.
Chalet rustic style man cave with small stone faced fireplace, billiards table, small wooden round pub-style table and stools plus sofa with coffee table. This room oozes warmth with the fireplace and light beige carpeting. The centerpiece is the dark wood, blue-surface billiards table.
Spacious basement man cave with long dark brown leather sofa facing large screen TV set in built-in cabinetry. Behind the TV area is a small billiards table. Extending beyond that is the bar area lined with iron stools. Pendant and recessed lights illuminate the space.
Vegas style man cave with elegant card table illuminated by a chandelier. The adjacent space features the tiniest home library ever – a nook with built-in cushioned seating flanked by small book shelves. This man cave is an example that has wallpaper instead of the usual paint or wood paneling.
Quintessential sports themed man cave with rotating stadium seating plush chairs facing huge projector style TV screen. In fact, there are multiple TVs throughout the space along with all kinds sports memorabilia on the walls. This is a sports lovers man cave.
If you like watching multiple games at the same time, this man cave is for you which features a TV wall containing a whopping 9 wall mounted TVs. Recliner seats face the TV wall in the basement sports-nut man cave.
This gambler's man cave features multiple gaming tables (which are beautiful) all nicely illuminated with custom pendant lights. The space also features a large TV viewing area with sectional sofa and extensive custom built-in cabinets. The center of this basement man cave showcases a stone base custom bar.
This man cave has it all – rustic stone and wood bar, wine cellar, theater room and billiards table. The space interior is well designed with earth tones throughout giving it a cave-like feel.
I just had to include this example in our man cave design collection because it's literally designed as a cave with a bar and seating. Somebody interpreted the concept of man cave literally and created a cave. It's kinda cool… but wouldn't be my first pick.
Space age monster man cave in the basement with huge modern bar, curved orange walls, multiple TVs, billiards table and custom sectional sofa with purple, yellow and red color scheme.
This is a fancy man cave with a huge custom built bar, arcade games, full size red-surface pool table and large oval card table. The room is decked out in extensive custom wood work including gorgeous coffered ceiling with recessed lights built in which illuminate the rich medium dark wood flooring. Wood paneled walls include wall-mounted lights for additional lighting.
Here's a huge basement man cave with a bowling alley. That's pretty cool, but that's not all. There's a card table, several old school arcade games and billiards table. This is one decked out man cave.
Rustic man cave with stone accent walls flanking the custom western-style bar (saloon style) and face the media area with 4 TVs behind which sites a large gaming table.
Comfortable man cave with sectional sofa, armchair and loveseat surrounding a fireplace with TV mounted above. I love that taller than average coffee table that could double as a huge ottoman. Loads of sports memorabilia adorn the walls.
Smallish man cave with custom built dark wood bar area with hotel lobby like lounge area to enjoy a cold one. The stone accent wall creates a textured and thematic design along with the dark wood beamed ceiling.
Here's a mock-up of a really cool garage man cave that showcases features you could include such as cinder block wall, loads of tools and tool storage, sports and athletic gear storage and of course the requisite dart board.
Small man cave with mini bar, stools, fridge and plush brown leather sofa. The main lounge and bar room leads to an enclosed billiards room with red-surface pool table. I love all the wall-mounted lights thorughout the space. The earth tone color scheme works great with brick pattern floor and mustard yellow walls.
Super cool custom garage man cave which is pretty much not a garage anymore but a dedicated space for watching TV, drinking, playing pool and banging out tunes on the upright piano. I guess you could squeeze in a car, but this room is more about hanging out and unwinding than storing vehicles.
Large open concept man cave in walk-out basement with round card/dining table, billiards table, huge leather sectional and large custom bar. I love the worn-looking wood flooring which matches the wood of the billiards table and goes well with the leather sectional.
Large man cave featuring wooden ceiling and carpet flooring. The brown leather sofa seats look very classy. There's a stylish billiards pool as well, lighted by a stunning pendant lighting.
This man cave features a wooden bar matching the dining nook sets and the beams on the ceiling.
This home features a man cave boasting a cozy sofa set surrounded by brown walls and a stunning ceiling.
A close up look at this man cave's billiards pool set lighted by an elegant set of ceiling lights.
This home features a man cave with an elegant sofa set with a fireplace along with a dining nook on the side lighted by a beautiful small chandelier.
This man cave features a large long bar area with class countertop and bar stools lighted by glamorous pendant lights set on the stunning groin vault ceiling.
Large man cave featuring a rustic bar set up with classy bar stools set on the carpet flooring.
Large man cave boasting an elegant bar set up and a cozy sofa set on top of the gorgeous hardwood flooring topped by a stylish rug.
This home features a man cave with hardwood flooring and beige walls. The room also features a small bar area and a billiards pool lighted by a charming pendant lighting.
This man cave boasts stylish walls and billiards pool set on top of the hardwood flooring topped by classy rugs. The sofa set looks beautiful as well.
This modern home features a man cave with a very stylish billiards pool set on the hardwood flooring, along with a bar area with a smooth counter.
This man cave boasts a stunning tray ceiling with lovely ceiling lights showering down the brightness to the cozy living space and the billiards pool set behind it.
A simple white man cave featuring carpet flooring and classy rugs. The living space features a cozy sofa set along with a fireplace.
This man cave boasts elegant red walls with lovely wall decors. The ceiling looks stunning as well together with the bright modern chandelier just above the billiards pool set on the hardwood flooring.
This man cave features a classy bar area with stylish wine cellar and a billiards pool set on the rug on top of the tiles flooring.
A close up look at this man cave's stylish billiards pool with white cloth and is lighted by charming pendant lighting.
A close up look at this man cave's billiards pool set on the classy tiles flooring, lighted by a lovely pendant lighting.
This man cave boasts a classic billiards pool set on the elegant rug on top of the hardwood flooring. The room also features a small bar area.
This man cave boasts a very elegant black billiards pool set on the stylish hardwood flooring and is lighted by a charming pendant lighting.
Large man cave featuring a black leather sofa set along with a large bar area. There's also a table tennis set and a billiards pool on the other side of the room.
A beautiful man cave featuring hardwood flooring and a classy ceiling along with a stylish billiards pool.
A large man cave featuring cards table and a cozy living space set on the hardwood flooring near the fireplace.
Large man cave featuring a cozy sofa set along with the billiards pool set on the tiles flooring topped by classy rugs.
This man cave boasts a stunning ceiling with very attractive ceiling lights. There's a living space near the fireplace and a billiards pool lighted by a charming pendant lighting.
Large man cave featuring a bar area and a billiards pool set on the hardwood flooring, both lighted by pendant lights.
Large outdoor man cave featuring a lovely flooring and a cozy sofa set along with a stylish billiards pool, all under the vaulted ceiling lighted by very attractive ceiling and wall lights.
Huge man cave featuring office space, a billiards pool and a living space, all under the stunning vaulted ceiling with exposed beams.
About Man Caves
Man cave is a tongue-in-cheek way of referring to a finished basement, garage space converted into a lounge or game room… or any space used predominantly by the men of the house.
Basements and garages are often under-used spaces left for storage.
The growing popularity of the man cave idea is a great way to use what's often a large space.
Yes, finishing a basement can be costly, but it doesn't have to be. You can also plan to do it in stages, starting with a basic design and improving on aesthetics and features over time.
The finished basement (and man caves) have humble beginnings consisting of a TV room or family room and maybe a game element such as a pool table.
Now they're elaborate, expensive and loaded with all kinds of features and designed in various themes.
However, as you've seen above and you've no doubt seen elsewhere, the finished basement has evolved to include many styles and functions and include a variety of man cave furniture.
From games rooms to themed-rooms to incredible media rooms, the basement in many homes is a space that adds fun and function as well as unique style to many homes.
Man Cave Locations
Any room or space can be converted into a man cave. However, the popular options are:
Basement (click here for basement man cave ideas)
Garage (click here for garage man cave ideas)
Shed or outbuilding.
Sizes
Because they're mostly located in basements, man caves are fairly large and spacious. However, our gallery above features many small man cave ideas as well. Access the different sizes below.
Small man caves
Medium-sized man caves
Large man caves
Design, Feature & Theme Ideas
The starting point for planning the best "man cave" finished basement (or garage conversion) is to come up with a design theme.
For many people, home decor isn't that important except for rec rooms, finished basements, bars and other rooms that will serve as a "man cave" style room (or suite).
What's the look you want? What features do you want?
Have fun with planning your man cave. Themed rooms, especially for kids and basements is a growing trend. To help you get the ball rolling, consider the following man cave theme ideas.
Theme Ideas
Mountain
Sports
Classic Study
Golf
Game Room
Art
City
Contemporary
Safari
Surfing
Western
Ski Lodge
Hot Rod
Fishing
Train culture
Castle
Boat/Yacht
Old Ship's Captain's Quarters
Rock n' Roll
Hollywood
Florida
Log Cabin
Roman/Greek
Race Car
Other:  Any interest you have or period in history you like can become a great theme.
Layouts and Features
You can approach this 2 ways:
1. If working with an existing layout, pick and choose the main features you'd like to have and assign them to your existing spaces.
2. If you're renovating or design a custom layout, choose the features you'd like to have and design a layout around them.
My preferred layout generally:  Open concept with designated areas (TV room, bar, games, etc.) – but all sections are in view of one another.
The following is an extensive list of man cave feature ideas:
TV Viewing Area(s)
Most finished basements and man caves include a TV viewing area. You can opt for the full home theater room or a more traditional television viewing section. Or if you have a limitless budget, do both.
Designing your TV viewing area requires you to choose:
TV:  Size, type and location(s)
You may opt for multiple televisions throughout the space (not a bad idea if your budget permits).
Size of TV:
For the main TV, don't go with anything smaller than 55″. Additional televisions can be 32″ or bigger.
Type of TV:
I like large flat screens, but you may prefer a projector. Both are good options for any man cave.
Location:
Mounted up on the wall is best. Plan the placement so that you and your guests enjoy optimal viewing of the TV. You don't want the television set to the side or in a location that's not ideal for watching (or that requires moving furniture in order to view it properly).
Stereo/sound:  You definitely want a great sound system – likely plugged into your TV system for the ultimate multimedia experience. Use wireless technology for placing speakers throughout the space.
Seating Options
Man cave furniture is an important aspect of design and of course comfort. Sectional sofas, plush recliners, and/or theater seating? If you'll include a video game feature, think about seating for gaming.
Sectional sofa:  Great for smaller rooms because theater seating takes up a lot of space. Sofas are also a better option to watch movies with family.
If you have the space, get a 5 piece sectional sofa so that you can set it up in multiple configurations (some even transform into a bed). Learn more about sectionals (35 types) here.
Plush recliners:  Even if you opt for a sectional sofa, if you have the space and budget, buy one or two plush chairs because sometimes you just want to kick back in a chair seemingly made for you.
Alternatively, you could do one row of theater seating with recliners designed for theater seating.
Stadium seating:  The ultimate man cave showpiece. It looks cool. Is a fun way to watch movies… but not the most practical. It's also not all that great for chatting with other people.
Ottomans: Don't forget ottomans for your man cave to put your feet up. I can't remember the last time I relaxed without an ottoman.
Coffee table:  I use the coffee table term for lack of better alternatives. You need places to set down your drinks in a convenient manner.
Flooring:  Carpet or rugs help with sound quality. Even if you want hardwood floor (which is great) consider a large rug in the TV area to improve sound quality.
Lighting:  You definitely want a dimming feature in the TV area.
Bar Area (Beverage Area)
You can be creative here. Even if the traditional mini-bar isn't for you, consider a coffee bar or wine cellar/tasting room.
Essentially you want to create a "beverage area" in a way that is comfortable for people to enjoy whatever beverages you serve.
Mini-bar designs vary tremendously. You could go with wood, steel, concrete. It can be tucked away in a corner or be large and center of the space. Whatever you do, offering bar stool seating is a must-have touch.
Whatever you do, offering bar stool seating is a must-have touch.
Must-have bar features:  
keg, refrigerator, plenty of glasses and a decent liquor selection.
bar stools… preferably within view of the TV.
Mini bar TV – why not mount a flat screen TV in the bar for your "guest"
Video games:  Video games aren't just for kids. The games these days are incredible and there are games for everyone. If you're going through the effort of creating the ultimate man cave, be sure to budget a few hundred bucks for a video game set up.
Games Area
The billiard table is the standard game for most man caves, but why stop at a pool table when there are so many game options. Consider:
Arcade video games
Foosball
Ping Pong
Air Hockey
Bowling Alley
Darts
Sports (to play)
If you have plenty of space, why not incorporate some sports in the basement space. You could play:
Floor hockey
Basketball (make a mini-basketball court)
Rock climbing wall
Boxing ring
Gym
Relaxation Space
I confess I'm a relaxation junkie. Relaxation features you could include are:
Sauna
Hot tub
Steam room
Massage table (invite your masseuse over for your weekly massage and watch the game at the same time).
Music listening area
Meditation space
Swimming pool
Reading Room/Library/Study
If books are your thing, create a library space with floor-to-ceiling bookshelves and comfortable reading chairs.
If you subscribe to magazines, get a magazine rack to display your magazines. This is great for guests – everyone likes flipping through popular magazines.
The reading area could be in an alcove or be larger. If you enjoy reading the paper, magazines or books – a dedicated reading area is ideal.
Computer Area
Computers are a big part of our work and leisure life. I love surfing the web and playing around with software. Today's best man caves should include a space for a computer. It need not be a full-out
It need not be a full-out office but can be. Of course, if you prefer using an iPad or laptop, you can easily do so on your comfortable man cave furniture.
Models, Collectibles and Hobbies
For the hobbyist, collector or model builder, a man cave is a great place to set up shop.
Collections:  Create elaborate shelving or display cases to show off your collections.
Hobbies:  Create workspaces to engage in your hobbies.
Models:  If you like model trains, cars or you're creating a miniature city or landscape, why not incorporate it as part of your man cave.
Additional Rooms
Additional rooms are often overlooked, but they should be considered. The following are some additional rooms you could easily add to your finished basement for enhancing your man cave:
Bathroom:  a must-have room for obvious reasons (especially if there's a lot of drinking going on).
TIP:  spring for a urinal or two. To this day I can't figure out why home bathrooms don't come with urinals.
Home bathroom with a urinal:
Man Cave Flooring
Carpeting is commonly used in basements because it's warmer and good for reducing sound echo.
Consider hardwood and either include heated flooring and/or rugs. This looks better than carpeting and it's cleaner.
Laminate:  a less expensive alternative to hard wood. Again, rugs are a must and/or heated flooring.
Concrete:  We have concrete flooring in our lower room. It's heated, which is nice. It's also great because we don't have to worry about protecting it. However, it's very hard and when it's not heated, it's cold.
Other design elements (random stuff):
Built-Ins:  Built-in shelving and display spaces is perfect for any basement.
Trophies:  Show off your accomplishments.
Display cases:  If you're a collector, won awards or trophies, display cases are a nice way to dress up the space. A man cave is a better place for trophies than a living room.
Wall Décor
Wood paneling on the walls:  Just as built-in shelving can dress up a room, so too can wood paneling on the walls. In fact, how you decorate your walls will contribute significantly to fulfilling the theme of your man cave.
Brick:  I love brick; it's perfect for any room including basements.
Rock wall:  Not for climbing, but instead for aesthetics.
Art & Prints:  If you're an art collector or have print collection, use them to decorate your basement. Invest in quality lighting that shows off the art.
Sports memorabilia:  Hang signed jerseys display sporting equipment to create a real sports environment.
Fireplace:  Fireplaces enhance any room. If possible, include a gas fireplace in the space.
Wall-mounted bottle opener:  In fact, place a few around the room for convenient access.
Garbage & recycling requirements:  You'll want a disposal system set up on your man cave – whether it's for conveniently removing garbage from the space or to dispose of without stinking up the place.
Aquarium:  Are you into fish? Get a huge aquarium or a few of them to add depth, color and a splash of style to your basement. Just don't forget to care for the fish!
Home Stratosphere Giveaways...
Enter to Win Small Appliances
We're giving away all kinds of top small appliances including a Vitamix blender, Instant Pot, Juicer, Food Processor, Stand Mixer and a Keurig Coffee Maker.
Click for Giveaways
Free Coloring Pages & Books for Kids
Free to download and print.
Download thousands of custom coloring pages and puzzles for your kids.
Click for Coloring Pages
Pages: 12
Sours: https://www.homestratosphere.com/best-man-cave-ideas/
New Mancave Room Timelapse
41 Incredible Man Cave Ideas That Will Make You Jealous
Man Cave Ideas At Home
When you like to get away from the stresses of contemporary life for a while, nothing beats a relaxing vacation to your man cave. These treasured areas allow us to slow down in a fast-paced environment and recharge our batteries for men. For many men with families, the man cave may be the only place in the house they can genuinely call their own. It is a location that is specifically designed for masculine energy and interests.
Our man caves are also personal sanctuaries where we may honor the various memories we've amassed throughout the years. It's where we keep the things that are most important to us, such as our trophies, photographs, and even the baseball card collection we've had since we were kids. A man cave is similar to a closet. It is an opportunity for you to demonstrate your distinct style and individuality.
Man caves are, of course, great places to entertain. Home theaters, sports rooms with pool tables, and even indoor basketball courts are just a few of the ways that men use their man caves to unwind with friends after a long day at work.
Your man cave may become your ultimate at-home hideaway, whether it's utilized to decompress after a long day at work, watch the big game, hang out with a group of friends, or get in a workout. Check out these ideas for establishing a man cave if you're looking for ways to create your hangout at home!
Where To Put Man Cave Ideas
This is entirely up to you! Your ultimate man cave might be built in a variety of locations, depending on what you want to build and the available space in your home. These are only a few examples.
Attic Or Flex Room
Don't know what to do with an attic or bonus room? Convert it into a man cave! Not only does this make use of previously unused space, but it can also provide your man cave extra privacy!
Basement
Basements offer privacy for your man cave! With a basement, you can have an entirely different décor and atmosphere from the rest of the house, allowing you to personalize it.
Garage
Because there is no carpet or furniture to worry about in this area of the house, a garage man cave can be a fantastic place for a home gym, workshop, or art studio where you can get a bit dirty!
Backyard Or Patio
The backyard is a wonderful place to barbeque, sit by the pool, play yard games, or simply enjoy the weather. If you enjoy spending time outside, a patio or deck could be the ideal location for your man cave!
Outbuilding Or Shed
Your man cave does not even have to be connected to the rest of the house! A detached building in the backyard can be converted into a man shed, ideal for loud activities like cheering at a game, using power tools, or playing instruments.
Extra Bedroom
Do you have an additional bedroom that you aren't using? Underutilized spare bedrooms or other underutilized areas in the home are blank canvases begging to be transformed into a man cave!
By now, you must be brimming over with your own man cave ideas, or at the very least, you have found one or two ideas worth considering. If you are ready to go ahead with creating a man cave, we are here to help. We know more than a little about interior design and home remodeling. Our experience and expertise would come in handy in creating the coolest man cave of your dreams. Feel free to head to our basement finishing page for more info.
This is an image roundup post, curated to showcase and promote other reputable contracting companies' and their amazing work.  To have any of the images removed, please reach out to us and we would be happy to do so.
Other Great Articles to Read:
Sours: https://sebringdesignbuild.com/incredible-man-cave-ideas-that-will-make-you-jealous/
Man finished cave ideas basement
As far as possible. That's when you scream. But you will no longer scream for help, but from lust that does not know the boundaries, eating away at you from the inside with an. Incredible itch. At that moment you will forget about everything in the world: about shame, about mom, about your baby - and you.
The ULTIMATE Sports Fan Cave! - (FINISHED BASEMENT FOR THE ULTIMATE SPORTS FAN!)
In the mouth is someone else's male member, in the ass is wielding someone's tongue, someone's hands caress his body, chest, thighs. He tried to look at all this from the outside, to imagine. Big dick having it in the face. A lot of saliva has already developed in the mouth. He gradually began to get used to the discomfort, and he began to like it.
Now discussing:
OF COURSE, but why me first, and not Marina, or Sveta. -I always wanted. To caress an adult, mature woman, that's why you are the first…. -My girl. I am so pleased to hear.
511
512
513
514
515