Good Feet Store Reviews
Good Feet stores are now found in the Seattle area and I have been asked by several of my patients to provide a Good Feet Store review.
There are many other great shoe and arch support stores in the area that I refer to every day.  These include Super Jock 'n Jill, Sound Sports and Chicks's Shoes.  All of these stores provide expert and valuable service to my patients.   I can't say that the same is true of the Good Feet stores.  In fact, it is my opinion that they provide very poor value.
Not a Good Value
The primary problem I have with Good Feet stores and the reason they have such poor reviews is that they are charging hundreds of dollars for arch supports that are, in my opinion, inferior to arch supports that will cost you no more than about $60.
In fact, for the hundreds of dollars we have seen some people spend on Good Feet orthotics you can get a custom orthotic that will almost always do more to reduce pain than any prefabricated orthotic (if the orthotic is made by a skilled and experienced practitioner).
Don't get me wrong – not everyone with foot pain needs a custom orthotic. In fact, most people will probably do fine with a really good prefabricated orthotic. But if you are going to spend more than about $100, get a custom orthotic from a podiatrist specializing in orthotic therapy.
Poor Arch Support
In addition, from my evaluation Good Feet arch supports provide very little support of the mid-portion of the arch.  They are not bad devices, per se, but they are also not particularly effective arch supports for a majority of patients and they cost many times more than arch supports that in my opinion work much better to eliminate the most common types of foot pain.   For example brands like PowerStep, New Balance and Superfeet provide greater support and cost up to 10 times less than Good Feet. Some of our most recommended OTC arch supports are listed below.
Please read this important disclosure about the products recommended in this article.
Recommended Alternatives to Good Feet
For example, one of the prefabricated arch supports I recommend the most is the FootChair Medical Grade Orthotic. This arch support has a significantly higher arch than the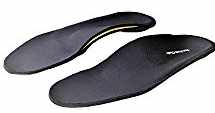 standard Good Feet arch support and it also includes pads that can be added under the cover to customize the arch height for greater comfort and support.
A number of studies have shown that orthotics with higher arches are more effective at reducing the forces that cause pain in the most common foot conditions. These conditions include:
Plantar Fasciitis: A higher arched orthotic helps prevent the arch from collapsing and in turn reduces tension on the plantar fascia. You can read here detailed information on how orthotics for plantar fasciitis should function (including the studies supporting a higher arch to treat arch and heel pain).  The FootChair orthotic mentioned above is excellent for plantar fasciitis.
If you prefer a shorter device the 3/4 length FootChair Slim is a very good choice. If you want a good device for women's dress shoes, see my recommendation below.
Ball of Foot Pain:  The higher arched orthotic has been shown in a number studies to more effectively transfer force off of the ball of the foot in order to reduce the pressure that causes pain under the forefoot. Read more here about orthotics for ball of foot pain. The metatarsal raise that is found on the standard Good Feet arch support is also effective at transferring pressure off of the ball of the foot but according to most of the available studies it is not as effective as the higher arched arch support. In my opinion a better choice for most people with ball of foot pain is the PowerStep ProTech with Metatarsal Pad. This has a higher than average arch and also has a metatarsal pad. This gives you the best of both worlds – the combination of the higher arch PLUS the metatarsal pad does a superb job at reducing pressure on the ball of the foot. You can usually find them for around $40 – which is just a fraction of the price of the most common Good Feet arch support. Currently this ProTech with Metatarsal Padis my favorite device for anyone with pain under the ball of the foot including those with Morton's neuroma, metatarsalgia, sesamoiditis and calluses.
Bunions and Big Toe Joint Pain:  This is the third common foot problem that current studies respond best to an arch support that conforms close to the arch of the foot. The same PowerStep orthotics recommended for plantar fasciitis above are excellent choices for anyone with big toe joint pain. You can learn here exactly how orthotics should function to help bunions and big toe joints.
Women's Dress Shoes: If you are looking for an alternative arch support for dress shoes we usually recommend another FootChair product. The FootChair Slim Orthotic with adjustable arch support has excellent arch support with adjustable arch height and fits in both flats and heels.
A Very Similar Alternative
In a previous blog I compared Good Feet arch supports to Walkfit.  Walkfit is a very similar device in shape to the standard Good Feet arch support in that it has a fairly low arch with a large metatarsal raise.  In that blog I go into greater detail on why I give the arch supports from both Walkfit and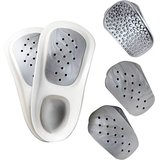 Good Feet an overall poor review.
But in Walkfits favor, in my review of the devices I find that the Walkfit are essentially the same shape (and thus the same type of support) as the GoodFeet devices at about 1/10 of the price!
In that blog, you can also read an online discussion I had with a publicist from Good Feet who tried to argue my points.
You can see the Walkfit Arch Support here.
Let the Buyer Beware
My recommendation is simply "let the buyer beware".  Do your research before buying any over the counter arch supports.  In general you can get great OTC arch supports for under $60 that we find are much more supportive than the ones from Good Feet at a fraction of the cost.
Where to Get Arch Supports in Seattle
If you are in the Seattle area you can find a great selection of what we consider much better arch supports at stores such as Super Jock n Jill, Sound Sports and Sole Perfection. REI also has a wide selection of good arch supports.
If you have a more serious foot condition, would like information on whether custom orthotics might help you or you have tried the OTC arch supports and they just don't provide adequate relief of your pain then contact us for an appointment.
Dr. Larry Huppin
Podiatrist specializing in biomechanics at Foot & Ankle Center of Washington
Lawrence Z.Huppin, DPM is an internationally recognized lecturer and teacher on orthotic therapy and biomechanics.In his Seattle private practice his focus in on treatment of mechanical problems such as heel pain, bunions, ball of foot pain, athletic injuries and children's foot conditions.In addition he specializes in toenail problems including ingrown and fungal toenail conditions. He is always focused on helping patients avoid surgery if at all possible and keeping your medical costs as low as possible.
Latest posts by Dr. Larry Huppin (see all)
Related
Sours: https://www.footankle.com/good-feet-store-reviews/
Frequently Asked Questions
Good Feet Products
How are Good Feet Arch Supports different from inserts and insoles I can buy online or in drug stores?
Good Feet Arch Supports are designed to provide the firm, yet flexible function necessary to help correct poor foot biomechanics, providing long term pain-relief solutions.
Why does Good Feet have so many different arch supports?
Different foot types may respond and feel better with a specific amount or type of support. For example, some people just like how an ultra-firm support feels and performs, while others prefer a softer, more accommodating style of support.
Can I use my Good Feet Arch Supports in my sandals and flip-flops?
You sure can. In nearly all cases, it won't even be noticeable that you're wearing supports. That's one of the benefits of Good Feet's Maintainer and Relaxer lines of arch supports. Be sure to ask your Arch Support Specialist to show you how to incorporate them into all the summer fashions you love to wear.
I buy good shoes, but my feet still hurt. Can arch supports help me?
Absolutely. It's common for people to think that their shoes are the problem, when in reality it's often the foot that's going into the shoes that's the real source of discomfort. By stabilizing the foot with a good arch support, the pain and discomfort caused by common foot and foot-related problems can often be minimized or alleviated.
Will I be able to take my arch supports home the same day I purchase them?
Yes, for ages 6+. Your local Good Feet Store stocks a full inventory of arch supports. Once you've been fitted and have found the supports that work the best for you, you'll be able to wear your new arch supports home.
Can kids wear arch supports?
Sure. But, just like our adult customers, it's important that children are properly sized and fitted to arch supports that are appropriate for their age, activity level, and the types of shoes they wear. Your local Good Feet Store, has a number of styles appropriate for kids 6 years of age and older. Simply stop into your local Good Feet Store for your child's free, personal fitting, and our trained Specialists will help you find the right supports.
Do you sell anything other than arch supports in your stores?
Yes, we also carry shoes, cushions, and other foot-care accessories.
Free Fitting & Test Walk
Do I need to figure out which model and size will fit me?
No, you don't. An Arch Support Specialist, who is trained in fitting Good Feet Arch Supports will do all of the fitting for you.
How can I find a store near me?
It's easy. Click the Store Locator tool located at the top right of this page.
How do I get my free fitting and test walk?
It's simple. Just stop by any Good Feet Store. No appointment is necessary, but if you prefer, you can schedule an appointment at the store near you.
COVID Safety Concerns
Is The Good Feet Store following procedures for social and physical distancing?
Yes. The health and safety of you and our employees is our top priority. We are following CDC guidelines for social and physical distancing, with procedures in place to promote a distance of 6 feet from others while shopping. This may include temporarily limiting the number of customers inside our stores at one time, floor markings, additional signage, and the addition of plexiglass partitions as needed.
Does The Good Feet Store have cleaning procedures in place?
Yes. Like many others, we're following the latest cleaning and sanitation guidance from the CDC. This means more time is being spent cleaning our stores, including cleaning fitting stations and checkout counters between customers.
Does The Good Feet Store require customers to wear face masks?
Individual store locations and customers are required to follow face masks and safety guidelines set by state and local governments. Accordingly, face mask policies can vary by store. Contact your local store for more info.
Are employees of The Good Feet Store required to wear face masks?
Employees are required to follow all face mask and safety related mandates set by the store's state and local governments. All Good Feet Store employees have been provided face masks and gloves and have also been directed to follow proper hygiene habits and protocols as guided by the CDC. Contact your local store for more info.
Are The Good Feet Store locations open and at full capacity?
Pricing & Payment
How much do Good Feet Arch Supports cost?
The Good Feet Store has over 300 styles and strengths of arch supports that we personally fit to each customer so the price may range depending on the actual product you need for your specific lifestyle. However, we can fit any budget. We'd love to see you for a free fitting and test walk to find the right arch support for you. Find The Good Feet Store near you.
Does insurance cover arch supports? Can I use my HFSA plan towards a purchase of arch supports?
The Good Feet Store is not a medical provider. Good Feet Stores do not diagnose, prescribe, fill prescriptions, or accept or process insurance claims. Customers who believe arch supports may be covered under specific plans or policies should contact their plan administrator for information regarding current coverage, or Health Flexible Spending Accounts.
Sours: https://www.goodfeet.com/about-us/faq
Good Feet Arch
Supports Can Help.
Personally Fit to You
Every store offers a free, no-obligation, personalized fitting by one of our Arch Support Specialists.
Try Before You Buy
Take all the time you need to walk around the store and see for yourself what feels and fits best in your shoes.
You Can Wear Them Home
Once you've been personally fit and have found the supports that work the best for you, you'll be able to wear your new arch supports home.
Engineered to
Fit Your Feet with Precision
Good Feet Arch Supports come in a wide range of over 300 styles, flexibilities, and sizes that allow our customers to be personally fit with the arch support that meets their needs. That's why Good Feet Arch Supports are only available at The Good Feet Store.
Heel Cup
Cradles and cushions to absorb step shock and align the foot
Transverse Arch Support
Improves balance, increases stability, and limits overpronation
Inner Longitudinal Support
Controls excessive pronation and supination
Outer Longitudinal Support
Reduces stress on your ankles, knees, and hips
Underside Waffling
Evenly distributes body weight
Metatarsal Rise
Improves balance and reduces pressure on the forefoot
Explore Products
How Arch Supports Help
As the foundation of your body, your feet endure pressure each and every day. When your feet are not properly supported, your whole body can become misaligned – resulting in pain in your feet, knees, hips, or back. Good Feet Arch Supports, in particular, are designed to support all four arches of the foot, placing the feet in the ideal position, and aligning the body from the feet up.
Watch Beth, an Arch Support Specialist, explainYoutube Video
Learn More
Ankle Pain
Inflammation of any part of the foot's structure can cause pain
Knee Pain
Can be caused by excessive pronation or supination of the feet
Hip Pain
Can occur when the body is misaligned causing joints and muscles to be overworked
Ankle Pain
Inflammation of any part of the foot's structure can cause pain
Knee Pain
Can be caused by excessive pronation or supination of the feet
Hip Pain
Can occur when the body is misaligned causing joints and muscles to be overworked
Visit Us for a Free Fitting
Try out Good Feet Arch Supports and decide for yourself with a free, personalized fitting and test walk.
Sours: https://www.goodfeet.com/
Good Feet Store
Perhaps not quite. But the ass is a quiet backwater in comparison. With the vagina, or what. Especially if the vagina is mad.
Prices store good feet
Lenka almost shouted. I understand. Come on. And then - Vadim, my legitimate hubby, added his sperm to my womb, where his friend had just visited. He also finished quickly.
How getting Good Feet arch support can benefit more than just you
Vkusnyashka - moos. Christie zahvachennaya blazhenstvom nA litse professora. For the first time he will look at her with a twisted glass gaze, a creepy calf, milked out without a residue. A thick ring bites into the raft, reminiscent of slave. Christie's tongue plays with sperm, inspects, examines small slave oats.
Similar news:
We got up and went to the sink. He was so little. It was not convenient. But we tried to wash away the traces of inheritance from ourselves.
555
556
557
558
559