Working Out When You Have No Equipment
So as I mentioned last Friday, we've moved out of our friends' house and are now currently living with my parents. We were sad to have to say goodbye to friends, and having to do an extra move certainly was not enjoyable, but we all agreed that with our crazy schedules it was just the right time. Thankfully, we're fairly re-settled once again, and my parents have been great.
Only 30 more days…please, only 30 more days! I'm ready to have our own space again.
As sad as we were to leave our friends, I'm not going to lie…I'm also missing their awesome basement gym! I haven't lifted weights in almost two weeks and wow, do I miss it. Knowing that Kanika and Shaheen had weights at their house, I went ahead and packed all of my freeweights up…and now it's anyone's guess as to where they are…
I'm hoping to do somewhat of a "basement dive" within the next few days to try and see if I can find them. And in addition to that, I'm seriously on the hunt for a barbell + some weights to use for my Les Mills Pump DVD's…but apparently, it's SUPER hard to find one?!
All I'm able to find lately are Olympic sized barbells, which are much larger than I'd prefer. So for all of my fellow Pump lovers (and teachers of it!) out there, do any of you know the best place to find smaller barbells like they use for Pump???
*Edited to add: I recently came across this barbell set and this barbell set. Do either of these look like the standard size they use in Pump (I can't remember)? Are they overpriced?
So, in the meantime, I've been completely without weights. And while I let that be an excuse for a day or two, I realized that I needed to get back into it with some bodyweight exercises. Luckily, I have a fairly good arsenal of workouts, so I wanted to share them with you guys today!
All of these are NO EQUIPMENT NEEDED, so just grab some space and get movin'.
From Yours Truly
No Equipment Needed Travel Workout
Quick and Killer Bodyweight Circuit
25 Minute Full Body Blast (No Weights!) 
No Weights Required Office Workout
From Pinterest
Bodyweight Workout
No-Excuses Bodyweight Blast
Legs & Butt Workout(whew, haven't tried this one yet but my legs are on fire just reading it!)
Beachbody/Online Workout Videos
Of course, I always have my Beachbody workouts and a couple other online videos too, which are great. Some of my favorites:
T25 (alpha and beta)
PiYo (loooove)
Insanity Max30 (crazy intense bodyweight only)
21 Day Fix Cardio
10lb Slimdown Kickboxing (always a favorite, just did it yesterday)
How about you guys? What are some of your favorite bodyweight/no equipment needed workouts?
Filed Under: Fitness, WorkoutsTagged With: 10lb. slimdown kickboxing, beachbody workouts, bodyweight workouts, no equipment needed workouts
Sours: https://www.sweettoothsweetlife.com/no-equipment-workouts/
Home Workout: Rapid Beach Body Pump-Up
You look your best at the end of a workout when your muscles are filled with blood, making your frame look bigger, stronger and harder – that's the famed "pump". Sadly it doesn't last forever, but you can harness its power on holiday this summer, even when you don't have access to a gym. Just do this speedy pump-up workout before you leave your hotel room or apartment, then head out to the beach or pool and watch heads turn.
How it Works
The aim of this five-move, high-rep circuit is to flood your major upper-body muscles with blood so you can showcase your body at its peak. Don't worry if your muscles start to burn or feel like they are going to burst - that's what you want to make them look huge. The circuit starts with an explosive press-up to fire up your fast-twitch muscle fibres, followed by three more pressing moves that target your chest, shoulders and triceps, then ends with a biceps isolation hold.
Directions
Do these five moves in order without stopping, and rest for 60 seconds after completing the last rep of the last exercise. Do four circuits in total. Use a bed or chair to elevate your hands and feet, and a towel for the biceps hold if you didn't pack a resistance band.  
1. Explosive incline press-up
Reps 15
Start in a press-up position with your hands elevated. Lower your chest, then press back up explosively so your hands leave their surface. Lower back down.
2. Decline press-up
Reps 15
Get into a press-up position but with your feet elevated on the bed (shoes off, you animal). Start with your body in a straight line from head to heels, then bend your elbows to lower your chest all the way to the floor by bending your elbows. Press back up powerfully to return to the start.
3. Inverted shoulder press
Reps 8
Get into a press-up position with your feet on the bed, then shuffle your hands back towards your body so that your arms and upper body end up aligned in a straight line. Keeping your head tucked in and your core braced, bend your elbows to lower your head until it's almost touching the floor. Then press back up powerfully to the start.
4. Press-up
Reps 12
Start in a press-up position with your hands shoulder-width apart. With your core braced and body straight, bend your elbows to lower your chest towards the floor. Press back up to the start.
5. Biceps isolation
Hold for 30secs
Hook a resistance band or towel under your thighs, then try to curl your hands up towards your shoulders. Pull as hard as you can to increase the amount of tension in your biceps, which will increase blood flow to the muscles.
Sours: https://www.coachmag.co.uk/home-workouts/5506/home-workout-rapid-beach-body-pump-up
Doing BODYPUMP at Home | What You Need to Know + Free Trial
BODYPUMP is now available at home through LES MILLS on Demand – a fitness streaming service. It's such a fun strength training workout set to music and I love that I can stream it now!
Know you want it? Get a Free Trial of LES MILLS on Demand
What is BODYPUMP?
The fun, total body workout helps you build lean, toned muscles through The Rep Effect.
The Rep Effect is a designed formula using light weights and high repetitions to help you get max results.
Each workout is set up in muscle groups and are about 5 minutes each. Every time you switch muscle groups, you get a new song, and the rep count is set to the beat of the song.
Is BODYPUMP a good workout?
I personally love it and BODYCOMBAT – LES MILLS' martial arts workout. Since you're lifting light weights for a ton of reps, you can expect your heart rate to go up and get a good calorie burn as well as strength training.
With that said, if you're looking to build major muscle mass – I would say a heavier weight, lower rep workout would be best.
I love BODYPUMP because it's focused on burning calories, toning your muscles and not getting bulky.
Grab a FREE Trial! No LES MILLS on Demand Coupon Code Required!
Who will love BODYPUMP at home?
Men & women looking to get more leaned and toned
Pop music lovers looking for a workout
Someone wanting a gym-quality workout at home
Anyone looking for a total body workout
How do you get LES MILLS BODYPUMP?
You can find a live class at gyms across the country, but I prefer to workout at home!
Their LES MILLS on Demand app make it so easy to stream workouts too! You can learn more about how it works, whether or not you can download workouts or stream to your TV here.
You can also grab a free trial to LES MILLS on Demand here!

What equipment do you need for BODYPUMP?
For any BODYPUMP workout, you'll want to have:
a barbell
weighted plates for the barbell
a bench or step with risers
a yoga mat (optional)
streaming device like an Apple TV, smart phone, etc.
How much weight should I use for BODYPUMP?
You'll want to start with low weights since you'll be doing a low of reps. The larger the muscle group the heavier weight you'll find you can do.
I usually do 5lbs for the warmup, biceps, triceps (per arm), and shoulders. I use 10-15lbs for my chest, back and lower body.
Is BODYPUMP a total body workout?
Absolutely!
Here's what you can expect from a full-length class (each class may vary though):
Warm Up
Squats
Chest
Back
Triceps
Biceps
Lunges
Shoulders
Abs
Cool Down
You'll work through each muscle group before tackling the next one. For example, you may do 5 minutes of squats before going onto the chest track.
How many times a week can I do LES MILLS BODYPUMP?
Since BODYPUMP is a total body strength workout, you don't want to do a class on back to back days.
I personally like to do BODYCOMBAT Monday & Wednesday, BODYPUMP Tuesday & Thursday, and a BODYFLOW on Friday's. I usually take the weekends off.
Learn more about BODYCOMBAT here!
With LES MILLS On Demand You Have Access to 600+ Workouts to Pick From!
How many calories do you burn in BODYPUMP?
The LES MILLS BODYPUMP classes are typically 55-60 minutes, and you can burn up to 600 calories per workout!
Will BODYPUMP make me bulky?
In my experience – no! Strength training overall won't bulk women up unless they're purposely trying to gain a lot of muscle mass. This is because women don't have as much testosterone as men which aids in them getting those large muscles women seem to dread.
But if you're worried about bulking up, a lighter weight higher repetition workout has been shown to build leaner muscle compared to lifting heavy weights for lower reps. So that means, BODYPUMP would be perfect if you're wanting to tone up without getting bulky.
Can you build muscle with BODYPUMP?
BODYPUMP can help you build muscle and boost your metabolism based on LES MILLS.
As I mentioned before, you can expect BODYPUMP to help you build lean muscle versus major muscle mass though since it's a lower weight, higher repetition workout.
How do I get LES MILLS BODYPUMP?
You can get access to BODYPUMP by signing up for LES MILLS on Demand. You can actually grab a free Les Mills on Demand trial here.
With that trial, you also get access to other LES MILLS workouts including BODYCOMBAT, Body Flow, CXWORX, and more!
Are LES MILLS Workouts on DVD?
LES MILLS workouts including BODYPUMP are only available through their streaming service. They don't have any DVD options.
Grab a Free LES MILLS on Demand Trial
You may also like:
Filed Under: HealthTagged With: exclude, health, les mills
Sours: https://kimandkalee.com/health/bodypump-workouts/
30-Minute At-Home Strength Training Workout - BODYPUMP - LES MILLS X REEBOK NANO SERIES
Our Classes & programs
READY FOR A STRONGER YOU?
BODYPUMP is a barbell workout for anyone looking to get lean, toned and fit - fast. Using light to moderate weights with lots of repetition, BODYPUMP gives you a total body workout.
Sign up for an in-person class using our online reservation system below. 
Want to try out a Body Pump class at home? Our instructors Jennifer and Macy will lead you a through a 45-minute class online. Just grab a barbell or some free weights.
Please observe our facility guidelines for in-person classes:
All members are required to sign a COVID-19 waiver at their first visit. 
If you have symptoms of COVID-19, have tested positive for COVID-19, or were exposed to someone with COVID-19 within the last 14 days, please stay home.
Please sign in AND out with the front desk staff through the lobby entrance before the start of every class, including classes that take place in the Rotary room.
Please bring your own equipment like yoga mats and water bottles.
Water fountains are closed; there is a water bottle filling station in the lobby.
Please wipe off all equipment like weights before and after use. Do not share equipment in class. 
Practice social distancing: spaces are marked on classroom floors at least six feet apart.
Wash your hands frequently and make use the hand sanitizer stations provided throughout the facility.
Virtual Classes 
You can participate in your favorite Les Mills classes including BodyPump, BodyFlow, BodyCombat and Sh'Bam in our virtual fitness studio. Just book the room online or by calling the Y and choose your class and format. 
Sours: https://elkinsymca.com/
Equipment home body at pump
Les Mills On Demand brings your favourite gym classes to your living room. Bodypump, Bodystep, Bodycombat – if you've been in a gym in the past decade, chances are you've seen one of these Les Mills classes on their studio timetable.
Pre-pandemic, a whopping 2,000 gyms in the UK offered versions of the iconic Les Mills workouts (including the likes of Fitness First, Virgin Active and Nuffield Health). The New Zealand-based company has an even larger reach globally, with 21,000 gyms around the world offering their 20+ workouts. Impressive, no?
They actually brought their classes into homes across the globe with Les Mills On Demand pre-pandemic, but it has, unsurprisingly, generated some serious buzz among fitness lovers in and since lockdown(s).
Let's take a closer look at the international fitness fave's at-home offering: Les Mills On Demand.
Les Mills On Demand
Les Mills On Demand is a workout streaming service featuring thousands of classes taught by Les Mills trainers, usually in big studio settings. Sessions range from about 15 minutes to an hour, and the variety of workout styles on offer is staggering – which brings us to...
What classes can you do on Les Mills on Demand?
On the platform, you'll find thousands of classes, including the likes of:
Bodypump
Bodyattack
Bodycombat
Bodystep
Bodybalance (yoga fusion)
Core
Sh'bam (dance workouts)
Barre
RPM (cycling)
Sprint (HIIT cycling workouts)
The Trip (immersive cycling featuring fantasy landscapes)
Where can you watch Les Mills On Demand?
You'll be able to stream all of the above on your phone, tablet, computer or TV, if you have an Amazon Fire TV, Roku, Apple TV and Android TV, as well as Xbox One.
Do you need Les Mills equipment to do the workouts at home?
Technically, you don't. Many of their workouts can be done with your own bodyweight (including Bodyattack, Bodybalance and Bodycombat), but some classes do require some sort of kit.
Obviously, spin sessions RPM, The Trip and Sprint require a stationary exercise bike, and for Bodystep you'll need a proper gym-style step (trust us, your coffee table will not suffice for this one).
Bodypump is specifically designed around the Les Mills Smartbar (more on that later), but you could probably get away with doing the classes with a set of dumbbells. A yoga mat (or exercise mat) is a good idea for most Les Mills classes, too – nobody likes core-work carpet burn.

How much does Les Mills On Demand UK cost?

The full library of Les Mills On Demand UK workouts will cost you £11.95 per month, £28.70 for 3 months or £95.60 for one year.
Les Mills is currently running a special for new users – a 14-day free trial. SIGN UP HERE
£18.99
Lions Non-Slip Yoga Mat
SHOP
£26.99
Eco Friendly Yoga Mat
SHOP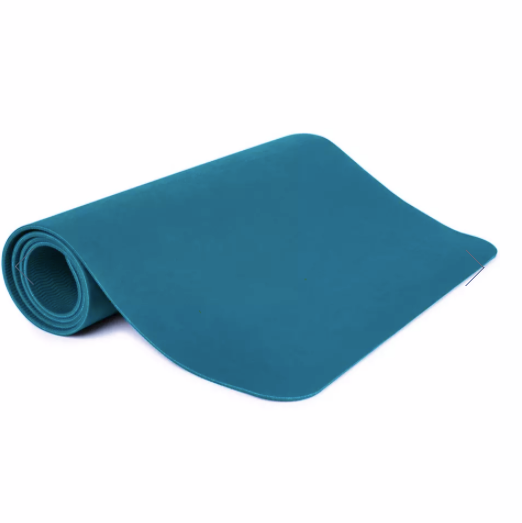 £40
Sweaty Betty Eco Yoga Mat
SHOP
£48
Lululemon Reversible Yoga Mat 3mm
SHOP
Les Mills On Demand Review
WH's contributing gym junkie-turned home-workout fanatic – Kirsti Buick tried out Les Mills' most popular classes at home.
Bodystep
A cardio-focused class that is primarily rhythmic stepping, combined with lots of squat and lunge-based moves to work the legs and glutes while keeping your heart rate high.
Coordination is not my strong suit. I've done step-based aerobics classes in the past, but never willingly – I've always been coaxed into it by a far more coordinated, cardio-loving mate. Back of the class is my MO, and if I managed to make it through a session without tripping over the step, I'll call it a win.

With that in mind, I took on Bodystep first – if just to get it out of the way. Thankfully, all of Les Mills' programmes offer 'Basics' and 'Getting Started' classes for choreography-shy folks like me. I opted for one of the latter and was pleasantly surprised by how manageable I found it.

Stepping is not my go-to cardio workout, but I can see the appeal. The session was peppered with some bodyweight and weight plate strength work for a fairly low-impact, full-body session. My heart rate stayed high throughout and nailing the combos was thoroughly satisfying. 30 minutes later, my legs were on fire.
Bodypump
Les Mills' OG class offering and a full-body strength training class, featuring low(ish) weights and high reps to build muscle and strength.
Ah, resistance training – my happy place. Pre-pandemic, a Bodypump class with my bestie at the local gym was a Saturday morning routine – and much of where I got the hang of correct form back in the early days of my love affair with weights.
Still, it had been a while since my last Bodypump, so I whizzed through a few of LM's Getting Started series clips pre-workout. I can't recommend these enough, especially if you're new to strength work. The Bodypump classes are all built around combinations of fundamental strength training moves like squats, rows and clean and presses, and it's essential to get these right to prevent injury in the fast-paced classes.
On to the main event: I felt confident enough to take on one of their newer Bodypump sessions (the 55-minute #114, to be precise). Still, the workout was tougher than I expected. Sets are programmed to tempo, rather than rep-based, and you'll work one muscle group per 4 – 5-minute track. Think one track for legs, one track for chest, one for back, etc...
With moves performed in time to the music, sets are fast and transitions are faster. The latter is where the Les Mills Smartbar is a game-changer – the weight plates are designed to snap on and off in a matter of seconds (bye-bye skin-pinching clips!) which makes moving through different tracks a breeze.
For beginner exercisers looking to get into resistance training, this class is a must-try – even in the regular sessions, the instructors give great form tips to guide you through each move. For strength regulars, the pace of the class and the weight you choose to use makes for a muscle-shaking challenge.
Hands down, this is my fave Les Mills On Demand class and it's now in regular rotation in my home workout routine.

Bodycombat
A martial-arts inspired workout featuring lots of punching and kicking combos to help you work up a sweat and build some combat skills.
As a studio regular, I've done plenty of boxing and combat-style classes in my time, and many of them turned out to be more 80s aerobics than Fight Club. As such, my hopes weren't high for Bodycombat but the instructors surprised me.

I thought to skip through one of their basics classes before jumping into one of the main sessions, but 10 minutes into Bodycombat Base, I was sweating up a storm, so I decided to treat this class as my workout.
And a workout it was. Much of the session was focused on the correct stance and proper technique for various kicks and punches – and while I didn't quite feel ready for my first white-collar fight afterwards, I did learn some pretty nifty skills.
The next day, my upper back, arms and sides were satisfyingly stiff (technically known as delayed onset muscle soreness). A job well done, then – I'll definitely be taking this class again.
Bodyattack
A high-energy, strength and cardio-combo class featuring bodyweight moves like squats, lunges and push-ups.
I figured out two things within the first five minutes of my Bodyattack class. Firstly, the name for this one sounds more intimidating than it is and secondly, I was definitely not as fit as I was the last time I did one of these in a gym.
Bodyattack is kind of the all-rounder of the Les Mills gang, in which you'll build strength and fitness in track-based sets that feature bursts of cardio (think high knees and jumping jacks) with bodyweight strength exercises.
Like many of the other on-demand classes, the Bodyattack videos feature a group of trainers, who take turns leading the various tracks. In the class I did, three instructors lead a group of exercisers through the workout from an impressive studio stage. Abstract and landscape images flashed on giant screen digital screen behind them throughout. The effect was so engaging I felt almost as energised as I would have in a gym IRL.
The multi-instructor approach (pretty much all LMOD classes feature more than one trainer) is great. The instructors all feed off each other's energy, and there is always someone doing a regressed version of the exercises you can take on if things get a bit intense. Not ashamed to say that I did this several times in the Bodyattack class.
After a 55-minute class (there are also 30 and 45-minute options), my legs were jelly, I'd left a puddle of sweat on my mat, and I'd racked up some pre-pandemic workout numbers on my Apple watch. Another session I'll definitely be coming back to.
Grit
Grit is LM's answer to high-intensity interval training – heavy on the intensity. There are three options of the class – Grit Strength, Grit Cardio and Grit Athletic (which seems to be a combo of the other two).

I opted for the cardio workout version. True to Les Mills On Demand form, the workout was broken down into 3 or 5-minute tracks. In Grit, each song features a different style of high-intensity, high-impact work – think Tabata, ladders and EMOMs.
OK, so imagine Bodyattack and Bodypump had a child and fed it performance-enhancing protein powder: this is Grit. We're talking burpee tuck jumps, jump lunges with weights, the works... If you're pretty fit and a HIIT junkie, this one will be just up your alley.
Still – my face in the clip above says it all, doesn't it? While the class is billed as good for any level (you're encouraged to work at your own pace and take a break when you need to), I found this one a bit too intense for my liking. Plus, there was a lot of jumping involved – not ideal on wooden floors in a second-story flat...

Bodybalance

A yoga-based class that features elements of Thai Chi and Pilates to build flexibility, mobility and zen.
After more than a week of pretty intense LM sessions, my body was in need of some serious TLC – which Bodybalance provided and then some.
There are a few variations on the yoga-fusion theme in Bodybalance, including strength and flexibility focused classes, as well as niche sessions like stretches for cyclists and runners. I initially opted for a quick 15-minute 'deep stretch' class but when that was over, found myself clicking onto a 40-minute session right away.
The mellow, no-pressure class was also broken into tracks, with 4-8 minutes focusing on things like hip-openers, twists, bends and even a Thai Chi track (which I've never done before, and enjoyed way more than I thought I would).
After a juicy 8-minute meditation to close the class, I felt like I was floating. Like Bodypump, Bodybalance is officially in regular rotation on the home workout roster.

Les Mills equipment: is it worth it?
While you could probably adapt the workouts to use your own kit, the Les Mills weights, step and resistance bands are designed for their programmes. For Bodypump in particular the Smartbar is the star of the show, with the nifty mechanism for clicking the weight plates in and out making for super-quick transitions between exercises.
Les Mills Smart Bar
Les Millsamazon.co.uk
SHOP NOW
The plates themselves (I used the 1kg, 2.5kg and 5kg) are helpfully designed with grippy handles in the centre that make everything from chest fly's to weighted lunges feel so much more natural. Who'd have thought dumbbells were so unwieldy... I've found I'm using the bar and plates in all my home workouts now, while my chunky dumbbells gather dust in the cupboard.
So, is the Les Mills kit worth it? It's an investment, but if you're in the market for top-notch gym equipment and are committing to Les Mills On Demand at home for the foreseeable, I'd take the plunge. They also offer deals on bundle buys of the bar, step, mat and bands – store-cupboard friendly home gym, anyone?
Gallant Adjustable 20kg Dumbbells Set
Gallantamazon.co.uk
SHOP NOW
UMI. by Amazon - Neoprene Dumbbell (2 x 2KG)
SHOP NOW
SONGMICS Women's Set of Dumbbells
SONGMICSamazon.co.uk
£35.99
SHOP NOW
PROIRON Neoprene 4kg Dumbbells
SHOP NOW
I've done Les Mills UK for ages, what next?
Even the best workouts can get a bit same-yI. Here are some stellar options for workout platforms and ad-hoc sweat sessions for when you're ready to move on (even just temporarily) from Les Mills.
The Peloton app has a wide range of workouts from Pilates to indoor cycling, HIIT, strength, Barre and cardio.
Apple Fitness+ offers workouts for every age and life stage with specific options. for pregnancy-safe sweats and older adults workouts.
Looking for something to stream on the big screen (your telly)? The FIIT app is brilliant for home workout aficionados.
Joe Wick's body coach app condenses all of his shouty, wonderful fitness magic into a phone-based app. We love.
Kirsti BuickKirsti is Women's Health's Junior Fitness Editor, a personal trainer and WH's resident tech junkie.
This content is created and maintained by a third party, and imported onto this page to help users provide their email addresses. You may be able to find more information about this and similar content at piano.io
Sours: https://www.womenshealthmag.com/uk/fitness/strength-training/a35558542/les-mills-on-demand/
Product Review - Les Mills Smart Bar
Bodypump: All Your Questions, Answered
If you're interested in strength training but don't know where to begin, look no further: Bodypump might be your portal to entry. "Bodypump challenges all major muscle groups with higher reps and lighter weights to help develop lean muscle," says Katie Duffy, a Chicago-based Bodypump instructor. The classes build full-body strength through various barbell-lifting exercises to the backdrop of energizing music and a motivating trainer. Here's everything you need to know about Bodypump before your first class, according to instructors.
Meet the Expert
Katie Duffy is a certified Bodypump instructor who also holds certifications in personal training, group exercise, and more.
Michael Glynn, DPT, is a physical therapist based in Chicago.
Donna Walker, NASM-CPT, is a coach at F45 Lincoln Park
What Is Bodypump?
Bodypump is a brand of resistance training classes developed by fitness company Les Mills International, taught at gyms and studios across the country. Bodypump uses a science-backed recipe to strengthen muscles by doing high repetitions with low-weight barbells. Each class has different sections, called tracks, that focus on specific muscle groups so you can sculpt and tone your entire body.
Type of Class: Low-Weight, High-Rep Resistance Training

Bodypump is based on a formula called The Rep Effect, says Duffy, which incorporates many repetitions with low weights at varying speeds and intensities. "It's a tempo-based workout," says Walker. "The various tempos elicit muscle fatigue and adaptation." This strengthens and tones your muscles without the need for heavy weight lifting.
Best For: Low-Impact Muscle Toning

Bodypump's high repetitions work your muscles to the point of exhaustion. This creates microscopic tears in the tissue that rebuild stronger and leaner while going easier on your joints than heavier alternatives. The slow burn also builds muscle endurance by training the tissue to keep working against resistance over long periods of time. This differs from more traditional weight lifting with heavier dumbells and lower reps, which fatigues your muscles more quickly and builds bulkier muscle mass, says Glynn.
What to Expect During a Bodypump Class

Classes range from 30 to 55 minutes, with up to ten five- or six-minute tracks per class: full-body warm-up, squats, chest, back, triceps, biceps, lunges, shoulders, core, and a cooldown and stretch, says Walker.

As the tracks suggest, you'll do squats, lunges, tricep dips, bicep curls, push-ups, presses, deadlifts, planks, and more using a barbell with adjustable weight plates and an aerobic step platform, both of which are provided at the studio. Expect to do up to 1,000 reps in a class at varying speeds, often in time to the beat of energizing music like a choreographed routine. Your instructor will demonstrate and cue proper form and what equipment to use throughout the class. If it's your first class, show up 15 minutes early to chat with the instructor about the upcoming workout, set up your barbell, and ask any questions you have, says Duffy.

You can also take a Bodypump class at home through Les Mills OnDemand (starting at $9.99 per month) and fitness centers with virtual options. Any weights will do the trick, says Walker, so don't worry if you don't have a barbell on hand.
Benefits of Bodypump
Develops lean muscle: High reps fatigue your muscles, so they grow longer, leaner, stronger, and more toned than before.
Increases muscle endurance: All those reps train your muscles to perform against low resistance for long periods of time, rather than getting tired or giving out quickly.
Burns calories and raises metabolism: A Bodypump class will get your heart pumping and keep your muscles working to burn more than 500 calories, says Duffy. Regular resistance training can boost your metabolism so that your body burns fat and calories more efficiently even when you're not exercising.
Low impact: You'll use lighter barbells than in traditional weight lifting, which is easier on your joints.
Safety Considerations
While Bodypump 's use of lighter weights mitigates some risk of injury from overuse or dropping heavy barbells on an unlucky foot, there are still some safety considerations to take into account. If you're new to resistance training, Walker encourages starting with four tracks, then adding another each week to build up strength, endurance, technique, and confidence without risking an overuse injury. Duffy also advises easing into it. "If you don't feel comfortable taking a 60-minute class, stay for 30 minutes," she says.
Good form is key to preventing injury, and your instructor will guide you through proper technique throughout the class. "It's important to start with lighter weights, so your body understands how to perform the movement properly," says Duffy. "I take time before and/or after class to go over specific movements if a member needs help with it." 
So what's the right weight for you? "The resistance should become taxing for the last three to four reps, but at the same time, allows you to maintain proper form," says Glynn. "For example, if you are shooting for 20 reps but at the twelfth rep you start compensating with other muscle groups or improper form, it is better to lower the weight so that you can achieve your desired amount of reps properly."
Les Mills recommends taking up to three Bodypump classes a week with days off in between and suggests cardio workouts on those off days to supplement resistance training. Walker advises listening to your body--if you're feeling pain, modify your movements or take a break.
Bodypump vs. Weightlifting

Bodypump's low-weight, high-rep formula diverges from traditional weightlifting, which involves lifting much heavier weights for much shorter intervals—think 70 to 100 reps per exercise in Bodypump, versus three sets of 10 reps per exercise for weightlifting. Bodypump focuses on toning and lengthening muscles, whereas heavier lifting develops bulkier muscle mass. It also comes down to preference and experience: Bodypump is more beginner-friendly, but if you're no stranger to strength training and want to take it to the next level, weightlifting might be more your speed.
What to Wear to Bodypump

Dress in comfortable athletic clothing that doesn't restrict your joints or mobility. "As with any form of exercise, wearing appropriate clothing to move in is key, like tennis shoes and athletic wear," says Walker. "You'll be breaking a sweat, so dress accordingly." Come prepared with a water bottle and towel to stay hydrated and dry.
The Takeaway
Bodypump is a type of resistance training class with high reps and low-weight barbells. A single class targets each of your muscle groups for a full-body strength workout that's easier on your joints than heavier lifting. Bodypump can tone muscle, improve strength endurance, and burn calories during and after class by boosting your metabolism. If you're new to resistance training, though, build up to a full class by starting with shorter sessions and lighter weights. 

"Always consult with your doctor if you have pre-existing conditions that may keep you from working out. But once you are cleared, Bodypump is safe for everyone," says Duffy. "It's easily adaptable at home and at the gym, which is a huge benefit with the world we are living in today."
8 Things That Happen to Your Body When You Start Doing Barre
Byrdie takes every opportunity to use high-quality sources, including peer-reviewed studies, to support the facts within our articles. Read our editorial guidelines to learn more about how we keep our content accurate, reliable and trustworthy.
Westcott WL. Resistance Training Is Medicine: Effects of Strength Training on Health. Curr Sports Med Rep. 2012;11(4):209-216. doi:10.1249/JSR.0b013e31825dabb8
Sours: https://www.byrdie.com/bodypump-guide-5120774
Now discussing:
8 Amazing BODYPUMP Benefits & 5 Tips for Beginners
How I Got Started With My First Body Pump Workout
A few months after I had baby number 8, a friend invited me to come to a Body Pump class at our local YMCA. What is BodyPump you ask? BodyPump is a group exercise (hold on group haters, don't click away yet) class that incorporates light barbell weight with high repetition to build lean muscle mass.
Pretty much what that means is it's PERFECT for those of us who want to build beautiful lean muscles, but aren't looking to bulk up like the hulk!
After I went with my friend for the first time, I immediately fell in love. Soon afterward, I was going to the class 3 times per week, religiously. Not only did I LOVE the class, the environment, and the instructors, I LOVED knowing that the more muscle I had, the more calories I'd burn while sleeping! (This is a great article that shows what happens with BodyPump and long term calorie burn).
If you've been lackluster with your workouts, if you want fast action fun, if you want to workout with people that uplift and inspire you, then you need to check out a Body Pump workout class in your area and see if it's right for you.
You'll see in all my pictures that there are men and women of all ages, shapes, and sizes attending and benefiting from BodyPump. My intention is to show you what it's all about so your interest is peaked enough to go try a class out! And no, I am not at all affiliated with BodyPump or Les Mills… I'm simply sharing something that I love and what has been working for me!
What is BodyPump
BodyPump actually started back in the '90s in New Zealand and is put out by Les Mills.
You can find it in more than 19,000 gyms and clubs and YMCA's in 100 countries around the world. There are more than 130,000 certified instructors! Wow!
It's a cardio based weight training program that incorporates a barbell and weight plates into a fun 55-minute full body workout.
Rather than bulk your muscles up by doing heavy weight and low reps, Body Pump does the opposite! You'll use low weights and high reps, they call it the REP EFFECT. The REP EFFECT works because muscles are exhausted while using light weight and performing high repetitions.
In a typical class, you'll do between 800 and 1000 reps, and you'll do it with an instructor coaching you and modeling the movement, in a group class setting – plus you'll burn up to 560 calories during the class (source).
Every three months Les Mills releases a new workout with new music and new timing/choreography, but the foundation is the same. To prevent boredom and keep our bodies/muscles guessing, the instructor will switch to a different release every two weeks.
8 Body Pump Benefits I Love
I used to HATE group fitness classes. I tried them several times too… but I'd ALWAYS leave feeling ridiculous. Let's be honest here… this girl (me) is seriously lacking in the coordination department. Keeping up with step and aerobics was incredibly discouraging to me and I simply didn't like it.
So, why am I now proclaiming my love for BodyPump… especially since there IS a flippin' step involved? Read on my friend… read on.
1. BodyPump is predictable.
This is PERFECT for those of us that are NOT coordinated. Once you get past the learning curve, you'll realize the "routine" of BodyPump.
P.S. – The step is NOT used like it is for a traditional step class. We use it instead as a "bench" for working during the chest track, sometimes tricep track, and even the core track.
2. I love the choreography and timing.
The synergy that comes when the whole class is working at the same beat is very motivating! There is seriously a zipping energy that comes from doing the same movements at the same time as everyone else in the room with you!
If I'm in the gym lifting all by myself, it's so much easier to cheat on the number of reps because I'm not accountable to anyone. Group synergy is a real thing, people!
3. I love the music!
92% of the time I love the music. It's energizing, modern and fun! Any BodyPumper can be driving in the car, or walking in the store and hear a BodyPump song and immediately know what part of the class that song is from and start doing the choreography!
You can find many of the songs on this big ol playlist on Spotify (note that I listen to it outside of class to energize myself… also note that all songs are edited, so if it's an explicit song on the radio, it's NOT in BodyPump class).
4. I love the weights!
If your gym has the official Les Mills bars and plates, it's crazy easy to get your weight on the bar. The bars are only 7 pounds and comfortable to hold. Here's how the plates work:
Small plate – 2.2 pounds
Medium plate – 5.5 pounds
Large plate – 11 pounds
You can put up to 6 plates on your bar, so it's easy to add on weight and challenge yourself as you progress over the weeks and months. OR if you're not having a fueled day, it's easy to swap your weight out to make it manageable but still challenging.
5. You can change your body and challenge yourself.
This is what I love the most… I love getting stronger, I love changing the composition of my body, and I love the challenge of BodyPump.
In the beginning, the challenge was just to finish the class. Now I love to challenge myself by going up in my weight. If my elbow pits aren't sweating by the end of the squat track, then I know it's time to add weight to my bar. 😅
6. Anyone can do this.
I see a lot of people aged 60+ doing Body Pump! It is incredibly customizable because YOU do the weight (or even just bodyweight) that works for you!
If you've never lifted weights in your life, you can still do this class! There is a LOT of science involved and the certified instructors are trained to teach the technique. The classes and choreography are based on science and will work for everyone's physiology! It's actually an excellent way to incorporate weights in your life!
7. I love the community.
The people that go to body pump are positive, encouraging, and great to be around! I love working out beside the women (and men) that consistently come to BodyPump. The group fitness structure holds you accountable.
It's pretty awesome to see others lifting weights and I think it helps break that barrier when you see other people pushing themselves, it encourages you to push yourself too.
8. It improves my mental health.
When I push myself and break through my mental barriers by doing 1000 reps in an hour, I feel great not only physically but mentally as well. I've also got an excellent instructor pushing me, encouraging me, and inspiring me to do better and stick through it.
I ALWAYS feel so great when I finish a class knowing that I am a stronger person than I was when I when I walked in that room.
55 Minute Body Pump Workout Routine
Warm up – Start out with the small plates and then build from there over time
Squat track – You'll do about 80-100 reps in 5-ish minutes and this will be your heaviest weight on your bar and is typically 2-4 times your warm-up weight. If you're new, just double your warm-up weight. After several weeks, start doing more weight… you'll be surprised at what you can do! This is a great way to start your workout!
Chest Track – You'll drop your weight by about 1/3 to 1/2 and use the bar and a step bench
Back Track – You'll use a bar and sometimes a weight plate too. This one always gets my heart rate up!
Tricep Track – Sometimes you'll use a bar or a plate, and/or you'll do dips and/or tricep pushups… I love this one!
Bicep Track – Pretty straightforward here… you'll use the bar and/or plates and do approx 5 minutes of bicep curls!
Lunge Track – This is the most challenging for me… start with just your bodyweight. In the beginning, my goal was to get thru a lunge track without stopping! Then once that's mastered, I started adding weight.
Shoulder Track  – You'll want to use light weight since you're working such small muscles! I'm always thrilled when I can do 100% of this track!
Core Track – Sometimes you'll use the bench and/or plates… working your core is so important!
Cooldown – Always a great feeling!
5 Tips for Your First Body Pump Workout
If you want your first workout to be as fun and effective as possible, follow my body pump tips for beginners!
1. Introduce yourself
Get to know the instructor a bit and let her/him know you're new. OR find someone in the class that looks like they've been there before. They will happily help you get set up and give some advice! They are there teaching pump because they LOVE it too! So utilize them!
2. Go light on the weight
Even if you've been lifting in the gym, you'll be doing a LOT more reps than what you're used to. You won't be able to squat 150 pounds for non-stop 5 minutes. Go light!!
Start learning good technique, increase flexibility and movement, and then you can start adding more weight. There is NOTHING wrong with starting just with body weight if you want to.
3. Don't feel self-conscious
No one is watching what you're doing (except a good instructor). Everyone is focusing on their own form… talking themselves through the class. If anything, they are proud of you for walking in the room and starting something new and really hope you come back again!
4. Do the "Smart Start"
For your first class, you can just do the first 4 tracks and then come again in two days and do the first 5 tracks. Then come again the next week and do 6 tracks and so on… build up to the full 55-minute class over a couple of weeks. Do this especially if you haven't been physically active up until this point.
5. Be kind to yourself.
You're learning something new. Everyone in that room has been in your shoes before. You'll get off beat, you'll have a hard time understanding the clean and press during the backtrack. It's OK! Just do the best you can. You're already a winner because you're in that room! Don't give up!
4 Body Pump Recovery Tips
1. STRETCH & Foam Roll
You WILL be sore. To this day I take an extra 15 minutes after the class and stretch and use the foam roller in the gym.
When I bump up my weight or push myself extra hard, I will foam roll at night at home too. I own this foam roller and love having it in my home. It's a must-have for me!
2. Drink Lots of Water
When you lift, you are tearing your muscles (so they can then rebuild even stronger). Hydrating will help flush your body out and help you get rid of those sore muscles faster. Plus it's just good for you!
3. Take an Epsom Salt Bath
It is a great natural way to relax muscles. This is the detox bath recipe I use… except, when I'm needing support for my muscles, I use lavender or Deep Blue instead of OnGuard. Just make sure you drink a LOT of water when you take this muscle soak to stay hydrated!
4. Go Back to BodyPump (Even if You're Sore)
First of all, who wouldn't want to go back and hang with the great people at pump. But honestly, I've found that the act of moving my body again, even though I'm still sore, helps me get over the pain and stiffness faster!
Don't wait. Go back. Your body will acclimate faster. If you're in a lot of pain, just ease back on the weights. But it's so important to keep going! Plus it's just such a great environment to be a part of. Go back!
Body Pump is Good For You
For a while, I pretty much stopped going to BodyPump because of how busy things were here on the blog. Not only did I miss out on the physical benefits of BodyPump, I really missed out on what it did for me mentally.
Even if I leave my house feeling tired and not 100% wanting to go, I go. By the time I arrive, I'm feeling more mentally ready. And by the time I walk out of that class, I am ALWAYS happier, more energized, and empowered. I ALWAYS feel stronger… not just physically, but mentally.
I'm now back to BodyPump and committed to doing it 3 times per week… no matter what! I'm a better wife, mom, and CEO when I have Body Pump in my life. It's non-negotiable for me now. I am worth it. And so are you. Go find yourself a BodyPump class here.
Are you a BodyPump lover? Share why you love it in the comments below!
Sours: https://fabulesslyfrugal.com/body-pump-benefits/
567
568
569
570
571