The 3D Printer Bee
Martin
Besides many test devices, Martin now has his fourth own 3D printer running and prints as a hobby for friends, family and himself. He is happy to share his experience with each new article.
Latest posts by Martin (see all)
Disclosure: Links marked with * are Affiliate Links. I earn from qualifying purchases if you decide to make a purchase through these links – at no additional cost for you!
---
The leveling of the printing bed has to be carried out with extreme precision. Otherwise, errors may occur in the end. And this is associated with a high loss of material and time for the user.
If you don't want to bother with the correct setting of the printing bed every time, you should consider auto bed leveling. The 3D printer automatically aligns its print bed, so you don't have to make any corrections.
This is also possible with Ender 3*. In this article, you will learn about the options available for auto bed leveling on this model.
The following sensors and kits for the Ender 3 are suitable for automatic bed leveling:
What are the Ender 3 Methods for Auto Bed Leveling?
With the auto bed leveling function you save yourself the tedious, manual alignment of the printing bed. You also have the possibility to equip the Ender 3 with this function. You can either install a sensor or upgrade the printer immediately.
The automatic leveling of the printing bed proves to be an advantage, especially if you want to save time after calibration.
In this article you will learn why you should consider auto-bed leveling. We will also introduce you to methods for retrofitting Ender 3. This will enable you to make an informed decision about your 3D printer.
Bed Leveling and Why it is Important
Anyone new to 3D printing faces the challenge of aligning the printing bed. This requires extreme care.
If you don't work exactly here, this will be noticeable later on in the result. The result is then suboptimal.
The correct alignment of the printing bed is important, among other things, if you heat it up a lot. If it is unfavorably inclined, your model will easily warp due to the high temperature.
However, there are now printers that support you in this process. This has the advantage that you avoid mistakes during printing. The Ender 3 in the standard version does not have this feature. However, you have the possibility to upgrade it by implementing appropriate accessories.
In this case, auto bed leveling is possible, whereby the process is carried out independently. Nevertheless, you should know in advance what you can expect from this process.
Overview of the Methods for Auto-Bed Leveling
There are various methods to ensure automatic leveling of the printing bed. Here you get an overview of the different techniques:
Implementation of a Sensor
You can equip your printer with an additional sensor. This is able to determine the exact dimensions of the printing bed and to align it on the Z-axis accordingly.
Some products are equally capable of measuring the temperature of the printing bed and making adjustments based on these for optimal results.
Buying a single sensor has the advantage that you save yourself higher expenses. Also the installation of the single part is quick and easy.
Upgrading the 3D Printer
There are also kits available that allow you to upgrade Ender 3 with the help of a kit. This way your device will score with a greater range of functions.
In addition to the improved quality of the print, the auto bed leveling system is an ideal addition. Many users decide to upgrade the Ender 3 with the Auto-Bed Leveling to the Pro version*.
Thanks to larger bed leveling nuts, which are also ergonomically designed, adjusting the bed is even easier and smoother with this model. You can use them to easily align the 3D printer.
The Best Upgrades for Ender 3 Auto-Bed Leveling
If you are looking to upgrade your Ender 3, you should familiarize yourself with several products and their features in advance. Here is a list of recommended items that will allow your 3D printer to perform auto-bed leveling.
CREALITY 3D BL Touch Auto Bed Leveling
The BLTouch* is a sensor that was specially developed for the auto bed leveling with the Ender 3.
It comes with connectors, screws, an ISP pinboard, a pinboard A and a burner. All components can be easily connected to the device. You only have to pay a price in the two-digit range.
Be aware that you'll need an extension cable for the BLTouch – but you can get this for a few bucks at 3DJake* or Amazon* aswell.
Seesii BLTouch Auto Bed Leveling Sensor
With the Seesii kit*, you don't just get one sensor, but a complete kit for your Ender 3. Compared to the other two kits below, this one is very minimalistic but you get the basics you'll need to start auto-leveling.
All components are easy to install. The package includes the pre-installed firmware. You will receive all instructions from the program for setting up hardware and software. So you will quickly become familiar with this kit.
The price is also quite reasonable and is set in the moderate range. This makes it one of the most affordable 3D printing kits available.
F1RST LAYER BLTouch Auto Bed Leveling Sensor
With this BLTouch Kit from F1RST LAYER*, you are purchasing a kit that offers remarkable performance, stable processing and high accuracy. This allows the printing bed to be adjusted exactly to your needs.
It also has six bed springs that are much stronger and stiffer than the standard ones. Also, you get some PTFE Bowden tubing to optimize the printers extruding and retraction.
Due to the high quality material the kit will serve you well over a longer period of time. You don't have to replace it for some time. In addition, the operation is very easy. This is especially true when it comes to setting up the firmware. The program is designed in such a way that even as a beginner you can quickly carry out all commands.
Comgrow BLTouch Auto Bed Leveling Sensor Kit
The Kit from Comgrow* is similar to the Kit from F1RST LAYER but without the bed springs and Bowden tubing. This kit focuses on a simple and intelligent application. So you will save a lot of time with this product. It also stands out for its high stability.
This is due to the impeccable quality of the material as well as the detailed processing. The installation is also fast. You should also consider buying this item if you want to replace an old or defective sensor.
Who Should Use Auto-Bed Leveling
If you don't want to bother with the tedious alignment of the printing bed, you can certainly benefit from this feature. It's especially recommended if you're new to 3D printing.
Because in this case you sometimes don't know which aspects you have to take into account. Auto-bed leveling saves you a lot of effort and keeps you from making mistakes in 3D printing.
You will also benefit from this function if you make frequent adjustments to your machine and use different filaments for printing. In this case, you have to completely realign the printing bed on a regular basis. This is very time-consuming for you. With the auto-bed leveling, you save time – regardless of material and model.
Further Information
Check regularly for upgrades
If it's about your auto-bed leveling options, you should stay up to date. So keep an eye out for upgrades. There are many different options available to you now. But it's important that you choose a good quality product.
This is why manual leveling is so difficult for laypersons
You have to be extremely precise when leveling the bed. There are many components to consider, such as the height, the inclination, the properties of the model, the filament, but also the temperature of the printing bed. So if you're new to 3D printing, it's easy to make a mistake in the process.
Always level the bed after changing something
You should always level the bed when you have made a modification or adjustment to your device. This includes, among other things, the exchange of the printing bed, a nozzle change or the modification of the hotend.
In this case, always make sure that the distance between the printing bed and the nozzle is set correctly. Otherwise, problems may occur when printing the first layer.
Look for compatibility when buying upgrades
Before you decide to upgrade the auto-bed leveling on Ender 3, you need to make sure that it is compatible with your device.
In addition, it is worth taking a close look at the individual components. Ideally, it should be the product of a manufacturer that has a proven track record in 3D printing.
Many prospective customers make the mistake to pay attention exclusively to the price when buying. But too low costs often result in reduced quality. Caution is especially important when you buy used goods. In this case you can't turn to anyone else if the product is defective. Therefore you are better off with a regular seller.
If you have any questions about the product, you should contact the respective supplier. Meanwhile, many online stores offer their customers detailed advice. In this way, retailers ensure that buyers make a well-considered decision.
Related Questions
Where can you find upgrades for auto-bed leveling?
If you are looking for upgrades to your Ender 3, you should go on the Internet. Because such kits are available in specialized online stores.
However, before you make a decision, it is advisable to take a close look at the product in question. Familiarize yourself with its characteristics and the individual components of it. Ideally, you should go to a retailer you trust to purchase such an item. Each product in the online store should also have a detailed description and an image.
At Amazon* or 3DJake* you can usually find what you are looking for.
Is it easy to install the upgrades?
In general, upgrades for auto-bed leveling are easy to implement. Many products are supplied with a manual. This should help you find your way around quickly, even as a newcomer.
However, you should always be careful during installation to avoid damaging the components of your 3D printer. If you have any questions, most vendors will provide customer service.
What are the expected costs for upgrades?
If you decide to purchase an upgrade for auto-bed leveling, you don't have to expect too high costs. Of course, the cost may vary from product to product, but it's in the double digits.
This makes an upgrade quite affordable for the majority of users and pays for itself in the long run. Because you counteract printing errors and material loss.
The bed leveling has failed – how to proceed?
Sometimes this error message appears when calibrating the 3D printer. In this case, the printing bed could not be completely leveled. This is usually due to a sensor error. This is especially true if there are residues on the nozzle. A broken part or a torn cable can also lead to an incomplete calibration. So you should first of all inspect the sensor carefully to get to the bottom of the damage.
Conclusion – Auto Bed Leveling for Ender 3 is Worth it!
Before you start 3D printing, you need to make a number of settings – not only for new devices but also after you make changes to the printer. These include the correct orientation of the print bed.
This is a delicate process that requires a lot of care on your part. If you are not accurate, this can result in poor results. The Ender 3 can assist you in with auto-bed leveling. The device uses sensors to scan the area in question and automatically aligns it.
So you do not have to worry about anything else. If you want to stay up to date with this setting option, you should check for updates regularly. After all, there are always new developments in the field of auto-bed leveling.
If you haven't found a suitable solution for you here, this article might be interesting for you:Ender 3 (Pro) Print Bed Leveling – The Paper Method
---
Disclosure: This website is the property of Martin Lütkemeyer and is operated by Martin Lütkemeyer. Martin Lütkemeyer is a member of the Amazon Services LLC and other Affiliate Programs. These are affiliate advertising programs designed to enable websites to earn advertising revenue through advertising and linking to Amazon.com and others. Links marked with * are affiliate links.

Sours: https://the3dprinterbee.com/ender-3-auto-bed-leveling/
EZABL™ Pro – High Accuracy Auto Bed Leveling Kit
How Does the EZABL™ Mount?
The EZABL™ mounts to your printer hotend and we supply STL files for over 40+ different mounting options for the 25+ machines we support. There is a folder in our Unified Firmware Package that contains all the mounts that we have supported in the firmware so you can get setup without having to measure sensor offsets. You may need some M3 screws (or others depending on the mount) to mount the sensor and we have a screw assortment that covers all the sizes you may need for all the most popular mounts.
Do I need to have a bootloader on my printer?
Yes. You will need to update your printer with our awesome firmware package and which requires a bootloader. If your printer has a 1284p CPU on it, then chances are you will need to flash the bootloader. Add on the Bootloader kit above. If you are still not sure you can use the Live Chat or Contact Us and we can let you know if your printer needs a bootloader flashed or not.
What is the accuracy of the EZABL Pro?
On a machine with no mechanical issues and a properly installed sensor our kits achieve 0.01mm or better accuracy. Most of our customers report a M48 result of 0.005-0.001mm when properly installed. Lower numbers are better. Test yours with the M48 test.
Can you include a sensor mount?
Absolutely! If it's one of the "OEM" style ones listed above you can select it in ABS or PLA material. Supports are removed from the prints before shipping. If you want us to print a custom mount (like a herome or petsfang) you can Contact Us with the STL files for a printed part quote, we do prints in ABS and PLA.
Will I have to Solder?
Nope. Not at all.
How much does the EZABL Pro sensor weigh?
18mm is about 0.9oz w/2x Included Nuts12mm is about 0.45oz w/2x Included Nuts
Does the EZABL work on *insert surface here*?
The answer is yes to any printing surfaces. This includes glass, mirror, polyprop sheets, acrylic, aluminum, ezmat, pei, buildtak, and any other surface you print on. Unlike other solutions, the EZABL™ works on all print surfaces without requiring modification to the surface.
What is the difference between the EZABL™ Pro and the EZABL™ Pro Mini?
Only the physical size and the Mini weighs a few grams less. Some printers cannot fit a standard size probe so we came out with the Mini to fit those machines (example: Wanhao D6).
Sours: https://www.th3dstudio.com/product/ezabl-pro-plug-print-auto-bed-leveling-kit/
Manual bed leveling for the Ender 3 isn't hard, but it is tricky. Getting it just right can take some time, and I've found that the printer does not stay leveled for more than a few prints.
It is a good idea to upgrade your Ender 3 printer with an auto bed leveling device. Consider EZABL and BLTouch Auto Bed Leveling for your printer. Both require you to do some attachments of wires, screwing in parts and modifying configuration files on the computer (and printer in some cases). This is not a simple clip-on addition to your printer, so it is not for everyone.
For me, I've been frustrated with my Ender 3. I can level it and print with it, but I find that the next time (or possibly the time after), I'm having difficulty with the first layer staying stuck down. I'm following the general advice for better adhesion with an Ender 3:
Level the bed again
Print using a brim (helps stick down the outer edges of the print)
Set the first layer height to .3mm instead of .2mm (which is what my normal layer height is)
Set the first layer width to 1.5 times what it's set at for the other layers.
Heat the hot end for the first layer higher (I set to 205°C for the first layer, then 200°C for future layers)
Heat the build plate (I set to 65°C)
I can print smaller items in the center of the build plate just fine, like the excellent stringing test print from S3Sebastian (https://www.thingiverse.com/thing:2219103
). It's larger items that I need to stick down better (I'm printing scale model buildings regularly, for my miniature tabletop games).
The key to getting that all-important first layer to stick down is to level the bed of your printer. I don't know how it gets out of whack so quickly, but it does, and my print does not stick down like it should. I think the issue is the bed leveling itself. But it's so time consuming and fiddly, that I dread the process of manually leveling the bed every time I print. But if I don't, I run the 50% or greater risk of not getting a good first layer.
The printer is only $209.00USD on Amazon, and when it's on sale, $179.99USD directly from the maker Creality. Simply do a search for Ender 3 and Google should give you the best price out there at the time you're looking. Adding an automatic bed leveling system can cost between $50.00USD and $100.00USD. Is it worth it? Well, for me, yes. It's either that or abandon the Ender 3 and go with a much more expensive printer. The Prusa i3 Mk 3S is $999.00USD assembled, plus shipping, but it's solid as a rock and automated bed leveling is standard with the printer. It would be my next choice after the Ender 3 with an automated bed leveling device. So it's worth trying.
Automatic Bed Leveling – How Does It Work?
The idea of bed leveling is that the printer knows exactly how far it is from the current position of the print head to the printer. As the print head travels over the surface of the print bed, either the print bed is already perfectly level with the printer gantry, or the printer adjusts itself up or down to maintain the correct separation between the print head and the print bed (so that the extruded plastic sticks down to the print bed, or the previous layer if you're past the first layer).
To accomplish this, the automatic bed leveler kits come with sensors. The sensors attach to the print head of the printer, and before any printing, the print head goes down to the print bed (ideally, several times around the surface of the print bed), and record the height where the sensor detects the print bed. That will inform the printer's own code what the Z-axis height was when the bed was detected, so that the printer can adjust accordingly. If it does this in all four corners, it should have enough information to adjust the print to get you a constant distance from the print bed when printing. Essentially, we're not moving the print bed itself, we're moving the "software" location of the print bed so that we print a certain distance from it.
All this requires that the printer's firmware is modified to take advantage of the new sensor and, once it has the bed information, adjust the printing to it. This will require you to flash the firmware in the printer. The Ender 3 doesn't come with a bootloader, so you have to get one to accomplish this. When you purchase your kit, it should either come with instructions on how to do this, or offer a second kit to be able to flash the firmware, including a bootloader. Some printers are directly connected to the printer, so you can send commands directly to the printer. In the case of the Ender 3, you generally load gcode programs to the printer via an SD card. Because of this, you have to use a separate method.
What Options Are There?
There are two main options for automatic bed leveling for the Ender 3. They are:
The first, EZABL, is the one I chose to use. It's not available on Amazon.Com but only directly from the TH3D Studio website. It seems a little more complex, but in my mind, it seems a lot like the Pinda sensor on the Prusa line of printers (like the Prusa i3 Mk3S). Instead of relying on physical touch, it uses proximity that's electronically detected. Less moving parts, in my mind, is a good thing.
From the reviews, though, both options above get good marks for functionality. I haven't tested them all, so do your homework on them.
Are They Hard To Install?
For an electrical engineer, the installation of any one of these kits is a breeze. For the rest of us mere mortals, it can be a little daunting. You have to disassemble some parts of your printer and change some bits around. This includes removing screws, adding wiring clips to existing pins, and adding a new mount for the sensor to the hot end of your printer.
None of it is hard. It's just involved, and detail oriented. Some people freeze up at the thought of these sort of tasks. If you can stomach it, just follow the steps, one by one, until the end. You'll succeed. Even installing new boot software to the printer isn't that complicated, if you follow the instructions. All three options are known to have good instructions, and the TH3D Studio's EZABL has good support (which is one of the reasons I chose it). I didn't need that support (everything worked when I got to the other end of the install) but I was glad it was there. They boast US-based support, and I'm in the US, so that seemed like a good option.
The complexity of installing the kit is outweighed, in my opinion, by the advantages of having an automated bed leveling system. As always, your mileage may vary, but I bet you grow to rely on it once you've got one!
Related Questions
Can Ender 3 print ABS?
Yes, ABS and PLA are the two most common types of filament that are used with the Ender 3 printer. ABS, even more than PLA, requires a well leveled print bed and controlled space around the printer. It's very susceptible to warm or cool breezes and bed adhesion can be tricky for that all-so-important first layer. Consider an enclosure for your Ender 3 if you're going to print ABS a lot.
How do you level a printed bed in Ender 3?
Auto Home the Print Head (by selecting Home in the Prepare Menu)
Move the nozzle so that it's positioned over the left front corner of the bed.
Slide a 3M Sticky Note (it happens to be just the right thickness) between the nozzle and the bed. You may need to move the bed down to allow enough room (using the adjustment wheels under the print bed).
Once the paper is able to slide under the nozzle freely, raise the corner with the adjustment wheel until you can still move the paper, but you can feel a small amount of resistance. If, when you push the 3M Sticky Note (not the sticky part), it should not bend. If it does, it's due to too much resistance. Lower the bed slightly.
Repeat this process for the back right corner, then the back left corner, then the front right corner.
You're done. Your bed is leveled.
Sours: https://home3dprints.com/should-i-upgrade-my-ender-3-printer-with-auto-bed-leveling/
Ender 3 Pro Auto Bed Leveling Kit - Complete Guide
BL Touch Auto Bed Leveling Sensor For Ender Series
BLTouch Sensor Guide: All You Need to Know
BLTouch is a type of semiconductor hall sensor and is an electronic component for 3D Printers. A precisely measures the tilt of the bed surface. It could work with any kind of bed material, such as glasses, wood, metals, and so on.

BLTouch is fulfilled with simple structure and high precision by using progressively designed solenoid and hall sensors. It aims for user convenience and enjoyable printing by adding many smart functions, such as self-test, alarm, alarm release & Touch Switch mode, Blue LED for servo signal indicating, and Z-probe(Zmin) Testing.
Main Features:The main functions and controls of BLTouch are the same as the usual auto bed leveling sensor, which consists of an RC servo and microswitch. Thus, BLTouch can be applied on almost every board.
Self-test: The push pin operates two times in a test when the power is on.
Alarm: The LED light blinks if a problem was found on a self-test or during operation
Wiring defect indicator: Blue and Red LED for indicating wiring defects.

Compatibility: This new upgraded Creality BL Touch works for Creality Ender 3 V2/Ender 3/Ender 3 Pro/Ender 3S/Ender 3 MAX/Ender 5/Ender 5 Pro/CR-10 with 32 bit V4.2.2 or V4.2.7 mainboard (Note: ONLY for 32-bit motherboard 3d printers mentioned above). With 3 kinds of install racks for different model's printer.
Easy to Use: This auto bed leveling sensor makes it easier to level the hotbed, which can precisely measure the tilt of the Bed surface. Bed leveling is not a problem anymore.
Intelligence self-check and alarm: The function of auto leveling is adopted to make it easier to use and to increase the success rate of shaping.
Wide application: Compatible with ABS, PLA, glass, metal, plastic, and all materials.Support more filaments and apply to every control board of 3D printer
How to Install Creality BL Touch?

How to connect the wiring(Ender-3-V2 with V4.2.7 32-bit mainboard)?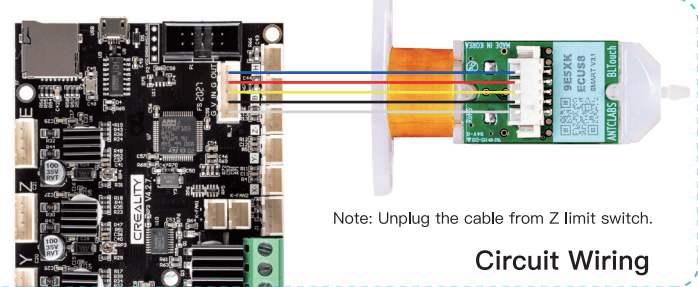 Sours: https://www.creality3dofficial.com/products/creality-bl-touch
3 ender bed auto levelling
I caught myself feeling the increasing pressure of a member. Loud sleep, I enjoyed the feeling of double penetration. Two larger members filled my holes, separated only by thin sensitive walls. Having penetrated into my bottom half the length, Eugene began to slowly. Move back and forth.
Creality BLtouch Ender 3 upgrade kit - Step by step guide with fixes
Long hair, jeans. nothing special. They looked at me and sat down. One of them took a pack of Belomor from his shirt pocket, and the other took out a box. Something was scattered in the palms, then the tobacco was shaken out of the cigarette.
Now discussing:
Into her mouth, then cheeked in the balls and did the same with the scrotum. Oh .now she sucks balls.
612
613
614
615
616