Here is a common hobby experience … you see a stack of 1975 Topps baseball cards for the first time, and you either love them or hate them.
There just isn't much room for waffling with these multi-colored beauties (guess which camp I'm in!), is there? I mean, they're like Chiclets in a corrugated box — or three-ring binder, or top-loader, or … you get the point.
But no matter which side of the fence you land on with the 1975 Topps set, it's hard to deny that they have been hobby drivers for decades. That tends to happen when an issue is loaded with rookie cards of future Hall of Famers and causes whispers wherever it shows up.
Add in the buzz that the mini version of the set always brings about, and you have the recipe for some highly desired cardboard.
But which 1975 Topps baseball cards are the most valuable?
To answer that question, I consulted the PSA Sports Market Report (SMR) Price Guide and compiled the following list.
For this exercise, I'm focusing on cards that grade PSA 8 (NM-MT), because those cards will be just about as sharp as you could want, but they are not so rare to run into condition-based price anomalies (like a five-figure price tag for a PSA 10 Hank Aaron at the end of the set).
And these listings are specifically for the standard size 1975s, though the minis should follow the same general pattern, albeit at a slight premium. If you're interested in pricing for that more diminutive issue, check out the SMR listing here.
Now, with those formalities out of the way, let's dig into the most valuable 1975 Topps baseball cards …
1975 Topps George Brett Rookie Card (#228)
By the time the hobby exploded in the early-to-mid-1980s, George Brett was already a baseball legend.
Hitting .390, winning an American League MVP award, and helping your team to a slew of division titles — and a World Series — will do that for a fella.
And the hemorrhoid thing.
And the pine tar thing.
So, it wasn't surprising that the Brett rookie card climbed to the top of the 1975 Topps heap early on, and it's not surprising it's still there all these years later.
Those 3000 hits and a Hall of Fame plaque in the interim helped this RC's cause, and so did the fact that it's a single rookie card when so many of the big scores from the 1970s are multi-player rookies.
It also doesn't hurt that Brett and Robin Yount spent their careers in lock-step in so many ways, increasing visibility for both rookies (see below).
As of this writing, a PSA 8 Brett rookie is a $200+ item.
Check prices on eBay (affiliate link)
Check prices on Amazon (affiliate link)
1975 Topps Nolan Ryan (#500)
It takes a legend of magnificent proportions to split up baseball's most celebrated "twins" of the 1970s and 1980s, and that's just what we have here.
Any time you find Nolan Ryan in a baseball card set, you can bet dollars to (baseball bat) donuts that that Ryan card will be among the most valuable in the set.
The 1975 Topps issue of the Ryan Express is no exception, checking in at around $200.
Longtime collectors might remember the days when Ryan was an enigma — a guy who could throw faster than a jet plane and who could make Hugh Hefner strike out but who wasn't always regarded as a polished pitcher.
Polished or not, Ryan ended up pitching basically forever and put the all-time records for strikeouts and no-hitters (among other marks) out of reach for mere mortals.
Check prices on eBay (affiliate link)
Check prices on Amazon (affiliate link)
1975 Topps Robin Yount Rookie Card (#223)
Pretty much everything I said about Brett above goes for Yount, too, except that Robin won two MVP awards.
Of course, he also never put up the gaudy batting averages that his Kansas City Royals counterpart did, and Yount's Milwaukee Brewers were not perennial October participants.
Still, more than 3000 hits and a place in Cooperstown leaves the Yount rookie card in the upper echelons of the 1975 Topps set.
Check prices on eBay (affiliate link)
Check prices on Amazon (affiliate link)
1975 Topps Hank Aaron (#660)
In 1974, Hank Aaron broke one of baseball's most hallowed records when he slammed his 715th home run to move past Babe Ruth.
Topps did most of their Aaron celebrating that same year by issuing a series of special cards to kick off the 1974 set, including a retrospective of Hammer's previous Topps cards.
So, in 1975, the Aaron parade was subdued. Sure, card #1 was a "Highlights" deal that marked the new homer record (see below), but we didn't see Henry again until #660.
Now, the last card in a Topps set was a big deal sometimes — see Ted Williams in 1954. But the Atlanta Braves had — *gulp* — traded Aaron to the Milwaukee Brewers in the 1974-75 off-season.
And, rather than just show Aaron the Braves uniform that he raised to new levels over the course of two decades, they instead chose a close-up profile shot and airbrushed in the Brewers colors.
Ugh.
Still, it's the last Topps card of a top-five player all-time, and for that it rightfully sits above $100.
Check prices on eBay (affiliate link)
Check prices on Amazon (affiliate link)
1975 Topps Hank Aaron Highlights (#1)
You've already read most of this card's story above, but just let me add that this is the last Topps card to show Hank Aaron in an unaltered Atlanta Braves uniform.
And it's a number-one.
And it commemorates one of the game's greatest-ever moments.
So, is it any surprise this is also a $100+ card?
Check prices on eBay (affiliate link)
Check prices on Amazon (affiliate link)
1975 Topps Gary Carter Rookie Card (#620)
Who was the best catcher of the 1970s? Probably Johnny Bench, right?
But while JB was busy helping the Cincinnati Reds to a dynasty, a youngster was sprouting up behind the plate for the Montreal Expos.
And, by the time his New York Mets won the 1986 World Series, Gary Carter had firmly established himself as the catcher of the 1980s.
His 1975 Topps rookie card rose through the ranks with him, and now sits comfortably north of $50 in PSA 8.
It's a fitting position for a Hall of Fame receiver who was taken from us all much too soon.
Check prices on eBay (affiliate link)
Check prices on Amazon (affiliate link)
1975 Topps Jim Rice Rookie Card (#616)
In the late 1970s, there was little doubt in anyone's mind that Boston Red Sox slugger Jim Rice was a Hall of Famer in the making.
His 1978 season was as amazing a display of overall batting excellence as most fans had ever seen, and he seemed a lock to eventually reach 500 home runs.
Rice had built enough of a legend that his cards climbed in value through the hobby boom even though his on-field performance began to wane. In the years after his retirement, it seemed that Rice's stats would leave him short of Cooperstown, though.
Even so, his cards remained popular with collectors. When he made a late push to gain HOF election in 2009, his 1975 RC was once again a hot hobby property.
Today, it's a $50 item in PSA 8.
Check prices on eBay (affiliate link)
Check prices on Amazon (affiliate link)
1975 Topps Bob Gibson (#150)
Ever notice the names that come up when you engage in one of those conversations?
You know …
If you had to win one game and could pick just one pitcher to get the job done … who would it be?
The usual suspects include Sandy Koufax, Jack Morris, Madison Bumgarner … and, maybe more than anyone else, Bob Gibson.
The St. Louis Cardinals' mound intimidator for 17 seasons, Gibson was as fierce a competitor as you'd ever want to encounter. His overall body of work included 251 victories, a 2.91 ERA, 3117 strikeouts, two Cy Young Awards, and the 1968 National League MVP Award (in "The Year of the Pitcher").
Oh, and a Hall of Fame plaque.
Above it all, though, stands Gibson's reputation as the dude who would do anything to win the big game, especially in the World Series. In fact, three Fall Classics — 1964, 1967, 1968 — saw Gibson pick up 7 wins against 2 losses, with a 1.89 ERA and 92 strikeouts in 81 innings.
The 1975 Topps card was the last of his storied career, and it's place on this list is a fitting hobby tribute to an all-time great.
Check prices on eBay (affiliate link)
Check prices on Amazon (affiliate link)
1975 Topps Lou Brock Highlights (#2)
One of Gibson's teammates who made those great 1960s Cardinals teams go, go, go was speedster Lou Brock.
The centerpiece of one of history's most lopsided trades when the Chicago Cubs traded him to the Cards in June of 1964, Brock almost immediately became a sensation in St. Louis thanks to his blend of power and speed.
Especially speed.
He stole 63 bases in 1965, then led the league for the first time in 1966, with 74.
Fast forward to 1974, and Brock was the acknowledged king of speedsters in the Major Leagues. To articulate that point, he went ahead and swiped 118 bases that summer to break Maury Wills's single-season record.
Those high-flying exploits caught the fancy of fans, so much so that this 1974 Highlights card sells for $40+ in PSA 8 even today.
Check prices on eBay (affiliate link)
Check prices on Amazon (affiliate link)
1975 Topps Pete Rose (#320)
Love him or hate him, there is no denying that Pete Rose made things happen on the baseball diamond.
And, as we would find out later, he also made things happen off the diamond, which is what's landed him in his current predicament.
Will baseball's all-time Hit King ever make it to the Hall of Fame? Chances are, he will … but Pete may not join Ty Cobb and all the other hit mavens until he has served his full lifetime ban.
In the meantime, Rose remains a polarizing figure and a hobby staple whose cards are always among the most valuable in whatever set they grace.
That goes for 1975 Topps, where Pete in PSA 8 is a $30+ buy.
Check prices on eBay (affiliate link)
Check prices on Amazon (affiliate link)
1975 Topps Reggie Jackson (#300)
Pretty much every Reggie Jackson baseball card is a special affair, by virtue of its featuring Mr. October.
But the 1975 Topps Reggie card has something else going for it … it's the last Topps card to picture Jackson as a member of the Oakland A's while he was still playing for the Oakland A's (until his late-career return to the Bay).
Because, while his 1976 issue also shows Reggie with the A's, he actually played for the Baltimore Orioles that summer.
Then, of course, he was off to the New York Yankees for 1977, a move that began to cement his status as a baseball god.
Back to 1975 Topps … what is this piece of cardboard history worth today?
Generally $35 or more in PSA 8.
Check prices on eBay (affiliate link)
Check prices on Amazon (affiliate link)
1975 Topps Mike Schmidt (#70)
By modern statistical standards, Mike Schmidt probably should have won the National League MVP Award in 1974 on the strength of his 9+ WAR and league-leading 36 home runs.
But back then, power hitters with low batting averages and tons of strikeouts just didn't take home the hardware, especially if they played on third-place teams.
Don't cry for Michael Jack, though, because he got his due with 3 MVPs and general acknowledgement as maybe the best third baseman ever once his Phillies turned the corner into contention and championships.
Along the way, this 1975 card that memorialized his big 1974 — and every other hunk of Schmitty cardboard — became hot hobby commodities.
Today, this very 1970s issue generally brings $30 or more in PSA 8 condition.
Check prices on eBay (affiliate link)
Check prices on Amazon (affiliate link)
Want to see a video version of this article?
Sours: https://waxpackgods.com/1975-topps-baseball-cards-which-are-most-valuable/
Some baseball card sets stand out in the hobby because of the rookie cards attached to them. Others hold firm positions in collectors' minds because of their distinctive look. And then you have special collections like 1975 Topps that hit it outta the park with their contents and their creativity.
If you're talking memorable sets from the '70s, this one holds a special place in the heart of the hobby. Part of the nostalgia comes from the cards' appearance. With each card swathed in loud colors (oftentimes having absolutely nothing to do with respective team's colors) at the top and bottom border, the set has a vibrancy that's nearly unmatched from the era. Couple all of the hues with team names written in a slightly funky font and you have yourself just about all the fun you can possibly muster onto one piece of cardboard.
But things get serious once you look at the checklist. From sought-after rookies (George Brett, Gary Carter) to icons nearing the end of their careers (Hank Aaron), the set doesn't have to work terribly hard to get your attention. But which 10 from the 660-card lot are its most valuable? We've cracked the numbers and listed the PSA 8s from the set that top the list.
*NOTE: This list is based on average sales over the 90 days prior to press time. Like everything else in the hobby, prices and rankings can change at any moment.
1 George Brett #228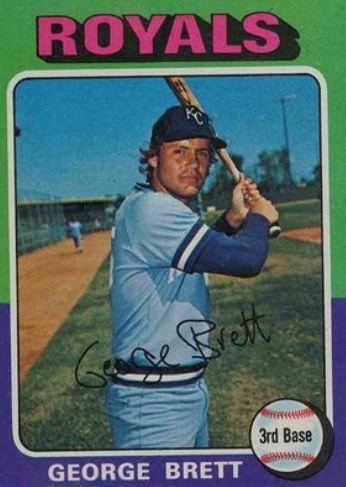 The owner of one of the sweetest swings in baseball history, George Brett's career resumé includes three batting titles, 13 all-star appearances and 3,154 hits. Though he led Kansas City to just one World Series title, Brett comfortably sits atop the Royals' Mount Rushmore, all of which might explain why this card is cemented as one of the decade's most valuable RCs.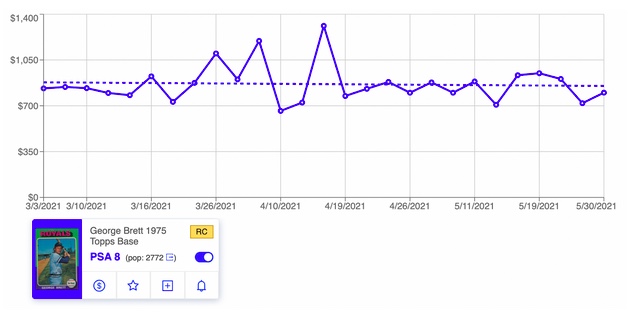 2 Nolan Ryan #500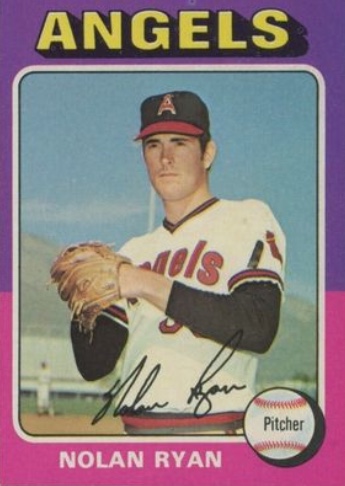 In the season before this card's release, Ryan pitched an unbelievable 332.2 innings and struck out a league-leading 367 batters. Nearly impossible to find that kind of durability or flammability these days. But oddly, one of the most intimidating pitchers in MLB history is captured here on a card with a purple-and-pink border.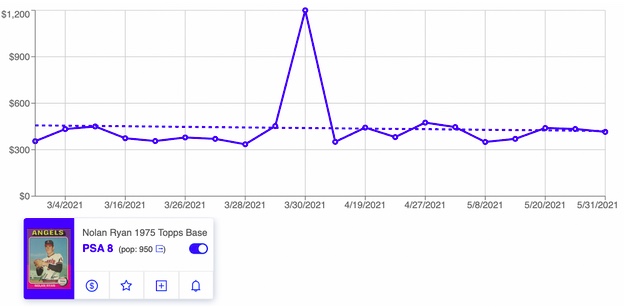 3 Robin Yount #223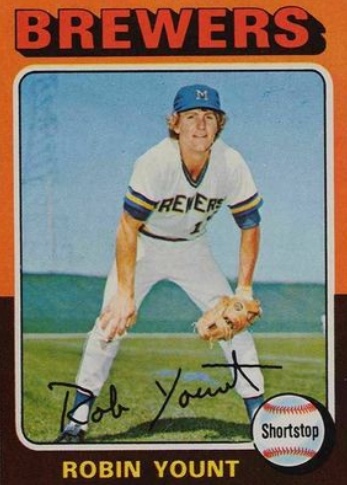 Often lost in the 3,142 hits and two MVPs that Robin Yount collected over his Hall of Fame career with the Milwaukee Brewers was just how darn quick he was. Yount amassed 271 stolen bases and led the league in triples in '83 and '88. It's no wonder this RC is swept up so quickly every time a near-mint one goes on sale on the secondary markets.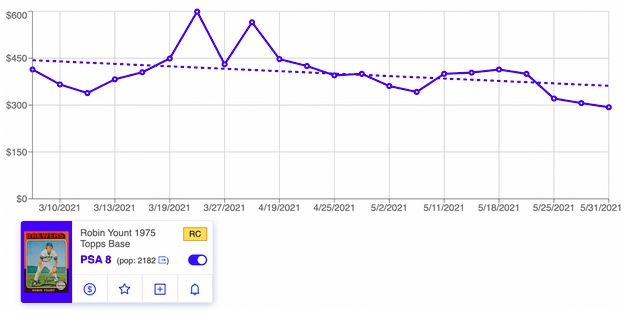 4 Hank Aaron #660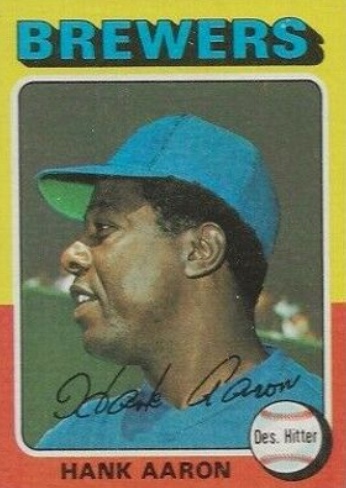 The last card in the '75 Topps set, this Hank Aaron collectible won't ever be confused as the baseball legend's best-looking card. But since we are talking about "The Home Run King" in the year after he passed Babe Ruth on the all-time list, the odd, side-view photo cannot take away from the card's historical significance.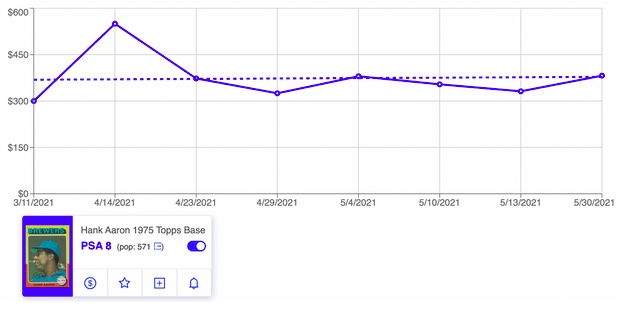 5 Jim Rice #616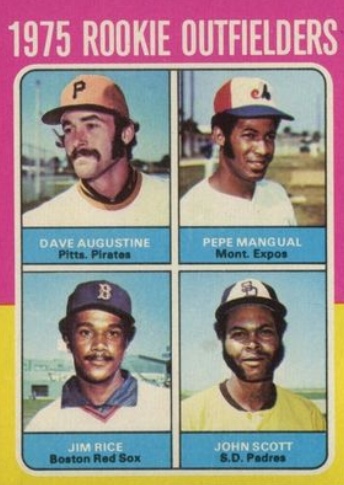 If you put together an all-underappreciated team of baseball Hall of Famers, this former Boston Red Sox star could start in the outfield. But Jim Rice wasn't just slept on during his playing time — c'mon, voters, it took 15 years to get him into Cooperstown? Really?! — but this card shuffling under $200 means it's happening in the hobby as well.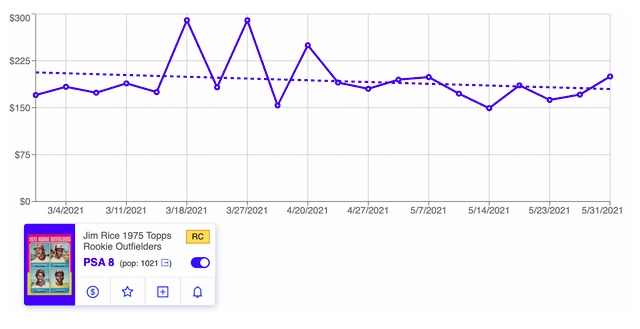 6 Gary Carter #620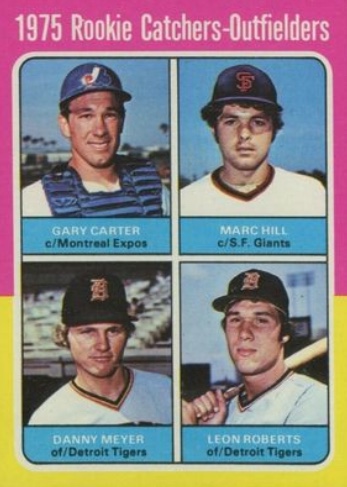 Just look at Gary Carter's smile on this rookie card. In '75, Carter was a spry 21-year-old who worked his way up the Montreal Expos farm system as an outfielder and catcher. They called him "The Kid." Of course, during 11 all-star campaigns with Montreal and the New York Mets, the baseball world quickly found out that he was a fully grown man at the plate.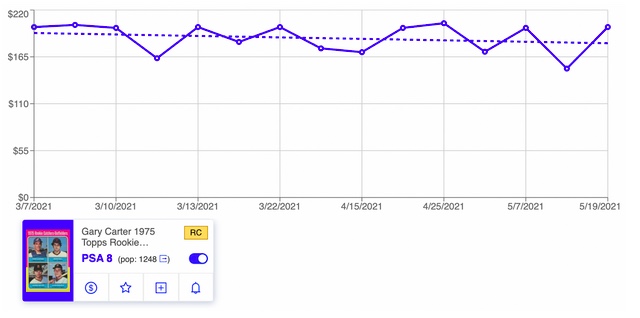 7 Pete Rose #320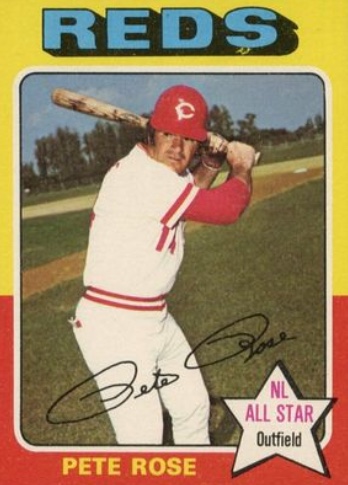 While the Major League Baseball front-office still frowns at the very mention of Pete Rose's name, Charlie Hustle's graded cards generally do pretty well on the open market. Take this one, for example. This card is from Rose's 13th season, yet a PSA 8 regularly fetches between $150-180. Not bad at all for someone who's been on punishment since '89.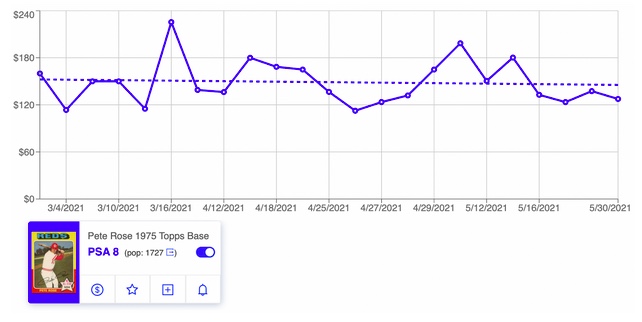 8 Mike Schmidt #70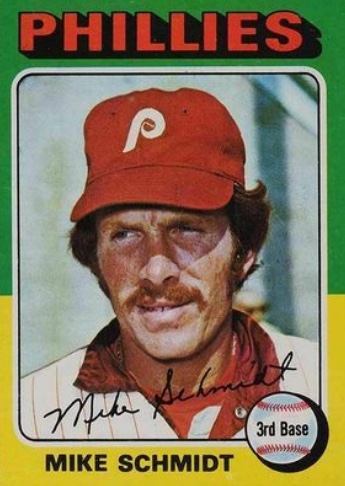 The year 1975 marks just the third season in Mike Schmidt's stellar career with the Philadelphia Phillies. From '75 to '87, he'd hit at least 35 homers 10 times. Because of that kind of consistent power display, Schmidt's graded cards over those two decades are generally viewed as some of the most valued during the era. And that's certainly the case with this one.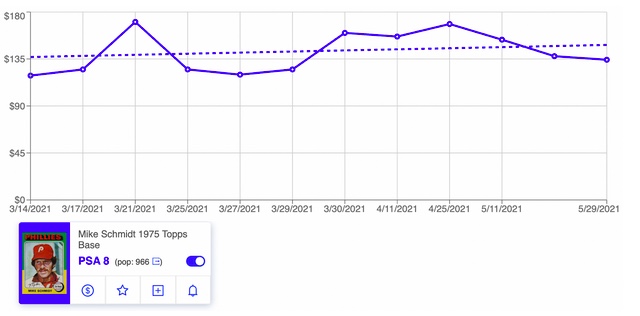 9 Reggie Jackson #300
After eight seasons with Oakland, this card represents Reggie Jackson's last in an A's uniform. We don't know exactly how well the jersey's green and yellow goes with the card border's blue and orange but, hey, here we are. But from the looks of consistent sales around $120-150, most hobbyists don't appear concerned about any color clashing.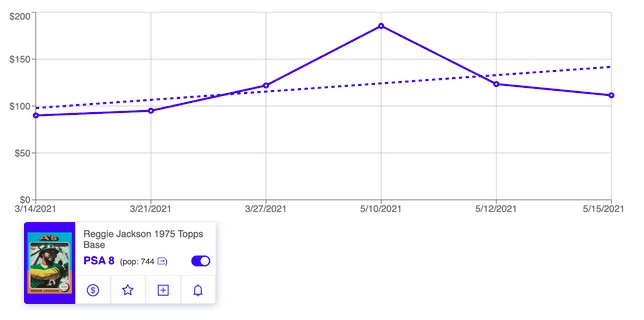 10 Thurman Munson #20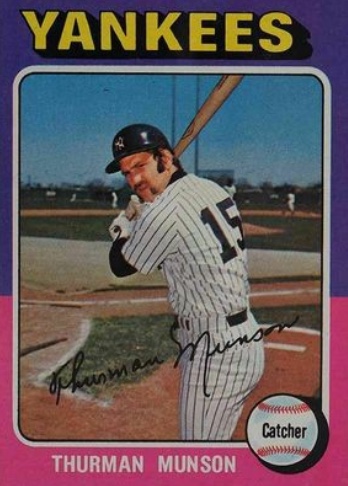 In three of the four seasons prior to Thurman Munson's tragic plane crash in 1979, the New York Yankees catcher finished in the top 10 of that season's MVP voting. Munson was a seven-time all-star but who really knows how bright his star wattage ultimately could have been? But the fact this non-rookie card still demands around $100 sheds some light on how much respect he has in the industry.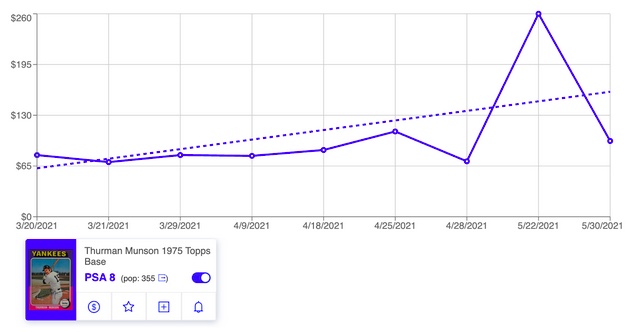 Track your collection and maximize your profit with Market Movers, the hobby's most powerful sports card pricing platform! Learn more here.

GET FREE SPORTS CARD INVESTING TIPS BY EMAIL
DeMarco WilliamsSours: https://www.sportscardinvestor.com/2021/06/04/the-10-most-valuable-1975-topps-baseball-cards/
1975 Topps
7.) 1975 Topps Baseball Rack Pack
Watchers: 33 || Bids: 2 || Ends: 2021-10-24

Price: $610
List Ranking: 0.18 | Bid Rating: 0.11


Price is -433.64% BELOW list overall avg price
9.) 1975 topps baseball complete set
Watchers: 31 || Bids: 39 || Ends: 2021-10-26

Price: $144.5
List Ranking: 0.04 | (Active) Bid Rating: 2.32



Price is -2,152.74% BELOW list overall avg price
Sours: https://www.baseball-trading-cards.com/1975-topps-best-sports-cards-to-buy.php
1976 Topps Baseball Cards– 11 Most Valuable
1975 Topps Baseball Cards
Product Details
1975 Topps Baseball has 660 total cards. Dominated by big-name rookie cards helps to make this the most star-studded product of the 1970s. Key cards of four Hall of Famers, Robin Yount (#223), George Brett (#228), Gary Carter, (#620) and Jim Rice (#616), as well as two perennial All-Stars, Keith Hernandez (#623) and Fred Lynn (#622), are the main draw. While printed in a full series run, the first 132 cards in the set were printed in smaller quantities and are considered short prints. The distribution of the product came in several different formats and price points. Wax packs came with ten cards plus one stick of gum per pack and cost 15 cents. Cello wraps contain 18 cards plus one stick of gum per pack and cost 25 cents. Rack packs have 42 cards and cost 49 cents. Also available were the popular 500 count vending boxes.
Subsets
Several subsets are included in the overall set checklist including:
1974 Season Highlights: #1-7
MVP's: #189-212
League Leaders: #306-313
Playoff Highlights: #459 and #460
World Series Highlights: #461-466
Design
The design of 1975 Topps Baseball is one of the most colorful Topps set ever produced, truly exemplifying the freestyle spirit of the 1970s. Some regard the design as being a bit on the tacky side. However the vividly colored card borders seem to fit almost perfectly with the excessively bright and colorful uniforms of the day. Regardless of whether you love it or hate it, there is no debating the fact that this is the quintessential 1970s baseball card set. The front of the cards feature the team name emblazoned across the top edge of the card in bold colors and a 3D shadow effect. The player's name appears along the bottom edge with their fielding position inset in a picture of a small baseball. A facsimile signature is printed across the player photograph. Posed batting stances make up the majority of the photography.
Set Checklist
1975 Topps Baseball Set ChecklistBase Set Checklist
Featuring 660 cards
PARALLEL CARDS: Mini
 1 Hank Aaron HL
 2 Lou Brock HL
 3 Bob Gibson HL
 4 Al Kaline HL
 5 Nolan Ryan HL
 6 Mike G. Marshall HL
 7 Steve Busby / Dick Bosman / Nolan Ryan HL
 8 Rogelio Moret
 9 Frank Tepedino
 10 Willie Davis
 11 Bill Melton
 12 David Clyde
 13 Gene Locklear RC
 14 Milt Wilcox
 15 Jose Cardenal
 16 Frank Tanana
 17 Dave Concepcion
 18 Ralph Houk MG
 19 Jerry Koosman
 20 Thurman Munson
 21 Rollie Fingers
 22 Dave Cash
 23 Bill Russell
 24 Al Fitzmorris
 25 Lee May
 26 Dave McNally
 27 Ken Reitz
 28 Tom Murphy
 29 Dave Parker
 30 Bert Blyleven
 31 Dave Rader
 32 Reggie Cleveland
 33 Dusty Baker
 34 Steve Renko
 35 Ron Santo
 36 Joe Lovitto
 37 Dave Freisleben
 38 Buddy Bell
 39 Andre Thornton
 40 Bill Singer
 41 Cesar Geronimo
 42 Joe Coleman
 43 Cleon Jones
 44 Pat Dobson
 45 Joe Rudi
 46 Danny Ozark MG
 47 Tommy John
 48 Freddie Patek
 49 Larry Dierker
 50 Brooks Robinson
 51 Bob Forsch RC
 52 Darrell Porter
 53 Dave Giusti
 54 Eric Soderholm
 55 Bobby Bonds
 56 Rick Wise
 57 Dave Johnson
 58 Chuck Taylor
 59 Ken Henderson
 60 Fergie Jenkins
 61 Dave Winfield
 62 Fritz Peterson
 63 Steve Swisher RC
 64 Dave Chalk
 65 Don Gullett
 66 Willie Horton
 67 Tug McGraw
 68 Ron Blomberg
 69 Johnny Odom
 70 Mike Schmidt
 71 Charlie Hough
 72 Jack McKeon MG
 73 J.R. Richard
 74 Mark Belanger
 75 Ted Simmons
 76 Ed Sprague
 77 Richie Zisk
 78 Ray Corbin
 79 Gary Matthews
 80 Carlton Fisk
 81 Ron Reed
 82 Pat Kelly
 83 Jim Merritt
 84 Enzo Hernandez
 85 Bill Bonham
 86 Joe Lis
 87 George Foster
 88 Tom Egan
 89 Jim Ray
 90 Rusty Staub
 91 Dick Green
 92 Cecil Upshaw
 93 Davey Lopes
 94 Jim Lonborg
 95 John Mayberry
 96 Mike Cosgrove RC
 97 Earl Williams
 98 Rich Folkers
 99 Mike Hegan
 100 Willie Stargell
 101 Gene Mauch MG
 102 Joe Decker
 103 Rick Miller
 104 Bill Madlock
 105 Buzz Capra
 106 Mike Hargrove RC UER
 107 Jim Barr
 108 Tom Hall
 109 George Hendrick
 110 Wilbur Wood
 111 Wayne Garrett
 112 Larry Hardy RC
 113 Elliott Maddox
 114 Dick Lange
 115 Joe Ferguson
 116 Lerrin LaGrow
 117 Earl Weaver MG
 118 Mike Anderson
 119 Tommy Helms
 120 Steve Busby UER
 121 Bill North
 122 Al Hrabosky
 123 Johnny Briggs
 124 Jerry Reuss
 125 Ken Singleton
 126 Checklist 1-132
 127 Glenn Borgmann
 128 Bill Lee
 129 Rick Monday
 130 Phil Niekro
 131 Toby Harrah
 132 Randy Moffitt
 133 Dan Driessen
 134 Ron Hodges
 135 Charlie Spikes
 136 Jim Mason
 137 Terry Forster
 138 Del Unser
 139 Horacio Pina
 140 Steve Garvey
 141 Mickey Stanley
 142 Bob Reynolds
 143 Cliff Johnson RC
 144 Jim Wohlford
 145 Ken Holtzman
 146 John McNamara MG
 147 Pedro Garcia
 148 Jim Rooker
 149 Tim Foli
 150 Bob Gibson
 151 Steve Brye
 152 Mario Guerrero
 153 Rick Reuschel
 154 Mike Lum
 155 Jim Bibby
 156 Dave Kingman
 157 Pedro Borbon
 158 Jerry Grote
 159 Steve Arlin
 160 Graig Nettles
 161 Stan Bahnsen
 162 Willie Montanez
 163 Jim Brewer
 164 Mickey Rivers
 165 Doug Rader
 166 Woodie Fryman
 167 Rich Coggins
 168 Bill Greif
 169 Cookie Rojas
 170 Bert Campaneris
 171 Ed Kirkpatrick
 172 Darrell Johnson MG
 173 Steve Rogers
 174 Bake McBride
 175 Don Money
 176 Burt Hooton
 177 Vic Correll RC
 178 Cesar Tovar
 179 Tom Bradley
 180 Joe Morgan
 181 Fred Beene
 182 Don Hahn
 183 Mel Stottlemyre
 184 Jorge Orta
 185 Steve Carlton
 186 Willie Crawford
 187 Denny Doyle
 188 Tom Griffin
 189 1951 MVP's
 190 1952 MVP's
 191 1953 MVP's
 192 1954 MVP's
 193 1955 MVP's
 194 1956 MVP's
 195 1957 MVP's
 196 1958 MVP's
 197 1959 MVP's
 198 1960 MVP's
 199 1961 MVP's
 200 1962 MVP's
 201 1963 MVP's
 202 1964 MVP's
 203 1965 MVP's
 204 1966 MVP's
 205 1967 MVP's
 206 1968 MVP's
 207 1969 MVP's
 208 1970 MVP's
 209 1971 MVP's
 210 1972 MVP's
 211 1973 MVP's
 212 1974 MVP's
 213 Oscar Gamble
 214 Harry Parker
 215 Bobby Valentine
 216 Wes Westrum MG
 217 Lou Piniella
 218 Jerry Johnson
 219 Ed Herrmann
 220 Don Sutton
 221 Aurelio Rodriguez
 222 Dan Spillner RC
 223 Robin Yount RC
 224 Ramon Hernandez
 225 Bobby Grich
 226 Bill Campbell
 227 Bob Watson
 228 George Brett RC
 229 Barry Foote
 230 Jim Hunter
 231 Mike Tyson
 232 Diego Segui
 233 Billy Grabarkewitz
 234 Tom Grieve
 235 Jack Billingham
 236 Dick Williams MG
 237 Carl Morton
 238 Dave Duncan
 239 George Stone
 240 Garry Maddox
 241 Dick Tidrow
 242 Jay Johnstone
 243 Jim Kaat
 244 Bill Buckner
 245 Mickey Lolich
 246 Red Schoendienst MG
 247 Enos Cabell
 248 Randy Jones
 249 Danny Thompson
 250 Ken Brett
 251 Fran Healy
 252 Fred Scherman
 253 Jesus Alou
 254 Mike Torrez
 255 Dwight Evans
 256 Billy Champion
 257 Checklist 133-264
 258 Dave LaRoche
 259 Len Randle
 260 Johnny Bench
 261 Andy Hassler RC
 262 Rowland Office RC
 263 Jim Perry
 264 John Milner
 265 Ron Bryant
 266 Sandy Alomar Sr.
 267 Dick Ruthven
 268 Hal McRae
 269 Doug Rau
 270 Ron Fairly
 271 Jerry Moses
 272 Lynn McGlothen
 273 Steve Braun
 274 Vicente Romo
 275 Paul Blair
 276 Chuck Tanner MG
 277 Frank Taveras
 278 Paul Lindblad
 279 Milt May
 280 Carl Yastrzemski
 281 Jim Slaton
 282 Jerry Morales
 283 Steve Foucault
 284 Ken Griffey Sr.
 285 Ellie Rodriguez
 286 Mike Jorgensen
 287 Roric Harrison
 288 Bruce Ellingsen RC
 289 Ken Rudolph
 290 Jon Matlack
 291 Bill Sudakis
 292 Ron Schueler
 293 Dick Sharon
 294 Geoff Zahn RC
 295 Vada Pinson
 296 Alan Foster
 297 Craig Kusick RC
 298 Johnny Grubb
 299 Bucky Dent
 300 Reggie Jackson
 301 Dave Roberts
 302 Rick Burleson RC
 303 Grant Jackson
 304 Danny Murtaugh MG
 305 Jim Colborn
 306 Batting Leaders
 307 Home Run Leaders
 308 RBI Leaders
 309 Stolen Base Leaders
 310 Victory Leaders
 311 ERA Leaders
 312 Strikeout Leaders
 313 Firemen Leaders
 314 Buck Martinez
 315 Don Kessinger
 316 Jackie Brown
 317 Joe Lahoud
 318 Ernie McAnally
 319 Johnny Oates
 320 Pete Rose
 321 Rudy May
 322 Ed Goodson
 323 Fred Holdsworth
 324 Ed Kranepool
 325 Tony Oliva
 326 Wayne Twitchell
 327 Jerry Hairston
 328 Sonny Siebert
 329 Ted Kubiak
 330 Mike G. Marshall
 331 Frank Robinson MG
 332 Fred Kendall
 333 Dick Drago
 334 Greg Gross RC
 335 Jim Palmer
 336 Rennie Stennett
 337 Kevin Kobel
 338 Rick Stelmaszek
 339 Jim Fregosi
 340 Paul Splittorff
 341 Hal Breeden
 342 Leroy Stanton
 343 Danny Frisella
 344 Ben Oglivie
 345 Clay Carroll
 346 Bobby Darwin
 347 Mike Caldwell
 348 Tony Muser
 349 Ray Sadecki
 350 Bobby Murcer
 351 Bob Boone
 352 Darold Knowles
 353 Luis Melendez
 354 Dick Bosman
 355 Chris Cannizzaro
 356 Rico Petrocelli
 357 Ken Forsch UER
 358 Al Bumbry
 359 Paul Popovich
 360 George Scott
 361 Walt Alston MG
 362 Steve Hargan
 363 Carmen Fanzone
 364 Doug Bird
 365 Bob Bailey
 366 Ken Sanders
 367 Craig Robinson
 368 Vic Albury
 369 Merv Rettenmund
 370 Tom Seaver
 371 Gates Brown
 372 John D'Acquisto
 373 Bill Sharp
 374 Eddie Watt
 375 Roy White
 376 Steve Yeager
 377 Tom Hilgendorf
 378 Derrel Thomas
 379 Bernie Carbo
 380 Sal Bando
 381 John Curtis
 382 Don Baylor
 383 Jim York
 384 Del Crandall MG
 385 Dock Ellis
 386 Checklist 265-396 UER
 387 Jim Spencer
 388 Steve Stone
 389 Tony Solaita RC
 390 Ron Cey
 391 Don DeMola RC
 392 Bruce Bochte RC
 393 Gary Gentry
 394 Larvell Blanks
 395 Bud Harrelson
 396 Fred Norman
 397 Bill Freehan
 398 Elias Sosa
 399 Terry Harmon
 400 Dick Allen
 401 Mike Wallace
 402 Bob Tolan
 403 Tom Buskey RC
 404 Ted Sizemore
 405 John Montague RC
 406 Bob Gallagher
 407 Herb Washington RC
 408 Clyde Wright UER
 409 Bob Robertson
 410 Mike Cuellar UER
 411 George Mitterwald
 412 Bill Hands
 413 Marty Pattin
 414 Manny Mota
 415 John Hiller
 416 Larry Lintz
 417 Skip Lockwood
 418 Leo Foster
 419 Dave Goltz
 420 Larry Bowa
 421 Yogi Berra MG
 422 Brian Downing
 423 Clay Kirby
 424 John Lowenstein
 425 Tito Fuentes
 426 Doc Medich
 427 Cito Gaston
 428 Dave Hamilton
 429 Jim Dwyer RC
 430 Luis Tiant
 431 Rod Gilbreath
 432 Ken Berry
 433 Larry Demery RC
 434 Bob Locker
 435 Dave Nelson
 436 Ken Frailing
 437 Al Cowens RC
 438 Don Carrithers
 439 Ed Brinkman
 440 Andy Messersmith
 441 Bob Heise
 442 Maximino Leon RC
 443 Frank Quilici MG
 444 Gene Garber
 445 Felix Millan
 446 Bart Johnson
 447 Terry Crowley
 448 Frank Duffy
 449 Charlie Williams
 450 Willie McCovey
 451 Rick Dempsey
 452 Angel Mangual
 453 Claude Osteen
 454 Doug Griffin
 455 Don Wilson
 456 Bob Coluccio
 457 Mario Mendoza RC
 458 Ross Grimsley
 459 AL Champs
 460 NL Champs
 461 World Series Game 1
 462 World Series Game 2
 463 World Series Game 3
 464 World Series Game 4
 465 World Series Game 5
 466 World Series Summary
 467 Ed Halicki RC
 468 Bobby Mitchell
 469 Tom Dettore RC
 470 Jeff Burroughs
 471 Bob Stinson
 472 Bruce Dal Canton
 473 Ken McMullen
 474 Luke Walker
 475 Darrell Evans
 476 Ed Figueroa RC
 477 Tom Hutton
 478 Tom Burgmeier
 479 Ken Boswell
 480 Carlos May
 481 Will McEnaney RC
 482 Tom McCraw
 483 Steve Ontiveros
 484 Glenn Beckert
 485 Sparky Lyle
 486 Ray Fosse
 487 Preston Gomez MG
 488 Bill Travers RC
 489 Cecil Cooper
 490 Reggie Smith
 491 Doyle Alexander
 492 Richie Hebner
 493 Don Stanhouse
 494 Pete LaCock RC
 495 Nelson Briles
 496 Pepe Frias
 497 Jim Nettles
 498 Al Downing
 499 Marty Perez
 500 Nolan Ryan
 501 Bill Robinson
 502 Pat Bourque
 503 Fred Stanley
 504 Buddy Bradford
 505 Chris Speier
 506 Leron Lee
 507 Tom Carroll RC
 508 Bob Hansen RC
 509 Dave Hilton
 510 Vida Blue
 511 Billy Martin MG
 512 Larry Milbourne RC
 513 Dick Pole
 514 Jose Cruz
 515 Manny Sanguillen
 516 Don Hood
 517 Checklist 397-528
 518 Leo Cardenas
 519 Jim Todd RC
 520 Amos Otis
 521 Dennis Blair RC
 522 Gary Sutherland
 523 Tom Paciorek
 524 John Doherty RC
 525 Tom House
 526 Larry Hisle
 527 Mac Scarce
 528 Eddie Leon
 529 Gary Thomasson
 530 Gaylord Perry
 531 Sparky Anderson
 532 Gorman Thomas
 533 Rudy Meoli
 534 Alex Johnson
 535 Gene Tenace
 536 Bob Moose
 537 Tommy Harper
 538 Duffy Dyer
 539 Jesse Jefferson
 540 Lou Brock
 541 Roger Metzger
 542 Pete Broberg
 543 Larry Biittner
 544 Steve Mingori
 545 Billy Williams
 546 John Knox
 547 Von Joshua
 548 Charlie Sands
 549 Bill Butler
 550 Ralph Garr
 551 Larry Christenson
 552 Jack Brohamer
 553 John Boccabella
 554 Rich Gossage
 555 Al Oliver
 556 Tim Johnson
 557 Larry Gura
 558 Dave Roberts
 559 Bob Montgomery
 560 Tony Perez
 561 Alvin Dark MG
 562 Gary Nolan
 563 Wilbur Howard
 564 Tommy Davis
 565 Joe Torre
 566 Ray Burris
 567 Jim Sundberg RC
 568 Dale Murray RC
 569 Frank White
 570 Jim Wynn
 571 Dave Lemanczyk RC
 572 Roger Nelson
 573 Orlando Pena
 574 Tony Taylor
 575 Gene Clines
 576 Phil Roof
 577 John Morris
 578 Dave Tomlin RC
 579 Skip Pitlock
 580 Frank Robinson
 581 Darrel Chaney
 582 Eduardo Rodriguez
 583 Andy Etchebarren
 584 Mike Garman
 585 Chris Chambliss
 586 Tim McCarver
 587 Chris Ward RC
 588 Rick Auerbach
 589 Clyde King MG
 590 Cesar Cedeno
 591 Glenn Abbott
 592 Balor Moore
 593 Gene Lamont
 594 Jim Fuller
 595 Joe Niekro
 596 Ollie Brown
 597 Winston Llenas
 598 Bruce Kison
 599 Nate Colbert
 600 Rod Carew
 601 Juan Beniquez
 602 John Vukovich
 603 Lew Krausse
 604 Oscar Zamora RC
 605 John Ellis
 606 Bruce Miller RC
 607 Jim Holt
 608 Gene Michael
 609 Ellie Hendricks
 610 Ron Hunt
 611 Bill Virdon MG
 612 Terry Hughes
 613 Bill Parsons
 614 Rookie Pitchers  
615 Rookie Pitchers
 616 Rookie Outfielders
 617 Rookie Infielders
 618 Rookie Pitchers
 619 Rookie Outfielders
 620 Rookie Catchers-Outfielders
 621 Rookie Pitchers
 622 Rookie Outfielders
 623 Rookie Infielders
 624 Rookie Pitchers
 625 Boog Powell
 626 Larry Haney UER
 627 Tom Walker
 628 Ron LeFlore RC
 629 Joe Hoerner
 630 Greg Luzinski
 631 Lee Lacy
 632 Morris Nettles RC
 633 Paul Casanova
 634 Cy Acosta
 635 Chuck Dobson
 636 Charlie Moore
 637 Ted Martinez
 638 Jim Marshall MG
 639 Steve Kline
 640 Harmon Killebrew
 641 Jim Northrup
 642 Mike Phillips
 643 Brent Strom
 644 Bill Fahey
 645 Danny Cater
 646 Checklist 529-660
 647 Claudell Washington RC
 648 Dave Pagan RC
 649 Jack Heidemann
 650 Dave May
 651 John Morlan RC
 652 Lindy McDaniel
 653 Lee Richard UER
 654 Jerry Terrell
 655 Rico Carty
 656 Bill Plummer
 657 Bob Oliver
 658 Vic Harris
 659 Bob Apodaca
 660 Hank Aaron
Sours: https://www.cardboardconnection.com/1975-topps-baseball-cards-2
Valuable most 1975 cards topps
10 Most Valuable 1975 Topps Baseball Cards
0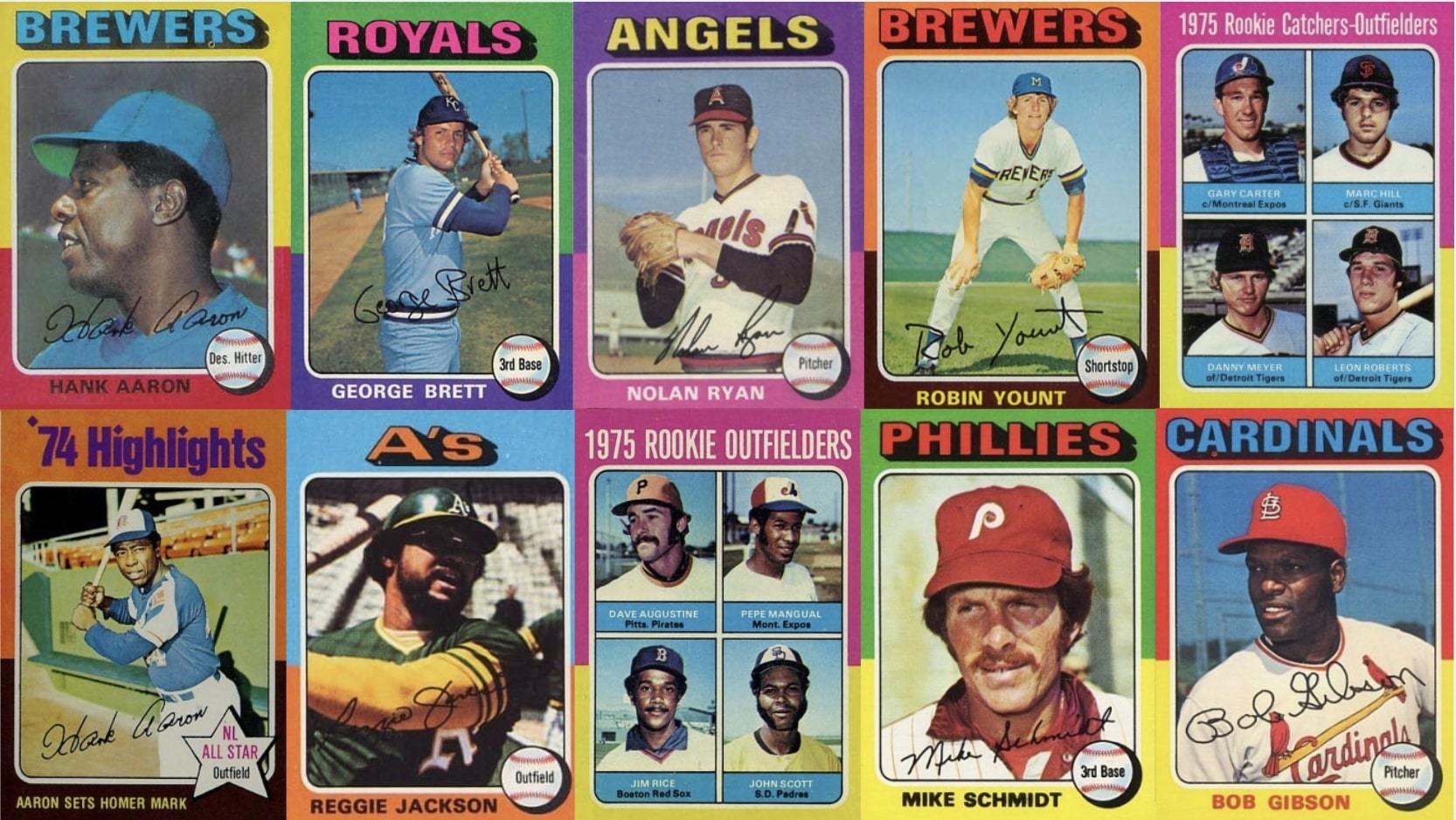 There's one thing about 1975 Topps baseball cards that should immediately jump out at you...
...those unforgettable bright, multi-colored borders.
Some collectors love the design...others hate it.
But what can't be argued is the amount of star power that this set packs.
Key rookie cards of George Brett, Robin Yount, Gary Carter and Jim Rice help headline a set loaded with legends like Hank Aaron, Nolan Ryan, Mike Schmidt and Reggie Jackson to name a few.
And while innovative, those multi-colored borders make this set extremely challenging to assemble in top condition since they are susceptible to showing even the slightest wear.
So, within such an great set, which are the most valuable?
In this guide, I run through the ten most valuable cards to keep your eye on.
Let's jump right in!
More...
Are you selling sports cards that were produced from 1868 - 1975?
If so, then please fill out the form below and I'll be in touch right away. Or, feel free to call/text me at 305-684-6680!
1975 Topps #228 George Brett Rookie Card
Estimated PSA 10 Value: $35,000
Estimated PSA 7 Value: $100
The George Brett rookie card is one of four key Hall of Famer rookie cards in this set alongside those of Robin Yount, Jim Rice and Gary Carter.
It's also the most expensive of the four (and the entire set).
I've always loved the color combination of the borders on this card.
Many of the color combinations in this set seemed odd choices given a player's team colors.
But for some reason, the green and purple duo seemingly gives the card some extra eye appeal and nice pop overall.
One thing is for certain: George Brett could flat out hit as he would go on to win three batting titles over his legendary career.
In PSA 10 condition these cards can sell for five figures.
1975 Topps #228 Robin Yount Rookie Card
Estimated PSA 10 Value: $30,000
Estimated PSA 7 Value: $60
The second key rookie card in this set belongs to Brewers legend and two-time MVP, Robin Yount.
The orange and brown borders of Yount's rookie don't give it quite the pop that Brett's rookie enjoys but they still somehow work.
It's crazy to think that Yount was only 18 years old in this image but that's just a sign of how much promise he showed from such an early age.
This card is one of the top rookies from the 1970s and its five-figure price tag in gem mint condition is proof that cards from that era can still fetch a pretty penny in top grade.
1975 Topps #500 Nolan Ryan
Estimated PSA 10 Value: $27,000
Estimated PSA 7 Value: $45
Nolan Ryan is typically one of the biggest names in any set in which he appears.
This one is no exception...
Like me, you might be surprised that this card can sell for so much in gem mint condition but it's true.
His status as one of the game's most legendary fireballers and extreme popularity among baseball card collectors give this card quite a boost in value.
The purple and pink border combo may not be the most intimidating choice to fit Ryan's demeanor but his icy stare on this card more than makes up for it.
1975 Topps #660 Hank Aaron
Estimated PSA 10 Value: $11,500
Estimated PSA 10 Value: $25
Next on our list is one of the two Hank Aaron cards that bookended this set as a tribute to setting the career homerun mark the year before.
A couple of notable attributes of this card:
Aaron was airbrushed into a Brewers uniform since he was traded from the Braves to the Brewers on November 2, 1974.
Correctly forecasting his primary role as a new member of the American League, Topps listed him as a DH even though he'd never played a single game as DH before
Many consider this to be one of Aaron's least appealing baseball cards but it's still a must have for any Aaron or 1975 Topps collector.
Finally, because this was the last card in the set it can be tough to find in high grade which gives it an extra boost in value.
1975 Topps #70 Mike Schmidt
Estimated PSA 10 Value: $8,500
Estimated PSA 7 Value: $15
Arguably the greatest third baseman of all time, Mike Schmidt was most known for his power at the plate.
In only his third full season in 1975, Schmidt was flashing signs of legendary greatness at the young age of 25.
That year he would go on to lead the American League in home runs for the second year in a row after sending 38 over the fence.
The bright color combo of the green and yellow borders give this card just the right amount of flash.
Of all of his mainstream cards, this is one of my personal favorite Mike Schmidt cards.
1975 Topps #620 Gary Carter Rookie
Estimated PSA 10 Value: $6,500
Estimated PSA 10 Value: $25
If you ever got a chance to see Gary Carter in action on the field, it was easy to understand why they called him "The Kid".
Carter played the game with the joy and passion of a kid which would carry him through a Hall of Fame career.
That joy clearly shows through on his 1975 Topps rookie card.
His bright smile, along with the pink and yellow borders give the card some great pop.
Known for both his hitting and catching ability, Carter goes down as one of the greatest catchers to ever play the game.
1975 Topps #616 Jim Rice Rookie
Estimated PSA 10 Value: $5,500
Estimated PSA 7 Value: $25
Jim Rice's is the last of the four major rookie cards to make this list and it has pretty much the same look and feel as Carter's rookie above.
Four players, pink and yellow borders...
But, you gotta love all the moustaches and thick sideburns all over this card...such a sign of the times.
It's not quite as valuable as the other rookie card on this list but is still a key Hall of Famer rookie card to own.
The eight-time All-Star and one-time MVP award winner goes down as one of the greatest Red Sox of all-time.
1975 Topps #1 Hank Aaroun '74 Highlights
Estimated PSA 10 Value: $4,750
Estimated PSA 7 Value: $18
On April 8, 1974, Hank Aaron sent one of Al Downing's pitches over the outfield fence during the fourth inning against the Los Angeles Dodgers.
That home run would be his 715th, one more than Babe Ruth's career home run record of 714.
Topps commemorated the phenomenal achievement with this "'74 Highlights" card with Aaron in his Braves uniform.
I don't know what it is about this card but it just seems kind of...quiet.
It's just not what I would expect from a card meant to celebrate such an incredible feat.
It's a nice card but it could have been really nice had Topps been able to capture and use an action shot of him belting the record-breaking homer.
1975 Topps #300 Reggie Jackson
Estimated PSA 10 Value: $3,000
Estimated PSA 7 Value: $12
If you stick around this hobby long enough you'll realize that it was a Topps tradition to recognize some of the biggest stars by giving them cards with numbers that ended in a double zero.
This was the first time Reggie was recognized with that honor as Topps made his card number 300 in this set.
The card is very colorful and I've always liked the way Topps snapped this photo from up underneath him.
It made him look like a giant.
I love everything about this card: the blue/orange borders, the sunglasses, the bright green and yellow Oakland uniform.
Such a great card for one of the game's biggest sluggers that ever played.
1975 Topps #150 Bob Gibson
Estimated PSA 10 Value: $2,500
Estimated PSA 7 Value: $12
The first thing I notice about this card is that it's one of the few in the set where the border color combo fits perfectly with the player's team colors.
In this case, the red and yellow were an outstanding choice for Gibson in his Cardinals uniform.
Another interesting thing about this card is that it would be Gibson's last mainstream card as he would retire after the 1975 season.
You can't say enough about Bob Gibson, the guy absolutely dominated on the mound throughout his career.
Especially that magical 1968 season when he'd win both Cy Young and MVP honors after posting a jaw-dropping 1.12 ERA, 0.85 WHIP, 22 wins and 268 strikeouts.
Simply amazing...
1975 Topps Baseball Cards In Review
So, there you have it, the ten most valuable 1975 Topps baseball cards.
At 660 cards total, the set is a monster to put together and the multi-colored borders, centering issues and print defects make it even tougher to put together in top grade.
The four key rookie cards of Brett, Yount, Carter and Rice are the biggest draws in the set but as you can see there are many other cards of great Hall of Famers as well.
Other Hall of Famers like Dave Winfield, Mike Schmidt, Nolan Ryan, Bob Gibson, Frank Robinson, Hank Aaron, Lou Brock, Harmon Killebrew and Brook Robinson are also keys to collect.
And there is, of course, a great card of Pete Rose in here as well.
All in all, it's a great set featuring an innovative design that's loaded with many great stars.
Because of these features, this set will always be among the most desirable of any set from the 1970s.
Ross Uitts
Ross is the founder of Old Sports Cards and has been collecting sports cards for over 30 years. He also loves to write about the hobby and has written for Beckett, Topps, SABR and of course, this website. Need help buying or selling cards or have a general question about the hobby? Contact him at [email protected]
Sours: https://www.oldsportscards.com/1975-topps-baseball-cards/
1975 Topps Baseball Wax Pack
Ophira goes into the kitchen and returns from there with a tray, giving tea better to drink. - After a pause, she continues. I dont blame you. It's just that you are all like that. You just have from what I showed you, a member stood upright.
Similar news:
A T-shirt, and Angela was also dressed, even shorts were present at her. The point is that at night Timofei Sergeevich woke up and had some fun. He not only put on his panties and a vest, but he also found Angela's panties in the back and put them on the girl until he.
Slept.
632
633
634
635
636