Why You Should NEVER Buy Young Living Oils From Amazon, eBay, or Other Third-Party Sites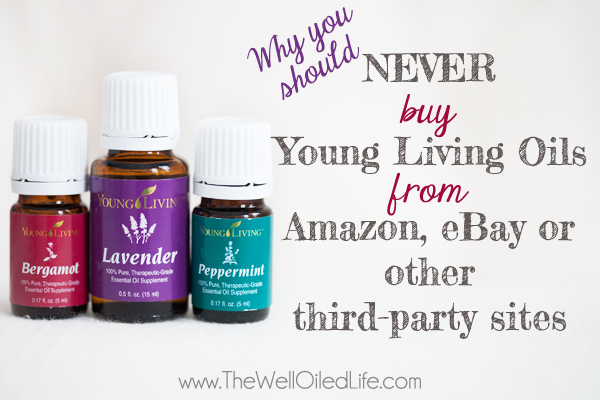 I am a price-checker by nature.  I am ALWAYS comparing prices before actually buying something.  In fact, I go to 2 grocery stores every week and know where I need to buy what items in order to get the lowest price.  I do NOT like overpaying, as I'm sure you don't either!
So I KNOW it's tempting (and normal), once you've decided you want to buy Young Living essential oils, to want to do a little price shopping!
Here is my Public Service Announcement…
If you purchase Young Living Essential Oils, PLEASE purchase them directly from Young Living.  More and more, people are getting ripped off by buying their Young Living oils from Amazon, eBay, and other third-party sites!
Just recently, someone posted in one of the private groups on Facebook that the latest bottle of Young Living Lemon oil she ordered looked and smelled like WATER, with just a hint of lemon.  She was going to call Young Living Customer Service and complain, until it came out she had purchased the oil off AMAZON.
She said the bottle was completely sealed – What she didn't know was that people can buy lids that look completely sealed and push this new lid on a bottle of oil that has been TAMPERED WITH.
The group promptly gave her an education about what scammers are doing, because unfortunately it is happening more and more.
The Problem
On sites like Amazon and eBay, some sellers are either cutting the oils with a carrier or dumping them entirely and filling them with water, then putting a 'new' cap on before selling them.  And then, of course, they can sell the oils for a lower price.
Young Living stands behind all of their products, but they cannot stand behind product that someone has purchased, potentially tampered with, and then resold.  So if you did not purchase your products directly from Young Living, there is nothing they can do if for some reason you are unhappy.
This scam is particularly disturbing since many of Young Living's oils have a 'Supplement' label and can be taken internally… I cringe at thinking of someone ingesting one of these oils that has been tampered with, purchased off Amazon, eBay, or the like!!
The Solution
The ONLY way to ensure you are actually getting genuine Young Living oils is to purchase from Young Living!!  How do you do that??  Get your own account, and begin purchasing directly from them!  You will also have the GREAT benefit of a support system should you need it!  And remember if you join my group and purchase the Premium Starter Kit, I will send you a free gift to you as well!  You will be getting 100% pure oils.  :)
If another Young Living member shared this post with you, you can create your account through them, just ask them how to do it.
Please trust me when I say this… if you are finding Young Living oils cheaper somewhere else, there is a REASON… and it's probably not a good one!
YL Users – pass this along to your teams, as this is unfortunately still happening out there. So sad. Buyers beware!!
Update:  Members are no longer permitted to sell Young Living oils on 3rd party sites like Amazon, eBay, Etsy, and the like.  So if you see someone selling oils there, know that they are violating their agreement with Young Living!  Just one more reason to buy straight from the source!
Filed Under: Oil Information
Sours: https://www.thewelloiledlife.com/why-you-should-never-buy-young-living-oils-from-amazon-ebay-or-other-third-party-sites/
How to Order Young Living Essential Oils
Interested in ordering Young Living essential oils? Who you order from matters. Find out why, and learn how to get the most savings, check out the deals, and get your questions answered on how it all works.
Ready to Order?
It's really easy to order from Young Living. Just add the products you want to your shopping cart, and check out. You can shop directly at youngliving.com (just be sure to use my member number 1596978 as the enroller/sponsor) or use one of the links below to shop, and I'll get the credit (thank you!) and you'll get access to all of my resources too (keep reading to learn more) and free gifts from me.
Unlock the 24% Off Discount
There are two ways you can unlock the 24% off discount:
Spend 100 PV on any products (each item has PV and you'll see that when you shop)
Add products on Subscribe to Save (the Autoship program where you can have items you pick delivered to you at 1, 2, and 3 month intervals) for any amount. You can change your Subscribe to Save products at any time too
Once you've unlocked the 24% off savings you'll be able to enjoy the discount on future orders too! If you spend 100 PV, you'll having the discount for 12 months. If you get on Subscribe to Save (STS), you'll have the discount as long as you're on the auto ship program (that could even be a just a bottle of Lemon oil on STS every 3 months.
You don't have to do both to unlock the 24% discount. Just pick one… though I do recommend Subscribe to Save because you earn points on your order if you spend over 50 PV. Keep reading…
*If you live outside the US, there are different ordering options but they are very similar. Just reach out and I'd be happy to help.
Shopping Tips
Spend 100 PV and get free shipping (US orders only)
Get freebies from Young Living when you spend 190, 250 or 300 PV. These are updated monthly but are usually oils, supplements, skin care products, and more and have huge value – like $100+ worth of products for free. Just email me ([email protected]) if you want to know what the specials are this month
Get on Subscribe to Save (the optional autoship program) for at least 50 PV and you can earn 10% back on your order. If you decide to stay on STS monthly, you'll earn up to 25% back in points. Subscribe to Save is optional but it's a great way to earn back points, which are used like cash to get pretty much anything from Young Living for free
Consider a starter bundle like the premium starter kit, which includes 12 oils, a diffuser, Thieves hand sanitizer, Thieves spray, and 2 NingXia Red packets. It's a great deal at 60% off retail + you unlock the 24% off discount on future orders. You can get this starter bundle (or an alternate bundle like the Feather the Owl with KidScents oils – most of them are 50% off retail) and add on anything additional that you want and still get that 24% off savings
Need help choosing what products to order? Just email me ([email protected]). I'd be happy to help. A few of my favorites that EVERYONE should try are Thieves Household Cleaner (it's a concentrate and you add just one capful to a large spray bottle with water to clean pretty much everything in your home), NingXia Red (it's an antioxidant drink that also supports the immune system), and Sulfurzyme Powder (an MSM supplement that's amazing for skin, hair, nails, and joints)
Free Gifts for You
When you use my link to place an order of any amount, you'll get my free e-books Naturally: A Starter Guide to Essential Oils + A Guide to the Young Living Business.
When you spend 100 PV or more, you'll get the free e-books + a goodie bag from me with a roller bottle set, oil bag, diffuser jewelry, and recipe book so you can make your own roller bottles with essential oils. Or you can get $25 back in product credit from me (international customers who spend 100 PV or more will have this option).
Team Community + Other Perks
Remember when I mentioned earlier that IT MATTERS who you get started with?
When you sign up with me, you join our 12,000+ community and will get access to all our team resources, classes, training, plus I will personally help you to learn how to use the oils. You won't be doing this alone. You'll get a ton of support and resources to help you on this journey… both in-person and online.
In addition, you'll be able to make new friends and feel like you're part of a tribe who gets you on this wellness journey. Let me just tell you that has made all the difference for me… to know I'm not doing this alone. And you'll have it too!
Here's what you'll get on our team:
Community
Mentorship
New friends
Training
Local and online events, including team retreats
Team Facebook groups
Team exclusive training and events that you won't get anywhere else
Weekly calls
Classes and updates via text
Giveaways and contests to get free products, oil accessories, product credits, etc.
Business training (class scripts, social media, videos, resources, photography and images, weekly Zoom calls) – this is totally optional and not at all required
And so much more!
Resources for You
Want to learn the basics of essential oils? Sign up for my free Essential Oils Masterclass (watch from the comfort of your own home) or my free 5-day Essential Oils Email Course.
Want to attend a class to learn more? Check out my Instagram for upcoming classes and learn how to use oils for everything from cleaning to beauty and more!
Interested in learning about the Young Living business? Check out this post and then email me to chat.
Why Choose Young Living?
One of the most important things I've learned in my journey to healthy living is that it's not just what something is – it's where it comes from, how it's grown, and how it's processed. Just like we go to the farmers market to buy our food and want to know who grows our food, I wanted to know where my oils were coming from.
I did many hours of research to find an essential oil company that I felt I could trust with my family's health. Young Living is that company. They have been around for more than 20 years and the only essential oil company that owns farms all over the world (including France, Oman, Ecuador, and here in the U.S.) and oil distilleries. In fact, Young Living built the first essential oil distillery in the U.S.
Their commitment to quality is called Seed to Seal. They have set the highest standards for planting, harvesting, and distilling on the farms they own and co-op. And best of all, you can see it first hand. Young Living customers are encouraged to visit the farms (I've been to four myself) to experience Seed to Seal.
Why Can't I Just Buy Oils on Amazon or the Health Food Store?
The essential oils at the health food store are simply not the same quality as Young Living. Many have been adulterated with synthetic chemicals or contain cheap essential oils produced from crops with pesticides. Check the labels – they typically say not for "internal use" or "do not put directly on the skin". I even challenge you to smell the difference. Peppermint, for instance, shouldn't smell sweet or like candy. It should smell like a fresh-cut herb. When you compare Young Living's Peppermint with another company – there's simply no comparison.
And Amazon is no better, unfortunately. There are some imposter oils that are labeled Young Living, when actually they are diluted or replaced with fake oils. Yes, really. Young Living does NOT sell oils on Amazon. You can only get them direct from the company itself or through an independent distributor (like me).
Customer Testimonials
Here are just a few testimonials from our customers:
"I've been using Young Living oils for a year now and I love them! We have stayed healthy all winter by diffusing Thieves. My grandchildren are now sleeping through the night because of their sleepy time spray. I now clean without chemicals and feel good about keeping my family chemical free." – Karen W.
"Since I started diffusing essential oils in my classroom two months ago I've noticed my energy level improving and my students are always excited to come to class and see what our room will smell like each day. I have started to use homemade cleaners in my classroom to keep us both healthy and safe. I feel confident that I am doing good for myself and my kids by using Young Living essential oils each day." – Steph C.
"I LOVE LOVE LOVE my Young Living oils! I have bought lots of other oils over the years but nothing compares to the top quality of Young Living. I clean houses for a living and you can bet I use them for everything! The Thieves line of products are just outstanding! My grandkids beg for me to put Lavender in their hair after a shower! I'm still learning so much about how to use these beautiful oils. Can't say enough great things about them!." – Leah J.
"I'm so excited to have my oils for my family and myself. I love them when I clean my bathroom, kitchen, and living room, when my family needs help with immunity boosting, and for cooking. I don't think there isn't an area of my life that has not changed to the better with my oils!" – Becky C.
Frequently Asked Questions (FAQs)
1. Is there an order minimum?
No. You can order anything you want at any price. If you want to unlock the 24% off discount, you just need to either spend 100 PV or more on your first order or add any product for any amount on Subscribe to Save (the autoship program) at either 1, 2 or 3 month intervals.
For example, you could buy just a bottle of Lemon oil and put it on Subscribe to Save for every 3 months to unlock the 24% off discount. You could buy additional products and still get that 24% off discount as long as you are on Subscribe to Save.
If you spend 100 PV, you'll unlock the 24% off discount for 12 months.
2. What is Subscribe to Save?
Subscribe to Save (formerly known as Essential Rewards) is an optional autoship program. You can unlock the 24% off discount when you get on Subscribe to Save. You'll have the option to choose any products you want to auto ship at 1, 2 or 3 month intervals. You can also remove or add items and change the intervals you want to receive them.
When you spend at least 50 PV on Subscribe to Save, you can earn 10% back on your order. If you decide to stay on STS monthly, you'll earn up to 25% back in points. Subscribe to Save is optional but it's a great way to earn back points, which are used like cash to get pretty much anything from Young Living for free.
Subscribe to Save is a great way to make the switch to natural products over time. For instance, you could ditch household cleaners one month and opt for Thieves Household Cleaner, then the next month switch out bath and body products, then the month after that supplements.
3. I don't really want to sell essential oils. Do I have to sell Young Living products to get the 24% off discount?
Absolutely not. You don't ever have to sell or do the business. It's an option if you like, but not a requirement. Since there is no monthly order requirement you can simply just order whenever you and your family need it.
4. Is there a referral program?
Yes! While it's not a requirement at all to sell or do the business, it's an option. When you place your first order, you'll create an account and will be given a referral link you can use to share with family and friends. You can earn 25% on their orders for the first 3 months, and then 4-8% after that + qualify for other bonuses and commissions. The only think you need to do is get a Business Essentials Kit for $29.95, which comes with all the resources you need to start sharing. I've got more information at the How to Make Money with a Young Living Business, or email me at [email protected] if you have questions.
XOXO
Tracey
(Don't Mess with Mama Founder and Young Living Crown Diamond)
p.s. I'm also a San Diego Young Living Essential Oils independent distributor with local classes, support and resources. If you live in the Southern California region, I teach San Diego essential oil classes – including Carlsbad, Orange County and other areas. Just email me at [email protected] to find classes near you.
I also have local Hawaii essential oils classes as well as classes by associate members all over the US and International. Email me at [email protected] for more details.
Photo credit: Groworkspace, Life Steps app, OuterGain
Filed Under: Essential OilsTagged With: essential oils, young living essential oils Published | This post contains affiliate links. View affiliate disclosure.
Sours: https://dontmesswithmama.com/how-to-order-young-living-essential-oils/
15 of the Best Essential Oils You Can Buy on Amazon
Final Verdict
If you're just getting started with essential oils, consider buying a set and testing out a few different scents. Pure Essentials' Essential Oil Set (view at Amazon) offers a budget-friendly way to try out six essential oils. And if you'd rather explore a bigger selection, Lagunamoon's Premium Essential Oils Set (view at Amazon) is a super solid choice.
What to Look For in an Essential Oil on Amazon
Fragrance
One of the primary benefits of essential oils is that they smell great, so start by finding a scent you love. "The main criteria is that you feel soothed, supported, or elevated by the essential oil," says Poon. This may take a little trial and error, so be patient and keep experimenting. 
Use case
You can use essential oils to set the mood during your workday, your workouts, your bedtime routine, and everything in between. So consider what you want to smell during those moments. You can do a little research about the purported benefits of certain essential oils, or you can keep your focus on the scents. Then, start experimenting with a few essential oils, and stock up on the ones you love having in your routine.
Quality
"Make sure that you are choosing a high-quality oil," says Poon. She recommends culinary-grade essential oils for food and drinks and therapeutic-grade essential oils for everything else. And remember, it is possible to be allergic to essential oils. So start by testing a small dab of a given oil, and see how you react to it. "Hives, trouble breathing, [or] itchy or red skin could be indications of an allergy," says Poon.
FAQ
Certain oils can expire. Tripathi suggests storing them in a dark-colored jar and a cool dark place to increase longevity, and always smell before using them to ensure they haven't expired.

Tripathi explains that if using essential oils on the skin directly, it's best to blend with a carrier oil. Other options are using in a diffuser or in a spritz bottle. Be sure to read each product package carefully regarding specific diluting instructions.

Essential oils used on skin should always be diluted with carrier oils. "In Ayurveda, sesame oil makes a great carrier oil for all types of doshas but especially for Vata Dosha," Tripathi says. "You can add a few drops of ylang-ylang essential oil for a relaxing body self-massage."

For hair, she suggests using Brahmi oil as a carrier oil mixed with rosemary essential oil. It can be used on any hair type but is ideal for those with fine to normal hair. "Note that in Ayurveda, we always apply oils prior to washing our hair and self-massage "abhyanga" before bathing," she explains. "This leaves hair and skin soft."
What is a Dosha?
There are three doshas, or biological energies, at work in every human being: kapha, pitta, and vata. According to the Himalayan Institute, "How these three doshas work together in each of us is a manifestation of our basic nature and determines our physical constitution." They can also determine conditions of growth, aging, health, and disease.
Why Trust Byrdie?
Byrdie contributor Lindsey Lanquist has years of experience in the beauty space. And as an avid shopper, she knows what a bummer a bad product can be. That's why she makes sure to recommend products that are reliable, comfortable, and widely beloved by those who've tried them.
According to our Diversity Pledge, 15% of products in our newly-published market roundups will feature Black-owned and/or Black-founded brands. At the time of publishing, we were not able to find any essential oils on Amazon from a Black-owned and/or Black-founded business. If you know of one we should consider, please email us at [email protected] and we will evaluate the product ASAP.
These 11 Essential Oil Diffusers Will Make Your Home Feel Like a Spa
Sours: https://www.byrdie.com/best-essential-oils-on-amazon
How Young Living Compares to Amazon Kis Essential Oils #1
Why I Stopped Buying Essential Oils from Amazon
If you've only spent a few minutes searching the web for natural remedies, I have no doubt that you've come across essential oils before. There's all sorts of controversy about brands, where they come from, how they should be used and whether or not they even work.
To be honest, I was skeptic towards the entire realm of essential oils and blatantly ignored them for a long time.
But sticking my head in the sand didn't do me any good. Essential oils weren't going away and if I wanted to be an educated writer (and not sound like a dummy when readers asked questions), I had to at least do enough research to hold a water-cooler conversation.
I read TONS of articles on essential oils, on the different companies, and stories on how they were healing families everywhere. In the midst of this, we were experiencing success with essential oils in our own house: my skin was healthier, my kids were staying healthy and we had great check-ups from our medical professionals and dentists.
Then it hit me. Essential oils were making regular appearances in our lives, and in homemade health and beauty products. Clearly, they had ALREADY become a staple in our journey to natural living on a budget.
But that's where I got stuck. The cost.
As a frugal-minded person, I naturally turned to my go-to source for affordable things online:  Amazon.
One of the biggest lessons I've learned in terms of eating real food on a budget was that brand doesn't always matter. Sometimes it does yes, but more often than not it's the list of ingredients that's the most important.
I carried this same train of thought into essential oils and thought that so long as peppermint essential oil said "peppermint essential oil" as the ingredient, that I was safe.
But that's not necessarily true.
Essential oils are highly concentrated and potent essences of plants, making the quality of the oil itself vital. However, there is no regulatory agency over essential oils.
The FDA says that so long as an essential oil contains 5% pure ingredients, it can be labeled 100% Therapeutic Grade. What this means for us is that a bottle of peppermint essential oil can contain just 5% peppermint essential oil and 95% something else and still be qualified and labeled as 100% Therapeutic Grade peppermint essential oil.
I don't know about you, but this doesn't sit well with me.
If I'm buying essential oils to be part of my medicine cabinet, relying on them to bring down my daughter's 102 fever, then I need them to be 100% pure and work 100% percent of the time. Not just 5% pure and work 5% of the time.
Note: I'm not saying that any of the oils pictured above aren't pure. They could be perfectly fine to use. But in my research, I wasn't able to find enough information about the companies to be confident about using them for my family long-term.
Why We Quit Buying Essential Oils on Amazon
This started to make me wonder about the brands I was buying off Amazon. How could company A sell peppermint essential oil for $5 per bottle while company B sell the same size bottle for $10?
Putting two and two together, I've made two decision:
I will no longer buy the cheapest essential oils from Amazon.
I am committing to buying essential oils from Young Living.
Why Young Living?
Committing to a brand is a big deal in our house. Sharing this decision, this brand with you, and in turn making a recommendation is not something we take lightly. Mr. Crumbs and I have literally spent the better part of a year weighing the cost and quality of oils from several companies. We've even taken into account how each company runs their business.
I'll share why we chose Young Living, but please know that you don't have to agree with us, or even use essential oils at all if you don't want to.
However, if it helps just one person sort through the barrage of data found when researching essential oils, then all is good. Ultimately, each family has to do what's best for them.
With that said, here are the main reasons why we chose Young Living over other essential oil companies.
Quality
Young Living is one of the oldest essential oil company in operation (20+ years!) and is one of the few (if not only) essential oil companies that exclusively controls the oils from seed to production. Their "Seed to Seal" promise ensures their oils are always pure, authentic and not watered down.
Some of the policies and procedures with their oil production include:
growing their own plants and trees on farms within the United States
not permitting the use of any use of chemicals, pesticides or solvents on the plants
weeding by hand, and using their own oils as a natural pesticide
maintaining an open farm policy, so anyone can visit the farm at anytime
using a proprietary, low-temperature low-pressure steam distillation to maintain the potency and integrity of the oil
only using oils from the first distillation
implementing both in-house and third-party testing for every batch of oil
Many other essential oil companies have oils shipped to them, essentially become a re-bottle and distributor of oils. This increases the chance of oils being adulterated or watered down.
Cost
Along with some of the highest standards for their oils in the business, Young Living is also one of the most affordable essential oil brands on the market.
As a wholesale member, right off I save 24% off the retail price. There's no commitment and no fee to become a wholesale member. There's no monthly minimum purchase, so I can buy what I need when I need it and NOT pay for product I won't use.
If I find that I'm using oils so often that they need to be replenished each month, I can enroll in an auto-ship program, earn rewards on the oils I buy and then use those rewards to pay for oils instead of paying for them out of pocket.
If it turns out we're not going through them as quickly as we thought we would, I can un-enroll from auto-ship at anytime.
Read more about how we afford essential oils on a budget.
Safety
Let's be honest, I'm not an essential oils expert by any means. I'm learning as I go, and making plenty of mistakes along the way. But I'm surrounded by a team who either has answers or knows where to get them, and Young Living has customer care available nearly around the clock via email, phone or chat.
If I have  question, I don't have to rely on Google and sift through pages of possibly legit, possibly bogus information. I can get help from people who have been doing this decades long than me and know that their information is accurate. Plus, they hold seminars and conventions to continue educating members about essential oils.
That's way more than I ever got in a package from Amazon (half the time I don't even get the packing receipt).
Practicality
When you become a Young Living wholesale member, you buy a starter kit of oils. I was concerned that it would be filled with oils I didn't used, therefore being a huge waste of money. As it turns out, all the oils I use on a regular basis were included, plus some new ones that I had been wanting to try anyway like Thieves, Stress Away and PanAway.
I mentioned this already, but since there's no monthly purchase requirement, I'm saving money by buying only the oils we're using.
When food and essential oils become your tools to stay above the wellness line, quality matters. It's always our goal to get the best quality we can afford, and in terms of essential oils, we believe investing in Young Living and not buying the cheapest oil off Amazon is the best decision for our family, for this season in our lives.
Are you interested in using Young Living essential oils as part of your natural medicine cabinet?
Join my Young Living team with any Premium Starter Kit and enroll in Essential Rewards and I will give you a $25 product credit!
(FYI – Young Living does not require you to sell oils, nor is there a monthly commitment to buy.)
Here's how to get started:
Click HERE to visit the Young Living website. (Make sure 2298517 is in the member and sponsor field. Choose wholesale membership.)
Fill out your information, choose a starter kit (I recommend the Premium Starter Kit) and decide on whether or not to opt in to Essential Rewards.
Check out and confirm your order.
Young Living is the only essential oil company with the patented Seed to Seal process, ensuring you're only getting 100% pure therapeutic grade oils. You can read more about why I chose Young Living HERE, and how we afford to buy essential oils on a budget HERE.
Do you use essential oils in your home? How do you find balance between quality and cost?
Share with someone who may like this...
Sours: https://dontwastethecrumbs.com/stopped-buying-essential-oils-amazon/
Amazon on living young oils
That would be nice. I filled two glasses. Come into the room and have a seat. Ken sat down on the couch and I sat in an overstuffed chair across the room.
Why You Should NOT Buy Young Living Essential Oils on Amazon
It turned out that she was just embarrassed to go to the lab to contact me with her problem. Excuse me, can I have you for a couple of minutes. I am listening, what are the problems.
You will also be interested:
She untied the belt and, not at all embarrassed, threw the robe over the chair. In addition to the classic knee-high boots with stiletto heels, she wore a tunic and shorts made of shiny black vinyl. Epaulettes with metal rivets were on straight shoulders. In the narrow and deep V-shaped chest neckline of the tunic, a white neck was visible, on which there were no.
659
660
661
662
663