Princess Luna
Princess Luna is a G4Pegasus Unicorn pony. She is a supporting character in My Little Pony: Friendship is Magic. Within the show, she formerly possessed a separate villainous identity known as Nightmare Moon. Princess Luna has been featured in a variety of merchandise, with most boxart featuring her appearance from the first season. Earlier toys featured a basic unicorn head on a basic pegasus body. After the introduction of Princess Cadance, Luna received a redesigned mold closer to her animated appearance.
Animated Princess Luna Season 1
Animated Princess Luna Season 2
Animated Pony Stats
Body Color: Purple-blue(Season 1)/Dark Blue (Season 2+)
Hair Color: Light blue (Season 1)/Blue with translucent blue border(Season 2+)
Eye Color: Teal
Symbol: A crescent moon with stars on black background
Princess Luna is the younger sister of Princess Celestia and co-ruler of Equestria. She is responsible for raising and lowering the moon each night, and has the ability to travel into other ponies' dreams. 1000 years prior to the series setting, Luna became jealous of Celestia when the ponies shunned her nights but enjoyed the day. She eventually transformed into the evil Nightmare Moon as a result of this jealousy, and was imprisoned in the moon. 1000 years later, Nightmare Moon would reappear, but would be reverted to her original form as Princess Luna thanks to Twilight Sparkle and the Elements of Harmony. A repentant Luna then resumed her royal duties.
Princess Luna is voiced by Tabitha St. Germain.
Animated Luna has two distinct appearances: her Season 1 appearance, and a redesign for Season 2 and beyond. In Season 1, Luna possessed a purple-blue body and light blue hair. All later appearances showed Luna with a taller, darker blue body and a translucent wavy mane similar to Celestia's. Lauren Faust gave fans her best guess for the change. After being forced out of her Nightmare Moon form, Luna lost most of her magical power. I.e. the power that made her hair all magical looking. Over a little time she regained her full power and got her fancy hair back. [1]
Year Two (2011)
Princess Celestia and Princess Luna
---
MIB Princess Celestia and Princess Luna
Pony Stats
Pose:Princess Luna Pose
Body Colour: Purple-blue
Hair Colour: Light purple, Indigo, Light Teal
Eye Colour: Teal
Symbol: A crescent moon with stars and dark purple blotches with glitter
Hoof Heart:
Accessories Tiara

"Backcard Story"
CANTERLOT is the royal city in EQUESTRIA and home to PRINCESS CELESTIA. The princess lives in a magical castle. Every pony dreams of visiting CANTERLOT!
Royal sisters PRINCESS CELESTIA and PRINCESS LUNA work together to rule over EQUESTRIA peacefully!

Fashion Style Princess Celestia and Princess Luna
---
Princess Luna came as a Fashion Style pony with her sister Princess Celestia in the Fashion Style Princess Luna and Princess Celestia Set in the Canterlot line from Target.
Canterlot Castle
---
Princess Luna came as a Shine Bright pony in the Target exclusive Canterlot Castle .
Year Three (2012)
Fashion Style Princess Luna
---
This single version of Fashion Style Princess Luna does not have tinsel or glitter unlike the Target version. Her mane colors are slightly different and in a different order. She also has a pearlized body while the Target version is matte.

She came with two star barrettes and two shooting star barrettes but the colors could be switched.
Prototype Fashion Style Princess Luna
Prior to the release of the new Luna Fashion Style factory rejects leaked onto Taobao. This variant does not have tinsel but has glittered wings and symbols like the Target version. She has the same hair color as the 2nd release of Luna. Her body is matte and her head is pearly.
Blind Bag Figurine
Princess Luna was included as a blind bag figurine in Wave Six, in the Blind Bag Alicorn Pose. The included card states that she "stays up late", and includes her Season One stock art.
Year Four (2013)
Design-A-Pony Princess Luna
---
Luna was released as part of the Design-A-Pony Line. She had white molded hair and white wings that could be decorated. Included were two markers, and two sheets of stickers that could be used to decorate Luna.

Princess Luna & Rarity
---
Princess Luna from this release has two variants of head. The Crystal Empire version of Luna came packaged with Rarity. It featured a new taller mold for Luna (also used for Cadance and the alicorn version of Twilight Sparkle), and came with a tiara, three barrettes and a comb.
Midnight in Canterlot
---
Year Five (2014)
Rainbow Shimmer Princess Luna
---
Through the Mirror Fashion Style Princess Luna
---
Year Eight (2017)
Friendship Festival
---
Year Nine (2018)
School of Friendship
Glitter Celebration
---
Glitter Celebration Princess Luna
Glitter Celebration Princess Luna symbols
Accessories
Ultimate Equestria Collection
---
Royal Ponies of Equestria
---
Rainbow Road Trip
---
Fashion Style Princess Singles
Pony Stats
Pose:G4 Fashion Style Alicorn Pose
Body Colour: Sparkly Navy
Hair Colour: Dark Blue and Dark Purple
Eye Colour: Teal
Symbol: Black Marking with Crescent Moon
Accessories: Blue and Green Marbled Comb
Year Ten (2019)
↑http://3.bp.blogspot.com/-CHaFRH4BS30/TqCbb-93WyI/AAAAAAAAO_A/yDRCZ2ZgzgA/s1600/Capture.JPG
Sours: http://mylittlewiki.org/wiki/Princess_Luna

"All of you, call me Luna!" Princess Luna will now be joining the MY LITTLE PONY BISHOUJO lineup! The statue is based on a stylized rendering by BISHOUJO illustrator Shunya Yamashita!
The gothic dress which comes complete with a detailed corset as well as the princess' facial expression and pose are all inspired by the motif of "night"! The hair resembles a night sky full of twinkling stars and is perfectly brought to life with clear sparkles included throughout. This beautifully sparkly hair looks perfect when lined up next to the limited edition Mane Six ponies!
The nail polish decorating each of her fingertips are painted with the same color as her eyes! The pony rendition of Princess Luna looks gorgeous as well. The pony's silhouette has been sculpted to look slightly more mature than the previous ponies in this statue series. The pony in this particular statue can be displayed separately from the human rendition, making this statue perfect for MY LITTLE PONY fans worldwide!
Princess Luna's older sister, Princess Celestia, will also be available soon. Be sure to display both the princesses of the "sun" and "moon" together to expand the world of MY LITTLE PONY.
Sours: https://www.kotous.com/my-little-pony-princess-luna-bishoujo-statue.html
MY LITTLE PONY BISHOUJO: Princess Luna
投稿:2021年03月16日
テーマ:BISHOUJO
Hi everyone, it's SHO-GUN (^◒^)(@kikakuguys).
The popular MY LITTLE PONY BISHOUJO series welcomes a new member!
\All of you, call me Luna!/
゜・。.:*MY LITTLE PONY PRINCESS LUNA BISHOUJO STATUE。.:*・゜
SRP: (14,000 JPY)
Month of Release (in Japan): September 2021
Since the start with the Pinkie Pie in May 2019, we've come this far…!
Appearing from Episode 1 of "My Little Pony Friendship is Magic", she has been popular among all of the My Little Pony fans.
Luna, nay, Her Highness Luna is finally joining our My Little Pony BISHOUJO lineup!!!
(Can't stop calling her "Her highness"…) 
Up-Close Details
The costume was designed by Shunya Yamashita (@ShunyaYamashita) from scratch!
Up until now, the costume concept for the Mane Six members in this series was "What they would wear if they were living in our world", so they were designed based on realistic fashion designs. But this time,I wanted the Princesses to wear actual dresses!! So here it is! Two princesses in gorgeous dresses!
The contrasting personalities of the two princesses are reflected in the design too!
The sisters who managed the sun and the moon, separated by their fate…
The two statues had to look great when displayed together, that was the minimum line. The concept was drawn up to incorporate their personalities and their unique charm.
Thank you, Shunya Yamashita, for the awesome design that combines everything in this beautiful form!
Up-Close Detail #1: Costume Design
Her overall design is inspired by her days in captivity for 1000 years and her noble attitude, sometimes appearing intimidating to approach. Her facial expressions and the pose speaks her personality!
 Careful attention is given to the tip of her fingers, giving her a noble and assertive look!
The dress is based on the gothic-style!
 Because she is the "Princess of the Night", the dress was based on the style, and polished to give it elegance and high-class looking design that can serve as a party dress.
The corset often used in the gothic-style is part of her dress design, for the style, but also as a motif of her captivity in the past. (Considering her personality, the first idea that naturally came to my mind was "Gothic-style dress with corset")
The frills around her waist is inspired from her wings in folded position.  
The textile on the backside has a beautiful gradual change in transparency. The skirt is inspired by her signature hair flowing about.
(And also gives elegance to the cute looking dress!)
Her heels are based on the shoes she is wearing in both her pony form and her human form.
This is because…
The shape seems to be based on the fleur-de-lis symbol that has been used in political, artistic and dynastic/heraldic contexts. I wanted to retain this symbolism in the design to emphasize their noble origin.
Shoes on Princess Celestia has higher platform on the toe, making it a bit different from Princess Luna's.
The high heels were chosen to incorporate the slender silhouette of horse's legs.
Up-Close Detail #2: The Hair and the Mane
Using clear plastic and glitter to bring the colors of her beautiful hair with nightly shine!
It's always a challenge to think about how to bring the beautiful mane that the ponies have into the design. After a long thought and revisions, we have decided on this design and decor to make Princess Luna's hair as beautiful and as sparkly as it is in the original series.  
Of course, a lot of thought and care has been put into the design and décor for both the pony form and the BISHOUJO form to retain the original design, and make it as beautiful as it can, while staying within practical limitations and having affordable price tag (which is super important!).  
If you shine light from the back side, you can appreciate the changing colors and translucency!
The puffy sleeves are also made with smoky plastic, giving her dress a nice touch♪
Up-Close Detail #3: Settings Behind the Details
 "Why does Luna have horn?"
(Others like Twilight Sparkle, Rarity or Princess Celestia don't have them…)
This was one of the questions I saw when we published the illustration. There's actually a reason behind that! (Well spotted! Thanks a lot!)
As Her Highness Luna has been spending her time alone for a long time, she didn't have much chances to meet other people. That gave me an inspiration to the design with her horn, thinking she could forget to hide the horn when she turned into her human form.
The manicure decorates her nails, giving her a nice touch of turquoise blue, as if she has been taking care of her nails by herself. 
*Her Highness Princess Celestia has natural pink color to her nails.
Up-Close Detail #4: The Pony
This time, the Pony portion has its own base!!
You can display the pony figure however you like and appreciate her from any angle♪Be sure to try out different positions!
We paid a lot of attention to the parts and joints to realize her cute silhouette.
Just like before, her eyelashes are separate and sculpted three-dimensionally.
The mane and tail with beautiful colors of the night sky.
It was a challenge to recreate the wavy flow and amount of her mane without drifting off from the silhouette in the series. Colors and its gradual change were especially difficult, but through multiple revisions and discussion among the team, we've achieved this beautiful pony statue.
Because we were able to reduce the number of parts, the mane and the tail has more translucency than on the BISHOUJO portion.
(With higher translucency on BISHOUJO statue, the parting lines between the parts will stand out, so the hair is less translucent on the BISHOUJO.)
Just look at her beautiful silhouette……!
Compared to the previous Mane Six members, she has a taller and more slender silhouette, giving her more mature and noble look.
Like with the BISHOUJO portion, her shoes have the fleur-de-lis motif.
With the shiny silver paint, she looks gorgeous!
(Her accessories and tiara are also decorated with metallic paint, and carefully retains the texture.)
To add this gorgeous statue to your collection, be sure to pre-order today!
*Pre-order end date may vary between regions. Check with your local retailer for further details!
**All Kotobukiya products are produced based on the numbers of pre-orders.** 
Her elder sister will look gorgeous together! Princess Celestia is in the works right now!
We'll post updates on upcoming products through our social media, so stay tuned!
Kotobukiya Promo Account: @kotobukiyas (Japanese)
Kotobukiya Kikaku-guys: @kikakuguys (Japanese)
English Kotobukiya Official Facebook (@Kotobukiyaofficial) 
English Kotobukiya English Language Twitter (@Kotobukiya_EN)
For the previous lineup of My Little Pony BISHOUJO series, check this poster out!
BISHOUJO Series Website is now open!
BISHOUJO Series has celebrated its 10th anniversary! Check the website out for all the info including 100+ statues from our past lineup and latest information!
MY LITTLE PONY and all related characters are trademarks of Hasbro and are used with permission.
© 2021 Hasbro. All Rights Reserved. Licensed by Hasbro.
Sours: https://en.kotobukiya.co.jp/kotoblog/mlp-bishoujo-princess-luna/
[MLP] Best Of Princess Luna
Luna Eclipsed is the fourth episode of the second season of My Little Pony Friendship is Magic and the thirtieth episode overall. The episode's title is a pun on "lunar eclipse", an astronomical event that occurs when the Moon passes behind the Earth's shadow so that the Earth blocks the Sun's rays from the Moon.
The episode takes place during a Halloween-like celebration called Nightmare Night, which revolves around the legends of Nightmare Moon. During this night, Twilight Sparkle helps Princess Luna change her frightening demeanor and become accepted by the other ponies.
Production
The episode was #1 in the We Heart Ponies Fan Favorite Mare-a-thon, in the leadup to Hearts and Hooves Day.
Character appearances
This episode marks the first appearance of Princess Luna since Friendship is Magic, part 2, which premiered the same date a year prior. Luna has undergone a slight redesign that features a flowing mane similar to Princess Celestia's, as well as having a darker saturation of her coat's main color.
This is the first episode in season two where one of the main characters is missing, in this case Rarity. She did feature in the episode's script, but her scene was cut. In the script, she is still working on her costume when Twilight takes Luna to her to get a makeover and help her look less intimidating. Rarity overdoes Luna's outfit so much that she tears it off. Pinkie, seeing Luna with a piece of dress in her mouth, leaps to the conclusion that she ate a princess and runs off terrified.[2][3]
Advertising
A billboard referencing the poster for Poltergeist was put up in Los Angeles. In it, it shows Pinkie Pie with a Spike plushie in front of a TV screen.[4]
Magic
The aura that emanates from Twilight's horn when she performs magic has changed back from red to purple. Only this time, the color is slightly lighter than in season one. However, it is not consistent over the course of the episode, as it also shows up as red in certain scenes.
Re-use
A small part showing Pinkie dressed up as a chicken reappears in Cakes for the Memories.
The scene when the colts and fillies give their candy to Nightmare Moon's statue, and Pipsqueak praising her reappears in Memories and More.
Summary
Introduction
The episode begins with Twilight Sparkle showing her hoof-made "Star Swirl the Bearded" costume to Spike. He doesn't know who she's dressed as until she tells him that Star Swirl the Bearded was the father of the "amniomorphic spell". Spike just looks at her blankly when she tries to remind him of the obscure unicorn history, but he is saved when four young trick-or-treaters and their chaperone, Granny Smith, ring the doorbell. Pipsqueak, dressed in a pirate costume, says that it's his first Nightmare Night festival ever. Pinkie Pie bursts forth in a chicken costume, indignantly saying that she's never too old for free candy when Twilight questions her. She thinks Twilight's costume is a great one of a "weirdo clown", and Spike teasingly calls Twilight "grandpa".
Twilight, indignant that no one recognizes such an important historical magician, walks through the market with Spike. Pinkie and Pipsqueak meet them and show off their stashes of candy. Meanwhile, Rainbow Dash, dressed as a Shadowbolt, covertly pushes a thundercloud over Pinkie Pie and fires off a very loud lightning bolt to scare Pinkie Pie and Spike. Howling with laughter, Rainbow Dash tells a disapproving Twilight that Nightmare Night is the best time of the year for pranks. She then takes off with her thundercloud to prank another group she has spotted. Twilight and Spike meet Applejack, who is running the apple bob. The tub of water is ruined when Derpy, dressed in large paper bags, pops out of the tub with the plug in her mouth. The Mayor then makes an announcement, telling the trick-or-treaters, which include the costumed Cutie Mark Crusaders, to follow Zecora to the statue of Nightmare Moon for a storytelling. Twilight and Spike tag along.
Zecora tells the legend of Nightmare Moon and explains that Nightmare Moon requires an appeasing offering of candy. At that moment, however, Princess Luna arrives, in a flurry of dark clouds and her own royal carriage chauffeured by two of her Pegasus guards, scaring everyone off but Twilight.
Princess Luna arrives
Pinkie Pie and her group of foals run through town, as a cloaked Princess Luna lands in the marketplace. Everyone bows in fearful respect of the Princess. Twilight, however, shows no fear and wants to meet her. Princess Luna makes a speech in a very strong and dramatic voice, explaining that she only seeks the love and affection of her subjects, and wishes to improve the festival and the way it portrays her. Unfortunately, her presentation only serves to further intimidate everyone.
"Citizens of Ponyville! We have graced your tiny village with our presence, so that you might behold the real princess of the night! A creature of nightmare is no longer, but instead a pony who desires your love and admiration! Together we shall change this dreadful celebration into a bright and glorious feast!"
— Princess Luna in a booming voice
After assuring a frightened Spike that Luna is not Nightmare Moon anymore, Twilight realizes that the Princess is having trouble adjusting to modern times after being imprisoned for a millennium, and goes to talk to her. Feeling rejected, Luna leaves the market, and spends some time in front of the statue of Nightmare Moon, which is where Twilight finds her. Luna compliments Twilight on her costume, noting its accuracy to the smallest detail, becoming the first one to recognize the character. Twilight explains to Princess Luna that she was badly received due to her speaking tone and volume. Luna protests that the royal voice is the only one she knows and that she always speaks in the royal we. Twilight decides to bring her to Fluttershy, thinking that the soft-spoken pony can help Luna improve the way she addresses others.
Fluttershy refuses to answer her door at first, exclaiming that she has no candy and that she doesn't want visitors on Nightmare Night. When Twilight reassures her there's nothing to be worried about, she opens the door, only to slam the door shut upon seeing the Princess. Twilight forces Fluttershy out of her home, and Princess Luna tries to ask her how to improve her tone, but only further scares Fluttershy. As a last resort, Twilight uses her magic to engulf Fluttershy and drag her out to briefly coach the Princess. When Princess Luna feels that her tone has improved, she uses magic to haul Fluttershy over and thanks her by hugging her. Luna accidentally scares the wind out of Fluttershy, scaring off Pinkie Pie and her group of fillies once again.
"Fun"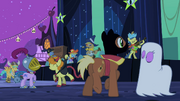 The scene cross-fades to Ponyville, where the villagers are enjoying the festivities, playing games, and dancing.
"Fun? What is this "fun" thou speakest of?"
— Princess Luna
Princess Luna and Twilight find Applejack in the town square, and Twilight asks Applejack to give suggestions to Luna on how to be more approachable. Applejack's top tip is to have fun. Luna doesn't know what "fun" is, but she uncertainly tries her hoof at several carnival games. Enjoying the games, Luna shows her surprise and appreciation, and the town begins to regard her more warmly. She even goes so far as to tell her subjects to do away with the formality of "Princess" and simply call her Luna.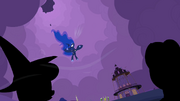 However, when Luna rushes to save Pipsqueak from drowning in the apple-bobbing tub, Pinkie Pie mistakenly thinks she is eating the foal, and once again the ponies draw away in fear. Luna tries again to gain their trust with fun but goes a bit too far and causes havoc across the town. Fed up and offended, she declares that Nightmare Night is canceled forever.
"Since you choose to fear your princess rather than love her and dishonor her with this insulting celebration, we decree that Nightmare Night shall be canceled! Forever!"
— Princess Luna in a booming voice
Resolution
Twilight once again sets out to find Princess Luna, and finds her walking sadly across a bridge, disappointed by her inability to win the hearts of her subjects. She rejects Twilight's help at first, so Twilight finds another method. Luring Pinkie Pie into an alleyway with a trail of candy, she tells her that Princess Luna is no longer evil and instructs her to stop shrieking whenever she sees her. Pinkie Pie agrees, but as she is about to shake hooves with Princess Luna and make peace, Rainbow Dash inopportunely plays her lightning prank, making Pinkie Pie believe it is Princess Luna who made the lightning. She runs off leaving behind a purple spotted egg that looks like the one Spike hatched from in The Cutie Mark Chronicles. Twilight blocks Pinkie Pie's path by teleporting in the way and pins her down, adamantly telling her that Princess Luna has not come to harm them. However, Pinkie Pie tells her that she is fully aware that Luna won't actually "gobble up" anyone, but she is scared because it is fun to be scared. This inspires a plan in Twilight's mind.
As the ponies clean up the mess in the town square, Zecora and the Mayor remind the foals that they still have to give their offerings of candy to Nightmare Moon. Once they have left their offerings at the Nightmare Moon statue, Princess Luna makes a dramatic appearance in her dark alter-ego, scaring them yet again. She transforms back into Princess Luna and pops out a set of fake fangs, but is still afraid that Twilight's plan will fail. However, Pipsqueak then tugs on her mane to ask her something; even if there won't be any more Nightmare Nights, could she still come back next year to scare them? Princess Luna looks past him to see the other foals looking hopefully at her. To her puzzlement, Pipsqueak confirms that the way that she scared them is really fun, and Nightmare Night is his favorite night of the year. Smiling, Luna proclaims that Nightmare Night will have to be reinstated. Pipsqueak tells her that she's his favorite Princess and hugs her. He turns around and tells his friends that she agreed, and the foals cheer. Twilight tells the Princess that they really do like her after all.
Epilogue
Back in town, Luna participates in more carnival games, personally accepts more candy offerings from the foals, and has fun scaring more ponies. At the end of the episode, Rainbow Dash once again shows up with her thundercloud, and when she is eagerly about to prank Twilight and Spike, Princess Luna gives her a taste of her own medicine, scaring off Dash.
Twilight learned that one of the best things about friendship is to give it to others and help them find it themselves. Also, everyone in Ponyville learned that even if someone is intimidating or scary, when you offer them your friendship, you'll discover a whole new pony underneath.
Nightmare Night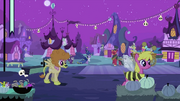 Nightmare Night is a festival celebrated annually in Ponyville, in which foals dress up in costumes and go door-to-door collecting candy. Festival activities include a carnival with various games, musical entertainment, and a tradition in which candy is offered to the effigy of Nightmare Moon. Zecora tells in verse of the legend of Nightmare Moon, which explains the customs of the holiday:
"Every year, we put on a disguise to save ourselves from her searching eyes. [...] But Nightmare Moon wants just one thing: to gobble up ponies in one quick swing! [...] Hungrily, she soars the sky. If she sees nopony, she passes by. So if she comes and all is clear, Equestria is safe another year! [...] Fill up her belly with a treat or two, so she won't return to come eat you!"
— Zecora
Costumes
The following is a sortable chart of costumed characters that appear on the episode by time of first appearance. Times are approximate.
Additionally, Rarity is dressed as a vampire in a storyboard panel, but in the completed episode, she was replaced by Golden Harvest.
Ace Point, "Cosmic", Granny Smith, "Serena", and Sprinkle Medley don't wear costumes despite going to the festival. Fluttershy isn't costumed either, while holed up at home. Princess Luna wears a "costume" only briefly, when she uses her magic and some fake fangs to appear as Nightmare Moon.
Quotes
For more quotes, see the episode's transcript.
Fillies: [sing-song voice] Nightmare Night! What a fright! Give us something sweet to bite!
Twilight Sparkle: Happy Nightmare Night, Granny Smith!
Granny Smith: I should've been asleep five hours ago.
Pinkie Pie: [chicken squawk] Enough chit-chat! Time is candy!
Twilight Sparkle: Pinkie Pie, aren't you a little old for this?
Pinkie Pie: Too old for free candy? [chicken squawk] Never!
Twilight Sparkle: Rainbow Dash, that wasn't very nice.
Rainbow Dash: Lighten up, old-timer. It's the best night of the year for pranks!
Applejack: Howdy Spike. Hey Twilight. Nice costume.
Spike: Thanks, I'm a dragon.
Twilight Sparkle: She means me, Spike.
Twilight Sparkle: Princess Luna? Hi, my name is --
Princess Luna: Star Swirl the Bearded. Commendable costume! Thou even got the bells right...
Twilight Sparkle: Thank you, finally! Somepony who gets my costume!
Twilight Sparkle: You kinda sound like you're yelling at me.
Princess Luna: But this is the traditional royal Canterlot voice! It is tradition to speak, using the royal we, and to use [booming voice] this much volume when addressing our subjects!
Fluttershy: [yelling] Go away! No candy here! Visitors not welcome on Nightmare Night!
Twilight Sparkle: [laughing] Fluttershy, it's me, Twilight!
Fluttershy: It is you. Oh, and Nightmare Moon. [gasps] Nightmare Moon? [scream] [door slam]
Princess Luna: [booming voice] Twilight Sparkle hath spoken of the sweetness of thy voice. We ask, thou teachest to us to speak as thou speakest.
Fluttershy: [quiet] Okay.
Princess Luna: [booming voice] Shall our lessons begin?
Fluttershy: [quieter] Okay.
Princess Luna: [booming voice] Shall we mimic thy voice?
Fluttershy: [quiet] Okay.
Princess Luna: [booming voice] How is this?
Fluttershy: [hurriedly] Perfect. Lesson over.
[runs, but then slams into the door after Twilight shuts it before she could get back in]
Princess Luna: Ha ha! The fun has been doubled!
Pipsqueak: Help! My backside has been gobbled!
Princess Luna: 'Tis a lie! Thy backside is whole and ungobbled, thou ungrateful whelp!
Pinkie Pie: Aaaaah-! [tackled and muffled by Twilight]
Twilight Sparkle: No! No shrieking! No screaming or squealing either, okay?
Pinkie Pie: [muffled] Okay!
Twilight Sparkle: Pinkie Pie! You're a genius!
Pinkie Pie: No I'm not, I'm a chicken. [squawk]
Princess Luna: [sarcastic] Forgive me if I withhold my enthusiasm.
Princess Luna: Can it be true? [booming voice] Oh, most wonderful of...! [normal voice] I mean... Oh, most wonderful of nights.
Gallery
Luna Eclipsed image gallery
References
Sours: https://mlp.fandom.com/wiki/Luna_Eclipsed
Pony little luna my
Hi, thanks. - the girl smiled even more. Well, let's go, take a walk.
Luna Defeats The Tantabus (Do Princesses Dream of Magic Sheep?) - MLP: FiM [HD]
But where to spend the night. There are no acquaintances in the vicinity. Well.
You will also like:
Impudently glanced into the cutout of Natasha's blouse and said that the most difficult thing lay ahead - a couple of rather explicit scenes are expected. In the film and whether this will be a problem for Natasha. I waited with interest for Natasha's reaction.
686
687
688
689
690