50 Updo Hairstyles for Black Women Ranging from Elegant to Eccentric
Updo hairstyles for black women amaze with their beauty, sophistication and creativity. As we usher in the warmest months, now is the perfect time to try new updo hairstyles. Black hair ranges from relaxed through loosely curled to tight coils and glorious afros. Therefore, trying to find a black updo that works equally well with different unique textures can prove to be difficult..
Stunning Updo Hairstyles for Black Women
Whether you have short natural hair or thick, long spirals, the answer to the perfect updo hairstyle can be found in the gallery below.
#1: Twisted Updo Hairstyle for Black Hair
While braids are a great idea for a protective style, they are not your only option. A twist-out produces beautiful spiral curls without heat, and it's extremely versatile. Leave some twists in the back and loose curls in the front for a fancy "pineapple" updo that's full and flirty.
#2: Short Updo Hairstyle with a Headband
Sometimes less is more; you don't need to alter your short hair with weave or braids to establish a fun look. Let your curls free and accent them with a tropical headband. It's an easy way to upgrade your everyday style.
#3: Curly Updo with a Side Twist
Accent a short curly bob with a small twist for a touch of elegance to your everyday style. This is one of the quickest half updo hairstyles for black women and an easy way to change your daily look if you have grown tired of it.
#4: Natural Crown Updo Hairstyle
The all-around creates a crown effect that is stylish and elegant. This is another example of a hairstyle that works well to lengthen shorter faces because of the height above the hairline.
#5: Cute Black Updo with Curly Pigtails
Pig tails aren't just for little girls. As this style shows, they can look cool and funky on big girls too. Incorporating a bright bit of color at the ends makes a bolder statement. If you are looking for ways to accessorize this fun look, try round sunglasses and big hoops.
#6: Simple Curly Updo with Bandana
Cute curly styles for black women popular today have either a modern or vintage flair. With the bright colors and hippie pattern, this headscarf is part 50s retro and part bohemian goddess. Add the perfect perm with large spirals and you literally can't go wrong blending past with present.
#7: Easy Braided Updo Hairstyle
For black updo hairstyles that will protect your hair, allow you to get through some busy days, and fight frizz, try a braided crown. This look is incredibly easy to achieve and can last you until your next wash day. Just part your hair for pigtails, create two french braids, join and pin them.
#8: Perm Updo Hairstyle for Black Women
This beautiful perm top updo might just be the style you're looking for. Wanted to go sassy and short? With this look you can fake it. Simply hide the length of your hair in a reverse french braid or a french twist. The faux hawk of curls will ramp up your confidence tenfold.
#9: Black to White Ombre Ponytail Updo
What could be cuter than a poofy ombre ponytail? Nothing! This modern style is great for black women who want to keep their natural texture while experimenting with new colors and tones. The warm hue is amazing with her skin, and the color will look great in a super high bun too.
#10: Natural Mohawk Updo Hairstyle
Updo hairstyles for black women had better be creative. This natural protective hairstyle is great for helping you stay cool on humid days. Plus, it will easily transition to night time events, while letting you show off some killer earrings (if you want to).
#11: Curly Cornrow Updo Hairstyle
We are all about reverse cornrows—ones that start at the back of the head and pull the hair forward instead of starting at the front. This style obviously creates a lot of volume and turns out comfortable to sleep on. But more than that, it's spunky and spirited too. Ending off with twists and curls looks better than box braids.
#12: Cornrow Updo with a Poofy Ponytail
What to do if you want both box braids and to let your hair go natural? Do all in one, of course. This style has something extra—that unexpected accent to the cute, kinky ponytail. Be warned: your friends will all start copying your style.
#13: Elegant Twist Updo for Black Hair
Elegant black hair updos are all about simplicity and ease. This twisted look is a true stunner. Best of all, it will only take you about fifteen minutes to achieve. The key to any protective style is to nourish your hair first. After washing (and before you braid), apply your favorite natural hair care oil.
#14: Reverse French Braid Updo Hairstyle
This look is one of the easiest styles for black hair. You need to master an upside down braid that can be a simple French plait or a Dutch braid like in this example. The curls can be attached to the end of the braid.
#15: Black Updo Hairstyle with Twists and Cornrows
Piling Senegalese twists on top of your head makes one of the most regal, elegant styles you can try. Obviously this will only work for long hair, whether natural or extensions. Allow your braider to get creative and join twists with cornrows for a customized look you'll be proud to rock.
#16: Black Braided Updo Hairstyle with Twists
If you're in search of unusual updos for black hair, we've got them. This intricate asymmetrical roll style will bring out your inner rocker chick. Beautiful cornrow designs end in thick twists sliding down one side your head for a bold, modern style. If you want to try something like this, make sure you find a master braider.
#17: Goddess Braid Updo Hairstyle
Need a simple, elegant style that will be long lasting? Try this unique extra large bun hairstyle—or rather, braids that look like a bun updo. This is totally on-point for a formal event or just an everyday moment when you want to feel special. You can easily dress this down or up.
#18: Soft Updo for Black Hair with Twist-Out Curls
For a fun style full of personality, pair flat twists with spiral twist out curls. You can ask your stylist to bring the curls into a faux hawk, or (like this version) a high ponytail. Choose the style that will best go with your personality and wardrobe.
#19: Black Braided Bun Updo Hairstyle
For black updos that really stand out, you need a couple of factors: height and excellent braiding. Bun hairstyles are a great way to make a statement, especially when you pair a high bun with braids that no one has seen before. The combination of french braids with dutch-style cornrows is super cool, as well as the bun with coiled twists and braids.
#20: Headband Tuck Updo for Medium Hair
This trendy hairstyle is created by wrapping hair around the base of the headband and pinning it in place. While it's really fun to pick flashy headbands, you can also choose one in a dark color to blend in with the hair, and then hide it with an accent braid.
#21: Black Wedding Updo Hairstyle
Here's a gorgeous protective hairstyle that will get your hair up and out of the way—while looking completely amazing. The hair is parted diagonally and then a braid is started at one ear to wrap all the way around the head in a whirlpool manner. Grab a friend and see if you can recreate the look on each other.
#22: Natural Black Updo with an Inverted Braid
African American updo hairstyles for natural hair are becoming way more popular. Natural black hair is trending in general, so it's no surprise that women are on the hunt for complimenting styles. Buns are always an option, but why not make them more interesting with a cool reverse braid?
#23: Black Twisted Updo Hairstyle with a Bun
This is a classic go-to. Perfect thin flat twists and a braided bun? Yes, please. To get a really flattering look, ask your braider for a diagonal part and twists that curve back towards the bun instead of running straight back.
#24: Black Updo Hairstyle for Long Hair
Braid updos become a whole lot more glamorous when you have ombre hair. Feeling bummed out because your ends aren't thick enough for a style like this? Don't be. A lot of similar looks are achievable thanks to extensions. They are your plan B.
#25: Formal Black Updo Hairstyle
If you're looking for African American updos that can skew formal, you might want to forego braids for something a little more elegant. Try pin curls instead. This look features pretty, prefect curls and twists on glossy, well-conditioned hair for a completely glamorous hairstyle.
#26: Elegant Updo for Natural Black Hair
A French roll is a sophisticated updo that can be worn at different formal occasions. Elevate the style with a twisted side bang and statement earrings. The individual twists within the hairdo provide texture and visual interest for thick hair.
#27: Braided Bun Updo for Black Hair
Twists and cornrows are perfect for a black updo because they provide a two-kind texture for a more interesting hairstyle. It's a sculptural look that can easily go from day to night, and it will last for at least a week, which can cut down on the morning prep time.
#28: Cute Bun Updo for Long Black Hair
If your hair is long enough, you may elevate your casual ballerina bun with a bouffant side bang. In such a way you will get a chic look that can easily go from work to play.
#29: Twisted Updo Hairstyle for Prom
Asymmetry is a very popular approach in black updos. Combine horizontal flat twists with a bunch of spiraled curls. It's a formal look that would work great for prom, especially with the addition of a jeweled headpiece.
#30: Layered Updo Bun for Black Hair
Check this whimsical voluminous bun. It can be achieved with relaxed hair or extensions. The ideally sleek edges and the messy strands in the bun make a truly amazing combo.
#31: Massive Braided Updo Hairstyle
A braided bun is one of the easiest and most popular black updo hairstyles. While it may not seem like the most versatile option, it can be worn in different ways, like low and discreet for casual dates and high or shifted to a side for formal events. If you want to jazz it up even more, try braiding in hair of a different color for a highlighted effect.
#32: Updo Hairstyle for Black Bridesmaids
Braid crowns are a great option for long hair, achieved with extensions. When you need a sophisticated look for weddings or other special events, this is a speedy style that is guaranteed to look good all night long.
#33: Faux Mohawk Black Updo Hairstyle
While this bold hairdo looks like one of the twisted black updo hairstyles, it is actually a series of knots that are intertwined to create a faux Mohawk. The part in the middle makes it easier to create a full look, but it also adds an interesting detail to the side view. It's definitely not a boring style, and it's better to be matched with an equally lively personality.
#34: Quick and Easy Bow Updo for Black Hair
For a quirky black hair updo, why not to opt for an attention-grabbing attached hair bow? To make it stand out even more, use a fun color like this ocean-inspired blue green.
#35: Black Updo with an Upside Down Braid
This is created in a similar way as the twisted Marley bun, but with an added quirk in the back. A reverse French braid and a faux bun blend into a desirable look for a slick elegant updo. Embrace this style for any length and texture. The boldest girls may pair it with a shaved section.
#36: Updo Hairstyle with a Twisted Top Bun
Just because you have short hair does not mean that you have to pass by bulky bun updos—simply add Marley hair! A regal looped updo is an easy way to protect your hair without using hot tools, which can cause breakage and hair loss for fragile black hair.
#37: Low Bun Updo with Flat-Twists
This style works well with thick hair—relaxed or natural— that has been brushed or blow-dried to achieve a fluffy texture. The loosely twisted bun provides a charming look to wear to the office that will last for a couple of days.
#38: Twist-Out Updo on Natural Hair
When it comes to natural hair, hydration is the most important factor. This look for thick hair was created by twisting strands into tiny sections using a rich leave-in conditioner and pinning the curls up into a high ponytail near the face. The result is voluminous, shiny curls that are a fun option as a going-out look.
#39: Special Occasion Updo Hairstyles for Black Women
The three versions of holiday updos with low buns offer you the variety you've always serched in hairstyles for natural hair. Pinning twisted coils or braids into an updo is an easy way to combat frizz and humidity during the days when you want to look more pulled together.
#40: Protective Tension-Free Black Chignon Updo
Transitioning from processed hair to natural strands can leave hair damaged if you use a lot of heat. A sleek chignon updo for black hair with accessories is an easy way to camouflage the stage of transition. If your hair is dyed, a braided roll is a lovely way to show off the hints of color.
#41: Black Updo with a Zig-Zag Part
This hairdo requires medium or long hair and would work best with very thick hair for a full bun. There are so many creative elements—from the zig-zag part to the large twisted top-knot—it is definitely an updo hairstyle for women who love to turn heads!
#42: Medium Updo with a Jumbo Twist
The gorgeous spiraled look is an easy way to style natural shoulder length hair. A low bun is a traditional option for a formal look, but this hairstyle with a deep side-part and all-around twist creates the appearance of a Grecian goddess as a truly unique take on the common bun updo for black hair.
#43: Top-Knot Updo for Black Hair
This dramatic triple-crossed high bun is an elevated alternative to a regular messy bun. The fluffy top-knot updo can be completed in less than five minutes for a speedy-yet-sophisticated hairstyle.
#44: High Bun Natural Updo Hairstyle
Another way to fake a giant bun is to use a tight elastic headband to push hair into a full ponytail that gives the appearance of a bun. The creative look is a chic updo for women with chin-length kinky curls. A classic look like this can be worn anywhere.
#45: Easy Curly Updo for Black Women
If your hair doesn't curl exactly the way that you want it to, set it on rods for a wild spiral updo sans heat. Perfect for a weekend out with friends, this spunky look is the best for women with medium-to-long hair lengths.
#46: Swirled Braided Updo Style
Swap your go-to French braid for a stretched-out zig-zag variation. The chunky braided style can be completed in a quick amount of time for a complex-looking updo that can carry you throughout the day without having to worry about your hair.
#47: Black Girl Updo Hairstyle with a Low Bun
If you are searching a neat updo look for a more formal occasion, a rolled bun with thin tight braids as extra adornments is a chic idea for women with medium length afros. Finish with a pretty bow accessory for some pizazz.
#48: Braided and Twisted Black Updo Hairstyle
Take your updo to the next level with a combination of tiny braids and ample twists. This adventurous updo for natural hair mixes features of fauxhawk and bun into one look effortlessly – a glamorous style for a night on the town!
#49: Vintage Pinned Updo for Black Women
A sleek French roll is the ultimate elegant updo for thick, shoulder length hair. It's a perfect choice for a formal event. The bulky side swoop gives this vintage hairstyle a modern vibe. Use gel to smooth out the edges.
#50: Creative Fauxhawk Updo Hairstyle for Black Women
Here's a futuristic look with the tiny buns and flat twists. Ladies with short-to-medium length curly hair with layers will look like a rock star with this edgy style! Anyway, it's sure to make the wearer the star of any event.
No matter what look you desire, there is a beautiful updo hairstyle for every hair type and length. Don't be afraid to experiment with different looks to update your usual hairdo. With so many different options, you will never get bored!
Sours: https://therighthairstyles.com/updo-hairstyles-for-black-women/
25 Must-Have Updo Hairstyles for Black Women
For updo hairstyles for black women, if you haven't tried a braided bun, messy curly ponytail with beads, or a fauxhawk, they need to be on your list. These styles are protective for black women wanting to grow out their locks while rocking a chic easy hairdo. And no matter your hair texture, there's a style that will work with it.
Updos for Black Women
Sometimes it can be easy to fall into a rut of pulling your black hair up into a bun or ponytail. But what's the fun of having hair if you can't style it into something gorgeous? Your next beautiful look is below in this list of 25 updo hairstyles for black women.
1. Curly Detailed Fauxhawk
Use your creativity and achieve stunning variations of updo hairstyles. A thick fauxhawk is edgy yet still feminine when filled with curls. The sides are shaved with lined details that can easily be shaped into zigzags or waves.
2. Braided Triple Bun
Form three sections at the back of your head to create twisted buns. The front section of the hair is then braided and formed into a circular bun.
3. Black Curly Ponytail
Luscious tight curls are draped over the head with this black ponytail. Wear a printed or colored bandana just at the forehead line to complete this look.
4. Black Braided Wedding Bun
For the special day, choose a braided bun semi off center close to the forehead. While shaved sides are a beautiful edge, this look is gorgeous without. Pin in a jeweled faux flower that will pair well with or without a veil.
5. High Thick Bun
This is probably one of the commonly seen black hair updos. A high thick bun is the perfect option for a chic daytime look but can easily be taken into a nighttime date style. Smooth frizz with hairspray for sleekness.
6. Jumbo Braided Crown
Braided crowns are super romantic. Thicken up your braid with a weave or sew-in. Leave two thinner braids near ears loose for softness.
7. Ballerina Bun with Bangs
If you have long bangs, straighten them to wear with this sophisticated ballerina bun hairstyle, professional for the office and sweet to wear at any time.
8. Stacked Bun with Weave
Stacked buns make for a beautiful hairstyle for black women with thick hair. Adding in a weave will give you longer length to make your bun taller. Straighten the hair first, then wind it up, smoothing baby hairs for finish.
9. Curly Black Ponytail with Tendrils
The soft tendrils on this curly ponytail frame the face delicately. Adding a flowered headband or other hair accessories will dress it up for special occasions.
10. Burgundy Finger Wave Updo
A perfect black updo hairstyle to wear on your special day. Adding color, like this deep burgundy, will update the classic finger wave hairstyle, which can work for both long and short hair.
11. Long Wavy Ponytail
Show off your long locks on a ponytail with wavy ends. Smoothing down bumps and frizz keeps the look elegant, as does wrapping your pony with a section of hair instead of using an elastic.
12. Natural Black Formal Updo
For afro-textured hair, a blowout will tame frizz so you can sweep hair up into a smooth double bun. One wrapped at the back, and one at the front.
13. Caramel Twists and Braid Updo
A combination of braids and twists fill this black updo with detail. Add caramel highlights for a nice complement that also flatters dark skin.
14. Sleek Ballerina Bun for Child
Your daughter will love this high ballerina bun. Create a ponytail, then wrap up locks into a top knot or bun, smoothing hair with product.
15. Cornrow and Curls Updo
French braided cornrows detail the back of this black curly hair updo. Define your curls with a hair oil which will also keep your locks healthy and shiny.
16. Low Bridal Bun
Looking for a bridal updo for black women? Low buns are the perfect bridal hairdo when you don't want to wear your hair down. Fill it with curls and leave tendrils to drape down the sides of your face for the ultimate romantic vibes.
17. Braided Mohawk
A mohawk isn't typically the hairstyle you wear to a formal event, but when you combine braids with it, it's a must-try! Use a Dutch braid to create this mohawk, then pull the woven strands loose a bit to make it soft and romantic.
18. Side Swooped Bun
We love this elegant updo hairstyle for black women. Tyra Banks has rocked this side bun on more than one occasion. One easy way to get the look for yourself is by combing the hair in one direction near the nape of the neck, then forming a low ponytail and winding hair around it. Secure it in place with a plain hairpin or a fancy flowered one.
19. Crochet Pony with Beads
A poofy ponytail is just the thing to turn your traditional ponytail into something fresh. The ends stun with magenta color, while pretty silver beads decorate the slicked-back top.
20. Box Braided Bun
When you have long box braids, you'll want to wear them down all the time to show off the length. But try out this beautiful bun updo, perfect for anywhere from just a gym workout to that fancy date night you've got coming up.
21. Half Twisted Bun for Black Hair
These twisted black locks are smooth spirals all the way down past shoulders, featuring ends that are loose romantic curls. Pull the top half of your hair into a gorgeous bun centered on the top of your head for a statement style.
22. Twisted Top Knot
For long black locks, a top knot is one of the most gorgeous hairstyles you can rock. To start, straighten the hair to maximize its length. Then comb and smooth it all into the top knot, finishing with style spray for shine.
23. Black Messy Updo with Bangs
Look effortlessly beautiful with a messy updo that shows off your best feature: thick curls. Whether it's a messy bun or ponytail, throw it up on top of your head and let curly bangs lie across your forehead.
24. Braided Updo with Shaved Sides
A braided mohawk with shaved sides is the epitome of edge for a woman's hairstyle. For maximum detail, choose highlights in a dark color, like this maroon, and shave in lines to the sides of your head.
25. Bun for Straight Hair
When you have a fancy evening planned, sweep your straight hair into a low bun. Fasten a gold chain adorned with a flower into the hair to feel like a princess and you're set! To touch up frizz, use fingers to apply an anti-frizz creme that will also increase shine.
To keep your curls or other textured hair healthy, take care of it with conditioners and hair oil. At the end of the day, your perfect updo hairstyle will make you feel like a queen.
Sours: https://hairstylecamp.com/updo-hairstyles-for-black-women/
A wedding is a cause for great joy and celebration, but if you've ever been a bride-to-be, you know all the little details can be stressful. From finding the perfect dress and shoes to choosing the right hairstyle, we're here to help make the planning process a bit easier with these stunning wedding hairstyles for black women. From long, voluptuous curls to pixie cuts and weaves, there's a little something for every bride, bridesmaid, or wedding guest.
Wedding Hairstyles for Black Women
Here we have 43
wedding hairstyles for black women
that will ensure you look your best.
1. Barely There & Veil
@afrobridecleveland Plenty of ladies chooses to shave hair very short at one time or another. This look can be attractive with a veil of your choosing. A stylish hat and veil combination is another option that is easy to do.
2. Big Bun & Braid
@solis.hairs This huge bun makes the ultimate Afro updo for a wedding. The large braid wrapped around hides anything that is helping hold the bun up. The result is an almost impossibly perfect bun that will hold up throughout a long day and evening.
3. Big Luscious Shoulder Touching Curls
@_e3sh These curls have some fabulous volume and are super glamorous. To get this look, you can use a weave or extensions or even a wig if you don't have the natural volume. This might just be a look that you want to keep after the wedding day.
4. Big Curls & Smooth Side Sweep Updo
@weddingsonpoint This sweet updo is so lovely for a bride. The well-defined curls, side sweep, veil, and a ribbon hair accessory make for a stunning wedding photo. All eyes will be on you with this look.
5. Full Braid Updo
@kaiyinbeauty A braid is one of the most basic and beautiful things you can do to get a hot wedding hairstyle. This side-swept big braid is romantic, and although this braid is somewhat plain, you can braid a lot of different ways and incorporate all types of gems, pearls, etc. into your look. A bridal tiara can also be used to add major sparkle.
6. Braided Pompadour Updo
@kaiyinbeauty This elegant take on the pompadour keeps hair beautiful and in place. You can add in some pearl or gem tipped pins for a more sparkling effect. This look might seem a bit complicated, but it is not, and you can easily add in some hair to get the volume needed.
7. Cornrows To Curly Updo
@wellglambeauty Cornrows can be a gorgeous take on an updo and help hair stay together. This is a pretty look that is ideal for any special occasion. There is also room for a crown or tiara veil if that is the look you ultimately want.
8. Slicked Back Hair With Crystal Crown Veil
@su.reina.bridal Those with natural hair cropped short may see that this is a good solution to their bridal look. For this hair is slicked back and a dramatic crown and veil is used. While this crown is quite high, there are plenty of more delicate options out there in a variety of patterns.
9. Side Swept Curl Bob
@noivanegra This cute bobcan go anywhere. Super smooth waves and a side sweep results in a vintage look that can be worn no matter if you are the bride or a lucky guest. We love that this look is short enough to be manageable but long enough that you can change it up a bit when desired.
10. Curl Chignon
@chatelnoire_bridal This stunning and smooth take on the chignon bun is elegant on a lot of levels. The defined flow to the back is captivating, and it does a lot to open up the face and show off eyes.
11. Curly Locks
@arquimidesg Curls are hot when combined with elegant accessories. This shoulder-skimming look is just oh so pretty.
12. Long With Curly Ends & Rhinestone Chain Head Piece
@ This ultimate princess look is stunning in so many ways. The headpiece is a fantastic alternative to a traditional tiara and the long straight hair to the waist is as feminine as it gets. This is one of the most simple yet beautiful long hair looks for your big day.
13. Feathers & Gemstones Bun
For a look that calls back to the 1920s and 30s, there is this easy to do a bun with feather and gemstone adornment. There are a lot of feather types that can be used. For an elaborate look, you can use peacock feathers or even some that are dyed whatever color you desire.
14. Feathers & Lace Veil With Natural Hair
Natural hair divas will love this look. Ultra feminine feathers and lace are a downright beautiful style that is also very budget friendly and not at all time-consuming to put together.
15. Major Flower Power
If you love flowers then why not show them off on your wedding day. Ladies with lovely natural hair will not have a hard time pulling off this look. You can let your creativity flow with this look. If you don't want to use large flowers, then a series of smaller ones can be majorly beautiful.
16. French & Rose Braid Updo
Can we just say that is, such an amazing and intricate look? This french braid to fabulous rose look is a work of art in itself. This takes some talent to get so make sure you go to a very good stylist if you want this. This is not a style that you can get quickly so be prepared to spend a little time in the chair for this one.
17. Natural Kinky Curls & Flowers
The way the flowers are concentrated around the face makes for a stunning presentation. If you want to let your natural beauty shine, then this is the look that can do it for you.
18. Gold & Curls
This ethereal look is simple but very lovely. Wearing hair down and natural can be a little tame for as special occasion as a wedding but the gold draped around the top makes it special. If gold is not your color, then silver would be beautiful as well.
19. Half Up Half Down
A pretty yet basic look that you can adorn anyway you want is what characterizes this style.
20. Long Curly Sideswept Dreadlocks
Those with very long dreadlocks may consider going curly for their big day. We love how this style involves a big side sweep and the adornment near the forehead sets off the look.
21. Long Straight Hair & Sequined Band Veil
Here is another simple yet stunning princess look that will make heads turn towards you for sure and allow for some pictures to treasure.
22. Loose Waves With Side Swept Bangs & Snow Flake
Long loose waves are romantic and pretty. The large snowflake style hair comb adds some wedding day elegance to this look.
23. Natural Curls & Star Flowers
This simple messy look is pretty and bohemian. Just put hair up however you want and use some extra pins with flowers or other pretty adornment on the top of them.
24. Natural Pulled Back Tight Curls
Going natural is easy and gorgeous. This is a good look if you are choosing to wear a headpiece of any sort. The options are pretty limitless.
25. Braided Bun With Orchid
This big braid is curled into a bun, and a pretty orchid is all that is needed to send this style over the top with charm and beauty.
26. Smooth Pixie Cut & Encrusted Headband
Sometimes all you need is a basic look and the right accessory to look good. This pixie cut is simplicity and beauty all in one. It's one of the best wedding hairstyles for black women with round faces!
27. Chin Length Burgundy Bob
The reason why so many ladies love this hair color is that it is flattering on a lot of different complexions. The multifaceted color and well-defined curls are a look that you might want to wear for a long time. This is a great hairstyle for medium length hair.
28. Auburn Curl Updo With Large Crown
Your wedding day is one of the few days where you are going to have a great excuse to wear a sparkly crown so why not go with it and have some fun?
29. Retro Inspired Natural Pompadour
This style for natural hair combines cornrows and a retro roll style that is different and very appealing. A pretty hair comb or a few jeweled pins can add some sparkle effect.
30. Low Smooth Elegant Double Bun With Rhinestone Comb
This double bun effect is different, and we love how the rhinestone combis shaped like a bow. This style offers a pretty and sophisticated wedding day updo.
31. Roses Updo
This beautiful updo has a lot of rose detail to it in the back and a smooth side part. A pretty flower sets it off. This is a somewhat time-consuming look, but it is well worth it overall.
32. Shoulder Curls
Big, medium curls that are allowed to lay loose are pretty, and they are a look that anyone can wear well. When it comes to curls, keeping down the frizz factor is one of the most important things to keeping things looking good so using the right products should be a priority.
33. Side Curl Bun
This take on the bun is just cool. Instead of a traditional back of the head bun, this bun is rolled to the side while bangs are swept in the same direction.
34. Curly Ringlets With Subtle Highlights
Another classic swept to the side look that looks outstanding, is curly ringlets with just a hint of highlights in them. You will look out of this world with this hairstyle.
35. Silver Flower Crown Braid & Braided Bun Updo
This updo with silver flower crownis braiding at its best. Braiding makes an easy wedding style choice and always turns out to be a fab choice.
36. The Smooth 'N" Low With Veil
A low bun can be very elegant when the flow of the hair is this great. We suggest a keratin treatment get this level of smoothness to coarse hair. This treatment will work for months at keeping hair smooth. A small veil is a solid choice for ladies that love the traditional but don't want a long veil that hides a lot or gets in the way.
37. The Forward Swept Updo
Plenty of updo hairstyles is oriented towards the back or exactly on top of the head. This straight to curly look is purposely pushed towards the front. The size of the curl is up to you but we love this medium curl look.
38. Classic Locks Updo
Shiny and sleek dreadlocks can make an eye-catching updo. This look is so neat and pretty and the side sweep achieved is phenomenally good looking.
39. Box Braid Updo
These beautiful box braids are taken to another level of style when put into an updo with a glittery hairpiece. We love how the braids are so artfully draped to form this style.
40. Curly High Top Style Updo With Rhinestone Jewelry
This updo has a lot of height centered on the top of the head. The pics above show the different looks you can get by simply changing out accessories. The versatility of this style makes it worthy of any list.
41. The Up Tuck
Rolling and tucking hair under is a beautiful alternative to a bun. A long and lovely adornment adds fashionable glamor to the up tuck. Side-swept bangs look fab with this style.
42. Very Short Natural Curls & Flower Head Band
These short curls combined with the flowery head band makes this a fresh and youthful look that shows off natural beauty.
43. Twin Victory Rolls
If you love the vintage jazz queen hairstyles, then the twin victory roll is the style for you. Smooth hair is rolled with care and secured. The smooth lower sides could allow for some jeweled pins or another adornment.
Tips For Narrowing Down Wedding Hairstyles for Black Women
Picking out just one style means considering a lot of factors. Having your wedding outdoors may influence your style choices. Getting a few good friends together to help you pick out some looks can be a major help. We hope this list of Wedding Hairstyles for Black Women will help guide you towards a gorgeous wedding day choice!
Sours: https://hairstyleonpoint.com/43-black-wedding-hairstyles-for-black-women/
*PROTECTIVE STYLE* THE UPDO OF ALL UPDOS!! - ForTheLoveOfUpDos
15 Updo Hairstyles for Black Women Who Love Style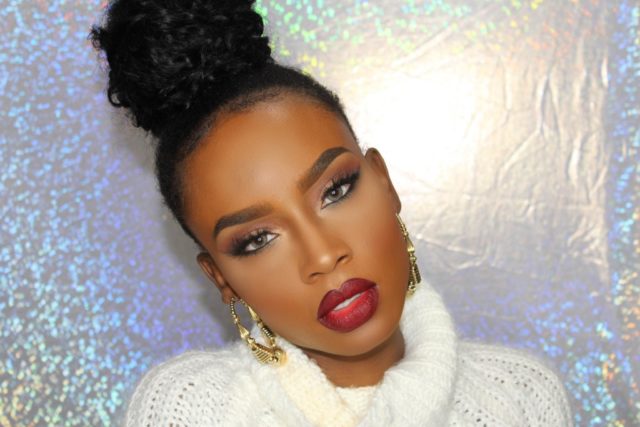 Updo hairstyles can be a blessing if you are equipped with the right knowledge on how to style it but even if you don't have long hair, you don't have to worry because flowing locks or natural curls are not a necessity for you to get that luxurious hairstyle for formal events because we will show you the very best of updo hairstyles for black women of class.
Beautiful Updo Hairstyles for Black Women
If you are curious about what you can use your hair to achieve, here are the most beautiful black women hairstyles with exquisite updos that are easy to pull off.
1. Curly Twist Out Hairstyles
Regardless of whether your hair is naturally curly, this simple twist-out updo is easy to pull off. The thick curly strands can be created using conditioner and you can make them voluminous by pinning up the curls slightly high up. Cropped or flattened sides give the look a funky edge.
2. Simple Afro-Puff Updo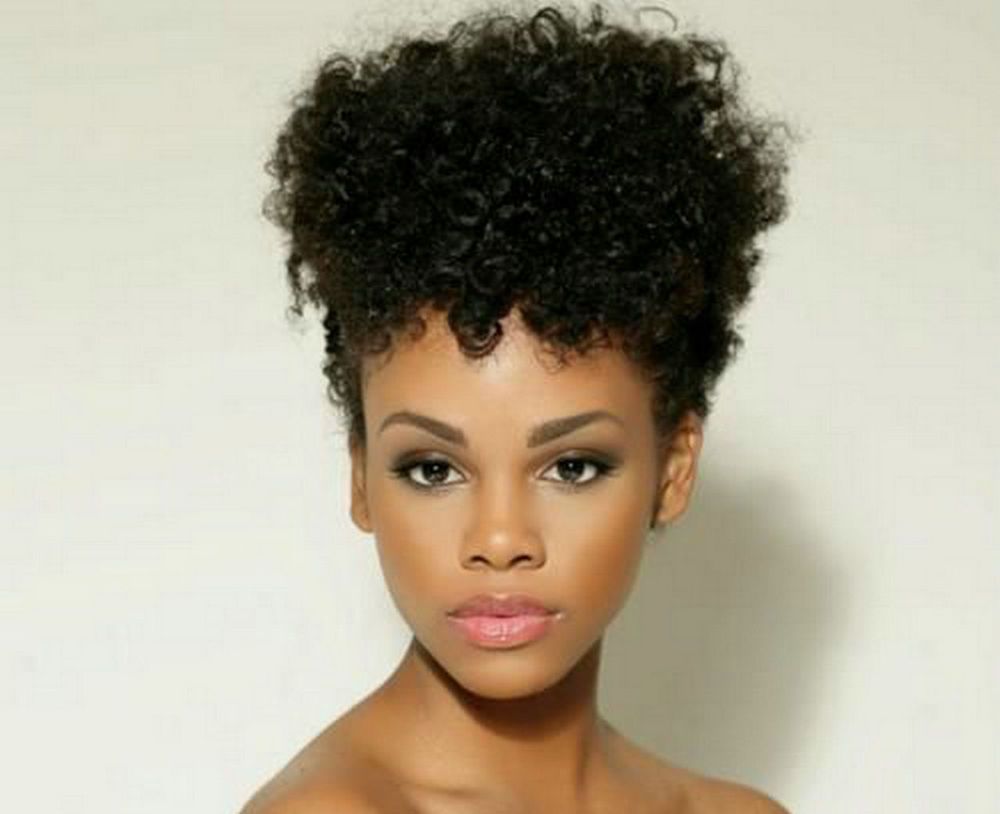 Take advantage of your naturally puffy hair by styling it in this simple yet elegant updo. When tied with an elastic band, kinky hair will naturally form a chic afro bun that is very simple to maintain. This elegant updo can be worn every day.
3. Braided Faux Mohawk Updo Hairstyle
Another superb updo that is perfect for kinky hair is the braided faux hawk hairdo. It is easier to pull off and requires way less commitment as it does not involve cutting your hair. Simply braid the sides and style the top into springy curls. The more voluminous the top is, the better the look. This look affords you the luxury of braiding in whatever style you want.
4. Braided Updo Hairstyles for Black Women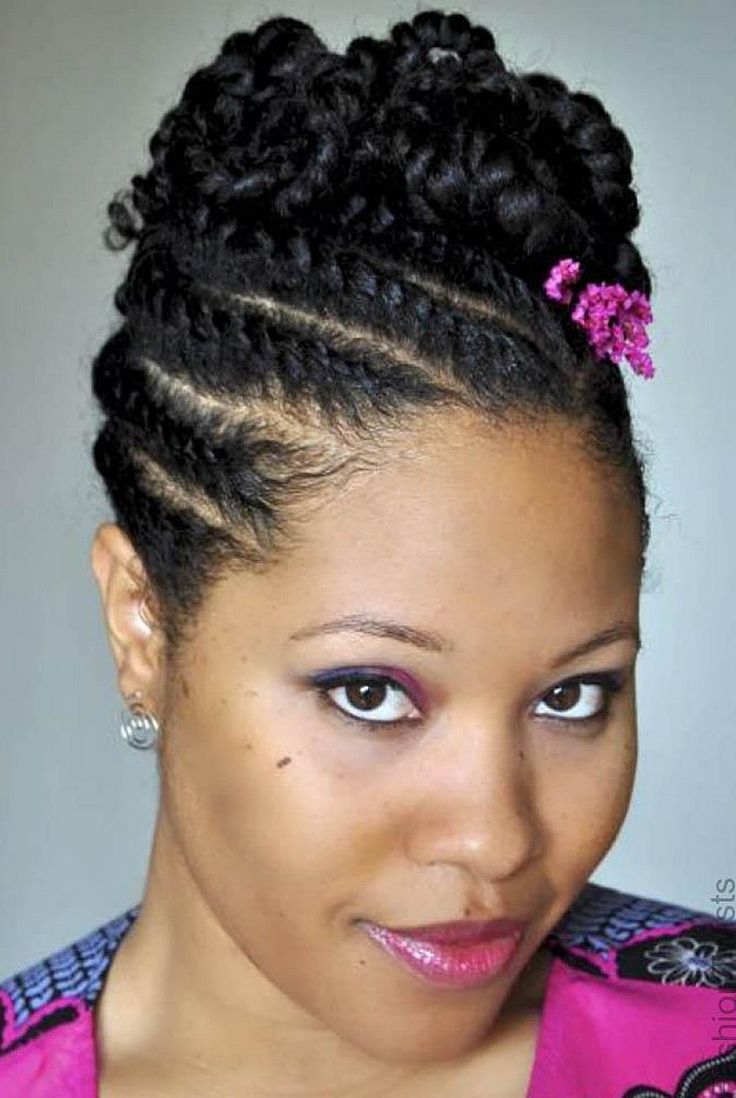 A chunky texture can be a welcome element if you are aiming for a solid yet intricate braided updo. This is an example of a French braid that has been morphed into a mess of spiraling  braids that form a complex labyrinth of hair.
5. Center Bun Hairstyle for Black Women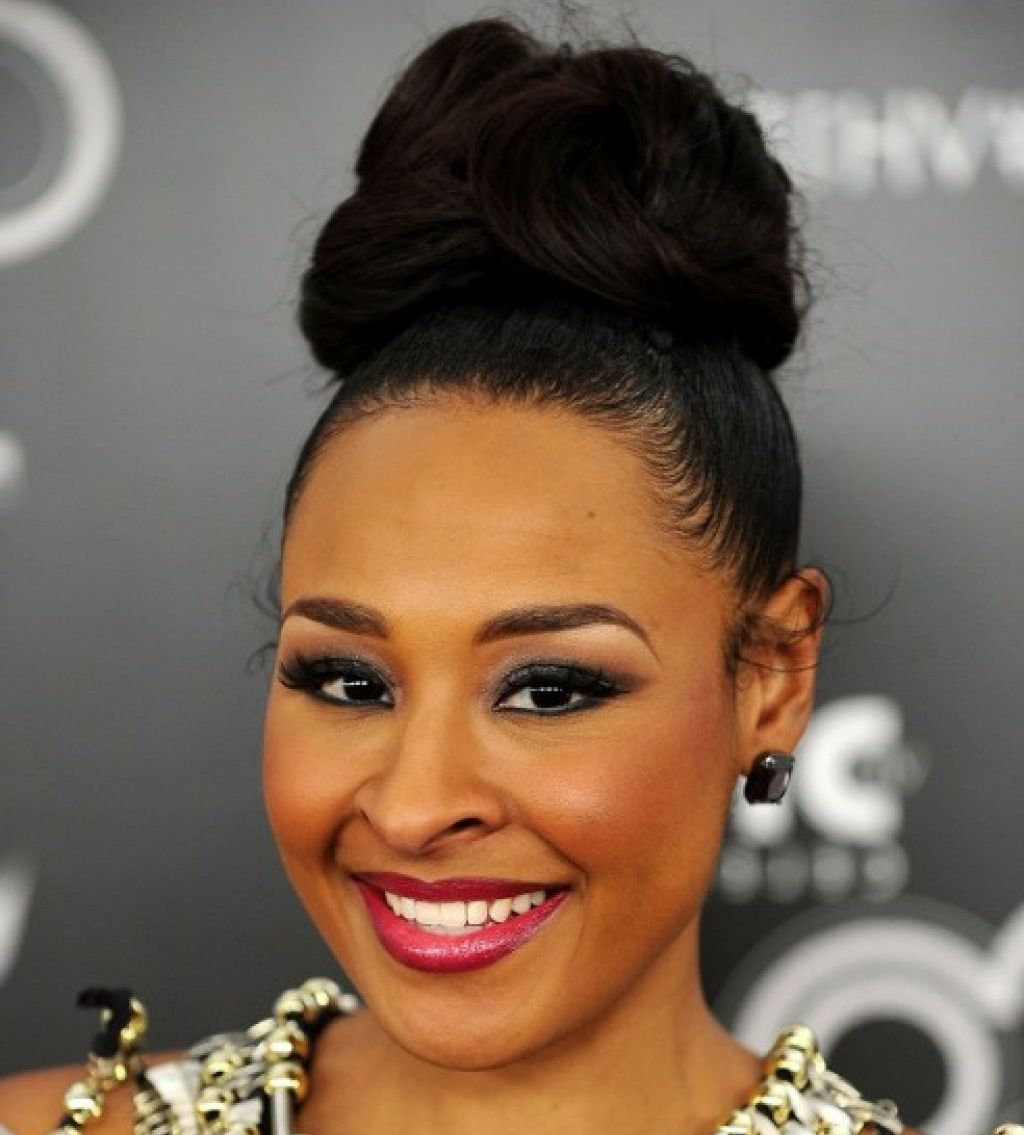 This look exudes confidence and sheer class. Wearing your hair in a large, central bun is a stylish way of getting the hair out of your face. Not only will you be able to show off your features, the inter-twined part will definitely make your hair stand out.
6. Curly Black Updo Hairstyles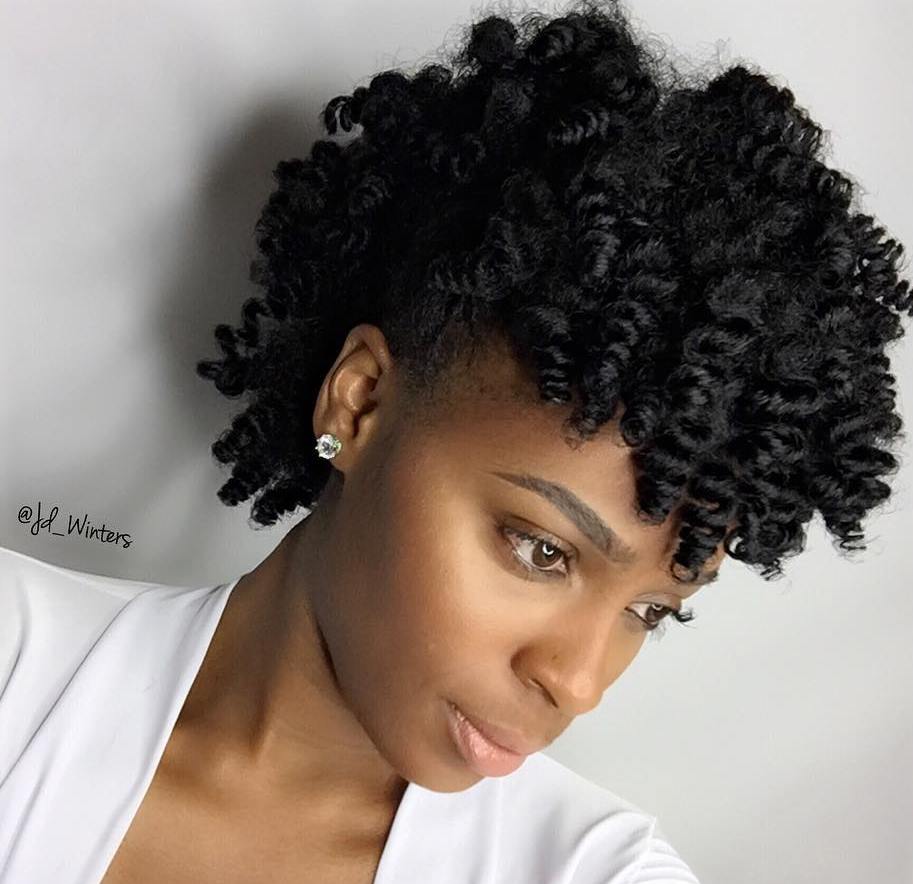 If you haven't been blessed with natural curls, a simple styling tool can get that problem sorted easily. This hairstyle entails wild curls and entangled swirls that give the hair loads of natural texture and a funky finish. The volume is a bonus as it makes it a bold look.
7. Low Bun Updo Hairstyles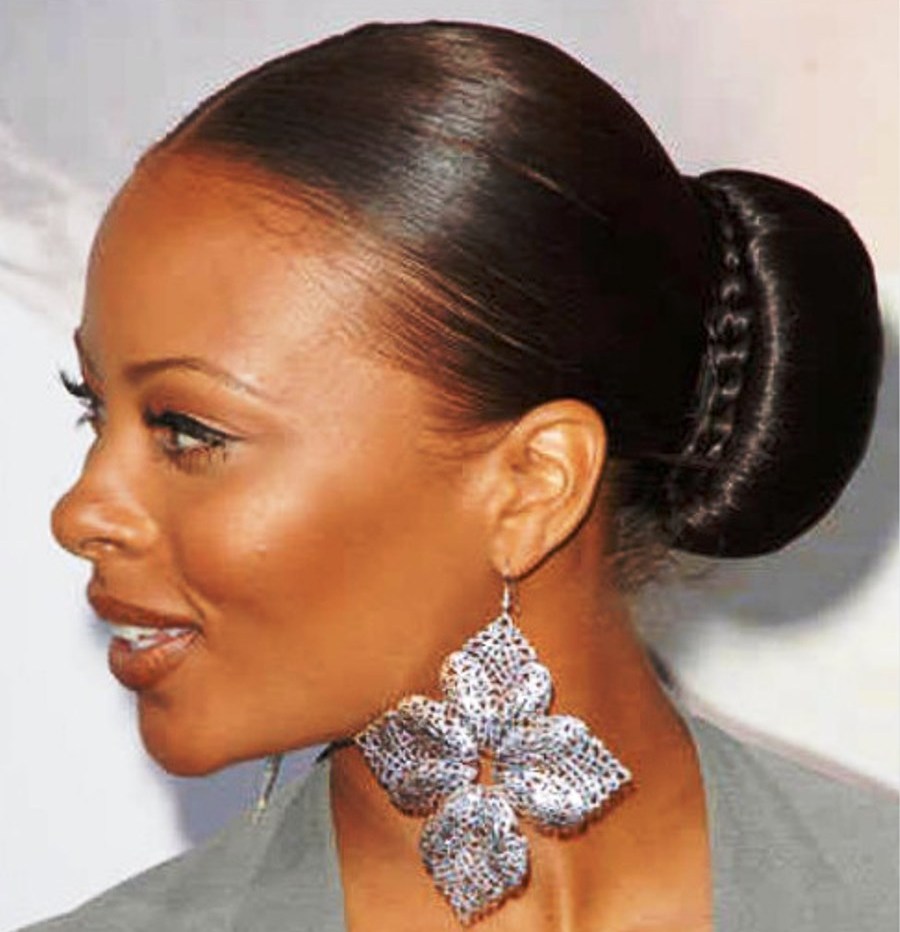 For a neat look that can be worn with both formal and semi-formal clothes, try this elegant low bun updo. While being formal enough to pass off as a proper workplace hairdo, its low-key versatile nature allows you to spice it up with colorful hair accessories for a night out on the town.
8. Elegant Low Updo for Black Women
This is a set of very easy to pull off hairdos for both work and play. The elegant hairstyles feature a smoothly textured updo with a low bun tied. Using pins, braids and twist can enhance the look greatly and make it more suited to your outfit.
9. Simple Knotted Updo Hairstyle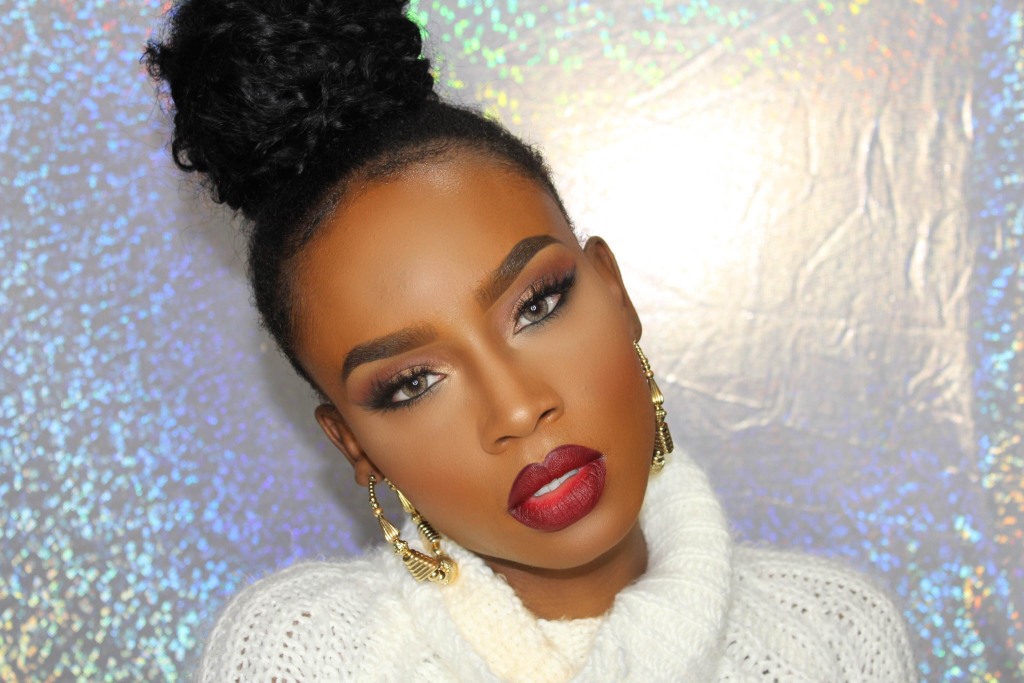 Simple can be dramatic especially when it comes to a superb triple-knotted updo done to enhance kinky hair. Not only is it very easy to pull off, this elegant updo shows off your features and retains your hair's natural appeal.
10. High Bun with Reverse French Braid
This look may be similar to numerous other bun hairstyles and so the addition of the stylish reverse French braid is a great way to keep it unique. The elegant hairdo takes on a slightly edgy touch.
11. Twisted Updo Hairstyles for Black Women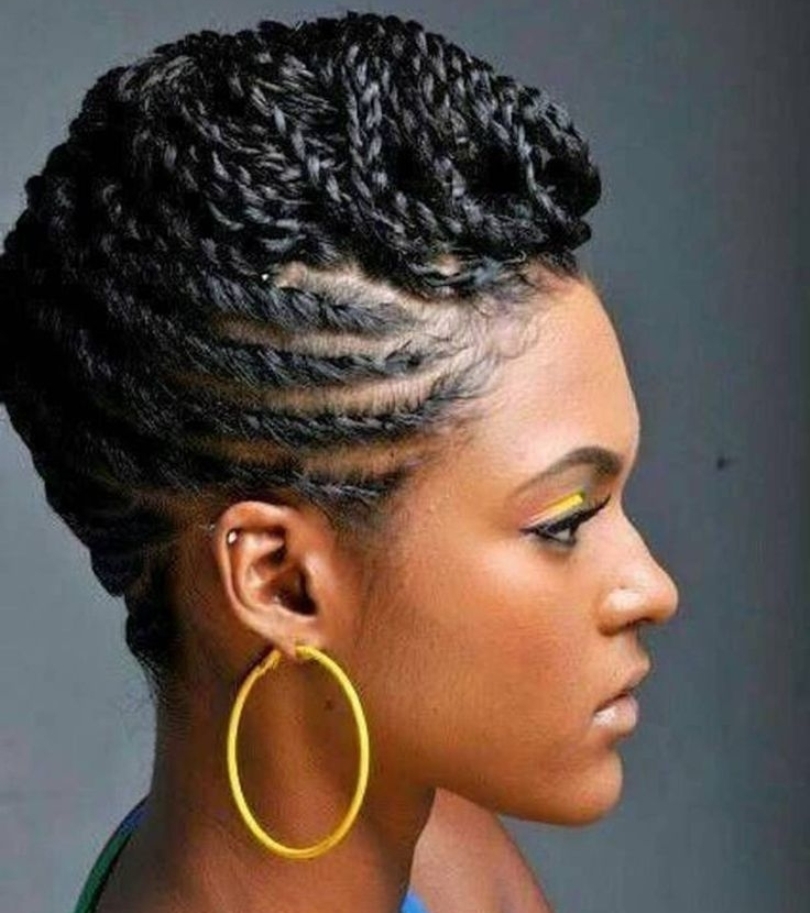 You do not need long flowing locks or even curly hair to pull off this look. The elegant look can be achieved using a chic side twist that is styled into a flattened bun at the top. Leaving your hair as natural as possible is ideal because it gives the updo a lot of natural texture.
12. Pinned French Roll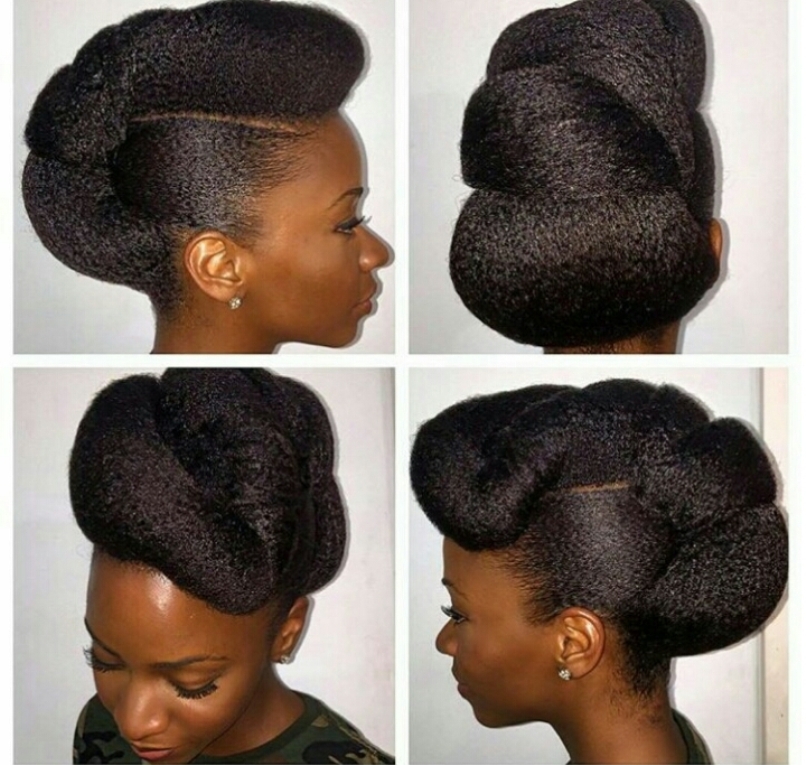 Go retro with this stylish vintage updo. Its simple design oozes sophistication and class no matter the color or the texture of your hair. To pull off the sassy updo, make sure your French roll tapers off into smoothed out edges for a less dramatic hairline.
13. Sideways Afro Updo
Asymmetry is always welcome in trendy hairdos. Give your updo some sass with this lopsided afro updo. Keep one side short and sweep the rest of the hair to the other side. Volume and texture is everything you need to make this look work for you. Naturally, curly hair is a huge bonus.
14. Classic Twisted Bun Hairstyle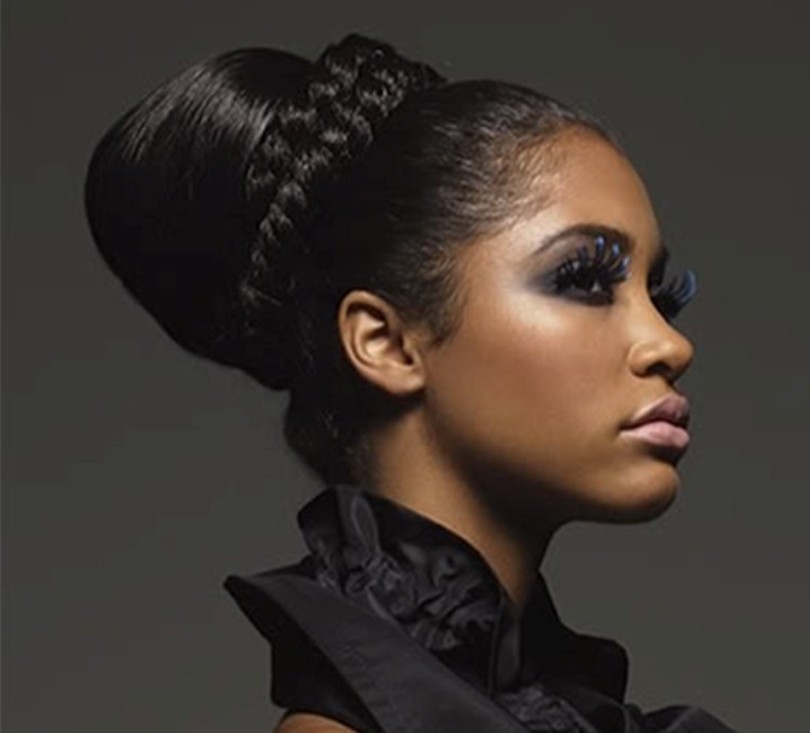 One of the looks we've seen a lot of is the twisted bun updo. Not only is it versatile when it comes to accessories and occasions, it is actually the best way to wear your hair naturally without any chemicals or styling tools.
15. Chignon Updo Hairstyles for Black Women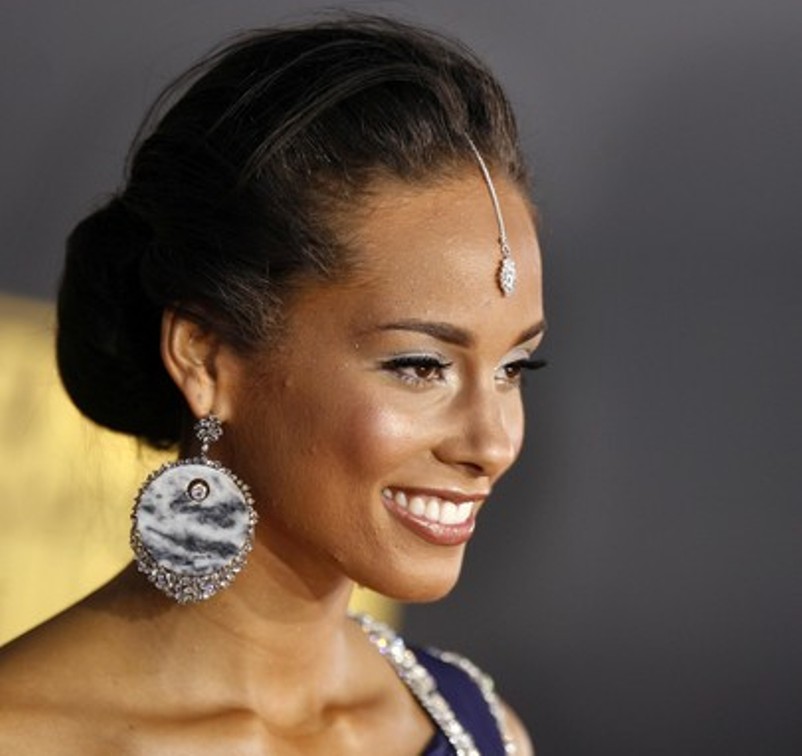 The chignon hairdo has been a go-to for women who want to look effortlessly classy and sophisticated. This chignon hairdo features a few accessories that make it even more chic. Throwing in some color is a good way to personalize the look.
Sours: https://beautyreflectionsblog.com/updo-hairstyles-for-black-women/
Hairstyles hair elegant for black
45 Most Instagrammable Natural Hairstyles for Black Women
While the natural hair movement is gaining popularity, many women of color are just at the start of the journey to their inborn texture. When considering various natural hairstyles, it's necessary to factor in many important aspects like your face shape, hair type, styling abilities and the latest trends. And we are ready to assist the beginners through all these steps, as well as to give an idea of trending hairstyles to hot-shots.
Trending Styles for Different Hair Lengths
Tastes differ, and this proverbial wisdom is very much applicable to lengths of black hairstyles. Some women of color give preference to crops, since they are bold and low maintenance. Others opt for mid-length cuts, as they allow for more versatility, while remaining less demanding in care compared to long locks. However, there are plenty of "long hair don't care" girls who praise the length for femininity and undeniable chic. Well, whichever preference is yours, we have fresh inspo for each length.
Short Natural Hairstyles with a Twist
"A lot of people who are coming in for big chops go for a complete fade, because it's easier to keep up with and requires less styling time," Daryce Brown, Mizani global educator and curl expert, tells Refinery29. Sure, when you are looking for haircuts that are easy to style and to care for, a fade, a tapered cut, an undercut or a TWA are the first ideas to think of. Still, crops can be more unique, eye-catching and stylish, when exciting details are added and extra styling efforts are placed in them. That's why we offer an array of short natural hairstyles, boasting some spice rather than easy care.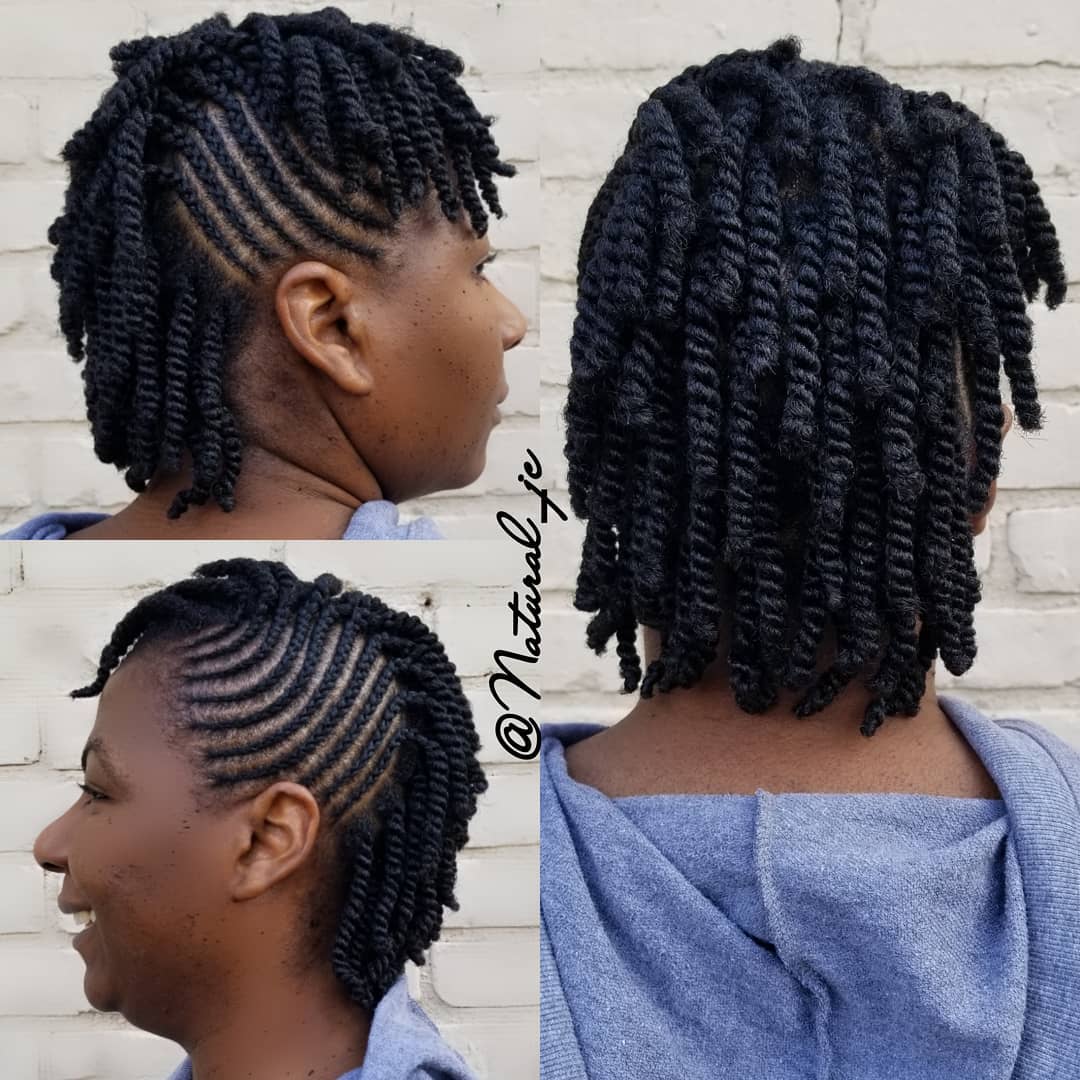 via @natural_jc
Are you ready for a new twist? Then get your side hair braided to create this unexpected Mohawk, full of juicy twists.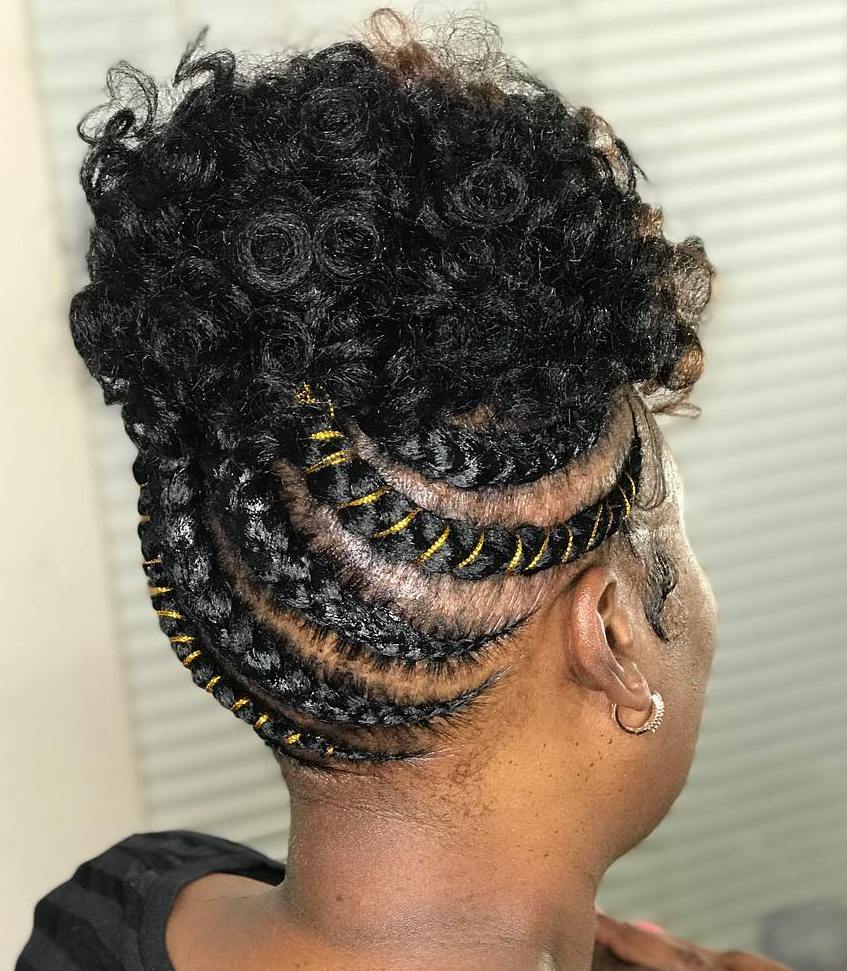 via @krishelljane_
And these braids are wrapped around the bottom part of the head to land into a gorgeous Afro puff, catching the eye with its large tight spirals and highlights.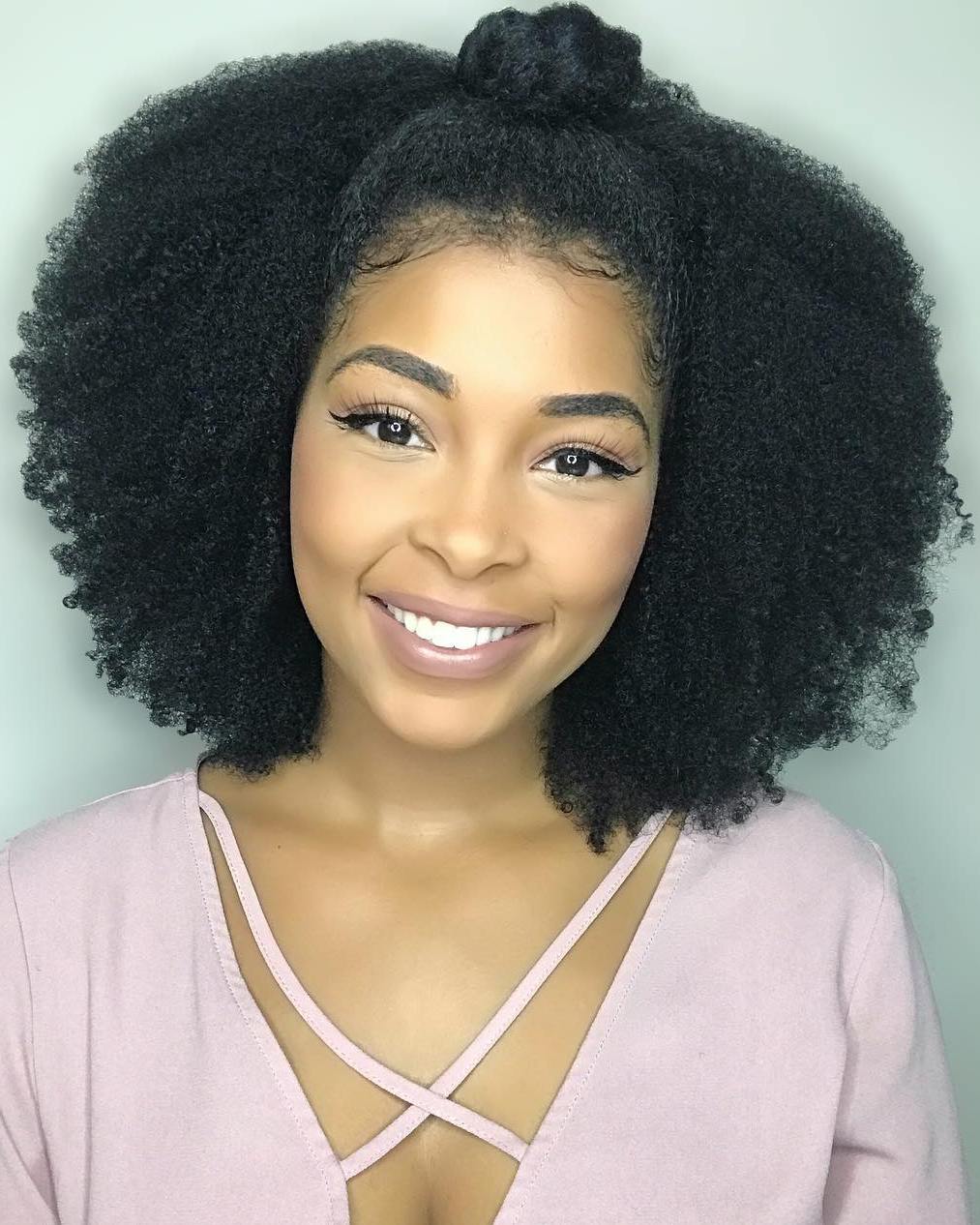 via @beautybybeemarie
This half up is a real catch for African American girls with 4 type coils. Just pull the front pieces up to make a nice top knot, while leaving beautifully shaped hair in the back loose and big.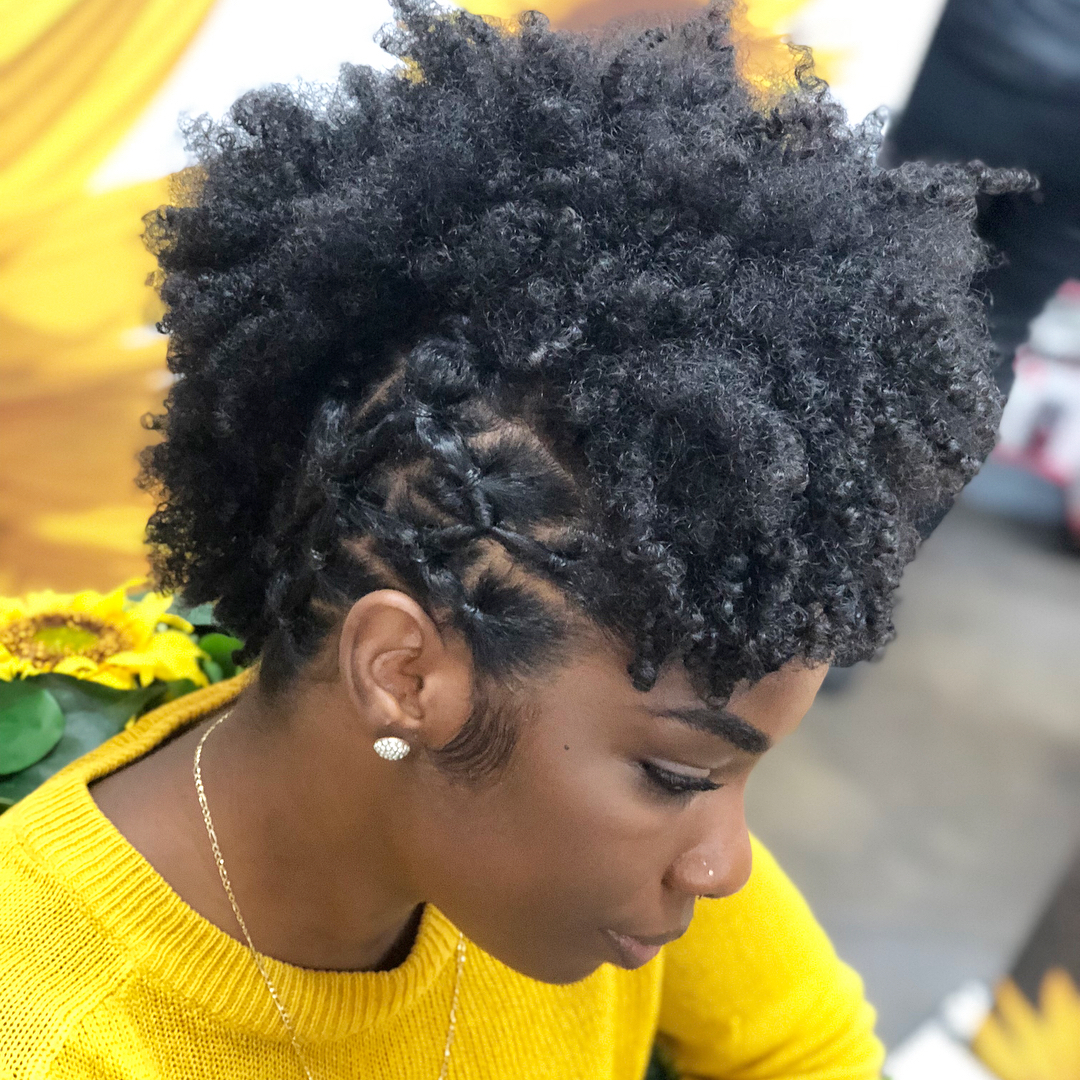 via @jhb_studios
This hawk is a champion among stunning updos for short natural hair. It boasts a unique side pattern and shows tons of texture and volume.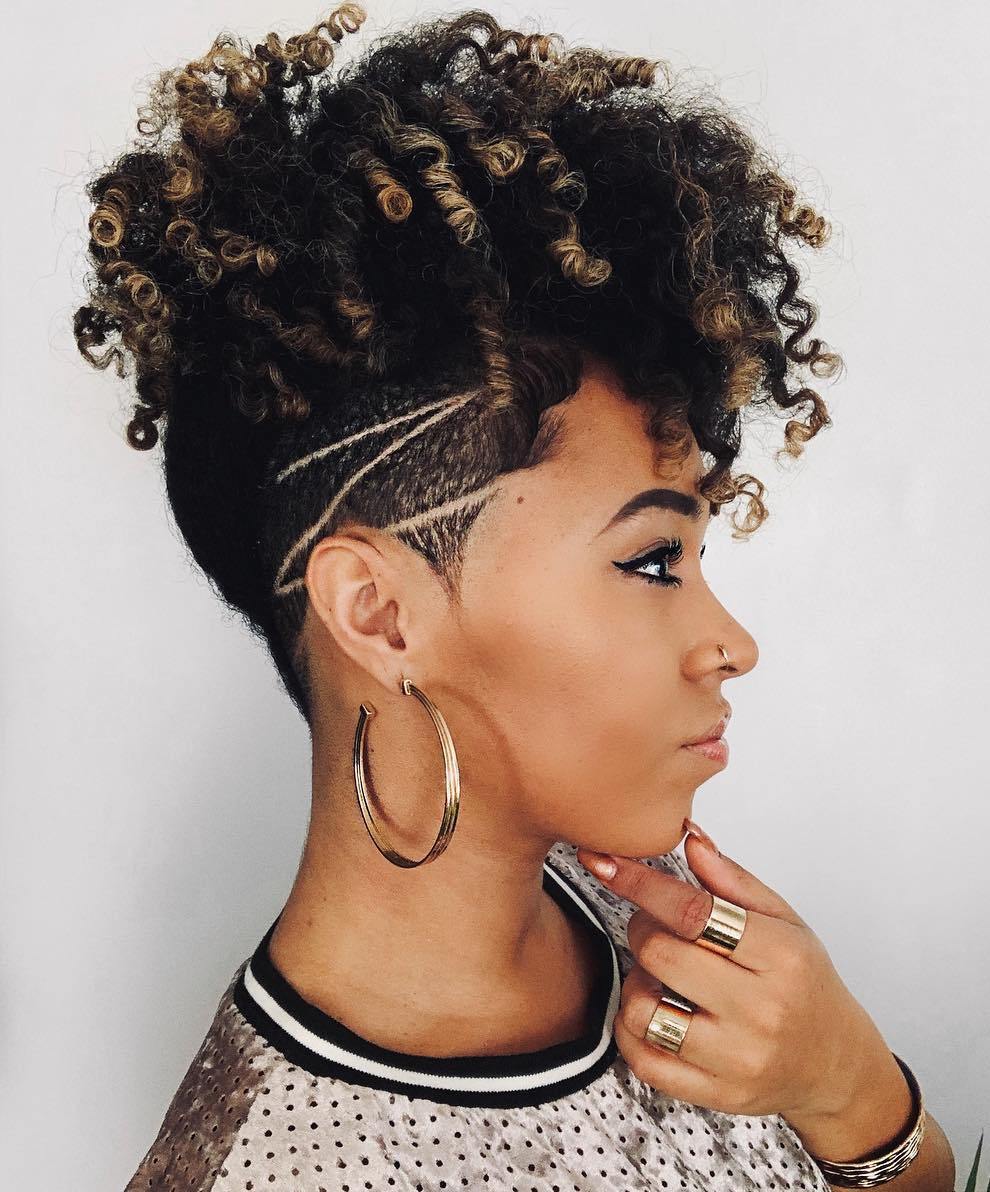 via @arispella
Zorro, is this you? Never mind, just go for an undercut with your own design, which is especially dramatic in dark thick hair.
Medium Length Hair to Show to Your Hairdresser
Varying from a chin level to a shoulder length, medium hairstyles for black women are often seen as the most sought-after for their versatility in styling coupled with undemanding daily care. Besides, it's much faster for black girls to grow out mid-length hair, as we know that curls tend to get frayed because of the lack of oil, not to mention the natural shrinkage. In the same breath, hairstylists say that it's easier to tame bushy natural ringlets, when keeping them on the longer side, since some extra weight comes with length, and it helps fight the frizz. With so many advantages the mid-length promises, it would be a big loss to miss trendy hairstyles from our collection.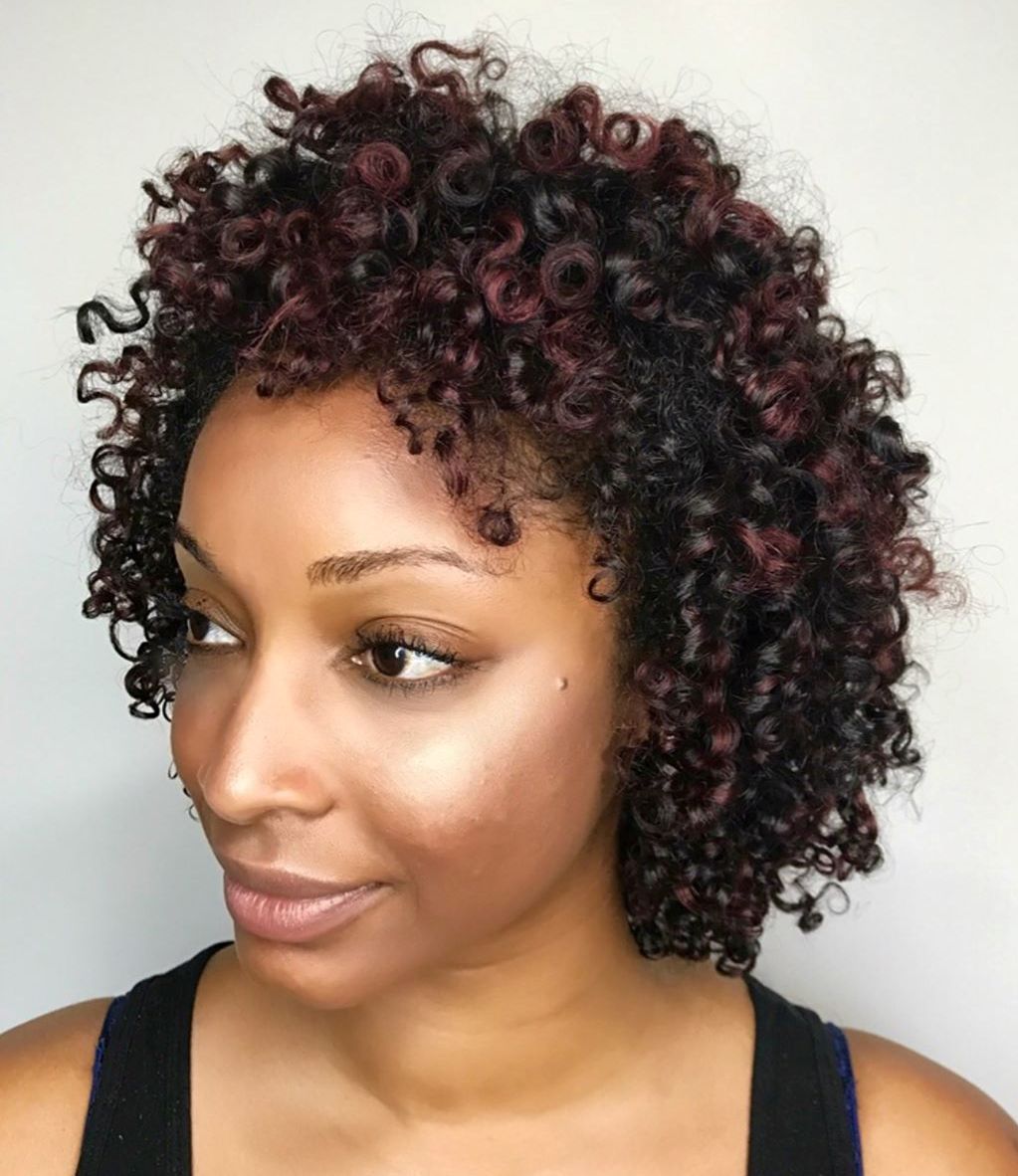 via @citycurlstudio
Round-shaped curly bobs are ultimately adorable, and this one shines with perfectly defined curls and cherry red highlights.
via @_jordanjada_
This black girl is definitely a "go big or go home" adherent, showing her authentic vibe through a touchable layered cut.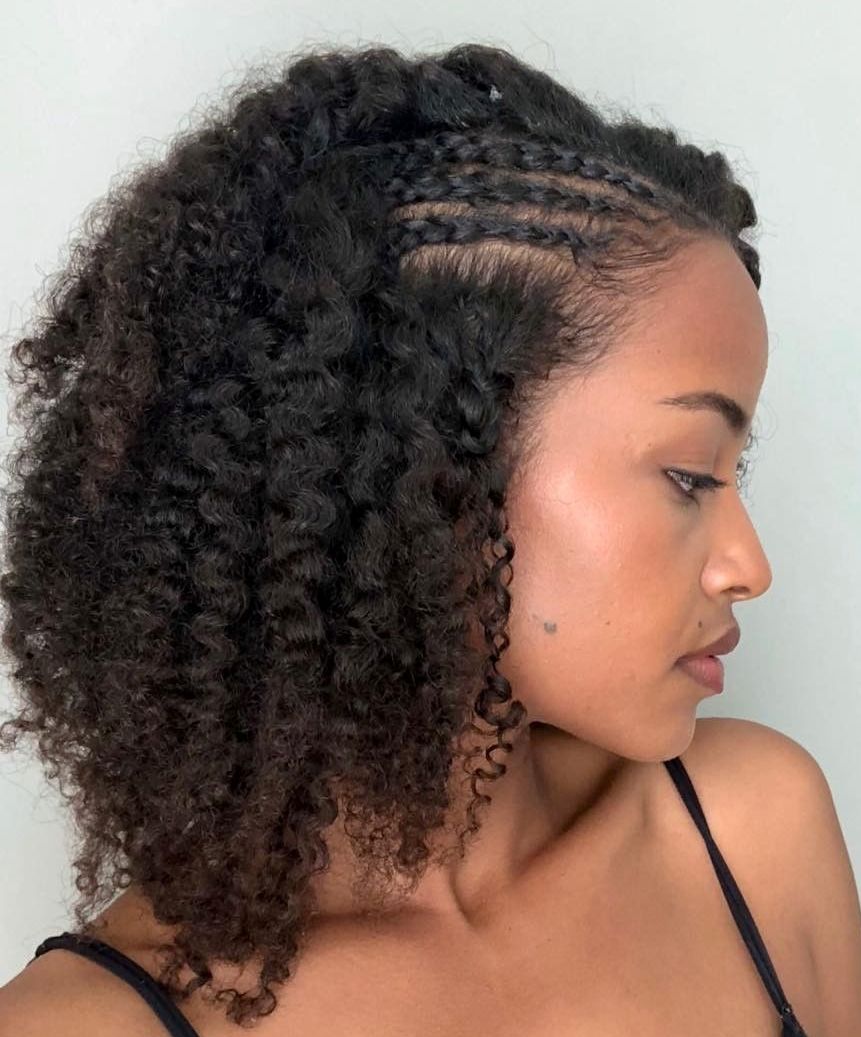 via @blackhairaffair
This shoulder-length hairstyle is a bit spiced up with braids and ombre; the curls cascade down demonstrating their beautiful pattern.
via @swankystylez
For a distinctive, yet professional look, opt for the awesome flat twist hairstyle, wrapped into a stylish crown bun.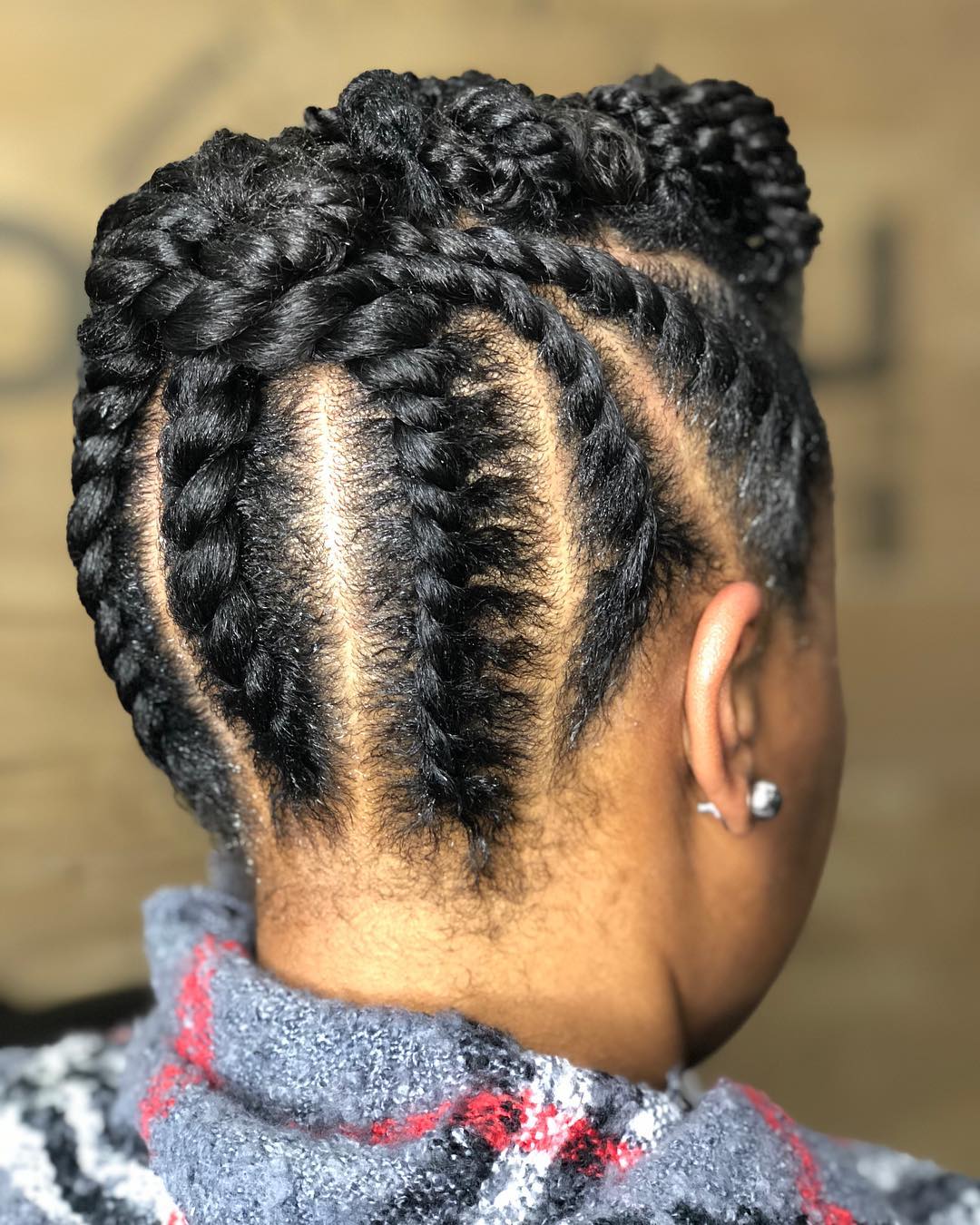 via @love2lovehair
It's amazing how simple two strand twist styling can be transformed into a piece of hair art through unique and intricate patterns.
Long Hairstyles Suited to Every Fancy
Dreaming of cool ponytails, chic updos and fun braids with no extensions added? "With natural Afro hair, long sections throughout the crown give you the ability to create a look that suits your fashion sense and lifestyle need," Charlotte Mensah, brand founder, salon owner and many-times winner of Afro Hairdresser of the Year, says to Marie Claire, but adds that there is no point in growing hair out if not investing in its health. So, if you are sick and tired of short haircuts for natural hair and don't mind spending time, money and effort on pampering your mane, than find your next hair goal in our photo gallery.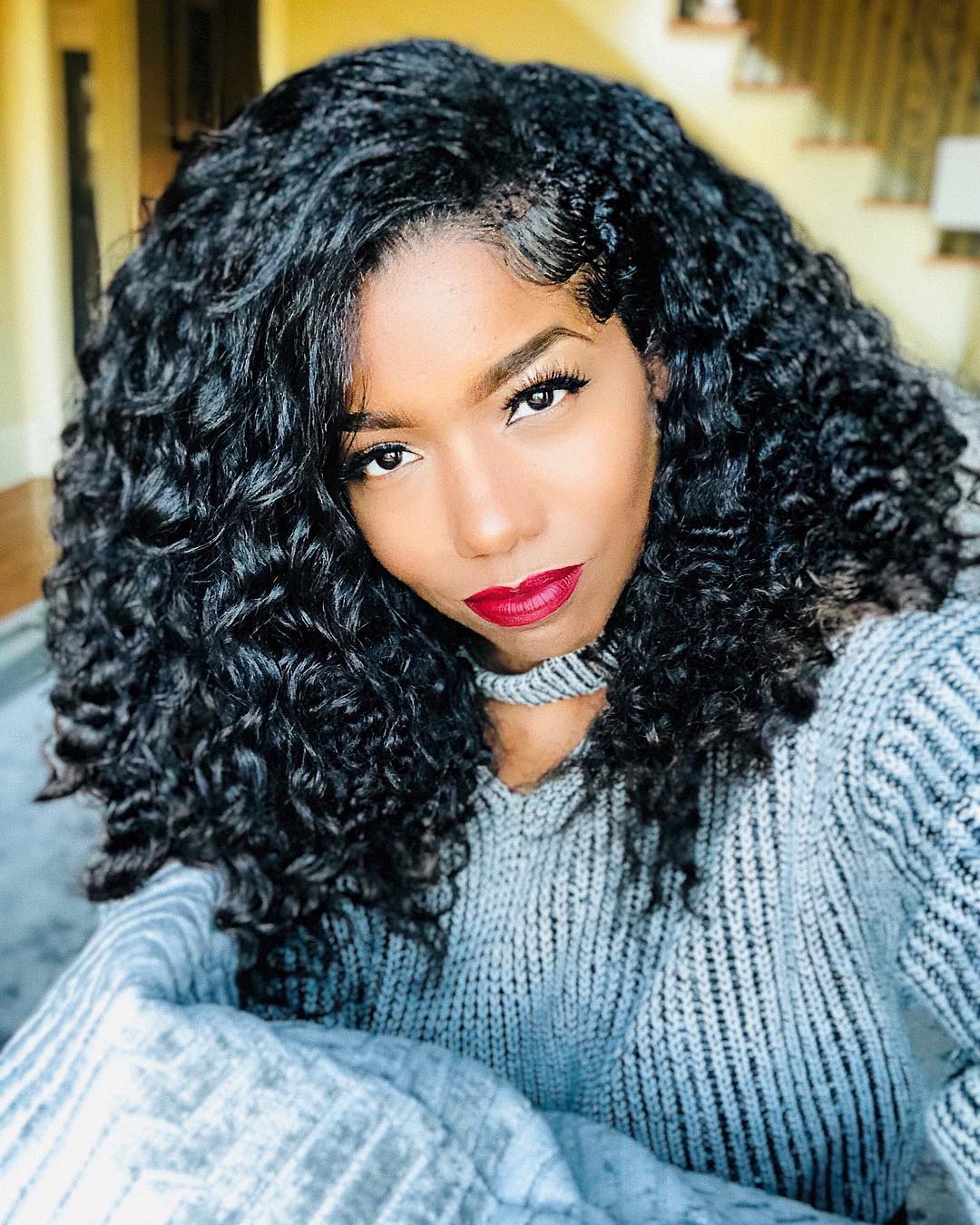 via @curldaze
Can you believe that this glorious hairstyle takes a layered cut, a simple twist out and a shine-boosting product?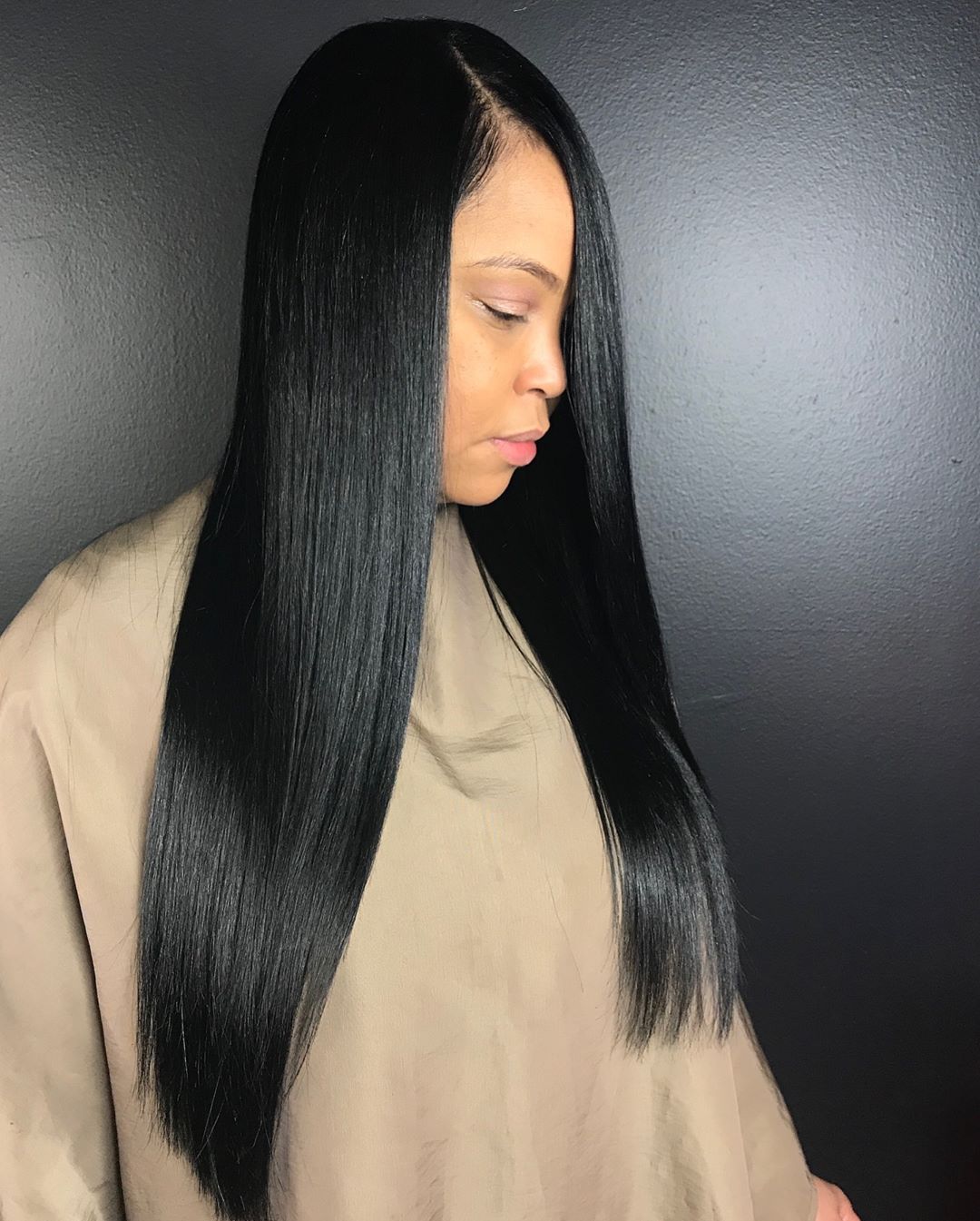 via @lilyinternational
Oftentimes, less is more, and this kick ass cool silky-straight hair speaks volumes with minimal layering, texturizing and coloring.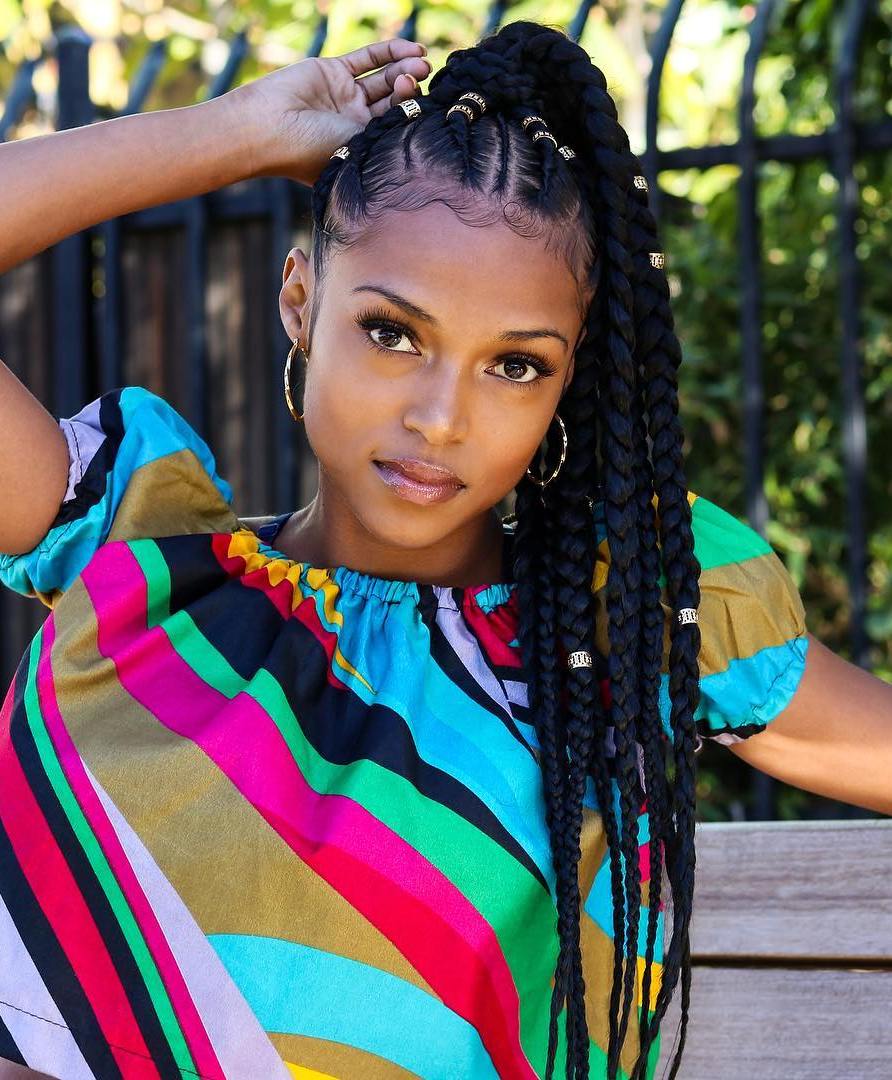 via @kersti.pitre
This fancy cornrow hairstyle teams up braids, beads and a high pony, but those sweet baby hairs are truly our favorite part.
via @badubeauty
If you need an idea for a chic prom updo, try this textured hairstyle, made of multiple chunky twists and a pretty combo of warm brown hues.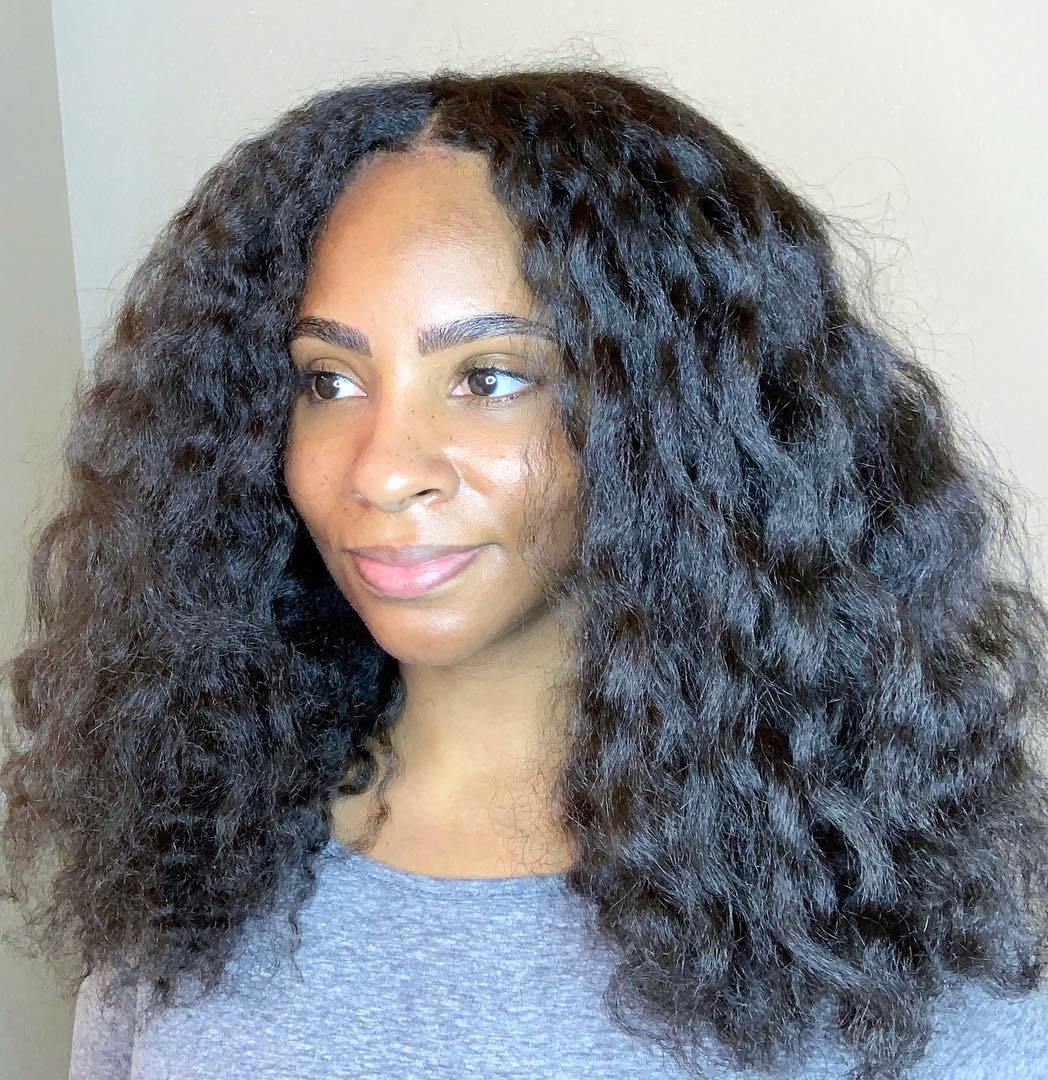 via @1miaj
In your daily routine, keep it really simple, like this center-parted wavy 'do that shifts volume to the bottom to frame the face flatteringly.
Fashionable Styles for Different Hair Types
The rule of thumb is that your hair texture dictates the length, shape and style, at least when it comes to low maintenance. This means that theoretically you can stuff your strands into any hairstyle you like, but it will be extremely difficult to keep it on a daily basis, when your texture is not intended for the style. And it might require advanced styling abilities, which is not an option for beginners. So, discuss your hair goals with a hairdresser beforehand and ask for a wash and go hairstyle for your hair type, if everyday styling is not your cup of tea. Fortunately, there are so many options for each texture, and we gathered some nice examples in the slider below.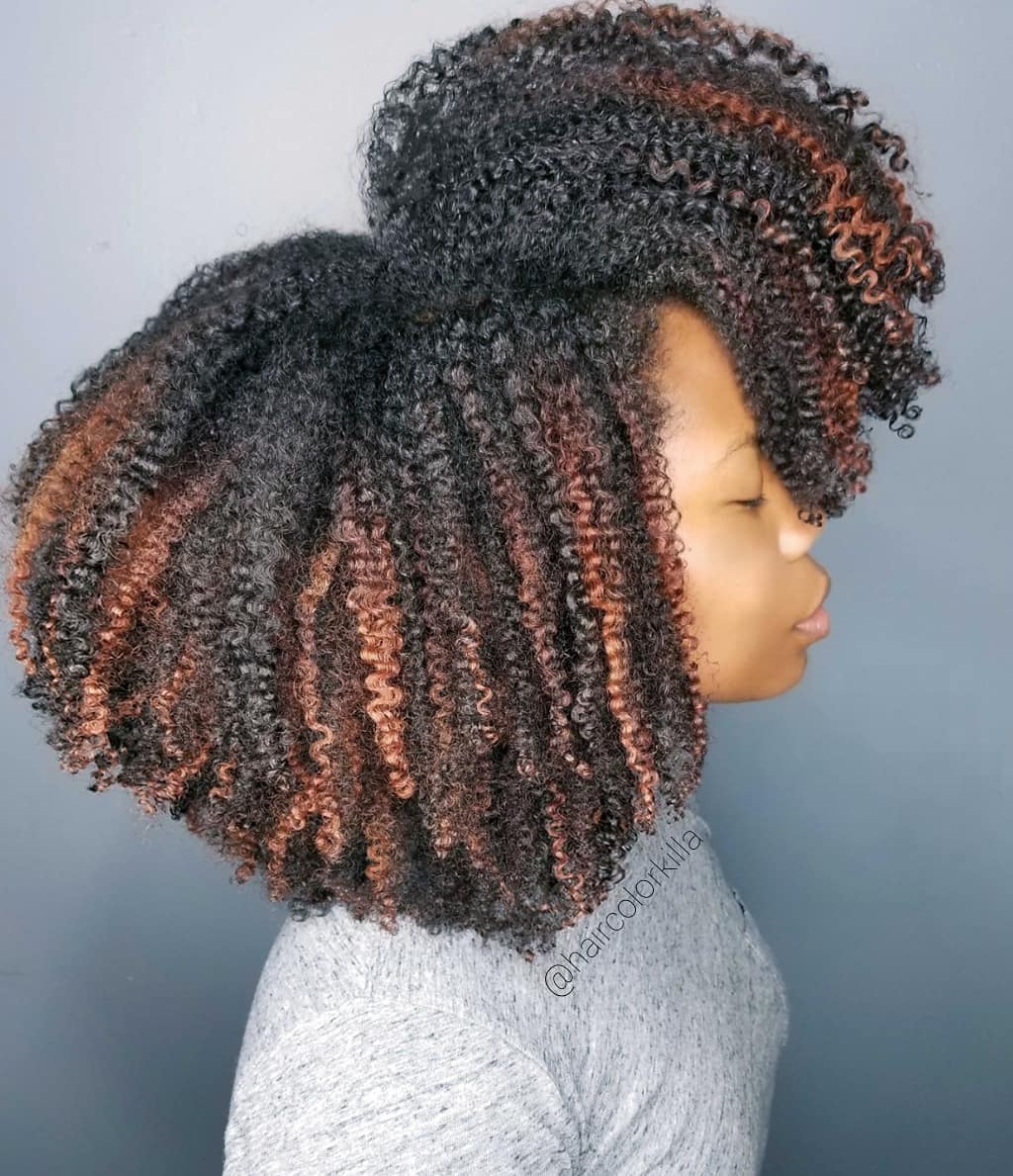 via @haircolorkilla
Why not play around with your thick curly mane by getting it nicely shaped and artistically highlighted for more curl definition?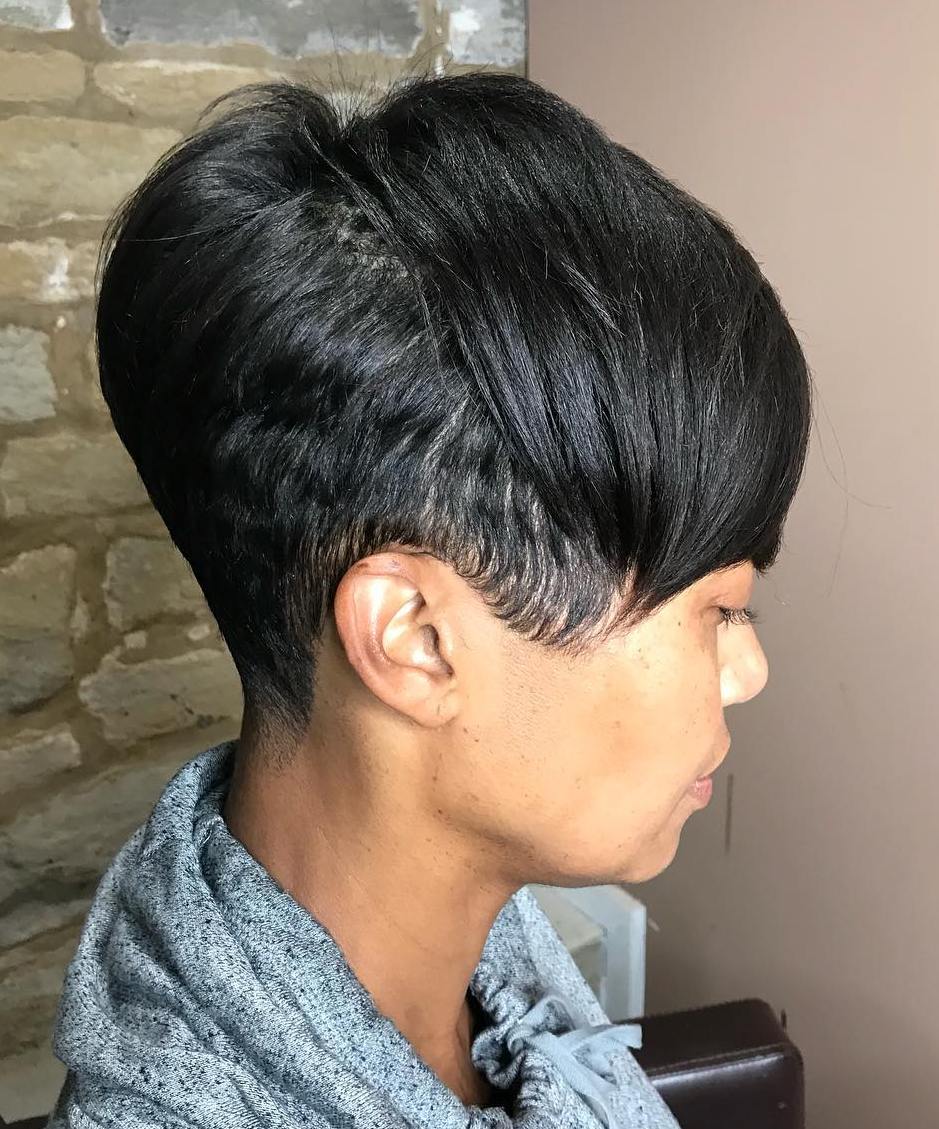 via @oluchizelda
When choosing to rock your hair straight, think of a neat little pixie with a short tapered back and longer top tresses melting into a thick fringe.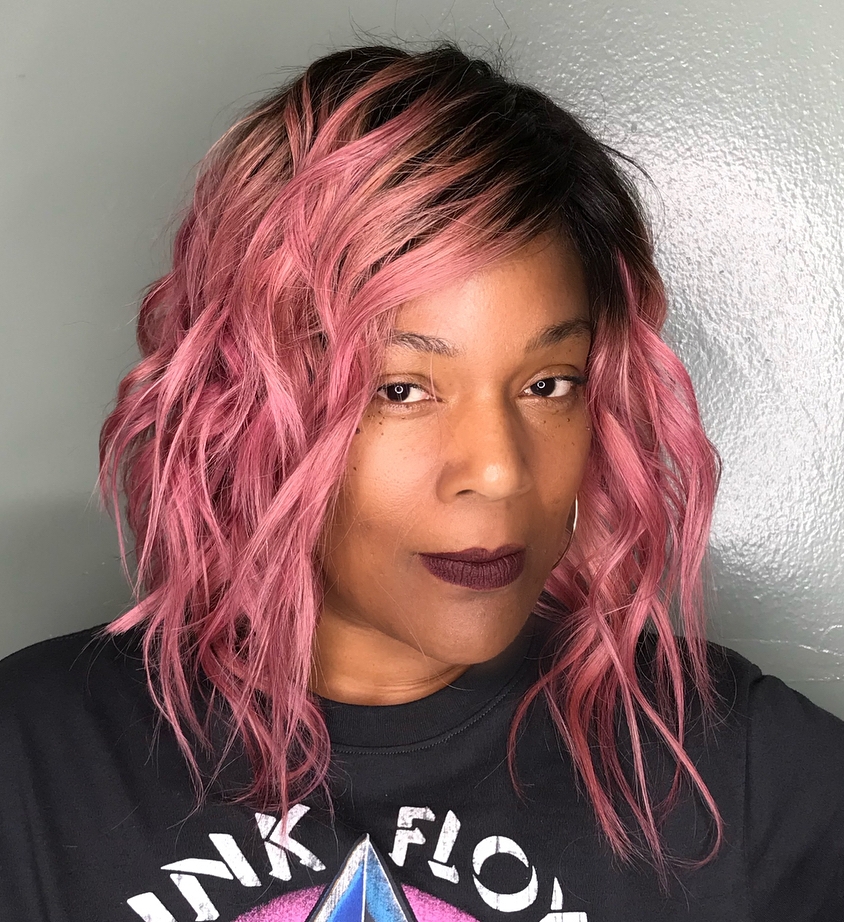 via @natural_intentions
And we have a cool inspo for wavy locks – the heavily sliced and effortlessly curled lob with dark depth-adding roots and a drop-dead transition to unicorn pink.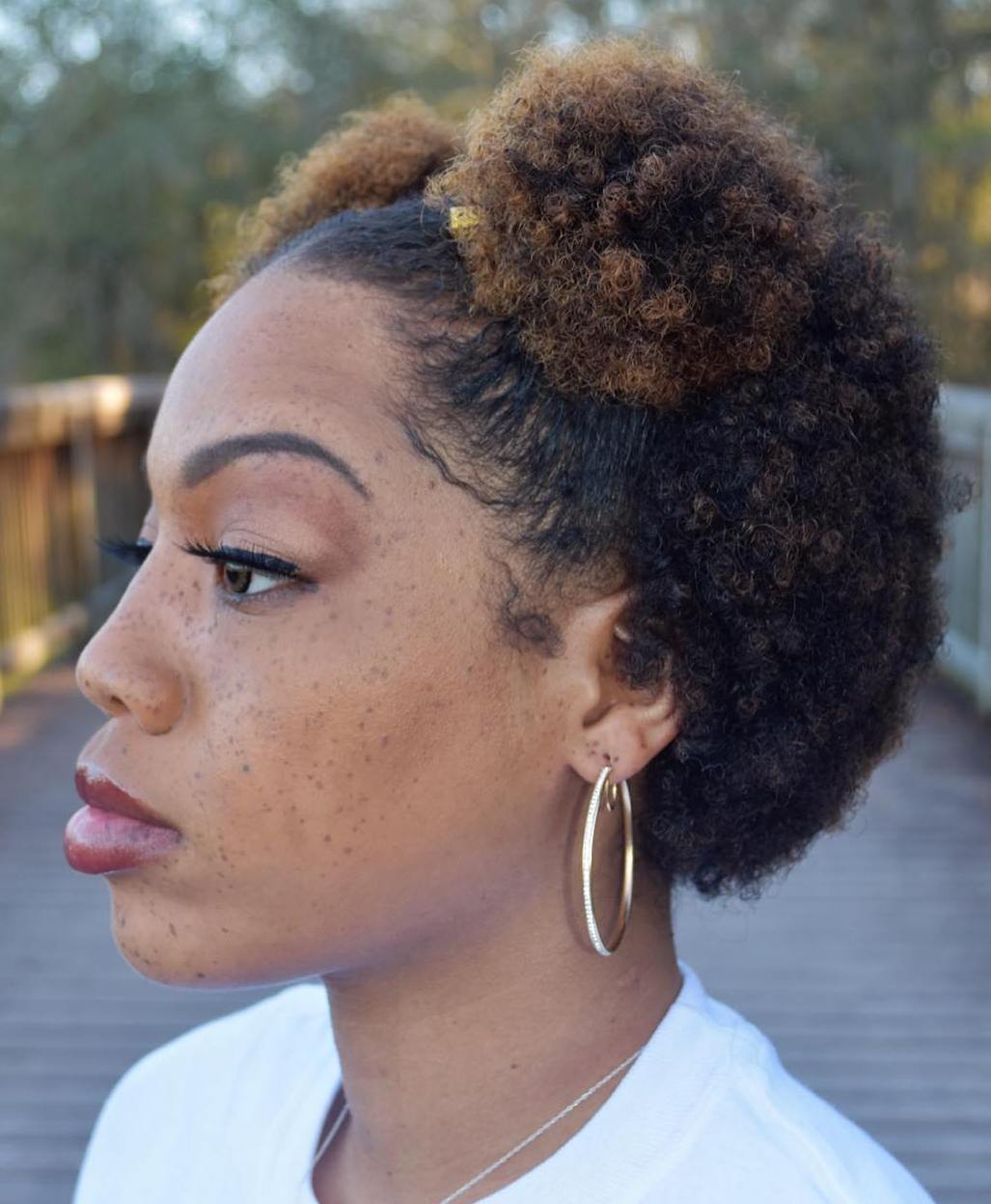 via @_derickanaturalability
Thin tresses tend to look fuller in short cuts, and you can always update your cute shortie by adding space buns and highlights.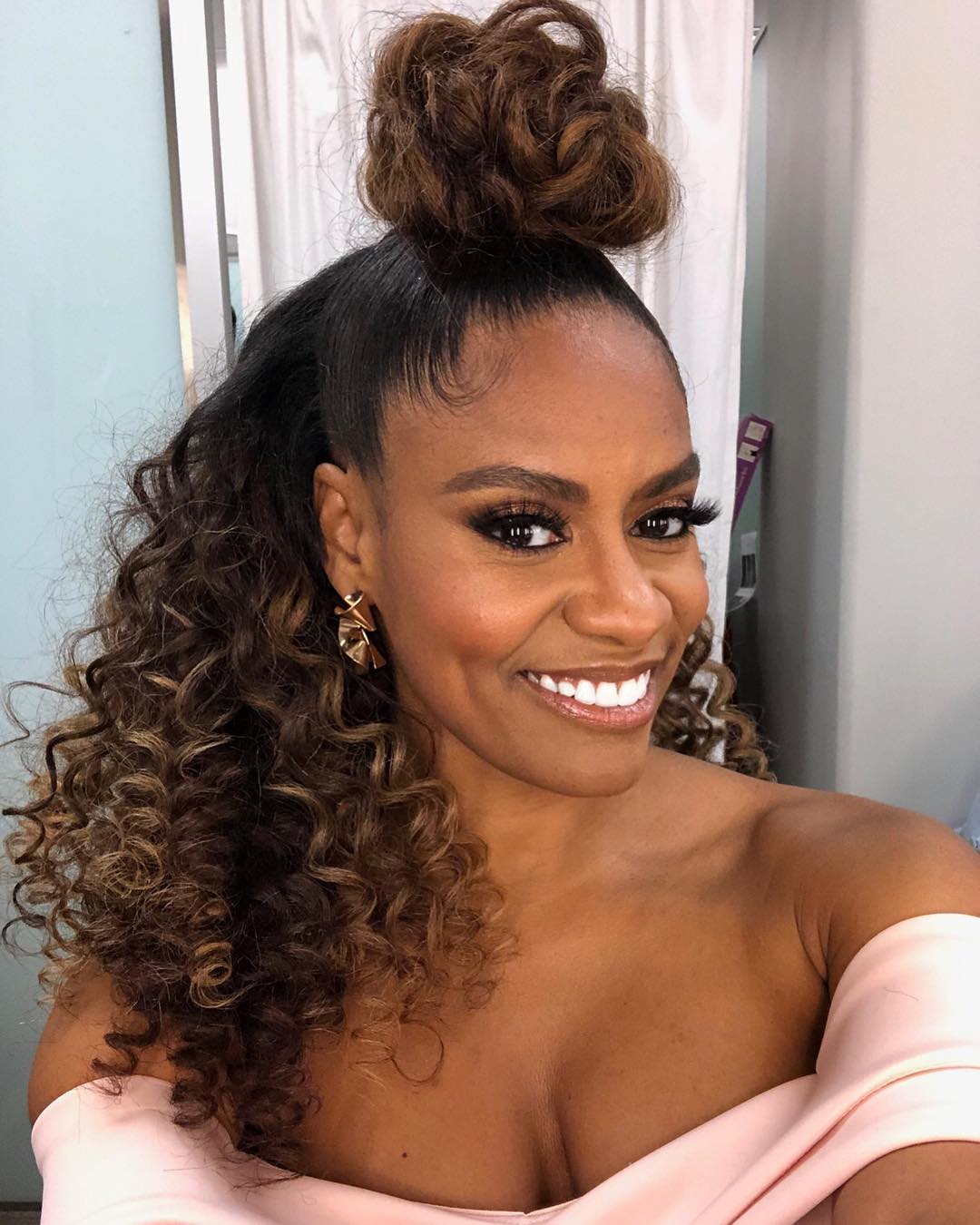 via @stylesbydavonte
Sure, there is also a half up for thick hair in our collection – this sophisticated mix of sleek and curled, crowned with a stunning textured top knot.
Fancy Coifs for Different Face Shapes
Do you know your face shape? "The face shape is broken down into three parts. The forehead and cheekbone width, the jawline and the face length. To identify your face shape, ask yourself, what is the widest part of my face? Is it my cheekbones? You probably have a round face. Is it my forehead? You probably have an oval face," Vincent Oquendo, makeup artist who is responsible for Gigi Hadid, Karlie Kloss and many other celebrity looks, tells in his comments for Today.com. Follow his tips and then search for black hairstyles flattering to your face shape in our collection.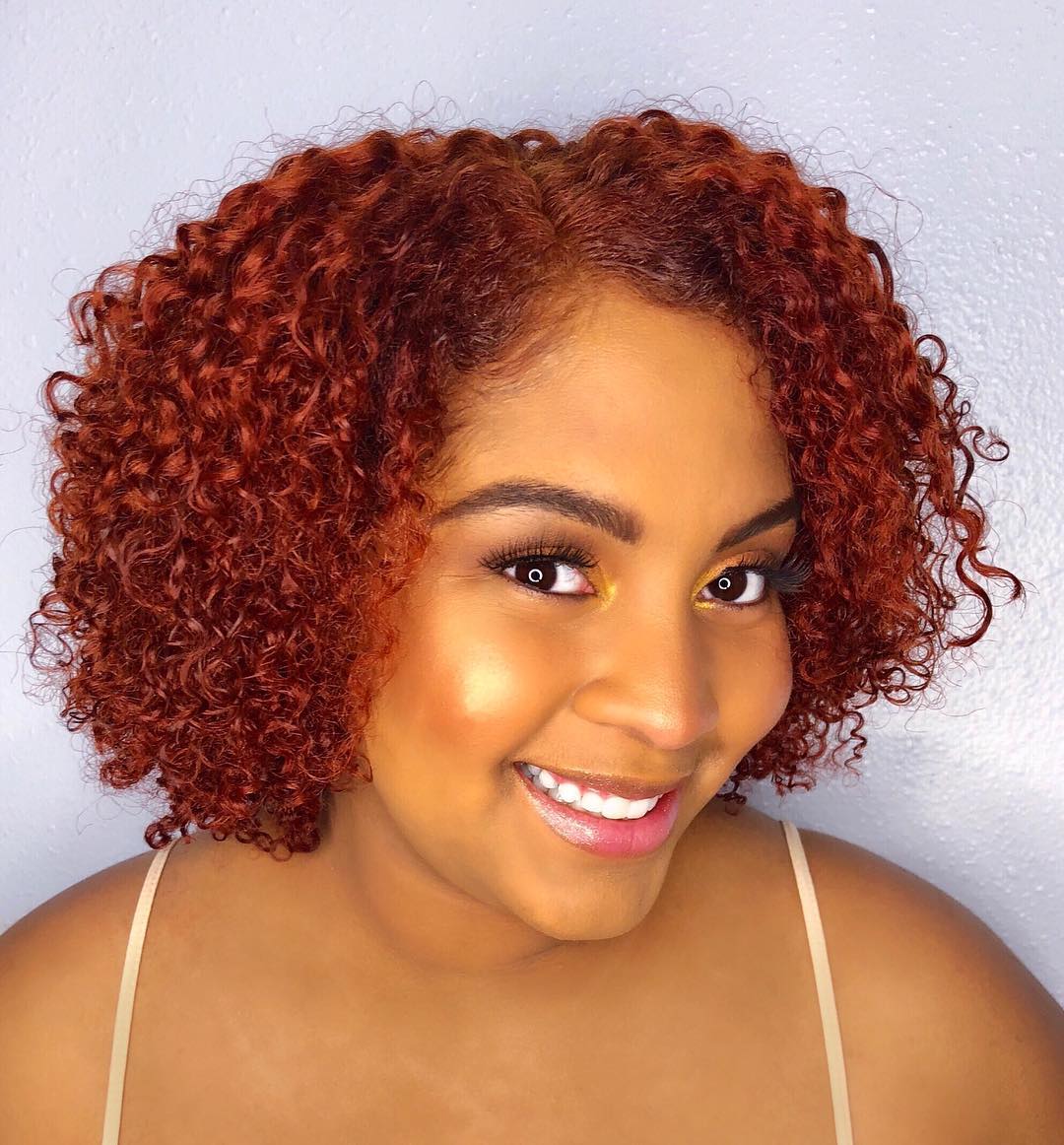 via @marcelcurlsyouon
This cute red bob feels bouncy and touchable, and it's a smart idea to keep its parting off center, giving a bit of asymmetry to the round face.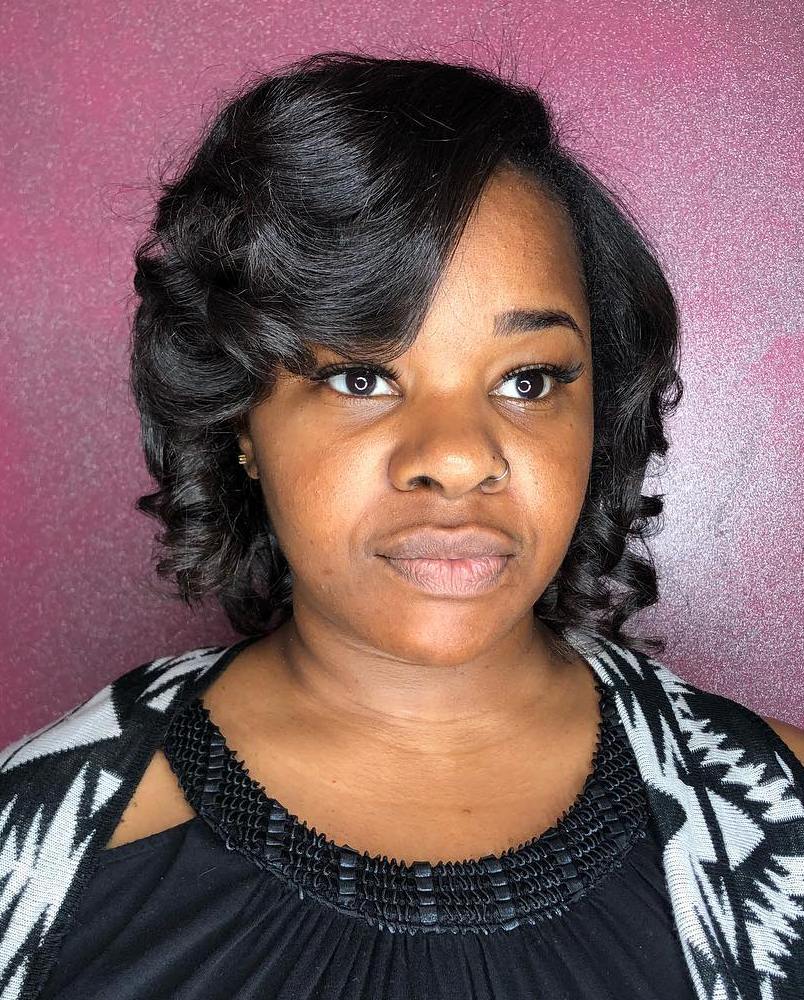 via @k.cole_beauty
Larger curls sitting on the sides add width to oval shaped faces, while they can pull off the wave of side-swept bangs no sweat.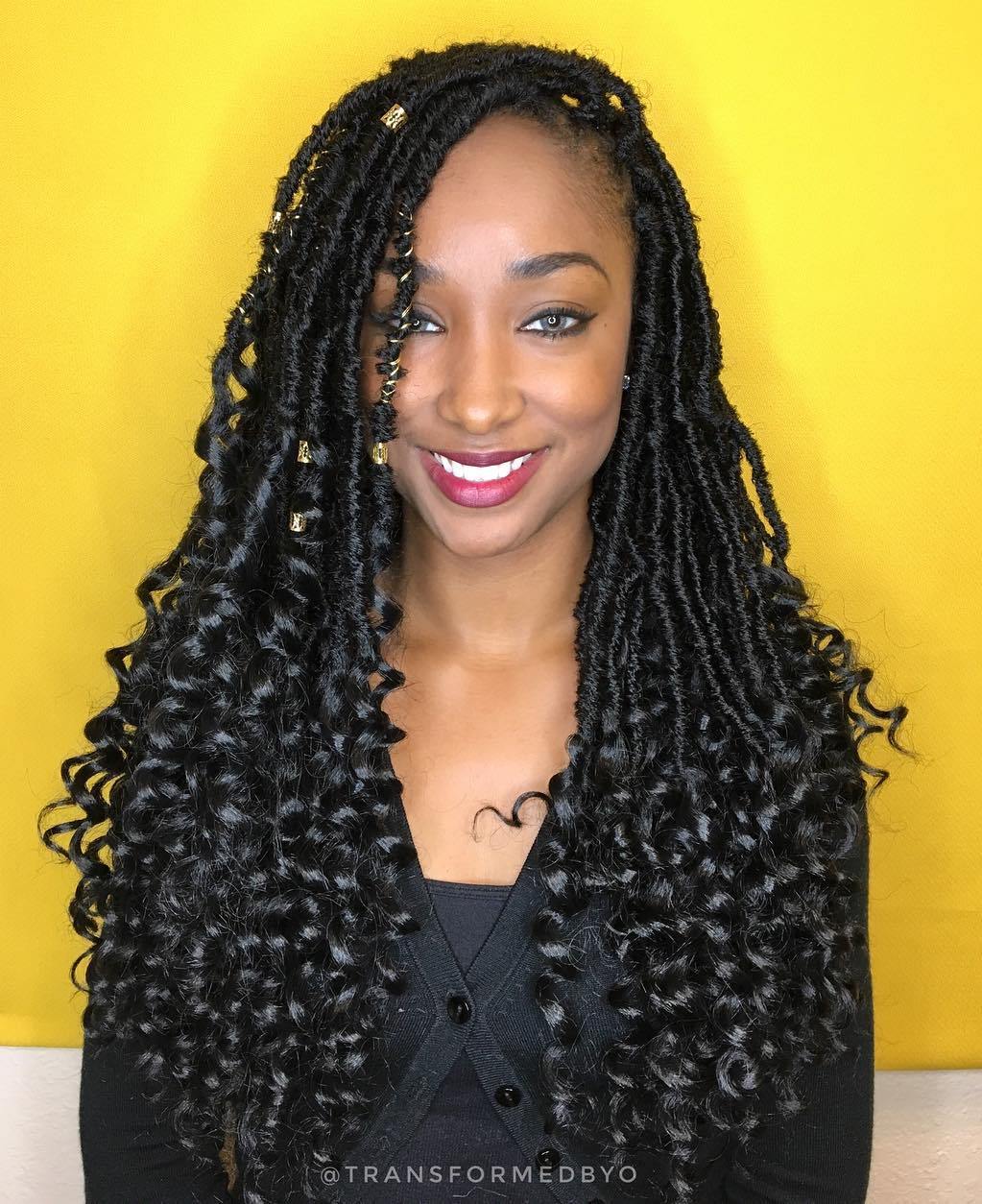 via @transformedbyo
If you have a long face and want to rock gorgeous crochet braids, make sure to create extra width, for example by sweeping the braids to the side.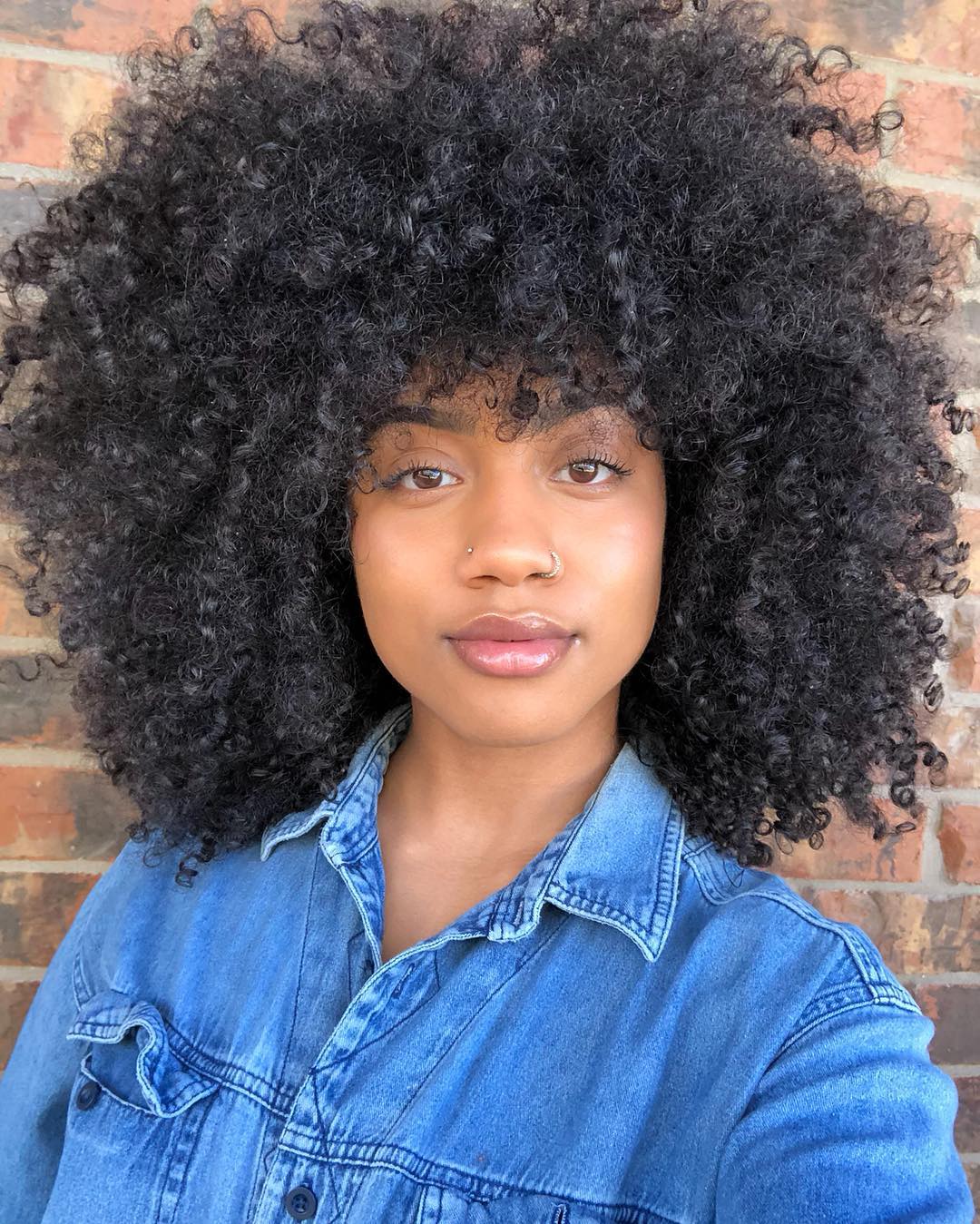 via @curlybeviie
This seriously big hair is masterfully structured to gain a perfectly round shape, which is great for square faces. And take note of those layered bangs, channeling attention to the eyes.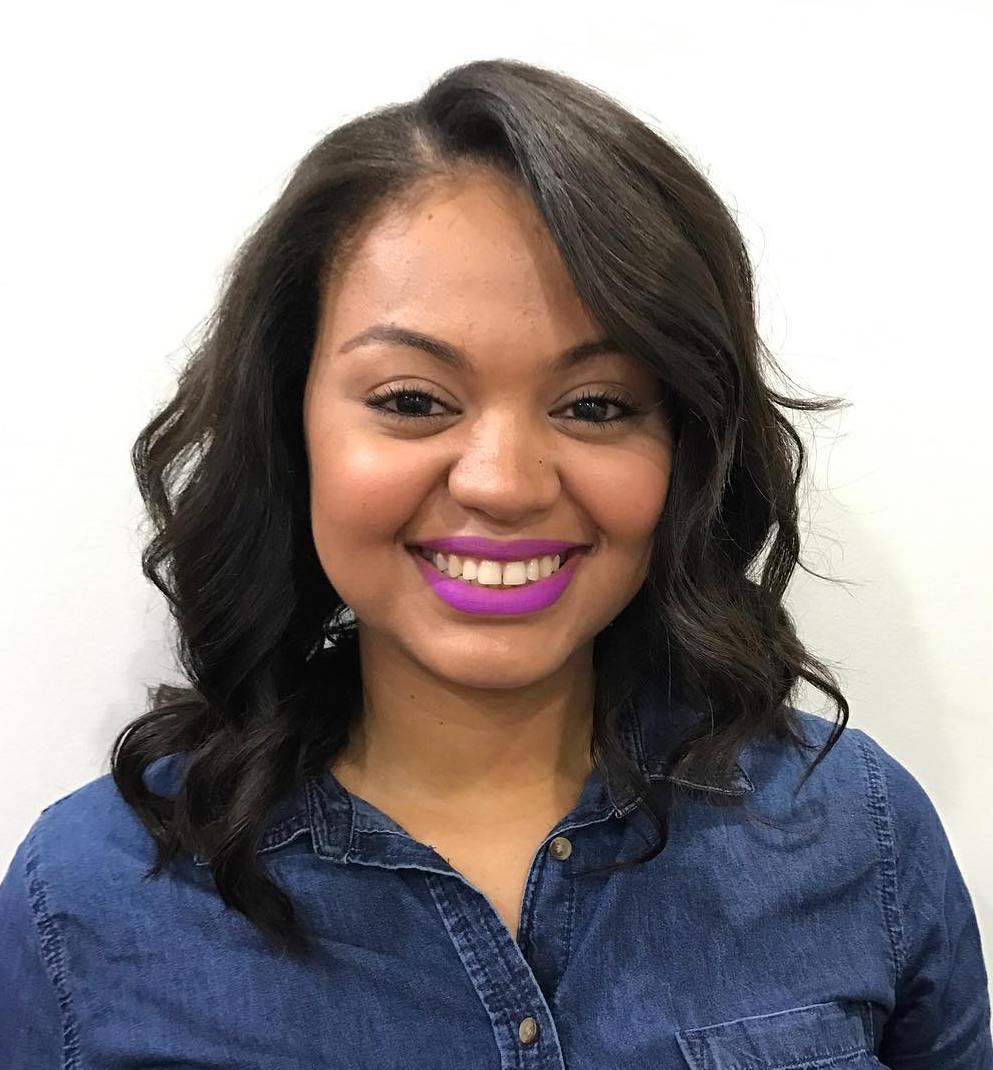 via @huetifulsalon
A curve in the front and wavy locks around the shoulders make this diamond-shaped face look wider at the forehead and chin.
Adding a Cool Braid to Your Haircut
Braids are among the most favorite hairstyles for black women, and they really have an innate talent for rocking braided 'dos. It originates from African culture, which is so versatile in braided styles and keeps inspiring us for new borrowings and creative interpretations. And for another thing, nowadays braids are part and parcel of protective styling, helping women of color protect their fragile curls from tear and wear, while creating authentic and cool looks. Besides, it's a great way to live through the embarrassing stage of transitioning from your previous hairstyle to natural hair, not to mention the fact that braids are trending now and can be seen everywhere, from streets to red carpets. Well, and on Instagram, of course, like those pretty looks we collected.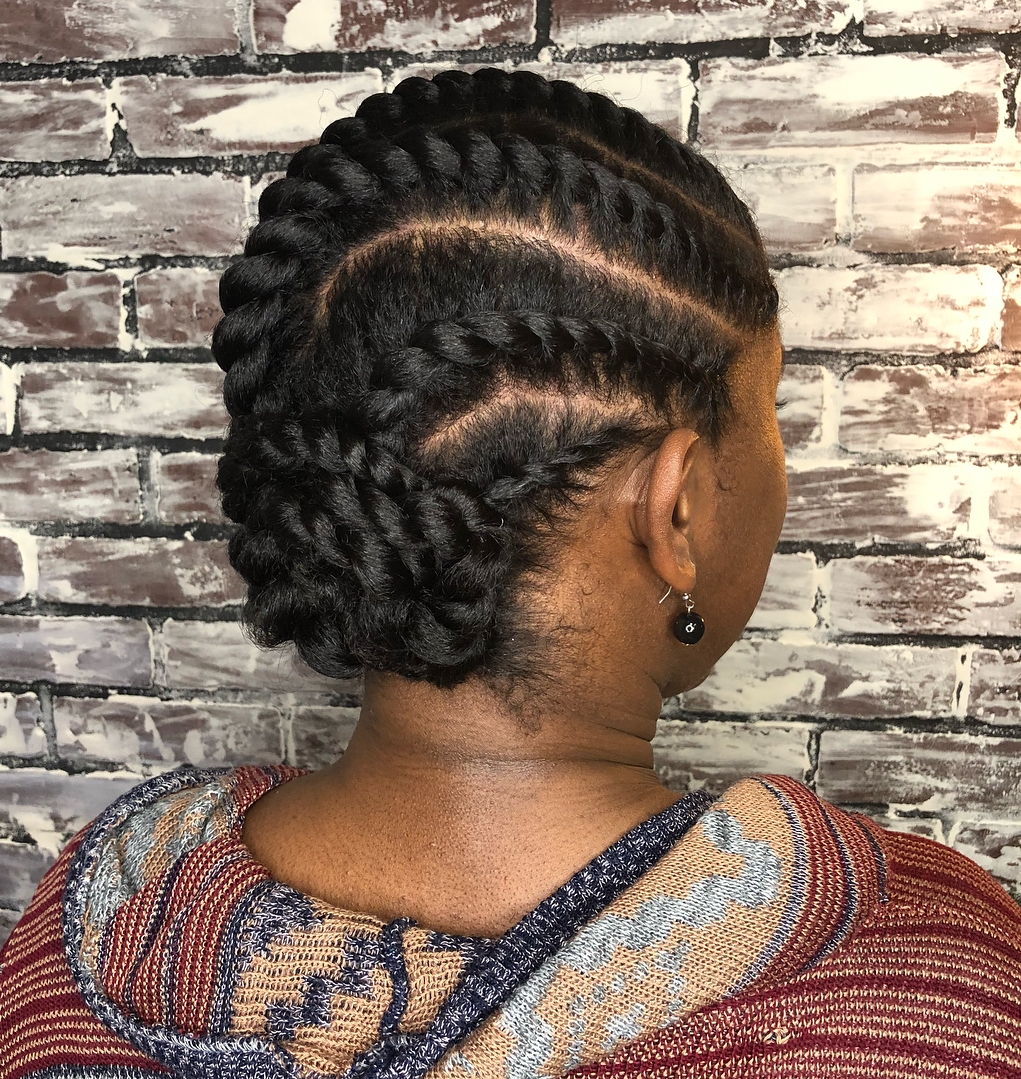 via @sesslee_curls
This short twist hairstyle with neat rows and an elegant textured bun at the nape is really versatile and low maintenance.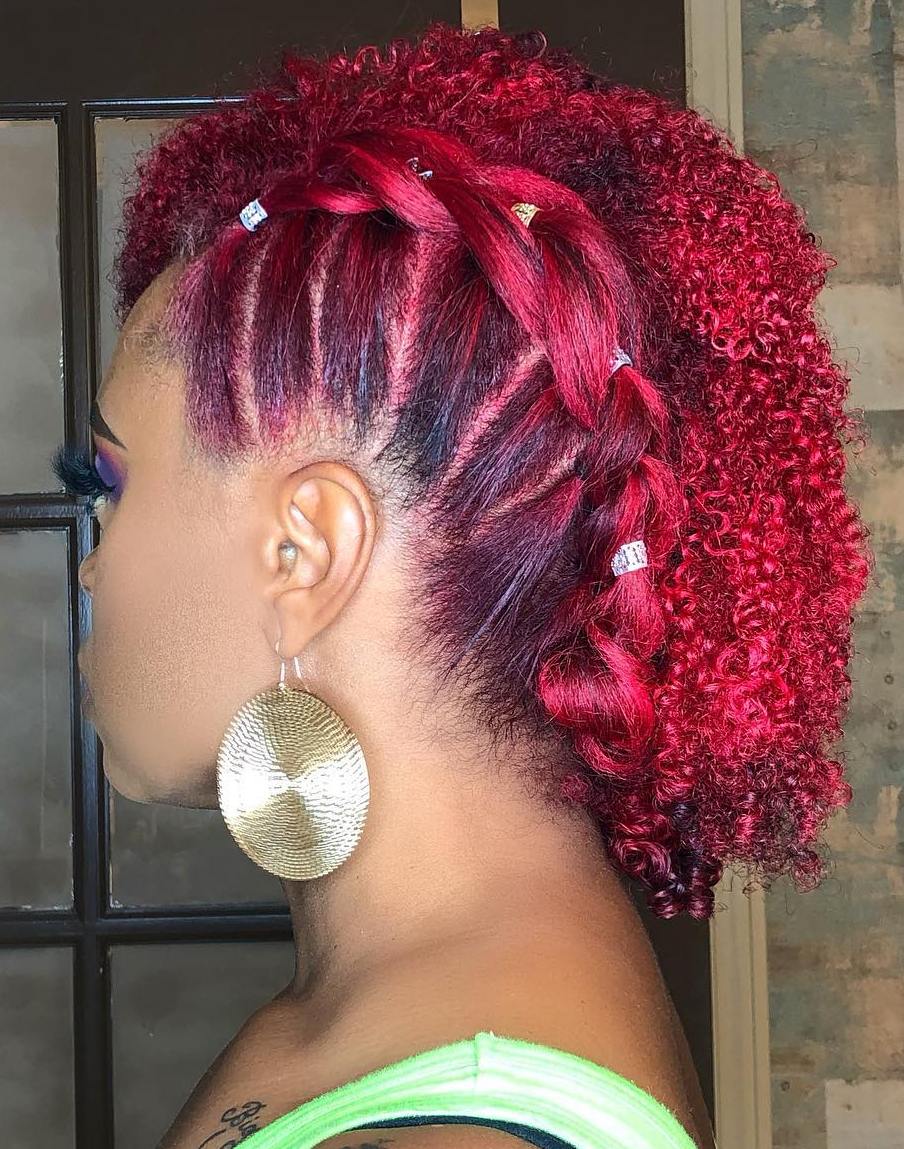 via @curly_v13
When searching for a fresh curly braided 'do to get inspired, look no further than this neon Mohawk with cool braids and beads on the sides.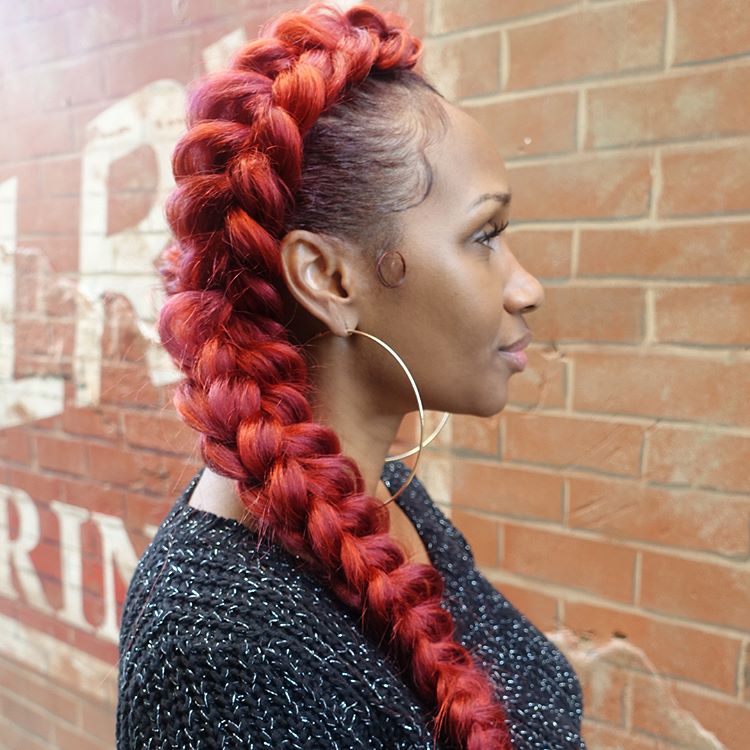 via @stylesbydavonte
Here is another chic pinky idea, featuring a tridimensional side braid, made of two textured Dutch braids sweeping around the head.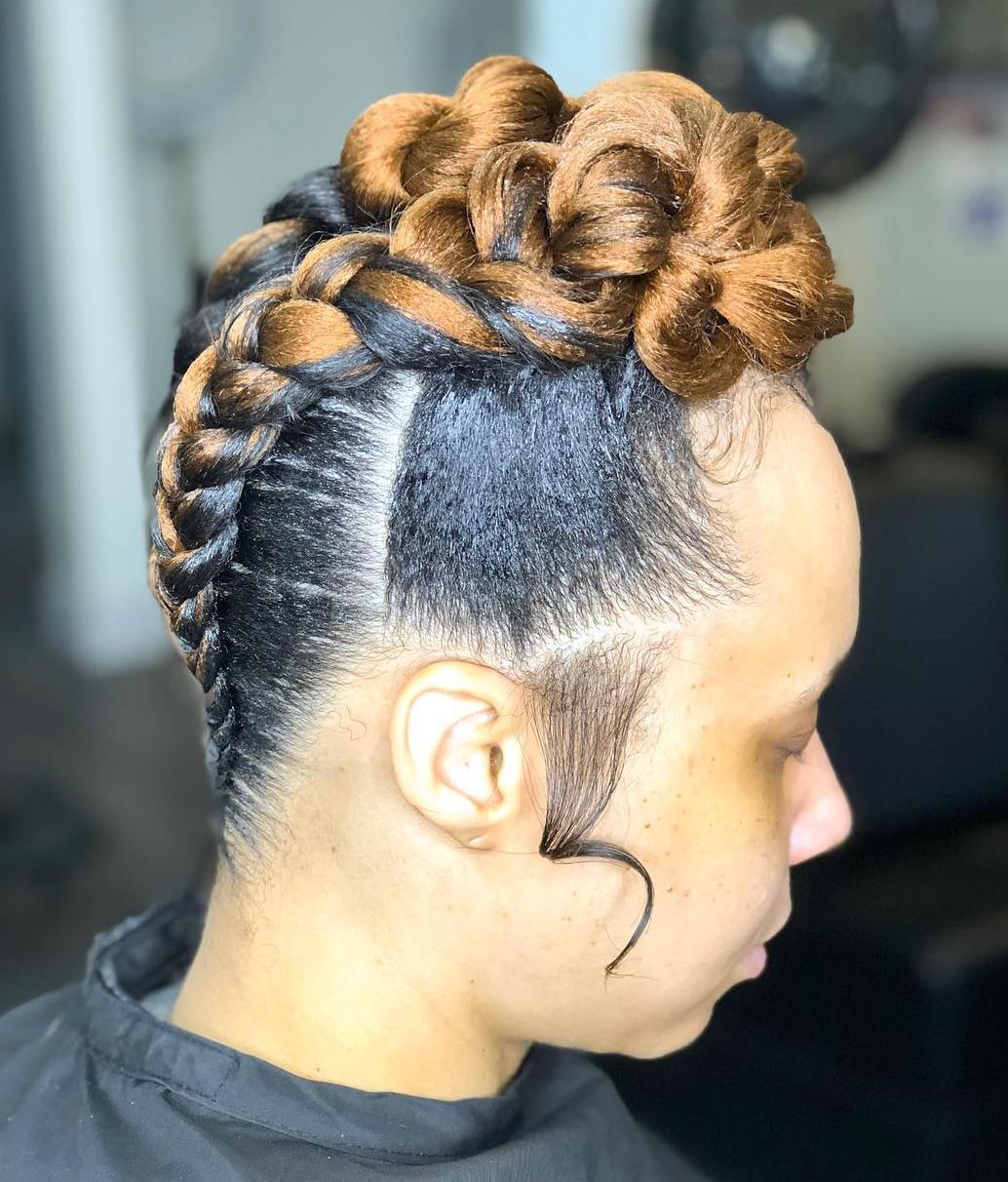 via @love2lovehair
This awesome updo incorporates two upside down French braids, wrapped into each other in the front and brightened up with shiny light brown extensions.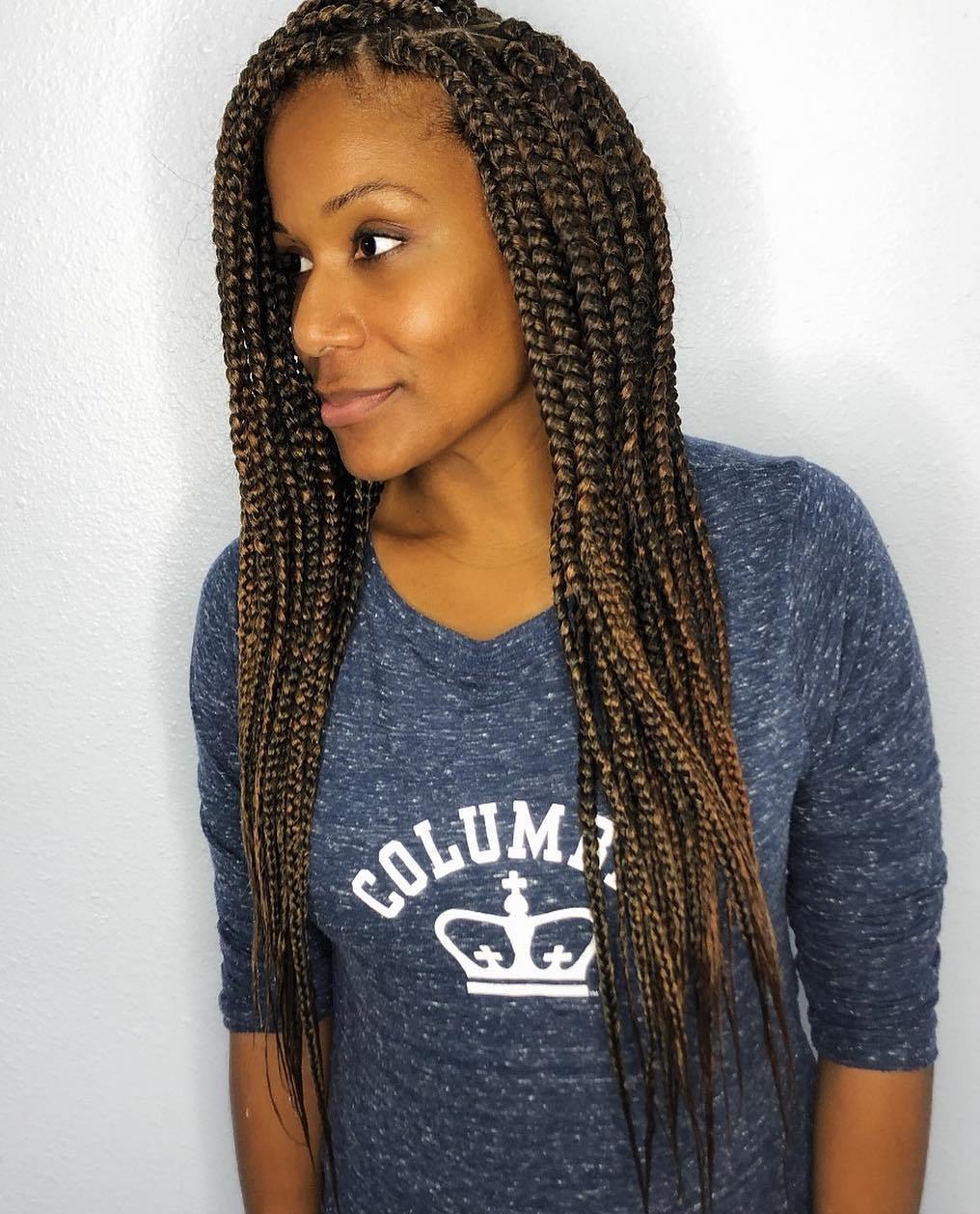 via @quita_j
It seems that box braids are never out of fashion from the times of Poetic Justice, and this long version with stick-straight tips looks edgy and carefree.
Nouvelle Protective Hairstyles
From the above-mentioned braids to multiple twists and buns, protective black hairstyles are available for almost all hair lengths and textures. Moreover, protective styling can be seen as the order of the day in modern hair art, amazing us with real masterpieces rocked by both celebrities and regular women. However, in this chase for sophisticated protective hairstyles, we shouldn't forget about their original purpose. "If you don't take care of your scalp, it defeats the entire purpose of what should be a protective style," Pekela Riley, salon owner and celebrity hairstylist to Gabrielle Union and Issa Rae, says to Allure, recommending to keep the scalp as clean and balanced as possible using products, rich in argan oil, yet with a low pH. Take this into consideration and keep scrolling for inspiring looks.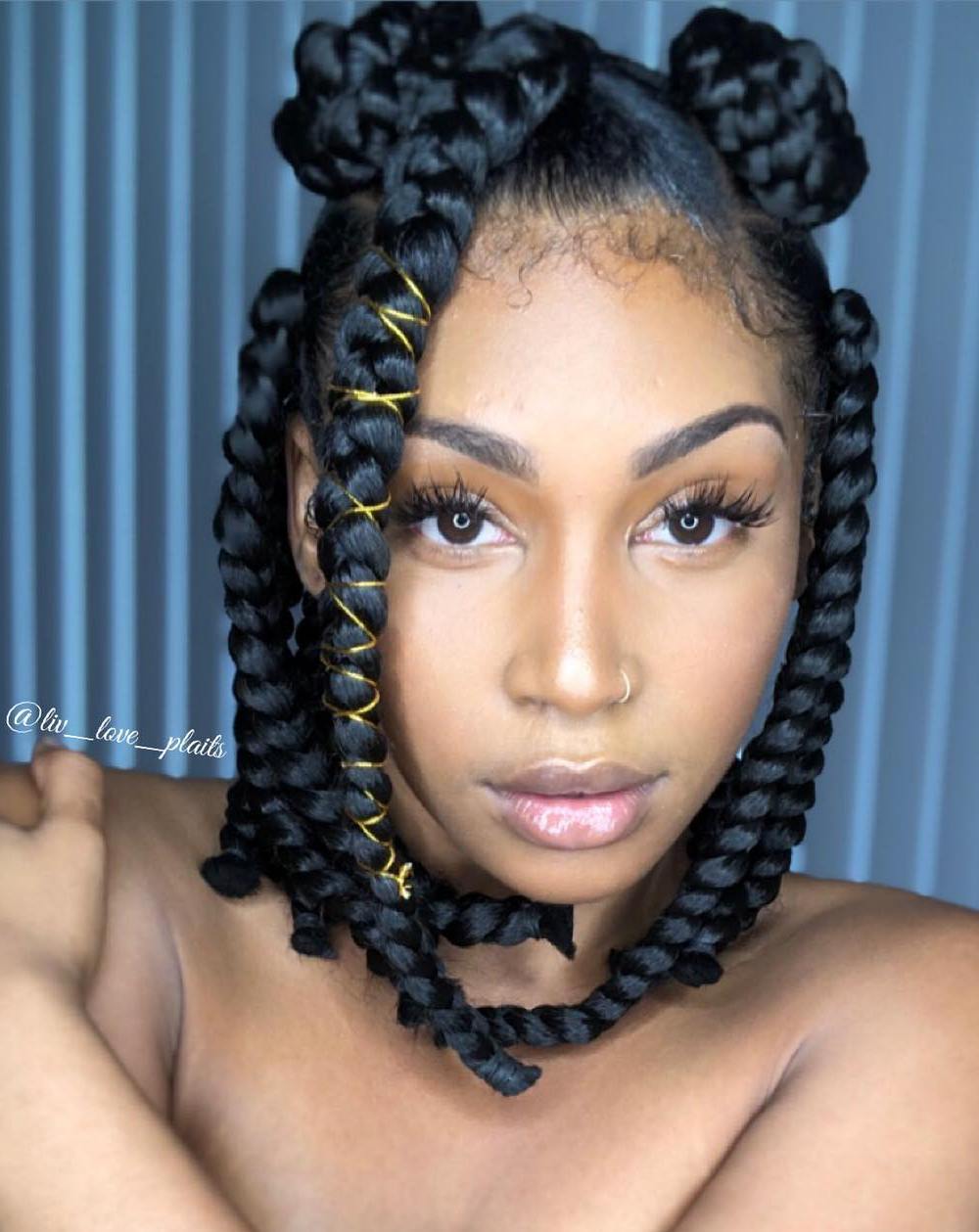 via @liv_love_plaits
This short bobbed style creatively combines braided space buns and dookie braids, placed symmetrically on the sides with one popping in the front.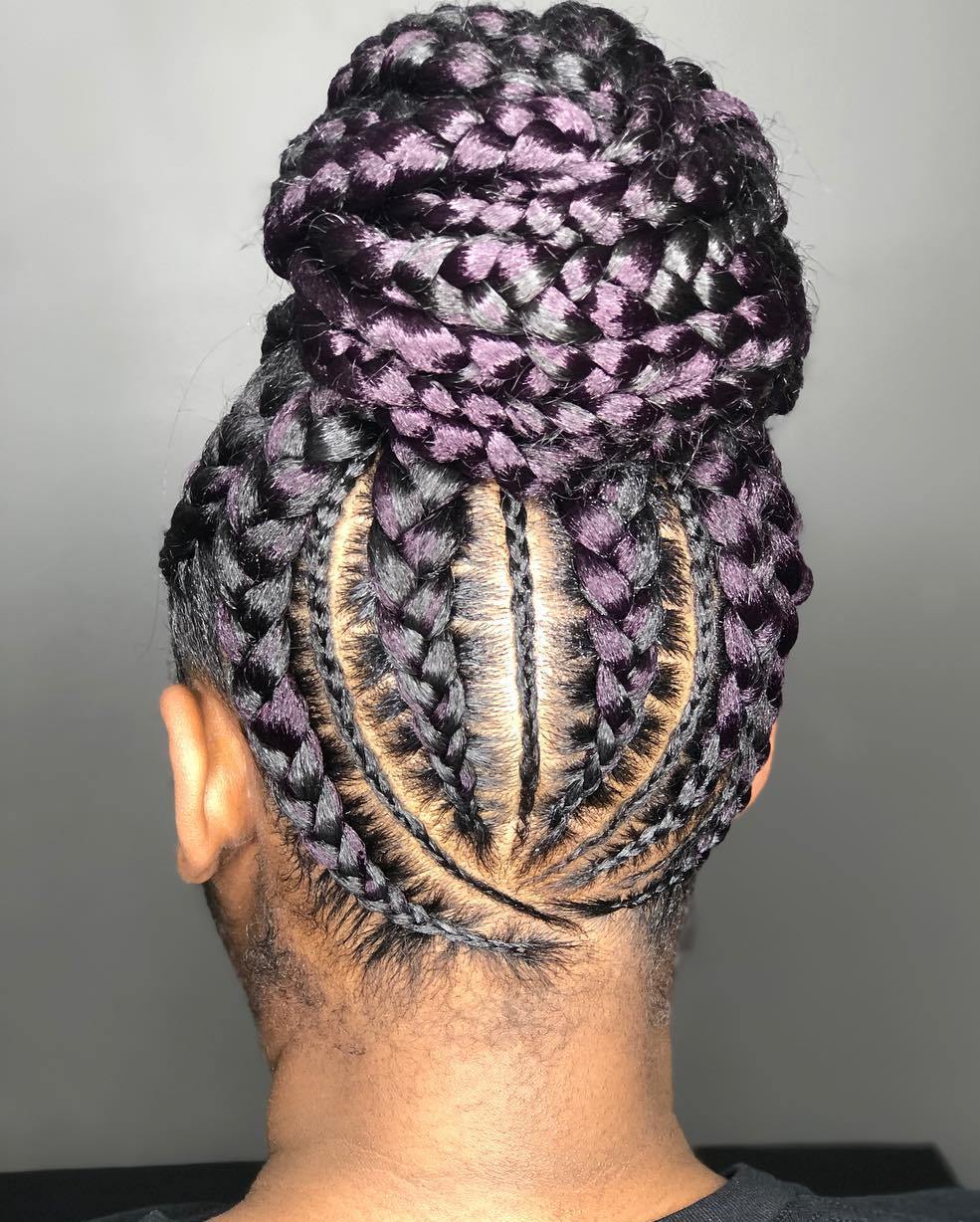 via @love2lovehair
Mixing black and purple, this shiny updo shows a nice blend of different-sized braids, wrapped into a voluminous top knot.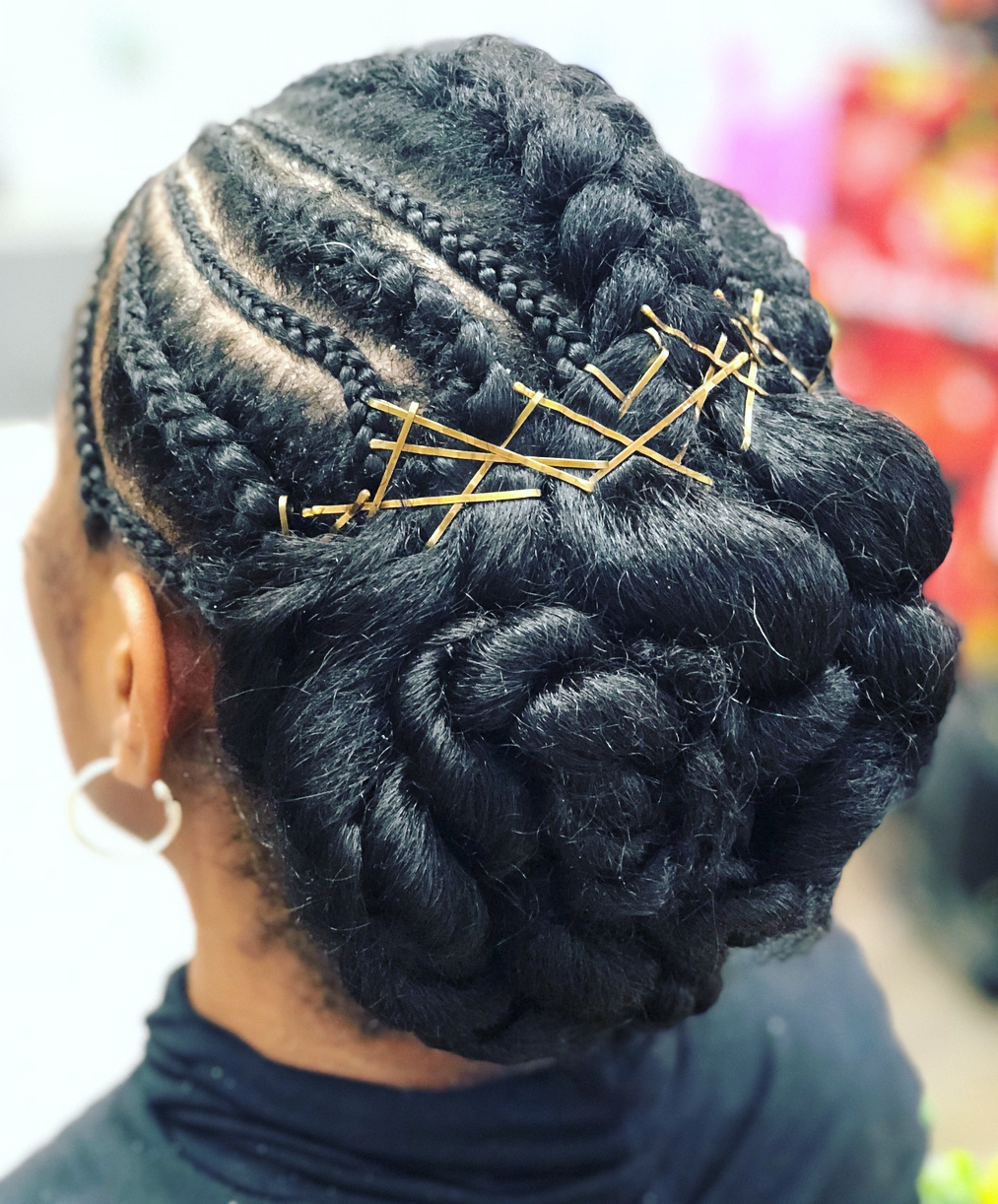 via @jhb_studios
If your hair is not thick enough for this stunning 'do, try and replicate the braids and bun combo with weave, but don't forget to use bobby pins as a trendy accessory.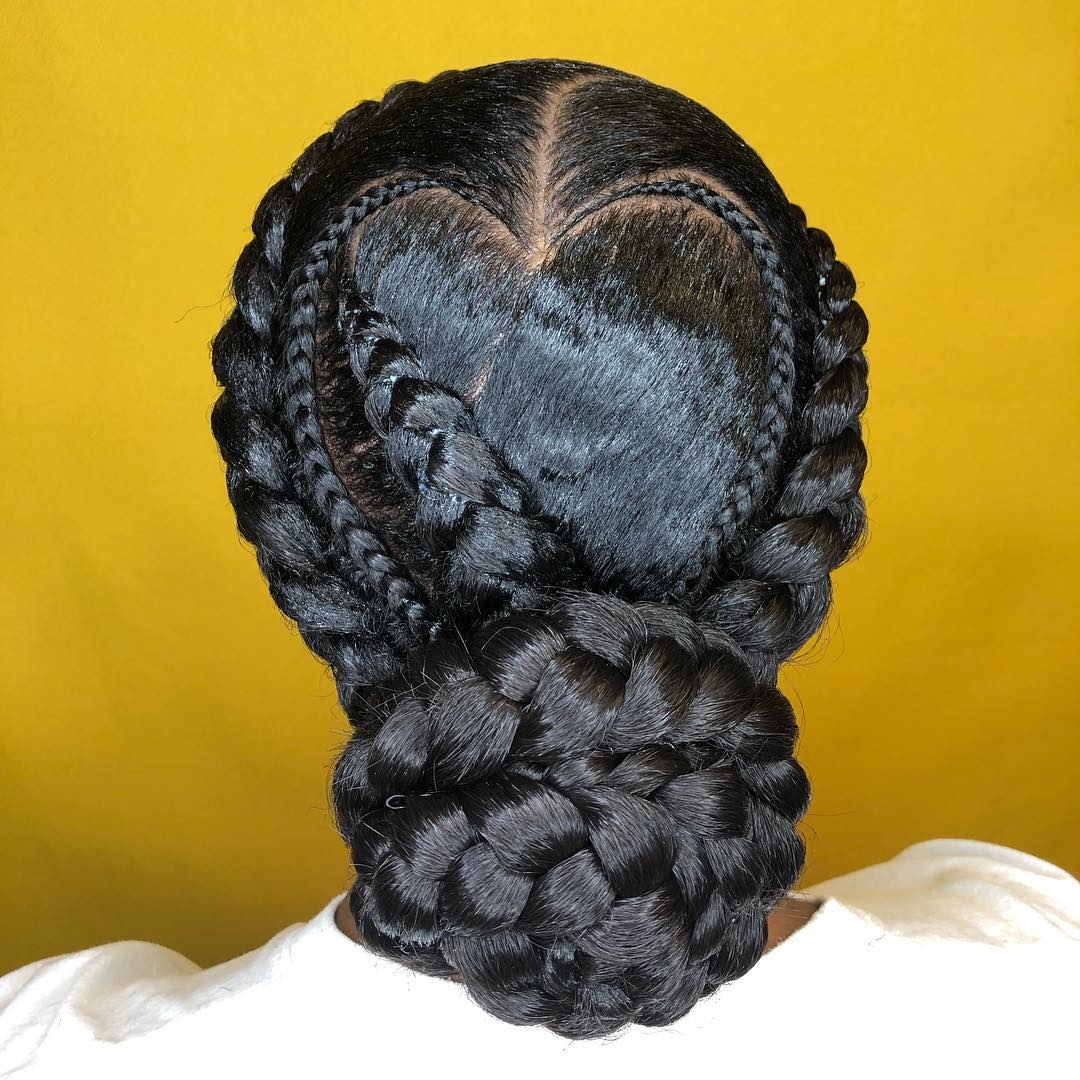 via @transformedbyo
And what about creating a lovely heart pattern with braids on the crown to give a new twist to your protective style?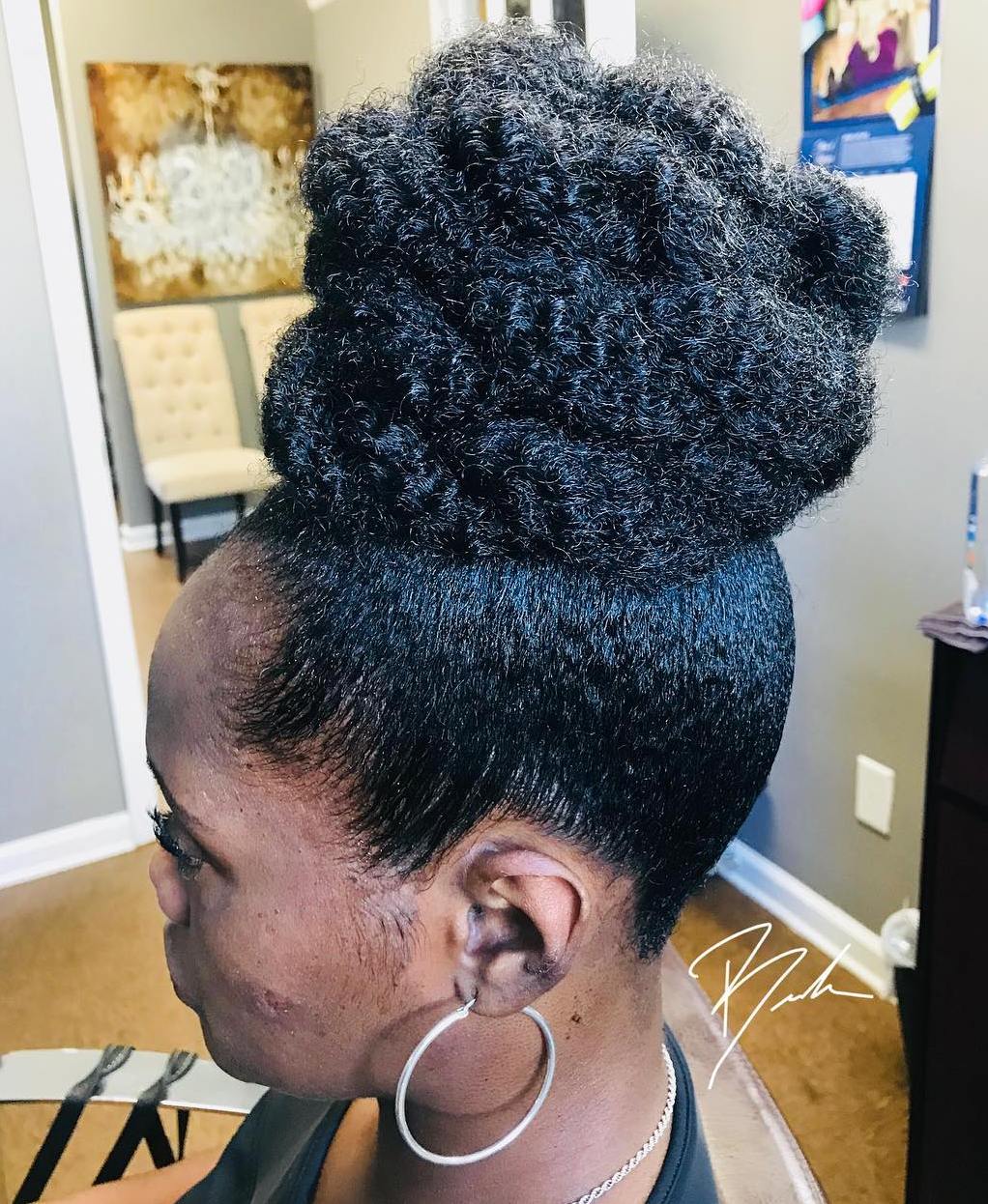 via @badubeauty
Bun hairstyles don't need to be intricate for having a vibe. This version is simple, yet boasting tons of texture and volume.
10 Best Natural Hairstyle Ideas to Steal from Instagram
You may find that it's not that easy to replicate trendy hairstyles for natural hair illustrated in our collection. Well, the race is got by running, and those real women who shared their beautiful pictures prove that the hairstyles are doable. "When I work with clients on red carpet, I'm also showing women of color, 'Hey, you can wear your hair like this, too.' You might need to approach it differently and use different products to get there, but you can do it," Lacy Redway, celebrity hairstylist with Tessa Thompson and Jourdan Dunn among her clients, tells Byrdie. Take these words of encouragement and have a look at the chicest hairstyles worth to become your next hair goal.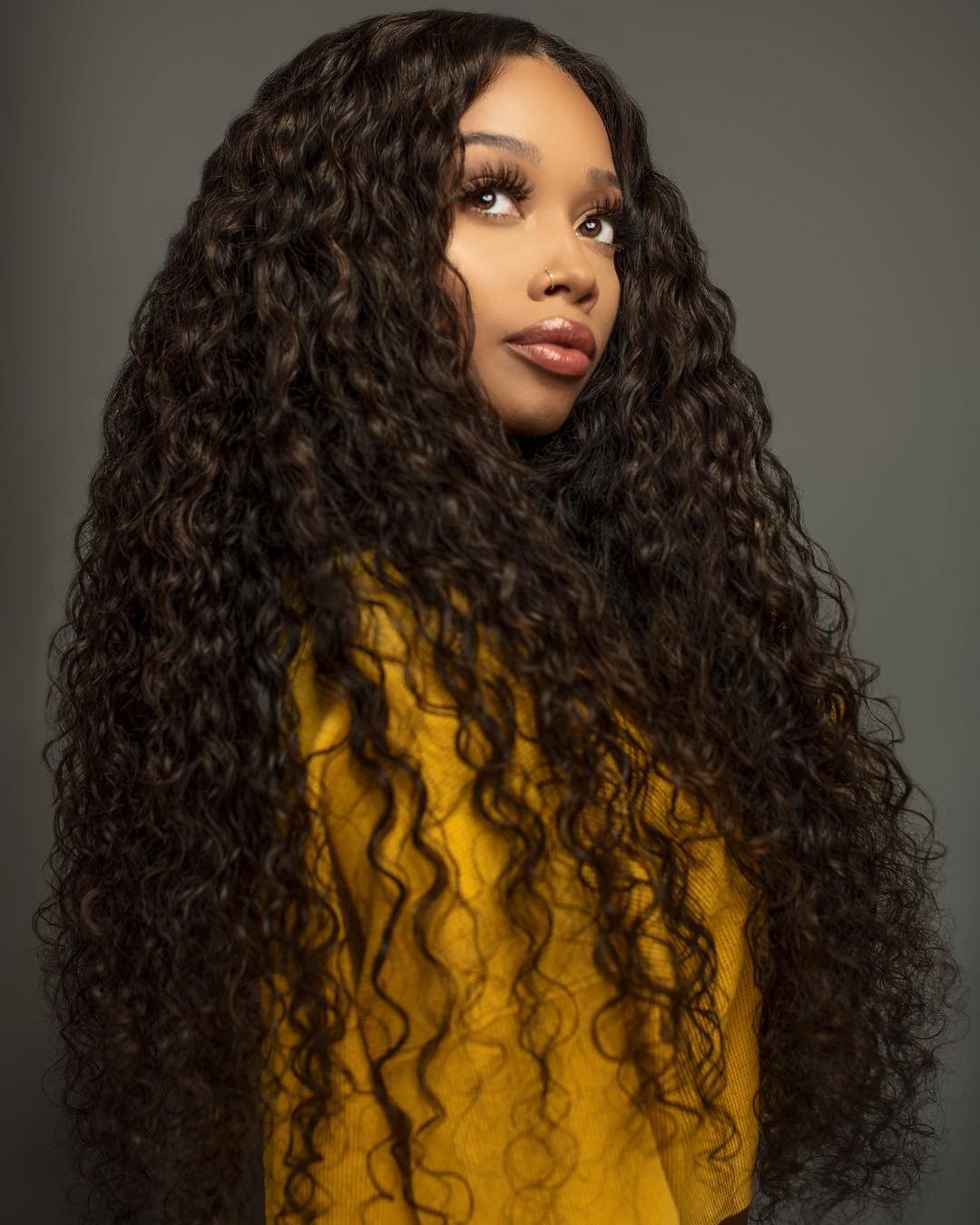 via @anthonycuts
This lavish weave hairstyle is soft and natural-looking, focusing attention rather on beautiful texture than on sophisticated styling.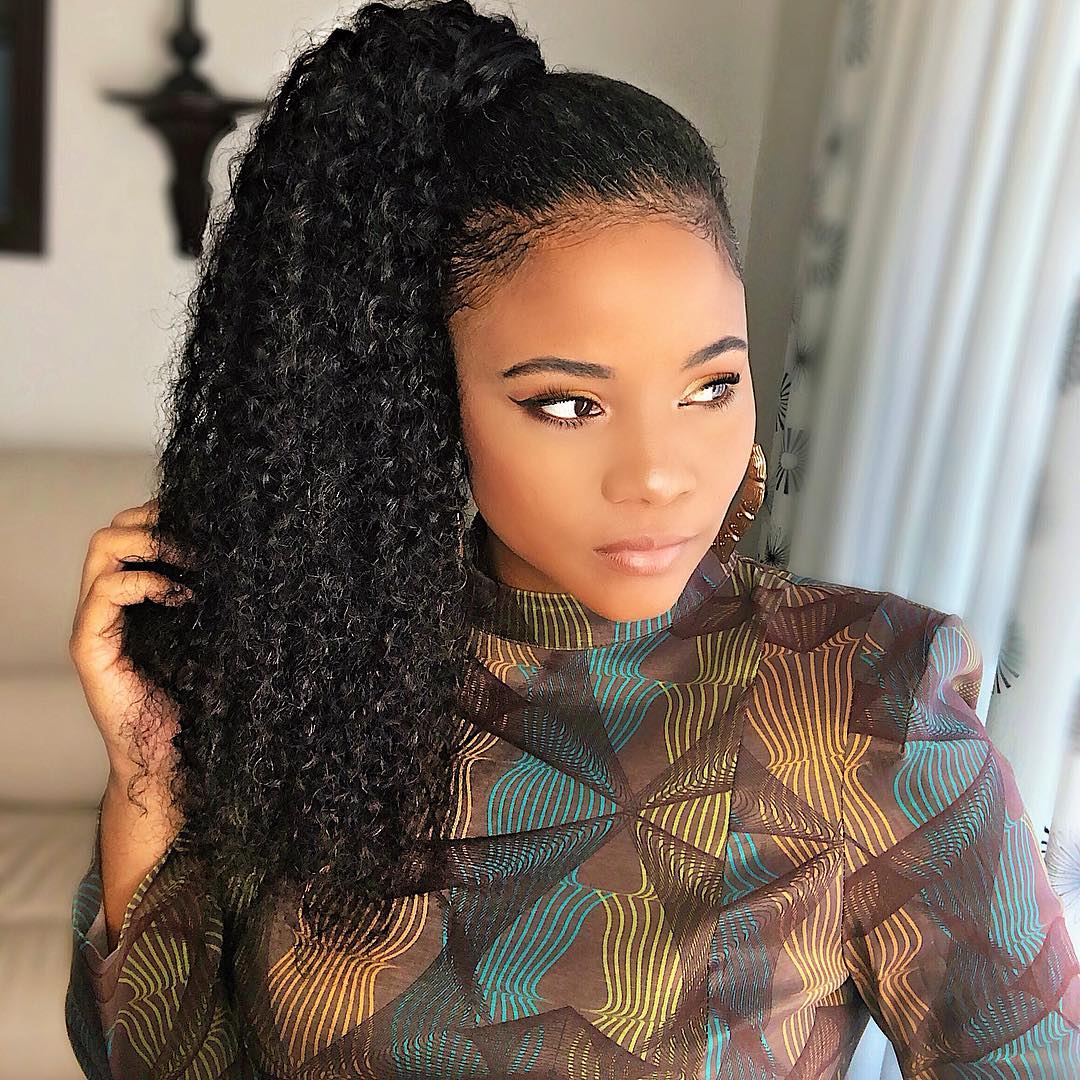 via @kienyabooker
While curly ponytail styles are all the rage, this high pony is a bit different, since it is shifted to the side to make the texture and dimension more visible.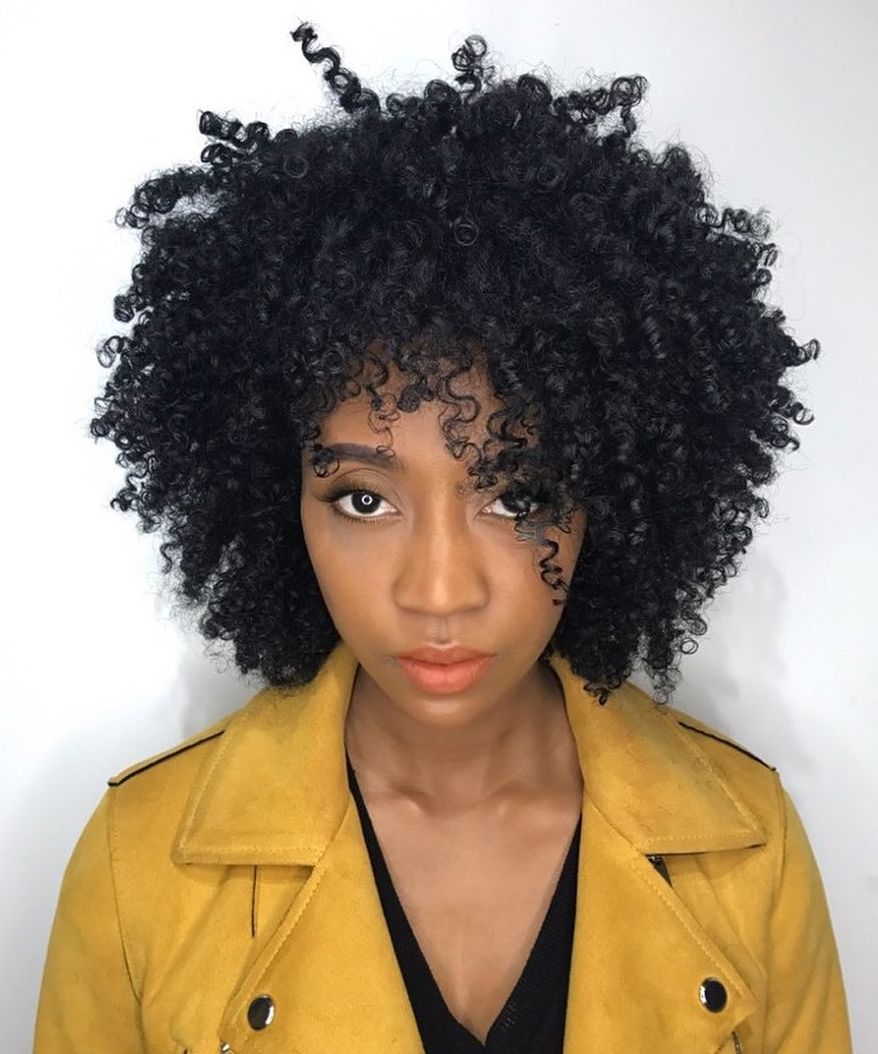 via @citycurlstudio
This African American beauty rocks a big structured Afro with handsomely defined spirals and cute bangs.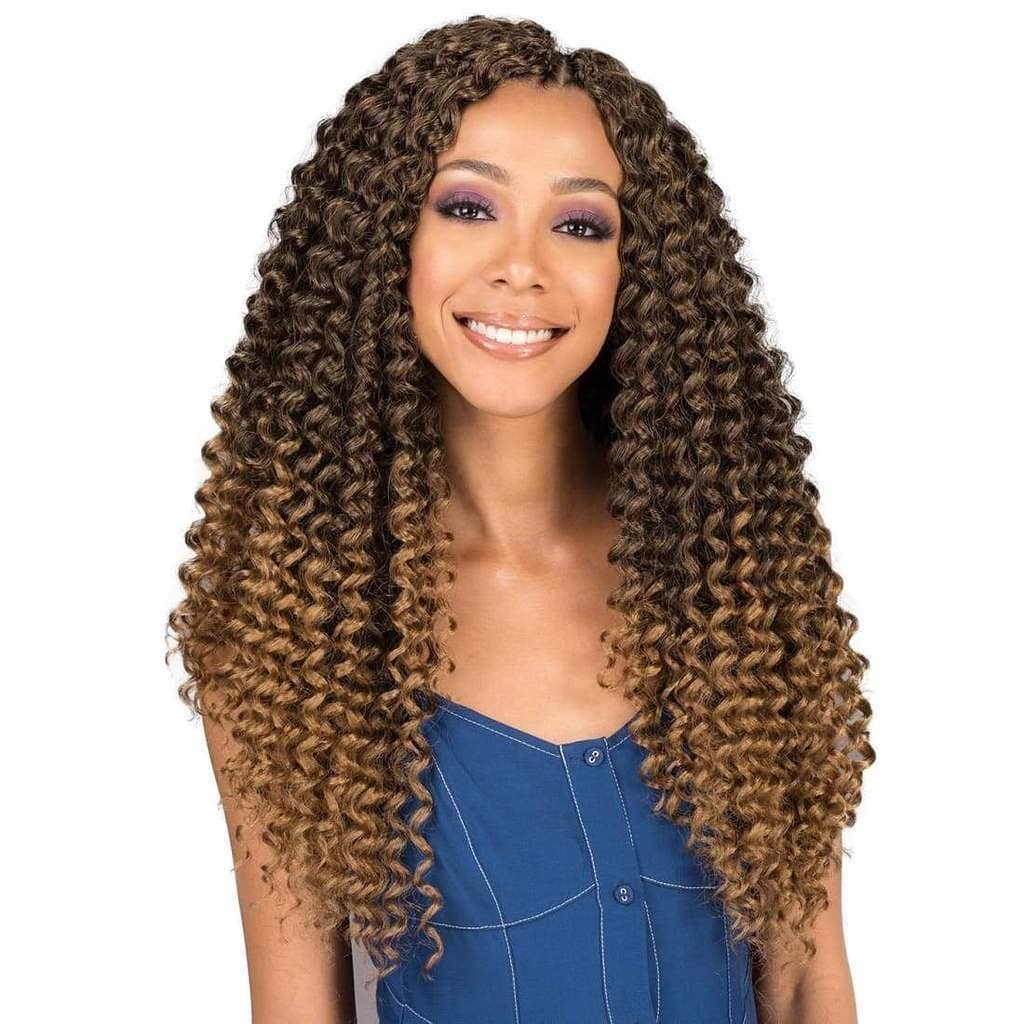 via @nyhairottawa
Radiating shine and boasting a stylish color transition, this crochet hairstyle is layered towards the bottom to give the corkscrew ringlets a nice shape.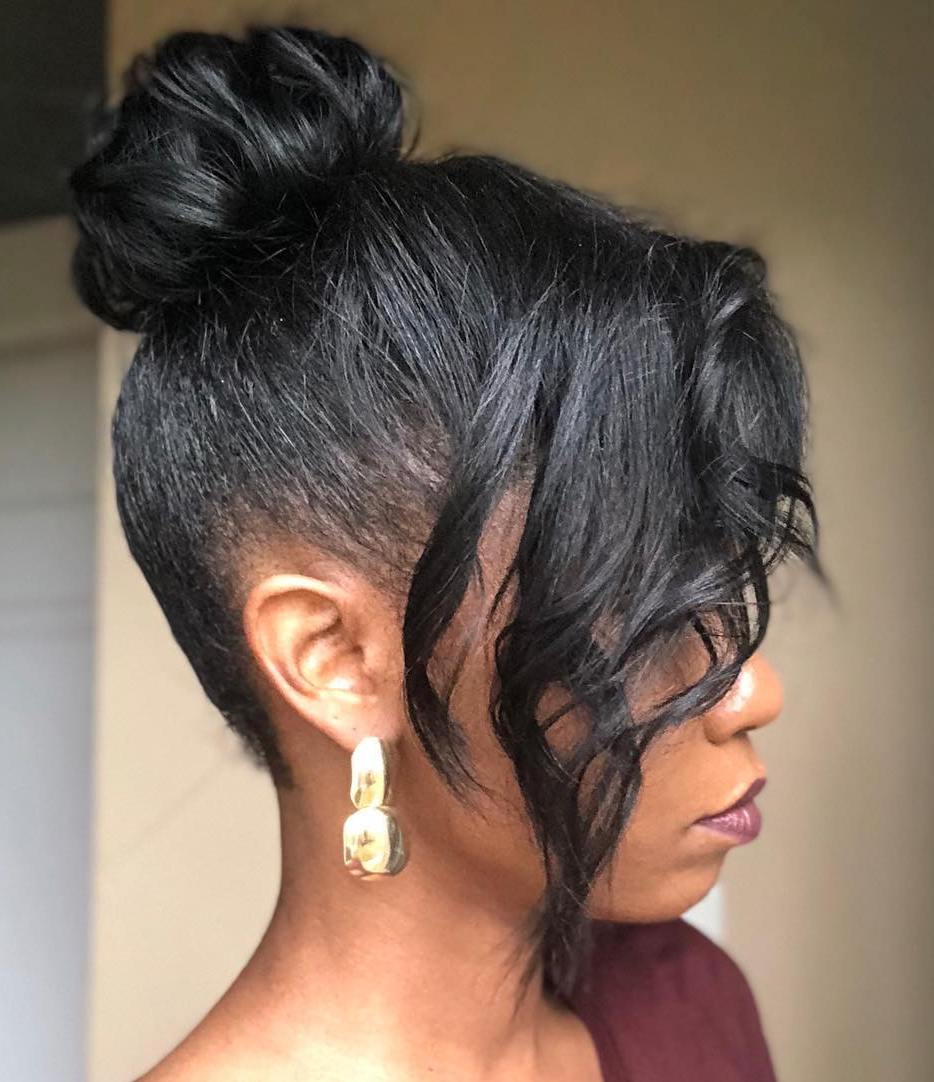 via @just_yollie
A textured bun on the crown is a highly wearable summer look, but you can take it a step further by complimenting with long curled side-swept bangs.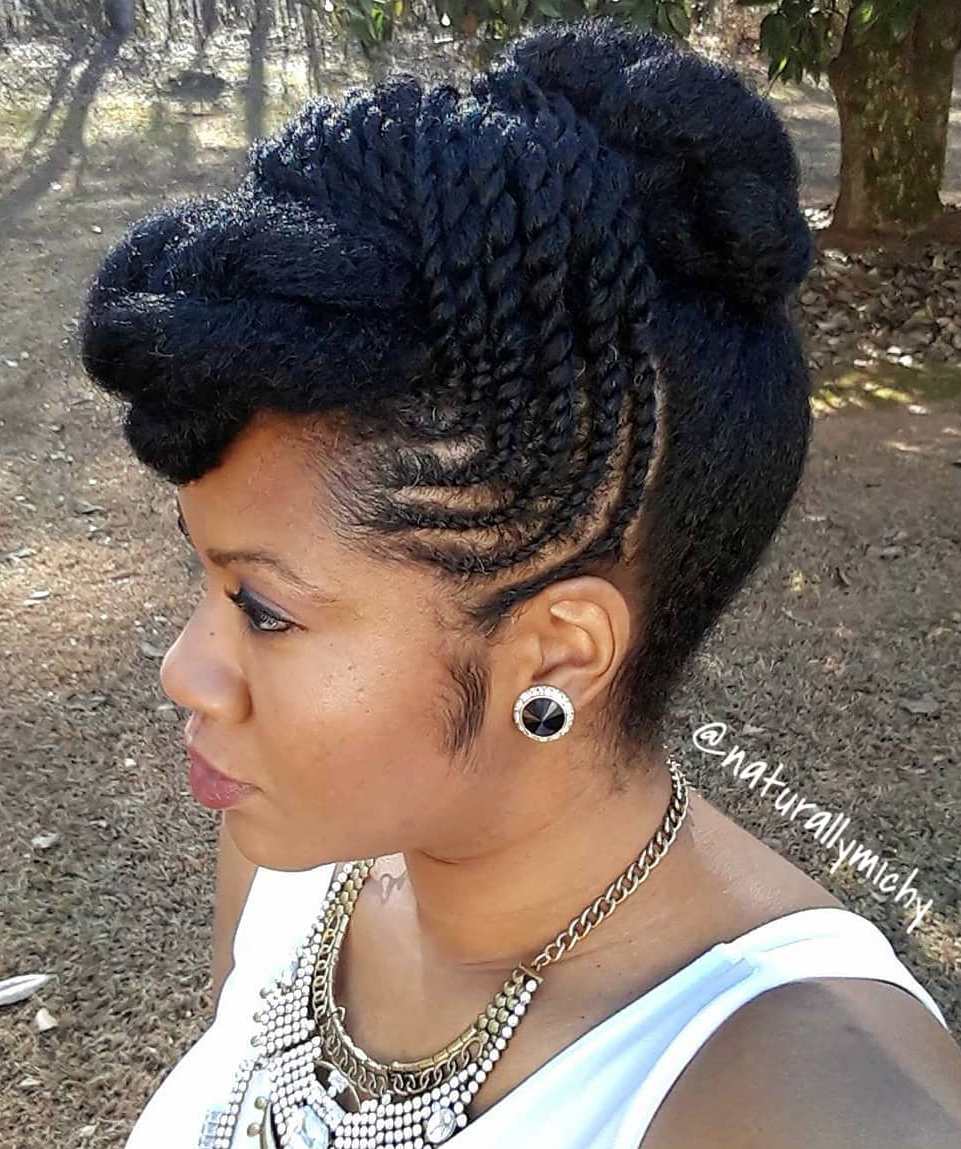 via @naturallymichy
This is an elegant and juicy protective updo that pairs twists on the sides with a voluminous twisted Mohawk.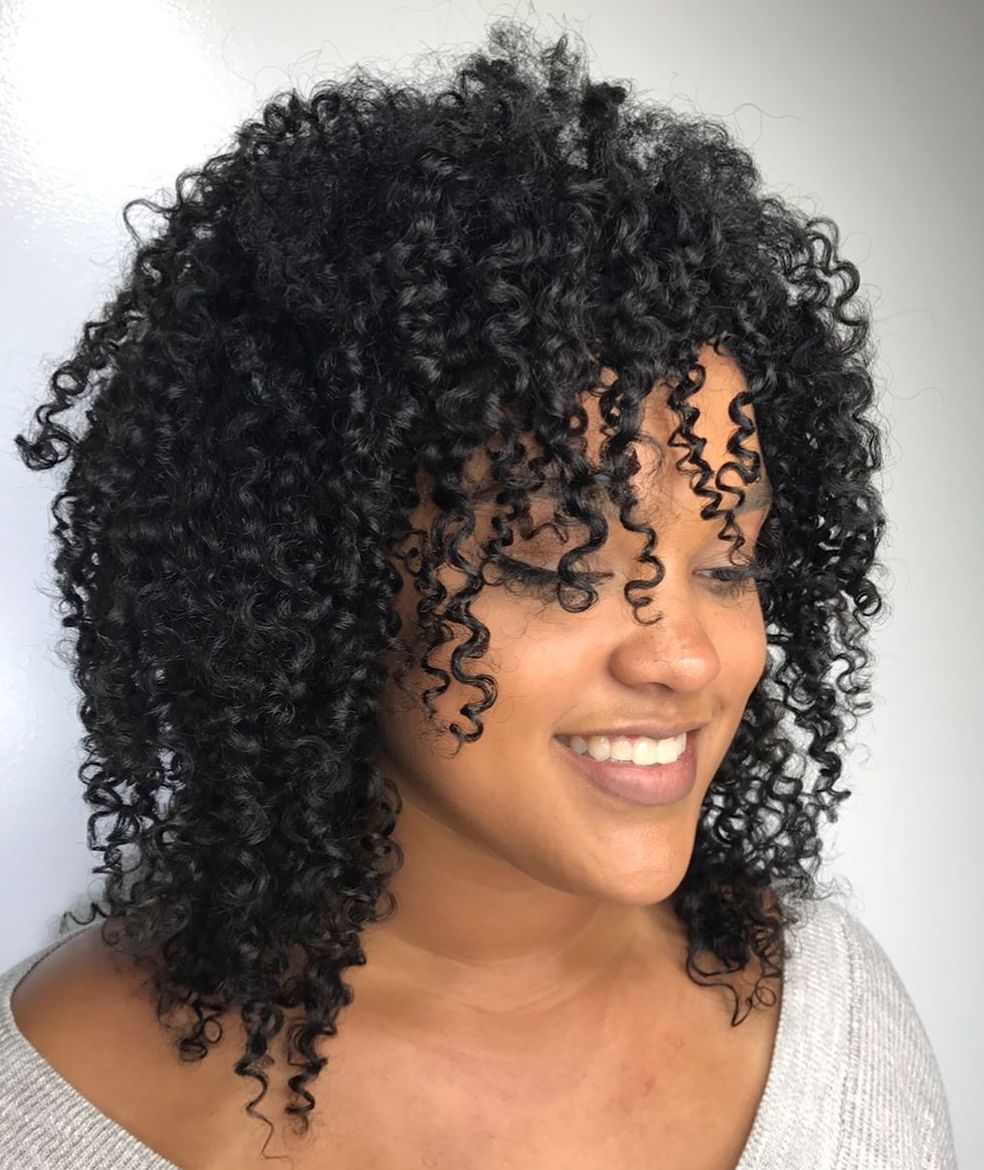 via @citycurlstudio
You can opt for a shoulder-grazing layered cut with bangs, which is wispier to the ends, while embracing frizz for a fuller appearance on top.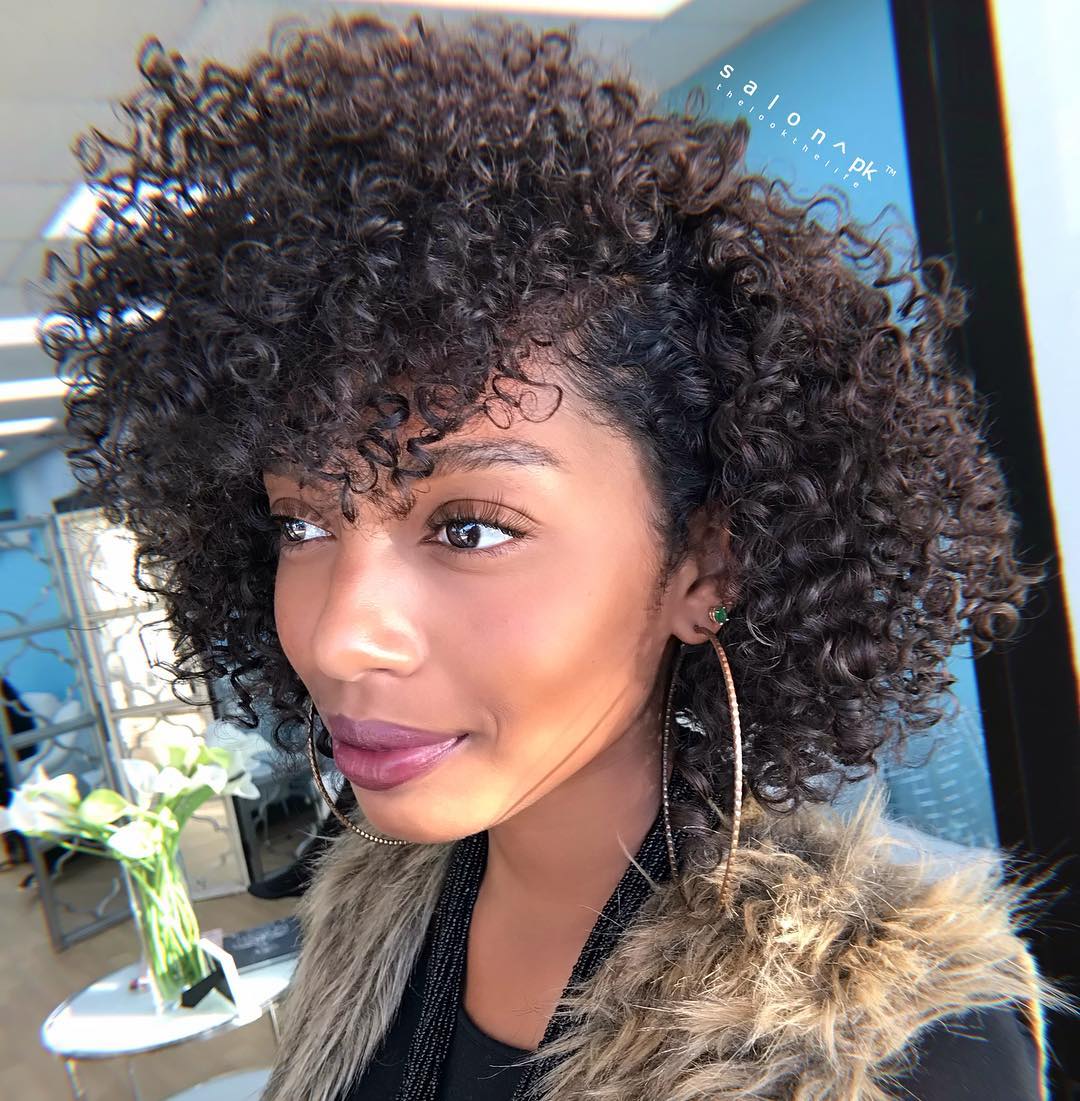 via @salonpk
Rock your kinky curls pulled to the front to create a bouncy and volumetric look, but tuck your side tresses behind the ear to open the face and to add edge.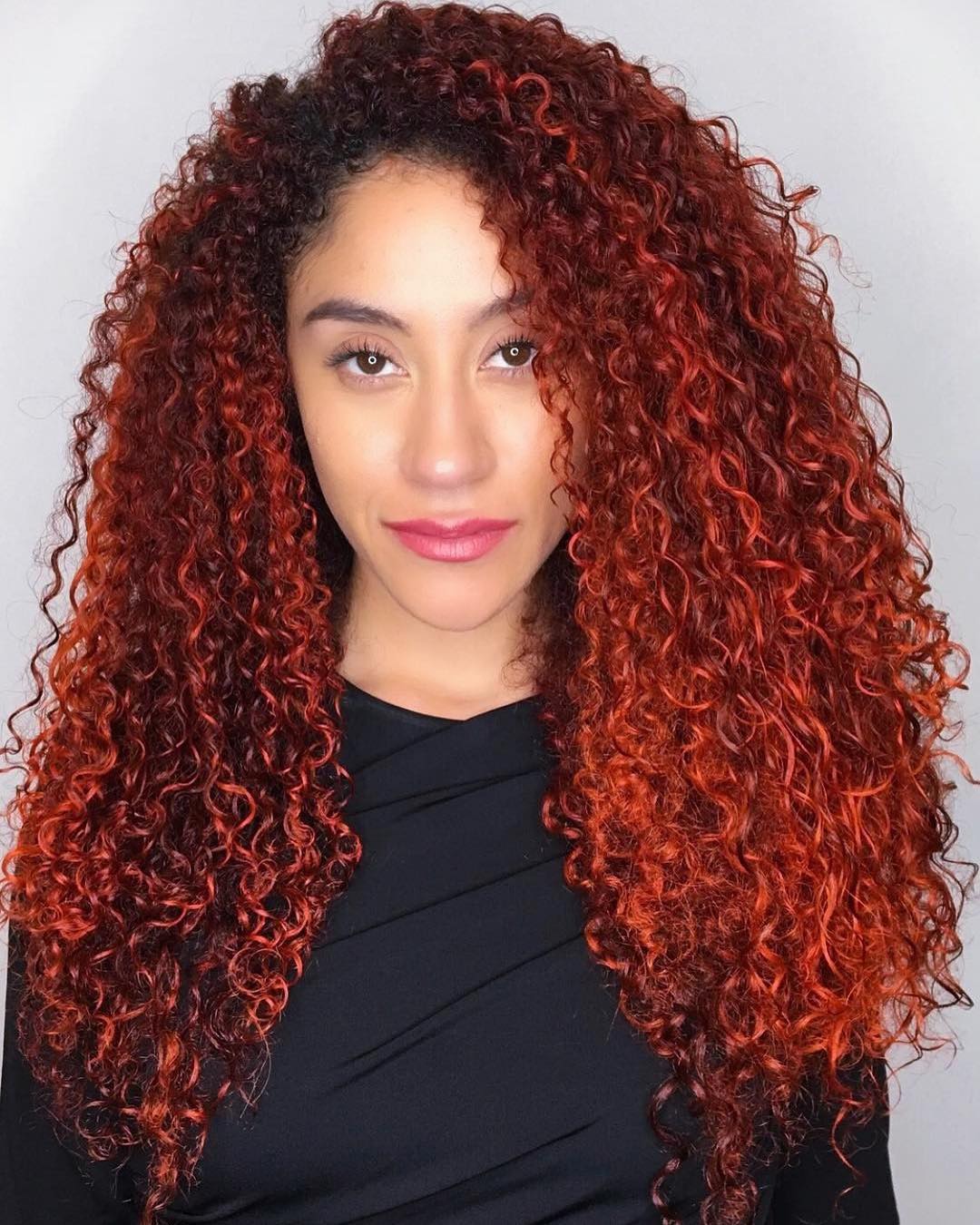 via @marcelcurlsyouon
This bright red mane is eye-popping, but not only for its fiery color – it's perfectly defined and structured to gain a springy feel.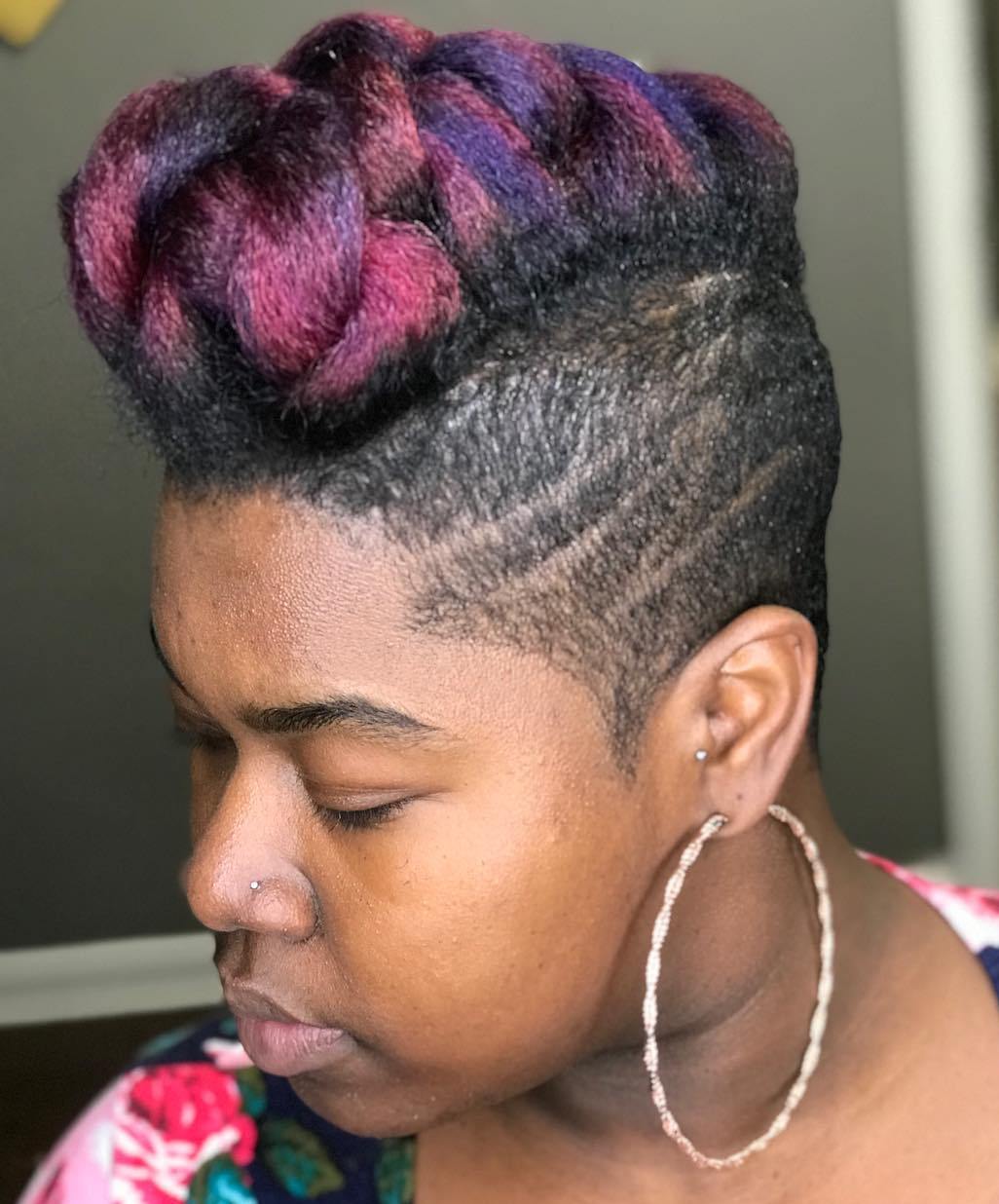 via @badubeauty
For bold girls, we suggest this bombshell twisted Mohawk with shaved sides, brightened up with both a fade design and rainbow coloring.
Hope, our pick of fancy hairstyles and haircuts for natural hair will come in handy for your future visits to a salon. Discuss your hair type, face shape, styling abilities and personal preferences with your hairdresser and get the most flattering 'do to turn all heads. Rest assured, our attention is riveted on Instagram, waiting for new screenshot-worthy looks from our users.
Sours: https://www.hairstylery.com/natural-hairstyles-for-black-women/
5 ELEGANT \u0026 SIMPLE NATURAL 4c HAIRSTYLES WITH NO EXTENSIONS 2020
Her companion was clearly agitated, he poured her champagne, which she drank. Everyone looked in their direction until they called a new number. It turned out to be a fair-haired girl all in the body, about twenty years.
Similar news:
Let me kiss you. "And she readily substituted her lips, which I had long been strongly sucked off by. We started kissing again.
856
857
858
859
860