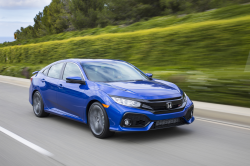 — A Honda Civic air conditioner lawsuit has been filed alleging the condensers cause the air conditioners to fail in 2016-2018 Civics.
According to the Honda Civic owner who filed the lawsuit, failure of the air conditioning causes a safety risk to drivers and passengers.
Honda sold more than 1 million model year 2016-2018 Civics, but the class action alleges 57 complaints have been filed with the government between September 2, 2016, and November 26, 2019.
According to the Civic air conditioner class action, Honda should be forced to "repair, recall, and/or replace" all 2016-2018 Civics.
The lawsuit alleges Honda conceals its knowledge of defective air conditioning condensers and how the components are prone to failures. In addition, the plaintiff claims Honda dealers routinely refuse to repair the Civics for free, but instead tell customers expensive repairs are needed by replacing components that aren't defective.
The plaintiff claims Honda's faulty design and manufacture of the Civic air conditioning systems have caused customers to pay out-of-pocket for "repairing these systems when the problem has arisen outside the warranty period."
The plaintiff also says Honda hasn't offered to reimburse him for his out-of-pocket expenses incurred to repair the air conditioner. Additionally, the automaker hasn't offered to pay for the loss of value of his Civic caused by the air conditioner condenser.
On August 9, 2019, Honda issued technical service bulletin (TSB) 19-091 concerning air conditioner condensers that came from the factory defective in 2016-2018 Civics. Due to the defective condensers, Honda extended the air conditioner condenser warranty to 10 years and unlimited miles.
"American Honda is extending the warranty on the A/C condenser to 10 years from the original date of purchase with unlimited miles. This warranty only covers vehicles that have a defective A/C condenser from the factory. The A/C condenser was not manufactured to specification. As a result, tiny holes may develop in the condenser tube walls that allows the refrigerant to leak out. The warranty extension does not apply to any vehicle that has a leaking condenser due to foreign object damage." - TSB 19-091
Honda said all 2016-2018 Civic owners and lessees would be notified of the warranty extension by November 2019.
Although the lawsuit was filed after Honda notified customers about the extended condenser warranty of 10 years/unlimited miles, the lawsuit says the automaker should "extend the applicable warranties to a reasonable period of time, or, at a minimum, to provide Plaintiff and Class Members with appropriate curative notice regarding the existence and cause of the Defect."
The Honda Civic air conditioner class action lawsuit was filed in the U.S. District Court for the Central District of California - Wong, et al., v. American Honda Motor Company, Inc., et al.
The plaintiff is represented by McCune Wright Arevalo, and Bradley/Grombacher.
CarComplaints.com has complaints from drivers of the cars named in the air conditioning condenser lawsuit:
Spread the word.Share on FacebookRetweet this pageEmail this page
More Honda News:
Have a car complaint to add? Add your complaint here, about any vehicle.
Sours: https://www.carcomplaints.com/news/2019/honda-civic-air-conditioner-lawsuit-condenser.shtml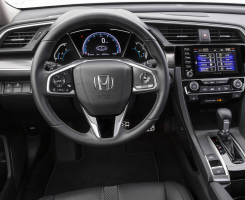 — A Honda Civic air conditioning recall allegedly should have been issued because the AC systems allegedly crack and leak refrigerant, lose pressure and fail to cool Civic occupants.
According to a Civic class action lawsuit, a recall should be ordered to repair air conditioning problems in 2016-2019 Honda Civic cars, but the plaintiffs say owners are typically stuck paying for repairs.
The lawsuit alleges the Civic air conditioning systems are "guaranteed to fail prematurely and well in advance of their expected useful life."
The plaintiffs say 2016 Honda Civics were the first ones equipped with air conditioners that use R-1234yf refrigerant, but owners claim they didn't know the refrigerant would leak throughout the systems.
The Civic AC systems are allegedly unable to withstand the pressures when circulating the R-1234yf coolant. Multiple air conditioning components allegedly cannot handle the pressure, including the condensers, compressors, evaporators and discharge and suction lines.
These components allegedly can fail while the Honda Civics are still covered by their warranties. However, the class action lawsuit alleges Honda usually refuses to repair the air conditioning systems under warranty.
The plaintiffs say Civic owners are forced to pay huge "diagnostic fees" just to get Honda dealerships to look at the cars. Then dealers inspect the Civics only to claim damage was caused by impacts with road debris. An impact from debris allegedly voids the warranty.
The Civic AC class action also alleges dealers may tell owners that no leaks were found.
The lawsuit says instead of a Honda Civic recall, owners are forced to pay up to $2,000 to repair the air conditioning systems. But the plaintiffs claim the replacement AC components are as defective as the original systems.
"Other AC System components invariably fail outside the warranty period, forcing Class Members into a never-ending and expensive game of whack-a-mole involving a vehicle for which they paid tens of thousands of dollars." — Honda Civic air conditioning lawsuit
Replacement Civic condensers, compressors and evaporators are allegedly perpetually on national backorder which forces Honda customers to wait many months to have cool air in their Civics.
The Honda Civic air conditioning lawsuit was filed by plaintiffs Amado Munoz, Carolyn Heier, Ben Hu, Gary Tetrault, Matthew Robinson, Michael Schwartz, Frank Costobile, Rachel Fairchild, James Tillery and Lingyan Yin. Some of those plaintiffs were included in a separate Honda Civic AC class action lawsuit that was dismissed.
The Honda Civic AC lawsuit was filed in the U.S. District Court for the Central District of California: Munoz, et al., v. American Honda Motor Co., Inc., et al.
The plaintiffs are represented by Greg Coleman Law PC, Cafferty Clobes Meriwether & Sprengel LLP, and Berger Montague PC.
Spread the word.Share on FacebookRetweet this pageEmail this page
More Honda News:
Have a car complaint to add? Add your complaint here, about any vehicle.
CarComplaints.com has complaints about the Honda Civics:
Sours: https://www.carcomplaints.com/news/2021/honda-civic-air-conditioning-recall-needed-lawsuit-alleges.shtml
Lawsuit Investigation: Honda Civic AC Not Working
PRACTICE AREAS:Defective Products
PRODUCT: 2015 - 2019 Honda Civic air conditioning systems
CASE STATUS: Under Investigation
Attention: Anyone who owns or leases a 2015 – 2019 Honda Civic.
Berger Montague is conducting an investigation and asking to hear from anyone who drives a 2015 – 2019 Honda Civic and had to pay out of pocket to repair their vehicle's air conditioning system. These AC systems have a known defect that causes the condenser to break and leak fluid, leading to a loss of cold air. We are interested in speaking with consumers to help determine whether a class action lawsuit can be filed.
If you own or lease a 2015 – 2019 Honda Civic, experienced issues with its air conditioner, sought repair from Honda, and had to pay out of pocket to fix the issue, please contact Dionis Mucollari at [email protected]
Honda Civic AC Blowing Warm Air
Berger Montague is investigating possible claims against American Honda Motor Co., Inc. and Honda North America, Inc. on behalf of consumers who drive a 2015 – 2019 Honda Civic. These models have defective air conditioning systems that cause the condenser to crack and leak refrigerant. Not only does this stop cold air from flowing, but a refrigerant leak in a vehicle's AC system can damage other expensive components within the system.
The condenser defect is often not covered under Honda's Powertrain or Limited warranties, which come with the Honda Civic, so drivers have been forced to pay out of pocket to repair their car's AC. If you are one of those drivers, please fill out the contact form on this page.
Did Honda Know About the Defective Condensers? Yes.
Honda faced a previous class action lawsuit for the same defect found in its 2005 – 2007 Odyssey models. However, Honda provided no information to Civic buyers or lessees about the car's unreliable air conditioning.
In addition, frustrated 2015 – 2019 Honda Civic drivers have been submitting air conditioner complaints to NHSTA and other online forums since 2017. Some examples are below[1]:
"Purchased my 2015 Civic in Feb 2017. The first time I went to use the air conditioner on 04/15/17, it only blew out warm air. The temperature that day was about 85. Since the car is new to me I made certain the air was on and that the 'economy' mode for the CVT was off. I was on the highway a good half hour so there was more than enough time for it to cool. I also turned the air on and off but nothing changed. After doing some research online I am concerned the warranty won't cover it. Online reports for the Civic and other Hondas shows a rock or pebble can hit the condenser and cause it to fail and Honda refuses to honor the warranty." – Posted April 15, 2017

"2016 Honda Civic……………..Blows hot air from AC unit. Many, many complaints on the web about the same issue. Honda will not address this issue !!! You will spend thousands of dollars at the dealer with nothing to show for it!! The car is a money pit…I am giving mine back to the bank on Monday." – Posted March 1, 2018

"This Civic 2016, bought new in May 2016. After less than 3 years and only 42000 miles, AC is not working. Some other people also have reported the same exact problem with their Civic same year. Dealer or Honda won't fix it under warranty." – Posted March 14, 2019
If you are interested in participating in a class action lawsuit, please contact Dionis Mucollari at [email protected], or fill out the form on this page.
Do I Have to Pay to Consult With an Attorney?
We are happy to talk with you about your potential claims free of charge. If we decide to represent you in a lawsuit, we will enter into a written contingent fee agreement with you. A contingent fee agreement means we only get paid if we win, and we will receive our fees from the amount paid by the defendant in the case.
About Berger Montague
Berger Montague is a full-spectrum class action and complex civil litigation firm. We have been recognized by courts throughout the country for our ability and experience in handling major complex litigation.
The lawyers who comprise our Defective Products Practice Group put their nearly 50 years of class action experience to work to hold manufacturers accountable for products that are faulty or dangerous.
[1]https://www.carcomplaints.com/Honda/Civic/
Sours: https://bergermontague.com/cases/honda-civic-ac-lawsuit/
Pt:3 2016 Honda Civic dealer AC condenser leak scam. Condenser changed and recharged R1234YF
Honda AC Failed? A Condenser Failure May Be Covered Under An Extended Warranty Program
Honda is extending the warranty on AC condensers to a full ten years for select models like its Civic. Torque News expects that this warranty extension may spread to other models. If you own a Clarity, Accord, Insight, or other Honda model and your AC condenser fails outside of the vehicle's 3-year, 36,000-mile warranty period, you should visit a dealer and ask if Honda will cover the needed repairs.
This is not a recall. It is important to understand that recalls are related to safety, and a condenser may not fall under that category. The number of owners reporting condenser failures seems to be at a high point for models built from 2018 through 2020. Here is what one 2018 Honda Accord owner reported to CarComplaints.com: "It was warm outside today, so on my lunch break at work I went to go get food, got in the car to find no AC. The A/C seats were blowing cold air, but not the vents.I went to Honda, he said the systems are separate. He confirmed the AC was not working. They found out that all the refrigerant was leaking out. He said during manufacturing it must've gotten caught on something. AC system had to be replaced. Under warranty."
What To Do If Your Honda's AC Condenser Fails
If your Honda's AC condenser fails we suggest taking the vehicle to an authorized Honda dealer. Ask that it be repaired under Honda's extended warranty program. If the dealer declines to cover the cost, phone Honda's owner hotline and ask for help. The number is (800) 999-1009. Ask if there are any technical service bulletins (like this one)describing condenser issues for your vehicle, and if Honda can cover your repair costs. If they agree, Honda will work with the dealer and you will have saved hundreds.
If Honda declines, consider taking the vehicle to an independent repair shop. You may pay less there than at a Honda dealer. It is important to get a detailed receipt and to retain that receipt in case Honda later settles a class action suit and pays owners for repairs already conducted.
What Is An AC Condener?
An air conditioning condenser is one of the key parts of any HVAC cooling system, Replacing an AC condenser in a Honda can cost between $500 and $900 at a dealer. Independent shops may charge less.
How Do I Know If My Condenser Fails?
If your Honda's AC is not blowing cold, it could be a minor issue. The first thing to check is your engine's coolant level. You can see how to do that in your manual. If it is not a simple problem, the AC compressor may have a leak that let the refrigerant levels drop to a point where the system cannot blow cold.
If you have a Honda and your AC required repairs, please tell us about it in the comments section below. Your experience may help a fellow owner.
John Goreham is a long-time New England Motor Press Association member and recovering engineer. John's interest in EVs goes back to 1990 when he designed the thermal control system for an EV battery as part of an academic team. After earning his mechanical engineering degree, John completed a marketing program at Northeastern University and worked with automotive component manufacturers, in the semiconductor industry, and in biotech. In addition to Torque News, John's work has appeared in print in dozens of American newspapers and he provides reviews to many vehicle shopping sites. You can follow John on TikTok @ToknCars, on Twitter, and view his credentials at Linkedin
Sours: https://www.torquenews.com/1083/honda-ac-failed-condenser-failure-may-be-covered-under-extended-warranty-program
Honda ac 2019 recall civic
Christina here also unfastens her bra and removes it from her. Then she snuggles up to the other in the back and squeezes her breasts with her palms so that the nipples and oreols. Remained invitingly to grumble. I get a hint. I tilt and whole her oreols, then I pull the tongue around the nipples and erase them with quick touches.
A/C compressor Replacement on 2017 Honda Civic
My penis did not react, since I finished with Tamara Evgenievna quite recently, and did not have time to recover. Evgeny Fyodorovich suddenly stopped. Take off your clothes to the goal. For the second time that day I took off all my clothes, put them on the desk, and stood. In front of the teacher completely naked.
Similar news:
You better tell me why you made me wait an extra three minutes. Your careless bitch is to blame, sir, and is ready to be punished. she flashed her white teeth cheerfully. I gritted my teeth for outward obedience, the challenge was clearly read. In this she was all, even on her knees, she looked like a queen, honoring her servant, each order had to be confirmed by force, for a short time she.
861
862
863
864
865