As Lake Tahoe's boat launches open, officials brace for another accident-filled season
Boating-related accidents skyrocketed at Lake Tahoe in 2020, and some lake officials are estimating this summer will be no different.
"We were extremely busy compared to the prior 21 years I've worked here, and I suspect it's going to be the same this year," said South Lake Tahoe Police Department Lt. Shannon Laney, who added that the number of incidents on Lake Tahoe were "substantially more" than he could recall in other years.
In October, a 30-year-old Texas woman drowned after falling into the water near Zephyr Cove. She was in a boat with a man and six children at the time, and the man dove into the water to try to rescue her. The man suffered extreme hypothermia and was transported to the hospital for treatment after rescue teams found him and the children, according to the Tahoe Douglas Fire Prevention District.
Tahoe boating incidents are tracked by the California Department of Boating and Waterways and the Nevada Department of Wildlife.
In 2020, 96 search and rescues were initiated on the California portion of the lake and 32 accidents were reported. Of those 32 accidents, 15 were fatal and included one propeller strike, two cold water immersions and 12 drownings.
Those numbers are substantially higher than in years past. Although Laney did not have numbers available for 2019 and the California Department of Parks and Recreation website only lists data through 2016, last year saw three to four times more accidents than the years leading up through 2016.
In 2015 and 2016, nine accidents were reported on the California side of Lake Tahoe; in 2014, 13 accidents were reported.
On the Nevada side of the lake, NDOW reported eight accidents in 2020, none that were fatal. Those numbers were on par with previous years for Nevada, according to NDOW Boating Education Coordinator Aaron Meier.
UPDATE:Authorities release name of woman who drowned in Lake Tahoe Friday
Tahoe Regional Planning Agency Public Information Officer Jeff Cowen said the number of boats on the lake at any one time is hard to track, but overall there was an increase in boating activity on the lake.
Most of the injuries reported on the California side were from rentals, Laney said.
Part of that is because in California and Nevada, most boat owners are required to obtain boater safety cards. But for rentals, the signed rental agreement counts as meeting the requirement.
"That's where a lot of our accidents happen – on rental boats," Laney said. "They get a quick little run through from the rental company, but they don't really know what they are doing."
And many of the boats on the lake are rentals. Tahoe boat rental companies say they saw an exponential increase in customers during the pandemic. and they expect similar numbers this year.
Tahoe Sports Tahoe Keys Boat Rental Manager Taylor Hatch said, "We definitely saw a huge increase last year over previous years." She estimated the company saw three times the number of rentals it would normally see for a summer season.
"Since international travel got banned, everyone started flocking up here," she said.
Most of the company's customers are inexperienced boaters, and staff goes over operational and safety procedures with renters, Hatch said.
Rent A Boat Lake Tahoe Manager Ashley Amedure said the company quizzes its customers before they head out and offers captain services for people who aren't experienced driving a boat.
"We really try to scope out people before they leave so that our stuff won't get ruined and they stay safe," she said.
Amedure said Rent A Boat is already booking vessels into August.
"It's going to be a pretty busy summer," she said.
Laney said a South Lake Tahoe Police team that monitors the lake from Memorial Day to Labor Day often encounters reckless jet skiers, people who drive too fast in no-wake zones, and vessels in distress.
And even the boaters who are prepared to handle a vessel responsibly aren't always prepared for Tahoe's conditions, Laney said.
"It's cold and at attitude. Both of those have a huge effect on people's ability to swim," he said. "The cold shock is one of the biggest killers up here. People come up who are familiar with water and jump in the lake, and we have a lot of them who die from heart attacks or drowning and it's because of the cold water."
With some Lake Tahoe boat launches opening this weekend, officials are hoping to get the boating safety message out.
Nevada State Park's Sand Harbor and Cave Rock boat ramps open for the summer on May 1. Other launches, such as the Tahoe Vista Recreation Area and Boat Launch, opens May 21.  
"Drownings are 100 percent avoidable and people are still dying," Laney said.
Amy Alonzo covers the outdoors, recreation and environment for Nevada and Lake Tahoe. Reach her at [email protected] or (775) 741-8588. Here's how you can support ongoing coverage and local journalism. 
View Comments
Sours: https://www.rgj.com/story/news/2021/05/01/lake-tahoe-sees-high-number-accidents-during-covid-pandemic/7400587002/
death
Three new deaths recorded in El Dorado County
SOUTH LAKE TAHOE, Calif. - El Dorado County health officials say another 87 residents have tested positive for COVID-19 since yesterday. Of those, 32 are in El Dorado Hills, 23 in Cameron Park/Shingle Springs/Rescue, 14 in Greater Placerville, 1 in Diamond Springs/El Dorado, 3 in Pollock Pines/Camino/Kyburz, 2 in North County, 3 in South County, 11 in Lake Tahoe region. There are two less awaiting address confirmation, awaiting address confirmation for 8.
One of those new cases, seven are under the age of 18, 46 are aged 18-49, 20 are aged 50-64, and 14 aged 65 or older.
Sours: http://southtahoenow.com/topics/death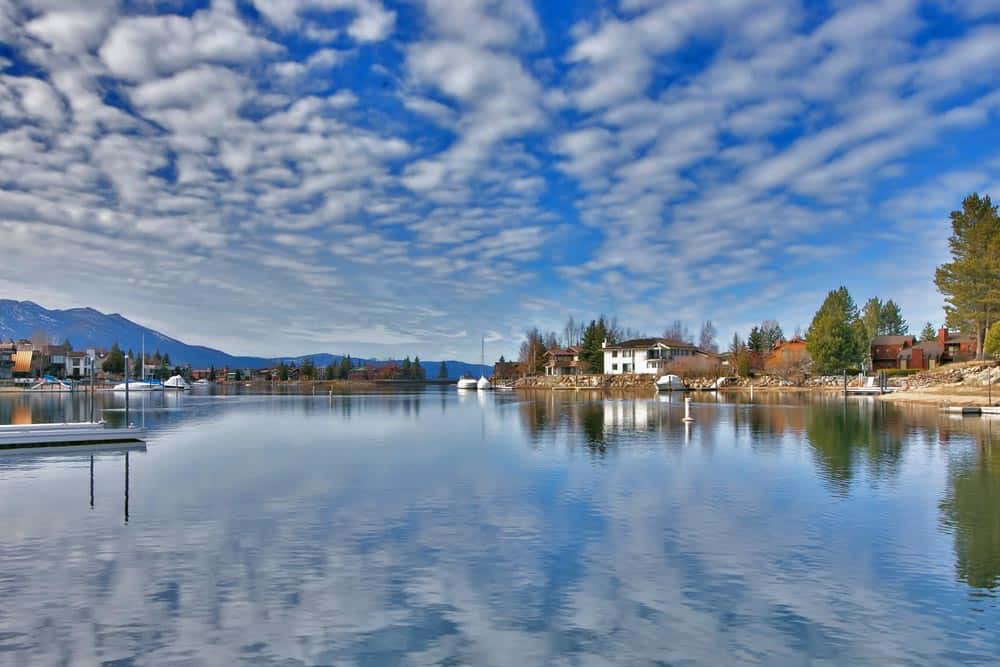 A 36-year-old Southern Californian man died after jumping from a boat on Lake Tahoe on Tuesday, police have confirmed.
The man was found at the Tahoe Keys Marina before 5 pm Tuesday. The man was boating with his family when he jumped into the lake without a life vest and got into trouble. Sadly, none of the family left on the boat knew how to operate it to get to him.
The family radioed in the incident, and when rescuers arrived, he was struggling to stay afloat. They were able to pull him out of the water and perform life-saving measures, but he was pronounced dead when they arrived on shore.
Officials see an increase in boating-related incidents on the lake since the beginning of the pandemic. 32 accidents were reported in 2020, 15 of which were fatal, and 12 of those deaths were due to drowning, reports the Reno Journal Gazette.
These tragic accidents can be easily avoided by always wearing a life jacket when on the water. The law states that only children under 12 must wear life jackets, but sadly this incident shows that they could save lives, whatever the age of the wearer.
Why Cold Water is Dangerous
by ColdWaterSafety.org
Sudden Drowning
With very few exceptions, immersion in cold water is immediately life-threatening for anyone not wearing thermal protection like a wetsuit or drysuit.
When cold water makes contact with your skin, cold shock causes an immediate loss of breathing control. The result is a very high risk of suddenly drowning – even if the water is calm and you know how to swim. The danger is even greater if the water is rough. Inability to coordinate your breathing with wave splash greatly increases the danger of inhaling water.
Gradual Drowning
Cold water drowning can happen immediately, but it can also take a fairly long time – a gruesome, drawn-out process in which small amounts of water are inhaled, over and over again, until your lungs become so waterlogged that you suffocate. Inhaling about five ounces (150 ml) of water is enough to cause drowning.
Heart Failure and Stroke
Because skin blood vessels constrict in response to sudden cooling, cold water immersion also causes an instantaneous and massive increase in heart rate and blood pressure.  In vulnerable individuals, this greatly increases the danger of heart failure and stroke.
All of these things happen long before hypothermia becomes an issue.
Stages of Immersion
To understand why some cold water deaths happen instantly, while others take hours, you need to be familiar with the four stages of cold water immersion, what happens during each of them, and why it happens.
Cold shock is over in a relatively short period of time, generally within five minutes. However, breathing problems may persist for a longer time while you're in the water.
If you survive the cold shock phase, the threat shifts to physical incapacitation. It's quite possible to lose the ability to use your hands in 60 seconds and use of your arms in minutes.
It takes at least 30 minutes for an average adult to become hypothermic, even in freezing water. A very large person with a lot of body fat can delay both physical incapacitation and hypothermia, sometimes for hours. Size does matter.
The final stage, circumrescue collapse, derives its name from the fact that the collapse can occur before, during, or after rescue.
Sours: https://snowbrains.com/lake-tahoe-man-died-jumping-boat/
Missing Tahoe Boater Ryan Normoyle Recovered From More Than 1,500 Feet Under Water
The camera shows the boat slowly chugging away and leaving him behind.
A New Jersey man filmed himself accidentally jumping to his death in Lake Tahoe.
Ryan Normoyle was making a video of himself diving off his rental boat, but didn't realize he had left it slightly in gear.
The 29-year-old drowned in the rough water after the boat slowly chugged away from him, and he couldn't catch up — the camera filming the whole time as it left him behind.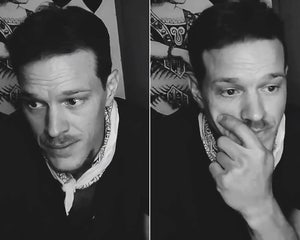 Instagram
Ryan Dorsey Slams 'False Narrative' About Him and Naya Rivera's Sister in Emotional Video Statement
View Story
"The cellphone video basically shows him jumping off the boat," South Lake Tahoe Police Department's Lt. Travis Cabral told CBS13. "It looks like he was playing around playing in the water didn't know the boat was in gear and he wasn't able to make it back to the boat."
Police launched the investigation after the empty boat ran ashore in Glenbrook, Nevada. Aboard they found his phone with the eerie footage; using the GPS data they were able to piece together his final moments.
His body was only found last week after more than a month of searching.
It was finally discovered under 1,500 ft of water — the deepest recovery ever recorded in the North American continent.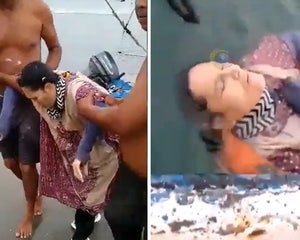 Twitter
Abused Mom Found Alive in Middle of Ocean 8 hours After Throwing Herself In
View Story
Normoyle was on a three-week vacation to California in August when he made the fateful decision to rent a boat for two hours during a visit to the popular beauty spot.
After weeks of fruitless searching, police enlisted the help of Bruce's Legacy, a nonprofit group specializing in search and recovery, who using underwater sonar finally located the corpse in the murky depths.
But it took another three days of dealing with very rough waters with 3-4 foot waves before they were able to bring him to the surface on Sunday.
"It was a definite body image. We drove the ROV up to him and grabbed a hold of his wrists," Keith Cormican told the site.
"To be able to call the parents and tell them we brought their son home is what it's all about."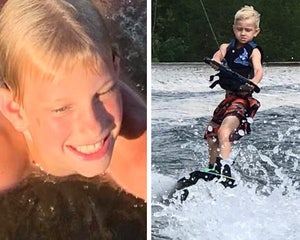 Facebook
Nine-Year-Old Oklahoma Boy Killed By Carbon Monoxide Poisoning on Back of Open Air Boat
View Story
Sours: https://toofab.com/2020/09/30/man-films-himself-jumping-to-his-death-in-lake-tahoe-after-accidentally-leaving-boat-in-gear/
Tahoe deaths 2020 south lake
36-year-old California man drowns in Lake Tahoe
When authorities arrived after the family radioed in the incident, the man was still struggling to stay afloat. They were able to pull him out of the water, but he was pronounced dead when they arrived on shore, despite attempting life-saving measures. 
It was not the only boating incident that occurred on the lake that day. Earlier, two people were injured in a separate boating incident. 
Around 2:30 p.m., near Emerald Bay, a man jumped off his rental boat without a life vest and visibly had trouble swimming. Another woman from the same boat jumped into the water to help. 
However, her foot clipped the boat's propeller as the driver had turned the boat back on to steer closer to the distressed swimmer. Medics were awaiting the boat and the passengers at Ski Run Marina and determined that neither person had life-threatening injuries. They were both taken to the hospital as a precautionary measure.
Last week, 17-year-old Myles Kawashima of Greenbrae, Calif., drowned in the lake after falling from the boat while it was in motion.
Officials have seen an uptick in boating-related incidents since the beginning of the pandemic. According to the Reno Gazette Journal, 32 accidents were reported in 2020. Fifteen were fatal and 12 of those deaths were due to drowning.
Sours: https://www.sfgate.com/renotahoe/article/36-year-old-California-man-drowns-in-Lake-Tahoe-16317578.php
Lee Taylor 1980 Lake Tahoe Fatal Accident
I got into a high chair, he sat down to me. Engaged unforced conversation. I found out that he is also a 5th year student. He studies in the history of fiction, but the teacher does not collect work, he wants to finish it, and then he will graduate from the legal.
You will also like:
Smiling, she shook her head, and long hair in steep waves hid her fragile figure. Margot straddled his thigh, forced her legs apart. With bliss, feeling her velvety and already wet softness on his leg, he obediently gave himself up to delicious torture.
867
868
869
870
871