Following are the best anniversary quotes for him and her. We've compiled a list of most popular anniversary quotes and sayings for husbands and wives, girlfriends and boyfriends. Enjoy.
Best 55 Anniversary Quotes For Him & Her
1. "Once upon a time I became yours & you became mine. And we'll stay together through both the tears & the laughter. Because that's what they call happily ever after."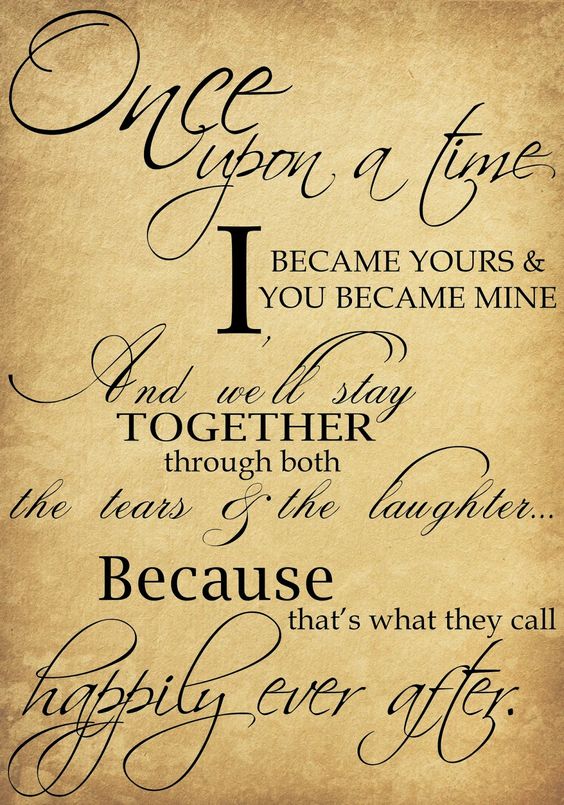 2. "I swear I couldn't love you more than I do right now, and yet I know I will tomorrow."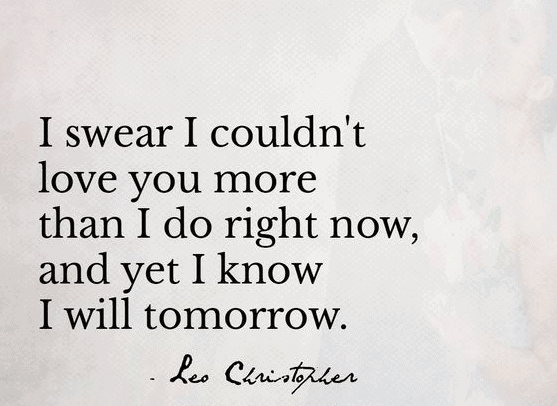 3. "When we get to the end of our lives together, the house we had, the cars we drove, the things we possessed won't matter. What will matter, is that I had you, and you had me."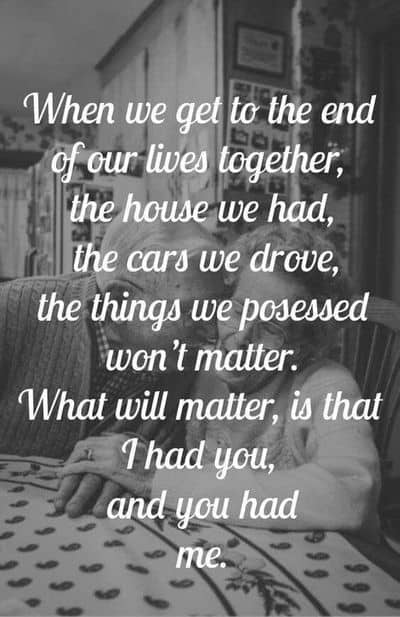 4. "A wedding anniversary is the celebration of love, trust, partnership, tolerance and tenacity. The order varies for any given year."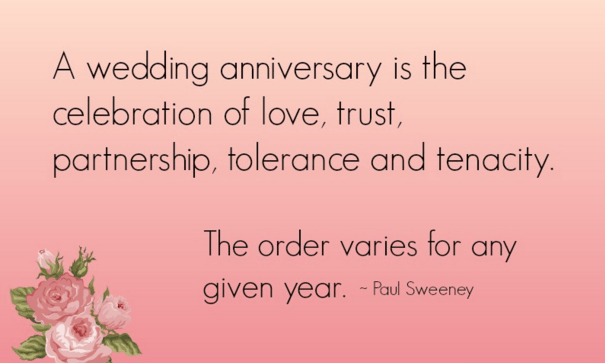 5. "You are the finest, loveliest, tenderest, and most beautiful person I have ever known – and even that is an understatement."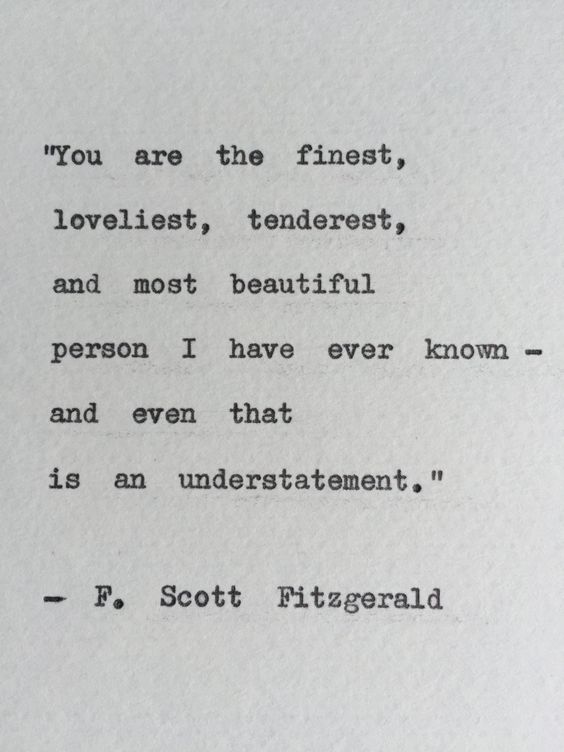 6. "When I look at you, my dear – it doesn't seem like you've aged. To me you're just as beautiful as the day we became engaged. Happy anniversary."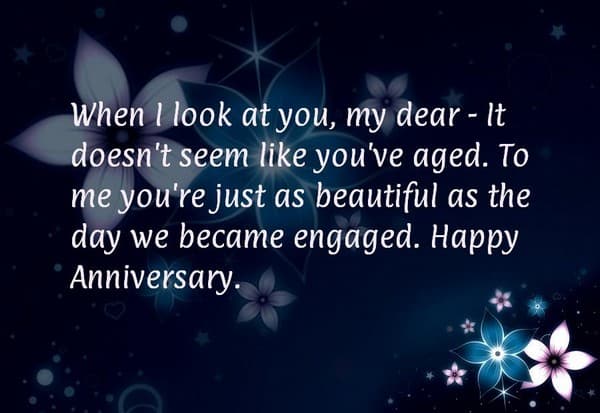 7. "And I'd choose you; in a hundred lifetimes, in a hundred worlds, in any version of reality, I'd find you and I'd choose you."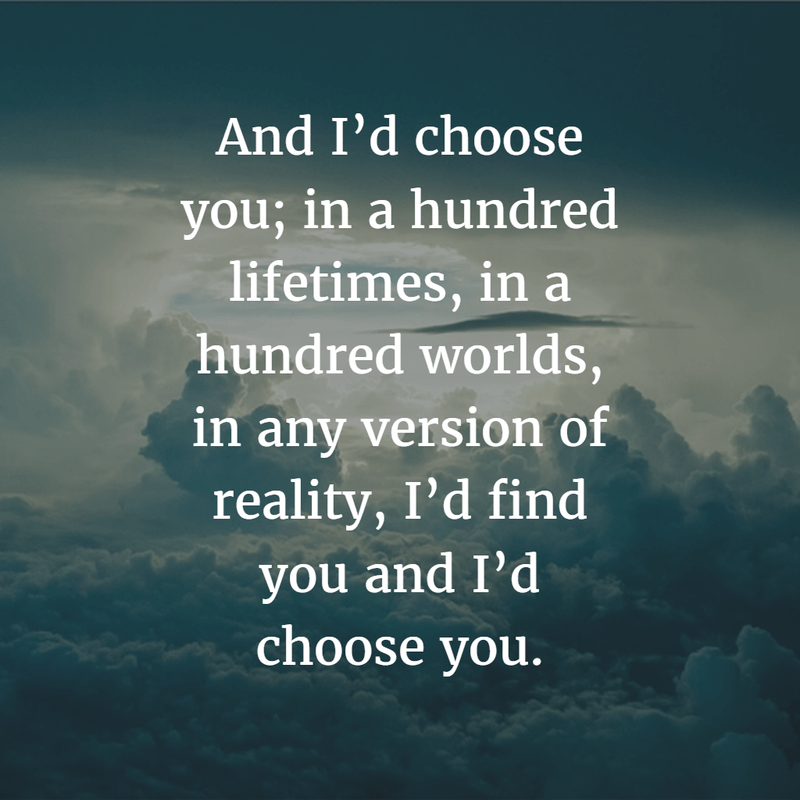 8. "For the two of us, home isn't a place. It is a person. And we are finally home." – Stephanie Perkins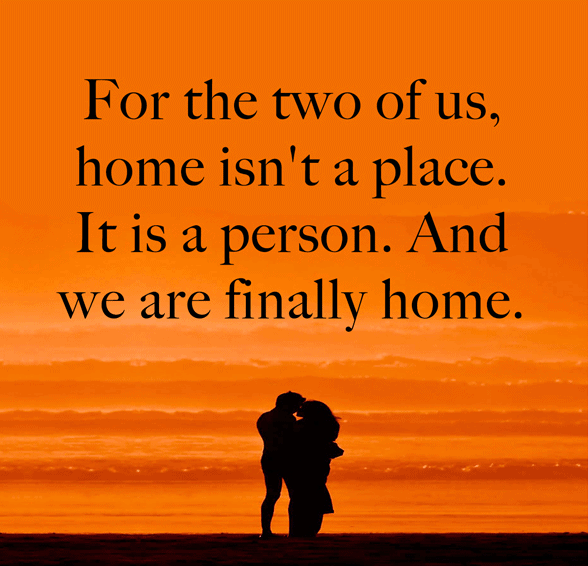 9. "Meeting you was fate, becoming your friend was a choice, but falling in love with you I had no control over."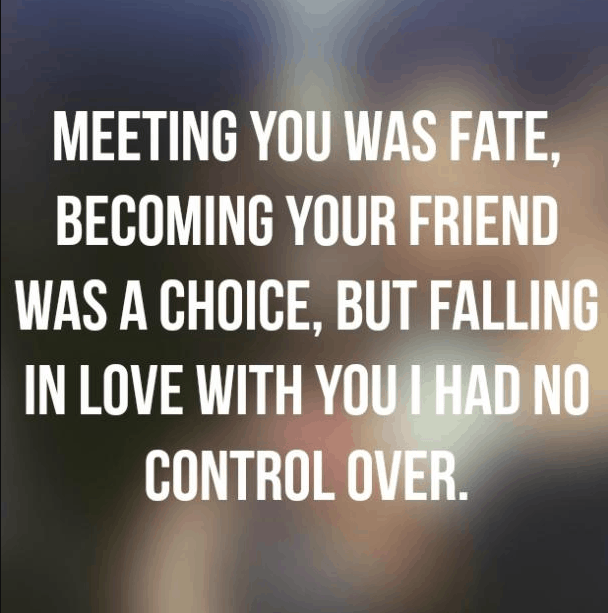 10. "My heart is totally filled with things that words alone can't say. This comes especially for you with all my love today."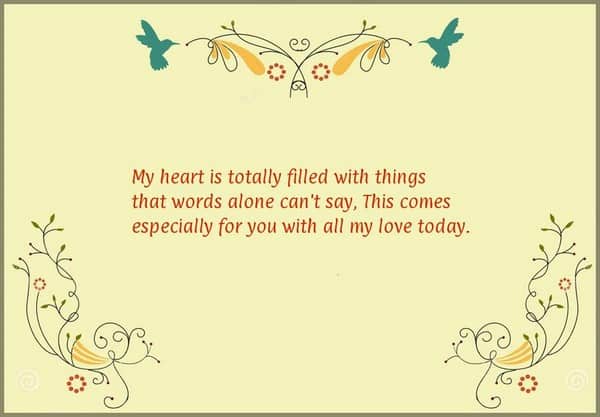 11. "Grow old along with me the best is yet to be…" – Robert Browning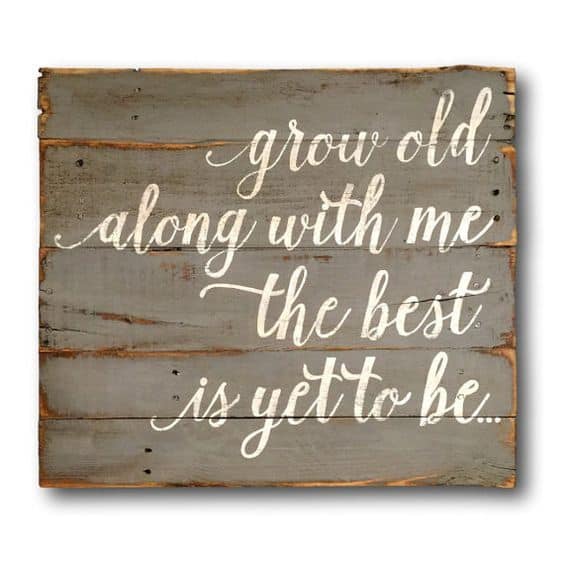 12. "I will spend an eternity loving you, caring for you, respecting you, showing you every day that I hold you as high as the stars." – Steve Maraboli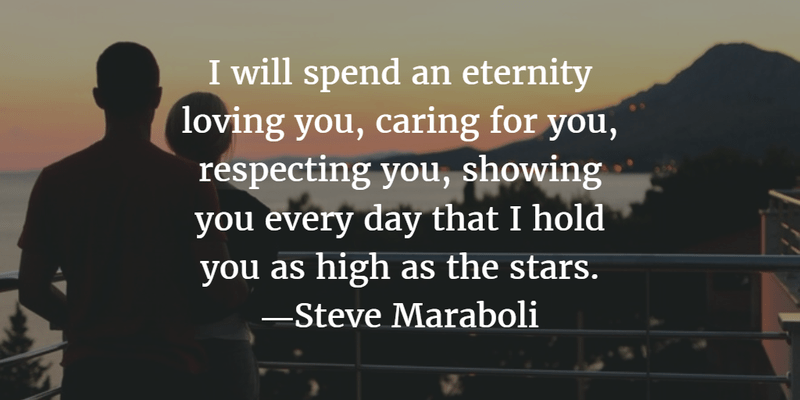 13. "Every love story is beautiful but ours is my favorite."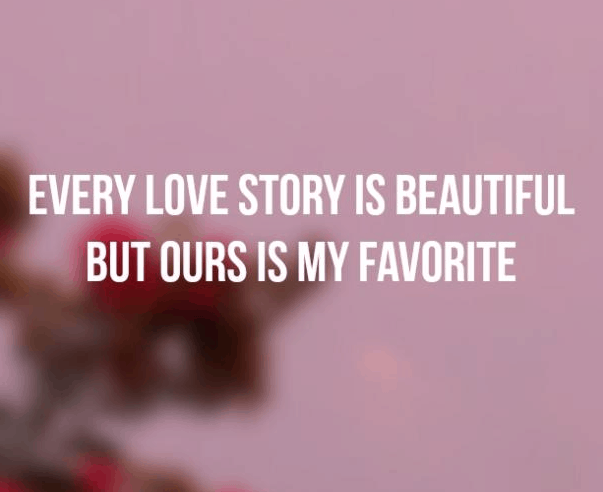 14. "I love you much most beautiful darling more than anyone on the earth and I like you better than everything in the sky."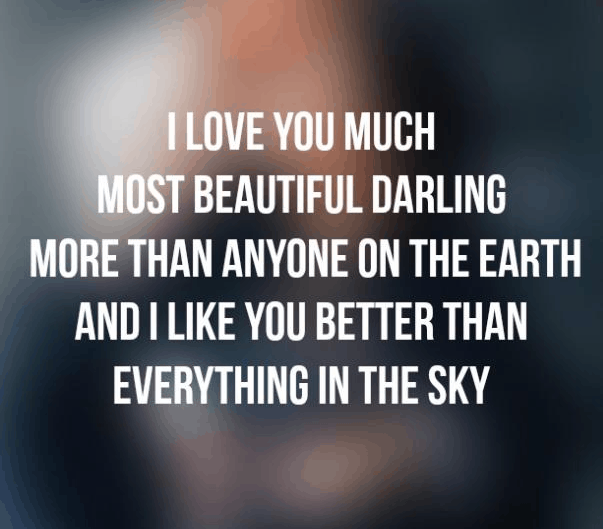 15. "For it was not into my ear you whispered, but into my heart. It was not my lips you kissed, but my soul." – Judy Garland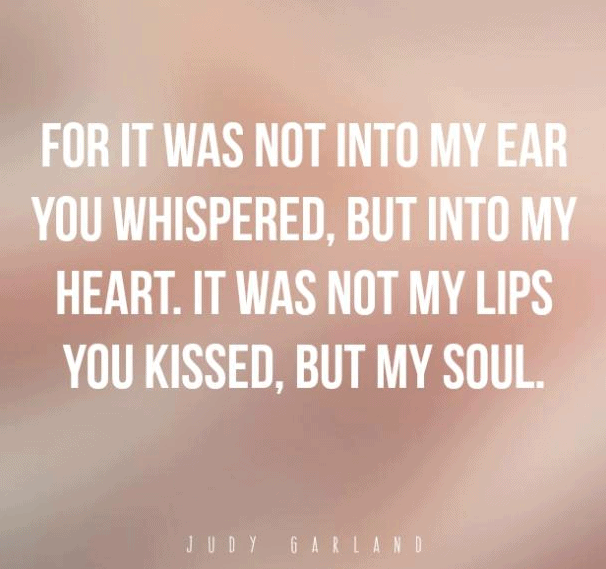 16. "In you, I've found the love of my life and my closest, truest friend."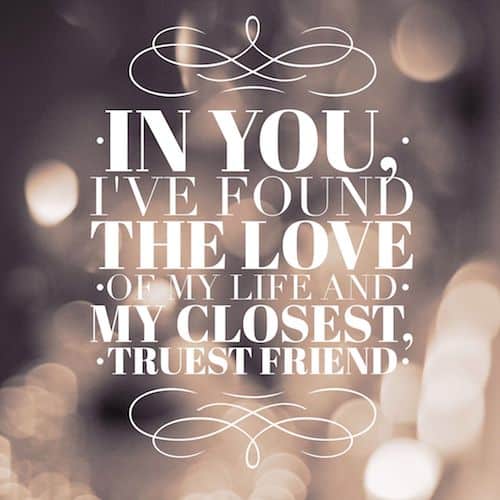 17. "On our anniversary, I want you to know how much I've enjoyed annoying you all this time & how excited I am to keep doing so in the future."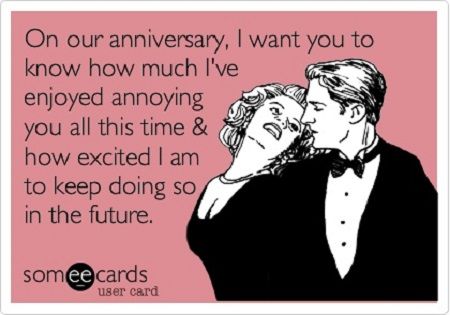 18. "Better than I was, more than I am. And all this happened by taking your hand."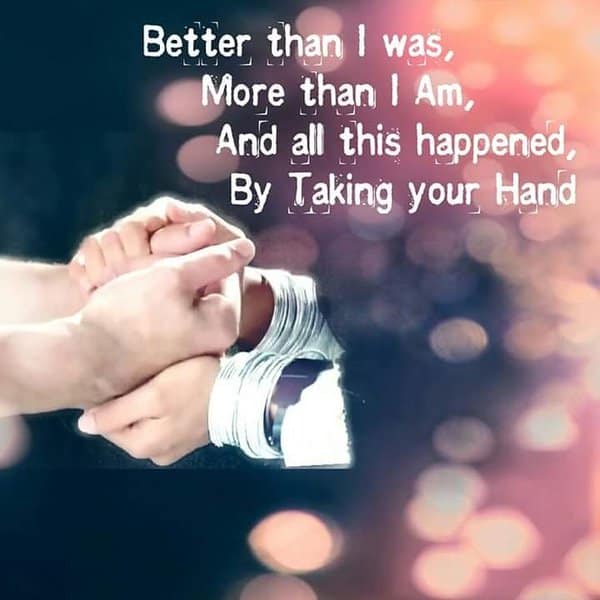 19. "Our anniversary is just a momentary celebration, but our marriage is a timeless one."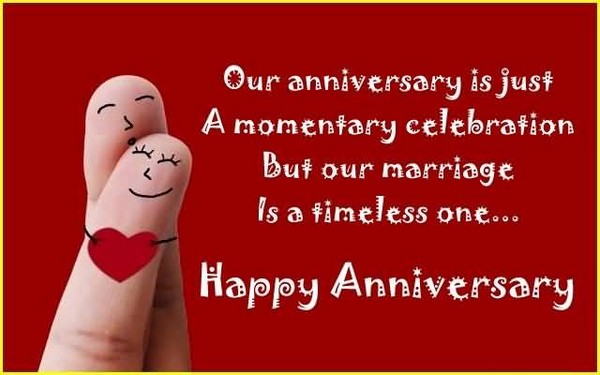 20. "I love you the more in that I believe you had liked me for my own sake and for nothing else." – John Keats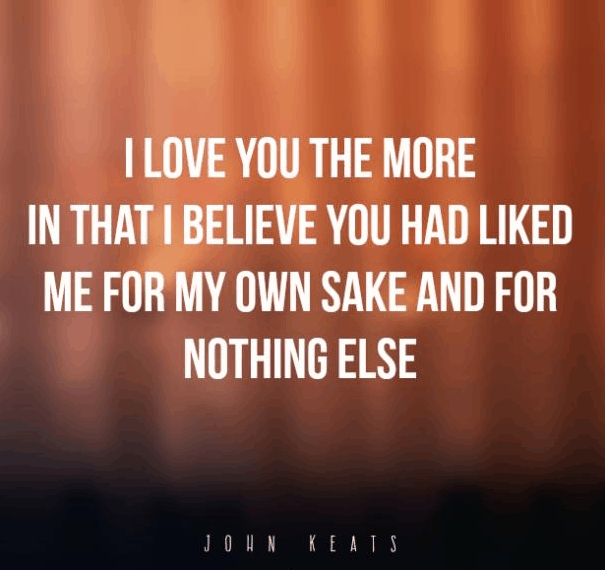 21. "I want you for always… days, years, eternities."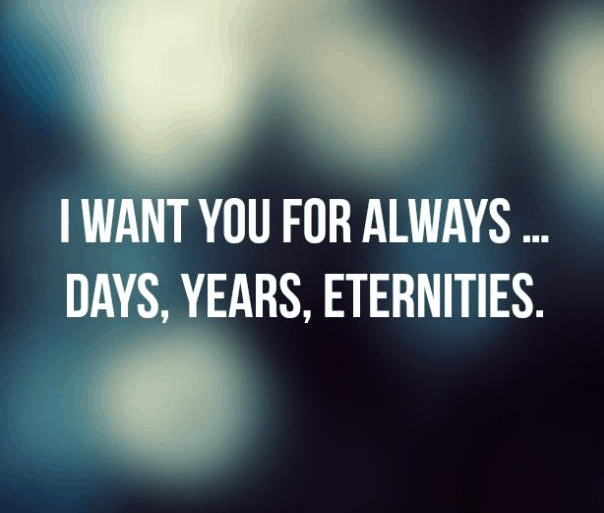 22. "Love is not about how many days, months, or years you have been together. Love is about how much you love each other every single day."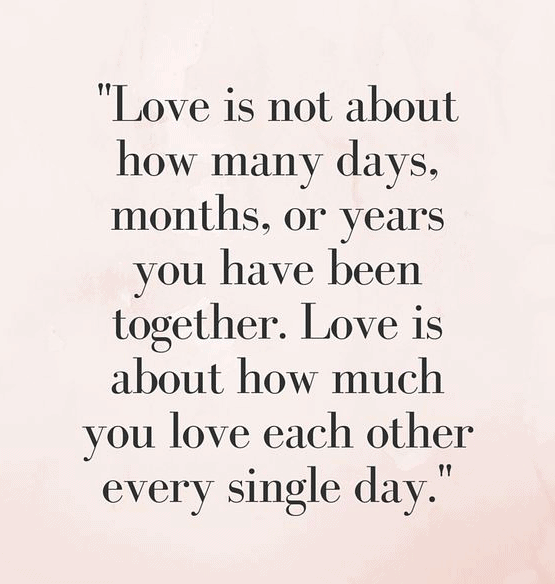 23. "Forever is a long time, but I wouldn't mind spending it by your side."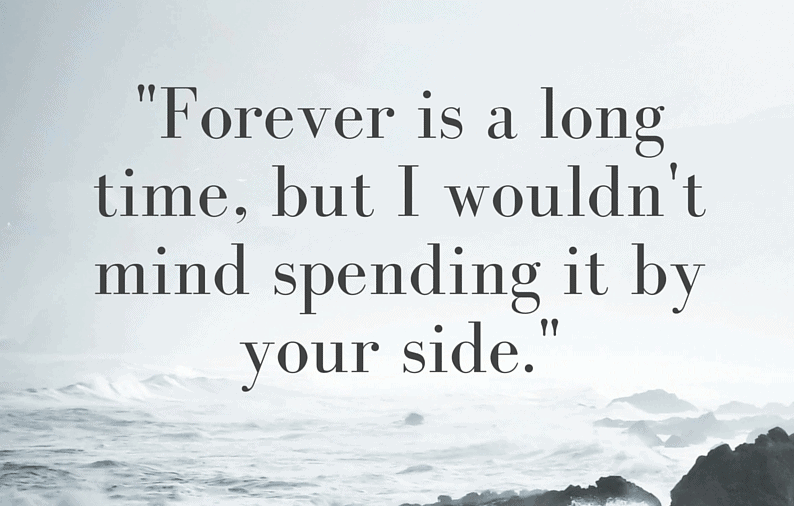 24. "So, I love you because the entire universe conspired to help me find you." – Paulo Coelho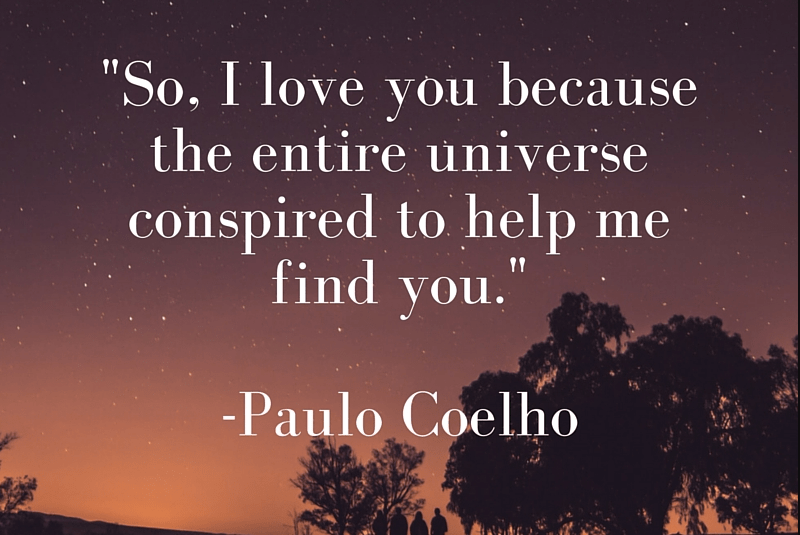 25. "I don't call you handsome, sir, though I love you most dearly: far too dearly to flatter you. Don't flatter me." – Charlotte Bronte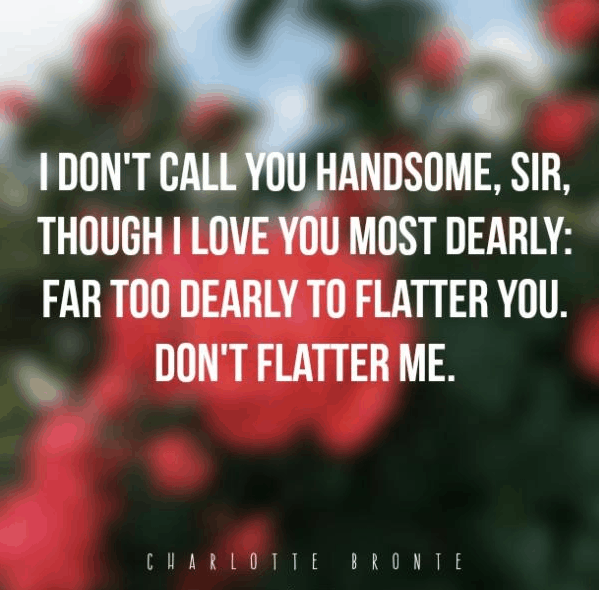 26. "The most wonderful thing i decided to do was to share my life and heart with you."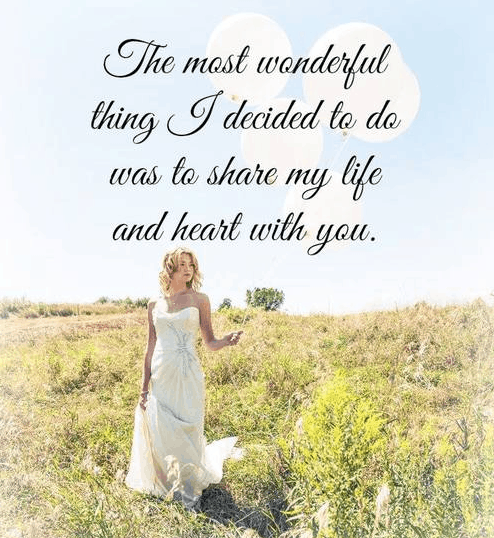 27. "You are the light that wakes me in the morning, guides me through the day, and watches over me at night. Thank you for brightening my life."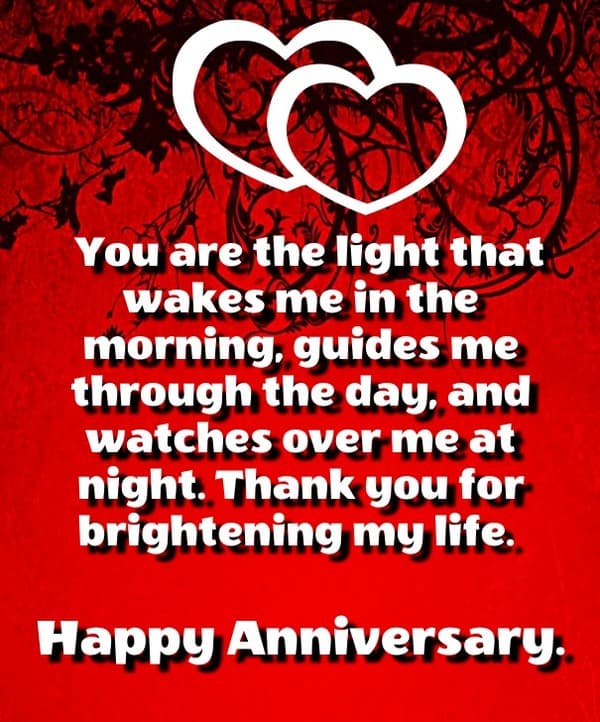 28. "If I know what love is, it is because of you." – Herman Hesse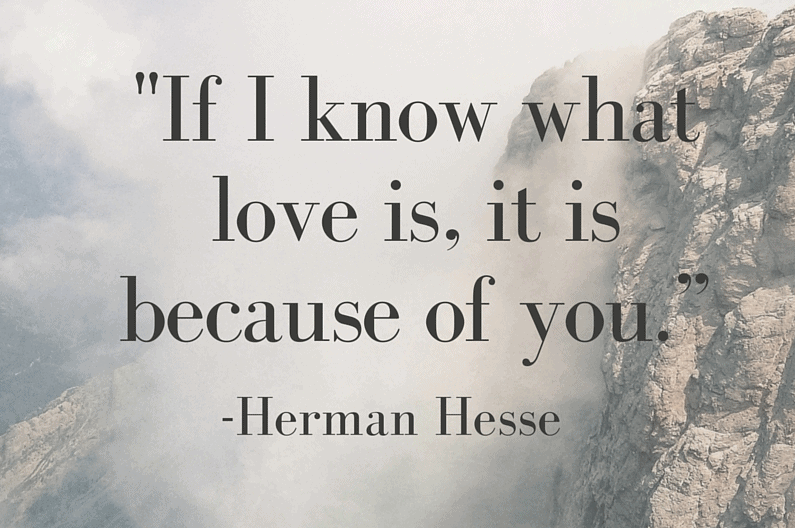 29. "And I'd choose you; in a hundred lifetimes, in a hundred worlds, in any version of reality, I'd find you and I'd choose you." – Kiersten White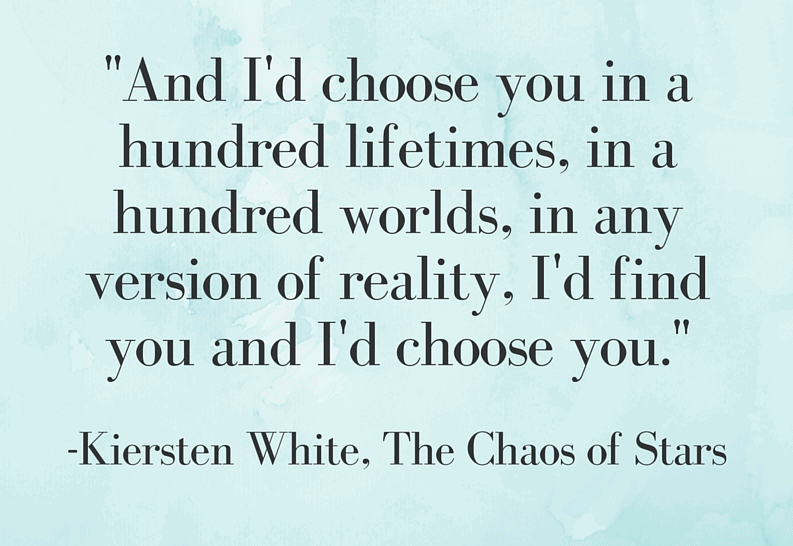 30. "My love for you has no depth, its boundaries are ever-expanding. My love and my life with you will be a never-ending story."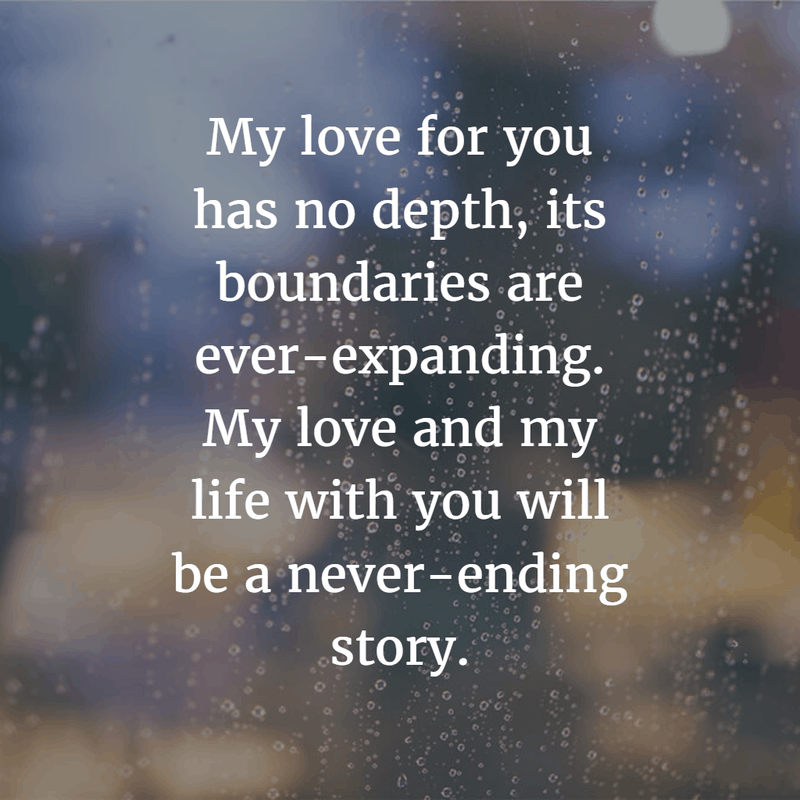 31. "You're still my everything."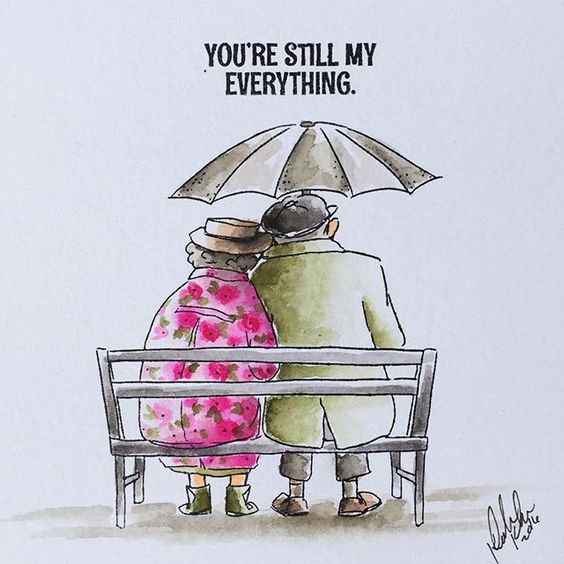 32. "Sharing the good times, bearing the hard times, trusting in love to show us the way. Laughing and living, trusting, forgiving, together forever, side by side, day by day."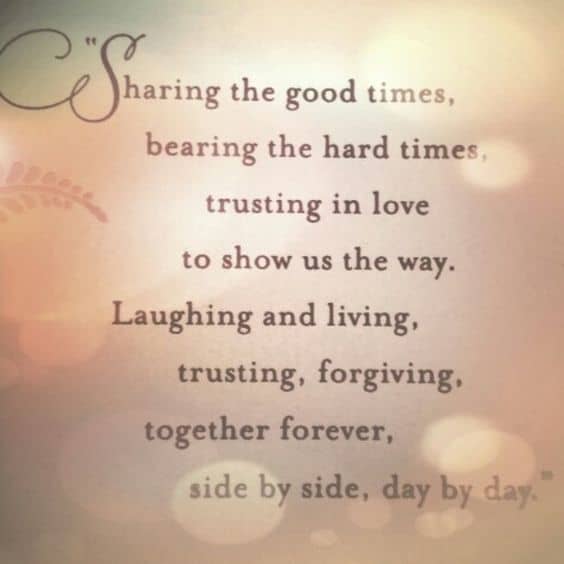 33. "We may not have it all together but together we have it all."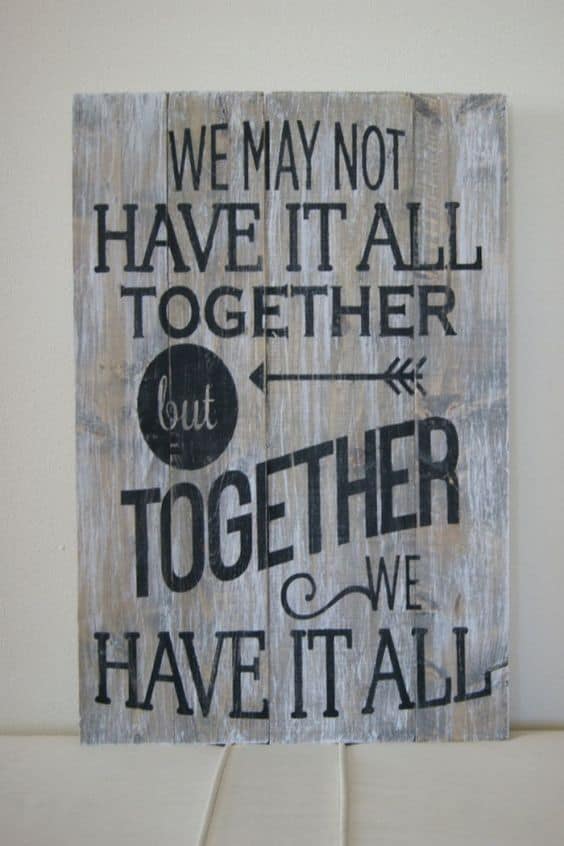 34. "The couples that are "meant to be" are the ones who go through everything that is meant to tear them apart and come out even stronger than they were before."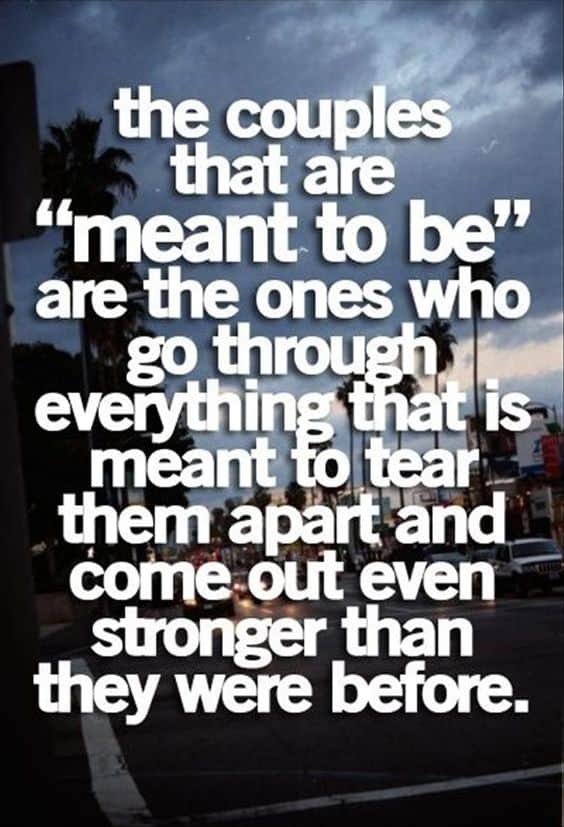 35. "There is no mystery — that's the beauty of it. We are entirely explicable to each other, and yet we stay. What a miracle that is." – Kamila Shamsie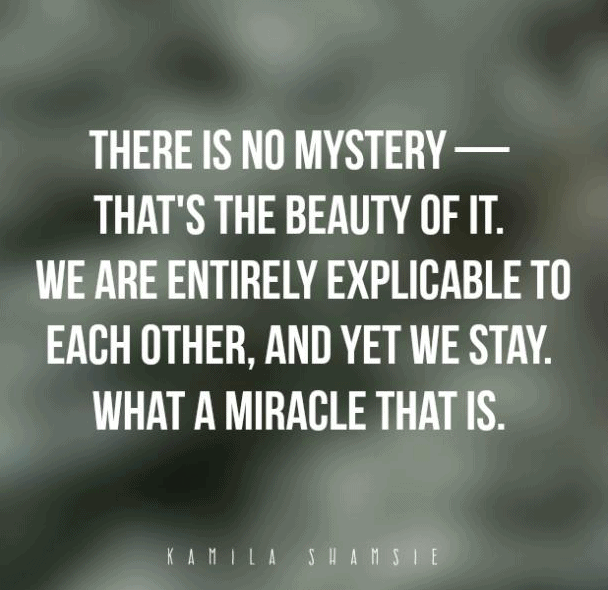 36. "Real love stories never have endings." – Richard Bach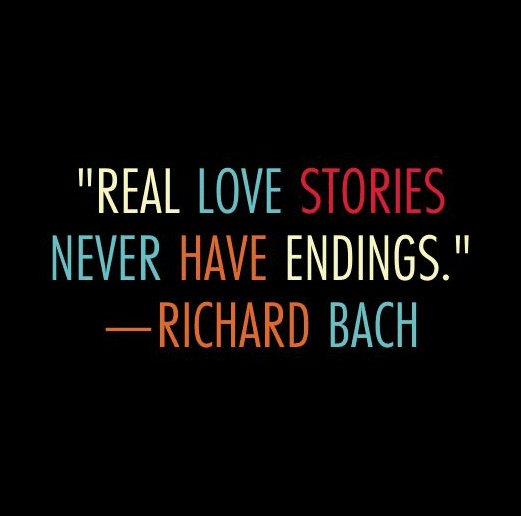 37. "I ask you to pass through life at my side—to be my second self, and best earthly companion." – Charlotte Brontë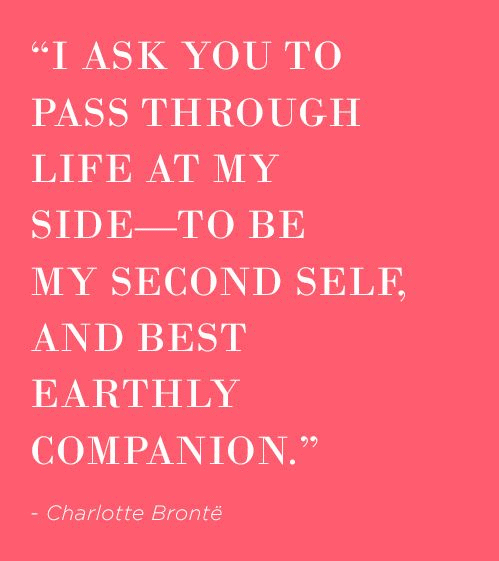 38. "Love is like wine it gets better with time."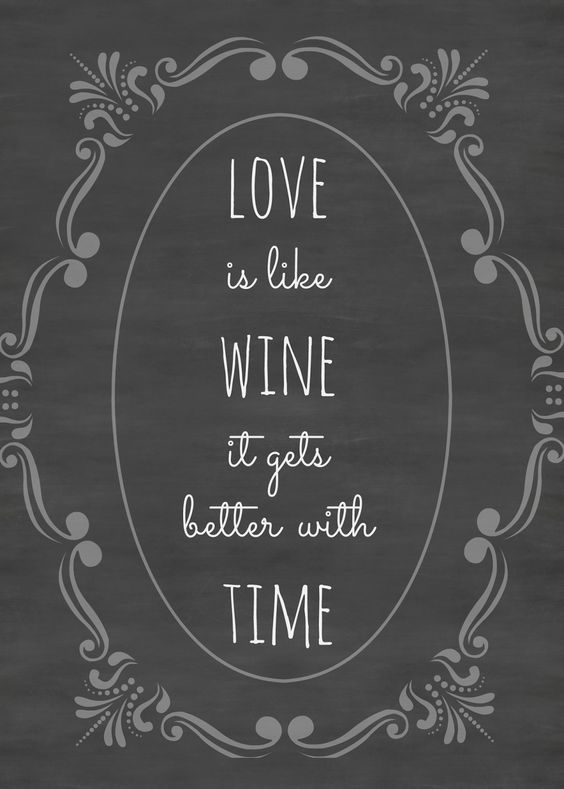 39. "Happy and thrice happy are those who enjoy an uninterrupted union, and whose love, unbroken by any sour complaints, shall not dissolve until the last day of their existence."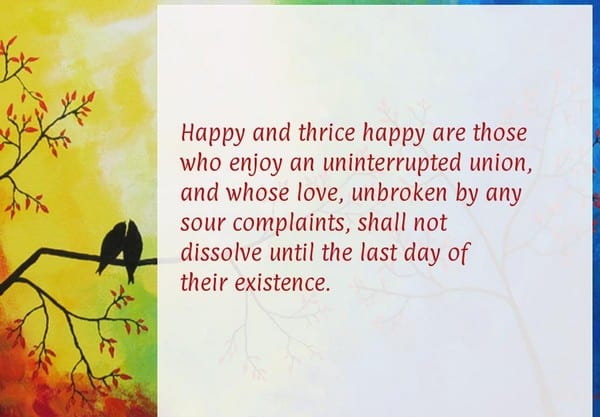 40. "I wish there was a word more than 'love' itself to convey what I feel for you." – Faraaz Kazi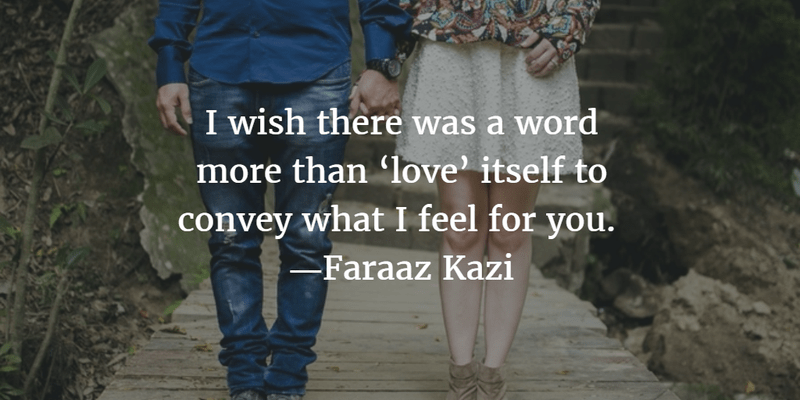 41. "In all the world, there is no heart for me like yours. In all the world, there is no love for you like mine." – Maya Angelou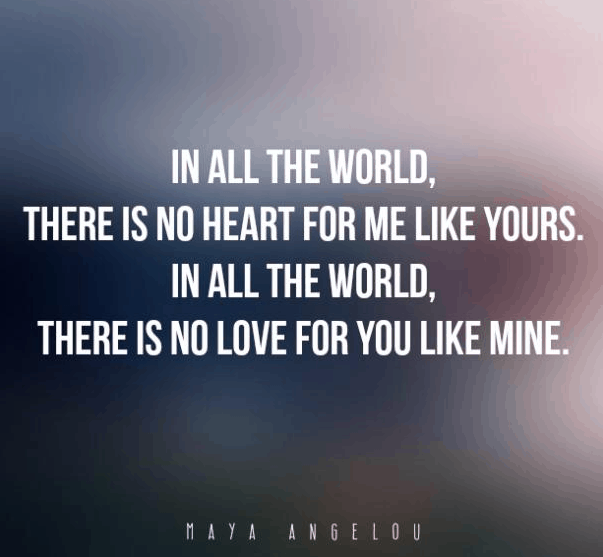 42. "I have found the one whom my soul loves."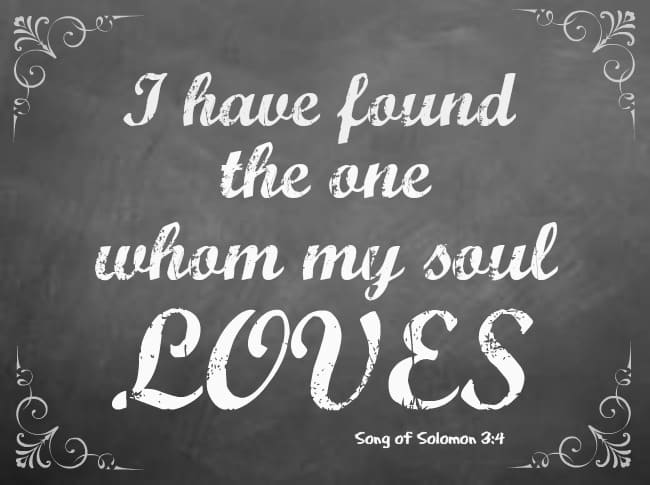 43. "When I tell you I love you, I don't say it out of habit or just to make conversation. I say it to remind you that you're the best thing that ever happened to me."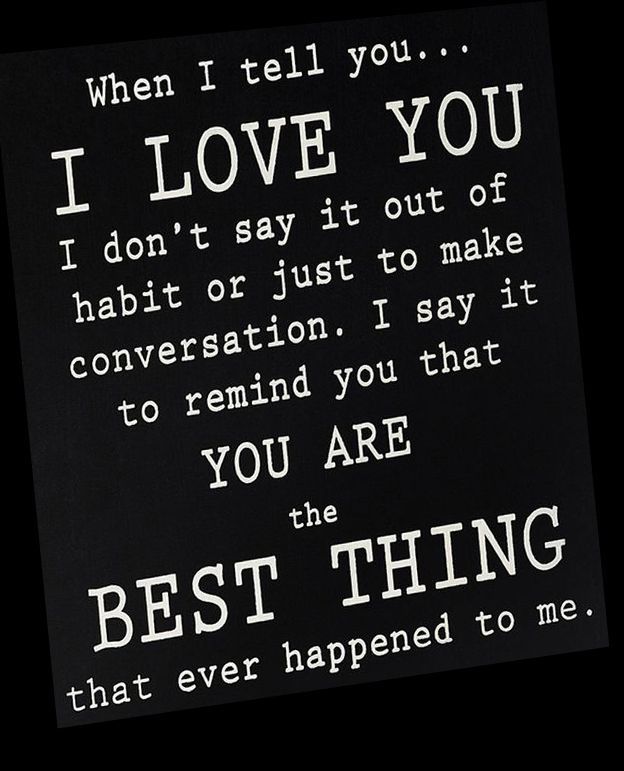 44. "If equal affection cannot be, let the more loving one be me." – W.H. Auden
45. "All that you are is all that I'll ever need."
46. "As we grow older together, as we continue to change with age. There is one thing that will never change, I will always keep falling in love with you."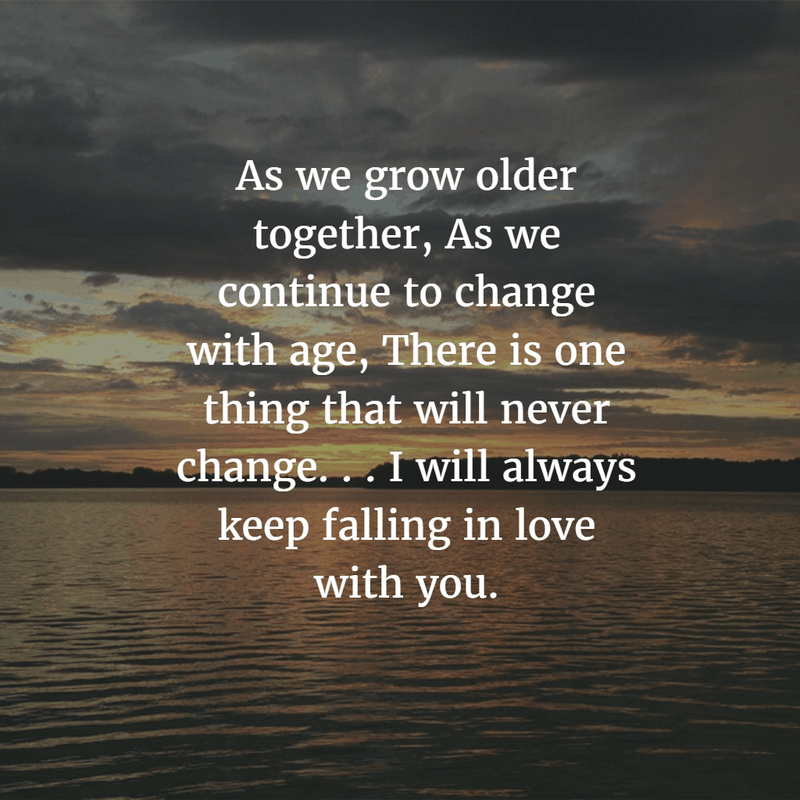 47. "My husband said he needed more space. So I locked him outside!"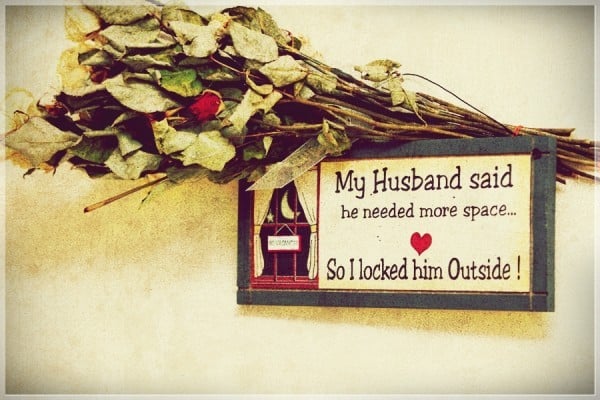 48. "No words can express the love I have for you. I am so thankful having you as my life partner."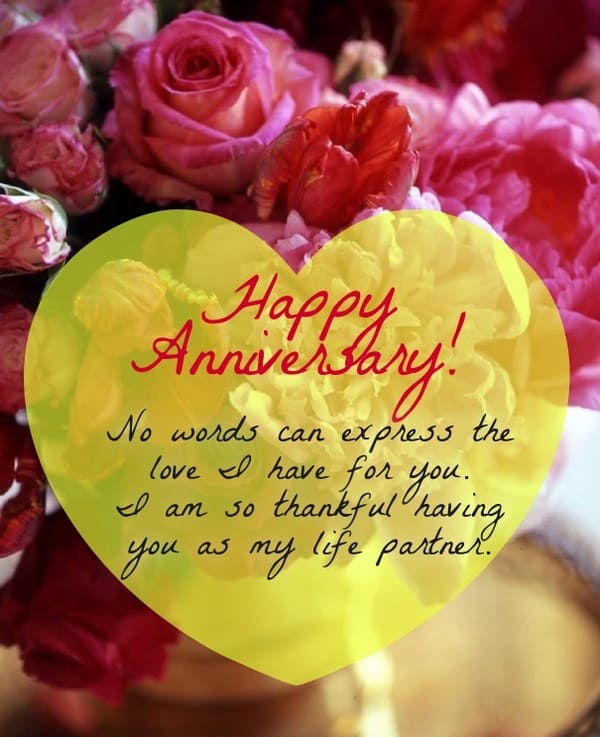 49. "Life is a journey, and love is what makes that journey worthwhile."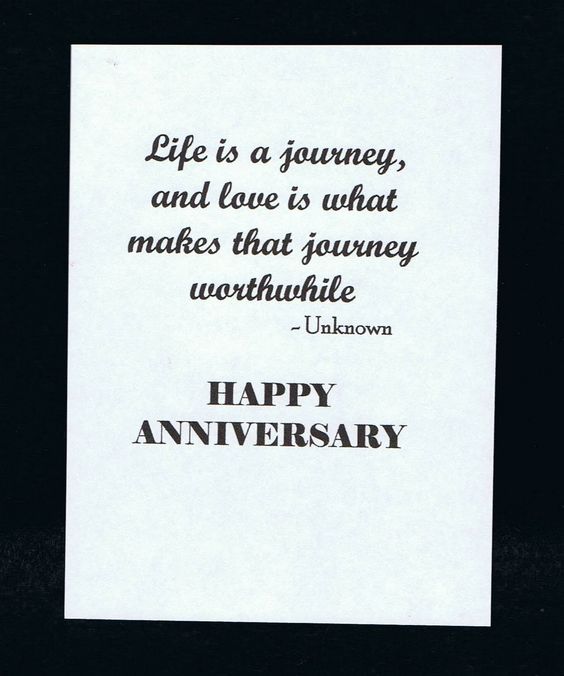 50. "You're my love, my friend, my sweetheart, too. My life, my all, my dream come true. So glad I fell in love with you!"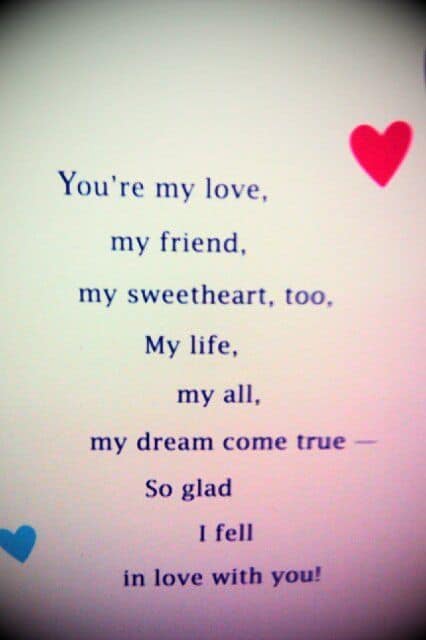 51. "To my wonderful husband who has shown me what love really is. Who is the reason for my happy days and the comfort in my sad ones. Who cheers my successes and encourages me in failures. I am so proud to be your wife. Love you. Happy anniversary."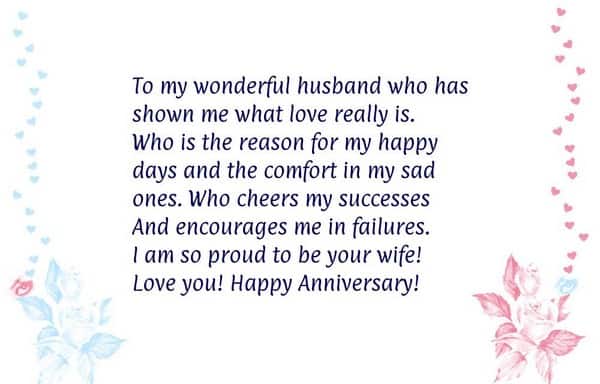 52. "If I had a flower for every time you made me smile and laugh, I'd have a garden to walk in forever."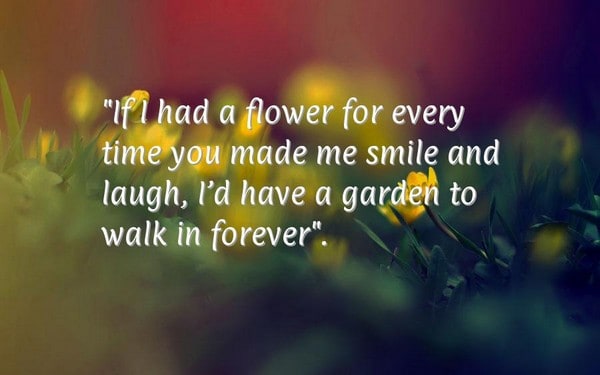 53. "Because of you, I laugh a little harder, cry a little less, and smile a lot more."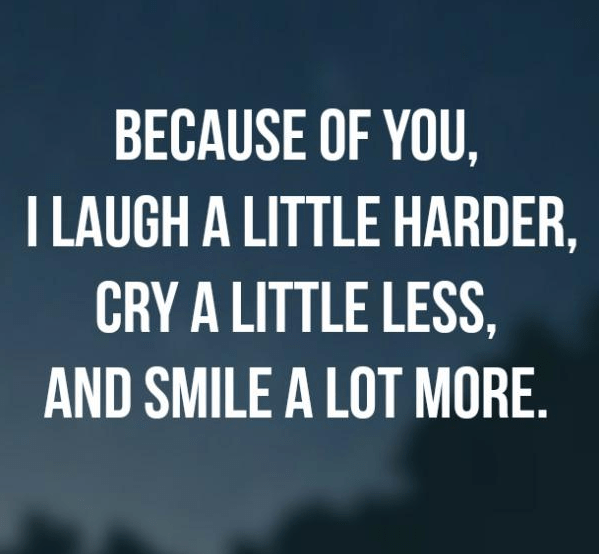 54. "Grow old with me…"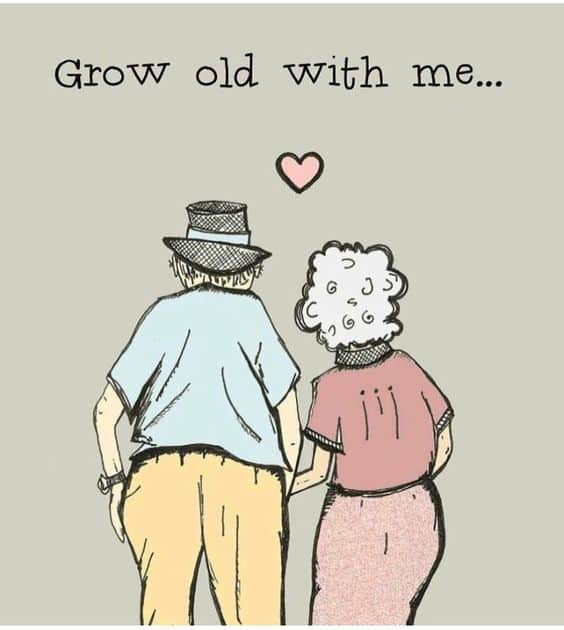 55. "One should believe in marriage as in the immortality of the soul."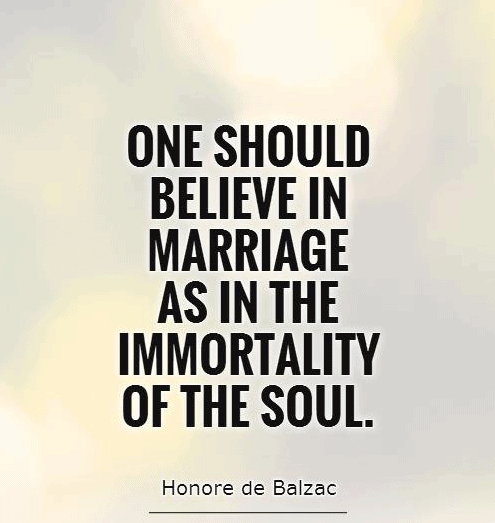 Recommended Reading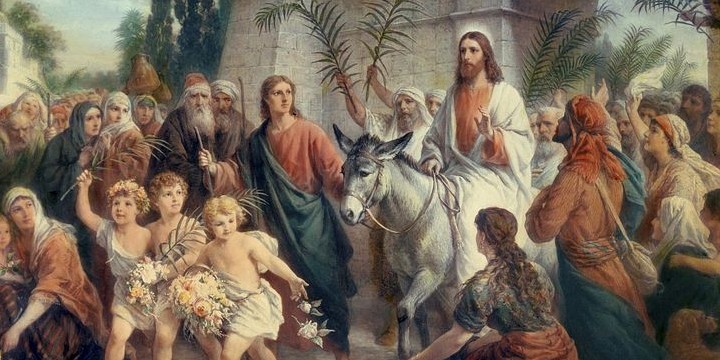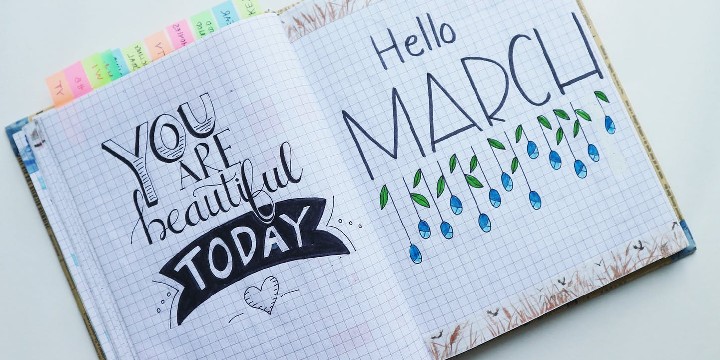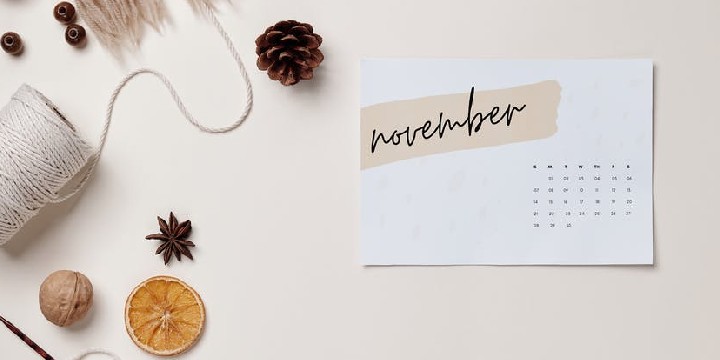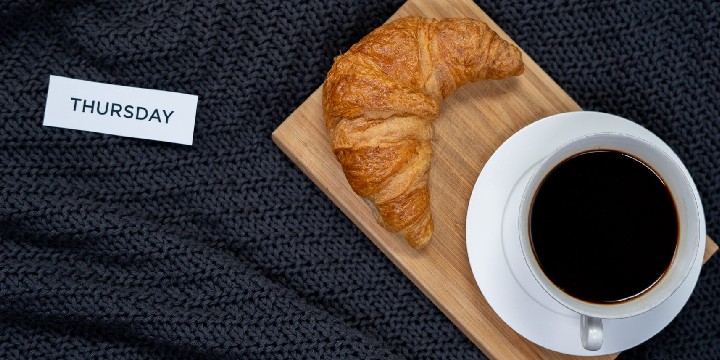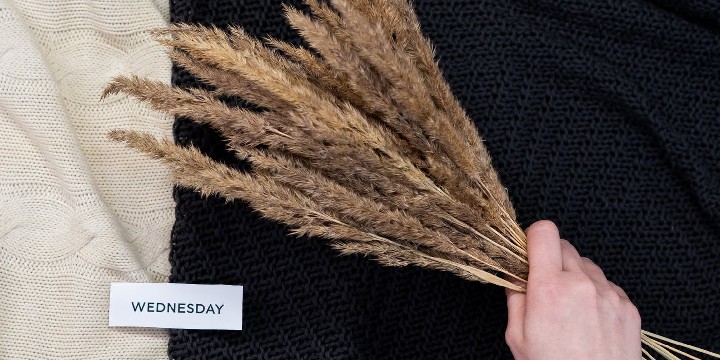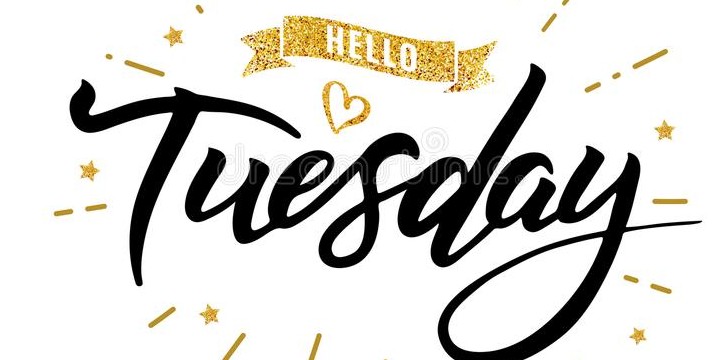 Amy Finn
Hi. I'm Amy, the founder of this blog. I love quotes and enjoy sharing the best ones with you.
Sours: https://www.quoteambition.com/anniversary-quotes/
50 Romantic Anniversary Wishes for Your Wife
The amazing thing about love is that it can be wonderfully magical and infinitely complex. Undoubtedly, when you love someone, all you want to do is shout it from the rooftops. Unfortunately, though, when you're face to face, staring at a blank text box, or trying to put pen to paper, finding the right words to express the depth and breadth of your love is likely one of the hardest things you've ever done—especially when it comes to anniversary wishes.
Words can be pretty elusive, but here's a little secret: You don't have to use your own! There are plenty of professional wordsmiths in the world, and if you look in the right places, you'll find the right ones to help you express your love to your favorite lady.
49 Anniversary Quotes to Celebrate Your Marriage Milestones
But, of course, time is always of the essence, so if you're finding yourself at a loss for words, here are 50 love quotes that perfectly express "happy anniversary" to your wife.
Quotes From Songs 
"I've known it from the moment that we met no doubt in my mind where you belong." — "To Make You Feel My Love" by Bob Dylan 
"And the songbirds are singing/Like they know the score/And I love you, I love you, I love you/Like never before." — "Songbird" by Fleetwood Mac
"I can hear her heartbeat for a thousand miles/and the heavens open every time she smiles..." — "Crazy Love" by Van Morrison 
"The very thought of you makes my heart sing/Like an April breeze on the wings of spring." — "My One And Only Love" by Sting 
"You're always the first and the last thing on this heart of mine/No matter where I go, or what I do/I'm thinking of you." — "Thinking Of You" by Dierks Bentley
"I said I love you, that's forever." — "Just the Way You Are" by Billy Joel
"If I go a million miles away/I'd write a letter, each and everyday/'Cause I know that nothing/Nothing can ever change that love I have for you." — "Nothin' Can Change This Love" by Sam Cooke
"Take my hand, take my whole life too/For I can't help falling in love with you." — "Can't Help Falling In Love" by Elvis Presley
 "You're the closest to heaven, that I'll ever be." — "Iris" by Goo Goo Dolls
"I hope you don't mind that I put down in words/How wonderful life is while you're in the world." — "Your Song" by Elton John
Quotes From Film and Literature 
"If I know what love is, it is because of you." — Narcissus and Goldmund by Herman Hesse
"I seem to have loved you in numberless forms, numberless times, in life after life, in age after age forever." — Rabindranath Tagore
"Yours is the light by which my spirit's born—you are my sun, my moon, and all my stars."― E. E. Cummings
"I swear I couldn't love you more than I do right now, and yet I know I will tomorrow." — Leo Christopher
"If I had a flower for every time I thought of you…I could walk through my garden forever." — Alfred Tennyson
"You make me want to be a better man." — As Good As It Gets by Melvin Udall
"If I had to dream up the perfect woman, she wouldn't even come close to you." — Cory Matthews in Boy Meets World
"I know that somehow, every step I took since the moment I could walk was a step towards finding you." — Message in a Bottle by Nicholas Sparks
"No matter what happens, I will never, not in a thousand tragic outcomes, ever regret loving you." — Frost Like Night by Sara Raasch
"If you remember me, then I don't care if everyone else forgets." — Kafka on the Shore by Haruki Murakami 
"I love you. You…you complete me." — Jerry Maguire
"I fell in love the way you fall asleep: slowly, and then all at once." — The Fault in Our Stars  by John Green 
"Take love, multiply it by infinity and take it to the depths of forever, and you still have only a glimpse of how I feel for you." — Meet Joe Black
"We loved with a love that was more than love." — Annabel Lee by Edgar Allen Poe
Romantic Love Quotes 
"You are the finest, loveliest, tenderest, and most beautiful person I have ever known and even that is an understatement." — F. Scott Fitzgerald
"I love you for all that you are, all that you have been and all that you will be." — Unknown
"I've tried so many times to think of a new way to say it, and it's still I love you." — Zelda Fitzgerald
"I love you and that's the beginning and end of everything." — F. Scott Fitzgerald
"When I look into your eyes, I know I have found the mirror of my soul." — Joey W. Hill
"Every time I see you, I fall in love all over again." — Unknown
"It's like in that moment the whole universe existed just to bring us together." — Serendipity
"From the moment I saw her I knew this one was worth the broken heart." ― Atticus Poetry
"A flower cannot blossom without sunshine, and man cannot live without love." — Max Muller
"Love recognizes no barriers. It jumps hurdles, leaps fences, penetrates walls to arrive at its destination full of hope." — Maya Angelou
"Love is of all passions the strongest, for it attacks simultaneously the head, the heart, and the senses." — Lao Tzu
Short Love Quotes 
"My soul and your soul are forever tangled." — N.R. Hart
"I look at you and see the rest of my life in front of my eyes." — Unknown
"I love you, not only for what you are but for what I am when I am with you." — Roy Croft 
"A hundred hearts would be too few to carry all my love for you." — Henry Wadsworth
"So, I love you because the entire universe conspired to help me find you." — Paulo Coehlo
"I love you, and that's the beginning and end of everything." — F. Scott Fitzgerald
"I love you past the moon and miss you beyond the stars." — J. M. Storm 
"There are only two times I want to be with you—now and forever." — Unknown
"You are my today and all of my tomorrows." — Unknown
"I have found the one whom my soul loves." — Song of Solomon 3:4
"Your hand touching mine. This is how galaxies collide." ― Sanober Khan
"True love stories never have endings." — Richard Bach
"Where there is love there is life." — Mahatma Gandhi 
"If forever does exist, please let it be you..." — A.R Asher
"Soul meets soul on lovers' lips." — Percy Bysshe Shelley
50 Funny Quotes About Marriage That Are Too Relatable
Sours: https://www.brides.com/anniversary-wishes-for-wife-5179541
Cute Black Love Quotes
Wanna express your love for your black spouse? These quotes will help you. Attach few of them to your message and let the others feel the love that is in your heart towards them. Spread your love: send these quotes to surprise your black beloved. Each one of them is unique and witty. Here is only intriguing quotes suggested for you to choose:
Inspirational Black Love Quotes for Him
Girls, if we want our partners to be more romantic with us, we have to start with ourselves. Surprise your dear husband or boyfriend with a sweet black love quote for him. You may either write a small love note or send any of the quotes via messenger you use for chatting with your loved one.
Love you, hunny, like the sun loves the moon.
My heart beats for you, sweety, my brilliant soulmate.
We were made to be together, dear love of my heart.
Let's begin to build the house of our love brick by brick.
Thank you, sweetheart, for your smile brighter than the sun.
I am so lucky we've met.
Let the sun wash away your pain.
My dreams came true when I met you.
I appreciate your patience for me.
May God bless every breath of your lungs.
I will always be yours like in the song by Whitney Houston.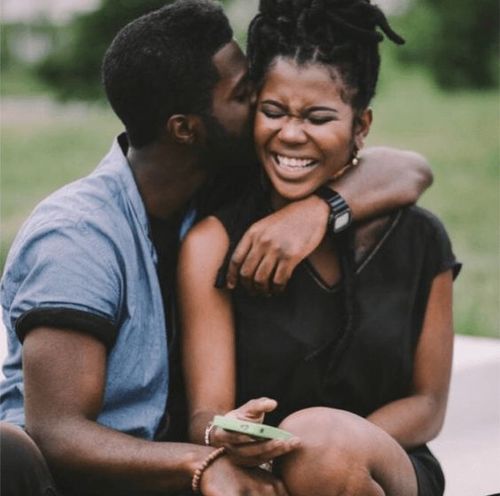 Read more:Quotes About Being Happy with Him
Beautiful Black Love Quotes for Her
Men, now it's your turn. Once you see that there is a lack of romance in your relationships, it's time to take control of the situation and use any of these beautiful black love quotes to make your lovely lady feel special.
I've never seen more beautiful girl than you are.
I know you were born to love me, dear.
It's ok with me if you give me a hug, cutie.
Let me stay with you just one second longer.
All I want is you be close to me right now.
Trusting you I realize that real love exists.
It's you who makes me wake up every morning.
Your love is like hurricane which smashes all my tears.
I love your smart jokes and the way you laugh.
You deserve the best and here I am to give it all to you.
Life is not enough to understand all the beauty of your soul.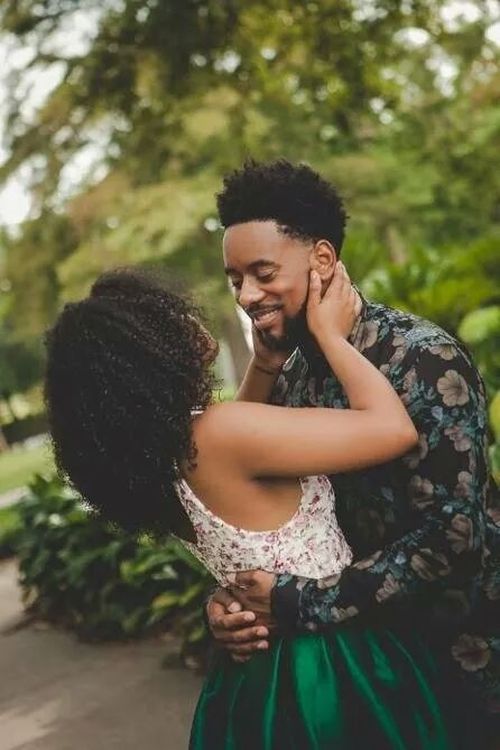 Cute Black Love Quotes and Sayings
Sometimes the right words appear in our heads without problem. At other times, no matter how hard you try to come up with something cute and sweet, there's an emptiness instead of thoughts. Sounds familiar? Don't get frustrated. The cutest black love quotes are already waiting here.
You're the right one for me whom I'll always respect.
Believe it or not, but I love you stronger than I have done before.
No matter whether you rich or poor, I'll love you still.
I think it's time for me to say: "I love you."
Try to forget me and fail because our love is eternal.
I need your touch right now, my sweet love.
Everything I have is you and it's the best treasure ever.
I know life hurts, but we'll overcome everything together.
Miracles exist and you are one of them, my love.
Stars in the sky will not compare with your eyes, dear.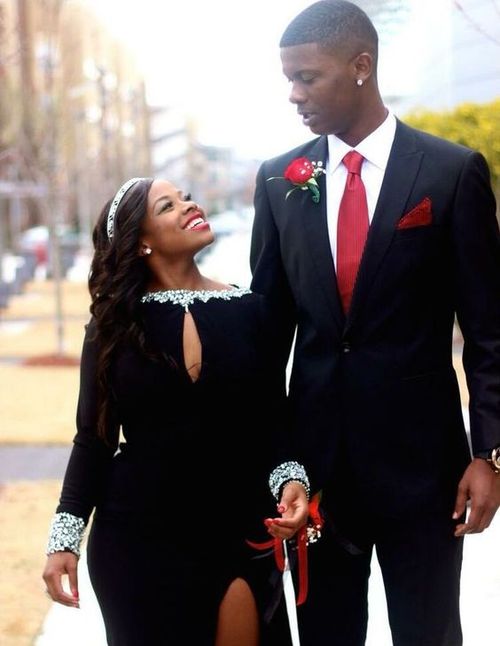 Read More:Cute Things to Say to Your Boyfriend
Romantic Quotes about Black Love
As we were saying, romance is the matter of time, place and the way you express your love to your better half. We'll leave time and place stuff for you, but as for the love quotes, here we can help. The most romantic quotes about black love have been collected in this paragraph. You just can't miss these gems.
It's interesting to see your hand in mine after all the past things.
Let me hug you via quote: just touch the screen and feel my love.
Nothing compares with You and I need only You.
I know you hate me now, but I am patient: please, forgive me.
Call me and I am right there, sweetheart.
I think that I feel that I love you.
I want to meet with you more often day after day.
Tell me why you chose me and I'll tell you why I chose you.
There is nothing more to say when I see you than to say only: "I love you."
Sometimes we fight, but no matter what I love you.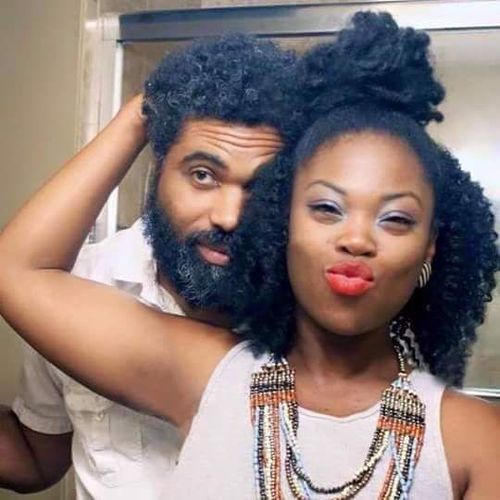 Sweet African American Love Quotes
There is nothing as precious as seeing the sparkling eyes full of love and happiness in front of you. If you have found a person who looks at you this way, well, you are truly lucky. Don't forget to let this person know how you feel about them, use these awesome quotes and celebrate your African American love together.
You're the best gift ever given to me.
There is no need to tell you: "I love you", but I've already done it.
Please forgive me for shouting at you, my love, I'll never do it again I promise.
The part of my heart beats in your breast, my love.
I've never known such a beautiful personalities as you are.
Let me give you a hug with this message, hunny.
I could not even imagine that I am gonna love such a wonderful person.
If I were you, I would agree to go for a date with me.
It's time to make up, dear, I am sure you still love me.
It takes a moment to love and a life to forget.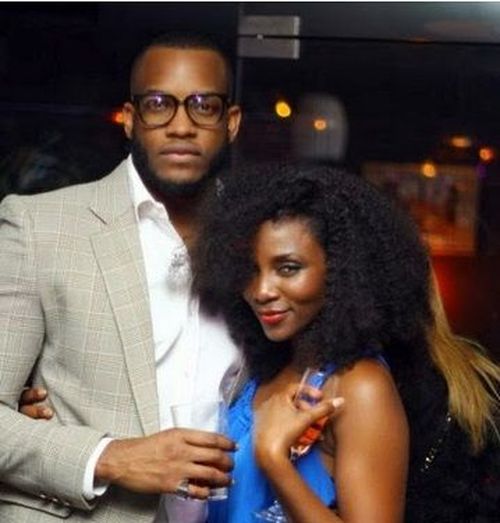 Read More:Best Boyfriend Memes
Black Relationship Quotes
Do you want the whole world to know about your relationships? There are different ways to do that from making a movie about your love to writing a song and dedicating it to the love of your life. But there's a less time- and money-consuming way. You can write a post with one of the following black relationship quotes and post it on any social media platform. Tons of likes, shares and comments are guaranteed.
Endless love is something we have between us.
The love comes silently and never runs out.
After all these years I realize that my love for you has multiplied.
God is just and I know it because He gave me you.
I will shout to the whole world that I love you if you feel the same.
Open your heart for me, dear, and let the love have it's way in us.
By the way, I know that you are still single because you have been waiting for me for whole your life.
Never say "I Love you", if you don't feel it.
Break her bad, not her heart.
Come on, life is incomplete without love and love me.
You and I are people who think the same, believe the same, but look like a man and woman.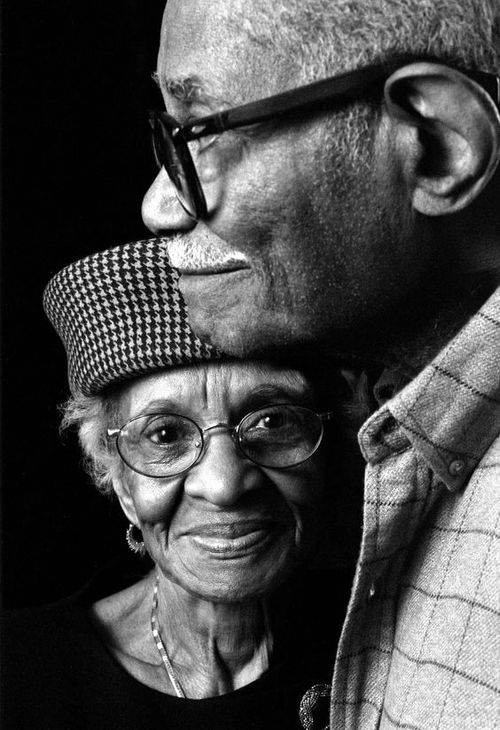 Read More:Cute True Love Quotes
Strong Black Couple Quotes
Do you see yourself as a strong black couple who is ready to share their vision of what the real love should look like with others? You may like to read through these awesome love quotes for black people. You can also use them to celebrate an anniversary of your marriage or to confess love.
I've never thought that I would fall in love with you so much.
I wanted to be a friend of you, but desperately fell in love with you.
Besides, you are the number one hero in my dreams, my love.
Happiness is what I feel when you're near to me.
I hope we will live together both on the Earth and heaven, my love.
Sugar and salt, spice and honey is what you are, dear.
You never know when you'll meet your love, so it's better to be prepared.
Enjoy your life, but only together with me, my love
I am fine with you if you love me too.
We are one, the parts of something gorgeous and everlasting because we are in love.
Often I think that it's time to hug each other more often.

So these full of the abundance of love quotes were designed especially
for your sweetheart to send. Pick the one or a few of them, don't be shy, and tell him or her you love them. It's never too late to say "I love you" and keep the relationships by sending a great quote. You're gonna find what you have been looking for once the quote is sent.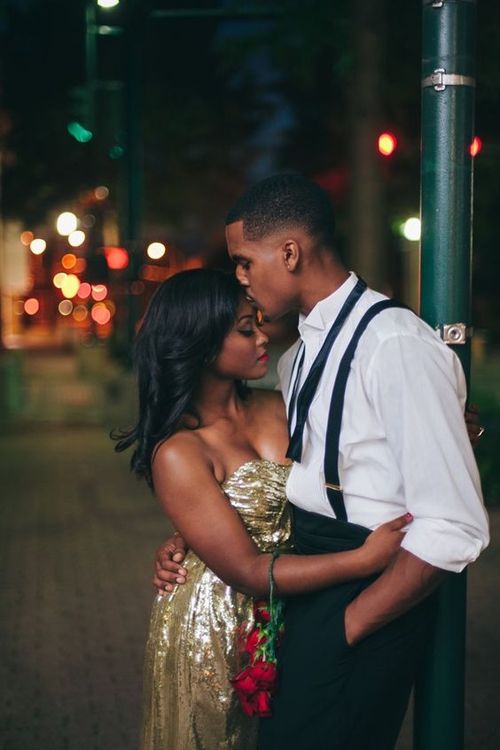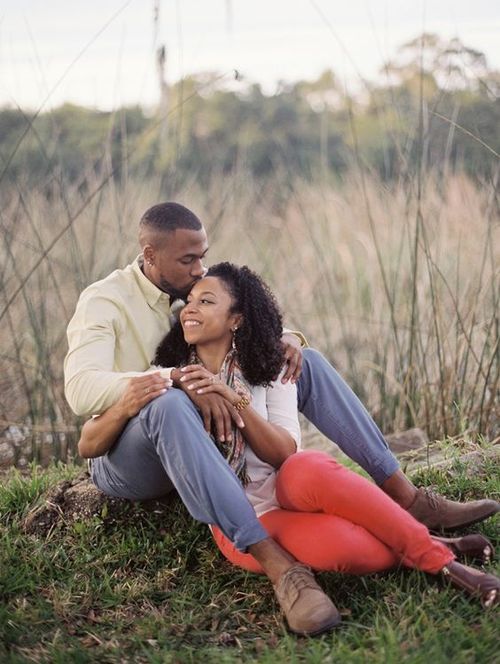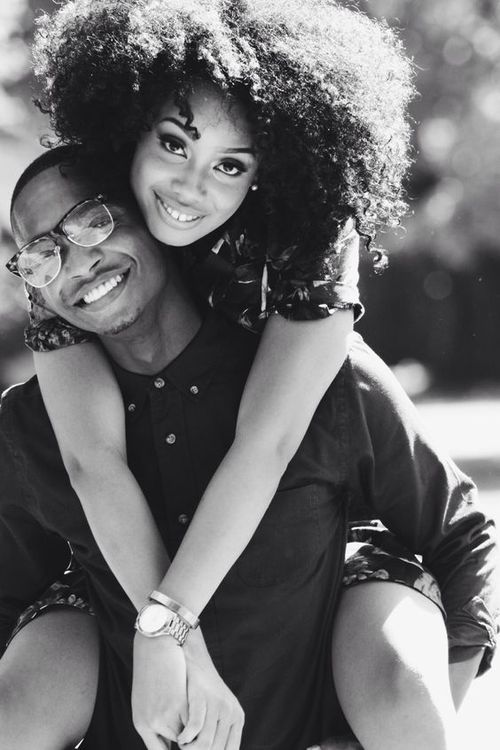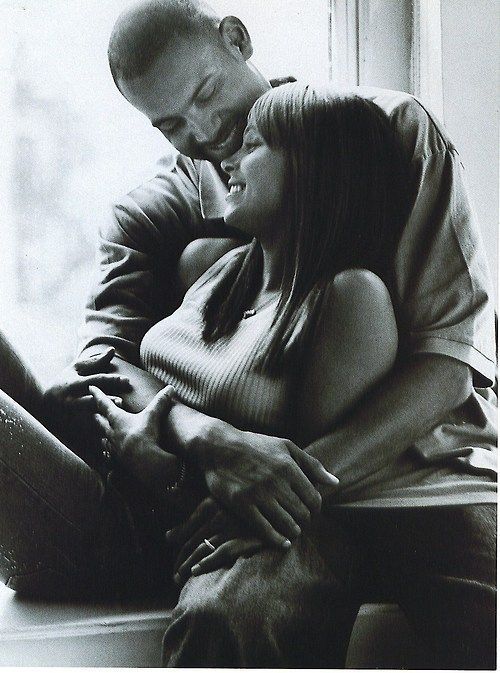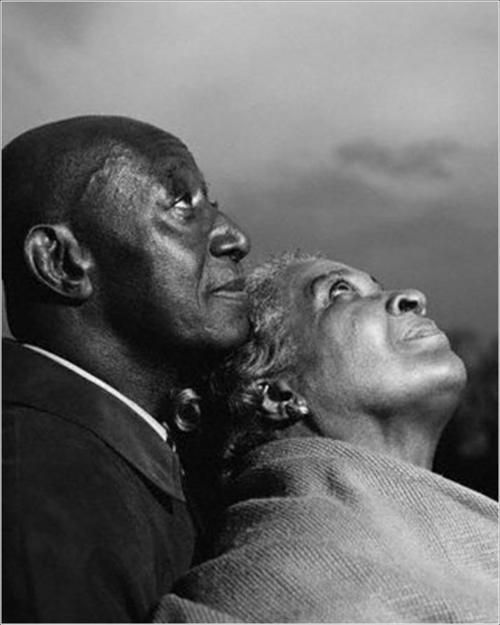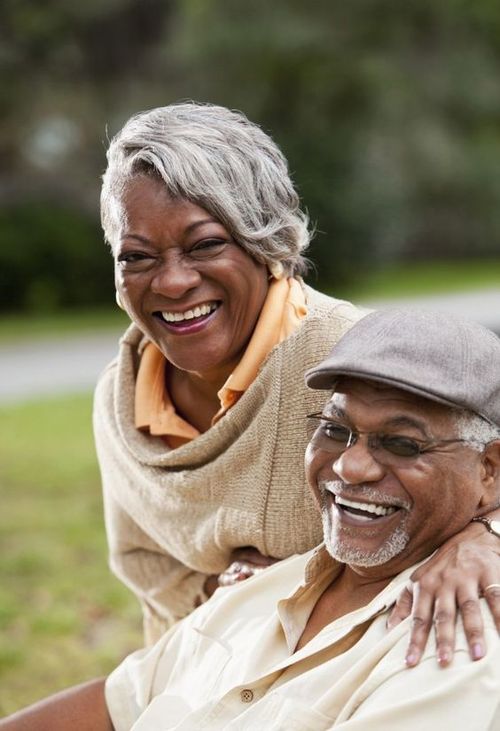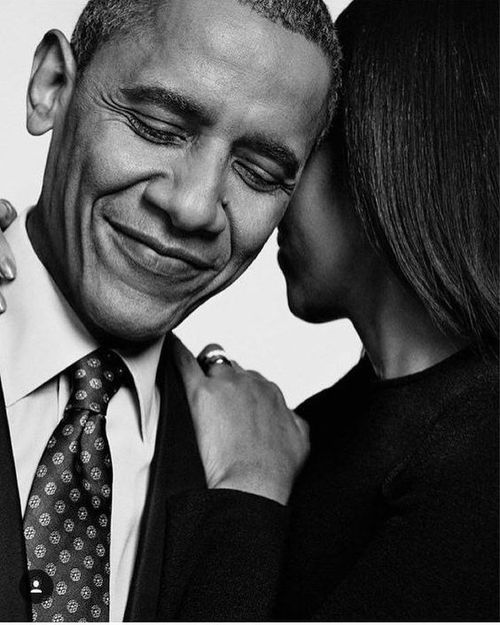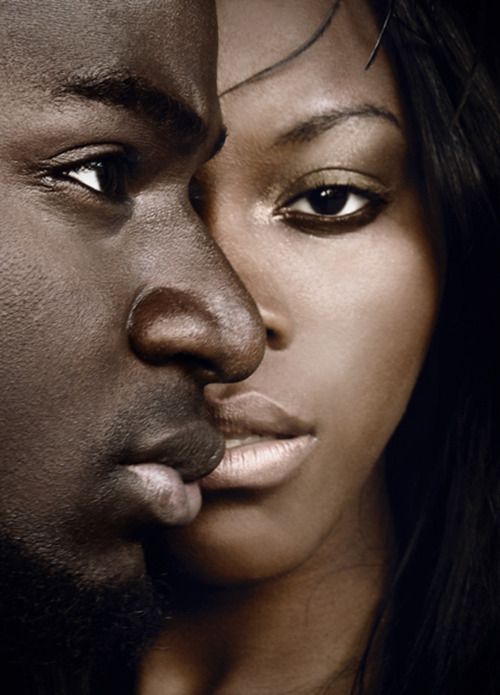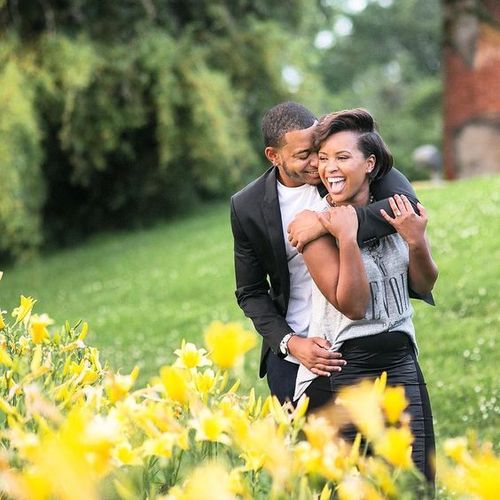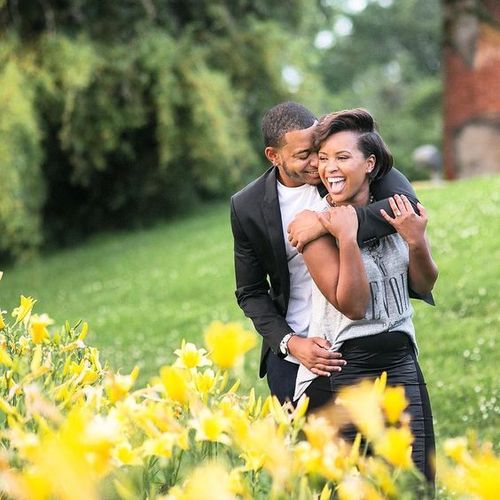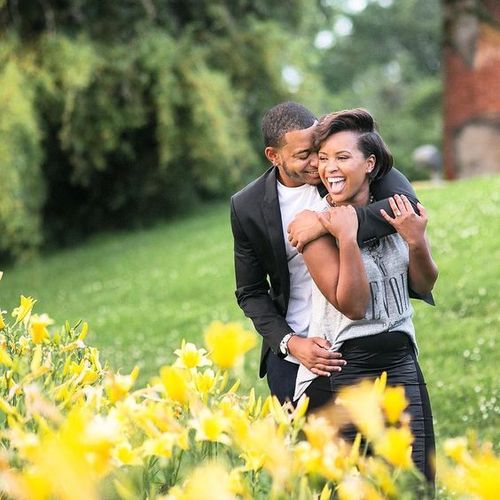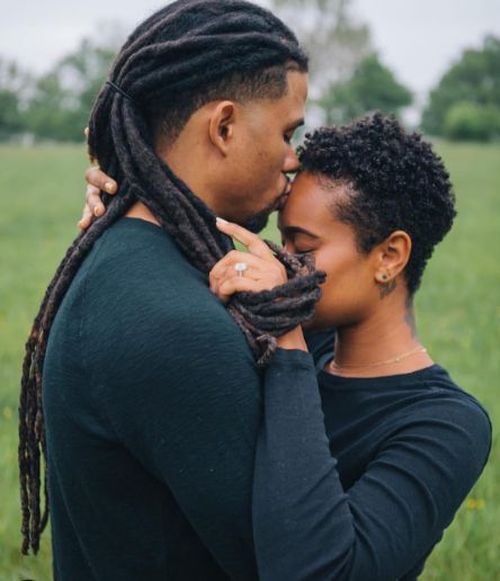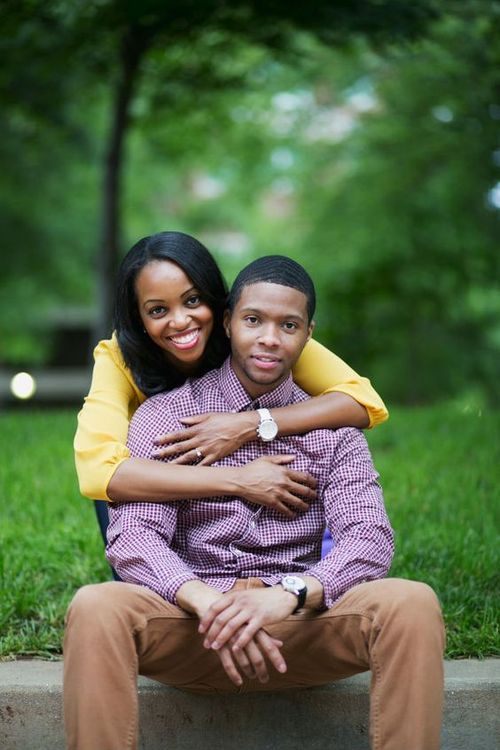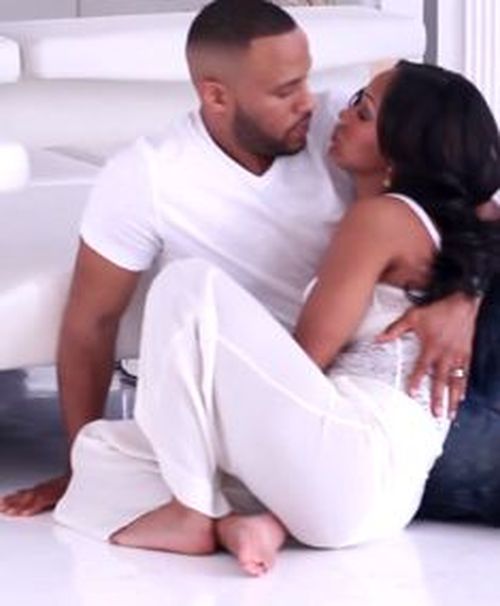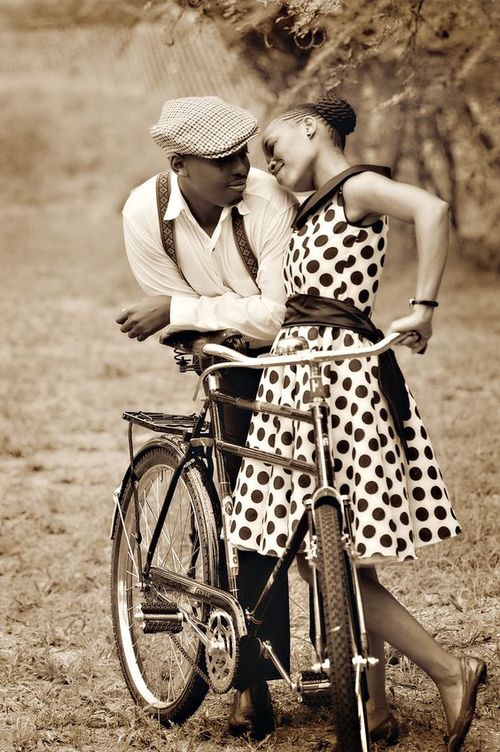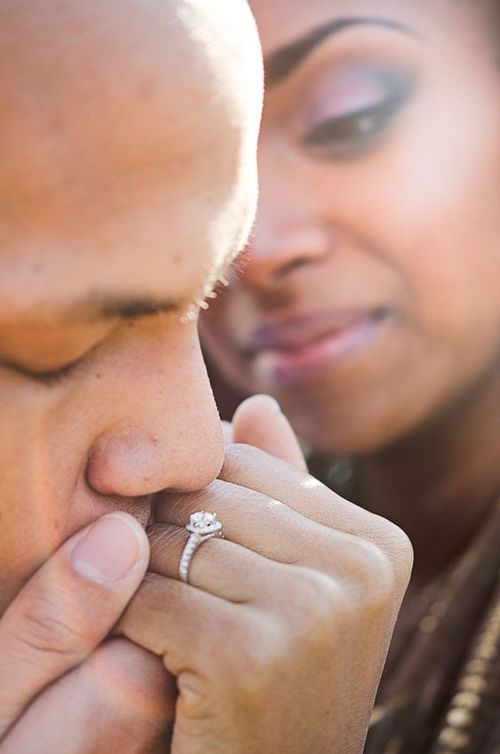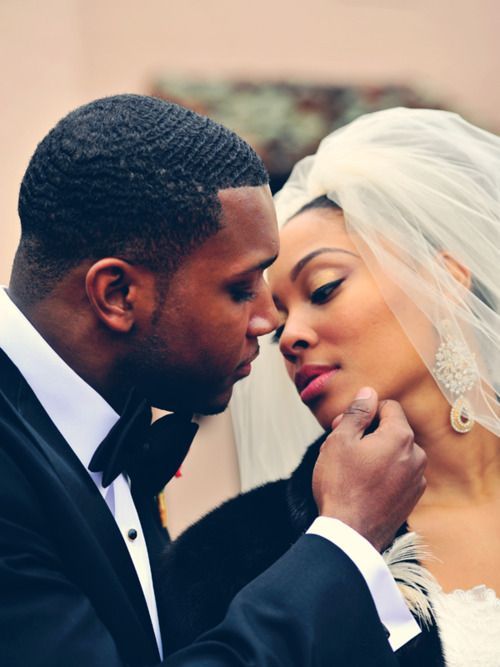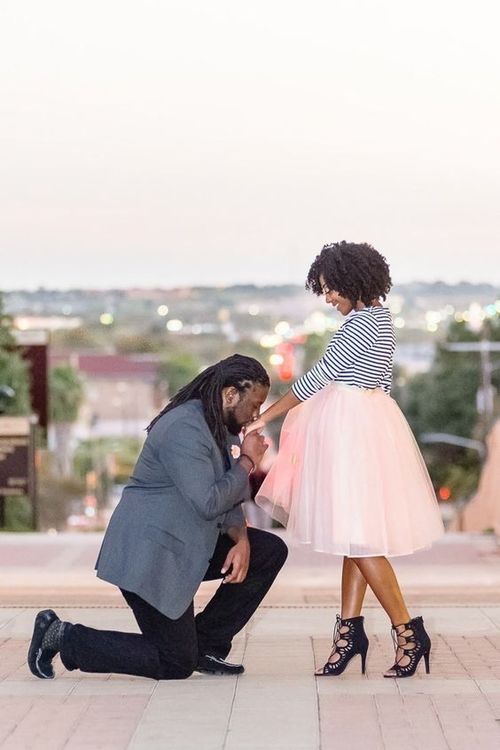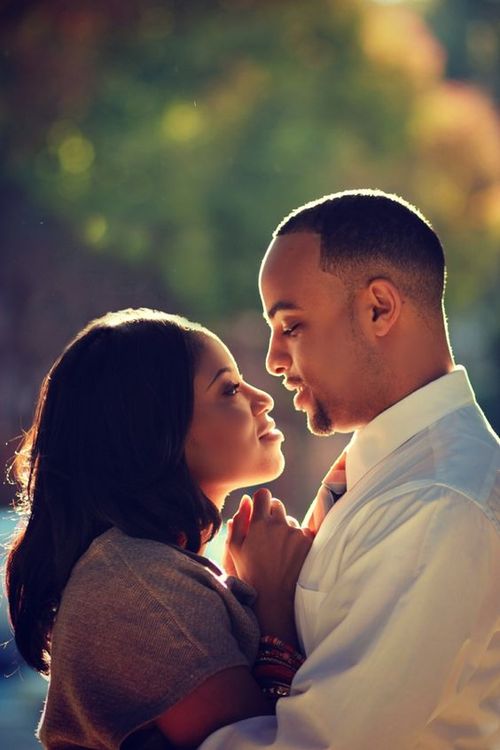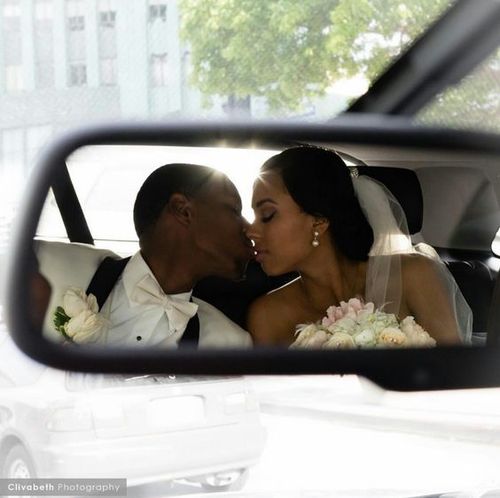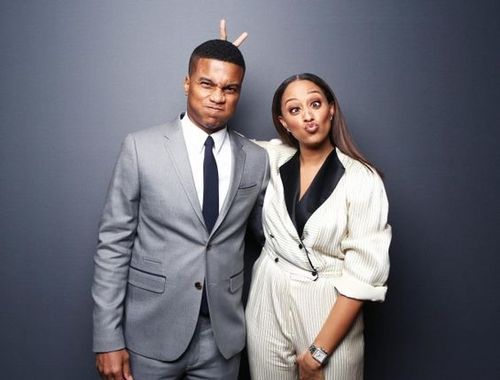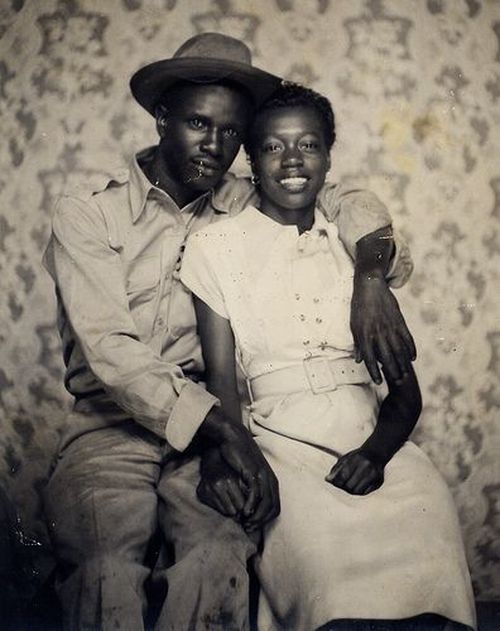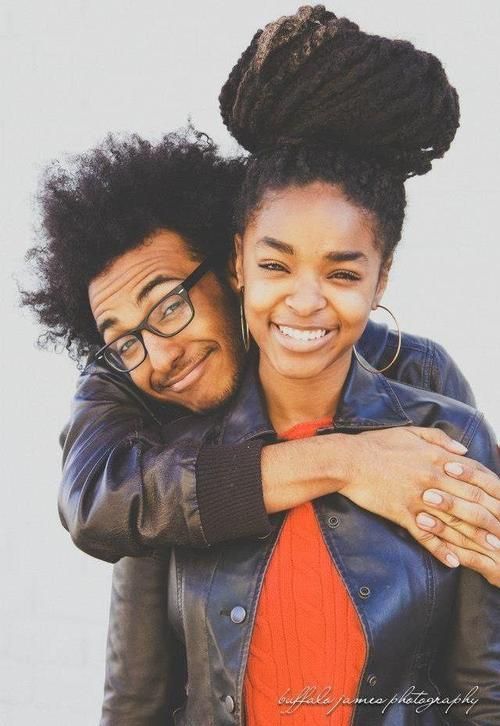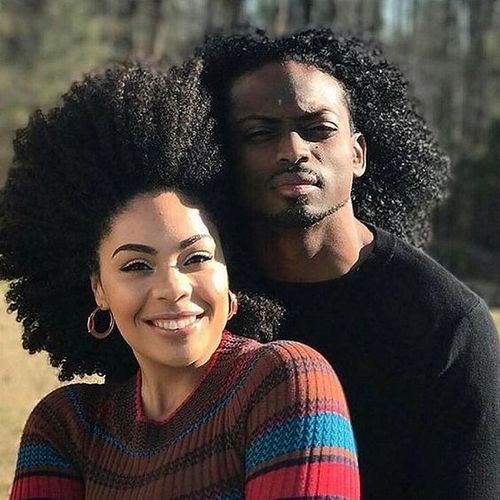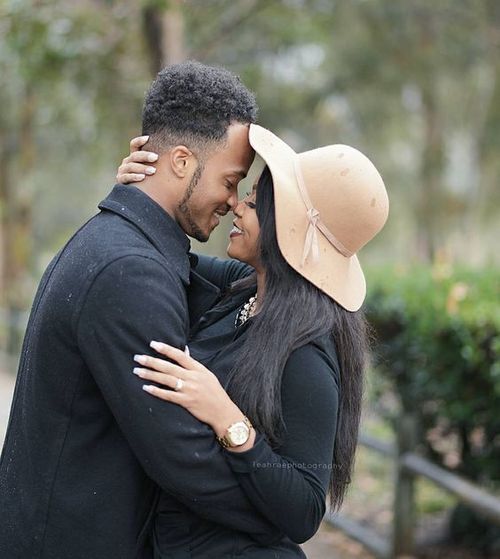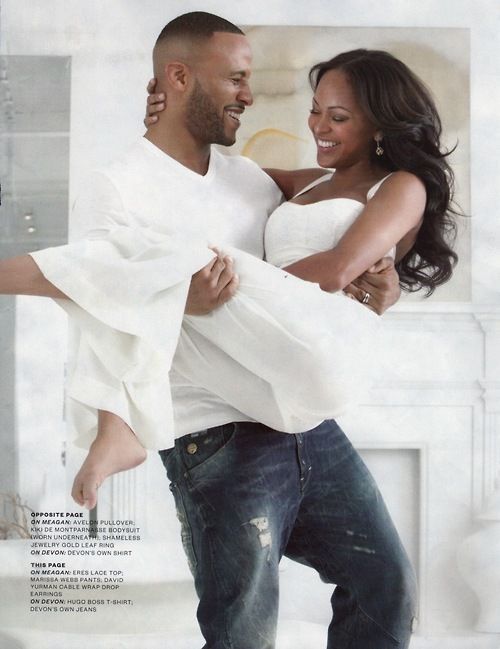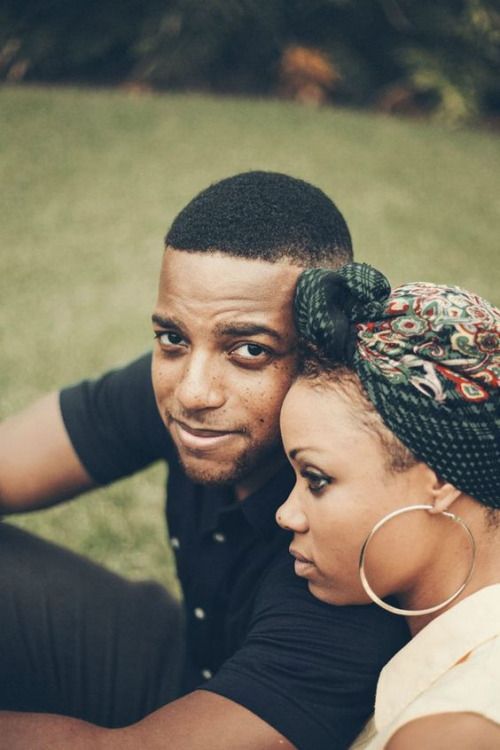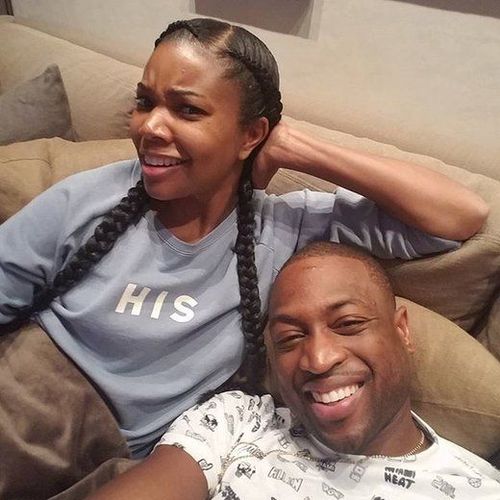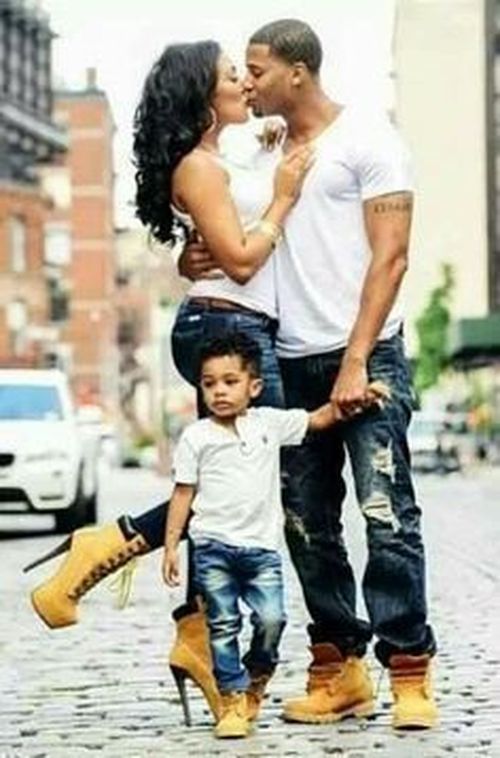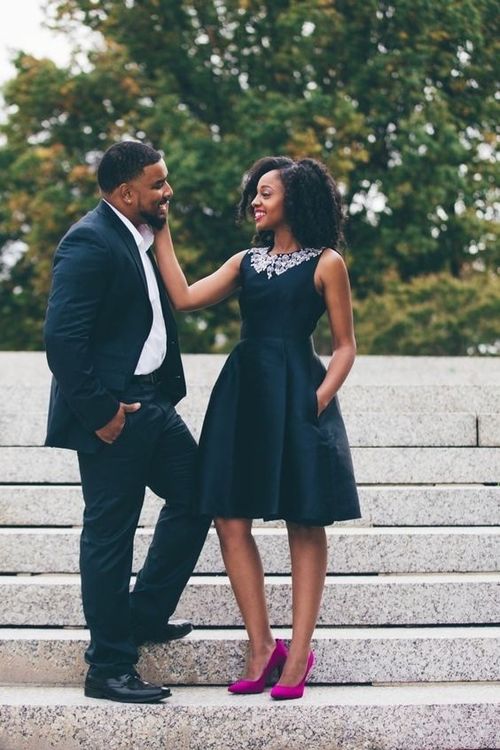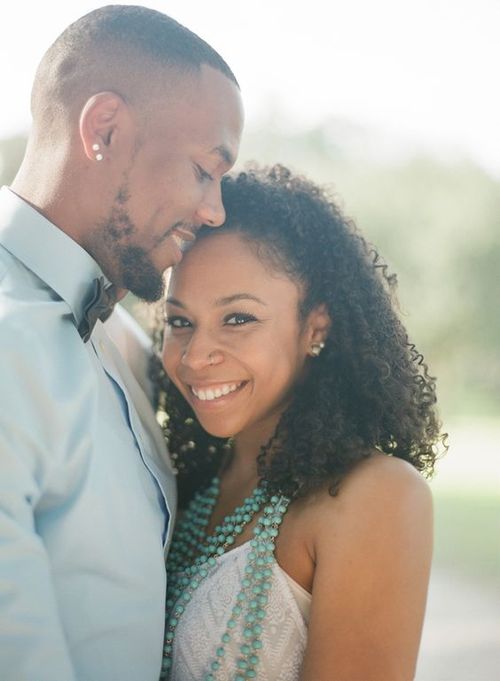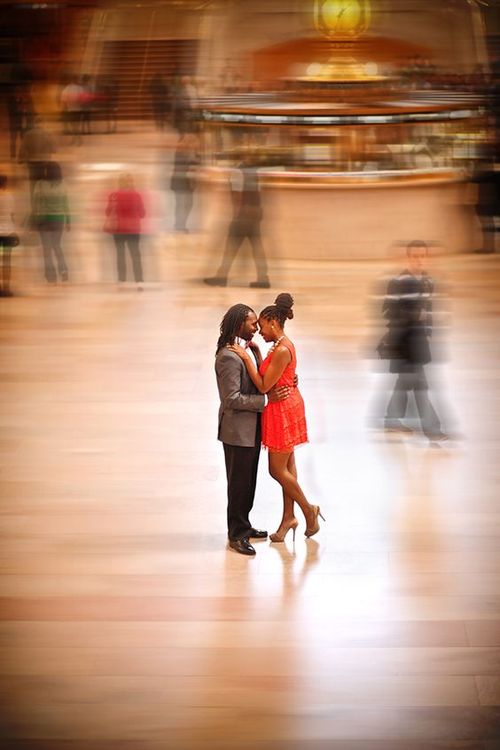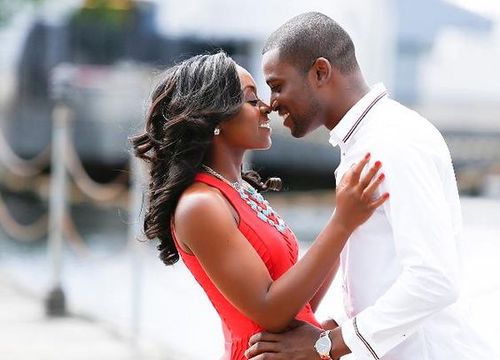 Categories: Captions, Quotes, Relationship, Romance
Sours: https://kindyou.com/cute-black-love-quotes/
Happy Anniversary Wishes for Husband 💕 Romantic Anniversary Messages for Husband 💕 Love Quotes
25 Black Love IG Captions To Celebrate Your Anniversary
Anniversaries with your partner are fun and meaningful. They're meant to celebrate the years you and your beloved have "weathered the storm" together. But if you're a Black couple, that "storm" probably looks more like a hurricane. You'vesurvived everything from microagressions at work, to institutional racism and state violence by each other's side. As far as Black love anniversary captions go, you can totally embrace the fact that your love is a radical act of resistance.
That's definitely something to not-so-humble-brag about. Whether you go for a caption that's soft and sweet or a bit more playful, you can't lose with the following phrases and song lyrics. Here are some ideas as to what words you can marry to the divine photos you'll share celebrating your Black love.
1. "Do you know what today is? It's our anniversary / Made for you and me." — "Anniversary," Tony! Toni! Tone!
2. Happy to have this hottie by my side.
3. Black love is resistance.
4. Annual reminder that we're your Black couple goals.
5. "That's just the way you make me feel." — "Make Me Feel," Janelle Monáe
6.[XYZ] years down, forever and a day to go.
7.Extra thankful that we get another year to celebrate our love.
8. "Tell 'em you're my girl / And anything you want is yours." — "Girl," The Internet
9.That Big Sean & Jhené Aiko kind of love.
10. That Gucci Mane and Keyshia kind of love.
11.That Quavo and Saweetie kind of love.
12.That Tessa Thompson and Janelle Monáe kind of love.
13.Good things are better with you.
14.Happy to have my melanin pop with yours.
15. "To be young, gifted, and Black / Oh, what a lovely precious dream." — "To Be Young, Gifted, and Black," Nina Simone
16. In honor of our anniversary, here's some #BlackGirlMagic & #BlackBoyJoy for your feed.
17.In honor of our anniversary, here's double the#BlackGirlMagic for your feed.
18.You and me forever, please.
19. "I can't believe we made it / This is why we're thankful." — "APESH*T," The Carters
20.Alexa, play "Love On The Brain" by Rihanna.
21.Even when you're getting on my last nerve, I'm happy to have you.
22. "I'm a ride-or-die and I don't need the keys." — "Ride or Die," Megan Thee Stallion and VickeeLo
23.Thank you for making this thing called life suck a little less.
24. Gladly by your side — through through thick, thicc, and thin.
25.#BlackLoveMatters
Dating is far from easy, especially if you and your partner cope with stressors like systemic racism, trauma fatigue, and the threat of violence. Still, you're probably glad you have a kind, thoughtful partner (who understands all of it) by your side. So, go on, use one of these Black love captions to celebrate that. Happy anniversary and happy posting!
Sours: https://www.elitedaily.com/p/25-black-love-anniversary-captions-to-celebrate-your-relationship-35080611
Anniversary quotes happy black love
Each anniversary is special, even though we give extra attention to the first and those that land every five or ten years. Anniversaries are a time in a relationship or marriage to reflect on shared memories, challenges overcome and the love that endures. Whether a couple is just beginning their journey, thriving and surviving during the hazy days of raising young children, or enjoying their retirement together, lasting love is always worth celebrating.
If you're writing to your partner, an anniversary card is an opportunity to reaffirm your love and commitment. If you're writing to a friend or family member, a card lets them know you share in their joyful milestones.  
That doesn't mean it's always easy to come up with the right words. Coming up with the perfect happy anniversary quote doesn't require finesse, just a little bit of inspiration and a whole lot of love. We've got you covered for the inspiration bit, and the rest should come from your heart (and maybe top it off with an anniversary gift or flowers).
Tips for writing an anniversary card
When you're writing to your spouse, you may feel pressure to come up with the perfect line. Use the language that feels most comfortable in your relationship. If you won him or her over with your sense of humor, then don't be afraid to write something funny. If you use sappy terms of endearment with each other, include them in your card.
Some of the most famous lines of traditional wedding vows are "for better, for worse, for richer, for poorer, in sickness and in health," and sometimes couples strengthen their union by facing adversity together. If you know a couple that's had a tough year due to job loss, illness or a new addition to the family, it's still appropriate to celebrate their years together and wish them the best. Rather than get too involved in their personal circumstances, keep the message light and optimistic.
For your husband 
These sentiments will help you find the words to celebrate the man you love and the strong bond that you share. A specially selected anniversary quote for your husband will help make your card meaningful, but you can also tap into your own emotions to make it personal and woo him all over again. 
Quotes
"Real love stories never have endings." – Richard Bach
"If you live to be a hundred, I want to live to be a hundred minus one day so I never have to live without you." – A.A. Milne
"Marriage is not just spiritual communion, it is also remembering to take out the trash." – Joyce Brothers
"For it was not into my ear you whispered, but into my heart. It was not my lips you kissed, but my soul." – Judy Garland
"The best thing to hold onto in life is each other." – Audrey Hepburn
"I saw that you were perfect, and so I loved you. Then I saw that you were not perfect and I loved you even more." – Angelita Lim
"For marriage to be a success, every woman and every man should have her and his own bathroom. The end." – Catherine Zeta-Jones
"The secret of a happy marriage is finding the right person. You know they're right if you love to be with them all the time." – Julia Child
Whatever our souls are made of, his and mine are the same." – Emily Bronte
Messages
Happy Anniversary, with all my love, to the strongest, kindest, funniest, best guy I know.
How lucky am I to have a man like you in my life? Here's to many more years of love and happiness together.
You're the man of my dreams.
Our love is not about how many days, months, or years we've been together. To me, our anniversary is about how much I love you every single day.
To the man I'd say yes to over and over again.
I feel saddened for those who have never had the joy of loving you. Happy Anniversary!
You're not my number one. You're my only one.
You are my best friend, my shoulder to lean on, the one person I know I can count on; you're the love of my life, you're my one and only, you're my everything.
No one else would understand our relationship and no one else in this world would understand me the way you do. Thank you for sharing this life with me.
Even as the years go by, I still feel as excited about our relationship as I did on the day we said "I do!"
For your wife 
If there was ever a time to write a message that will make your beloved swoon, it's on your anniversary. Prove she still means the world to you and that you recognize all the big and little things she does for you on a daily basis with these loving anniversary messages and quotes for your wife. Reminisce about the qualities that made you choose her above all others or tell her about all your hopes for your future together. 
Quotes
"The best love is the kind that awakens the soul; that makes us reach for more, that plants the fire in our hearts and brings peace to our minds. That's what I hope to give you forever." – Nicholas Sparks
"Some people ask the secret of our long marriage. We take time to go to a restaurant two times a week. A little candlelight, dinner, soft music and dancing. She goes Tuesdays, I go Fridays." – Henny Youngman
"If I know what love is, it is because of you." – Herman Hesse
"I love her, and that's the beginning and end of everything." – F. Scott Fitzgerald
"Unless you love someone, nothing else makes sense." – E.E. Cummings
"Love isn't finding a perfect person. It's seeing an imperfect person perfectly." – Sam Keen
"In all the world, there is no heart for me like yours. In all the world, there is no love for you like mine." – Maya Angelou
Messages
Every day, I'm still discovering new things about you to love.
I'll love you even when we're old and wrinkly. Happy anniversary!
Let's celebrate the magic we had back then, still have right now, and will always have forevermore!
How lucky I am to have fallen in love with my best friend.
Ten years ago today, you made me the happiest man on earth. And I still feel like I'm the luckiest.
I feel so lucky to have such a wonderful woman — a woman that makes my life complete, a woman that makes my day by the time I wake up until I get home from work. I love you so much.
You deserve the world, and I know I can't give that to you. So I'll give you the next best thing: my world.
I never knew what love was until I met you.
Everyone is someone's dream and you were mine.
Marrying you was the smartest thing I ever did.
You make every day more magical than the last.
No one can ever replace you, and no one makes me feel the way that you do.
Even if I got the chance to live this life again, I'd pick you time and time again.
For your friends and family 
Our parents and older family members are likely our first examples of seeing how a healthy relationship works. If your parents have set the standard by which you measure relationships, here's your chance to let them know. The same holds true of parents-in-law since you're reaping the rewards of the precedent they set. If there are other anniversaries you'd like to celebrate or acknowledge, try these as anniversary quotes for friends or a couple you're close to. Add personal messages of their wedding or inside jokes that you share together! 
Quotes
"I find the best way to love someone is not to change them, but instead, help them reveal the greatest version of themselves." – Dr. Steve Maraboli
"Marriage is the golden ring in a chain whose beginning is a glance and whose ending is Eternity." – Kahlil Gibran
"A happy marriage is a long conversation which always seems too short." – Andre Marois
"When you trip over love, it is easy to get up. But when you fall in love, it is impossible to stand again." – Albert Einstein
"They say a person needs just three things to be truly happy in this world: someone to love, something to do, and something to hope for." – Tom Bodett
"The highest happiness on earth is marriage." – William Lyon Phelps
"Come, let's be a comfortable couple and take care of each other! How glad we shall be, that we have somebody we are fond of always, to talk to and sit with." – Charles Dickens
Messages
Mom and Dad, the home you've made and your loving commitment to each other have blessed our family in more ways than we can count.
Your togetherness in good and bad times has taught us teamwork. Your tolerance for each other's habits has taught us patience. And your support during each other's crises has taught us solidarity. Your lives as our parents have taught us how to live. Happy anniversary.
You have always taught us to attain milestones in life. Congratulations on attaining one yourself.
May your anniversary be just as special as the love you two share, Mom and Dad.
So blessed to have grandparents like you. Thanks for showing us, year after year, what a marriage centered on faith looks like.
You two are amazing role models for marriage, parenthood, friendship and love. Thanks for everything!
You two are truly an inspiration.
You have so much to show for your many years together…a beautiful family and a lasting legacy of great memories.
Love that grows through time is such an inspiration. Congratulations on all of your years together.
Sharing in your happiness as you celebrate another year of marriage. Today is your day to be in the spotlight, and to celebrate all you have accomplished together and to bask in admiration.
Always knew you two had something special.
Here's to another chapter of your happily-ever-after!
Another year, another great reason to celebrate!
Let the adventure continue!
No one and nothing in this world is perfect…but the two of you are as close as it gets! Happy anniversary.
It's so cool that two of my favorite people are married to each other. Here's to three great years and many more!
An anniversary is a time to celebrate the joys of today, the memories of yesterday, and the hopes of tomorrow. Happy anniversary!
A handwritten card in honor of a couple's lasting love is enough to commemorate their special day, but a thoughtful anniversary gift is always appreciated. There are anniversary motifs for each year, with traditional and more modern gifts suggested for each one.
For example, the traditional fifth-year gift is wood (such as Our Adventures Together Keepsake Box), while the modern gift is a clock. Of course, these are just guidelines and you should feel free to gift your significant other or couple friends with whatever suits their style. After all, you're the one who knows what they will like best.  
Sources
Hallmark | American Greetings (1, 2, 3) | Shutterfly | Lovepop Cards | Holidappy | MenWit | Thought Catalog | Planet of Success | Parade
Sours: https://www.gifts.com/blog/anniversary-quotes
Happy Anniversary //Black Screen.
Speed of a money-counting machine. Having contrived, I began to caress her breasts with one hand, and with the other hand touched the clitoris. It produced such an EFFECT. Never in my life (sexual, of course) I have heard such a drawn-out and such a beautiful moan-scream of a woman who has finished.
You will also like:
And do not twist your nose. I already promised that you would come. Me with this damn work doesnt dare to stay, so you will have to help me out. In general, you will go - you will see the city.
947
948
949
950
951