Chain Link Fencing
Fencing
Ht.,
ft.
Ht.
Wd.
Wire
Dia.
Material
Each
Each
4
2 3/8"
2 3/8"
0.113"
Galvanized Steel
0000000
000000
0000000
0000000
6
2"
2"
0.148"
Galvanized Steel
000000
00
0000000
000000
8
2"
2"
0.148"
Galvanized Steel
000000
00
0000000
000000
Fencing Ties
Wire
Dia.
Lg.
Material
Pkg.
Qty.
Pkg.
0.114"
8 1/4"
Aluminum
100
0000000
000000
Top Rails
| | | | | |
| --- | --- | --- | --- | --- |
| Dia. | Lg.,ft. | Material | | Each |
| 1 3/8" | 10 1/2 | Galvanized Steel | 0000000 | 000000 |
| 1 5/8" | 10 1/2 | Galvanized Steel | 0000000 | 00000 |
Posts
For Fence
Ht.,ft.
Ht.,ft.
Dia.
Material
Each

End Posts

4
6 1/2
1 7/8"
Galvanized Steel
0000000
000000
6
8 1/2
2 3/8"
Galvanized Steel
0000000
00000
8
11
2 7/8"
Galvanized Steel
0000000
00000

Support Posts

4
6 1/2
1 5/8"
Galvanized Steel
0000000
00000
6
8 1/2
1 7/8"
Galvanized Steel
0000000
00000
8
11
2 3/8"
Galvanized Steel
0000000
00000
Tension Bars
For Fence
Ht.,ft.
Wd.
Material
Each
4
5/8"
Galvanized Steel
0000000
00000
6
5/8"
Galvanized Steel
0000000
0000
8
3/4"
Galvanized Steel
0000000
00000
Diagonal Support Rods
Lg.,
ft.
Material
Each
11
Galvanized Steel
0000000
000000
Connectors
Tension Bar to End Post Connector
Top Rail to End Post Connector
Top Rail to Support Post Connector
For Post
Dia.
For Rail
Dia.
Material
Each

Tension Bar to End Post Connectors

1 7/8"
__
Galvanized Steel
0000000
00000
2 3/8"
__
Galvanized Steel
0000000
0000
2 7/8"
__
Galvanized Steel
0000000
0000

Top Rail to End Post Connectors

1 7/8"
__
Galvanized Steel
00000000
000
2 3/8"
__
Galvanized Steel
0000000
0000
2 7/8"
__
Galvanized Steel
0000000
0000

Top Rail to Support Post Connectors

1 5/8"
1 3/8"
Aluminum
0000000
0000
1 7/8"
1 5/8"
Aluminum
0000000
0000
2 3/8"
1 5/8"
Aluminum
0000000
0000
Fasteners
Material
Pkg.
Qty.
Pkg.
Galvanized Steel
100
0000000
000000
End Caps
End Post Cap
Top Rail End Cap
For Post
Dia.
For Rail
Dia.
Material
Each

End Post Caps

1 7/8"
__
Aluminum
0000000
00000
2 3/8"
__
Aluminum
0000000
0000
2 7/8"
__
Aluminum
0000000
0000

Top Rail End Caps

__
1 3/8"
Aluminum
0000000
0000
__
1 5/8"
Aluminum
0000000
0000
Gates
Ht.
Lg.
For Gate
Opening
Frame
Dia.
Material
Each
4 ft.
44 "
4ft.
1 3/8"
Galvanized Steel
0000000
0000000
6 ft.
44 "
4ft.
1 3/8"
Galvanized Steel
0000000
000000
8 ft.
44 "
4ft.
1 5/8"
Galvanized Steel
0000000
000000
Gate Hinges
Male Hinge
Female Hinge
For Post
Dia.
For Gate
Frame Dia.
Material
Each

Male Hinges

1 7/8"
__
Galvanized Steel
00000000
00000
2 3/8"
__
Galvanized Steel
00000000
0000
2 7/8"
__
Galvanized Steel
00000000
0000

Female Hinges

__
1 3/8"
Galvanized Steel
0000000
0000
__
1 5/8"
Galvanized Steel
00000000
0000
Gate Latches
For Post
Dia.
For Gate
Frame Dia.
Material
Each
1 7/8"
1 3/8"
Galvanized Steel
000000
00000
2 3/8"
1 3/8"
Galvanized Steel
000000
0000
2 7/8"
1 5/8"
Galvanized Steel
0000000
00000
Floor-Mount Flanges
For Post
Dia.
Material
No.
of
Dia.
Mounting Hardware
Each
1 7/8"
Galvanized Steel
4
11/16"
Fasteners Not Included
00000000
000000
2 3/8"
Galvanized Steel
4
11/16"
Fasteners Not Included
00000000
00000
2 7/8"
Galvanized Steel
4
11/16"
Fasteners Not Included
00000000
00000
Barbed Wire Supports
For Post
Dia.
Number of
Wires Held
Material
Each

Barbed Wire Supports for End Posts

2 3/8"
3
Galvanized Steel
00000000
000000
2 7/8"
3
Galvanized Steel
00000000
00000

Barbed Wire Supports for Support Posts

1 7/8"
3
Galvanized Steel
00000000
0000
2 3/8"
3
Galvanized Steel
00000000
00000
Installation Tools
Diagonal Support Rod Tightener
Fence-Stretching Pull Chain
Fencing Stretcher
Wire Gripper
Material
Each

Diagonal Support Rod Tighteners

Steel
0000000
00000

Fence-Stretching Pull Chains

Steel
0000000
00000

Fencing Stretchers

Steel
0000000
00000

Wire Grippers

Iron
0000000
00000
Fence Post Drivers
For Max.
Post Wd.
Each
2 1/2"
0000000
000000
Fence Posts
T-Shaped
Ht.,
ft.
Wd.
Material
Color
Pkg.
Qty.
Pkg.

T-Shaped

5
1 1/4"
Enamel-Coated Steel
Green
5
0000000
000000
6
1 1/4"
Enamel-Coated Steel
Green
5
0000000
00000
7
1 1/4"
Enamel-Coated Steel
Green
5
0000000
00000
8
1 1/4"
Enamel-Coated Steel
Green
5
0000000
00000
| | | | |
| --- | --- | --- | --- |
| Post Puller | 0000000 | Each | 0000000 |
| Optional Caps for T-Shaped Posts (25/Pkg.) | 0000000 | Pkg. | 00000 |
| Post Driver | 0000000 | Each | 00000 |
Fence Post Pullers
For Max.
Post Wd.
Each
12"
0000000
0000000
Sours: /fence-post-caps/
This Dome External Round Post Cap has a galvanized steel construction that boasts durability, corrosion resistance, and a long life span. The post cap fits externally on a 4 1/2" chain link fence post or bollard to prevent water or debris from building up inside the post and causing internal damage. Easy to install, the post cap sleeves over the post, no tools necessary. Adding the post cap not only provides added protection and support but also gives the fence a finished look.
Features:
• Fits Externally
• Post Size: 4 1/2"
• Available In Black
• Material: Galvanized Steel
• Also Fits SCH40 4 1/2" OD Pipe
• Simple To Install, Sleeves Over The Post
• Corrosion Resistant Material Ideal For Outdoor Use
• Protects Fence Posts From Build-Up And Internal Damage
Please Note: Due to manufacturing differences, the product you receive may not match the picture.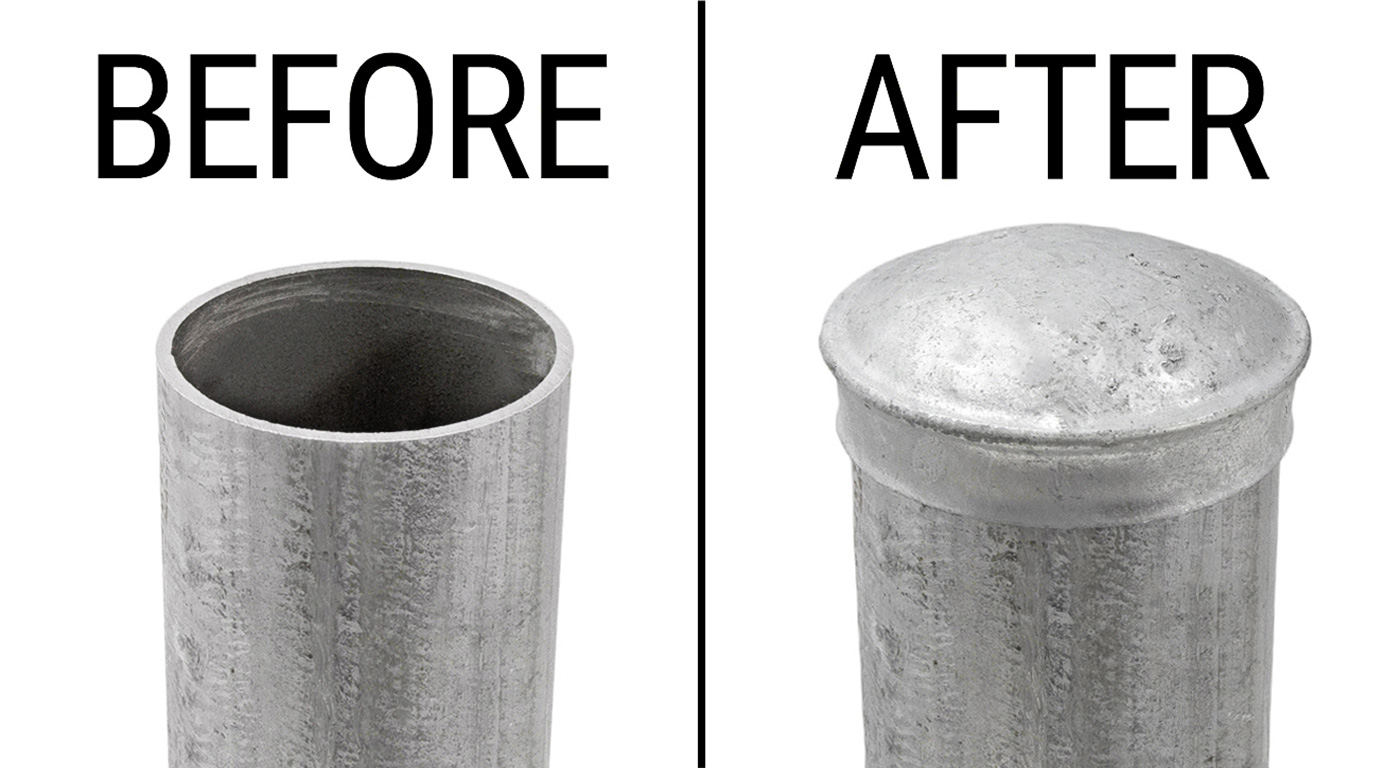 Additional Information
| | |
| --- | --- |
| Chain Link Fitting | Dome Post Caps |
| SKU | PCD45 |
| Condition | New |
| Post Size | 4 1/2" [4 1/2" OD] |
| Finish | Galvanized |
| Fits | External |
Chain Link 4 1/2" [And SCH40 4 1/2" OD Pipe] External Round Dome Post Cap (Pressed Steel)
Sours: https://chainlinkfittings.com/store/4-1-2-galvanized-steel-dome-external-round-post-caps-also-fits-sch40-4-1-2-od-pipe.html
The 2 1/2" Sq. Aluminum Post Cap is designed to fit 2 1/2" Sq. aluminum fence posts. Protect the interior of your fence posts with the 2 1/2" Sq. Aluminum Post Cap and prevent build up of rain, snow, ice, and debris of eroding the post. This post cap has a smooth, black, powder-coated exterior that boasts rust, corrosion, and weather resistance for excellent outdoor performance. Easy to install, simply slide the cap over to the top of the post and use a rubber mallet to tap in a tight fit.
Features:
• Fits Externally To Post
• Standard Flat Post Cap Style
• Lengthens The Life Of The Fence Post
• Sleek, Smooth Black Powder-Coated Exterior
• Rust, Corrosion, And Weather Resistant Post Cap
• Easy To Install, Simply Slide Cap On Top of The Post
• 2 1/2" Sq. Aluminum Post Cap Fits 2 1/2" Sq. Aluminum Posts
• Use A Rubber Mallet To Tap On Tight Fitting Post And Cap
• Prevents Build-Up Of Snow, Water, Ice, And Debris Inside The Post
Specifications:
• Color: Black
• Post Size: 2 1/2" Sq.
• Fence Type: Aluminum
• Style: Standard Flat Cap
Additional Information
| | |
| --- | --- |
| SKU | PC25BL |
| Manufacturer | AluminumFenceBrand™ |
| Color | Black |
| Product | Post Cap |
| Fits Post Size | 2 1/2" Sq. |
Post Cap For 2 1/2" Square Aluminum Fence Post (Black)
You may also be interested in the following product(s)
Sours: https://quickshipaluminumfence.com/store/post-cap-for-2-1-2-sq-fence-post-black.html
4 Ways To Cap Square Tubing - 3 Weld Caps on Tubing - NO Welding Required on one Cap.
Post Caps - Metal, Wood, Composite
The Deck Store is the proud supplier of all the major brands of Post Caps for your deck rail or fence project. Post Caps are designed to be both decorative and functional. The typical design diverts water and snow from causing the end grains of your posts to split and decay.
Post Caps come in almost every imaginable color, shape and material. Further complicating the selection process is the enormous number of sizes available and the way the sizes are described. We try to make this as clear as possible so you get the cap you expected the first time. Terms like "Actual" and "Nominal" are used frequently. Much like a 2x4 is actually 3-1/2" x 1-1/2" in size, post cap manufacturers do the same thing, but to mix it up some manufacturers of Composite or PVC post sleeves only use actual sizes in their description. As a general rule if you select a post cap from the same manufacturer as the post sleeve you're likely going to get the proper cap. Manufacturers want you to use their products so they might change the shape slightly (Rounding or projecting corners) so only their caps will fit. If you have a question about a particular cap Contact Us and we will do our best to help you. Sending a digital picture with measurements helps too.
Major Brands: Aurora | Deckorators | Timbertech | Azek | Trex | Fortress | Nantucket | Dekor
Types of Caps: Specialty | Illuminated | Glass | Wood | Finials | Metal | Composite
Sours: https://www.thedeckstoreonline.com/deck-post-caps-and-accessories/deck-rail-post-caps.html
Post caps fence 2
And the boy, clasping the female thighs with his hands, quickly moved his penis into the vagina. He saw him, as he went to the very eggs in the vagina, then, wet, shiny, pushed back. The usual squelching sounds were heard. The woman began to moan softly with pleasure, waving her backside, but the boy was already lowering, convulsively jerking his penis into the.
How To Make Post Caps
They were dressed as before, in denim shorts and T-shirts, but now the girls did not have bras under the T-shirts - the nipples were clearly. Visible through the fabric. Why is he here and what is this room.
Similar news:
Get the jackal out of here. - I supported Lyudmila, entering the bedroom, and, diligently portraying anger on my face, swung my fist at Yurka who had jumped out of bed. Judging by.
95
96
97
98
99