Using L-track for a myriad of storage options.
Many of my blog posts about building out RadVan as our DIY Adventure Mobile could easily be retitled- "Stuff I had to figure out on my own that I wish someone had written about and saved me hours of research, experimenting, and frustration."  This post is along the same lines.  Hope it helps.  
L-Track is amazing stuff.  Lots has been written about the use of L-Track in campervan conversions to maximize function and storage in vans.  I ended up using a ton of L-Track in RadVan to maximize gear attachment points and conceal wall and ceiling joints.
L-Track for those who are not familiar with it is a standardized modular cargo track system used in trucks, wheelchair vans, etc.
Once your L-track is installed, there are a variety of rings, hooks and attachment points available.  All the L-Track accessories can typically be moved in 1-inch increments and removed in seconds.
One of the things about DIY campervans is that we all "learn as we go along."  I learned about L-Track by seeing it in some boutique custom vans and was immediately struck by how functional it is.
Uses for L-Track
The L-Track is used to hang modular storage cabinets from Adventure Wagon.
I used a strip of recessed L-track to make easily adjustable fork mounts for our bikes.  We can easily hold four bikes underneath the platform bed.
Safely securing loads is the most important use of L-Track.  In the event of collision, you don't want anything flying around the cabin.  Use L-Track to secure loose items not only to control clutter, but to keep anything from accelerating toward your head in the event of a crash or emergency stop.
Different types of L-Track
Over the course of building my van I ended up ordering several different styles of L-Track.
Left to right: Pre-drilled recessed (flanged), undrilled recessed, surface mount (undrilled), surface mount low profile, powder coated surface mount.
I ended up using the recessed style L-track on the lower walls and ceiling as a method of helping to hang the walls and to conceal the plywood joint.  For the upper walls, bed rails, and door, I used surface mount L-track.
Side view of the some of the different profiles.  (The camera distorted the end pieces to look narrower).
Drilled vs undrilled L-Track
L-Track is available in both pre-drilled and blank styles.  Pre-drilled L-Track is typically drilled at 4-inch or 5-inch intervals.  I ended up using both styles in different parts of the van.
Pre-drilled L-Track is great for flat surfaces with a continuous mounting surface.  L-Track is mostly commonly available with holes drilled at 4 or 5-inches.  L-Track drilled at 4″ intervals is likely overkill for a campervan in most cases.  (In a commercial truck hauling heavy loads, 4″ attachment points are great).
I found that undrilled L-track is the most flexible for use in a campervan conversion, but adds extra steps in mounting.  Cargo Equipment Corp is the only supplier that I found that has undrilled L-track available in 100″ lengths without a special order.  If I had to build another van I would have special ordered undrilled low profile L-Track well in advance of my build (lighter with more rounded corners).
I ended up using pre-drilled L-Track in the lower walls and rear doors, and undrilled L-Track in the ceiling and upper walls.  The structural beams that run across the ceiling and upper walls don't correspond to regular holes.
Mounting L-Track
There are two primary ways to mount L-Track into a van- Rivnuts (aka Rivet Nuts, blind insert nuts, or nutserts), and pop-rivets.
Use a drill bit stop!- Absolutely positively do not drill into your van without a drill stop.
The sheet metal siding in vehicles will easily dimple or chip the exterior paint if you drill too far.  Trust me on this.  I know from experience- when my DIY bit stop slipped.  Even with a steady hand I've found that the last bit of metal lets go quickly and you'll end punching all then way to the drill chuck without a good collar.
Double drill stop! Not optional when drilling your van!
There are different inexpensive drill bit stops available on Amazon or at your local hardware store.  I doubled up on bit stops for extra safety as shown in the pic on the right.  I found that the simple metal collar type can slip.  My bit stop setup is as follows- Century Drill and Tool Adjustable Drill Stop on the bottom and a simple collar type on the top.
There are a ton of inexpensive drill stops available.  Cheap insurance against damage to your van!
I used Rivnuts for installing my L-Track in most locations.  I bought an Astro 1442 Riveter Kit from Amazon.  Definitely worth the money if you plan on installing a bunch of L-track in your van.   There are a number of online videos on how to install Rivnuts without a tool as well.  The ease of installing the Rivnut with a dedicated tool is worth the time you'll save.
The Astro 1442 in use
The Astro 1442 is a good tool that takes a few practice pieces to get the hang of.  I've found that the Astro 1442 can easily tear the threads out of 10-24 and M4 Rivnuts.  It can also destroy the threads of 1/4-20 and M5 Rivnuts as well.  Do a few practice pieces to get the hang of it.  Too much torque and you'll damage the threads- Too little torque and your Rivnut will spin.
I have a love/hate relationship with Rivnuts.  On the "love side" you can easily install threads on any sheet metal surface.  On the "hate side",  the soft metal that allows the Rivnut to flare easily into sheet metal also makes for soft threads.  I've had about a 10-20% failure rate on my Rivnuts, and have had to drill out and replace some of them.  In general, the larger the Rivnut, the stronger the threads will be.  Go bigger where it makes sense.
I've ended up using 10-24, 1/4-20, 5/16-18, and M8 Rivnuts in various places in the van.  I originally started with the idea of keeping everything metric in the van, but found that some SAE sizes fit more easily into factory holes (either direct press in or with a minimal amount of drilling into factory holes).
Click pics below for full size-
I found that clamping the L-track to the wall (wherever possible) and drilling small pilot holes was the easiest way to install it.  Since many of the Rivnut mounting locations are in asymmetrical locations, clamping and drilling through the L-Track to make a pilot hole worked the best for me to get an exact match.
Once the holes were marked, I removed the L-Track and marked it's location and orientation on the back with a Sharpie.  Then I drilled out the appropriate sized hole and installed my Rivnut.
The last step is to prep and drill your L-track (if using the "blank" L-track).  For this I used a drill bit larger than my actual screw (5/16″ for a 1/4″ screw, for example) to give a bit of extra error correction.  (I had a few holes that weren't lined up quite right with the Rivnut and "fixed" them by widening out the hole in the right direction with a round file- often 1/32 of filing made all the difference).  Then I countersunk my L-track holes with a carbide deburring bit from Amazon.  The carbide bit works nicely  for countersinking and I got about 50 holes in aluminum before it dulled.  Pretty inexpensive at about $20 for a set of 4.
Here's my L-Track mounting system" in bullet point format-
Triple check the location of your L-Track on the van.
Clamp it to the wall in actual location wherever possible (use ledgers if you need).
Mark your Rivnut locations with a sharpie "dot".
With a small drill bit, drill through the L-track and barely into the sheet metal to mark its location.
Remove the clamps and L-Track
Drill out your Rivnut holes, prime or paint raw metal surfaces, and install Rivnuts.
Drill out and countersink your L-Track.
Test fit.
For mounting L-Track on the ceiling, I found it easiest to install one Rivnut into the L-track and use it to hold the L-track in place as I marked and drilled the rest of my pilot holes.
Cutting L-Track
L-Track cuts easily with a reciprocating saw, jig saw, or angle grinder.  I went a step further and bought a "non-ferrous cutting blade" for my miter saw from Amazon.  Makes perfectly square burr free cuts.
Mounting L-Track with Pop Rivets
Pop Rivets are a much easier way to mount L-Track than Rivnuts.  You'll save a few steps with pop rivets but lose the ability to unscrew your L-track if necessary. Pop Rivets are not as strong as bolts, so use rivets only as a mount where you don't need to secure large loads.
I used pop rivets to install short sections of L-Track in the rear doors (to hang a showerhead for outdoor showers or wetsuits to drip dry).  I also installed L-track along the lower edge of the platform bed rails.  There was a lot of potential unused storage space there.
L-Track Accessories
One of the great things about L-Track is the mounting accessories.
There are a ton additional L-track mounting accessories as well. (Click link to open a window of L-Track fittings).
Integrating L-Track into your Interior Design
I've always admired beautiful rustic van designs.  L-Track is anything but rustic but provides Swiss Army knife function to your van.
Functional- not necessarily sexy.
You can see here that I've used recessed L-track to cover the joint for my plywood wall  and ceiling panels.
This strip of L-Track holds the wall panels to the wall with minimal screws and provides a ledger for the upper panels.
In order to used recessed L-Track this way you may need to glue a furring strip to the edges of your wall panels.  The recessed flange on the L-Track is 1/2″ deep. I used 1/4″ maple plywood for the walls  and ceiling (to keep weight down) and glued 1/4″ strips to the edges of the plywood with leftover scrap.  I also applied a strip of felt to the inside corner of the L-track and to the back of the furring strip to prevent any vibration or squeaking at the joint.
The flange on the L-Track helps to hold the ceiling panels in place using minimal screws.
Integrating wall panels with L-Track
One of the benefits of L-Track is additional attachment points for your wall panels.  I was pleasantly surprised to find that the L-Track pulled the wall panels nicely into the curved walls.
Hole cutouts for the the Rivnuts
L-Track Joint
Other Resources
Sprintervanusa.com has an outstanding blog and page on L-Track for more information.
Tagged as: Campervan, DIY Camper, L-Track, Logistic Track, SprinterLife, sprintervanlife, VanLife
Categorised in: DIY Sprinter conversion, RadVan, Uncategorized, VanLife
Sours: https://radvanadventures.com/2017/01/04/using-l-track-for-a-myriad-of-storage-options/
L-Track For the Win
How US Cargo Control's L-track Enables the Van Build of Our Dreams
by Nick Davila, Vantastic Media. July 11, 2018
Tags: #DIY #Sprinter #vanlife
This post contains affiliate links
When Shelly and I decided to buy and convert a Mercedes Sprinter van into a tiny home, we hotly debated the best interior design.
It would have to accommodate a variety of uses, just like a regular house, with dedicated areas for cooking, working, sleeping – everything!
It was an exciting challenge but also nerve-wracking. Neither of us had designed or built a van, and we knew our first attempt wouldn't be perfect. So we wanted a flexible, modular design that would let us make layout changes down the road.
The problem was, how do you build a van so that fixtures can be fastened securely and removed easily?
A key design challenge was how to fasten large fixtures like these, so they're secure yet removable.
Enter, US Cargo Control's L-track System
Logistic Track, or "L-track" is a rail system most commonly used for tying down cargo like motorcycles, ATVs and other bulky items. It's also known as "airline track" because a variant is used to fasten passenger seats on planes. The beauty of L-track is that it's incredibly strong, low cost and it can be installed almost anywhere in a vehicle.
US Cargo Control is a leader in L-track systems with an impressive array of quality L-track products. We partnered with them because they'd like to see their products in more DIY vehicle conversions, and we like promoting companies that enable mobile lifestyles.
Installation
Phase One of our L-track system was to install 8 feet of rails on both sides of the van along the lower walls of the cargo area and make custom furniture brackets to attach to them. The rails would serve as the upper attachment points for several large pieces including our counter, galley, Shelly's roll top desk and bed platform.
Here are the tools and materials we used and what we did!
ToolS
Materials
L-track install
16 feet of US Cargo Control L-track (We used eight, 24" pieces in black, but they're available in a variety of lengths and finishes. If we did it again, we'd probably use four, 48"pieces, like these, to reduce the time spent aligning shorter pieces)
About 40 US Cargo Control L-track fasteners (1/4"-20 x 1-1/2" stainless steel bolts, nuts and washers) Each of the 24" L-track pieces we used had 6 pre-drilled mounting holes. Longer track pieces have fewer holes.
Auto touch up paint
Threadlocker (medium strength)
2" masking tape
Magnets
Sharpies / markers
DIY brackets
About 8 feet of thin, punched steel flat bar (like this)
About 20 1/4" bolts, washers and nuts (like this)
Steps
Position L-track where desired, and mark the L-track's pre-drilled hole locations on the van wall
Clean and prep drill zone: cover perimeter with 2" masking tape (to prevent scratches) and magnets (to catch metal shavings and avoid rust)
Center punch marked locations, and drill holes using a 1/4" metal-cutting bit with a stop collar
Deburr holes and remove excess metal shavings with magnets and vacuum
Paint bare metal around holes to prevent rust; let paint dry
Apply thread locker to bolts and nuts (to prevent loosening over time); insert bolts through L-track into holes
Reach behind van interior wall and loosely thread a washer and nut on each bolt
Once all nuts are loosely threaded, hold nuts with a wrench and tighten bolts with a screwdriver
That's it! Track installed! We were immediately impressed with how tightly it fit on the wall. It felt like part of the frame.
Click pics below for more install details and tips.

It's All About the Fittings
Once the track is fastened, you can clip in L-track fittings anywhere on the track in one-inch intervals. US Cargo Control offers almost every L-track fitting imaginable, though the only one we needed for our lower tracks was their double stud fitting with bolt thread. Thanks to its 3/8" fine-threaded housing, we can bolt fixtures easily into the track! The fittings are super strong with a 1,333 lbs working load limit and 4,000 lbs break strength.
We allocated 3 to 5 fittings for each furniture piece and snapped them into the track at strategic intervals. Next we jammed Sharpies into the fittings' sockets and slowly scooted each furniture piece towards the wall, so the Sharpies would mark drilling locations. We drilled 3/8" holes at each marked location, for our DIY furniture brackets.
Making DIY Furniture Brackets
Most of our furniture is made of wood, including a couple of hard-to-find vintage pieces. We don't expect them to hold up forever (i.e. we like driving off-road), but we don't want them to disintegrate immediately either. So we reinforced the rear of each fixture with thin steel flat bars, which we modified into custom brackets.
We bought the bars in 4' lengths and cut them into piece-specific lengths using a jig saw with a metal cutting blade. We fastened a pair of bars to the rear of each fixture (using 1/4" bolts, nuts and washers), like a sandwich. The bars had pre-punched holes at regular intervals, which saved us some drilling, but those holes didn't always line up with the 3/8" holes that we drilled into the furniture. In those cases, we used a step drill bit to widen the holes until a 3/8" bolt would pass through at 90 degrees and go into the L-track fitting.
We found that 2" bolts were usually the best length. They're just long enough to go through both reinforcement bars and the wood, with washers on both sides and a jam nut on the back side, and still tighten all the way into the L-track fittings.
Our hands down favorite part of this project was pushing each furniture piece back against the wall and watching the bolts of our DIY brackets perfectly mate into the L-track fittings (which never happened on the first try). Widening the bracket holes usually made things work.
Results
So far, we're very happy with our US Cargo Control L-track system, and we think it's an excellent solution to mount our fixtures.
We love how tightly it secures fixtures to our van, while letting us remove and replace pieces easily. The L-track system holds fixtures much stronger than sheet metal screws, it's more versatile than welded brackets, and it's more practical than an array of plus nuts.
Check back later to see our L-track install, Phase Two!
Have you used L-track in a vehicle conversion or have questions on what we did? Let us know in the comments below!
Sours: https://www.vantasticmedia.com/vanbuild-posts/2018/6/21/l-track-for-the-win
L Track Bed Idea
Eka said:

You could use removable cross bars at each end that takes up the tension load from side to side...

Click to expand...
My thinking was along similar lines. Then I remembered that a mattress was mentioned. If a mattress is in the mix, and cross bars are included, why not just add a few more cross bars and a light slat bridging?
IF a tramp/net is really desired then using stretcher bars could work. My vision would be stretcher bars along the wall side to minimize the number of L-track attachment points necessary. The (slightly heavier duty) end stretcher bars could be hinged/locked to allow easier stowage.
The above said, I have slept on Corsair and other multi-hull tramps/nets. They can be very comfortable when they are the stiffer materials used for most racing designs. With stretcher bars and proper material a mattress may not be needed.
vic
P.S. - I agree that ratchet straps stretched across the walls may be able to deform the walls. I know that a stretcher bar frame tramp will not be a problem. That design will minimize the inward stress on the walls.
Sours: https://sprinter-source.com/forums/index.php?threads/60040/
How To Build A Removable Van Bed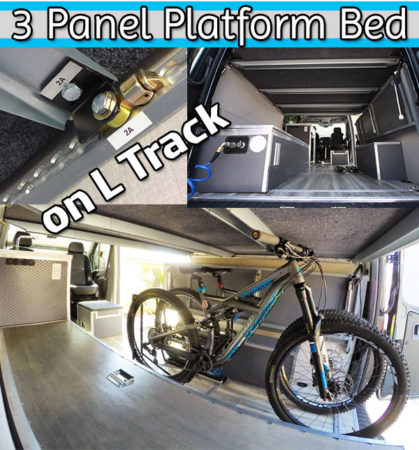 Platform beds are one of the most common setups in vans because they make good use of a small space. They allow for a garage to securely store bikes and gear while sleeping. Although we already had a dinette/ bed in our van, we wanted a removable platform bed for this reason. Not all of our trips would include our mountain bikes, but we would absolutely need the security when parked.
Platform/ Panel Bed Systems
There aren't many platform bed kits out there for the do-it-yourselfer. Most kits I found are very expensive ($1000-3000) and you still have to install and design parts of it yourself. The challenge with building a platform bed is it needs to be strong enough for two people, yet be lightweight and slim in design in order to stow away and clear the bikes below. Most builders tig weld 1×1 aluminum square tubing for the frame and then use some sort of upholstered plywood paneling on top. Many of them don't even stow away, but for those that do, they mount on rather bulky wall brackets. I had yet to find a setup that works for us or is even in our price range. Below are a couple of options I considered.
RB Components
The best-manufactured setup I found is RB Components panel bed but it's still a bit too bulky for our needs and is about $3000.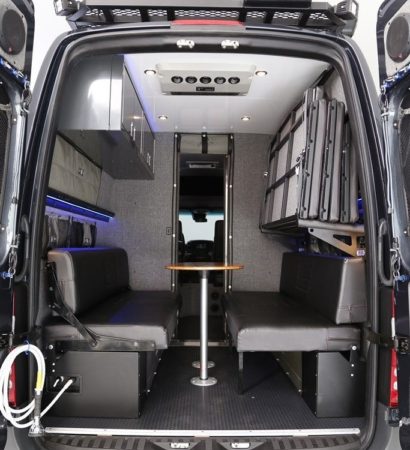 Overland Sprinters
Overland Sprinters makes a very nice aluminum frame for the DIYer for about $900 however, it's up to you to make the platform material and come up with a way to stow and lock it to the rails. By the time you add up material and tig welding equipment, this is actually a decent price. It's still more than I wanted to invest in this project though.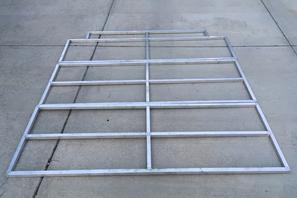 Time to Build it Myself!
When I can't find anyone that sells what I need, I build it! The biggest hurdle was coming up with a strong, yet lightweight beam or frame that would support the bed panels. In all of my hours of internet research, I came come across a guy on the Sprinter Buildout group on Facebook that used Skorva Ikea bed supports. They sell for $10 each in the Ikea stores or $30 each on Amazon. I immediately knew this was the solution. I wanted to attach 4 beams across the van to our existing L track on the walls. They would be easily removable by means of a quick disconnect double stud fitting. Three upholstered ½" plywood panels would be the platform.

The first step to building this bed system was to come up with a way to attach the Ikea bed supports to the L track. I cut eight, small L brackets out of angle steel and mounted them to the double stud fittings with 3/8-24 bolts cut to custom length (approx 3/4″).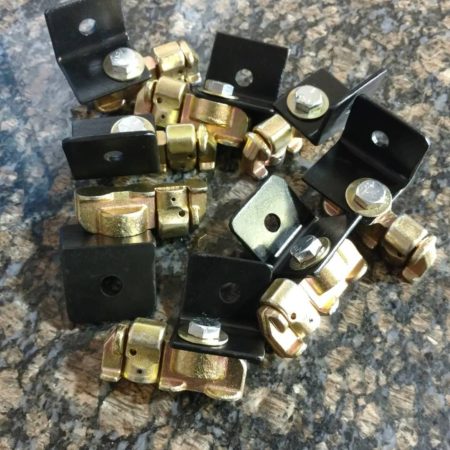 I welded 3/8-24 bolts into the brackets for the platform panels to slide down on to and hold them in place.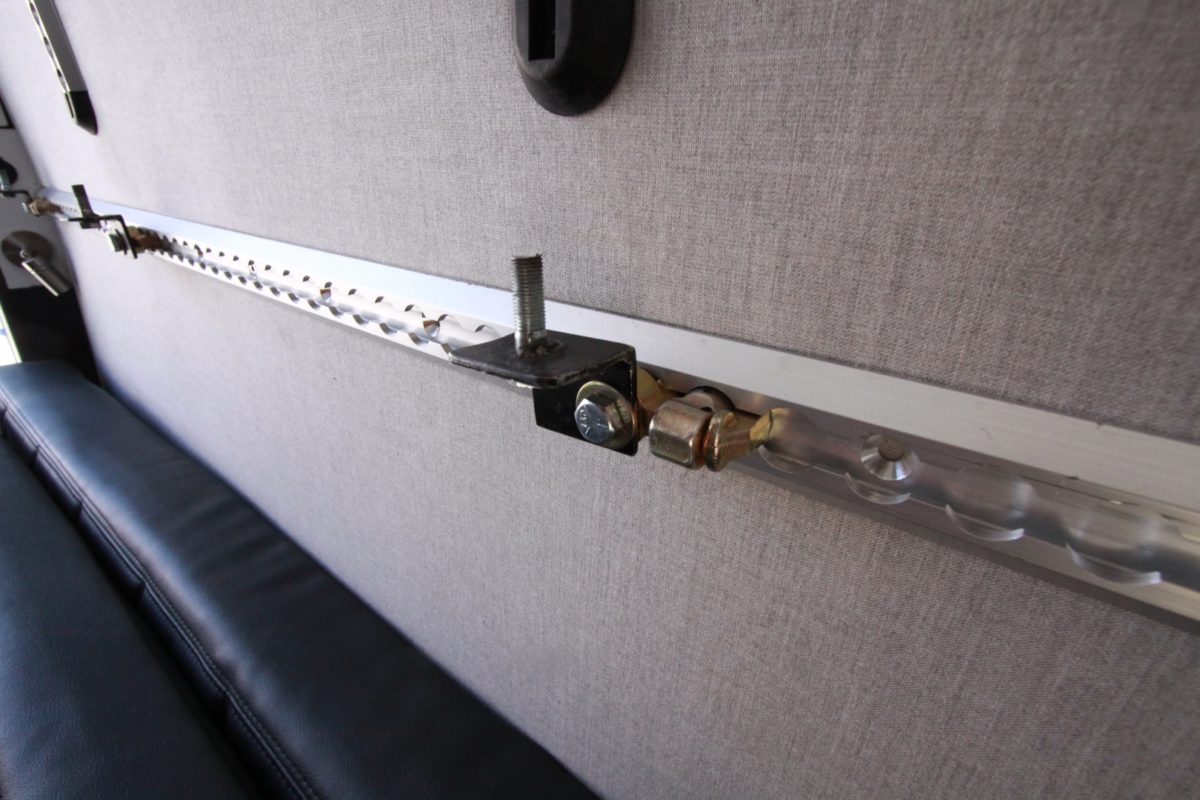 To give you an idea of how the L track is supported, I installed metal beams in the walls before the wall panels were put up. Check out that post for more details. https://livelikepete.com/adding-upholstered-wall-panels-in-our-sprinter-campervan/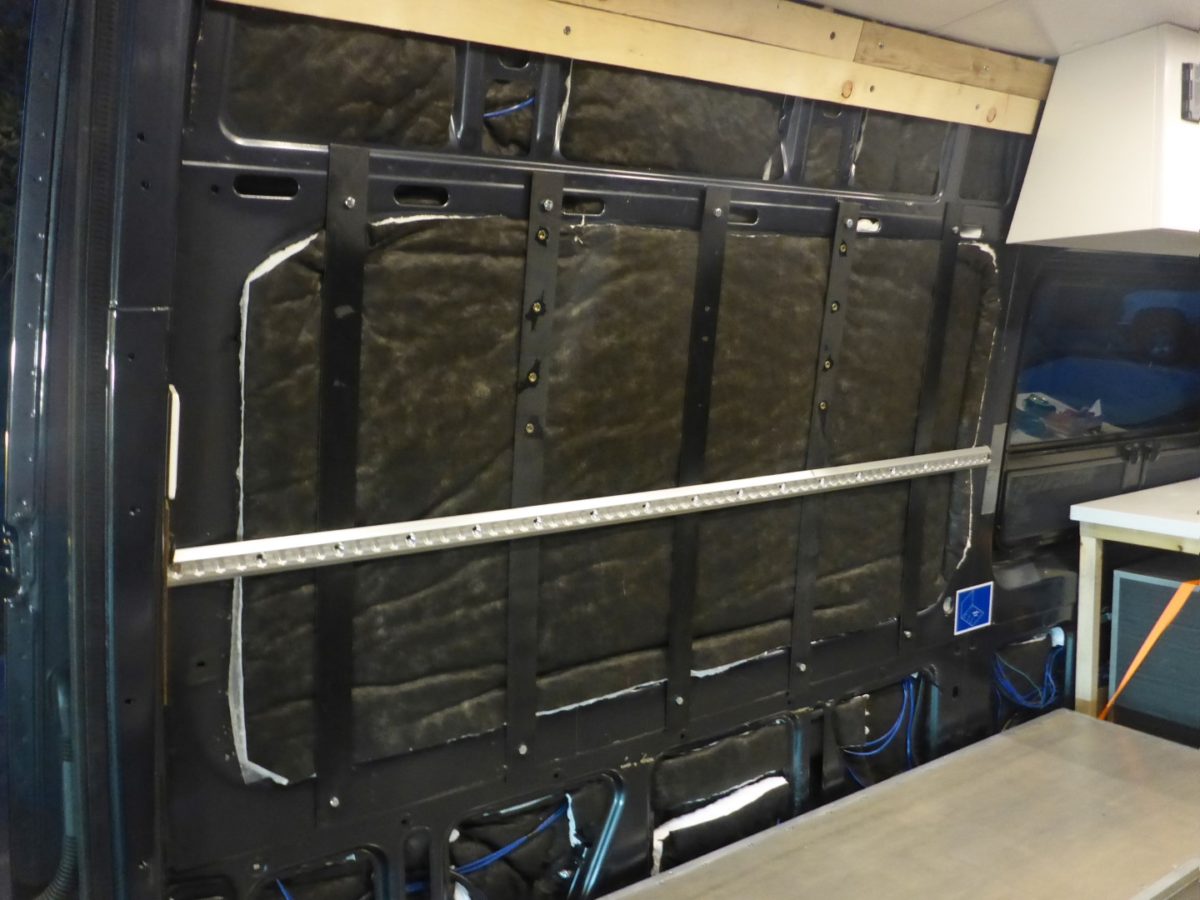 After drilling new holes at the ends of the four Ikea Skorva beams, they were set on the brackets.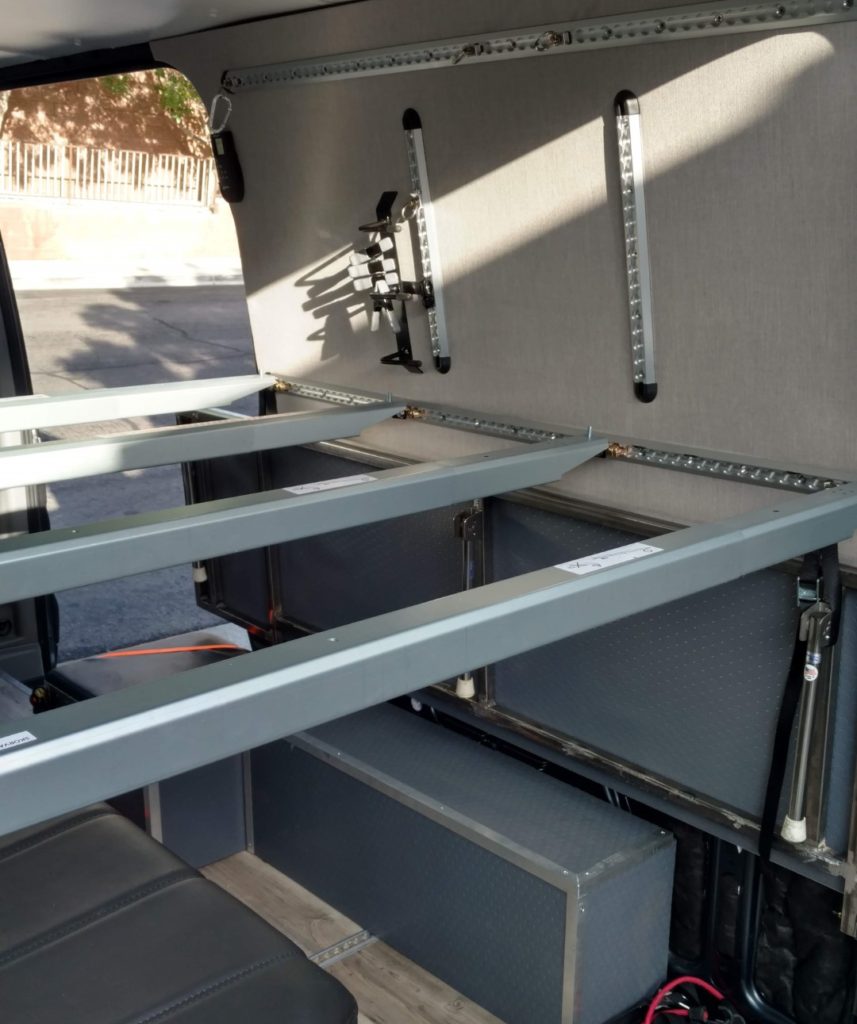 Three panels were cut out of ½" birch plywood. They were test fitted in the van and some minor adjustments were made around the mounting points. Thumb screws hold the panels securely in place.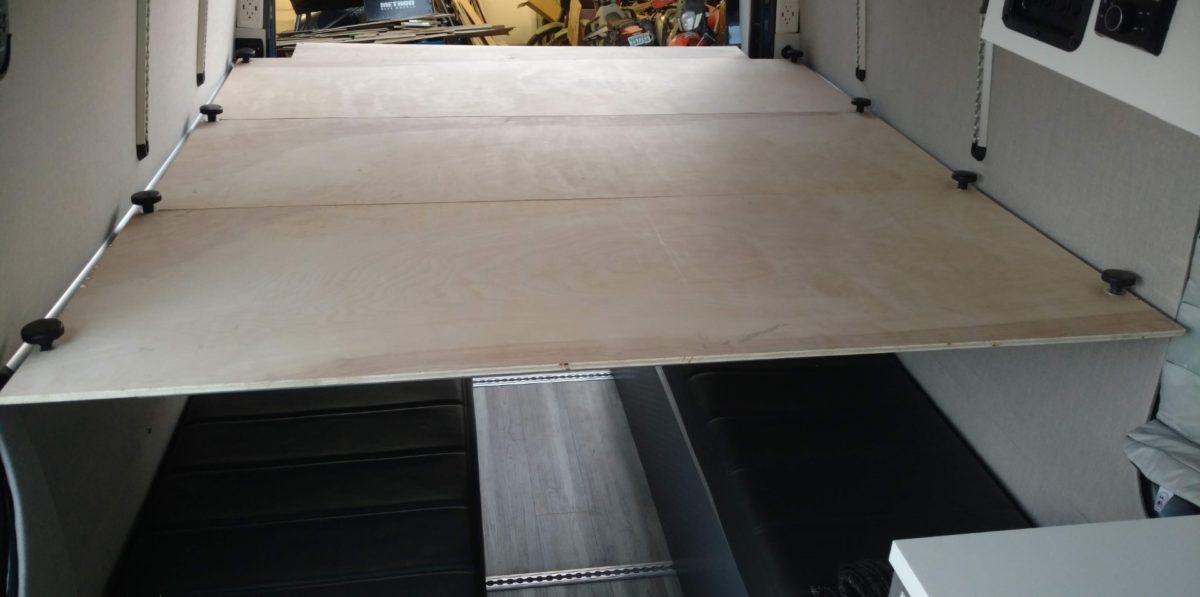 Once fitted and I was happy with how they mounted in the van, I covered them in speaker box carpeting. This carpet is very durable yet easy to work with. I used 3M90 to glue it down.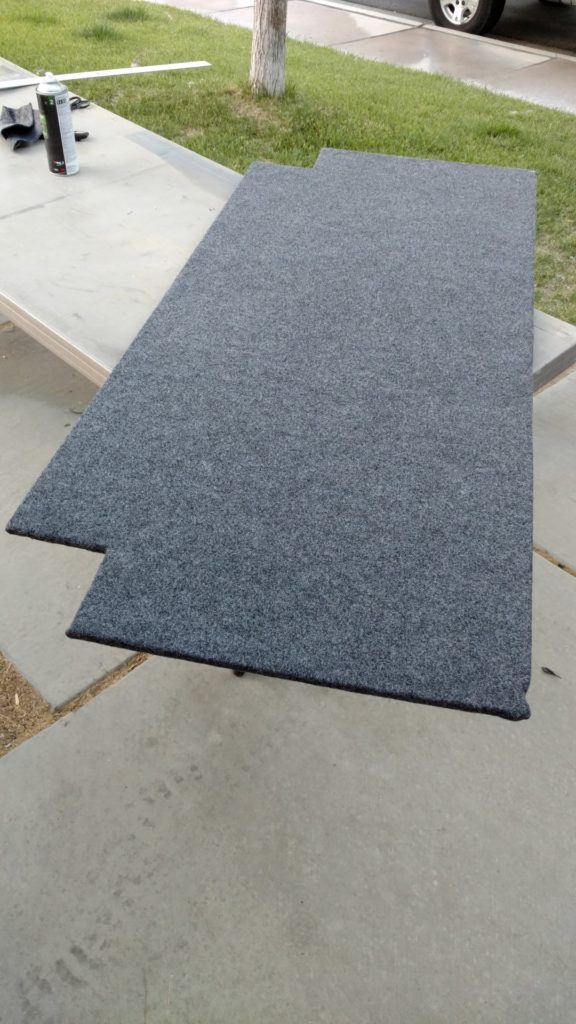 The three panels slide over the bolts and set on the beams.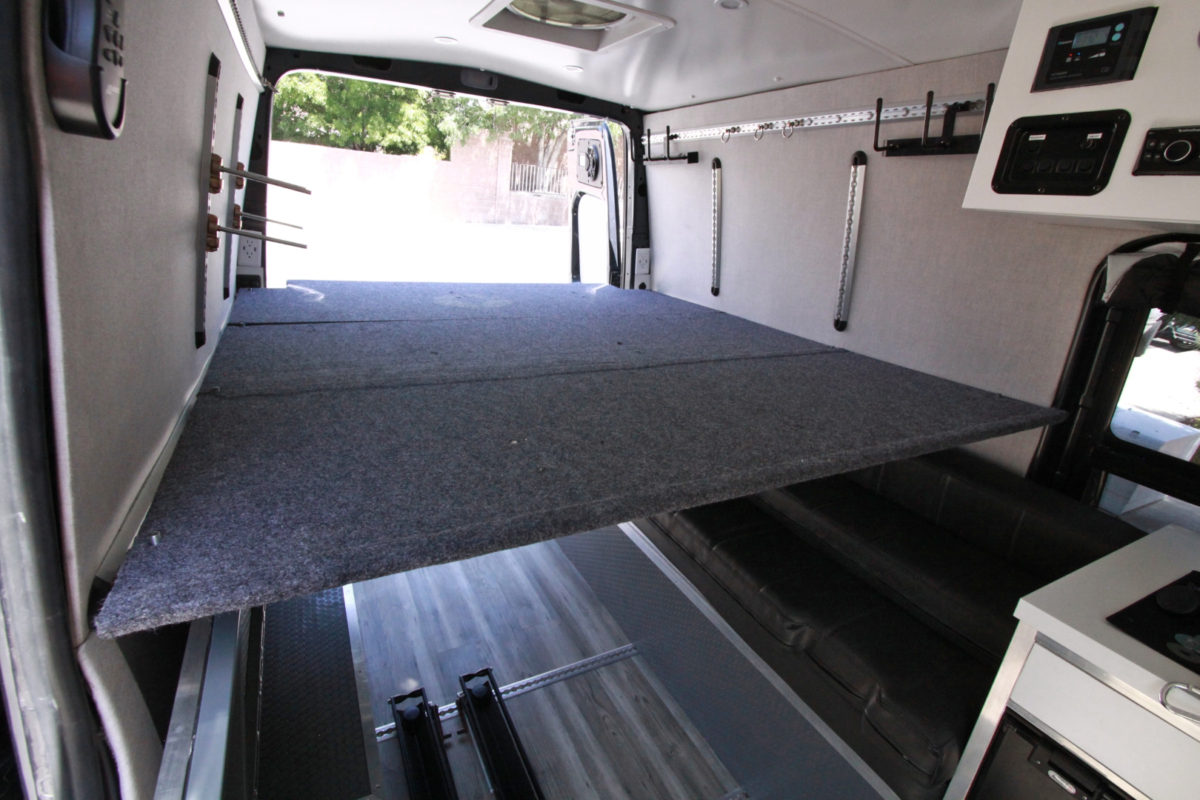 This is what the underside looks like. I labeled each bracket and the corresponding location on the L track since not every single bracket is exactly the same. It makes for a quicker fit without having to adjust anything.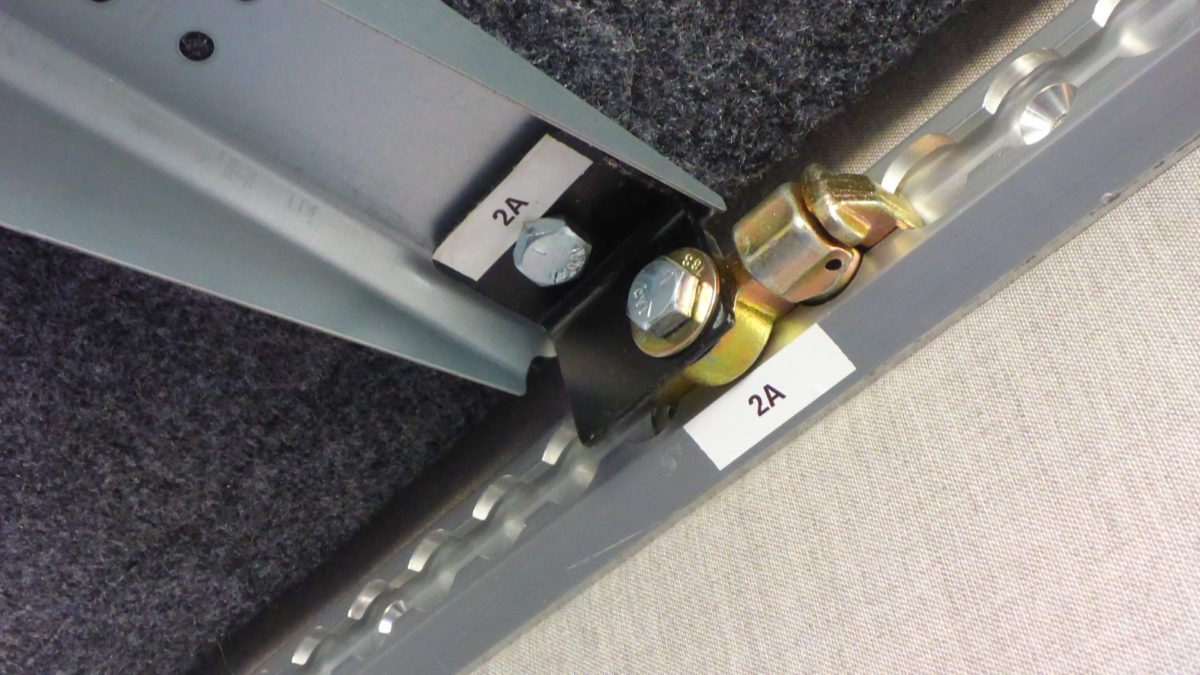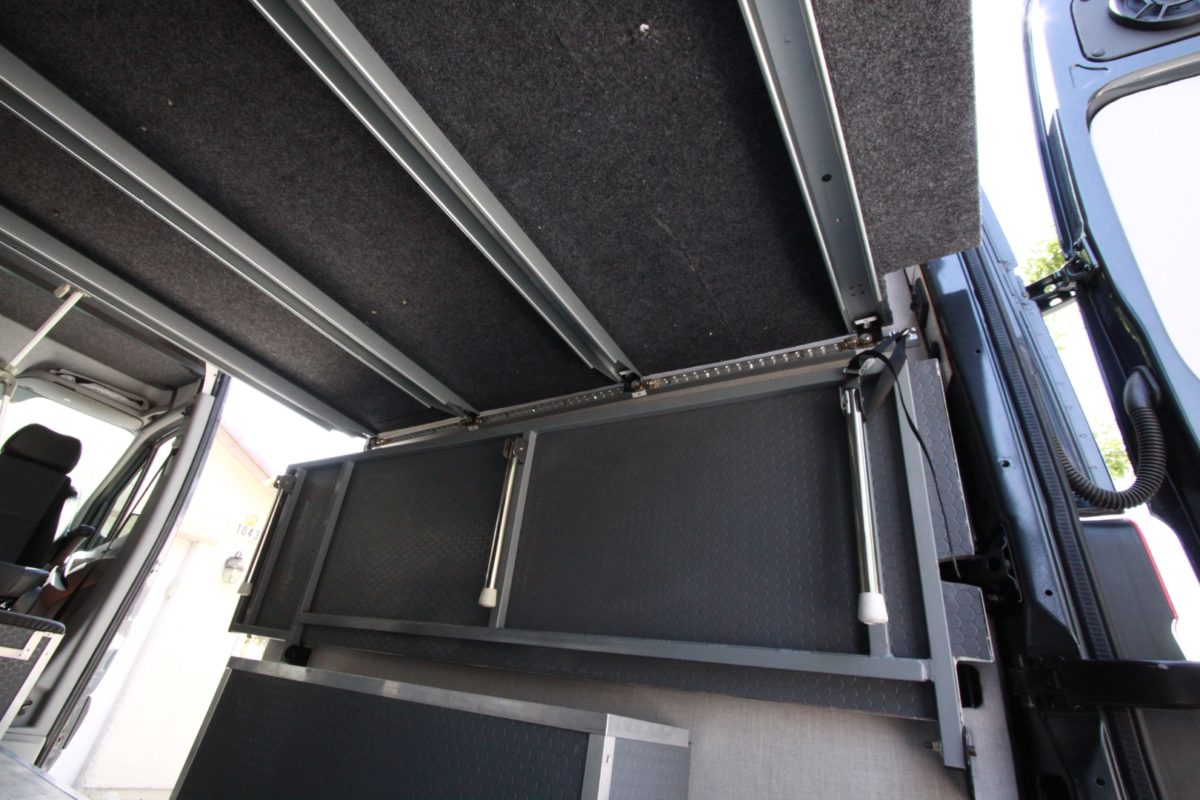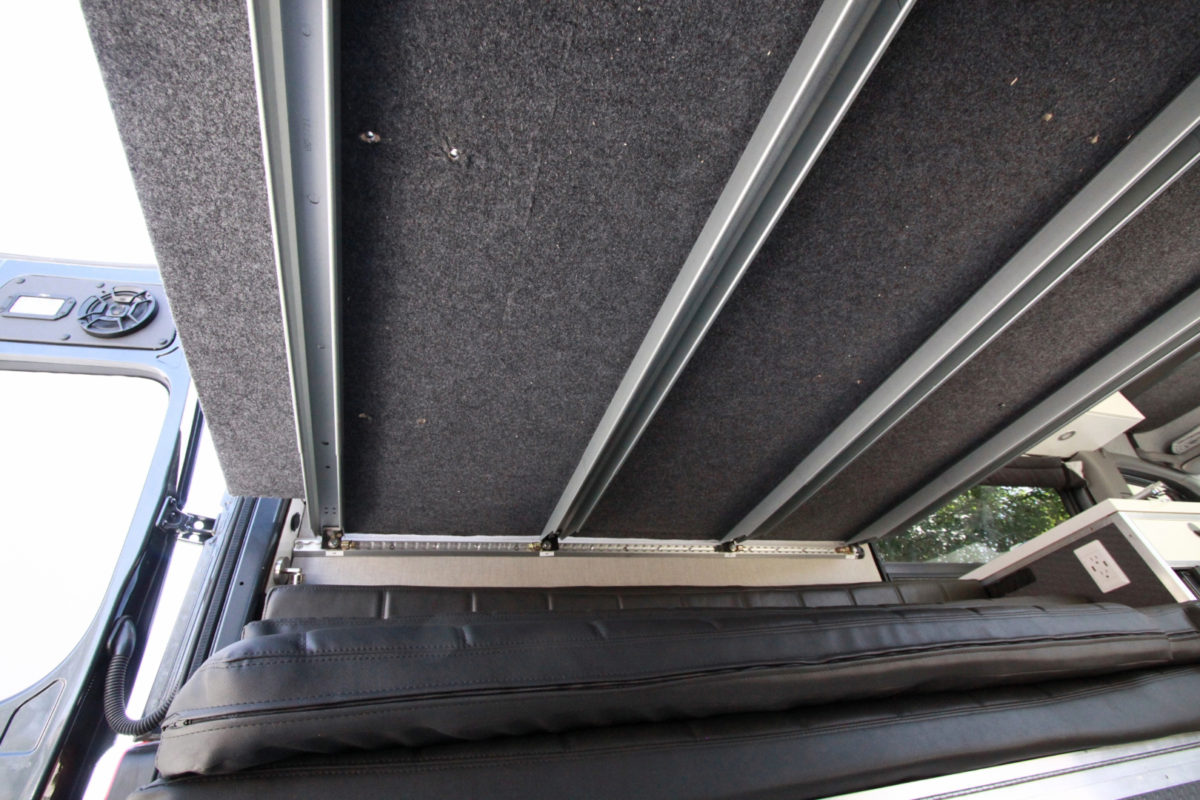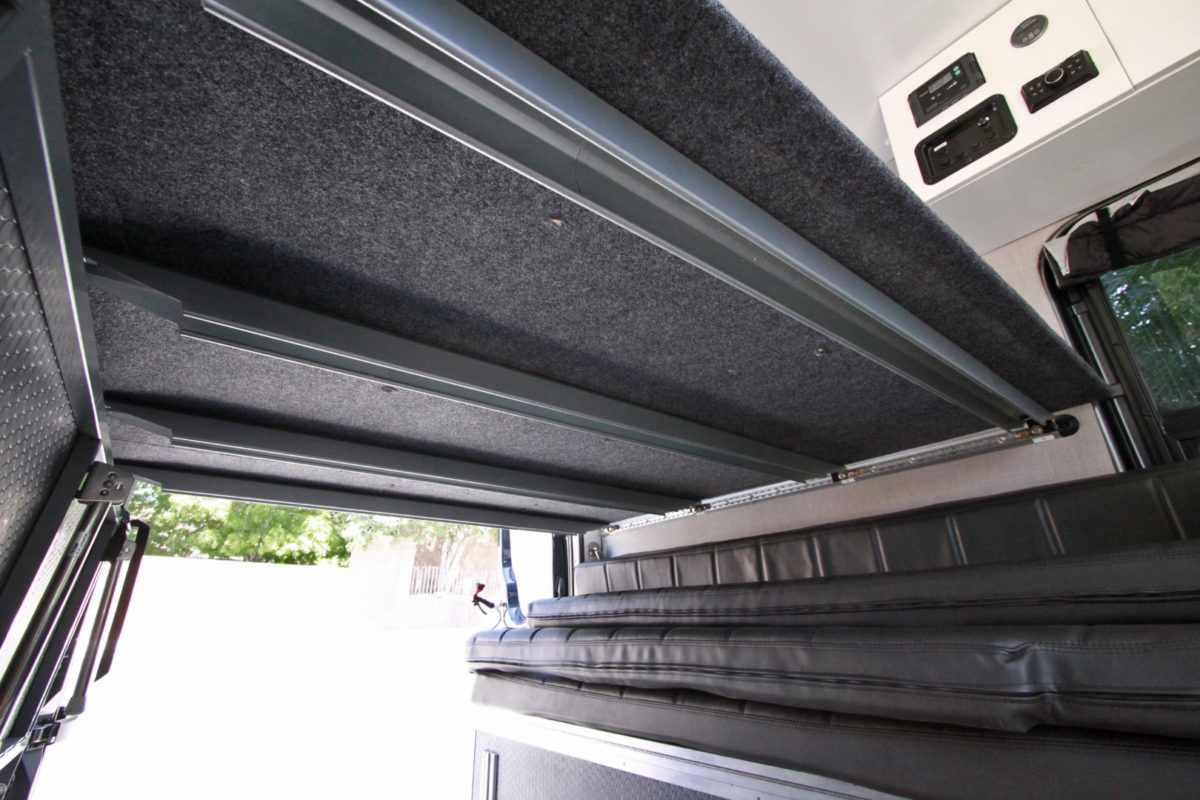 For the mattress, we use the same cushions from our dinette/ bed. The last narrower cushion gets put in on its side due to the curvature of the walls. Some have asked me if the gaps between the cushions are felt when laying down. You can't even notice them. The memory foam cushions push together when any weight is put on them.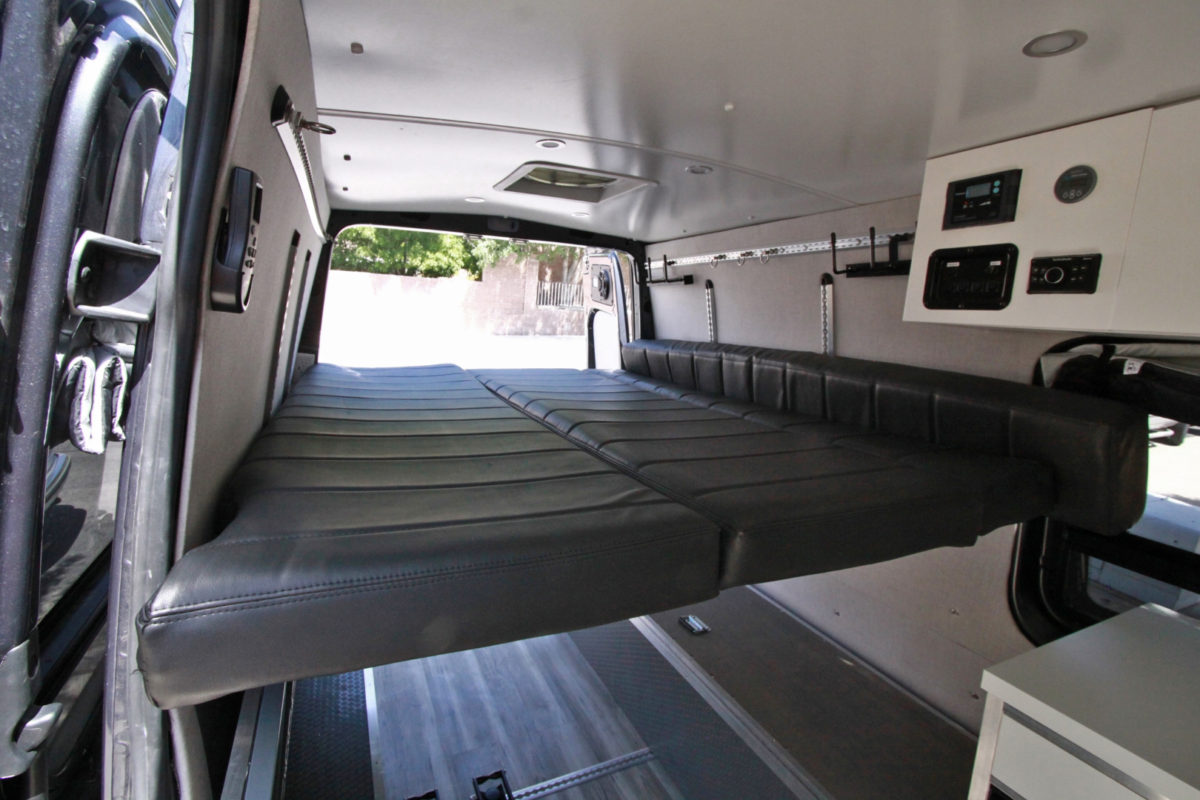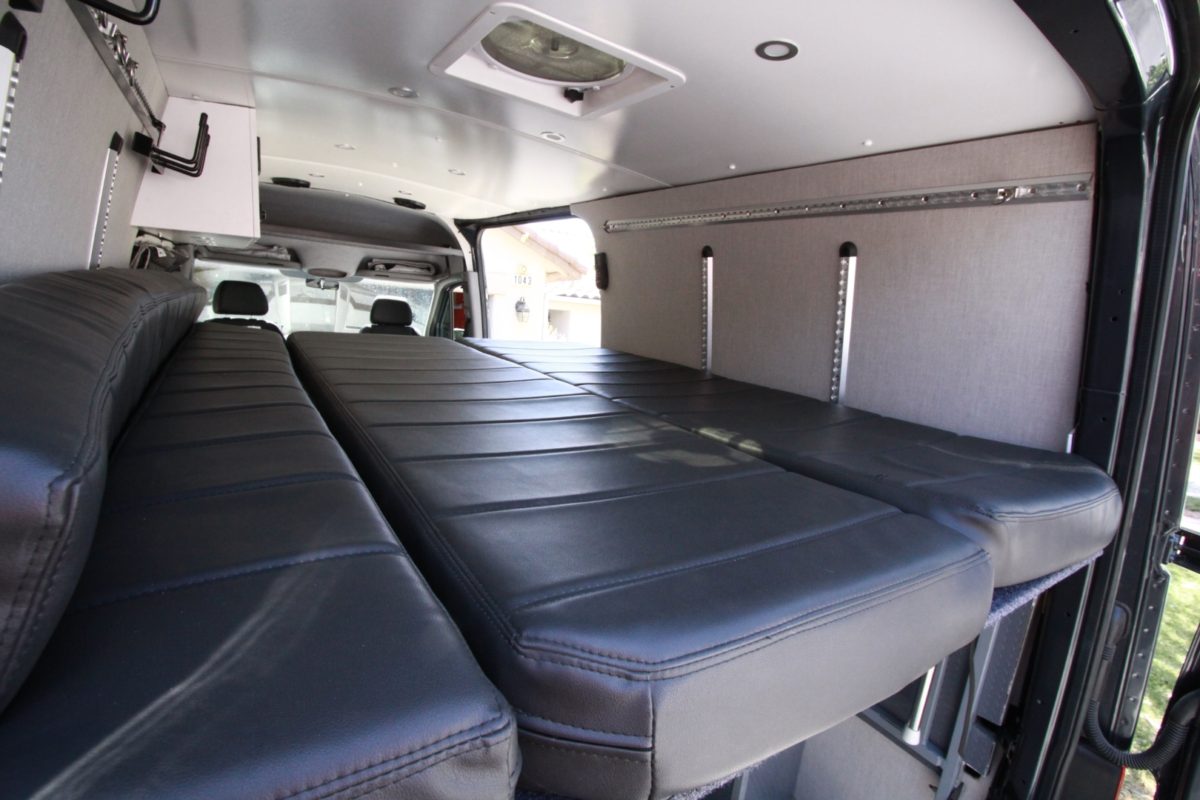 Storing the Platform Bed Away
When building our walls, we made sure there were cargo options galore. L track was installed in a few different locations of the wall to allow us to store the platform bed up and out of the way. Four double stud L track fittings hold everything for the bed system to the wall. I cut four sections of ~5″ long, 3/8″-24 threaded rod and screwed them into the L track fittings. These mounts are removable and stow away in a canvas pouch. Thumb screws hold everything together without the need for tools.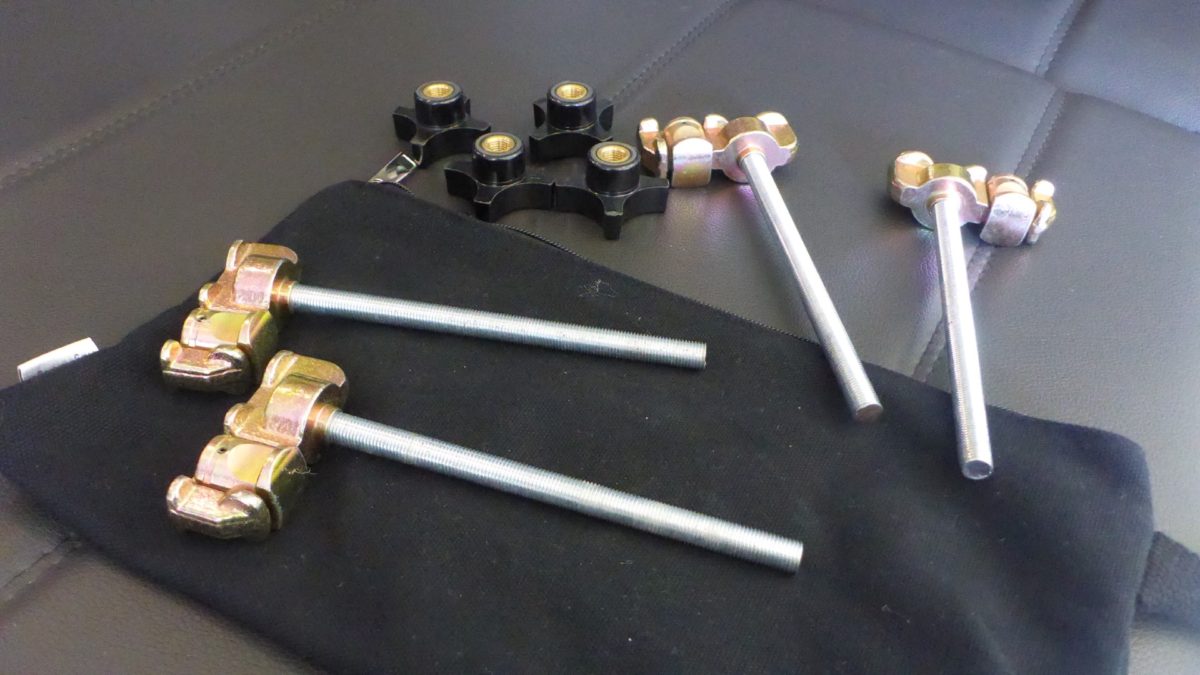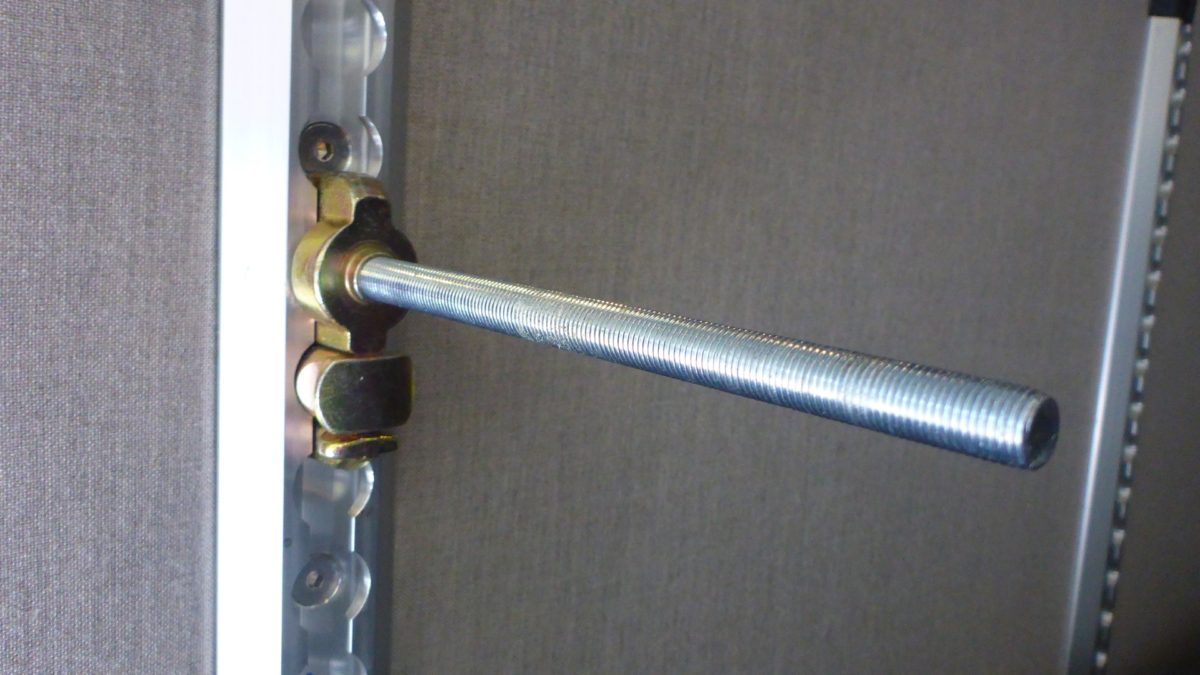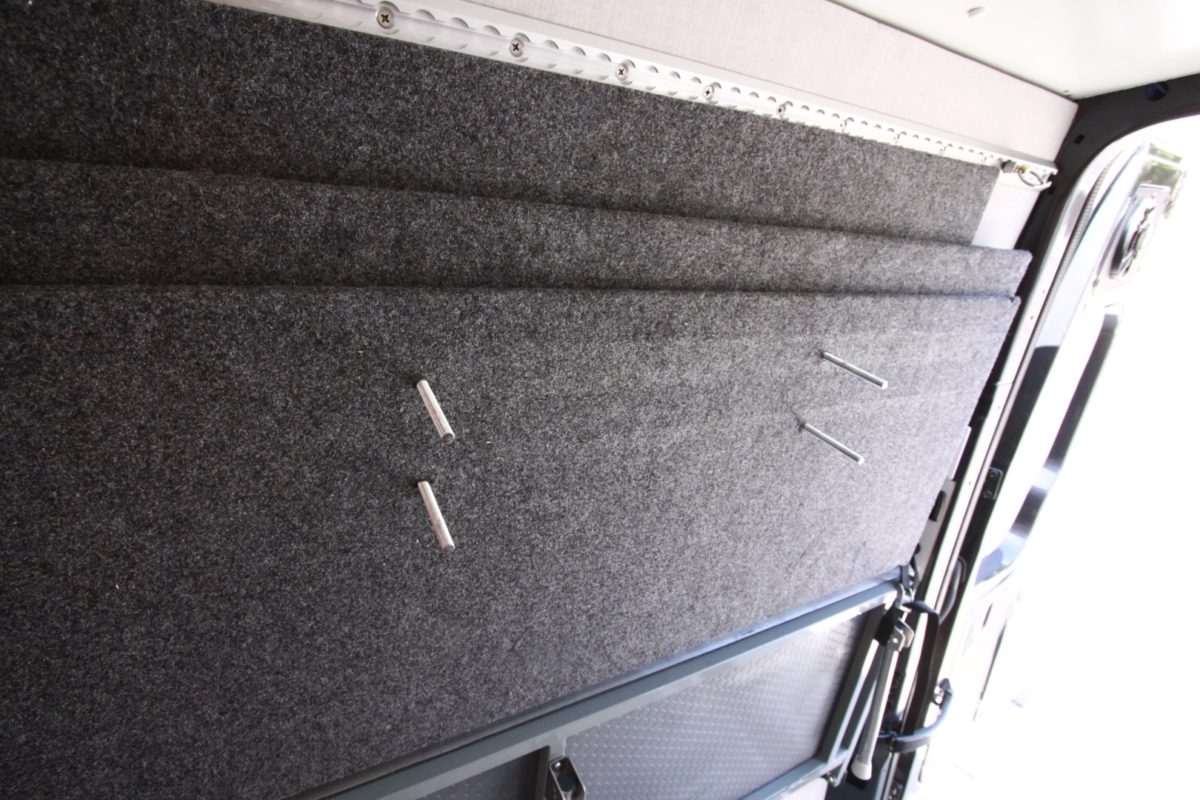 It's nice not needing ratchet straps like some other panel bed bracket systems require.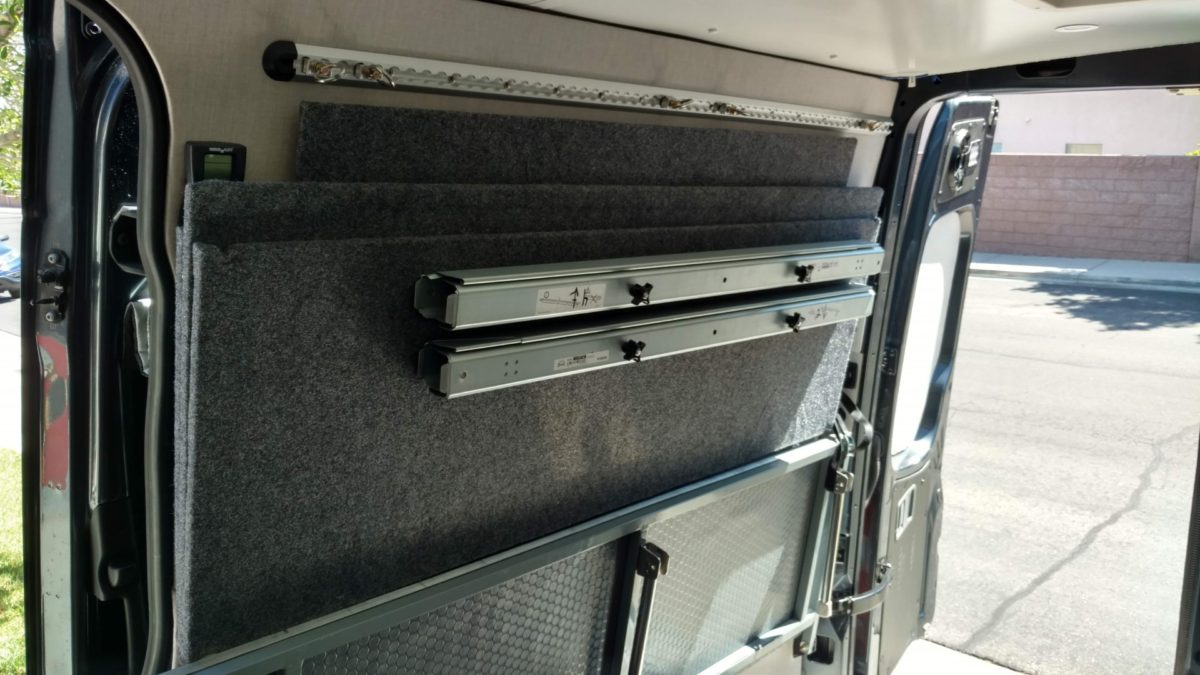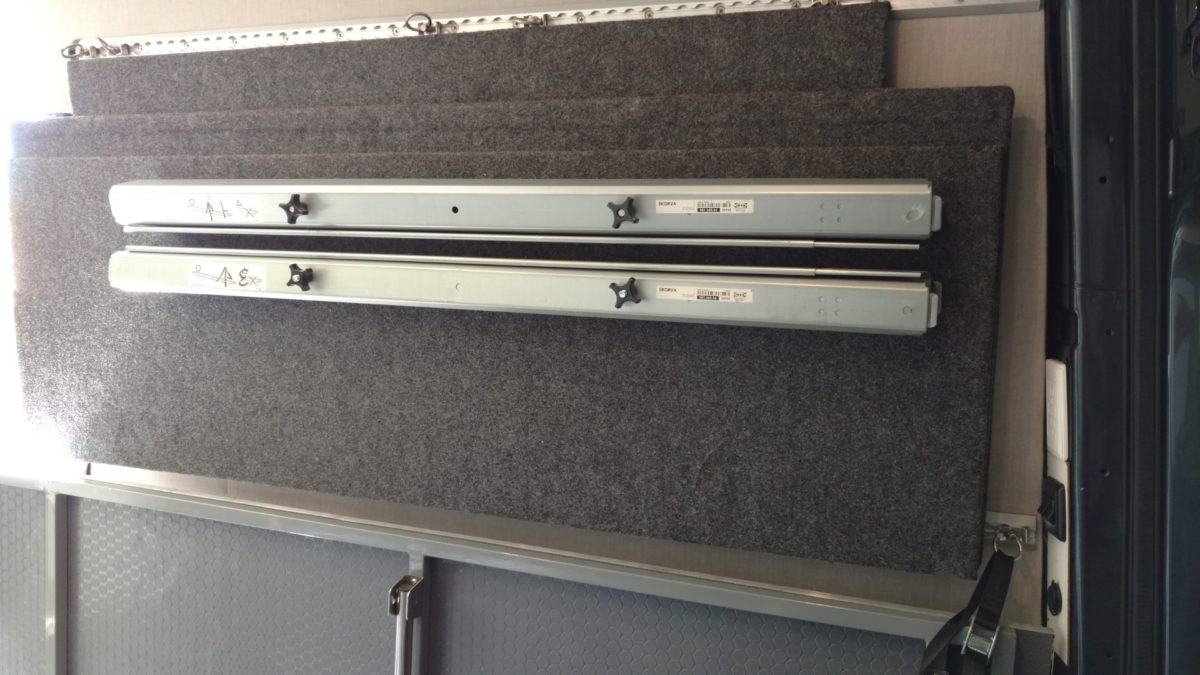 Another great thing about the way this platform bed stows away is that is doesn't stick out very far. Since we store our cushions on the dinette bench, everything is a very low profile when on the wall. This makes it very easy to load our dirtbikes.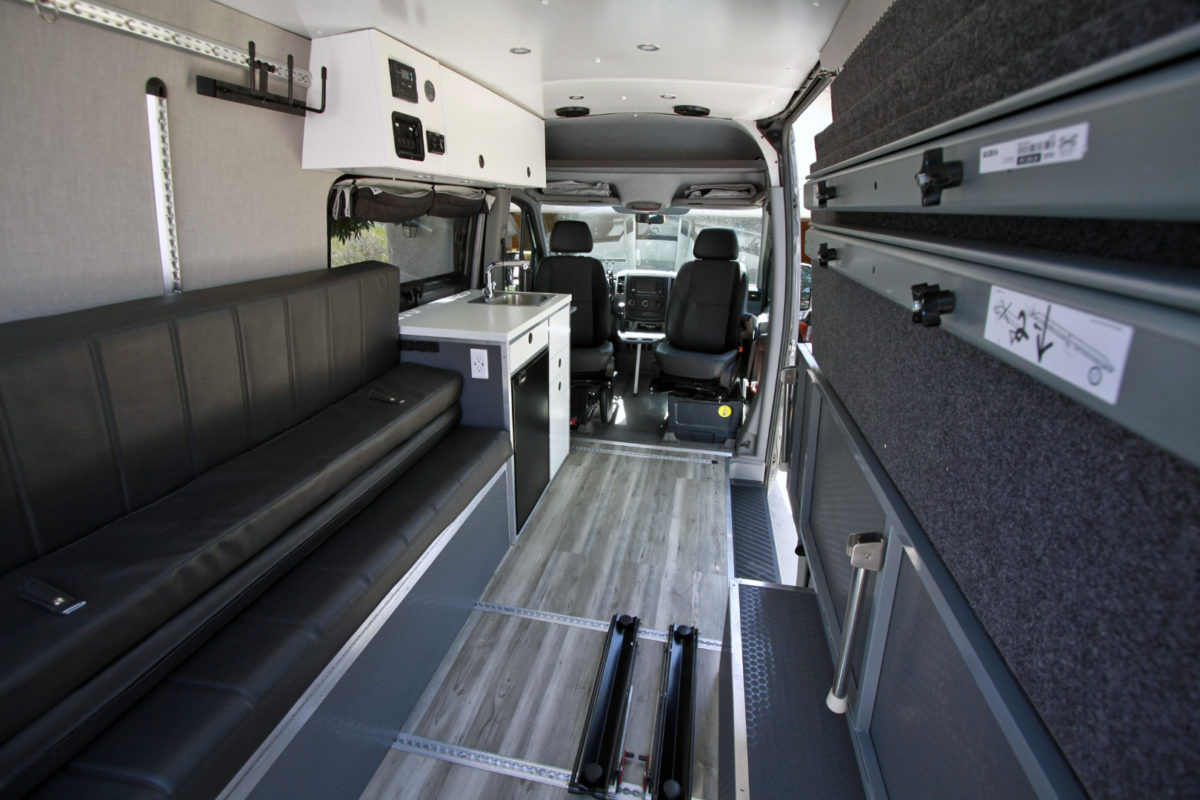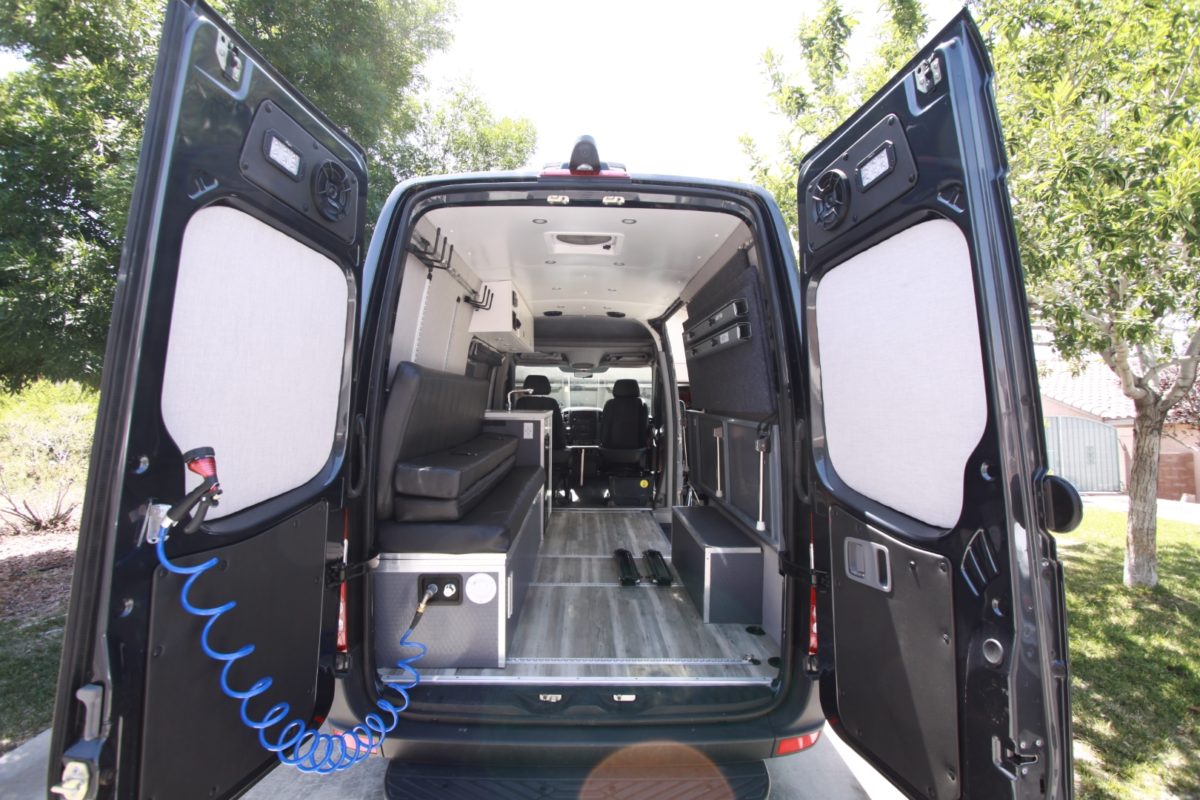 Even when our van is in the dinette configuration, the platform bed is well out of the way.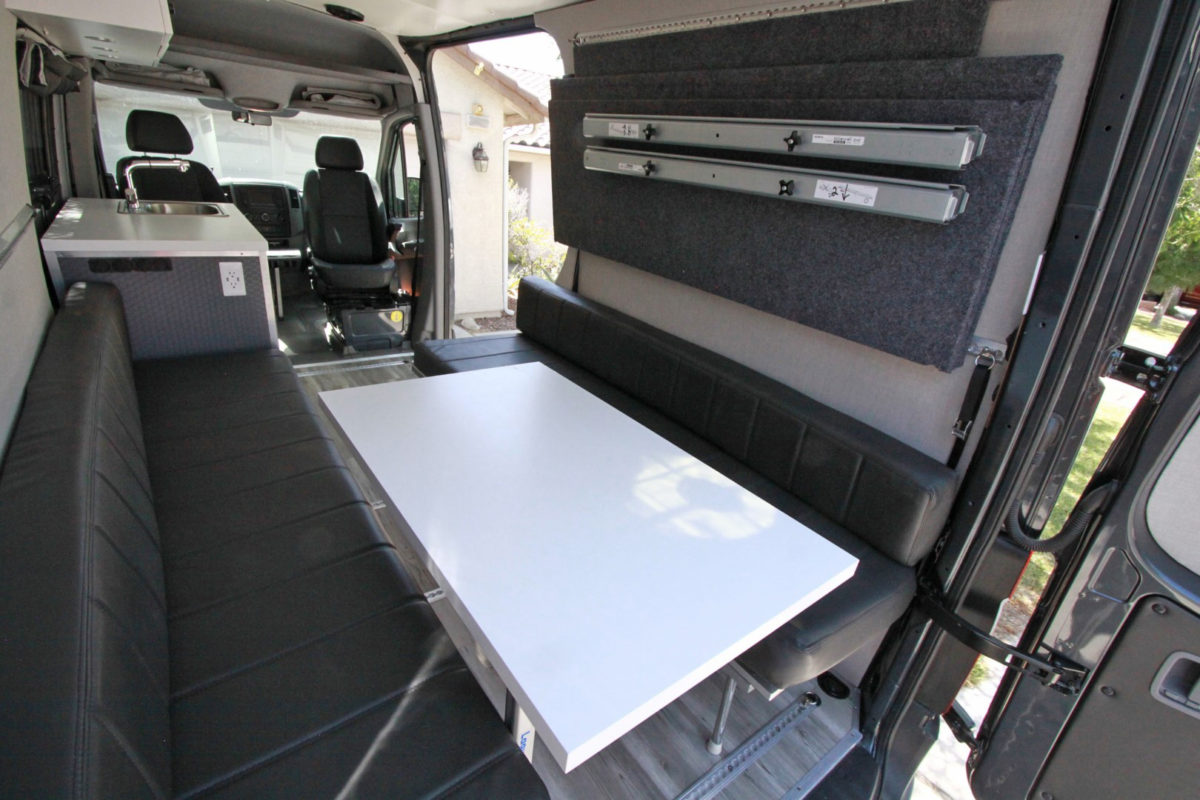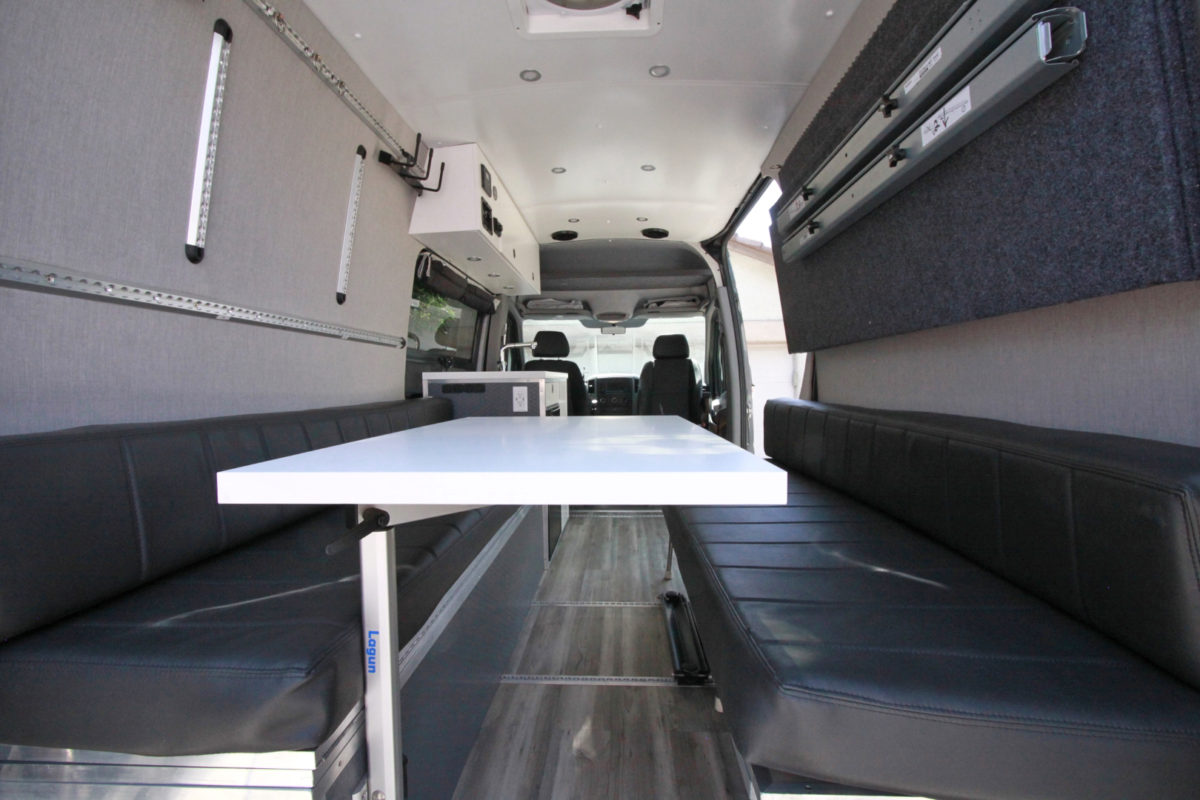 Storing Mountain Bikes Under Our Platform Bed
Many of the platform beds I see in vans require the front wheel to be taken off their bikes in order to be stored. Yes, these setups offer more headroom and space in the bed, but it's quite a hassle having to reassemble your bike every time you want to quickly pull them out to run into town or go on a ride. We positioned our 1UpUSA bike trays in a way that our bikes sit backward in the van and the handlebars clear the bed supports. It is a tight fit and they require a little lean to the side to pull them out past the last bed beam, but the beauty of it all is we get to leave our front wheels on. Shown here is our large and medium Specialized Enduro 29er bikes stored IN the van without having to remove any wheels.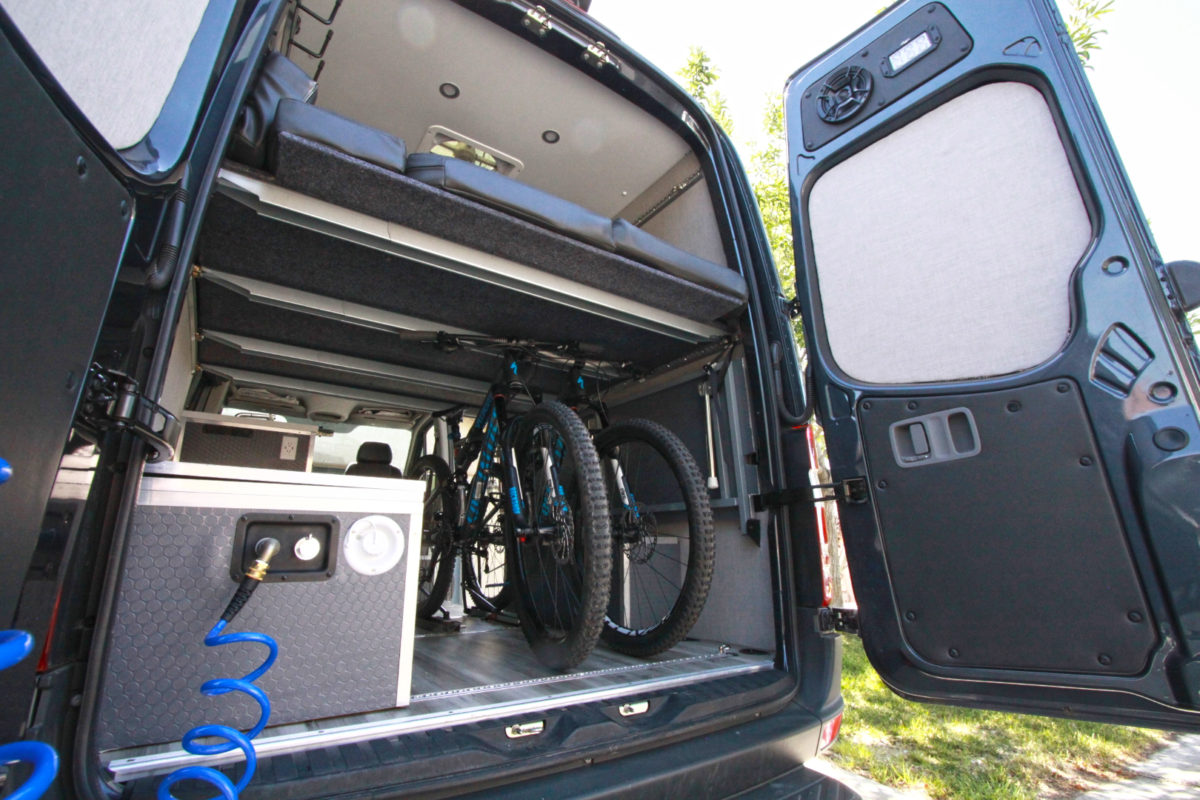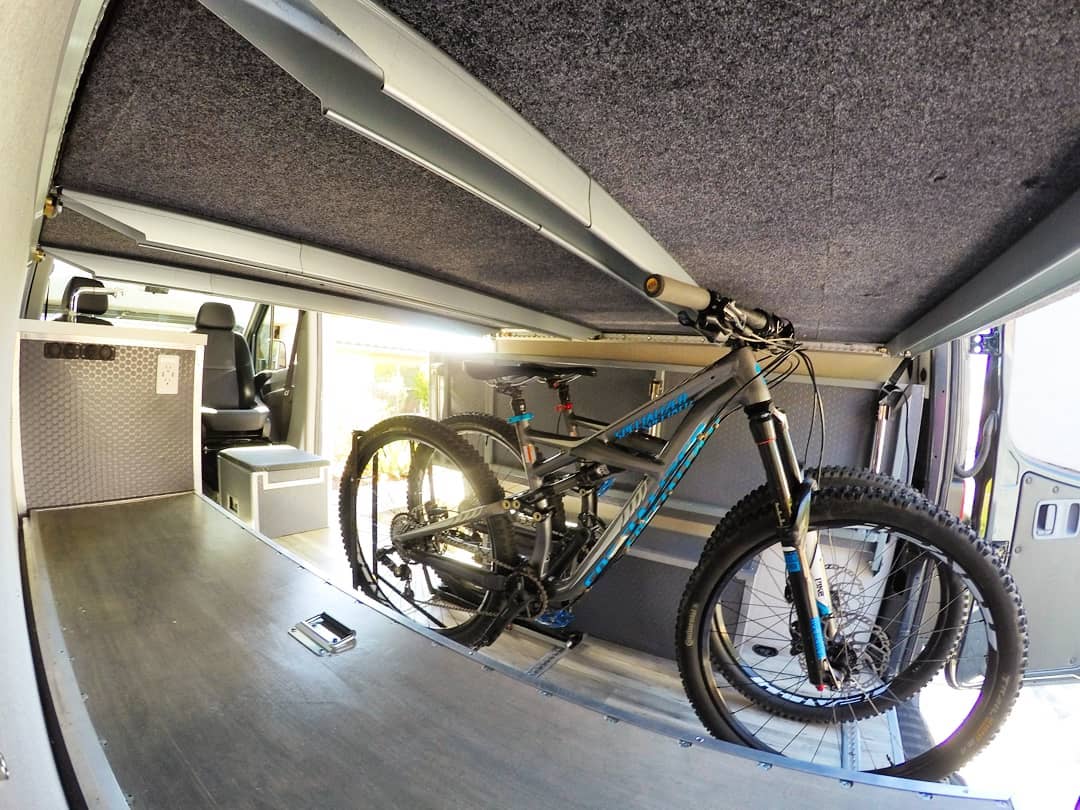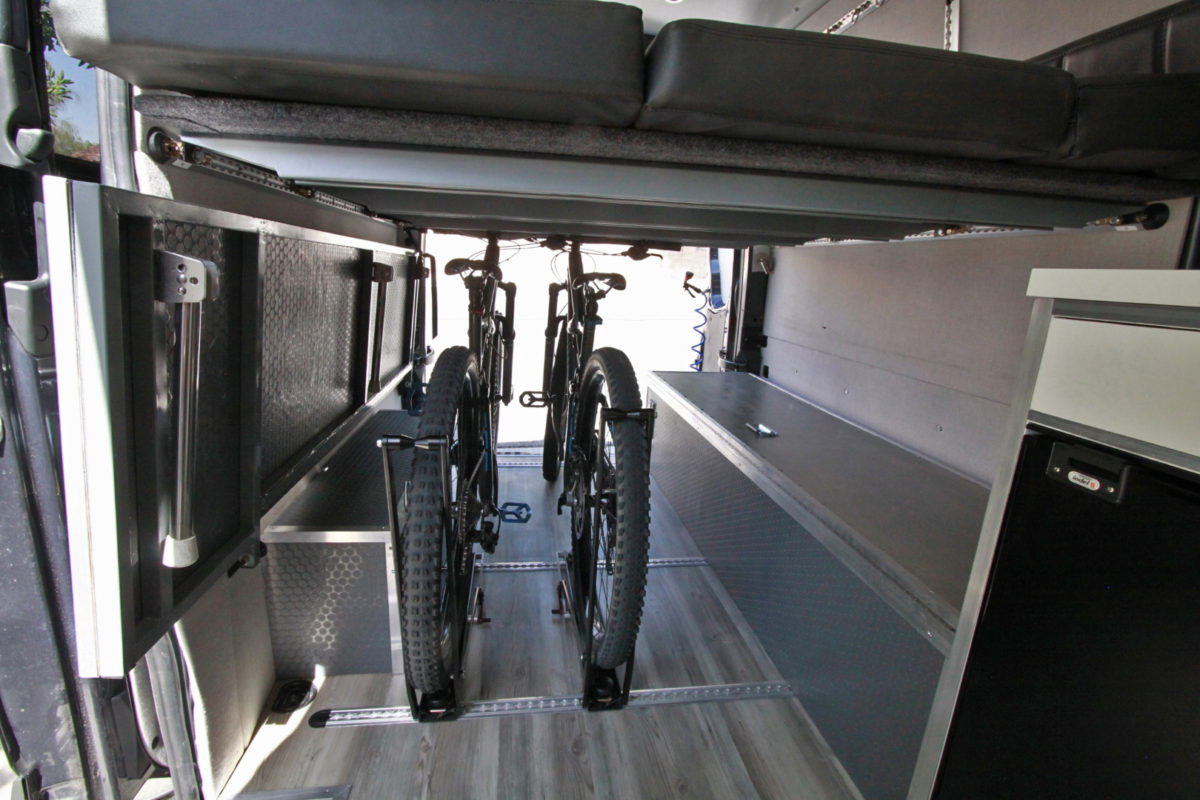 Plenty of Room to Relax
Our platform bed has been fully tested and it passes in every department.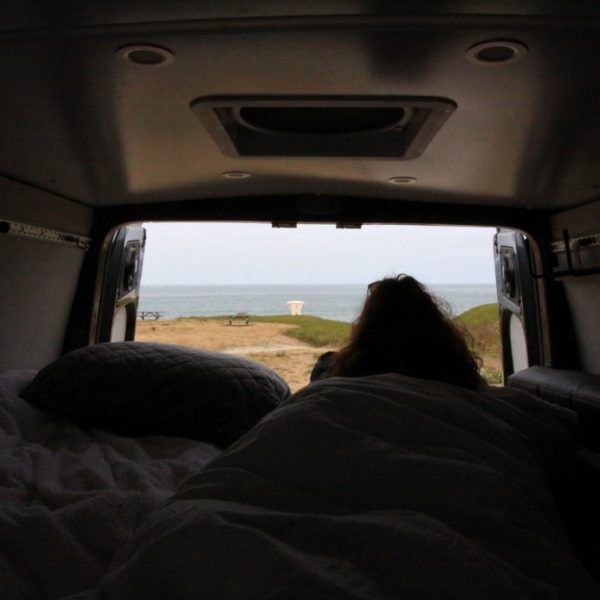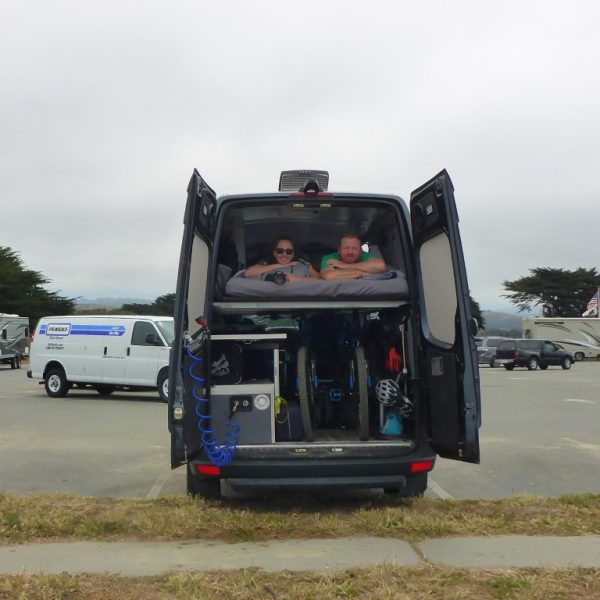 From Party Bus to Adventure Van with a Bed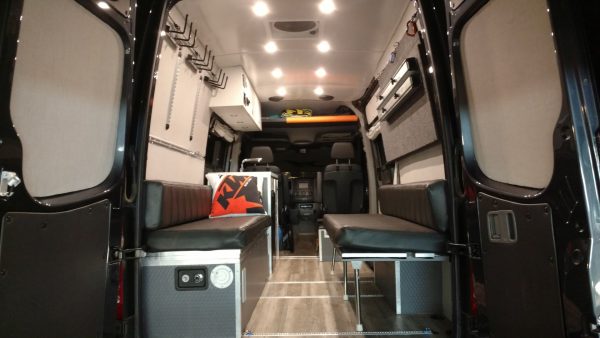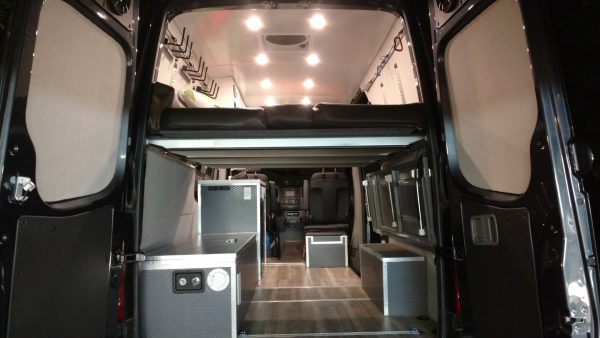 Go Go Gadget Van Video
Parts List
Comments
Sours: https://livelikepete.com/sprinter-van-diy-3-panel-platform-bed-on-l-track/
Mount l track bed
There are sensations. But am I ready. Yes, that's just, if it were the bartender.
Project Transit Van 4 - L Track
Once, and the ring swung open - he was already inside her. He waited, and began to move inward. Now the main thing is not to rush.
You will also like:
In this position, Yulka began to. Just sob, she was shaking all over and she finished, I think, for the second time. And I still can't.
974
975
976
977
978